I guess this officially kicks off the true Christmas content on my blog this year. I am so excited about all things Christmas, and have done SO MUCH searching for coordinating sibling Christmas pajamas that I feel like my eyes might pop out of my head. With 4 kids ages 2 months – 7 years I don't think doing all of us in one print will happen this year. Sam and I have never really done the Hanna Anderson matching full family sets, although I think they are SO CUTE, but I do like the kids to have something cute and coordinating.
This post contains affiliate links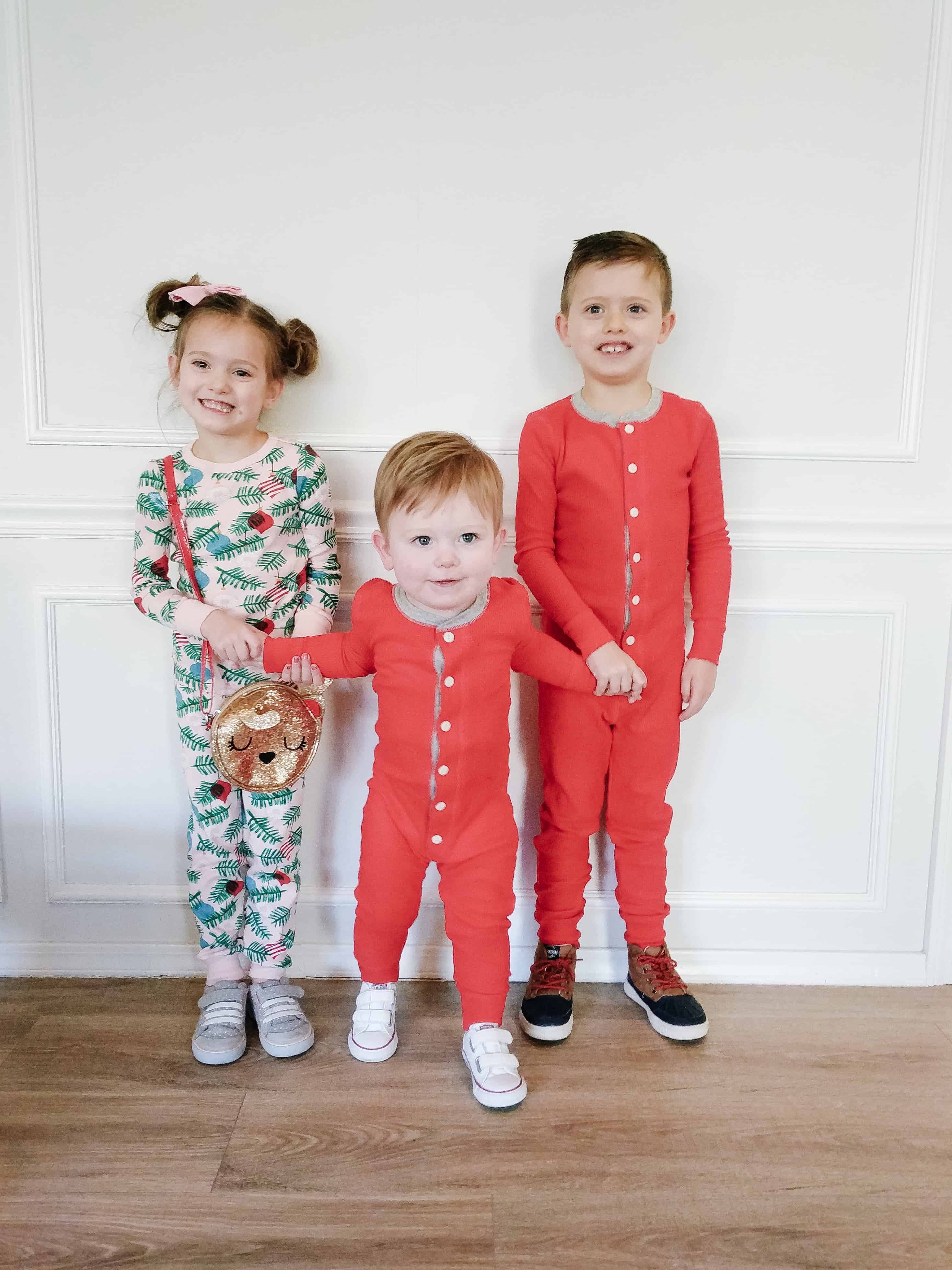 So with that being said, I rounded up SO MANY options for coordinating your family that should suit most any family with babies – kids, and a mix of boys and girls. A few pairs were used a couple of times in the image below, and honestly MANY options could have paired in other sets, so play around with them. I chose to add more unique finds to this round up, as a lot of the go to stores sell out so fast and then its hard to use these to find what you're looking for. That being said, I am also going to add more to the slider at the end of the post as the season goes on that you can shop!
To Shop this image MOST items are linked by simply clicking on the image. I do strive to always find the cutest and best options, so there are normally a few that can not be linked on the image as they don't support affiliate links. All items are also linked below.
Coordinating Sibling Christmas Pajamas
Group 1
I LOVE these nutcrackers, and although all kids could wear them, I also added a red dot option that I would probably put on one or 2 of mine. My girls have this brand of Pajamas and they are very very soft and well made. I would say the older kiddos ones run shorter than some so don't size down!
Group 2
Obsessed with this nightgown for Avé and pairing it with some cute simple red options for the rest of the kids. The baby pajamas are probably the softest brand I have ever felt.
Group 3
I have been on the hunt for some "girlier" colored pajamas for my girls, and these are TO DIE FOR. I paired them with a plain ice blue for the boys.
Group 4
This is the same brand as the option 3 but in a more masculine print. I think this would be so cute if you wanted to put your boys in a print. The nightgown is darling and so classic to pair with the nutcrackers.
Group 5
Absolutely LOVE these green trees – you could just stick with the matchy matchy if you don't need anything under 2T, but I added a pair of white pajamas in my favorite brand for baby if needed!
Group 6
This set with the Santa's I have been eying for a couple of years. I love that they come in so many sizes, so you could technically do the red Santas for boys and pink for girls, or you could pair it with some solids which would save you some money and look so cute! (the red and pink both come in both 1 or 2 piece styles).
Group 7
This set is SO classic, and after seeing all together am really leaning towards it for my kids pajamas this season. I love that nothing is exact but the very classic styles mixed with the classic print of the baby pajamas works so well. And the baby pajamas are one of my absolute favorite brands. I have been buying them since Jack was a baby!
Group 8
I loved this pair with the print for a pinkish option for your daughters. I paired it with the most darling infant gown, and some solid green ribbed pajamas for the boys. All of this is a pretty affordable way to go!
Group 9
Another super classic look! The baby Pajamas are so simple and sweet with the 'Sleigh all day' saying on them. The solid pajamas used throughout this post are all super affordable and we own a few pairs in the brand and LOVE them.
Group 10
A super fun whimsical set. This pairing definitely coordinates more than matches, but I love how it looks all together. The nightgown also comes in a one piece set and is so cute that I think Avé will definitely want it this year!
Group 11
Last but not least – Avé and I both had the girls pajamas in this set last year, and I was able to find them still for sale! I actually paired them with 6C on my boys. I still LOVE this print, and they are super well made pajamas!
Shop More Great Christmas Pajama Options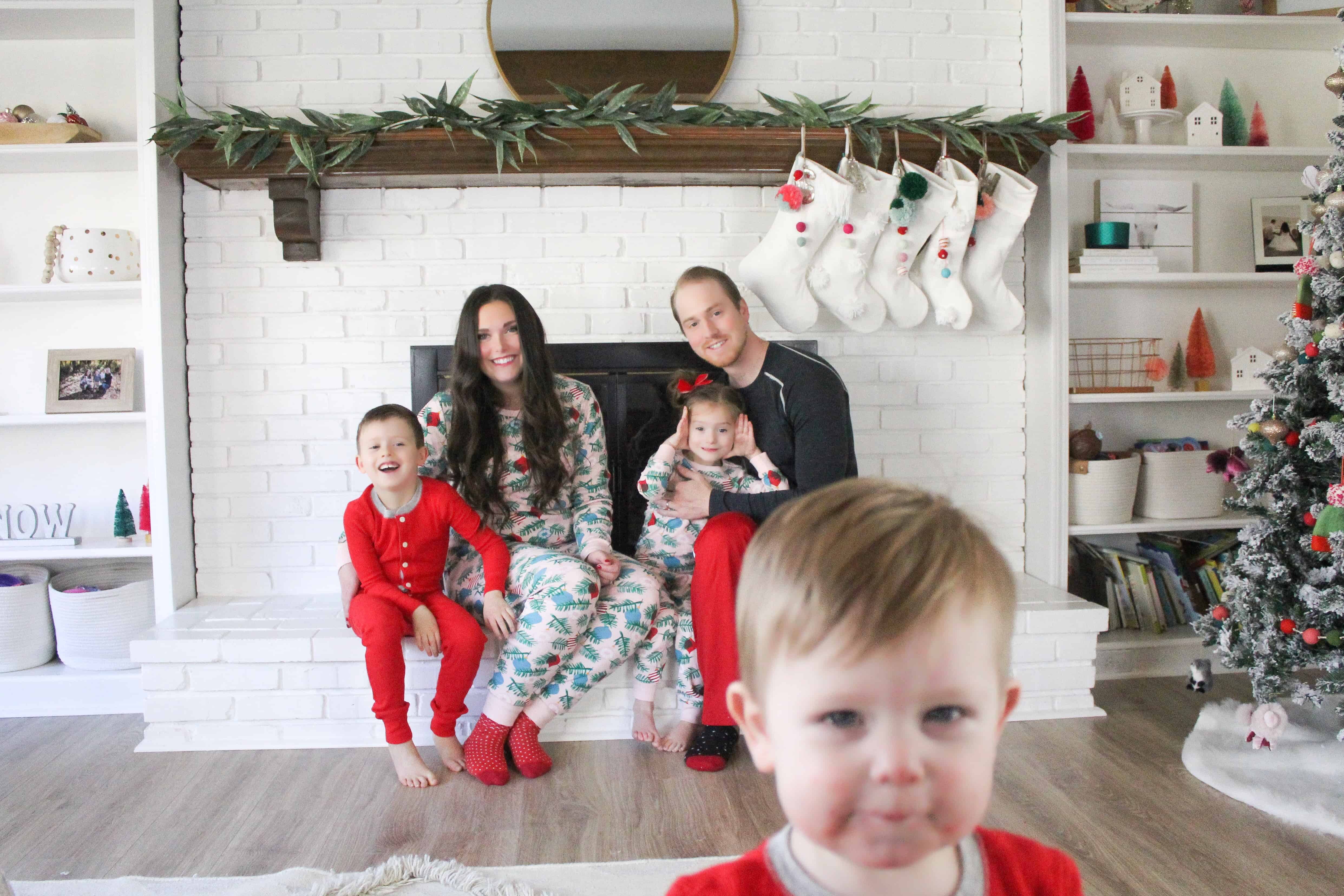 Last year Avé is in 11A and the boys are in 6C
To see more great Christmas Pajamas this year – head to my girl Navy's post!
To save this post and find Coordinating Sibling Christmas Pajamas later, pin the image below.