When it comes to decorating your large or small bathroom, the wall shelves are the perfect place to start. They offer easy access and a great way to store all of your most often used items in one place. With the right decorative items, you can make it look more attractive and stylish. From fake plants to cute baskets, there are plenty of great ways you can use bathroom shelving for decoration and function. Here are some tips on how to decorate bathroom shelving in your own bathroom for the best results.
This post may contain affiliate links.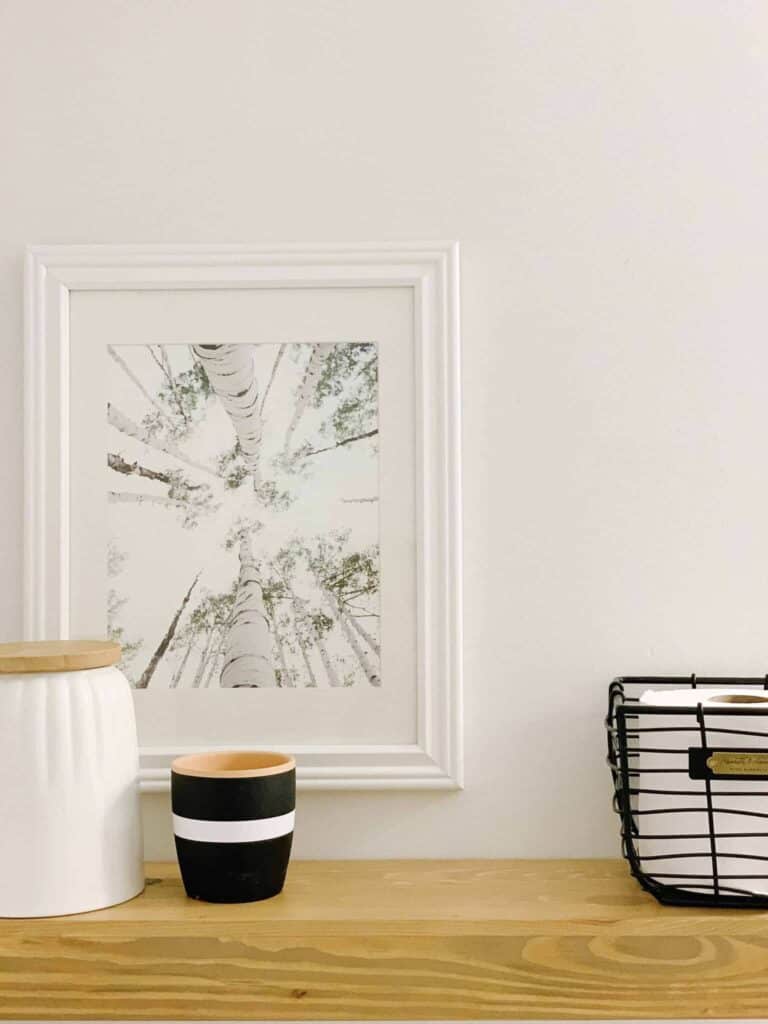 How to Decorate Bathroom Shelving
Decorating bathroom shelving can be a tricky task, especially if you are dealing with a smaller bathroom. But don't worry! With the right ideas and materials, you can easily find the perfect solution for your space. Whether it's adding extra storage space or making use of shelf space in clever ways, there's always a good idea to make your bathroom look better and more organized.
From DIY projects to ready-made solutions, there are plenty of options available to help you decorate your bathroom shelves. We'll take a look at some of the best ideas and provide you with a perfect example of how to make use of shelf space in an efficient and stylish way. So let's get started and explore the benefits of bathroom shelving, types of shelving and how to decorate it.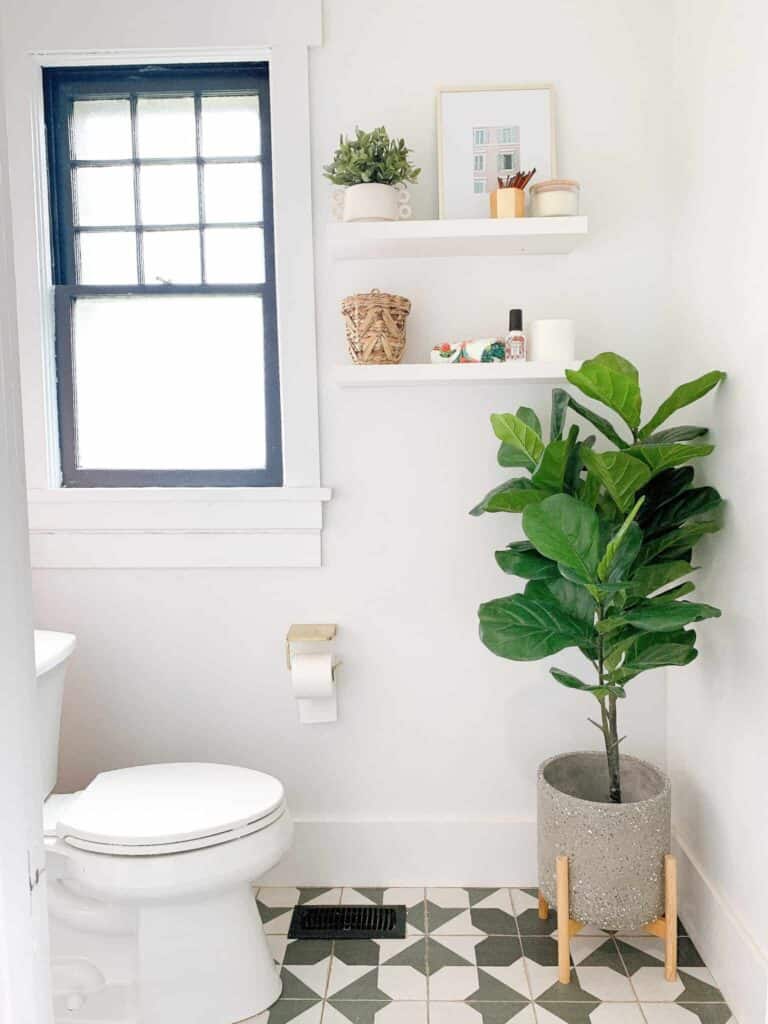 Benefits of Bathroom Shelving
Bathroom shelves have many benefits. They provide functional storage space and can also be aesthetically pleasing when you take the time to style them.
You may think about using vertical space when it comes to storage in your garage or closets, but the same is true in your bathroom as well. If you don't have enough horizontal space, a great idea is to use wall space and start adding shelves to give your bathroom some extra storage.
Shelves tend to be low cost. Instead of overhauling your entire bathroom, which can become expensive quickly, adding a couple of shelves is a more economical solution.
Bathroom shelving also has a wide variety of options. They are available in all shapes and sizes to fit everyone's bathroom. They also come in a wide range of materials to fit everyone's price point and a wide range of colors to match everyone's aesthetic.
Shelves are a very practical option. They are easy to put up and take down. You don't have to commit to a shelf forever. Bathroom shelves allow you to grab what you need quickly and easily. They keep the space cleaner. They allow clutter to be contained and bathroom counters to be freed up. This will make it easier to wipe down the counters as needed.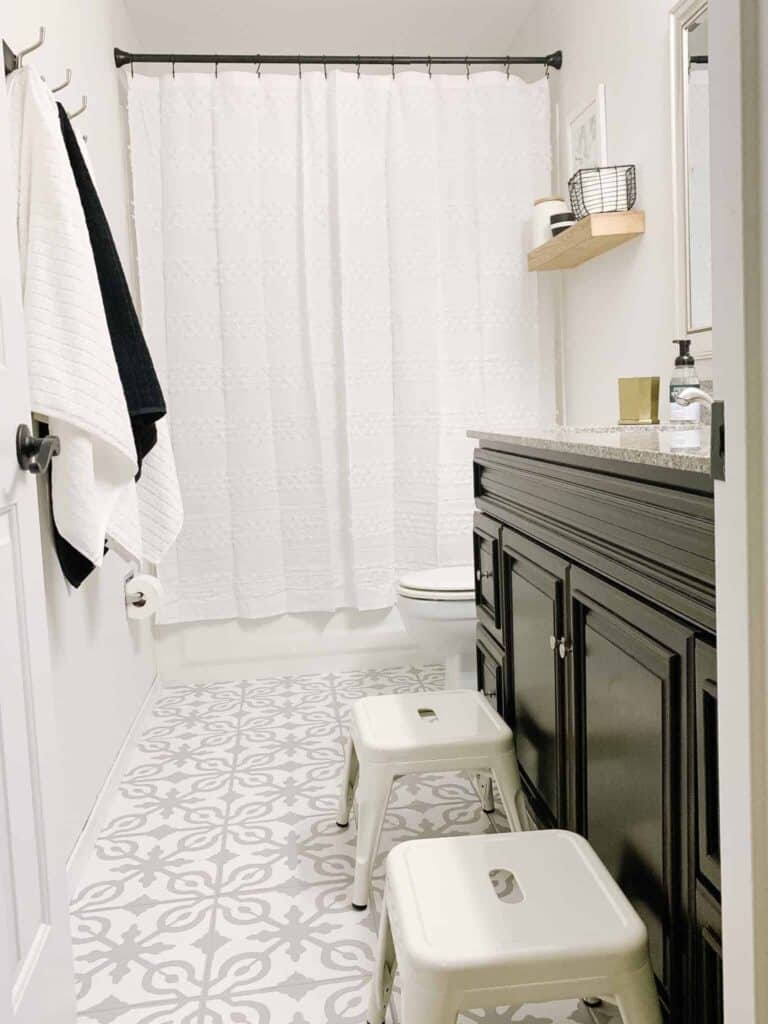 Types of Bathroom Shelving
Bathroom shelving can be a great way to store and organize all of your bathroom necessities. From wooden floating shelves to modern built-in cabinets, there are a variety of types of bathroom shelving available to suit any style.
Wooden floating shelves are perfect for rustic designs, while metal and glass shelves provide a more modern look. Corner shelves are great for smaller bathrooms, while alcove and over the toilet shelving can provide extra storage without taking up too much space.
Window sills can also be used as storage solutions in some cases, making them an ideal choice for those looking to maximize their space. It is important to determine how many shelves will work in your space.
No matter what type or number of bathroom shelves you use, they are sure to help keep your bathroom organized and tidy.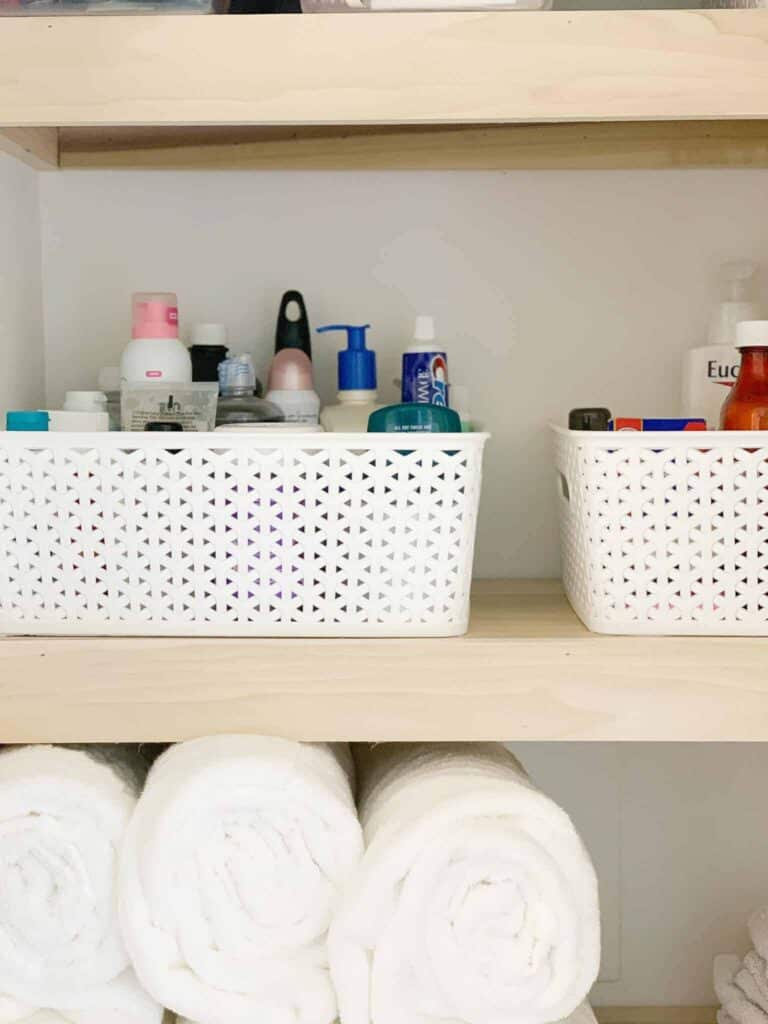 Best Way To Decorate Bathroom Shelving
Bathroom shelving is a great way to add function and style to your bathroom. It can help keep the space organized and tidy, while also providing a place for you to display decorative items or store extra towels and toiletries. With the right shelving solutions, you can transform your bathroom into an inviting and stylish retreat.
Let's go over the best ways to decorate your bathroom shelving for both form and function. We'll look at different storage solutions that will help keep your items organized. We will also touch on ideas to add decorative touches that will make your space feel warm and inviting.
Consider Storage Solutions
Finding the right storage solutions for your home can be daunting. You want something that is both functional and stylish, yet still fits in with your decor. Fortunately, there are many options available to you like jars and baskets or ceramic dishes and jewelry holders. Either way, you can find something that suits your needs without sacrificing style.
You can also use bathroom shelving to store bath essentials such as towels, toilet paper, q-tips, cotton balls and tissues to keep things organized around the sink or bathroom vanity. With the right storage solutions, you'll be able to keep your home neat and tidy while creating a space that looks great too.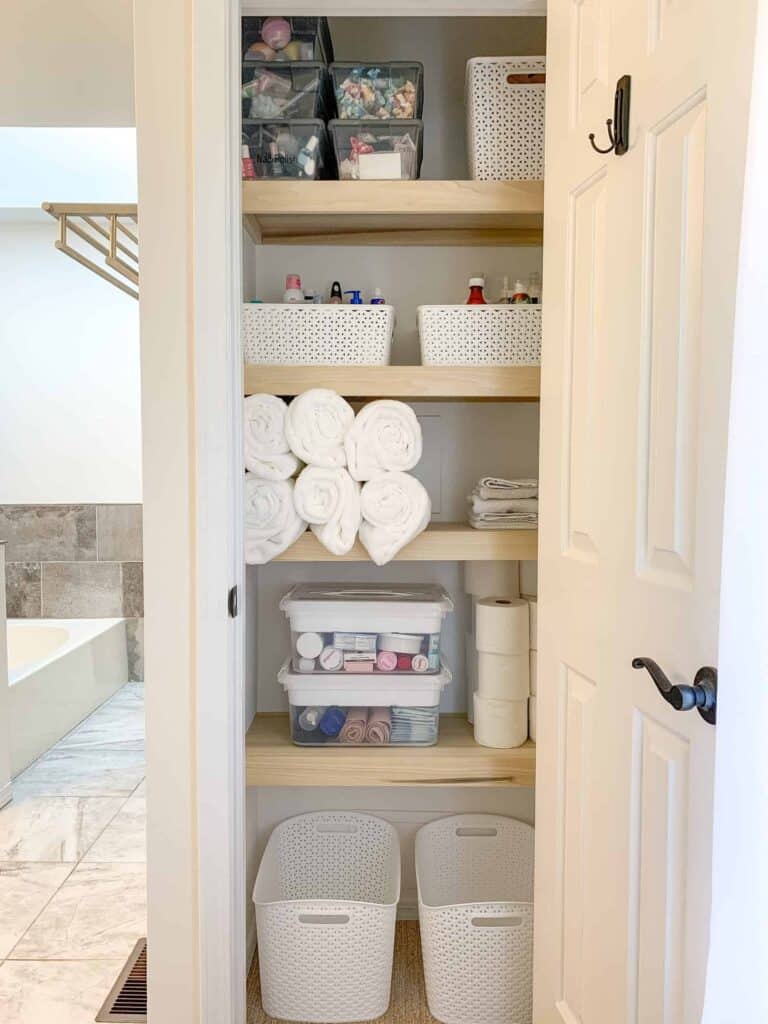 Decor Options
Bathroom shelving decor is an important part of creating a cozy and inviting space. With the right accents and color scheme, you can easily add personality to your bathroom shelves. From fresh accents like candles or framed pictures to storage solutions like glass jars, there are many ways to make your bathroom shelves look stylish.
The key is to find the right balance of items that fit into your color scheme and also reflect your personal style. Additionally, it's important to consider heights when arranging items on the shelves so that everything looks visually pleasing. Creating vignettes or groups of three is a good idea to balance the space. With a few simple touches, you can easily transform your bathroom shelves into a beautiful display.
Here are are a few helpful tips to take your bathroom shelving decor up a notch:
Add Personality
Bathroom shelving can be a great way to add personality and style to your bathroom. With the right decor options, you can create a unique look that is both stylish and functional. From rustic wood shelves to modern metal shelves, there are plenty of ways to make your bathroom look great while also being organized. Whether you're looking for something simple or something more elaborate, there are plenty of options available when it comes to bathroom shelving decor.
Consider Color Scheme
One of the most important factors in getting the right look is choosing the right color scheme. You may prefer contrasting colors, neutral colors, or bold colors to create a cohesive look that will tie your entire bathroom together. Consider how different color schemes can help you create a unique and stylish space that will be sure to impress your guests.
Add Fresh Accents
If you want to add some fresh accents to your bathroom, shelving decor is the perfect way to do it. Plants and flowers are a great way to bring life into your bathroom, adding a touch of natural beauty. Not only do they look great, but they can also help purify the air in your bathroom and make it smell nice.
With the right selection of plants and flowers, you can create a beautiful and inviting atmosphere in your bathroom that will make it more enjoyable for everyone who uses it. If you want one less thing to worry about, skip the real plants and opt for fake instead. They still look great and won't wilt if you forget about them.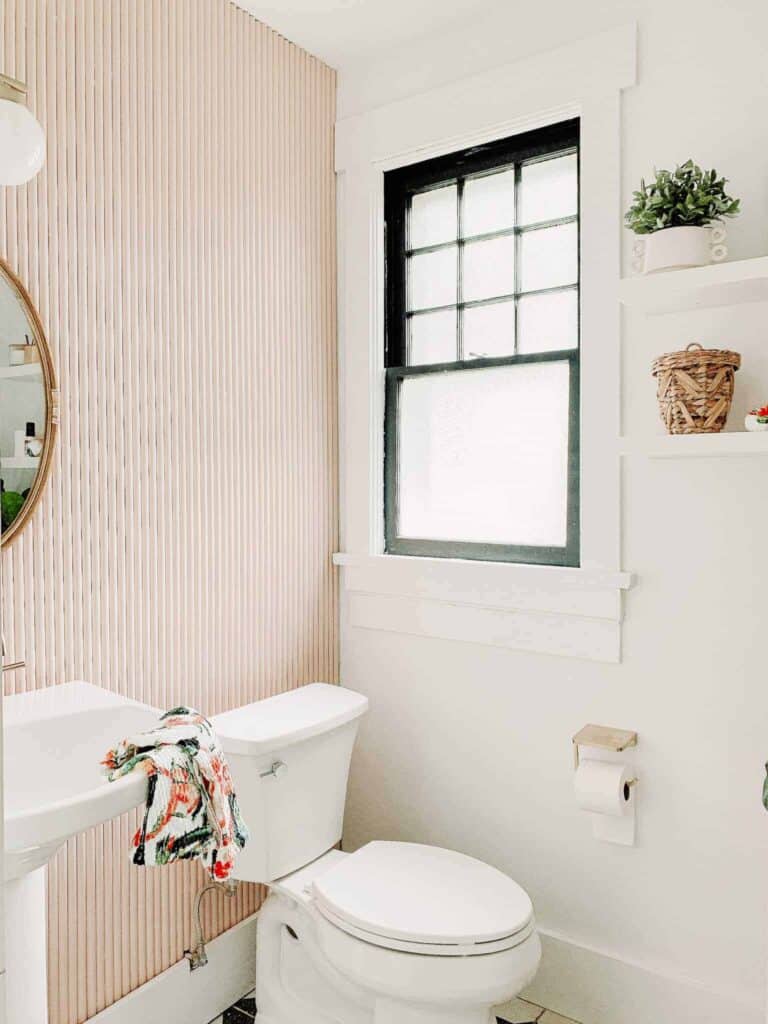 Add A Candle For Warmth
One of the most popular bathroom shelving decor options is candles. Candles can provide warmth and ambiance to any room and are perfect for bathrooms as they provide a calming atmosphere.
Framed Pictures
Framed pictures are perfect for adding color and personality to your bathroom shelves. Whether you choose family photos or artwork, framed pictures will add the perfect finishing touch to any bathroom decor.
Storage Solutions
Decor can also be practical. The bathroom is a great place to add functional storage. Some ideas are decorative jars, bins, baskets and trays.They can hold things from beauty products such as makeup and perfume to tissue products such as toilet paper and facial tissues.
Utilize Glass Jars
Soap and lotion don't need to stay in their plastic bottles. Consider switching to glass for a more aesthetically pleasing touch. If you have a favorite brand, you can buy a bulk container to save money as well.
Create Different Heights
Utilize tiered stands for displaying plants, jars, and so on. Different heights of objects creates more visual interest.
Create Vignettes
Groups of three or odd numbers of objects look better to the eye. Visually, a focal point is always a great idea to have. By arranging objects in different ways, you can create a unique look that will make your bathroom stand out from the rest.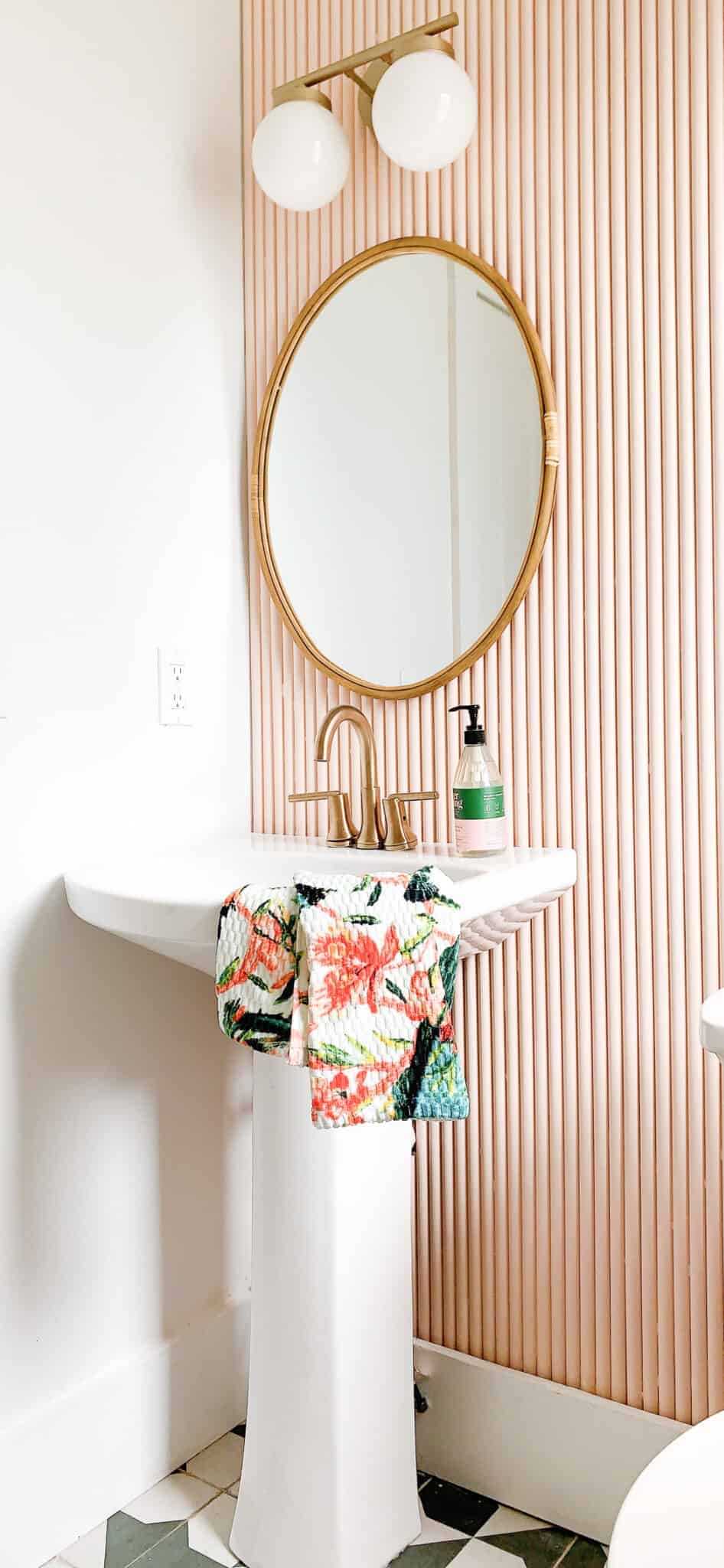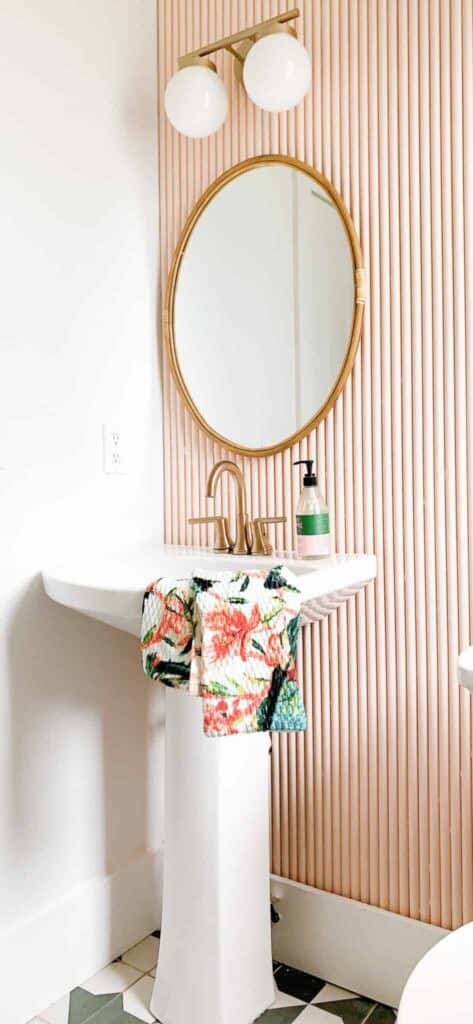 Bathroom Shelving Ideas
Now that you have an idea of the importance of bathroom shelving and my top tips, let's take a look at some inspiration.
All White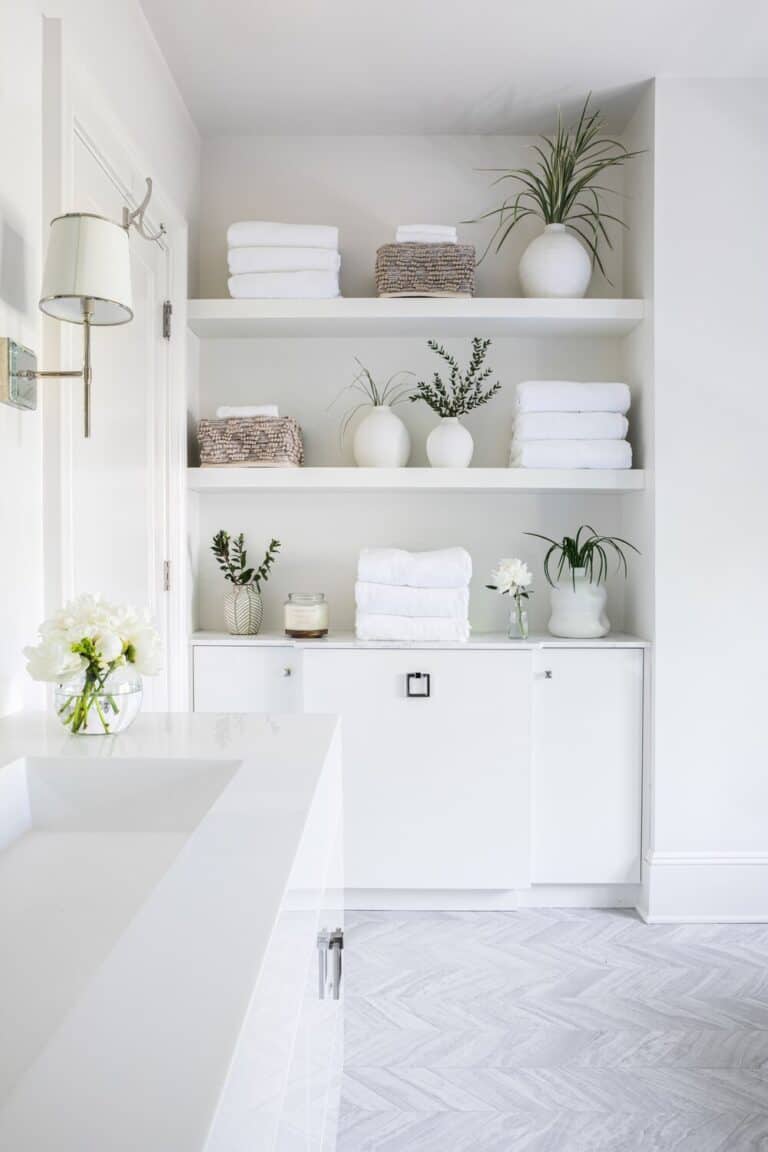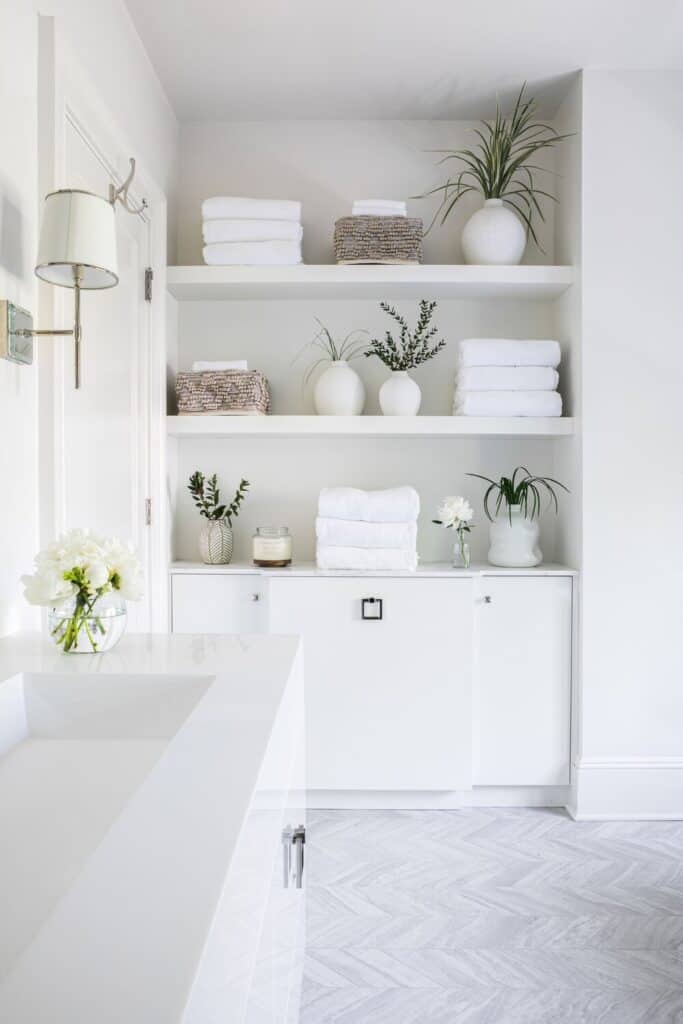 What I love about this all white bathroom is that they added two open shelves in the empty space above the cabinet. They go wall to wall to utilize all the open space they can. Now they have three spots for functional and aesthetically pleasing open storage. On the top shelf, they have extra towels, a wicker basket with hand towels, and a vase with a hint of greenery for a pop of color. On the bottom shelf, they have similar items, grouped into three sections. On top of the cabinet is the same thing. The white shelves make them look built in and allow the decorative elements to be the focal point.
Modern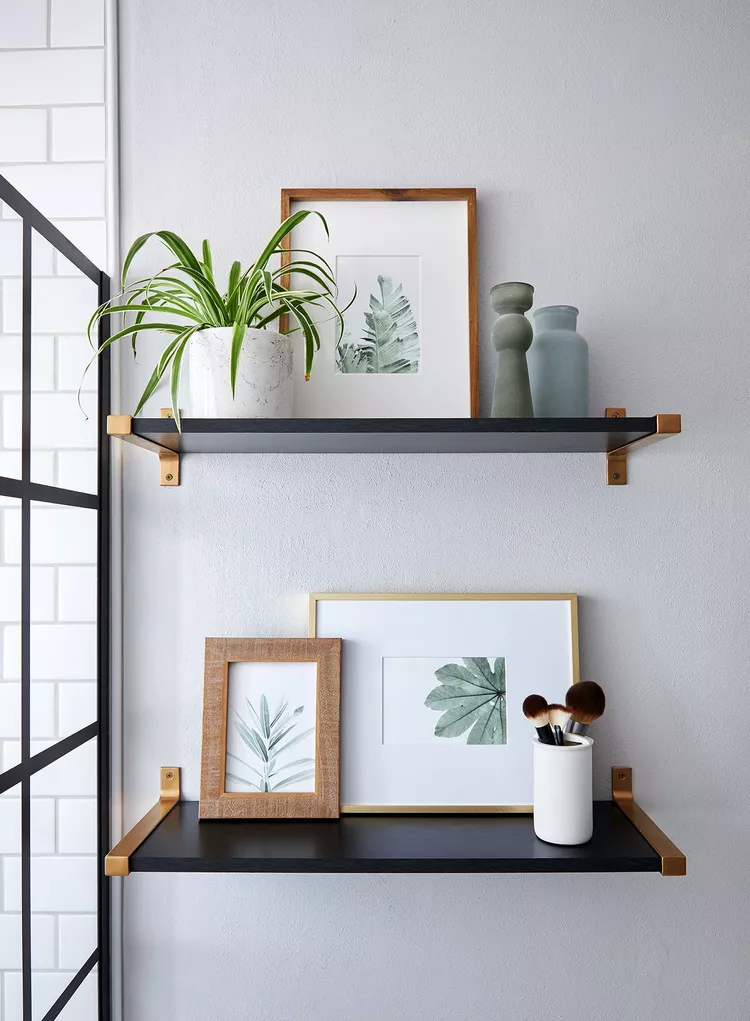 In this modern bathroom the shelving is small and thin. The black looks sleek and the gold brackets add a nice accent. The framed pictures and small decor items are from the same color palette. These shelves can be used in a tiny bathroom without taking up much space but add a bold statement against a white wall. This is a great way to get a cohesive look in a limited space.
Unconventional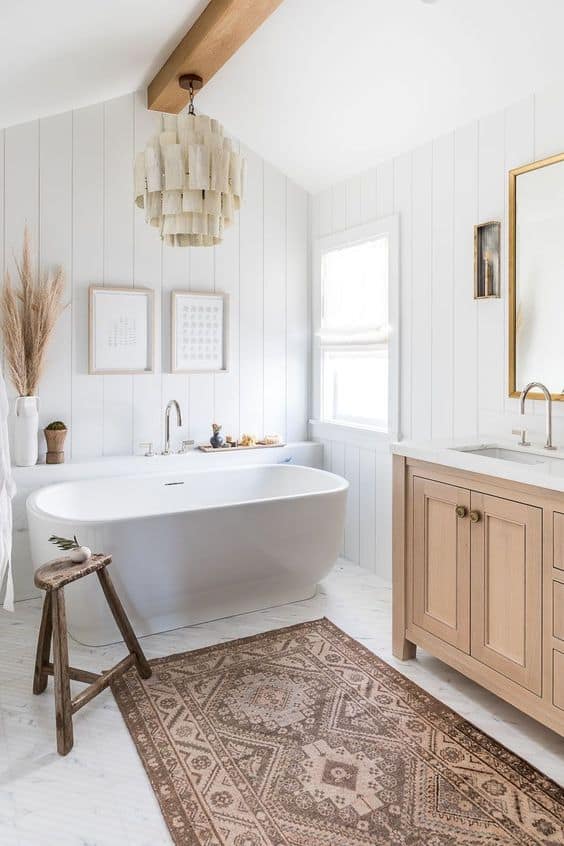 Typically, when you think of bathroom shelves, you don't necessarily think of utilizing an entire built in ledge as a shelf. In this bathroom designed by Mindy Gayer, this homeowner's master suite is a great example of utilizing every inch of space. This built in ledge is apart of the bathtub and houses the faucet. Instead of leaving the space blank, this ledge has functional items needed for a relaxing bath. It is completed by touches of personal decor and framed by two pictures to create a focal point for the tub.
Farmhouse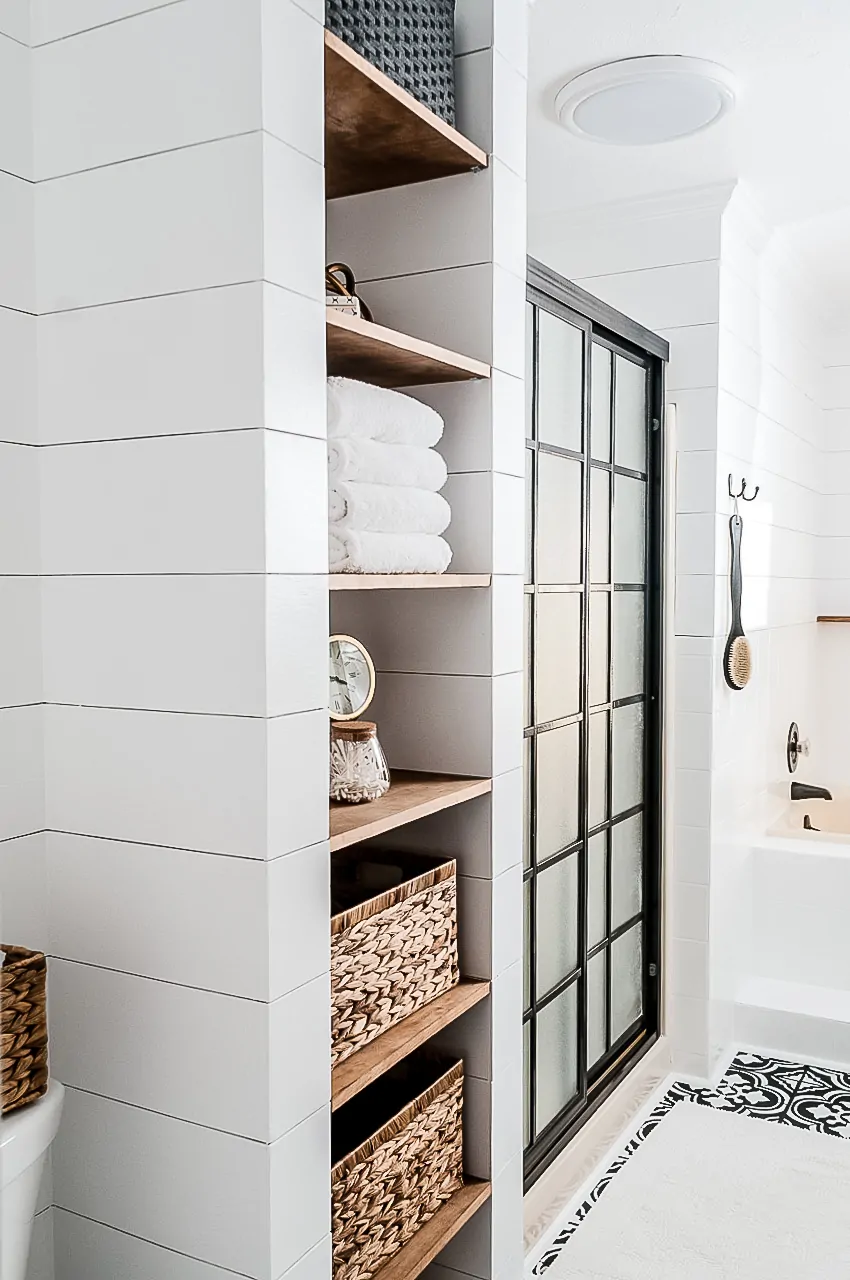 Shelves don't need to be overly decorated. Including baskets and jars to increase storage space is one way this small bathroom solved their storage problem. They utilized all the space available to its full potential. One of my favorite ways they styled this smaller space was with the different textures between the towels, plant, and geometric shaped item. I think a similar look could be achieved by browsing the Hobby Lobby store shelves.
Other Posts You'll Love
Bathroom Vanity Ideas On A Budget | Pedestal Sink Storage Solutions | DIY Floating Shelves | How To Decorate Shelving
Pin This Photo Below For Later
I hope that this post has given you some things to consider when decorating your bathroom shelving. A functional and aesthetically pleasing bathroom is important, but whatever makes you the happiest is the most important. Your bathroom should suit you. It should feel like a calm and relaxing space. Whether that is achieved with plants, pictures, or jars and containers is ultimately up to you. I hope you are happy in your home and have fun decorating your space! Be sure to pin the photo below for later, and if you don't already – follow me on Instagram (@arinsolange) and Tik Tok (@arinsolange) for more fun.