I'm currently renovating two of my bathrooms right now: the main floor powder room as well as the kids' shared bathroom, and I have big plans for them. Our kids' bathroom is a very small space so we will need to be strategic with our vanity for it to function well. While we aren't re-purposing any of our current materials, you can still remodel a bathroom on a budget. Whether you want to DIY or buy new, there are many options to update your bathroom vanity. In this post, I will be sharing some simple bathroom vanity ideas on a budget.
This post may contain affiliate links.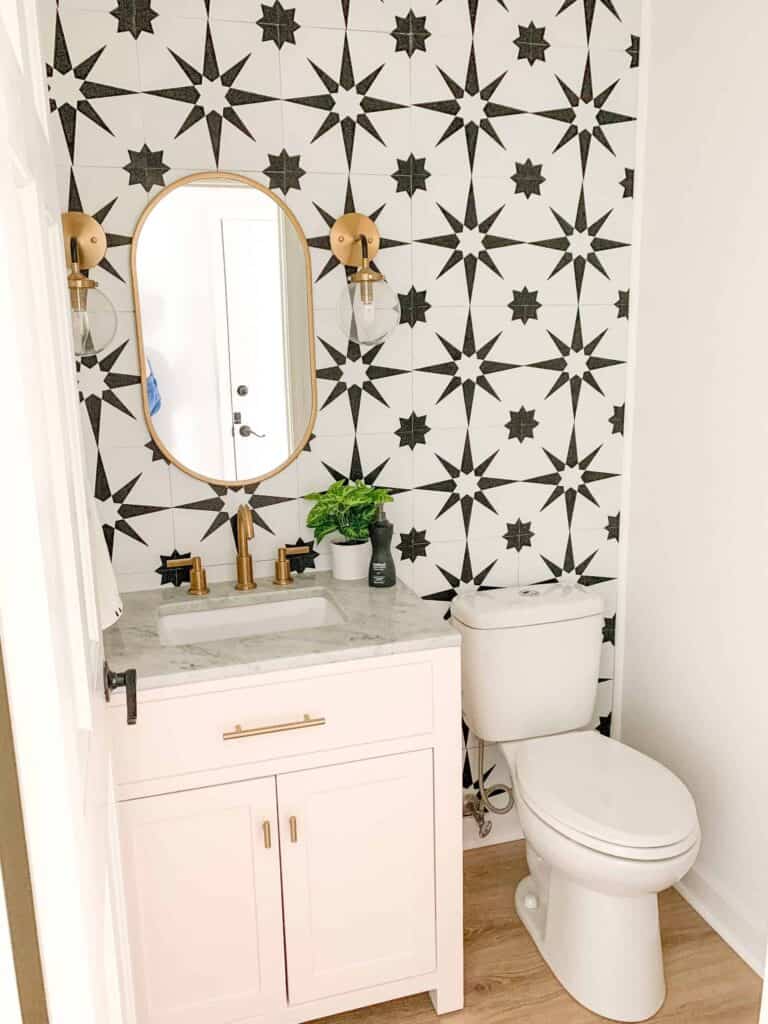 Bathroom Vanity Ideas On A Budget
This isn't my first rodeo when it comes to bathroom remodels. Between our last house and our current historic home, Sam and I have done our share of bathroom remodels. In our last house, we did simple updates to our master bathroom, kid's bathroom, and powder bathroom. None of the updates were major renovations, unlike our current historic home.
Due to the age of our current home, all of our bathroom updates have been major renovations. Currently, we are in the process of creating our kids' shared bathroom into a functional space. Due to the small size, I've had to be extremely intentional in the design and storage solutions. I'll share more of that once our renovation is complete, so stay tuned!
In our last house, however, one of my favorite updates was to our main floor powder bathroom. For under $500, I took our outdated bathroom and updated it with paint, new hardware, and a modern backsplash. By repurposing our vanity, I was able to paint it a bright pink, and add gold hardware to have a completely new looking vanity. It was well worth the time and made the entire bathroom pop.
Sometimes, a little paint, new hardware, and hard work is all you need to create the bathroom of your dreams.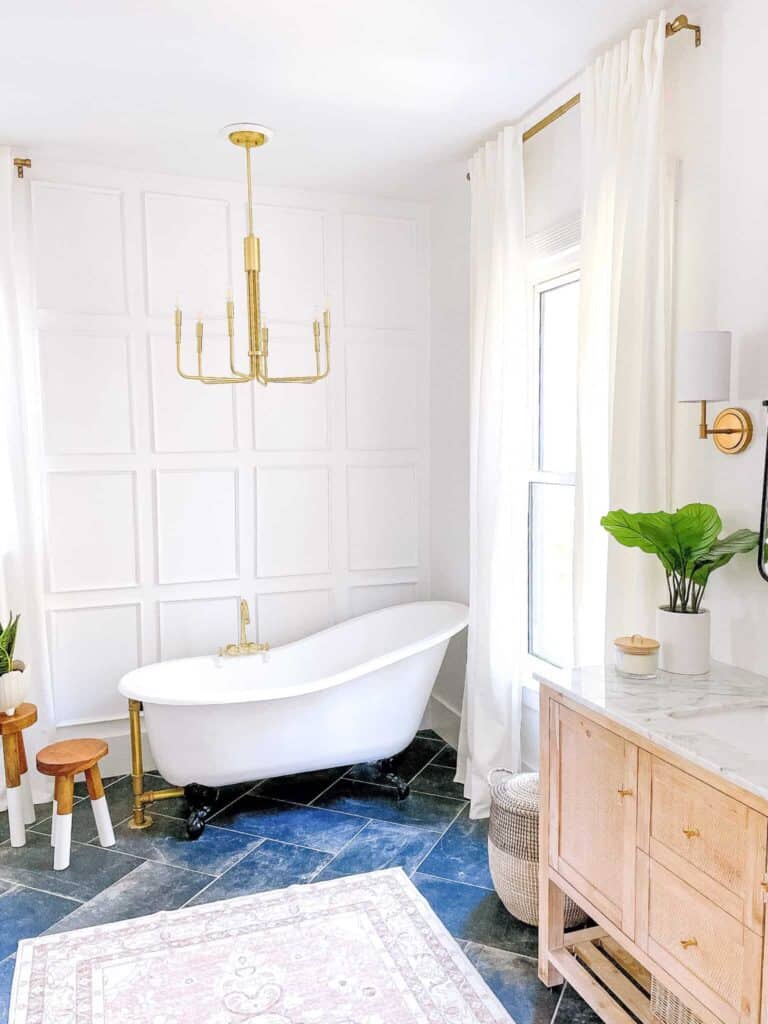 What To Know Before You Update Your Vanity
There are several things to consider before you update your bathroom vanity: spacing, plumbing, storage options, materials, and budget.
Perhaps most obvious is the space you have available for a vanity. I'll discuss recommended vanity sizing and space to leave around it. Plumbing is another thing to consider. Where your plumbing currently is will affect what you can and can't do with your updated vanity.
Storage options are another thing to think about before you choose the specific vanity that's best for you. If you have a large closet, you may not need your vanity to have multiple drawers to hold everything in your bathroom. If you don't, you may need your vanity to be able to fit a lot.
Two other things to consider are what materials to use and what your budget is. These often go hand in hand because your budget will determine which material options you can choose from. I'm going to try to give you as many budget bathroom ideas as possible next.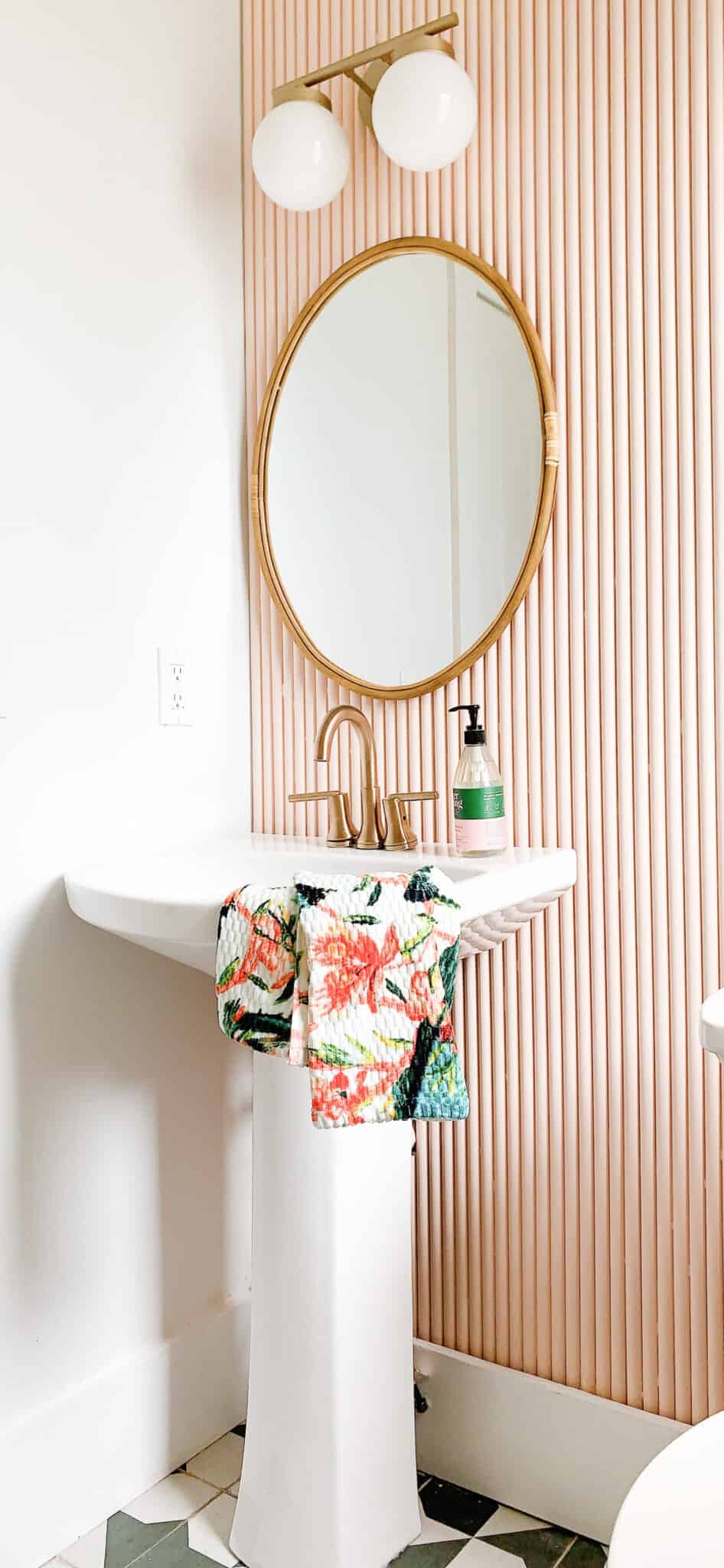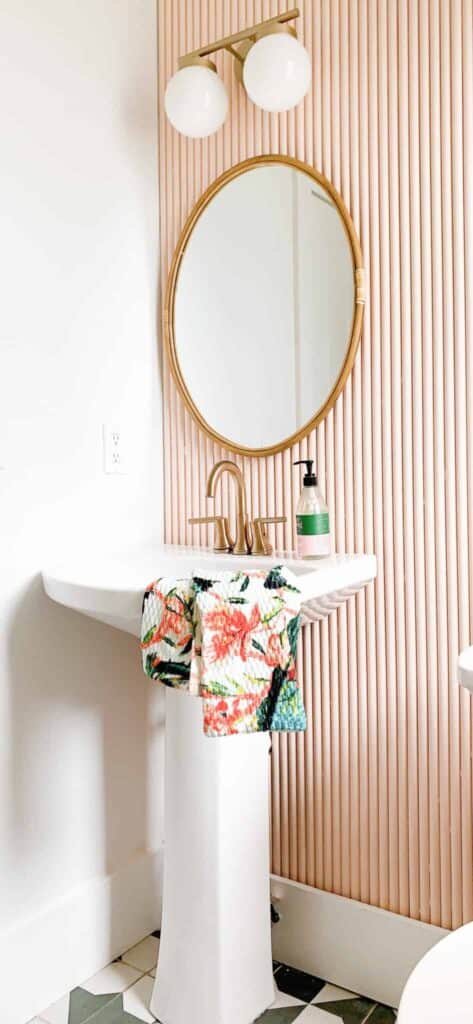 Pay Attention to Plumbing
If you are planning to keep your plumbing where it is, you can measure for your space by using the plumbing as the midpoint. Measure out equally on both sides. You should leave 18 inches of space between the center of the toilet and the edge of the vanity. This will give you a good idea of how wide your vanity can be.
Of course, if you are happy with the size of your current vanity, and don't plan on moving any plumbing, you can always stay with the same size of your current vanity. Vanities typically come in standard sizes, and choosing a new vanity that is the same size as your current vanity is an easy solution. If you plan on reusing your vanity, then you don't even need to worry about plumbing or sizing.
On the other hand, if you end up getting a vanity that is larger or smaller, keep in mind that you may need to have your drain and p-trap reconfigured. This, I speak from experience.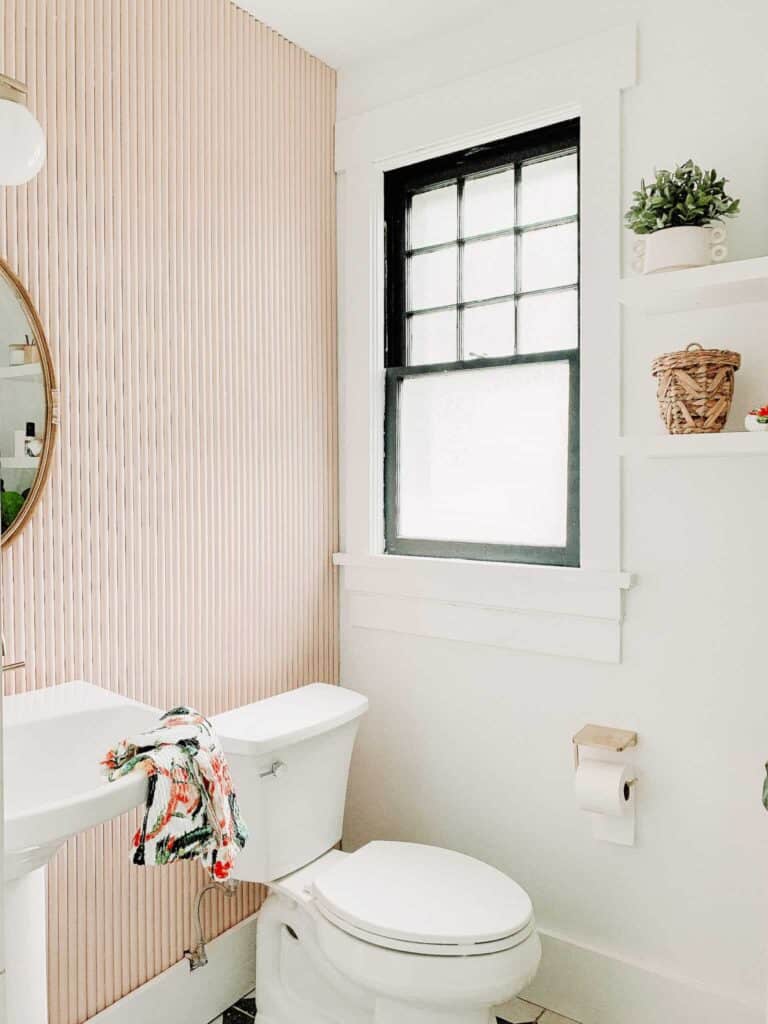 Consider Your Bathroom's Space & Size
You'll need to keep in mind your bathroom's space and size. If you are going to get a new vanity, or move your vanity, spacing is a big factor. You don't want your vanity to overcrowd your toilet or have cabinets opening and hit walls or block pathways.
To determine the depth, you should consider the swing of any doors including the vanity, closet, shower, and bathroom door, as well as any drawers from the vanity. It is best to leave an inch or two of extra space in between all points. Vanity depths tend to be between 18 and 21 inches.
It is also important to determine the height your vanity will be. Typical heights range between 30 and 37 inches. Factor in any accessories you have including bathroom mirrors, lighting, and backsplashes that may affect the best height for your vanity.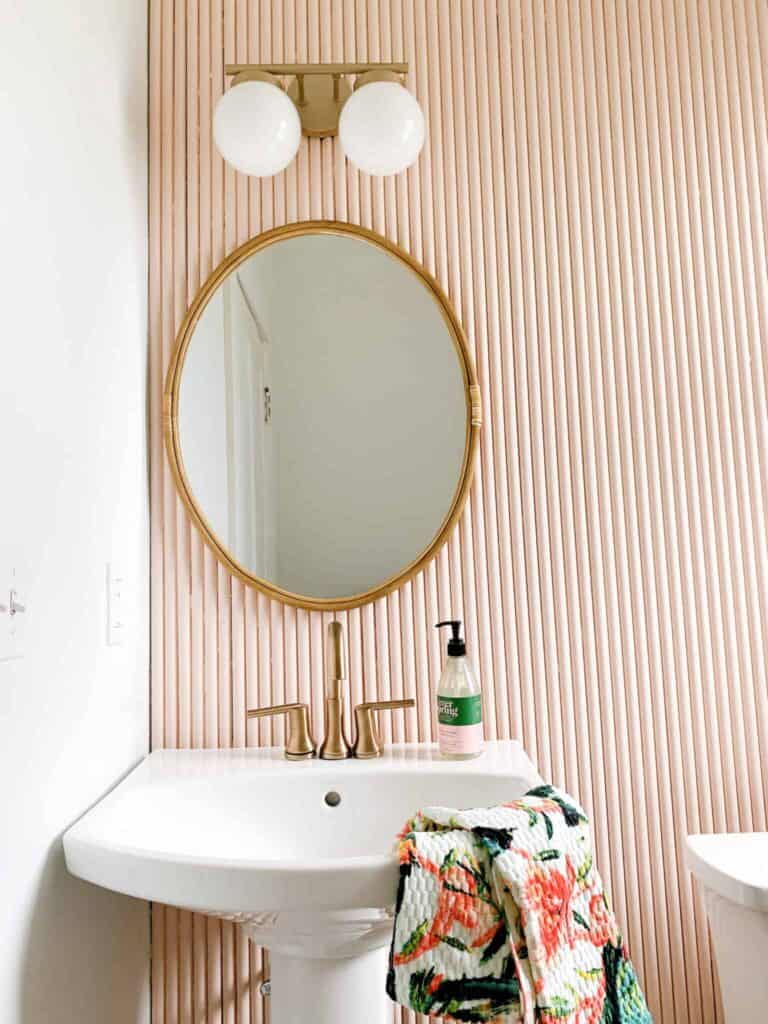 Consider Storage Options
Because my vanity will have to be small, I want to utilize every square foot of storage space possible. I'm going to utilize the inside of the cabinet door with my favorite magnetic jars. You can also use adhesive hooks here to hang heat tools or brushes. A magnetic strip is great for holding bobby pins or nail tools.
It will be important for me to keep the vanity decluttered and organized, so I'll be using stackable drawers under the sink and drawer organizers. Another option is using a rotating acrylic organizer on top of your vanity. This is an aesthetically pleasing storage choice for items you use often.
If you need any ideas on how to maximize your bathroom storage, check out my post here.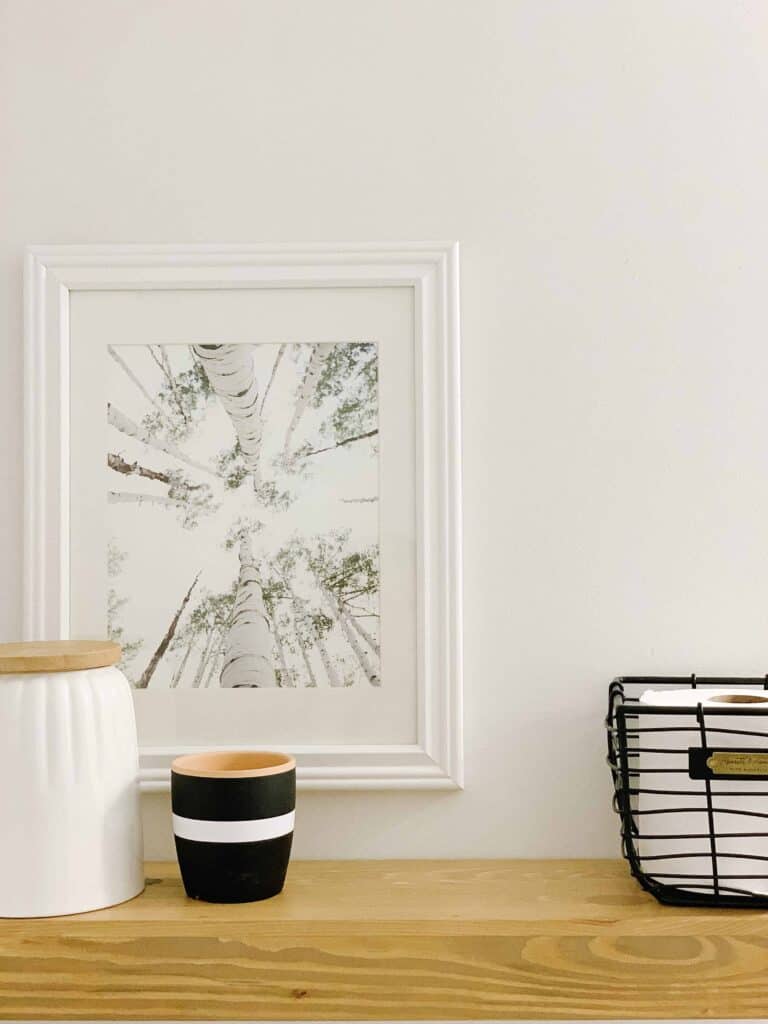 Materials Matter
Another good thing to consider when picking a bathroom vanity is what material you want it to be made out of. In my kids' bathroom, for example, I will be using durable materials that they can't destroy. An all marble top that will stain easily is not the best idea for a kids bathroom, so you may need to consider other vanity top options.
Marble can be okay in bathrooms as long as it is sealed properly. You'll need to keep up with the maintenance that it requires to ensure you don't have major stains.
Personally, I love quartz for kids bathrooms. They have a similar appearance to marble, and are much more durable. Plus, quartz isn't porous, so it won't absorb moisture like marble.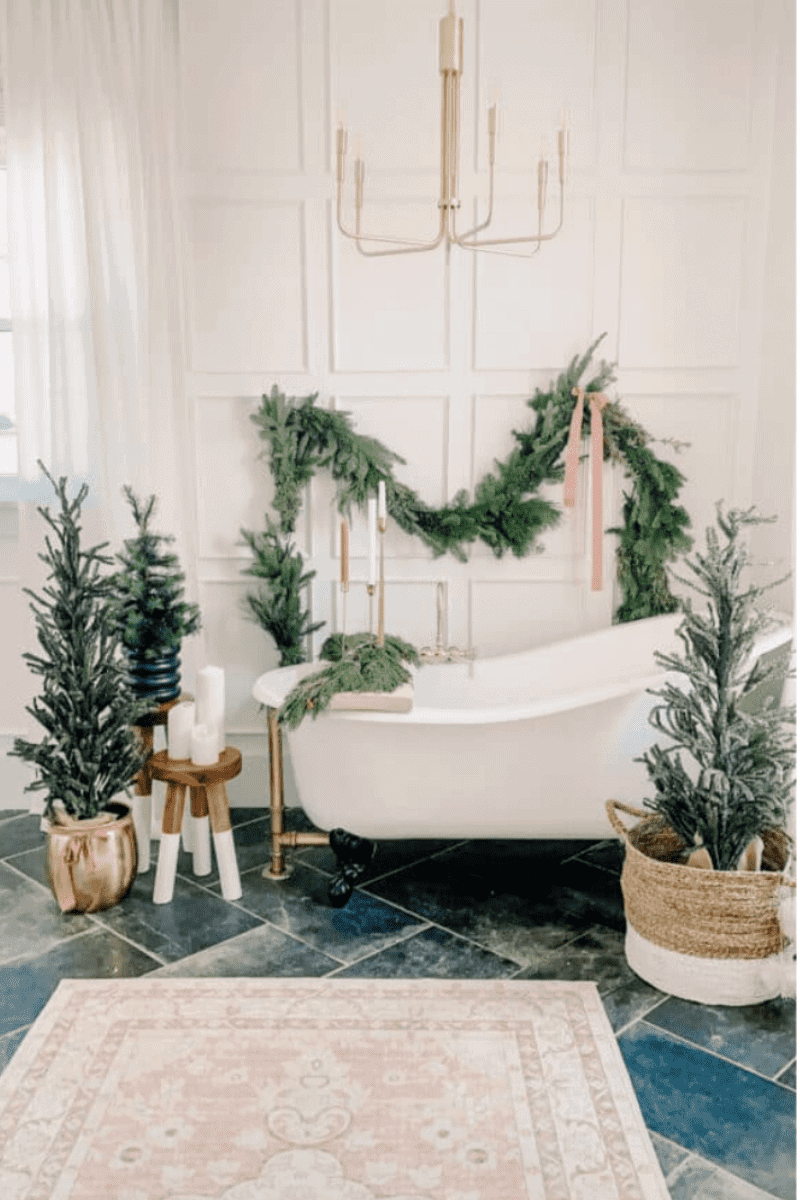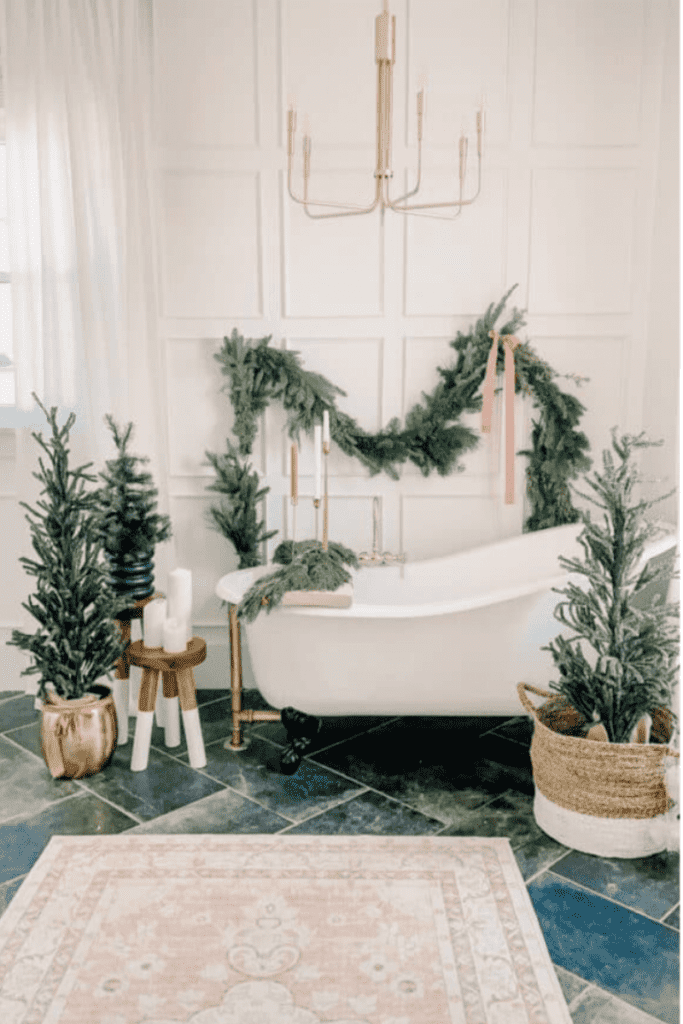 Determine Budget
Last, but most importantly, you have to determine the budget you are comfortable with for your bathroom renovations. This may also affect the materials you end up using because some countertop types are much more expensive than others.
I hope I can offer some affordable options that are also aesthetically pleasing.
The Top 4 Bathroom Vanity Ideas On A Budget
Next, I'm going to talk about my top four bathroom vanity ideas on a small budget. They include updating your current bathroom vanity, my favorite budget vanities, giving second hand vanities a new life, and thinking outside the box. I'll touch on different options for every budget, personal preference, and skill level.
Update Your Current Bathroom Vanity
The vanity is often the focal point of the bathroom. Updating it can give you the perfect opportunity to refresh your space and give it a whole new look. One of the best ways to update your existing vanity is by painting its cabinets. Most things look better with a fresh coat of paint, and your vanity is no different. It is a cheap way to make a big impact on your own vanity.
Another option is to add wallpaper or contact paper to the doors. This is an option that can be easily removed if you change your mind later.
If you want to add texture and depth to your cabinets, try adding molding to the cabinet faces.
Finally, another idea to update your vanity is switching out the cabinet hardware. This often makes a huge impact from standard door knobs and pulls to something with a more custom look and style.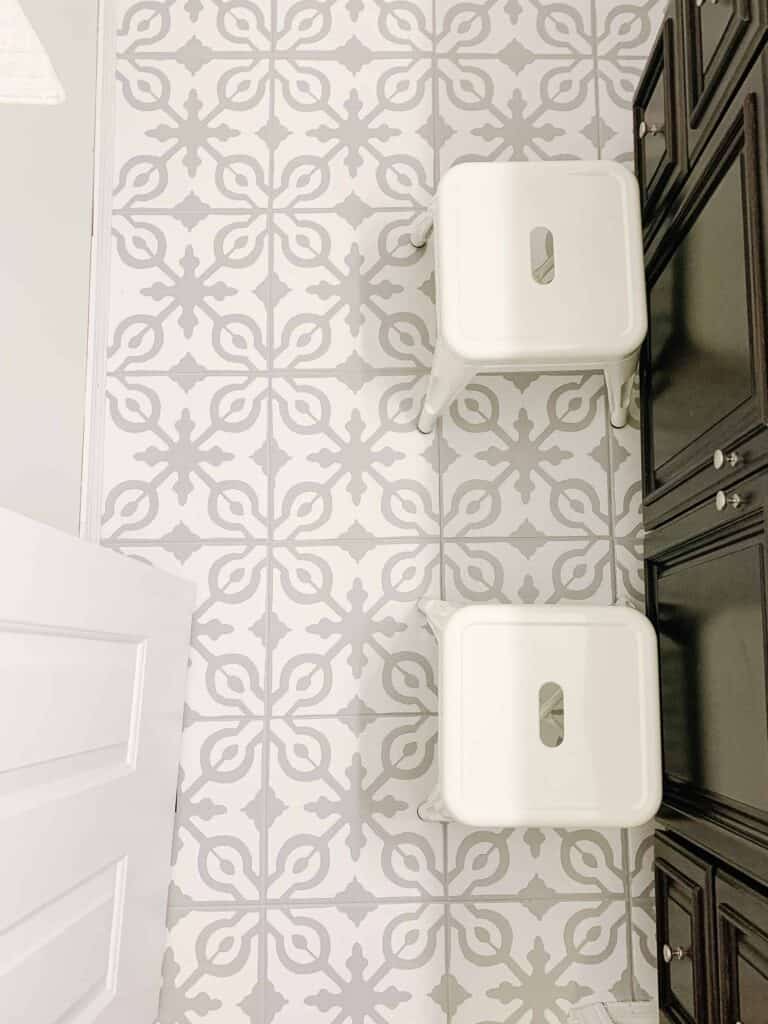 My Favorite Budget Vanities
Buying brand new vanity is an option as well. Maybe your vanity is not worth the hassle of trying to fix up so you've decided on a new bathroom vanity. Ikea and your local home improvement store like Home Depot have some affordable bathroom vanity options.
Custom vanities and Pottery Barn prices are a stretch if you're trying to stay on a tight budget. I've rounded up a few of my favorite budget vanities that you can find on Amazon. Check them out at the end of this post!
Give Second Hand Vanities New Life
Second hand vanities are another great alternative if you don't mind a DIY project. They can add a unique addition to your bathroom that you can't find anywhere else. They're an awesome way to show your personality and save a little money as well.
Some great places I would recommend to look for old vanities or rustic vanities are Facebook Marketplace, flea markets, antique stores or repurposing other furniture items.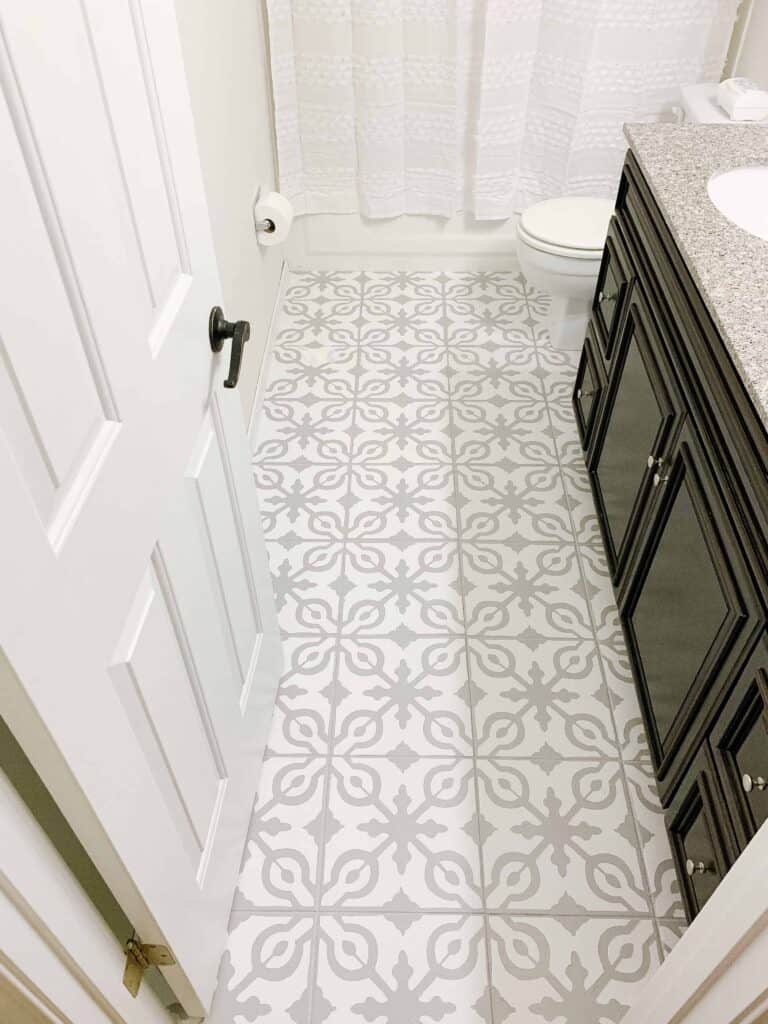 Think Outside The Box
Some unusual furniture pieces that would make a nice DIY vanity include a media cabinet, vintage dresser or console table. These repurposed furniture pieces would make a huge statement if you have the time and energy to do the work.
Of course you need a functional vanity, so an old dresser would need a vessel sink, new hardware and plumbing openings. If you're comfortable with power tools, one of these options would make an impact.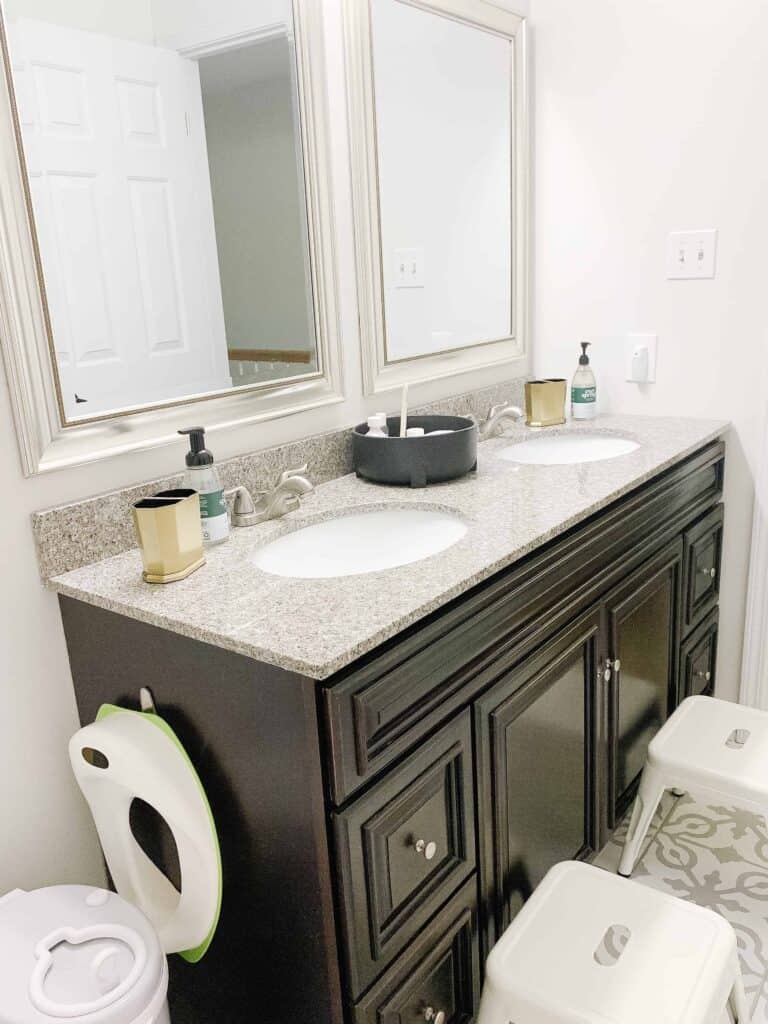 Budget Ideas To Update Your Bathroom
There are other great ways to update your bathroom on a budget that doesn't include buying a new vanity. If you need other great ideas to update your bathroom, check out my post here.
Adding a fresh coat of paint is an affordable and easy way to switch up the look of any room in your home. In our last house, I not only painted the bathroom, but I also updated our tile floors using paint. I created a stencil and painted the floors using the stencil design, and it made a world of difference. Check out my post here to find out how you can paint your own tile floors.
Adding new lighting, hardware, and artwork are all easy ways to bring your bathroom a fresh new look. Sometimes, you need more than aesthetically pleasing ideas to make your bathroom function.
To better serve our family's needs, I've added a few smart solutions to our bathrooms.
New stackable step stools helped my younger kids better reach the sinks and access items they use everyday. Another thing I got was toothbrush holders, one for each sink, that could fit the kids' electric toothbrushes. I also got a small shelf for a bit of extra storage over the toilet.
On our open shelving above the toilet, we have solutions that serve as both decor and functional solutions. We have a basket that holds flushable wipes or toilet paper, a small jar that I filled with band-aids, and a small planter that can be decorative or hold cotton balls or q-tips. I also hung some hooks for the kids to hang their towels.
All of these smart solutions have made a huge impact in our day to day and cost less than $250.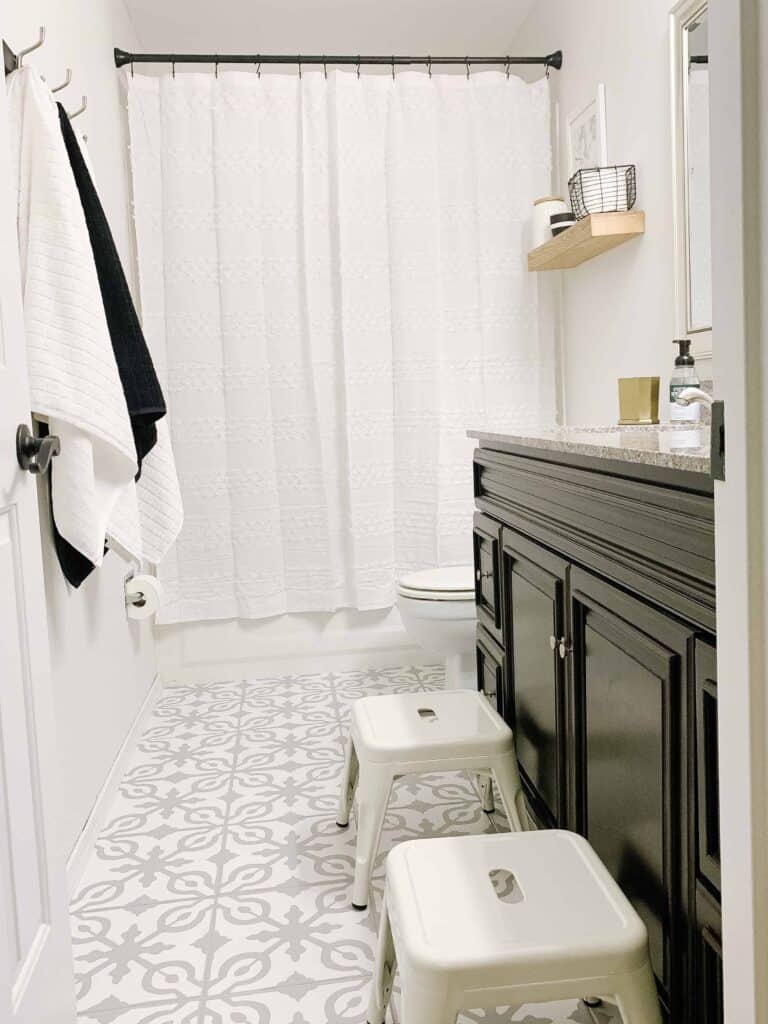 My Favorite Bathroom Vanities On A Budget
Check out my top 10 favorite bathroom vanities you can find on Amazon. All of these are under $500 and would look great!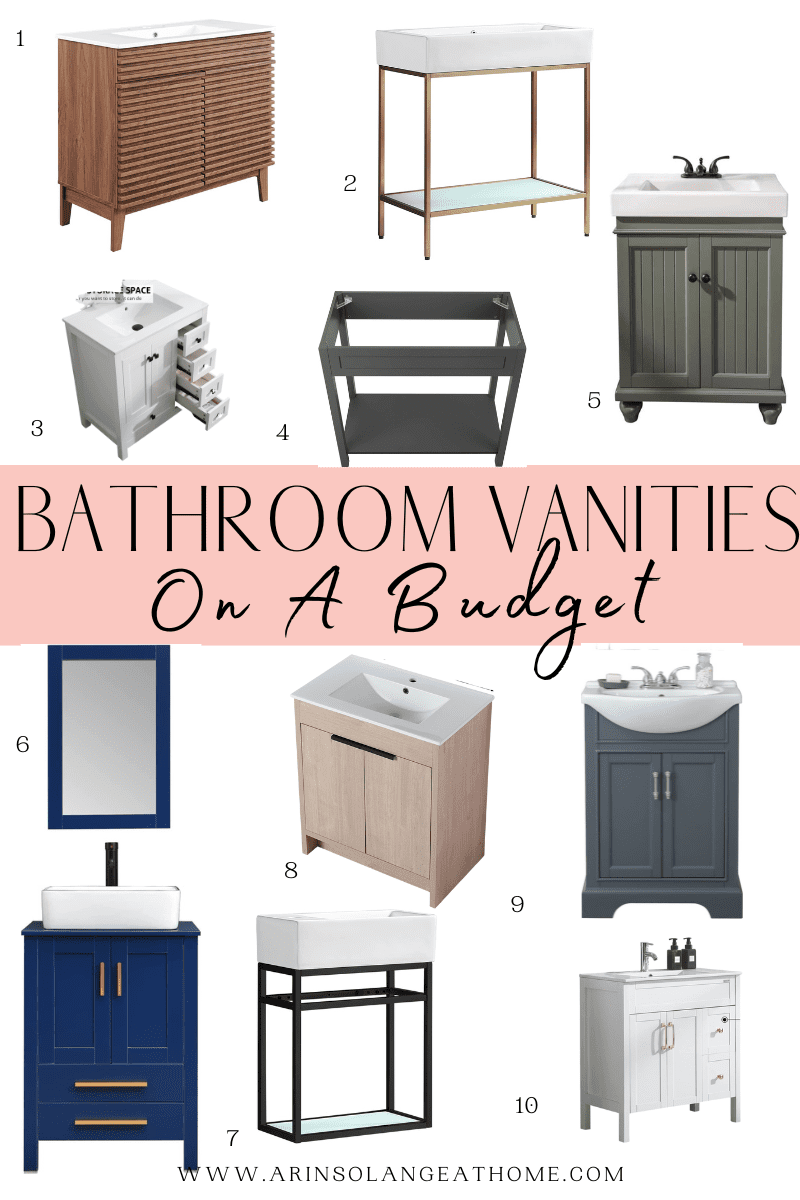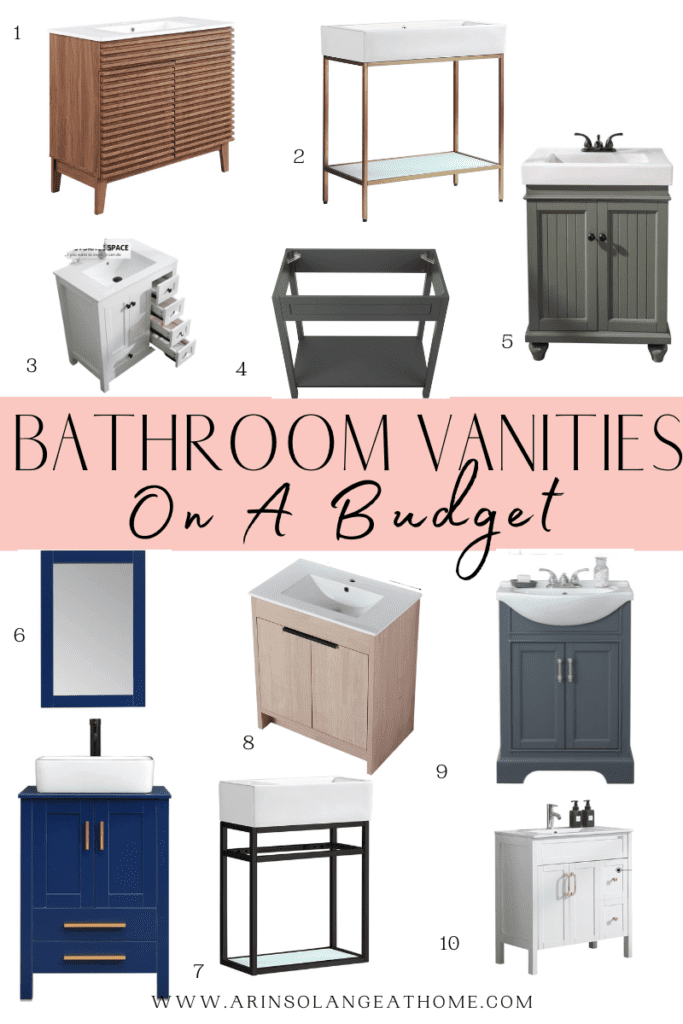 1 | 2 | 3 | 4 | 5 | 6 | 7 | 8 | 9 | 10
Other Posts You'll Love
Bold Pink Powder Bathroom | Inexpensive Ways To Update Bathroom | Pedestal Sink Storage Solutions
Pin This Photo Below For Later
I hope this post gave you some ideas for budget-friendly vanities, ranging from traditional vanities to unique and unusual ones. Have fun creating the bathroom vanity your bathroom needs! Be sure to pin the photo below for later, and if you don't already – follow me on Instagram (@arinsolange) and Tik Tok (@arinsolange) for more fun!