I am so happy to bring you my monthly best sellers list so that you can easily see all the items in one place. All the items in this round up are from Amazon and can be found in my Amazon storefront. And if you find yourself wondering how to use any of these items in unique ways, make sure you head over to my Tik Tok where I am able to share more detailed reviews of items in video format.
This post may contain affiliate links.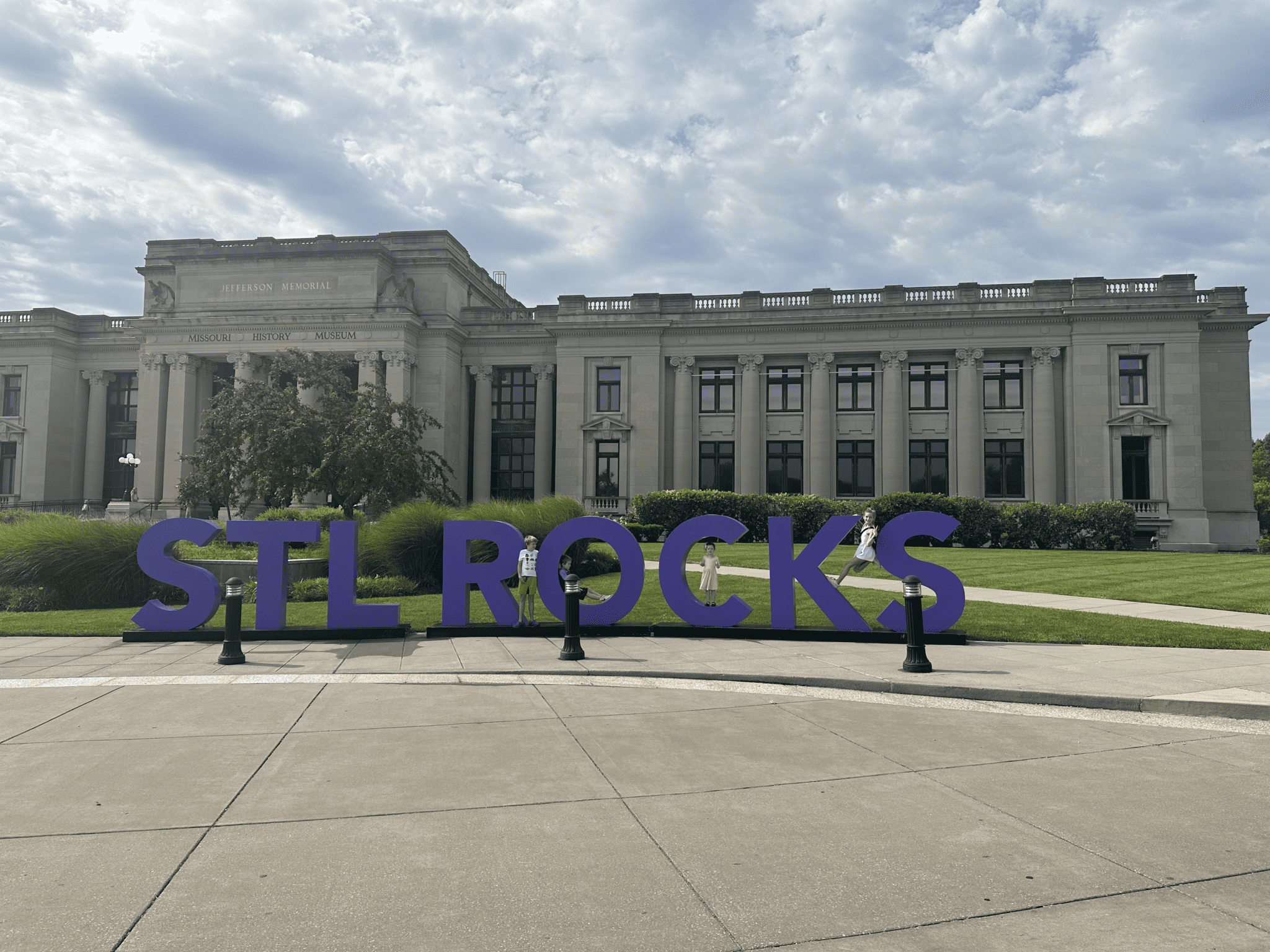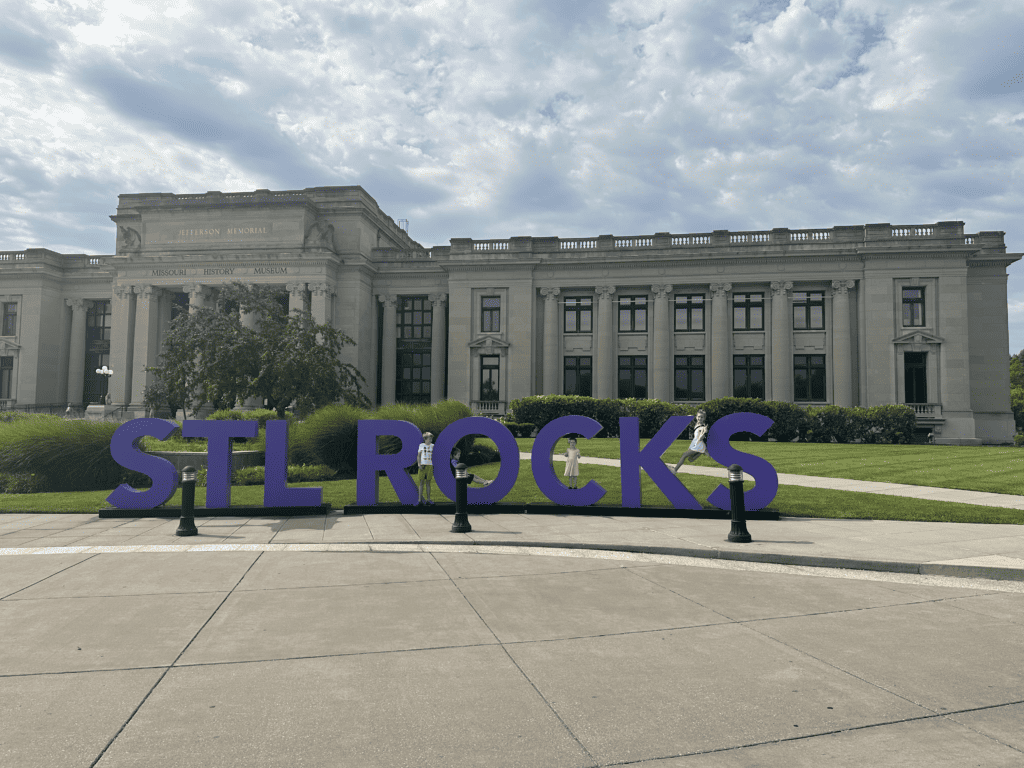 Amazon Best Sellers List- July 2023
Has anyone noticed how fast summer always seems to go? I swear, I blink and the next thing I know I'm gearing up for back to school season. While I love spending time with our family and getting to experience so many fun adventures with the kids, I'm also always so happy when school starts back up.
We thrive on schedules in our house, and while the school season is busy, it is also so much easier to stick to a routine. I try not to plan too many camps, outings, or vacations during summer so that my kids (and myself, really) don't get too overwhelmed with keeping up with all the activities. At the same time, when summer begins to wrap up, I always feel pressured to fit in every last bit of fun.
So whether you are counting down the days until your crew heads back to the classroom (bless you teachers), or trying to fit in every last bit of fun, I hope you have a wonderful remaining couple of weeks with your kids!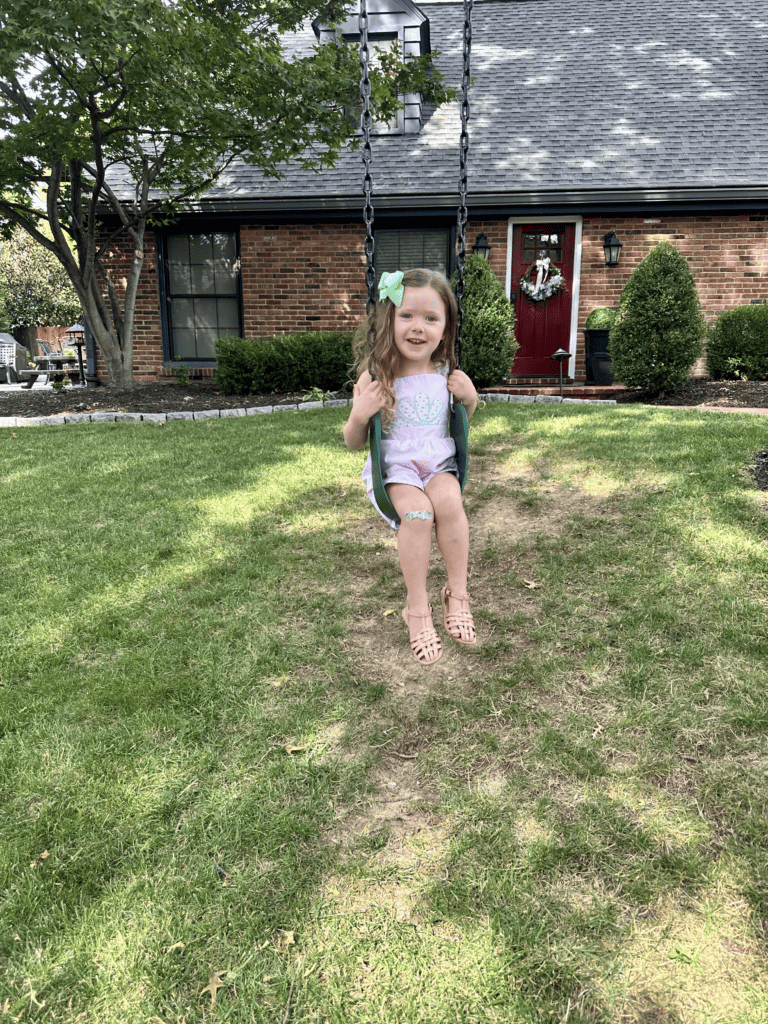 Life Updates For July
Updates this month are mainly focused on some smaller projects we have going around the house. Once we got back from our vacation Sam and I hit the pavement to start some fun changes in the house. Even when I think we have completed one room my style evolves or our needs change. That's the nuts and bolts of how or why a room gets a facelift.
As the school season gets closer, I reassess how our mornings flow and look at what works well and what could use improvements. If there is something that seems to be off or needs tweaking, I'm the first to suggest a change. Sam generally obliges because he knows thats a losing battle. Overall, I strive to get our family and home to flow well and fit our needs. Families and homes change, so re-assessing your needs is key to keep everything functioning well.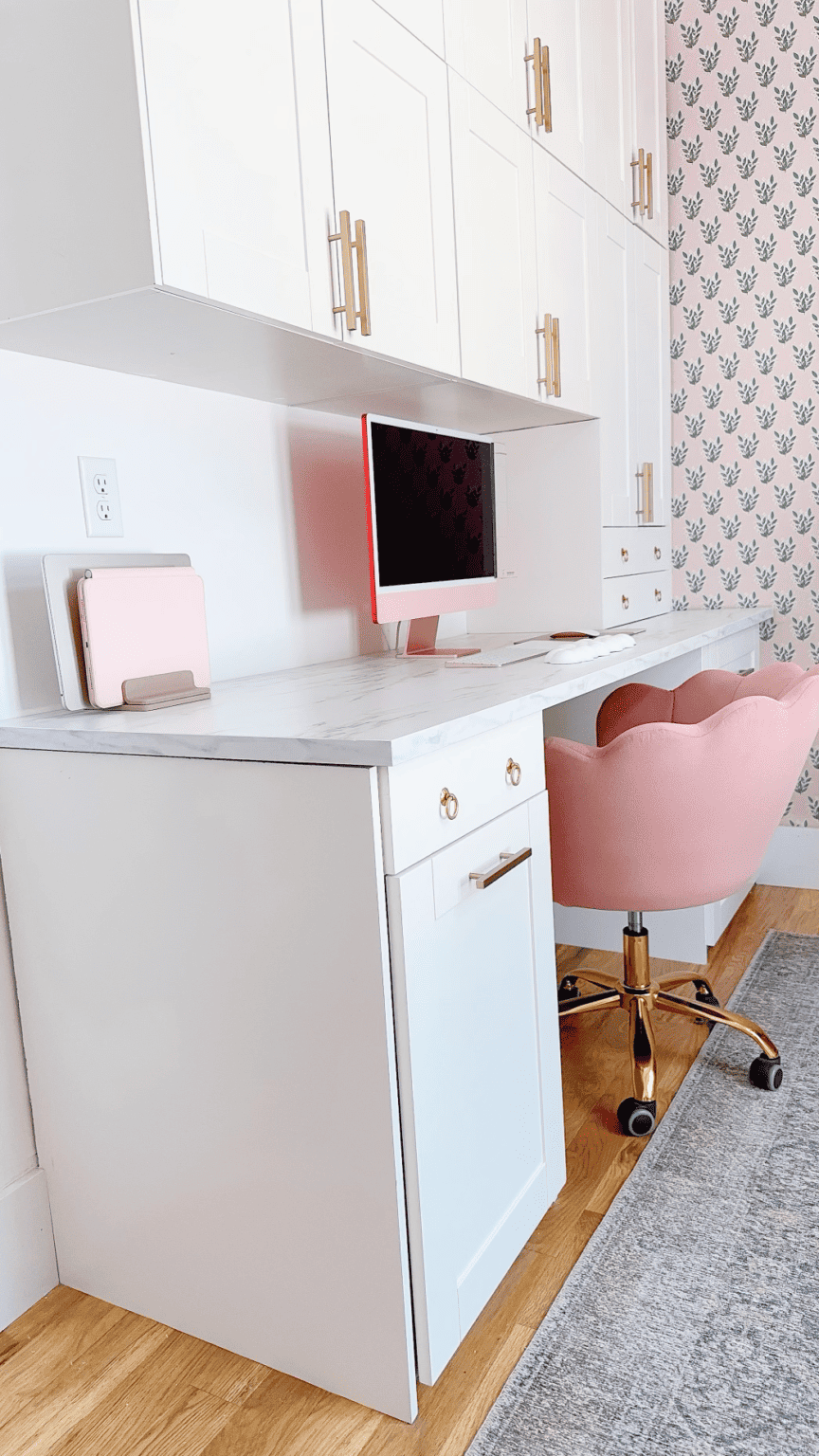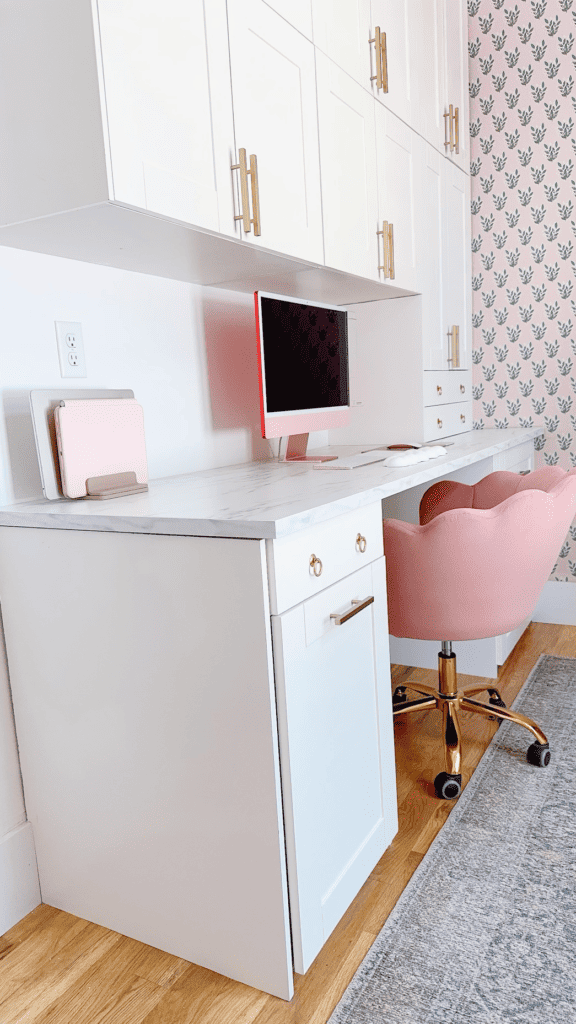 Project Update
While our playroom was still working well for us, I realized that my style has evolved since completing this room. I certainly didn't need to change anything and would have been happy to keep it as is. But as is with any home project, I start to dream up a design and then I get the itch. Once I see the newly inspired room in my head, I can't unsee it.
If you haven't checked out my Instagram stories lately, you'll be shocked to know that the playroom is no longer pink! That's right! I changed my color scheme completely. After taking inventory around the house, I realized that I wanted to incorporate a bit more color in the house. I also happen to fall in love with a gorgeous blue wallpaper print. Once I saw it, I was hooked. I also loved the way it flowed with our current rug and how it complements the rest of our home. I'll have a big reveal with all of the details of our playroom soon, so keep your eyes peeled!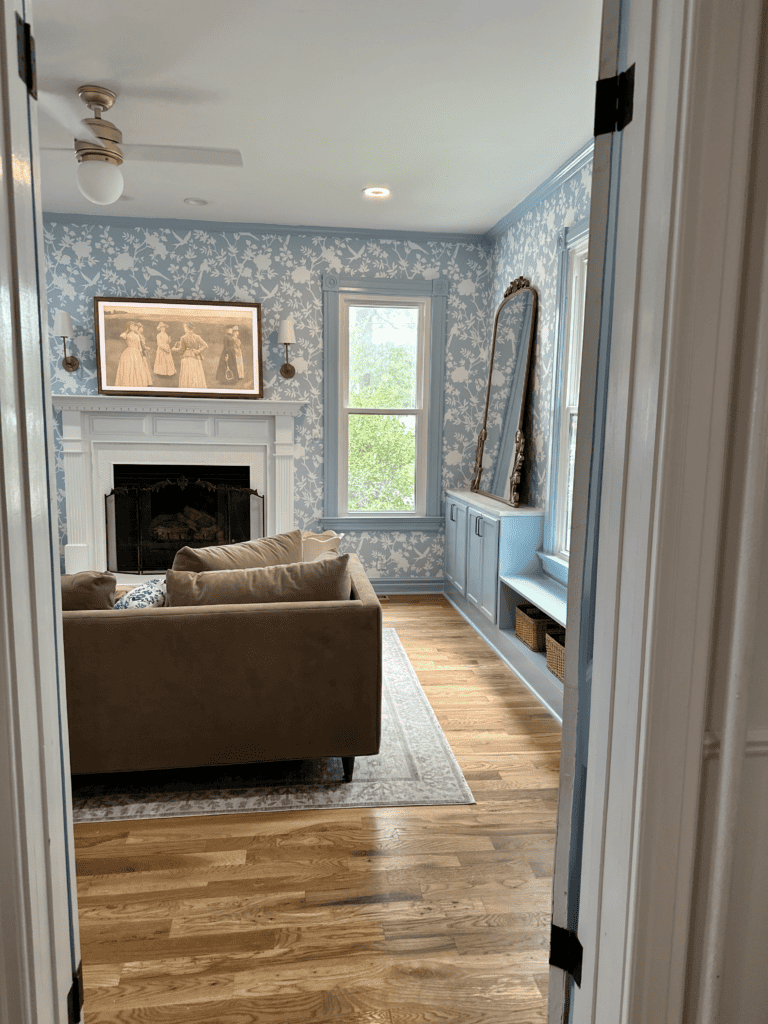 Over the years my style has changed. I actually had a difficult time deciding how I want our home to look. Since we have a historic home, I want to make sure that I continue to honor it's history by incorporating a decor that is timeless. At the same time, I love to play with texture, colors, and don't want to be confined to an antique-like box.
Fortunately, I've started to fall more and more in love with a grand-millennial style. Once I began incorporating pieces that fall within this genre, I can't get enough. And so our grand-millennial playroom was born! Now that our playroom is completed, I have plans to finish our front living room as well. I have several pieces picked out but I'm still struggling with finding a wallpaper that I love. In the meantime, I'll keep looking for ways to include grand-millennial decor in our home.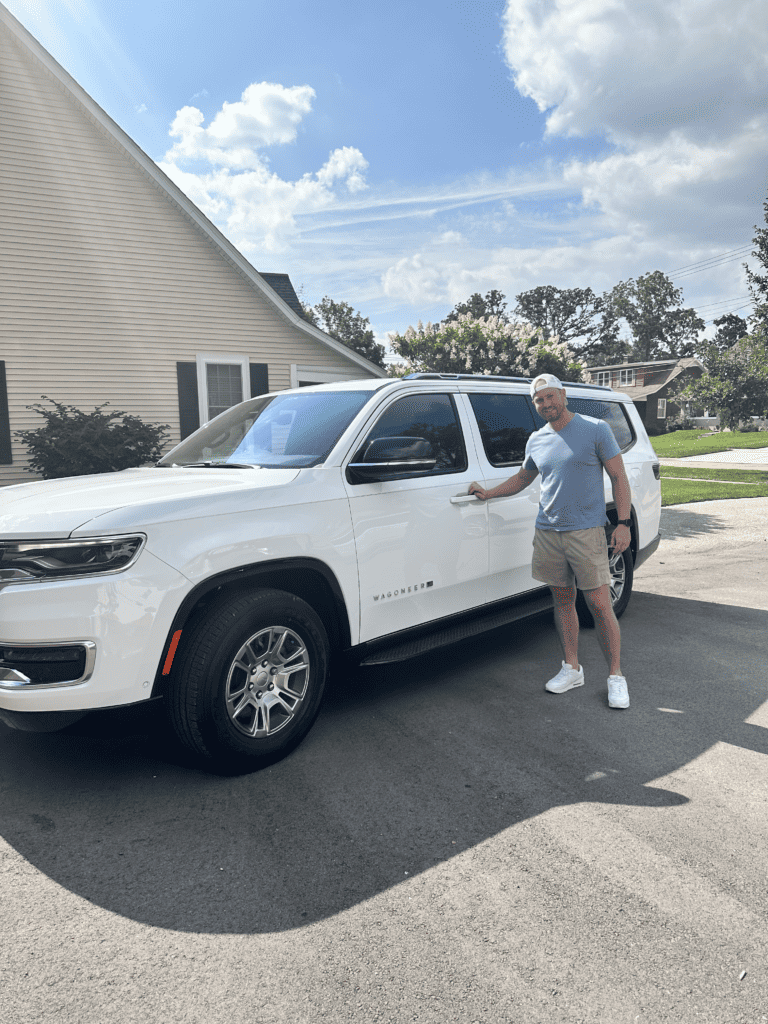 While the inside of our home is a constant work in progress, our backyard is a different story. I've shared that we will be putting in a fiberglass pool this summer. Unfortunately, we have come up against a lot of delays with the pool. None of these delays were foreseeable. I'm also by no means upset or wanting to sound ungrateful. I realize how incredibly grateful we are to be able to afford to put in a swimming pool.
My goal to share this with all of you is to hope that you remember that each project can come up against a delay. Just because you have a setback doesn't mean your project is doomed. Just remember to keep calm, put your head down and get the work done. It will all come together in the end. Somethings are worth the wait. For now, we will be waiting a bit longer for our pool, and I can't wait to share it with you once it is complete.
Family Updates
Towards the end of summer, my crew tends to go a bit stir crazy. Is it just me or can any other families relate? We are anxiously awaiting for the school year to be back in session. In the meantime, the kids have finished up camps for the summer and are spending their final few days exploring Saint Louis.
This past month my bigger kids were able to attend camp at The Magic House in Saint Louis. If you have never been to the Magic House, it is a very special place for kids to have fun, but also learn. At first. Avé was not too pleased to attend a chemistry inspired camp. By the end of the camp, she exclaimed it was her favorite one yet!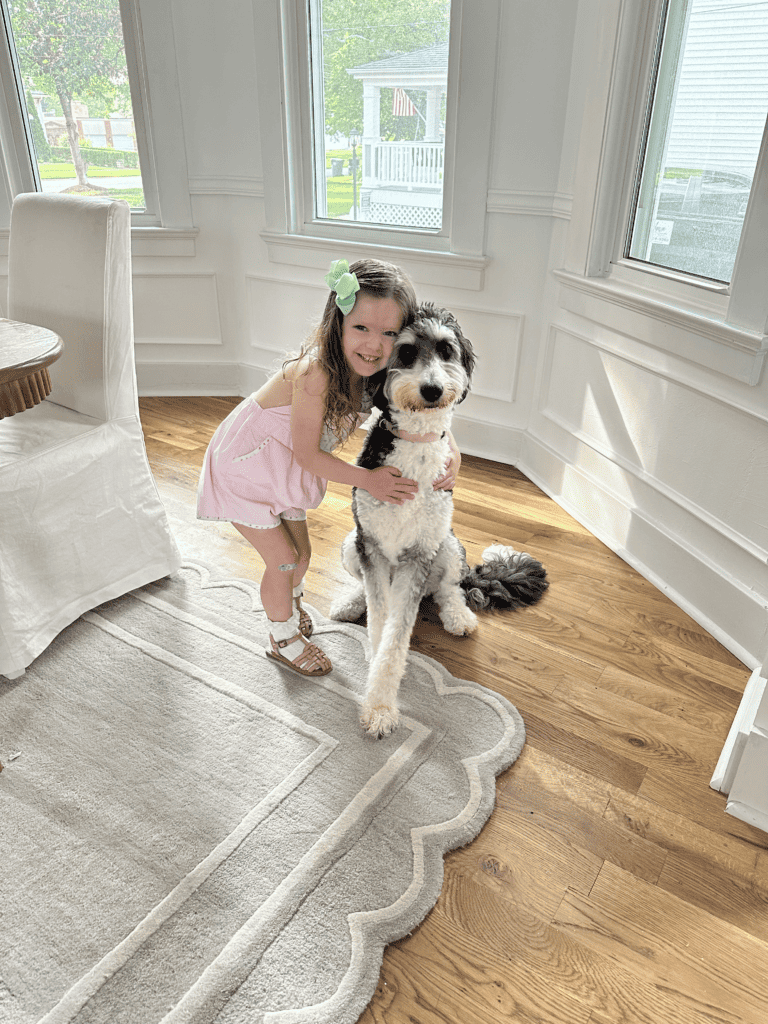 Jack and Walker are keeping busy with their baseball season. Fortunately, that is finishing up and I won't need to sit outside in the 100 degree heat any longer. On days that they had games at the same time, Sam and I would divide and conquer. I love that they both enjoy sports, but I was hoping they would do something a bit more temperature controlled, like competitive swimming.
After this summer, I'm actually thinking that Goldie will be my swimmer. She recently completed a crash course in swimming with our amazing swim instructor. The class is similar to ISR swim lessons or survival lessons, but a bit more streamlined and a shorter time frame. After only a week, Goldie is swimming! It was important for me to get her up to speed with her swimming skills before our pool goes in the backyard. Fortunately, she will have some more time to practice her skills before our pool is in place.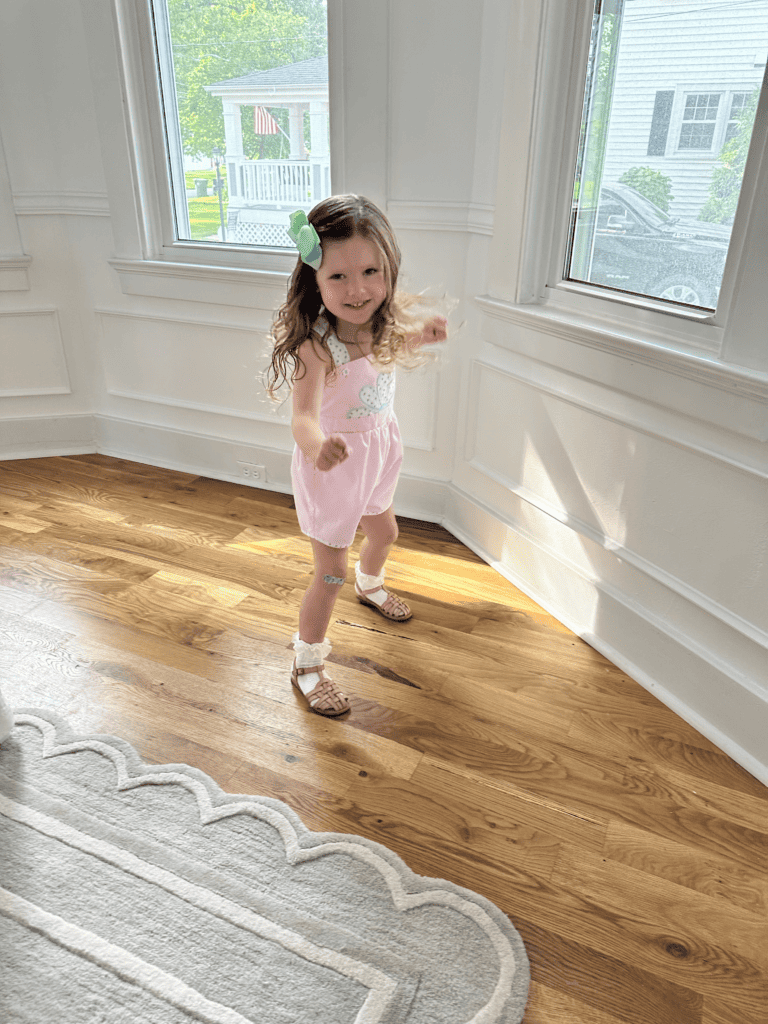 Overall, the kids are also excited for school to begin. We've gotten back into a routine to help the transition. We have started to implement school-session bedtimes, and have taken inventory in clothes, shoes, socks, underwear, and school supplies. If you are a first time Kindergarten parent, or just want some helpful tips on how to keep your house running smoothly, check out my favorite back to school hacks to keep you organized!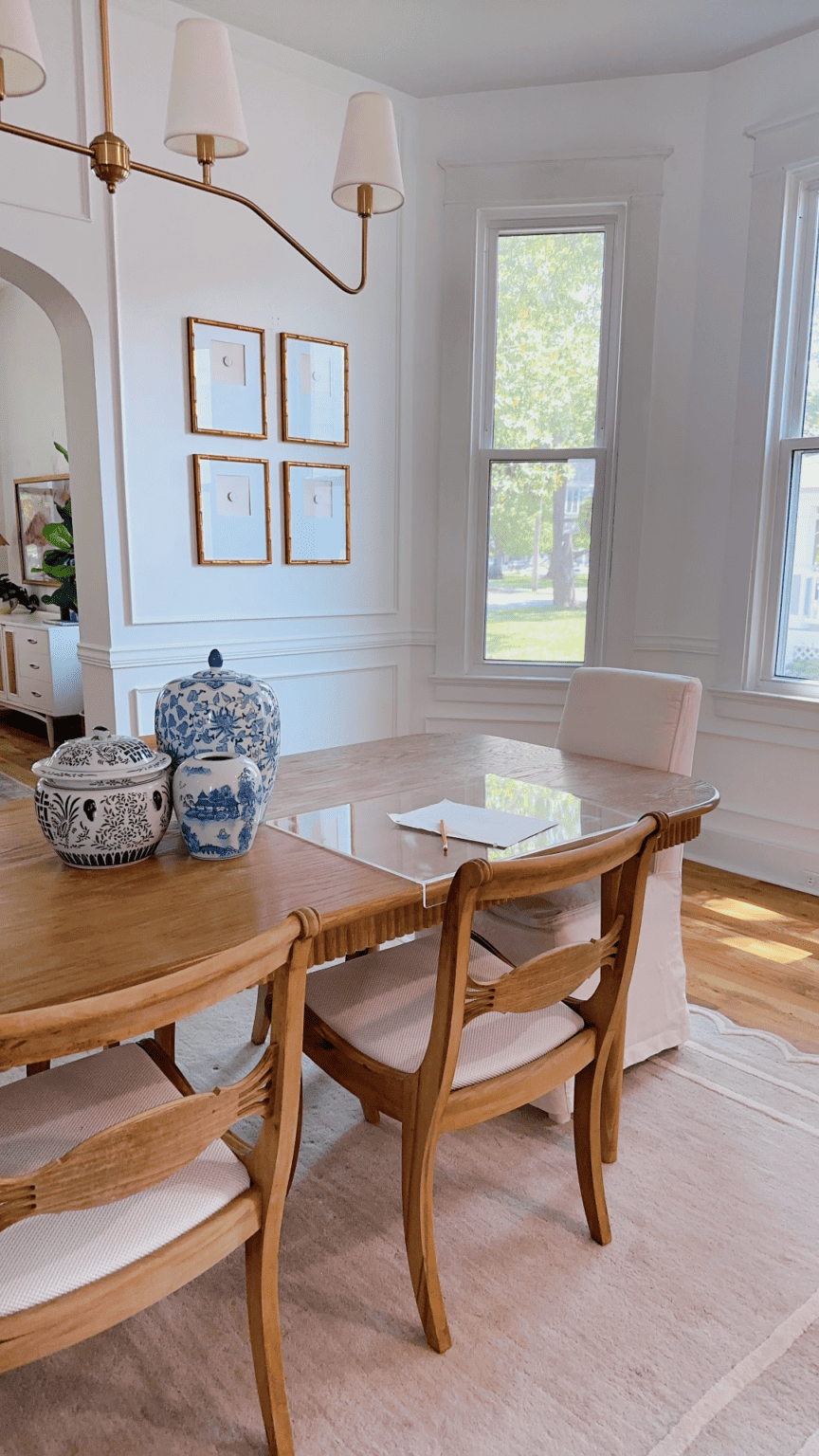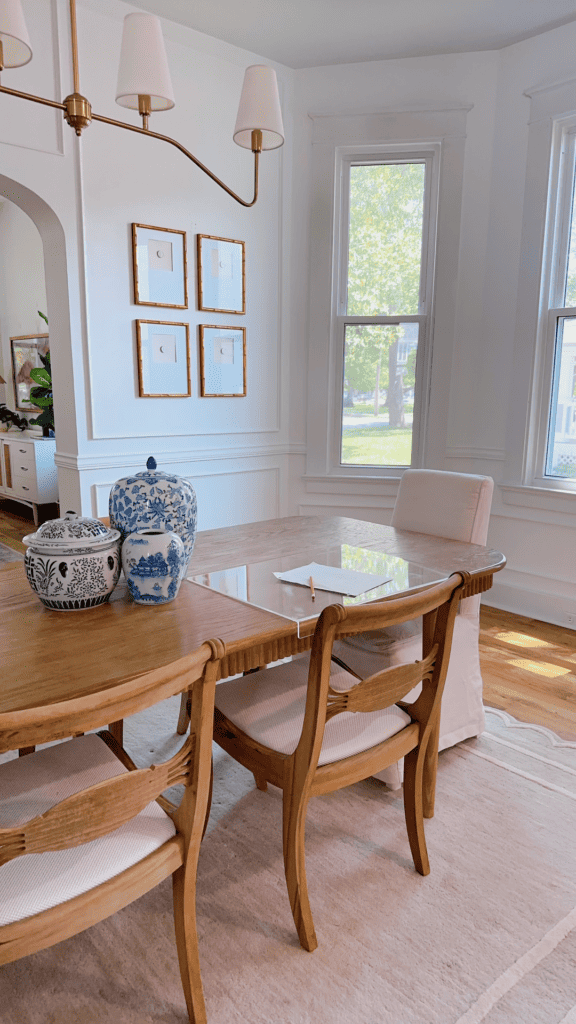 Shop Amazon Best Sellers For July 2023
Our Amazon best sellers list for July is filled with back to school favorites! It's usually around this time that I take time to get organized in both my home and car. I like to clean out the car and make sure it is ready for all of the hauling I'll be doing between school and after-school activities.
Once I've gotten my car in order, I move onto my home. I'll clean out and organize our mudroom. From there, I'll check and restock each child's morning bin with essentials they'll need to make our mornings faster. Next, I'll restock all of our arts and crafts supplies. We tend to do a lot of crafting during the warmer months, so I make it a point to get it reorganized and filled. Of course I'll take inventory into each child's closet and clothing situation. There is always an inevitable growth spurt that occurs, requiring new shoes. Lastly, I'll make sure lunch supplies are in good shape and give each lunchbox a thorough cleaning.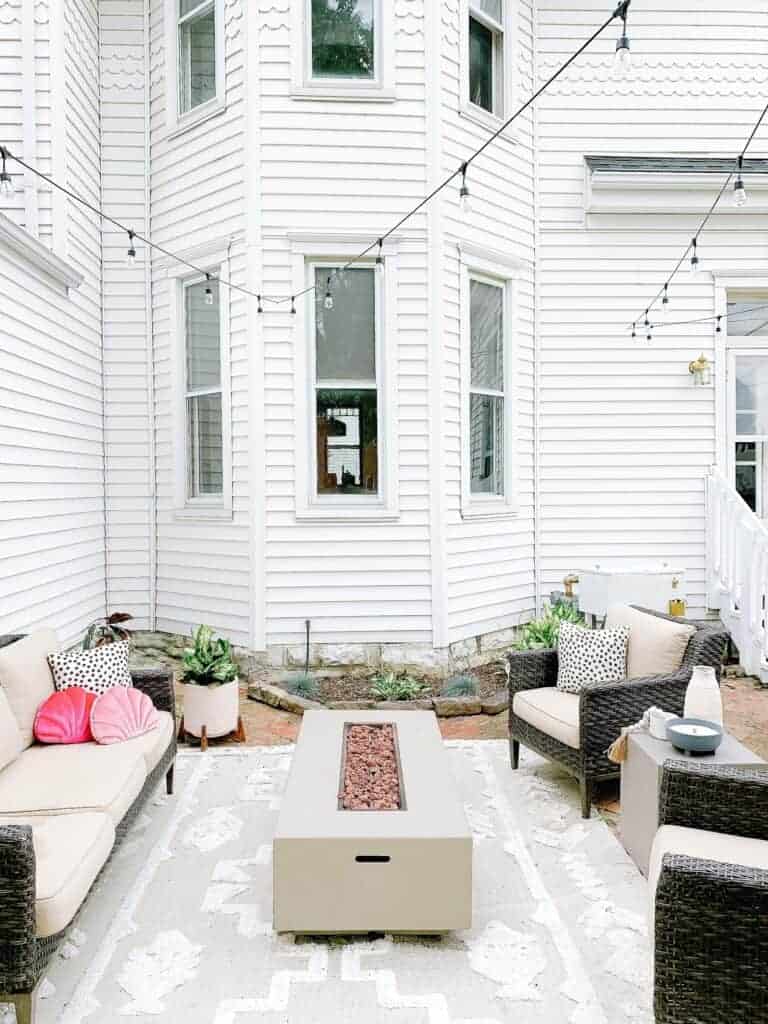 Most of the items on July's best seller list are perfect for the start of the school year. Whether this is your first child going off to Kindergarten or fourth child, there are always ways to streamline your morning. I hope you find a product you love and can help your mornings be a bit less stressful.
As always, I have much more in my Amazon storefront for all of your organizational needs too! Make sure you don't miss out.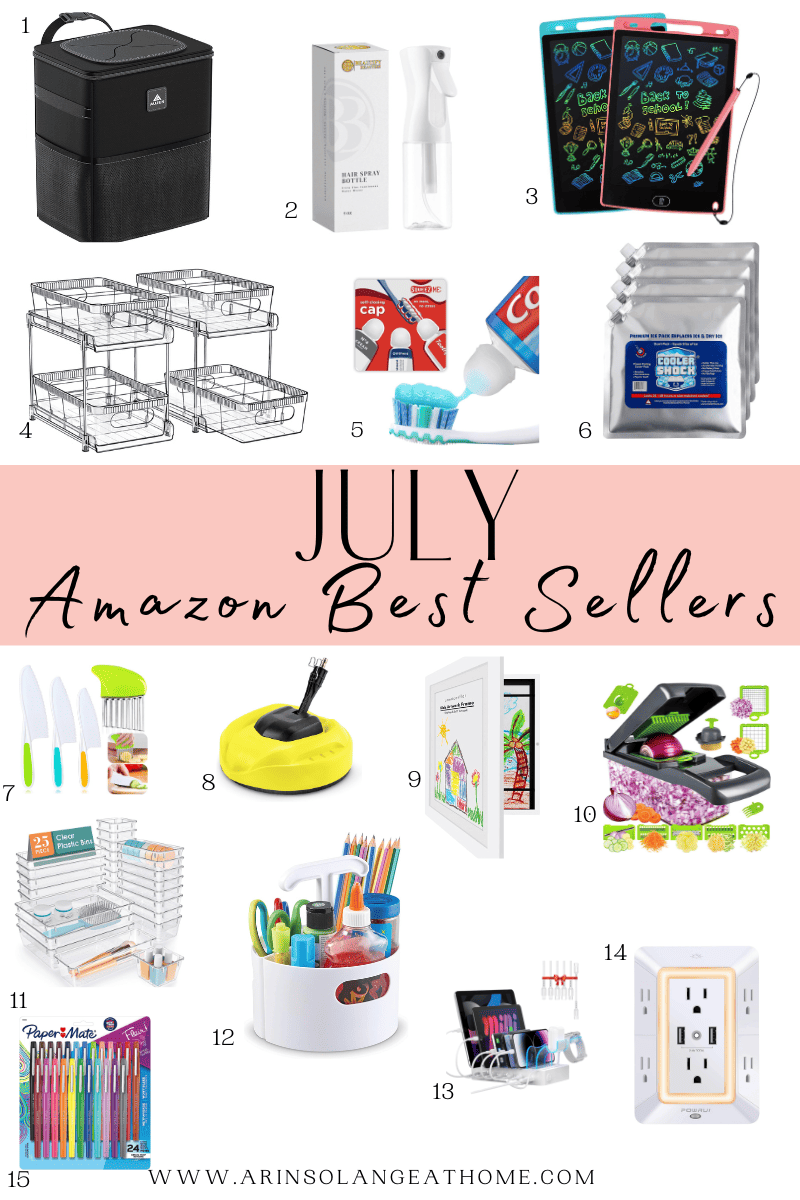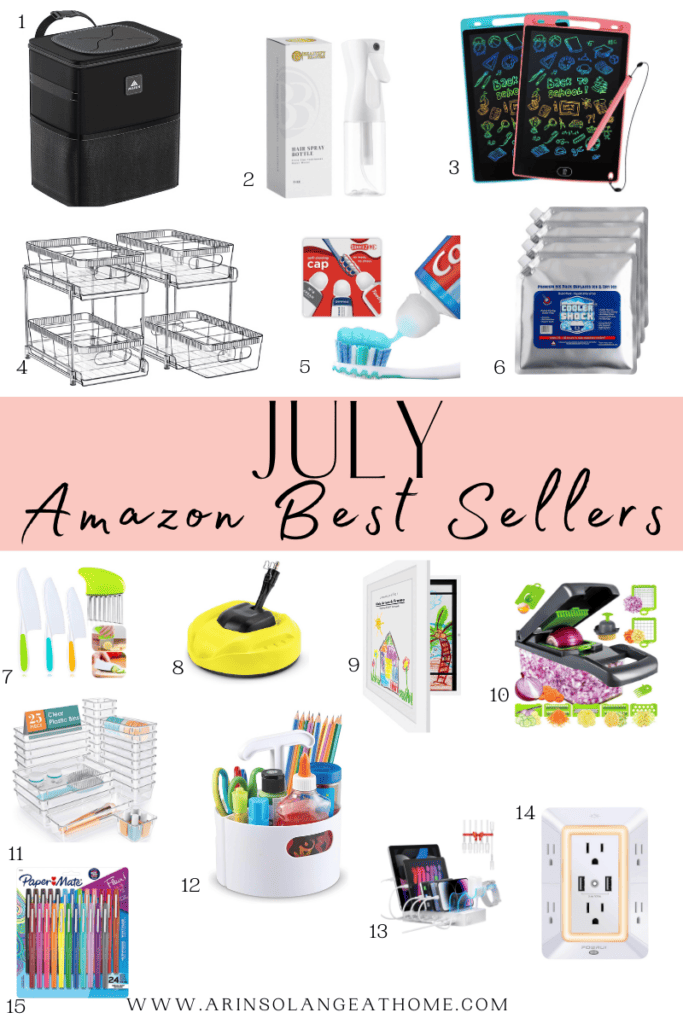 1 | 2 | 3 | 4 | 5 | 6 | 7 | 8 | 9 | 10 | 11 | 12 | 13 | 14 | 15
To be the first to see Best Sellers + enjoy a sneak peek at my end of year 'Best of' series, subscribe to my email list below!
Other Posts You'll Love
10 Back To School Hacks | The Best LEGO Storage Ideas | Fridge Organization & Pantry Favorites
Follow Social For The Latest & Greatest
Pin This Photo Below For Later
Be sure to pin the photo below for later, and if you don't already – follow me on Instagram (@arinsolange) and Tik Tok (@arinsolange) for more fun! Be sure to check my Amazon store front for all things best seller, home organization, and DIY.