After no less than 5 renditions in 3 years our hearth room is finally done and I LOVE it. Living in a historic home means making it function for current lifestyles can be tricky. We are constantly trying to find ways to tweak and perfect the spaces so they both look good and function well, and finally the hearth room has arrived there.
This post may contain affiliate links. The Jonathan Louis sofa was gifted in exchange for this blog post. All opinions are my own and I appreciate you supporting the brands that support my blog.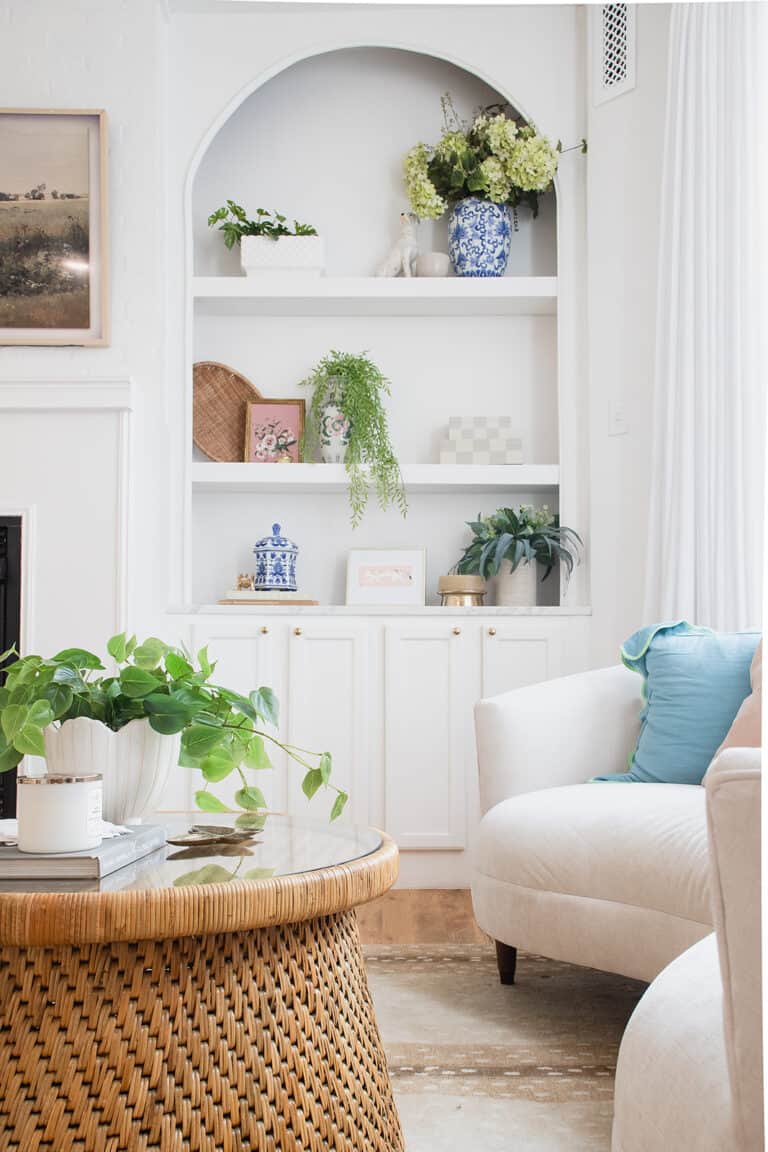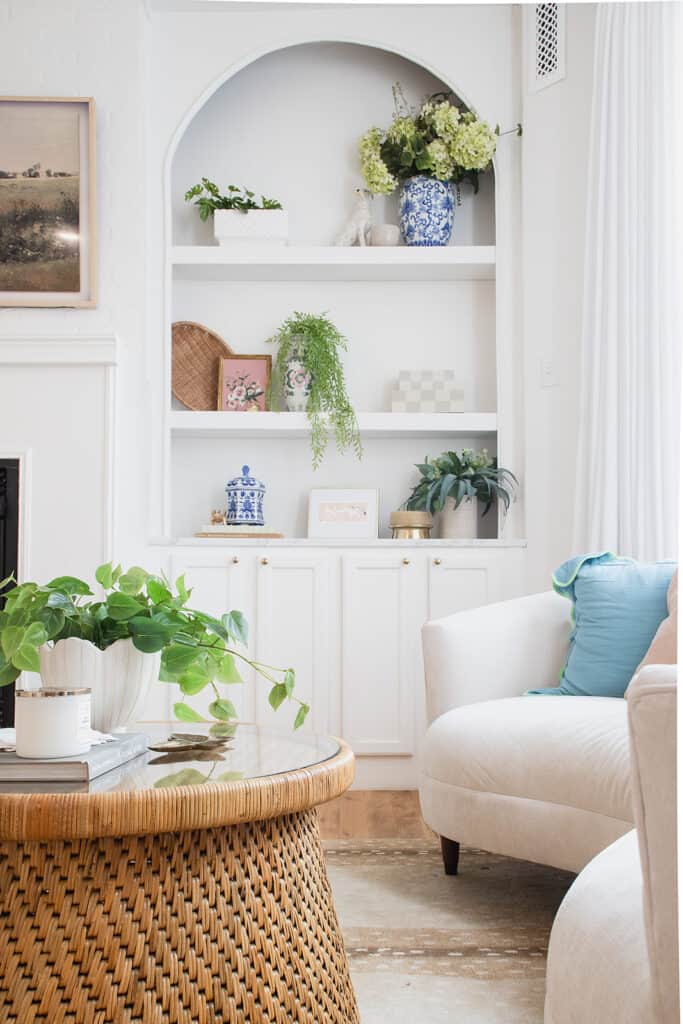 Bright and Airy Hearth Room
What is a hearth room? Honestly I had no idea before we moved to this house. By definition a hearth room is basic living room featuring a fireplace. However in current day terms most people consider it a smaller living room off your kitchen with fireplace.
When we moved in this room had no fireplace – but did have a brick stack. (old houses are weird ha) We added a fireplace for heat which has been amazing. That piece will likely be redone at some point but that is not a today problem.
Because the room is small, the fireplace is off center, and it is open with support walls it has been hard to decorate at best.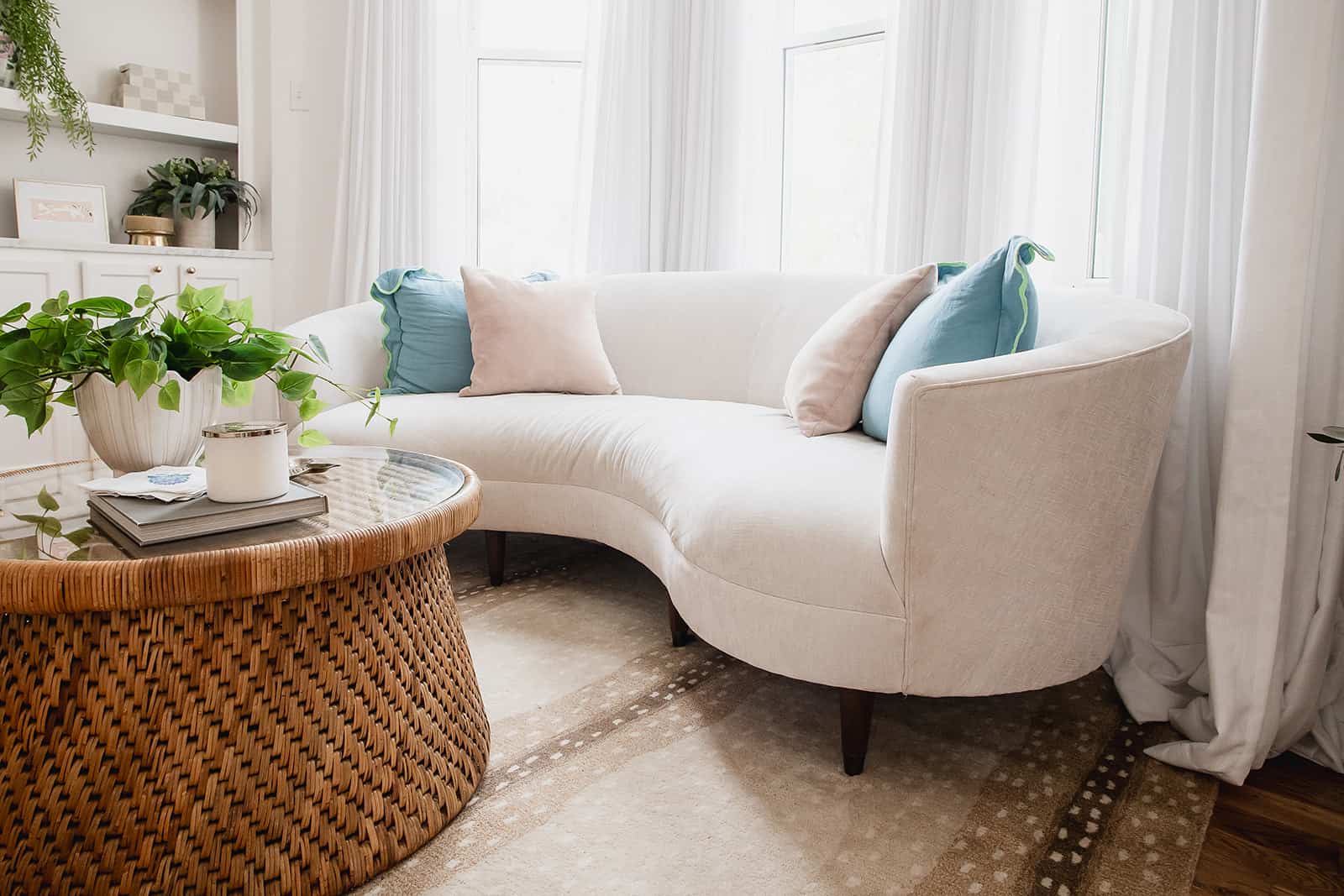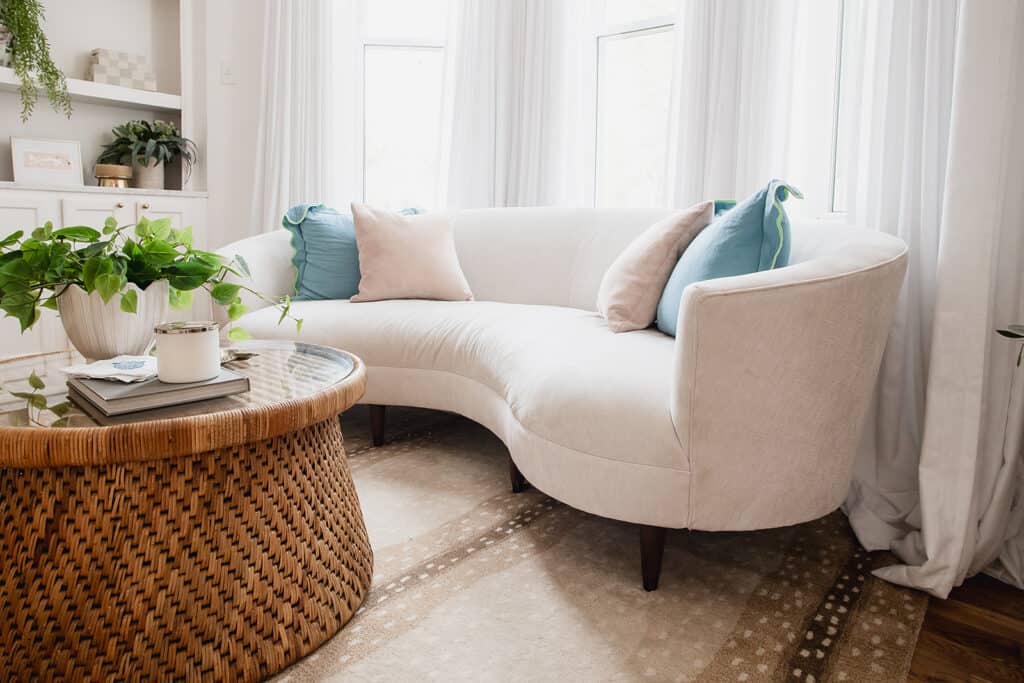 Adding Furniture
Like I said – we have tried a few things in this room. Plan one was picked before we even renovated the house, and function and comfort wise It was my favorite (and also our first time adding Jonathan Louis furniture to the house), but because of the opening to the entry way it never looked quite right.
We then moved to 4 chairs and a table. This looked pretty good but I did feel like we wasted a lot of space, and comfort and function wise it was not my favorite. We have 4 kids and thus we couldn't all enjoy the space, and the kids were constantly moving the chairs all over the place.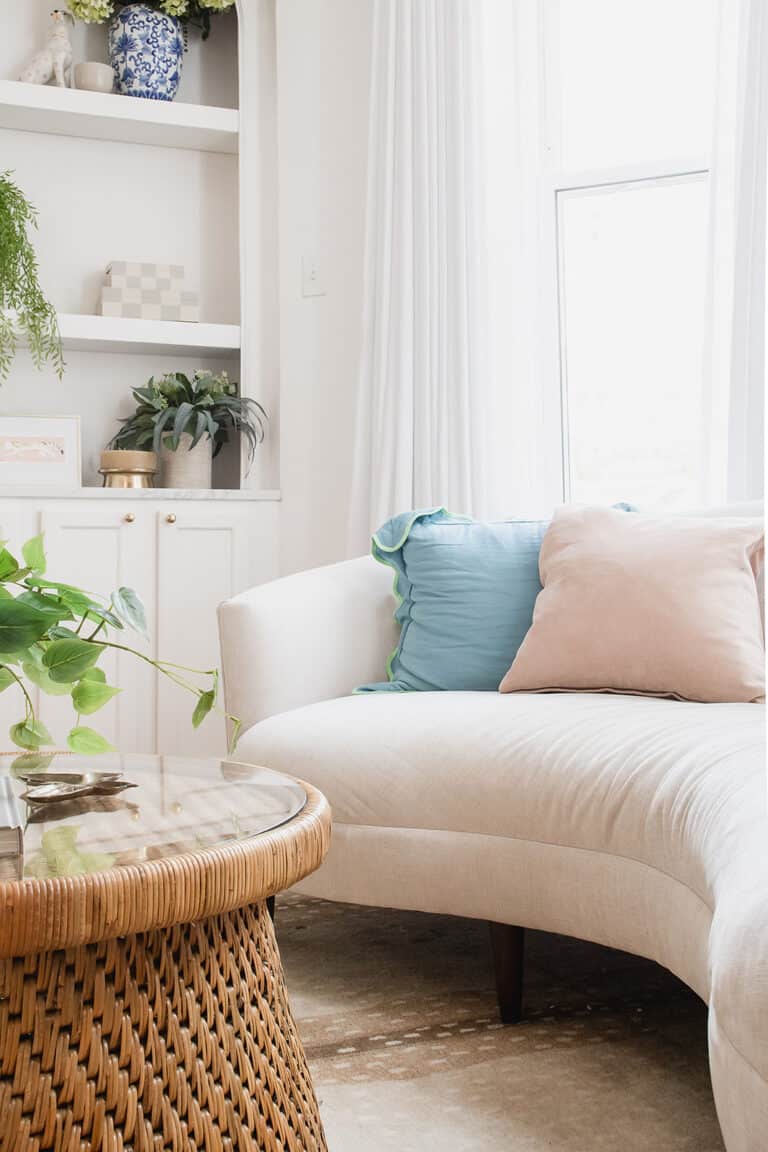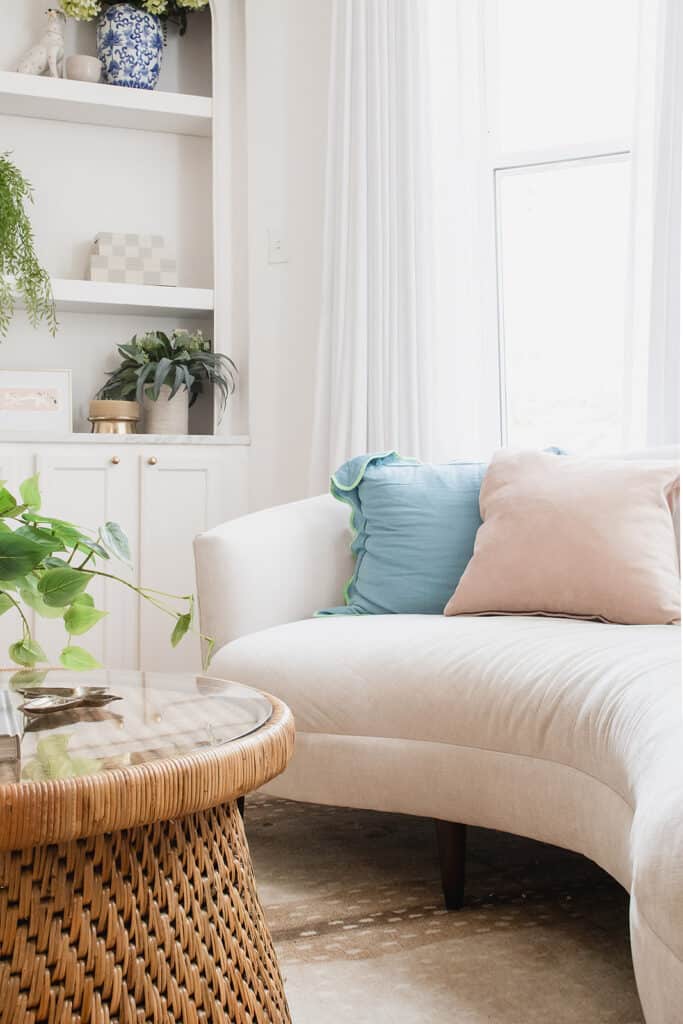 Enter todays rendition. We kept 2 chairs in the design but added a Jonathan Louis Cleo Sofa in Contessa Ivory. It is the most gorgeous rounded, firm sofa. It fits PERFECTLY in our bay window and has the perfect elegance that the room deserves while allowing for lounging that our family loves to do.
The Contessa Ivory fabric is easy to clean, soft to the touch, and is genuinely just beautiful in person. I love that it isn't a stark white, the light colors retains the elegance.
We also added a gorgeous rattan coffee table that has held up really well.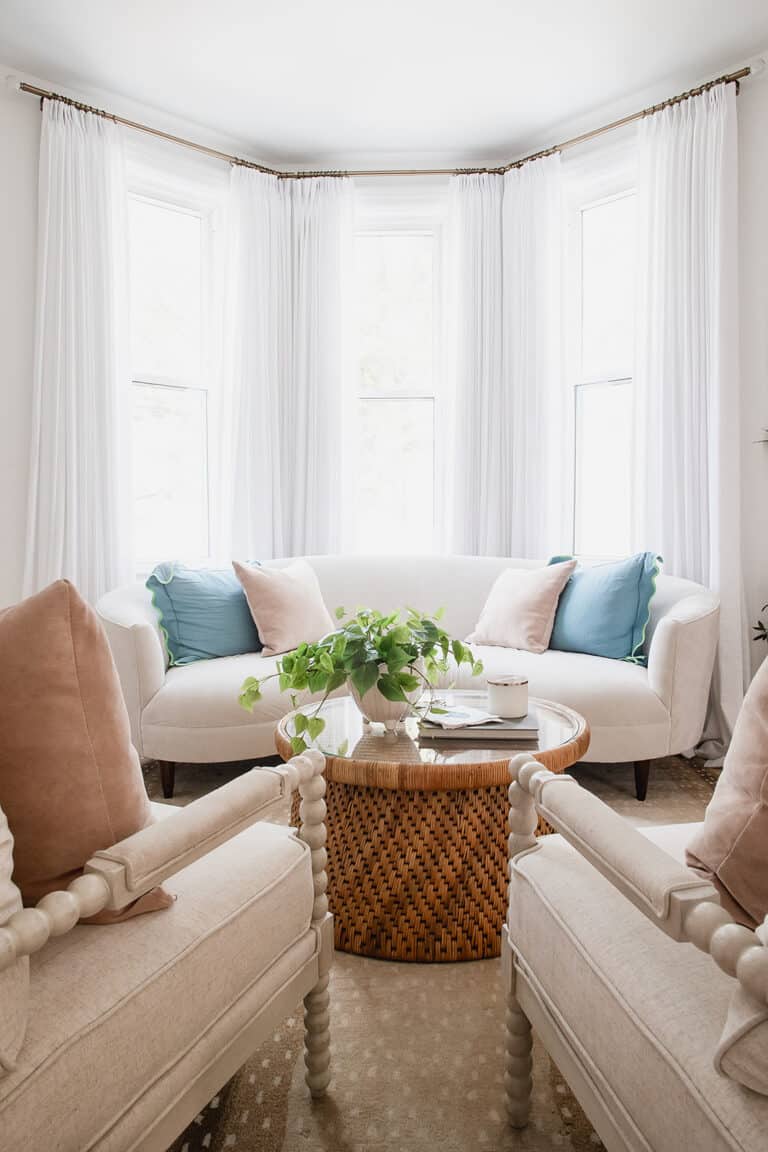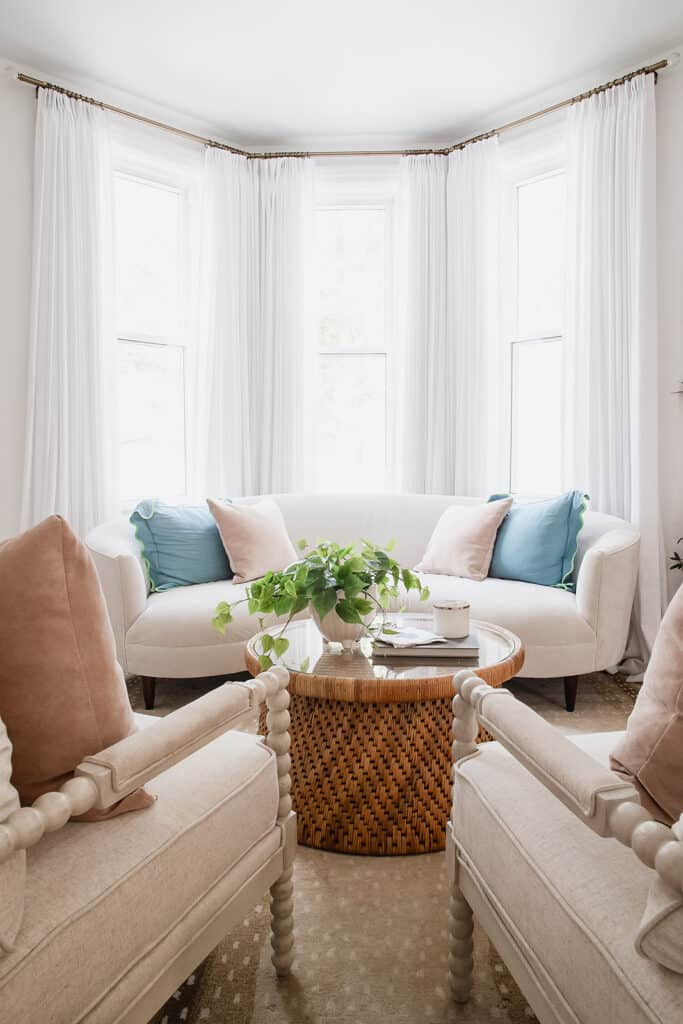 Window Treatments
Window treatments were a NEED not a want in this room but I had gone back and forth on what to do, and ultimately had to wait until the sofa was in to get them.
I decided to go with the raved about "viral" Amazon curtains. They are pricey but my goodness are they gorgeous. We hung them on these curtain rods with these clips and I love them! If you have curtains for bay windows I have found that these elbows are the best way to do it and they are super affordable.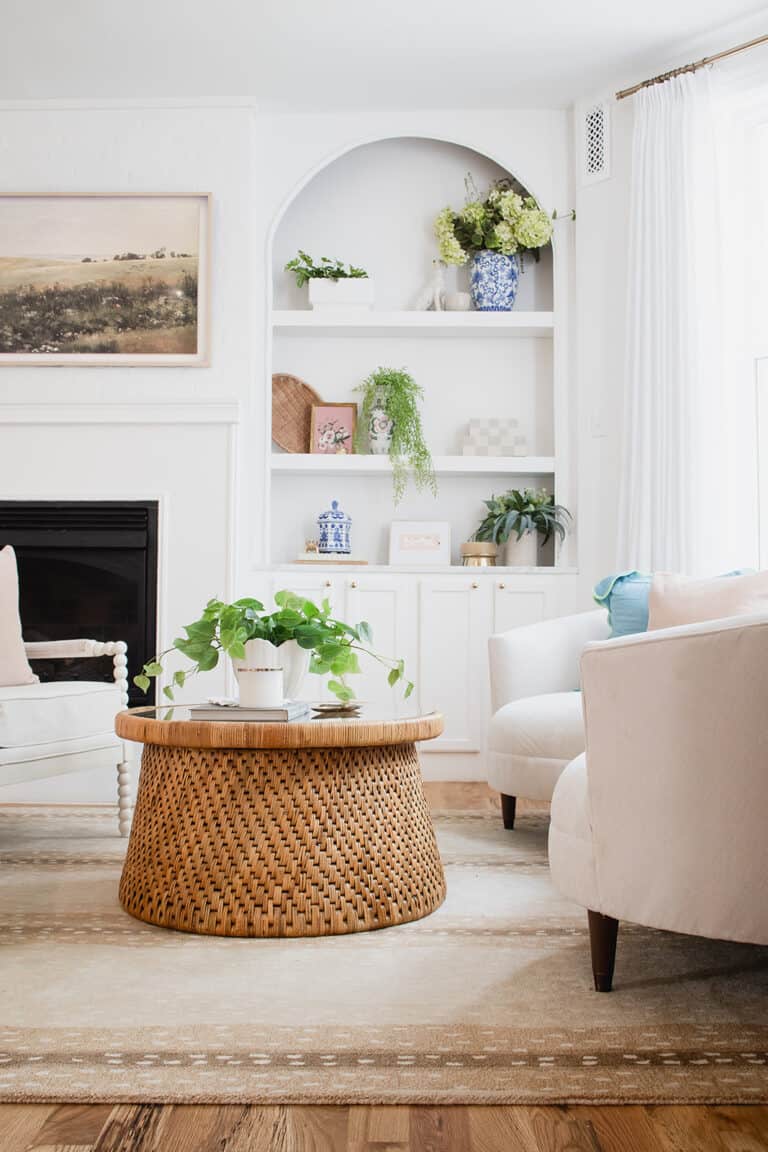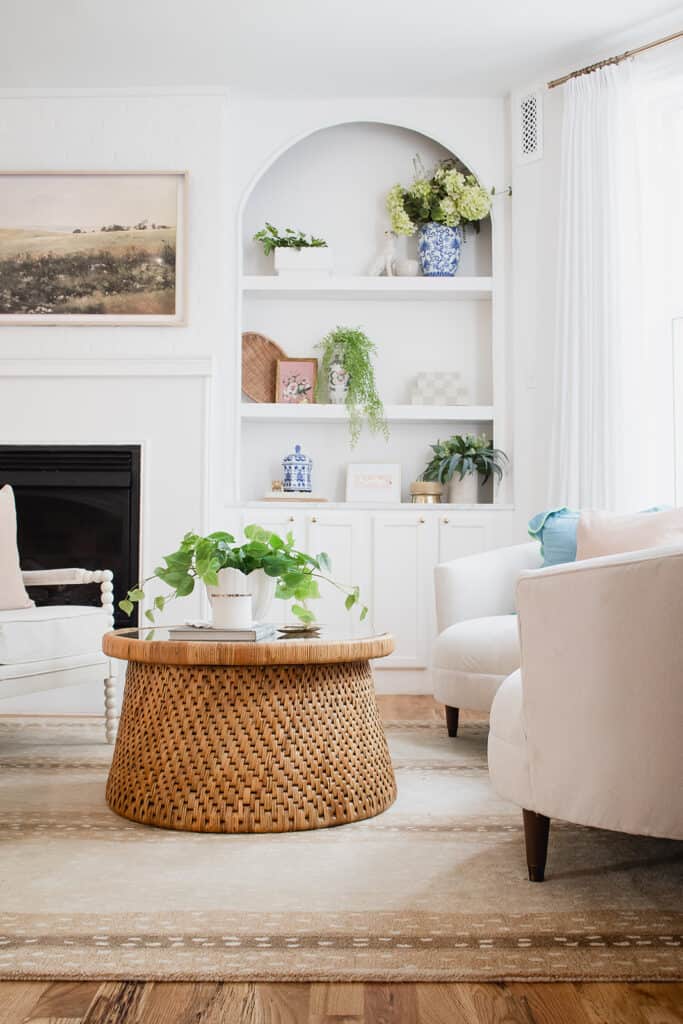 Styling the Hearth Room
Once we got the gorgeous furniture in place things fell into place. I added the antelope rug that I am in love with. It is a perfect neutral yet adds something fun with the animal print. If you have wanted to add animal print I 10/10 recommend it.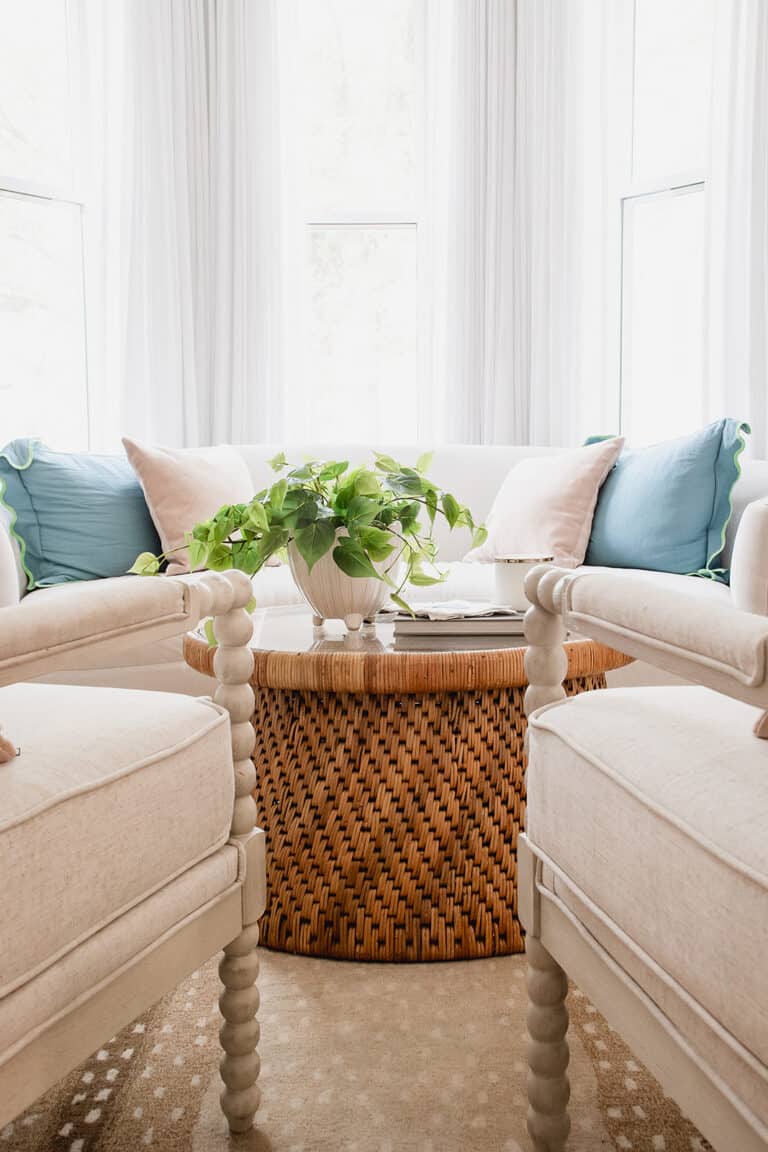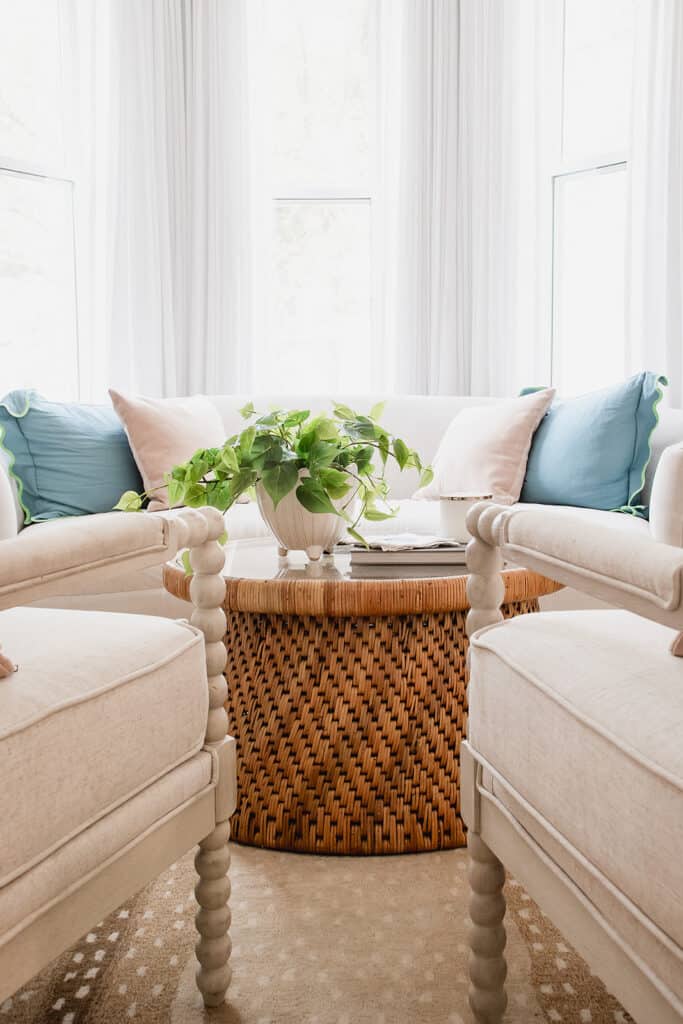 We have wonderful DIY built ins In the room that also got a bit of a makeover. I added several items in the round up below that would make for gorgeous room additions if you are also decorating a similar space to this.
I leaned Grand Millennial with the pieces with just enough color and green to really pop against all the white.
Shop Items here!
Rug | Table | Cheetah Pillow | Blue Pillows | Rattan Frames | Affordable Spindle Chairs | Ginger Jar
Other Posts You'll Love
12 Best Coastal Living Room Paint Colors | The 20 Best Curtains For Modern Living Room | Toy Storage For Living Room
Follow Social For The Latest & Greatest
Pin The Photo Below For Later
That is really it – it is such a simple space that is truly just so gorgeous in person. If you have ever considered a rounded sofa – this is your sign to do it! A bright and airy hearth room is a space I never thought I would have, yet I love it. Be sure to follow me on social below and pin the photo below for inspiration later.