When it comes to enhancing your outdoor living space, one of the most important considerations is the architectural design of your backyard patio. Whether you have an upper level deck, a garden patio, or a raised patio, a well-constructed set of steps is a focal point that provides a seamless transition between different levels of your outdoor space. If you are looking to renovate your backyard patio steps, I'll share with you some tips and tricks we've learned along the way in our own renovations.
This post may contain affiliate links.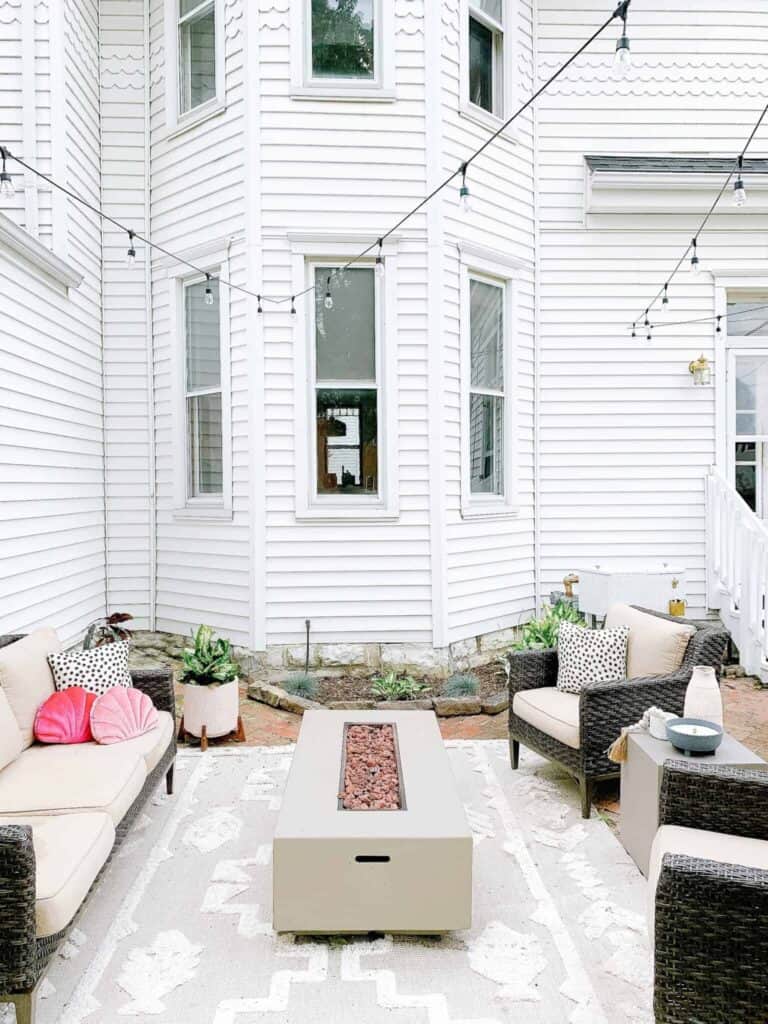 Backyard Patio Steps: 10 Ideas To Build For Your Home
Recently, my husband Sam renovated our own backyard patio steps. With a home that was built in the 1800s, we have a never ending "to-do" list. To prepare for our upcoming pool installation, Sam decided it would be a great time to update our backyard patio steps leading from our back door to our patio. Structurally, the steps were in bad shape and in all honesty, they needed some major TLC. It was important to us that we not only have structurally sound backyard patio steps, but also something that would complement the original pavers and soon to be new pool.
Whether you need a simple straight step design or want something a bit more modern, backyard patio steps are a necessary feature of your outdoor patio. In this post, I'll share with you some of the basics of renovating your own backyard patio steps.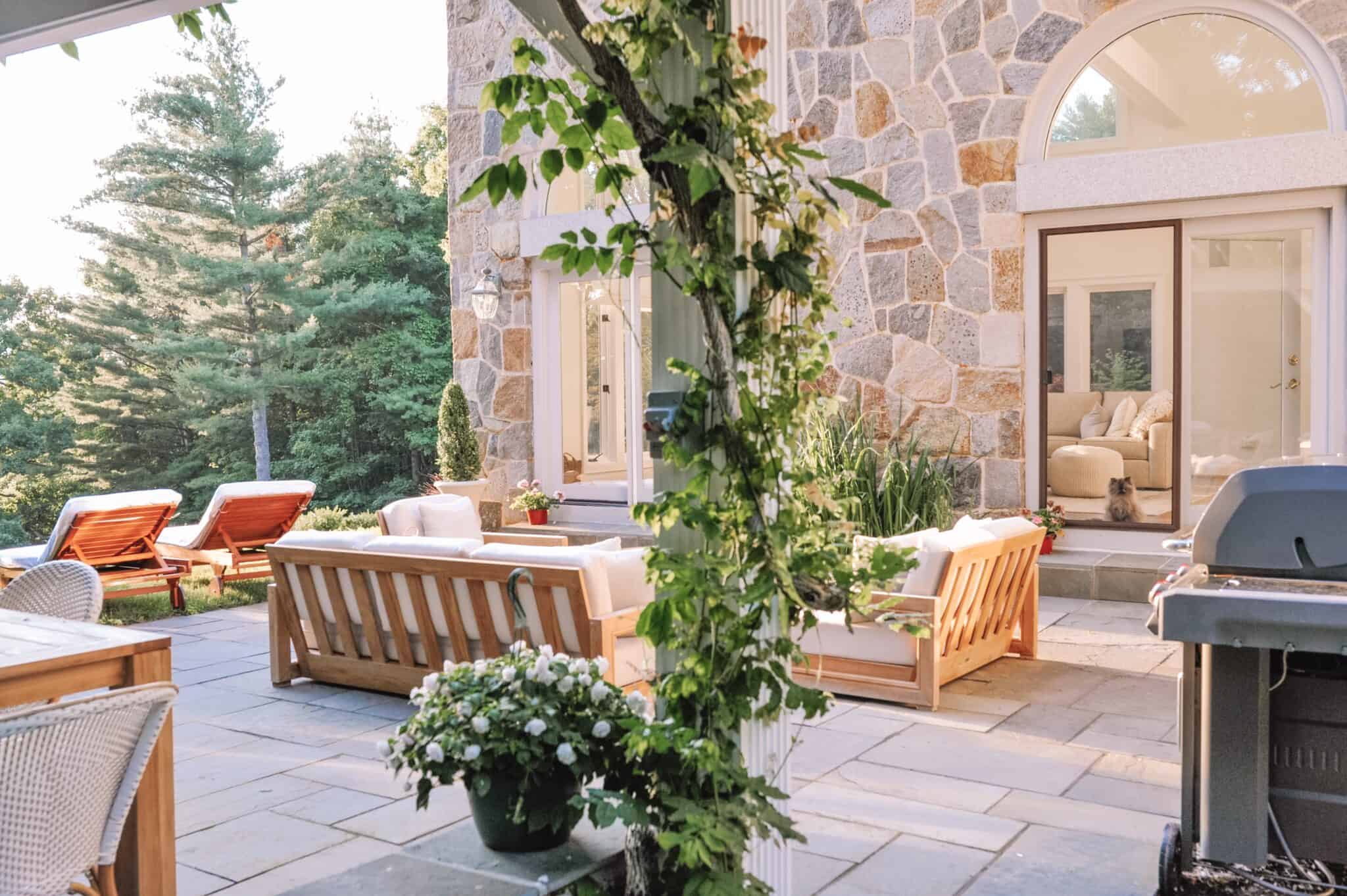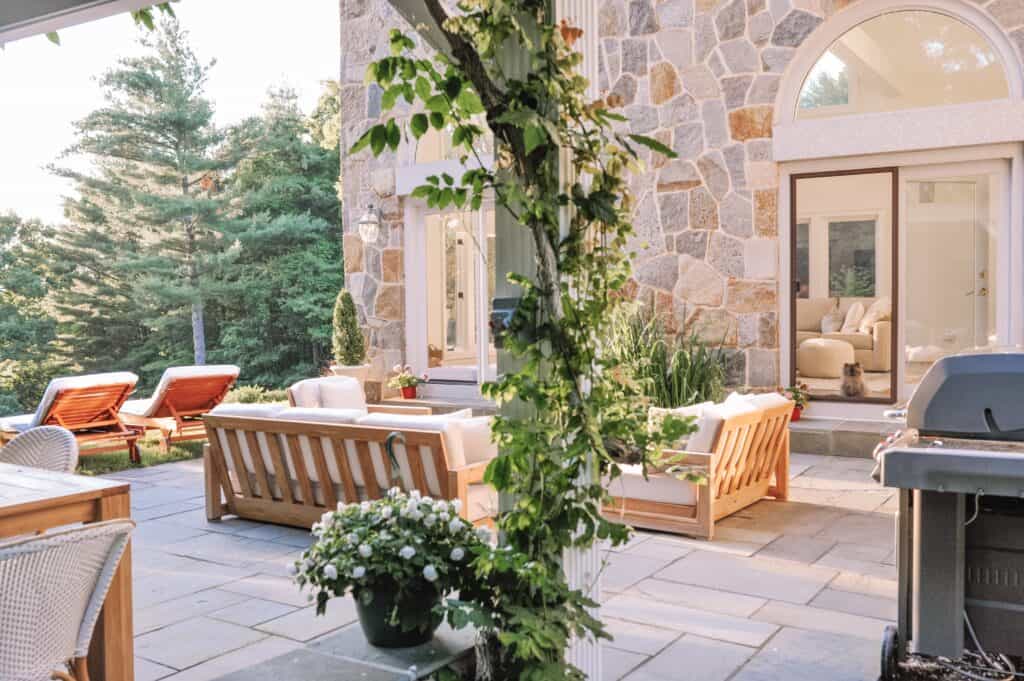 Styles Of Backyard Patio Steps
From concrete steps to deck stairs, there are numerous design ideas for patio stairs that can make your backyard a more appealing and accessible area. Backyard patio steps are an essential element in creating a functional and visually appealing outdoor space. They provide access to different levels of your backyard, connect various areas, and can serve as a focal point in your overall design.
Remember to consider the overall style of your home and patio when selecting a step design. Additionally, ensure that the steps are built to code, with proper dimensions and a safe and secure structure. If you're unsure about the construction process, it's always a good idea to consult with a professional contractor or builder to ensure the steps are built correctly and meet local building regulations.
Here are some ideas to consider when building backyard patio steps for your home:
1. Straight Steps
Straight steps are the most common and straightforward design. They are simple to construct and provide a clean and minimalist look. Straight steps work well for small patios or when you want to maintain a symmetrical appearance.
2. Curved Steps
Curved steps add an elegant and organic touch to your patio design. They can be built in a sweeping or meandering pattern, creating a more visually appealing and inviting look. Curved steps work well in larger spaces or when you want to create a focal point in your backyard.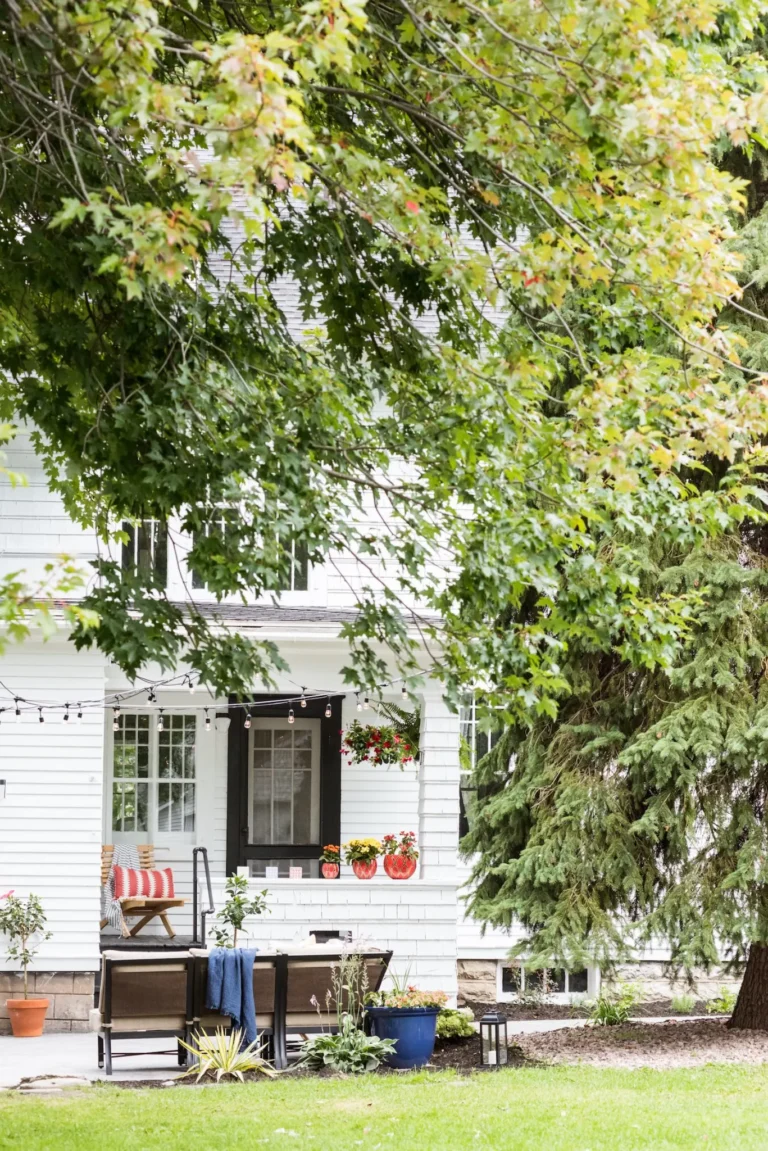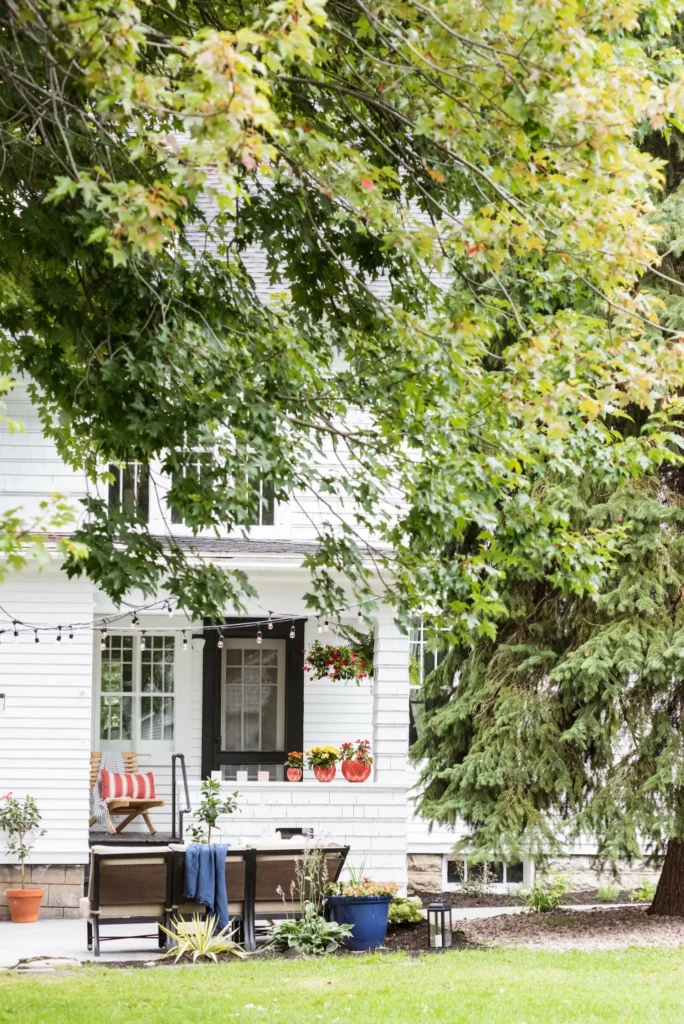 3. Tiered Steps
If you have a sloping backyard, tiered steps are an excellent choice. They consist of multiple levels or terraces that follow the natural slope of the land. Tiered steps provide a gradual ascent and can be adorned with plants or flowers on each level, creating a stunning visual effect.
4. Floating Steps
Floating steps, also known as cantilevered steps, are a contemporary and stylish option. They give the illusion of floating in mid-air as they are supported by hidden steel or concrete structures. Floating steps provide a sleek and modern look, perfect for a minimalist patio design.
5. Stacked Stone Steps
Stacked stone steps offer a rustic and natural aesthetic. They are constructed using large, flat stones stacked on top of each other to create each step. Stacked stone steps blend well with various patio styles, from traditional to Mediterranean, and add texture and character to your outdoor space.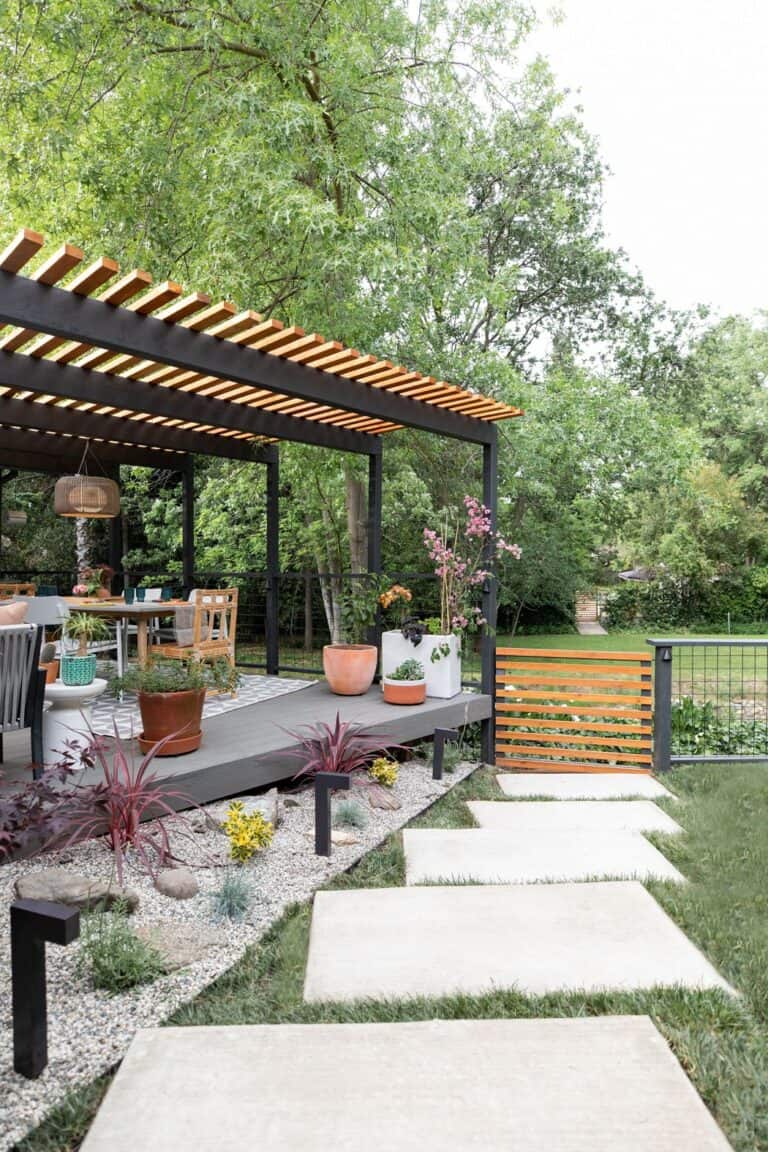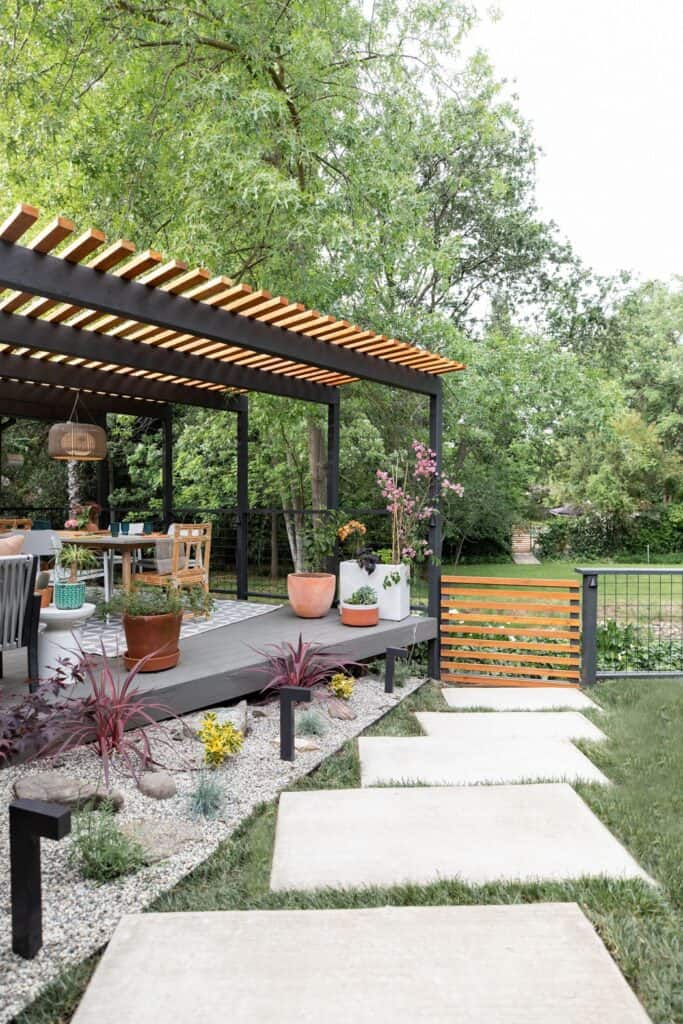 6. Wooden Steps
Wooden steps provide a warm and inviting atmosphere. They can be built using various types of wood, such as cedar, teak, or treated lumber. Wooden steps are versatile and can be designed to complement different architectural styles, from rustic to contemporary.
7. Brick or Paver Steps
Brick or paver steps are a classic choice that offers durability and a timeless appeal. They can be laid in various patterns, such as herringbone or basket weave, to add visual interest. Brick or paver steps work well with brick or stone patios, creating a cohesive and harmonious look.
8. Integrated Lighting
Don't forget to consider incorporating lighting into your patio steps design. Outdoor lighting along the steps enhances safety and provides an inviting ambiance during nighttime. You can install lighting fixtures along the sides of the steps, under the treads, or even use solar-powered lights embedded in the steps themselves.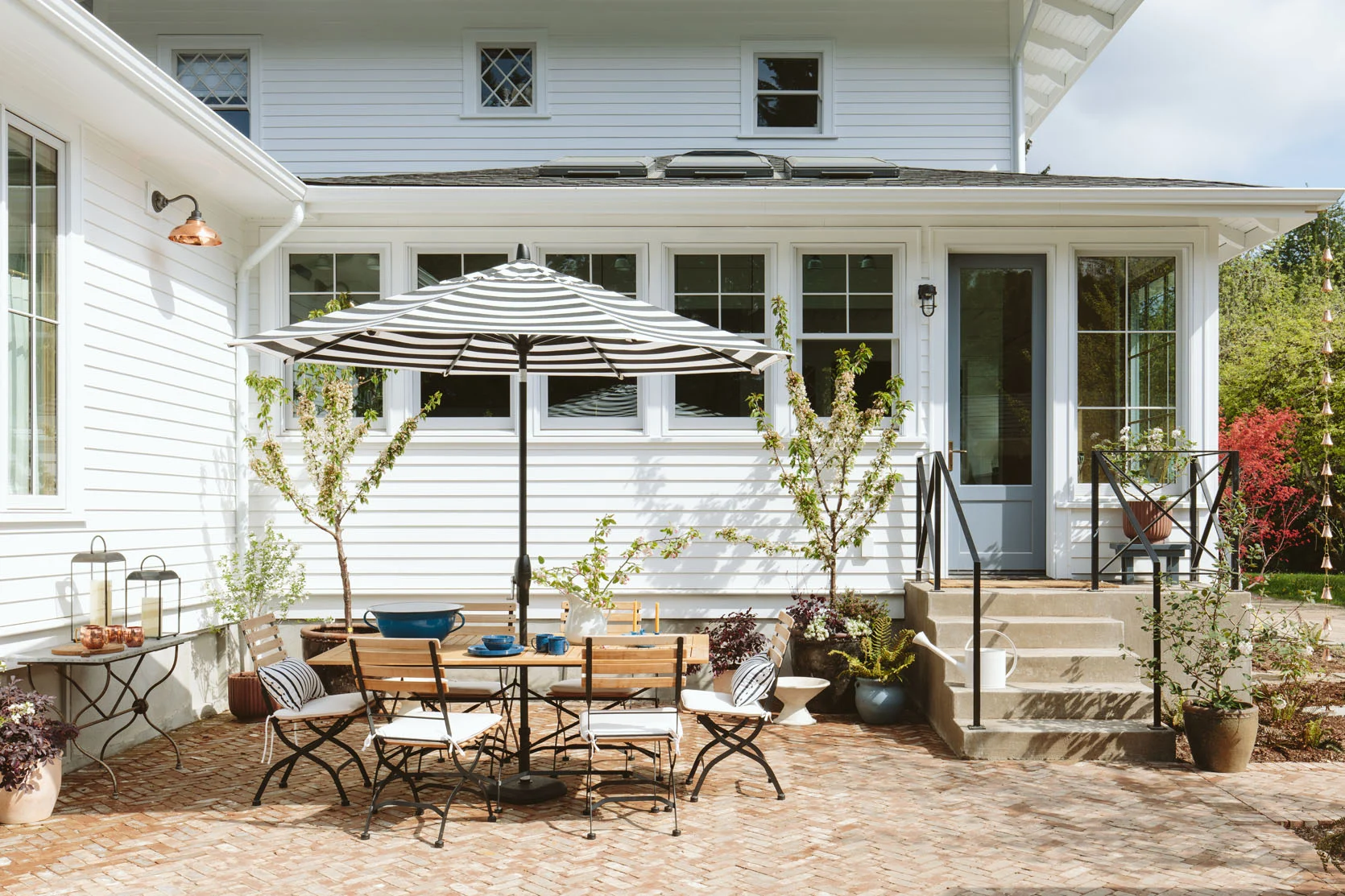 9. Built-in Planters or Seating
Another creative idea is to integrate built-in planters or seating areas into your patio steps. This not only adds functionality but also enhances the aesthetic appeal of your outdoor space. Built-in planters can be filled with colorful flowers or greenery, while built-in seating areas provide a convenient spot to relax and enjoy your backyard.
10. Mixing Different Materials
Consider combining different materials to create a unique and visually appealing look. For example, you can use stone for the risers and pavers for the treads, or combine wood and concrete for a modern and contrasting design. Mixing materials adds texture and interest to your patio.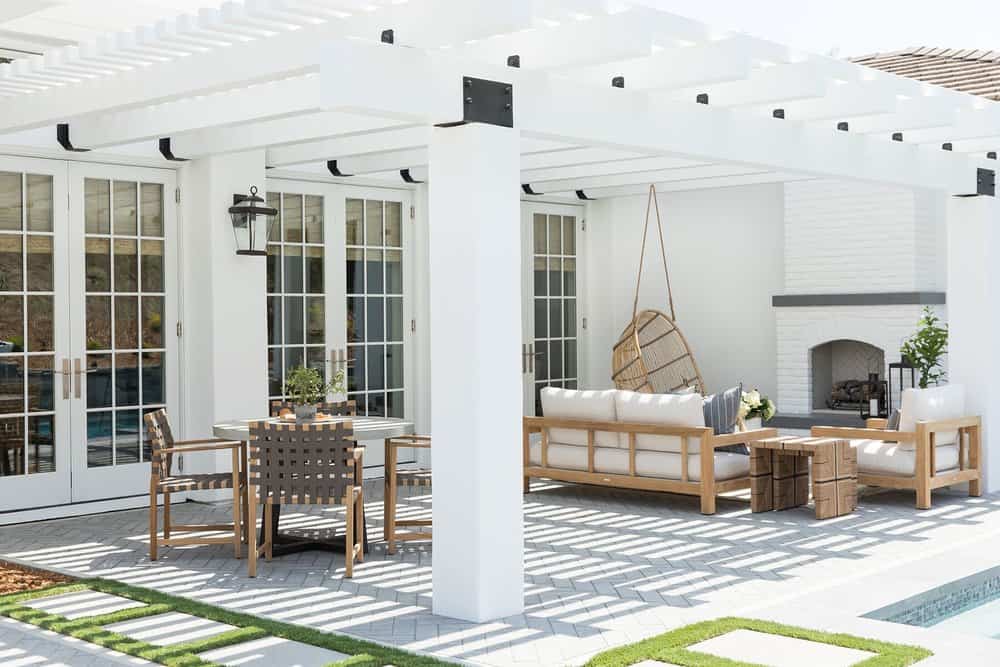 Starting the First Step: Planning and Preparation
The first step in your new search for patio steps is to consider your outdoor area's layout. If you have an upper-level deck or a raised patio, you may need to install deck steps or concrete patio steps to create a safe and easy path from the upper level to the lower level. If your patio area is on the same level as the rest of your backyard, you could consider building garden steps that lead to a small garden or a fire pit, creating a natural flow throughout your outdoor space.
One of the most important factors in planning your patio steps is the local building codes. These regulations provide design specifications for the height of the risers (typically a 7-inch rise is standard), the depth of the treads, and the width of the step, among other requirements. It's crucial to ensure your steps comply with these rules to avoid creating a safety hazard.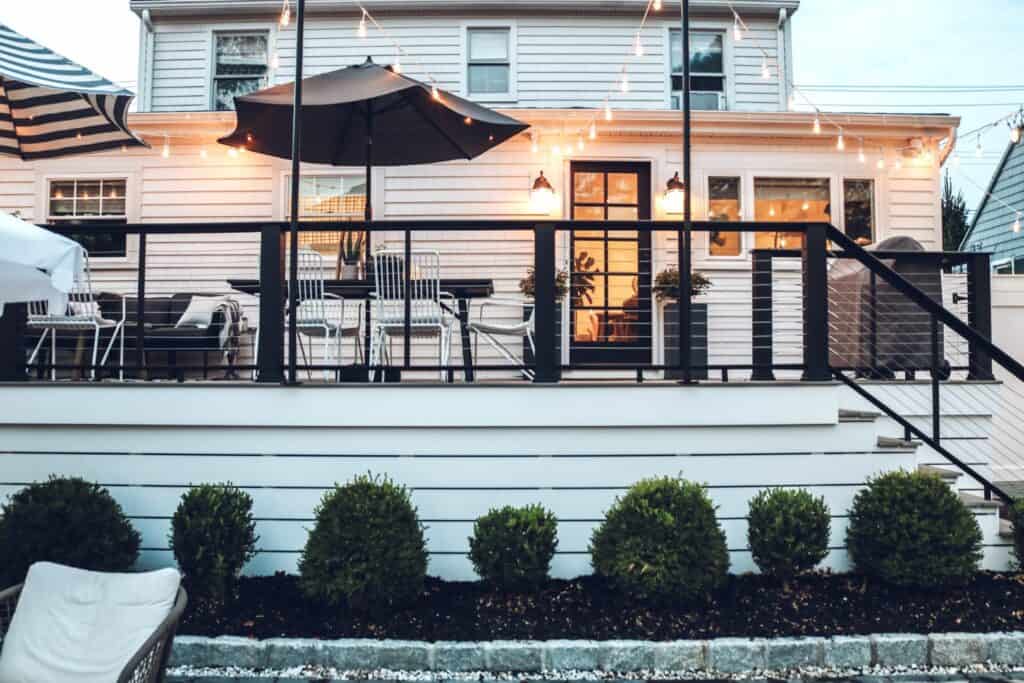 Choosing the Best Material for Your Steps
Once you have a design in mind, the next step is to select the best materials for your patio steps. Concrete steps are an excellent option for a modern look, especially if you have a concrete slab patio. Concrete stairs are sturdy, durable, and can be crafted into various shapes to match your patio's architectural design. For a more natural look, consider natural stone steps or wooden steps. Stone steps, made from materials like flagstone and limestone, can blend seamlessly with a garden patio, while wooden steps are a perfect match for a deck.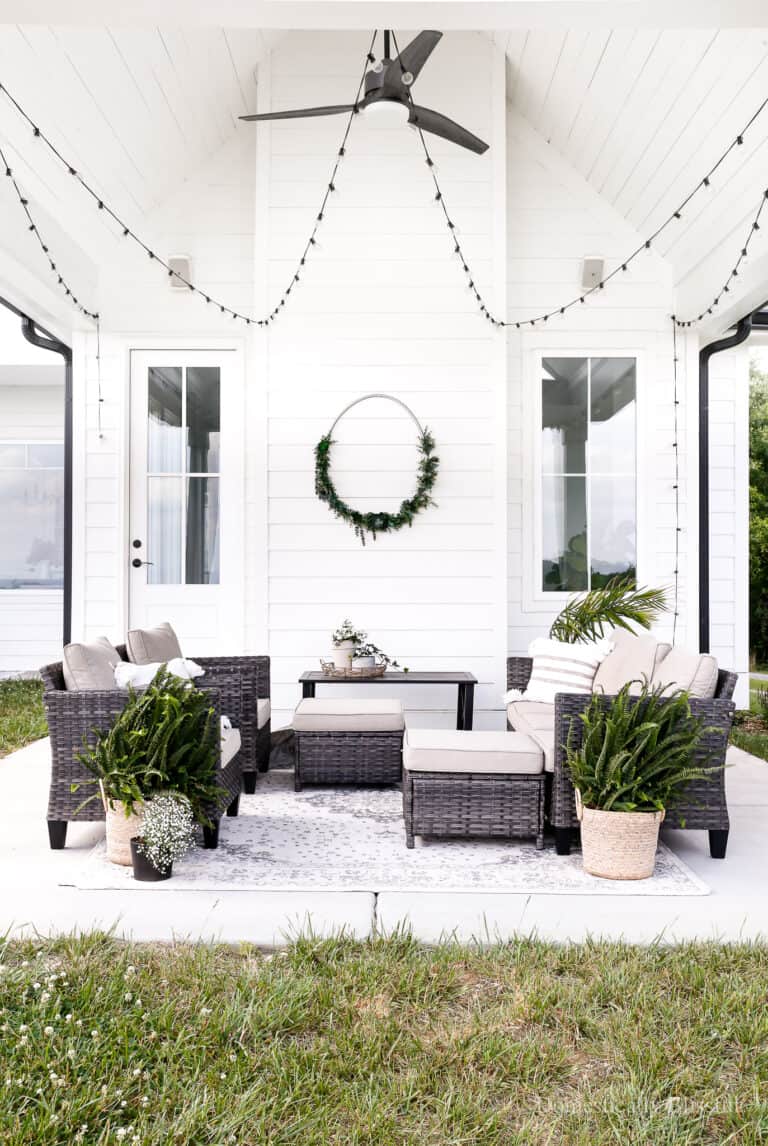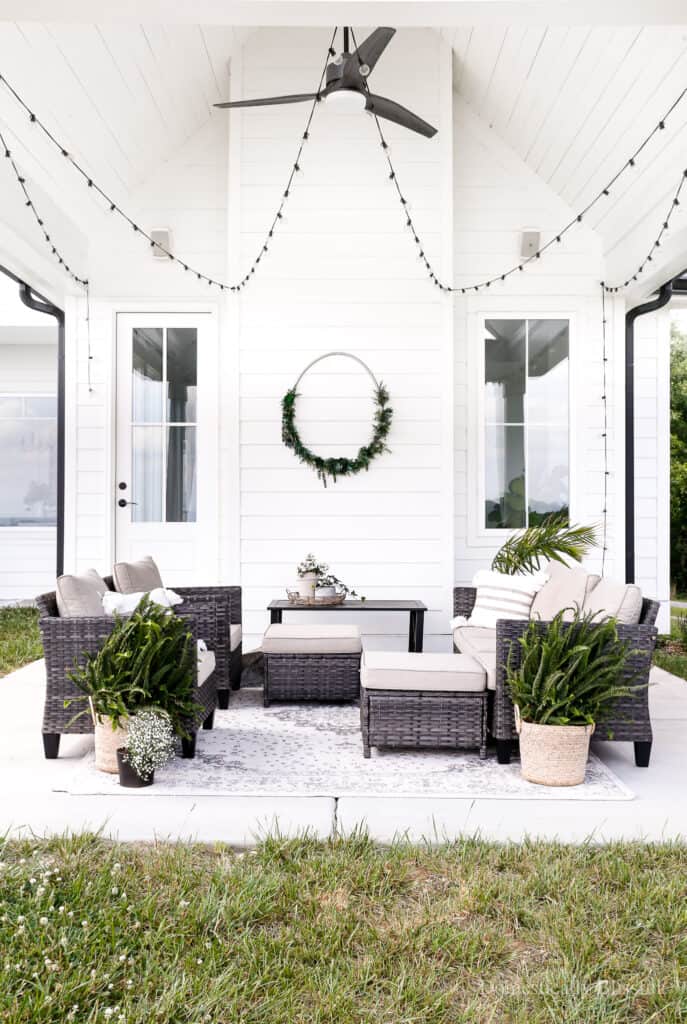 An attractive alternative to traditional concrete or stone steps are paver steps made from concrete pavers or paving stones. These steps provide a more customized look. You can select pavers in different colors and patterns to match your home's exterior or your outdoor space's aesthetic. Paver patio steps can be built using paver base panels and set on a gravel base for stability.
If you're looking for a bold color and unique design, consider using concrete blocks for your outdoor steps. Concrete blocks can be painted or stained to match your outdoor decor, and they can be arranged in straight lines for a sleek, modern appearance, or in a spiral design for a unique visual appeal.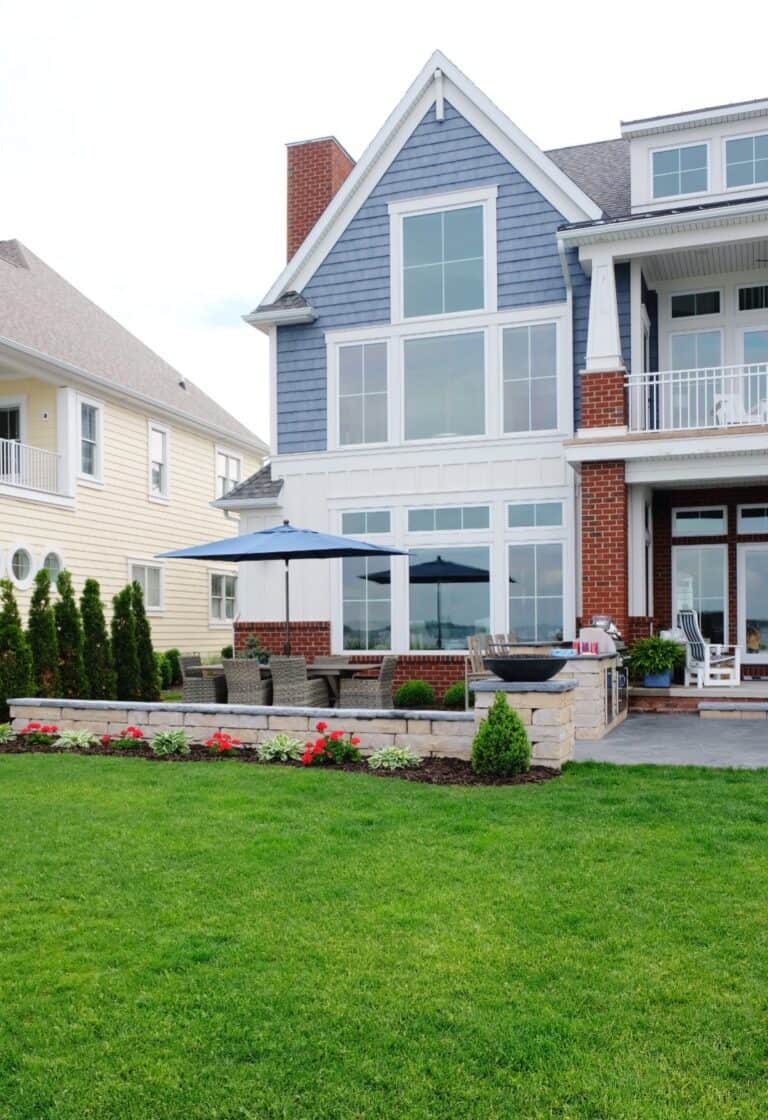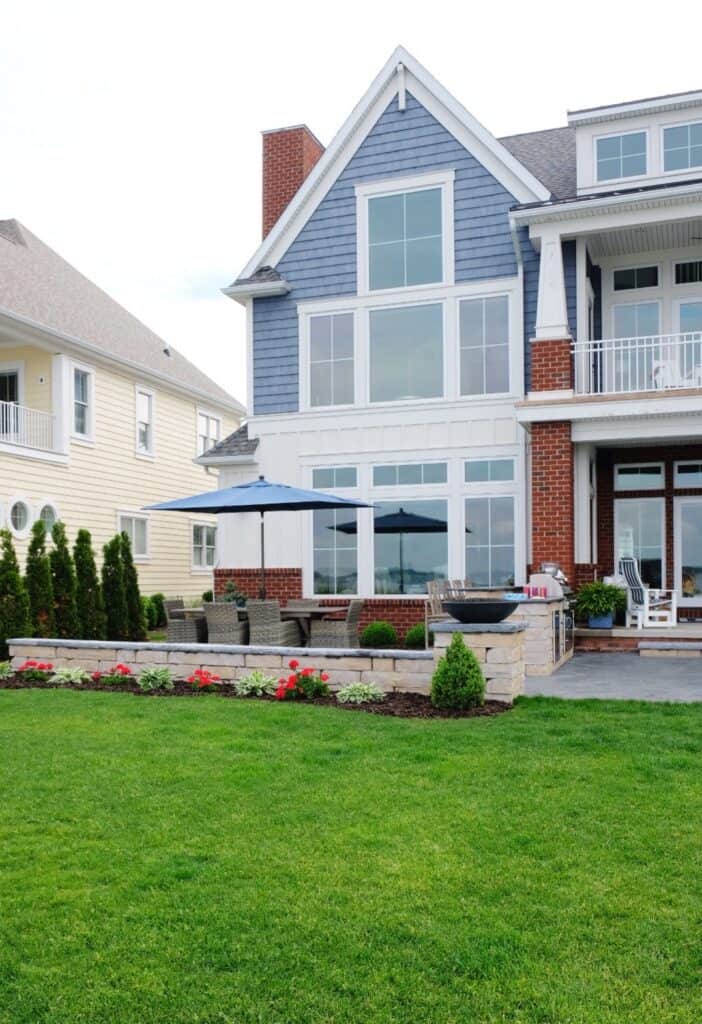 Building Your Patio Steps
When it comes to building patio steps, the process begins by marking out the location of the steps and installing the stair stringers, which serve as the backbone of the stairs. The bottom of the stringer should rest on a flat surface, such as a concrete slab or a gravel patio, while the top step attaches to the deck or the raised patio.
If you are building concrete stairs, you'll need tools like a magnesium float to smooth out the concrete. For stone steps, place and level each stone to ensure a stable and even surface. Wooden steps require careful measuring, cutting, and securing of the boards to create a solid structure. For our steps, we stuck with wood to keep it nice and simple.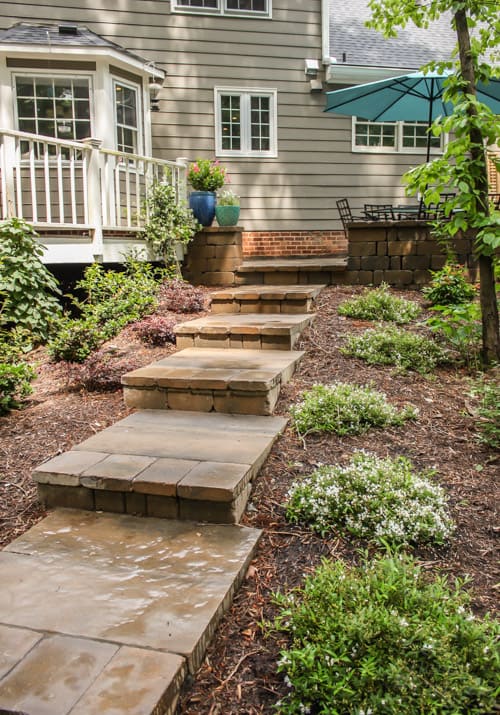 Special Considerations When You Build
The width of the steps is an important consideration, as wider steps can make for a more comfortable and safe ascent and descent. Large stoops or landings can also be incorporated into the stair design, providing a place to rest or even a seating area.
As you build your patio steps, it's essential to pay attention to the height of the risers. Consistency in the height of each step is crucial for safety and ease of use. Deep treads provide a comfortable walking surface and reduce the risk of tripping.
If your backyard patio is located near a swimming pool or a water feature, it's important to create a seamless transition from the patio steps to the pool area. Consider using materials that are slip-resistant and can withstand exposure to water and moisture.
In cases where your patio is at a lower level than the surrounding ground, you might need to incorporate retaining walls into your step design. Retaining walls can provide structural support and prevent soil erosion, creating a more stable and durable outdoor space.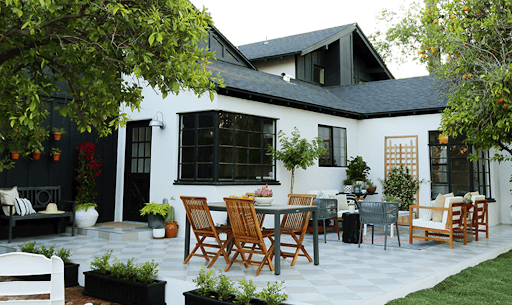 Seeking Professional Input
While DIY projects can be fulfilling, it's always a good idea to seek professional input when it comes to complex construction projects like patio steps. Consulting with a contractor or a professional landscaper can ensure that your design ideas align with safety standards and building regulations. They can also provide guidance on the best materials and construction techniques based on your specific needs and preferences.
Other Posts You'll Love
12 Modern Concrete Patio Ideas On A Budget | Front Porch Railing Ideas | Easy DIY Porch Swing Tutorial
Follow Social For Latest & Greatest
Pin The Photo Below For Later
Building backyard patio steps is an exciting project that can transform your outdoor living space into a functional and visually appealing area. Whether you opt for concrete steps, natural stone, wooden steps, or paver steps, the design possibilities are vast. By considering important factors such as safety, compliance with local building codes, and the overall aesthetic of your outdoor area, you can create a set of patio steps that seamlessly connects different levels of your outdoor space while adding a focal point to your backyard. Remember to plan carefully, choose high-quality materials, and, if needed, seek professional assistance to ensure a successful and enjoyable patio step project. With the right design and execution, your backyard patio steps will be an inviting and beautiful addition to your home.