When it comes to interior design, pendant lighting is a popular choice for kitchen island lighting. Not only do these gorgeous pendants add a decorative element to your space, but they also serve as task lighting and accent lighting. Pendant lights can provide direct light to a specific work area like island counters, making them an essential component in any kitchen. However, determining the right pendant light height can be a tricky task. This blog post will be your ultimate guide for tips on how low should kitchen pendant lights hang.
This post may contain affiliate links.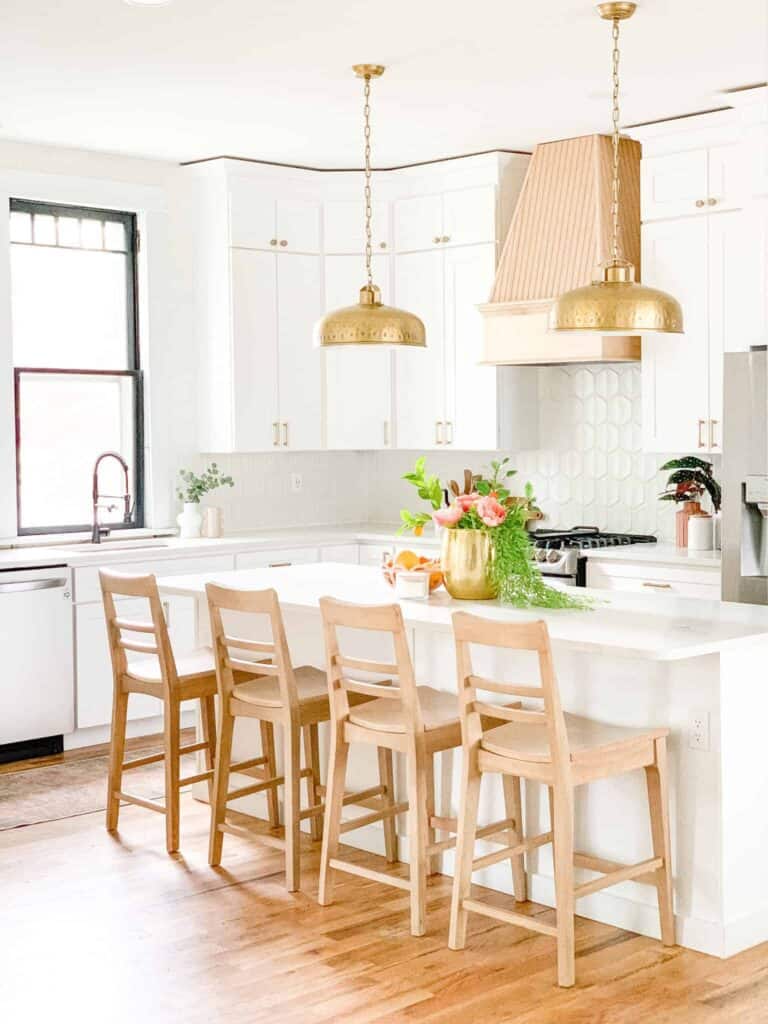 Tips On How Low Should Kitchen Pendant Lights Hang
Recently, Sam and I upgraded our kitchen island. When our home renovation was completed by HgTV, we had some design choices that were not entirely ours that were made. While the island functioned well, it wasn't exactly the look I wanted. Once our island built-in microwave broke, I knew it was the perfect time to change up the style and create something I would love. If you are looking at updating your kitchen island, be sure to check out my DIY Kitchen Island post for some helpful tips.
Now that our island is complete, it is the perfect addition to our kitchen. One of my favorite parts of the island are the pendant lights that hang overhead. While we have tons of natural lighting, those pendant lights complement the overall aesthetics of our kitchen and provide much needed lighting on darker days.
I struggled with figuring out the proper height to hang our pendant lights. I didn't want to hang them too low and have the view obstructed by the lights. At the same time, I didn't want to hang them too high and have them look out of place or odd. If you are in the middle of a kitchen renovation or looking at upgrading your lighting, we will go through tips on how low should kitchen pendant lights hang to find the perfect height.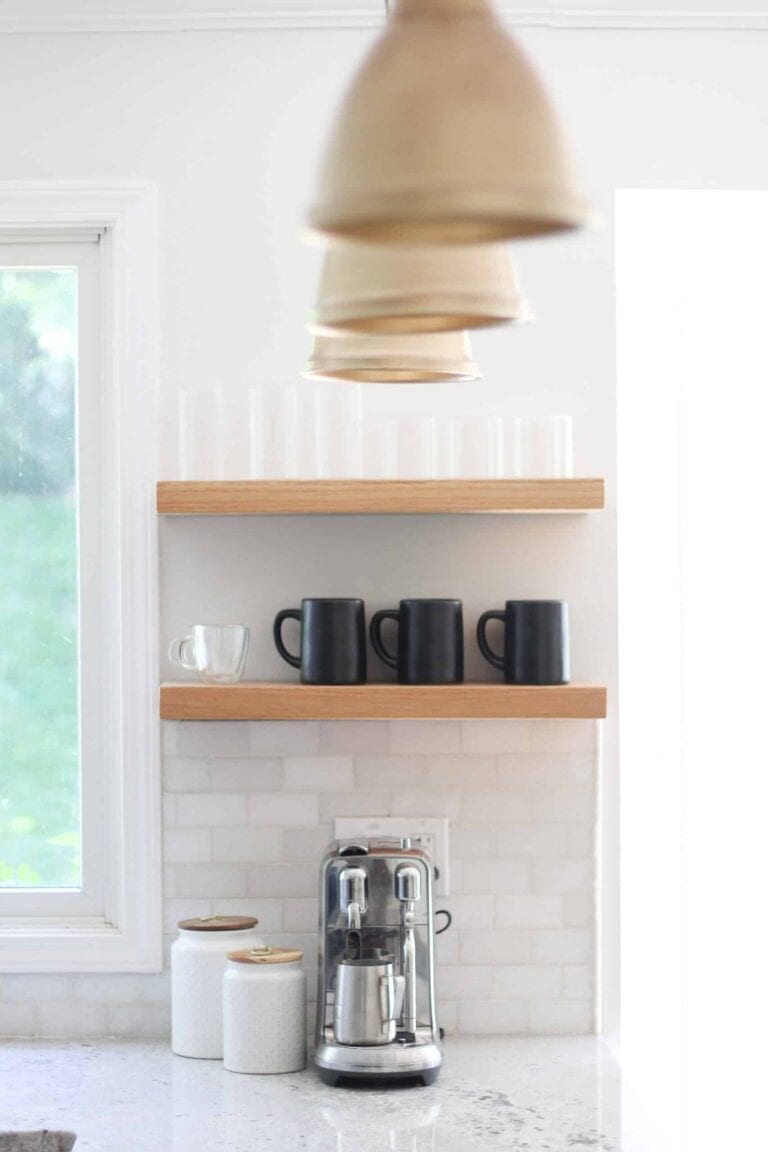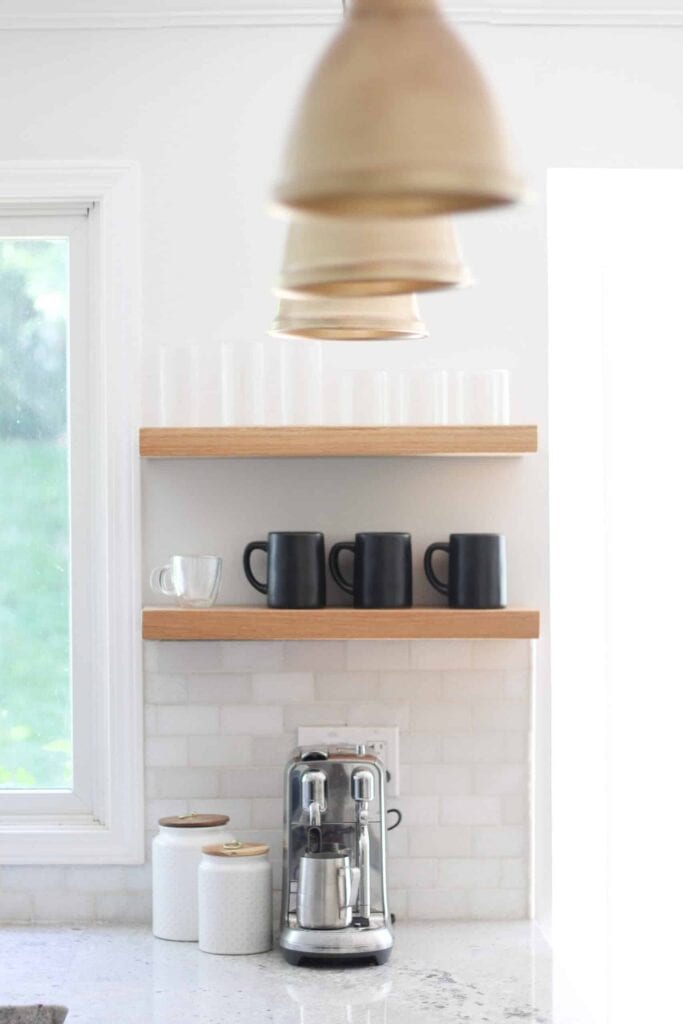 Understanding the Role of Pendant Lights
Before we delve into the specifics of pendant light height, let's first understand their role. Kitchen pendants serve as a focal point in the room, providing both ambient lighting and general light. They can create a mood or highlight specific areas. They also come in different sizes – smaller pendants for smaller islands and larger pendants for larger islands, so the size pendant you choose will depend on your island size.
Ceiling Height
The height of your ceiling is a crucial factor in determining the appropriate pendant light height. For kitchens with low ceilings, such as 8-foot ceilings, you'll want to hang the pendant lights higher to create a sense of openness and avoid head bumps. In this case, aim to hang the pendants around 30-36 inches above the table or island bench. On the other hand, for kitchens with high ceilings, you can hang the pendant lights lower to visually anchor the space and create a more intimate atmosphere.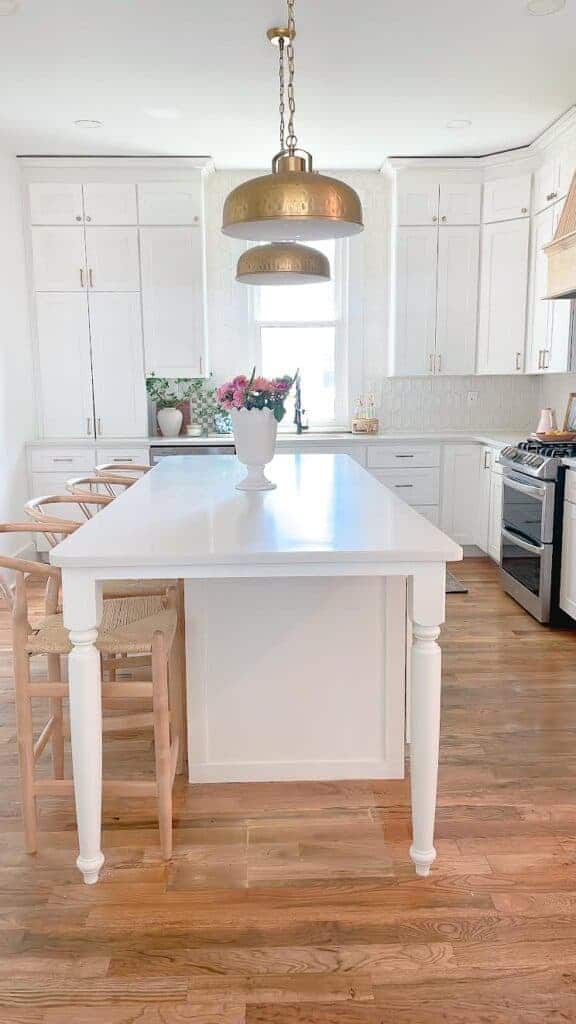 Island Size and Length
The size and length of your island play a significant role in determining the pendant light height. For larger islands, you can opt for larger pendant lights or multiple smaller pendants hung in a row. In these cases, you might want to hang the pendants slightly higher so that they don't overpower the island. Conversely, for smaller islands, smaller pendants or a single larger pendant hung lower can create a proportional and visually appealing look.
Consider the Size of the Pendant
The pendant size also plays a crucial role in determining the correct height. Smaller pendants can be hung a little lower while large pendants should be hung higher to maintain sight lines. Interior designers suggest that the diameter of your pendant should be in relation to the length of your island.
A good rule of thumb is to leave at least 12 inches of space from each edge of the island to the edge of the pendant for small islands, and more for larger islands. This ensures that the pendant lights visually complement the island without appearing too cramped or undersized.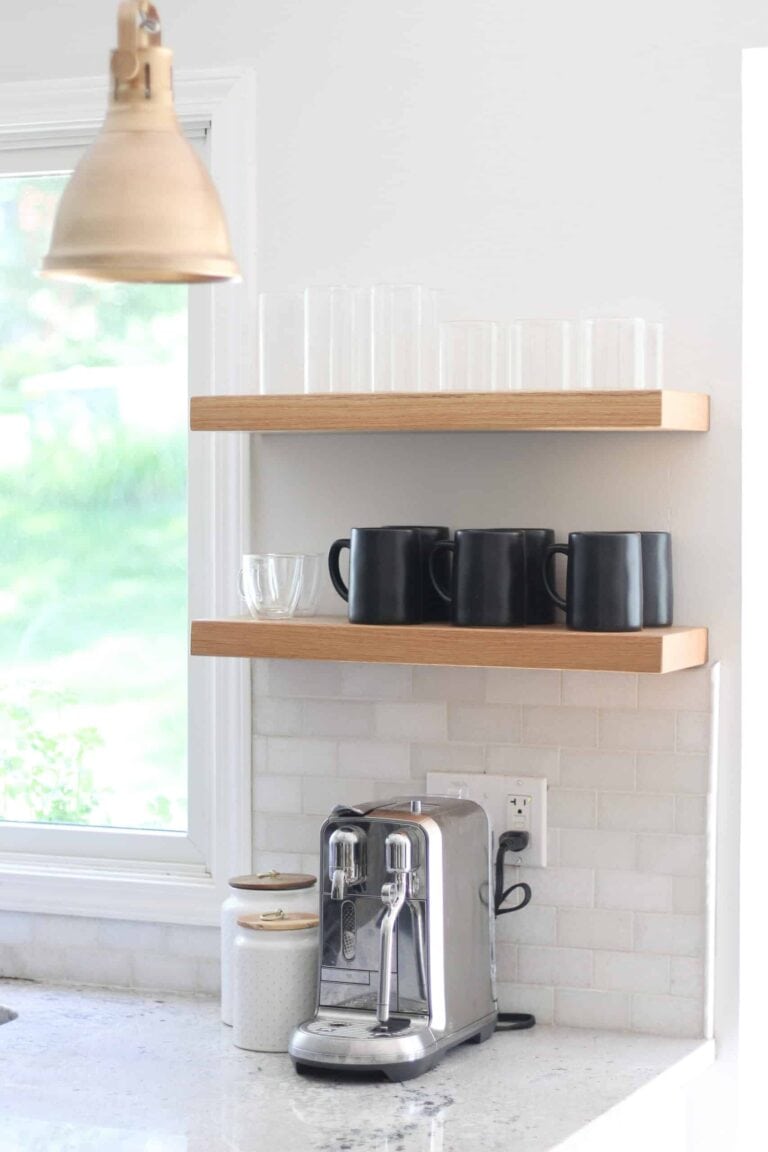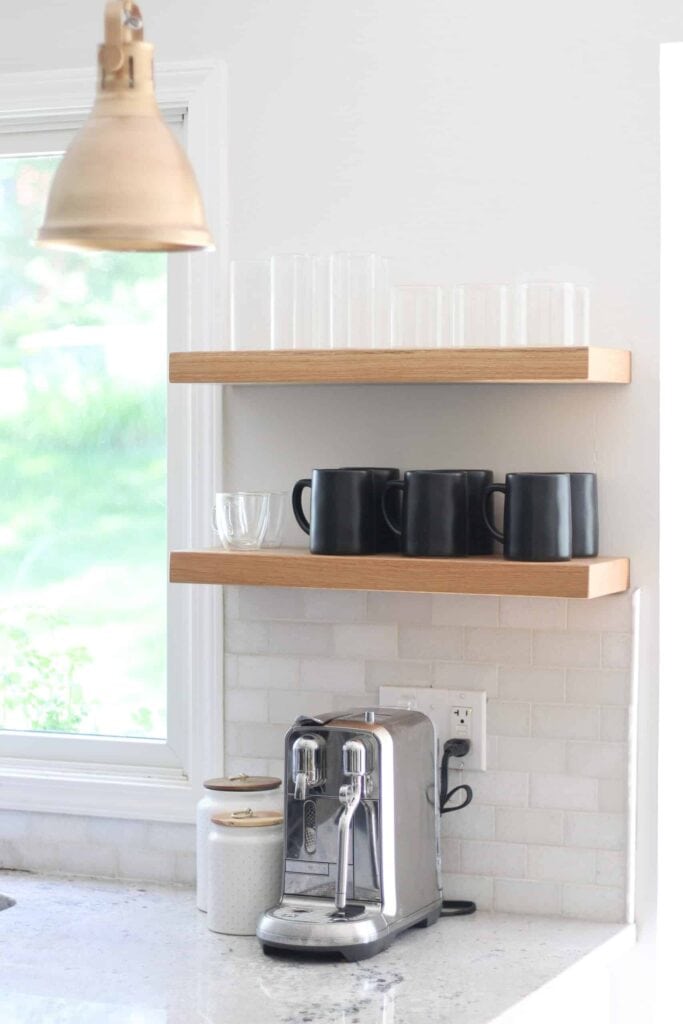 The Right Height
Your pendant's height may be determined by your island's size, pendant's size, and ceiling height. However, a general rule of thumb is that the bottom of your pendant should hang between 30 to 36 inches above the top of the table or island, but this also depends on the height of your ceiling.
For standard 8-foot ceilings, hanging the pendant about 30-36 inches from the table top is a good starting point. However, for every additional foot of ceiling height, add 3 inches to the hanging height. This means for a 9-foot ceiling, the bottom of the light fixture should hang 33-39 inches above the table top.
Although there are basic rules, remember that the ideal height also depends on personal preference and specific lighting needs. Ultimately, the height at which you hang your pendant lights should align with your personal style and the aesthetic you want to achieve in your kitchen.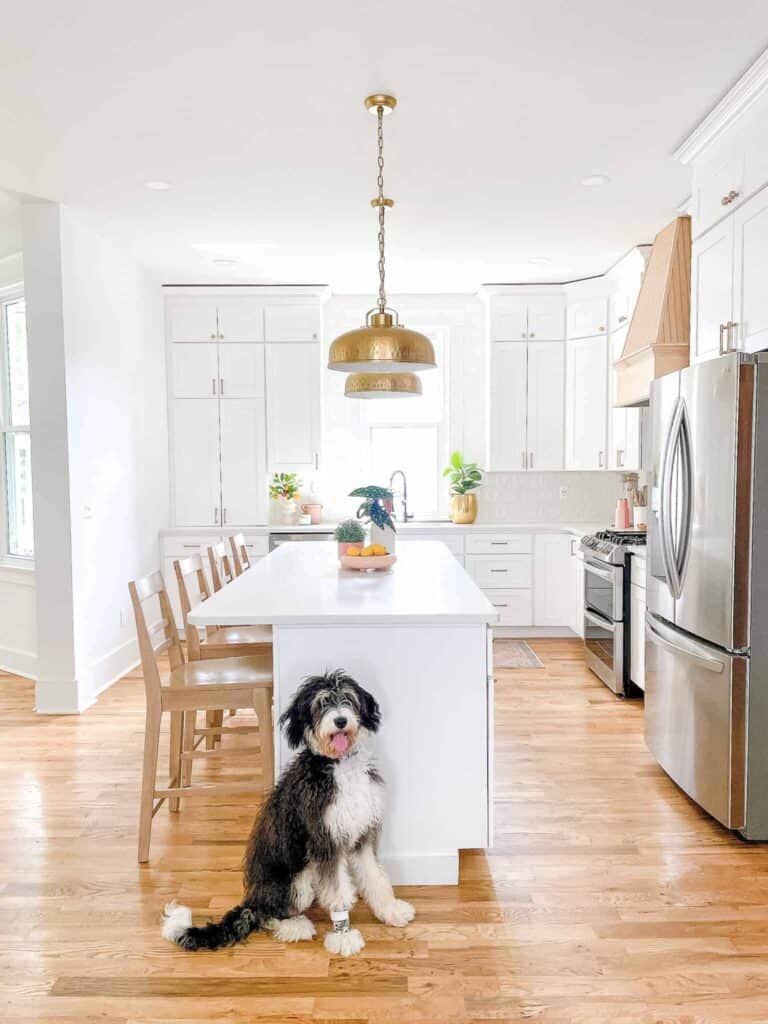 Special Considerations In Your Pendant's Height
While there are guidelines to help you get started, don't be afraid to experiment and trust your instincts. Interior design is a creative process, and your personal preferences should shine through in the final result. Consider the overall theme, color palette, and design elements in your kitchen when making decisions about pendant light height.
Layering with Other Lighting
Pendant lights should complement the overall lighting scheme in your kitchen. They can be used as task lighting for specific work areas, but it's essential to consider other light sources as well. Combining pendant lights with recessed lighting, under-cabinet lighting, or a central ceiling fixture can create a layered and balanced lighting design. This allows you to adjust the overall brightness and ambiance of the space to suit different activities and moods.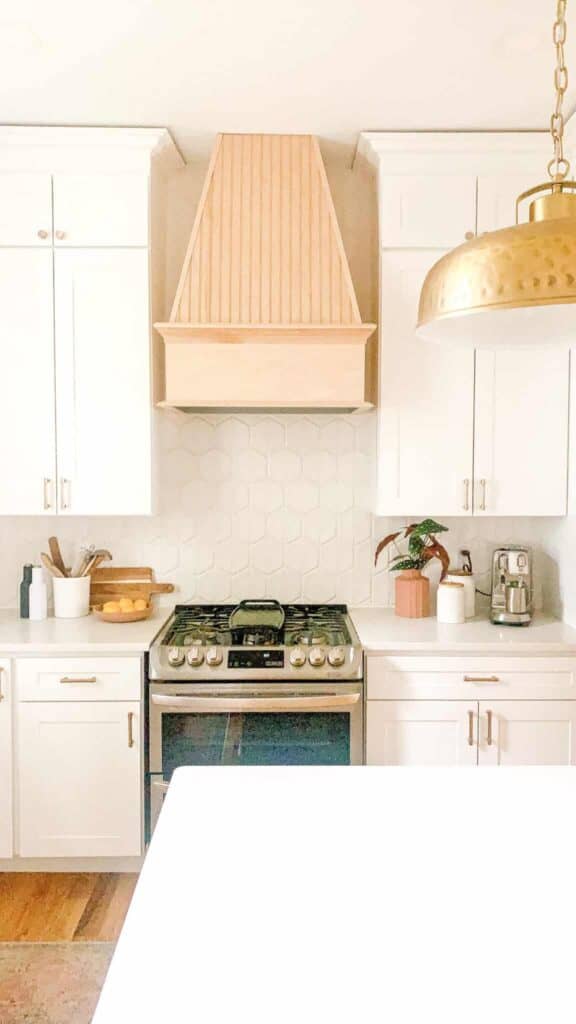 Sight Lines and Functionality
Consider the functionality and sight lines in your kitchen when determining the pendant light height. You'll want to ensure that the pendant lights don't obstruct the line of sight or interfere with daily activities.
For example, if you frequently cook or work on the island, hanging the pendants higher can provide better visibility and prevent any potential hazards. On the other hand, if the pendants are primarily for decorative purposes and won't interfere with your sight lines, you can experiment with lower hanging heights for added visual impact.
Applying Your Pendant's Height To Other Locations
The right place for pendant lights isn't limited to the kitchen. They are also perfect for creating a cozy dining space. The general guidelines for a dining room table are similar to those for a kitchen island, but you might want to hang the pendant a little lower (around 28-32 inches above the table top) to create a more intimate atmosphere.
For a side table in the living room, pendant lights can be used as task lighting. The right height in this case is generally at eye level, which is usually 18-24 inches from the top of the end table. However, for low ceilings characteristic of older homes, the pendant light should be slightly higher to avoid head bumps.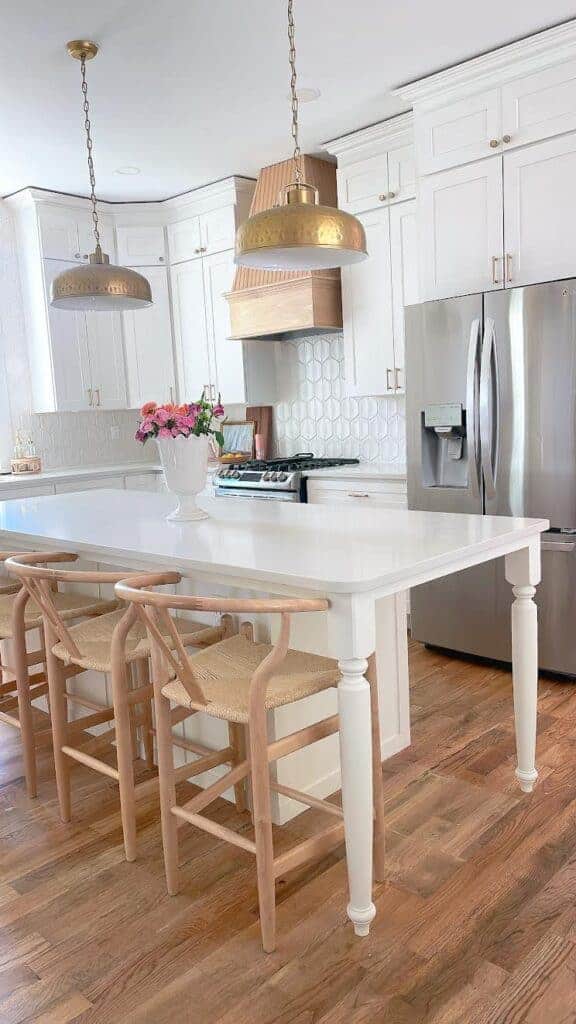 The Takeaway
When it comes to hanging pendant lights, there's no fast rule that applies to all situations. The height of pendant lights, as well as the type of pendant, is contingent upon the height of your ceiling, the size of your island, and your specific lighting needs. A larger island might call for a larger fixture or several smaller ones, while kitchen pendants over a smaller island or dining table might need to be adjusted to the right size and height.
The industry standard and general guidelines are good starting points, but remember that personal preference plays a role too. It's your space, after all, and the lighting should work for you and your family.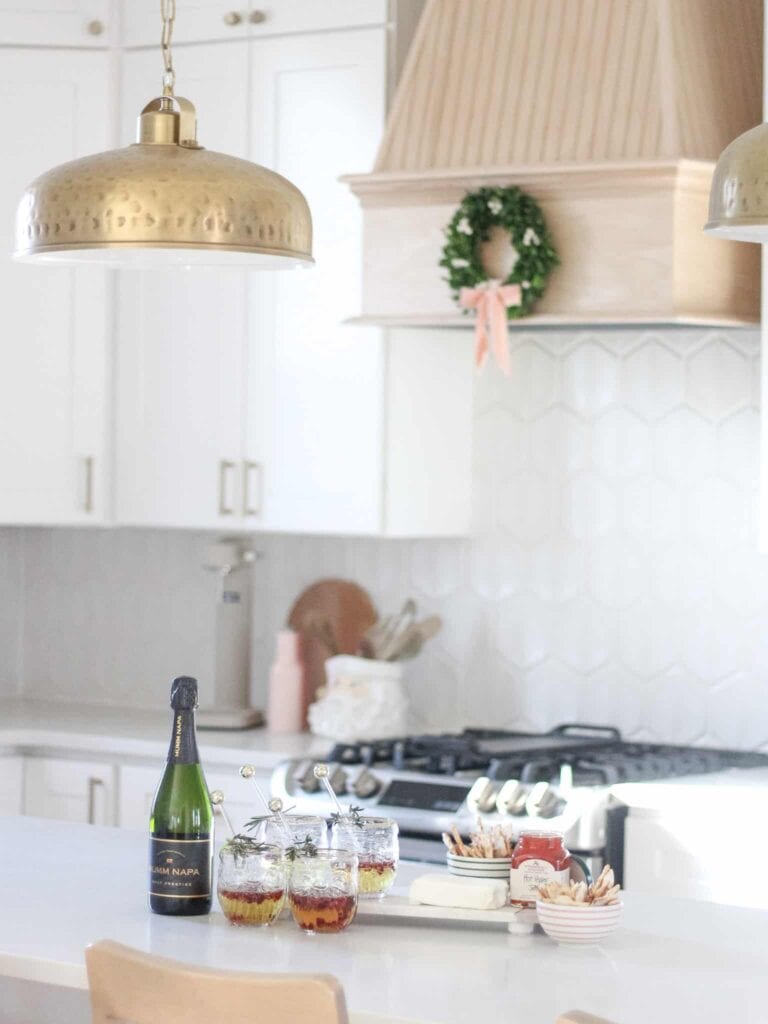 In large kitchens, pendant lights can bring the scale of the room down to a more human level, making the space feel cozier and more intimate. In smaller kitchens, they can serve as a focal point, drawing the eye and giving the room a sense of direction.
Remember, lighting should never be an afterthought in your design process – it's an integral part of creating a space that's not only beautiful, but that works for your needs. So take your time, consider your options, and you'll be well on your way to creating a beautifully lit kitchen that you love.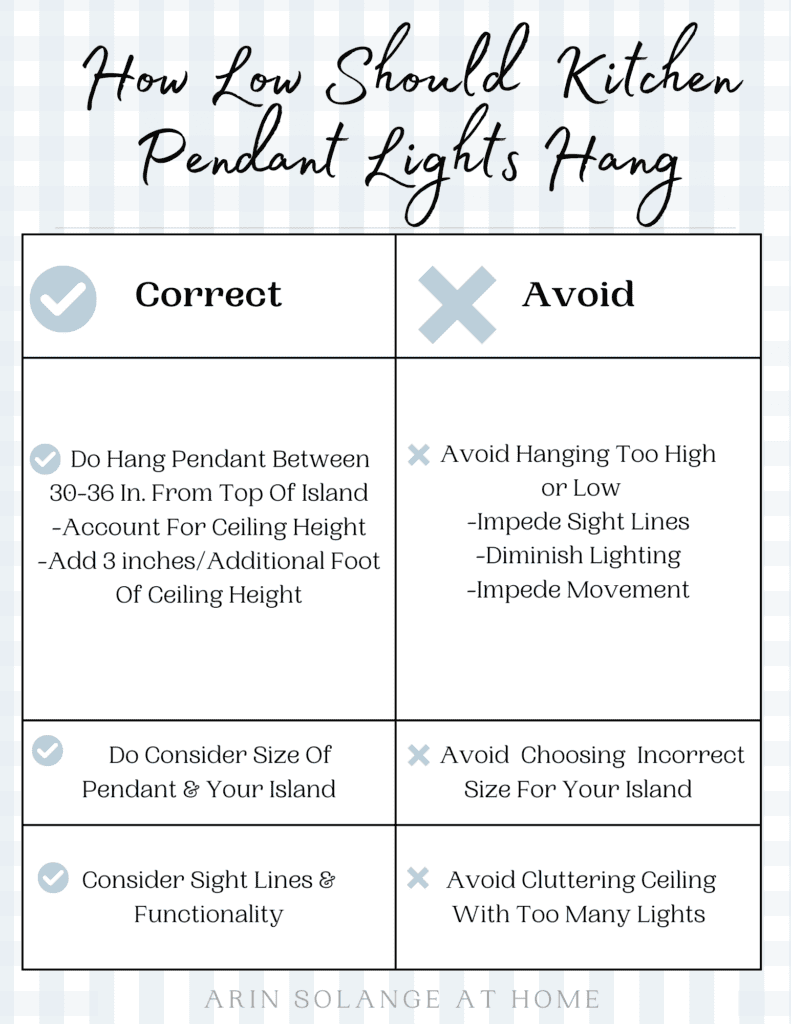 Shop Kitchen Pendant Lighting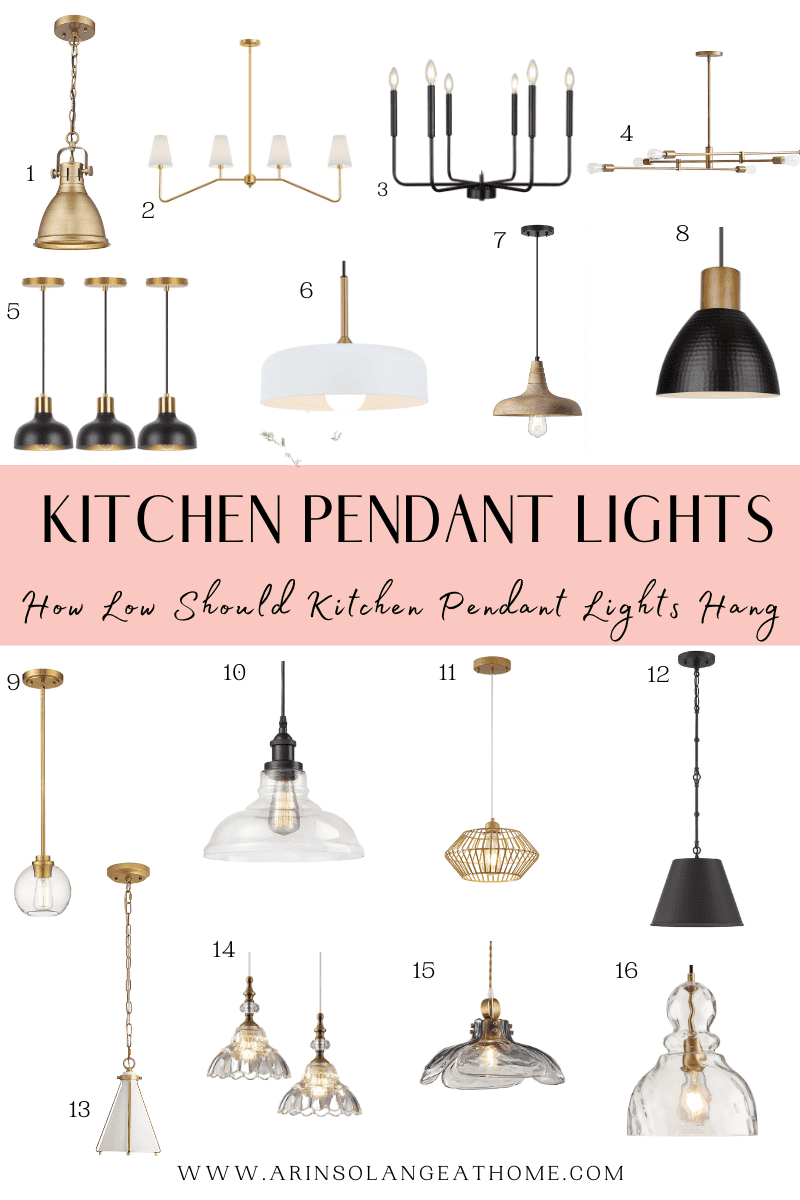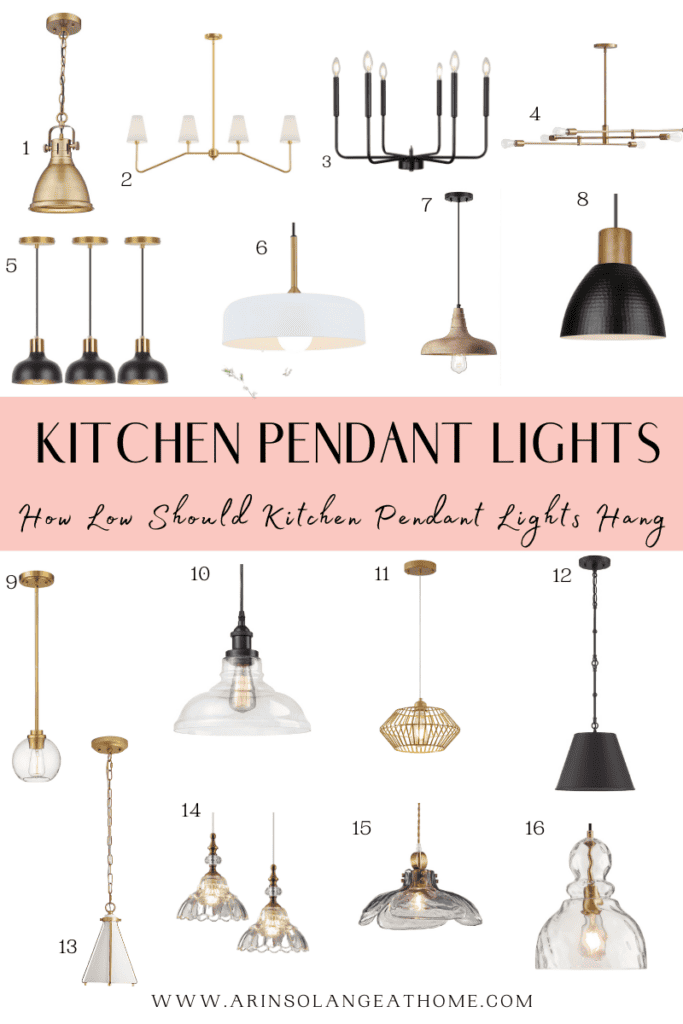 1 | 2 | 3 | 4 | 5 | 6 | 7 | 8 | 9 | 10 | 11 | 12 | 13 | 14 | 15 | 16
Other Posts You'll Love
Best Kitchen Cabinet Handles | How Deep Are Kitchen Wall Cabinets? | White Kitchen Cabinet Backsplash Ideas
Follow Social For The Latest & Greatest
Pin The Photo Below For Later
Whether you're looking to illuminate a specific work area, create ambient lighting, or establish an aesthetic focal point, pendant lights are a fantastic addition to any kitchen. By keeping in mind the tips mentioned above and adjusting them to your personal preference, you'll be able to hang your pendant lights in the right place at the right height, ensuring your kitchen is both functional and aesthetically pleasing.