Last year I went all in on 'Merry and Bright' (I'll link to those posts in a bit). So this year I wanted to find ways to show you more inspiration with that same theme but in different ways. One of the only spaces that didn't get the colorful look last year was my office, so this year I went with some bright pink Christmas decor, and went full on Merry and bright in my office. I fully committed to the point of rearranging my furniture haha.
This post contains affiliate links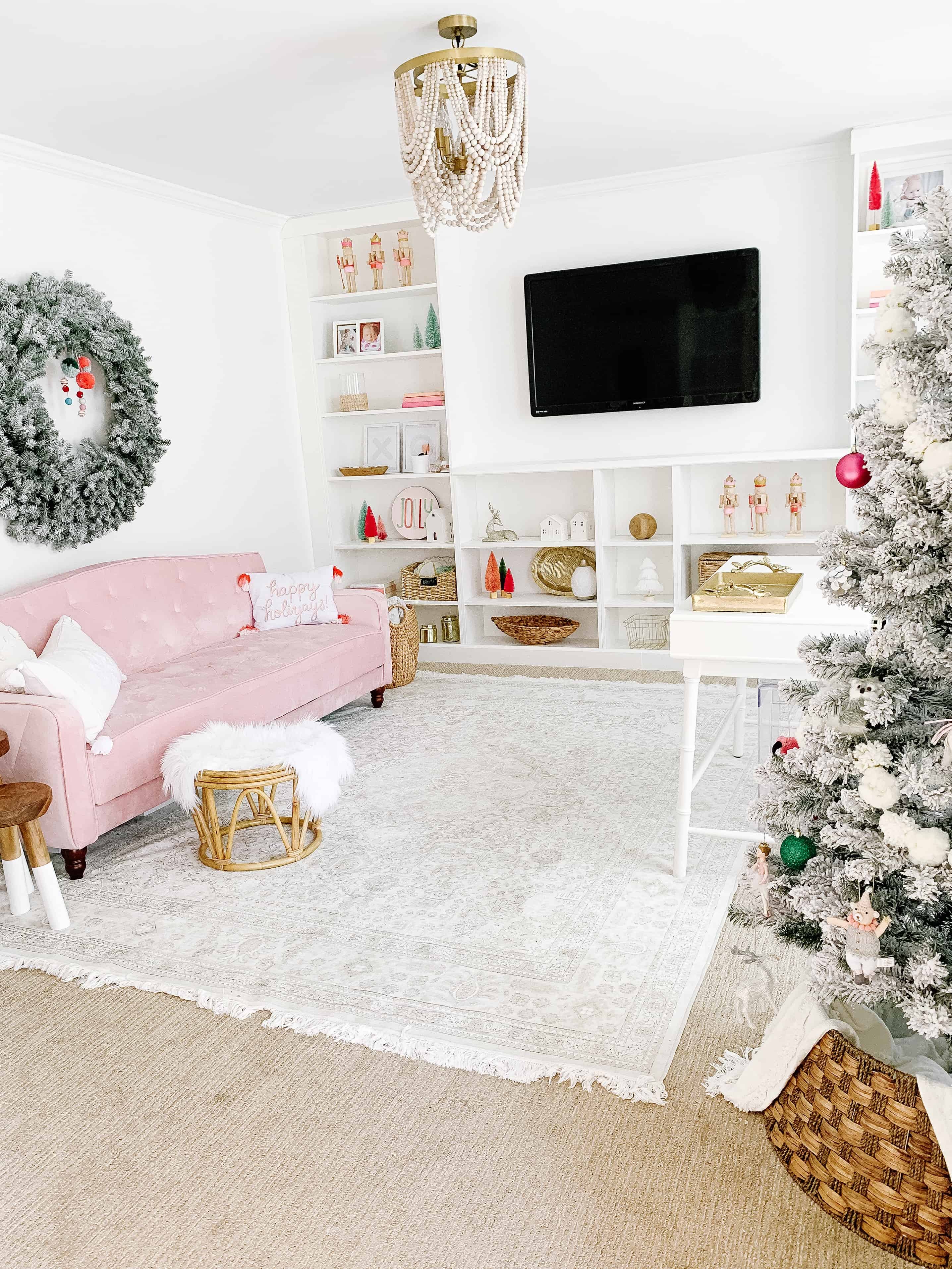 To see last years Merry and Bright Decor click HERE
I am going a bit less bright with my living room this year to change things up, so it was fun to REALLY commit in my office. It makes for such a fun space to walk past. Before I share this whole room and the details, be sure to check out the round up below with a bunch of the best Merry and Bright decor I found this year!

Merry & Bright Pink Christmas Decor – Office Tour
All sources will be linked at the end of this post. My office is a pretty good blank slate. When we transformed it to my office we did these IKEA built in's which gives me so much space to add fun decor, and as opposed to my living room, where there is a brown wood mantle, the office looks amazing with the bright colors.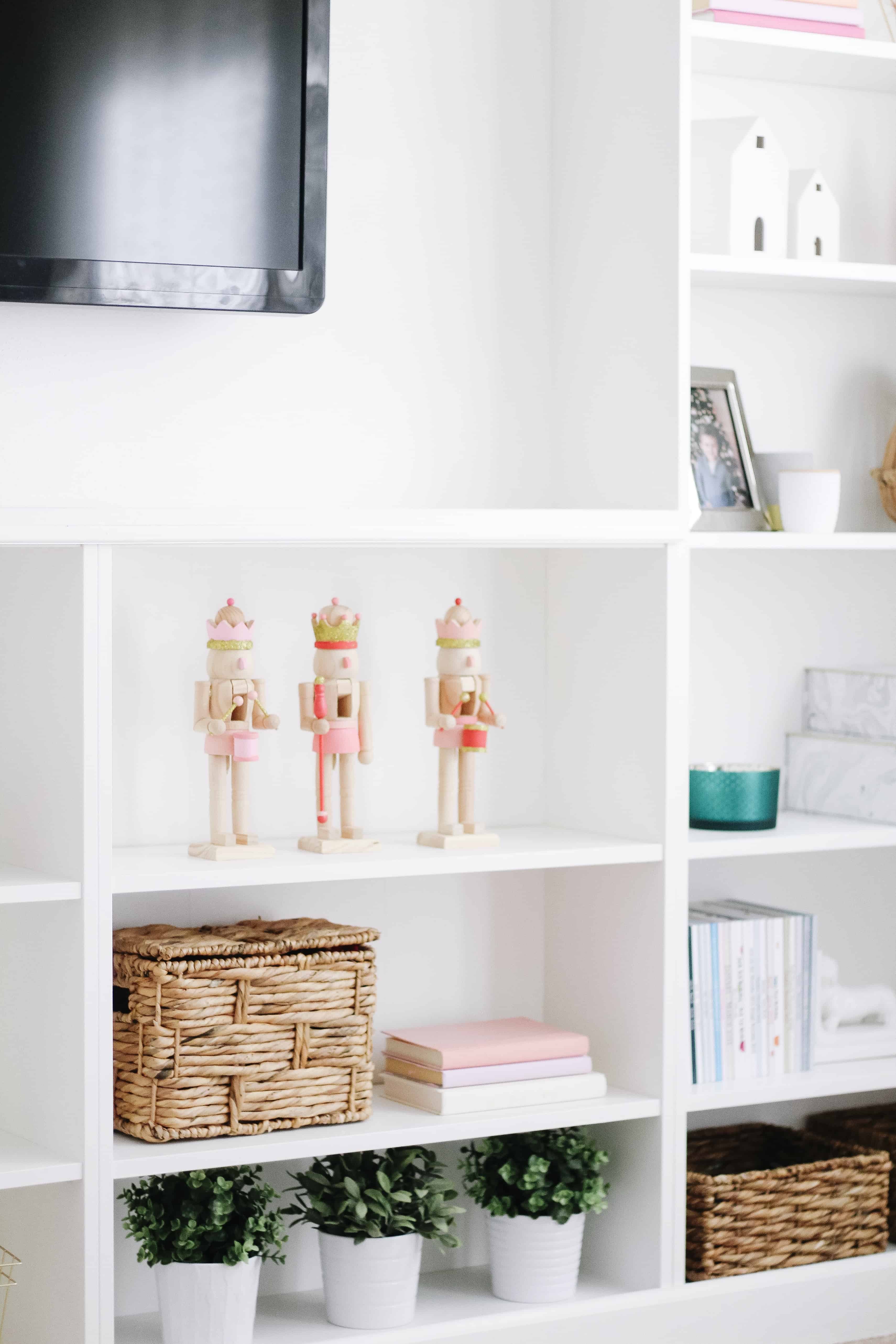 Previously, when I did my office, my couch was actually where my desk is, and the desk where my couch is, but I honestly use my couch more often, so when I was deciding how I wanted this room to look I decided to give it a try switching it, and LOVE how it looks. I can now sit at my couch and blog and look out the windows, and it allowed me to put my tree close to the door so the whole family can enjoy it more.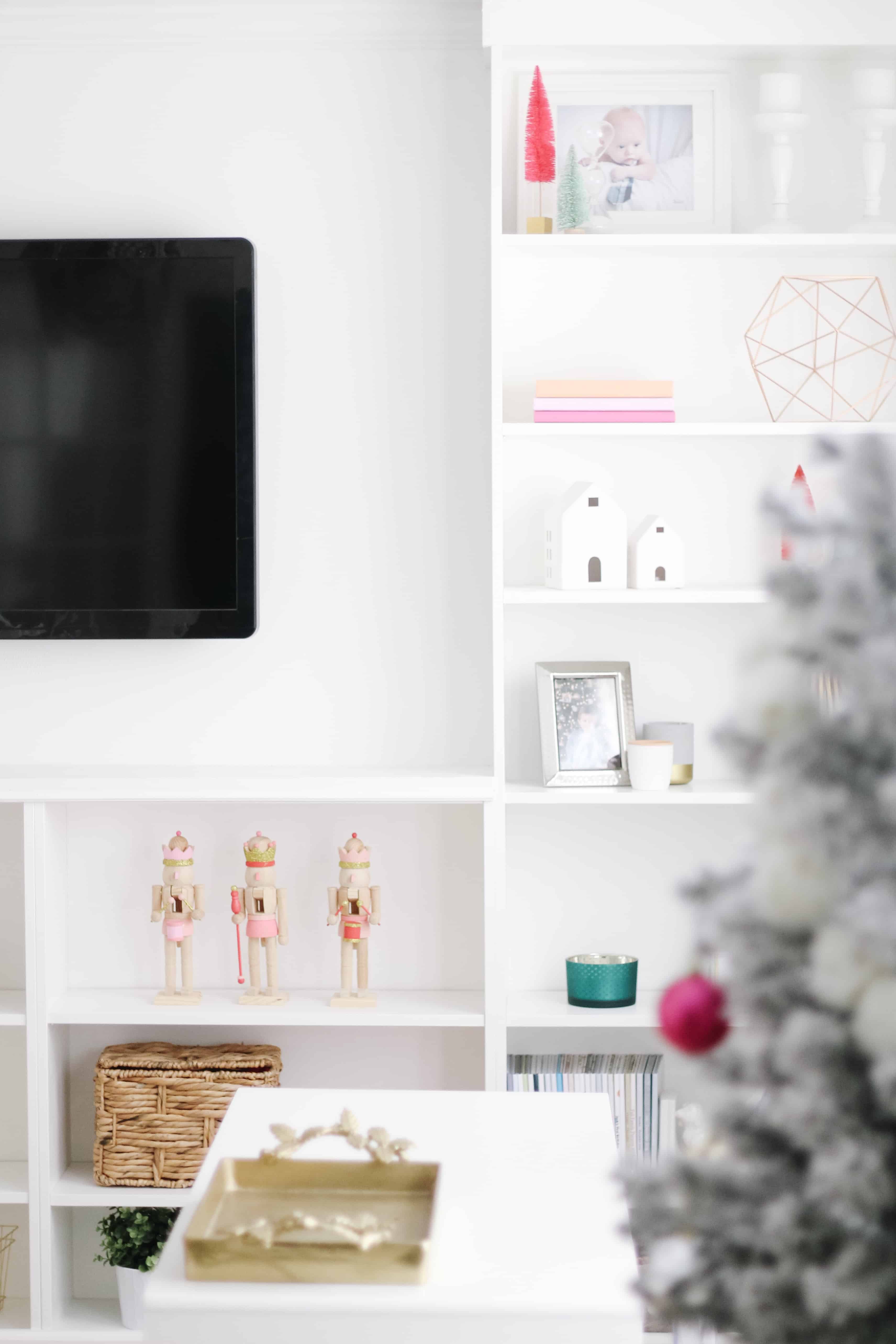 The Details
Books
I talked a bit in my Instagram stories about how I actually painted some of the books that are normally on my shelves for this project. I use books from thrift stores for layering on shelves all the time, so it was a fun inexpensive way to add pops of color to just paint them. (simply use craft paint and DONE!).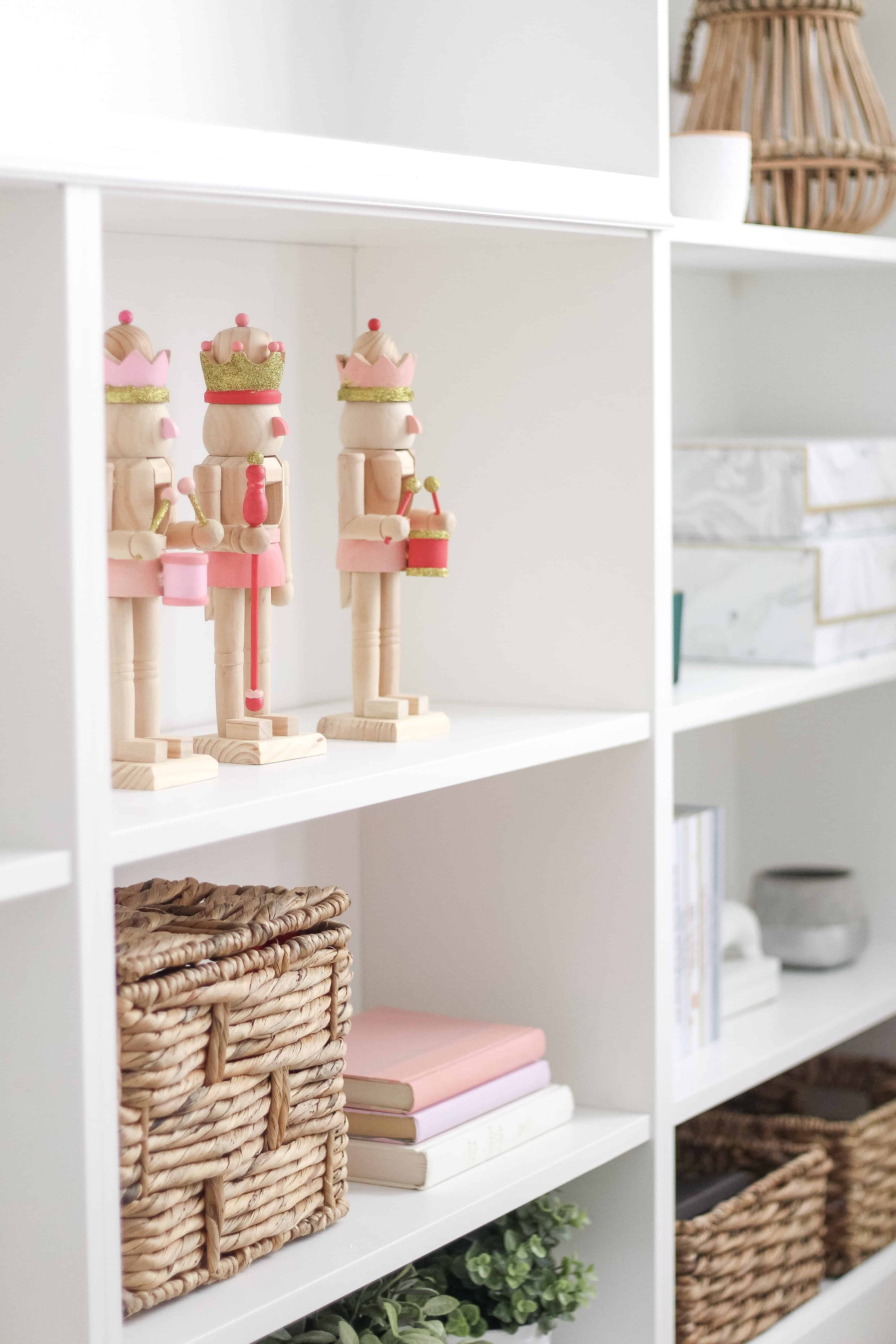 Bottle Brush Trees
Another aspect was the bottle brush trees. I had LOTS of trees from last year, but was going so much more pink in my decor this year I needed a lot more pink. So some of these are actually THESE from Hobby Lobby that I dyed different shades of pink, as well as some of them are THESE that I bleached then dyed. The bleaching didn't take out all the color but did lighten them enough to take on a pink shade when dyed.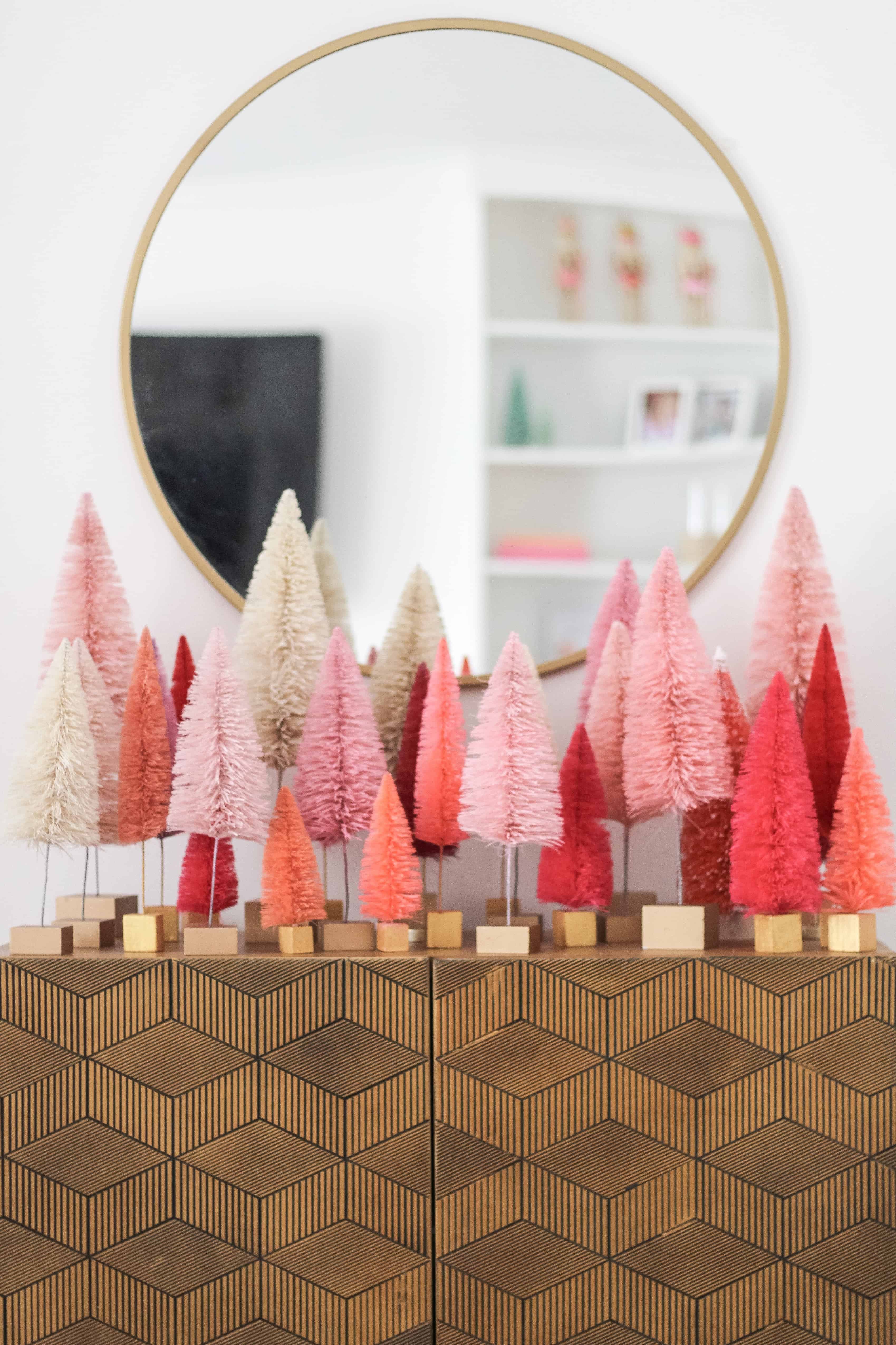 To Dye them some of them were dyed with craft paint and water and soaked. This method takes MUCH longer, and the paint to water ratio has to be pretty high, but it does work. The other method is to use food dye. This is much faster, so for lots of them I did that. I actually purchased a few shades of pink dye and soaked the trees a little longer each time. After 1 or 2 were done in one shad I would add a bit of a darker pink dye to give it a new color I was dipping them in.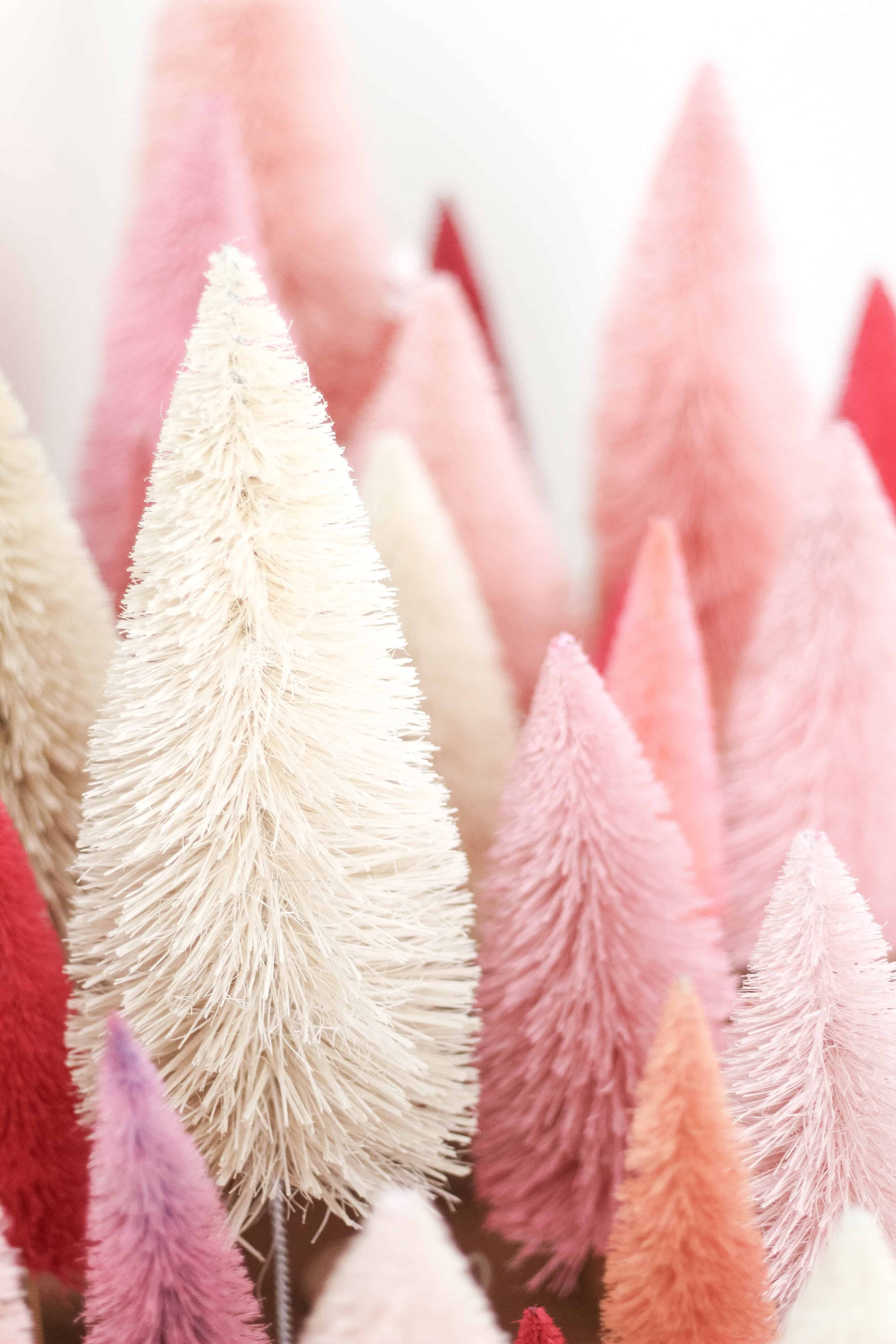 If you're looking for some pink bottle brush trees I also will link to some already done below
Set of 3 Pink Bottle Brush Trees | These are so fun – got some for our entry way | This set of 3 could easily be dyed pink!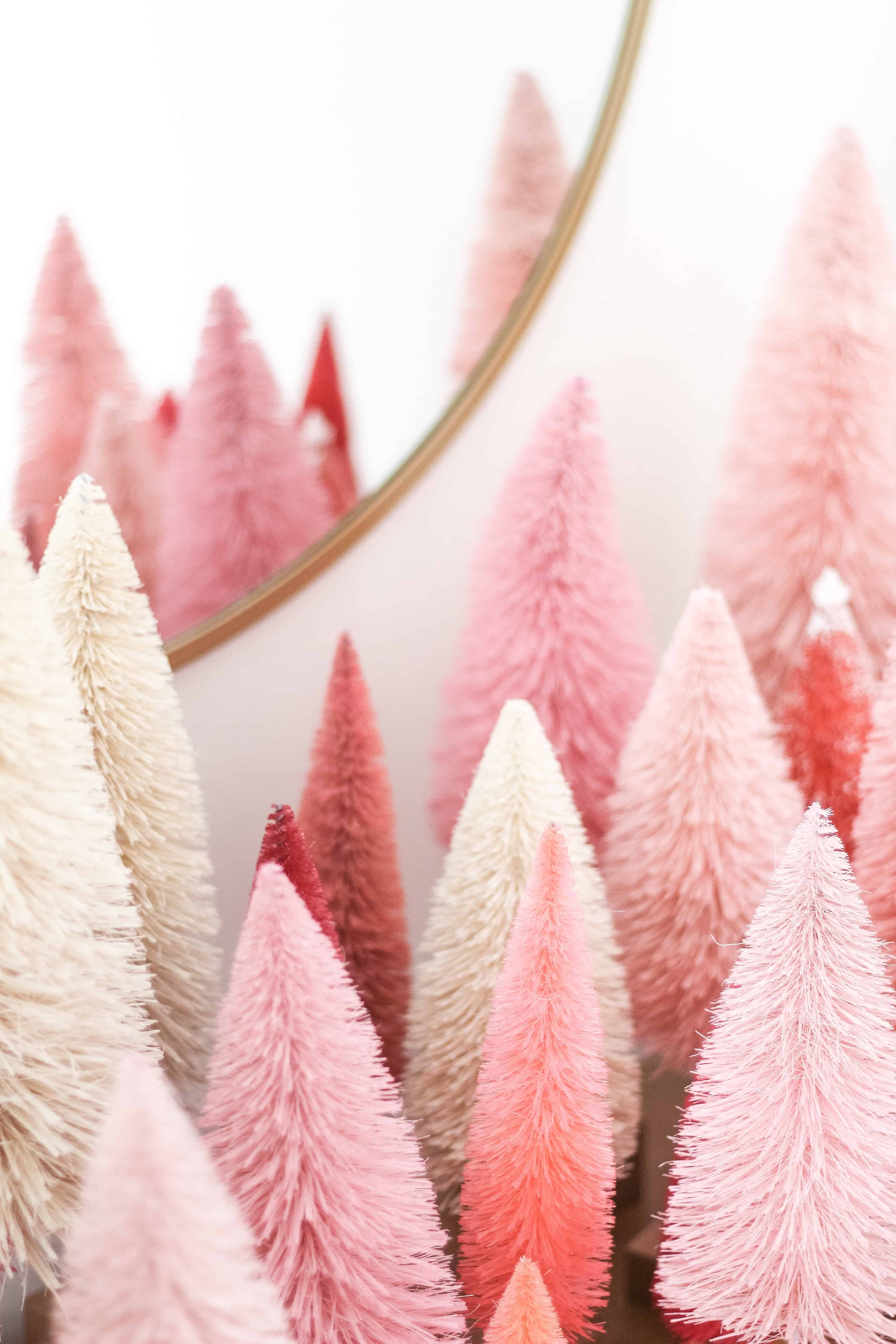 Nutcrackers
The other colorful aspect I DIYed in here were these nutcrackers. They are simple wood nutcrackers that I painted in craft paint on some parts then added gold glitter to other parts. (to add glitter, paint glue on those areas AFTER ALL THE PAINT IS DRY, then pour on the glitter). My original plan with them was to do solid nutcrackers, but I was a bit worried in this space that they would have added too much color. I felt like the neutral wood was needed. I do think I might add fully painted in more muted tones to my living room decor, so stay tuned for that.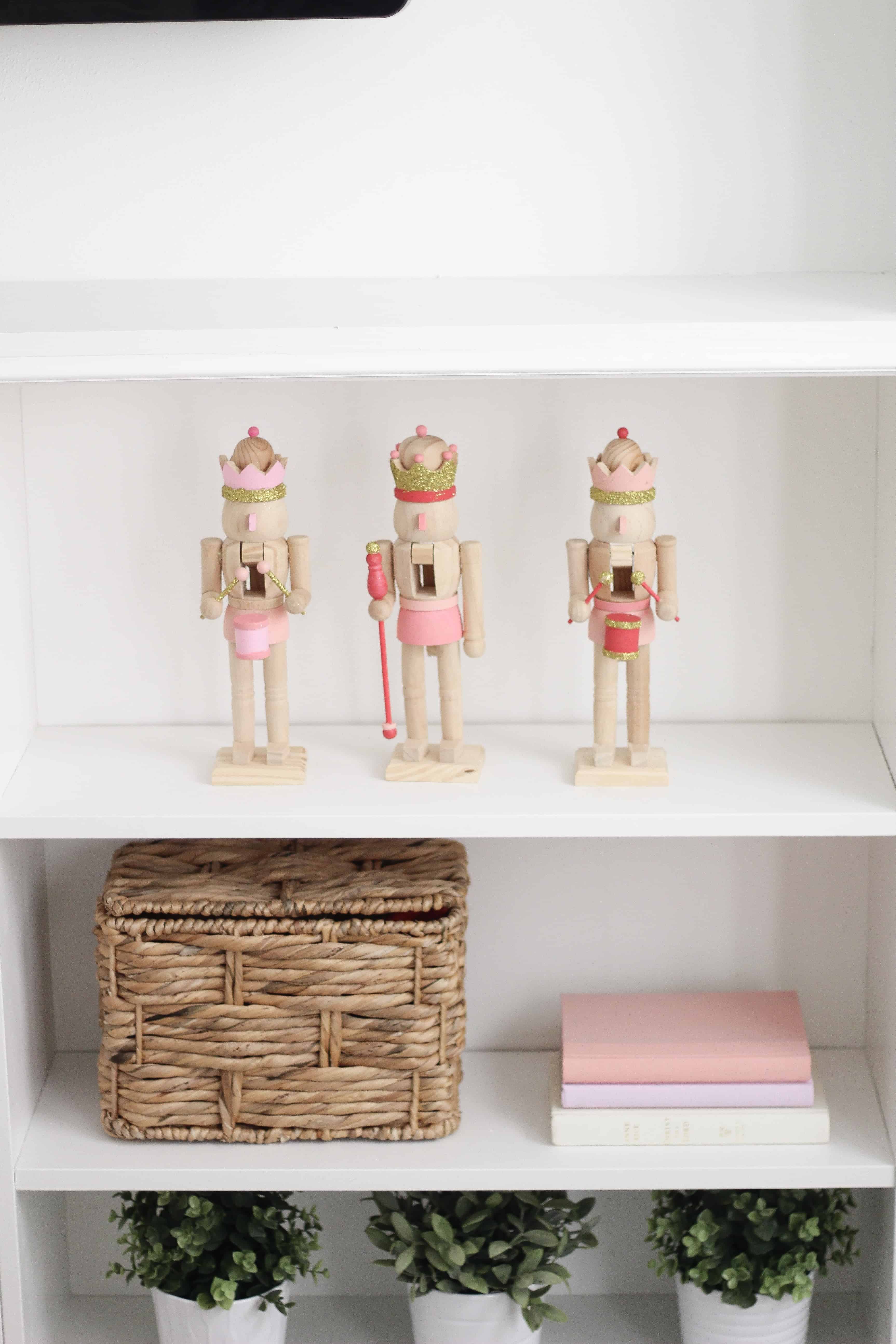 The Wreath
The wreath was a super easy way to add a LOT of holiday cheer for very little effort. Finding an affordable wreath that was flocked wasn't happening, so I ended up using THIS SPRAY and flocking one from Hobby Lobby. I love how it turned out, and I added some pom poms from last years DIY pom pom stockings to add a but more.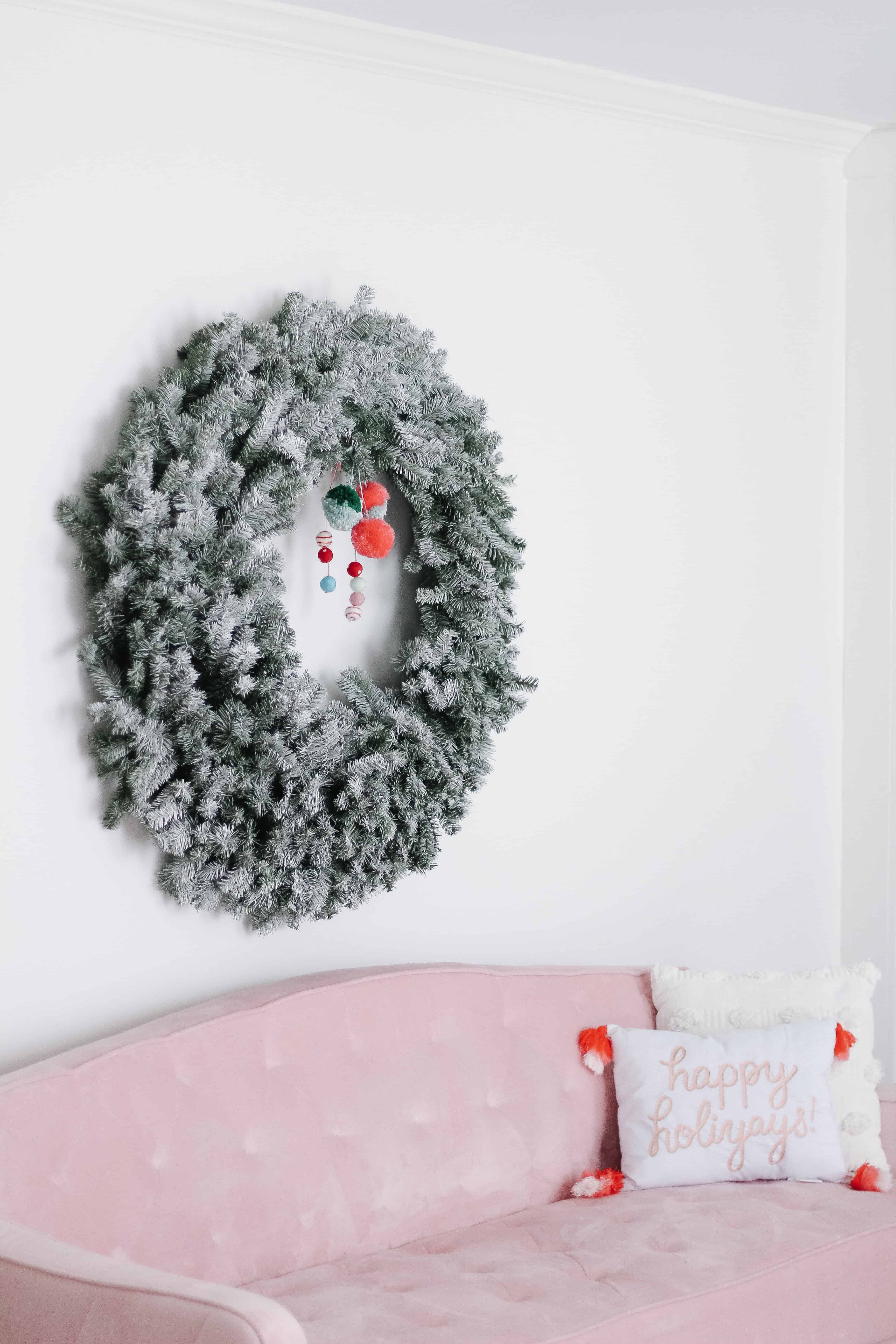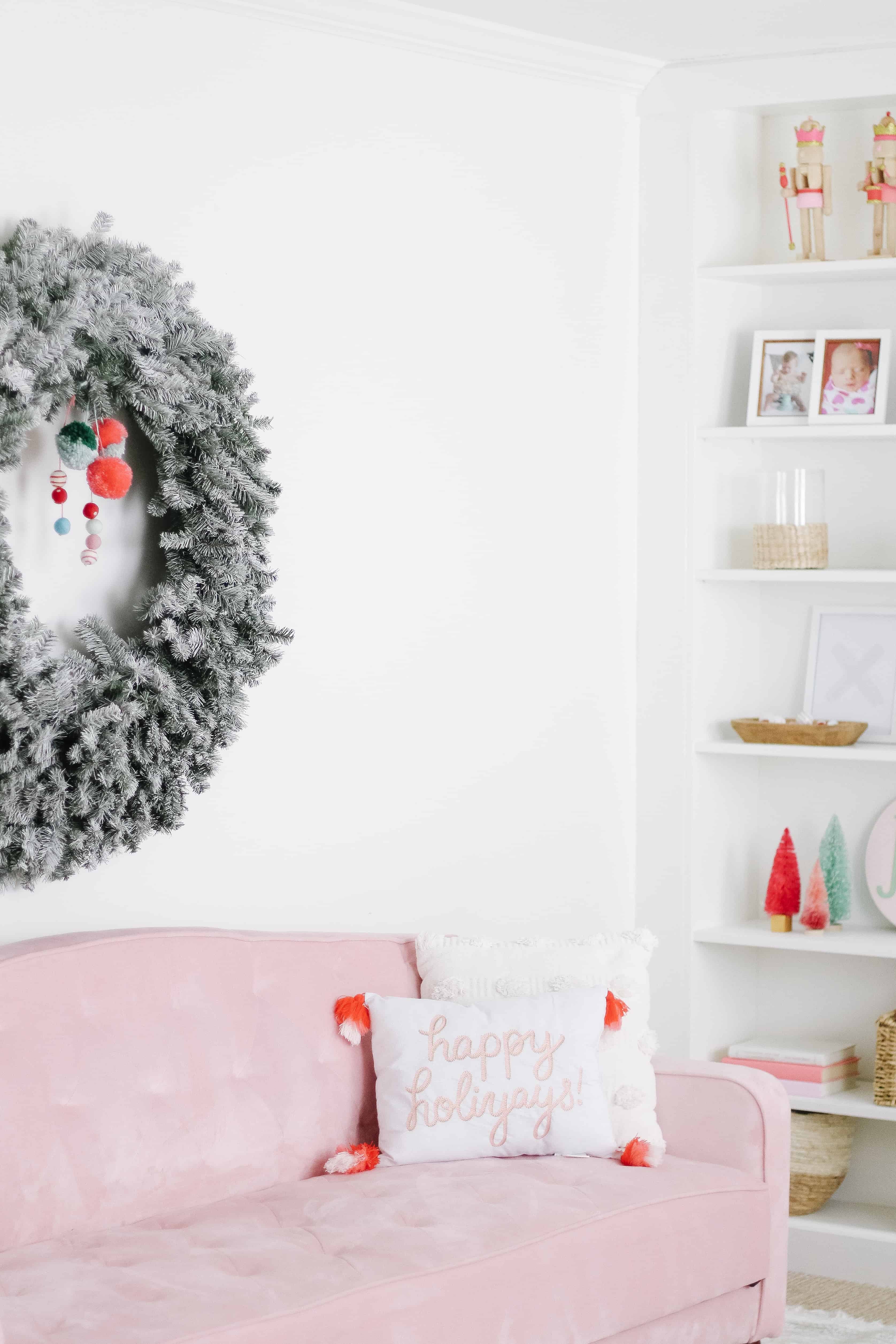 JOLLY SIGN | COUCH | LARGE WHITE PILLOW | HAPPY HOLIYAYS PILLOW
| TREE – linked HERE also with lots of other super affordable Christmas decor. This tree is only $35.
(find all other details you might want on the office blog post)
Aside from that I kept things super neutral with lots of wickers and natural wood like I always do. I did add a fun pillow that I am obsessed with, as well as the JOLLY sign that were both on my merry and bright favorites round up.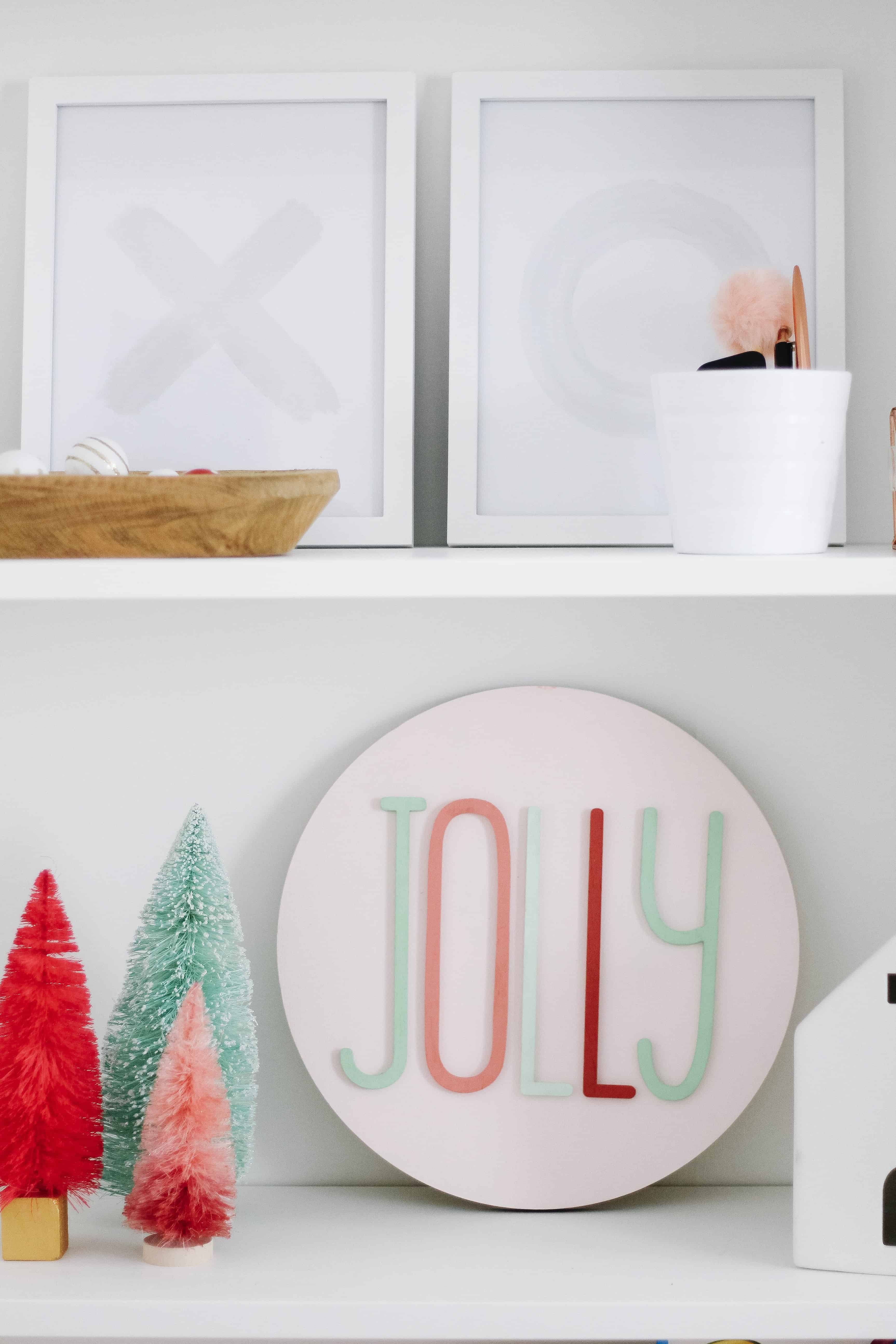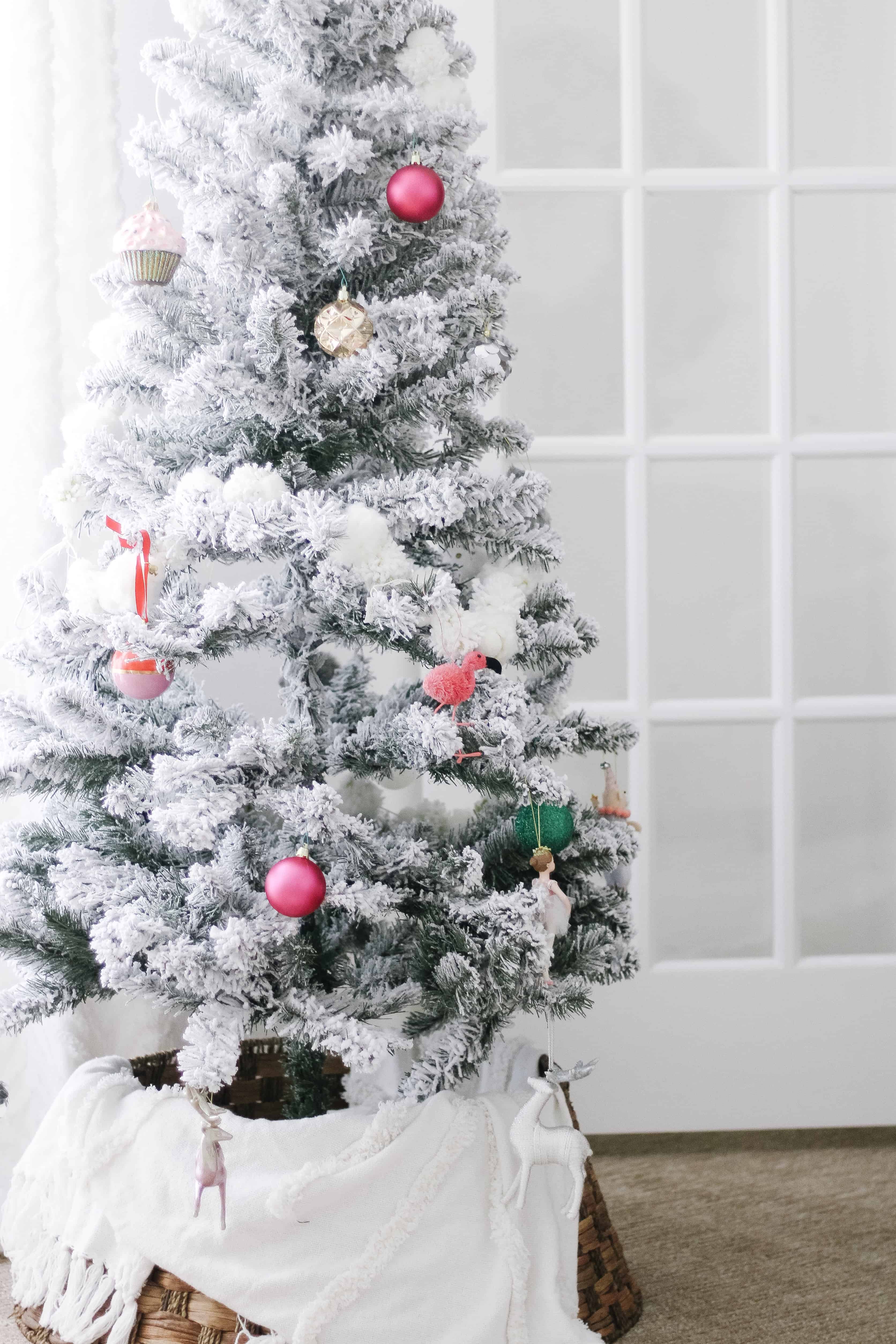 If you have any questions please feel free to leave me a question in the comments, and make sure you're following along to see the rest of my holiday decor in the next week or 2!
PIN POST BELOW