A beautiful centerpiece can transform the look of your dining space, turning an ordinary room into a stylish and inviting area. But when it comes to everyday dining table decor, many people struggle to strike the right balance between style and practicality. In this blog post, we'll explore some simple everyday table centerpiece ideas that can elevate your dining area without breaking the bank or requiring a lot of maintenance.
This post may contain affiliate links.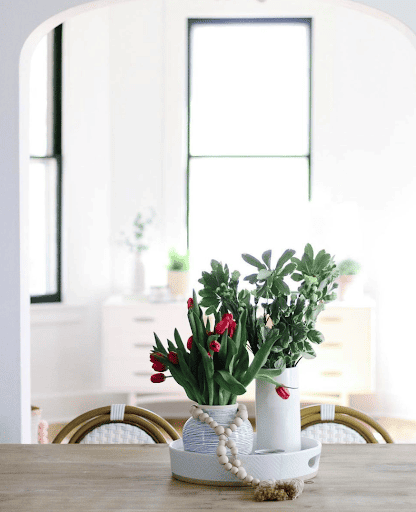 Everyday Table Centerpiece Ideas For Simple Decor
An everyday centerpiece should be more than just a decorative piece; it should also enhance the atmosphere of your dining area, making it a welcoming and comfortable space for you and your guests. Ideally, your centerpiece should be easy to maintain and not obstruct conversation or dining. With this in mind, simple and versatile centerpieces are often the best choice for everyday use.
To ensure your everyday centerpiece remains simple and versatile, keep these tips in mind:
#1 Less Is More
Don't overcrowd your table with too many decorative items. Instead, choose a few key pieces that make a statement and allow for easy conversation and dining.
#2 Easy To Maintain
Select items that are low-maintenance and easy to clean. For example, opt for faux flowers instead of real ones that require constant care, or choose candles that are dripless and unscented.
#3 Flexible
Your centerpiece should be adaptable to various situations, such as casual dinners, family gatherings, or dinner parties. Choose items that can be easily rearranged, swapped out, or added to when needed.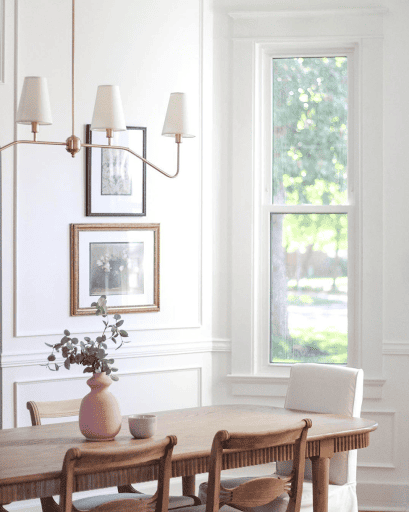 #4 Scale & Proportion
Be mindful of the size and scale of your centerpiece in relation to your table. A centerpiece that is too large can feel overwhelming and obstructive, while one that is too small may not make a sufficient impact.
By focusing on simplicity, versatility, and items that enhance the atmosphere of your dining area, you'll be able to create everyday table centerpiece ideas that are both beautiful and practical.
Remember, the goal is to strike the perfect balance between form and function to ensure your dining table is a welcoming and comfortable space for you and your guests to gather and enjoy.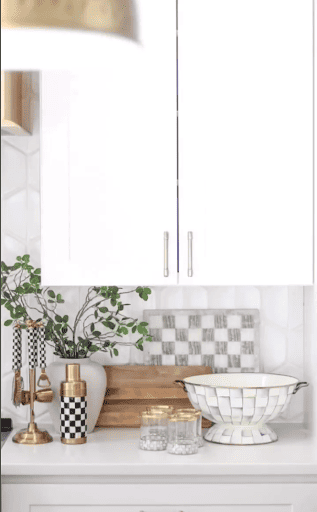 How To Design A Table Centerpiece For Everyday Decor
Consider Length & Shape Of Your Table
Before diving into the world of tabletop decor, one of the first things to consider is the shape of your table. A long table will require a different approach than a round table, as the right centerpiece will need to complement the table's shape and size. A good rule of thumb is to choose a centerpiece that doesn't extend beyond the middle of the table, leaving space for people to comfortably dine and converse.
As a general rule, the centerpiece should occupy no more than one-third of the table's width. This ensures that it doesn't interfere with conversation or dining and leaves enough space for other table settings.
By considering the length and shape of your table when designing an everyday centerpiece, you'll be able to create a visually appealing and practical display that enhances the overall atmosphere of your dining area while ensuring the comfort of your guests.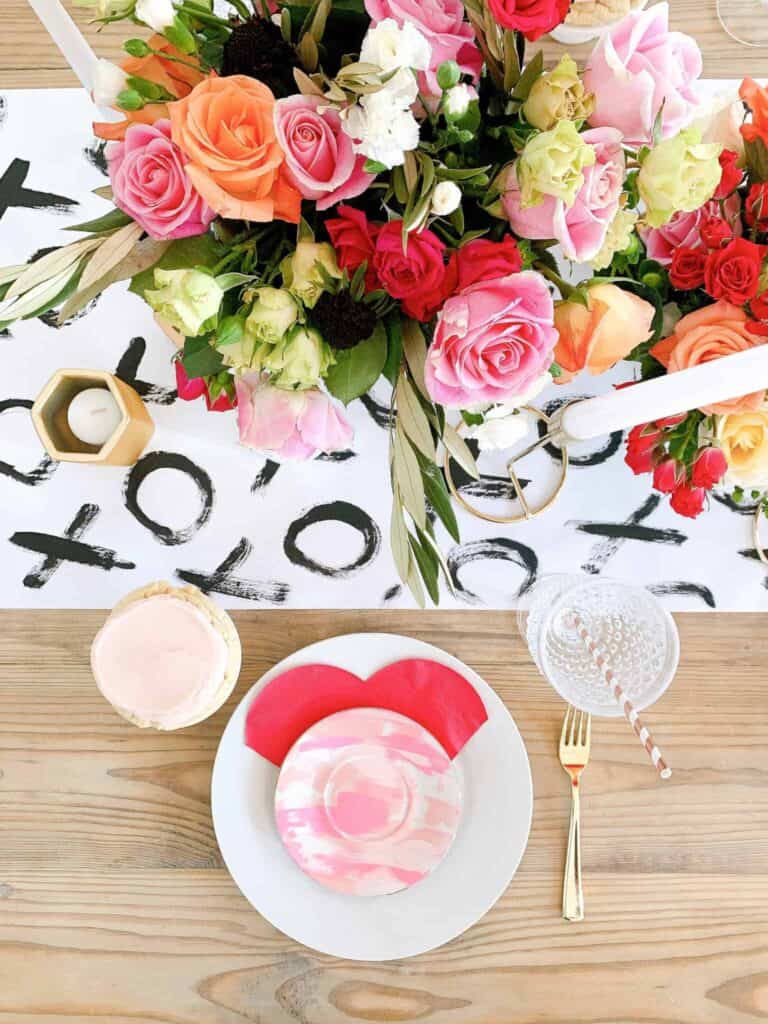 Pick A Theme Or Aesthetic
Having a theme or aesthetic in mind is a great way to ensure a cohesive look for your dining space. This could be anything from a specific color scheme to a style like rustic, modern, or farmhouse. When choosing decorative items for your centerpiece, make sure they align with your chosen theme and complement the decor in the rest of your dining area.
Consider the overall style of your home decor. The centerpiece should complement and enhance the existing style and not clash with it. Consider the occasion or season for which you are creating the centerpiece. Think about your personal style and preferences. Consider the colors that you want to incorporate into your centerpiece. Finally, consider the materials that you want to use for your centerpiece.
Personally, I love having a few key staples for my table decor. From there, I can add in additional decorative objects for the occasion. For example, holidays will have that specific theme, but I'll still have my core decorative staples to tie it all together.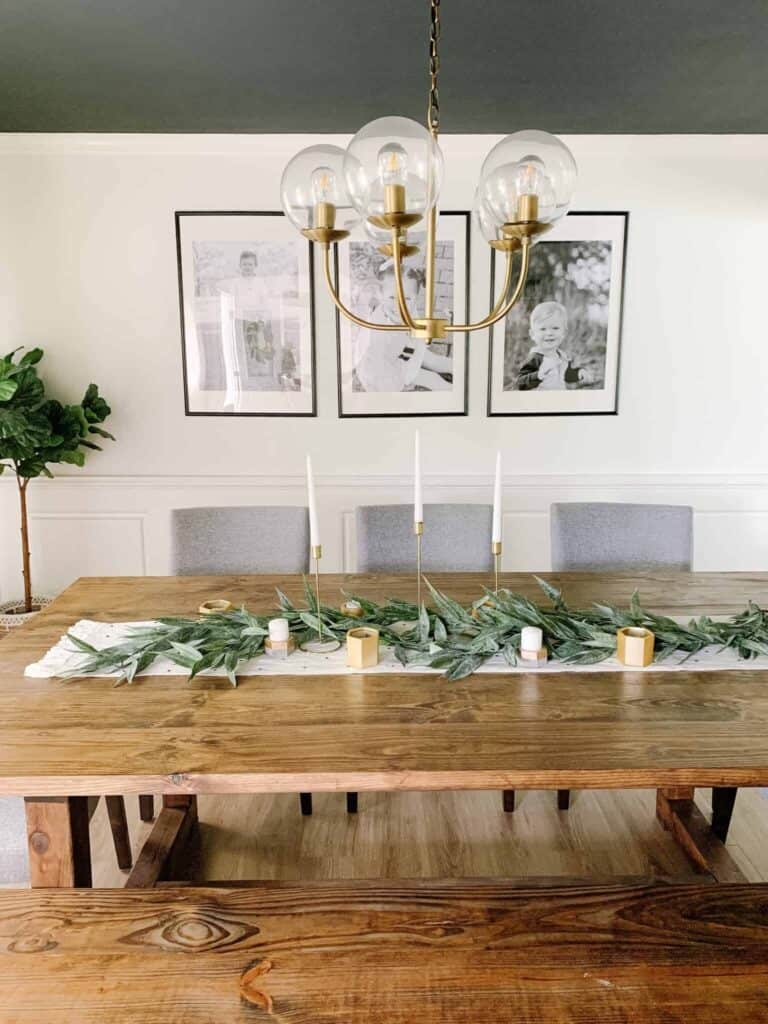 Pay Attention To Lighting
Lighting plays a significant role in the overall ambiance of your dining space. A simple centerpiece, like a row of candle holders or a single large plant, can look stunning when placed in the center of your table and illuminated by overhead lighting. For a more dramatic effect, consider incorporating string lights or LED candles into your centerpiece display.
If your dining area receives a lot of natural light, consider using a centerpiece that allows the light to shine through. If your dining area does not receive much natural light, consider incorporating artificial lighting into your centerpiece. Lowering dimmer switches can create a cozy, intimate atmosphere. If your dining area has a chandelier or other overhead lighting, make sure that your centerpiece does not obstruct the view or cast shadows on the table.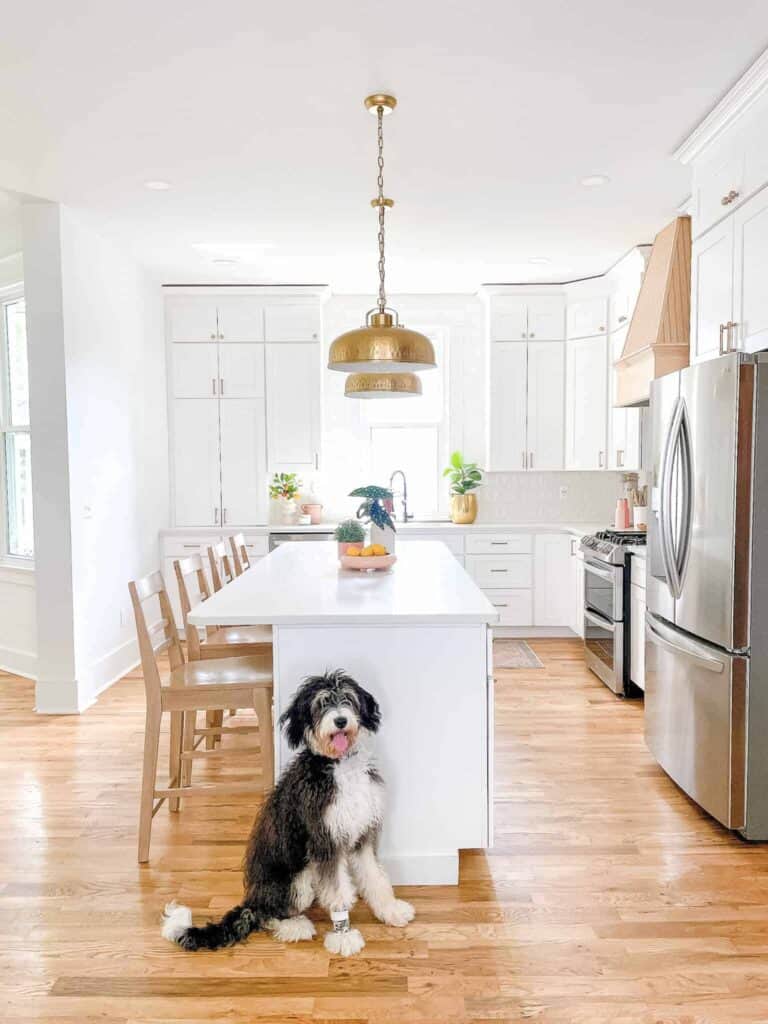 Play With Shapes, Height, & Texture
Experimenting with different shapes, heights, and textures is a great way to add visual interest to your dining room table centerpieces. However, avoid using items that are too tall, as they can obstruct views and conversation across the table. For instance, you could use a mixture of tall candlesticks, short decorative bowls, and medium-sized ginger jars to create a multi-layered display. Likewise, playing with different materials like glass, wood, and metal can add depth to your arrangement.
I love using candlesticks for height or using an elevated tray to bring smaller objects up higher. As far as texture goes, I love playing around with faux florals and greenery. Dried pampas are a great tool to use to add texture and look amazing in fall decor.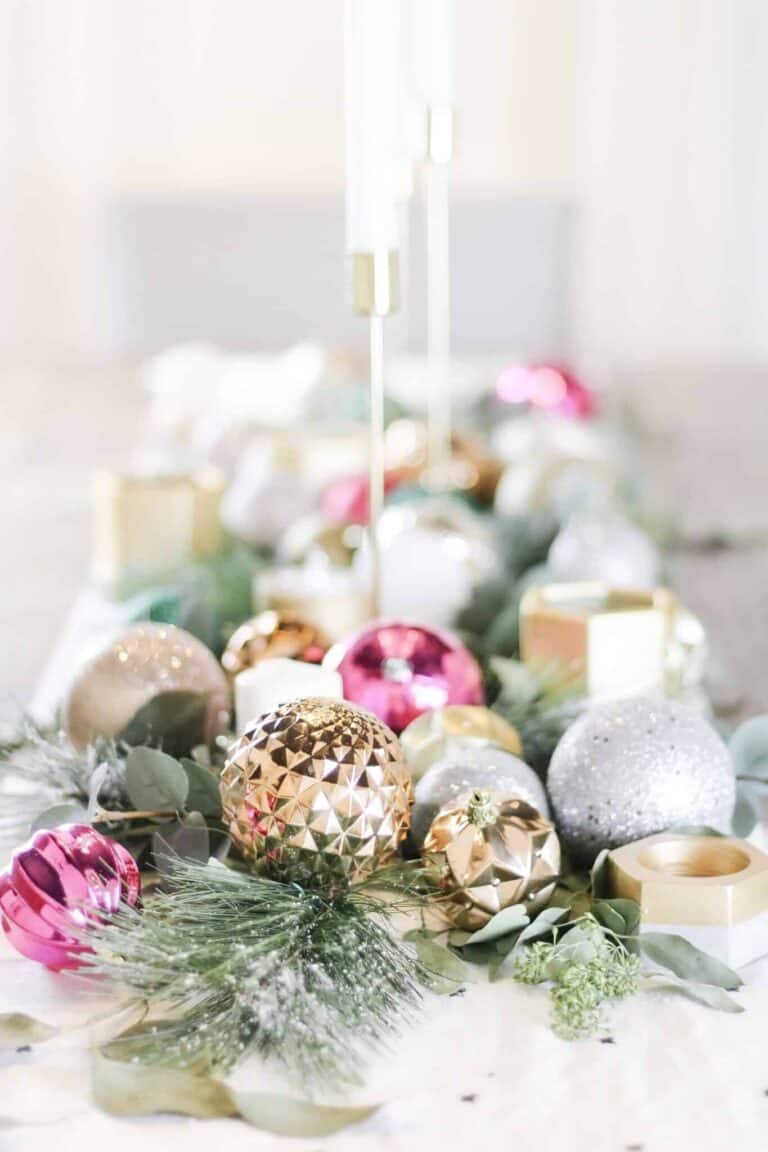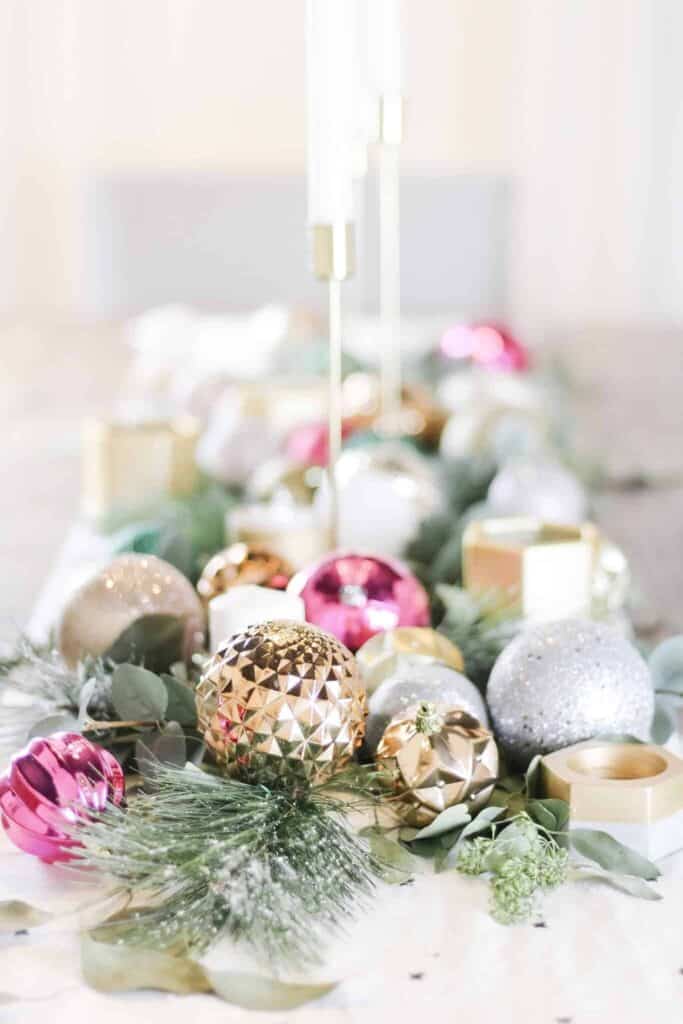 Don't Forget Fresh Elements
Incorporating fresh elements like flowers or fruit is an easy way to breathe life into your table decor. Fresh flowers can be as simple as a small vase with a few natural blooms, or as elaborate as a full-scale floral arrangement. Personally, I prefer to utilize fresh flowers only for special occasions. As far as everyday table centerpiece ideas, I generally stick with faux or dried florals. But, that is mainly because of the season I am in with my kids. I don't have the time or energy to change out florals every few days. If you prefer the look of fresh florals, you do you!
Fruit bowls also make great options, as they add a pop of color and can easily be refreshed when needed. This is perfect for our family because my kids are always looking for a snack. When I have fruit out, they tend to want to snack on that more because it is widely available.
If you live near the beach or have a coastal decor theme, consider incorporating seashells into your centerpiece. Arrange them in a decorative bowl or scatter them around your centerpiece for a natural, beautiful feel.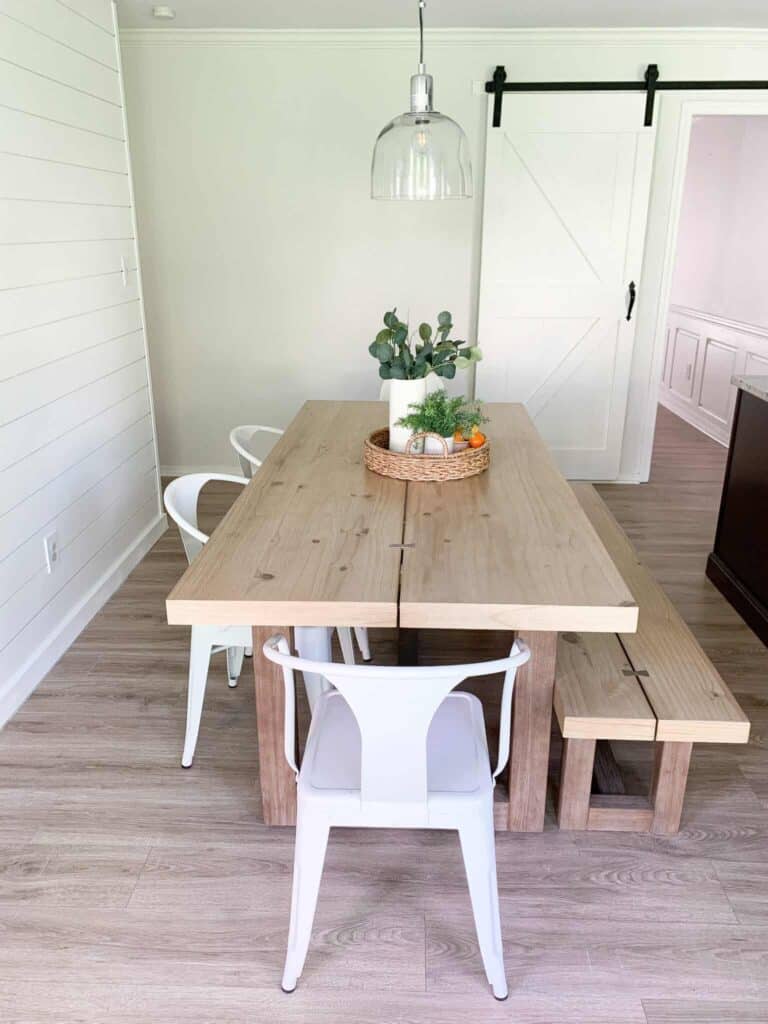 Keep It Simple
For everyday use, it's best to keep your centerpiece simple and low-maintenance. While elaborate floral arrangements and towering displays may be perfect for special occasions, they can be cumbersome for daily use. Instead, opt for items that are easy to clean and maintain, like a dough bowl filled with faux flowers or a tiered tray displaying decorative items.
Everyday Table Centerpiece Ideas Examples
The size and shape of your table will help determine the centerpiece look you can achieve. These are some of my favorite everyday table centerpiece ideas based on table shape and sizes.
Round Tables
When it comes to round dining room centerpieces, a single large centerpiece or a series of smaller items arranged in a circle can work well. A large decorative bowl filled with fruit, a potted plant, or a simple floral arrangement can take center stage. Alternatively, a group of smaller decorative items like mason jars, air plants, or candle holders can be arranged in a circular pattern to create a visually appealing display.
You know I love lazy Susans for their practicality and organizational features. You can utilize your own lazy Susan to help achieve a decorative look, but also make it easy for passing items at the dinner table.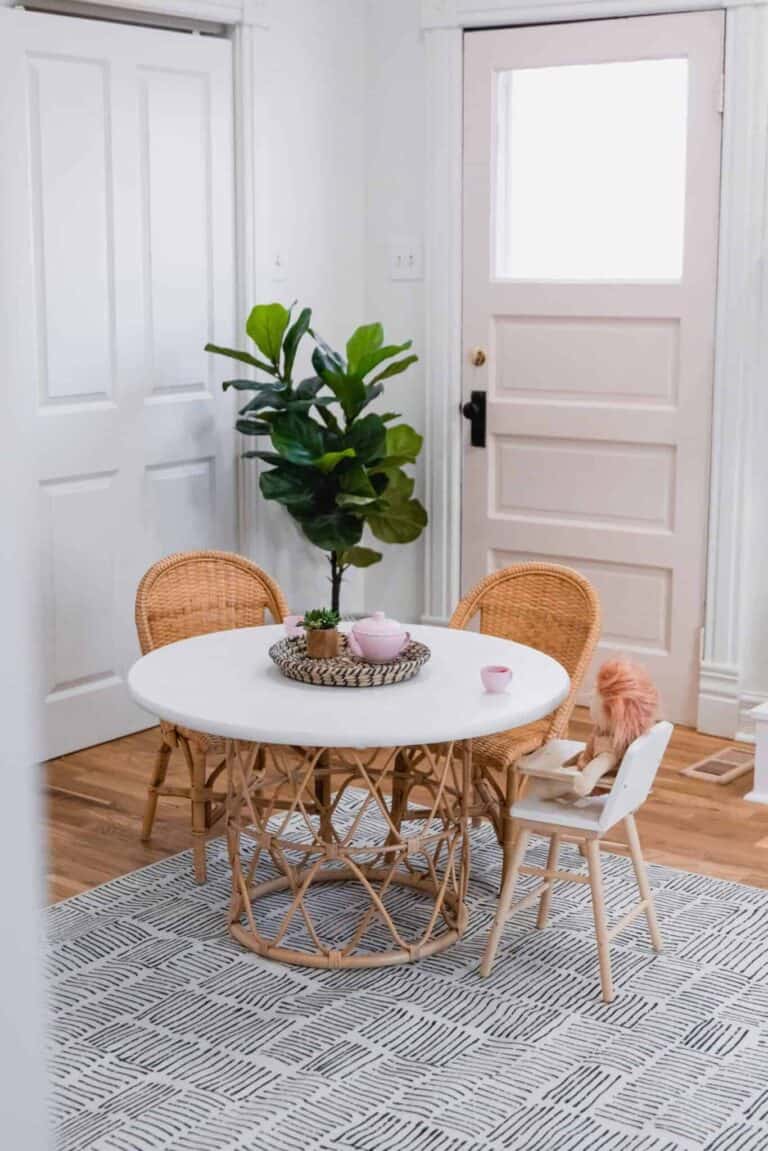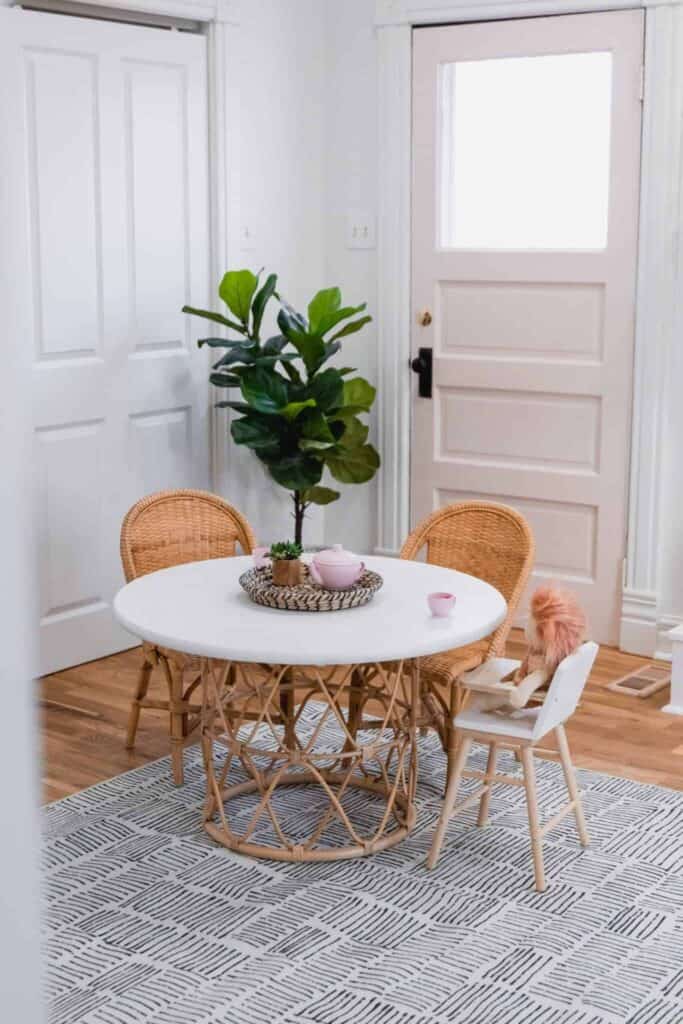 Long Tables
For long tables, a table runner can serve as the foundation for your centerpiece. Layer your decorative items along the length of the runner, ensuring they don't extend beyond the middle of the table. You can use a combination of different heights and textures, like tall candlesticks, small vases with fresh flowers, and decorative bowls filled with fruit or ornaments.
Kitchen Islands
Kitchen table centerpieces should be both functional and stylish. A great example of this is a tiered tray filled with frequently used items like salt and pepper shakers, a sugar bowl, and a small vase with fresh flowers. This allows you to keep essential items within reach while also adding a decorative touch to your kitchen space.
If you've seen my Instagram, you'll note that I have an entire coffee station dedicated to our supplies. I use a tray to help store our syrups and other supplies we use to make coffees. It not only looks nice, but is super functional.
The center of my kitchen island typically has a large bowl with lots of fruit. It adds a fresh element, a pop of color, and is just plain practical!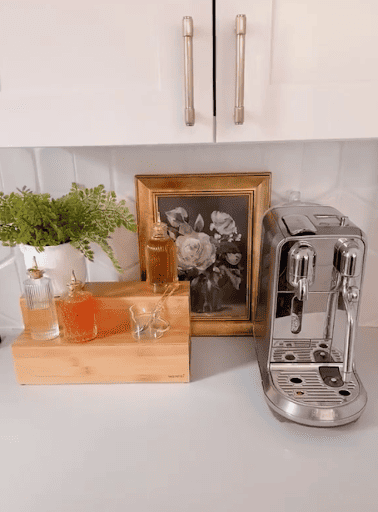 Coffee Tables
Coffee table centerpieces can be more casual and relaxed than formal dining room centerpieces. A decorative tray filled with a mix of items like books, candles, and small plants is a good option. You can also use a clear glass jar filled with colorful stones or shells for a pop of color and an interesting focal point.
Because one of our living spaces is in the same room as our kitchen and dining room, our coffee table is an extension of that space. I try to make sure all of the elements flow together and offer a cohesive look.
DIY Centerpieces
For those who enjoy getting creative, DIY centerpieces are a great way to personalize your dining space. Some ideas include painting mason jars in bright colors and filling them with real or faux flowers, creating a display of air plants in small decorative bowls or pots, or even repurposing old wine bottles as candle holders. The best part about DIY centerpieces is that you can tailor them to fit your specific theme or aesthetic.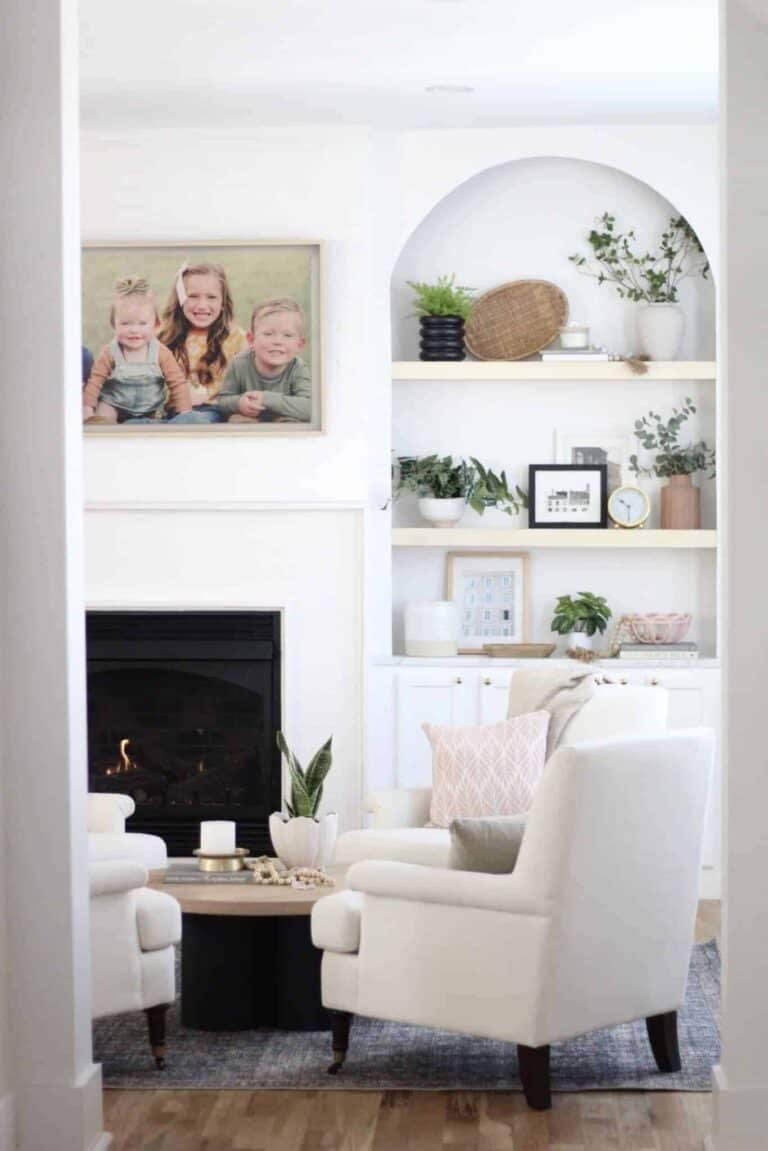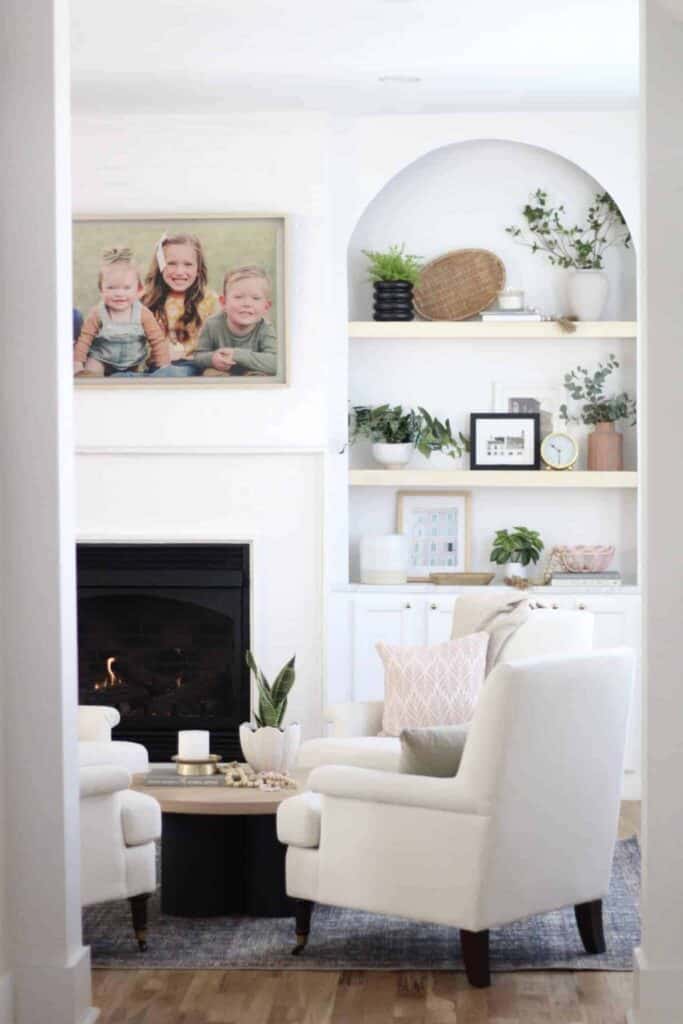 Keep in mind that the best everyday table centerpiece ideas often has a few things in common: they're the right size for the table, they incorporate different styles and textures, and they suit the overall theme of the dining area. Additionally, remember that sometimes less is more – a simple centerpiece can often be just as beautiful and impactful as a more elaborate one.
Shop Everyday Table Centerpiece Ideas For Simple Decor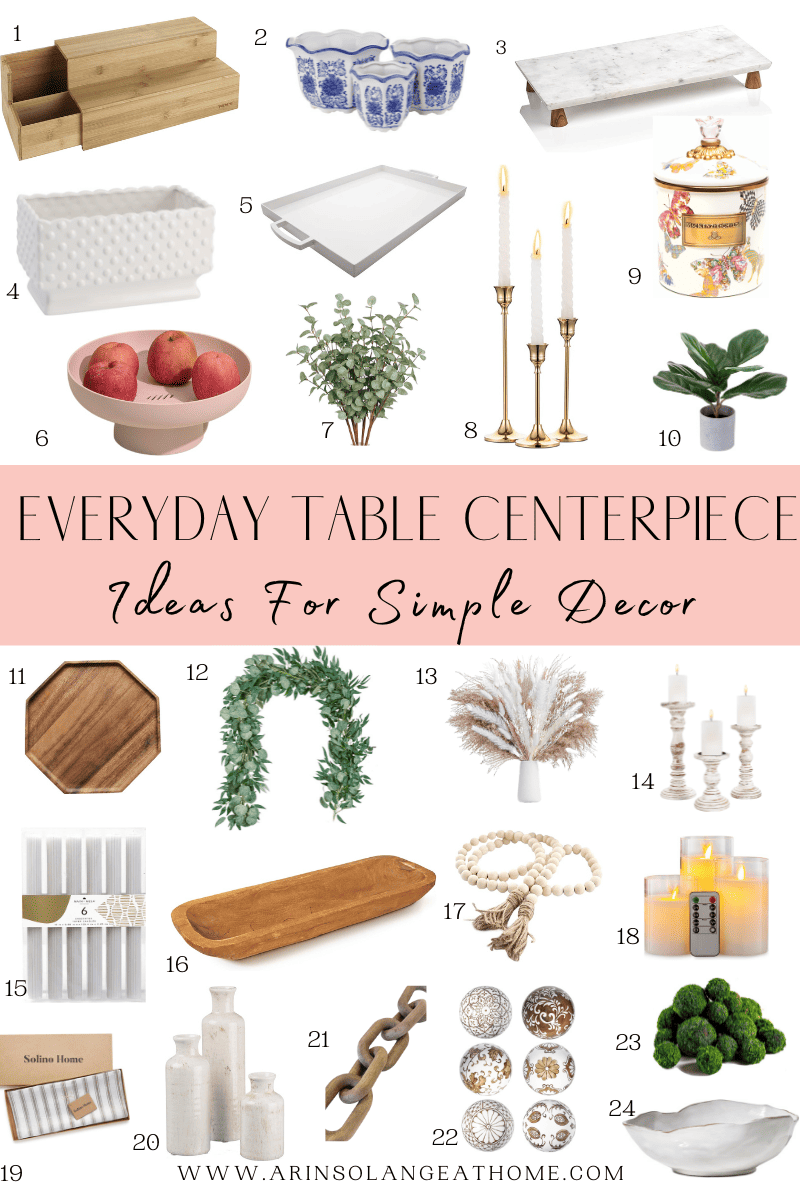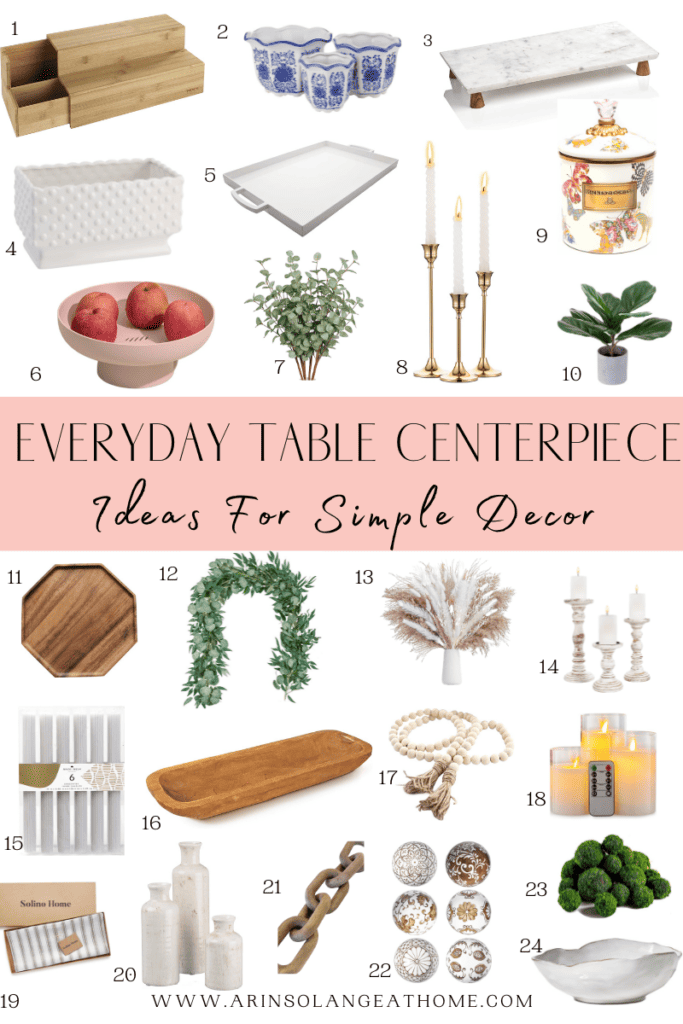 1 | 2 | 3 | 4 | 5 | 6 | 7 | 8 | 9 | 10 | 11 | 12 | 13 | 14 | 15 | 16 | 17 | 18 | 19 | 20 | 21 | 22 | 23 | 24
Other Posts You'll Love
The Best Round Table Runner Ideas | The Best Wood For Dining Table | DIY Dining Table Tutorial
Follow Social For The Latest & Greatest
Pin This Photo Below For Later
Creating an everyday table centerpiece doesn't have to be a daunting task. By considering factors such as the shape of your table, your chosen theme, and the right combination of decorative items, you can easily create a beautiful and functional centerpiece that elevates your dining space. Whether you opt for a ready-made centerpiece or decide to get creative with DIY options, the key is to keep it simple and practical for daily use while still making a statement. Happy decorating!