I am the type of person who LOVES to host. I love having people over, and guests in my home. Something about prepping for it brings me so much joy, so I was so excited about this little project. Creating an inviting guest space in your home is so important. There is nothing better than knowing that when someone is staying with you they are comfortable and fully enjoying their time away from home. I am excited to share with you some guest bedroom decorating tips with Serena & Lily best in class bedding. A few tips and tricks, and the right products will make your guest space a place your guests will love to stay.
Make sure if you like anything you see in this post you run over to Serena & Lily – bedding and beds are up to 30% off for the sleep well event!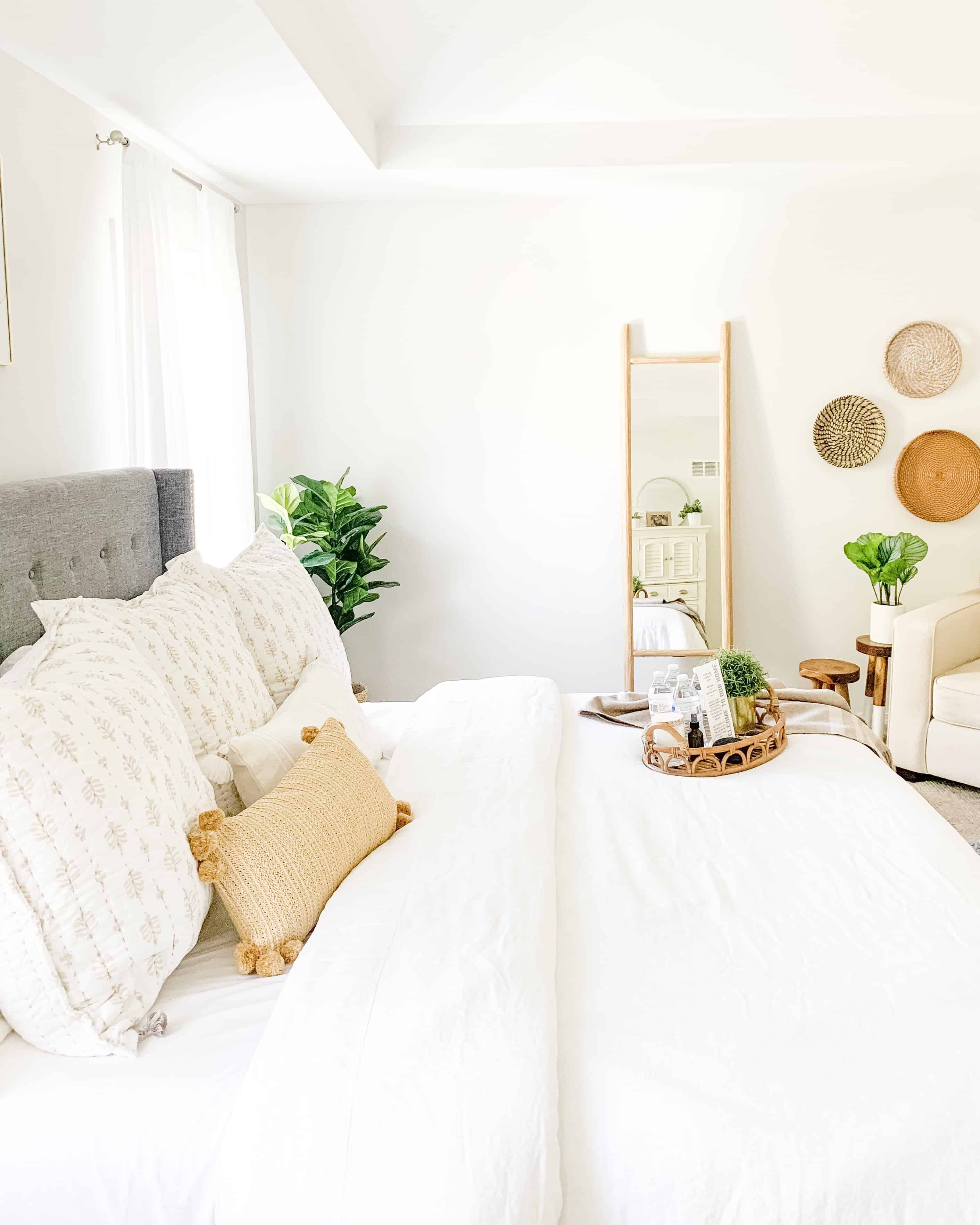 This post contains affiliate links. I received product in exchange for my post, but as always all opinions are my own!
Guest Bedroom Decorating Tips
First off I want to state that for the sake of these photos I staged this in my master bedroom, so if you have been around for a while, you may recognize the room. Our guest space is in our basement and the room has not one window…so if you want to sleep with noise canceling headphones and drown out my 4 children, you will probably sleep like a baby in the room. I HOWEVER would be posting pictures of a black hole, so refrained from needing all the photo lights the store had to offer, and staged things above ground!
I am going to give you my tips and tricks for making your guest space more inviting in this post. I think with just a few things on hand you will completely wow you guests, and they will leave raving about your guest room.
Don't skimp on the product
I kind of think this is like the saying 'if you wouldn't drink it, don't cook with it' when referring to wine. If you wouldn't put it in your master suite, don't put it in your guest room. Giving guests a comfortable space to stay doesn't take much, so be sure to have nice linens in both the bedroom and bathroom.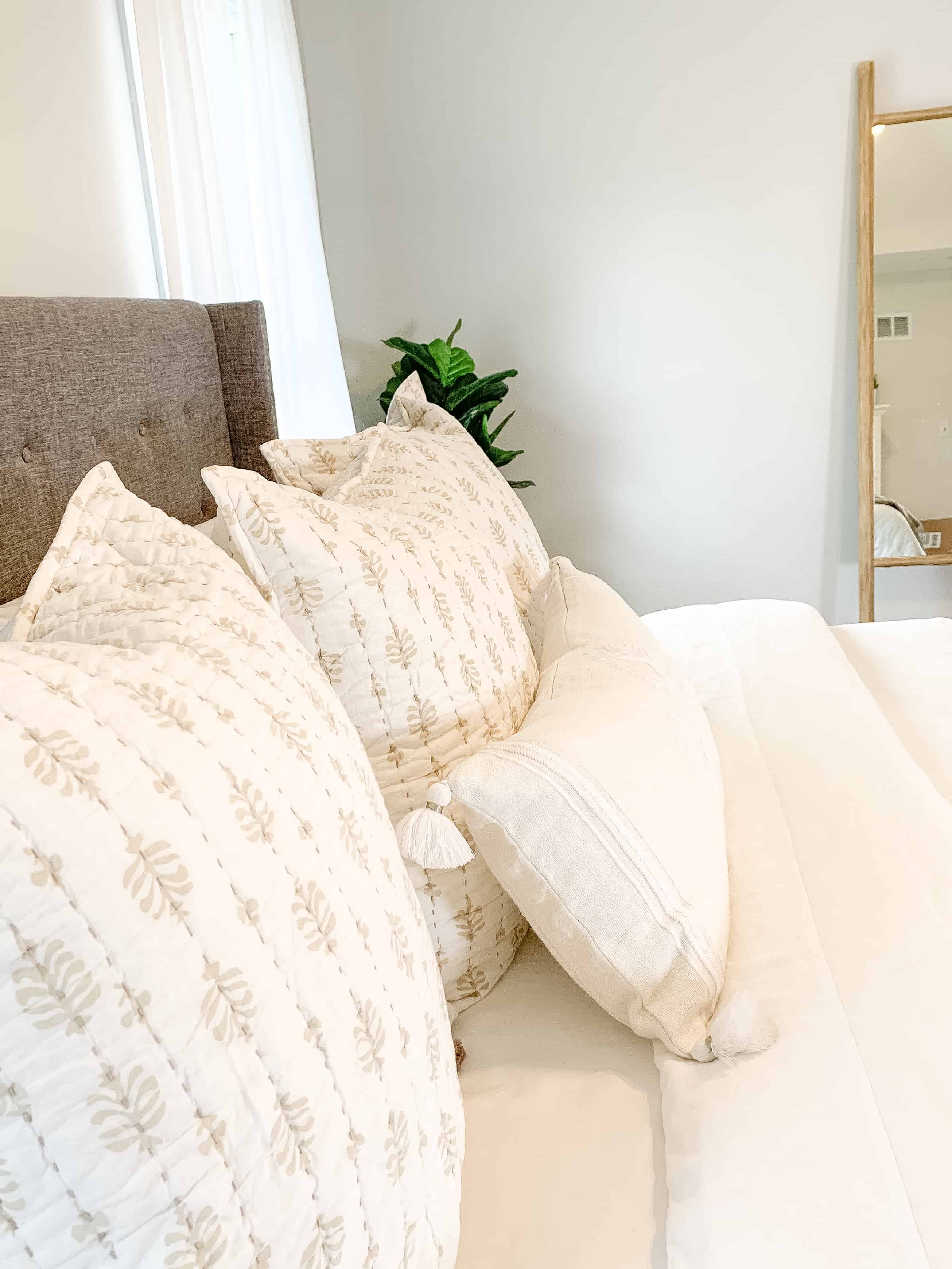 For this bedroom I went with:
Sheets | Duvet Cover | White Throw Pillow | Euro Shams (sand) | Tan throw pillow | Throw Blanket (oatmeal)
As you can see, for me personally I decorate on a neutral pallet, so like to keep my guest room that way too. I never over do it on throw pillows, and especially due to our space being in the basement, try to keep things bright and airy. The linen sheets and duvet cover are GORGEOUS, and so soft in person. I love that they had a bit more of a relaxed feel to them, hoping that they would portray that feeling to my guests.
I also always ALWAYS have a throw blanket on the end of the bed. I want my guests to know it is available for them to use, not just for decoration, so I try to keep it out in and in plain sight.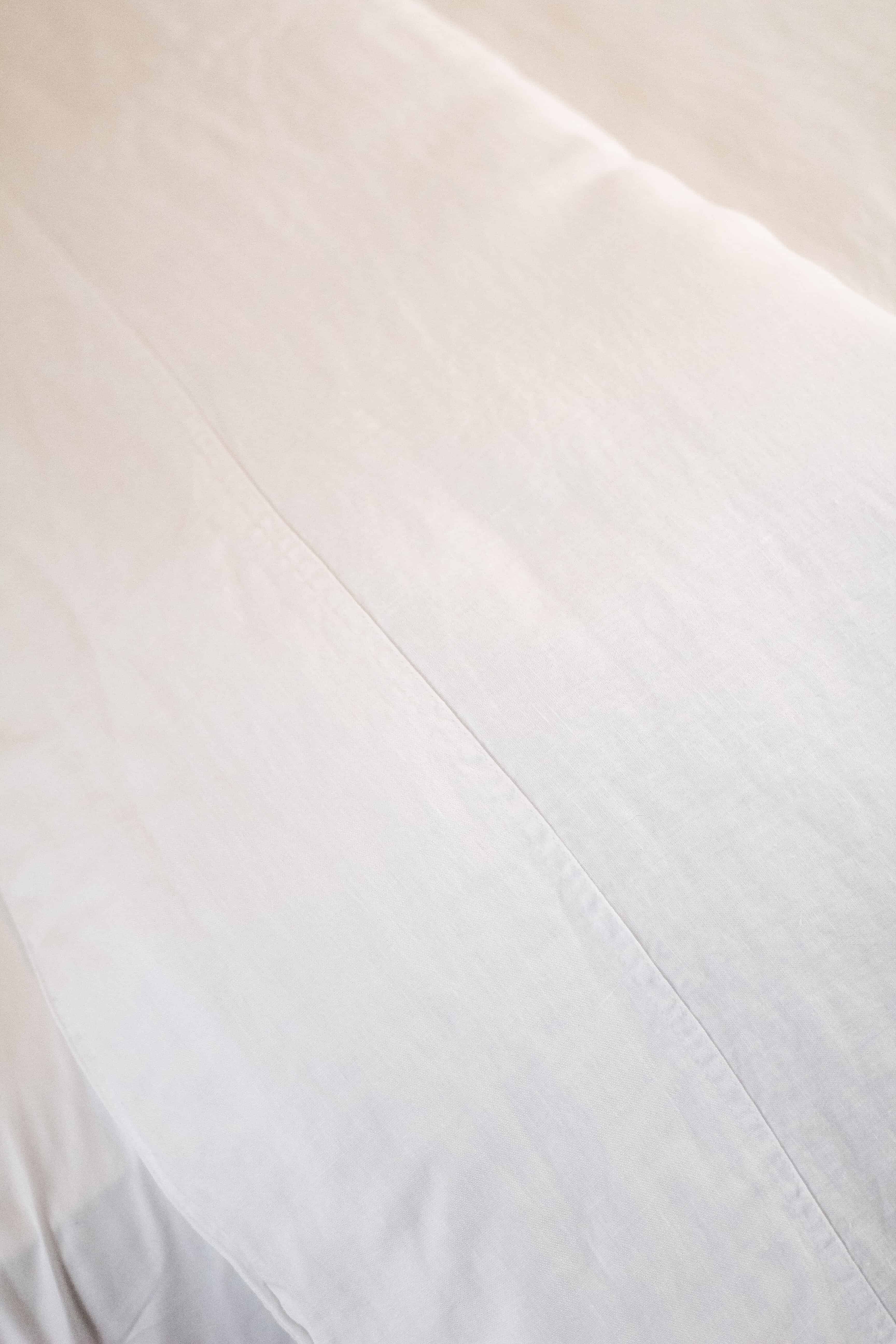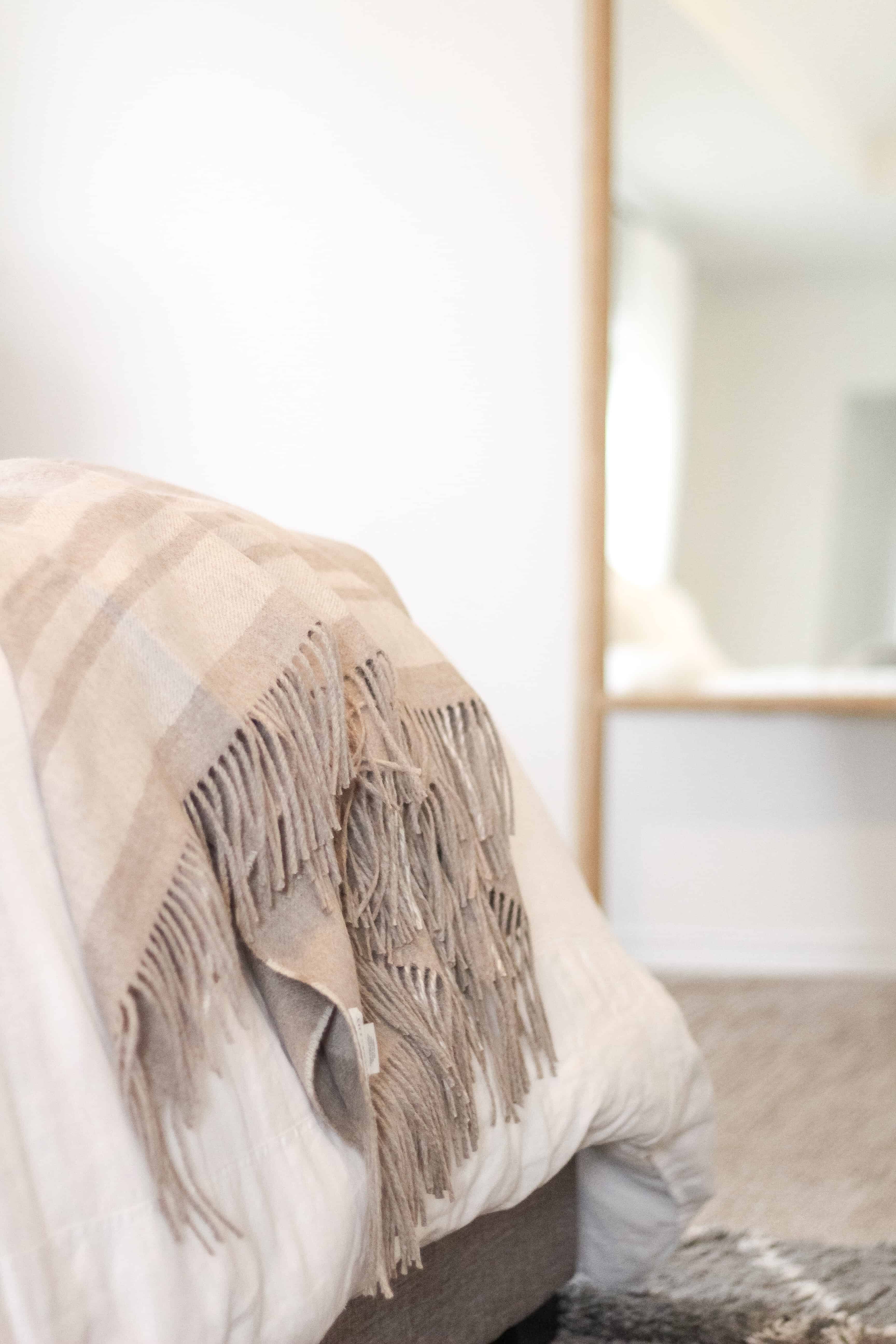 Leave a tray with helpful items
I know you're not a hotel, but that doesn't mean you aren't agreeing to host someone and keep them comfortable while they are in your home. Depending on the guest, sometimes it is helpful to leave a few things that might make them feel more comfortable. For me that always includes bottled water and coasters. I personally do not care that people use coasters in my guest room, but I always try to leave them available incase someone is worried about it.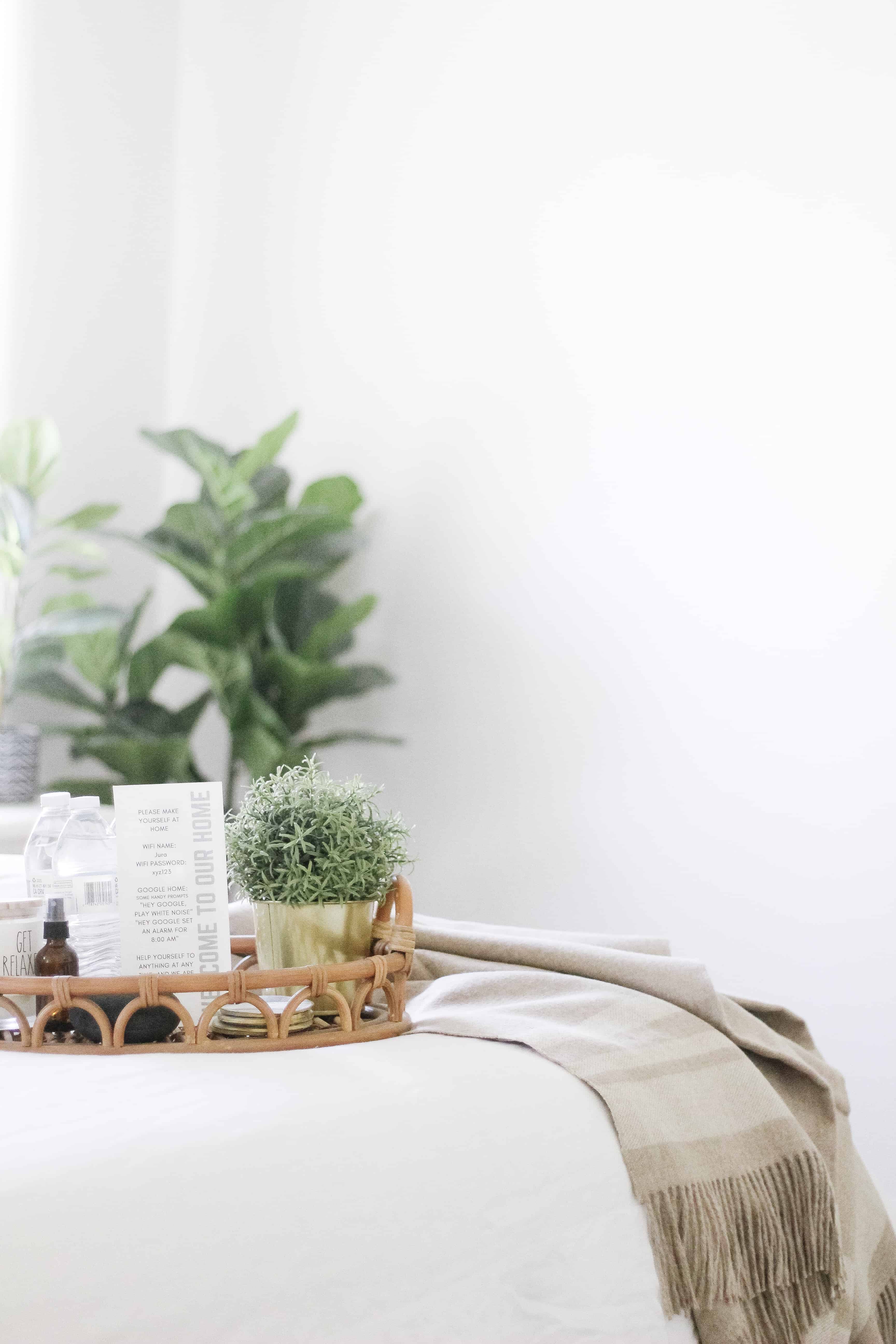 Another item we keep on the tray is a Google Home. Like I stated above, we have 4 loud kids, so I love that it can work as a white noise machine, alarm clock, and so many other things. (and don't worry if they aren't sure how to use it… tip 3 will help you with that!)
This tray is also a great place to put your tv remote or remotes. I personally put mine in a small container, but I think in general putting them somewhere contained can be helpful.
Leave a note
I use this print out for my guests. Having the wifi info is always helpful for guests, and if I don't have it ready for them I always have to go look it up. I also leave a couple of helpful prompts they can ask the google home, and remind them to make themselves at home. This would be a great way to give tv or remote directions too.
If you want to use my exact note (with blanks for your wifi info) you can Print Welcome Note here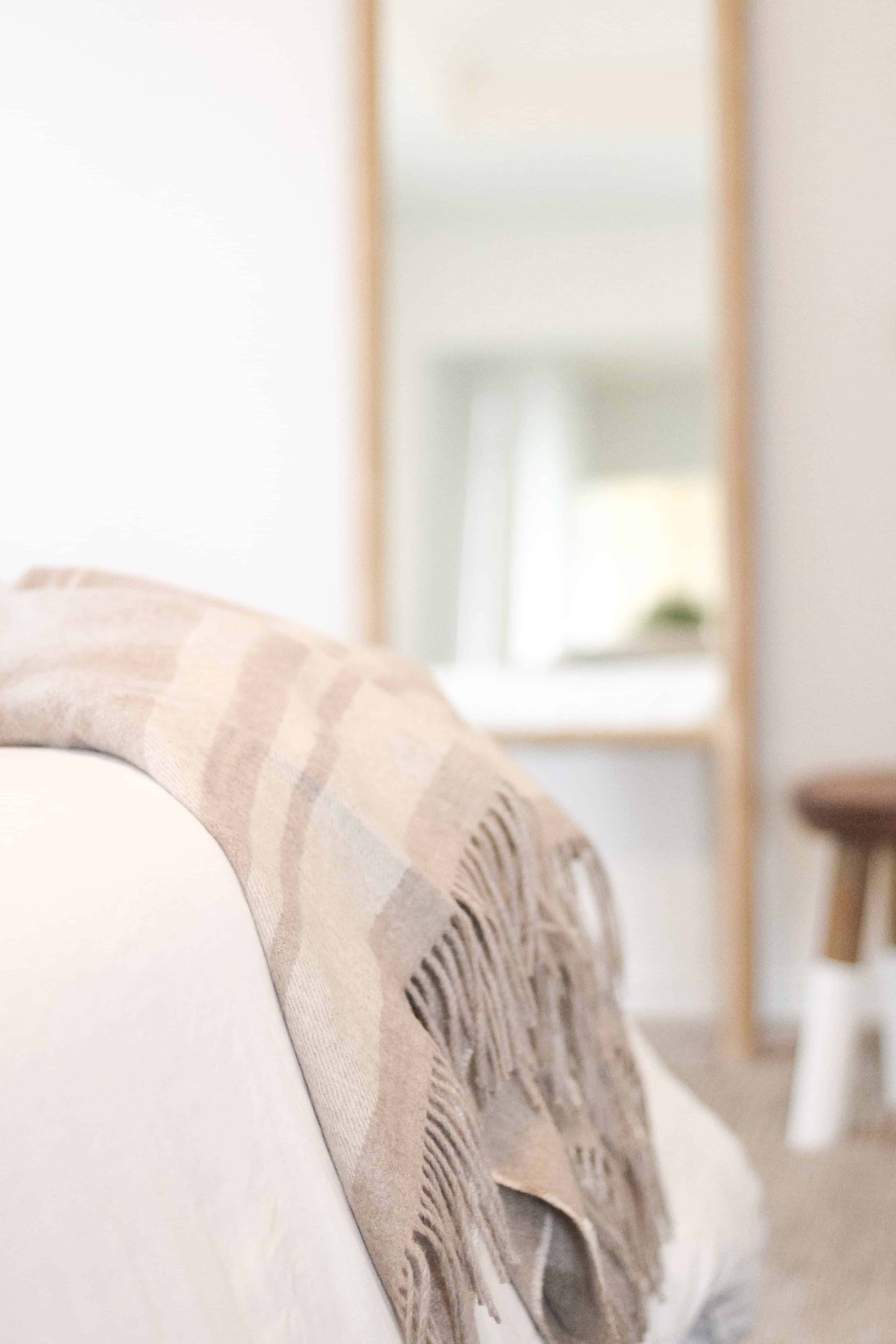 ALWAYS have a mirror
You should either have a full length mirror or a large over the dresser mirror in a guest room. This way you are giving your guest more space to get ready. Our guest bathroom is very small, and barely comfortable for 1 person, let alone 2. Offering a mirror in the bedroom allows them to get ready with more space, or for one person to be using the bathroom while the other does hair/makeup.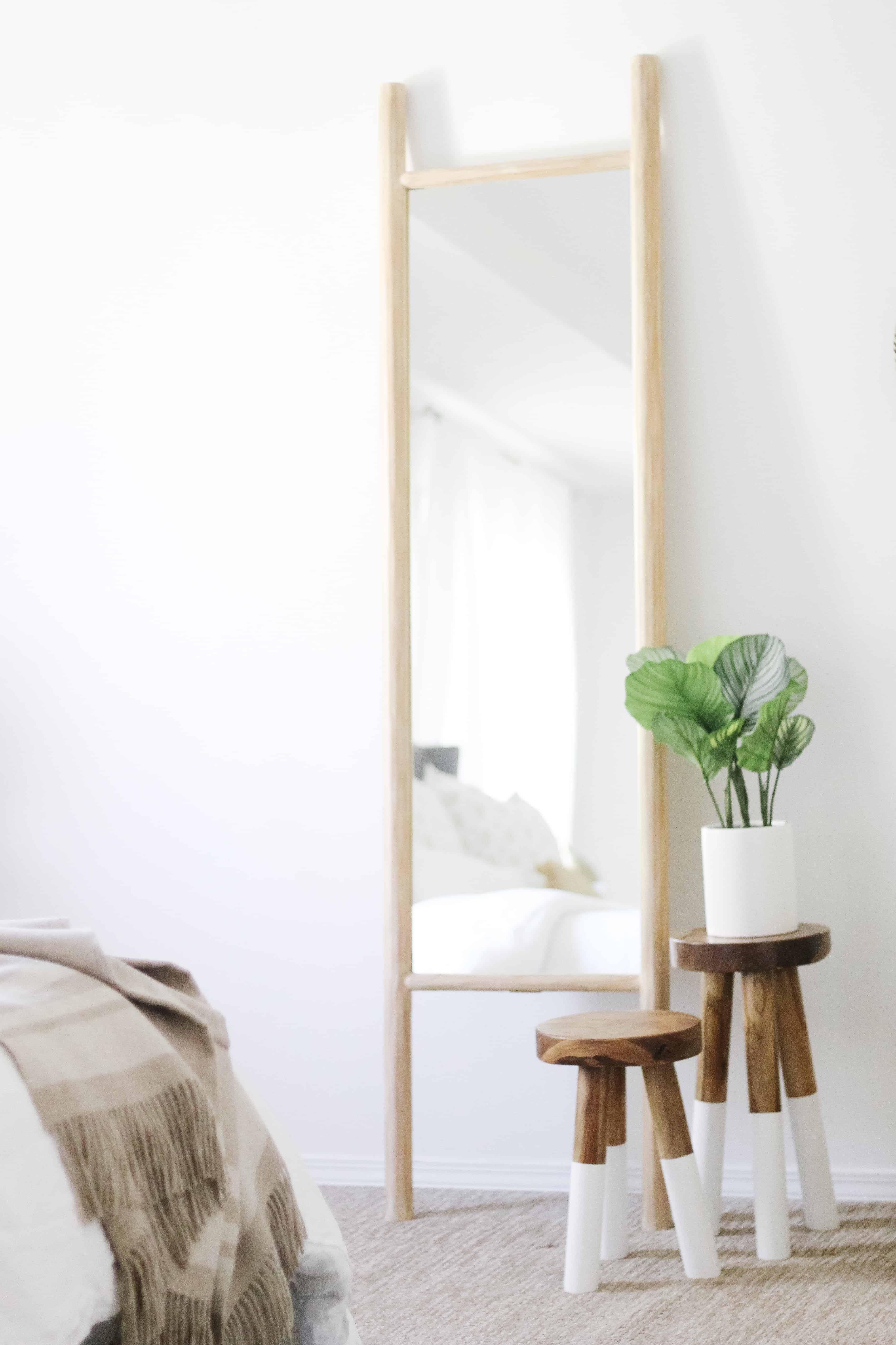 I just got this Teak Ladder Mirror from Serena & Lily and it is gorgeous and the perfect addition to a room. It is the perfect width to work well as a full length mirror without being too cumbersome, and I love that it offers more of a decor aspect than a plain mirror!
Provide functional furniture aside from the bed
I know that sounds silly, but I also know that the guest room is often times the last place to get love. I have learned from experience to have either a nightstand on both sides, or furniture that can work as such available. The Serena & Lily stools are a perfect choice because they are so cute as pure decor, but can be moved for function. That way if your guest room is like mine, you can only offer one nightstand, and they can move these next to a chair, or beside the bed as needed. (this is great if people use a sleeping machine of any kind, or wear glasses and such!).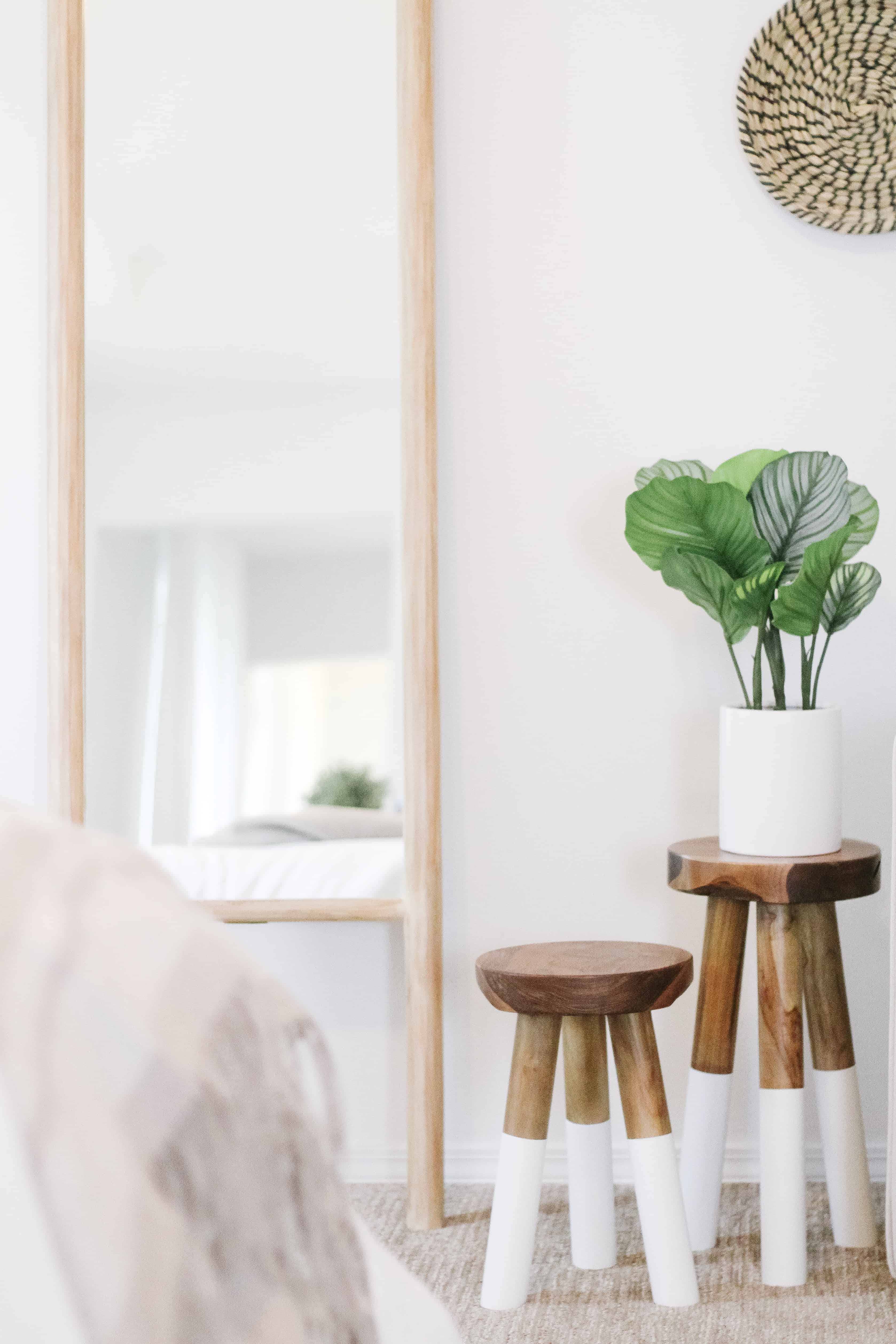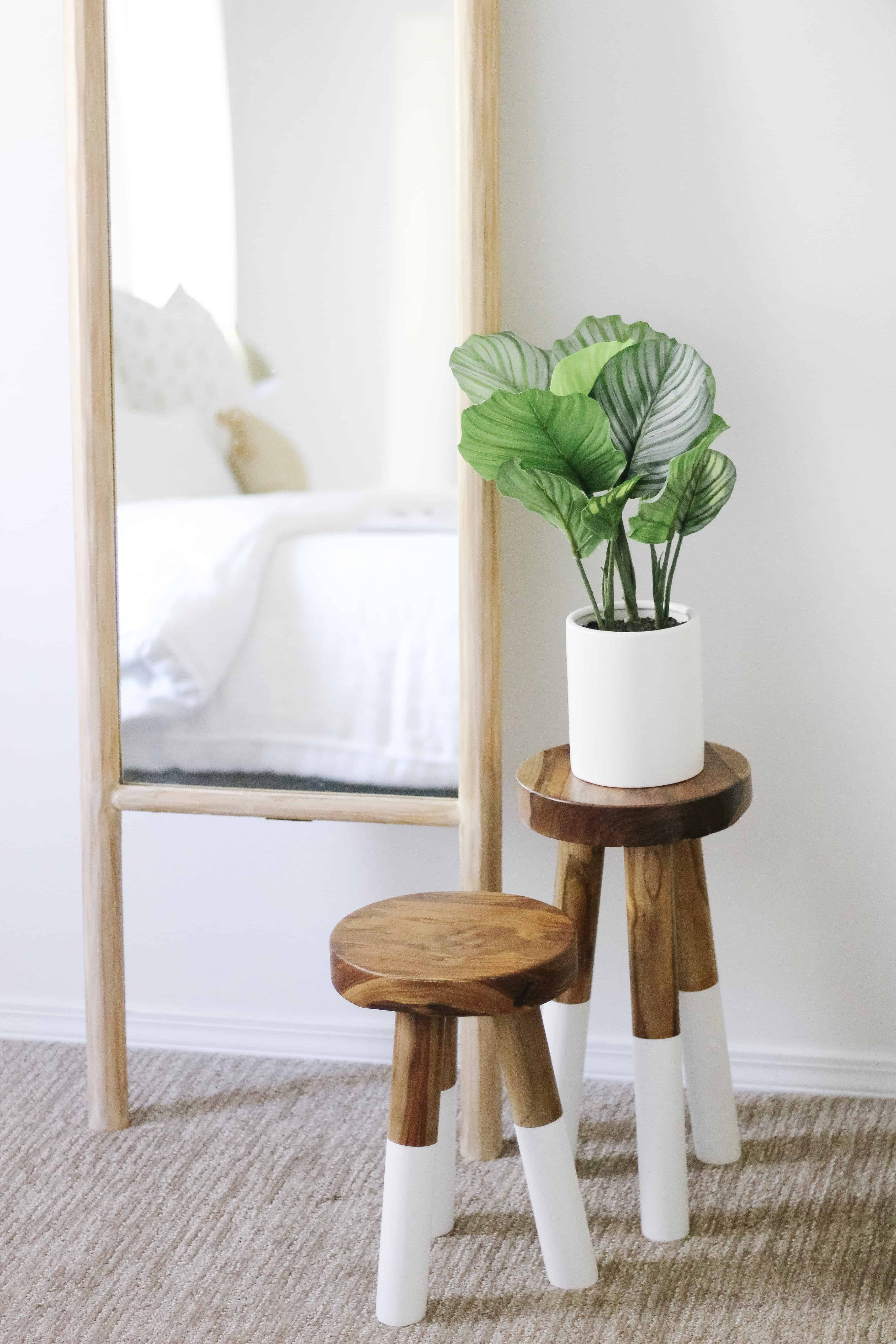 I also think providing a spot for them to sit – even if thats just a small metal chair in the corner, is important. Many times beds are too high to sit on for putting on shoes and things of that nature, so offering a chair/bench/ stool is very helpful.
The other details in the bedroom
Some guests like to hang their clothing, so be sure to have room in the closet, or an over the door hook. Also make sure you provide night lights in both the room, outside the room, and in the bathroom!
Stock the bathroom for emergencies
If you follow only one of these tips, let it be this one. I try really hard to stock our guest bathroom with anything your guest might need between going downstairs to get in bed, and morning. Especially with a guest that didn't drive, you don't want them to worry if they don't want to bother you for something. I keep everything in a small container, and actually a lot of it is stuff we have collected from hotels! The items we have on hand for guests – toothbrush and toothpaste, feminine hygiene products, Advil, q-tips, cotton balls, razor, and all bathroom products like shampoo and soap.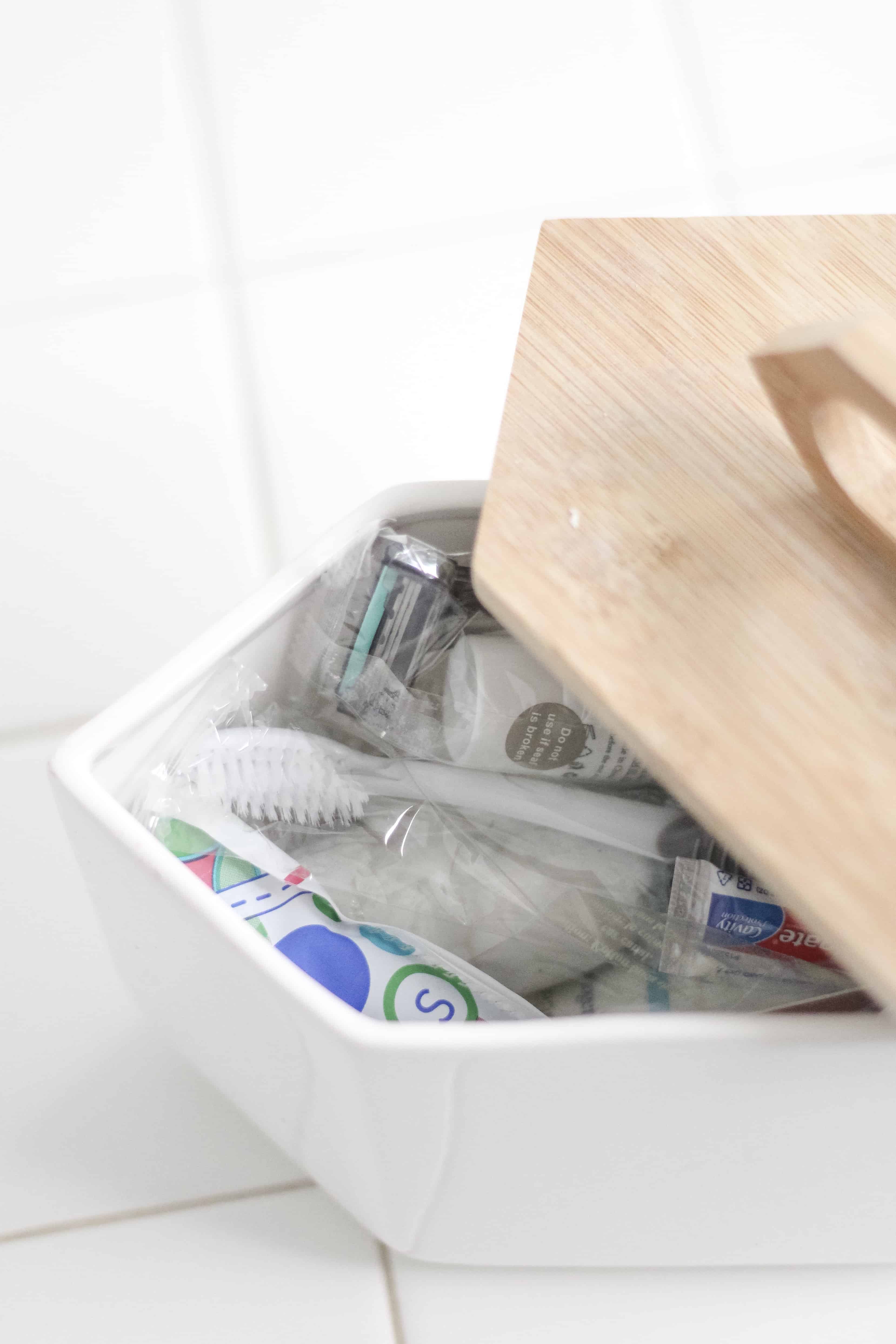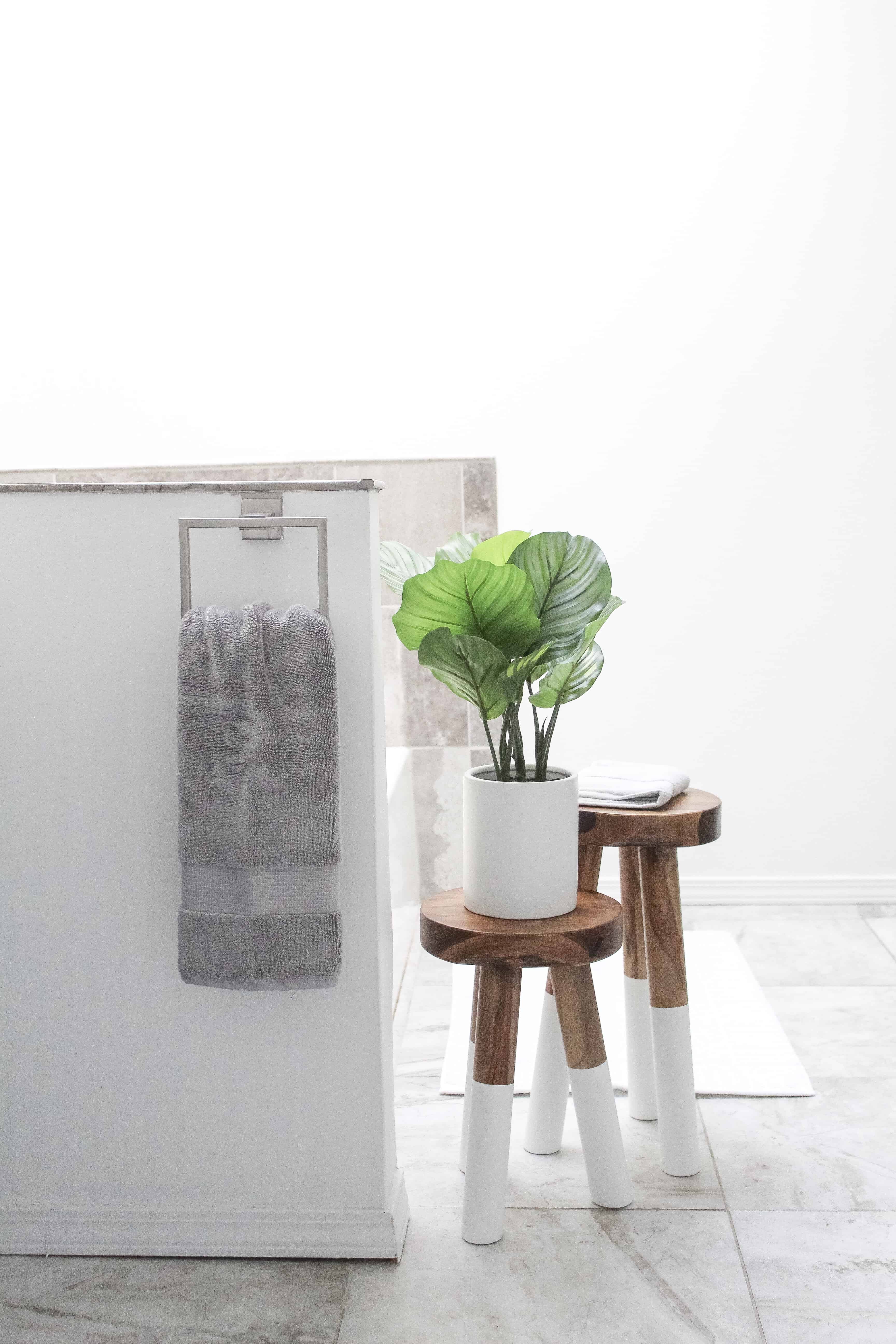 Go with color for the towels and washcloths
I never want my guests to worry that they 'ruined' towels or washcloths, so I went with grey for our guest area. I also LOVE that the Serena & Lily bath sheets are VERY large, so your guests won't feel as tho they are coming out of the bathroom wrapped in a hand towel.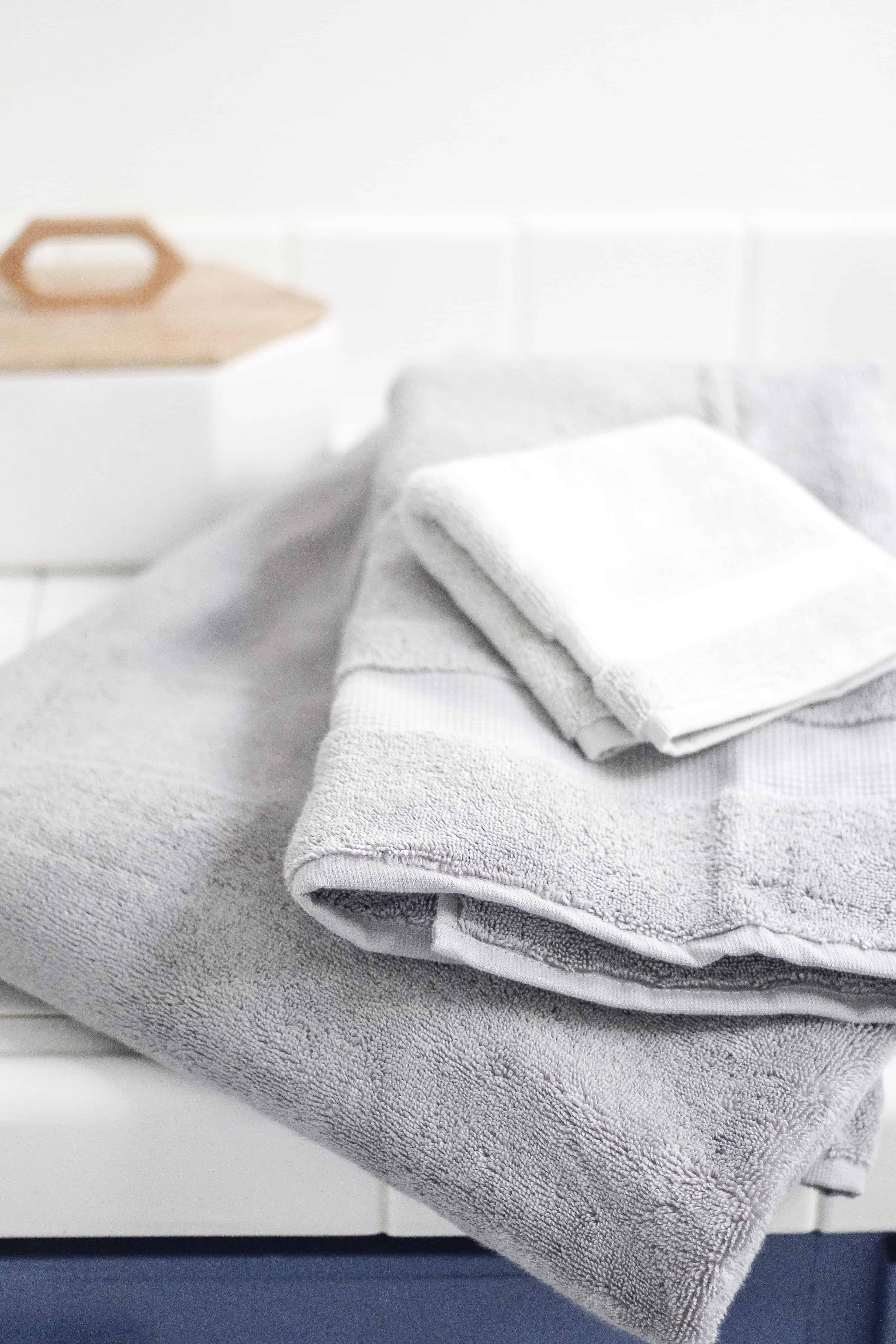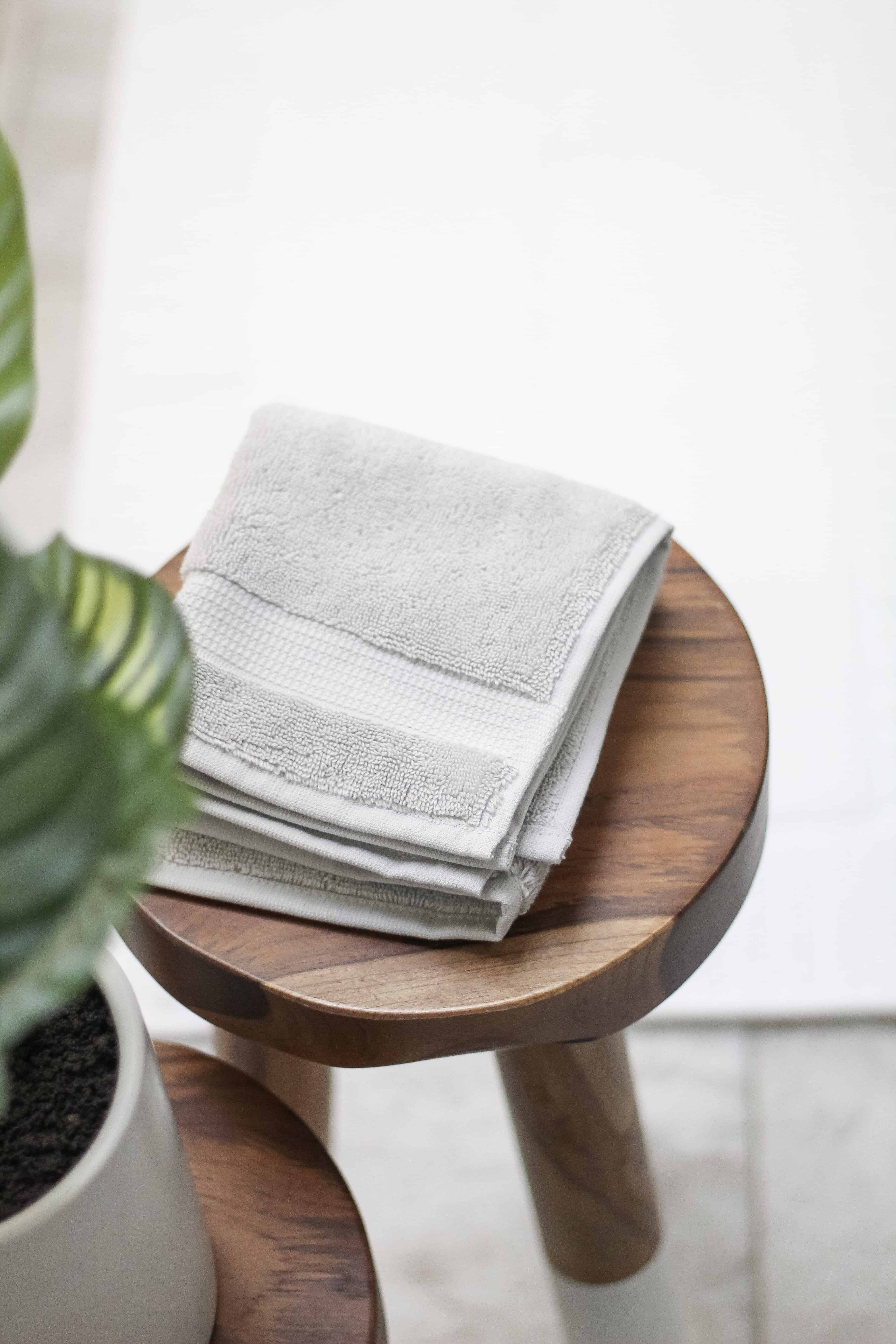 The bathroom linens in our bathroom:
Bath Sheets ( color: smoke) | Hand Towels (color: smoke) | Washcloths (color: fog) | Bathmat
Also another little tip for keeping those washcloths and towels clean is to keep makeup removing wipes and face wash towelettes for your guests if they want to use them!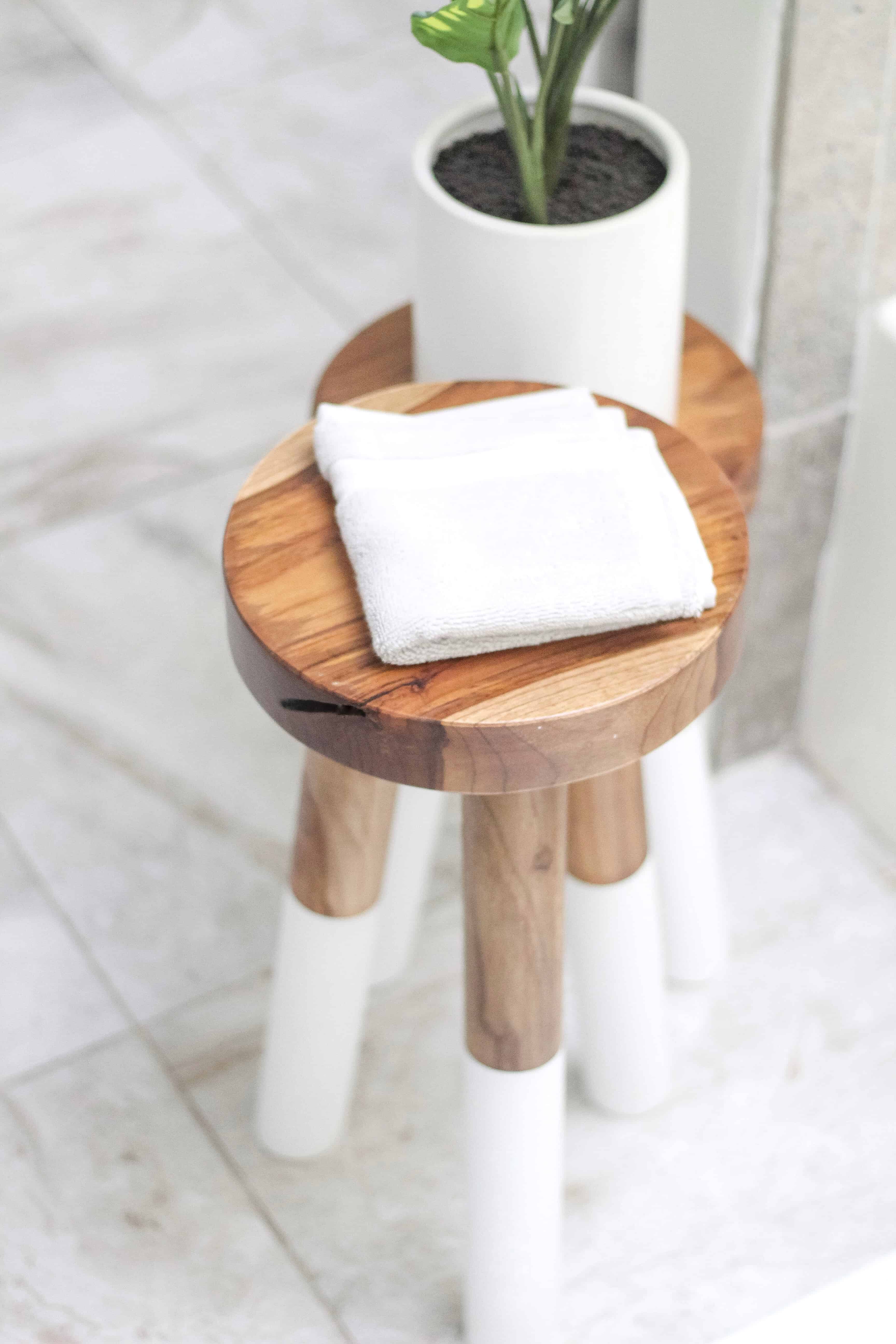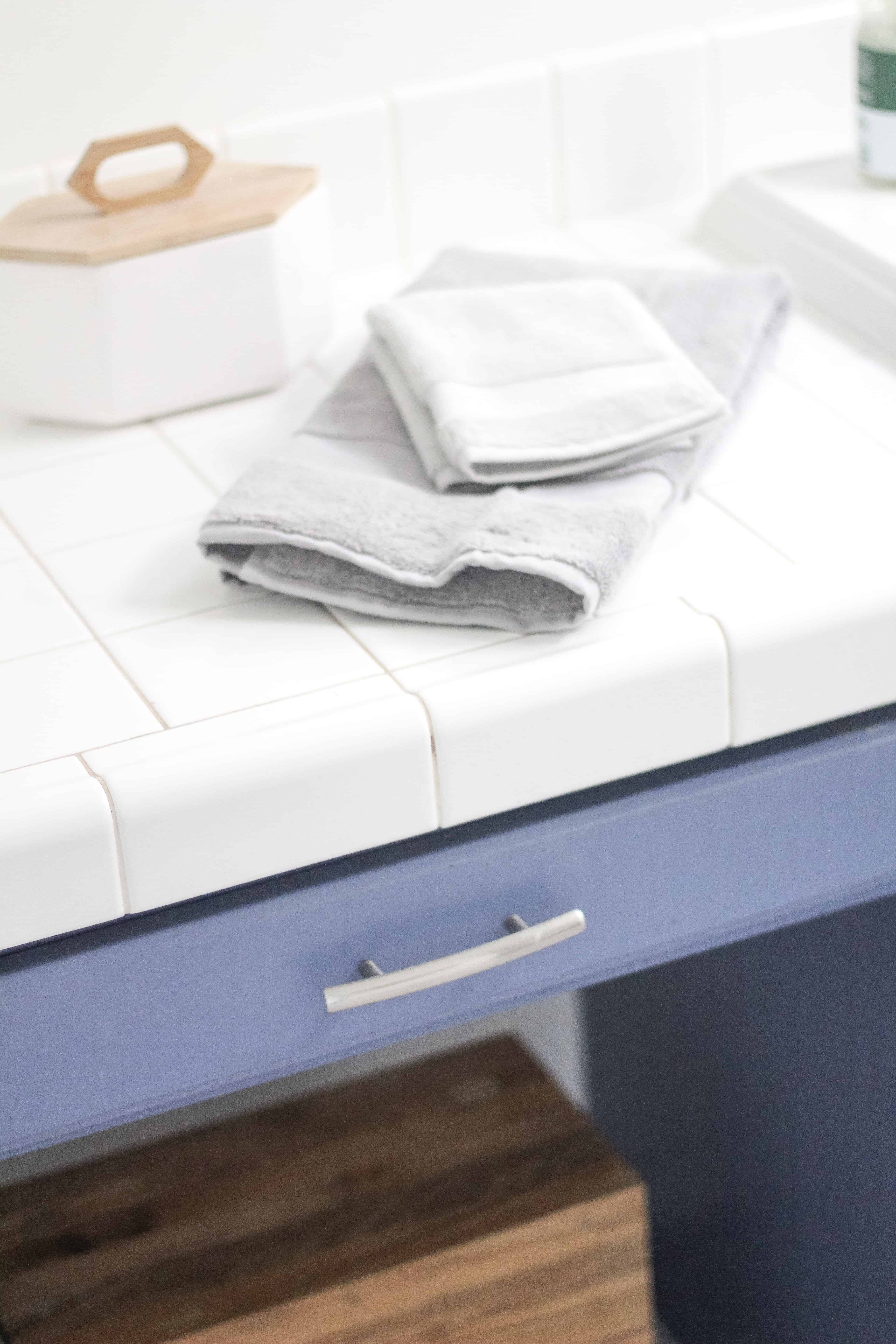 Hopefully these tips guest bedroom decorating tips will help you create a space you love, and your guests will be raving about. If you have any questions leave it in the comments below, and I would love to hear any great tips you have too!
If you are looking for a few other favorite items from Serena & Lily – check these out
Teak Step Stool – pictured in bathroom photos above!
Hanging Rattan Chair – this is in our nursery (linked here) and is a true show stopper.
Pin Guest bedroom decorating tips below