Spring break is just around the corner, and we will be flying to Florida, as per usual with our crew. I have done a few travel related blog posts on here before, but thought I would share all hacks for traveling with toddlers (or kid travel hacks) in one place.
This post contains affiliate links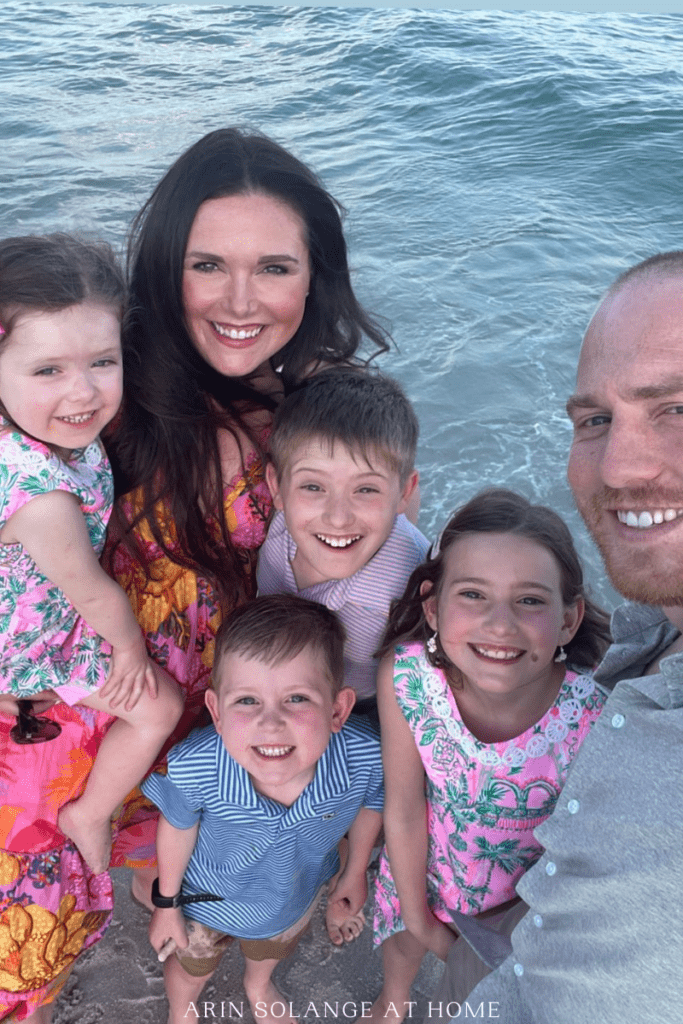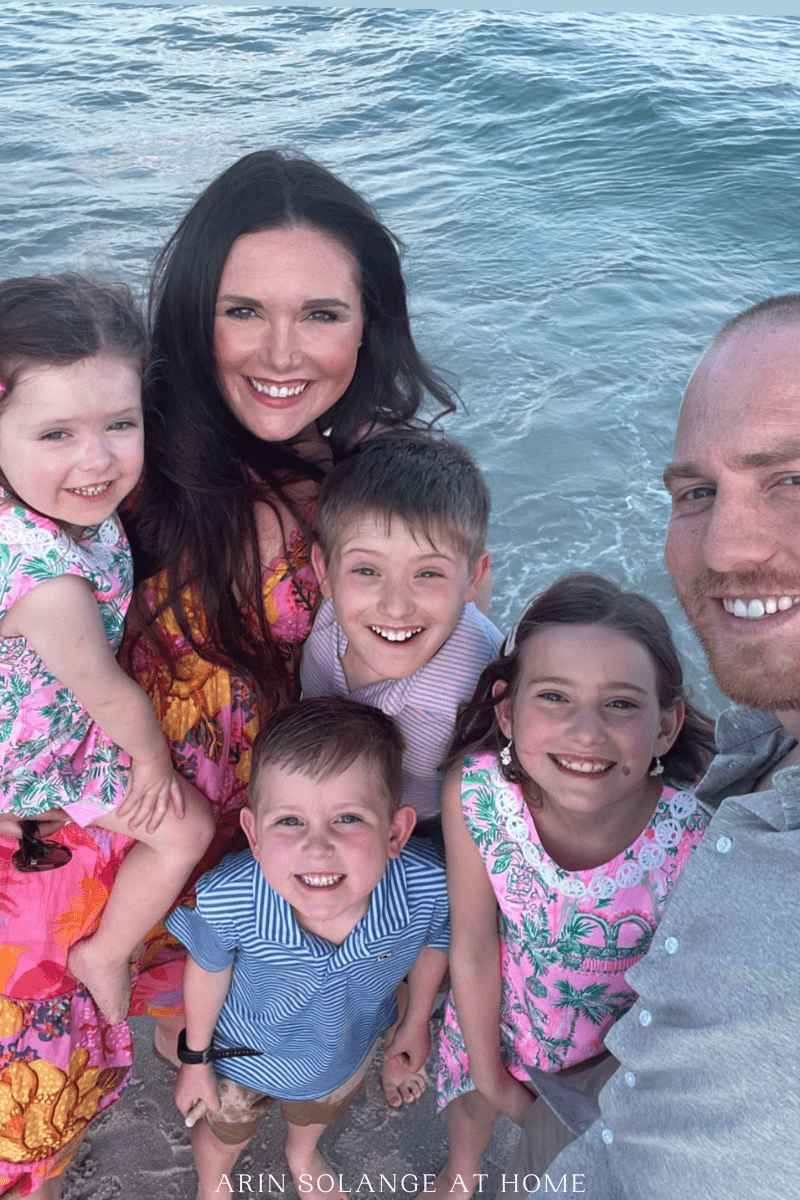 Many of these hacks will be amazing for flying or driving, and I can't claim I'm the 100% originator on some of them – I am sure I have picked up tips and tricks along the way, but I will give you all my best tricks for making travel with toddlers and kids so much less stressful!
As an added bonus – I added a huge round up of favorite travel items from Amazon to this post at the bottom, so grab them on Prime and get to traveling!
Hack 1 – Suitcases for Kids
This isn't as much of a hack as it is a huge tip- get suitcases on wheels! I have gone through quite a few rounds of suitcases on wheels in our years of travel, and I feel like each of these suitcases have their own unique benefits.
For older kids, I love scooter suitcases. When the kids were younger, I loved these character scooter suitcases. If you've got younger big kids (6-7 years old), these are a good option. The downside here is that the scooter does eat into the storage space the bag offers. If you've got a kid that travels light, this will be great.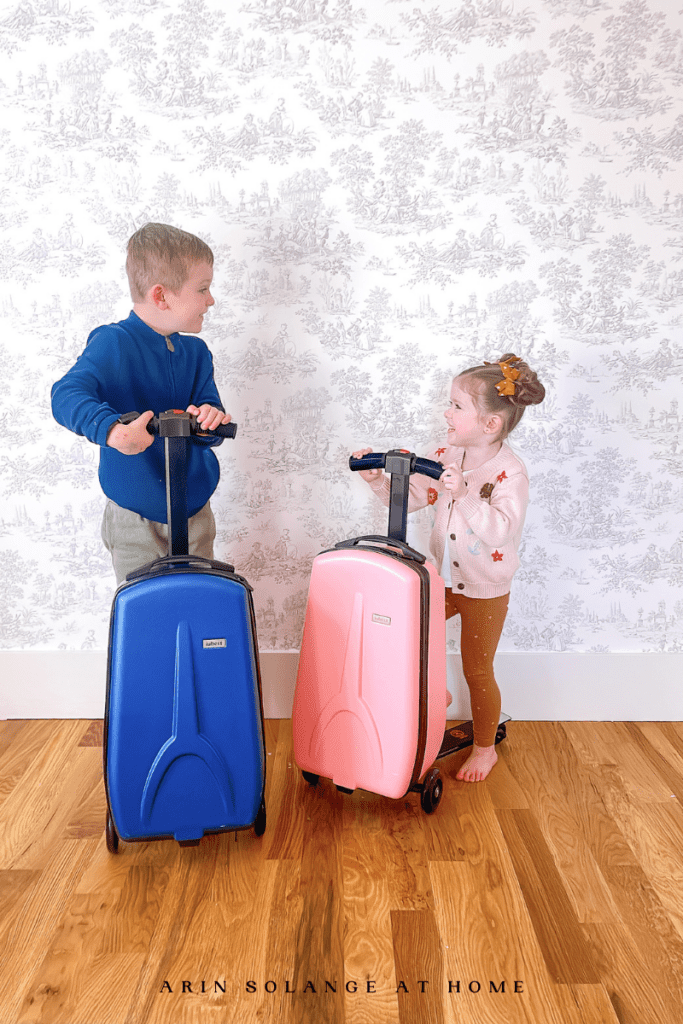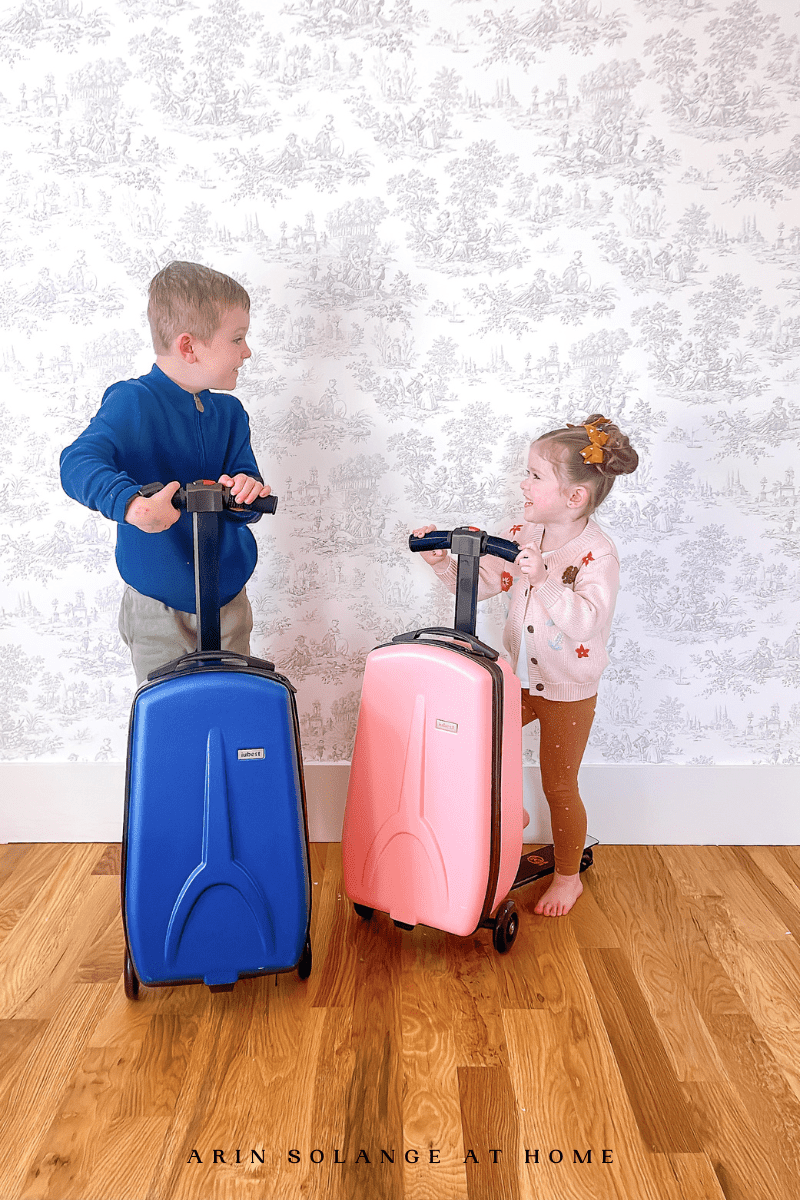 If you're looking for more space, these scooter suitcases are the solution. The scooter does not take up any of the suitcase space so there is ample room to pack! Another benefit of these particular bags is that the scooter completely disconnects from the bag so you can use them at your destination – I love it!
Also, a quick tip if you choose to buy scooter suitcases, make sure you put rules in place. My kids know that the scooter does not come out until we are past security.
If you're looking for luggage ideas for toddlers, buy them the rolling backpacks from Pottery Barn Kids. You can get them for a steal if you watch for sales, and they will make your life so much easier.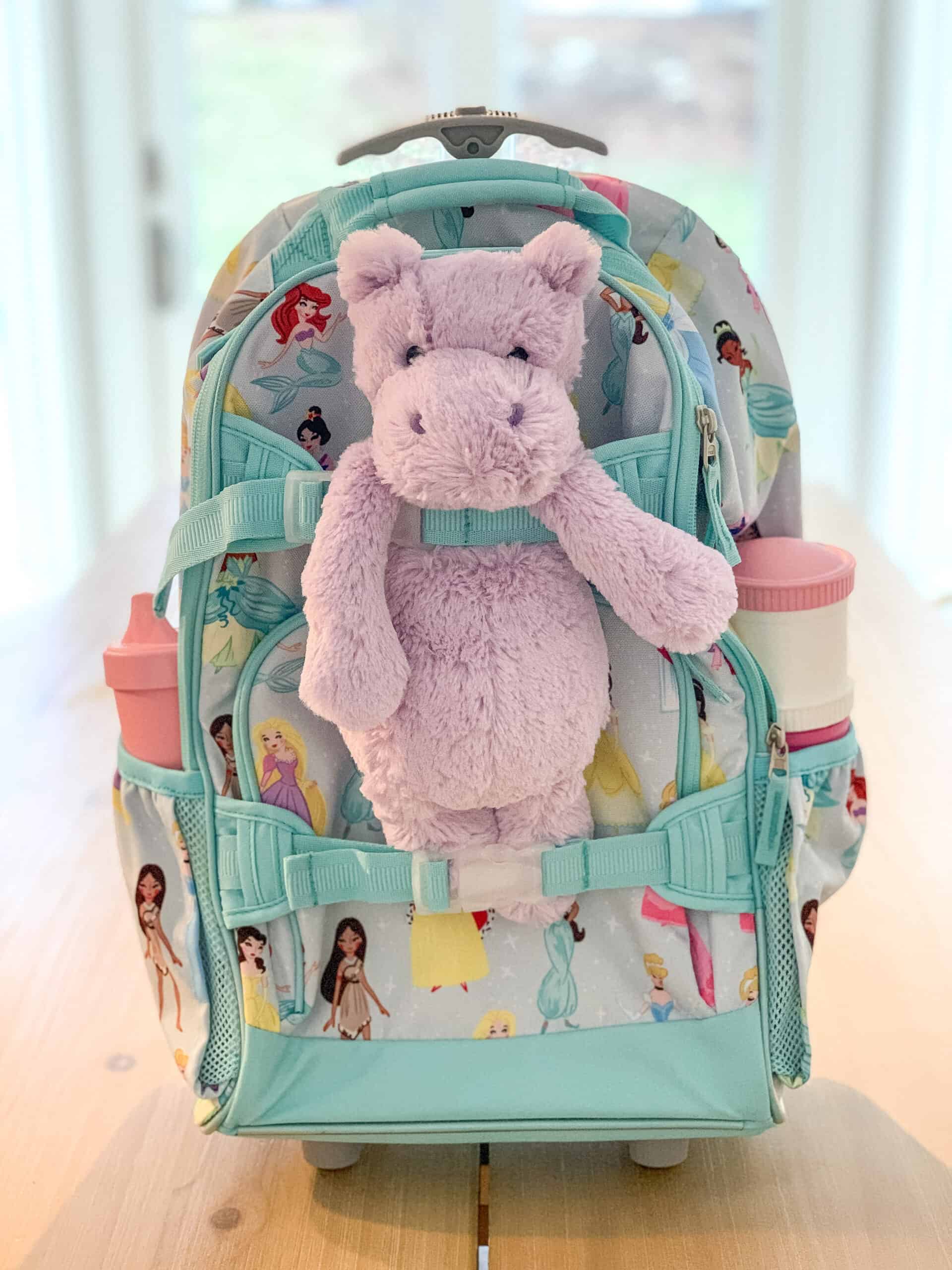 The backpacks fit under the seat in front of you, so you don't have to stress about overhead space if you don't want to, and due to the shape they also fit under our stroller if needed.
The backpack straps are a LIFE SAVER because if you have a tight layover, or are in a rush/have tired kids an adult can throw on the backpack if needed. And the reason I also recommend the PBK version is the outside straps.
My kids are always allowed to bring a stuffed animal and it can be strapped to the outside – like in the picture!

Hack 2 – Snack Bins for Car Travel
I purchased several of these a few years ago and they are amazing when we are taking road trips with the kids for all of their snacks.  
We have a 3 row SUV, so the older kids are in the very back, and it is hard for me to pass back snacks or open things for them.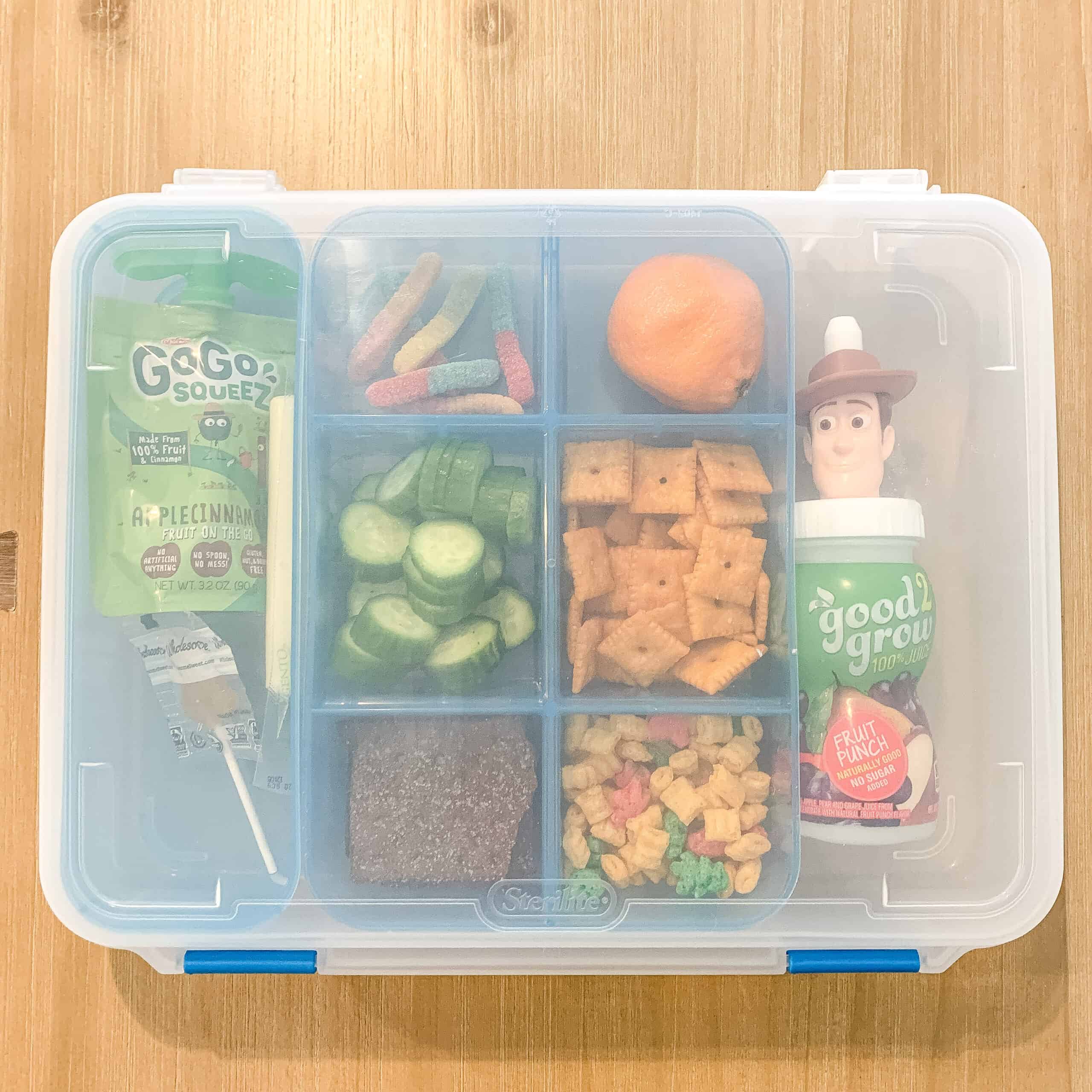 Basically I fill each little container with one snack for their car ride. I remind them when we leave that THAT IS IT. They are looking at their snacks for the whole car ride, so eat them all in 10 min or let them last 5 hours, you pick!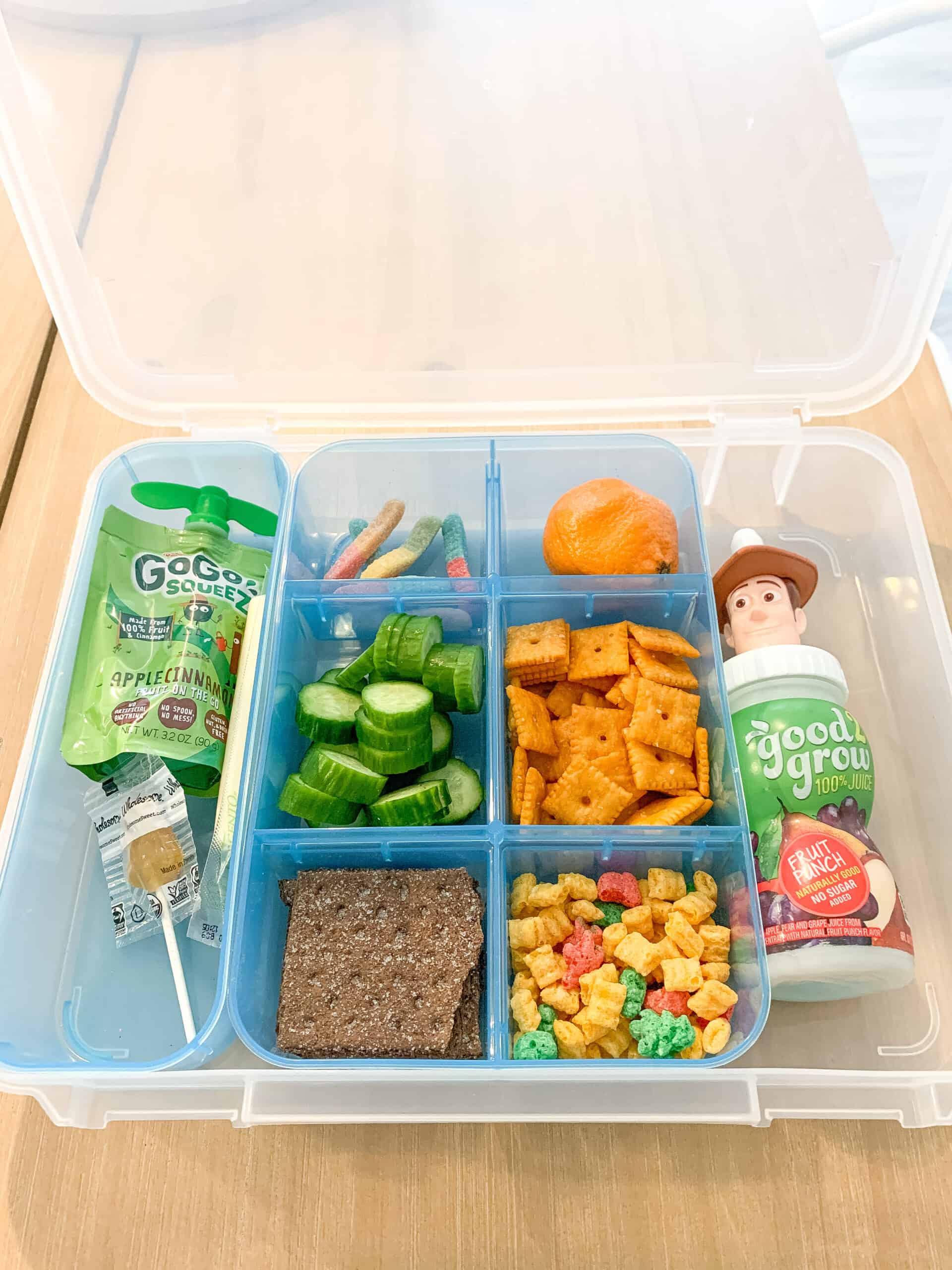 They do really well with it, and it is easily closed up and set to the side or on the floor when they are done for the time being.
Again, that hack works great for older kids in the way back of the car. If you're dealing with younger kids, I've got an alternative. This snack spinner is the solution!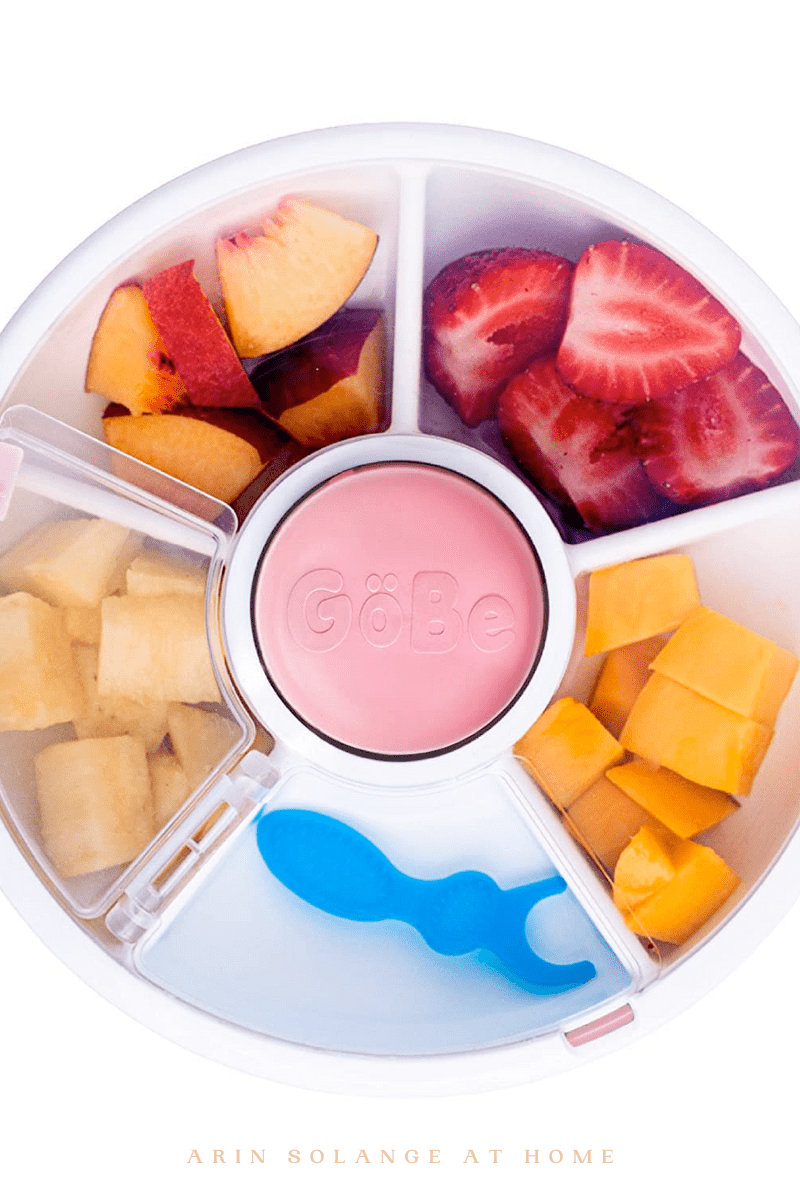 This is the same concept as the other container, but you can only open one section at a time. So if you go over a big bump, your kids aren't going to toss ALL their snacks on the floor. All you do is push the button in the center to rotate to a new snack.
Hack 3 – Bag of Essentials
This hack is a huge game changer, especially when flying, but works great for car rides too. We honestly don't have the kids take too much when we travel. They love to watch their iPads, so if its 4 hours and under we don't take too many small things for entertainment.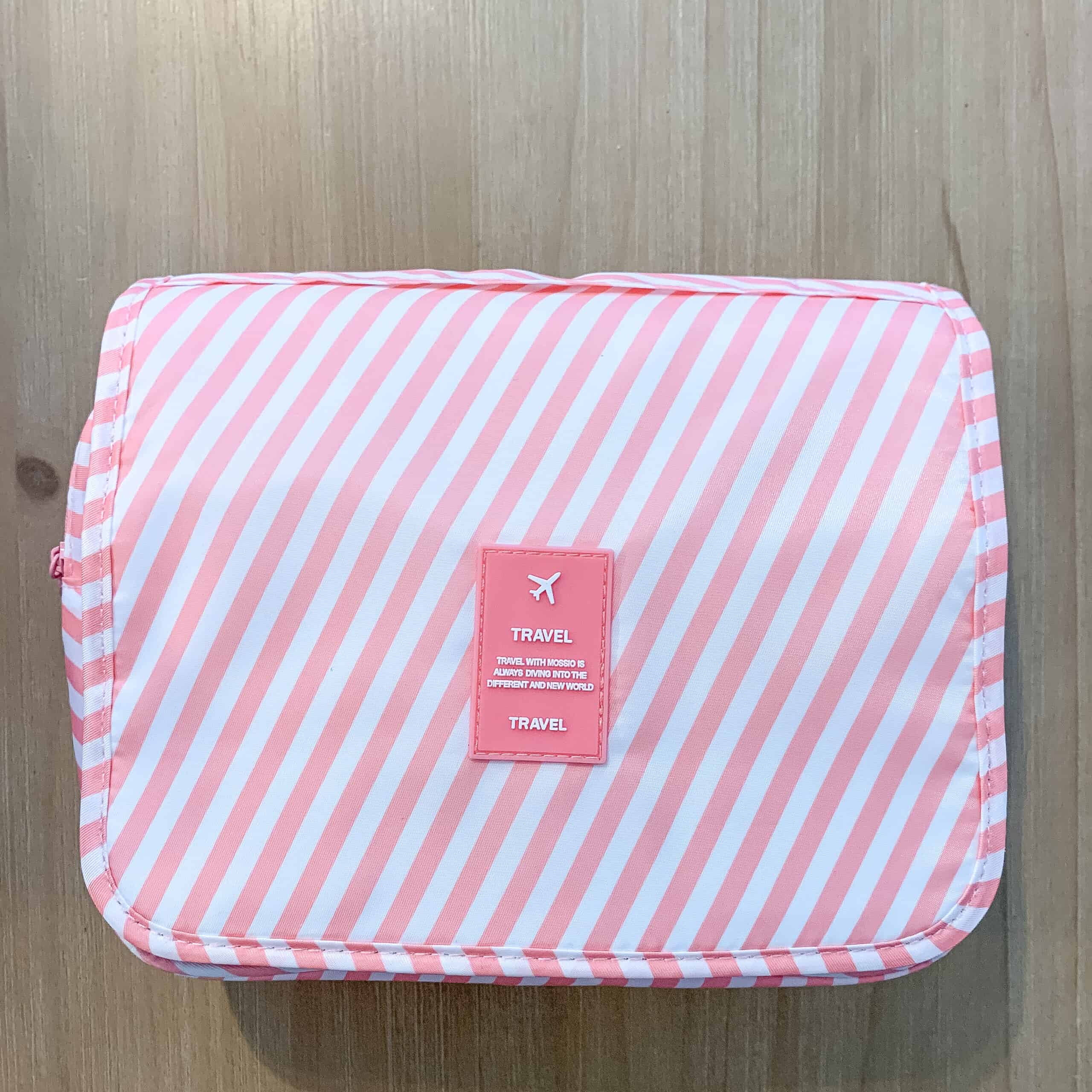 I purchased these travel toiletry bags on Amazon and they go in their backpack with all of their essentials for the trip.  I load them up with some crayons and paper, some snacks and suckers, and their iPads and headphones.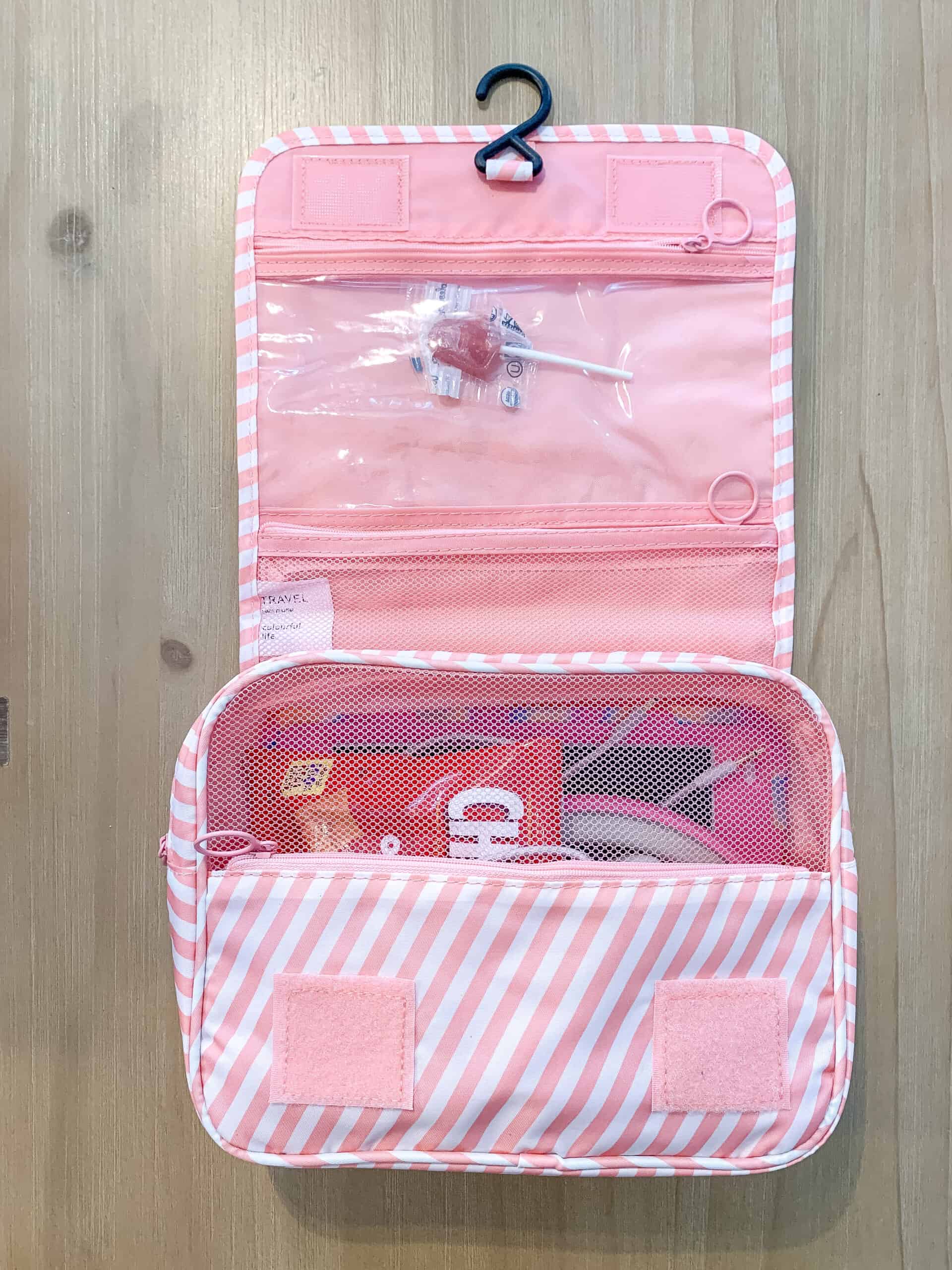 Those are always the items they are digging for in their bags, and they fall to the bottom, so this keeps them in one spot. Essentially once they are in their seat and buckled in grab the toiletry bag out and they will hopefully need nothing more from their backpacks the entire flight.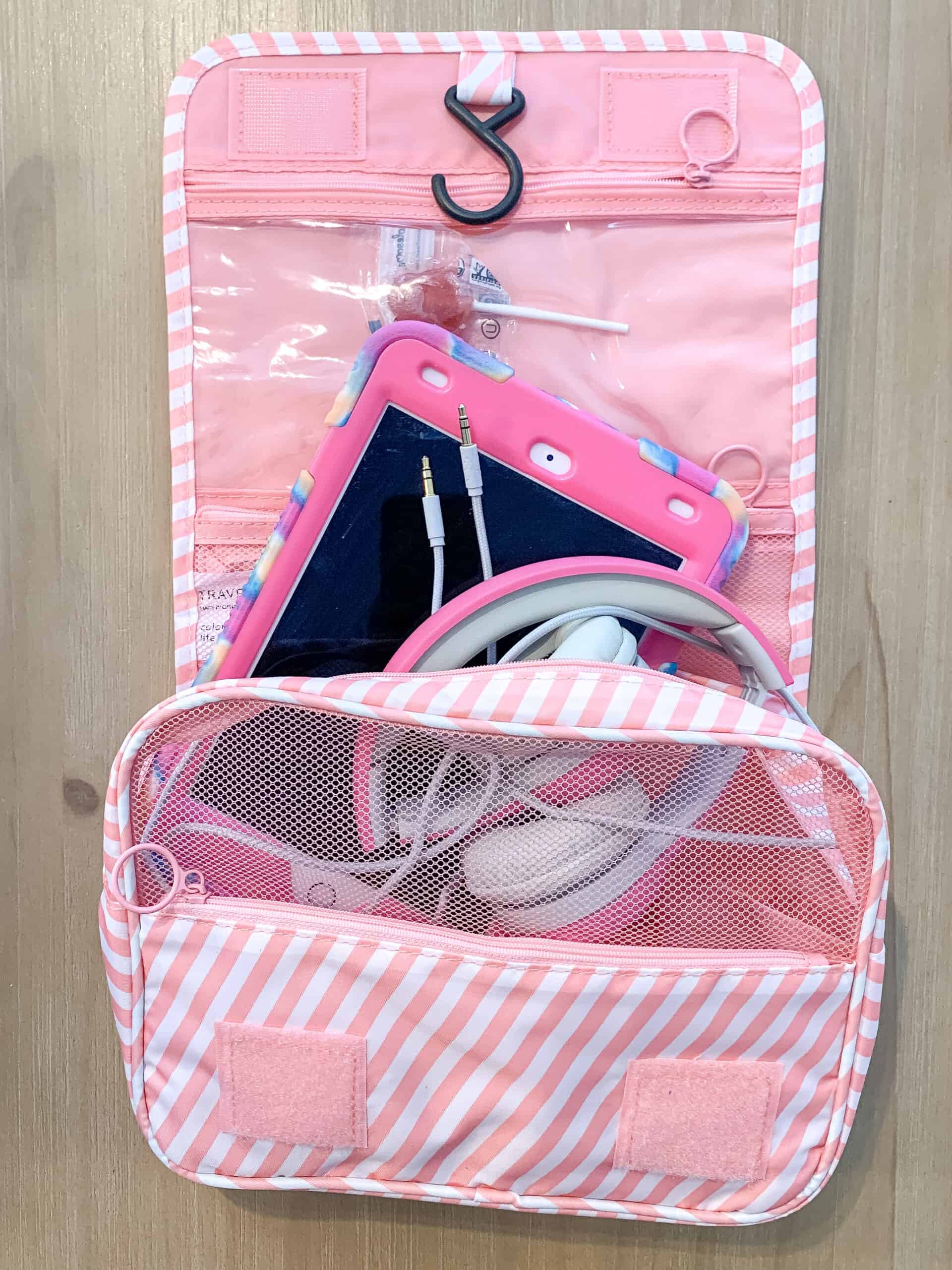 ** this easily holds my kids iPad minis with this case on them, as well as these headphones.  Check the measurements for other tablets!
Hack 4 – Cups and Containers
This is another hack when it comes to flying more so than driving.  We always bring our kids an empty water bottle with a personalized name sticker for the flight and fill it in the airport for water.  (Be aware – with any cup leave the spout up. We have sprayed full planes with camelbacks before because of the pressure building in them!!!)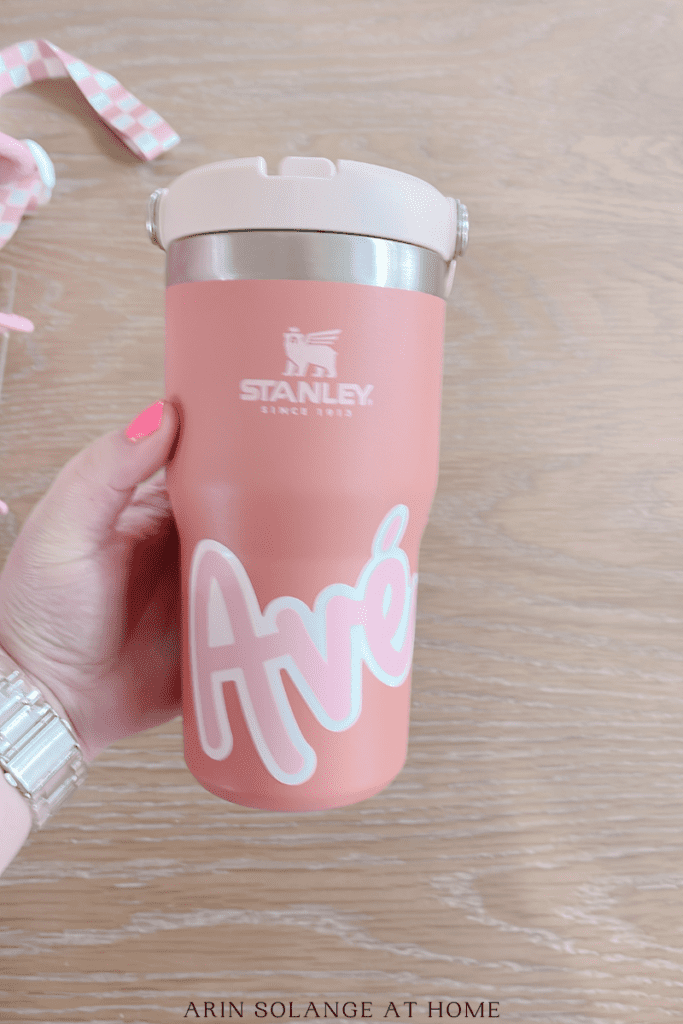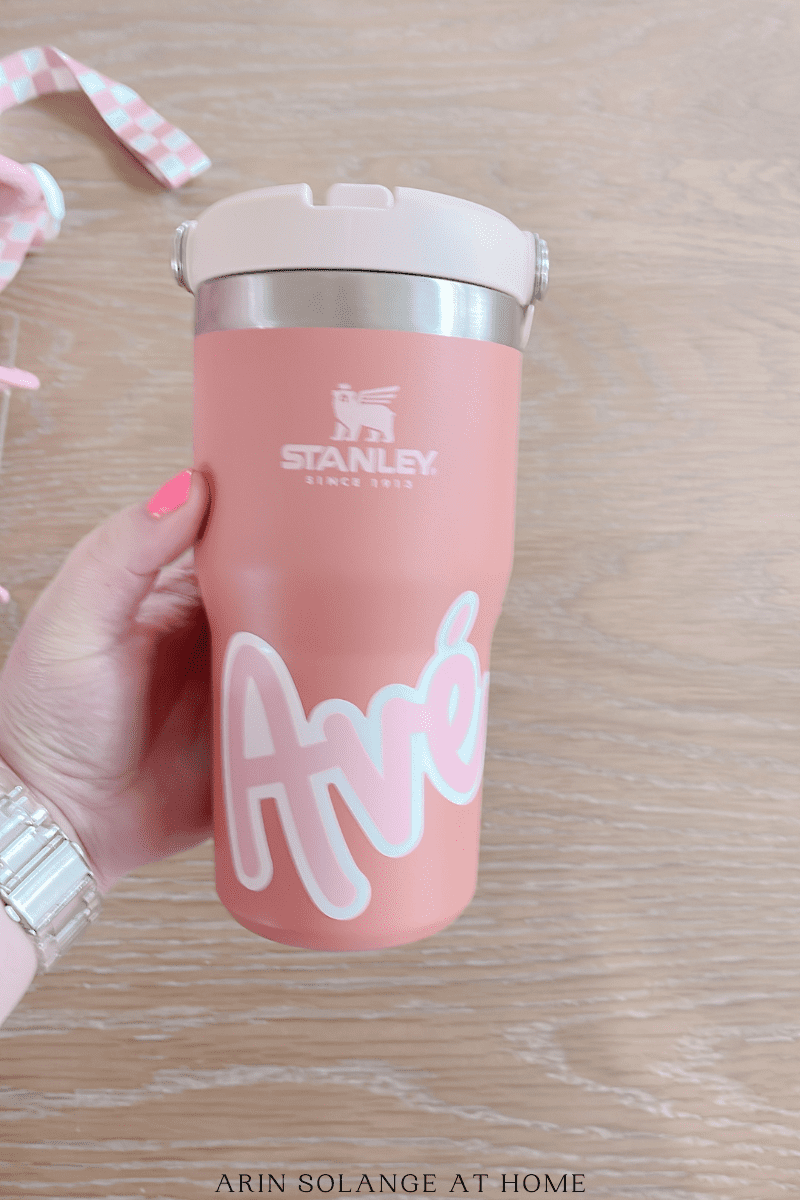 For snacks, I love these snack stacks because they fit perfectly in the water bottle pouch of a backpack. Sometime the snack stackers are full of snacks, but they are also great to have for small bowls incase the kids need them for snacks handed out on the plane or purchased in the airport.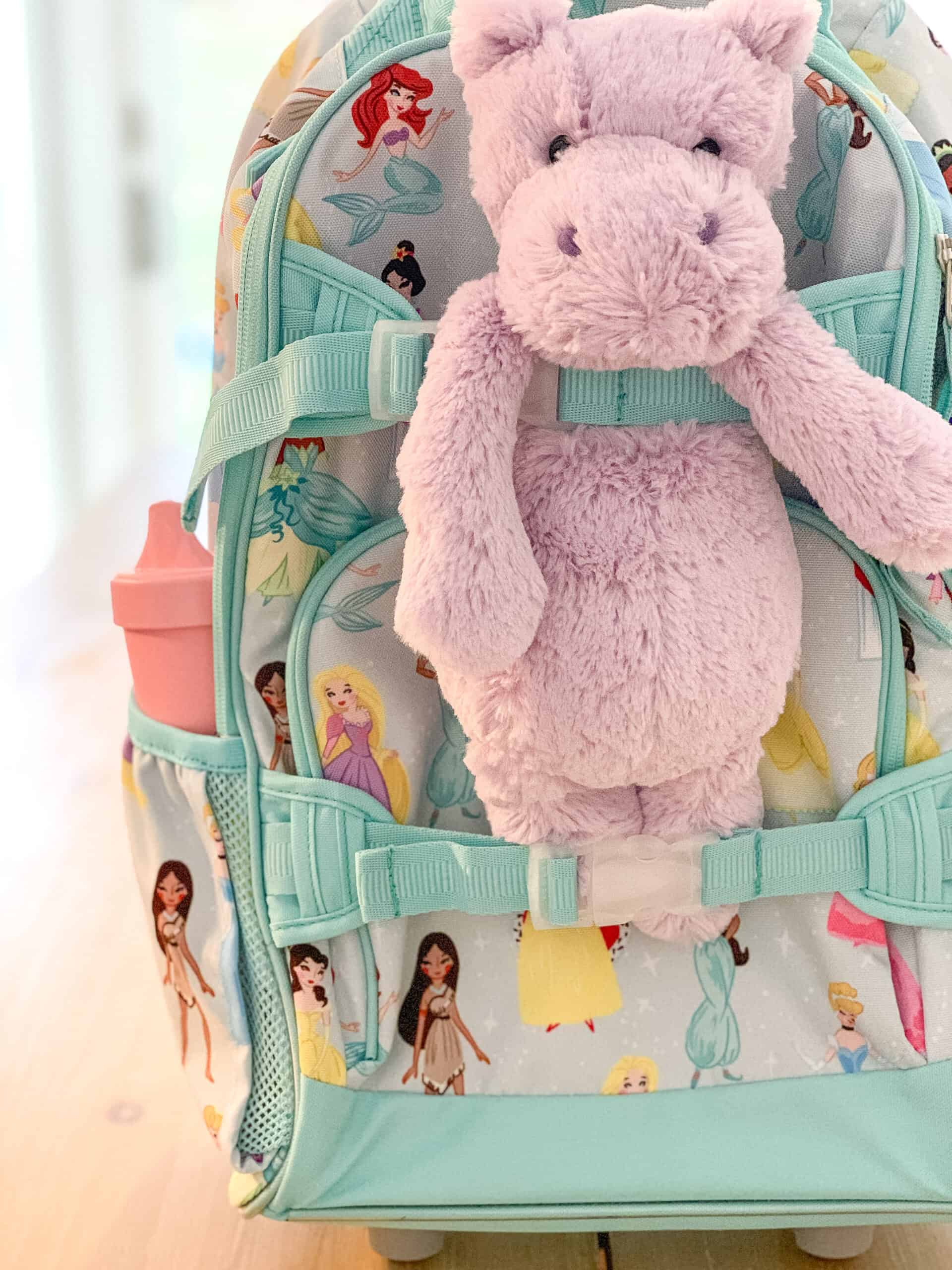 When my kids are younger and need more snacks to keep them quiet I do the snack stackers stacked 3 high filled with snacks in addition to what is in the toiletry bag from hack #3.
I know that sounds excessive, but I am a firm believer that you're not trying to win any mom of the year awards when you're flying…you're just surviving and doing your best to keep your kids happy and quiet!
For the bigger kids who might want to order a drink on the plane, I also always have these silicone lids that fit over any cup and reusable, retractable straws. I am speaking from experience – we spilled an entire drink on a seatmate once. I never travel without them now.
Hack 5 – Sleeping Arrangements
With a family of 6 and kids getting older, it can be hard to find the exact right number of beds or pullouts in our hotels or AirBnB. This year, we discovered this compact inflatable toddler bed for our youngest.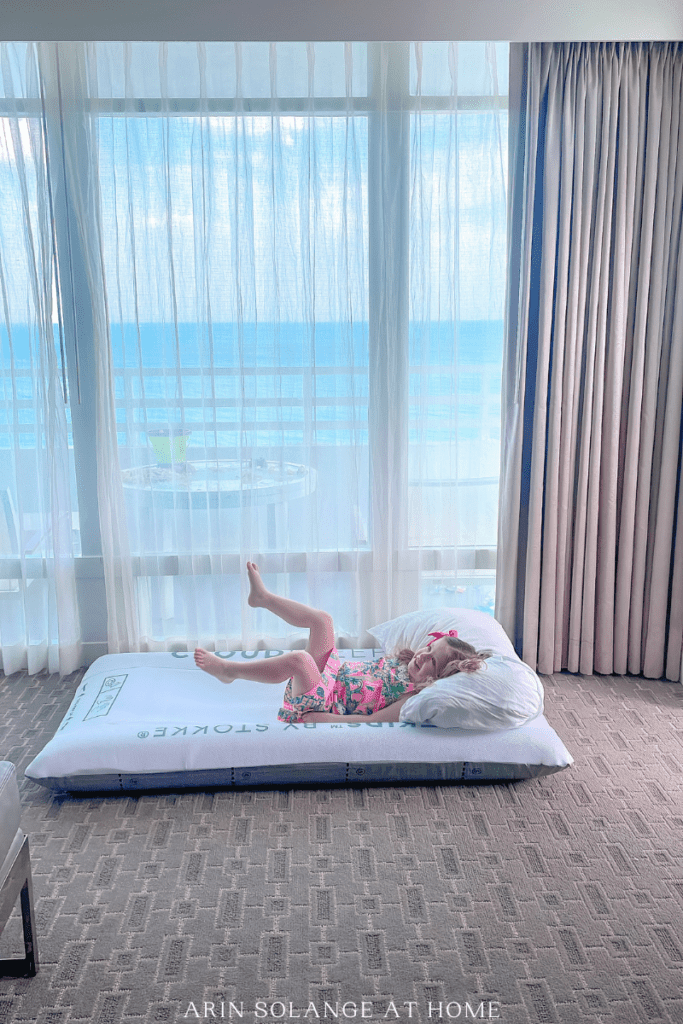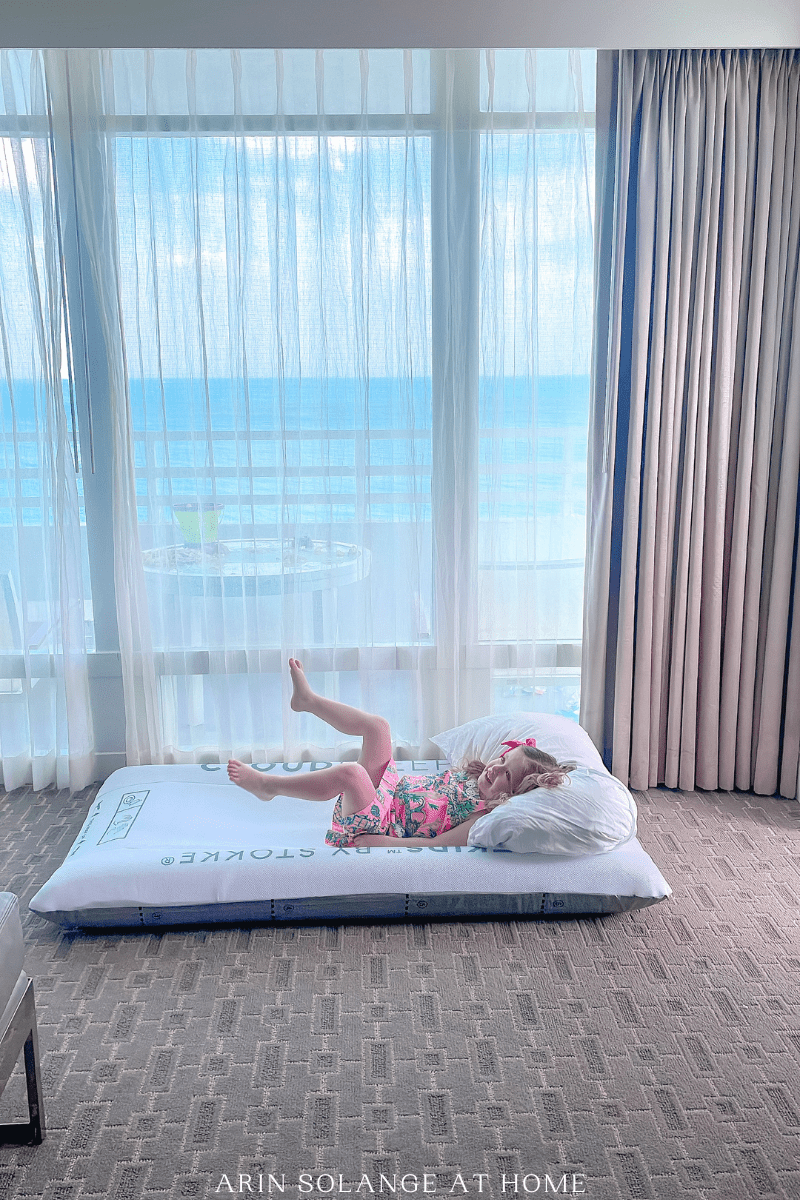 It has a built in air pump that you can use to inflate the bed in 3 minutes with your feet – genius! The outside is also super soft so you don't have to think about packing or requesting extra sheets. Where was this ten years ago!?
Okay not a Hack but a few tips
This one isn't a hack, but it is tips on tips on tips.
BUY THESE. Keep them in your glove box, and if you have a three row vehicle keep some in the third row.  Nothing is worse than hearing a kid say they are going to throw up.  This has saved our car and sanity way too many times. They aren't a glamorous buy, but I have had so many people tell me how thankful they are they got them!  I also throw one in my diaper bag when we travel by plane!
If you are traveling with a carseat, spend the extra few dollars for this bag to hold your carseat.  It has backpack straps and will change your life.  I was a little sad we went a good 6 years of travel with kids before we knew about that!
Moms – pair your stuff down to a tiny travel wallet so you don't have as much to carry, and if you have a baby or lap child, using hack #3 for your own stuff/stuff you will need to get out mid flight for baby is super helpful in your own bag too!
Last – have an external charger with you!! This one is great! You don't want an iPad dying midflight.
Favorite Hack 6 – Buy on Prime
Below is a bunch of my favorite items from Amazon prime that I use for travel.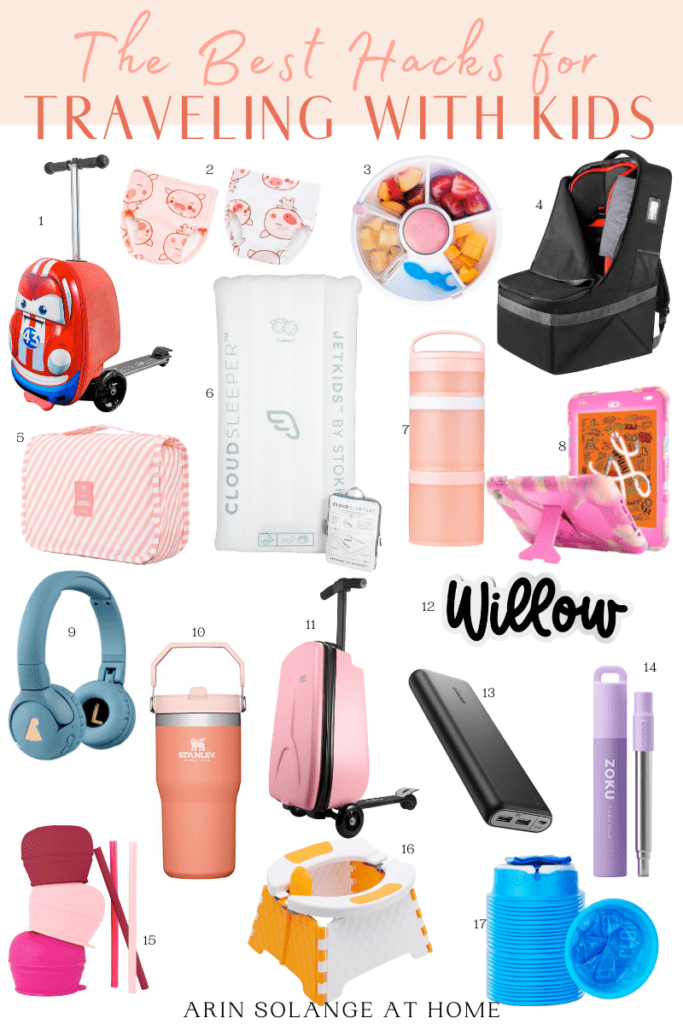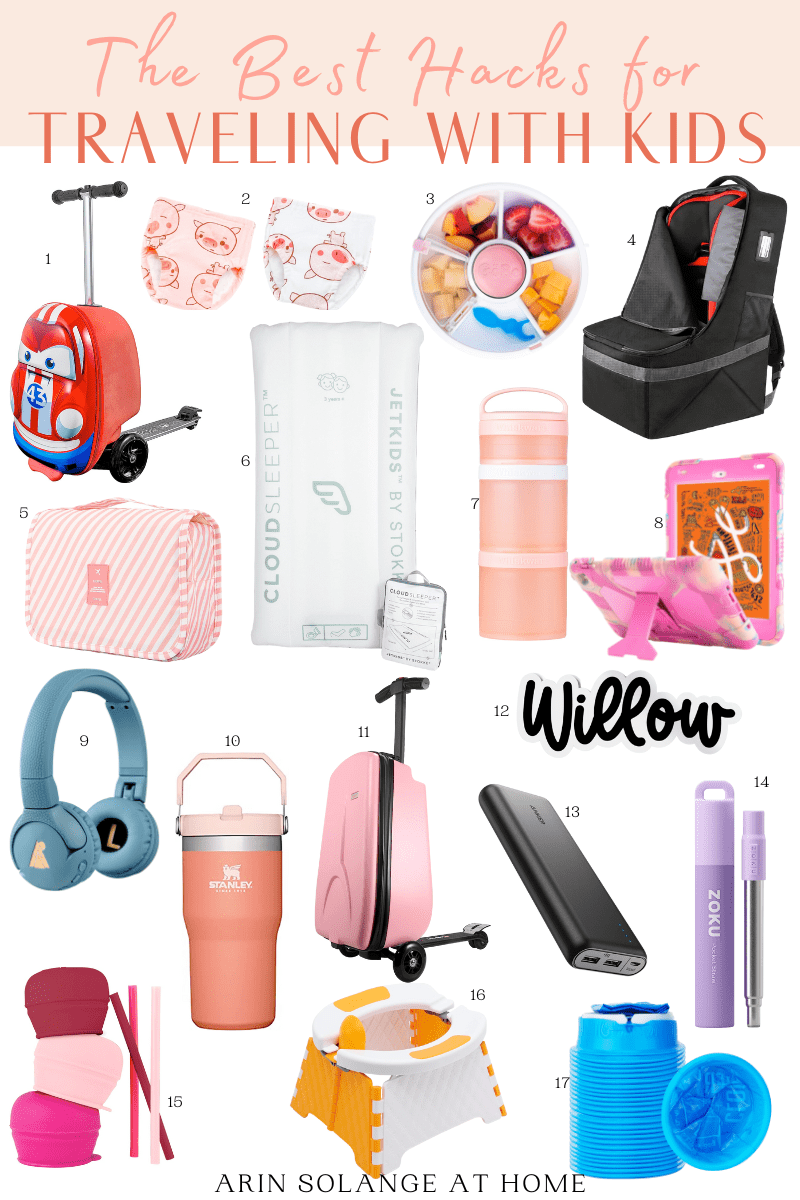 1 | 2 | 3 | 4 | 5 | 6 | 7 | 8 | 9 | 10 | 11 | 12 | 13 | 14 | 15 | 16 | 17
Follow me on Social for the Latest
Other Travel Posts for Mom's of Littles
Hopefully these hacks are really helpful for your next trip with your littles!  Traveling with young kids doesn't have to be as stressful as it seems.  
Check out my Amazon Live Travel Favorites
More tips and tricks in this post
Remember it's not the time to do without technology or candy….make it a fun, exciting day for everyone, and enjoy your trip!!
Pin the Photo below to find these Hacks for Traveling with Toddlers Later