I love taking elements of the Shaker style and incorporating them into my home. The use of clean lines, minimalist design and furniture focused on function and practicality are some of the things I admire. I also love the Shakers' use of a muted color palette. I think the look is so timeless and elegant. That's why it is perfect for my 150+ year old house. If you have been wanting to take inspiration from the Shakers too, I'll go over all the elements to create your own Shaker style bedroom.
This post may contain affiliate links.
Shaker Style Bedroom Inspiration
The Shaker style bedroom is timeless and classic. Moreso, it is perfect for creating a cozy and inviting atmosphere in your home. With its simple lines, natural materials, and understated elegance, the Shaker style bedroom adds warmth and character to any space.
From furniture pieces to wall colors to fabrics, there are plenty of ways to incorporate the Shaker style into your bedroom design. Whether you're looking for a traditional look or something more modern, this style is sure to add charm and comfort to any room.
Monochromatic colors can help create a sense of calm in an otherwise chaotic space, like a bedroom. Brown, gray, and cream are some of the most commonly used colors in this style. Mixing these tones together in different combinations can also give your room a softer appearance or a bolder look. Traditionally, art frames are metallic in color.
Gold and silver are the most popular and classic colors to use with this style, but you don't need to limit yourself to the typical choices. Bronze, copper, or even platinum can give your decor a delicate flair.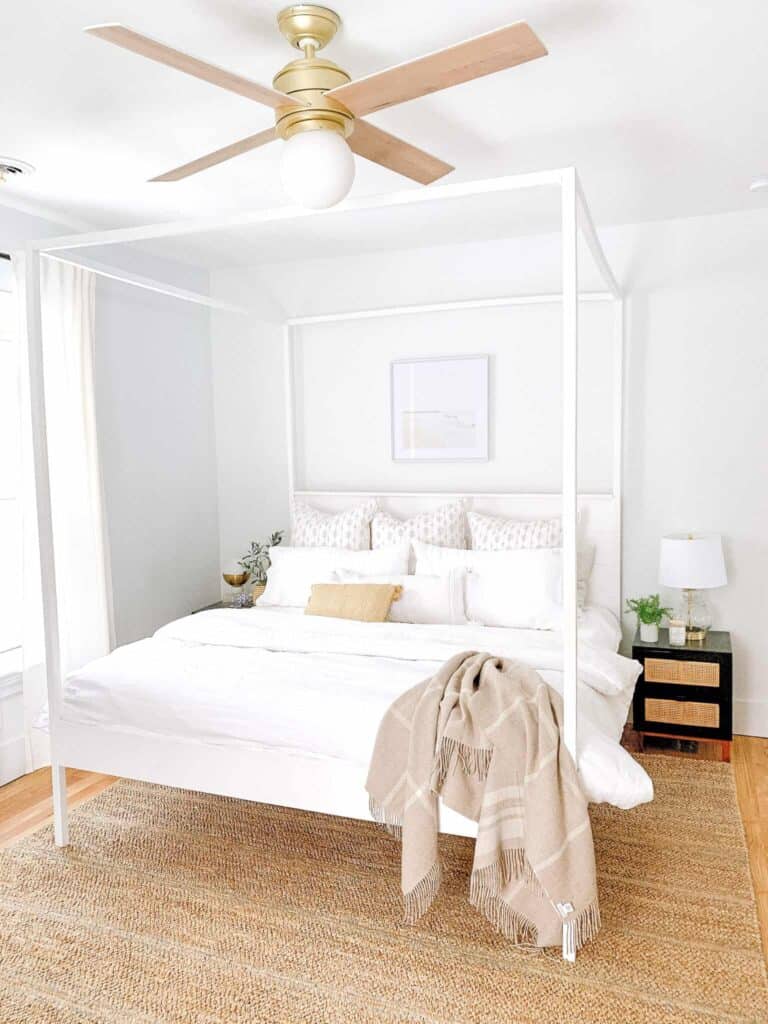 History Of The Shakers
The Shaker style of bedroom furniture has its roots in the religious sect known as the Shakers. The Shakers were a Christian group that believed in simplicity and functionalism, which was reflected in their furniture design. They were particularly influential in the 19th century, when their furniture designs began to appear in homes across America.
Today, Amish artisans create two main styles of furniture – shaker and mission. Skilled Amish cabinetmakers use true craftsmanship to create furniture construction that provides a time-tested mark of quality.
The Shaker collection is characterized by its clean lines, minimal ornamentation and focus on practicality. It is often seen as a precursor to modern home design, with many of its features still used today. The popularity of this style has endured over time and it remains a popular style for bedrooms today due to its timelessness, classic appeal, and great quality furniture.
This article will explore the history of the Shakers, why they made an impact in the furniture and home decor world, and how you can use this style to create a beautiful bedroom space.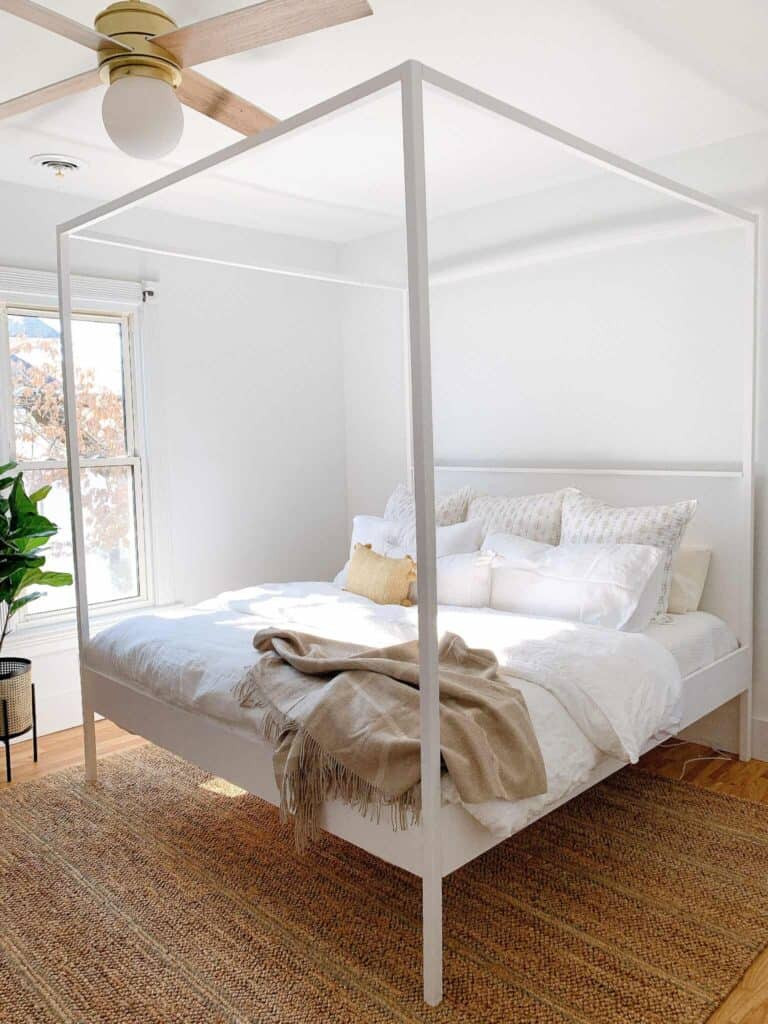 Elements Of Shaker Inspired Furniture & Style
Shaker inspired furniture and style is a type of design that focuses on simplicity, functionality and fine craftsmanship. It is characterized by its lack of bold colors and patterns, straight lines, minimalist designs, solid wood construction and use of simple decor to fulfill the needs of the user.
Shaker style bedroom furniture is known for its timeless beauty and elegance, making it a popular choice for modern homes. The use of natural materials like wood gives it a classic look that can easily blend with any home decor style. Its focus on simplicity also makes it easy to maintain and care for over time.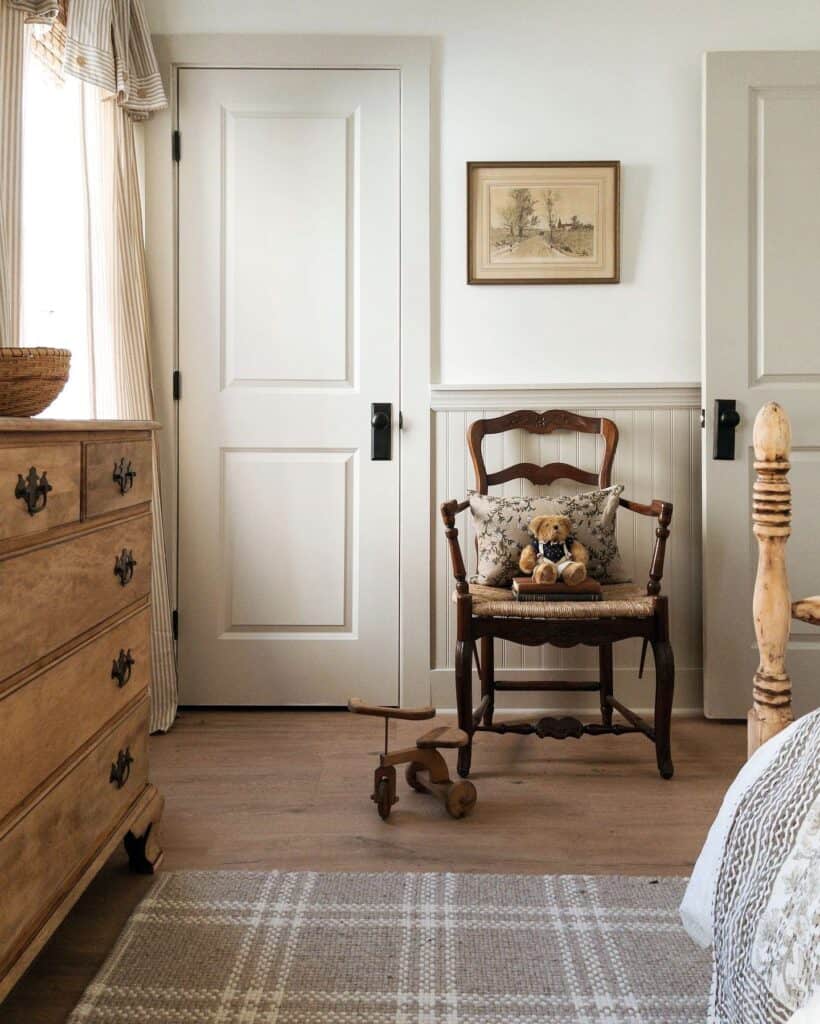 How To Create A Shaker Style Bedroom
Creating a shaker style bedroom is a great way to bring an elegant, classic design to your home. The shaker style is a design that can be adapted to fit any decorating scheme. With some simple tips and tricks, you can create a beautiful and comfortable shaker style bedroom that will last for years to come. This article will provide you with some helpful advice on how to create the perfect shaker style bedroom, from choosing the right furniture and accessories to creating the perfect color scheme.
To create a shaker style bedroom, you will need to choose furniture that has clean lines and simple functionality. With some contemporary pieces, such as a nightstand or ottoman, you can achieve a very sleek look for your bedroom.
Other pieces of furniture that work well in the shaker style are dressers and tables with drawers. These pieces help to fill out the room with storage options so you can keep all of your belongings organized. You may consider purchasing an entertainment center as it will work well with the other pieces of furniture in your room.
When choosing colors for a shaker style bedroom, you can choose neutrals such as white or black for the walls and dark colors for the furniture pieces. If you want to add some color to your bedroom, consider using blue hues in artwork and pillows. For decorating ideas that are a little more on the wild side, try mixing different shades of blue together or adding pops of pink or green in certain areas.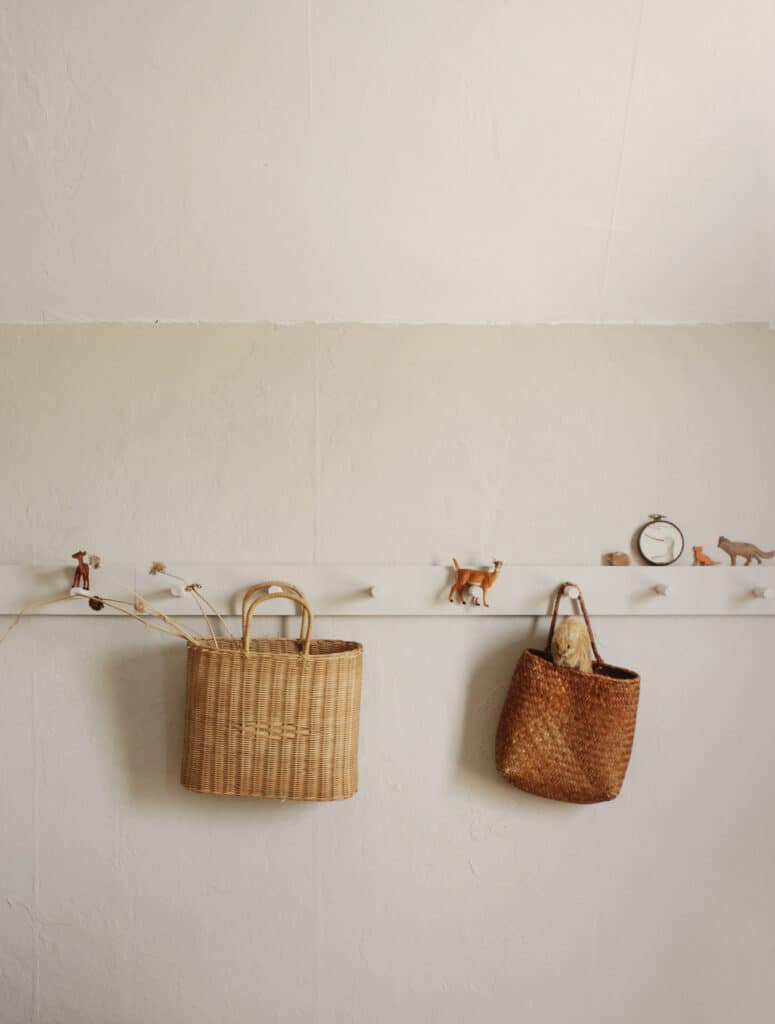 Use Of Solid Wood Furniture
A shaker style of furniture is a great way to add a classic look to your home. The key to achieving this style is the use of solid hardwood furniture. Solid wood furniture pieces such as beds, dressers, and bedside tables provide an elegant and sophisticated look that with great care will stand the test of time.
Some wood species the shakers commonly used in their handmade furniture were brown maple, tiger maple, rustic cherry, and oak woods including white oak and solid oak. This is because they harvested wood from their own land. Sometimes they used wood-on-wood varieties and other times they used solid mahogany construction. Additionally, using natural materials such as jute rugs and cotton bedding can help complete the look of a shaker style bedroom.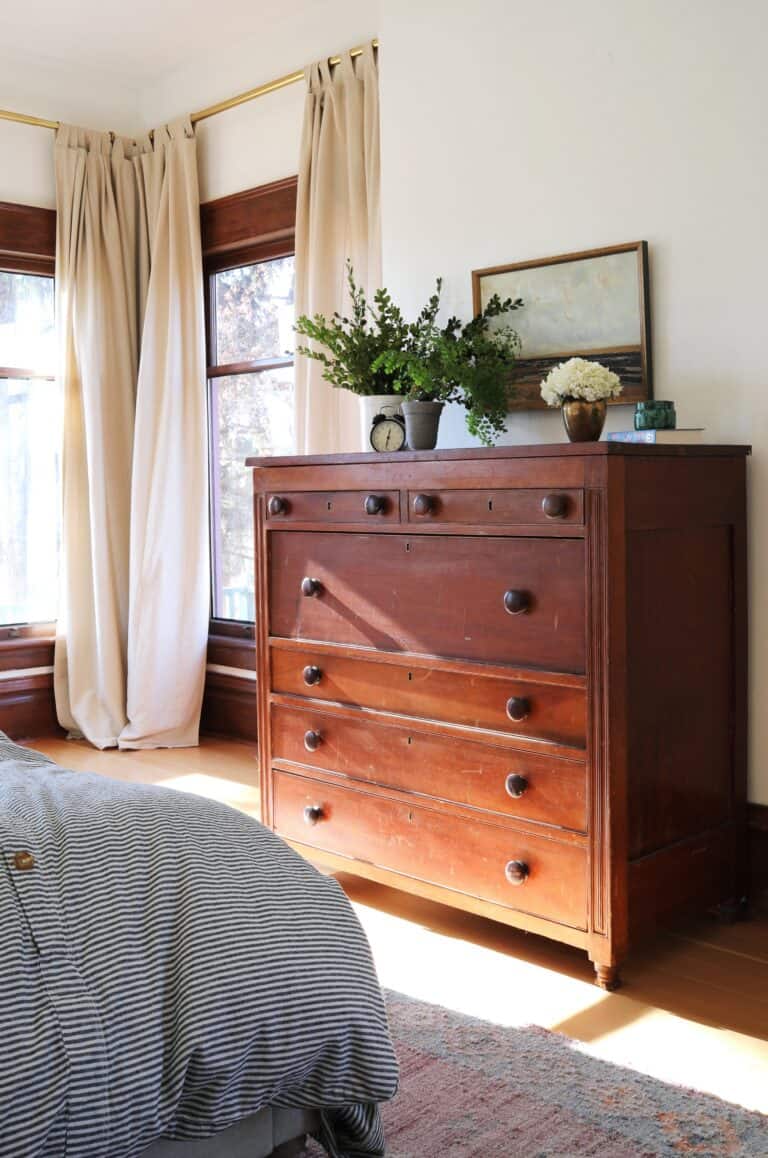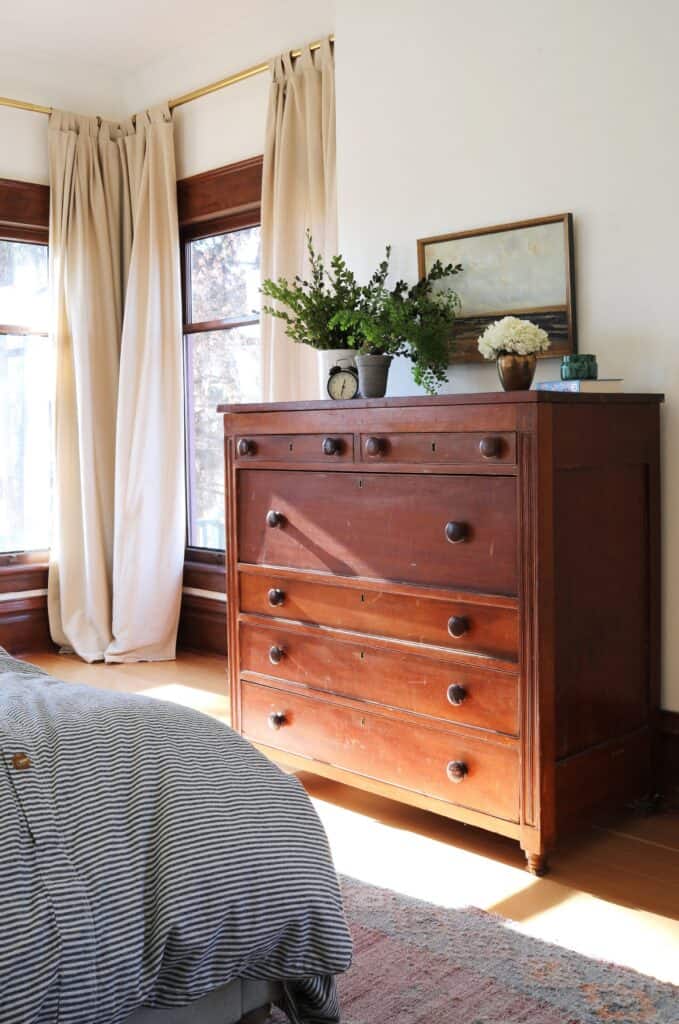 Minimalistic Design & Color Palette
Creating a shaker style bedroom is a great way to bring a touch of minimalism and classic elegance into your home. By combining the right design elements and color palette, you can create a cozy and inviting space that reflects your own personal style. With careful planning and attention to detail, you can create a shaker style bedroom that will be both stylish and comfortable.
Install Peg Rails or Chair Railing
One of the most important elements in creating this look is the installation of peg rails or chair railing. Both are used to create a decorative border around the room and can also be used as storage for items like hats, coats, and towels. Installing peg rails or chair railing will help create a unified look in your bedroom that will be sure to impress.
Clear Out Clutter
Creating a shaker style bedroom is a great way to add charm and character to your home. To make the most of this style, it's important to clear out clutter and create a minimalistic look. This can be done by decluttering your bedroom, removing any unnecessary items and keeping only the essentials. Additionally, you can use simple furniture pieces with clean lines and neutral colors for a more cohesive look. Finally, accessorize with shaker-style accents such as wooden furniture pieces or quilts for an authentic touch.
Leave Windows Open
One of the key elements for creating this look is to leave windows open so that natural light can come in and brighten up the room. This will help create an atmosphere of calmness and serenity in the bedroom, which is essential for creating a peaceful environment.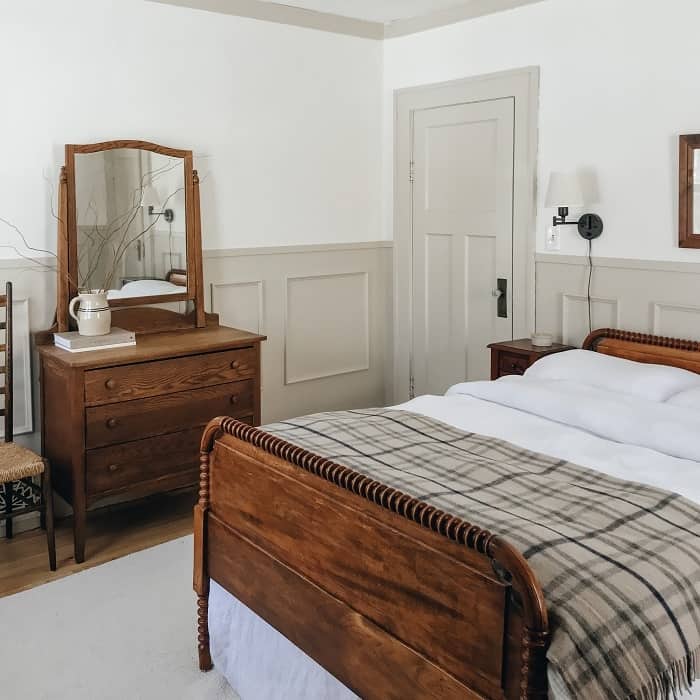 Shaker Style Bedroom Inspiration
Shaker bedrooms are becoming increasingly popular due to their simplicity and timelessness. Whether you're looking for a modern, minimalist look or a cozy, traditional style bedroom, shaker style furniture can provide the perfect backdrop for your bedroom. With its clean lines and natural materials, it can create a calming atmosphere that is both inviting and stylish.
Here are some inspiring ideas to help you create the perfect shaker style bedroom of your dreams.
Traditional Shaker Style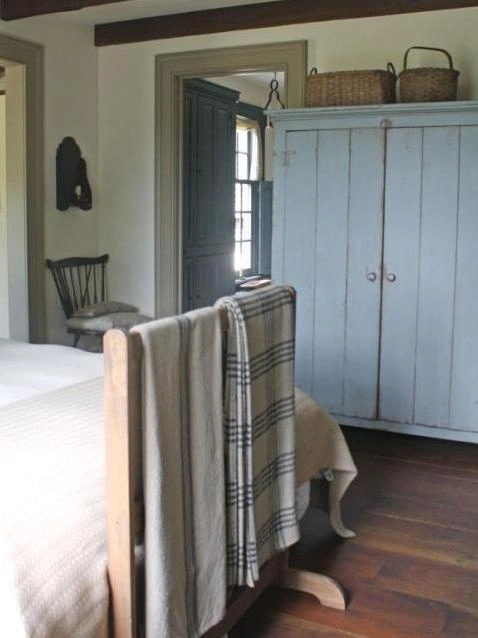 This shaker style wardrobe serves as a storage piece for this traditional shaker style bedroom. You'll also notice the wooden half ladder for hanging blankets and a small stool in the corner for seating. Each piece of furniture has a purpose and in its designated place.
A 1906 Nursery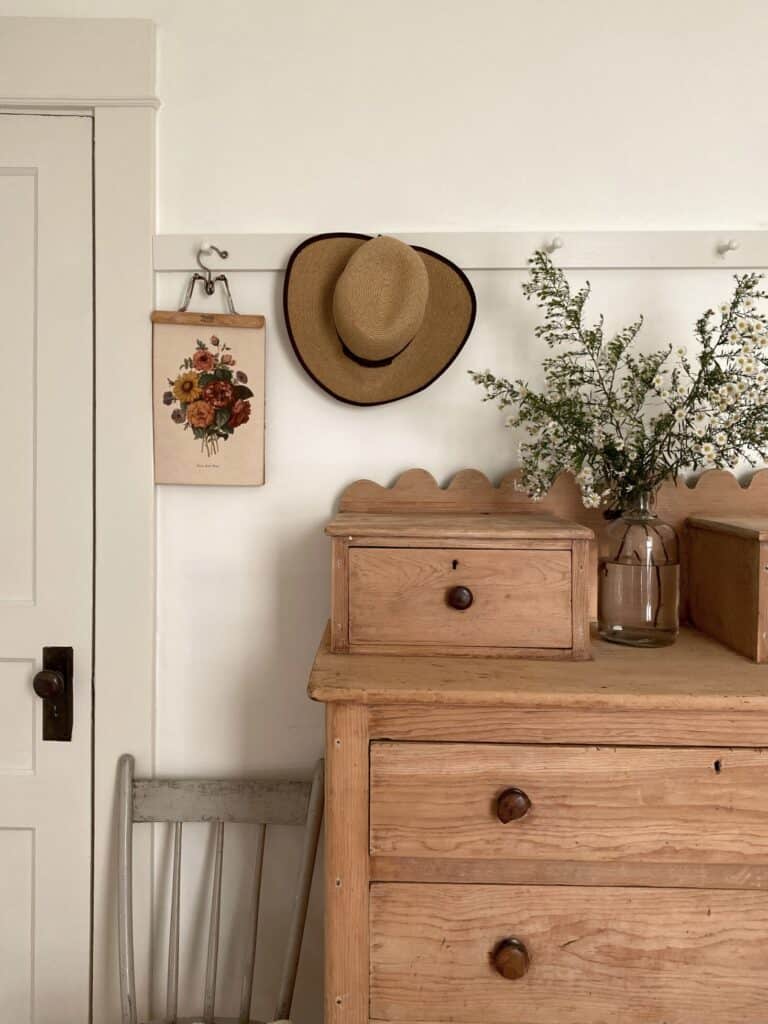 This nursery shows muted colors the Shaker style is known for, as well as minimalist design features. You'll notice that the peg rail is a great way to bring in decorative touches but also a functional addition to hang bonnets, hats, and other clothing items.
Shaker Style Kid's Room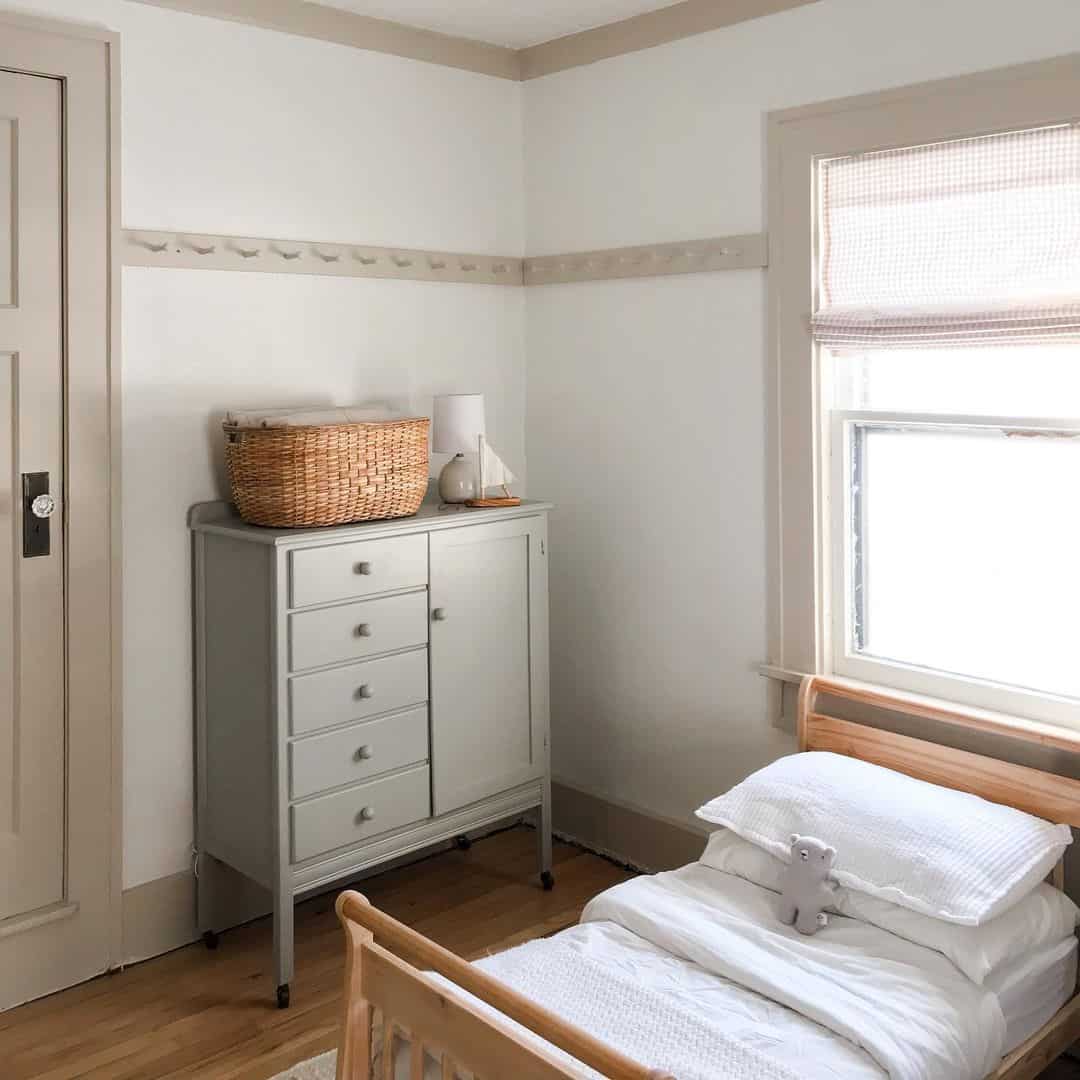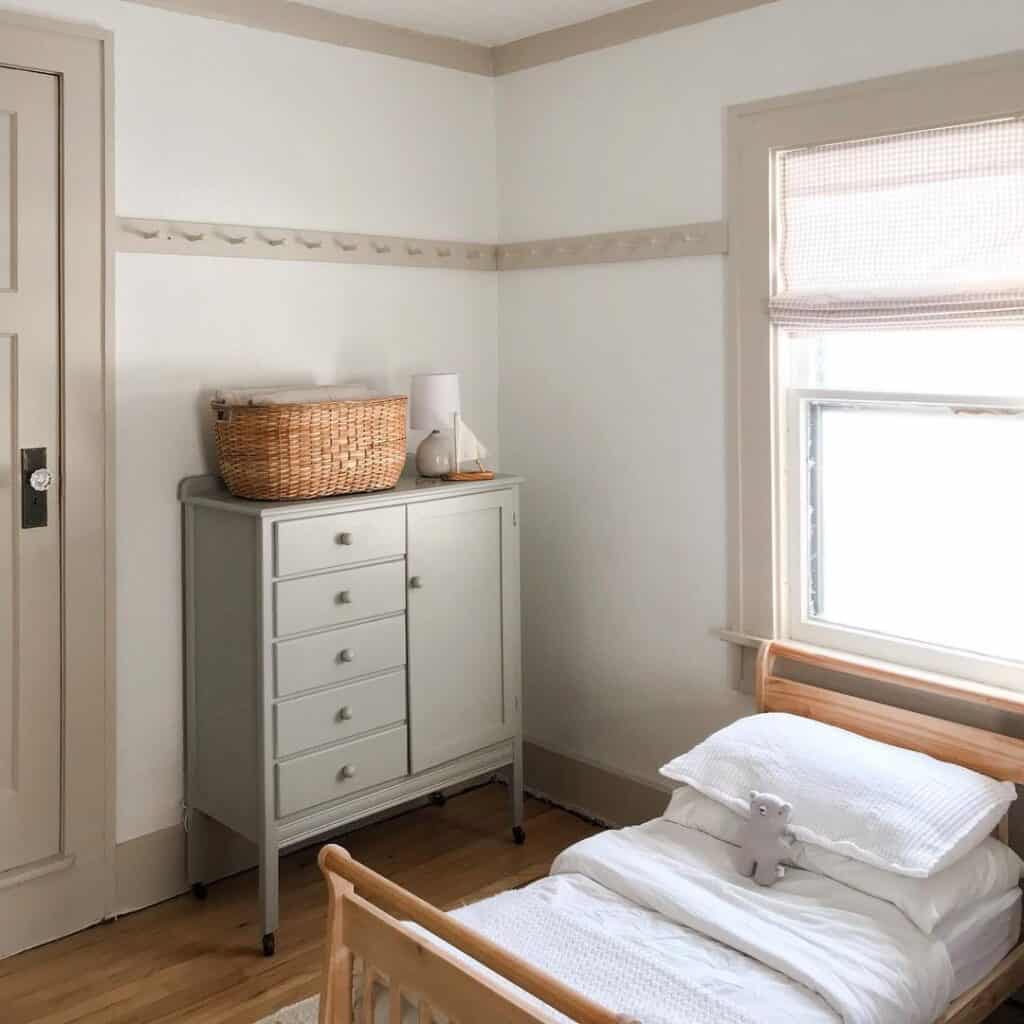 These shaker bedroom furniture pieces show the values of simplicity and functionality in action. Again, you'll see the chair peg rail surrounding the wall for functionality. Linens are kept crisp white, and very minimal decor.
A Shaker Inspired Bedroom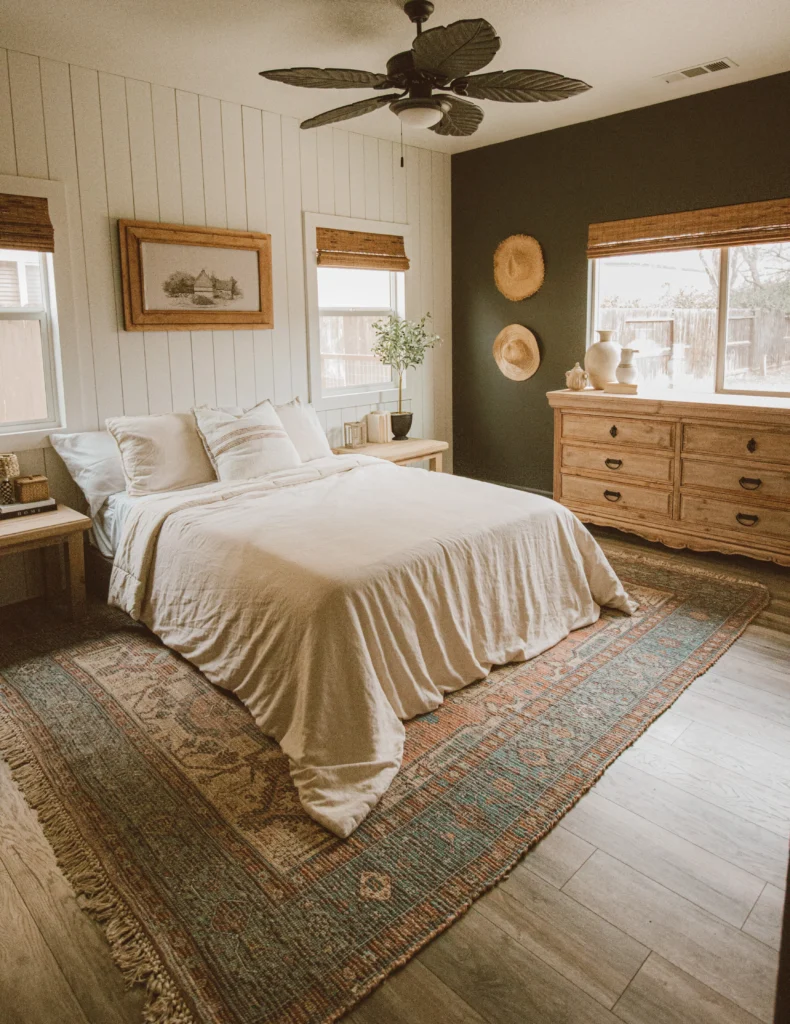 Natural wood, minimal decor, light linens, wooden blinds, and clean simple lines of side table and dresser create this Shaker style bedroom collection. While it has a bold colour that is not commonly seen in traditional Shaker bedrooms, this is a great example of how modern and traditional Shaker designs can combine.
Shaker-Inspired Monochromatic Bedroom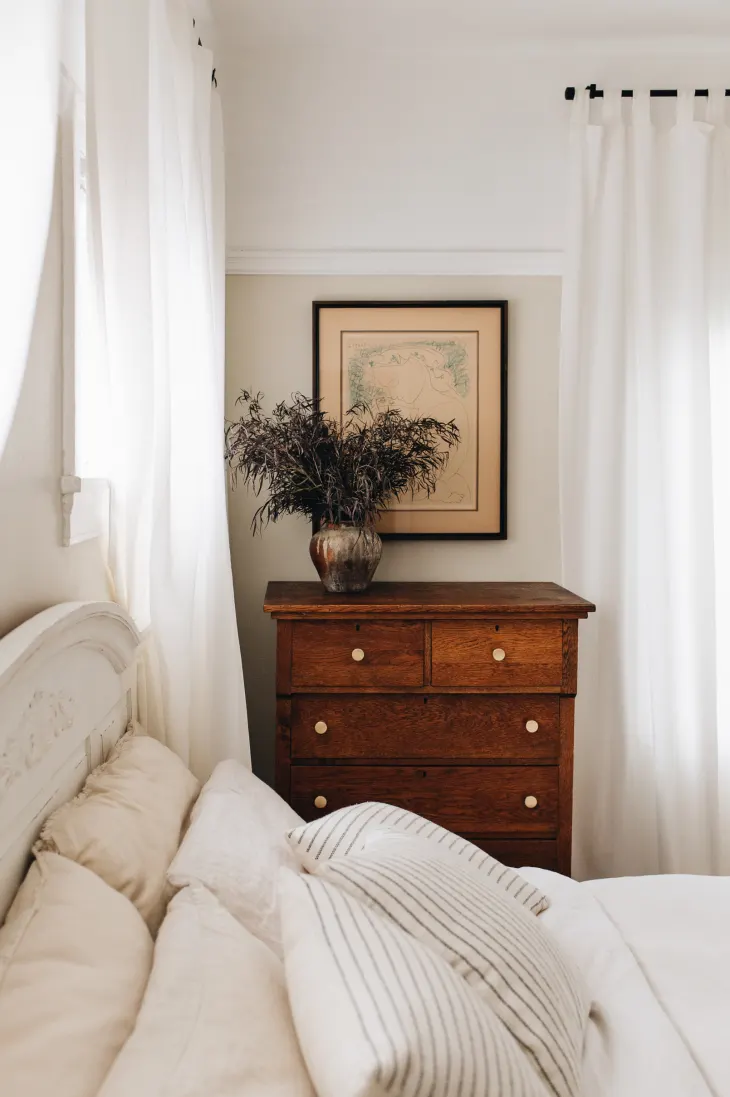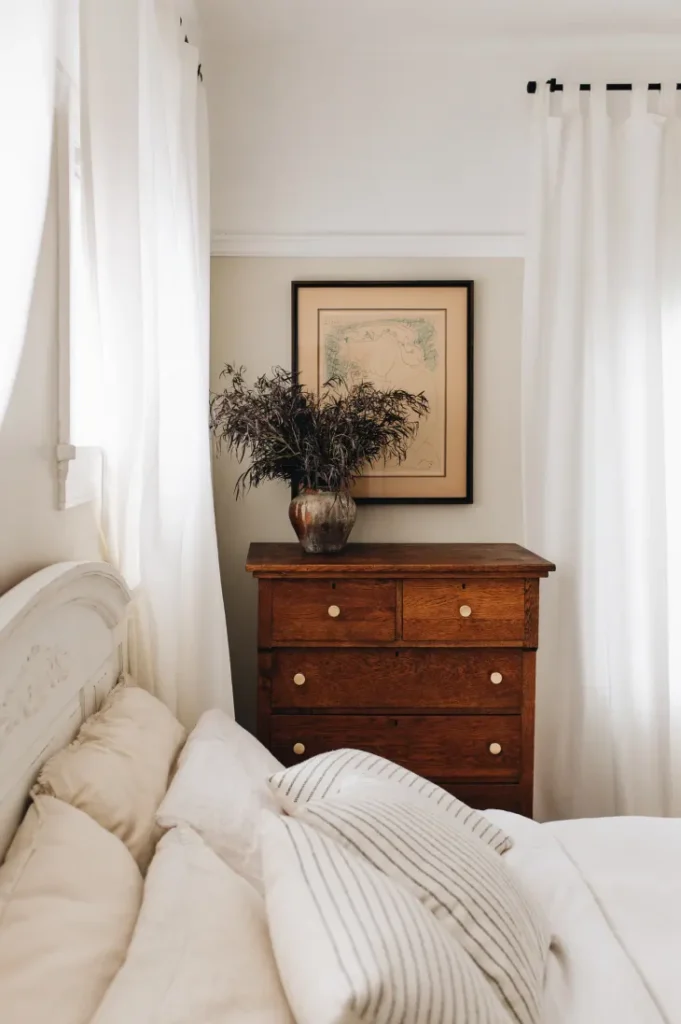 This is another great example of how you can add elements of a Shaker bedroom into your own design. While the entire room itself is not fully Shaker designed, it does have many elements of Shaker decor. This bedside table accent piece adds a practical, yet attractive look to this bedroom space. While the clean bright colors in both wall coloring, linens, and window coverings are all on point for Shaker decor.
Other Posts You'll Like
Shaker Style Kitchens | Best Bedroom Organization | King Canopy Bed Frame DIY
Pin This Photo For Later
I hope these tips and tricks have provided you with inspiration in adding shaker style elements into your bedroom. I love the sense of calm and peacefulness that the shaker style provides when added into a decluttered and airy bedroom. The natural and simple elements really provide that in my home. I'd love to hear below what elements you incorporate into your space! Be sure to pin the photo below for later, and if you don't already – follow me on Instagram (@arinsolange) and Tik Tok (@arinsolange) for more fun!