When picking the ideal name for a dog, I tend to go into it thinking it'll be easy. That rarely is the case. Picking out your new dog's name is a big task. This name lives with them forever and becomes part of their identity. Fortunately for you, I've come up with some things to think about before committing to your dog's name as well as some great choices for you to browse. Let's look at my favorite Bernedoodle dog names that are perfect for your pooch.
This post may contain affiliate links.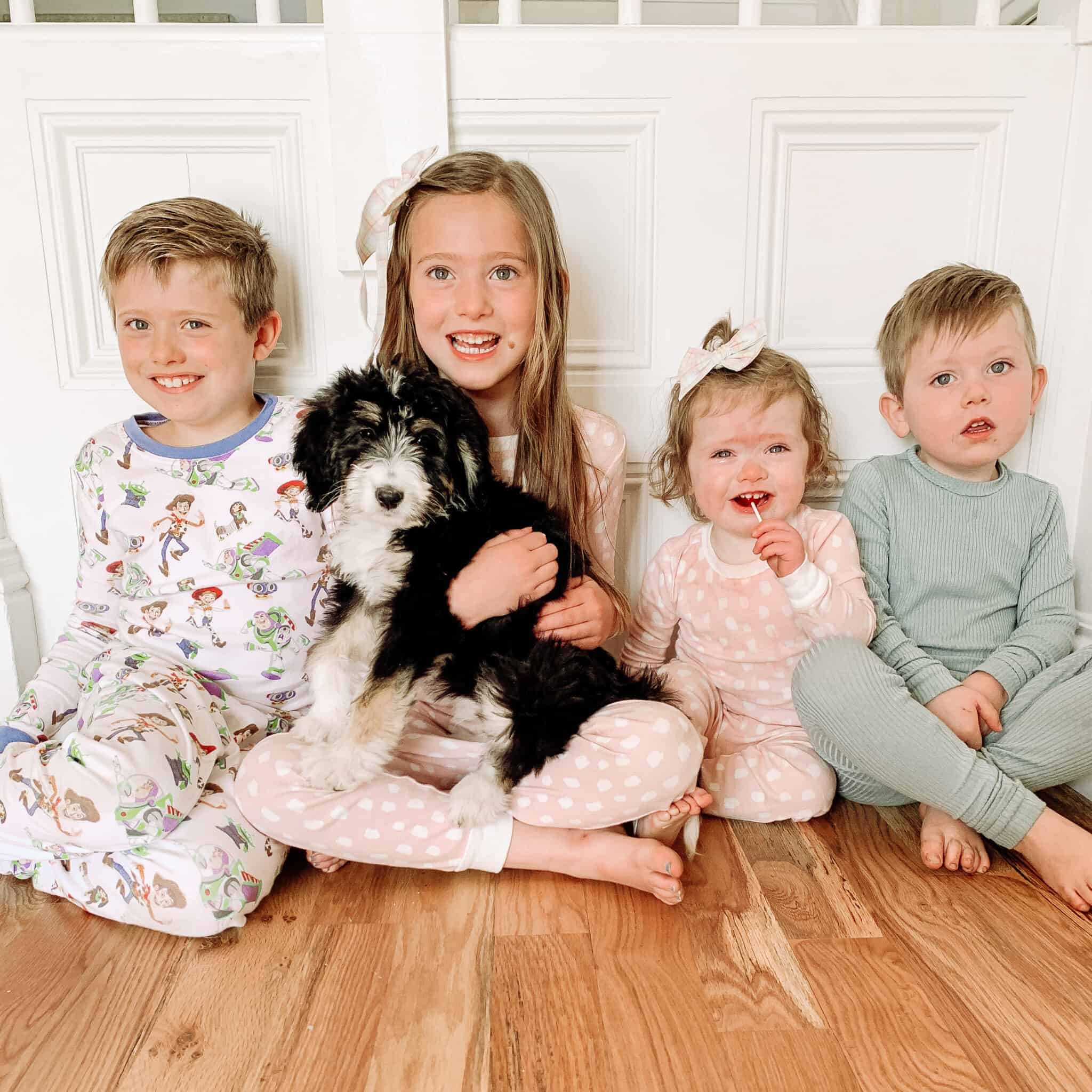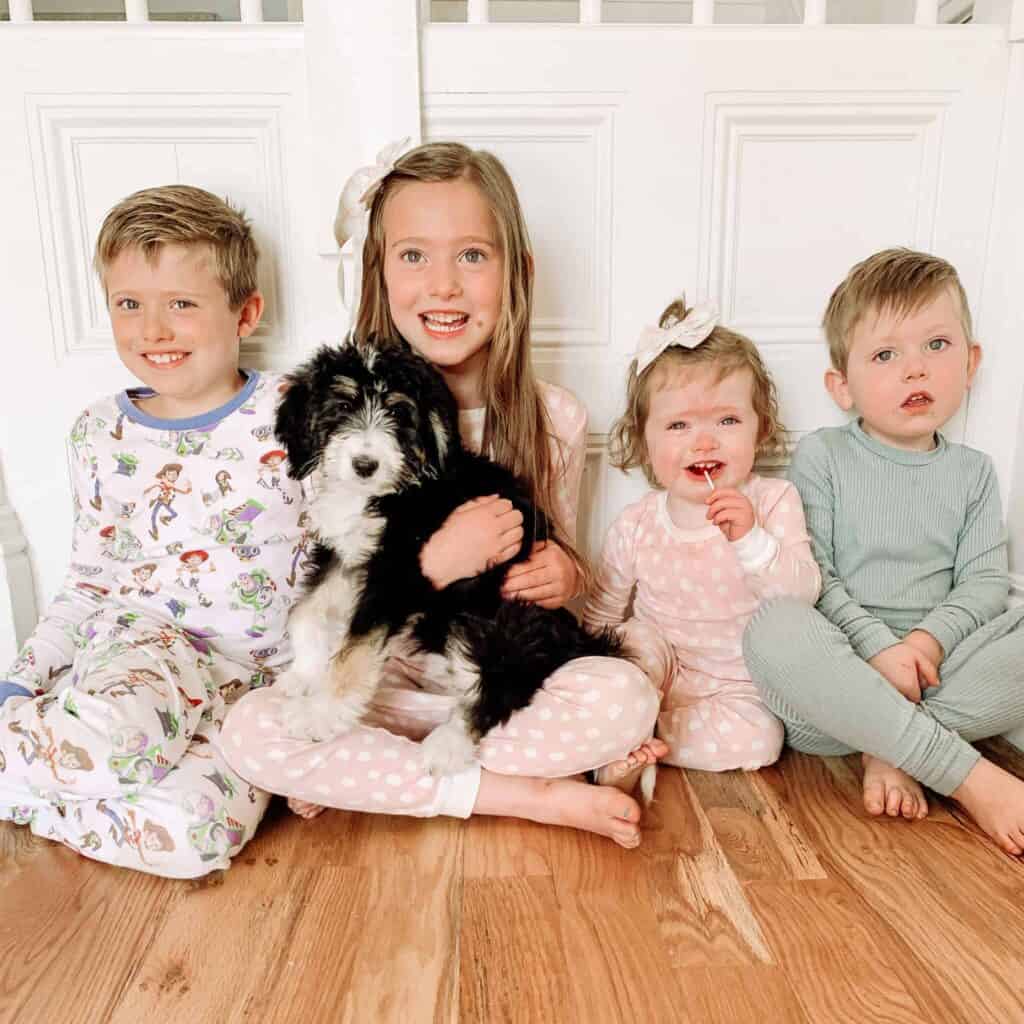 Bernedoodle Dog Names Perfect For Your Pooch
My family members decided on the name Penny for our sweet Bernedoodle. Between myself, my husband, and our four kids, it took us a lot of time to come up with a name we all loved. We liked Penny for our girl because it was a cute and easy name for our kids to pronounce. It sounds like a nickname even though it's her full name. We wanted something short, so two syllables was perfect!
How Should I Pick My Bernedoodle's Name?
Naming a dog should be fun! When picking the best Bernedoodle dog names specifically, you can pay homage to the dog's origins. They are part Poodle and part Bernese Mountain Dog. Both of these breeds of dog are from Switzerland, so a Swiss name would be appropriate.
If that isn't the direction you want to head in, look at your dog's personality or appearance. Something may strike you when you see them or spend time with them getting to know their personality quirks. You can also name them after something you're fond of – a professional sports player, television show, or food! Be creative! When you decide on a name, be sure you love it and then stick with it so your pup doesn't get confused.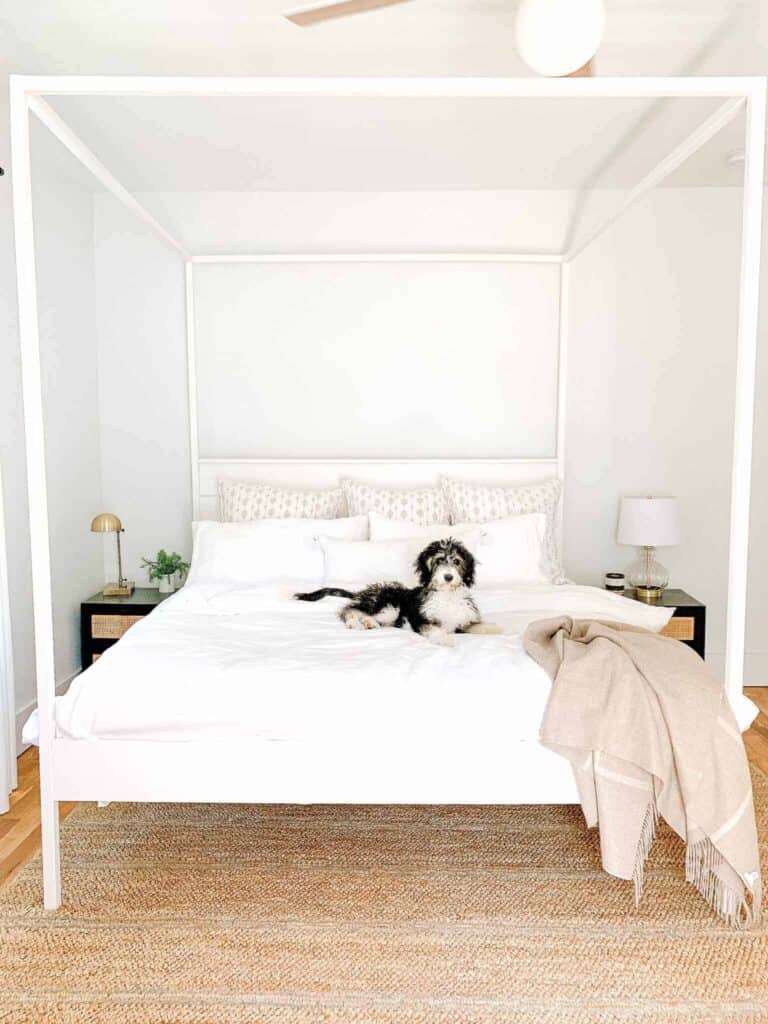 Tip 1: Be Intentional
Picking a name for your Bernedoodle can be an exciting but daunting task. There are so many different options. Whether you're looking for something unique, meaningful, or just plain fun, there are many considerations to take into account. It's important to be intentional when choosing a name for your pup and to think about how it will sound when calling out to them in public.
Two-syllable names tend to be better for dogs since they can distinguish the two syllables more easily than longer names. Additionally, long names often get shortened anyway so you may want to consider this when coming up with ideas.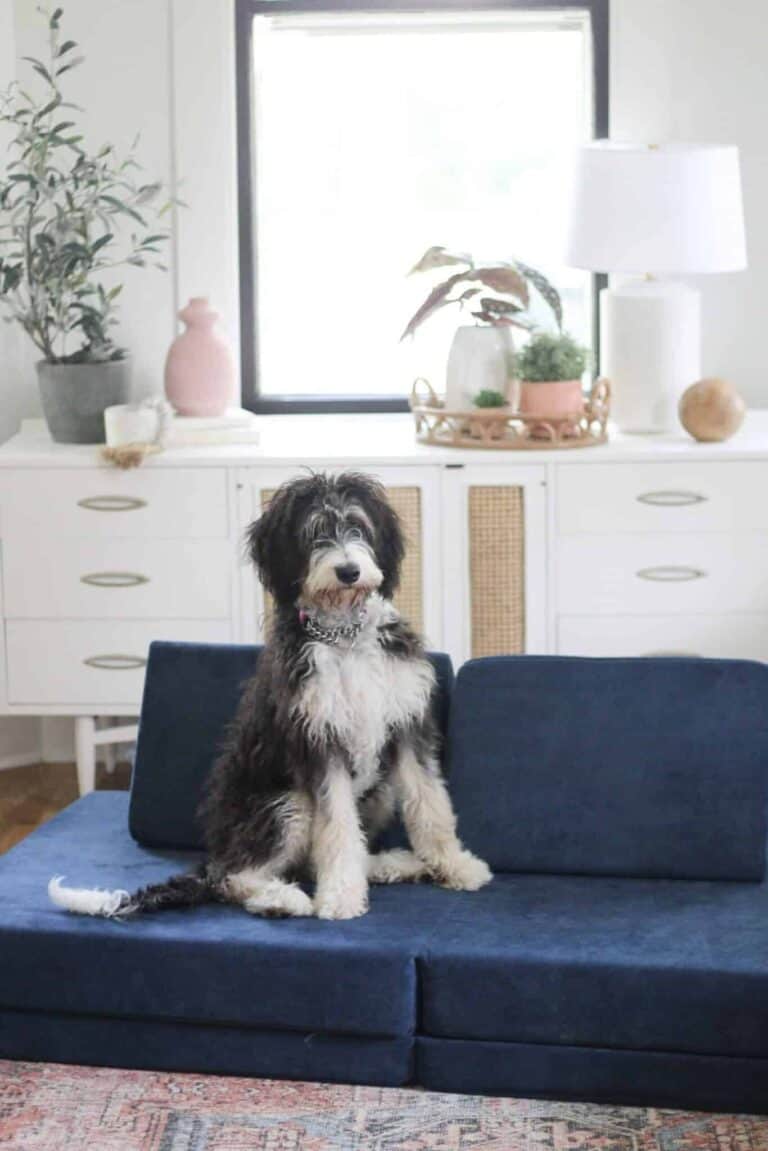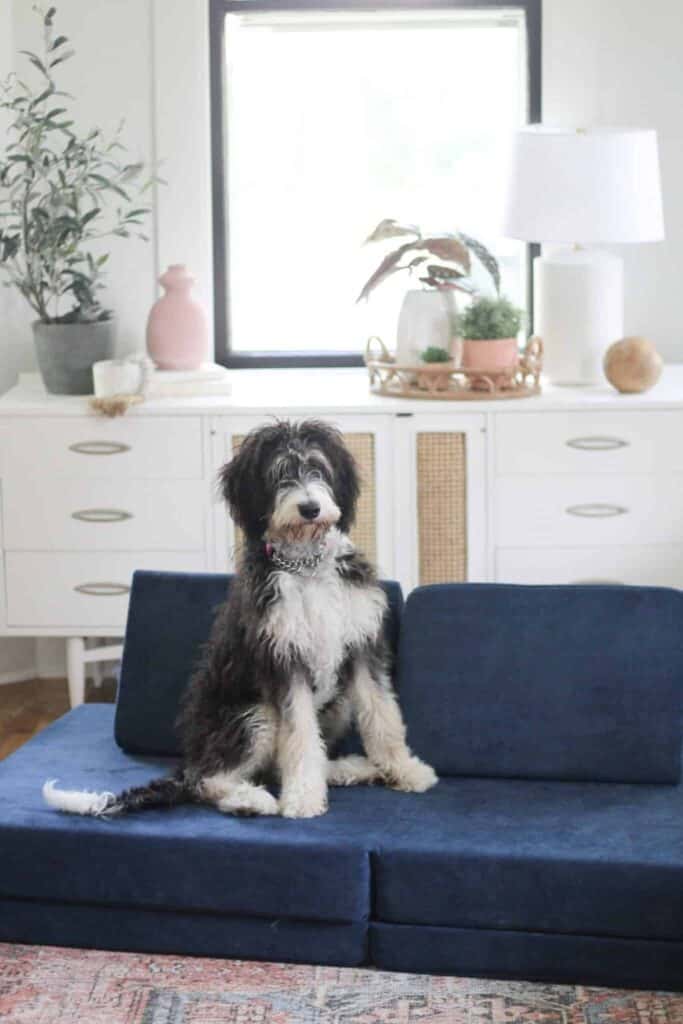 Tip 2: Don't Pick A Confusing Or Offensive Name
It is important to choose a name that is not too confusing or offensive. You want to pick a name that reflects the personality of your Bernedoodle and one that you will enjoy calling out in public places such as the veterinarian's office or the dog park. When picking out a name for your Bernedoodle, there are some helpful tips to keep in mind. Don't pick a name that will confuse them with a command. Does it sound like no, come, sit or stay? Ro or Beaux, for example, could be confused a little bit with the word no. Consider what kind of personality your Bernedoodle has, think about the meaning behind the name you choose, and don't forget to have fun with it!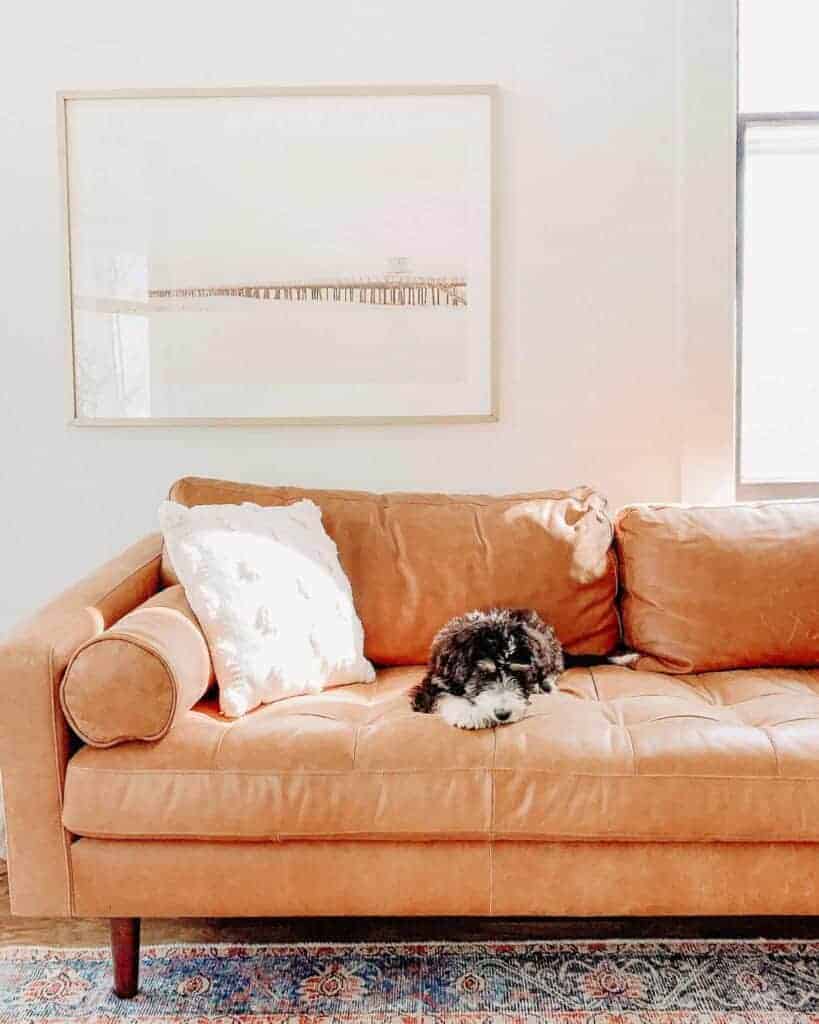 Tip 3: Look At Their Personality
It's important to pick a name that reflects the pup's personality and quirks. When selecting a name for your new Bernedoodle puppy, one of the best ways is to look at their characteristics and take into consideration their unique personality. This will help you find the perfect name for your furry friend!
Tip 4: Consider Nicknames
There are many factors to consider, such as how long or short the name should be and what type of nickname you want to give it. We'll help you figure out how to pick a unique name for your Bernedoodle by looking at some tips and tricks for finding the perfect fit. From considering nicknames to testing out a long name or opting for a shorter one, we'll make sure you have all the information you need before deciding on the right name for your pup.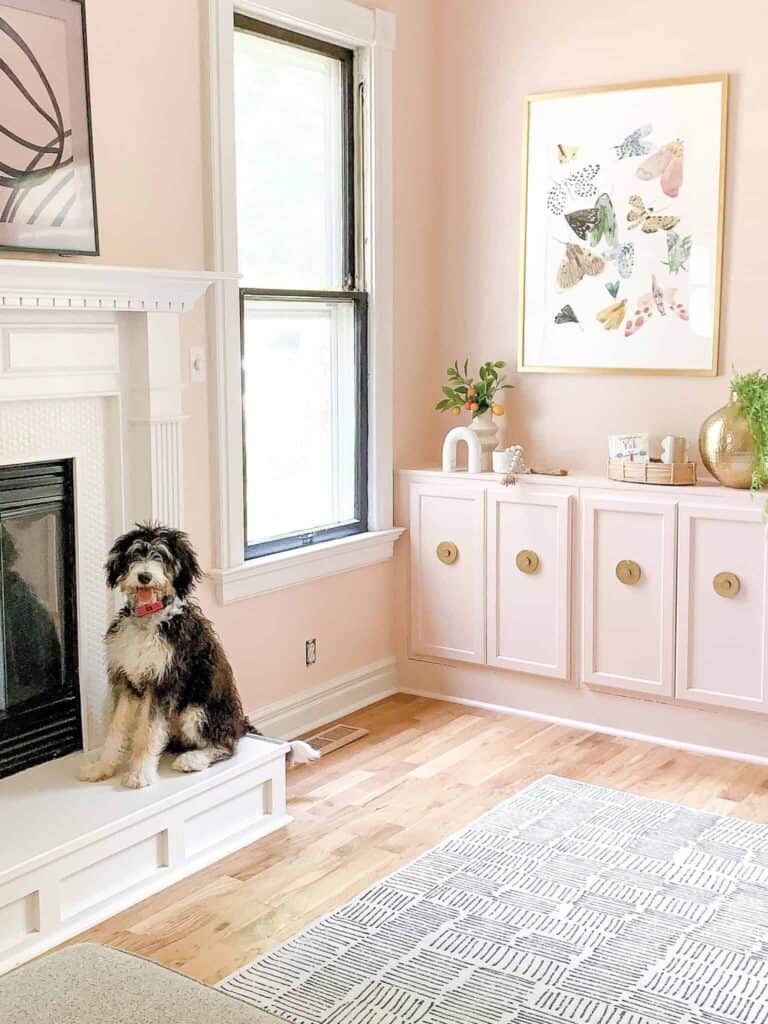 Tip 5: Stick To One Name
Stick to one name – it helps avoid confusion and makes training easier. If you adopt an older dog, consider keeping their original name as changing it can be confusing for them and frustrating for you. Think about what type of personality your Bernedoodle has and pick something that reflects that – whether it's something creative or classic. Make sure you try it out ahead of time and that you really love it before naming your new puppy.
Finding Inspiration In Your Bernedoodle's Name
Consider The History Of Their Breed
As you consider what to call your Bernedoodle, it's helpful to consider the history of their breed. The Bernedoodle is a hybrid of the Bernese Mountain Dog and the Poodle, both originating in Switzerland. Paying homage to their Swiss origins with a name can be a great way to honor their heritage and give them an identity that reflects where they come from.
There are many great names that draw inspiration from Swiss culture, such as "Otto" or "Minka", or any other name that pays tribute to their origins. When picking out your Bernedoodle's name, make sure it reflects the unique personality of your pup and if you want, honors the history of their breed!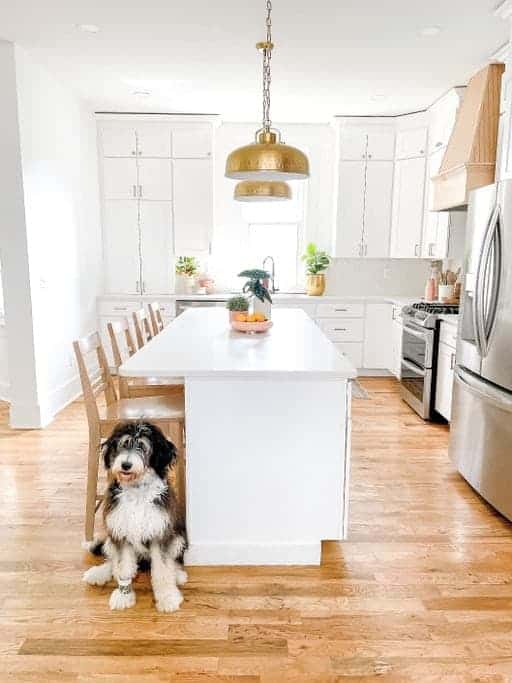 Look To Their Personality Or Appearance
Naming your Bernedoodle is an exciting part of owning a new dog. You want to pick the best name that reflects their personality and appearance. Whether you have a tiny or large Bernedoodle, there are many great names to choose from. You can look for names that reflect their size, such as Tiny or Biggie for a small or large dog respectively. You can also look for names that reflect your Bernedoodle coat's unique markings like Spot or Stripe. With so many options available, you're sure to find the perfect name for your Bernedoodle!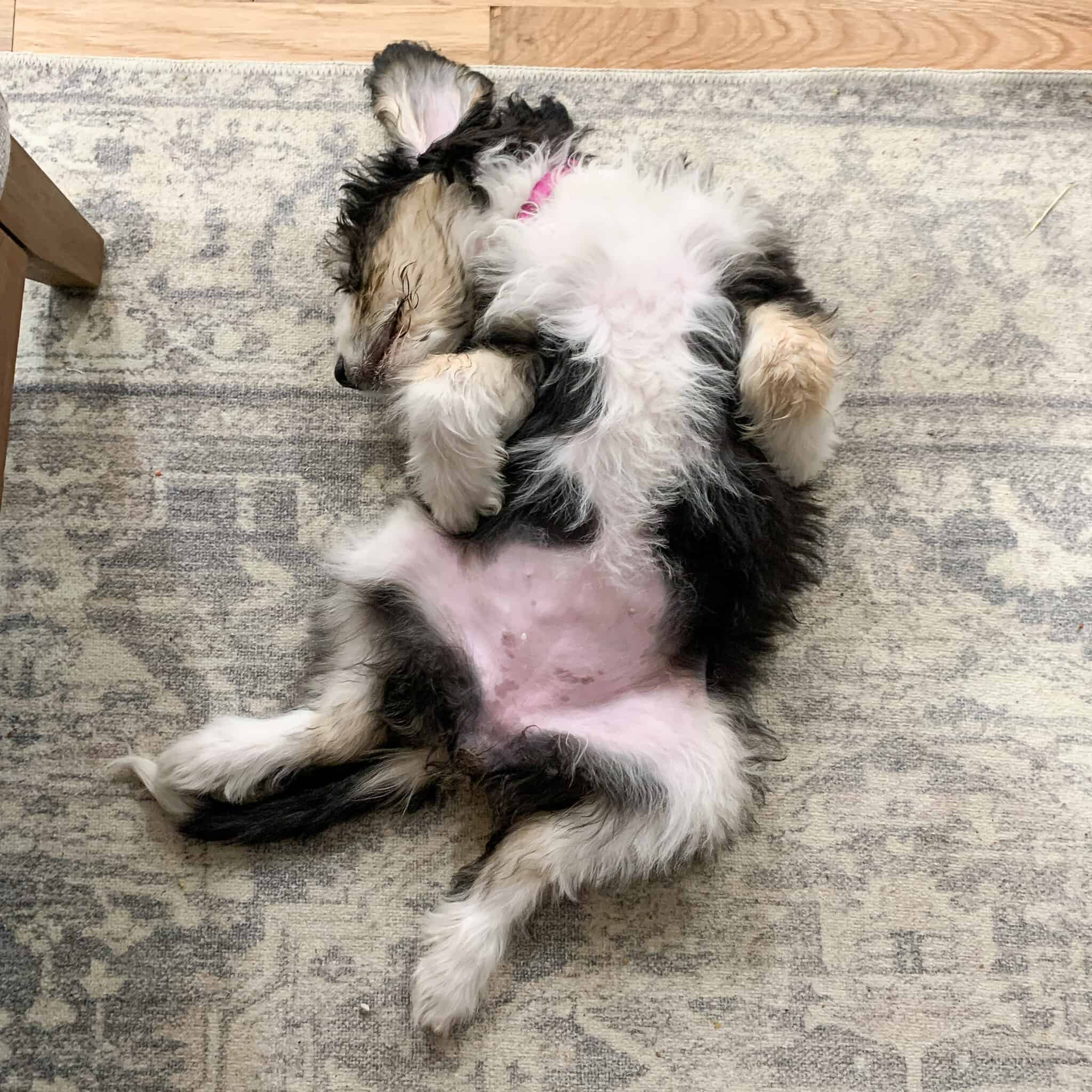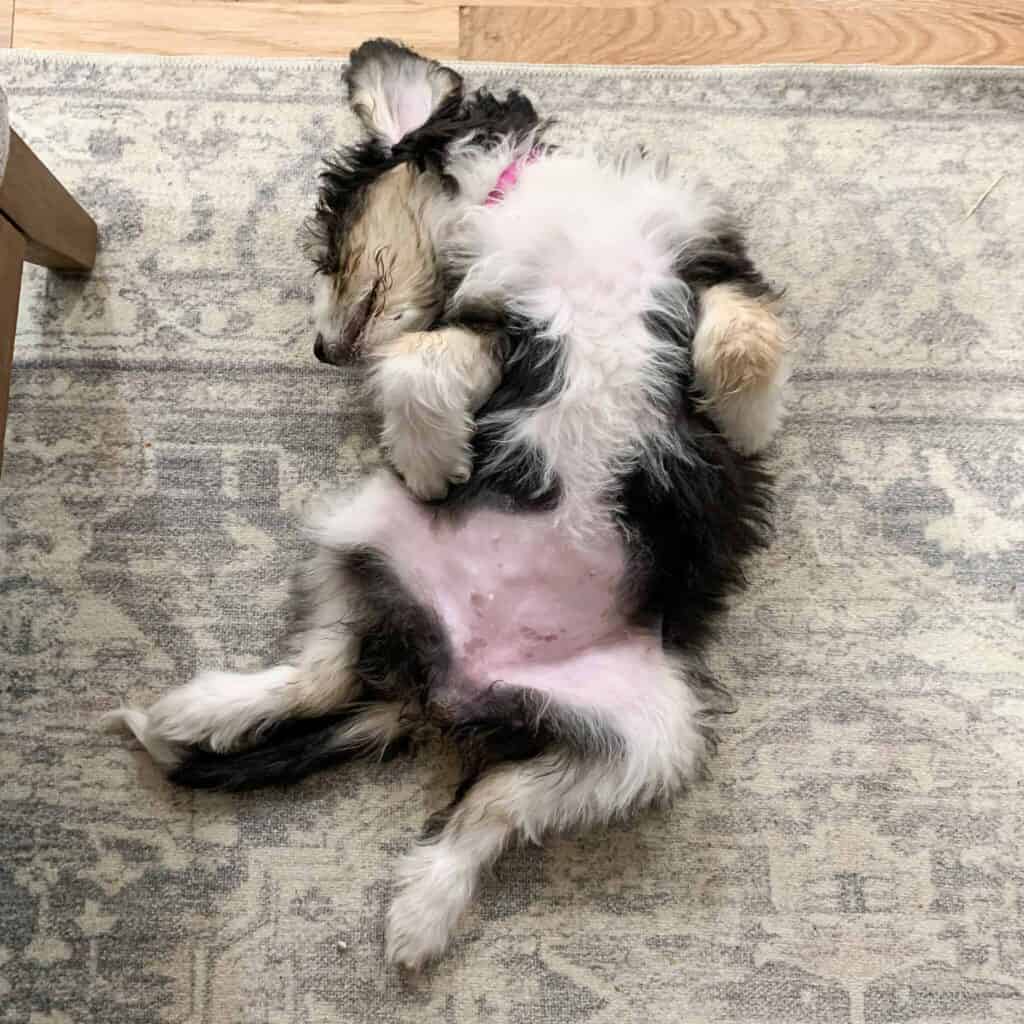 Name Your Bernedoodle After Your Favorite Book, Celebrity, or Show
There are many sources of inspiration you can draw from when it comes to naming your Bernedoodle. From books and celebrities to television shows and movies, there are so many great options available. Whether you decide to go with a classic or unconventional option, you're sure to find the perfect name for your puppy pal that will make them stand out from the rest!
Never Underestimate A Theme
Do you have more than one pet? Consider naming all of your pets after something you love, even if it's a non-living thing. If you love cheese, "Brie" and "Gouda" would make adorable names for your furry friends. If you love Harry Potter, consider naming them characters from the books.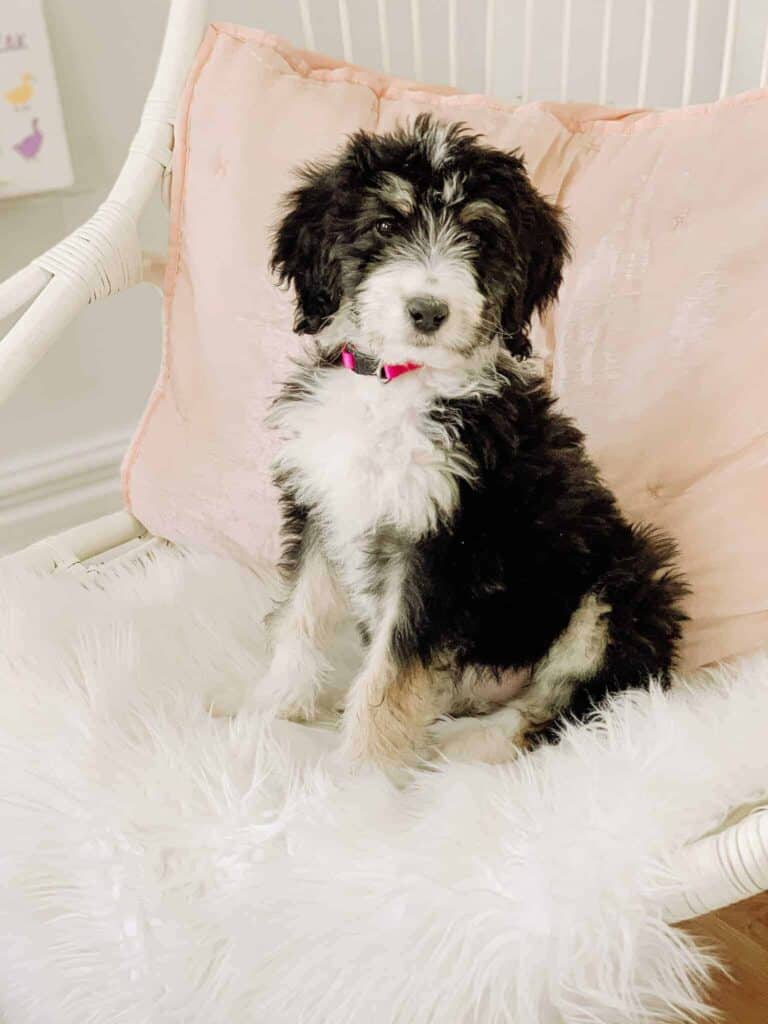 My Favorite Bernedoodle Dog Names
Let's take a closer look at some of my favorite names for your newest family member.
Historical Names
The Bernedoodle dog breed, a hybrid dog breed that crossed a Bernese Mountain Dog parent with a Poodle parent, is only twenty years old. This dog crossbreed was first bred in 2003 by Canadian breeder Sherry Rupke. The two breeds originated in the Swiss Alps and together create a mixed breed that lives longer and with fewer medical conditions on average than a typical Bernese Mountain Dog. To pay homage to its Swiss roots, consider exploring names that are common in Switzerland.
Historical Girl Names
Historical Boy Names
1. Greta
2. Eva
3. Klara
4. Sabine
5. Heidi
6. Astrid
7. Ingrid
8. Olga
9. Ursula
10. Minka
1. Felix
2. Oscar
3. Gunter
4. Otto
5. Max
6. Jonas
7. Gustav
8. Rudolph
9. Tobias
10. Hans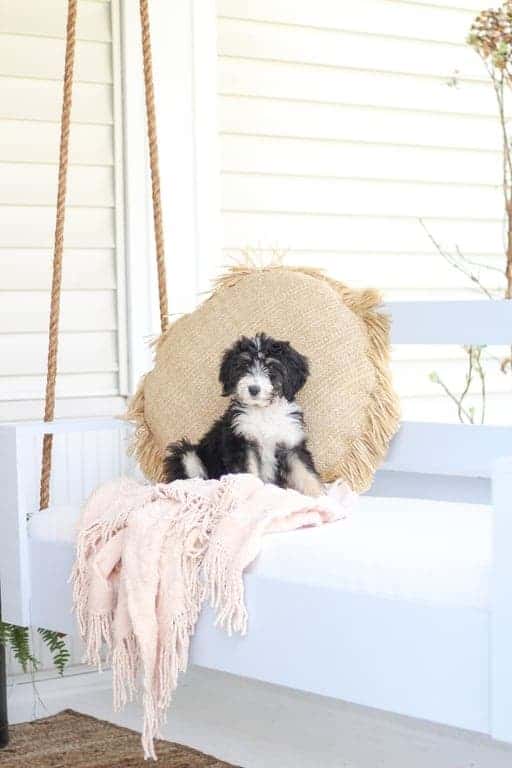 Names Aimed At Their Personality Or Appearance
It may be easier to name your pet after you've seen their unique characteristic traits. Their personality may also be helpful in naming him or her. Curious pets could be named George, for example, while tricolor dogs may be named Harley, short for Harlequin, which means multi-colored.
Appearance Based Names
Personality Based Names
1. Oreo
2. Boots
3. Bear
4. Hulk
5. Tiny
1. Rascal
2. Serena
3. Bud
4. Houdini
5. Trooper
Names After Your Favorite Pop Cultural Reference
When choosing your dog's name, think about pop cultural references as an option. Popular songs on the radio may spark an idea. Artists, celebrities or television shows and new movies may inspire you. Even athletes or their teams may be a clever idea to help name your pet!
Names After Pop Cultural Phenomenons
1. Snoopy
2. Blue
3. Scooby
4. Bluey
5. Clifford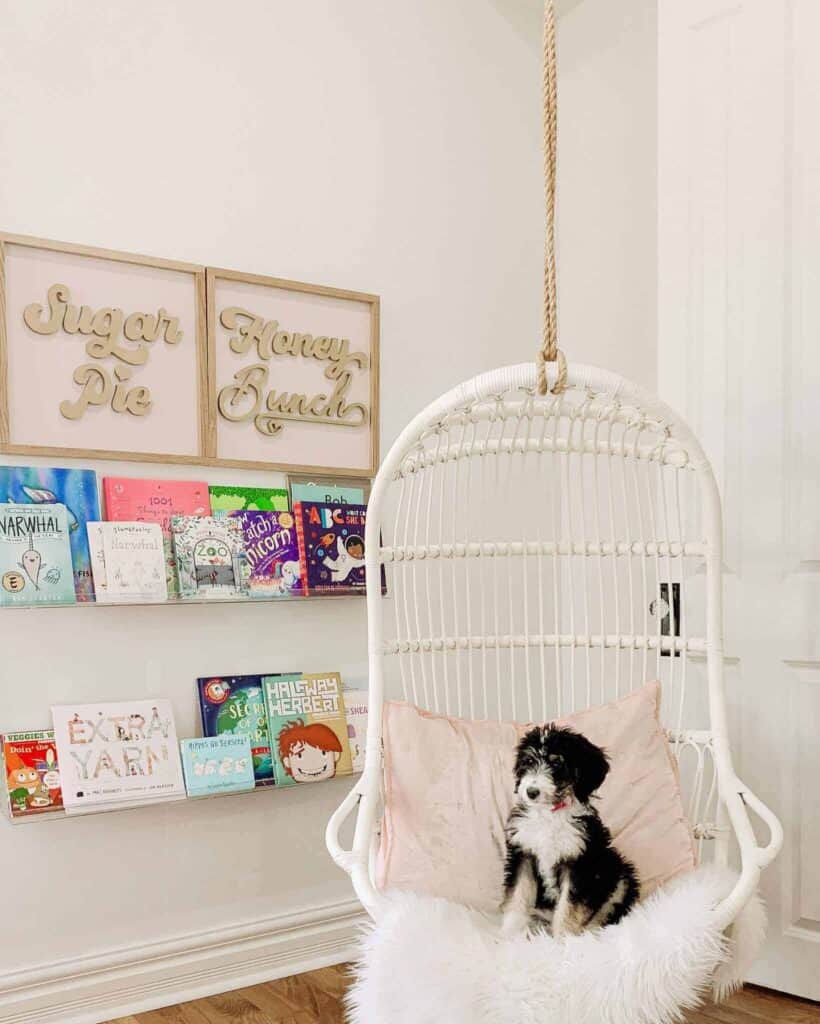 Themed Names
One way to make sure you pick the perfect name is to never underestimate the power of a theme. Whether it be inspired by your favorite movie, book, or even Disney character, themed names are always fun and creative. For example, if you're a fan of The Lion King, why not consider naming your Bernedoodle after one of its main characters?
Or if you're more into Disney movies, why not consider naming him Pearl after one of the cutest characters in Finding Nemo? There are so many possibilities when it comes to themed names for your Bernedoodle.
Theme
Potential Names
Harry Potter
1. Dumbledore
2. Albus
3. Bellatrix
4. Sirius
5. Hagrid
6. Dobbie
Disney
1. Simba
2. Nala
3. Stitch
4. Minnie
5. Mickey
6. Lady
Astronomy
1. Star
2. Luna
3. Lynx
4. Orion
5. Aurora
Mythology
1. Apollo
2. Zeus
3. Diana
4. Atlas
5. Athena
6. Iris
Other Posts You May Like
Bernedoodle vs. Bernese Mountain Dog | Getting Rid Of Dog Smell | Our Bernedoodle | How Much Is A Bernedoodle
Pin This Photo For Later
I hope this article has been helpful as you consider the best choices of names for your perfect companion. Let me know your best Bernedoodle names in the comments section below!Be sure to pin the photo below for later, and if you don't already – follow me on Instagram (@arinsolange) and Tik Tok (@arinsolange) for more fun!