If you're having trouble keeping up with everything that's going on in my house, don't worry – I am too! I have a big bathroom project underway in my kid's bathroom. I'll be tiling the entire bathroom. So I wanted to help anyone else who is going to add some tile in their bathroom with some shower tile trim ideas.
This post may contain affiliate links.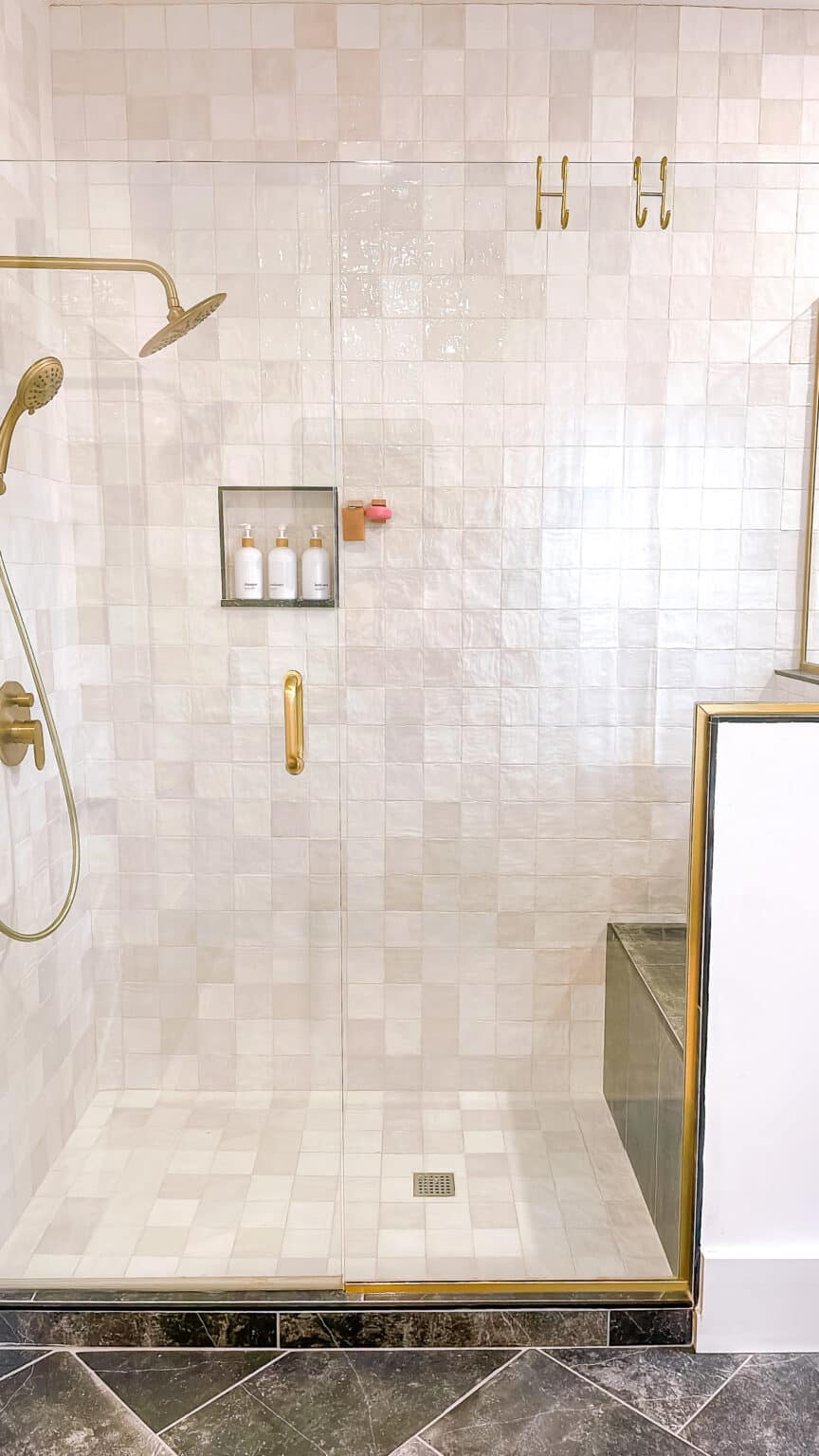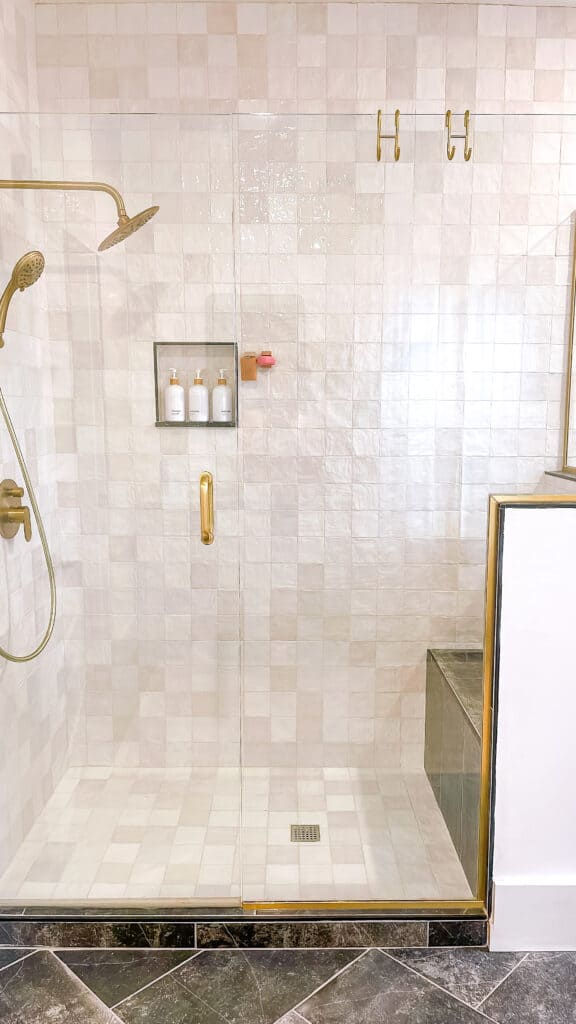 Shower Tile Trim Ideas
There are many things to think about when tiling your shower. Materials and choices may feel endless and overwhelming. Keep in mind you'll need to decide between a variety of colors, your tile layout, whether you want ceramic tiles or porcelain tiles, and lastly, glazed or unglazed. Trim tile pieces come in a wide range of styles to suit everyone's preferences. Some are better suited for different areas of the shower, and some allow you to decide. I'll walk you through the various options below and my favorite shower tile trim ideas.
Shop the Tile Above
Importance of Tile Trim
Shower tile trim is an important part of any bathroom renovation or remodel. It can add a custom or clean look to the shower, while also protecting from sharp edges. Additionally, it helps with the maintenance of tile and cleanliness in the shower area.
Shower tile trim can be installed professionally or by DIY enthusiasts. Professional installation will ensure that everything is properly fitted and sealed. DIY installation will save money but may require more time and effort to get it right. Either way, having shower tile trim in place will add a polished look to your bathroom and help protect against water damage.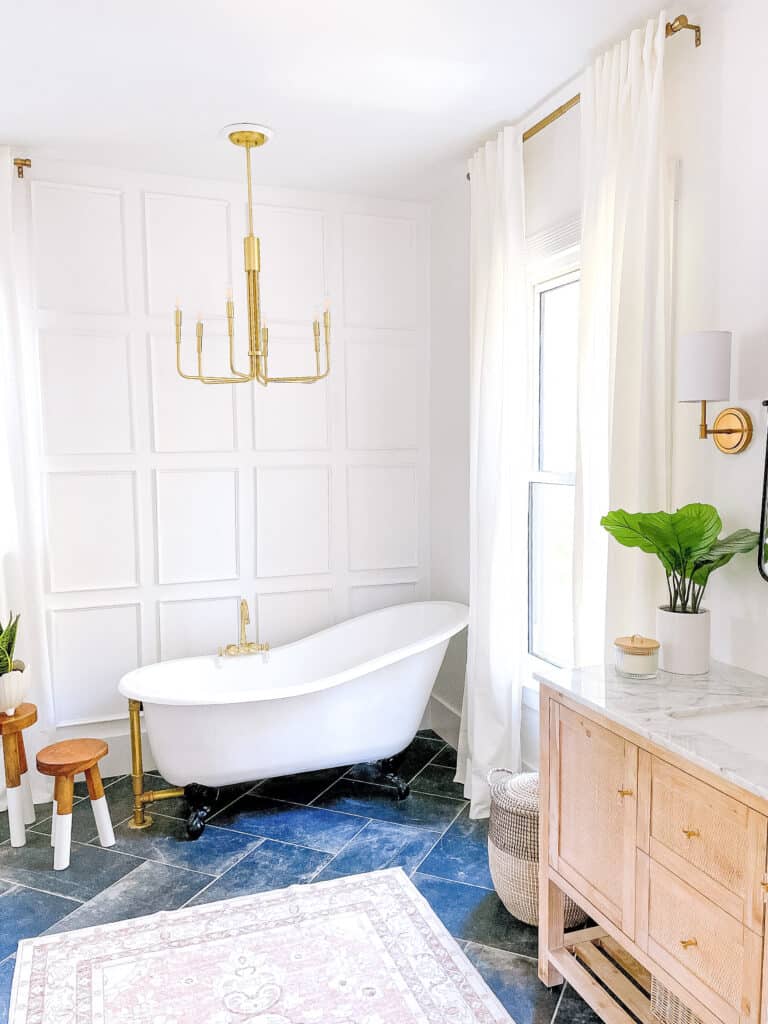 Why Do You Need Tile Trim?
Shower tile trim is essential for protecting the edges of your tiles and creating a neat and tidy trim finish. It can also be beneficial when it comes to framing shower niches, creating shower benches, decorating backsplashes, and lastly, showcases decorative pieces of tiled projects.
If you are wondering why you need tile trim, check out just a few of the benefits that shower tile trim can offer your bathroom.
Professional Finish
Shower tile trim are used to provide shower walls and floors a professional finish by ensuring your tile is protected, flawless, and even. With the right tile trim selection you can make sure your shower looks great.
Tile trim is an essential tool for any tile project. Because trim is used to protect the edges of tiles from wear and tear, it ensure that the tile lasts longer and looks better. It also helps create a professional-looking finish, as it will cover up any uneven edges or gaps between tiles.
Lastly, you can achieve an attractive and finished product using tile trim to frame shower alcoves and other areas where tiles are installed.
Tile trim comes in a variety of materials and styles, so you can find one that suits your project perfectly.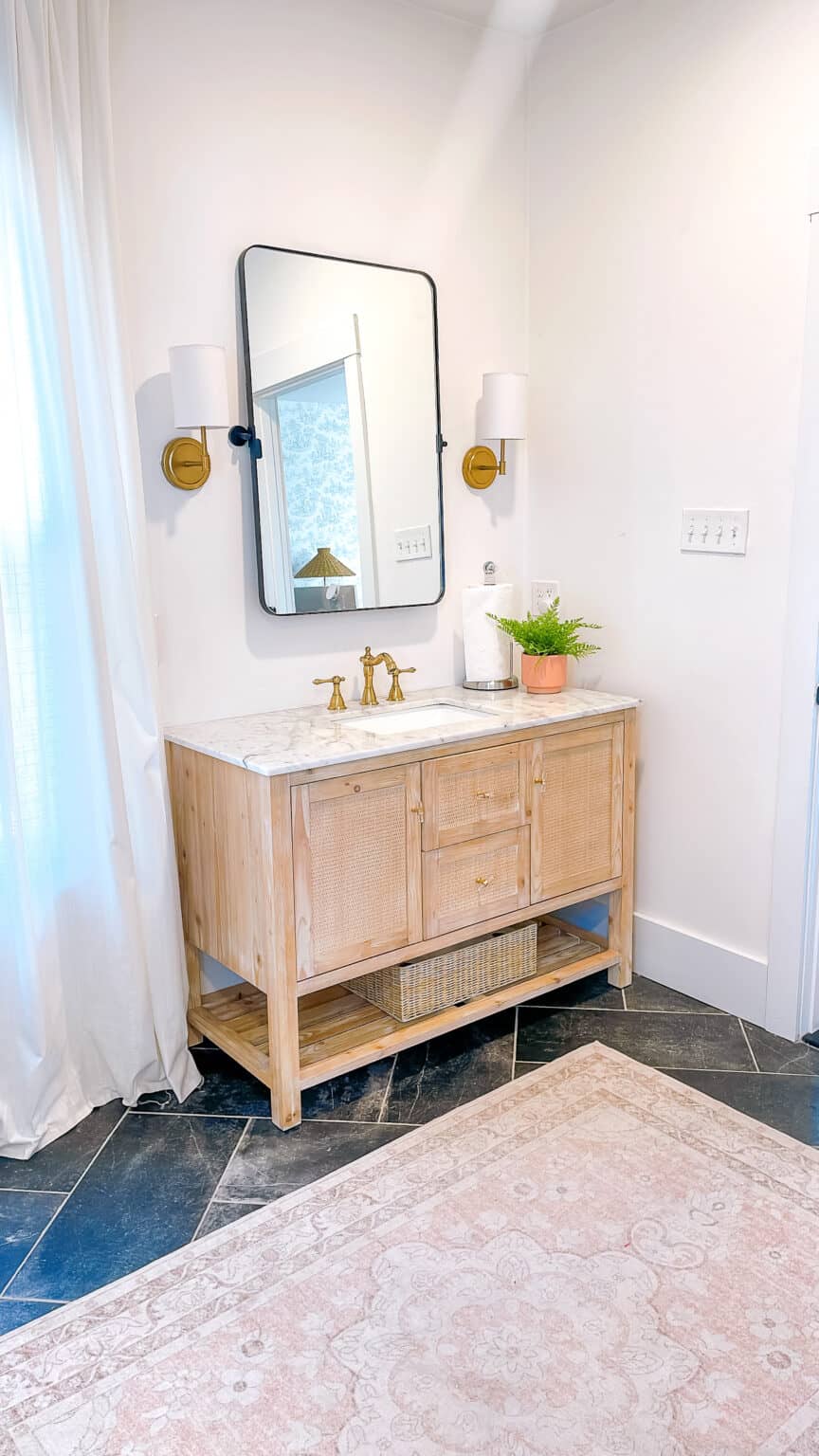 Protects Against Water Damage
Tile trim is an essential part of any bathroom or shower area. Not only does it help maintain a professional finish, it also helps keep the tiles in place. This in turn, protects them from water damage and staining.
Tile trim can be used around shower benches, bathtub edges, and other areas where water may collect. Tile trim is an important part of any tiled wall and floor. It provides a neat and finished look to the tiled surface, helping to protect it from wear and tear. As a general rule, trim is an essential part of your tiled project to ensure the longevity of your tiles.
Adds A Decorative Element
Tile trim is an essential part of any backsplash design. It provides a finished look to the tile installation, and it can also help protect the edges of the tiles from chipping or cracking. Tile trim is available in a variety of styles and colors, so you can easily find one that matches your existing décor. With tile trim, you can create a beautiful backsplash in a wide range of finishes..
Additionally, trim can be used to create interesting tile designs and patterns on the walls or floors, making them stand out and give your home a unique look. With so many different types of tile trim available, you can easily find one that suits your needs and fits in with the style of your home.
Tile trim is an essential component when it comes to creating a statement with a custom design.. With tile trim, you can create stunning designs that add value and beauty to any space.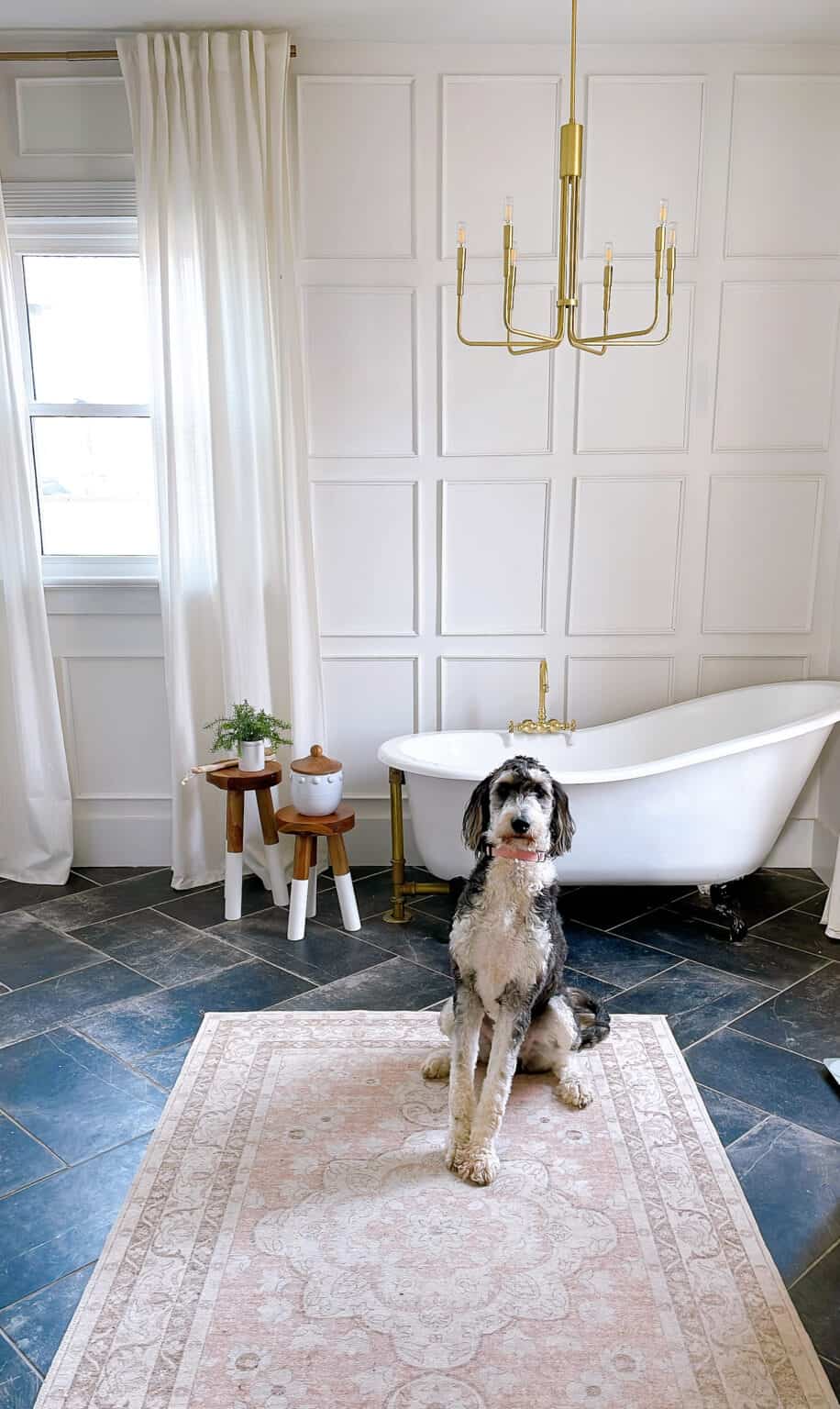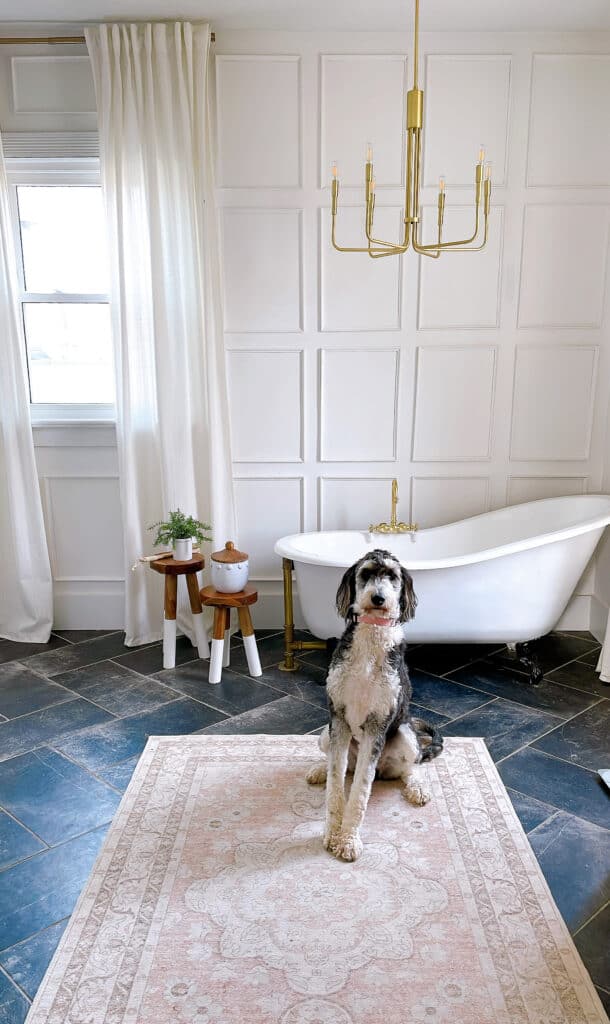 Types of Tile Trims & When To Use Them
Whether you are using tile trim to create a stunning backsplash or to frame a shower niche, there are several different tiles. Each tile trim has its own benefits and purposes to use in certain situations.
Bullnose Tile
Bull nose tile trim is one of the most popular types of tile trims and it can be used in a variety of applications. Bullnose tile has a gently rounded edge that gives it a smooth, finished look and helps to hide any imperfections in the tiling job. It can also be used to create an attractive border around tiles or along walls and countertops. Bullnose pieces are available in different sizes, colors, and materials to suit any design style or project requirement.
Baseboard Tile
Baseboard tile trim is one of the most popular types and can be used to provide a seamless transition between flooring and wall surfaces. Metal edges are also commonly used for tile installations, as they provide a strong edge that will resist chipping or cracking over time.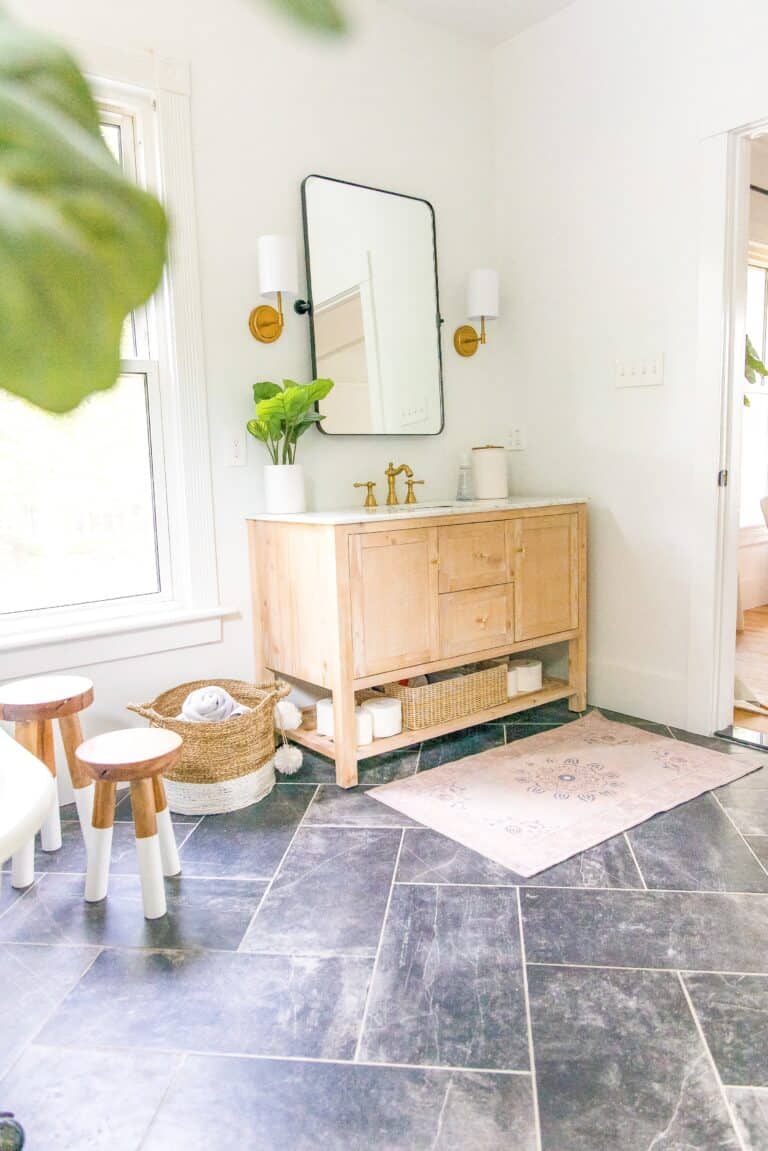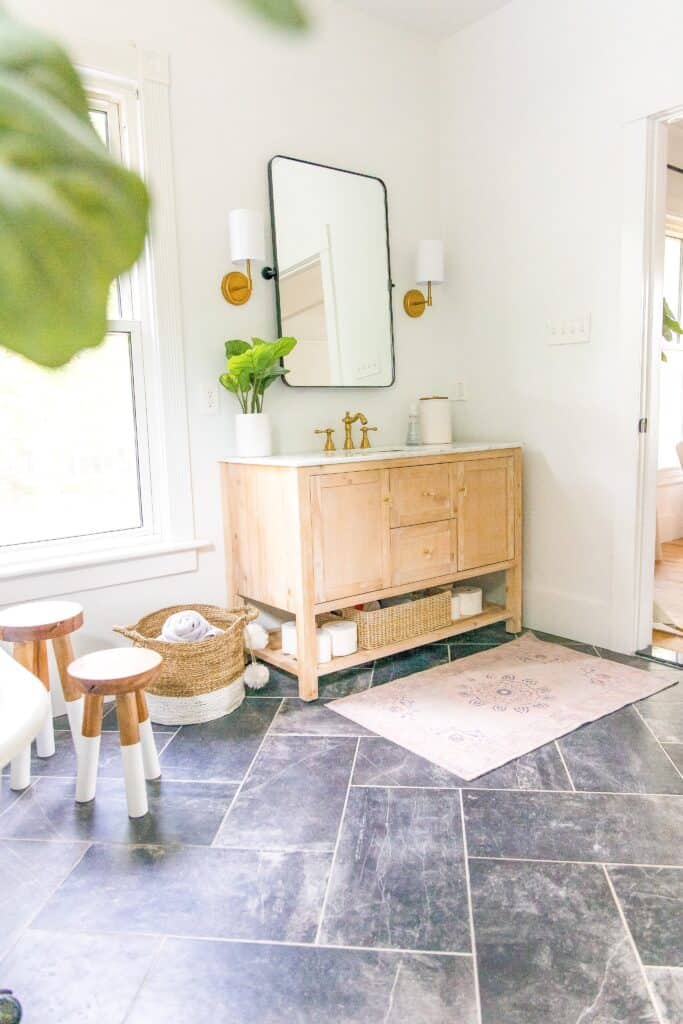 Chair Rail Tile
Chair rail tile is a type of tile trim that is used to create a decorative border around tiles. It can also be used to protect walls from water damage or to add an extra layer of protection against scratches and scuffs. When using chair rail tile, it's important to choose the right size and shape for your application as this will ensure that it looks good and performs well.
Cove Base Tile
Cove base tile with a flat top is used to join wall to floor tiles, especially in wet environments such as the shower. The concave edge keeps water from collecting in the grout lines. Cove base tile with a round top is used where tile meets a painted wall.
Flat Liner Tile
Flat liner tile is a thin piece of trim that can be glazed. It is often used on top of backsplashes that go part way up or extend partway out on the wall. They are an alternative to bullnose edge or quarter round tile.
Pencil Tile
Pencil tile is a long narrow tile, as the name would suggest. They have gently rounded edges like a pencil. They are used along the edges of tiles to create borders.
Quarter Round Tile
Quarter rounds can be used as corner trim or finished edge of a backsplash, tub or shower. It is used to frame out tile, like a flat liner tile, but with more of a traditional look.
V-Cap Tile
V-cap tiles are a decorative trim option to finish the perpendicular corners of your tile, those that form a ninety degree angle. They eliminate sharp edges and unfinished tile sides.
Natural Stone Trim
Natural stone tile trim can be used in a variety of applications, including shower floors and walls. It is important to choose the right type of natural stone for your project in order to ensure that it will provide a slip-resistant surface. Make sure to use stone tile or slabs and small grout joints. Additionally, you should always seal natural stone tile trim in order to protect it from water damage and staining so it can last long term.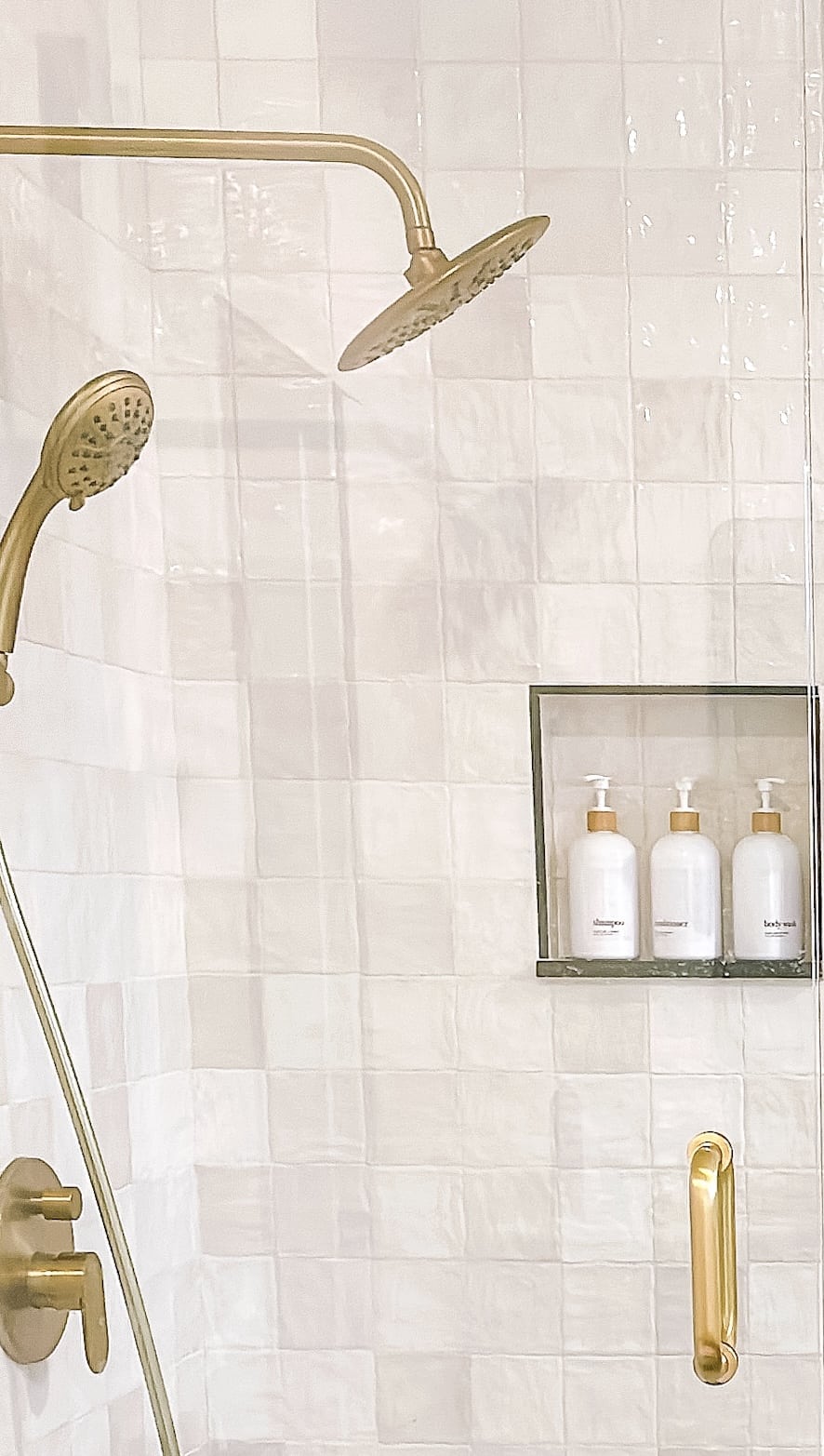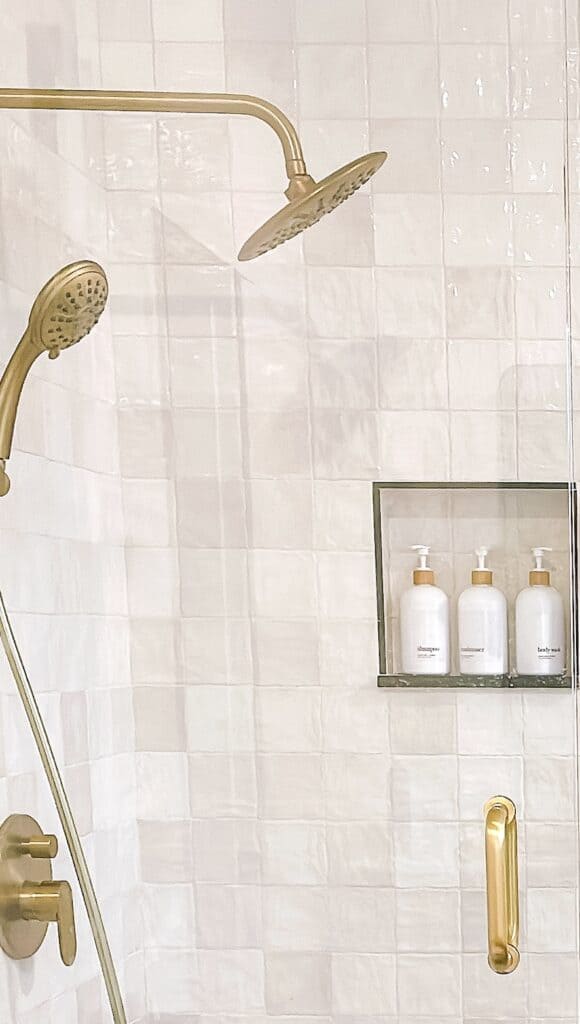 Determine Size Of Trim
When it comes to determining the size of shower tile trim, it can be a tricky task. It is not always easy to get the correct size, and if you don't measure correctly, the tile trim will not be flush with the wall. This is why it is important to take into account factors such as height and thickness of tile, texture and adhesive backing when measuring for trim.
Make sure to measure the height of the tile and the amount of adhesive needed. Then spread the adhesive and place the tile. If it is flush, you are using the correct size. If it isn't flush, pick it up right away before it sets and reassess. The tile trim should be 1/16 or 1/8 of an inch deeper than the tile. With careful measurements and consideration of these factors, you can ensure that your tile trim fits perfectly in your shower space.
The Best Shower Tile Trim Ideas
Penny Shower Alcove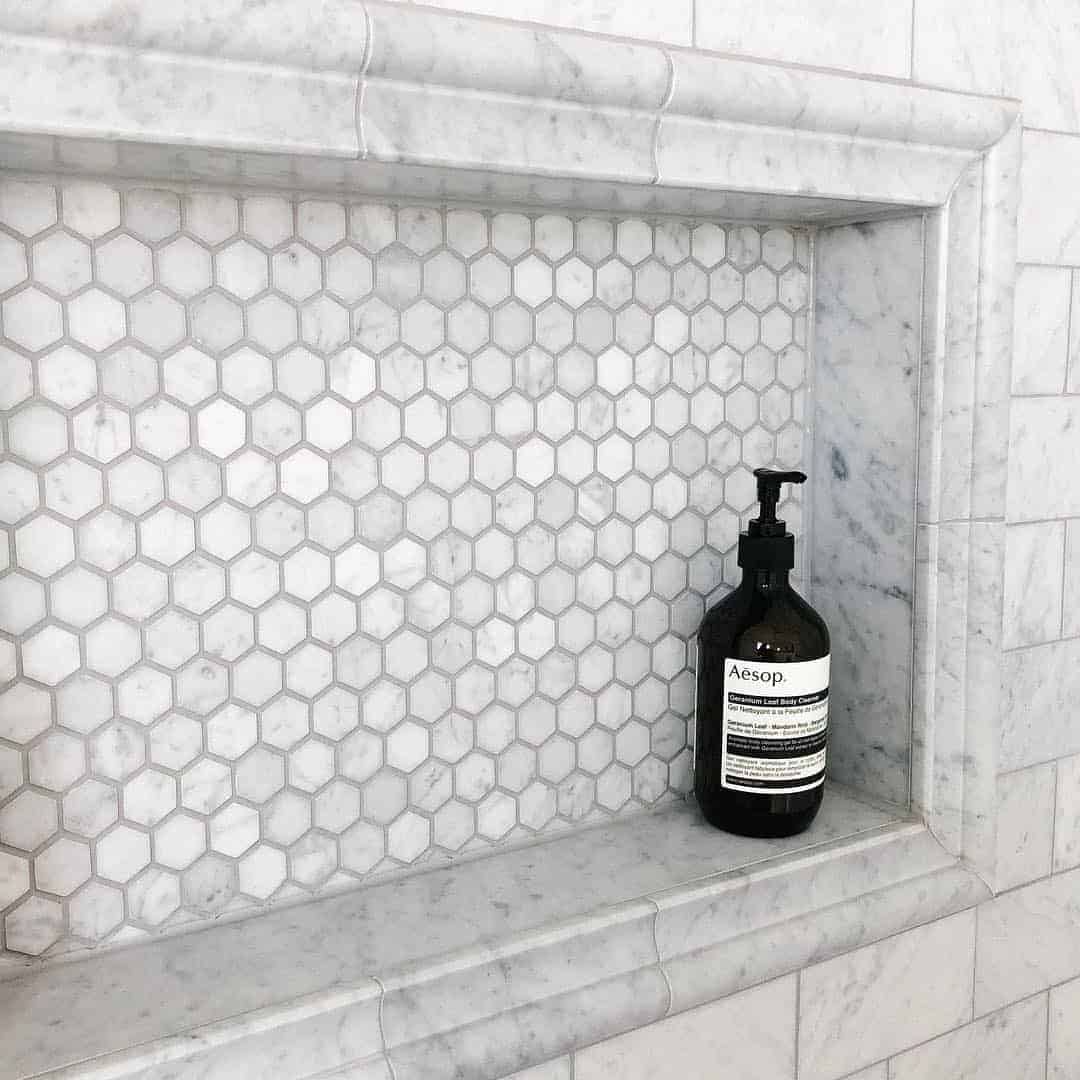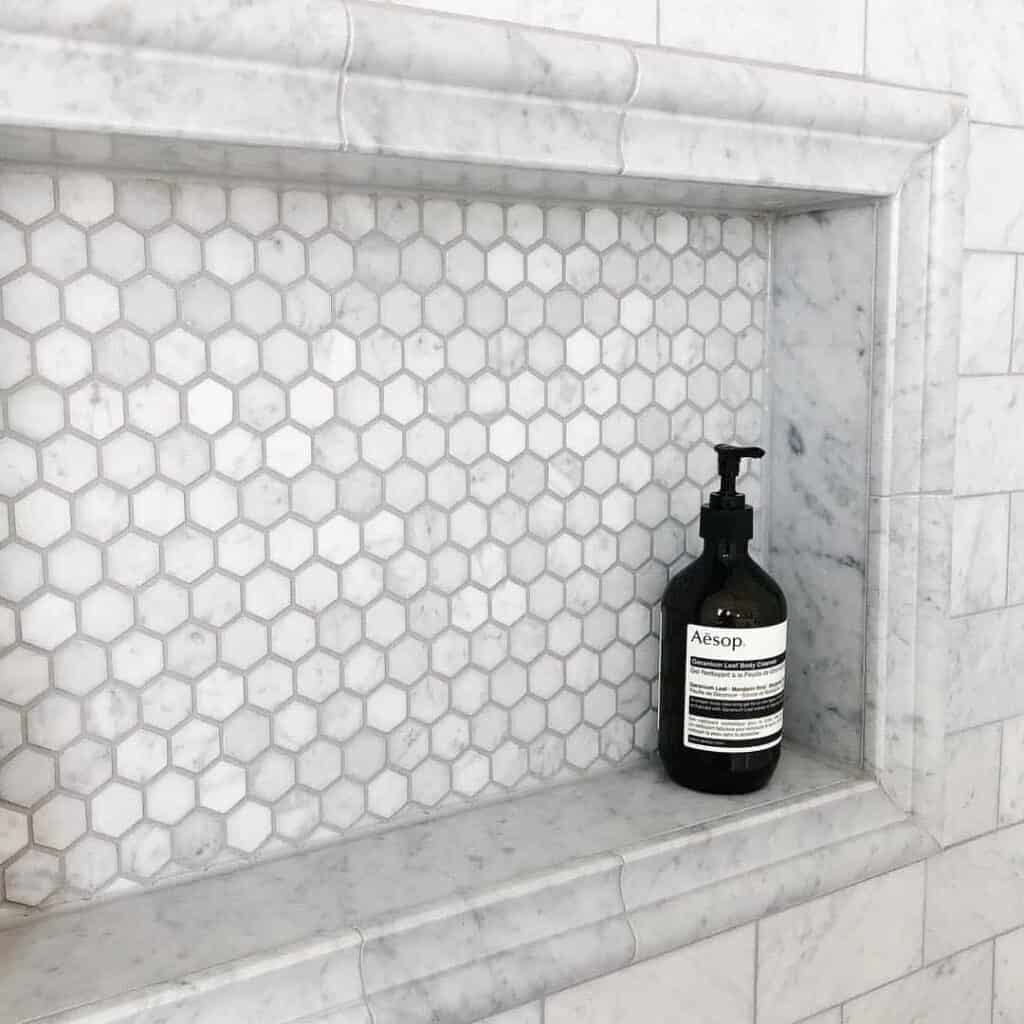 Hampton Style_ Country Home created this shower oasis of your dreams. You'll notice that the alcove is framed by chair rail tile trim with penny tiles serving as a decorative backdrop to the shower niche. This is such a clean and professional look.
Kelley Nan's Bathroom Remodel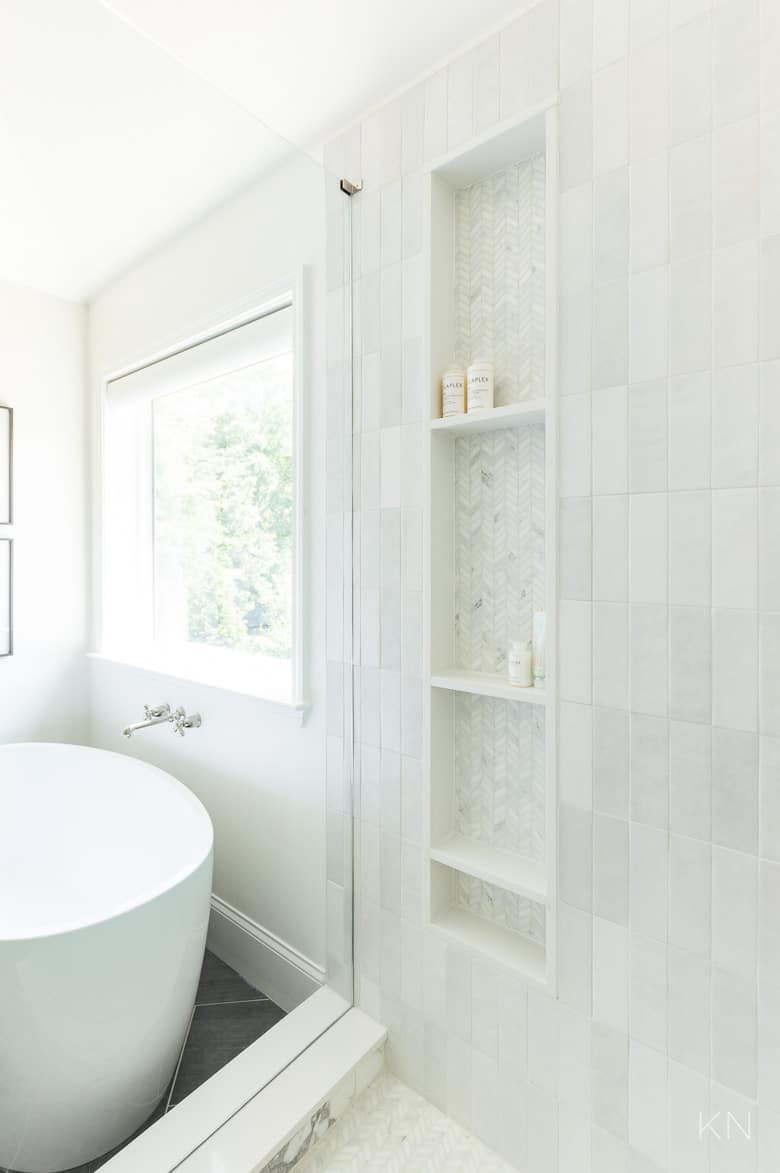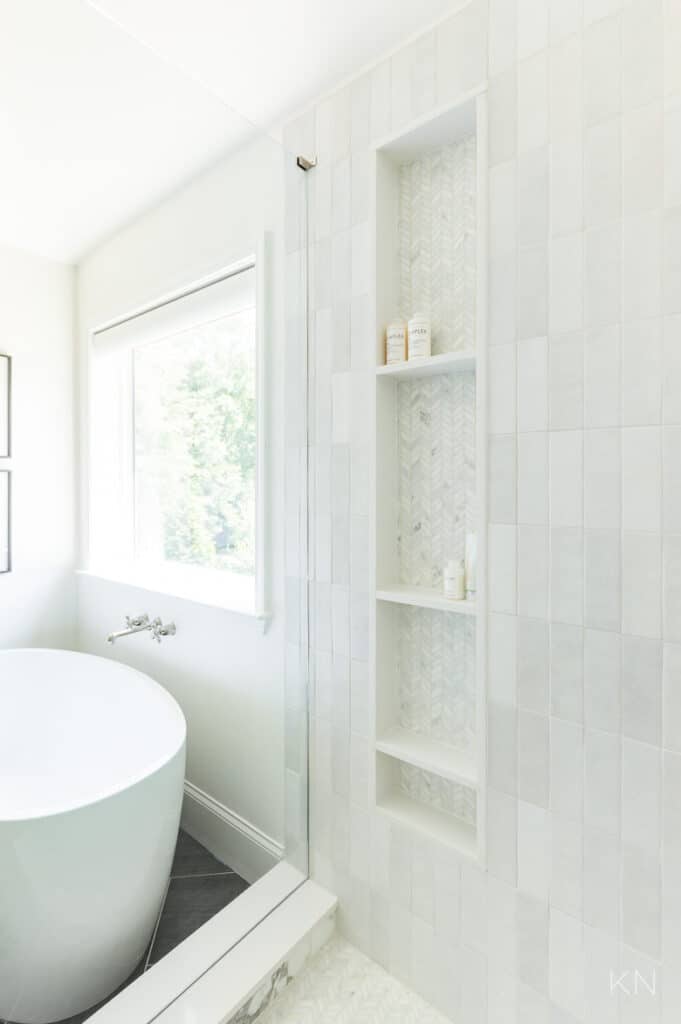 Kelley Nan always knocks it out of the park. If you love the look of her shower, she links all of her tile choices in her master bathroom reveal. I love the shower alcove framed by simple quarter rounds while the herringbone tile serves as a great focal point. Check out her full details here.
Metal Trim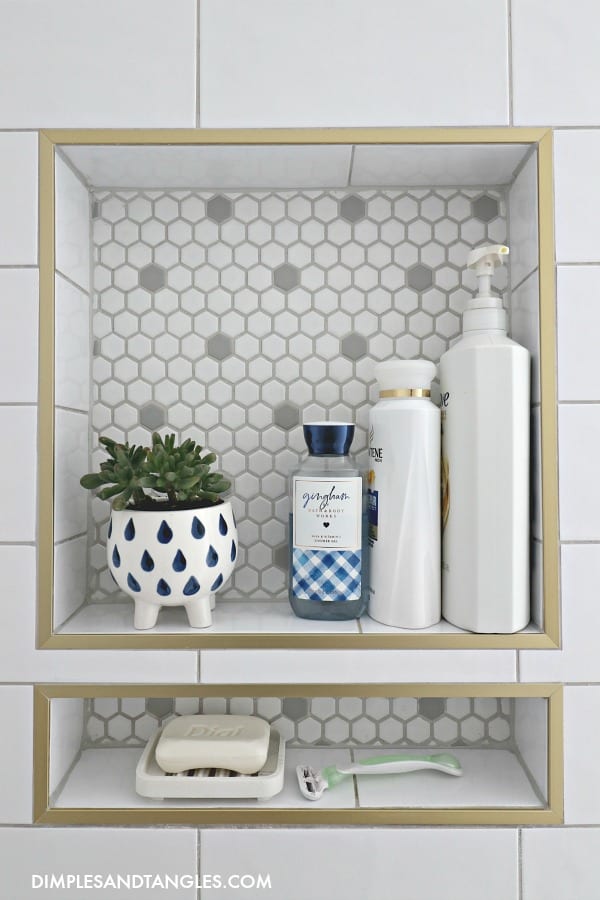 I absolutely love metal trim that serves as quite the contrast for this shower space. The metal trim highlights different depths and textures, while also tying in nicely with the shower hardware and accessories.
Aged Brass Shower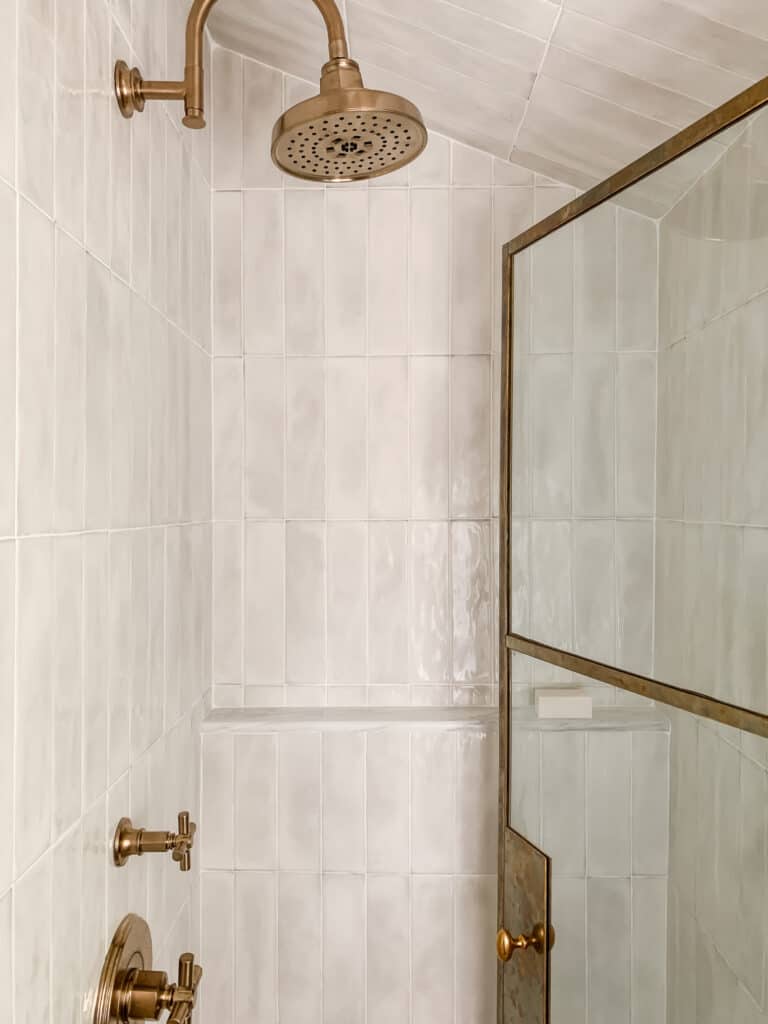 If you love this old warm charm shower, check out all the details on how Coco and Jack created this look. I love how the tile goes all the way to the ceiling and is extended onto the slanted ceiling. By using long horizontal tiles, they have created a look that elongates the smaller space.
Other Posts You'll Love
The Best Shower Wall Materials | How To Decorate Bathroom Shelving | Bathroom Vanity Ideas On A Budget
Pin This Photo For Later
No matter which shower trim tiles you use for your own project, I know you will love the impact it has in your shower and your bathroom. Whether you DIY it or hire a professional, I hope your shower becomes the oasis of your dreams.Be sure to pin the photo below for later, and if you don't already – follow me on Instagram (@arinsolange) and Tik Tok (@arinsolange) for more fun!