When completing a bathroom renovation, don't forget to update the bathroom mirror frame if it doesn't match your vision for the rest of the space. The good news is there are several ways to do this, including buying new or DIYing your old mirror frame. Currently, I'm renovating my kids' bathroom and first floor powder bathroom. I need to make sure that the mirror frames are cohesive with the spaces since they're the main focus of the bathrooms and something I know everyone will be looking at! If you are looking for an upgrade, I'll go over my favorite DIY bathroom mirror frame ideas.
This post may contain affiliate links.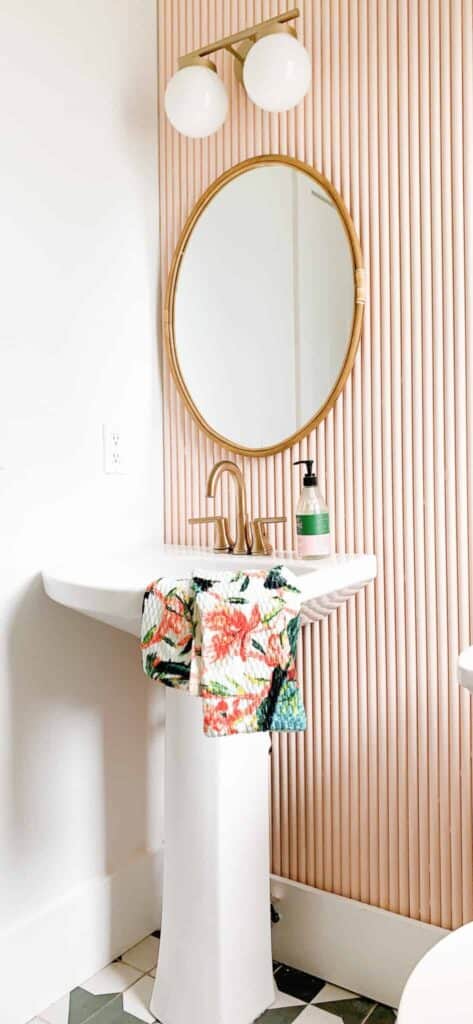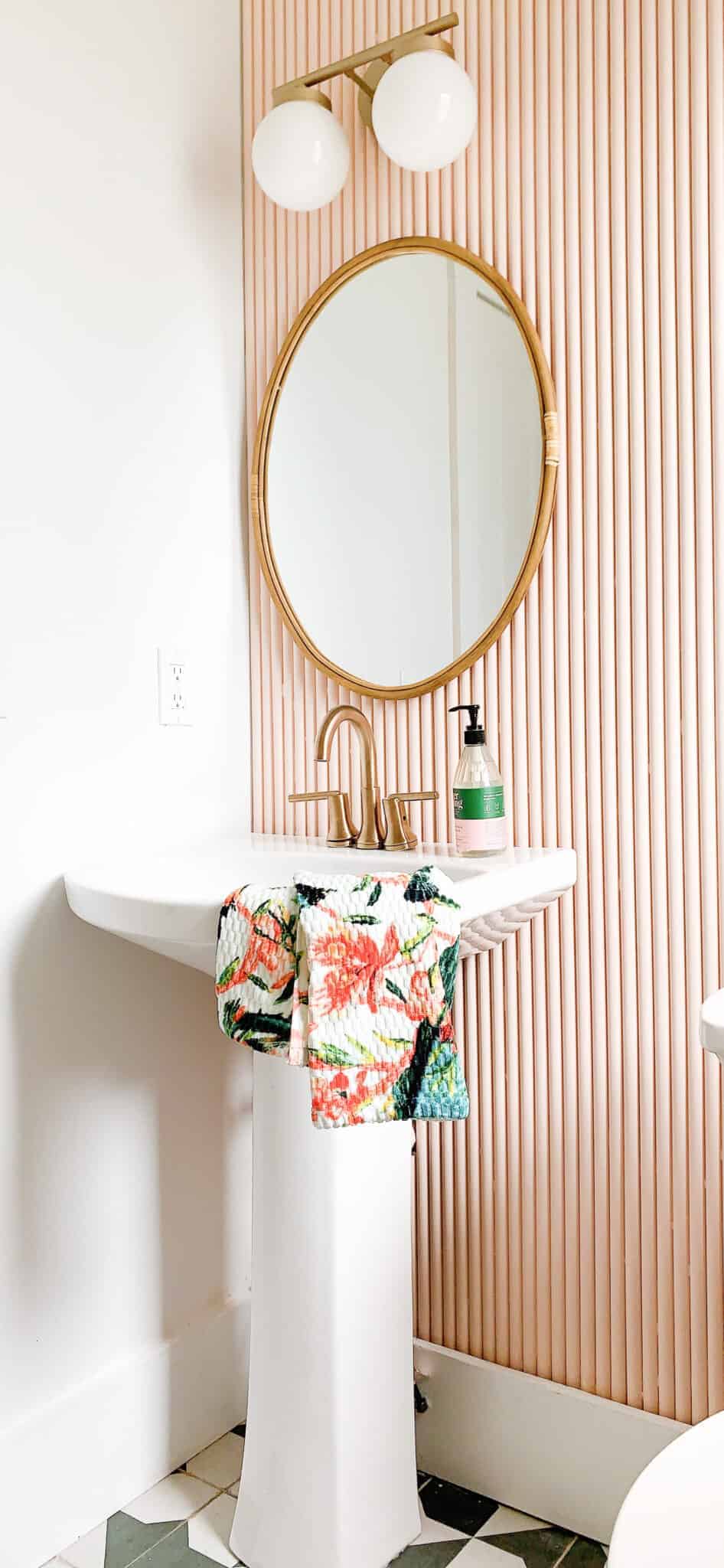 DIY Bathroom Mirror Frame Ideas
Bathroom mirrors are an essential part of any bathroom, providing a functional and stylish element to the room. With the right DIY bathroom mirror frame ideas, you can create a unique look that adds character and personality to your space.
From selecting the right width of vanity to choosing different shapes and sizes, there are many options when it comes to picking out a mirror frame for your bathroom. Additionally, you'll need to consider placement and location when deciding where to hang or mount your mirror. With these tips in mind, you can easily find the perfect DIY bathroom mirror frame ideas for your home.
Importance of Bathroom Mirrors
Bathroom mirrors are an important part of any bathroom. Not only do they provide a useful function protecting the mirror and as a way to mount it, but they can also be used to add a touch of style and elegance to the room. With the right frame, a bathroom mirror can become a focal point in the room and help to tie together the other elements of your decor. We'll explore some creative bathroom mirror frame ideas that will help you create an eye-catching look for your space.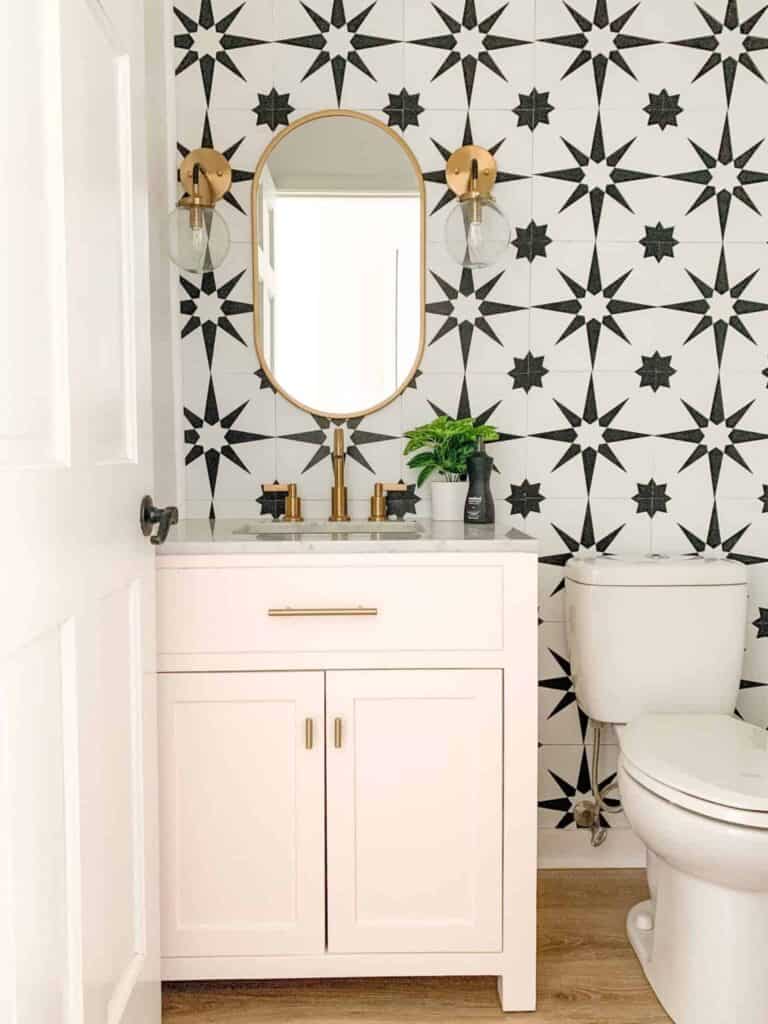 How To Pick A Bathroom Mirror
Choosing the right bathroom mirror can be a tricky task. I'll go over some key tips to take into consideration to help you pick out the perfect mirror for your bathroom.
Consider Your Vanity's Size
The first thing to take into account is the width of your vanity, as this will determine the size and shape of the mirror that you need. Additionally, you should consider what kind of style you want to achieve in your bathroom as this will help you decide on the design and material of your mirror. It is important to pick a bathroom mirror based on the width of your vanity so it isn't too big or too small for the space.
Keep In Mind Different Styles
When it comes to picking out a bathroom mirror, there are many different options to choose from. Depending on the size of your bathroom and the style you are looking for, you can pick from different types of mirrors. Mirrors range from framed, frameless, LED, vanity mirror or a mirror with a ledge or cabinet. Each type of mirror has its own advantages and disadvantages that need to be considered before making a purchase. With the right information and tips, you can easily pick out the perfect mirror for your bathroom.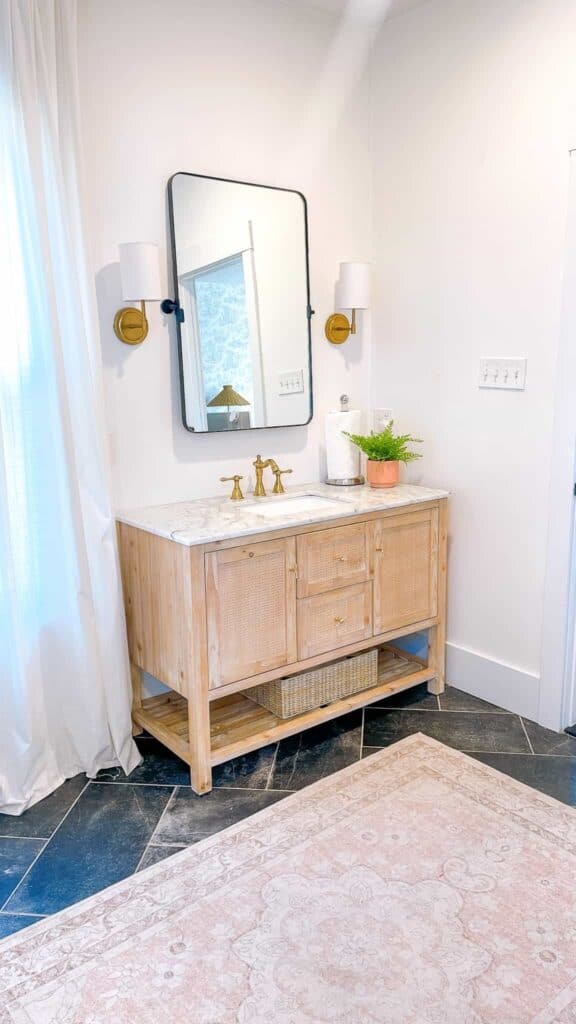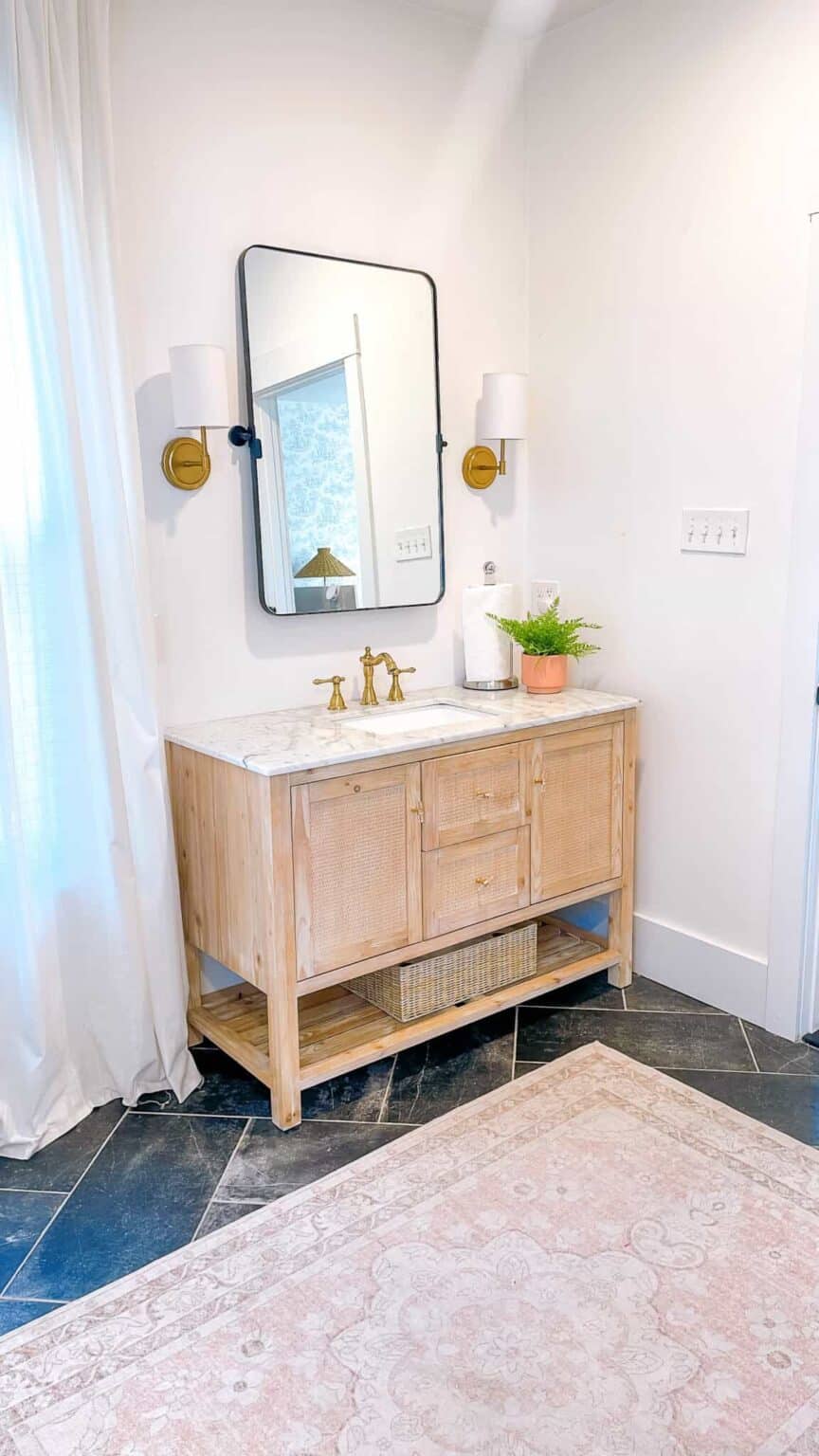 Size & Shape Matter
Size is another important factor to consider. Different sizes are available for different needs and it's important to choose the right size for your bathroom. The shape of the mirror is another important factor, as it can make a big difference in how your bathroom looks.
Mirrors come in a variety of shapes, including oval, round mirrors, rectangular, square, and ornate shapes. Depending on the size and shape of your bathroom, one type of mirror may be more suitable than another. You should also consider the style and design of your existing fixtures when selecting a bathroom mirror.
Be Intentional With Your Placement
Choosing the right bathroom mirror is an important part of creating a functional and aesthetically pleasing bathroom. The placement and location of the mirror can have a big impact on how well it functions and looks in your space.
When deciding where to place your bathroom mirror, consider the size and shape of the room, as well as any existing fixtures or furniture that may need to be taken into account. You should think about how much natural light is available in the room and whether or not you will need additional lighting around the mirror. With these considerations in mind, you can easily pick a bathroom mirror that fits perfectly with your space.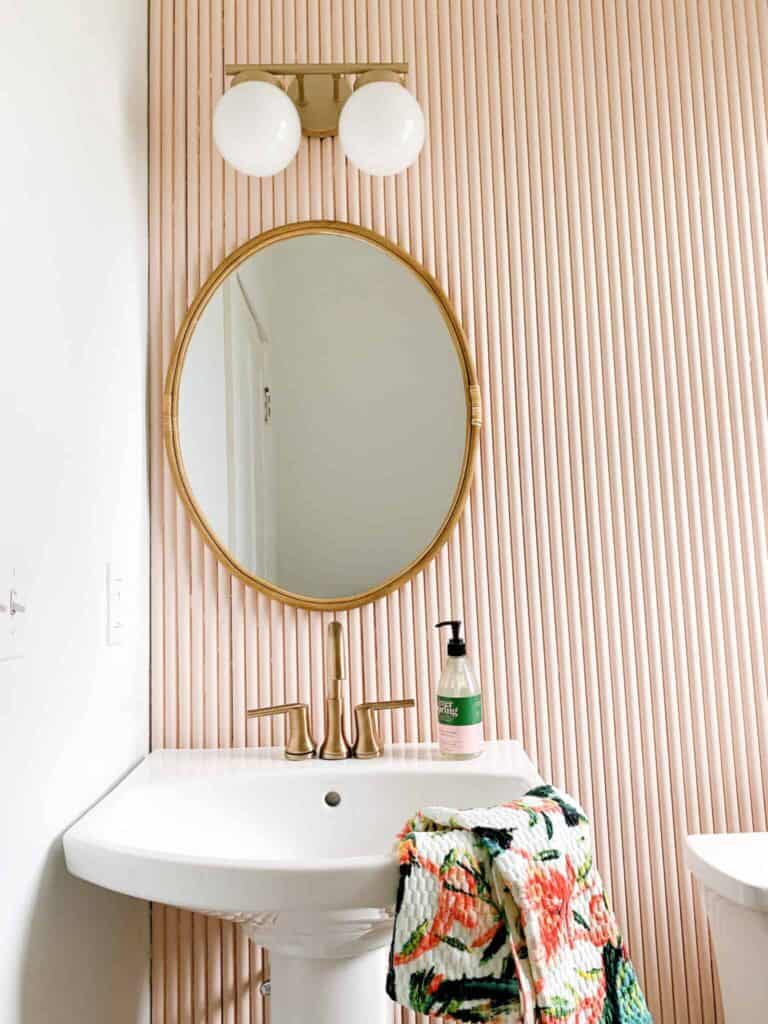 The Best DIY Bathroom Mirror Frame Ideas
Bathroom mirror frames are a great way to add a personal touch to any bathroom. Whether you want to buy completely new frames or just give your existing ones an upgrade, there are plenty of creative DIY mirror frame ideas out there. From modern and sleek designs to more traditional and rustic looks, there's something for everyone. Read on for some bathroom mirror frame ideas that will help you find the perfect one for your space.
1. Buy Completely New
If you just don't have the time or energy to create a DIY frame, a great option would be to buy completely new. There are so many good choices out there. It may be worth checking your local hardware store or Home Depot. If you want something more unique and have a specific vision, I'd love to help you bring that to life with some of my other recommendations below.
You may even find a new mirror frame that you like but want to adjust a little bit, with paint or other details. With all of these options, you may need to find new places in your home to put all of the new mirrors you end up buying and creating! If you want to see some of my favorite mirrors, check out my post here.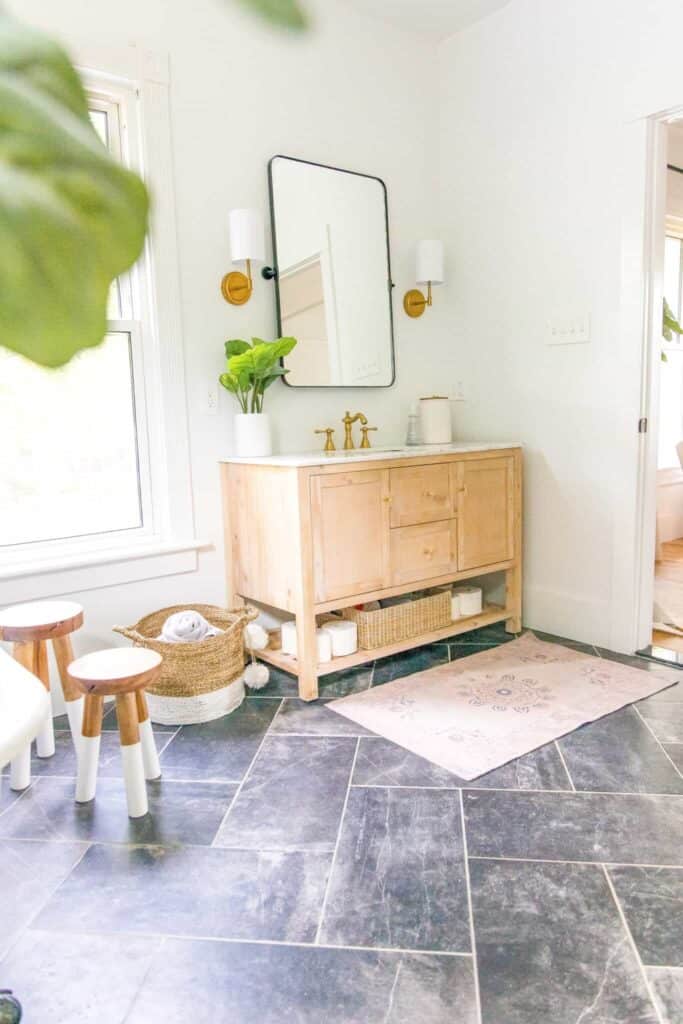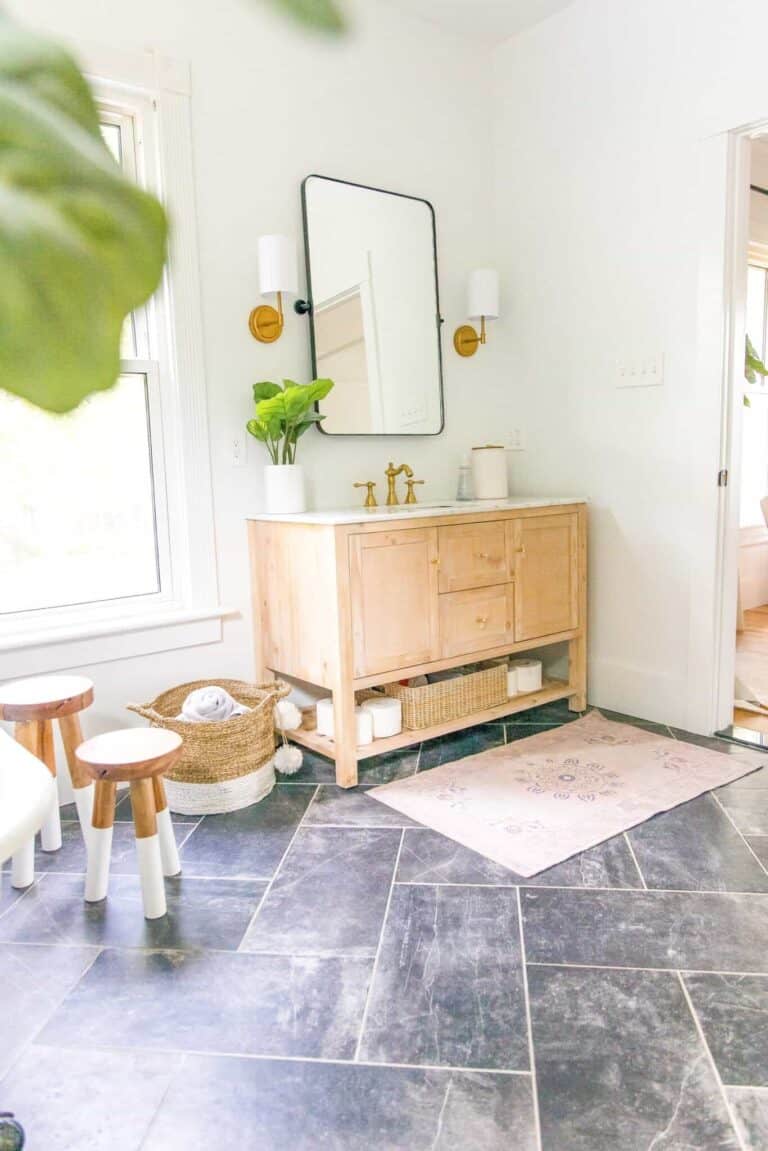 2. Update Frameless Mirror With Frames
You can update your frameless mirror with a frame. There are two main options when it comes to framing a bathroom mirror: adhesion frames and building your own. Both of these options have their own pros and cons, so it's important to understand the differences between them before deciding on which one is best for your needs. We will discuss both adhesion frames and building your own frame in order to help you make an informed decision about which option is best for you.
Adhesion Frames
An adhesion frame is one that is already put together for you. It is ready to go. All you have to do is follow the directions to adhere it to your mirror. Because it is ready made, it may be more expensive and less customizable.
DIY Build Your Own
If you'd prefer to build your own, there are multiple options you can go with. I'll discuss six of those.
DIY Frame Options
Butted frame: Butted frames involve gluing four straight cuts of wood together to create a casing for your mirror that resembles antique crown molding.
2. Corner blocks: Corner block frames involve cutting four pieces of molded mirror framing and joining them together at the corners with four molded corner blocks.
3. Ornate: Will discuss further below, but it involves adding ornate decorations usually found on antiques to your plain mirror.
4. Mitered: Mitered frames involve joining four pieces of framing together that have been cut at 45 degree angles.
5. Mosaic tile: Mosaic tiles can add a creative design and pop of color to your mirror frame.
6. Sunburst: A sunburst frame would be around your circular mirror, framing it with ornaments in a sunburst style pattern.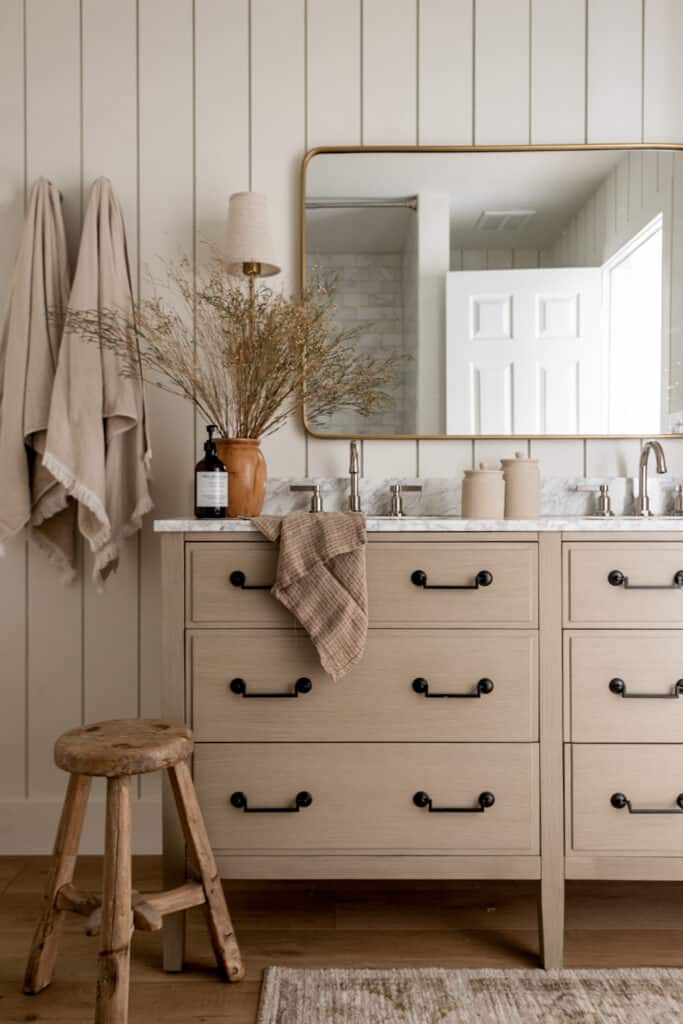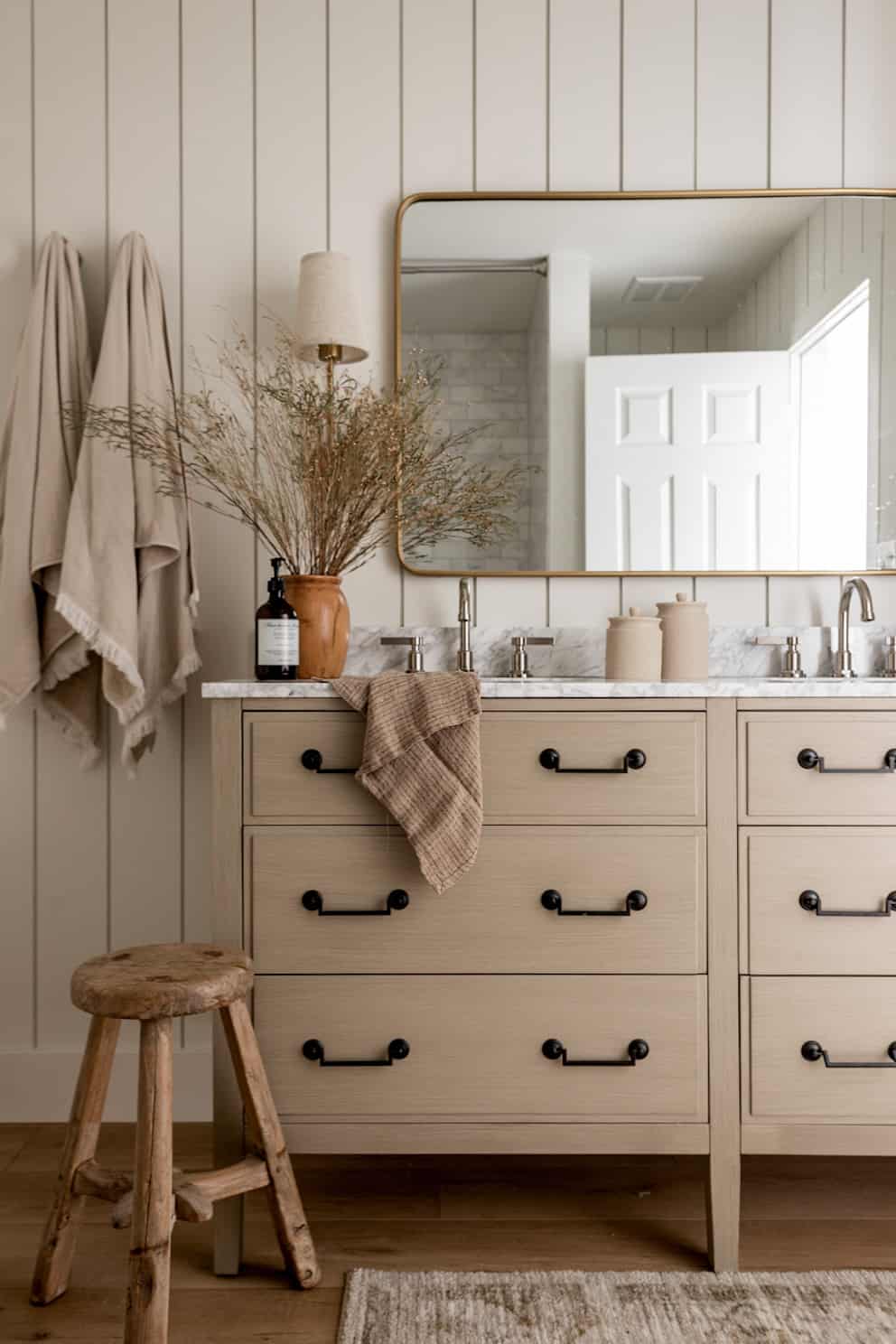 Tips On Building Your Own Frame
Bathroom mirror framing should be a fun and relatively easy DIY project, but here are some tips to keep in mind as you work on your mirror.
Do a practice assembly before you wood glue or nail anything together. This will ensure your cuts are correct and your frame will be even. Sand down your wood frame and seal it to protect the pieces of wood. After all, it will be in a wet and humid environment and you wouldn't want it to warp.
Keep caulk nearby for any touch ups you may need to make. Wood filler would also work in the same way. It is important to install one side at a time and not to rush the process. The first step should be starting with the bottom piece. The next step would be the sides of the frame. Finally, work your way to the top of the mirror frame.
3. Painting Outdated Bathroom Frames
If you're looking to add a touch of style and elegance to your bathroom, a freshly painted bathroom mirror frame is a perfect way to do so without spending much money. It is an easy and affordable way to give your mirror frame a fresh and modern look because the only thing you need is paint. With the right color choice and some creative ideas, you can transform your bathroom into an oasis of relaxation.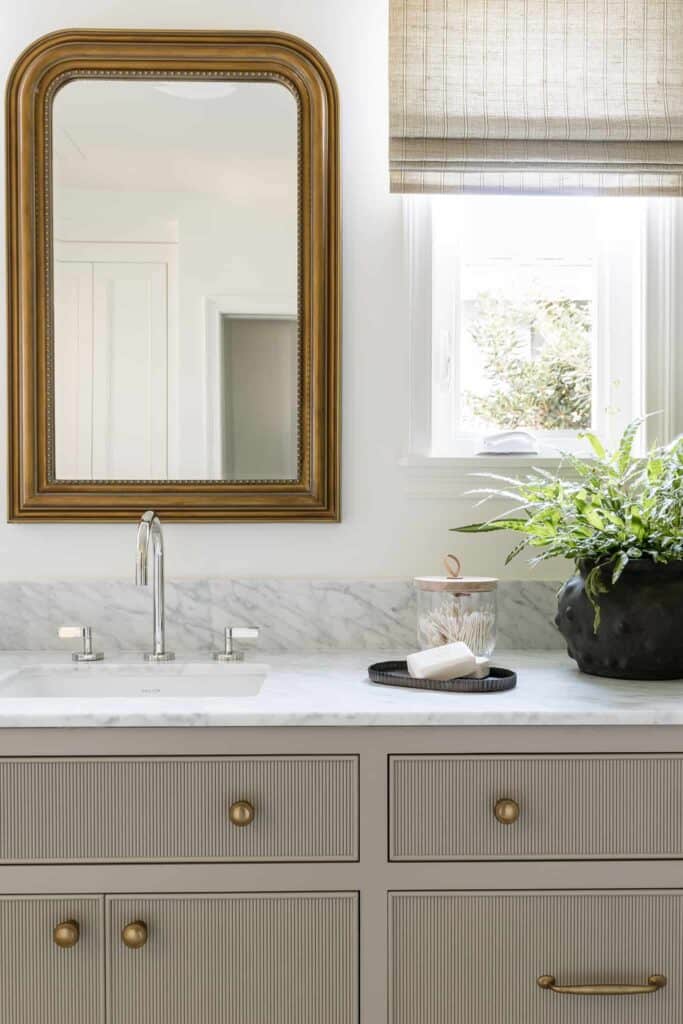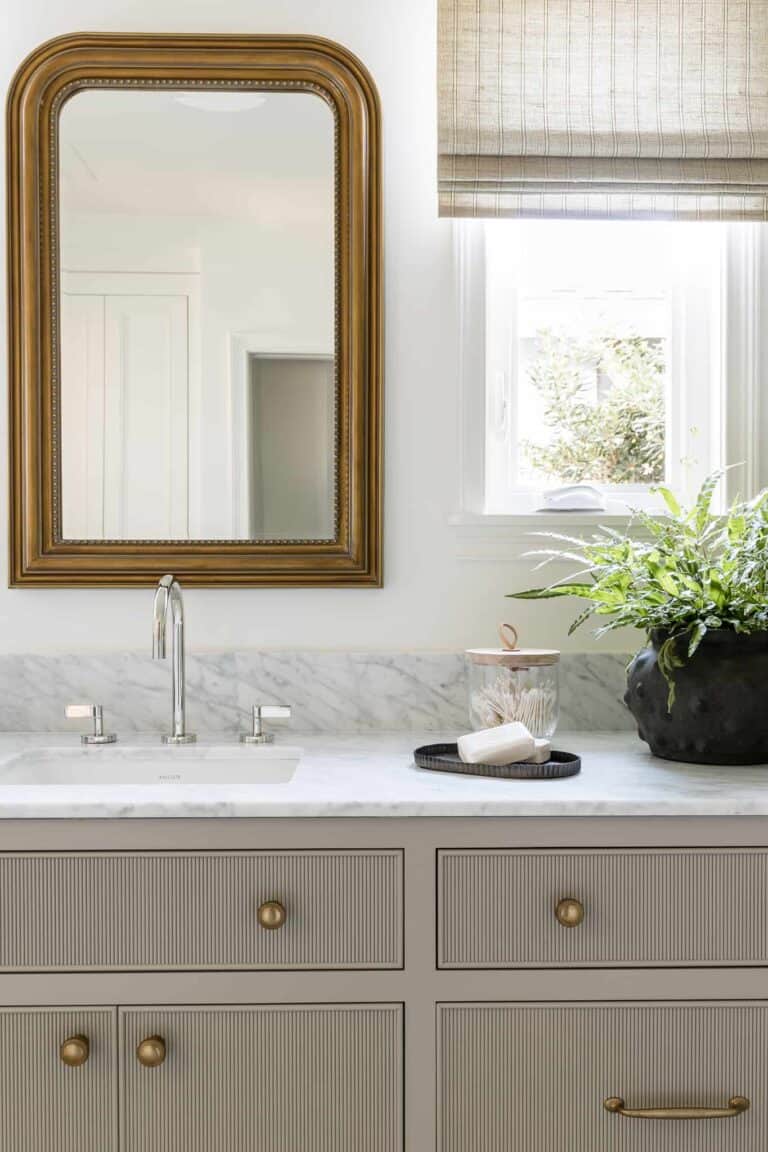 4. Use Mod Podge To Add Texture To Frame
Bathroom mirrors are an important part of any bathroom design, and it's important to choose the right frame for your mirror. One great way to add texture and style to your bathroom mirror is by using mod podge to add texture to frames.
Mod podge can be used to decoupage the frame with paper or fabric. If glitter is your style, you can use mod podge to glitz your mirror frame too. Mod podge frames offer a unique look that can easily be incorporated into any bathroom design. With mod podge frames, you can create a stylish look in your bathroom that will last for years to come.
5. Use Resin To Add Ornate Details To Frame
Are you looking for a creative way to spruce up your bathroom mirror? Resin can be a great material to use when creating a unique and ornate framed mirror. With resin, you can easily add intricate details and designs that will take your plain mirror from ordinary to extraordinary.
Using resin to create a beautiful frame for your bathroom mirror is an easy DIY project that anyone can do. Whether you want to go for a classic look or something more modern, resin offers endless possibilities for creating a custom mirror frame.You can find my DIY tutorial that outlines the entire process in simple steps from when I did this project back in 2021 here.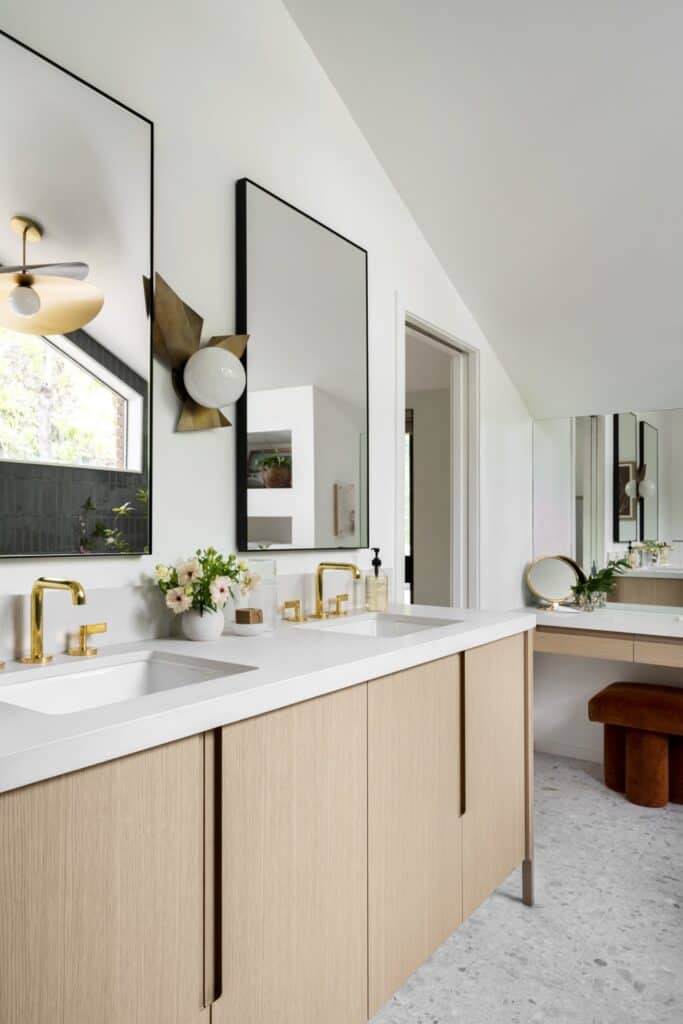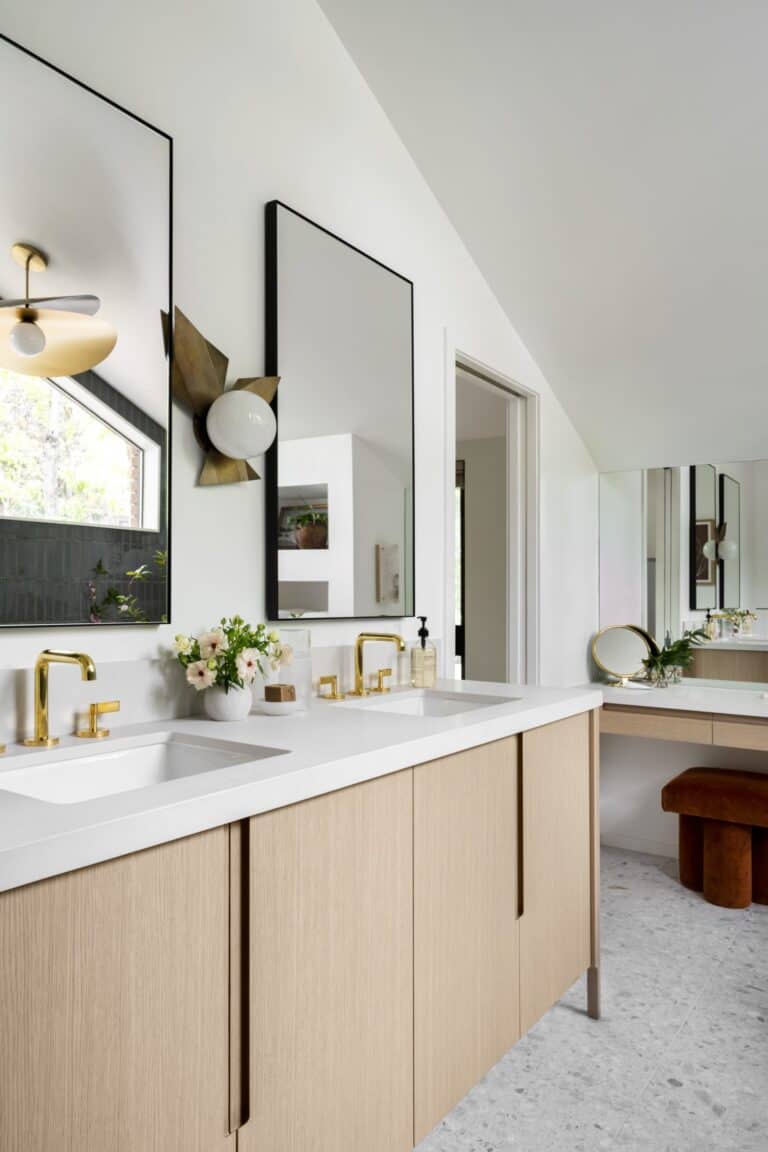 6. Use Rub n Buff To Create Your Own Antique Mirror
Consider using Rub n Buff to create your own antique mirror. This is an easy project that can be completed in a few hours and will give your bathroom mirror a stunning new look. With the help of Rub n Buff, you can transform an ordinary mirror into an aged gold antique mirror that makes a huge impact. Make sure to prep the mirror frame well, rub the Rub N Buff on, and allow it to thoroughly dry before hanging it up on the wall.
Round Up Of The Best Bathroom Mirrors
If you don't have the time or energy to make your own DIY bathroom mirror frame, check out my round up of bathroom frames. Each of these frames are available on Amazon and come in a variety of shapes, colors, and sizes.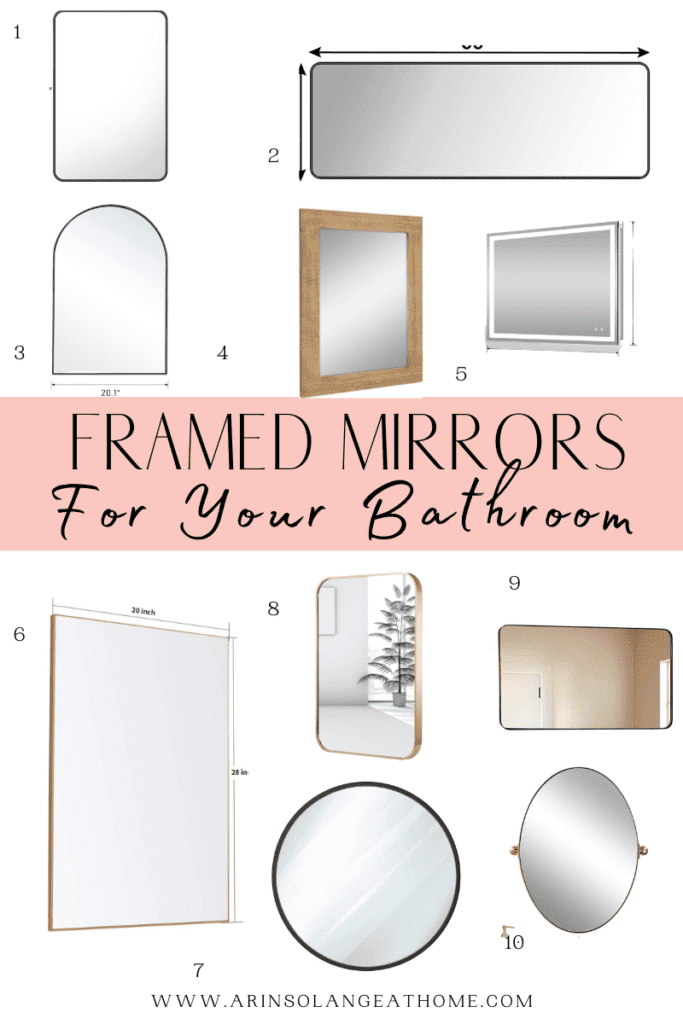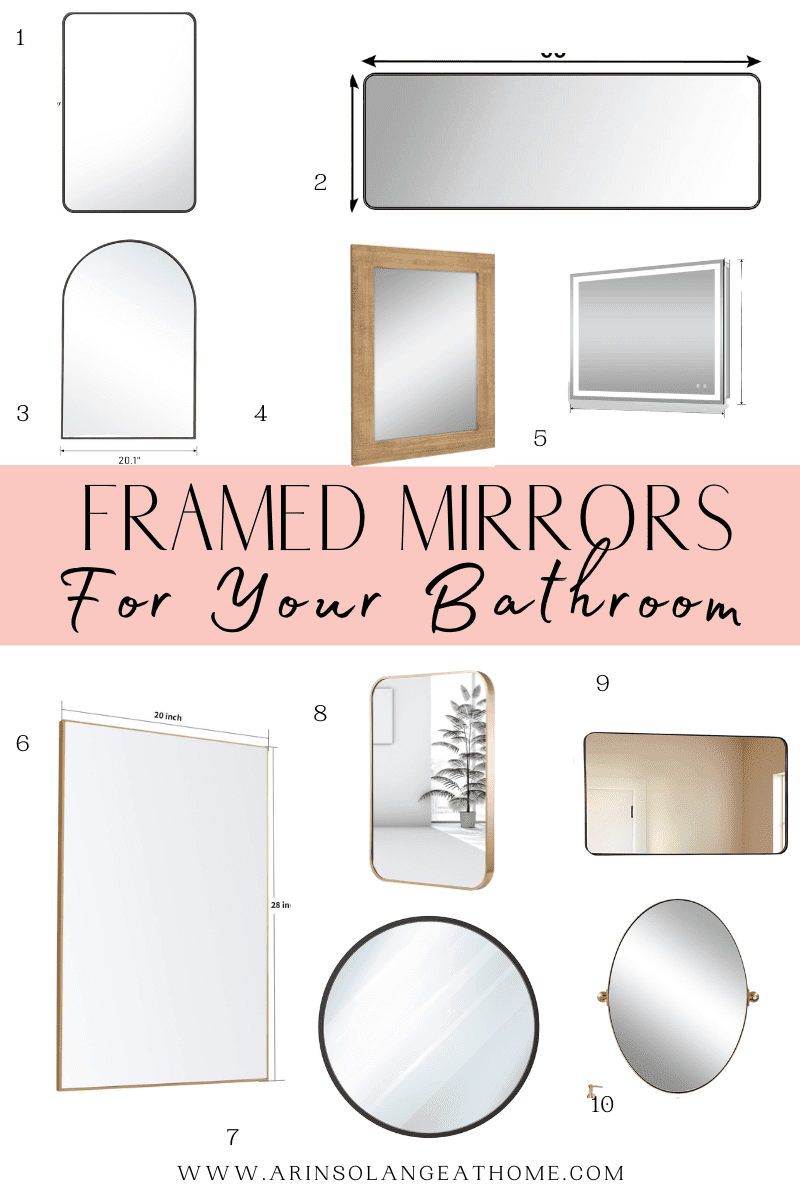 1 | 2 | 3 | 4 | 5 | 6 | 7 | 8 | 9 | 10
Other Posts You'll Love
15 Gold Mirrors | Bathroom Vanity Ideas On A Budget | Inexpensive Way To Update Bathroom
Pin This Photo For Later
I hope you are feeling more prepared now with great ideas to take on your builder-grade bathroom mirror and frame it in an easy way for your guest bathroom or master bathroom of your home. Whether you upgrade your simple mirror or find a store-bought mirror that suits your style, with a few basic tools, you can update your bathroom in a way that best suits your style. This is the ideal project for a busy weekend because it doesn't take much time or many materials but the best part is that it can really elevate your bathroom. Be sure to pin the photo below for later, and if you don't already – follow me on Instagram (@arinsolange) and Tik Tok (@arinsolange) for more fun!