One of the most underrated spaces in a home is a linen closet. We are a family of 6 and with only one linen closet, I am always looking for how to organize a linen closet well, and keep it organized with daily use. If you have been looking for great tips for keeping your linen closet organized this post is just for you.
This post may contain affiliate links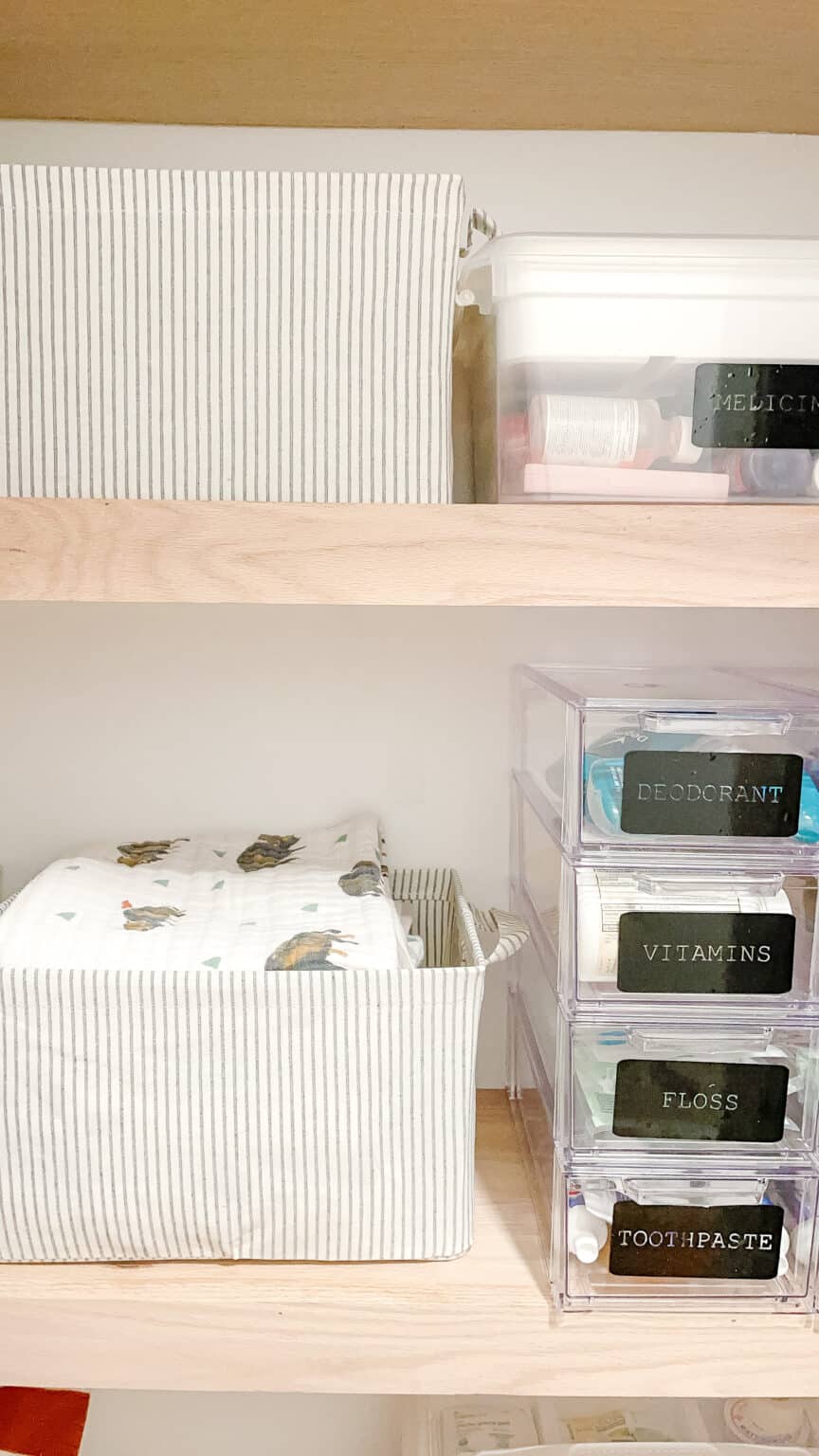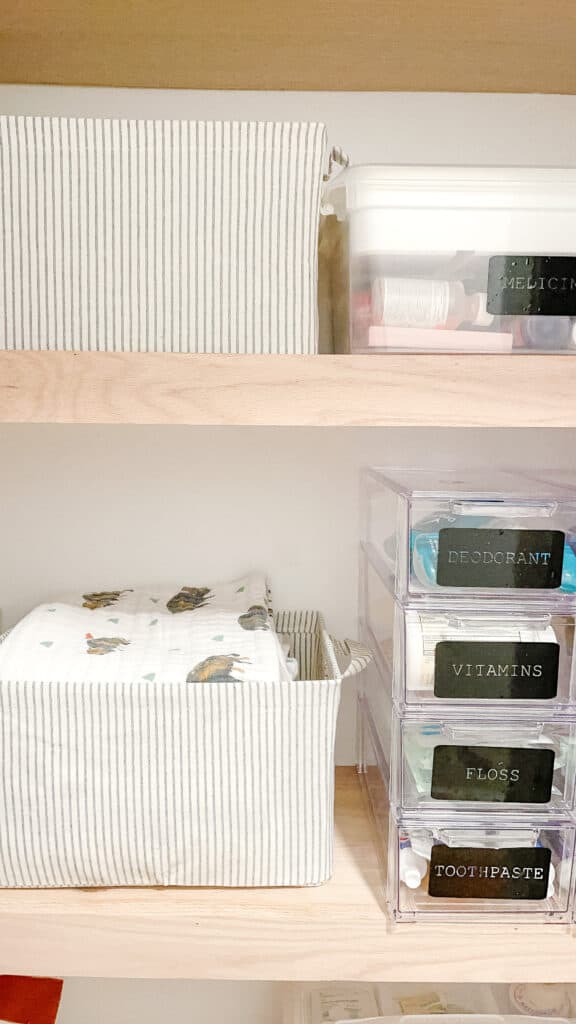 How to Organize a Linen Closet
One year ago my family of 6 moved into a 150 year old home in St. Louis, and although we were able to add a linen closet during our renovation – we are still dealing with minimal storage with such an old home.
We have small bathrooms, so the single linen closet has large shoes to fill…or hold? It serves as daily excess storage, while also holding everything from beach towels, to extra decorative pillow cases, and the million tubes of toothpaste we seem to need.
In our past house we had a small linen closet for both ourselves and one for the kids, so I have learned over the years how to best organize these small closets to serve our family well, but also stay organized with constant use.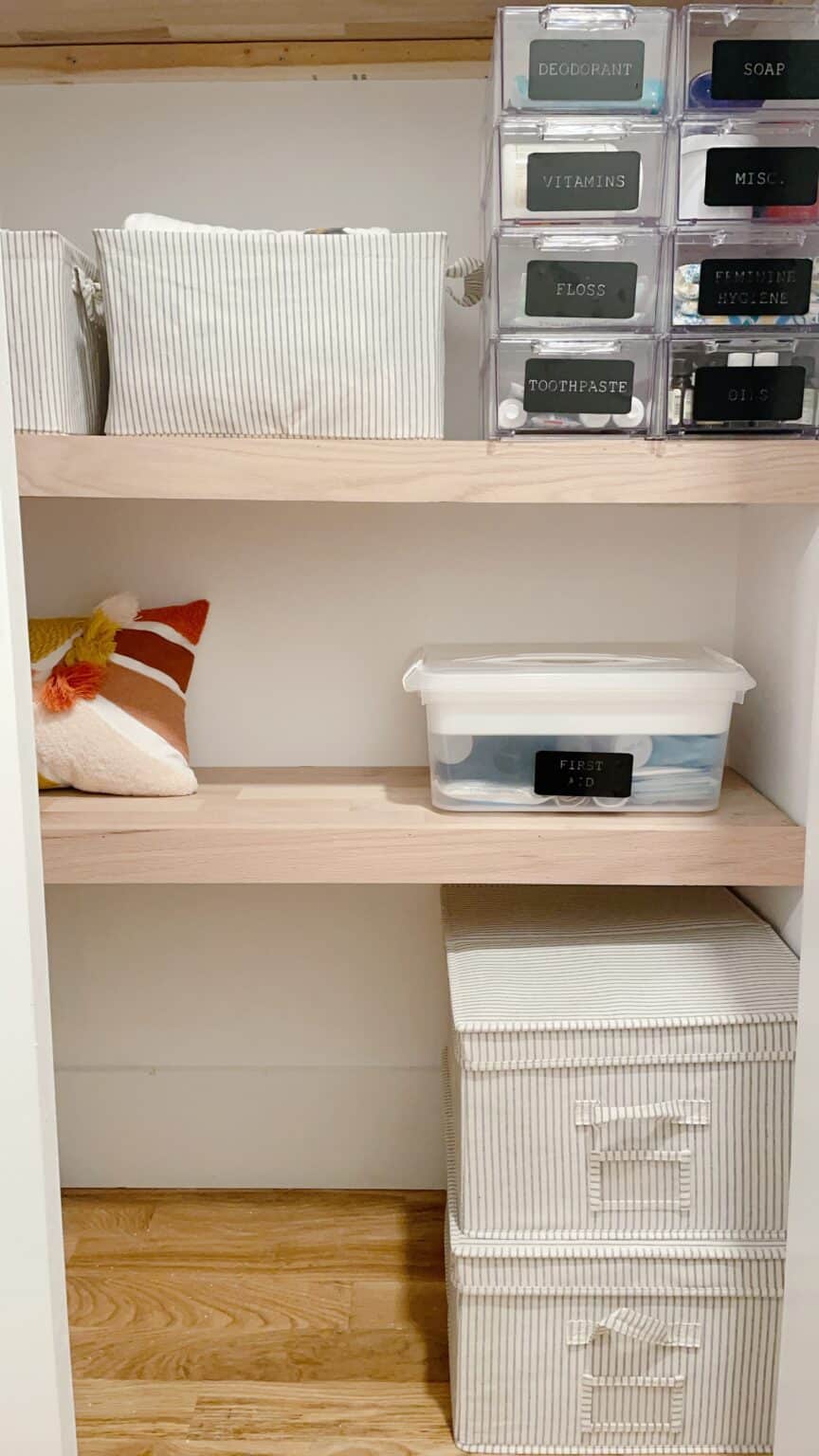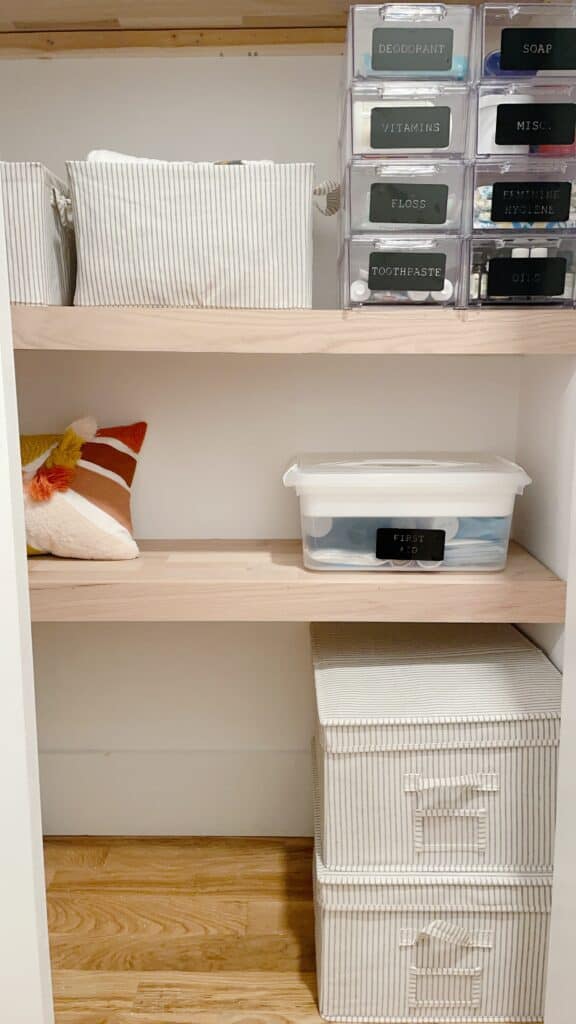 Getting your Linen Closet Ready
One thing that is important when it comes to organizing your linen closet is making sure you get the space ready. If you can add additional shelves sometimes that can be a huge help. I also find that solid shelves as opposed to wire shelves seem to do better in linen closets due to the small bottles that sit on them.
In our last house we did an easy DIY for shelves that were affordable and made the linen closet look so much more gorgeous.
It was such a simple update that truly made the space feel more high end and put together, which helped us keep it more organized, so we decided to go ahead and do the same thing here in this house.
A couple other things that will help get your linen closet for organizing are:
Adding

shelf liner paper to your shelves
A fresh coat of paint on the walls. If your walls are not clean or really scuffed up – a fresh coat of paint can make a huge difference.
Make sure all shelves are placed at good heights for your storage needs.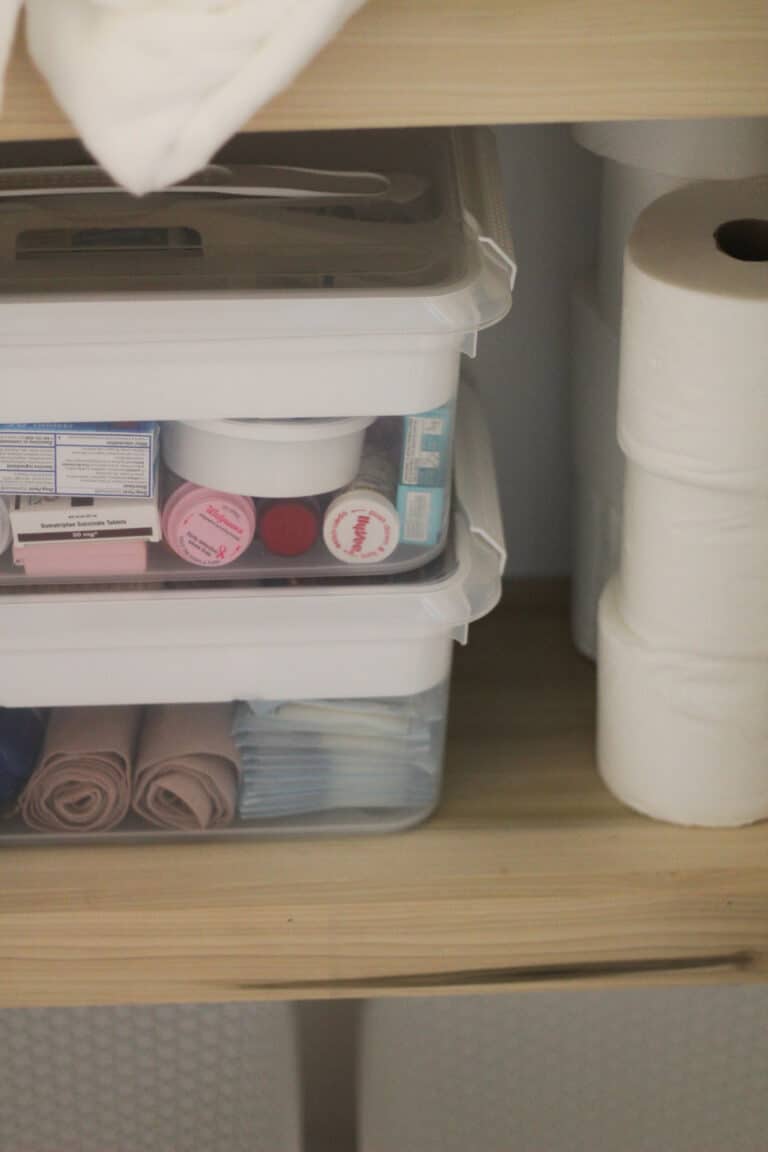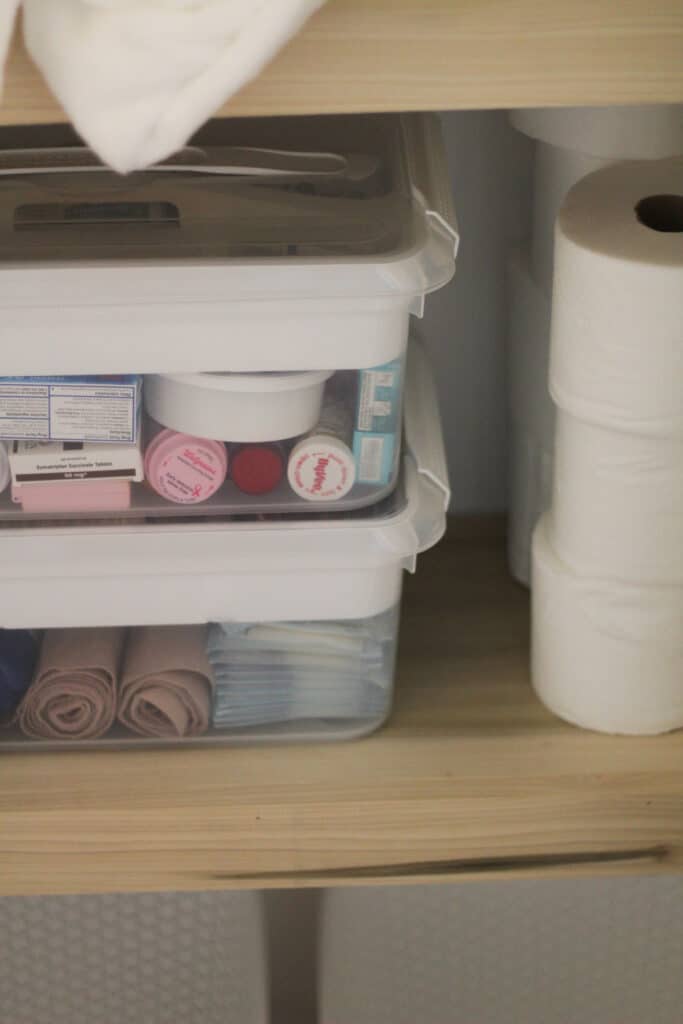 Declutter Before You Start
The first step to organizing is to declutter. One thing to keep in mind when it comes to an organized linen closet is that you can not organize more stuff than the space fits. I tend to see myself as an aspiring minimalist and even I had way too much stuff in our linen closet.
Every year in January I do a 30 day declutter of my house. I push myself to get rid of 30 bags of clutter from my home, and the linen closet is always on that list.
If you are interested in doing the declutter challenge yourself, I offer the free documents to make it easier on this blog post about how to declutter your home.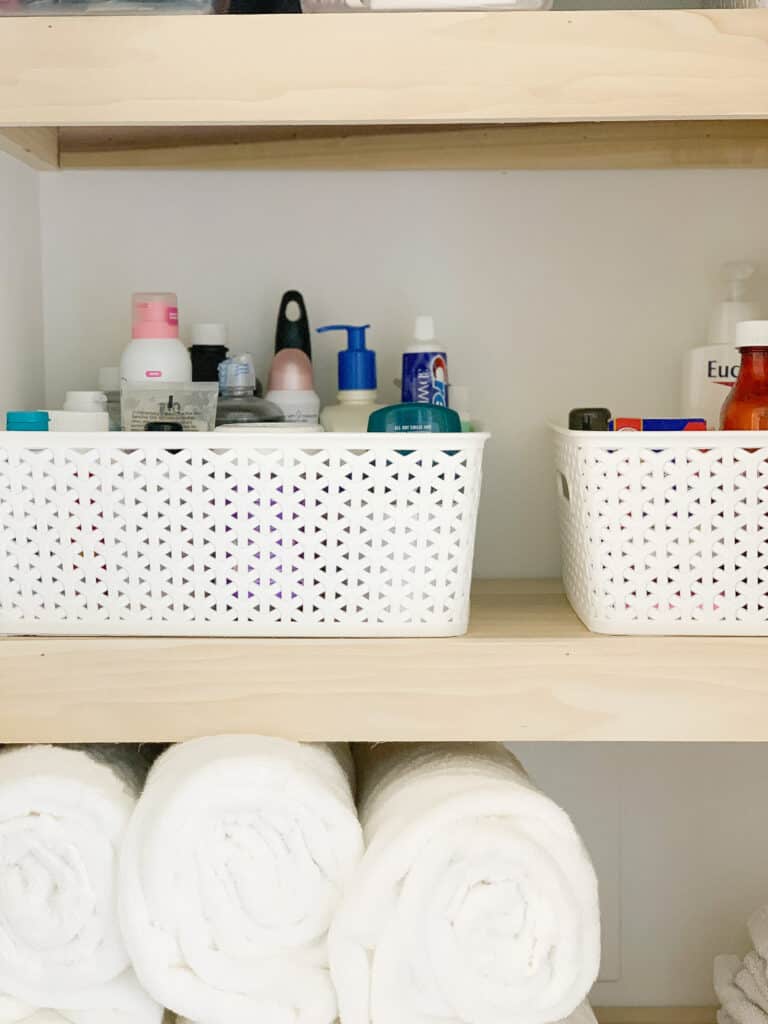 Linen Closet Organization Ideas
Okay now that we have a prepped and ready linen closet, let's talk the actual tips for organizing your linen closet. I also have lots of favorite products lower in the post, so make sure you check those out while you're here.
Storing Smaller Items
Linen closets are unique in the fact that they tend to house very bulky items as well as small items all together. My big suggestion with the small items is to keep them together and in baskets or bins. This will keep them from getting lost amongst the larger items and makes for a clean look.
I tend to gravitate towards baskets like this for quick reach items, and recently started using clear acrylic drawers for some of the other bulk items that don't stand up well, like toothpaste. With the clear acrylic drawers, remember to stack the drawers so that you use the full height of that shelf for maximum storage space.
Storing Linens
Linens typically need to be stored in several different ways because in most homes you have linens that fill different needs, so I am going to walk you through what works best for me, and you can adapt and use what works best for you in your home.
Top Shelf
On your top shelf I would add linens that you rarely use. Think things like seasonal quilts or pillow covers, extra duvet inserts, and things like that. Things that you are only getting down a couple of times a year. Because our guest bed is a pull out sofa, I also store all of our guest room sheets and bedding in one place on our top shelf.
To keep that space looking organized and functional I put everything in linen storage bags and it keeps them clean and fresh, while my linen closet looks organized.
Another great way to organize that top shelf is to use space saver or vacuum seal bags standing upright with those excess items that you don't frequently use. The space saver bags free up a lot of valuable space and allow you to stand things up, which for homes like mine with high ceilings that is important.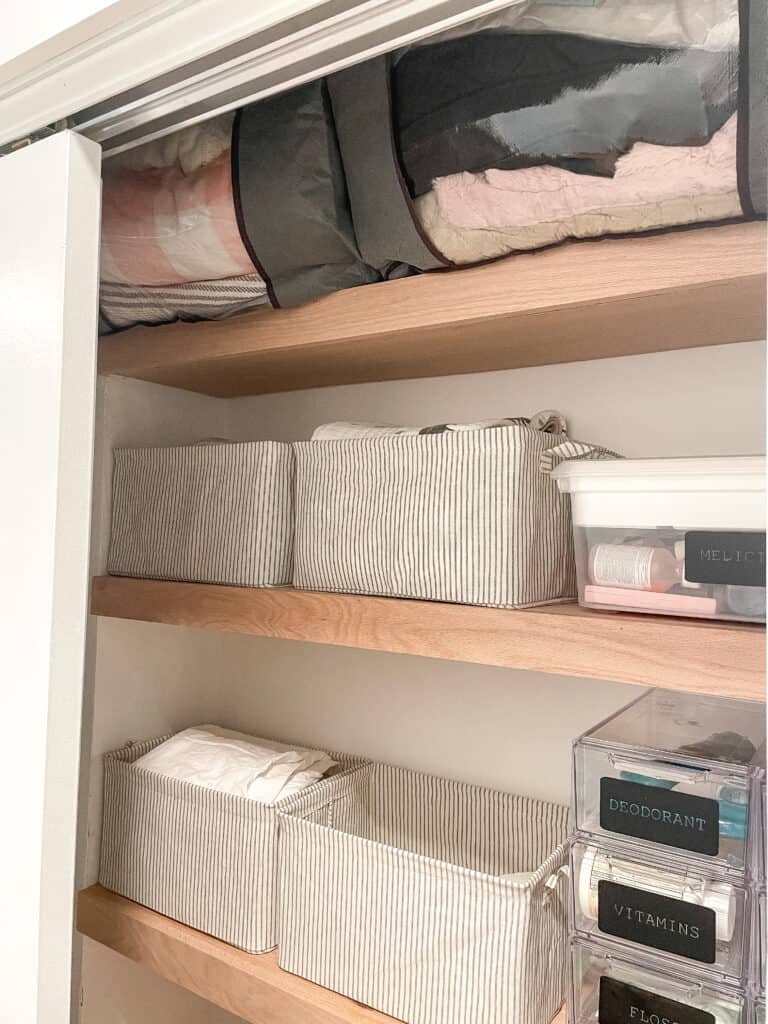 Lower/ Easy to Reach Shelves
Because not all linens are kept stored for a long time, we need to talk about how to store the rest of the items you have. I will be really honest. I love having an extra set of sheets for everyone in my family, but I also hate folding them. As a 32 year old woman I still can't figure out how my mom makes her fitted sheet look so nice in her linen closet (and yes I have tried all the tricks in the book).
My solution for keeping a tidy linen closet without the skills those fitted sheets need is to fold the sheet as best you can, then stack it with your top sheet and all but 1 pillow case. Once that is all stacked nicely slide the set of sheets inside the leftover pillow case, and add all extra sheets to a basket or bin.
For extra blankets – If they are blankets you use frequently you can fold them on a reachable shelf, but if they are rarely used I would again add them to a storage bag to keep things more organized and save space.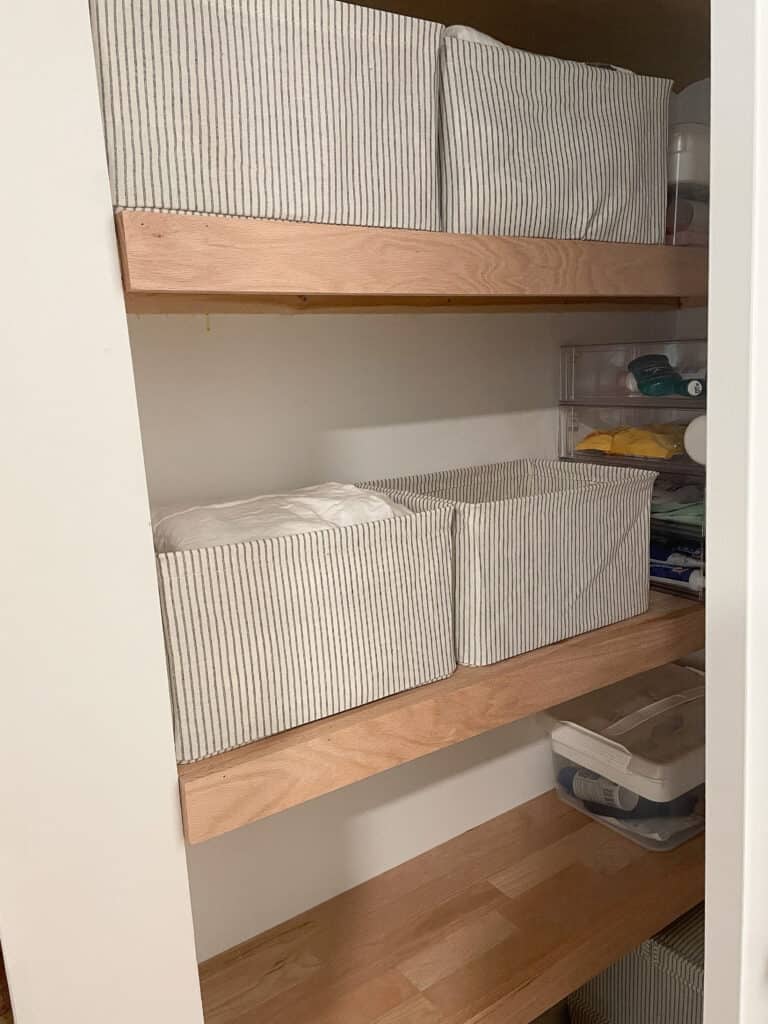 Towels
Is anything more debated than how to fold towels? I don't think there is a right or wrong way, but I do firmly believe that rolling towels saves the most space. We keep all additional towels rolled on a shelf when needed, and washcloths and hand towels go in a basket.
Overall Rules to follow
The biggest things to remember when it comes to organizing your linen closet is that the items you are reaching for more often are at arms reach, and the items you rarely use are great options for higher shelves. Keep things like medicine out of reach of your children – so those are also great options for higher shelves.
Keep in mind who uses the linen closet and make it easy for everyone who uses the space to keep an organized space . This may mean using labels and a label maker, and keeping things that kids need to access in easy access so that they aren't tearing apart the space while searching for what they need.
For things like sheet sets – keep an extra set or two in reach for accidents/ sick kids, but store excess up and out of the way. Table linens should be stored together, and in my case I even found that they were better stored in a hutch in our dining room.
Baskets are always a good idea, because anything roaming free will likely become a mess quickly. If you have high spaces between shelves, a good use of space is getting baskets or storage bins with lids that can stack. You want to use as much space as you can.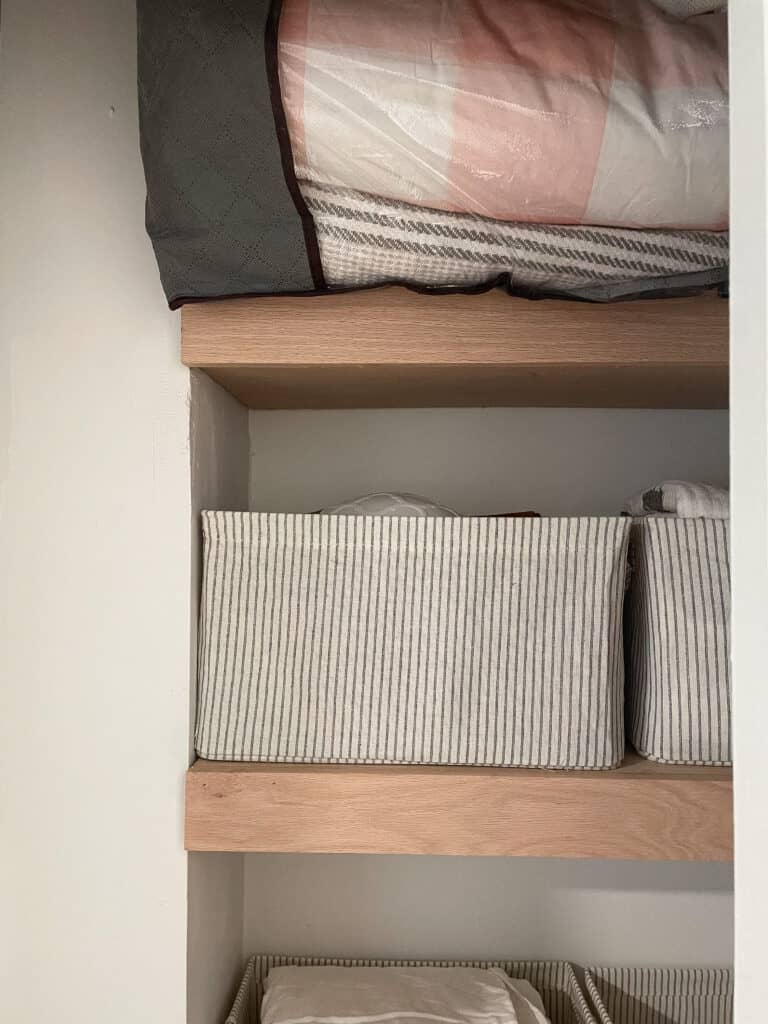 How I Organize my Linen Closet
To make things easier I have rounded up my own linen closet organization finds for you all below, as well as a small linen closet video tour to help share how these things can be used best in your space. As a family of 6 we have one linen closet that is by no means large. The tips in this post, combined with the items below have allowed us to keep an organized and gorgeous linen closet.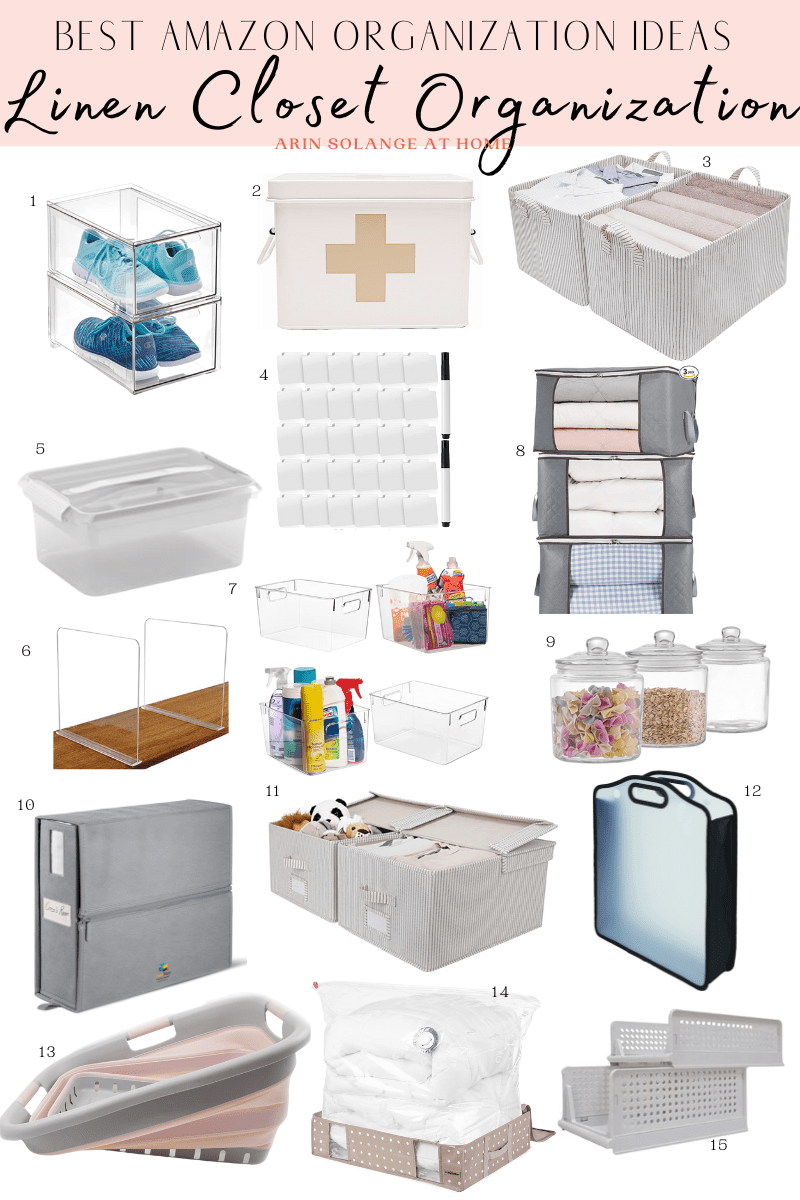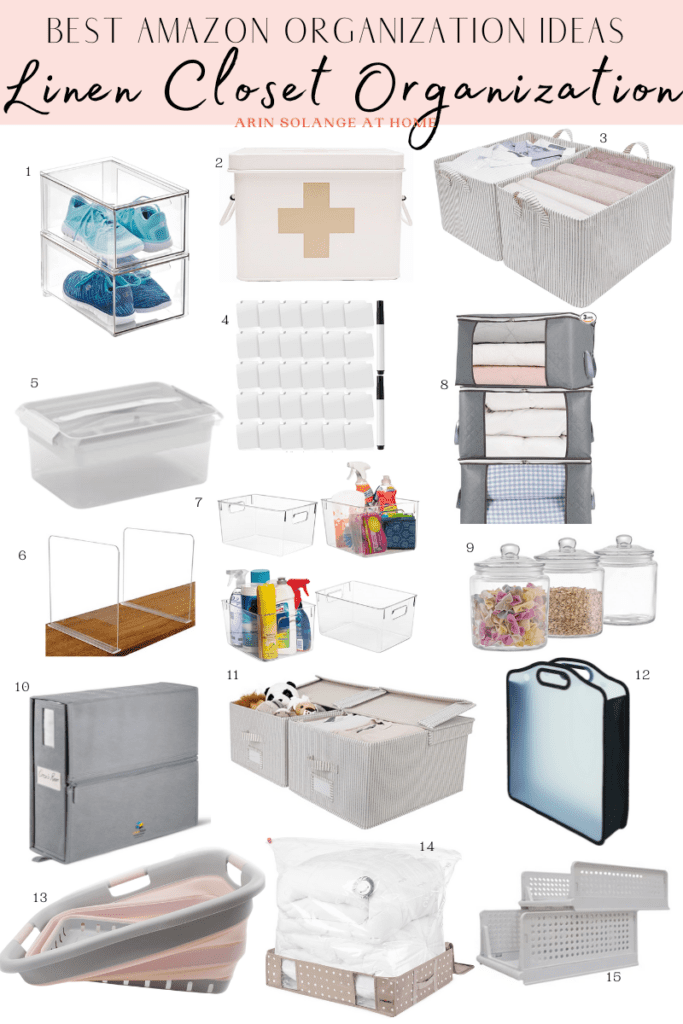 1 | 2 | 3 | 4 | 5 | 6 | 7 | 8 | 9 | 10 | 11 | 12 | 13 | 14 | 15
Shop My Favorite Linen Closet Organization Items
Plastic Storage Drawers – These pull out drawers are one of my new favorites – great for storing small items (see how I used them in kitchen organization post)
Striped Baskets – These small baskets fold flat for storage and work great for storing all your smaller items. Fabric baskets are especially great on wire shelves because they wont get torn up.
Labels – these small clip on labels go on nearly any basket for easy labeling
First Aid and Medicine Bins – These bins are perfect for your meds or first aid kits.
Shelf Dividers – I love these acrylic shelf dividers. They stick to the shelf and allow you to stack things like towels nicely.
Acrylic Bins – acrylic storage containers like this can be great for extra toiletries – especially liquids
Linen Storage Bags -These large bags are great for the top shelf or the floor of your linen closet to store duvet covers and extra pillows.
Glass Canisters – canisters for powders, laundry pods, floss and other small items can be really nice and look great.
Linenmate – these organizers went viral last year and continue to sell out. Follow on IG for timely restock alerts!
Striped Baskets with Lid – These large baskets have easy access lids an stack for extra storage.
Affordable Linen Organizer – this is a great budget alternative to the Linenmate in #10
Collapsible Basket – these are great for toting laundry through the house and then they store flat
Vacuum sealed storage – great space saver!
Pullout drawers – easy way to maximize shelf space
Other Posts You'll Love
Decorative Storage from Amazon | How to Organize a Garage on a Budget | DIY Linen Closet Shelves  |  Bedroom Organization Favorites  |  Nursery Organization 
Pin the Photo Below for Later
I am hoping you know feel confident in how to organize a linen closet.  If you still have questions feel free to leave them in the comments below, and don't forget to follow me on Instagram (@arinsolange) and Tik Tok for more organization information.  To find this post later  – pin the photo below before you leave.