I am finally finding time this year to share some of my neutral and pink Christmas decor. Honestly…this is the first year in our new house with furniture and I thought I would go ALL OUT with Christmas decor…but Honestly, I haven't…and I am not sure I am even mad about it. Let me share what I did do, so you can hopefully gain inspiration for next year.
This post may contain affiliate links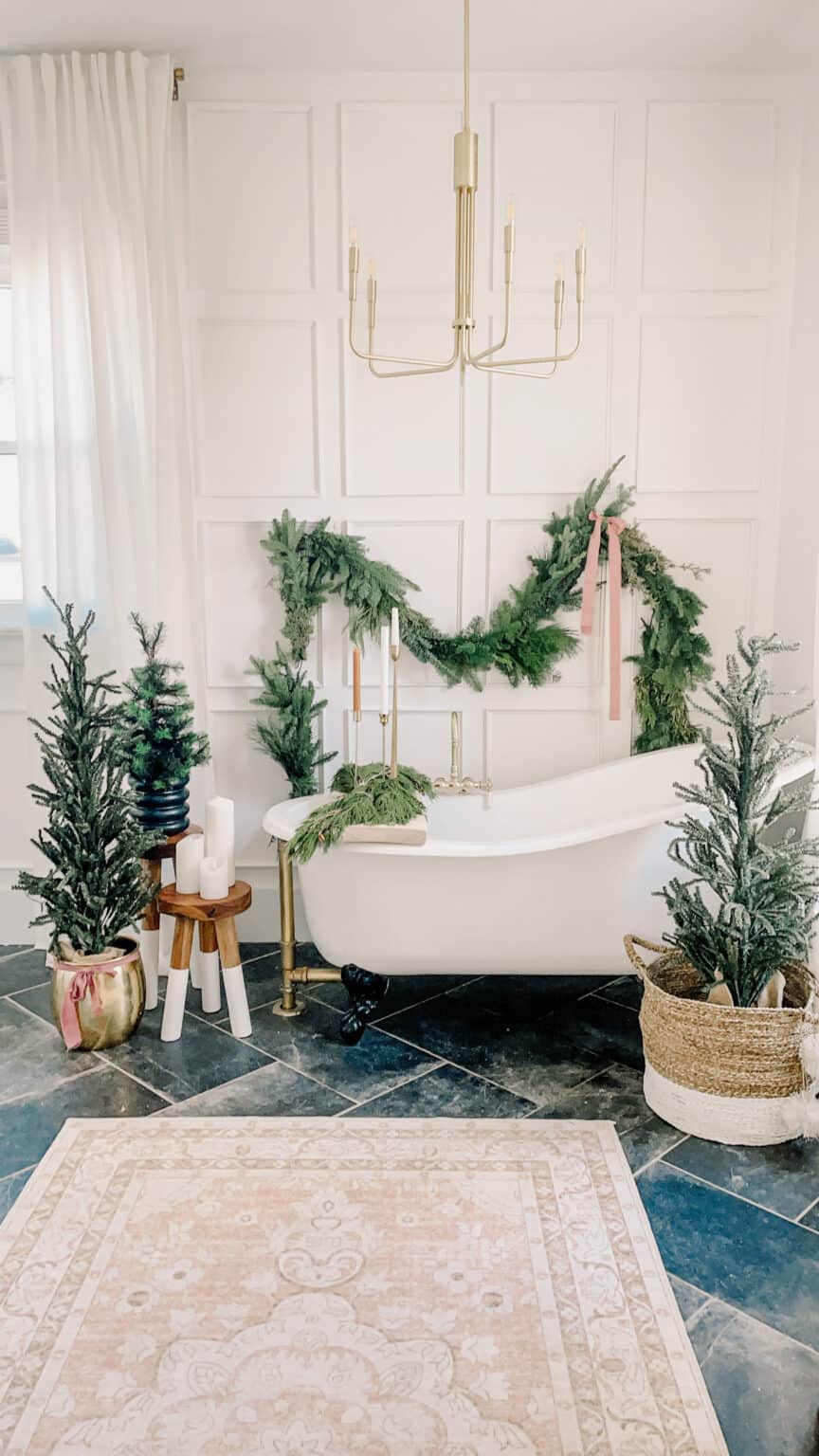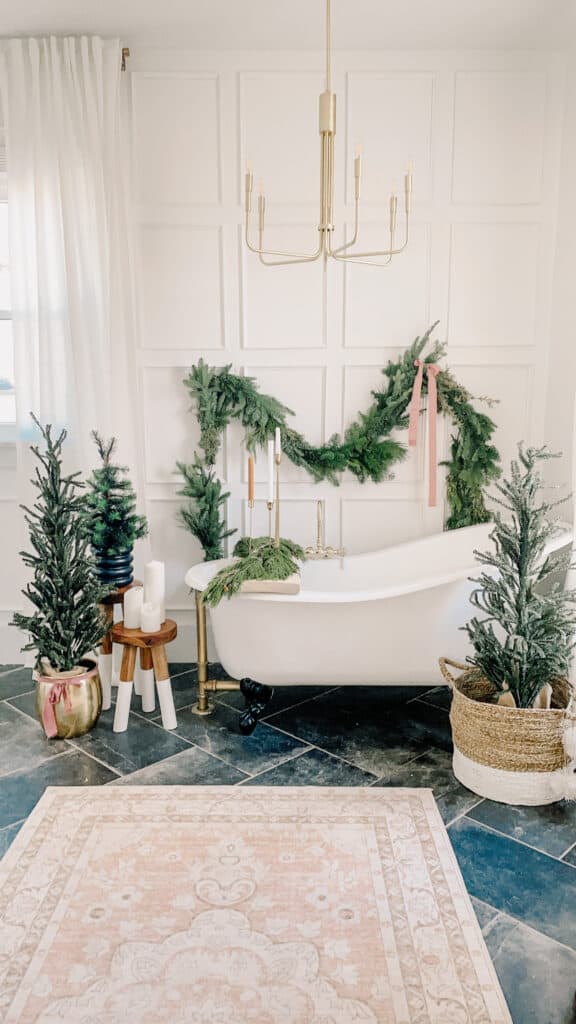 Neutral and Pink Christmas Decor
I have been doing a true 'Merry and Bright' Christmas for the past 3 years or so, and this year I finally transitioned just a bit. My decor has shifted a bit, and because of that I knew the full Merry and bright just wouldn't look right.
I opted to keep pink (because if you follow me, you know that I LOVE PINK, but I added in a lot of black, cognac, and natural greens this year too. This gave things a bit more of an elegant and warm feel for the holidays, while still being pink and fun.
As always, Christmas is always full of DIY for me, so this year was no different. I haven't yet blogged all of the little DIYs (and maybe won't), so I am throwing them all in one place for you to enjoy and hopefully gain inspiration from next year!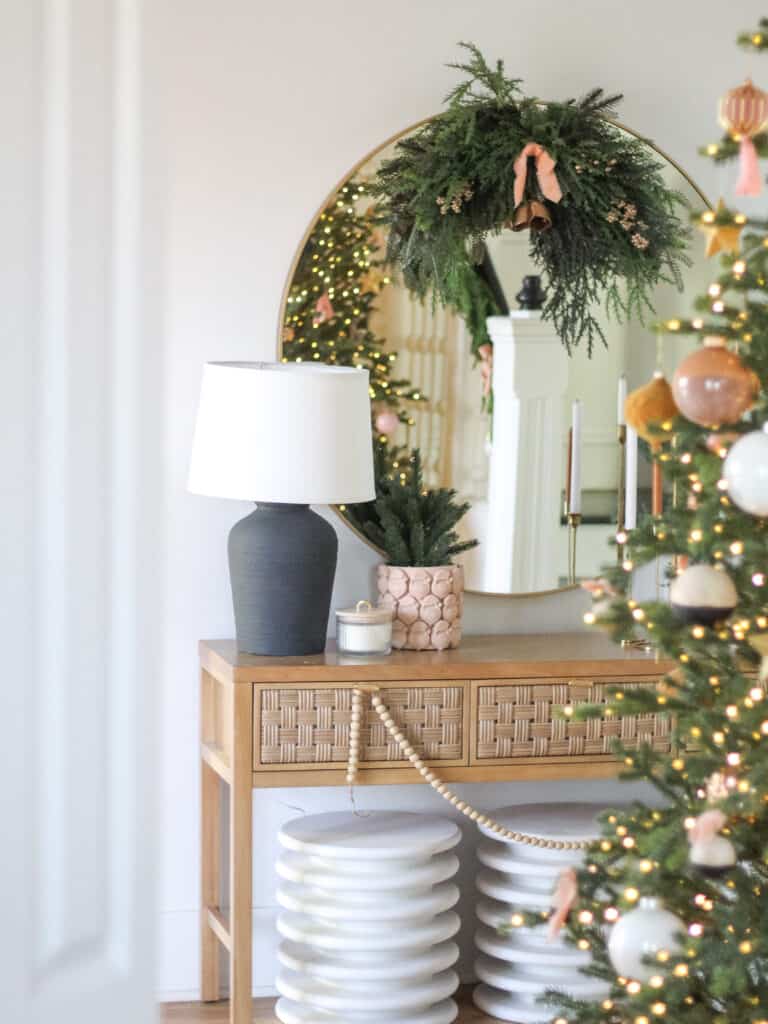 Minimal Decor for Christmas
This was my 2021 decor, but likely if you are reading this, you found it on Pinterest years later. I went into my Christmas decor this year thinking I would do it all. A big all out Christmas with decor everywhere. But the reality was that my heart and head weren't in that space for the holiday.
Where I ended up was a very minimal, yet pretty Christmas feel with non traditional colors. It was exactly what I had in my mind going into the holiday as far as color and it was filled with little DIYs all over the place, which is exactly how I like to do things.
The Christmas Trees
I am a bit 'extra' and always end up with several Christmas trees – this year was no different. I have quite a few, but they are all sort of getting retired one by one because when we moved our house had higher ceilings. Long story short – although I didn't do a ton in terms of my normal decor, but the trees – those still happened but in a toned down version.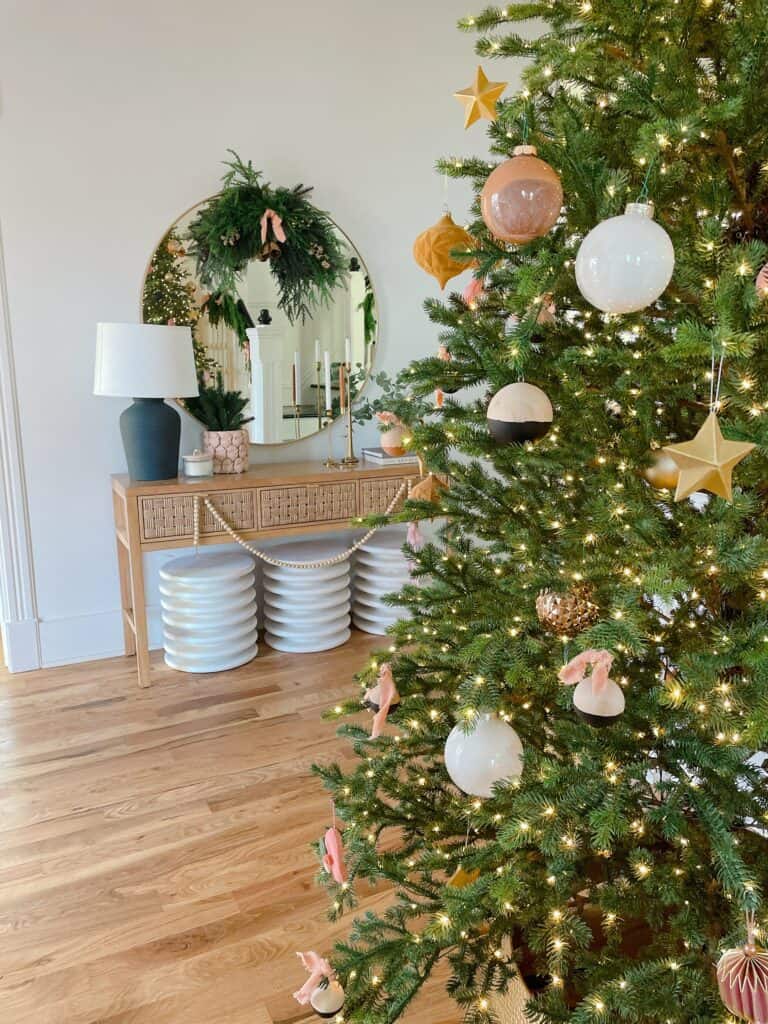 Our main Christmas tree was in our front entryway this year and was our new tree. We went with a 10 foot tree from Home Depot and LOVE.
This tree had mostly black, cognac and pink ornaments with some splashes of ribbon and metallic. The overall feel was very simple and minimal but so fun. I have a blog post coming on how to make the faux stained glass ornaments which will be repeated next year FOR SURE!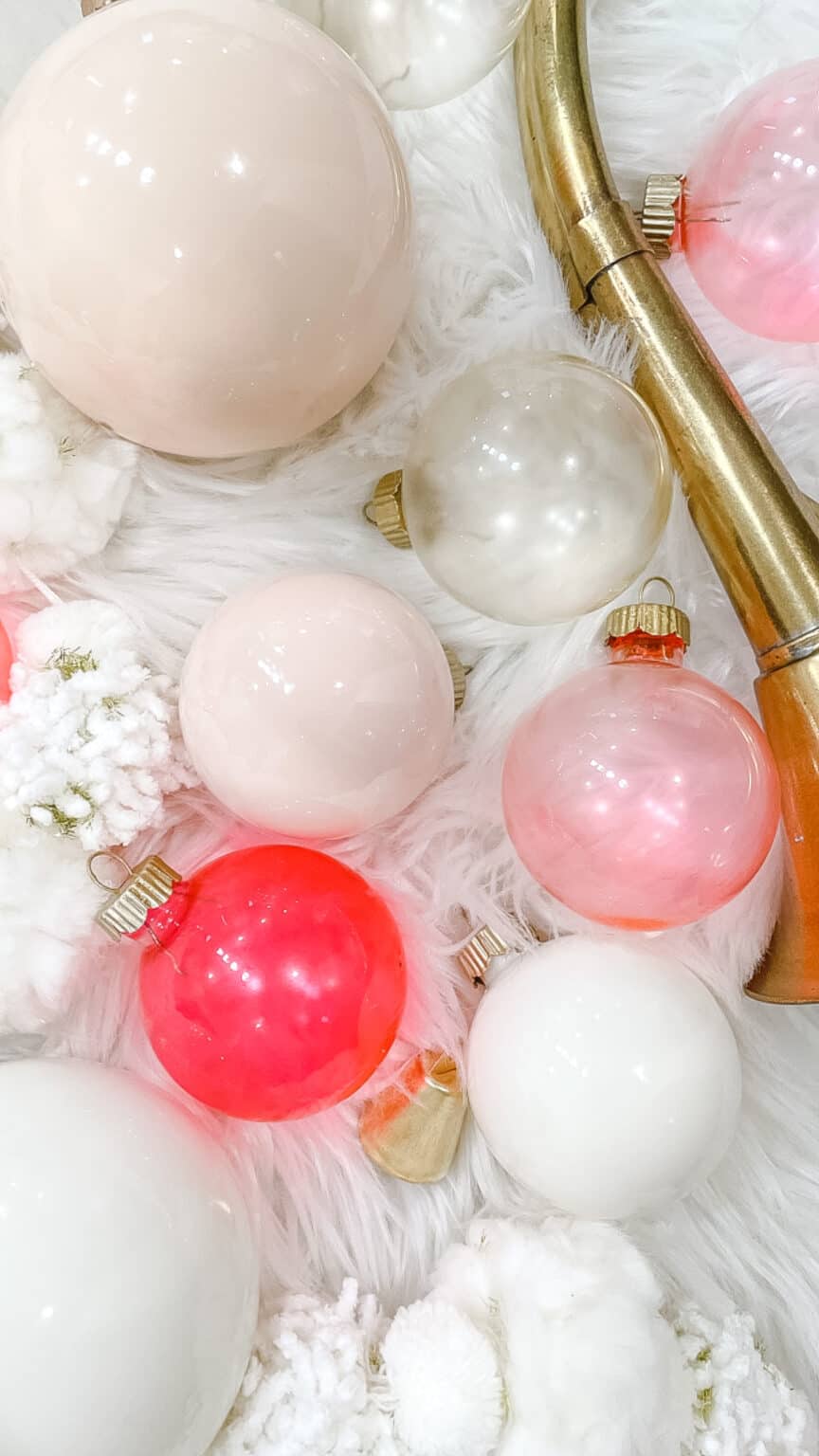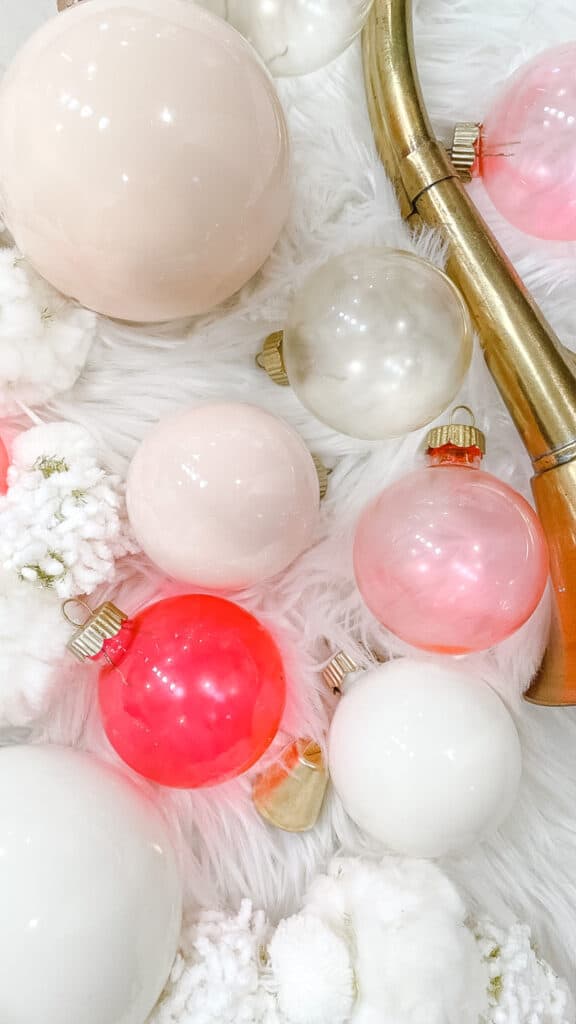 I also did our merry and bright tree in the playroom which I love doing. This is the kids tree full of animals and unicorns, and all the things that the kids like. It is such a fun tree for them and works perfect in the playroom!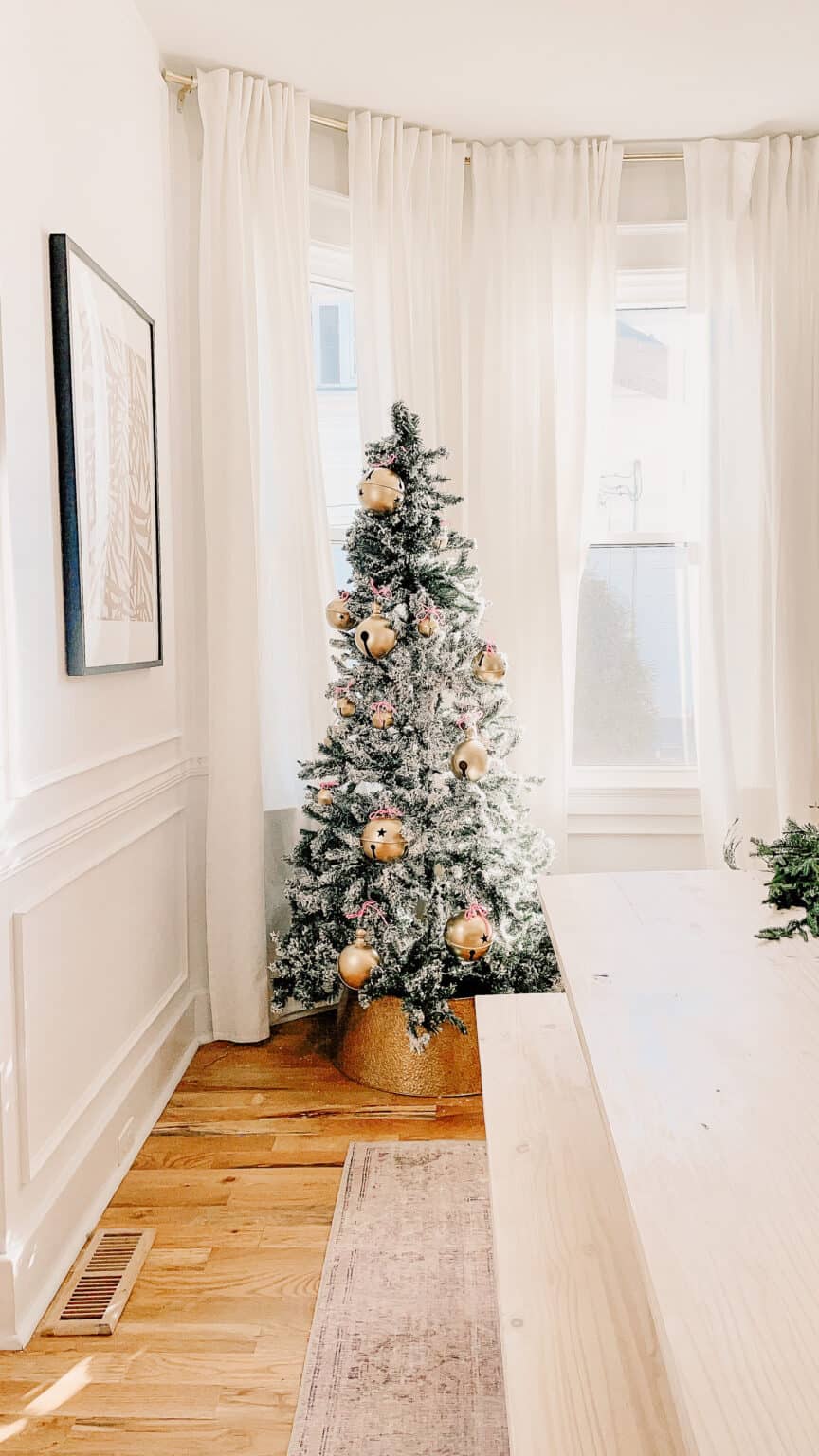 Our last tree this year was a gold bell tree. I actually saw one at Anthropologie that was epic, and recreated it to some degree by painting large bells gold and adding neon pink yarn to them to tie them. It was so subtle but pretty, and I will definitely be doing it again next year.
Other Decor
So what else did I do for decor? Like I said, It was minimal – but lets walk through it! Some of it is past DIY content, and some of it is new – I will try to get full blog posts up on the new.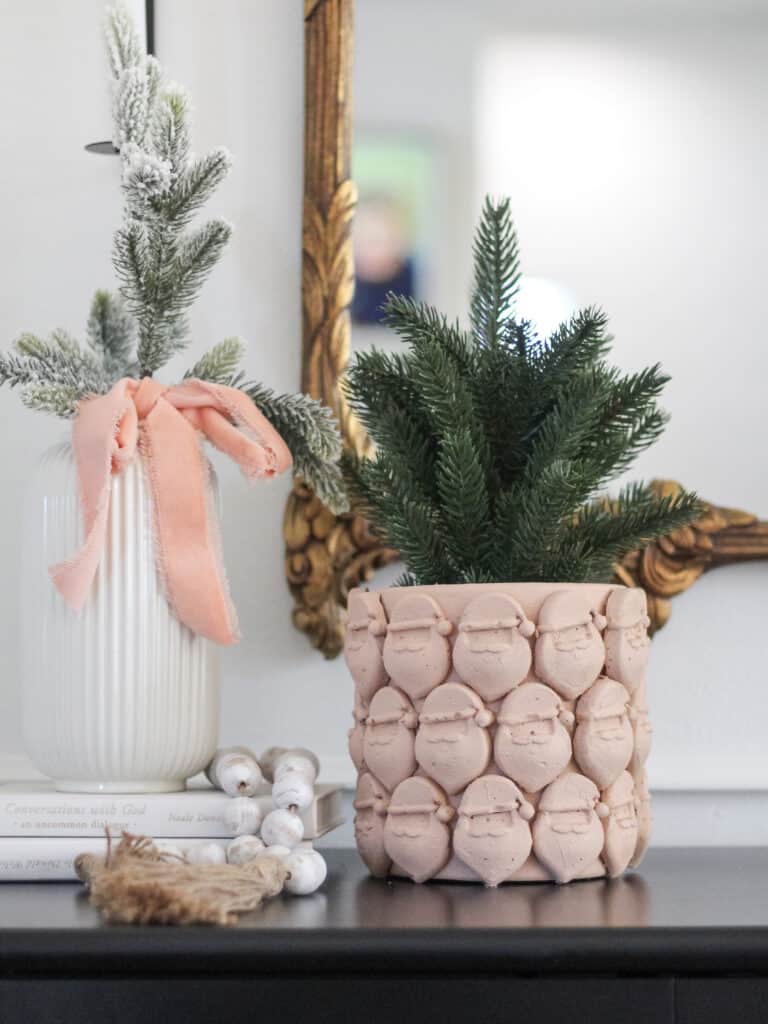 DIY Pink Santa Planter
My absolute favorite piece of decor this year was SO SIMPLE. Using the same tutorial that I used to make my skull planter I made a Santa planter. However this time I tried using hot glue instead of resin.
The hot glue gave it a less smooth finish but that was fine because I was looking for a rough finish. Check out the blog post for the skull planter for how to make it!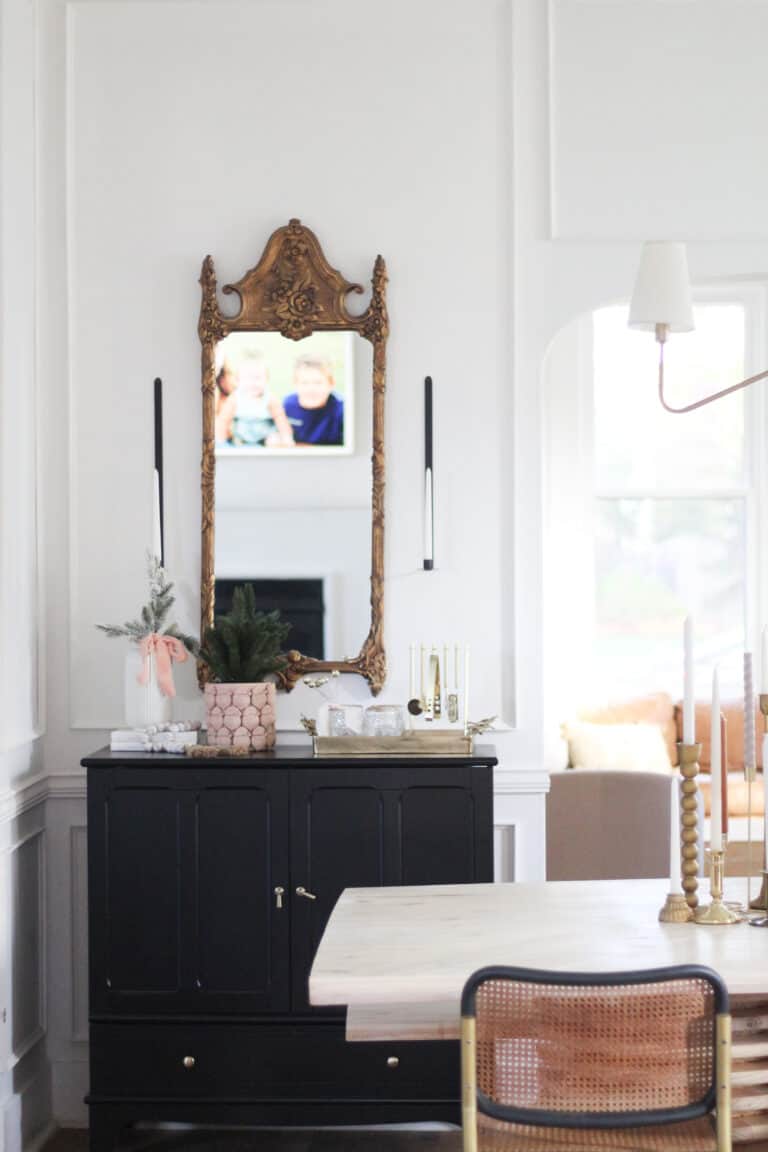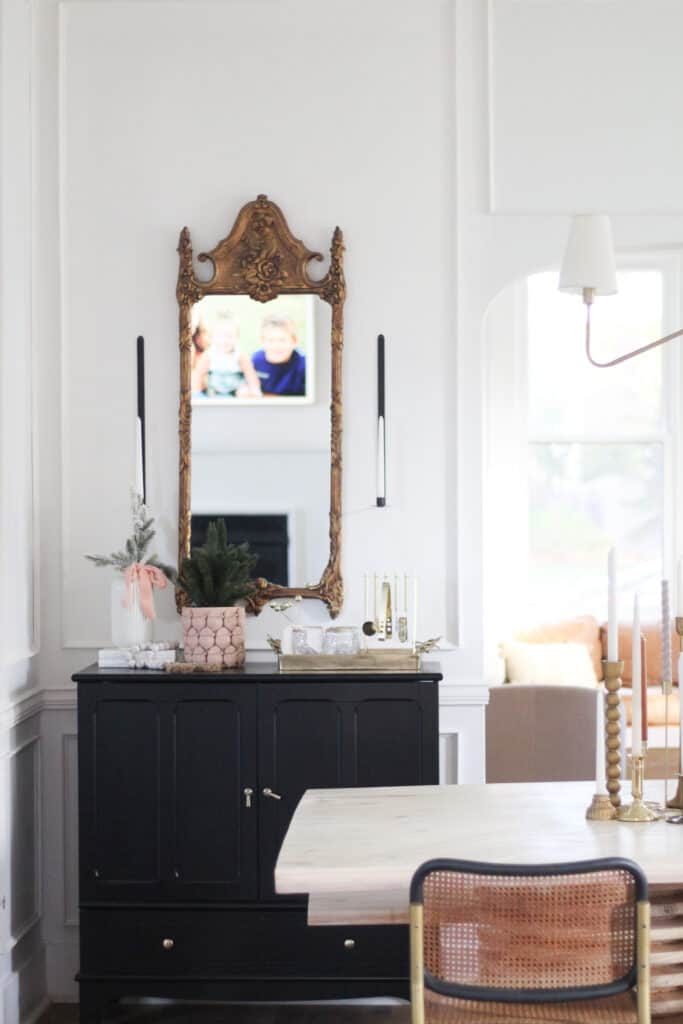 Christmas Boys Room
2 years ago I decorated my boys shared room and it was SO CUTE. I had all of the stuff so I wanted to do Jack's room again this year. The end outcome was second on my list of favorites this year for Christmas decor.
To check out his room normally and get those links you can check out this post first. And for the boys shared room you can check that out here.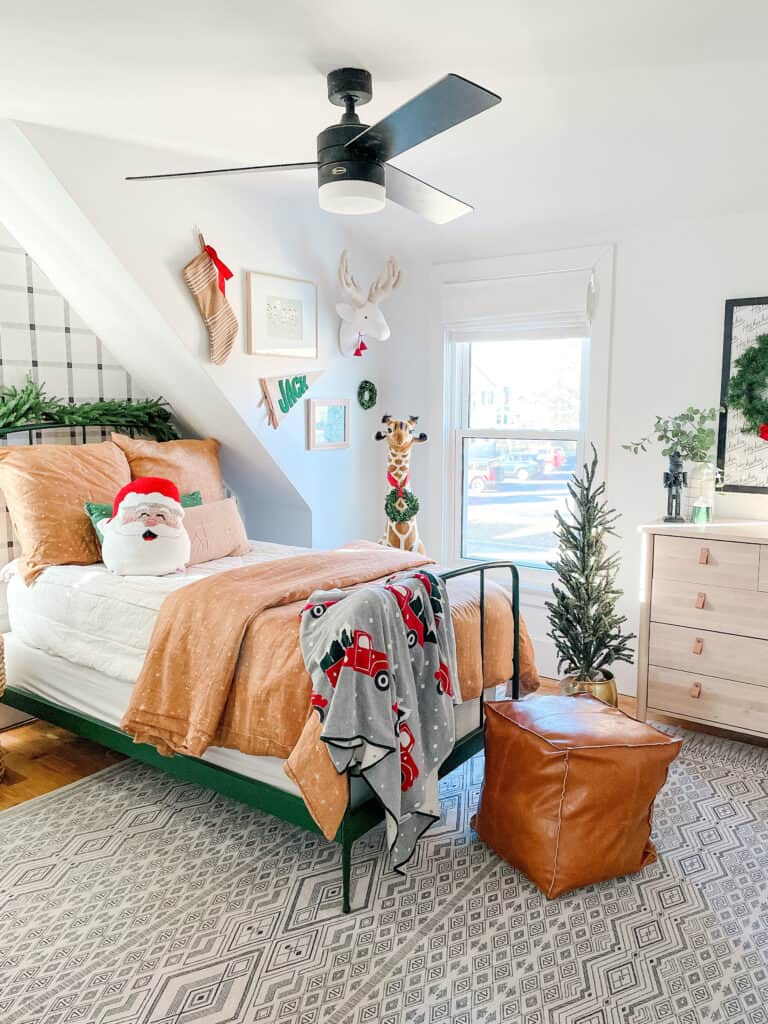 For the garland I used an older one but this was our FAVORITE garland this year. The stocking was new this year and so pretty. It is thin so was perfect for hanging on a wall like this. The blanket was from Home Goods years ago so I of course can't link it.
I framed a piece of wrapping paper over his dresser as opposed to printing the free printable from the shared room – but both were cute ideas and super inexpensive. Here is the link for the red Santa pillow that is a favorite. For the rest of the decor it was just adding simple pops of green and red!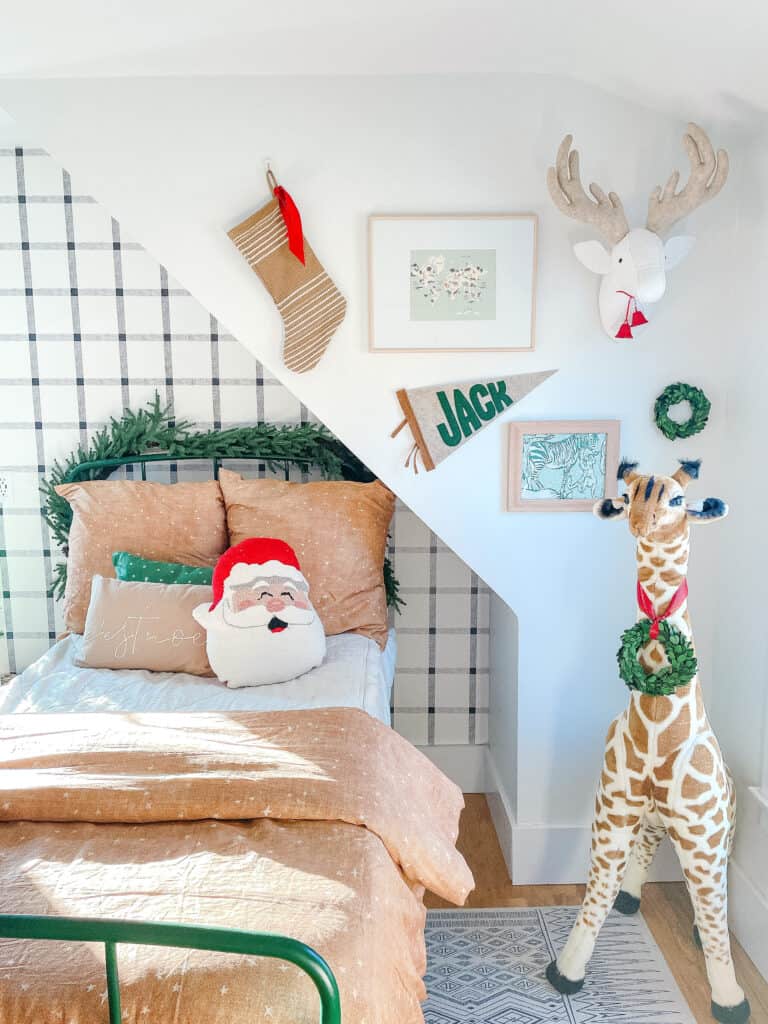 Pink and Fun Playroom
For our playroom we went with a more traditional merry and bright look. All of our stockings were hung in here, and I added all of my pink bottle brush trees. It was so simple but oh so cute.
For details on the playroom you can check out this blog post.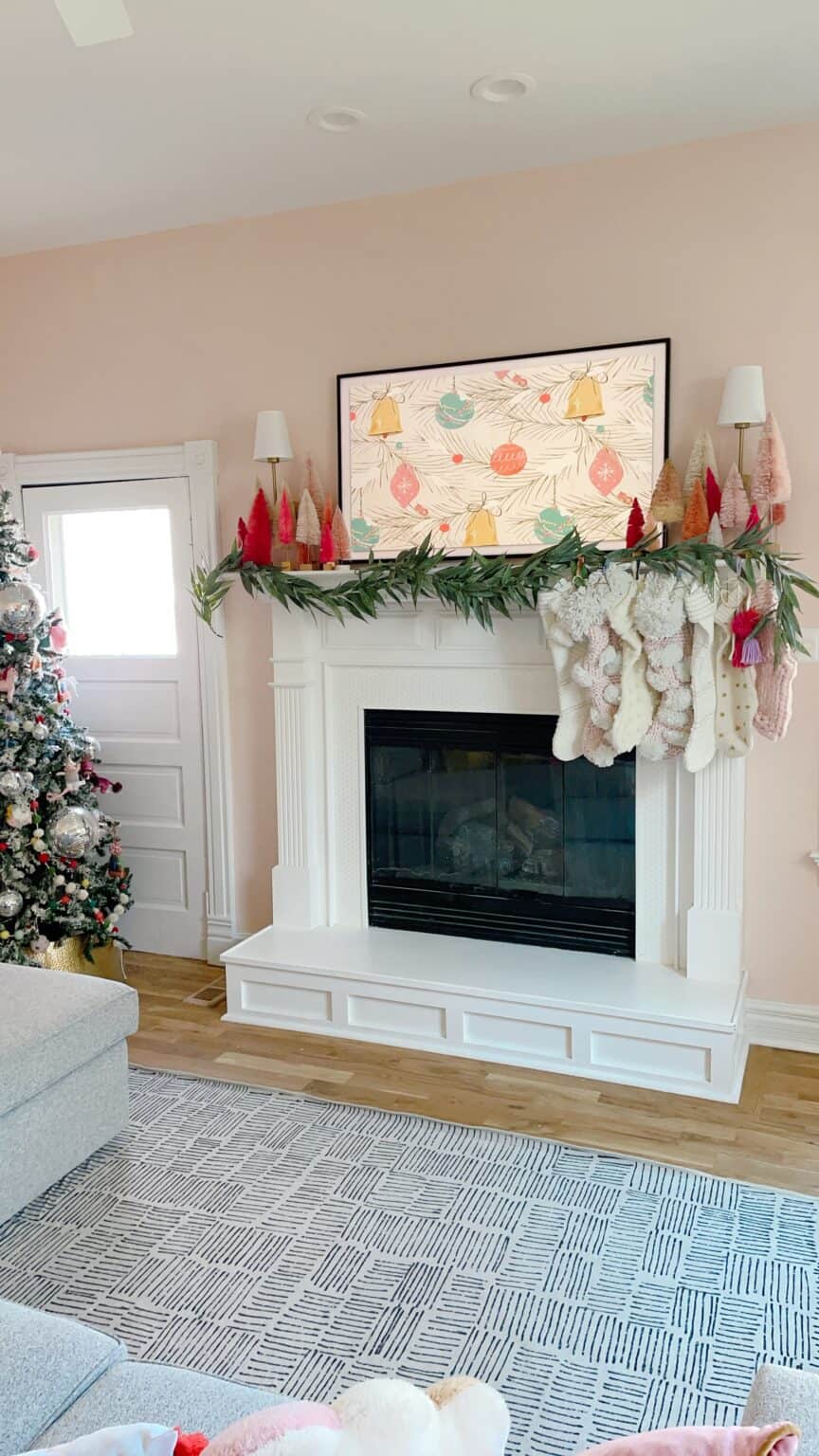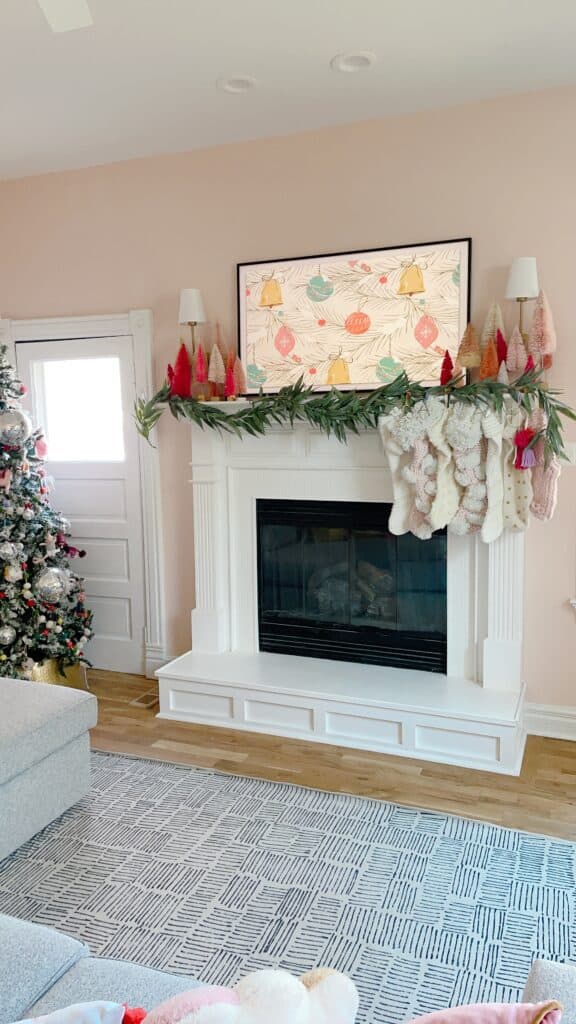 Odds and Ends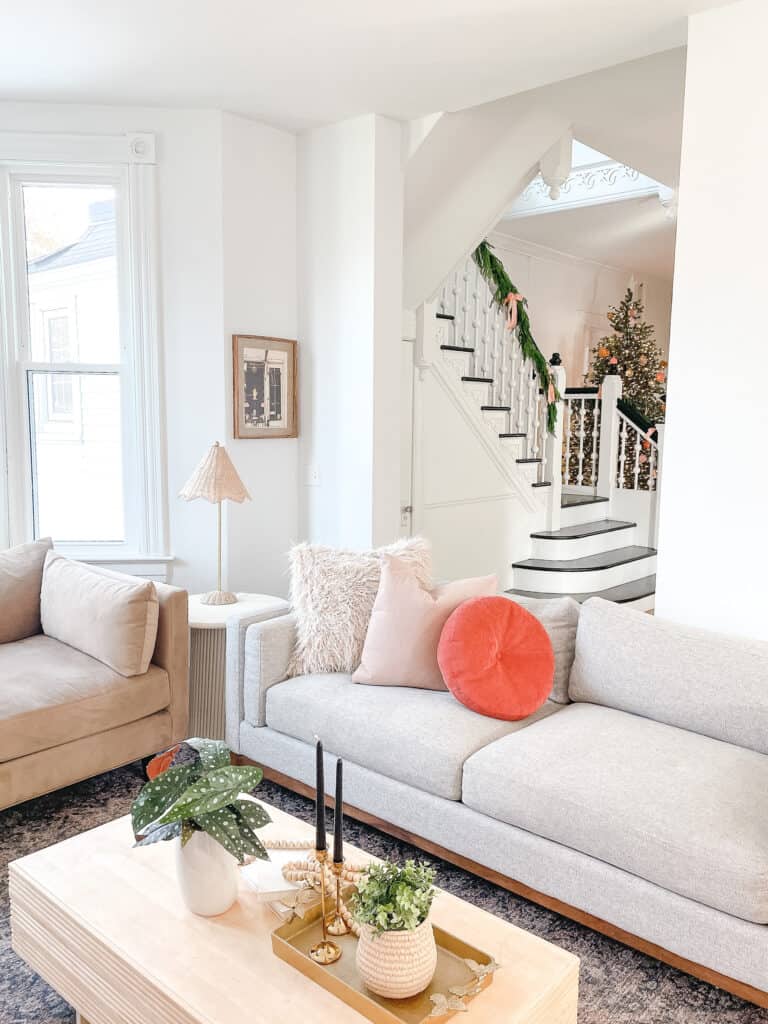 Our living room got very little in terms of Christmas decor this year – we have been working on the fireplace and built ins, so it was not a high priority. I did love that the view to the entryway still made it feel like Christmas.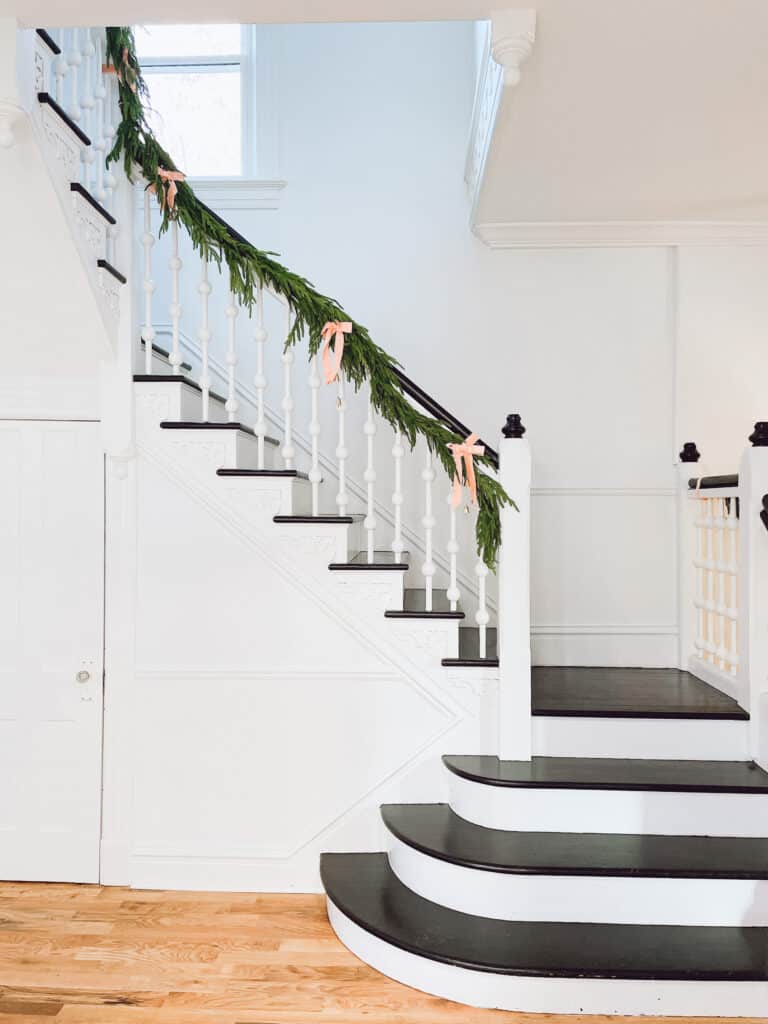 For our staircase we went with simple garland – I LOVE this faux garland, but it sold out really fast. So if you are seeing this early I highly recommend getting it early. I added a pink ribbon and small gold bells to the bows for a bit of interest. This was so simple and pretty.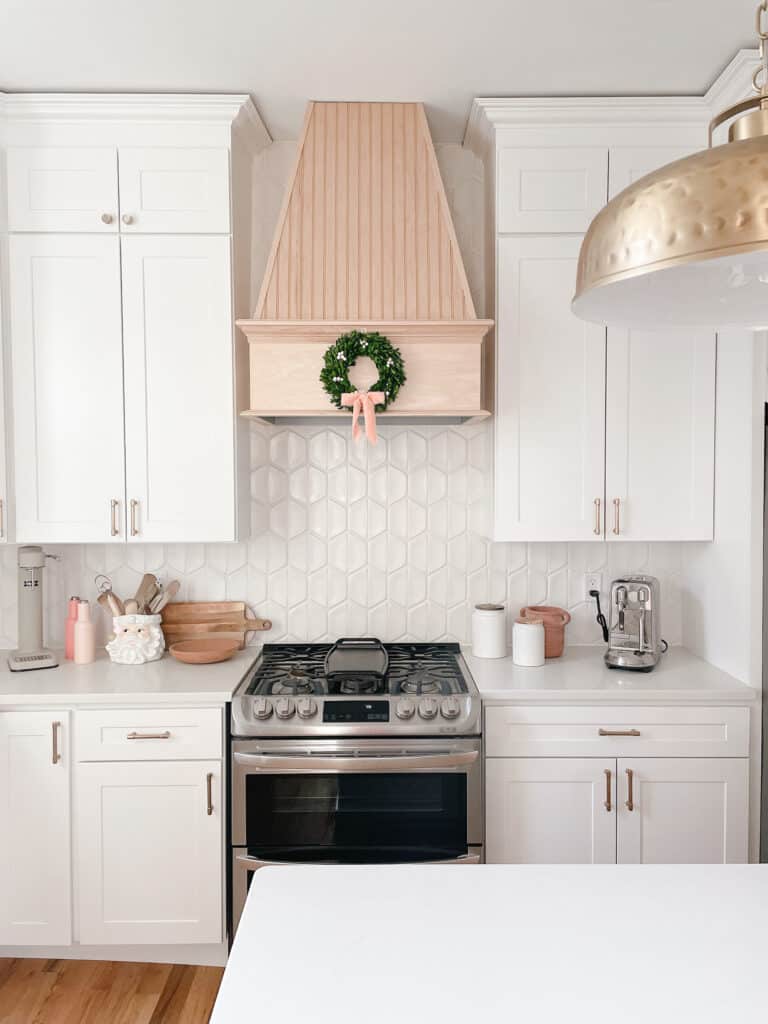 And that is it! I hope that this simple decor inspires your holiday decor! If you have questions on sources or rooms please feel free leave comments.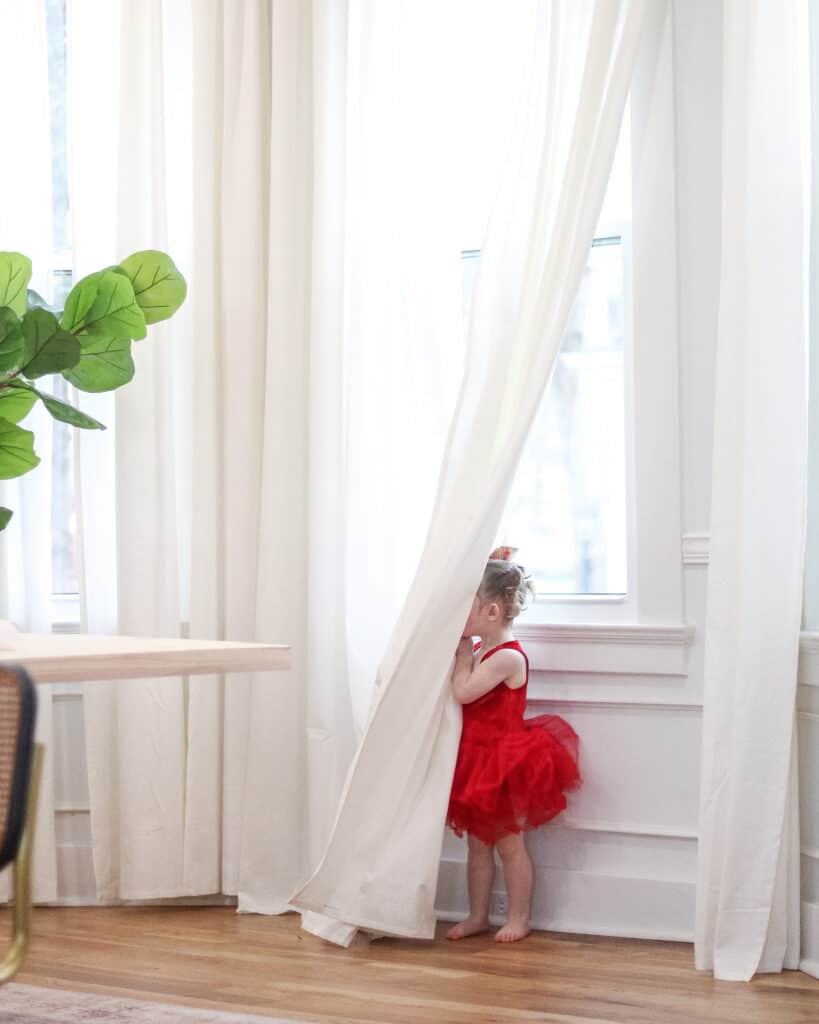 Other Posts You'll Love
Merry and Bright Decor | A fun Christmas Kitchen Decor Option | Christmas Pajamas | Gift Guides for your Family
Pin the Photo Below for Later
Hopefully you enjoyed this post. Like I said above – if you need help with sources, be sure to leave me a comment below. And be sure to follow me on Instagram (@arinsolange) for more holiday decor and Inspiration year after year.