I have spent more time than I care to admit Researching Shaker style kitchens this past year. Now that the cat is officially out of the bag, I can give you more insights into what decisions were made while renovating our 1860's historic home.
One of those major renovations was our kitchen and can I just say, wholly transformation Batman! It can be so overwhelming to make decisions during a renovation and one of the kitchen decisions we had to make was the type of cabinetry and kitchen style we wanted for our home.
We opted for a classic Shaker kitchen cabinets and door style. If you are thinking about renovating or are just interested in learning more about Shaker kitchen doors, then this post is for you! I'll go over what you need to know about this classic style and show you some amazing inspiration along the way.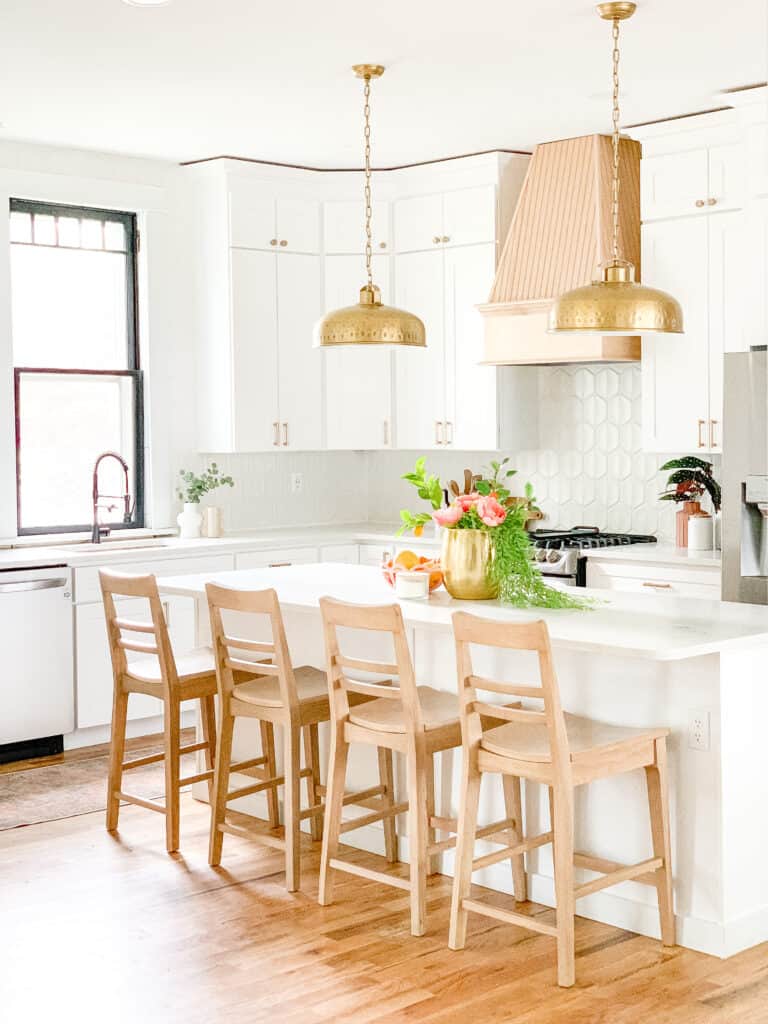 Our before and after pictures from our renovation can be found here.
This post may contain affiliate links
Shaker Style Kitchens
As I mentioned, Sam and I had to make a ton of decisions while renovating our 1860's historic home. For those of you who haven't seen the updated house tour, check it out here. I go into all the details on the house and show you all the before and after pictures. You won't believe it is the same house!
The kitchen remodel was a huge part of our renovation. In fact, the kitchen was actually just a random room in the house and not an actual kitchen at all! When deciding the type of kitchen I wanted, I knew I wanted a classic all-white kitchen.
I love the timeless and seamless look of an all white kitchen. With that white-kitchen, I also knew I wanted the clean lines that are achieved with Shaker style cabinetry and kitchen doors.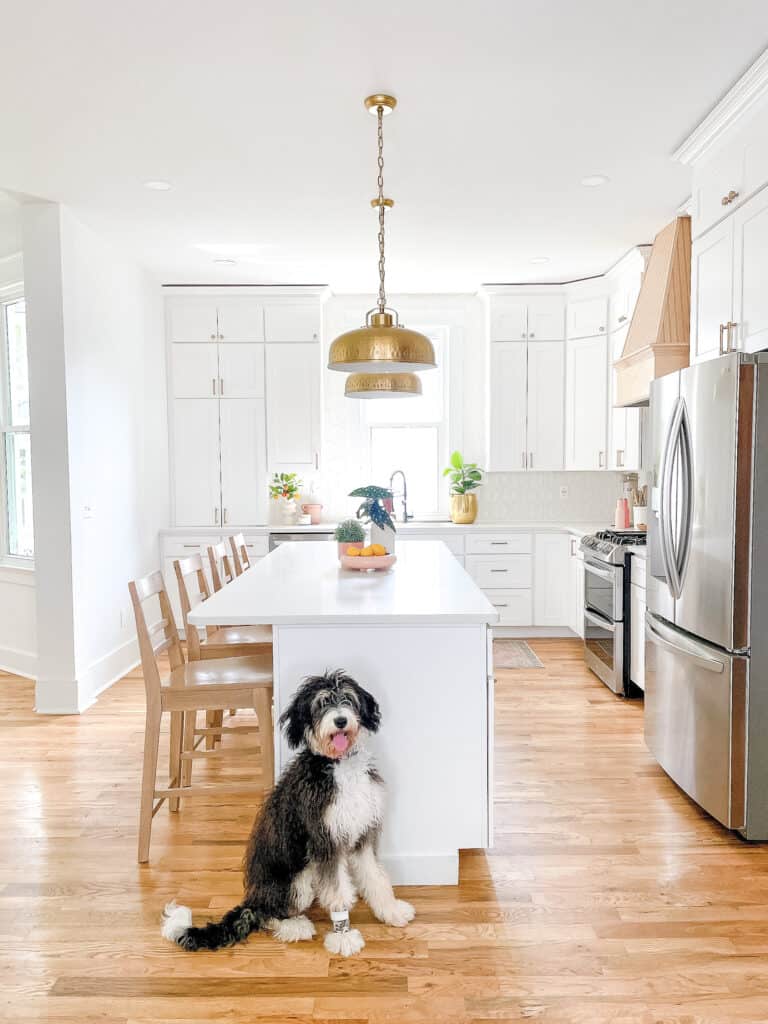 A Review in History of Shaker Style Kitchens
So what exactly is a Shaker style kitchen? Shaker kitchens actually get their inspiration from a religious sect known as the Shakers. Their real name was the United Society of Believers, but due to their ecstatic worship and love for dancing they became known as the Shakers. The Shakers weren't just known for their dancing.
They were a celibate group with strong beliefs in equality for all members well before emancipation and women's rights. The principles of the Shaker religion also included striving for perfection in everything they did.
Work was a form of currency in their community and labor was highly regarded. This resulted in beautifully constructed villages, homes, and gardens. Their work became well known worldwide for their craftsmanship using the best materials.
It was regarded as being durable and simple with a minimalist design concept. They preferred to avoid embellishments in their work with the exception of their design circle of their symbol- the tree of life.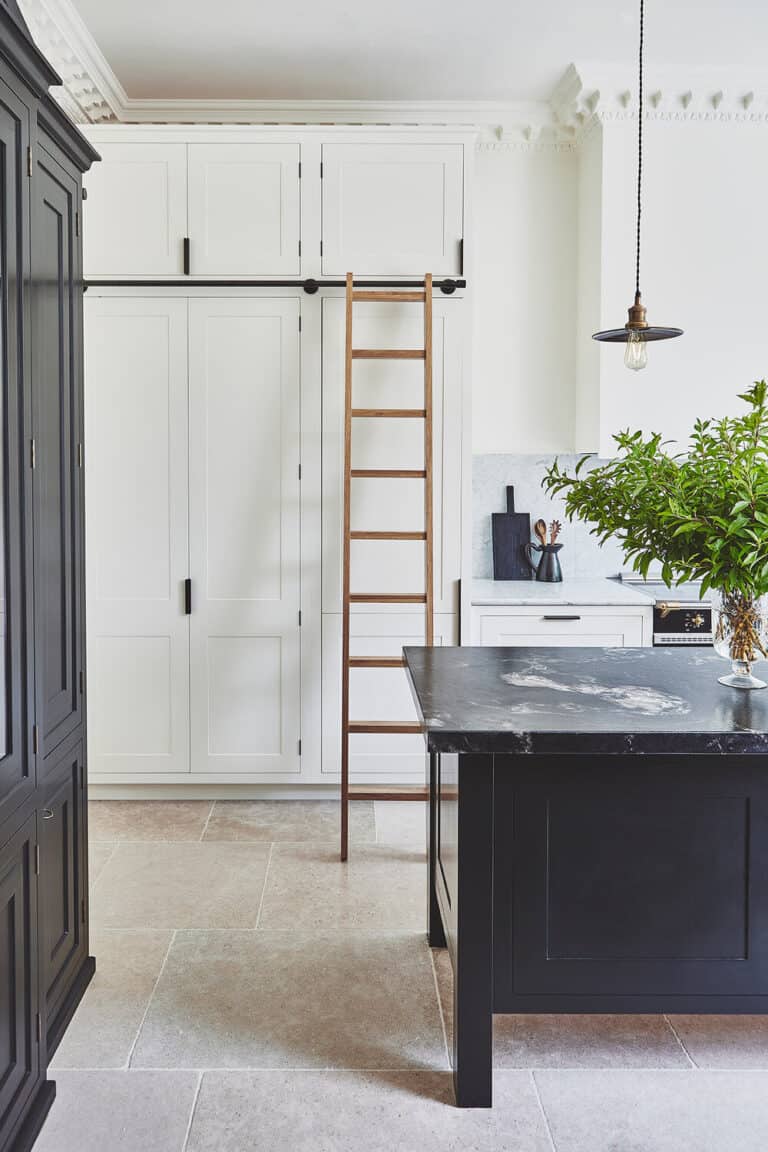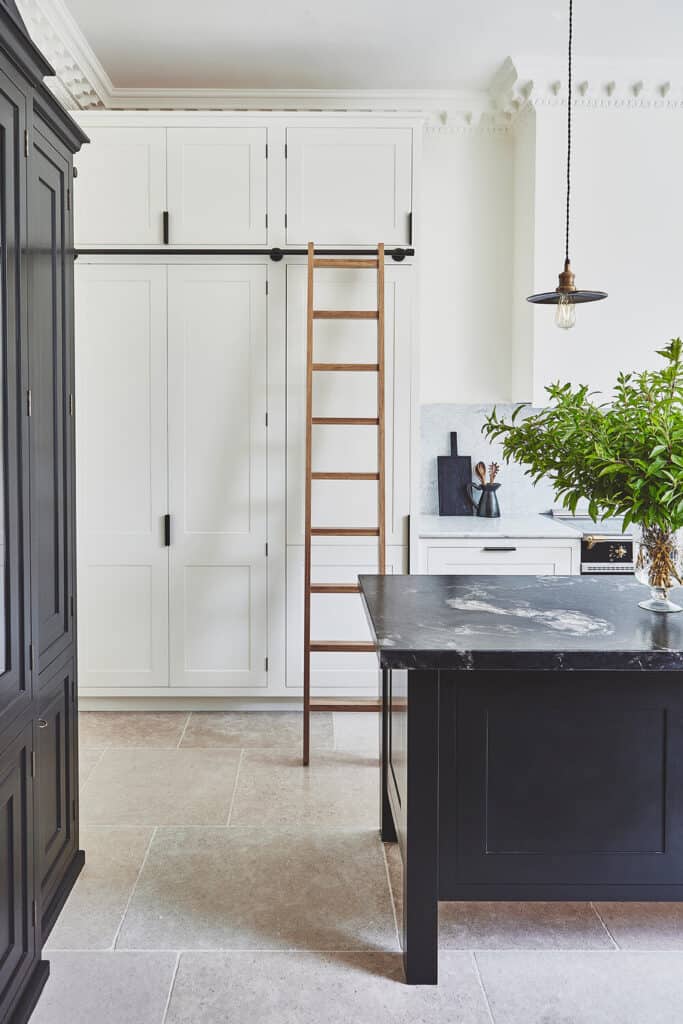 This contemporary Shaker inspired kitchen can be found here.
A Shaker style kitchen is characterized by it's simple and unassuming design. The shaker design avoids any sort of embellishments and real wood is often stained in various shades. The high quality of their work makes them an excellent choice for furniture and kitchen components.
 Shaker doors and shaker style kitchen cabinets are characterized by a five-piece door with a flat recessed center panel, four trim pieces, and a solid wood frame.  The clean lines of shaker cabinets created a seamless and simple look that makes it a popular choice for kitchens today. 
What I love about Shaker cabinetry and Shaker style doors is that you can use the traditional styles of the Shaker religious community and mix it with modern kitchens and contemporary designs.  It does not limit itself to a traditional kitchen.  Rather, the style of your kitchen can be a mixture of modern designs and a classic look.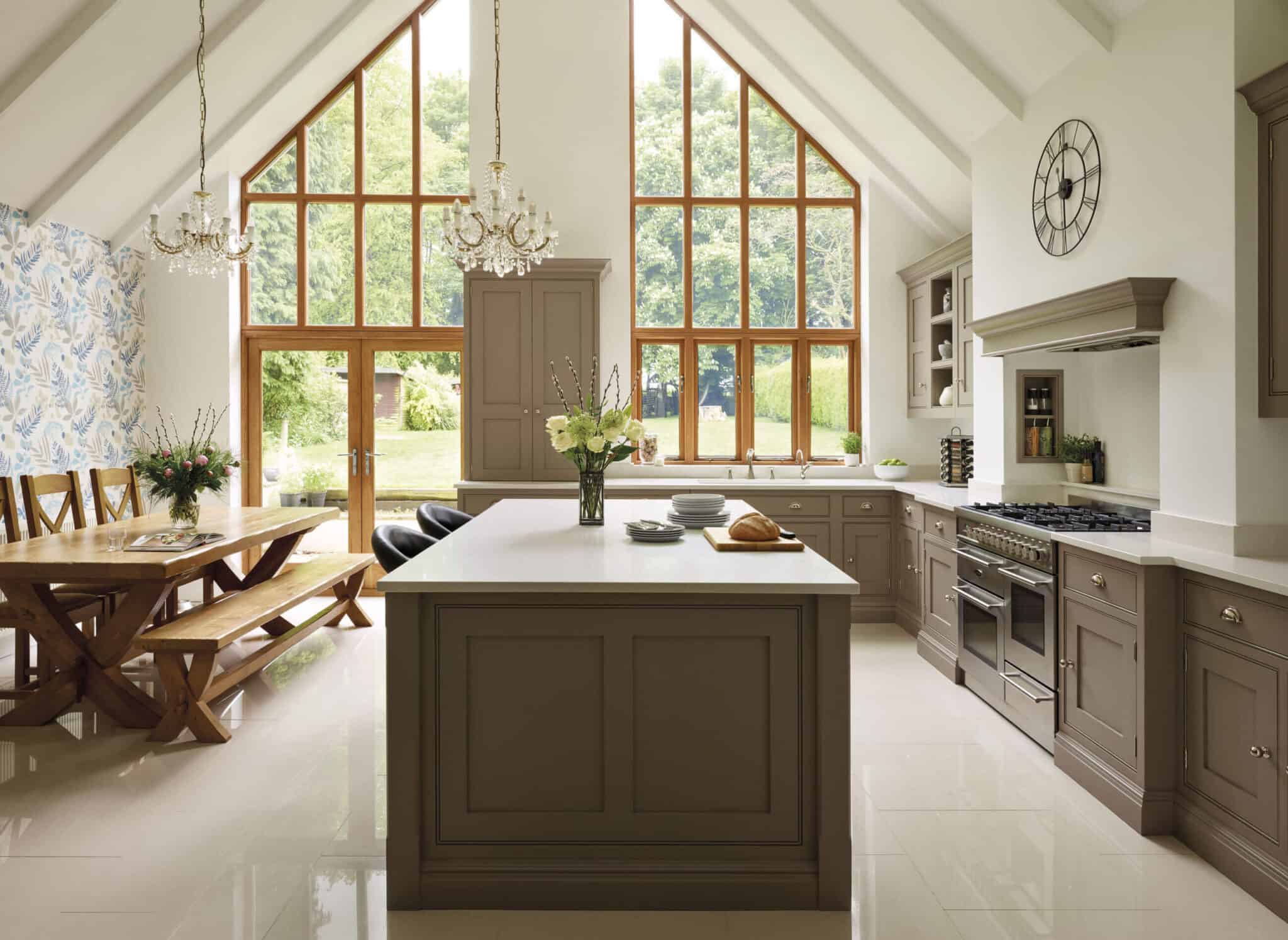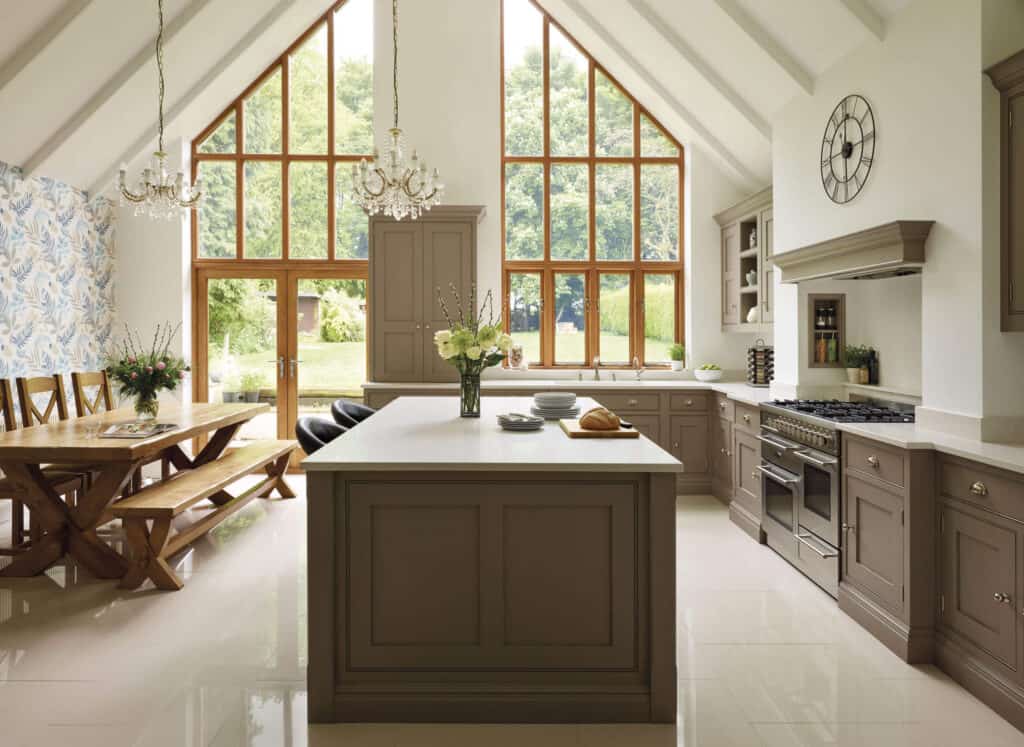 This classic Shaker kitchen can be found here.
Favorite Shaker Kitchens
Now that we have a better understanding of what Shaker kitchen cabinet doors are all about, let's take a look at some popular styles of kitchens using these Shaker cabinet designs.
Contemporary Kitchen Designs
Of course Studio McGee hits it out of the park with this great example of mixing traditional Shaker style cabinets with a bold contemporary pop of the green paint color and modern gold hardware. The marble veining ties the lower cabinets in nicely and compliments the white shaker cabinets above.
This is a great example of a basic Shaker style cabinet door. Studio McGee explains on their blog how these cabinets were actually semihandmade cabinets which accelerated the rate of their install for this new kitchen.
The popular cabinet door styles made famous by the Shakers means that this style is available for every person's budget and widely available at your local hardware store (or in this case, Ikea). The contrasting lower cabinets created a custom look for this incredible kitchen.
These shaker-style cabinets look incredible in contemporary kitchen designs.
This next kitchen is love at first sight. Brayer Design (UK based interior designers) slayed this kitchen. This is a perfect example of a Shaker inspired kitchen. The flat center panel is key for Shaker style cabinet doors. What I most love about this kitchen is that it is such an incredible mix of traditional elements paired with contemporary pieces.
The natural oak floor is elevated with a herringbone pattern for a modern style. The brass pendant lights add a pop of color and tie in nicely with the modern floors and other finishes.
If you take a look at more photos of this kitchen, you'll also notice that the dining room table is a great example of Shaker furniture. The natural wood finish and simplistic design of the table is something you'd expect to see in a late 19th century home.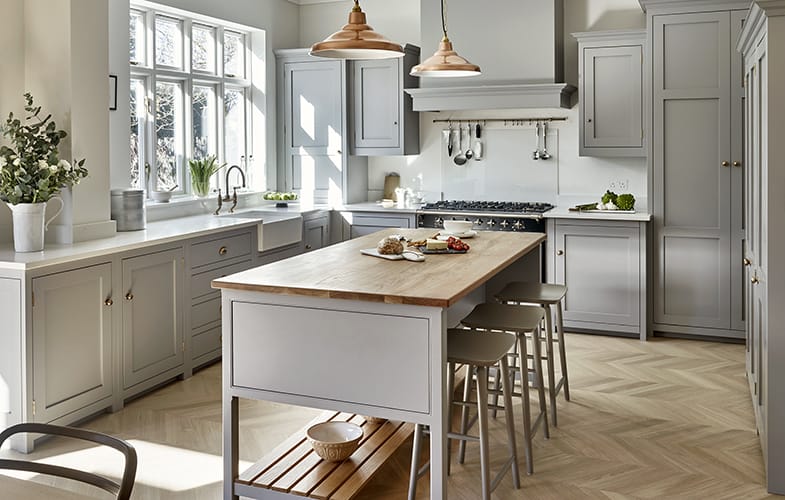 Take a look at this incredible kitchen here.
Traditional Kitchen Designs
This next kitchen contains floor to ceiling Shaker style cabinets. From the lighter wood finish floors to the unassuming cabinet hardware this is a prime example of a traditional Shaker kitchen.
The glass pane on the upper cabinets add a modern look to the basic shaker style cabinet door. The darker colors of the cabinets make the door fronts pop and complement the light wood floors.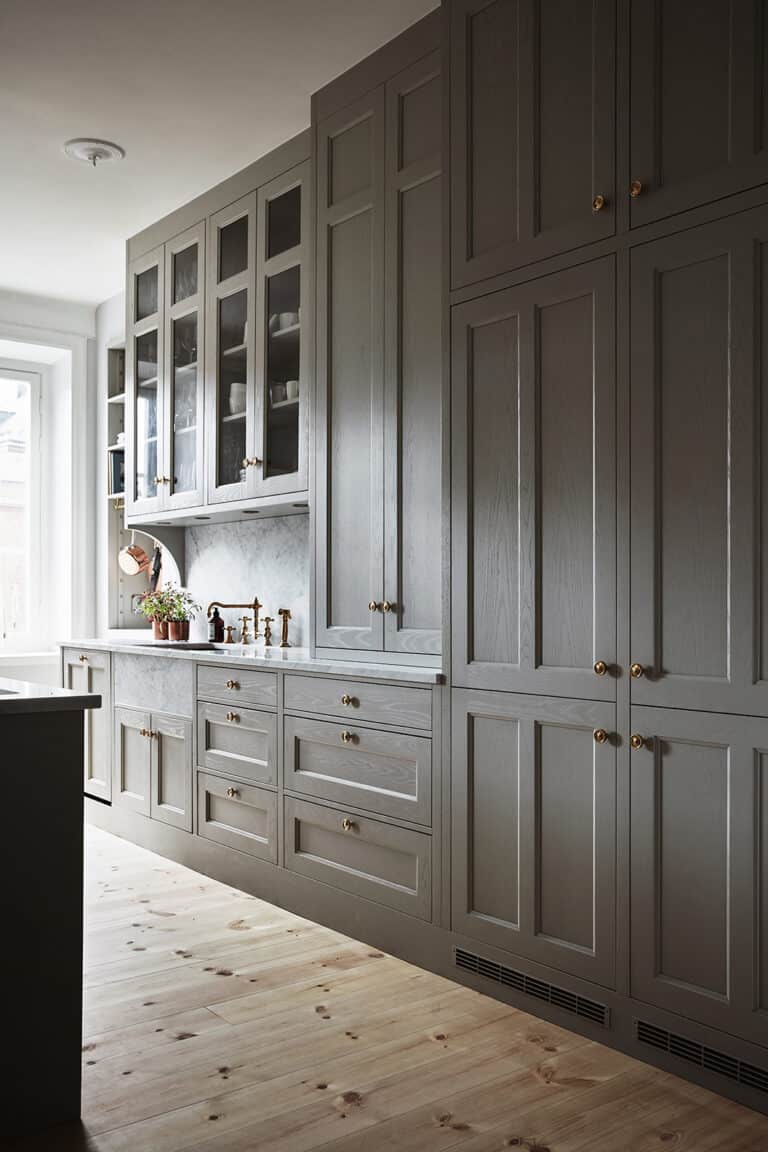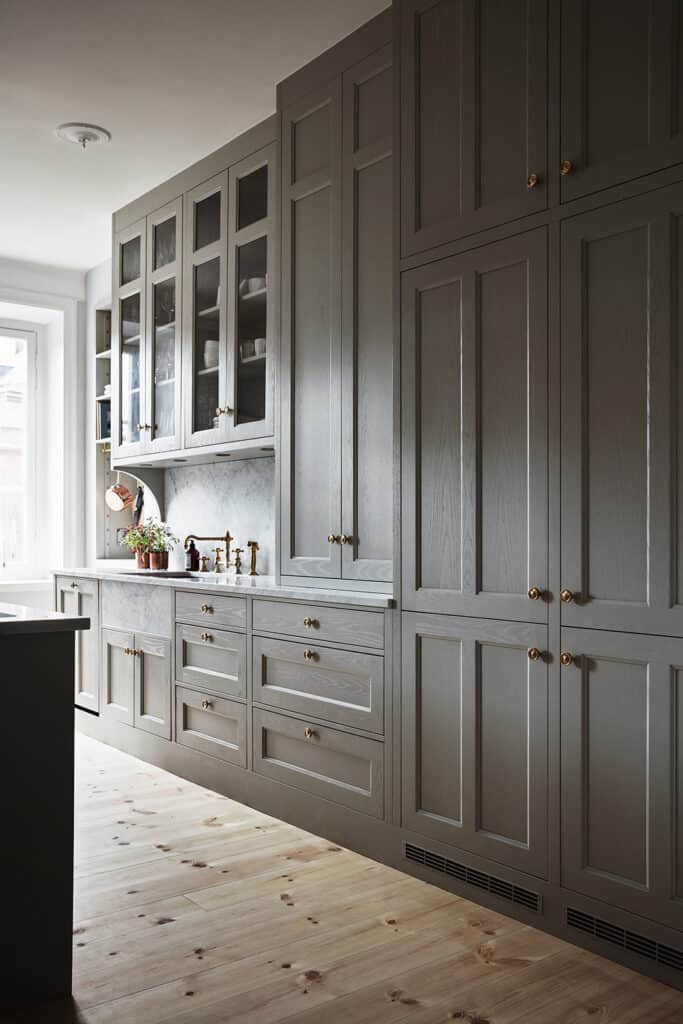 Check out this traditional Shaker kitchen here.
Hear me out on this next kitchen. I know you're going to take one look at the color and think, "Are you out of your mind?" While the different color of the kitchen cabinets make this more contemporary, the cabinets themselves are a great example of a traditional Shaker kitchen.
The flat doors, vertical pieces of the cabinet frames, and recessed panel drawer fronts are as traditional as it gets.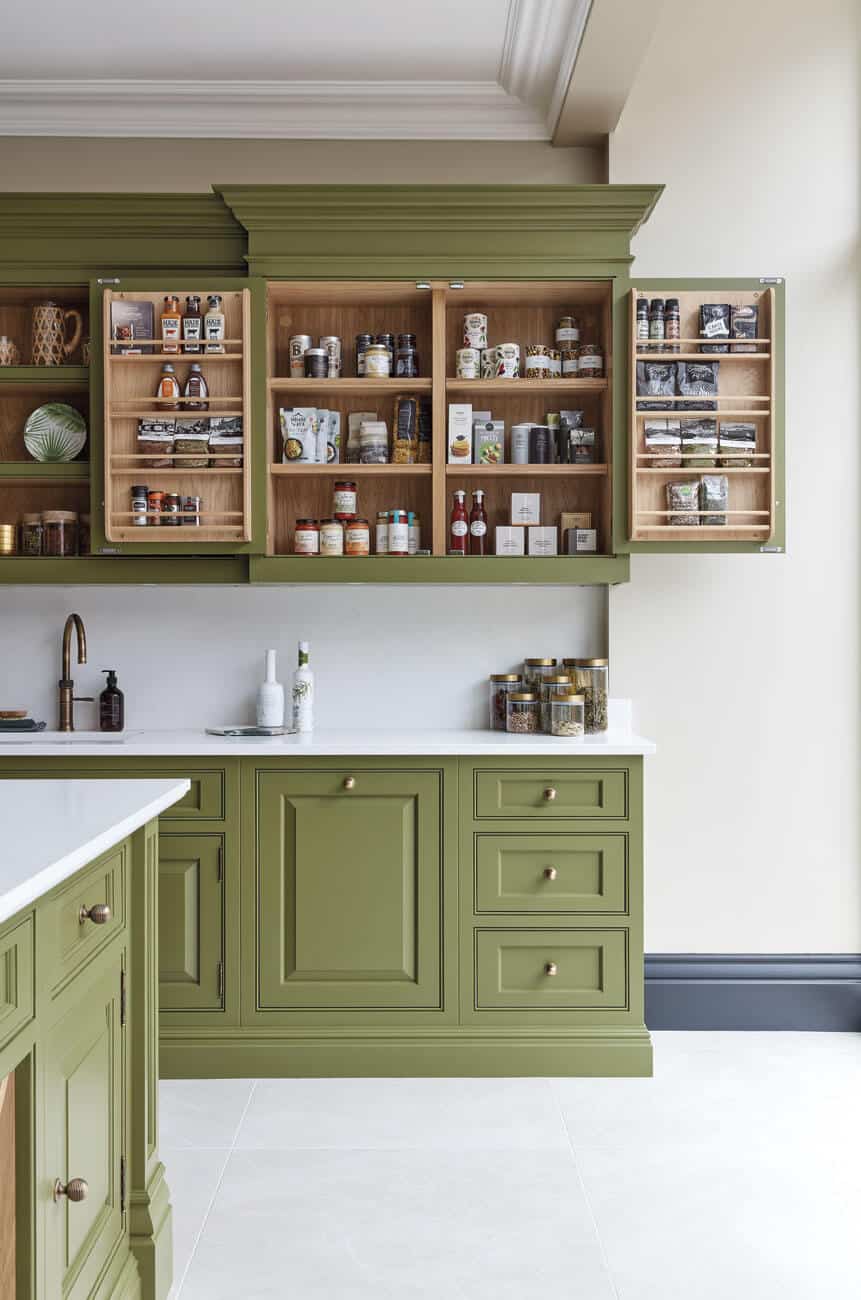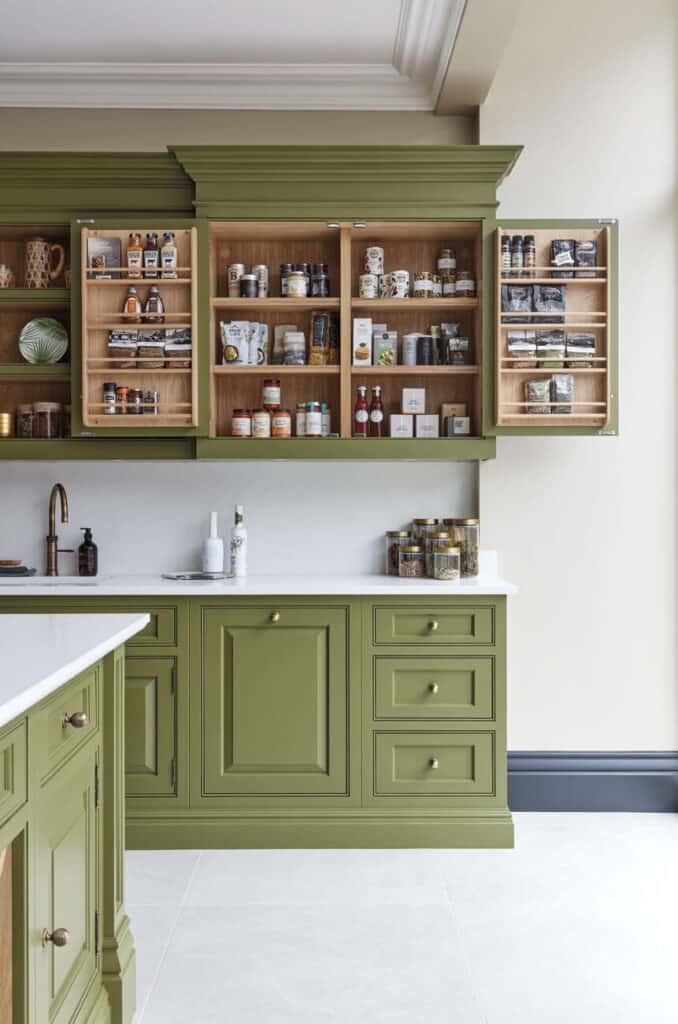 This is a perfect example of a Shaker kitchen.
All White Shaker Kitchen Designs
This 1920's farmhouse has been completely renovated and has the most incredible story. The owners have had their home in their family since the 1920s. Obviously, I have a soft spot for historic homes with a story and I love that this family has kept this property in their family for generations.
The kitchen was originally in another part of the house and was renovated and moved to overlook their gardens. This all white kitchen has beautiful lighting that is amplified by the glass panes on the Shaker style cabinets. The entire kitchen is timeless and captures the spirit of the Shaker design.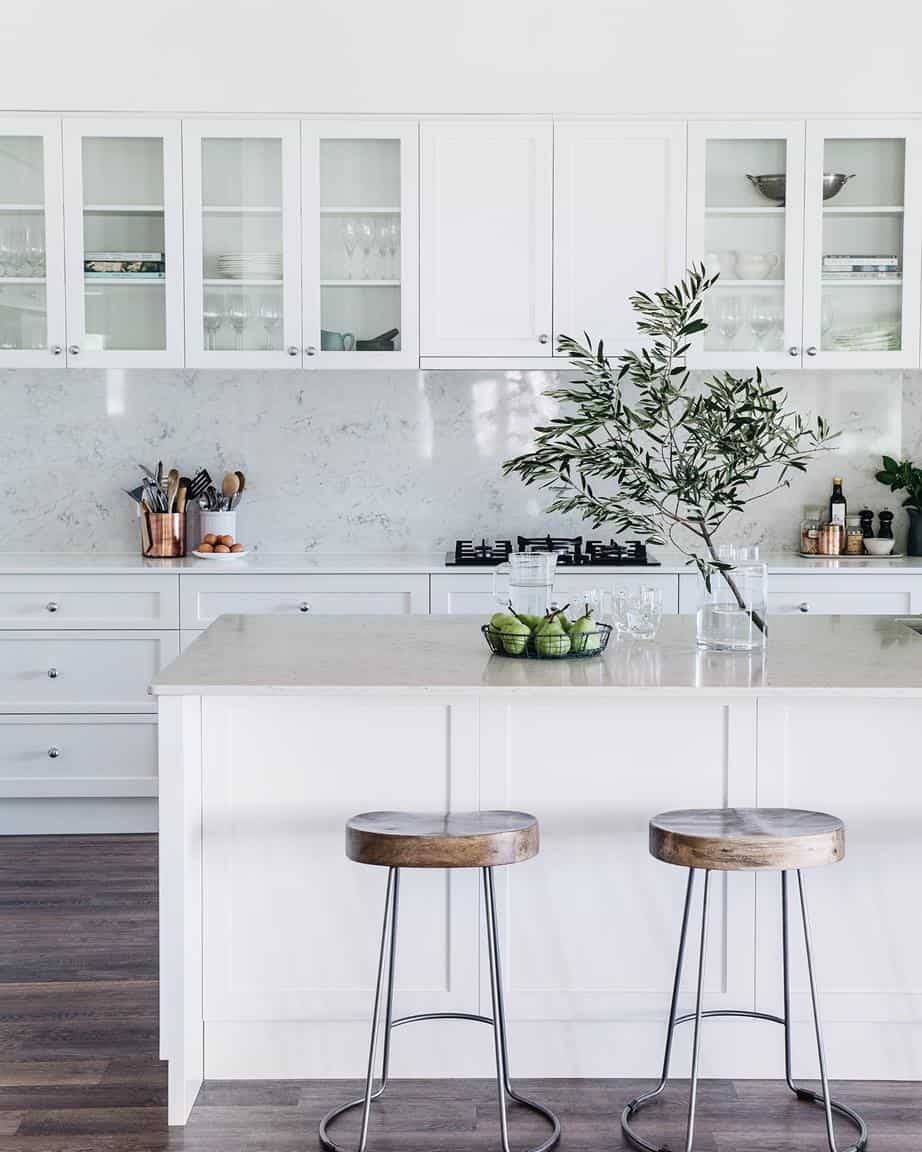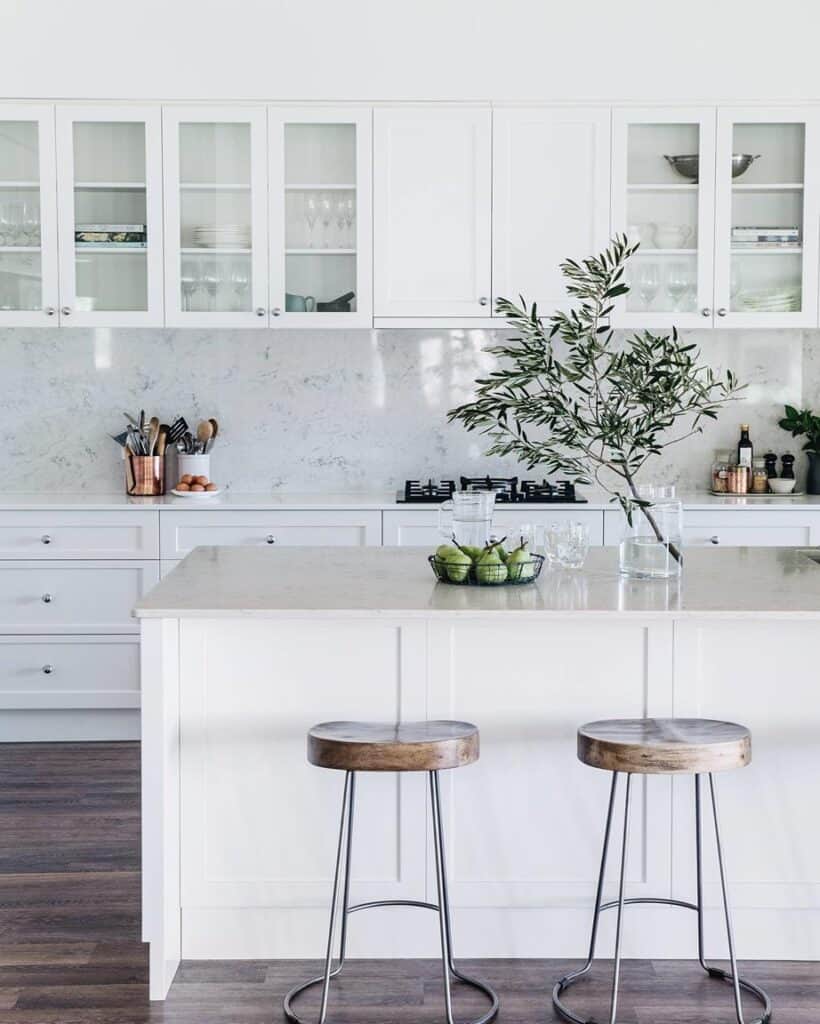 Check out the story on this family's 1920s property here.
Dream Nest Homes pairs the classic Shaker cabinets with contemporary accents in this all white kitchen. The brass lighting, brass hardware, and herringbone backsplash are examples of an easy way to update the traditional cabinets for a contemporary design.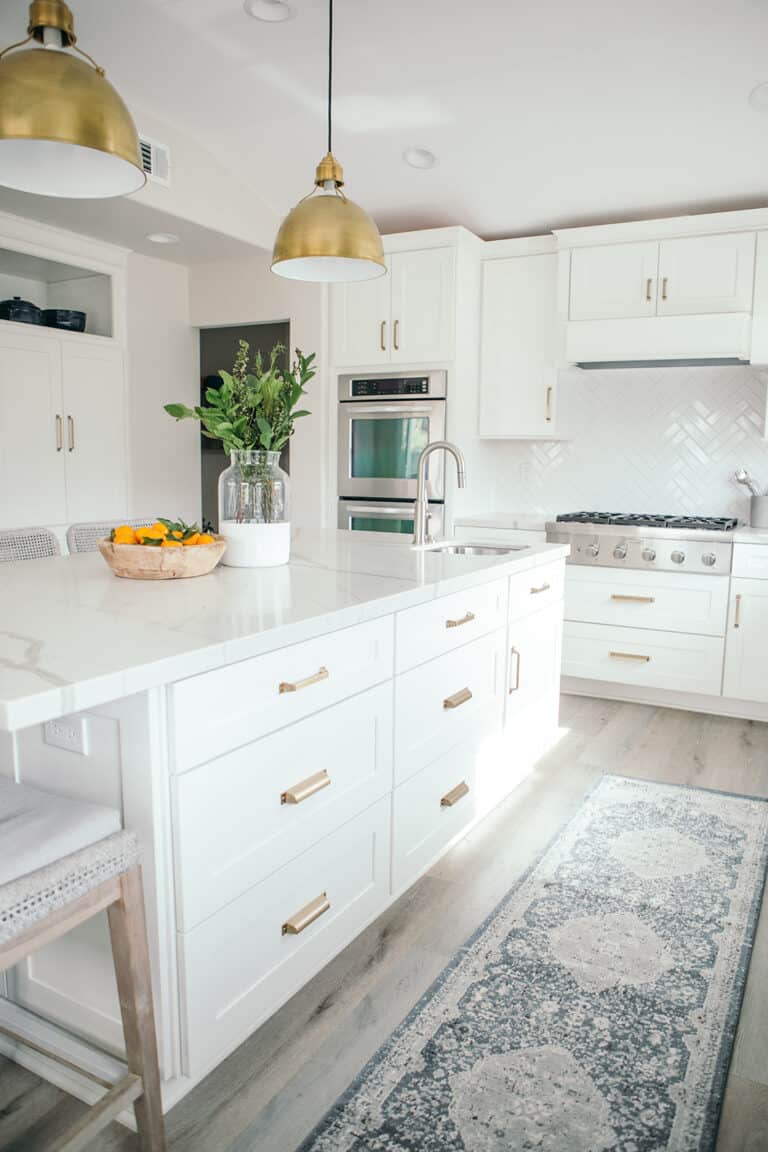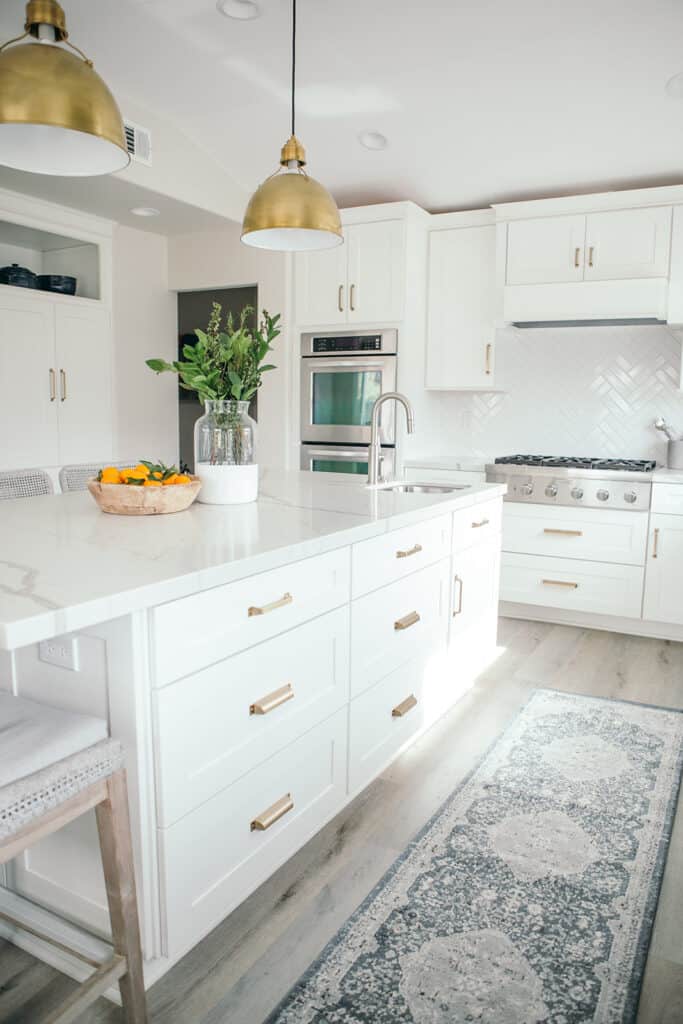 Check out this white kitchen by Dream Nest Homes here.
Modern Shaker Kitchen Designs
Traditional Shaker kitchens don't limit themselves to one design concept. The great thing about Shaker cabinets and doors is that the simplistic design lends itself nicely to blend into kitchen designs whether that be traditional, transitional, or modern.
This modern kitchen contains lighter wood, heavy metals, and a swoon worthy window. The shaker drawer fronts are simple and allow the modern hardware to shine through. This is just another great example of the versatility of Shaker cabinets.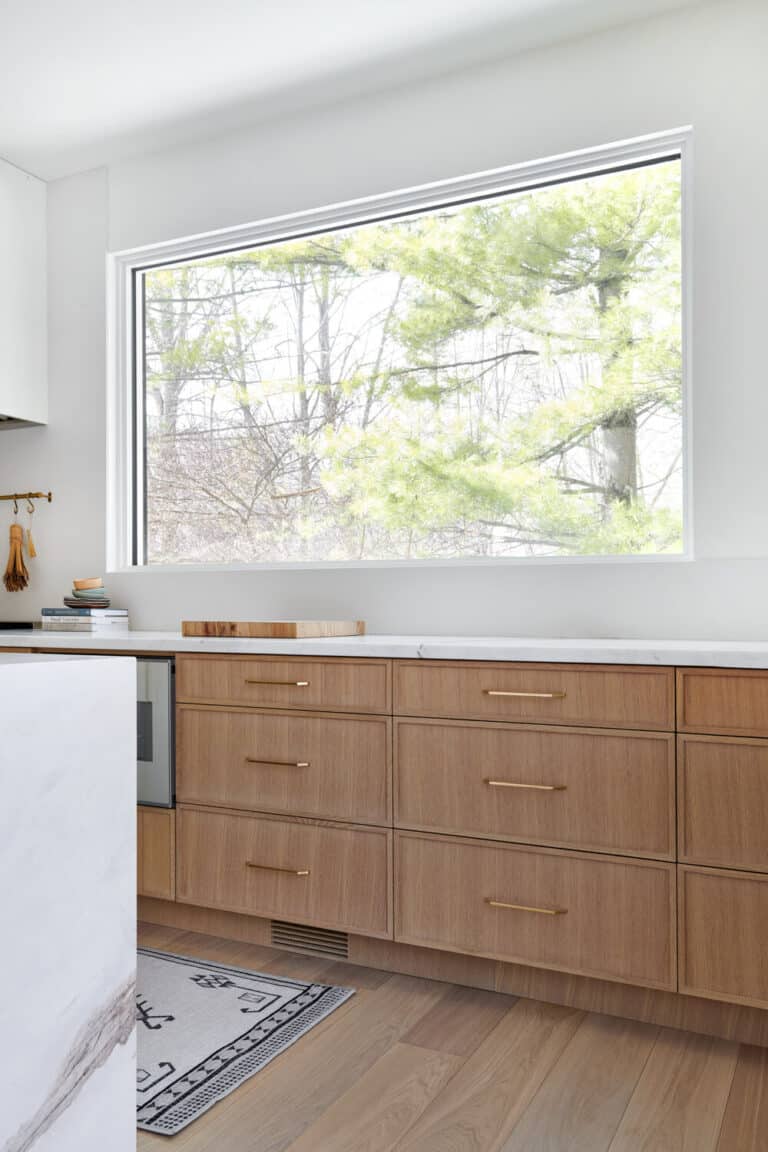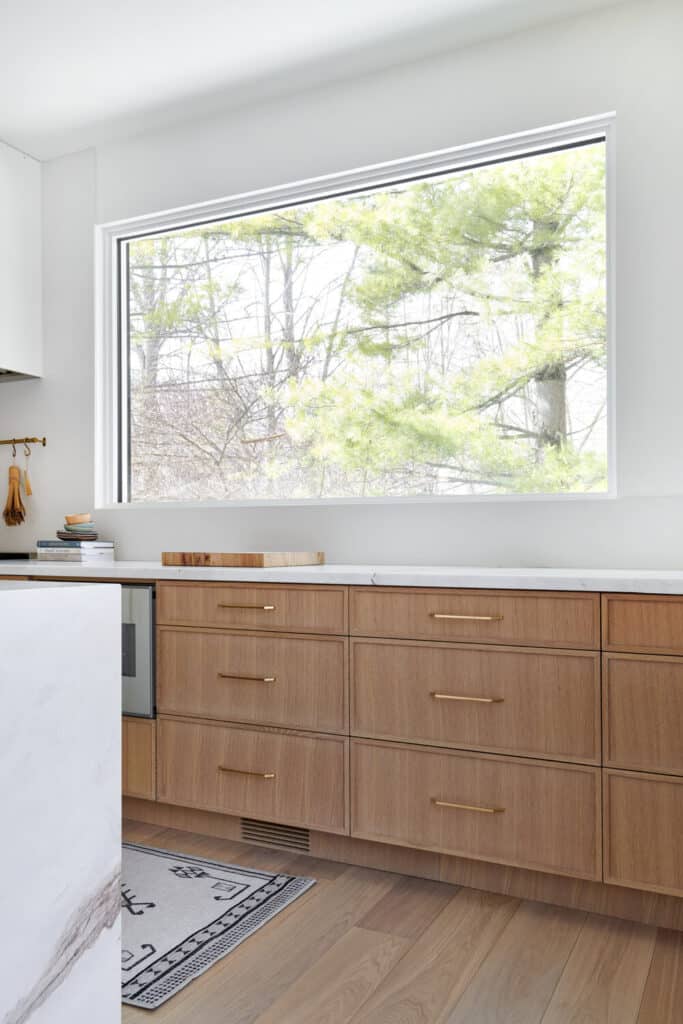 This modern kitchen is complemented by Shaker drawers.
This next kitchen is another great example of using the simplistic design of the Shaker-style cabinet doors in a modern kitchen design concept. Your eyes aren't deceiving you, there aren't any handles on these cabinet doors.
The variety of colours of wood tones and handleless cabinet doors contrast the simple cabinet design for a modern look.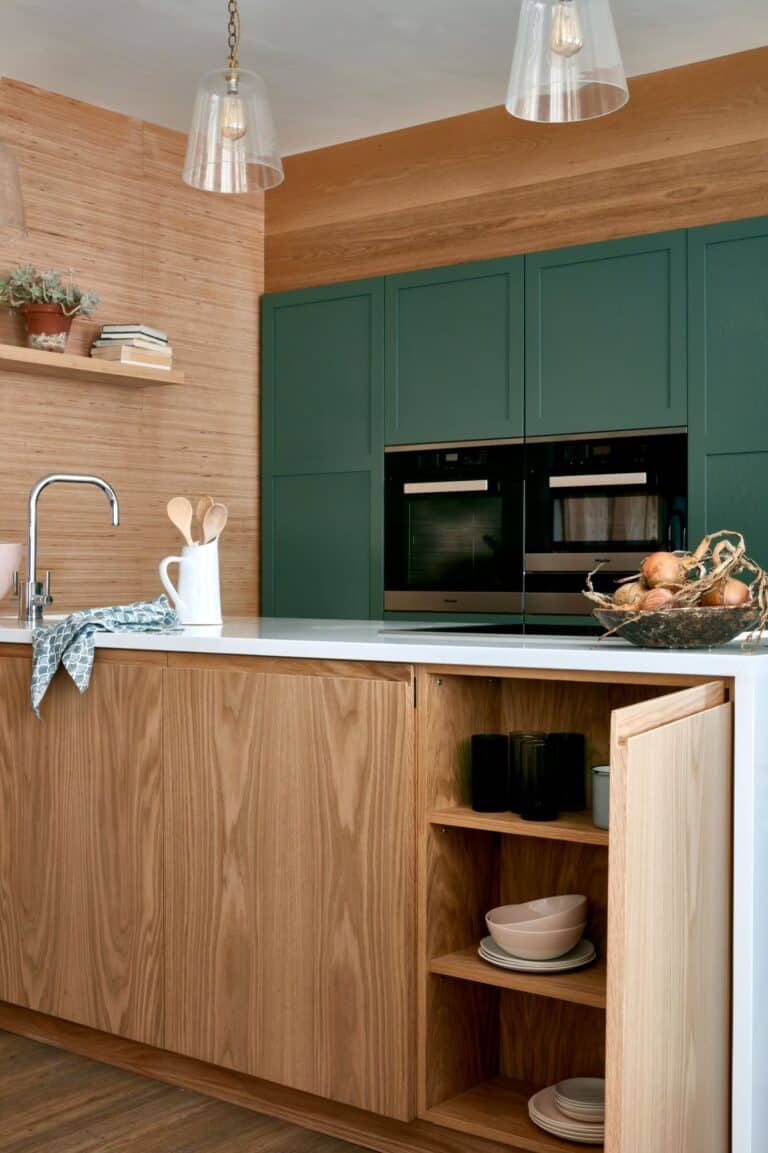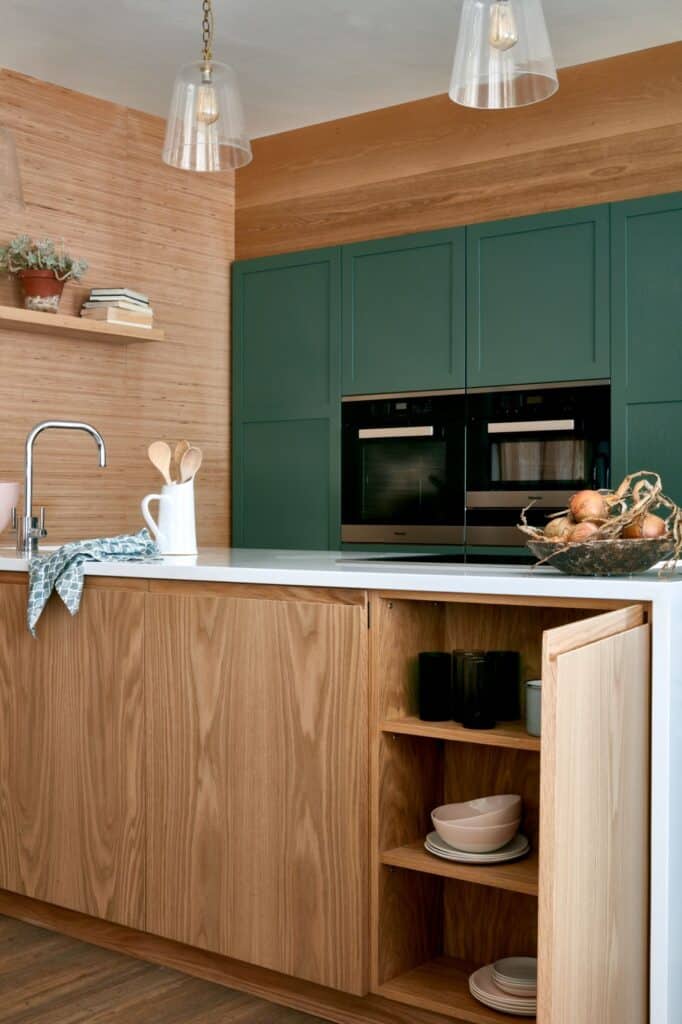 Naked Kitchen is the brain behind this modern look.
Shaker style kitchens are a great option for any kitchen design. The unassuming design of the cabinetry and doors creates a timeless look for any kitchen. The simple nature of the style allows you to create traditional, transitional, contemporary, and modern kitchens using cabinetry that has stood the test of time.
Other Posts You'll Love
If you liked this post – check out these other great posts you will love too!
White Kitchen Backsplash | Master bedroom size info | Best steam Mop for Tile floors | Pedestal Sink Organization
Pin the Image below for Later
I hope this post gave you some inspiration into the various ways you can utilize the Shaker style kitchens into your own home. From cabinetry to furniture, the Shaker design is a timeless concept. If you have any questions, feel free to leave them in the comments, and follow me on Instagram @arinsolange Open in new tab for more home, decor, and DIY.