The One Room challenge is officially done and that means our dining room is done too! We took 8 weeks to completely transform our blank slate of a dining room into a modern dining room that we would love! The end results have me enjoying a room better than I imagined!
This post may contain affiliate links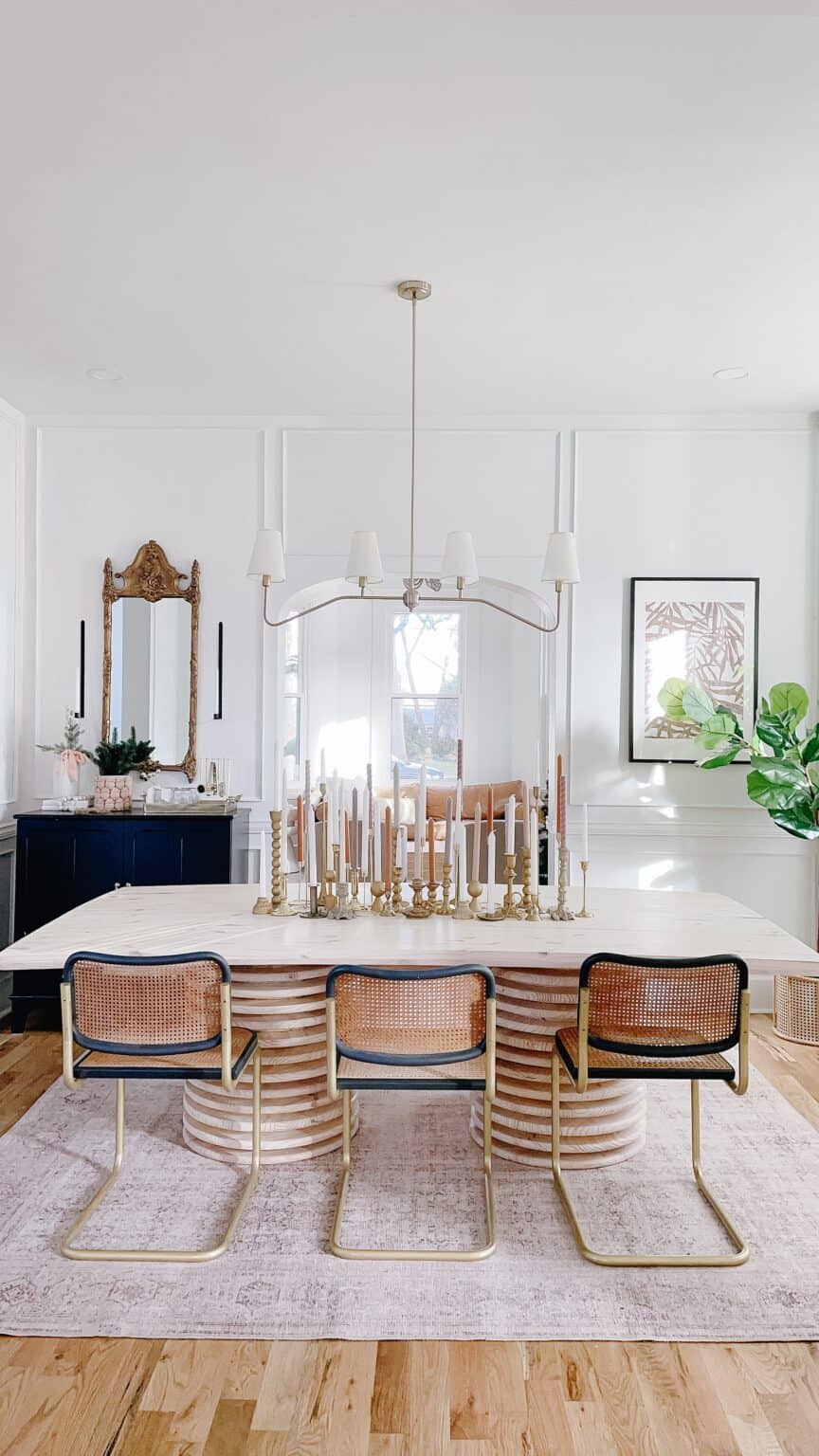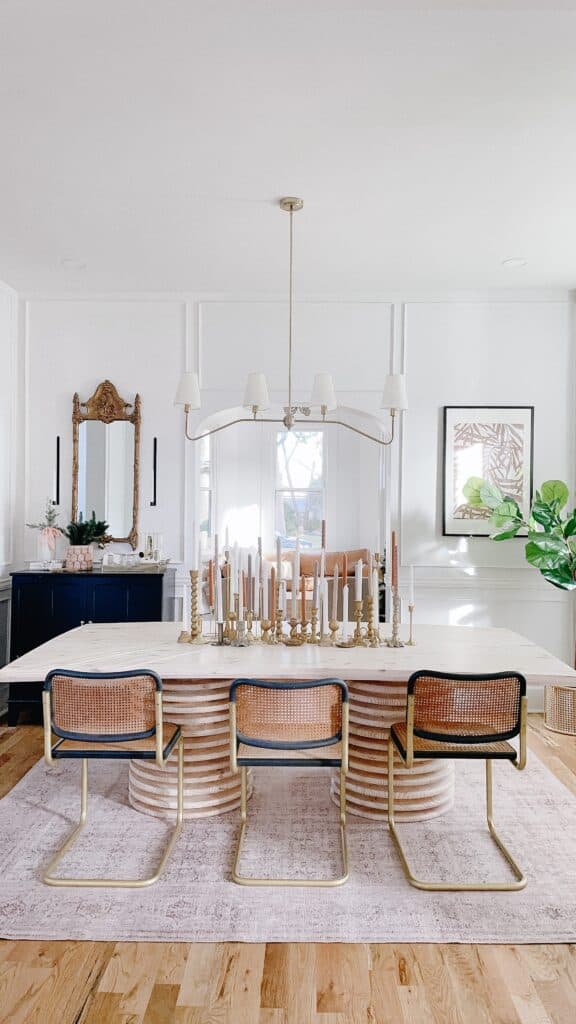 Modern Dining Room
I have always leaned slightly modern in my decor. Mid Century modern, Vintage modern….basically just pops of modern. I like clean lines, and no clutter, so that modern little twist to things tends to speak to my soul.
We currently are renovating an 1860's home so that leans to more of the vintage modern look when it comes to decor. I wanted to play into the vintage feel of the home while still feeling clean and modern for what I love.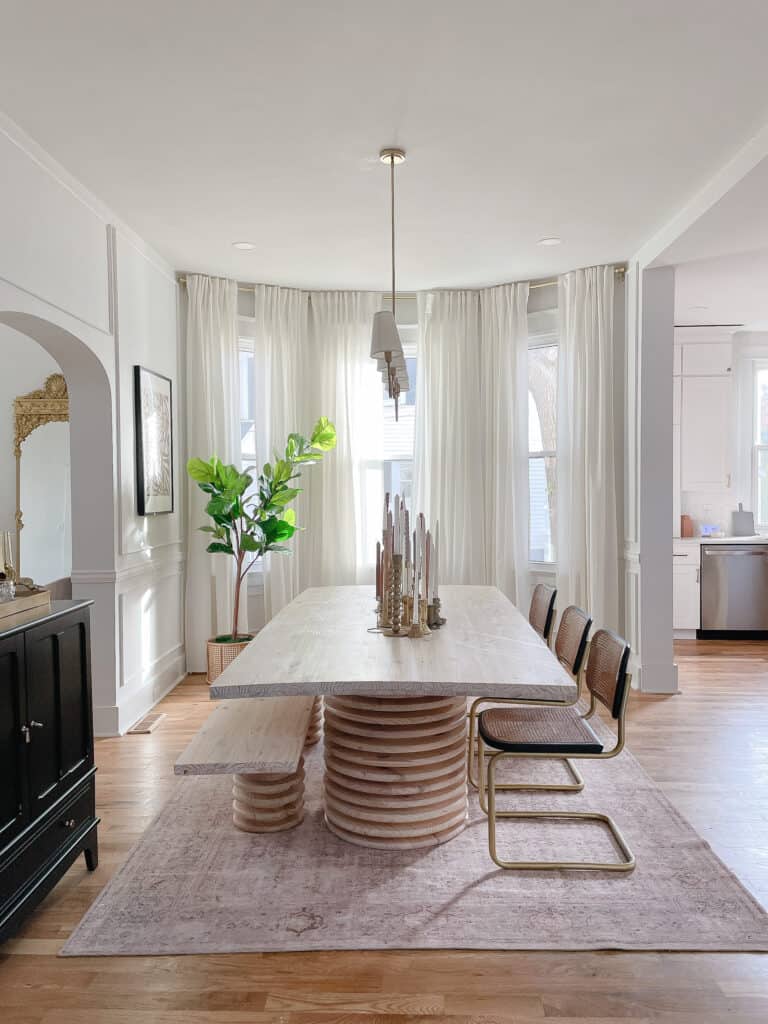 One Room Challenge
As mentioned at the start of this post – this room makeover was taken on as a part of the 'One room Challenge' where I set out to transform one area in my house in 8 weeks. This was the perfect push for me to push the envelope and create a room that we would love before the holidays!
To see more of my One Room Challenge Progress you can check out all my past posts here, and be sure to check out the rest of the finished rooms here!
It was such a fun, and challenging thing to take on a big makeover in 8 weeks, and I cant wait to join the next one to keep my butt in gear again haha!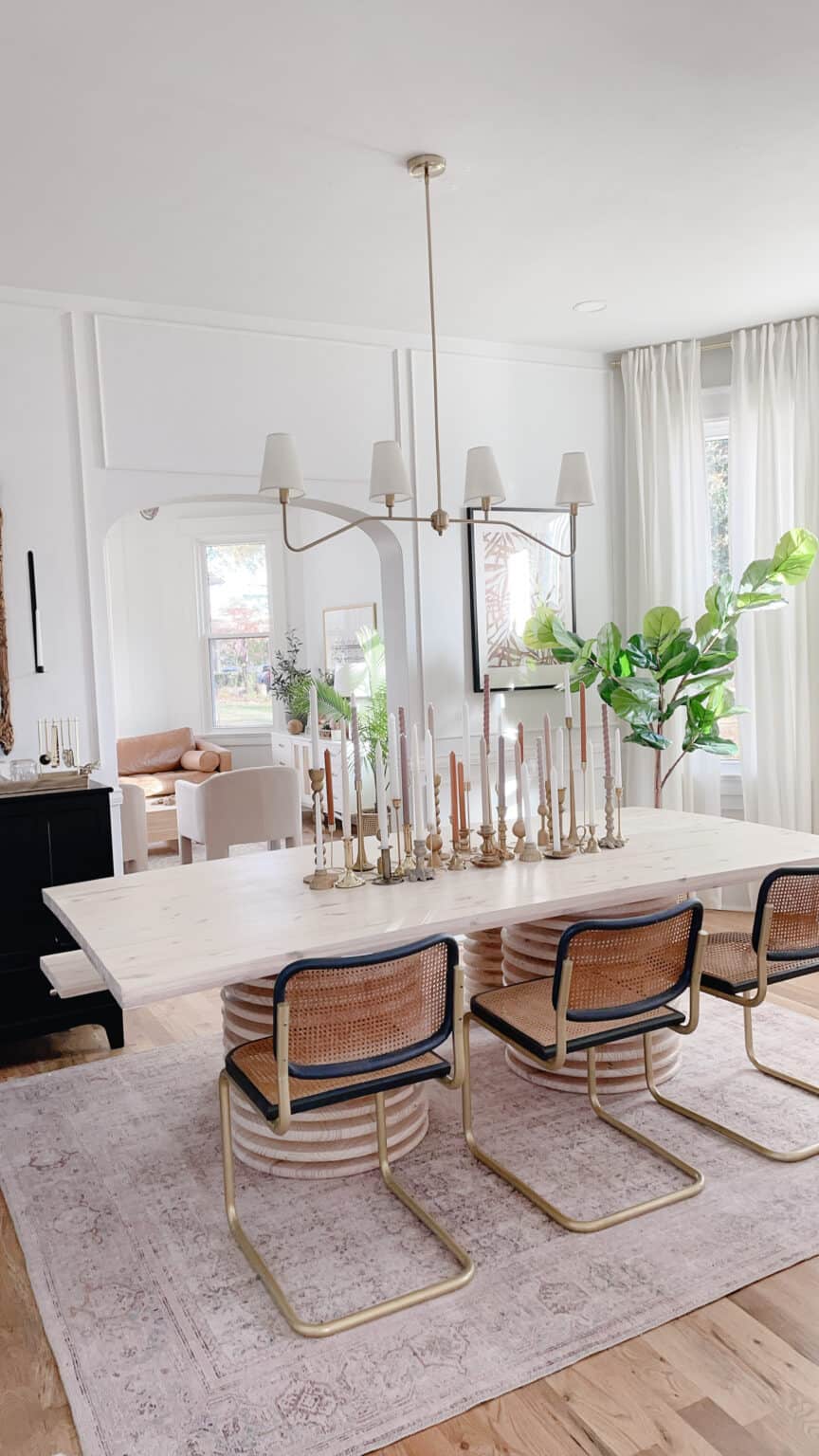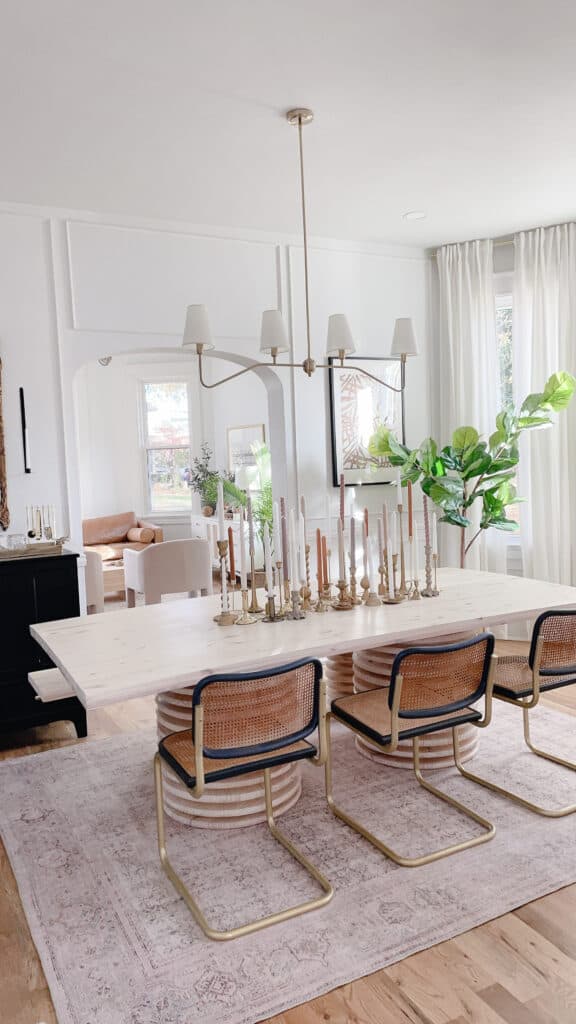 Details to our Modern Dining Room
A modern dining room can go a million directions. In my opinion modern normally just means clean lines, and somewhat minimal. Because I love the vintage modern look right now I tied in some more vintaged elements with the clean lines that are more traditionally modern.
I will share all the details to the dining room below, and have blog posts sharing the process of most of it, so will also link to each weekly update to give you more inspiration and back story to the steps.
Before I get to that though, I wanted to share my two original mood boards, and then my final mood board – so you can compare those to the end results. I know not everyone is super visual, so hopefully it will help you to process things.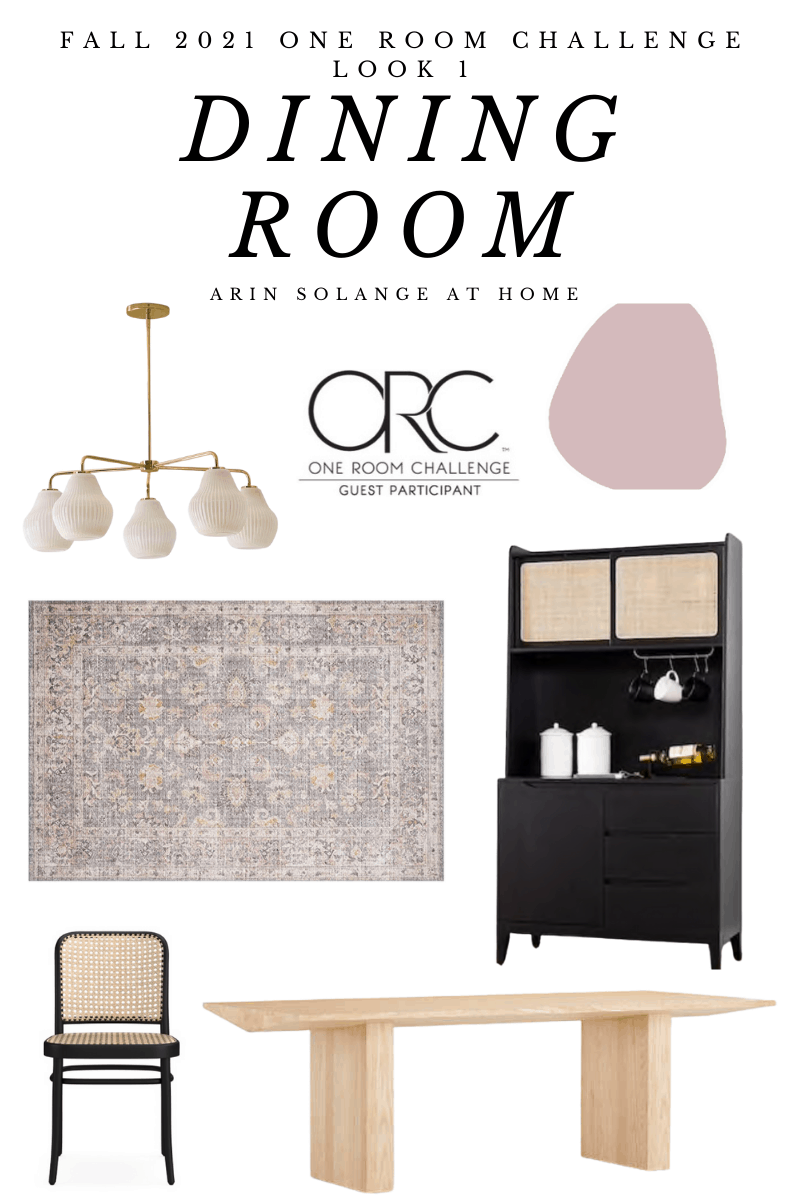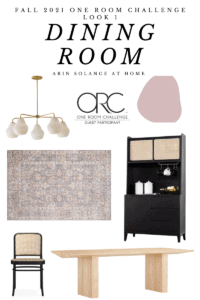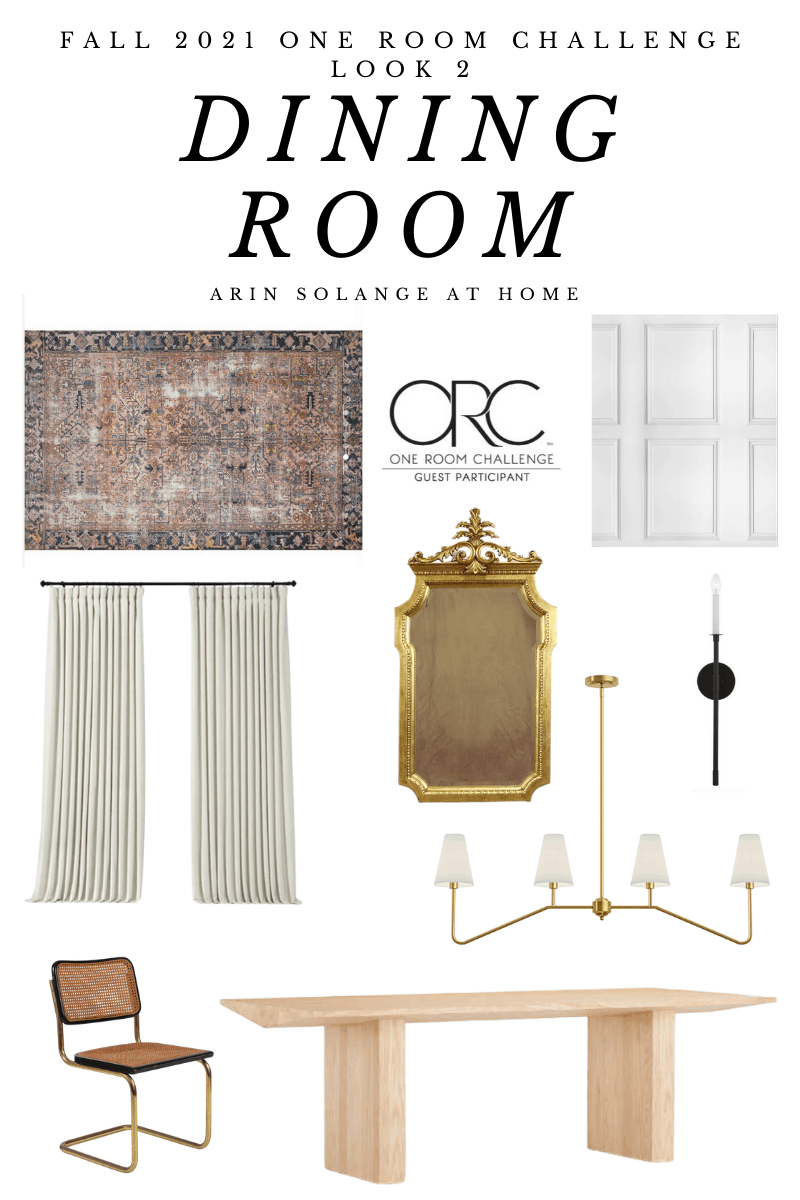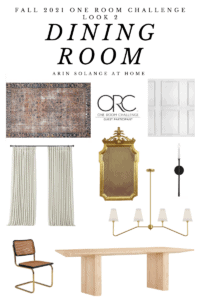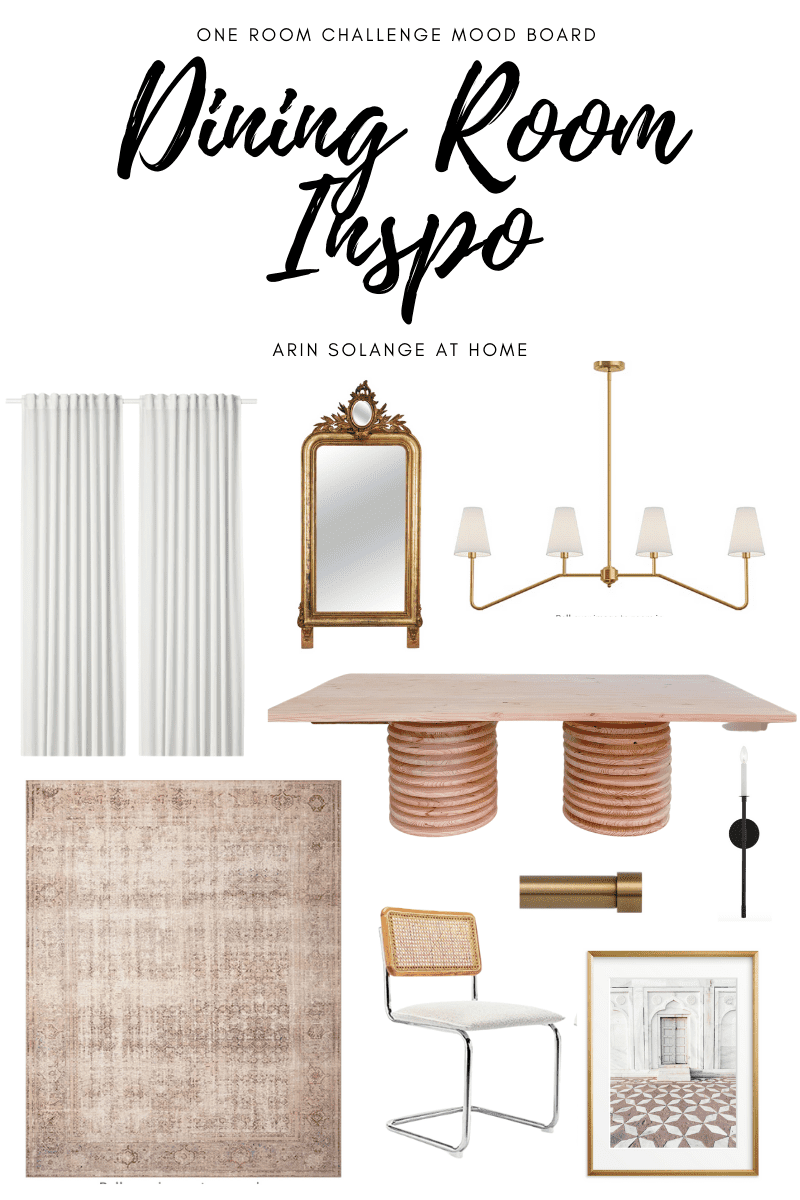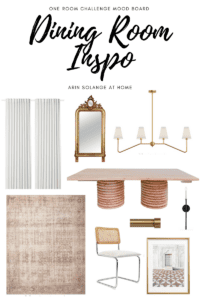 Modern Dining Room Walls
So this is probably one of the least modern aspects to this room. We added some very traditional wainscoting and extended a chair rail that was already in portions of the main floor, and honestly I think it was the biggest punch.
We kept the walls a bright white (which I was torn on) but I have plans for adding more color in other areas, and felt with the curtains and the rug it still felt warm.
We went with Valspar Du Jour for the paint color, which we have used in both this house, and our past house and I love. It is a great bright white that doesn't feel too stark.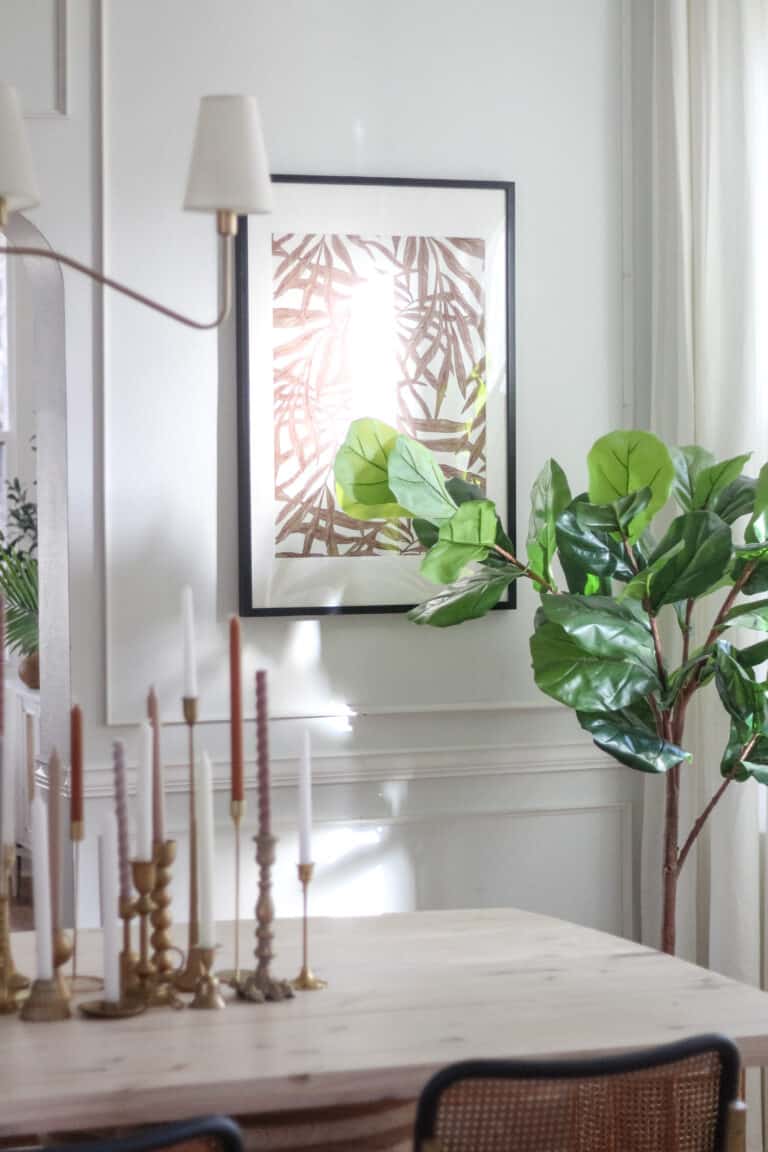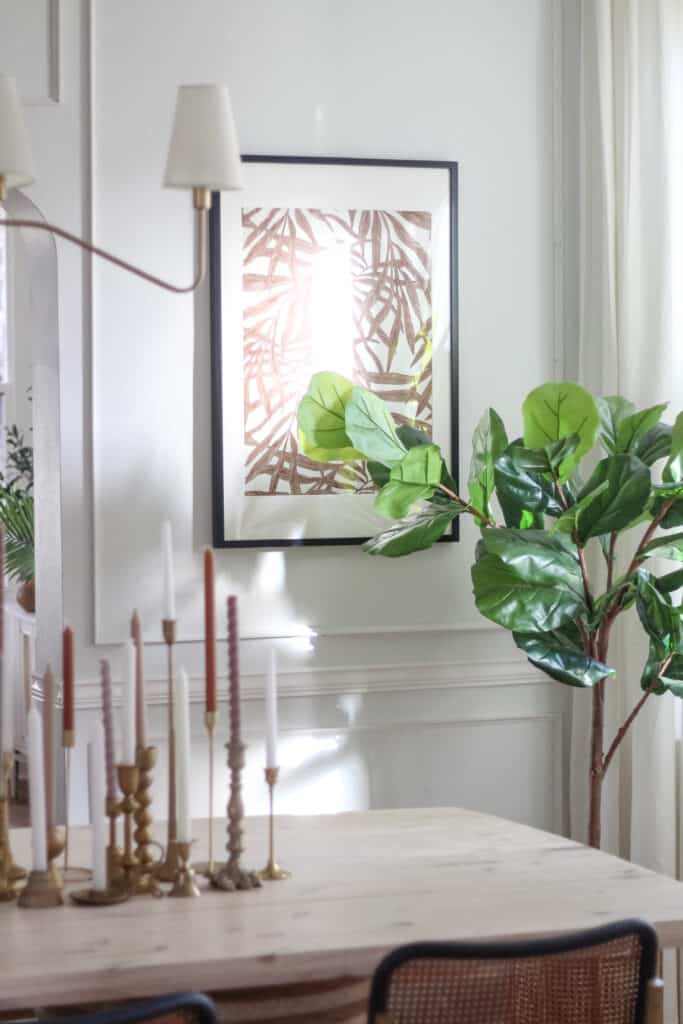 Furniture Choices
Furniture is obviously always going to be a major part of a dining room. In most cases it is nearly the only thing that exists especially with open floor plans, so bold is never a bad idea in my opinion.
We decided to do a DIY dining table and matching bench – yo can read the blog post here on how to make your own, but it is worth noting that it is a GREAT DIY if you don't have much practice with tools.
The bold round pedestal legs were something I HAD to try, and honestly the end outcome is exactly what I wanted. It is modern, and bold with-out being in your face.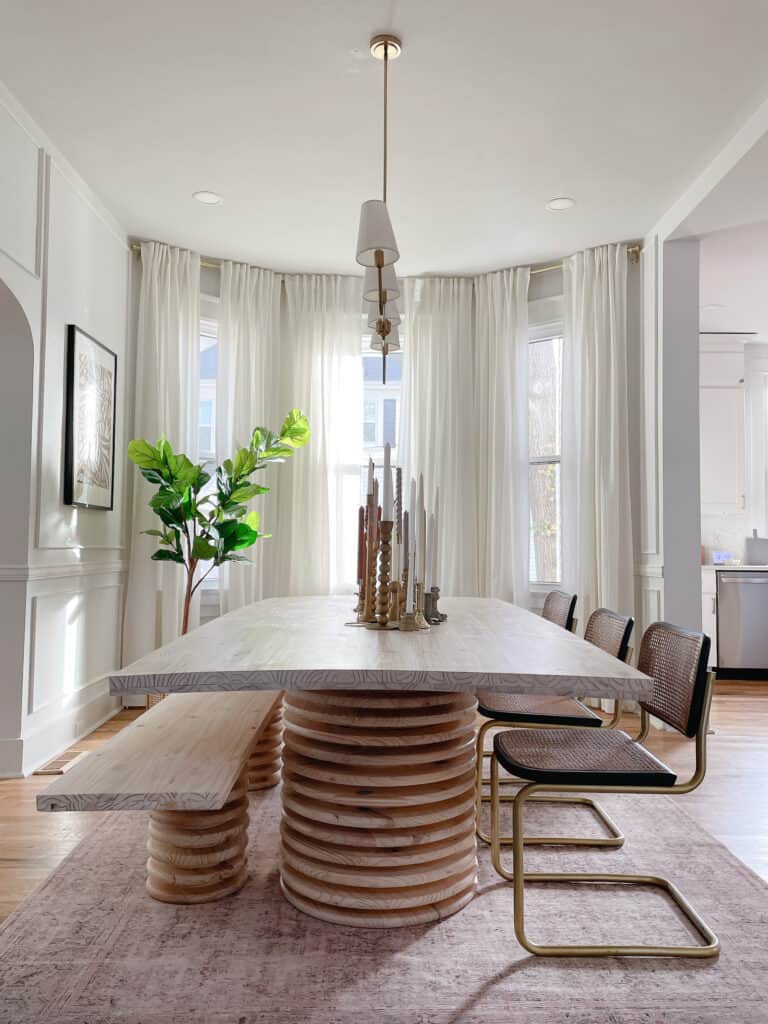 We paired the table with vintage mid century modern dining chairs that were updated – you can read about that here. Eventually we will also add chairs to the head of the table but I haven't found just what I want yet.
For the black chest we actually went with an IKEA piece. I went to IKEA planning to do a hack, and left with a piece perfect for the space that didn't need any hacking. It is taller than average, and with our tall ceilings that really helped make the scale feel right.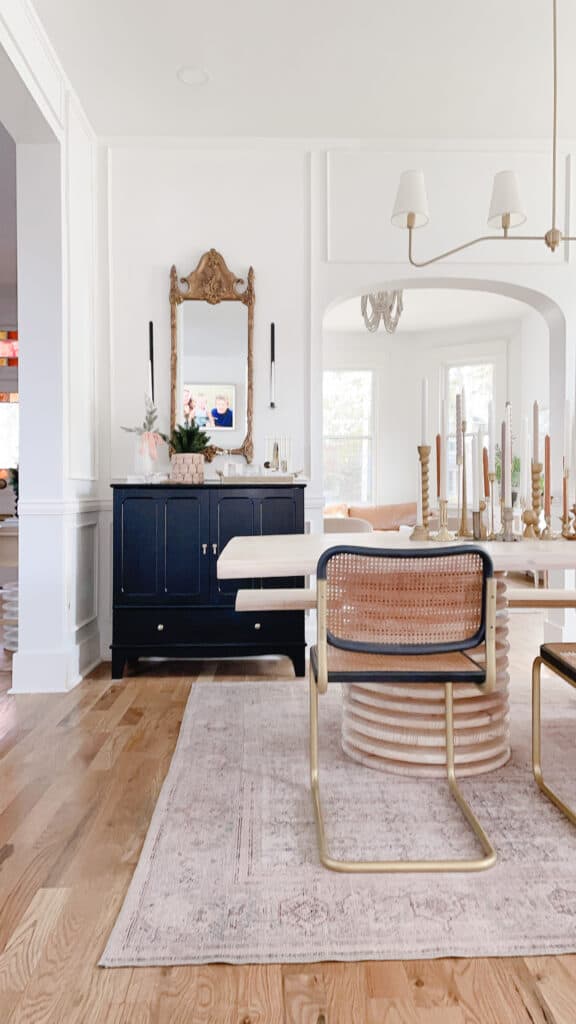 Warming Things Up With Textiles
We had NO window treatments on the main floor before this challenge…now we have no window treatments on the main floor other than this room haha! I went back and forth on my end plan for the window treatments in this house, and ultimately ended up where I never thought I would, with curtains.
The white walls and tall ceilings in the house can make things feel a bit too cold and stark, so adding the long white curtains warmed this room up a lot, and has me ready to do some other rooms too.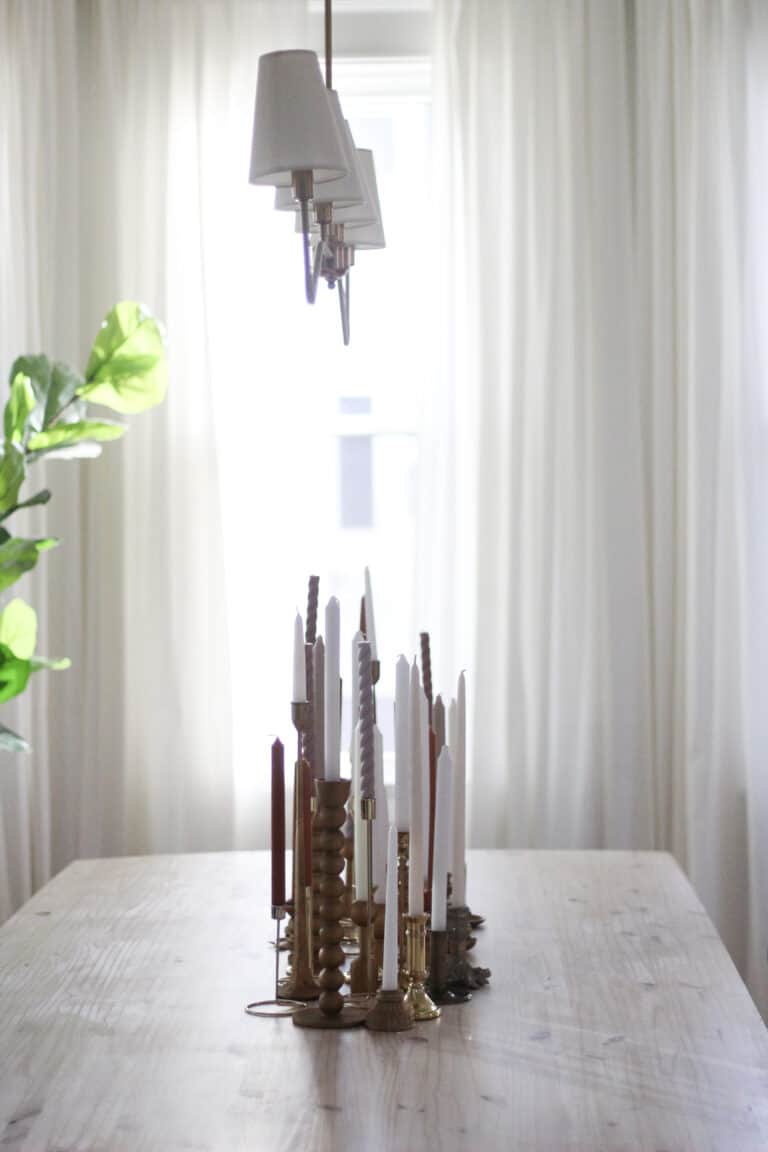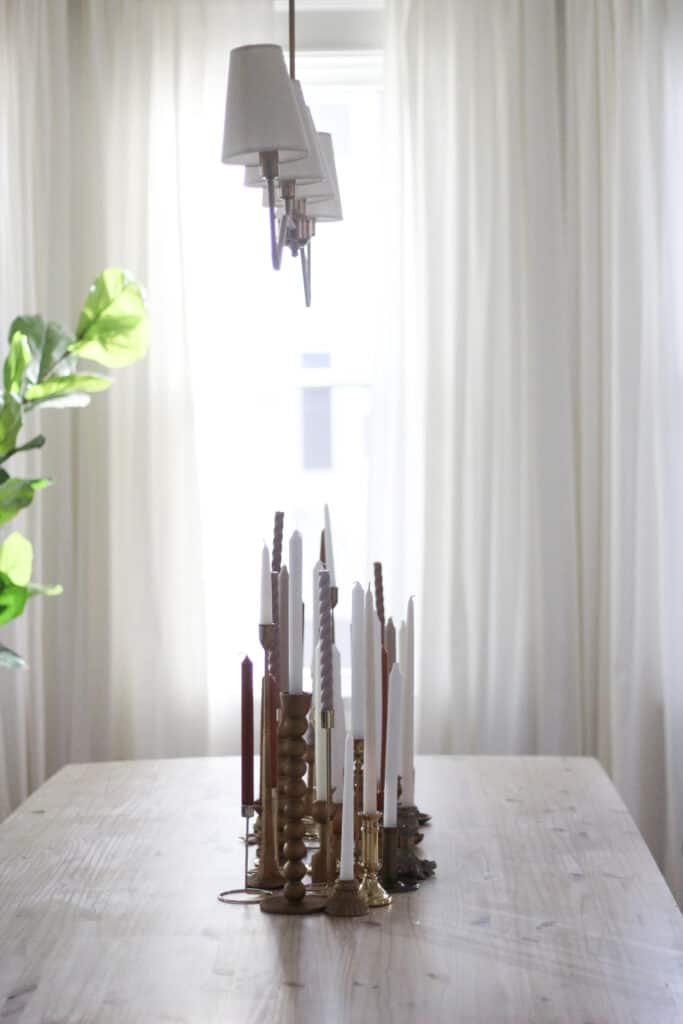 Because it was a bay window I decided on the same curtain rods I got for my daughters room. You buy these little connectors and it turns it into a bay window curtain rod that works for any angle. I paired it with some IKEA curtains (purely from and expense stand point) but actually really love how they look.
We also opted to put a rug in the room which really grounded the space, and gave it the slight pop of pink that everyone expects from me in a room. This rug is so affordable and just gorgeous incase you are also looking.
Lighting Choices
When it came to this room there was no lighting aside from can lights. When we renovated with HGTV they didn't want a light fixture to disrupt the sight line and I respected that decision, however quickly realized that it wasn't in my opinion the best choice.
Adding a ceiling light was extremely helpful in making the room feel more formal and finished. I went with this choice from Amazon that is crazy affordable and so pretty.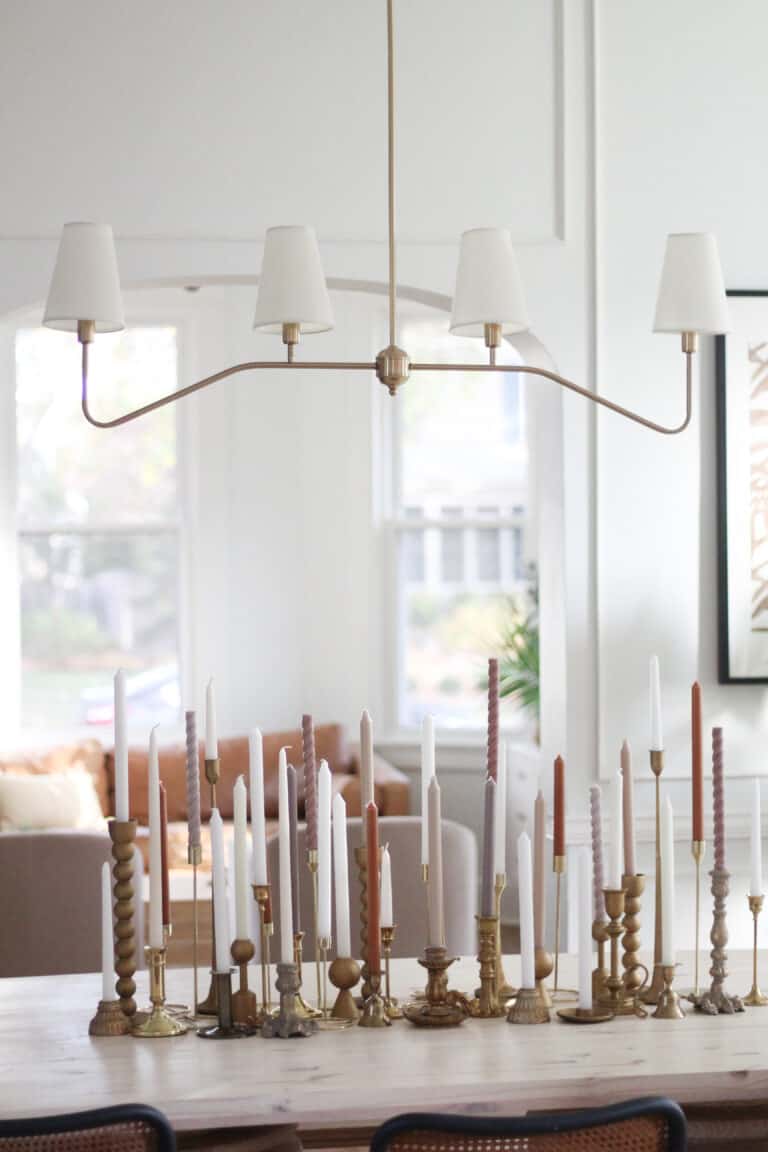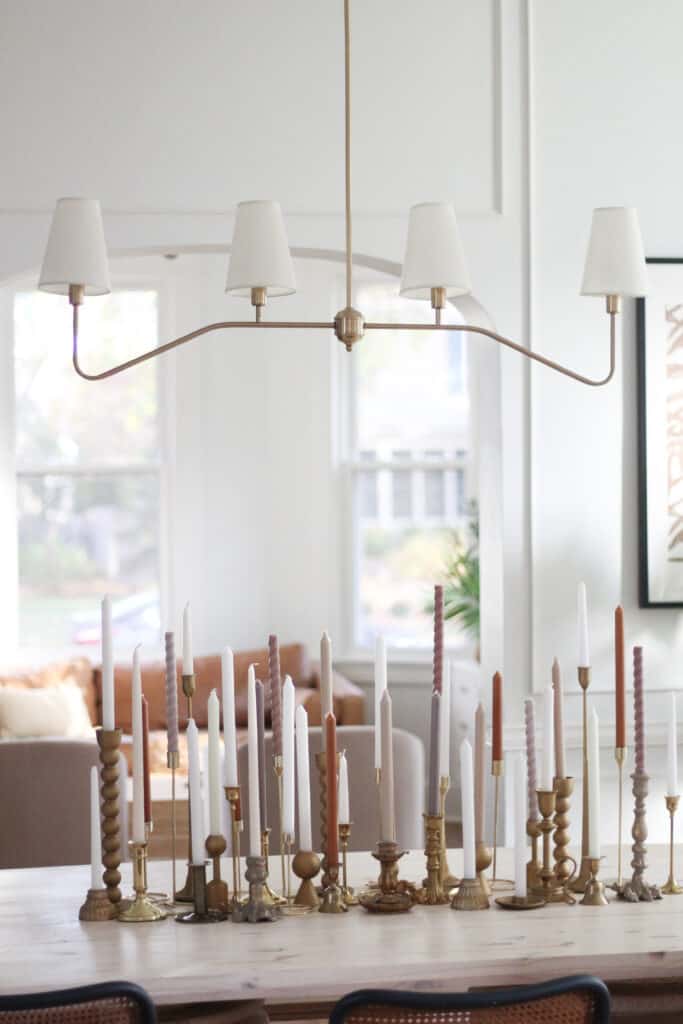 I also really wanted sconces on the wall by the vintage mirror to bring the width of that focal point out…my original order of scones got delayed, and it was probably for the best because when the electrician came he made it very clear that adding wired sconces to that wall would be a REAL MESS with how old the plaster was in the space.
We opted to find a plan B and I ended getting candle sconces that I think look great, and really compliment the age of the mirror between them. You can read more about the lighting choices and thoughts in this post.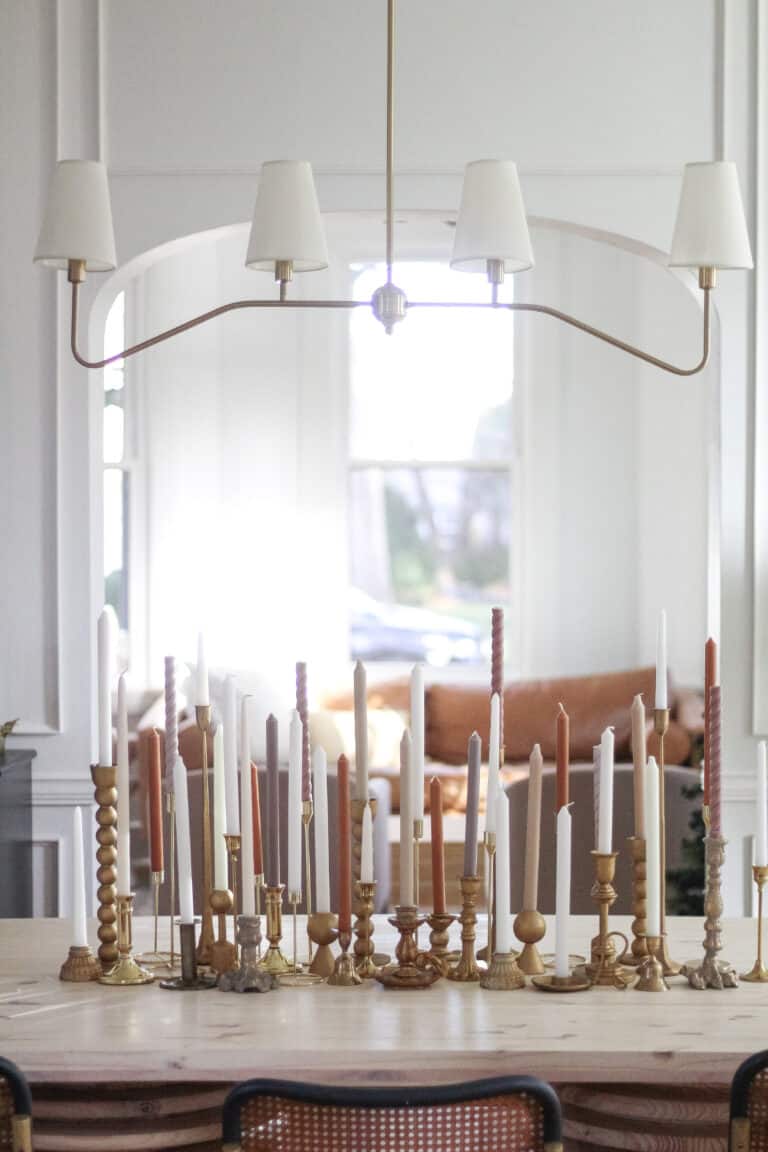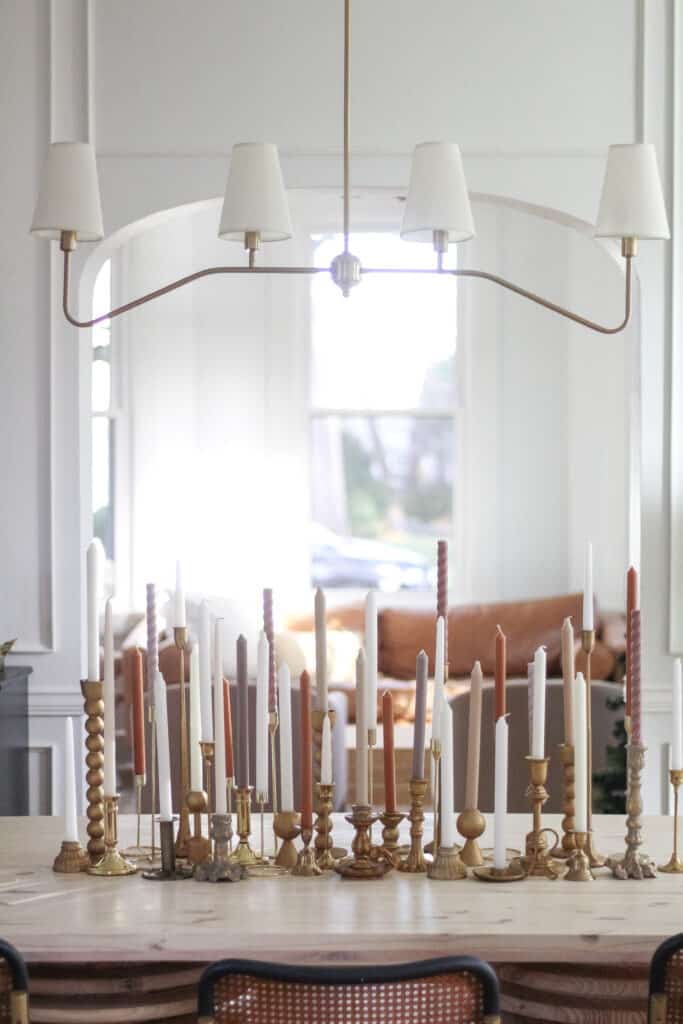 Finishing Details to our Modern Dining Room
Once everything I shared was done, we just needed to figure out wall and tabletop decor. For the walls I had a vintage mirror that was I was determined to use, and worked great over the black piece from IKEA. I knew I needed art on the other side of the room, and honestly still haven't found exactly what I want.
Because of that I ended up grabbing an affordable place holder, and I actually think it looks great for now. I framed a piece of this wallpaper in an IKEA frame I already owned and the end results were great.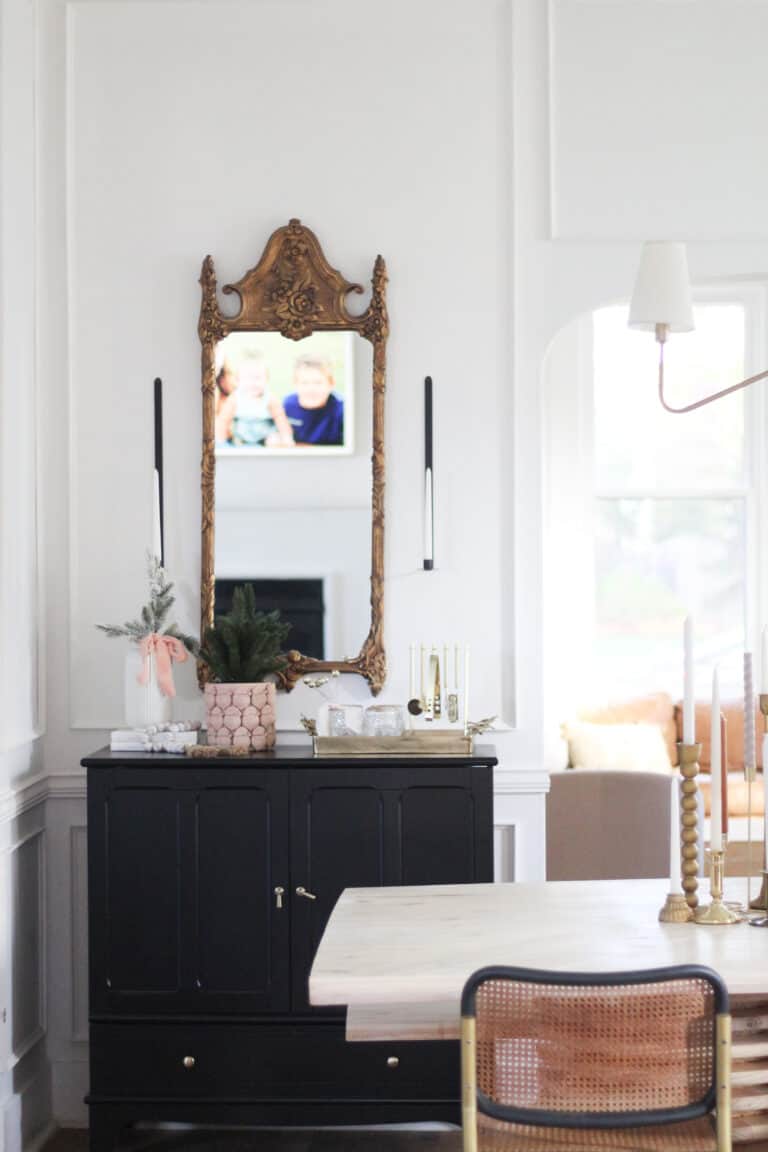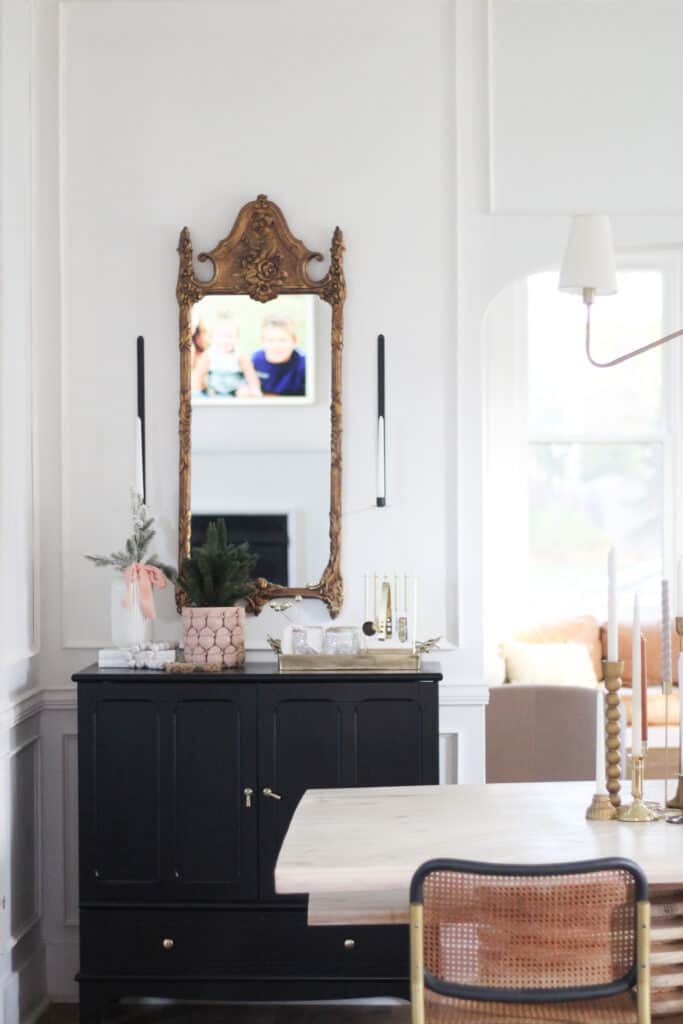 On the table I fell in love with the idea of having LOTS of brass and gold candle sticks and neutral candles in them. I found lots of vintage candles at antique malls but also brought in some new ones (new was actually cheeper). For the new ones that weren't already brass I used rub n buff to give them the vintage gold look, and I love how it looks.
Below I will link to lots of candle and candle stick options that will help you in getting started if you are interested in doing this look.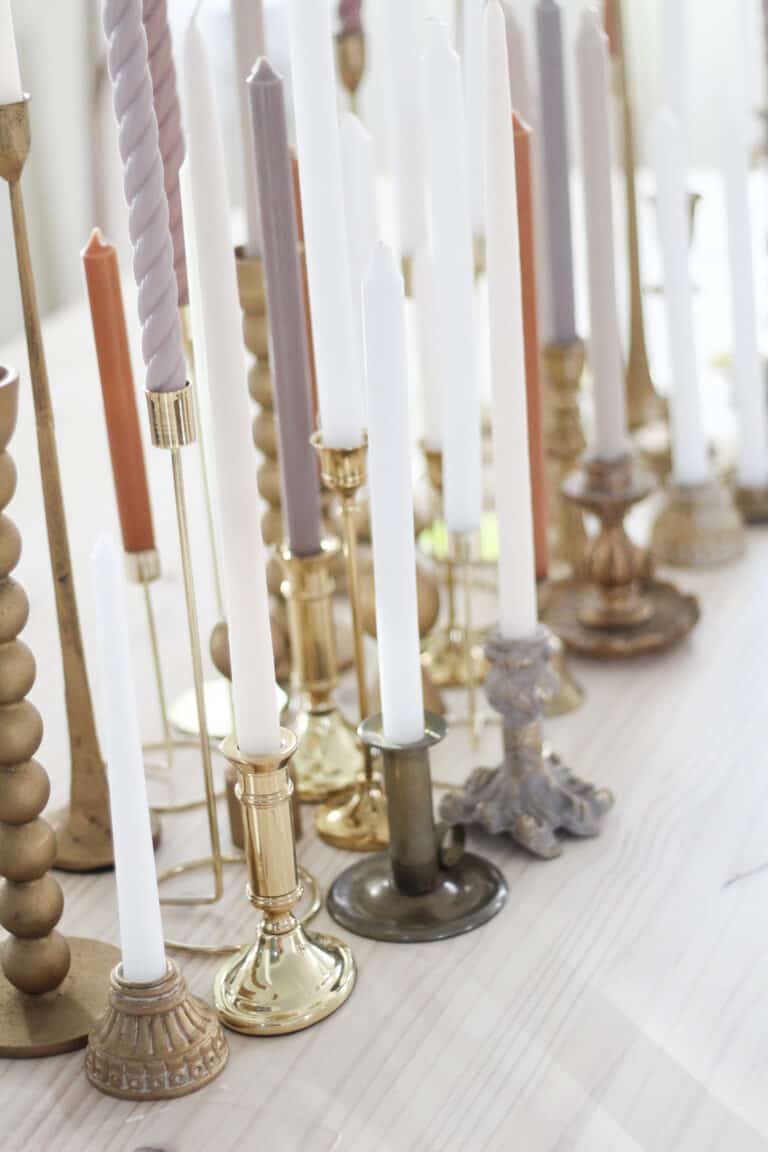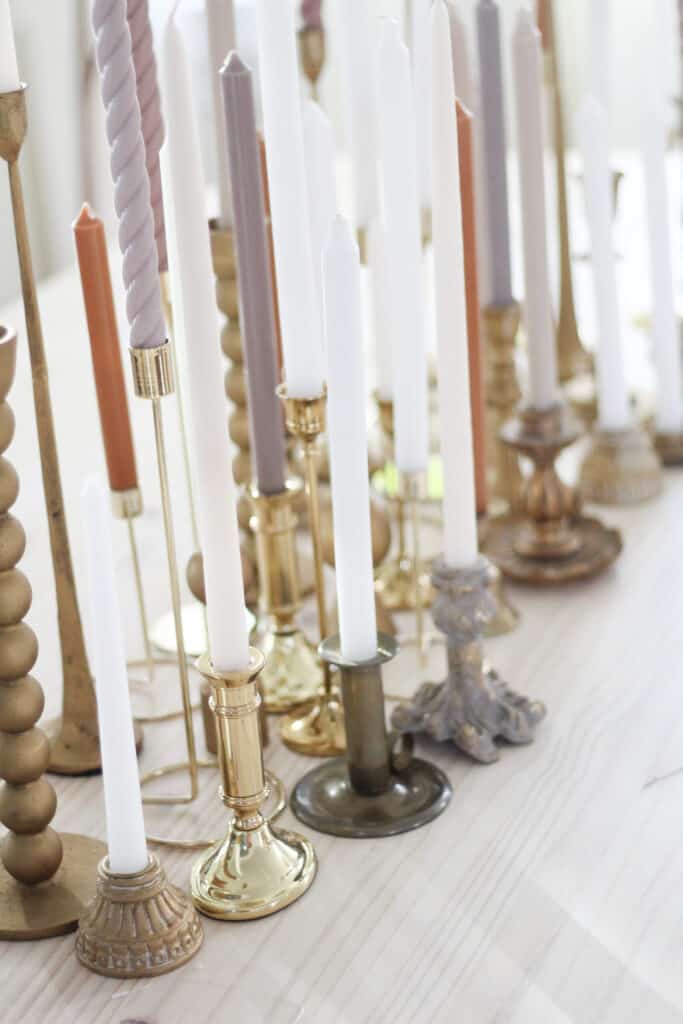 For the decor on top of the black credenza I actually just used some items I had and a new DIY because Christmas is just around the corner, so I wanted to add something festive to the space.
And that's all she wrote. The challenge was beyond fun. I pushed myself to do an update almost every week to keep myself on track, and it really showed me how long my projects tend to take, because the weeks flew by. I am already dreaming up future projects for the next one room challenge….so this wont be the last of them for me!
Gold Candle Stick options: Gold Candle Sticks | Gold Candle Sticks | Set of 6 | Set of 3 | Vintage Inspired Short option
Candles: Terracotta colored | Honeycomb | tan | Short ivory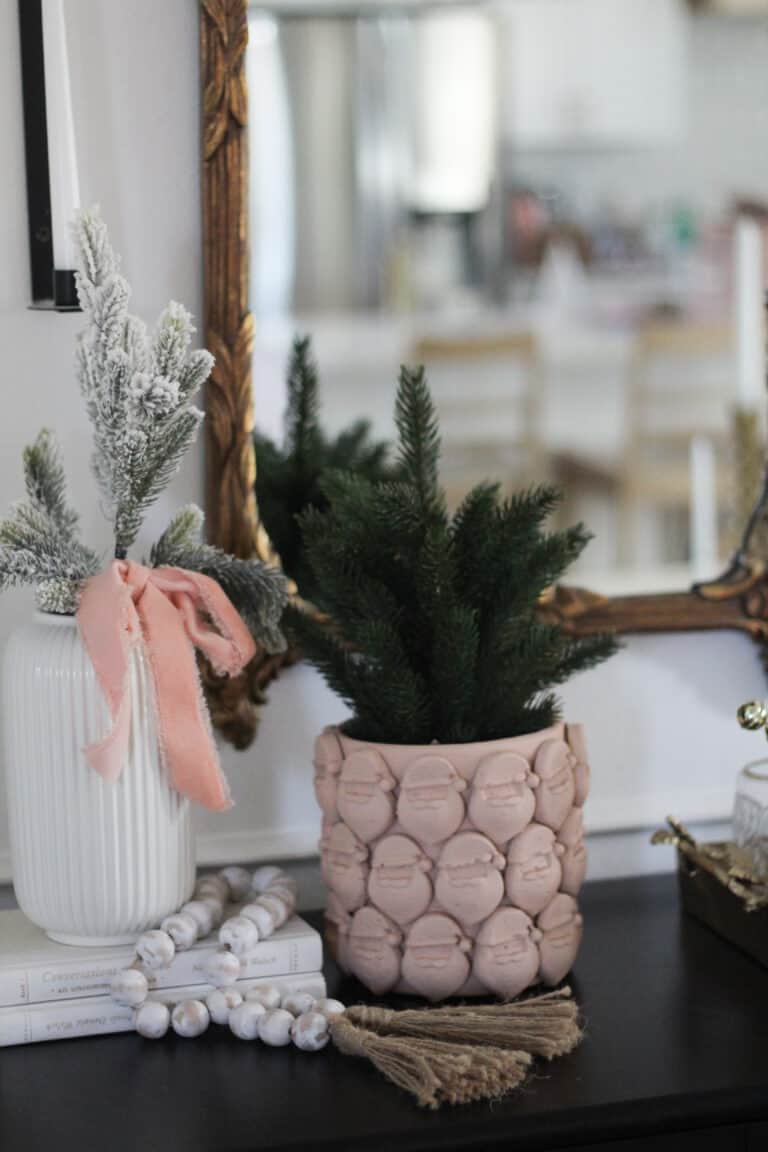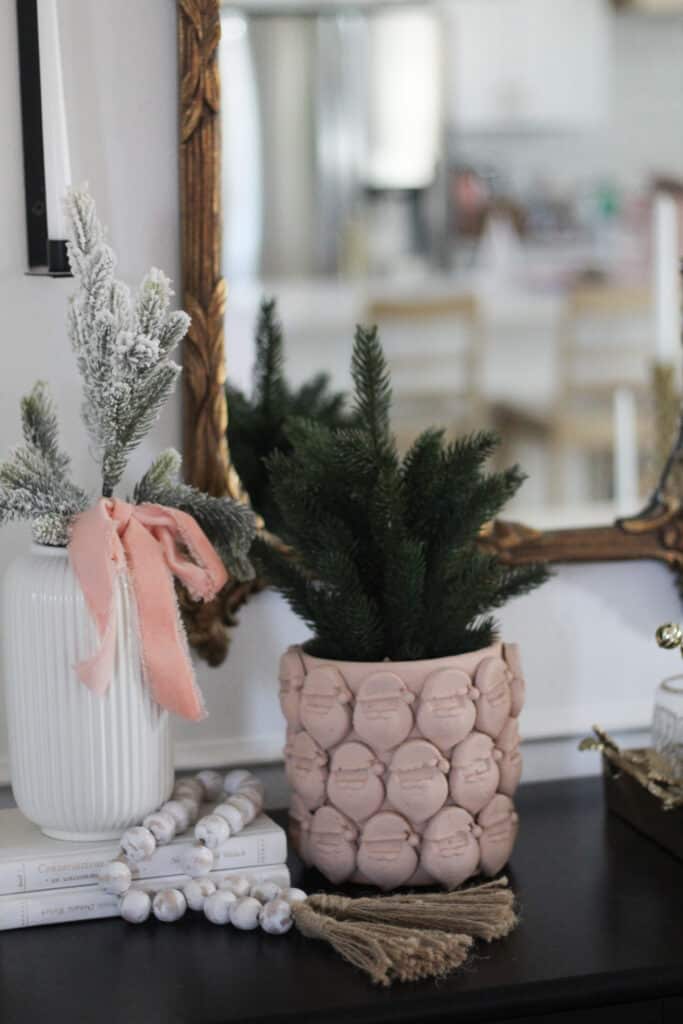 Other Posts You'll Love
If you loved this post, check out some of my other posts before you go!
20 Curtain Ideas for Living Areas | Black and white wallpaper boys room | All About Master Bedroom Size | DIY Billy Bookcase Built ins
Pin the Photo Below for Later
Hopefully you loved the modern dining room reveal, and found inspiration you can use in your own home. Be sure to follow me on Instagram (@arinsolange) so you don't miss future projects, and if you have any questions leave them in the comments below.