Updating your family room doesn't always mean you need to embark on an expensive renovation project. There are some easy ways to make a big difference in your living area without breaking the bank or powering up a power tool. Today, I'll share with you the 20 best curtain ideas for living room modern designs. You'll be surprised at how such a small change can add a lot of personality and complete your new look.
This post may contain affiliate links.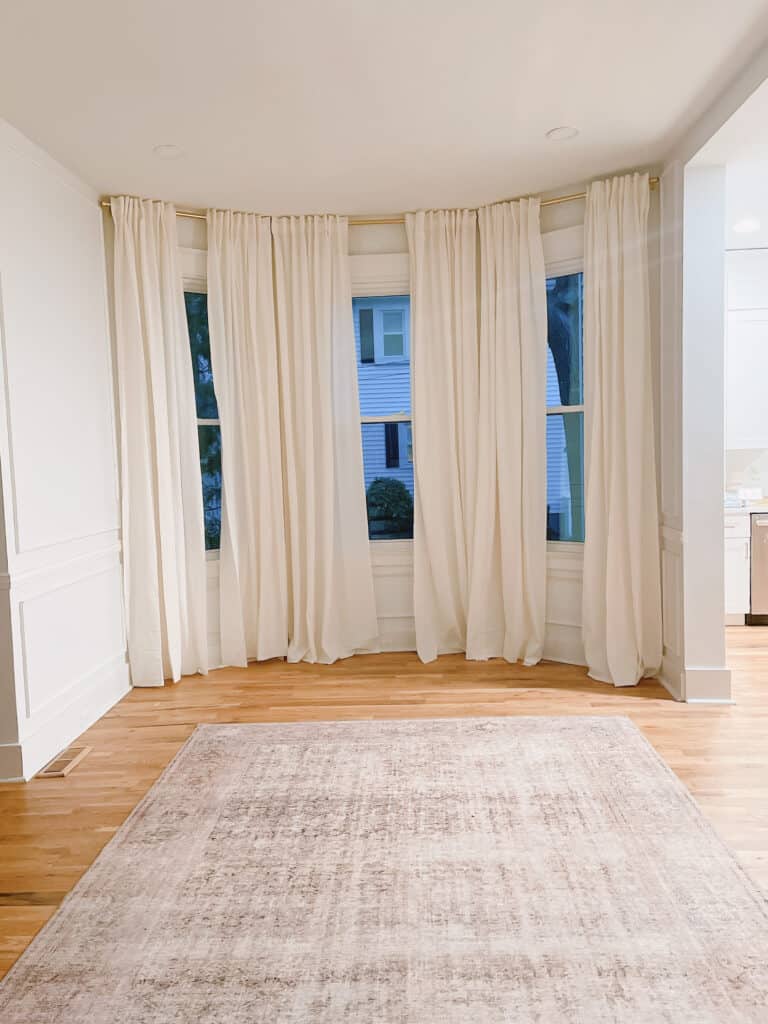 The 20 Best Curtain Ideas For Living Room Modern Designs
A great way to change your room's appearance is to update and change out the textiles you use. Living room curtains can easily be updated and changed out with minimum effort.
As an added bonus, the right drapery can make your space feel completely new.  Are you are on the hunt for living room curtain ideas? I'll go over how to pick the best curtains and how you can use them to elevate your living room design. Lastly, I'll go over the 20 best curtain ideas for living room modern designs to incorporate into your own home.
The Importance Of New Curtains
Before we get to the actual curtains, lets talk about the importance of them. Curtains serve many purposes other than being a part of your design style. Fortunately, curtain design has come a long way since I was a young kid.
If you grew up in the 80s and 90s you may remember your mom or grandma's window treatments that matched your wallpaper. That means, you likely had curtains with lots of floral patterns and ruffles. Fortunately, curtain designs have modernized.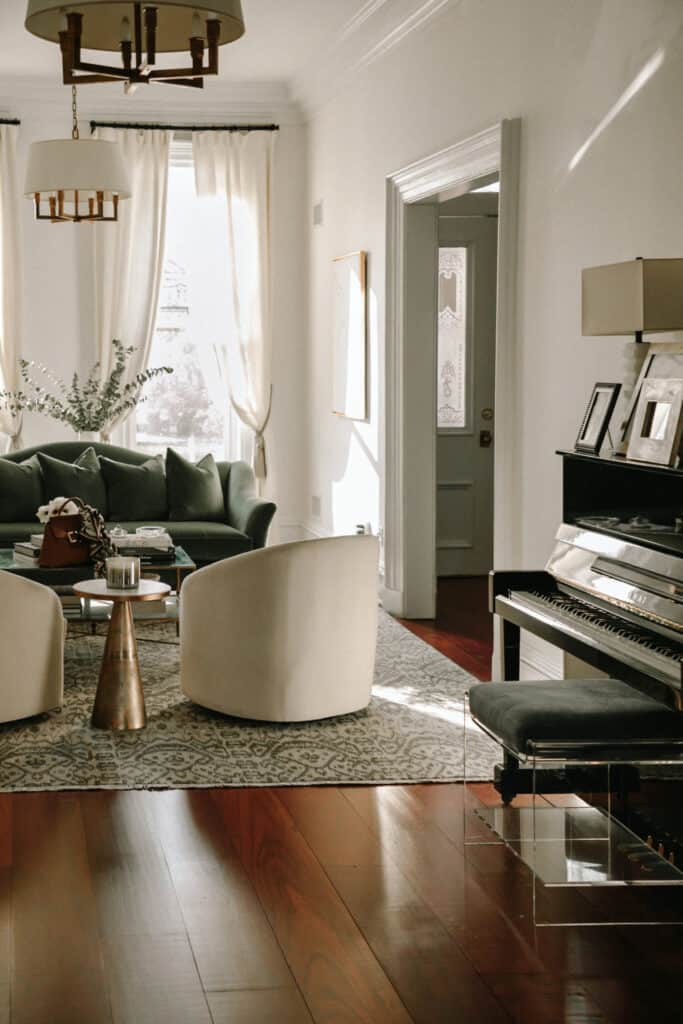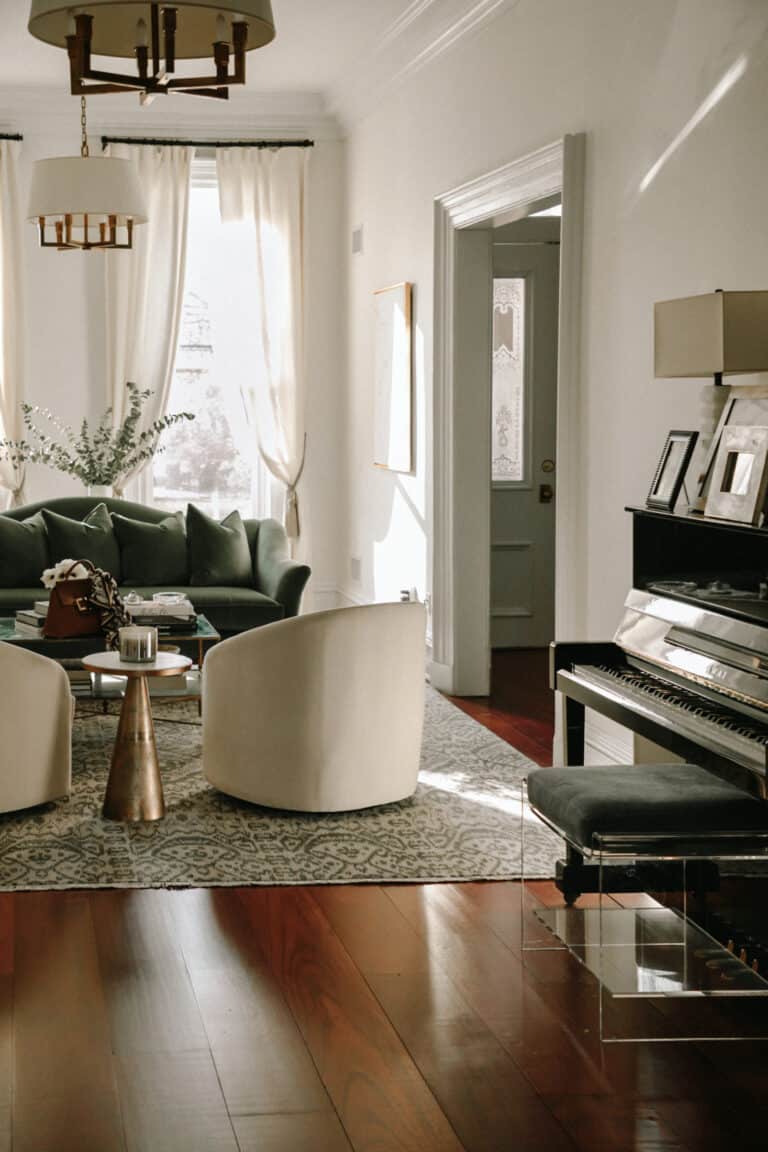 I love the traditional style with contemporary touches in this sophisticated living room. Notice the modern sheer curtains with the traditional tassel pullback.
Highlight Architectural Features & Create a Focal Point
Curtains aren't just a design statement. Rather, they can enhance your home's architectural style. Large windows, high ceilings, and arched window frames are great examples of architectural features that you'd want to highlight rather than cover up with floral prints and ruffled fabric.
Instead, opt to enhance those features by choosing the correct curtains. Not only can you highlight architectural features with curtains, but curtains can also help frame your focal point in your living space.
If you have a smaller area, curtains are a great choice to help the small space feel larger. By hanging the curtains wider than the windows, you'll give the appearance of tall windows and can serve as a focal point.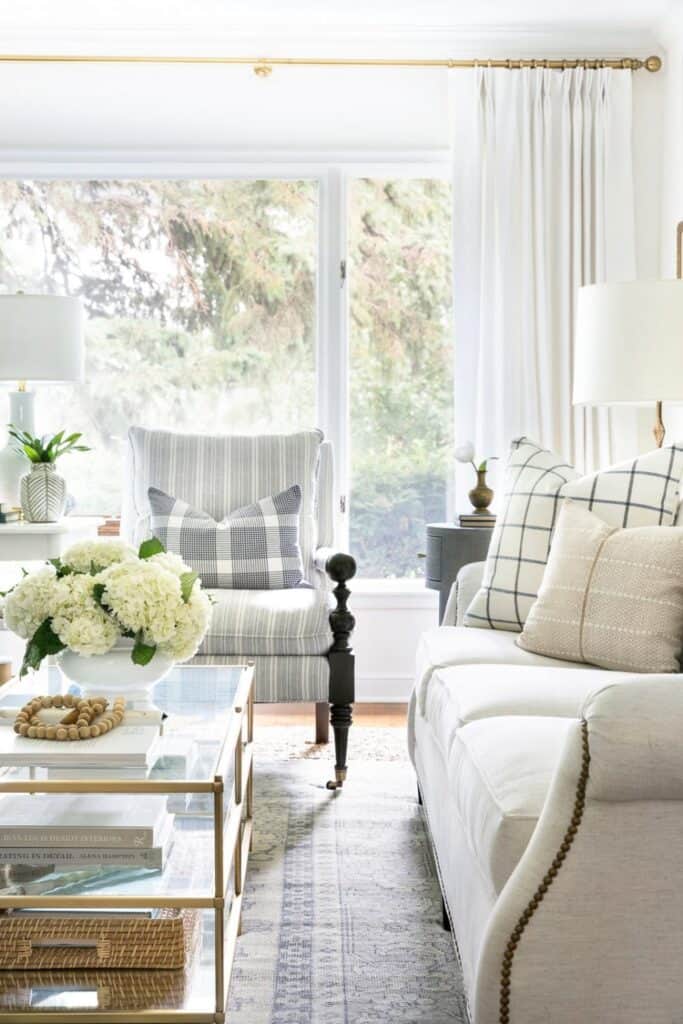 There is tons of natural light that pours into this traditional living room. The ceiling hung curtains help make the space feel even brighter.
Enhance Your Design With A Complementary Color Scheme
Similarly to highlighting architectural features, curtains can also enhance your living room's color scheme. Whether you opt to have a more neutral color palette or opt for bright colors, the color of the curtains can make the whole area pop.
Ultimately, your style preference will dictate whether you opt for a dramatic look with dark colors and heavier fabrics or a classic style with white sheer curtains for a clean look and airy feel.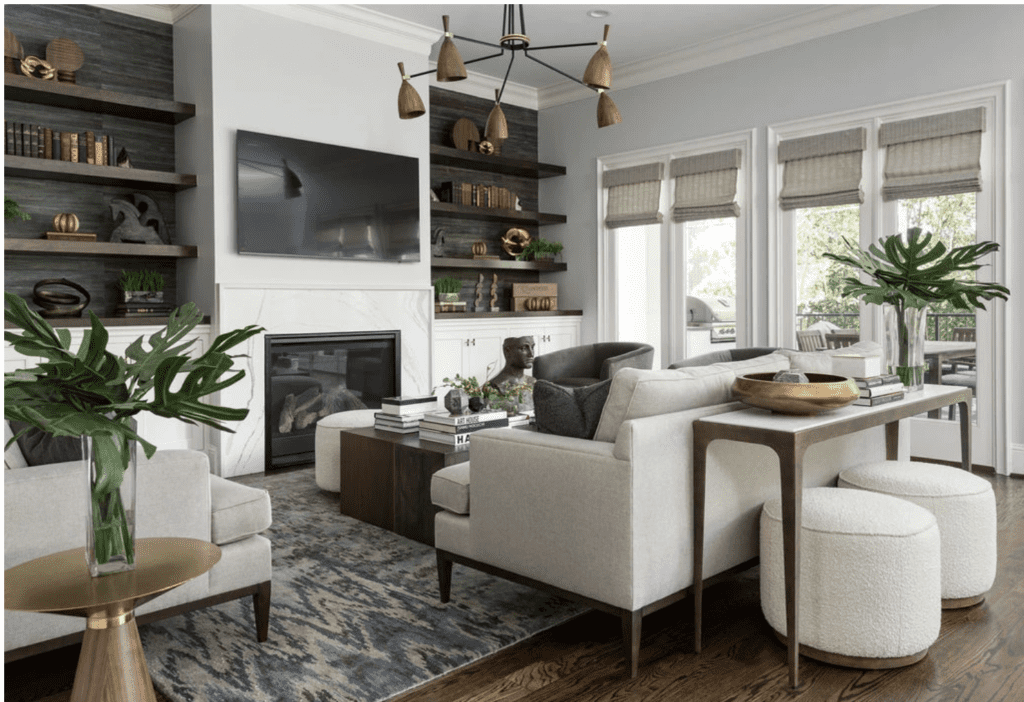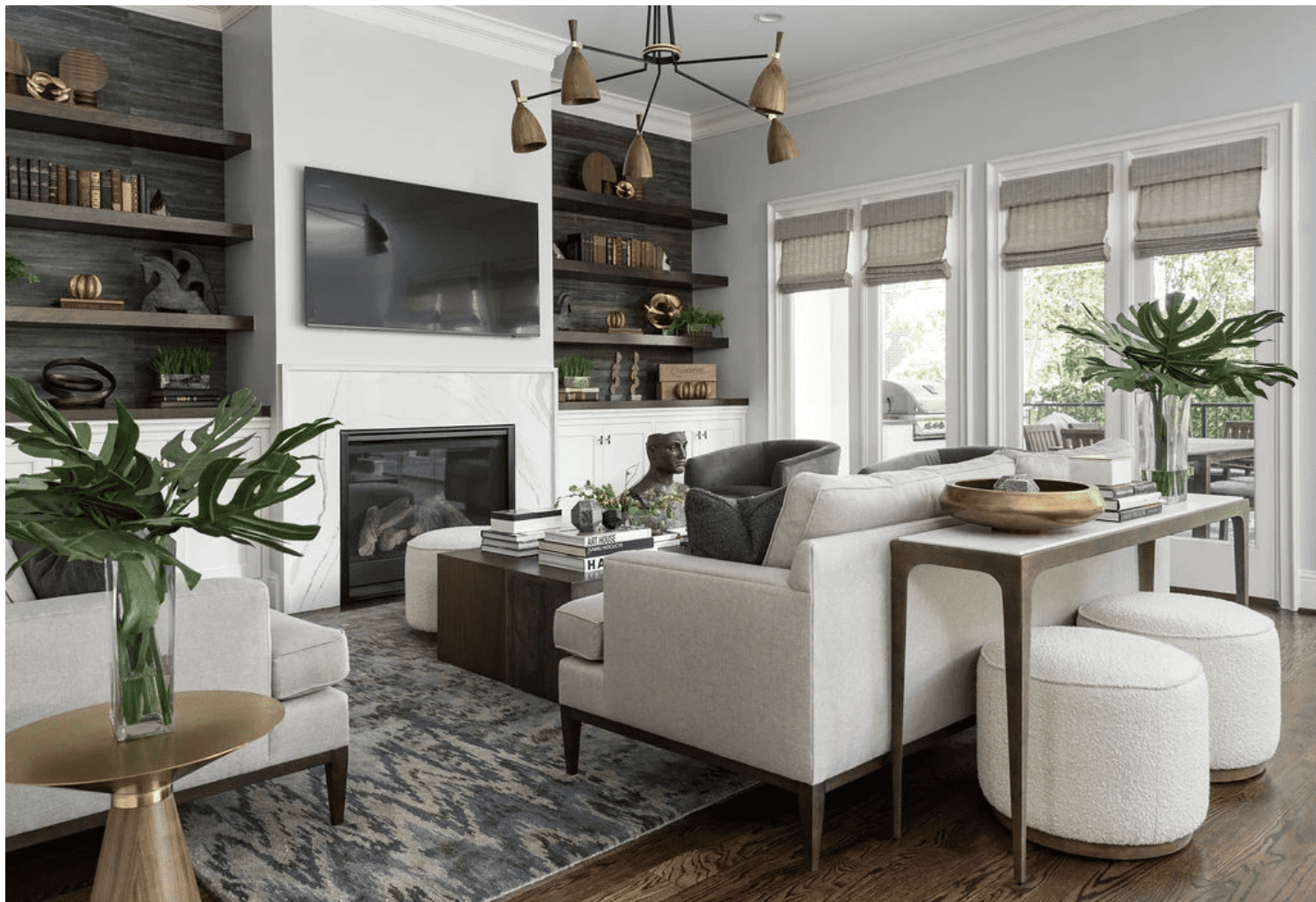 This mid-century modern living room is a great example of using an alternative to curtains that still ties it all together, allows for natural sunlight, and provides texture to the space. Blinds can be just as impactful with similar benefits.
A Great Way to Provide Privacy
The other benefit of curtains is that they can provide some privacy. If you live in an area where your home is close to other homes, then chances are you've walked past your neighbor's house and have seen what they're watching on television that night.
If you prefer to have more privacy, then curtains are an excellent choice to maintain that privacy. Of course, if you prefer to have your curtains open to allow direct sunlight into your living room you are able to do that while still being able to close them at night time for total privacy.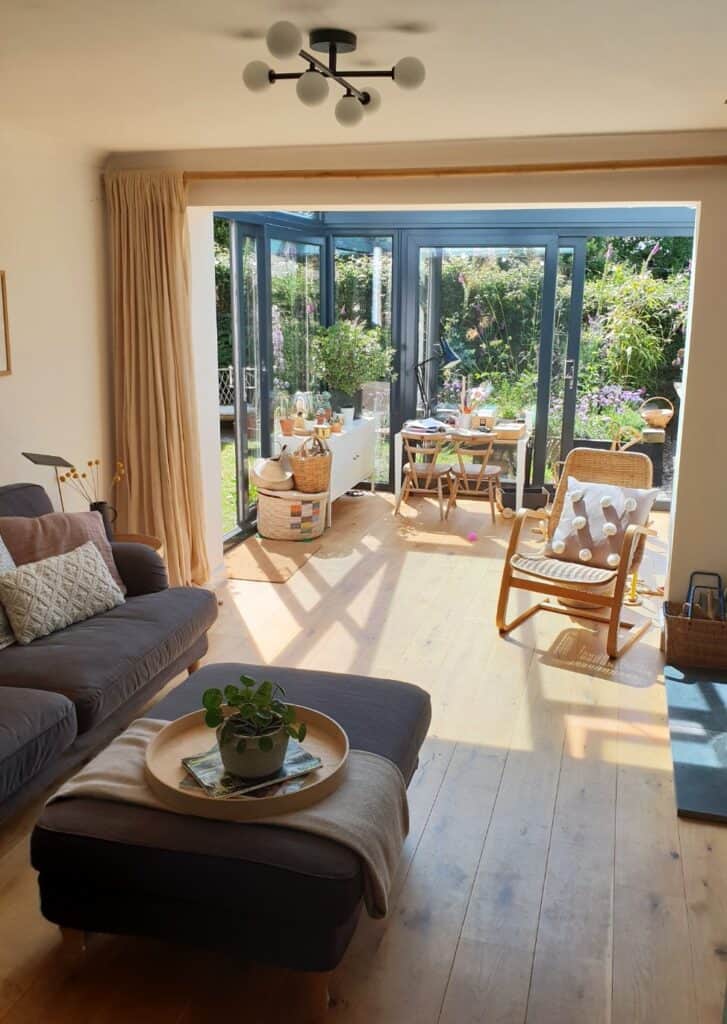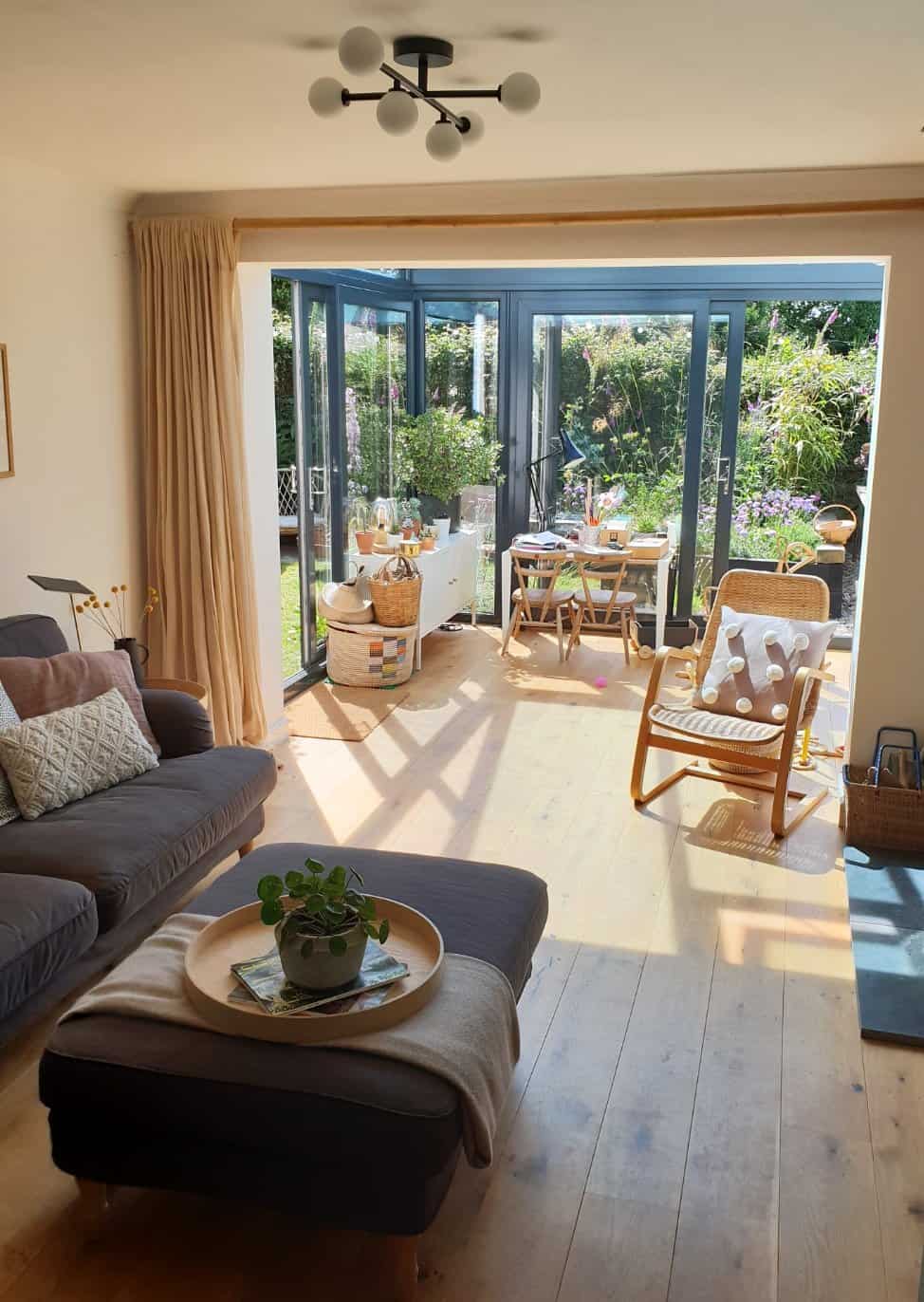 These budget friendly curtains were actually made from sheets to provide privacy and to block out the sun from the sunroom in this living room. I love that this cozy living room repurposed fabric that was already on hand.
Provides Insulation
When you live in an older home, you get pretty crafty when it comes to finding solutions to help with temperature regulation. Often, older homes don't have dual zone HVAC systems. As a result, in the summer months, the upstairs area can be extremely warm, while your basement or main living space can be downright chilly.
This not only can be a major pain but it also isn't great when it comes to saving energy. To help combat the heat in the summer months, we rely on our curtains and roman shades. High quality curtains can help absorb the heat from the sun, and keep your home cooler by blocking out the sun's rays.
Keeping your curtains shut in your upstairs bedrooms will make the space feel much cooler. If you happen to need any other tips to help cool down this summer, check out my 5 tips for keeping your house cool in the summer. On the flip side, in the colder months, this is another good option to help keep your space toastier. Curtains can help absorb any drafts coming from your living room window by insulating around the window frame.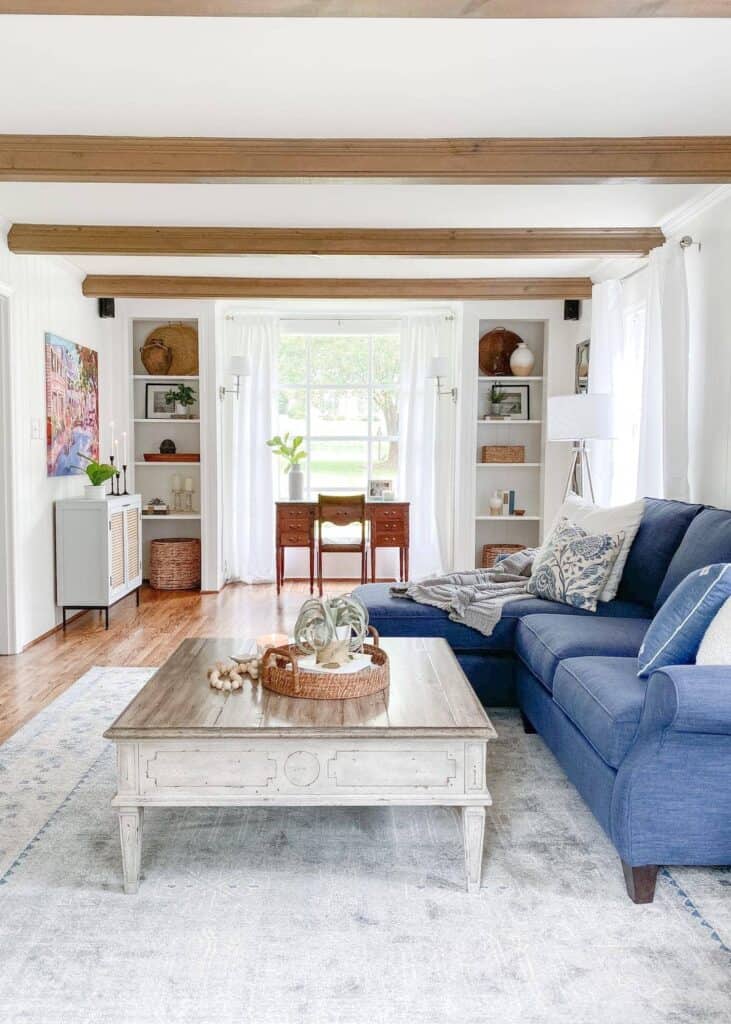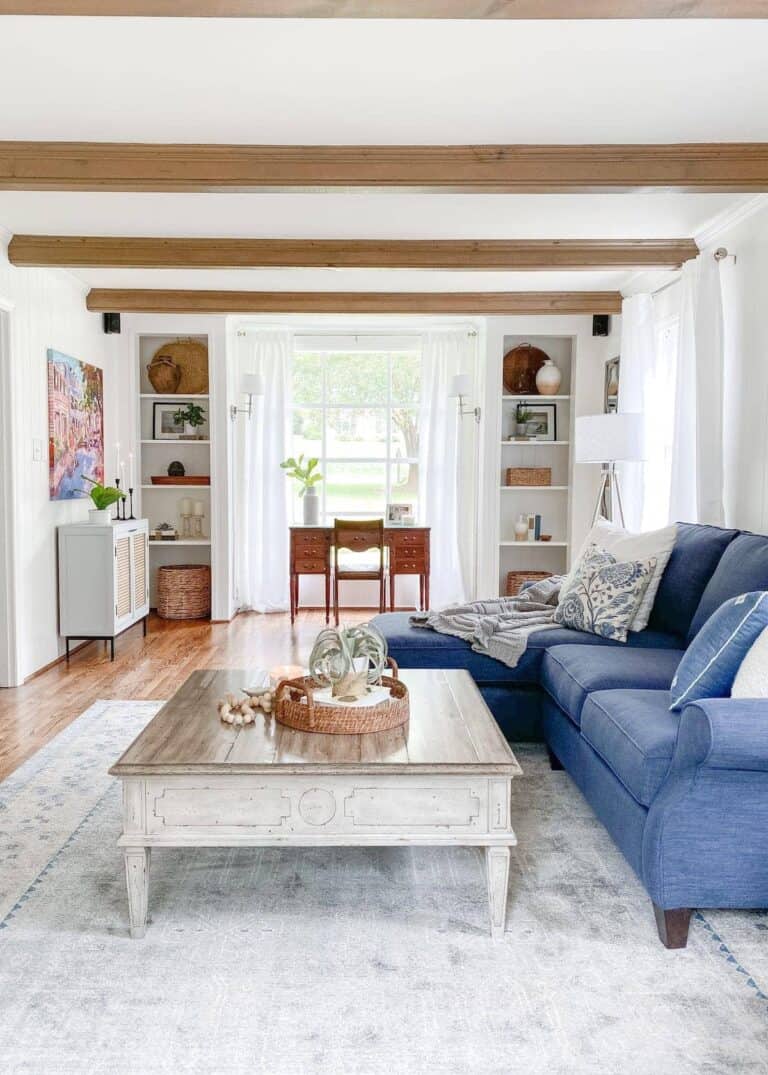 These sheer drapes not only provide an airy feel to this coastal living room, but they also perfectly frame the set of windows for a great focal point without distracting with a bold color or pattern.
How to Pick The Correct Curtains
Before I share with you the 20 best curtain ideas for living room modern designs, you'll need to keep in mind a few considerations before buying your own.
Buy The Correct Size
It is key that you buy the correct size curtains for your living area otherwise your space may feel overly cramped or you may miss out on enhancing those tall ceilings. This means you'll need to look at both the length and width of your entire window space.
Length & Width Are Key
Standard curtain lengths come in the following sizes: 63 inches, 84 inches, 94 inches, 108 inches, and 120 inches. Of course you can always get custom made lengths, but these are the lengths you'll typically find available and ready to ship.
The length you pick will be dependent on where you hang your curtain rod. Generally, you should measure from the floor to about 4 inches above the top of your window frame. If you hang the curtain rod too low, you'll have a window that appears overly short and narrow.
Windows provide lots of sunlight, so highlighting the amount of natural light your room gets is to your advantage. You can always hang your curtain rod a few inches from the ceiling to elongate your ceilings and create a luxurious feel to your space with full-length curtains.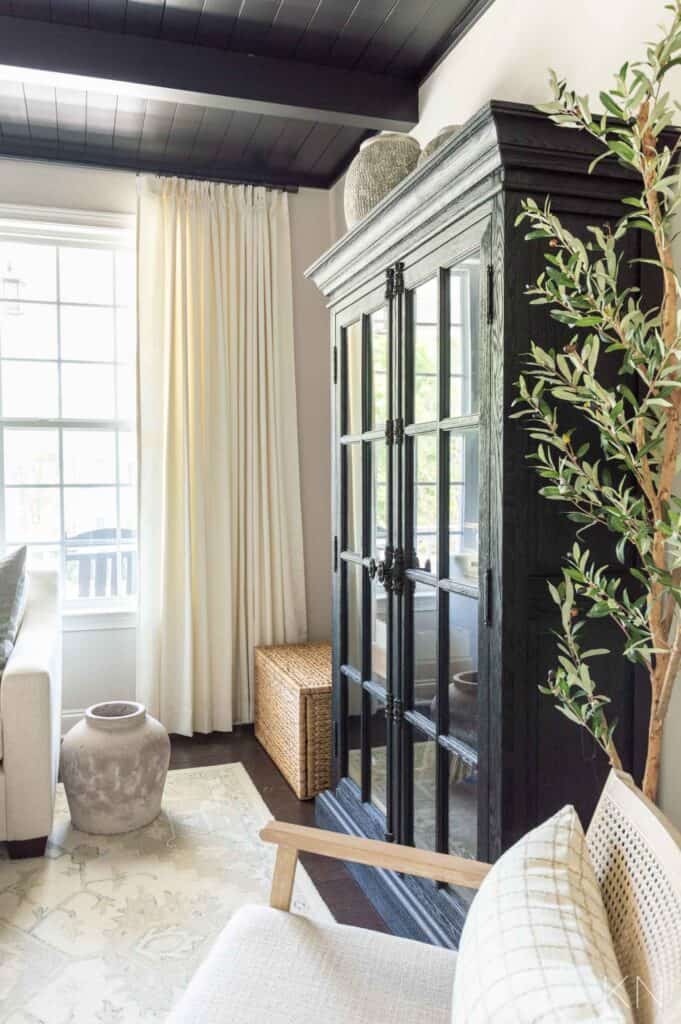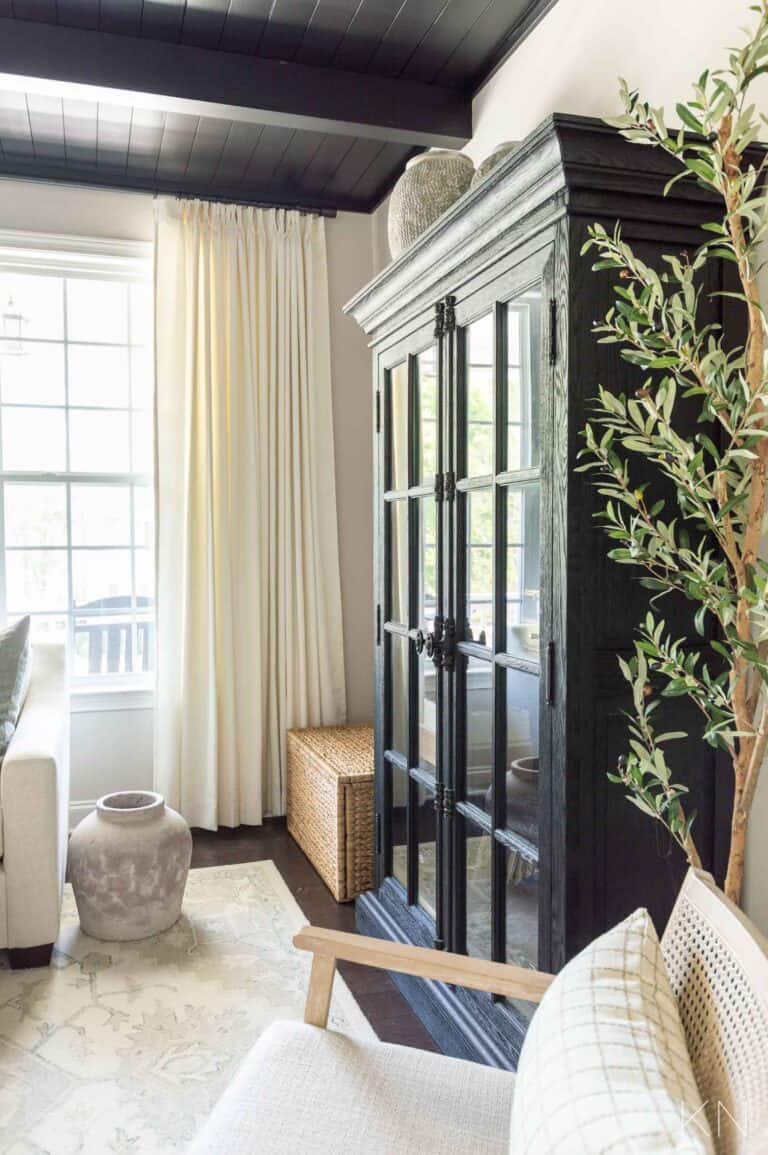 Floor length heavier curtains provide this conversation room with an elegant feel.
Once you've determined the length of your curtains, make sure you don't forget about the width. The width is just as important as the length and will help provide that privacy or temperature regulation.
Measure along the width of your window frame and multiply that number by 1.5 (all the way up to 3). Depending on how full you want your curtains to hang, you may opt to get fuller looking curtains.
Curtains that are higher and fuller tend to give off a dramatic and luxurious look. At the same time, you don't want the curtains to swallow your space entirely. You'll need to balance these measurements with how large or small your living space is in comparison to the overall look you wish to achieve.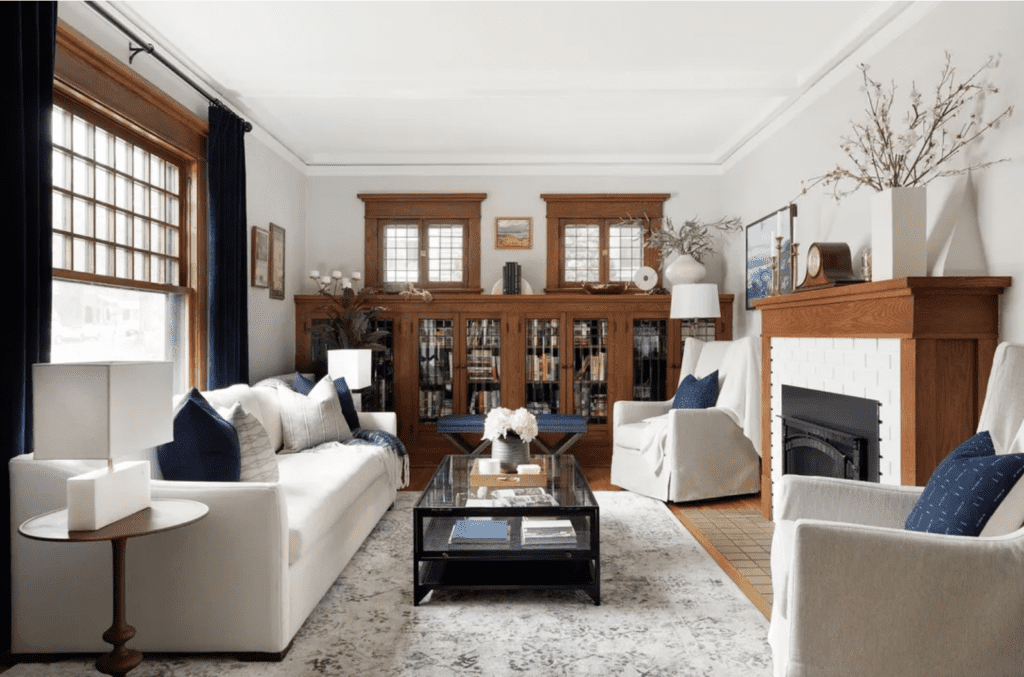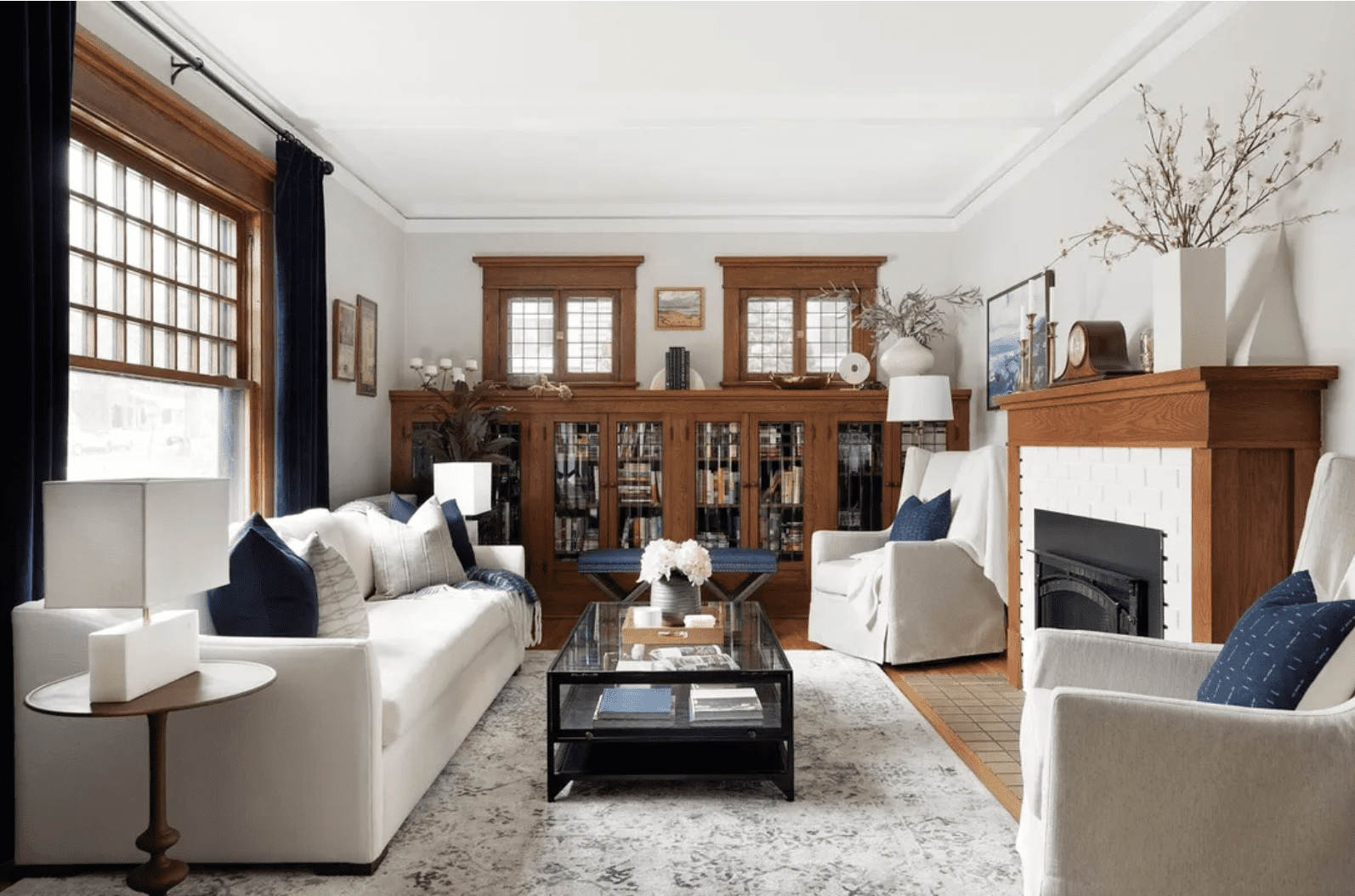 Curtains don't have to be plain white. In this living room, these dark velvet curtains are the perfect addition and complement other textiles.
Fabric Choices Matter
The type of fabric you choose for your curtains will be dependent on a number of factors. First, how much light are you getting throughout the day and how much light do you prefer? Depending on the room, you may want more or less light.
Light Filtering
For example, a bedroom where you will be sleeping you'll want to look at curtains that block out a lot of sunlight. Blackout curtains are popular in bedrooms and nurseries. On the other hand, having blackout shades in a living room is not ideal as you block out all the natural sunlight. For a living room, you'll likely want to have curtains that filter little to moderate light, depending on your geographic location.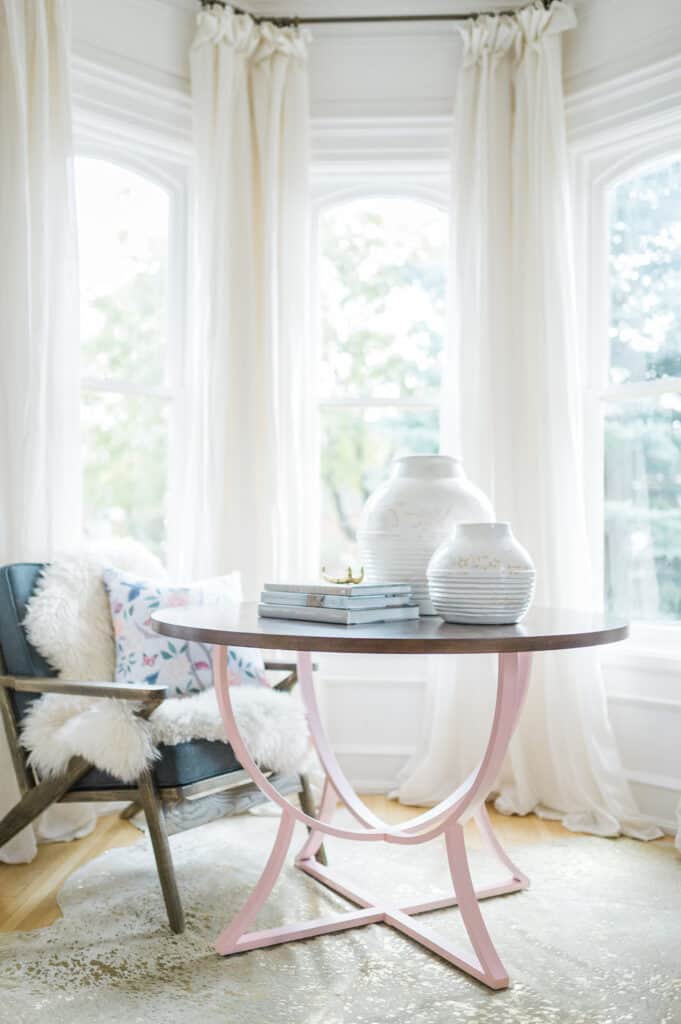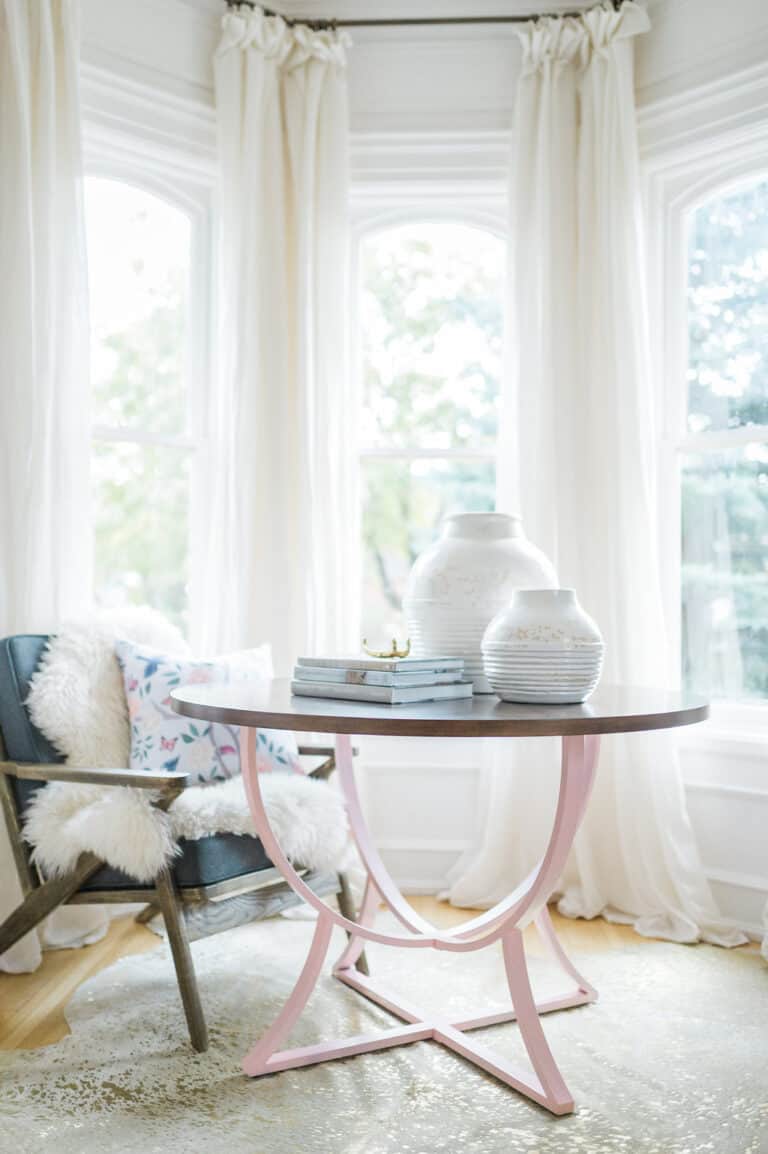 This bay window has curtains that are light and airy while enhancing the beautiful architecture in this space.
Consider Thickness Of Material
Additionally, consider the amount of insulation the curtains can hold to help regulate temperatures.  Again, in bedrooms, blackout curtains will help regulate the temperature in the bedroom by blocking out the sun and absorbing the heat. 
 These are great in the summer months and areas that experience warmer climates.  On the other hand, if you live in a climate with colder weather, you may opt to have curtains that have some weight to them to help provide some insulation during those colder seasons. 
Care Instructions Are Key
You may also want to pay attention to the instructions on how to care for your curtains. If you have kids and pets, picking a curtain fabric that is machine washable is key. I've seen way too many potty training incidents where curtains have gotten ruined in the process. If you have older kids and aren't concerned with the care instructions, then you'll be able to pick from a wide variety of fabrics.
Consider Your Aesthetics
Lastly, keep in mind that certain fabrics can enhance different aesthetics.  For example, velvet and silk curtains give a general luxurious and elegant feel, while cotton or linen is much more subtle.  Ask yourself whether you intend to have your space feel light and airy or dramatic and regal?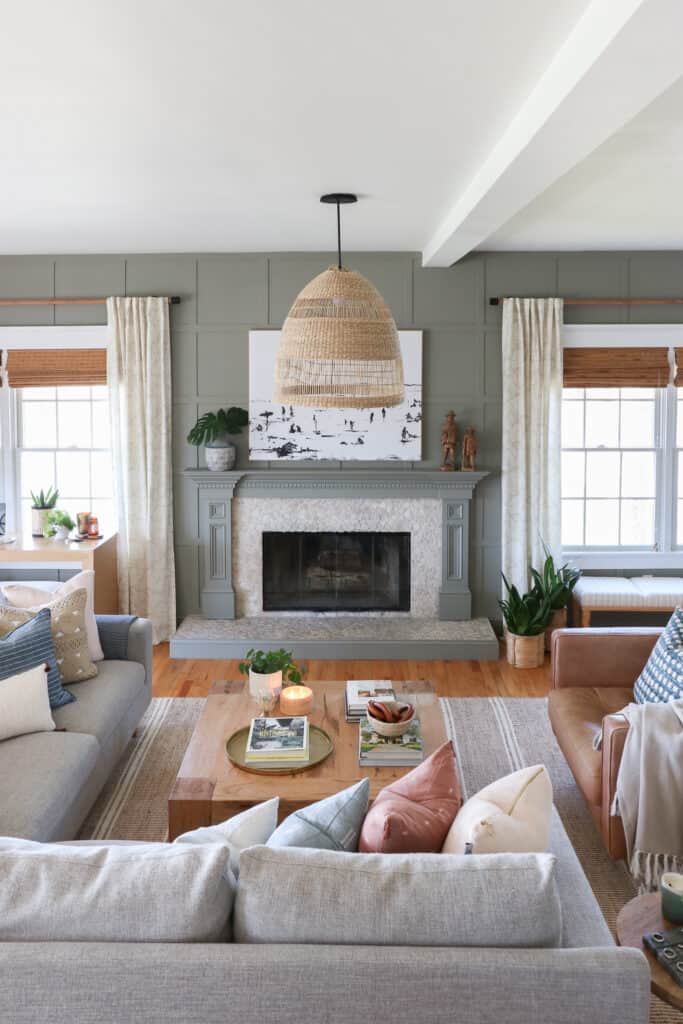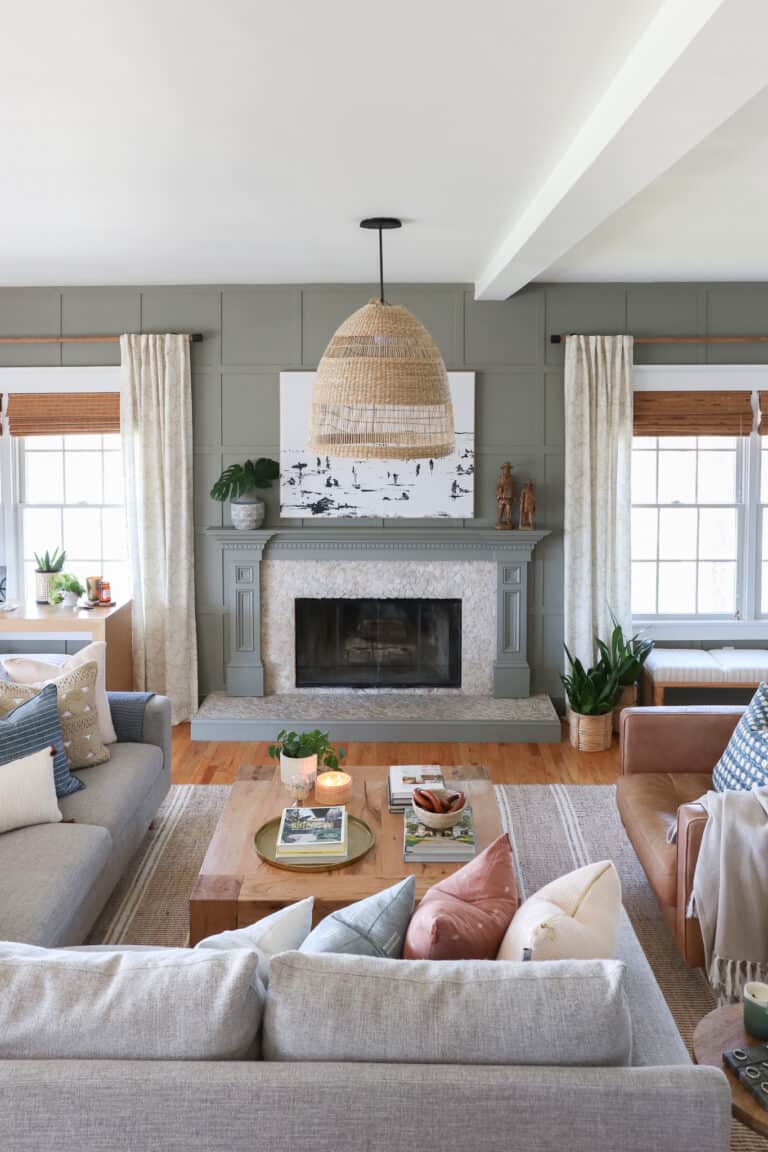 These linen curtains not only frame the fireplace, but also do a great job complementing the blinds for added texture.
Pros & Cons Of Popular Materials
Cotton and polyester curtains are both easy to clean and come in a wide range of different colors, different patterns, and a variety of styles.  You can get different weights of these fabrics that range from sheer drapes to more heavier fabrics.  
Sheer fabric allows you to keep the area filled with natural light. This helps with the appearance of it looking large and open and is popular among a more modern style. Linen curtains are also popular among sheer panels that provide a traditional style with lots of light filtering throughout.
However, linen curtains are prone to wrinkling and are not machine washable. These are a great option for a coastal design style, but if you have pets or kids, you may want to opt for cotton. Velvet and fleeze are heavier fabrics that can help block out light, noise, and aid in temperature regulation.
However, both are more difficult to clean. On the other hand, they can transform your space into an elegant and luxurious setting. If you are going for opulence, one of these options would be the perfect choice.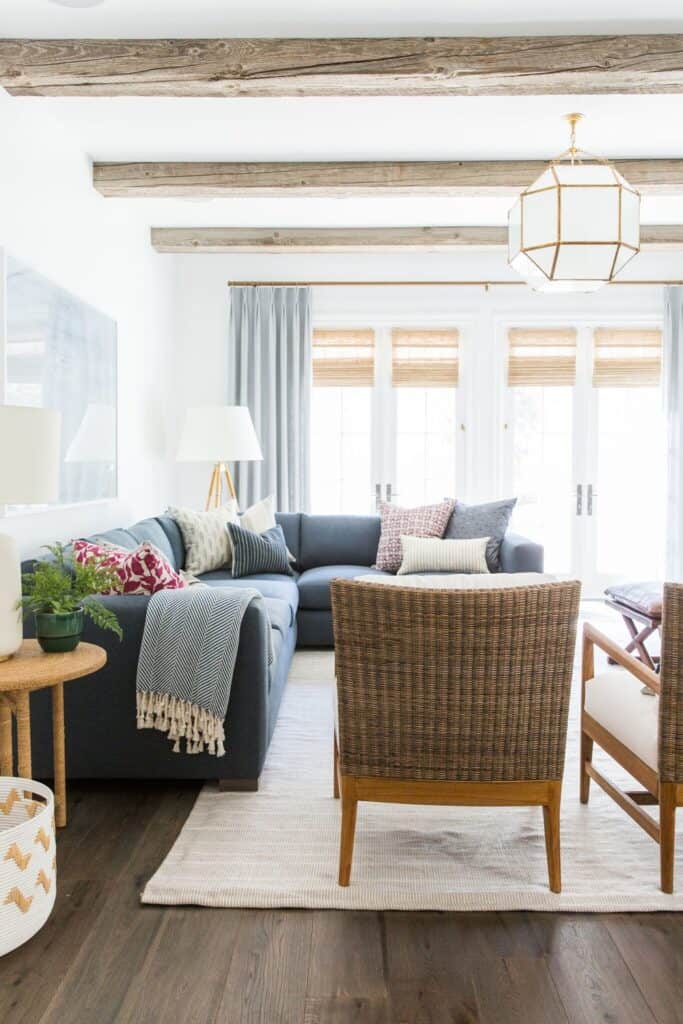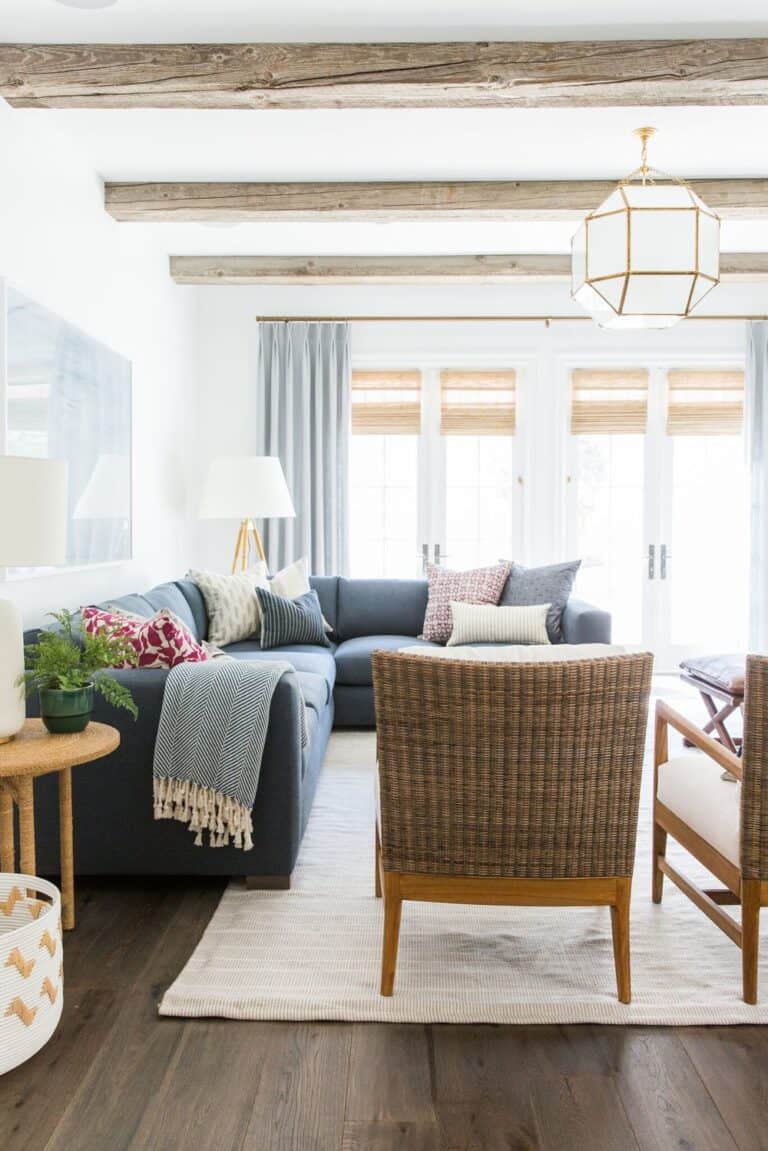 These curtains are the perfect weight for this living space. They are a heavier fabric in a light shade of blue to keep a light and airy appearance.
Play Up Your Color & Patterns
There are different types of curtains that range from more neutral colors to vibrant colors with busy patterns. Your personal preference will dictate what you decide to ultimately choose to hang in your living room. Ultimately, colors and patterns can help enhance your living room's theme and provide texture.
Neutral Settings
Consider neutral spaces that opt to have colors that are muted and similar to the furnishings, decor, and textiles.  You can pick white curtains in a living room with the same wall color for a seamless transition.  When you choose the same color of curtains as your living space, you create a timeless look that allows your eyes to easily transition from one space to the next.
Colorful Settings
If you prefer to have a pop of color, try picking contrasting colors between your wall color and living room drapes for a modern look. The vibrant colors can tie in with other textiles in your living room and can enhance your living room's aesthetics.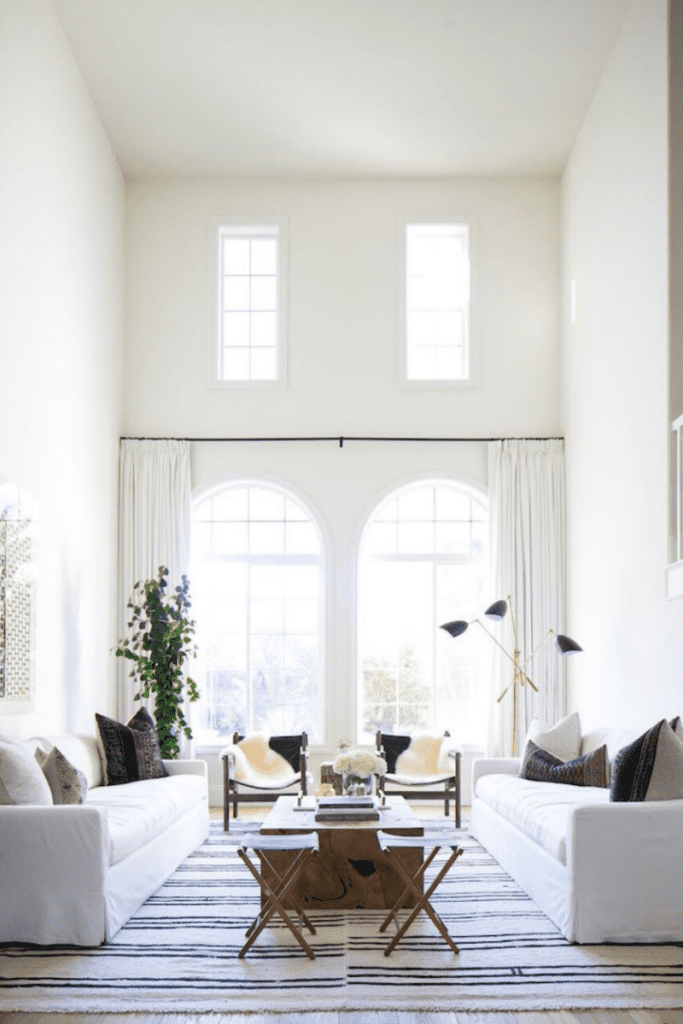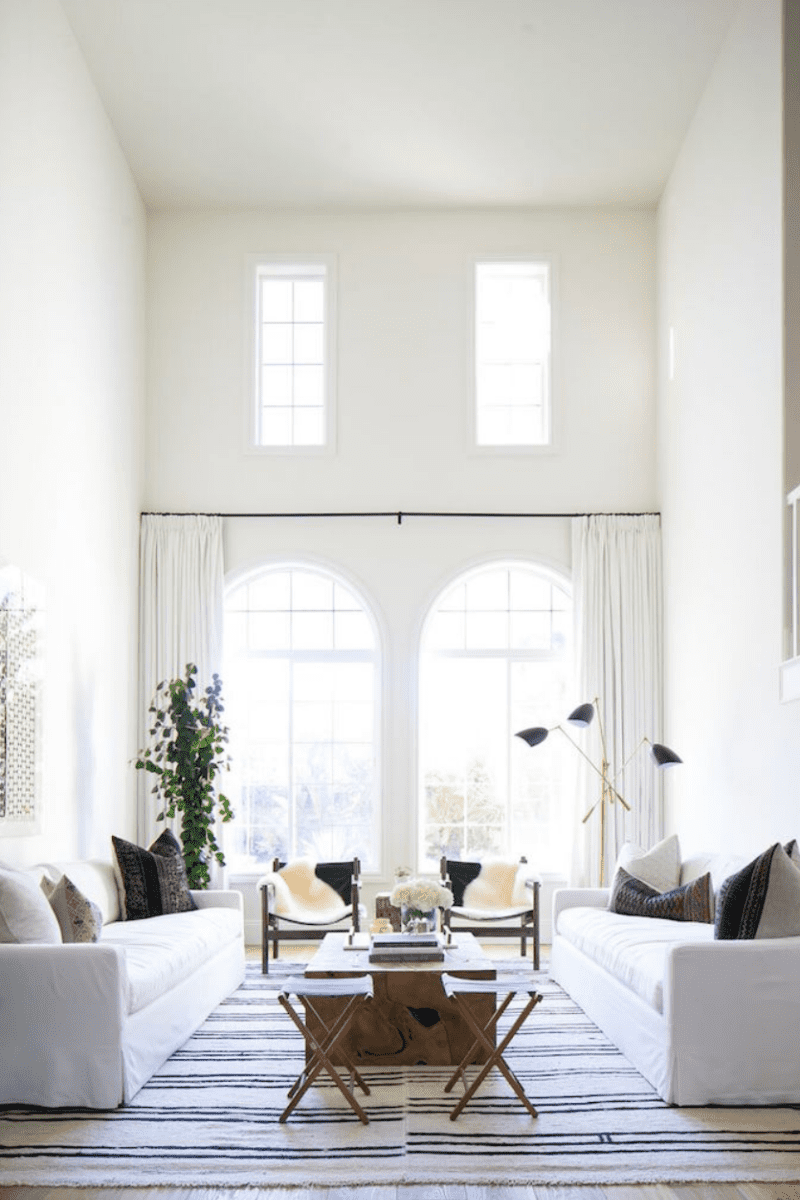 These arched windows and tall ceilings are pure perfection and the black and white palette really lets them speak for themselves.
Creating Texture
I also love that you can use patterned curtains to create texture.  Consider that neutral space again. If you prefer, you can create texture with a patterned curtain in that same neutral color, but the pattern draws your eyes upwards and outwards to create texture. 
A pattern also allows light to bounce off the varying textures to create even more light. For darker spaces, a pattern is a great way to soften the space without making it feel small or cramped.
Again, patterns create texture which can help bring more light into your living space. Don't underestimate the importance of the texture of your curtains. If you prefer to have solid curtains, you can still create that texture by installing blinds with varying textures.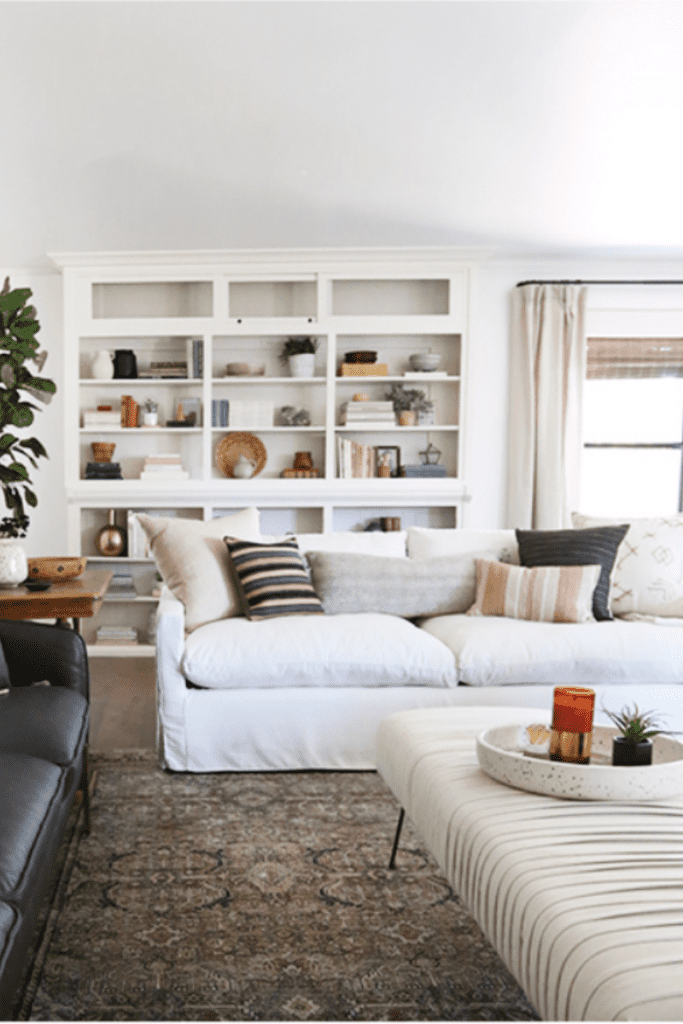 This earthy toned living room has a great use of curtains and blinds for added texture.
The 20 Best Modern Living Room Curtain Ideas
Here are my favorite modern living room curtain ideas. These are great options that come in several lengths and widths to fit your house, and I touched on a wide variety of price points.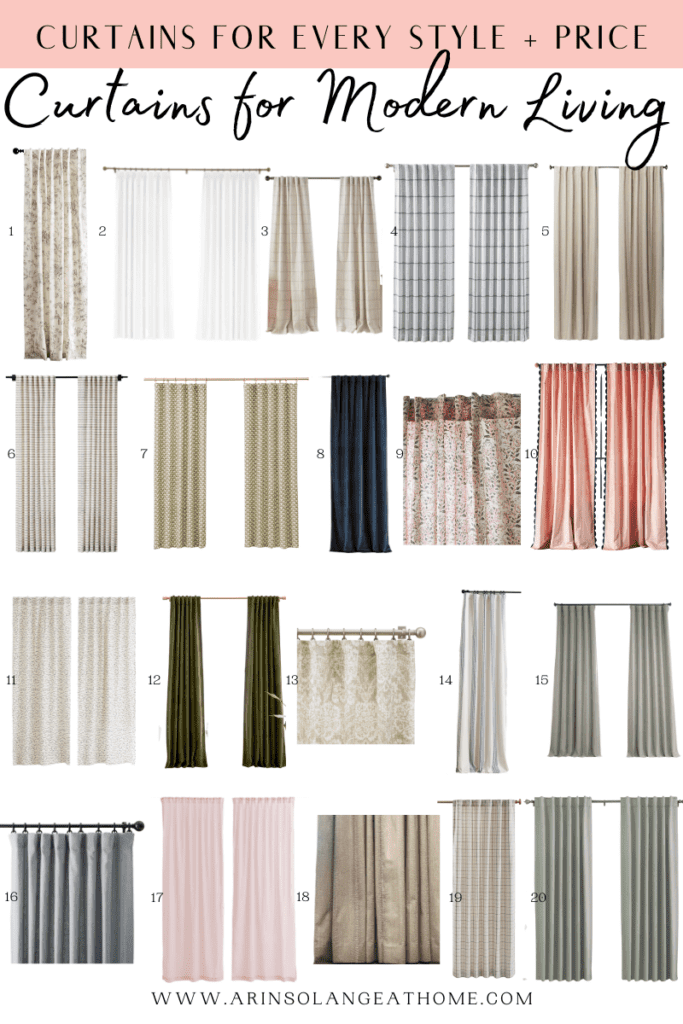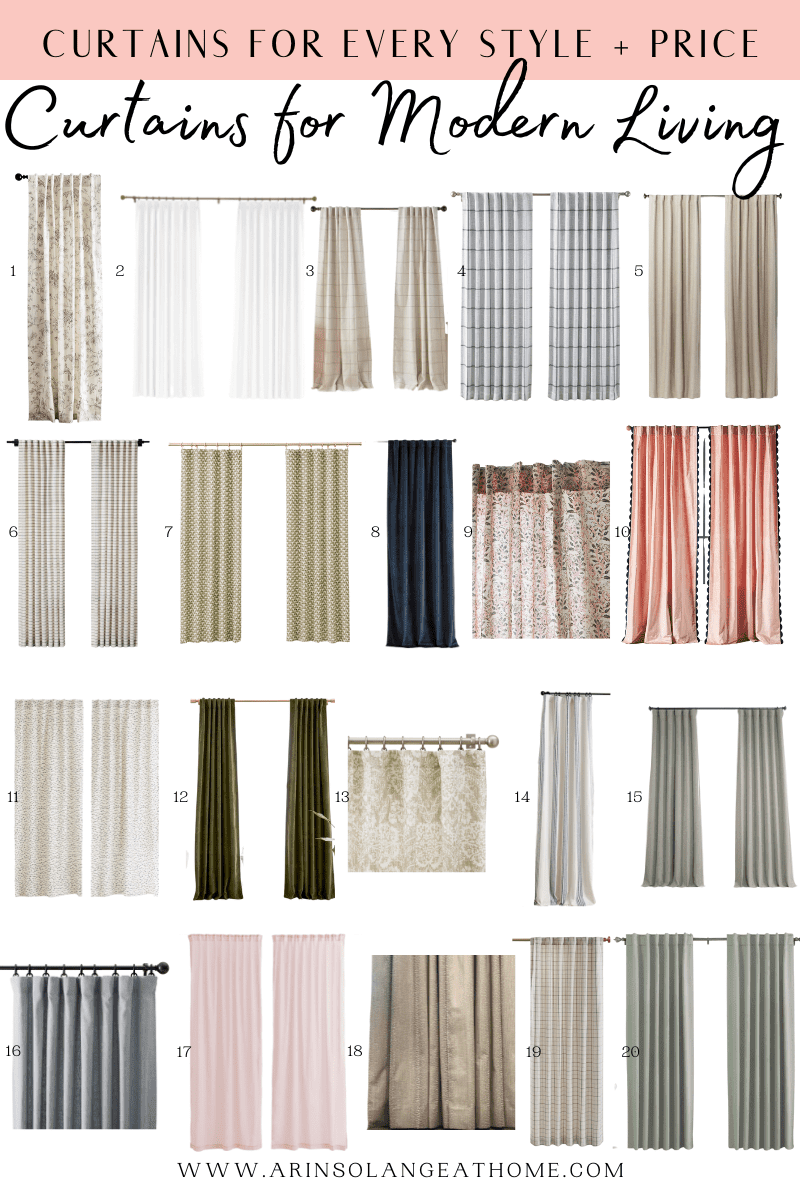 1 | 2 | 3 | 4 | 5 | 6 | 7 | 8 | 9 | 10 | 11 | 12 | 13 | 14 | 15 | 16 | 17 | 18 | 19 | 20
Learn How To Style Your Own Modern Living Room Curtains
Now that we've looked at the 20 best curtain ideas for living room modern designs, and hopefully picked a favorite option out, let's take a look at some of my favorites.
A Timeless Look
These arched windows are such a fun architectural feature that you can't help but to highlight them. The white full-length drapes are hung perfectly to help highlight the arched curve of the window frame.
You'll also notice that the curtains blend in seamlessly with the paint on the walls. There is plenty of light pouring in with curtains that accentuate the modern black curved window frames for a breathtaking focal point.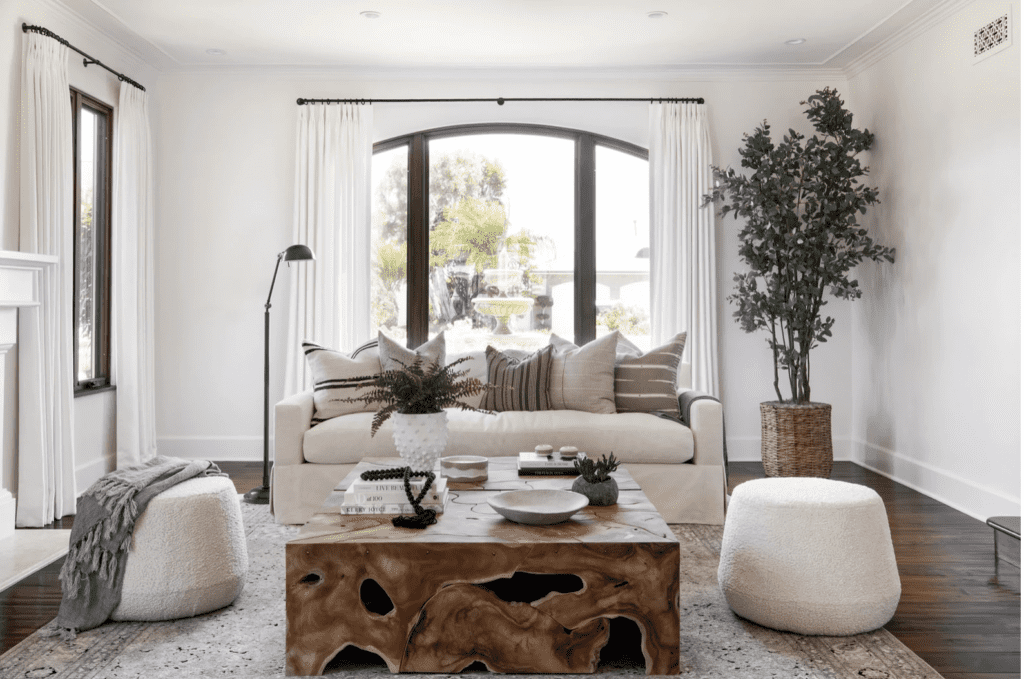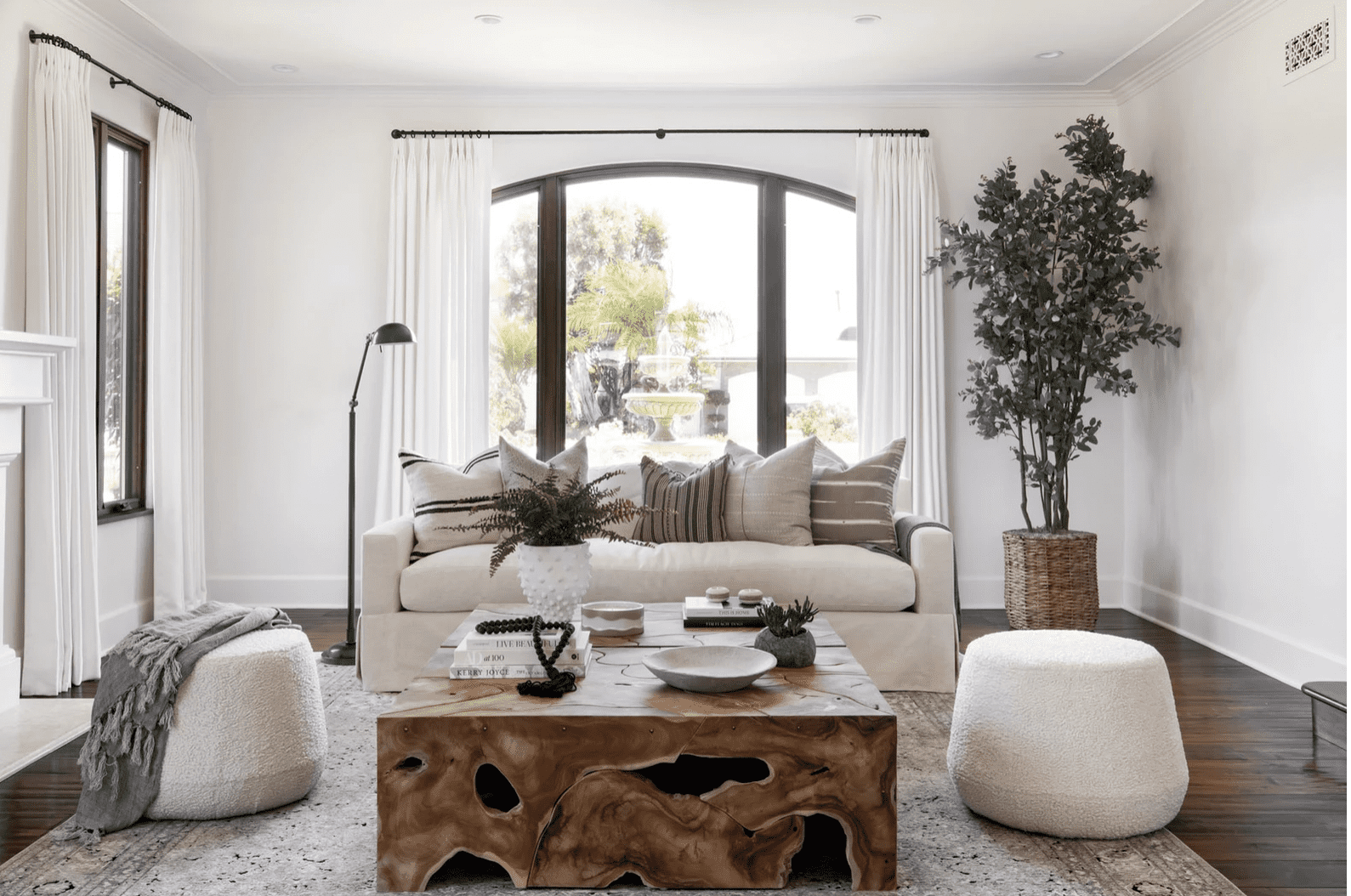 Make A Bold Statement
This sunroom designed by Martha Mulholland is a great example of how bold patterns can create texture without being overly distracting. I love that the curtains aren't your typical white sheers and instead have a dark charcoal pattern.
The sunroom has a large wall of windows that showcases an amazing view to the backyard. At times, however, privacy is needed and the ability to cover those windows is key. The fabric roman-like shades were a great option to hang to still allow that natural sunlight while still providing a way to have privacy.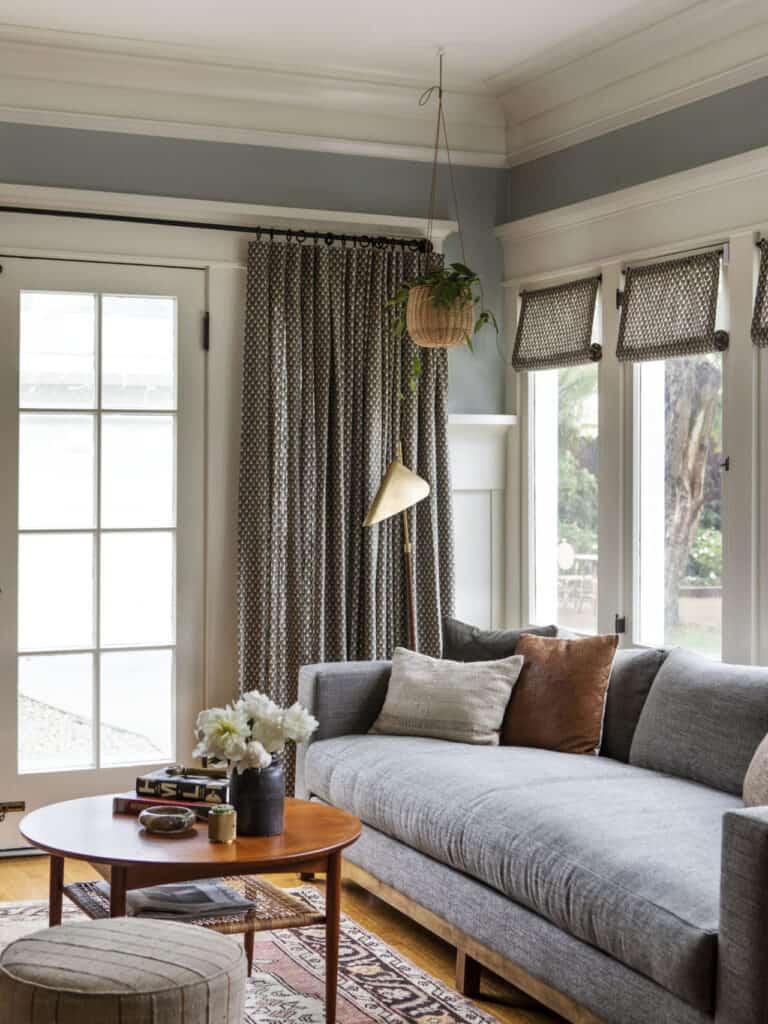 Light & Airy
When you have a smaller living space it is important that you maximize as much natural sunlight as possible to create an area that appears more open and brighter. This small living room is a great example of how you can create a living room that is both cozy yet spacious.
The use of neutral colors and light curtains allows plenty of natural light to open the space up. The curtains aren't overly heavy and don't weigh the space down, but instead, allow natural light to pour through the windows and perfectly frame the large window.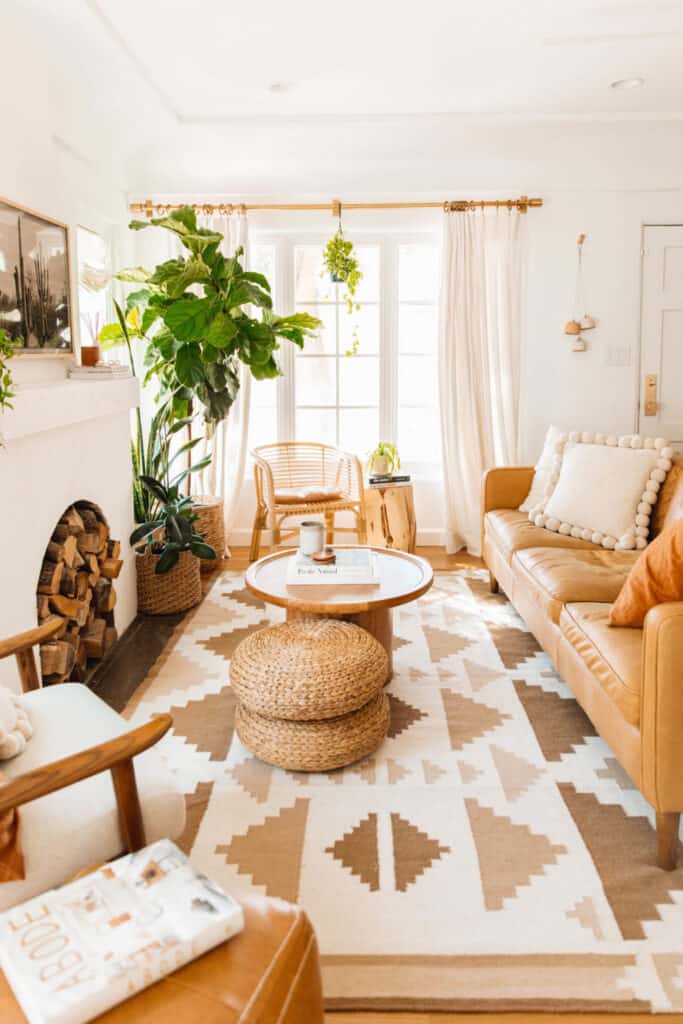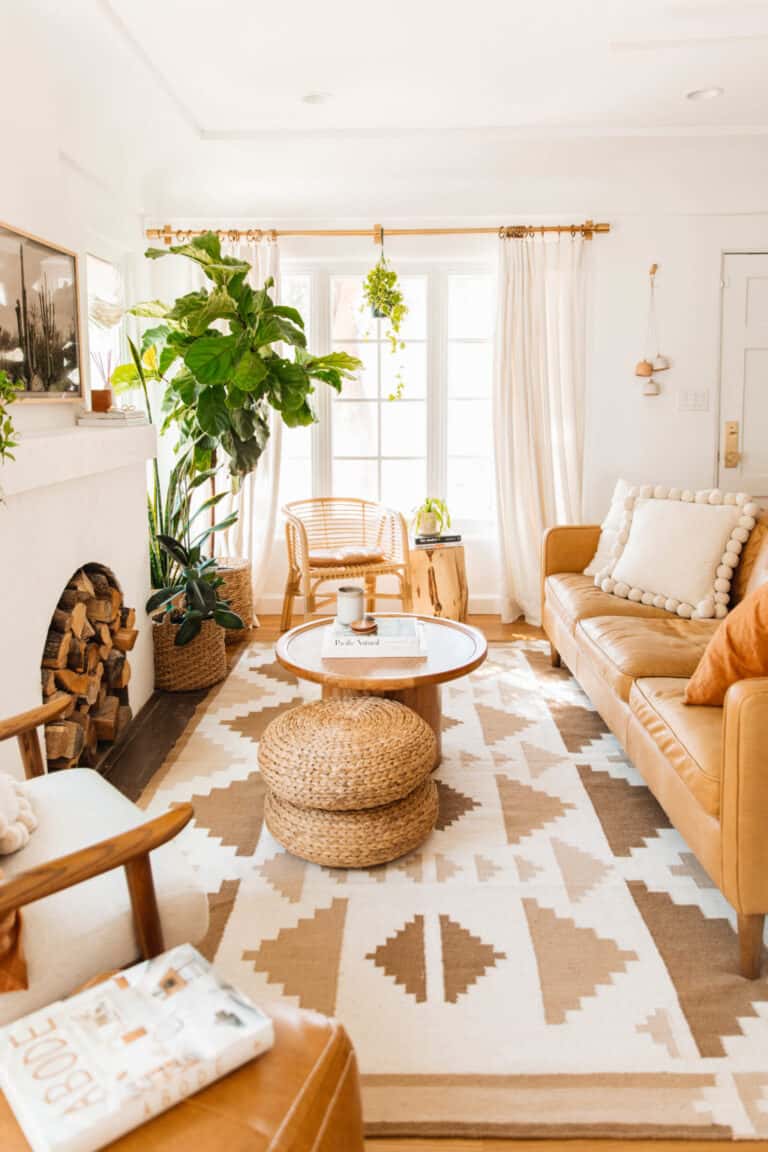 Full-Length Drapes
Not only does Pure Salt Interiors knock it out of the park with this space, but they also manage to make an already large living room feel even larger.  The full length drapes hung from floor to ceiling make the wall of glass doors feel even larger. 
Any other curtain length would be out of place here. They kept the curtains neutral to blend with the neutral color palate and to allow the natural light to shine!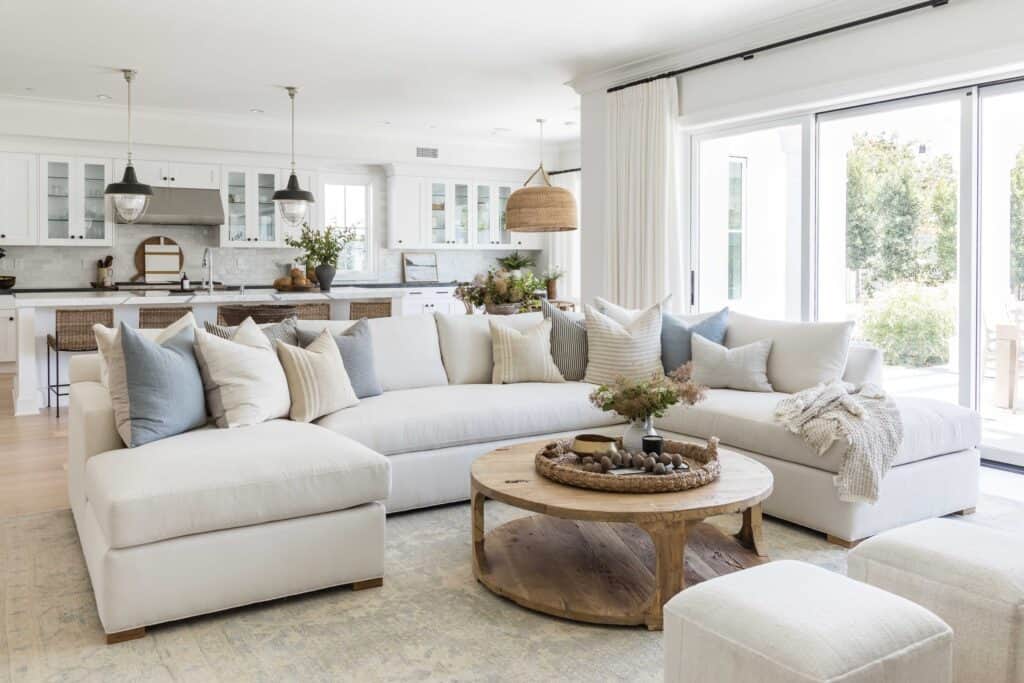 Add A Pop of Color
These navy blue curtains are the perfect color to complement this eclectic living room designed by Style By Emily Henderson. In an overall neutral setting, the blue curtains draw you in and provide that warmth to cozy up the space.
The curtains are also heavier but not so heavy that they are overpowering. Lastly, you'll notice that the curtains complement other textiles that can be found throughout the home.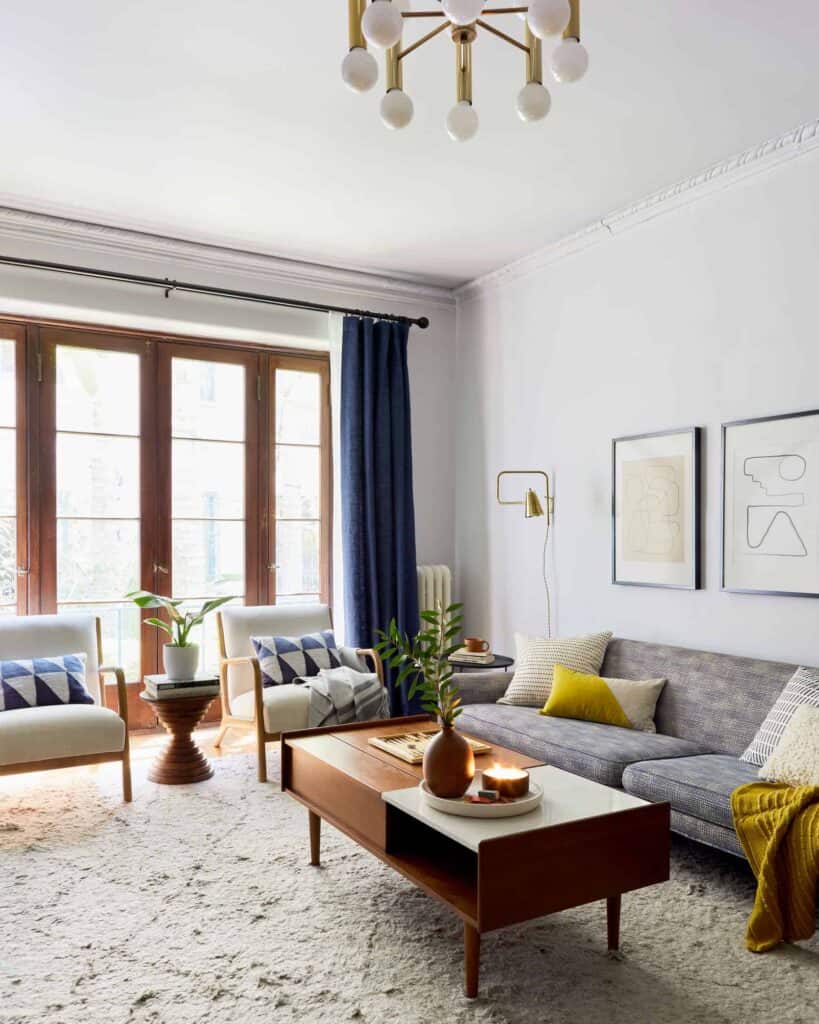 An Elegant & Dramatic Appearance
While I love a more light and airy living room, there is something spectacular about a modern vintage home that screams drama. If you love historical homes as much as I do, you'll love looking at this modern Victorian that is filled with character.
This living room is very blue indeed and is complete with blue velvet curtains. The curtains, while heavy, still allow plenty of natural light into this dark living space. What I love about velvet is it elevates your space to feel luxurious and elegant.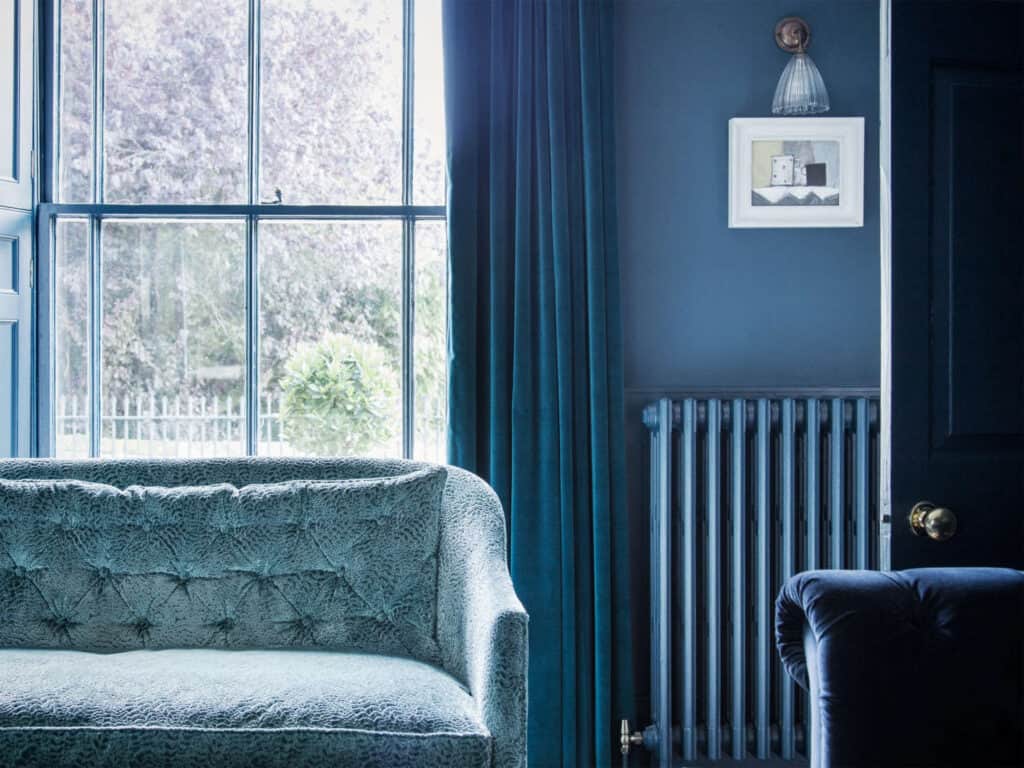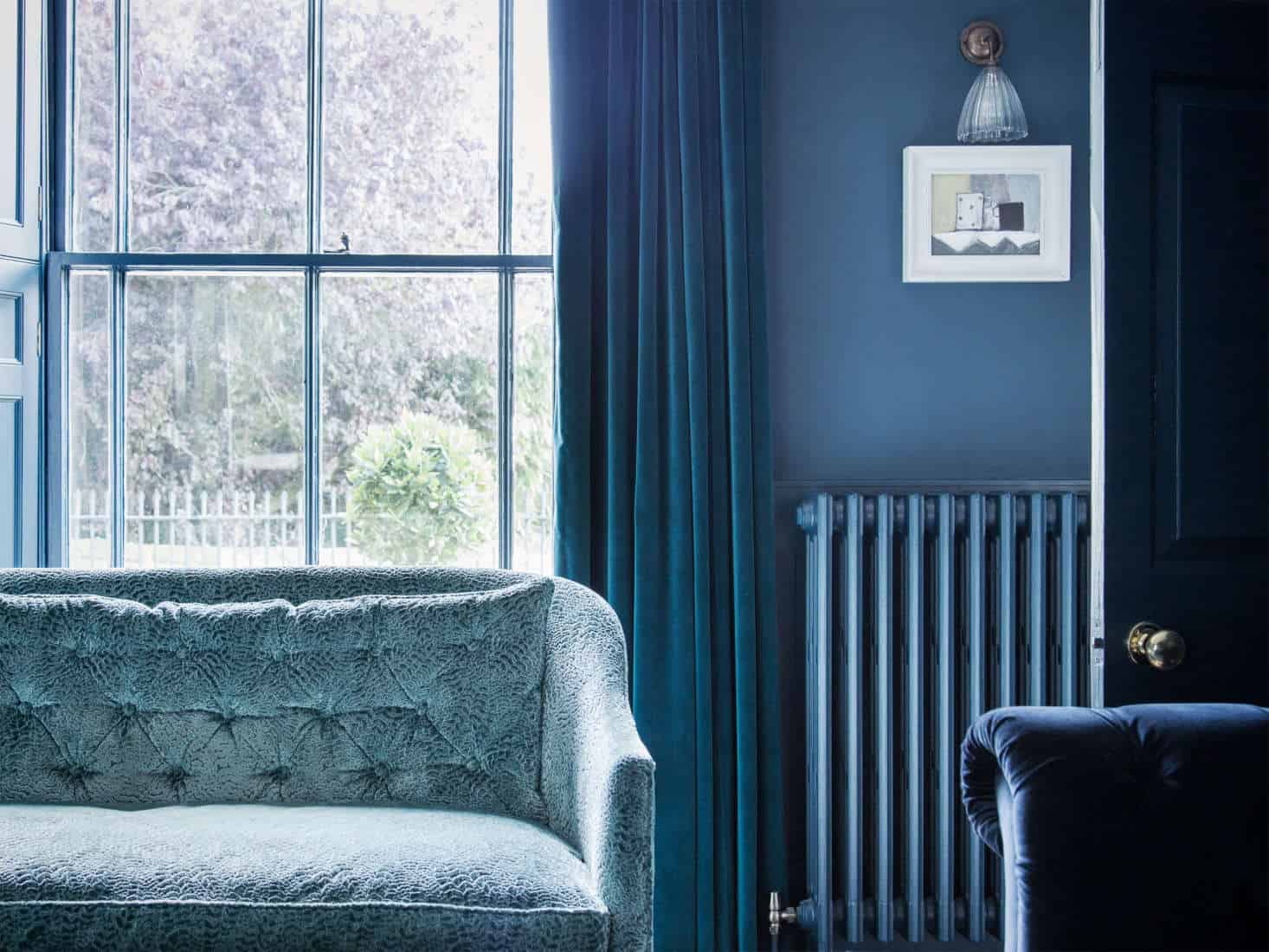 Other Posts You'll Love
12 Best Coastal Paint Colors | 9 Modern Area Rugs | Light Blue Bedroom | DIY Arched Built In Tutorial | Modern Rugs for Living Rooms
Pin the Photo Below for Later
I hope you were able to find some great inspiration in our 20 best curtain ideas for living room modern designs. Whether you prefer to have neutral colors or bold patterns, the curtains you choose can make a big impact on your living space. Make sure you pay attention to the curtain's size and measure your space accordingly.
You'll also want to look for fabric that fits your family's lifestyle. Even with heavier fabrics, you can still plenty of natural light. Be sure to pin the photo below for later, and if you don't already – follow me on Instagram (@arinsolange) and Tik Tok (@arinsolange) for more helpful hints. If you have any questions leave them in the comments below and I will get back to you!