It is no secret that I love tackling our own DIYs.  We have been in the process of renovating our 150 year old home for almost 2 years now with bathrooms included.  There are some projects, however, that are worth investing in having a professional installation. Trust me, we have learned the hard way! Today I am going to share the best shower wall material ideas . Whether you are ready for a DIY or plan on hiring out a renovation, this post will help you be ready to go.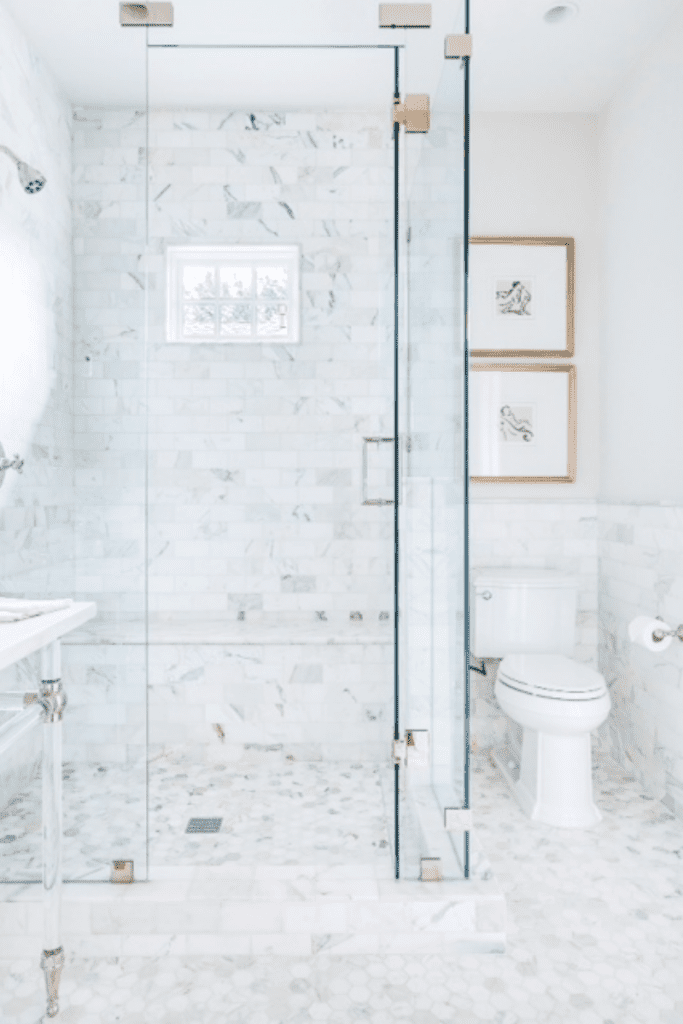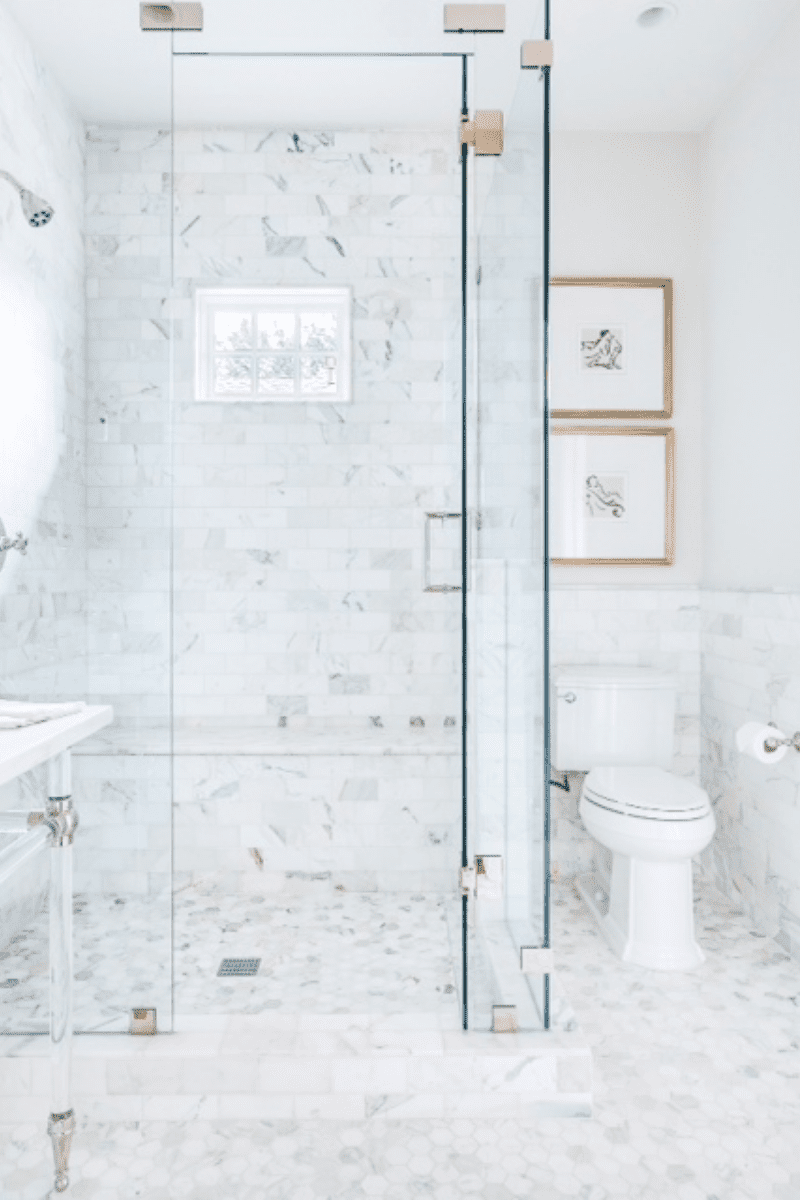 Calacatta gold marble warms up this neutral bath more than a cool toned Carrara marble.
This post may contain affiliate links.
The Best Shower Wall Material Ideas: 6 Options To Transform Your Bathroom
Bathroom renovations are a project that I prefer to have a professional help navigate due to potential plumbing challenges. That's not to say that you can't do some of the projects yourself, but it is always a good idea to have help in areas that are needed.
While I'm comfortable deciding on a bathroom design, I prefer to have help when it comes to installing a new shower. If you are in the process of renovating your bathroom and are looking for the best material for your shower walls, then you are in the right place. I'll go over some popular materials for your shower walls that are both functional and will give you a fresh look.
Half of the bathrooms in our historic home have been completed. The other half are still in rough, but working, shape. They are in need of a complete overhaul, and I could not be more excited. The remaining small bathrooms need to have materials used that are kid resistant. At the same time, I love a seamless look that will withstand the test of time.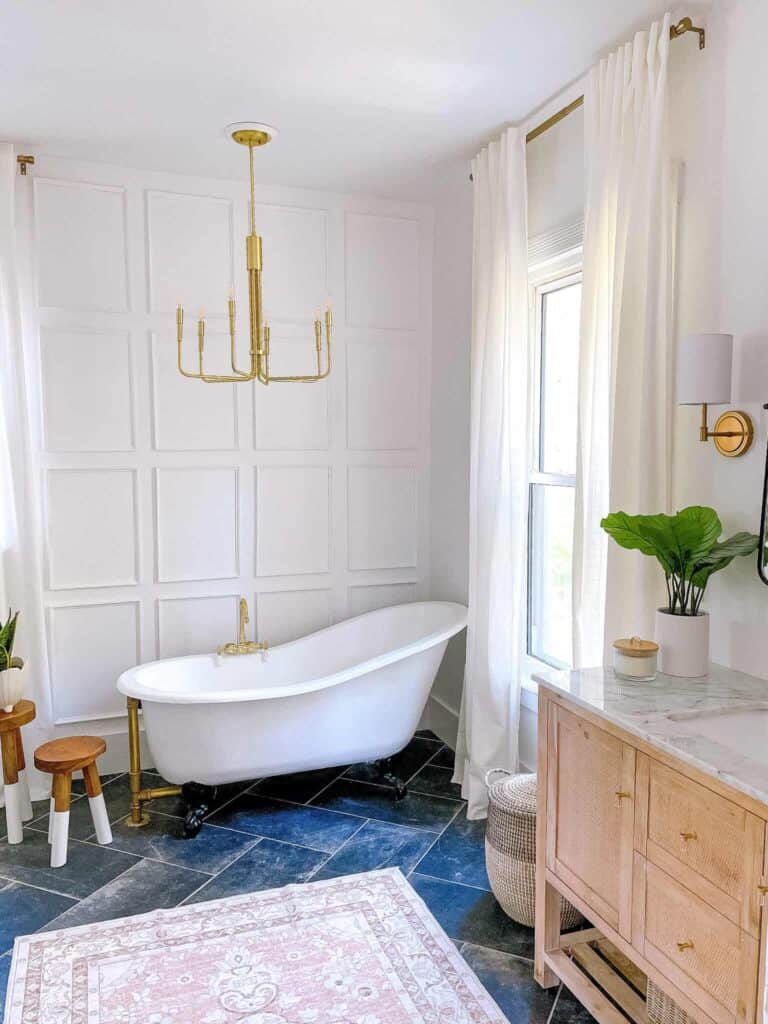 Tips To Design Your Bathroom Shower
I've been taking the time to plan out the perfect bathroom for my kids. Since our bathrooms are on the smaller end, I need to be extremely intentional in how this space functions. At the same time, I also need to have low maintenance shower wall materials that can withstand my young kids. Designing your bathroom is key to getting a space that not only fits your home's aesthetic, but also fits your family's needs.
Size and Layout Of Your Bathroom
You'll want to decide on the layout of the bathroom based on your bathroom's size and the needs of your family. If you already have the plumbing in your existing bathroom, you may want to consider keeping the layout the same to avoid further headache and costs associated with moving plumbing behind the walls.
However, if you need a complete overhaul and prefer to change the layout, then do what works for your space. You'll need to consider the size of the shower with the size and layout of the entire bathroom.
Additionally, the stall needs to fit in the space, along with your vanity and toilet. If you get one that is too big, the doors may make it difficult to open without running into walls or doors. You can, however, get creative in smaller spaces to make it functional without damaging your walls or feeling tight on space.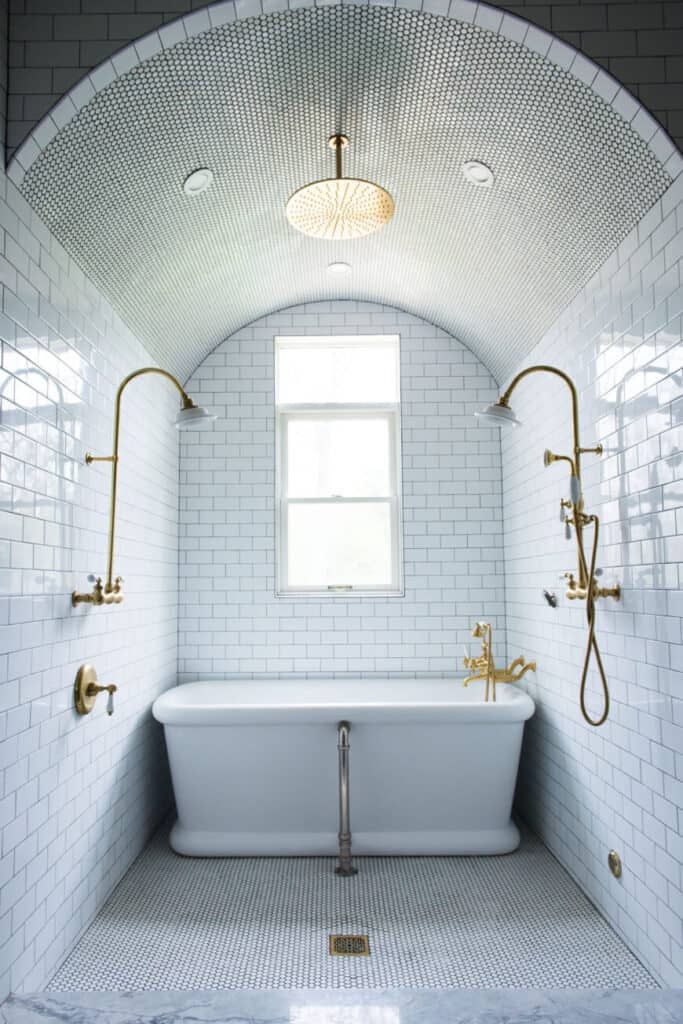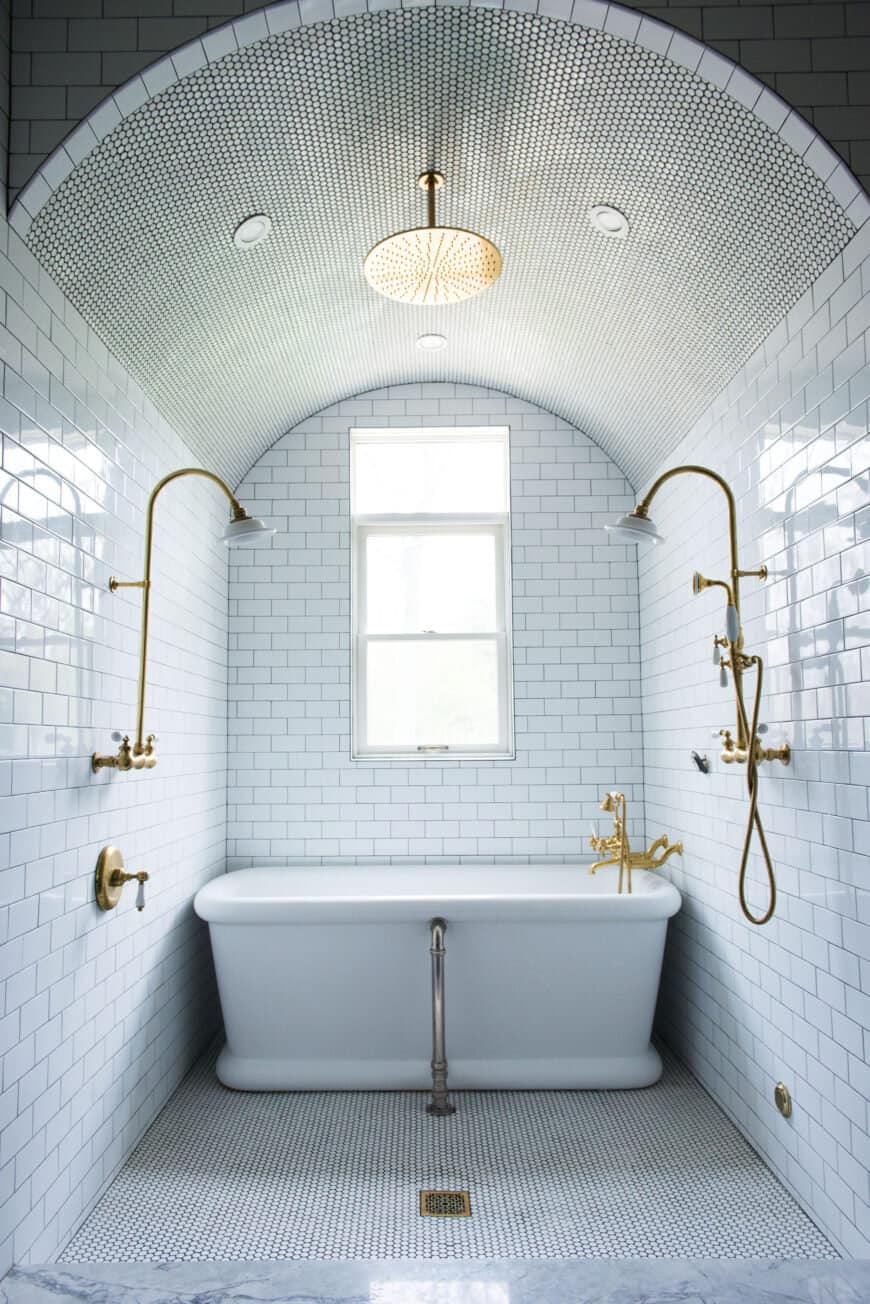 This beautiful shower room is complete with a tub. I love the curved shower wall!
Considerations For Bathroom Layouts
There are several different shower sizes, and you can decide whether you want one with a door or no door. For an elegant look, glass shower enclosures bring in lots of natural light. If you are tight on space, having no doors can be an easy solution.
Perhaps you prefer a space that is open and the floor is flush with the bathroom floor. Showers that are open and level provide a seamless look from the bathroom to your shower space and are more easily accessible. You could prefer to have a floor that has a lip or curve to it so you have to take a small step up.
These showers are much easier to contain your water and limit accidental falls. If you have kids or are considering the appeal to future homebuyers, you may want a shower tub combination. My kids will be on the older side when we perform this renovation, so a tub is not necessarily a must have in our bathroom. This will save us room that we can use for a bigger shower space or double vanity.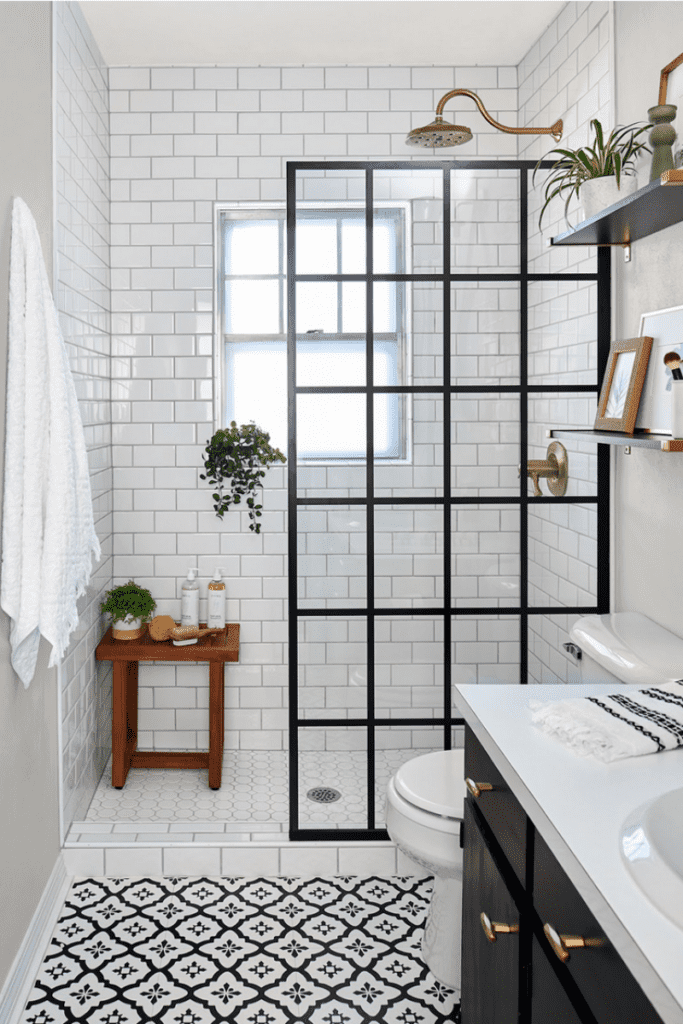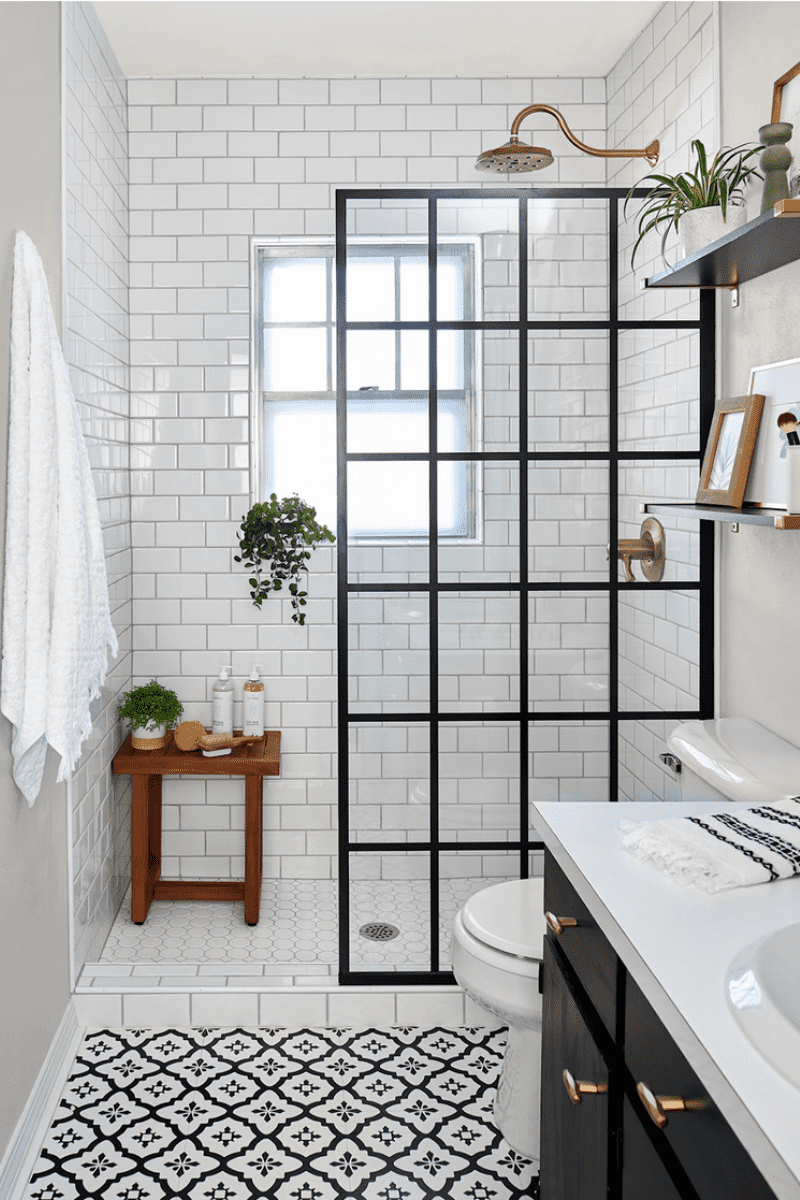 Gorgeous black and white small bathroom makeover.
Shower Wall Materials Matter
You do want to be intentional in the materials that you use in your bathroom. Kids can be hard on their spaces, and you'll want to pick something that is resistant to their antics.
Ideally, materials that are low maintenance, resistant to chipping, and functional are the best option when it comes to picking out bathroom materials. Your shower walls will especially benefit from durable materials as they take on soap scum and hard water build-up.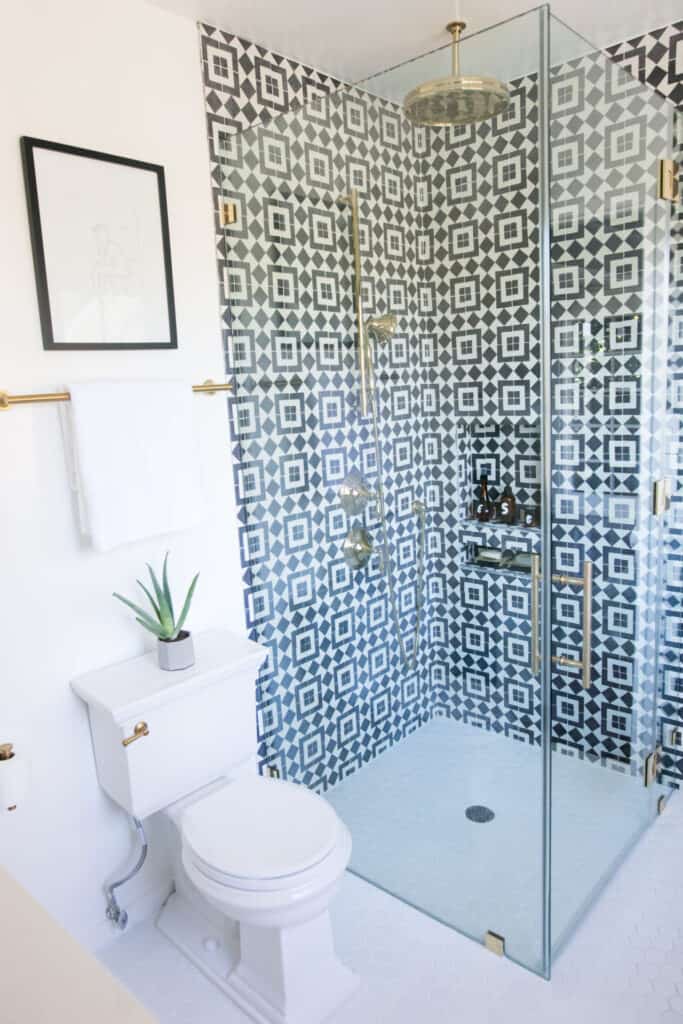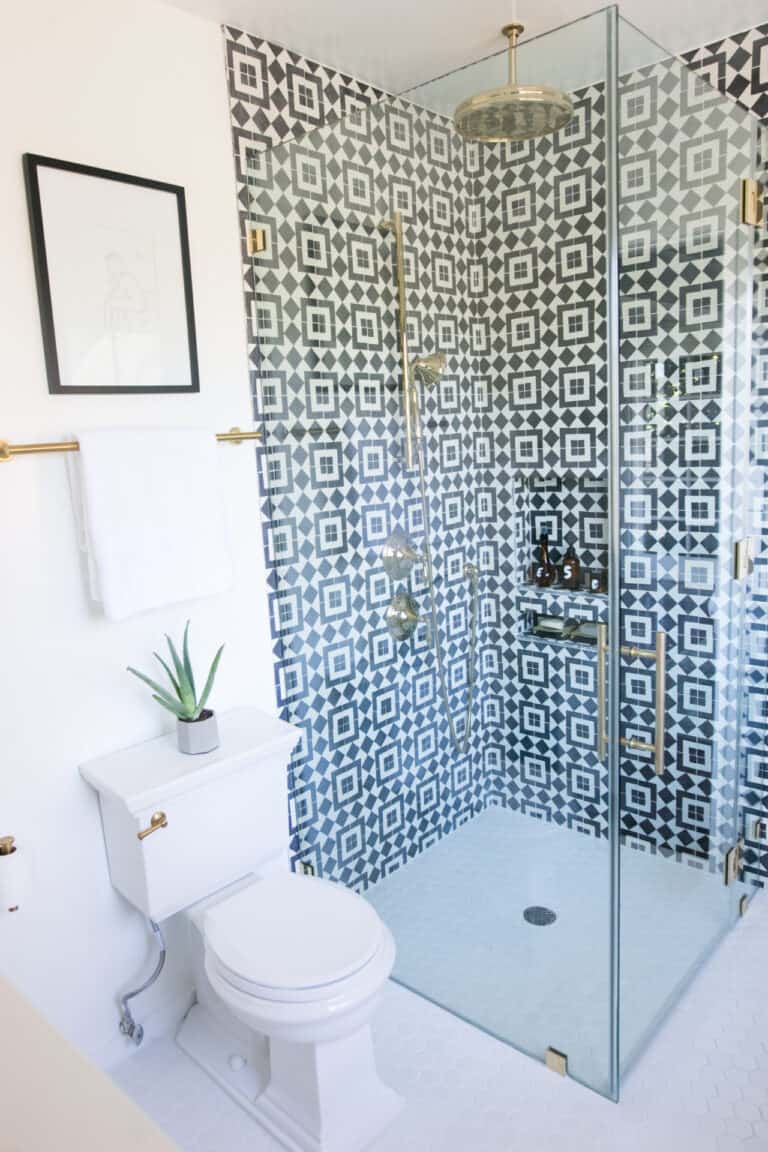 What a super fun tiled wall that serves as a great focal point for this master bathroom.
At the same time, you'll need to pair the functionality of the materials you pick with your desired aesthetic and budget. Expensive materials may look incredible, but they do require more maintenance and a hefty price tag.
A low-cost option may be more budget friendly, but may not give you the look you want. The best solution is to find a material that works with your budget, theme, and family's lifestyle.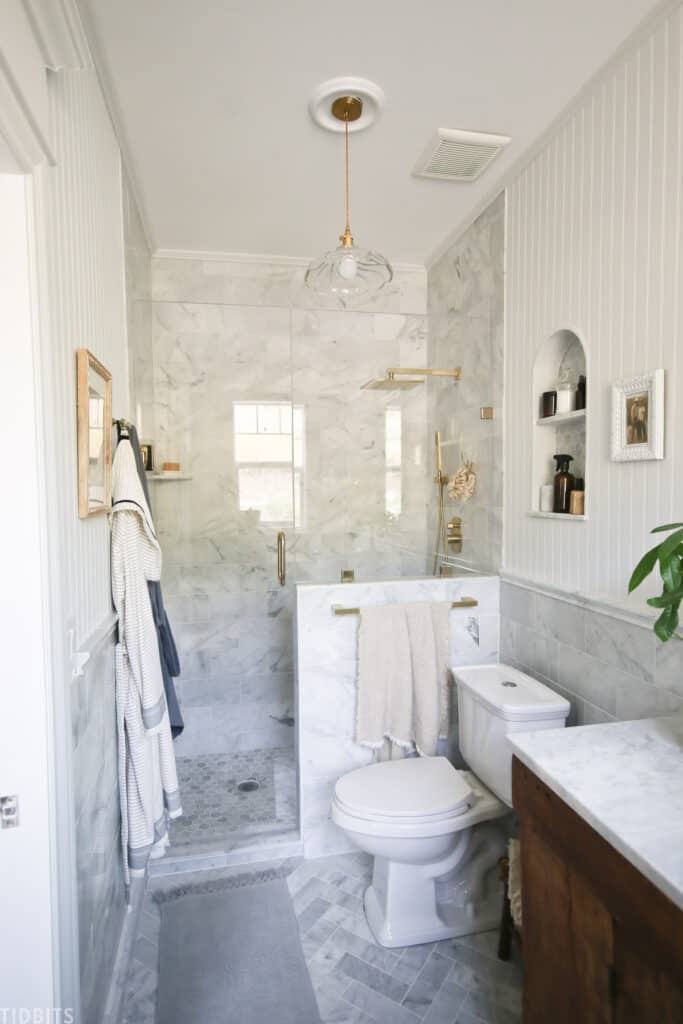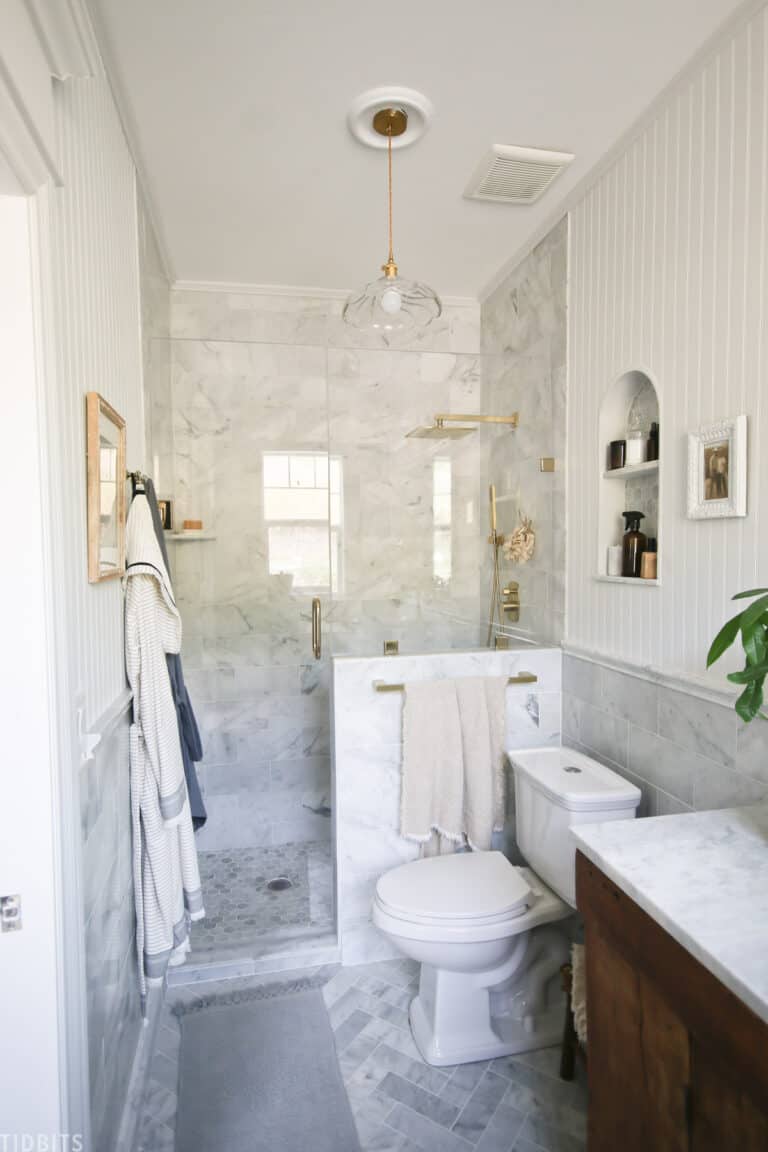 This vintage inspired bathroom has gorgeous details.
Shower Wall Material Ideas: 6 Options To Transform Your Bathroom
There are tons of options for shower wall material ideas when it comes to picking out your preferred materials. Let's go over a few of my favorite bathroom wall materials and the pros and cons associated with each.
Fiberglass Shower Walls
If you are looking for a material that is low maintenance and low budget, then fiberglass is a great option. Fiberglass panels are a one-piece unit that typically don't require any cutting or grout lines.
It is common to only see these walls in whites or creams and they come with a glossy finish. Fiberglass walls are commonly available in model home sites as the cost of installation is low and labor is easy.
While the cost is low, fiberglass panels do not stand up to wear well.  With proper maintenance your fiberglass shower can last, but improper maintenance can cause damage.  
Overall, it doesn't last as long as other materials and in the end can result in a complete replacement.  Fiberglass panels are difficult to repair if it gets a chip or crack, and the cost can be just as much as more expensive surfaces once all is said and done.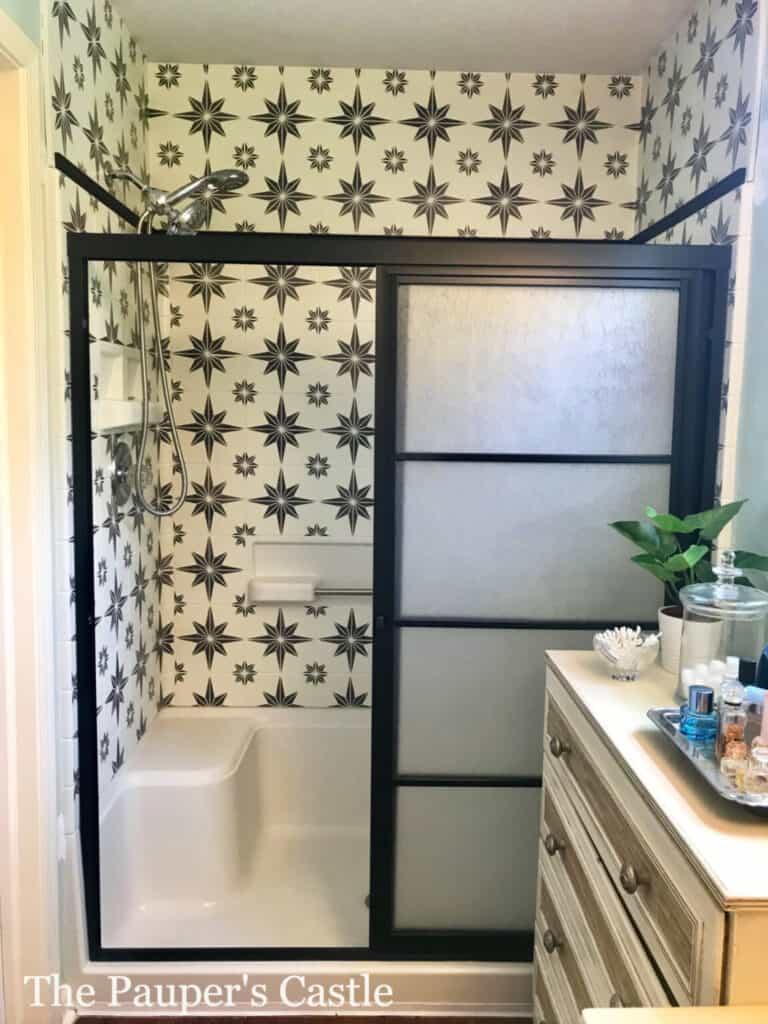 If you want the look of tile with a fiberglass shower, this DIY can give you all the details.
Acrylic Shower Wall Panels
Like fiberglass, acrylic walls are extremely budget friendly and easy to install. Acrylic shower panels are a popular choice to place in the home. Unlike fiberglass, acrylic panels can come in different colors and styles and are often made to look like natural stone or traditional tiles.  Maintenance is easy and because the material is non-porous, it is resistant to any mold or mildew.  
One downside of the acrylic look is that in terms of durability, it is similar to fiberglass panels.  Should it have a scratch, it is not easy to repair and will result in a replacement.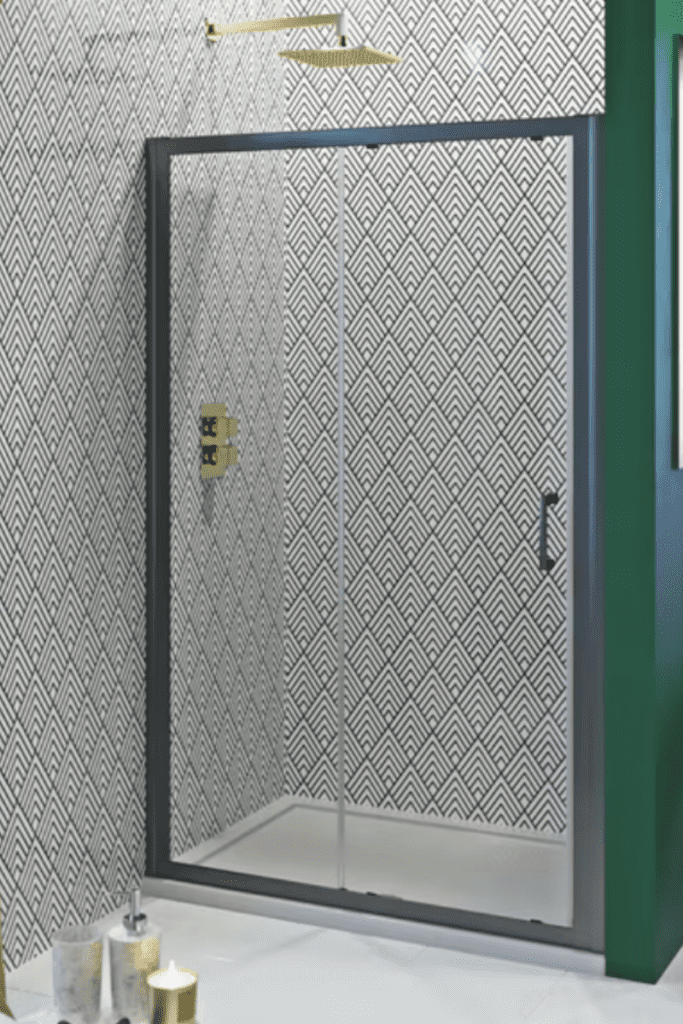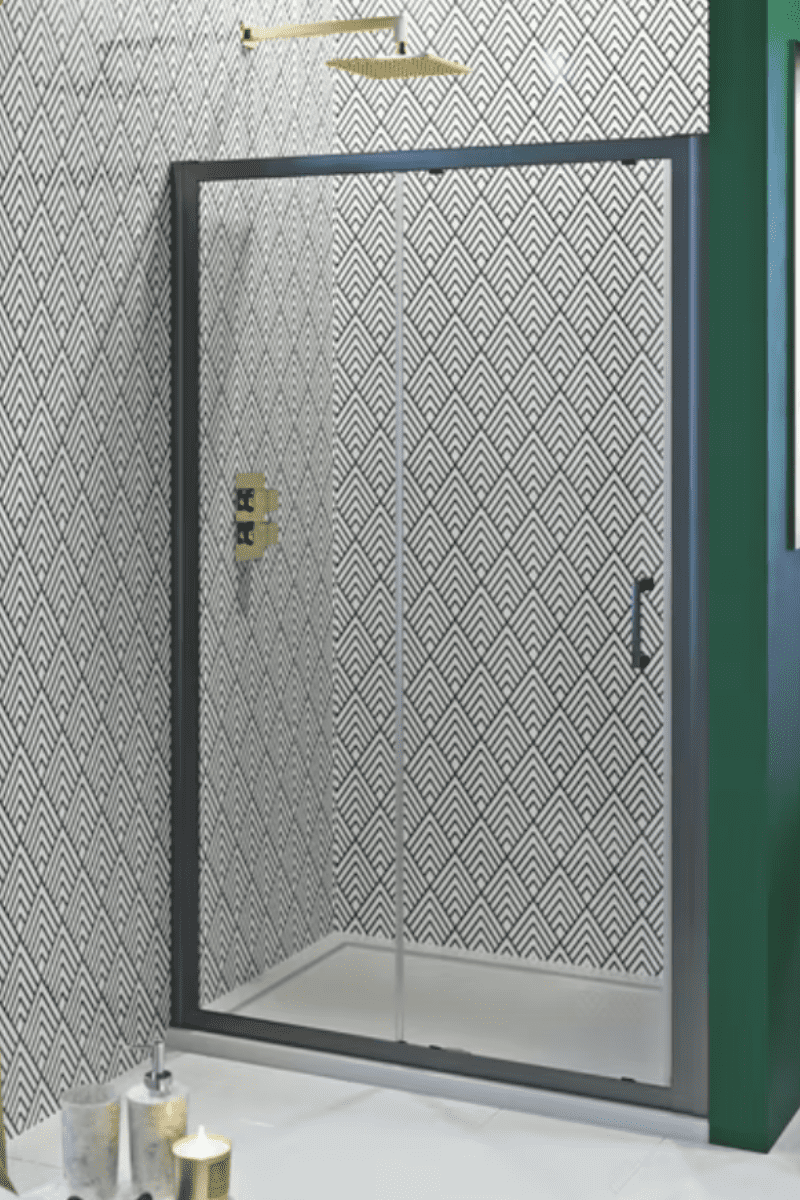 If you are interested in this modern acrylic shower, this UK based company sells acrylic panels.
Glass Shower Walls
Glass tiles are a great option for an aesthetically pleasing shower. They reflect light which makes your bathroom brighter and can give the appearance of a larger space. Additionally, you aren't limited on colors or designs.
You can create some beautiful mosaic designs for an accent wall which will add texture and a focal point for your bathroom walls. For a more modern and unique look, choose a matte tile that will still reflect light but add a more dramatic feel to your space.
Glass is extremely durable and is not prone to staining. It can get a chip or crack, but the good news is that you can generally replace each individual tile fairly easily. Maintenance is also fairly easy as you just need to use proper glass cleaner to wipe away any soapy water build up.
While it is durable, aesthetically pleasing, and easy to maintain, it is not cheap. It is definitely a more expensive option. Depending on the design and ideal look you want, you'll be paying a hefty price tag for those bathroom tiles.
It is also labor intensive in terms of installation. If you don't have the proper tools or a skilled hand at cutting and installing tile, I'd highly recommend a professional.
This shouldn't need to be said, but I feel the need to warn you that glass tile is only intended as wall tiles. You should never use them as floor tiles.  They should never be walked upon. Think about how your feet would feel should you step on a broken piece.  Unfortunately, I've seen many home DIYers make this mistake.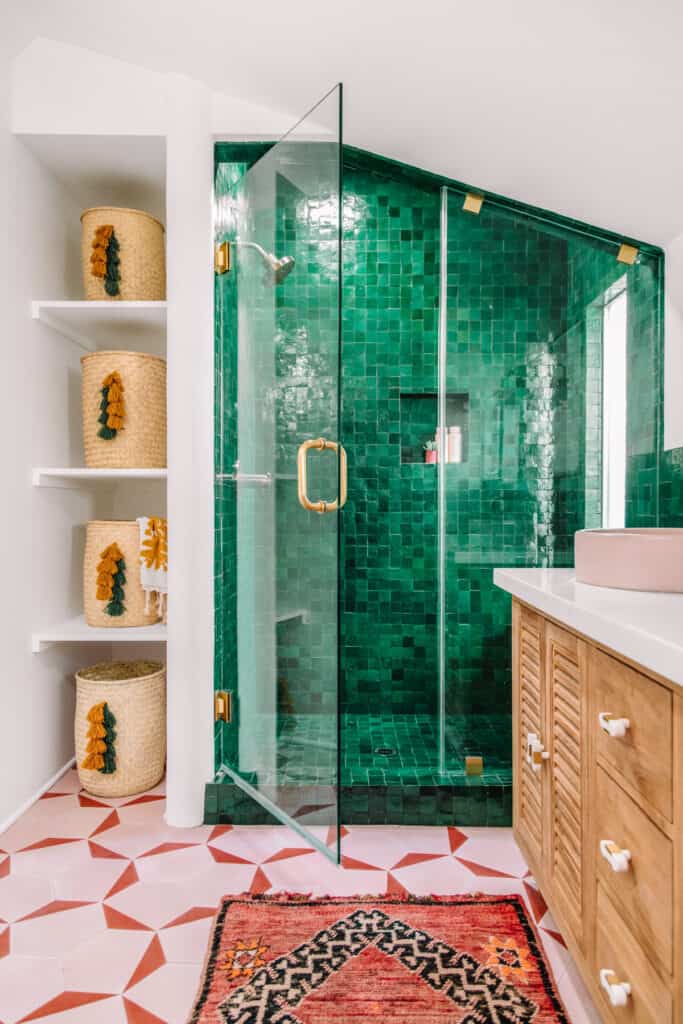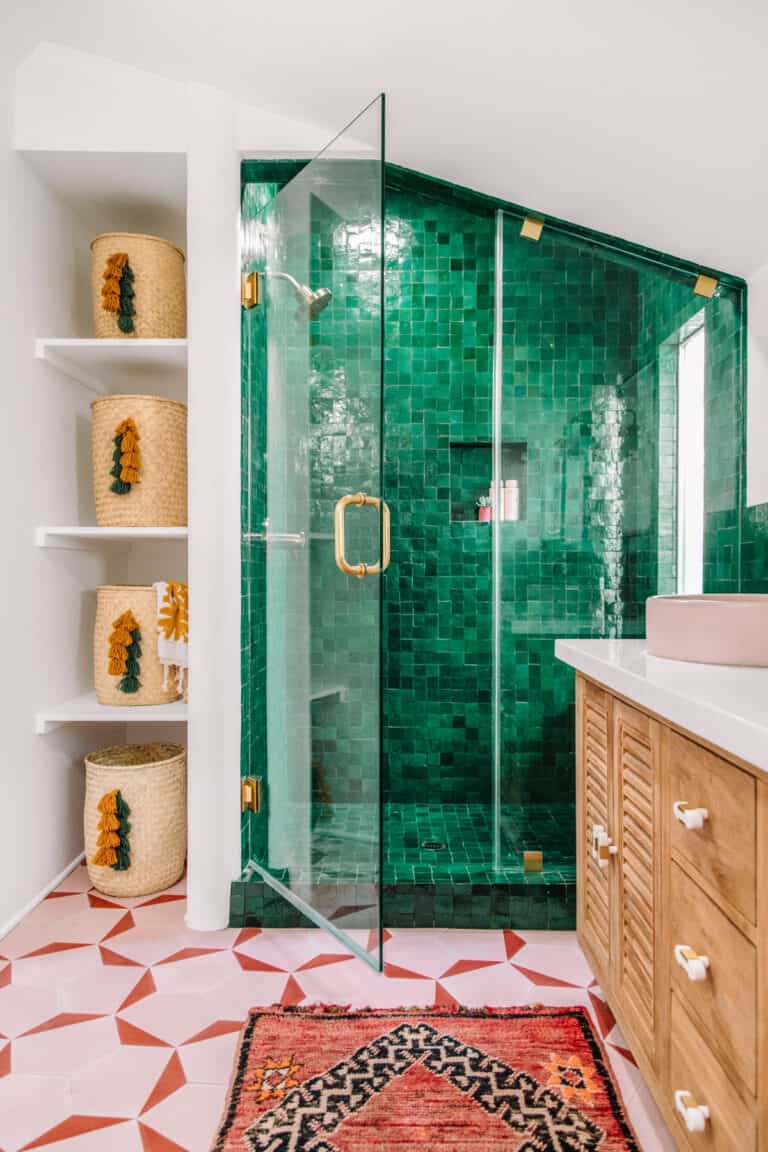 Who wouldn't love this green tiled wall?
Ceramic Tiles
If you love the look of glass tiles but aren't able to afford the price tag, then ceramic tiles are a good alternative.
Ceramic tiles come in a variety of colors, shapes, and sizes, and still have the same reflective properties as glass. Your bathroom space and shower can appear larger with all of the light reflected from the tiles.
I love how you can create a different design by simply changing out the shape, color, size, and arrangement of these bathroom tiles. For a classic design, subway tile is always a great option, but if you want a more contemporary design, opt for a bold color or pattern.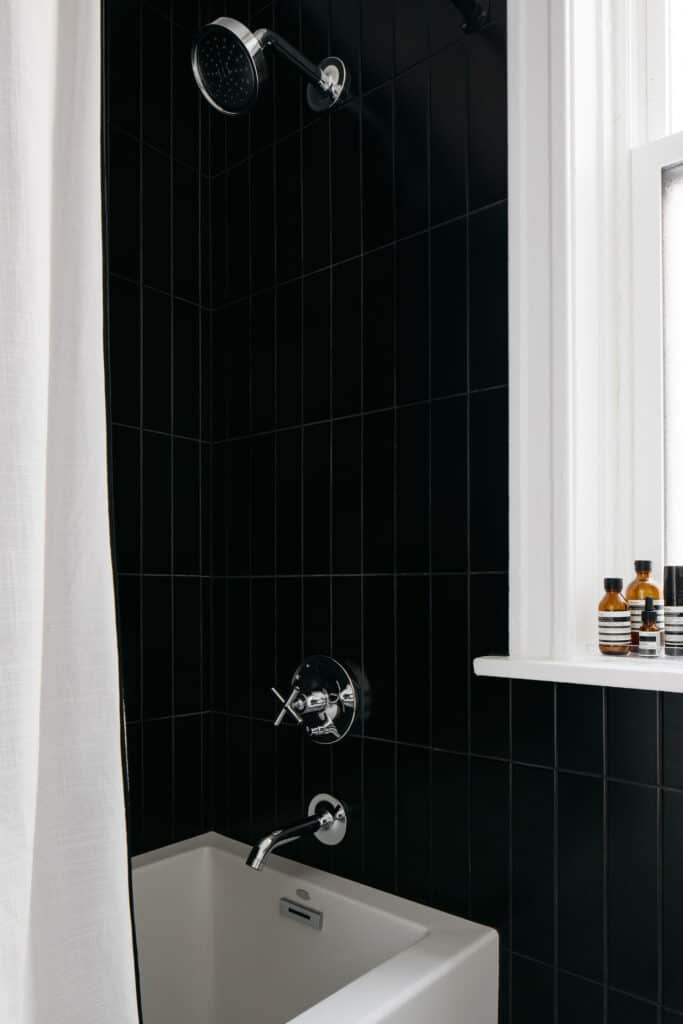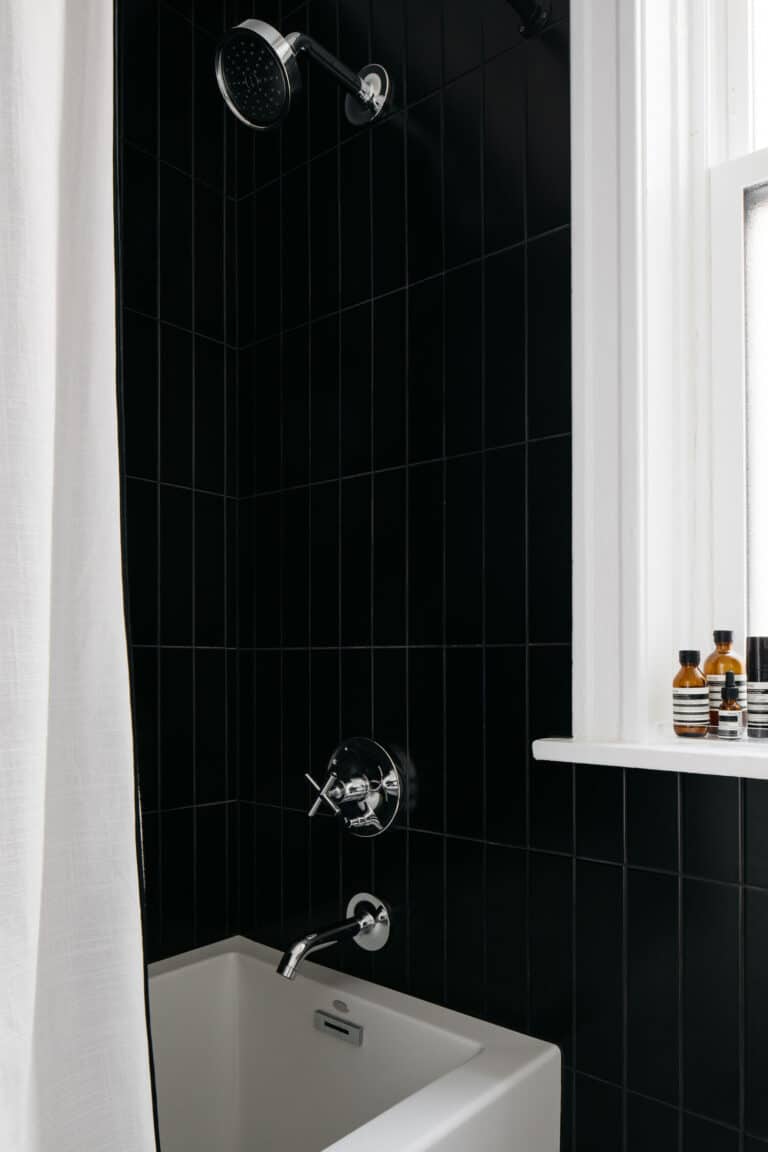 A modern and dark moody bathroom reveal.
Ceramic tile is also extremely durable and can last for years with the proper maintenance. The only downside is that you will need to make sure your tiles have been properly sealed and that you take care of the grout.
However, like glass tiles, ceramic tiles can be easily replaced should any damage occur.  Unlike glass, ceramic tile can be used on your floors, walls, and showers.  If you have a lot of square feet to cover, then ceramic tile would be a good option to keep costs manageable, while still getting the same aesthetic you would get with glass tile.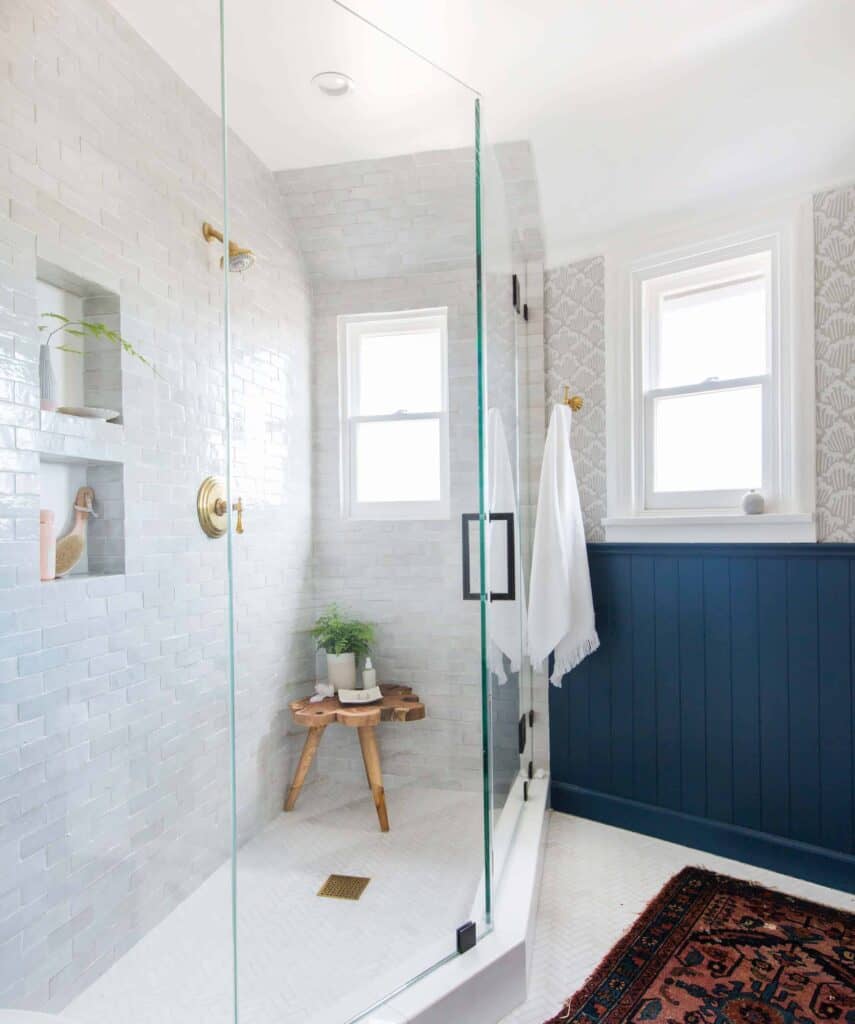 A traditional yet modern bathroom reveal.
Marble Bathroom Wall
Who doesn't love the look of marble tiles? It seems that white marble has been having its moment in the home decor scene and for good reason. It is sleek yet the veining you see throughout is unique and individualized.  I've recently seen many bathrooms being completed in marble tiles. From marble tile floors to marble shower slabs, this stone is having its time to shine.  For those who love the look, they are able to see past the disadvantages of marble in a bathroom.  
Marble is more expensive and is definitely not kid friendly. It is a porous material, so you'll need to reseal it often. It is also extremely soft and can get damage to it easily. Kids love to bang toys on the floor and walls, and not to mention they aren't the neatest when it comes to using the bathroom. Marble does not mix well with acids and a potty training toddler could do some serious damage to marble floors.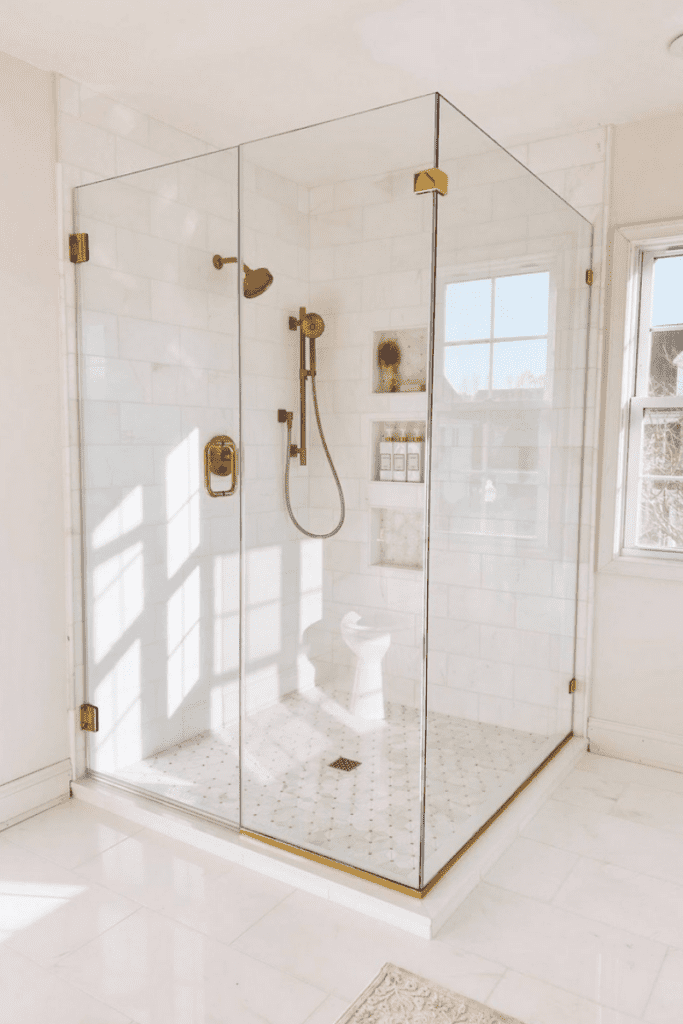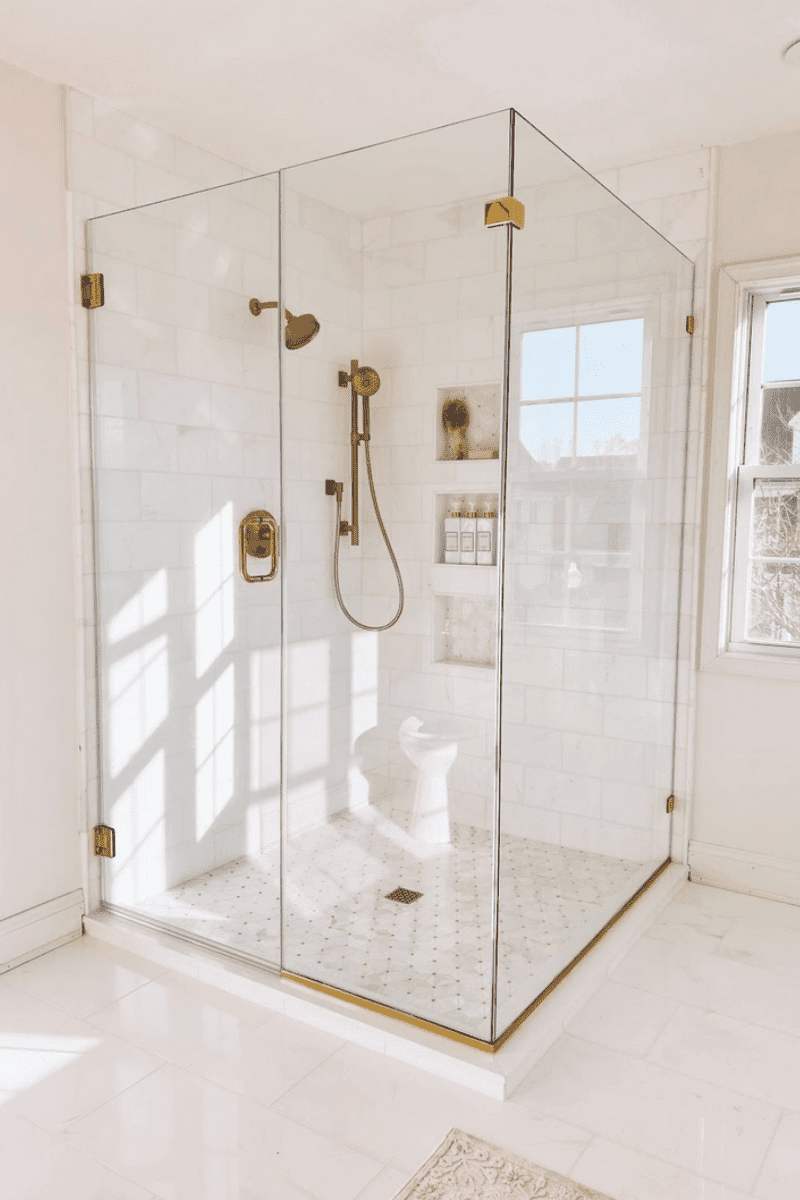 This bathroom is full of white marble between the floors, vanities, and shower.
I have seen marble shower walls, however, because it is in the shower, you risk your marble turning different colors due to its reaction with water and minerals. The minerals react with the water on the marble and can turn rust colored, green, brown, or yellow.
If you are set on a certain marble, you'll want to test its reaction with your water to see how it reacts. You can buy a sample of the marble and immerse it in water for a few days. Let it dry naturally to see if your marble is prone to color changes. This is another reason why properly sealing your marble is so important.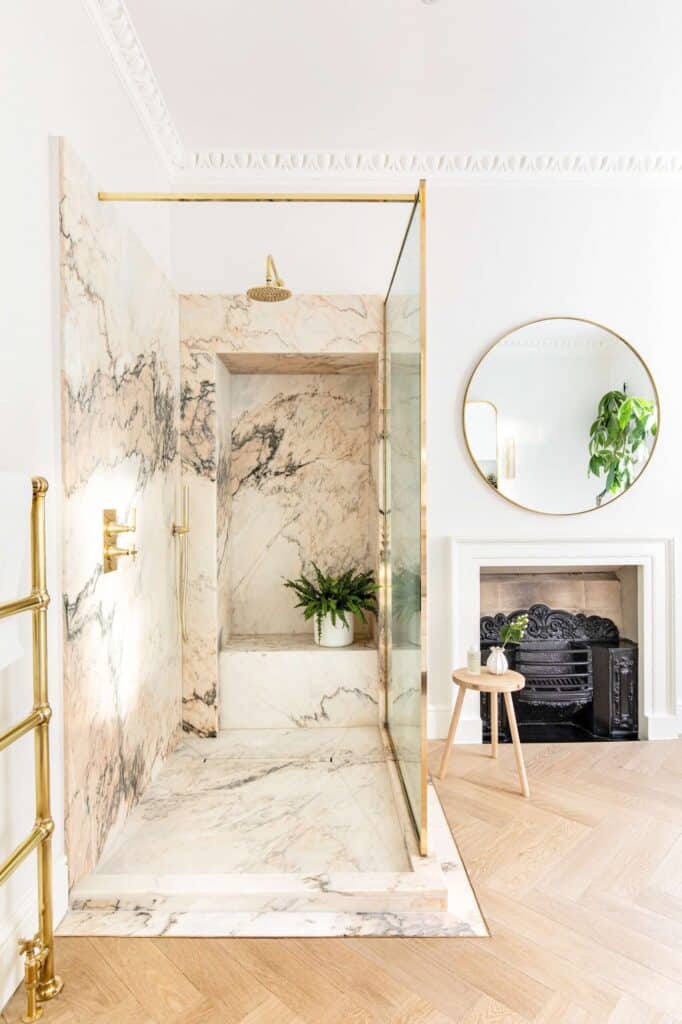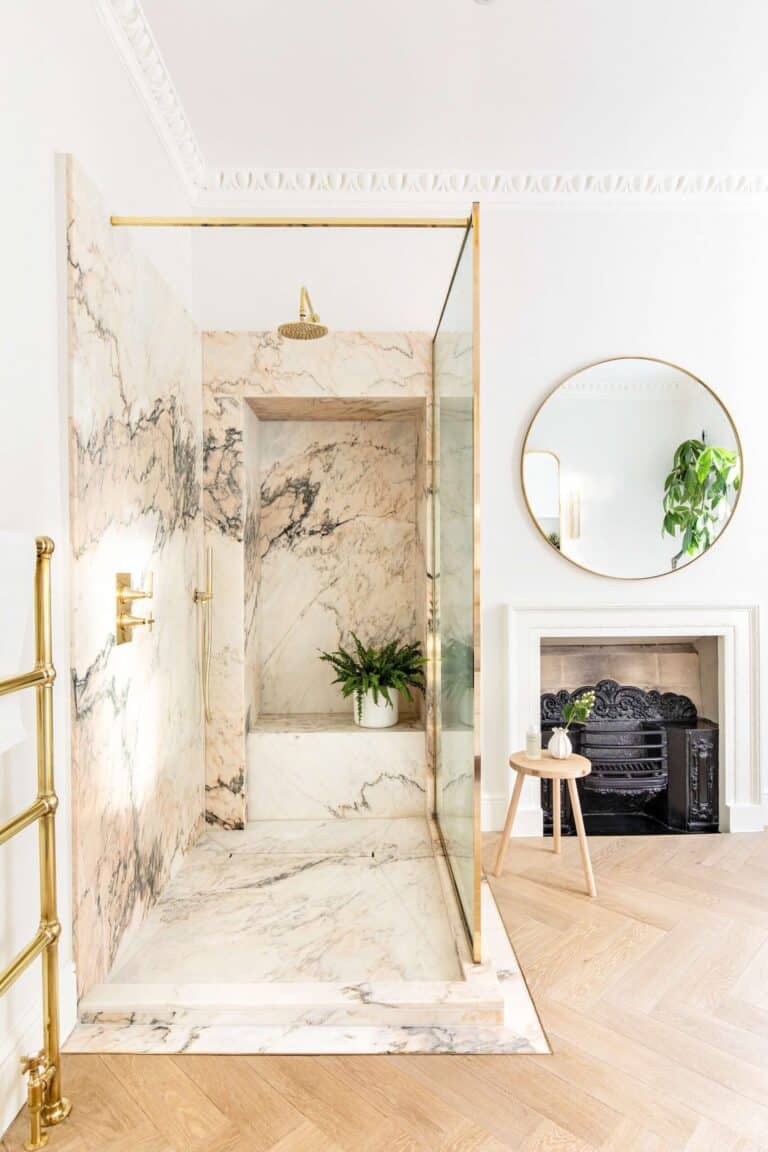 An old world charm bathroom complete with a pink marble shower.
Other Natural Material Options
Marble isn't the only natural material that is commonly used in bathrooms. Natural stone tiles ranging from granite, to limestone, and to slate can also be used in bathrooms. Stone tiles and stone slabs provide an elegant and sophisticated look, however, many people tend to shy away from these materials as they require a lot of maintenance.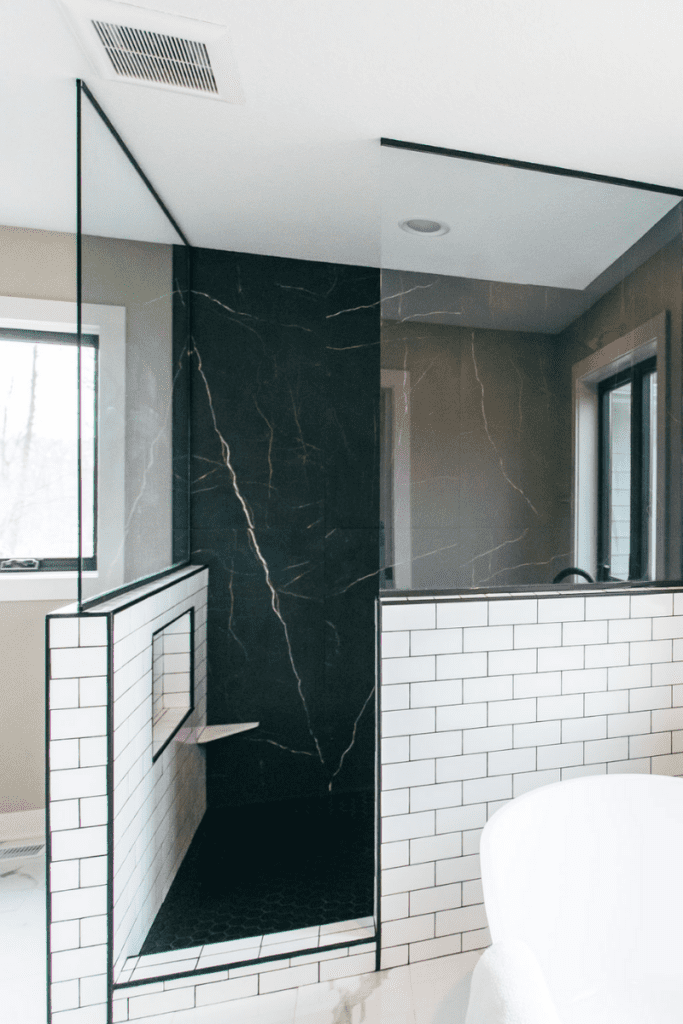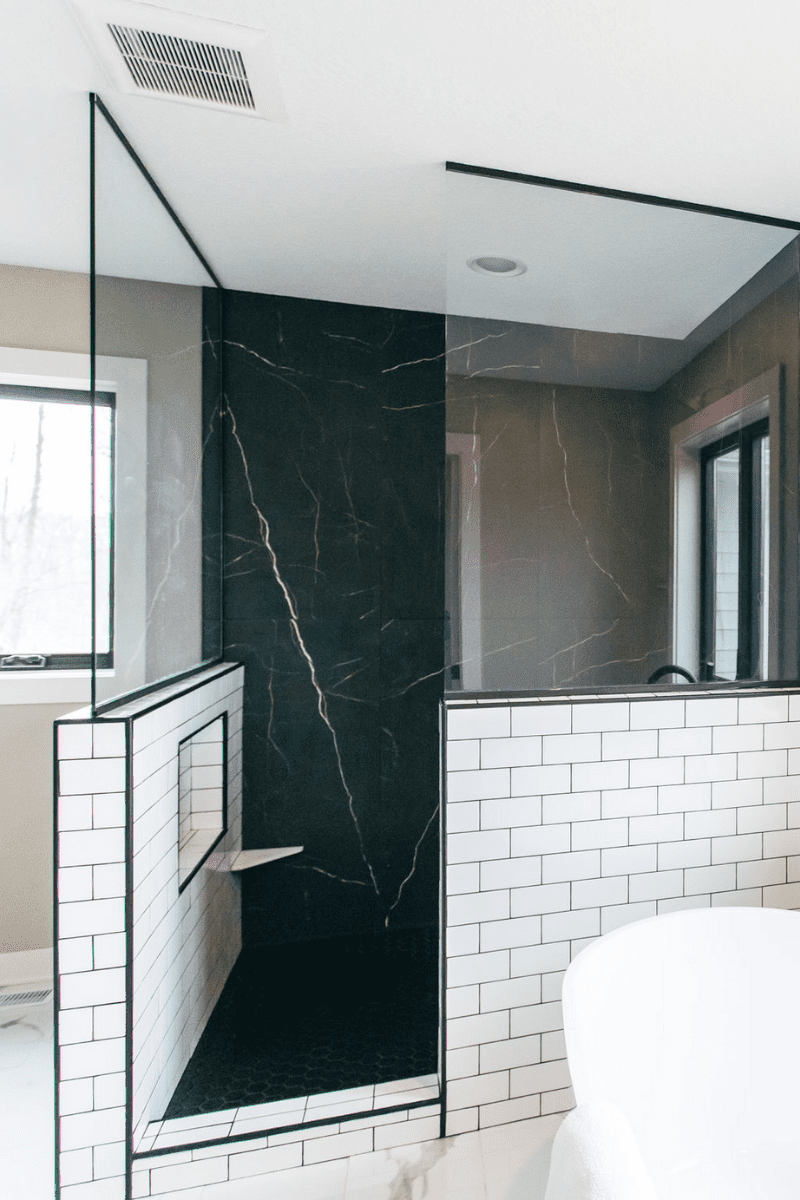 This slate shower wall makes a dramatic statement.
Limestone and slate provide a dramatic contemporary look to your bathroom.  It  is not uncommon to see these types of stones on shower wall panels or used in shower flooring.  Keep in mind that you will be paying more for these stone materials.  In larger bathrooms, the price tag will be steep.  
Granite is another option that is not just for kitchens. Granite is more forgiving than marble and is less high maintenance when it comes to cleaning and sealing.
With proper maintenance and sealing, your stone can last for a long time. You'll need to check that you are using proper cleaning materials as certain ingredients can affect the durability of natural stone.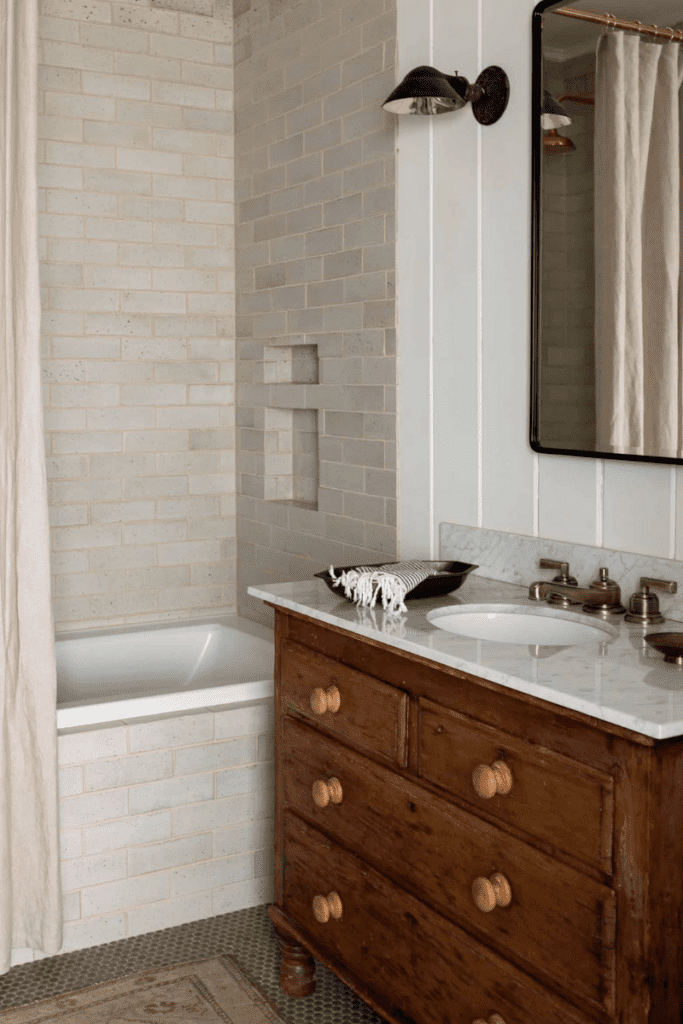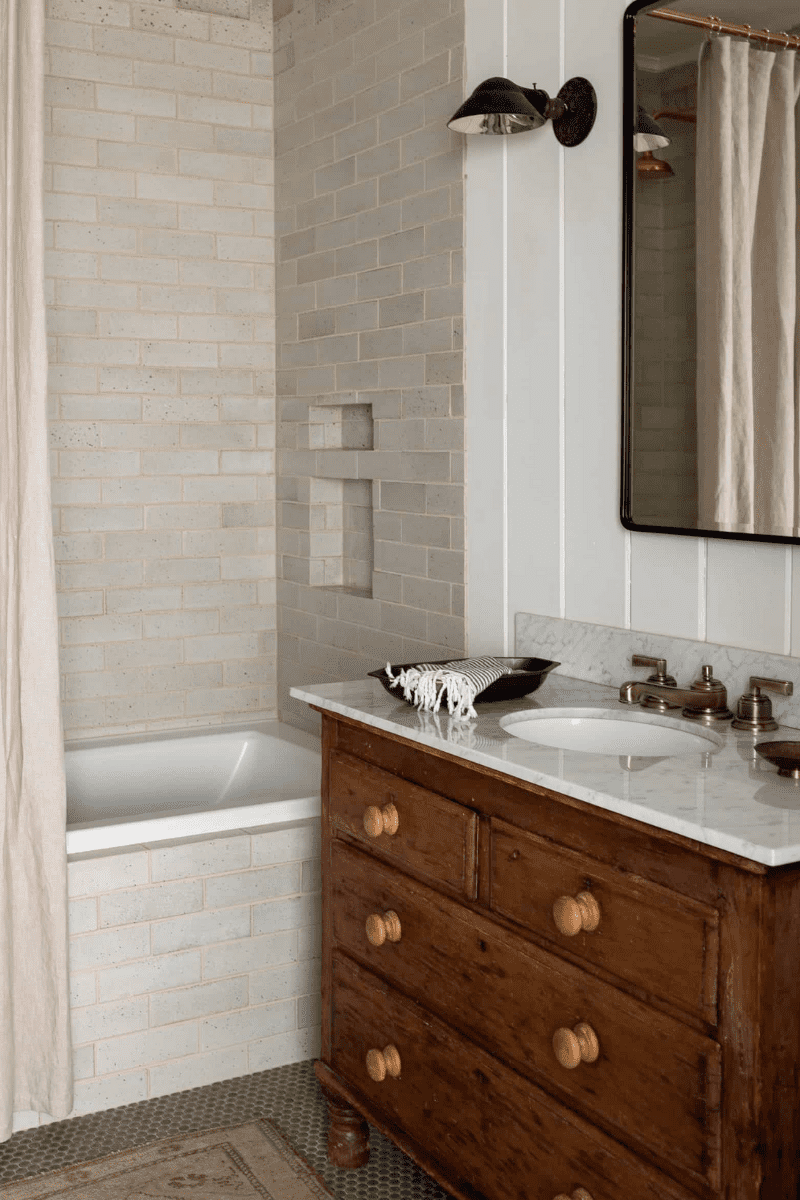 This cabin's rustic bathroom uses natural stone to complement the home's aesthetics.
I hope this post gave you some helpful ideas on how to pick out some great options for shower wall materials. Keep in mind your family's needs and what you want in your bathroom. You may want a material that is maintenance free but has more options for different colors and styles.
Or, perhaps you love the look of stone, and don't mind the required sealing. Whatever you decide you can have the bathroom of your dreams and know that you made the best choice for your family.
Other Posts You'll Love
Inexpensive Ways To Update Your Bathroom | The Best Boys Bathroom Ideas | Linen Closet Shelving Ideas | Painted Tile Floor | 20 Curtains for Living Spaces
Pin This Photo Below For Later
Hopefully this helped you find some great shower wall material ideas. Be sure to pin the photo below for later, and if you don't already – follow me on Instagram (@arinsolange) and Tik Tok (@arinsolange) for more helpful hints, and if you have any questions leave them in the comments below and I will get back to you!