My inexpensive ways to update your bathroom post is finally ready for you all! Incase you missed it, the biggest, and best part of this bathroom update was the painted tile floors that I posted about HERE.  Aside from that I did mostly small simple changes that still added up to make a huge difference.  I also really wanted to focus on ways to make it kid friendly and functional, so I will talk about some of those choices too.
This post contains affiliate links

Inexpensive Ways to Update your Bathroom
When it comes to updating a bathroom there are some easy things that automatically will make huge changes.  Paint is the number one.  If you ever need to update a room paint will be your biggest bang for buck.  I actually painted this bathroom this very light grey when we first moved in (it was previously a purplish beige).  At that time we also took down the large builders grade mirror and hung 2 matching mirrors I already owned.  I don't know that they are the mirrors I would pick if I were doing this bathroom for a longer term room, but for the time being I left them alone.
Paint was also used like I stated above to change the floors which made a WORLD OF DIFFERENCE in this room.  It was a $75 project that took this room to a whole new level.  The last thing I painted in this bathroom was the shower curtain rod.  I love the look of black hardware, so painted the previous rod black during this transformation, and love the pop it gave to that space!
To see how Paint also transformed our master bathroom when we painted the cabinets check that post out here!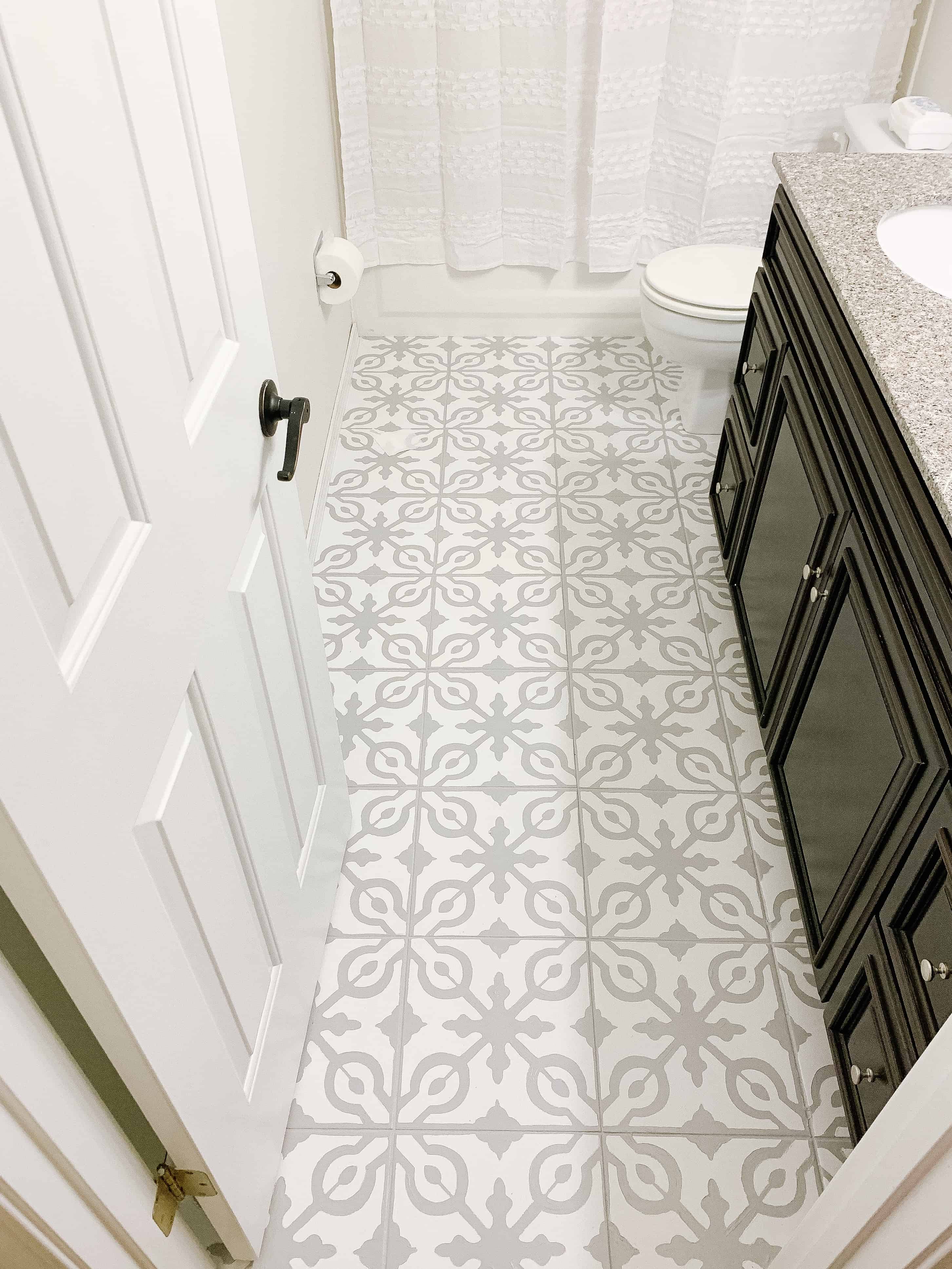 Purposeful Accessories
This bathroom is for my 3 (almost 4) kids ages 2 – 6.  So when it came to accessories I was VERY conscious of how things would function.  Before I talk about each item I purchased and why, one thing to keep in mind is that I went super neutral.  I have leaned in the past few years that kids leave so much junk around and decorate with so much blue toothpaste, that a simple neutral bathroom is the best way to keep things from looking cluttered!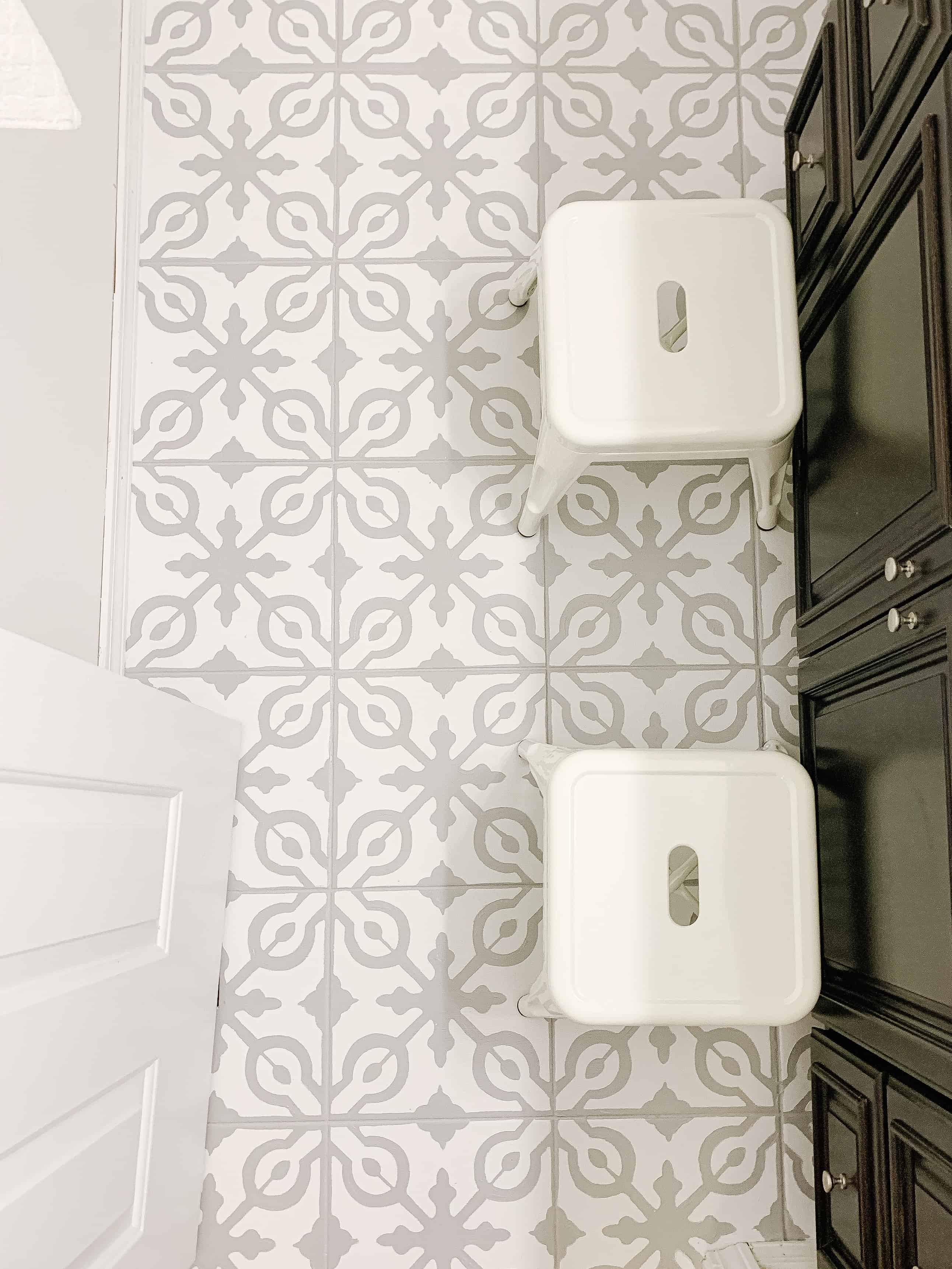 Accessories I purchased: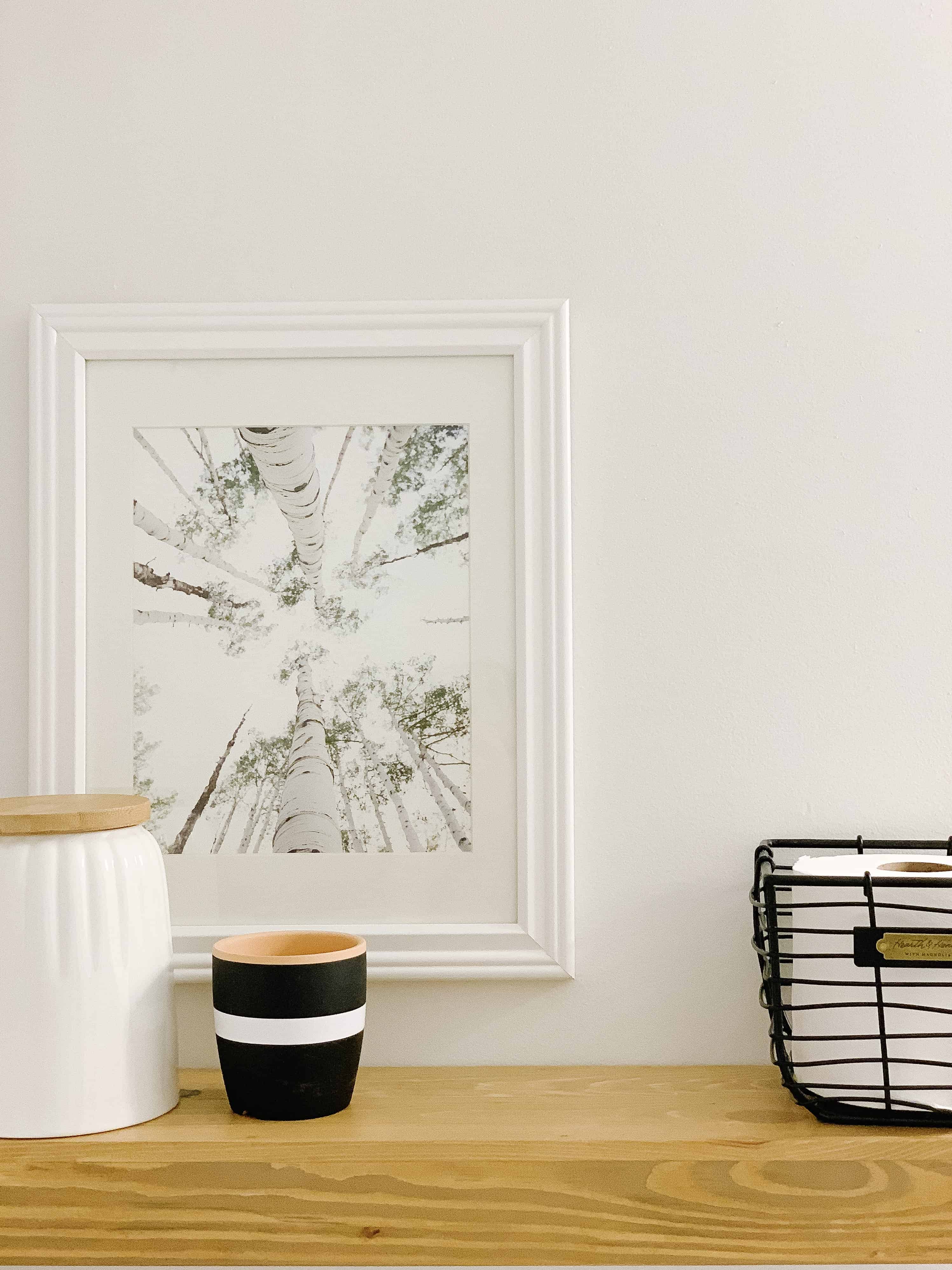 First up was new step stools! I went with this two pack because they don't slide around a lot so aren't noisy, which was HUGE for me.  Our last stools were really noisy.  I also went with 2 of the same because I don't want the kids arguing over stools or needing more than 2.  These do stack so eventually if I did get more than 2 I could stack them for storage which I love.
Next is the black low profile planter.  – my husband so kindly called this a cauldron haha.  I previously had a cake stand in the middle of the countertop, but decided to do something that kept things a bit more concealed.  When it comes to a kids bathroom it makes sense to leave certain things out.  Maybe its vitamins, or a current medicine for allergy season, but regardless, my suggestion is to make a designated space so that when 'stuff' is left sitting out it has a place and seems more purposeful.  A tray would also work well for this.
Toothbrush Holders – Okay this seems like a no brainer BUT it wasn't.  It was actually hard for me to find some that fit a few things.  One was I waned them to be able to hold electric toothbrushes.  Two was they couldn't be glass or breakable at all.  I knew the kids would knock them down frequently so wanted something that wasn't breakable at all!
Over Toilet Shelf – this added a tiny bit of extra storage, and I love the added bit of natural wood to the room.
Small basket – I actually initially purchased this to hold extra containers of flushable wipes, but realized it can hold an extra roll of TP too.  Either way works great.
Small Jar – I filled this with bandaids.
Small planter – This could hold cotton balls or q tips , or just remain as decoration.
Towel hooks – I actually put these up when we first moved in, but for a kids bathroom I always suggest hooks instead of bars – kids will not leave towels hanging nicely on bars.
Mostly Unseen Organization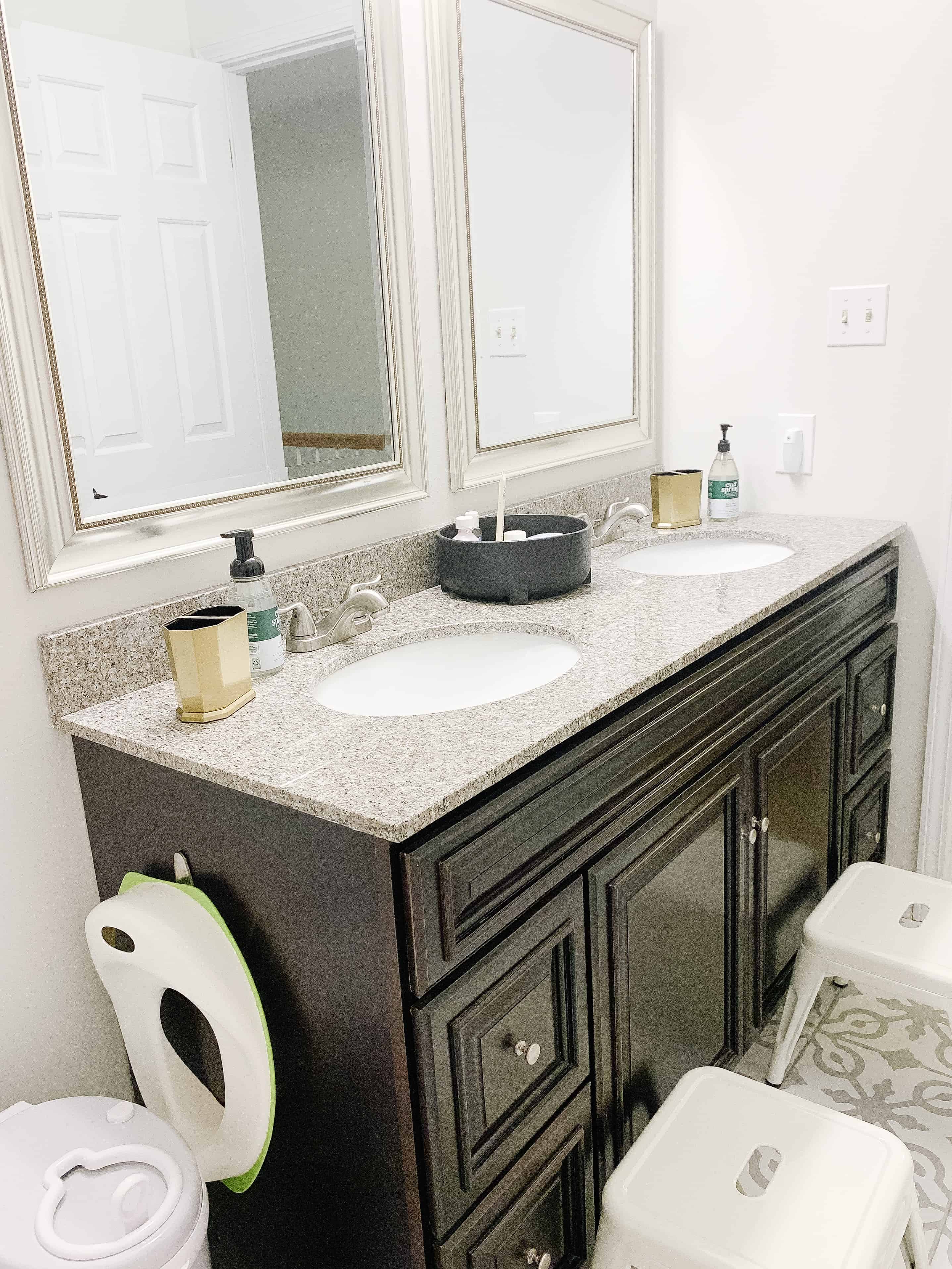 As a few added things that I did that are less for beauty and more for function.  We keep our small diaper pail in the bathroom which works great as a trash can.  I also have a command hook on the side of the cabinets where its not seen to hang the kids potty seat.
Inside the tub I use a command hook to hang the baby tub seat (this one) so that its stored out of the way and drys also.  Command hooks are the best way to add some easy storage to a bathroom!
Price Breakdown
Overall my price breakdown on this bathroom was:
Floors: Roughly $75
Accessories: $25 – shower curtain
$8 –  Shower Curtain Hooks
$9.99 (x2) – Tooth Brush Holders
$55 – Pair of Stools
$3 (x3) – Towels 
$29.99 – Shelf 
$8.99 – Basket 
$19.99 – Black Planter
All other item we already owned!
So Total this room was about a $250 investment and to me looks like we spent much more from the before and afters.
If you have any questions leave me comment below and I will get back to you.  Finding inexpensive ways to update your bathroom can be done easily if you look for the right items.
Pin Image Below