I am fairly certain that one of the number one things I get asked about via Insta stories is what are the tips and tricks for flying with a baby and kids.  I totally get why too.  Setting out for your first plane ride with a little one is super overwhelming.  There are so many things that you may not know how to do, if you should do it, or if you should buy it.  Below I will share all the tips and tricks for your flights, and my must have items to take with you!
This post contains affiliate links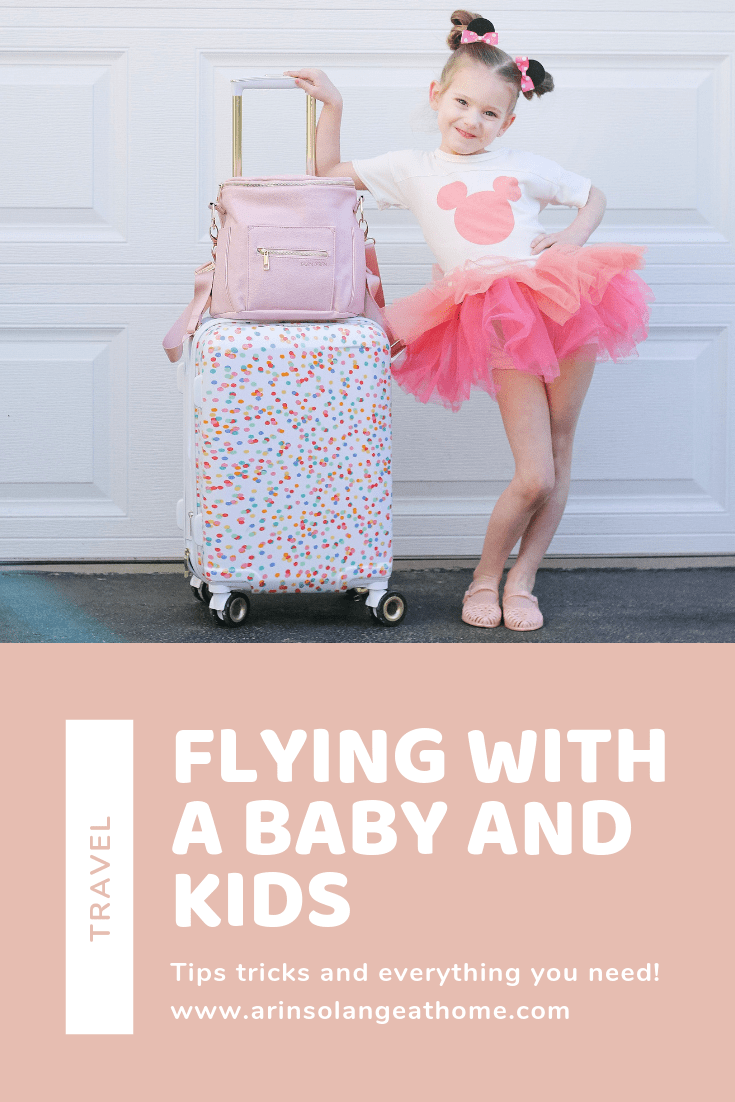 Tricks for Flying with a BABY
First up…if you are flying with a baby there are a few extra tricks and tips needed.
You need their birth certificate if they don't have a seat.  Toddlers and babies under the age of 2 can sit on your lap for free if you want, but you have to prove they are under the age of 2.  (please note, they asked me for proof when Walker was 2 months old…so ALWAYS TAKE IT.)
Plan your flight times well.  I can't tell you exactly what times that means, but my suggestion is to plan the times well so you might get a nap out of the baby.
Sit towards the back or front of the plane on an isle.  It is so much less overwhelming feeling as tho you are only disrupting half the plane if baby gets fussy.  Take this from experience.
I know you think you will wear your baby, but take a stroller to the gate too.  If you get a flight delay, having a place to lay the baby down is so nice.
Have your bottles ready to go if you are formula feeding, and have pacifiers on hand if they take a Paci.  Many times babies nursing/drinking a bottle and or taking a Pacifier will help them from their ears popping.
Know that you have to carry your baby through security (they can't be sleeping in the stroller).
Carseats/Strollers
Easily the most overwhelming part of flying is figuring out the carseat/stroller situation.  I have done this so many times and in different ways, so below is just my go to.   Take it or leave it!
Always bring a stroller for a baby if you can, and take it to the gate.  If baby is really little and you have the option click the carseat in as the stroller seat (like you probably do at home).  This will get your carseat and stroller to the gate without carrying a bunch of extra stuff.
If we are traveling with the infant carseat as a stroller seat I either A: put the base in the bottom of the stroller and fold it up with the stroller at the gate, or B: Put the base in our checked bag.
USE A STROLLER CHECK BAG like the one in the image below.
For convertible carseats use the gate check bags from the image below.  They can be checked for free at the ticket counter.
If you child is at a booster seat age, the Mifold is the most genius invention for travel, and is a must.
Remember that just because carseats and strollers and such are free to check, packing things that are space savers will make the to and from the airport and car situation much less stressful!
Other Tips and Tricks
Pack a separate bag inside your carry on, incase of emergency.  I have talked HERE about how we do bags for our kids, but if we are not at mass capacity for carry ons when we get to the airport I try to have this extra bag incase we need it. These are my FAVORITE and work great for the pool or beach once on vacation.
Over prepare when it comes to diapers/wipes.  Also know that wipes will come up as a liquid at security, so pull them out when you're going through.
Pack a cup with a lid for you.  Its hard to drink anything with a squirming kid on your lap.  Or get a Starbucks and save the cup for on the plane.
Must have Items
Check out these mom travel favorites, with some other items I love, and read below for all the items we always have with us when we fly!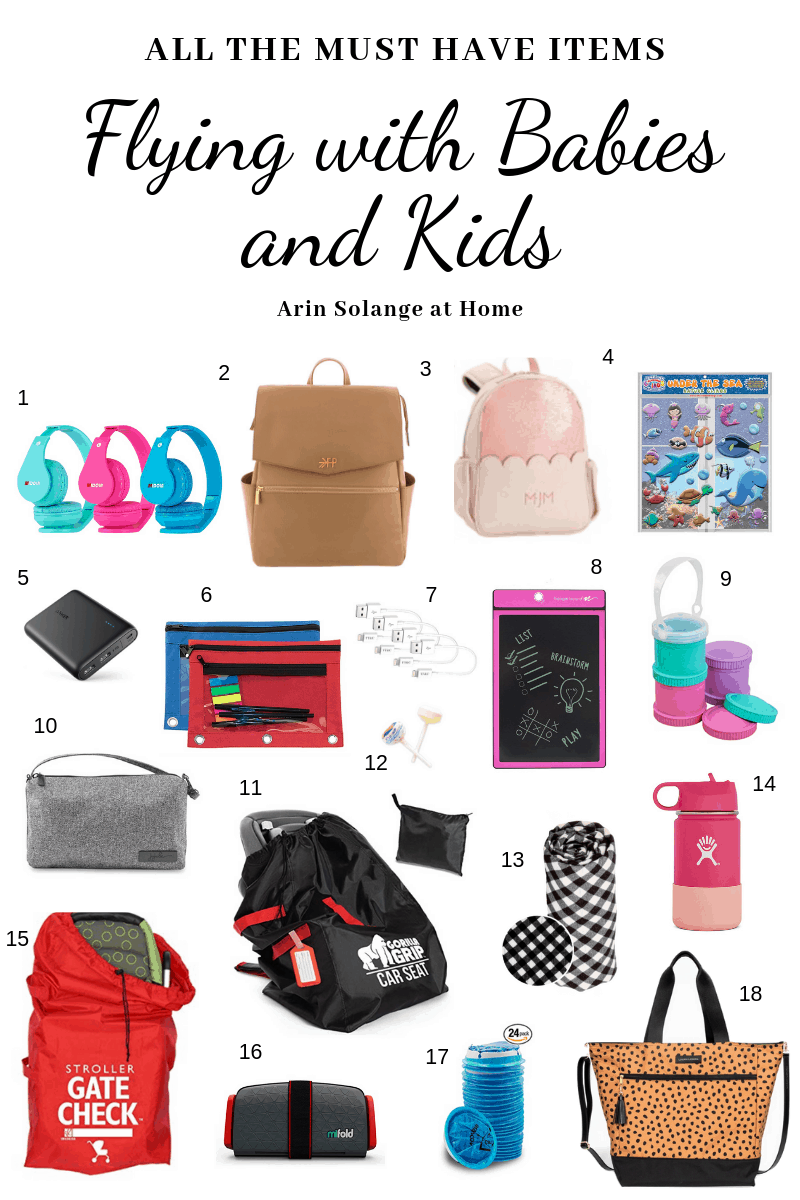 1 |  2  |  3  |  4  | 5 |  6  |  7  |  8  | 9 |  10  |  11  |  12 |  13 |  14  |  15  |  16  |  17  |  18
Hopefully this post full of Tricks for flying with a baby or kids is helpful for you! Be sure to check out these blog posts that you might like too while you are here!