This post is sponsored by FAGE; however, all thoughts and opinions are my own.
I am officially nearing the end of my 4thand last pregnancy…which honestly is just a whole lot of bitter sweet. I feel done.  Like this chapter of life lasted long enough…but I also a bit sad knowing that it already feels like it's going too fast.  There are SO many struggles that come along with being pregnant and a new mama, and one of them is learning to love your body through pregnancy all the changing seasons of this new phase of life.  I have had to learn to love, nourish, and appreciate a body that has changed so many times over the past 7 years, which is almost never easy.  I am excited to have teamed up with FAGE yogurt today to share some ways to love your body through pregnancy, both emotionally and physically!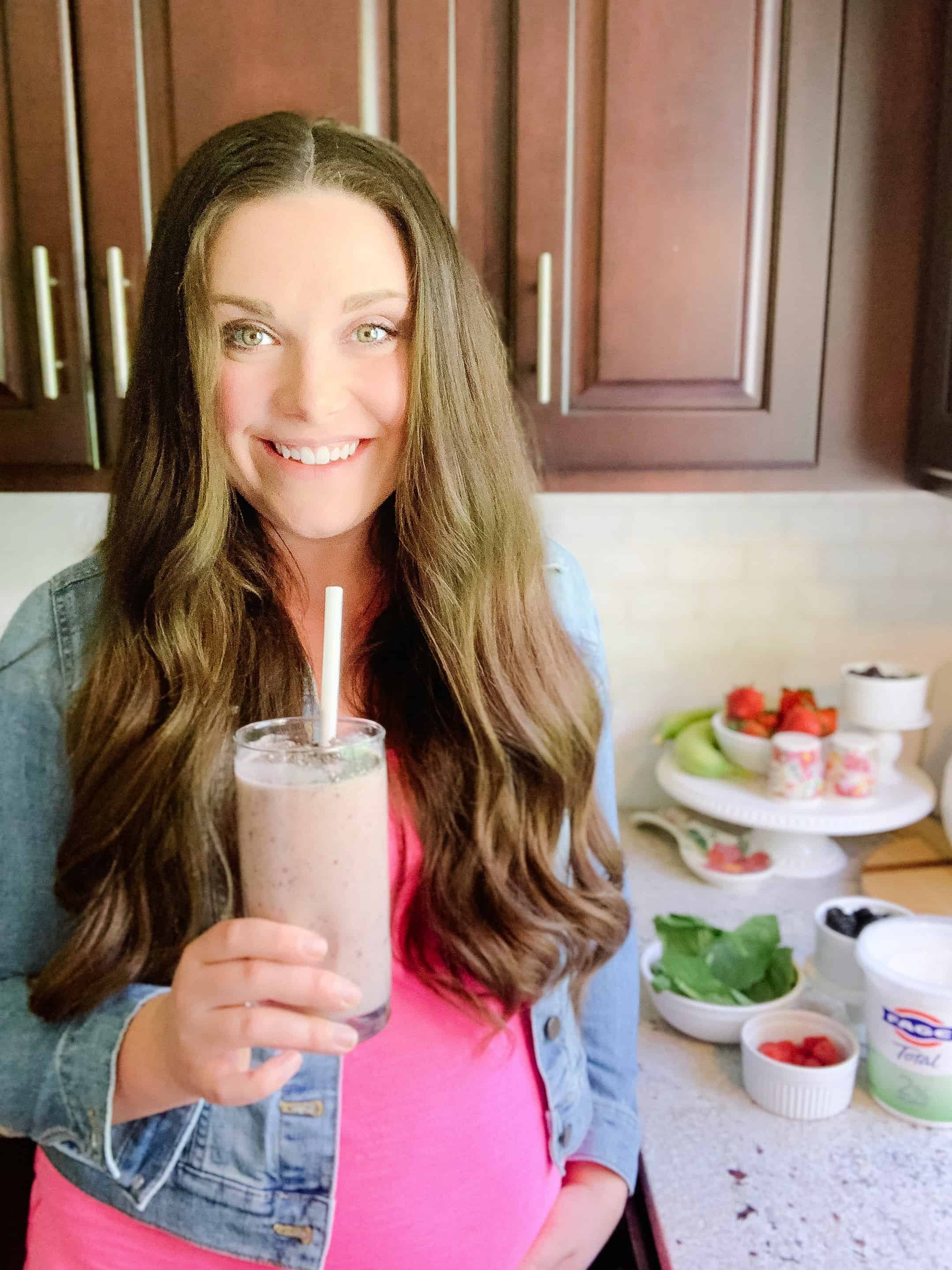 Love your body through pregnancy
 You hear the word love, and most likely your immediate thought is simply emotion, which is a huge part of love, but just like with relationships, loving something well also means taking actions to do so, so I am going to talk about both sides of that.
For me the first and most important part of learning to love your body through pregnancy is reflecting on the amount of appreciation you should have for your body.  We live in a day and age where it's easy to focus on bouncing back (or heck even feel pressure to look better pregnant than before pregnancy), but it's also important to be appreciative of what your body is doing for your baby, and for you to. The fact that its growing and changing to keep both of you healthy is such an important thing to remember.  I think when you remind yourself of that you will be less angry with the changes, and more grateful.
Eating Well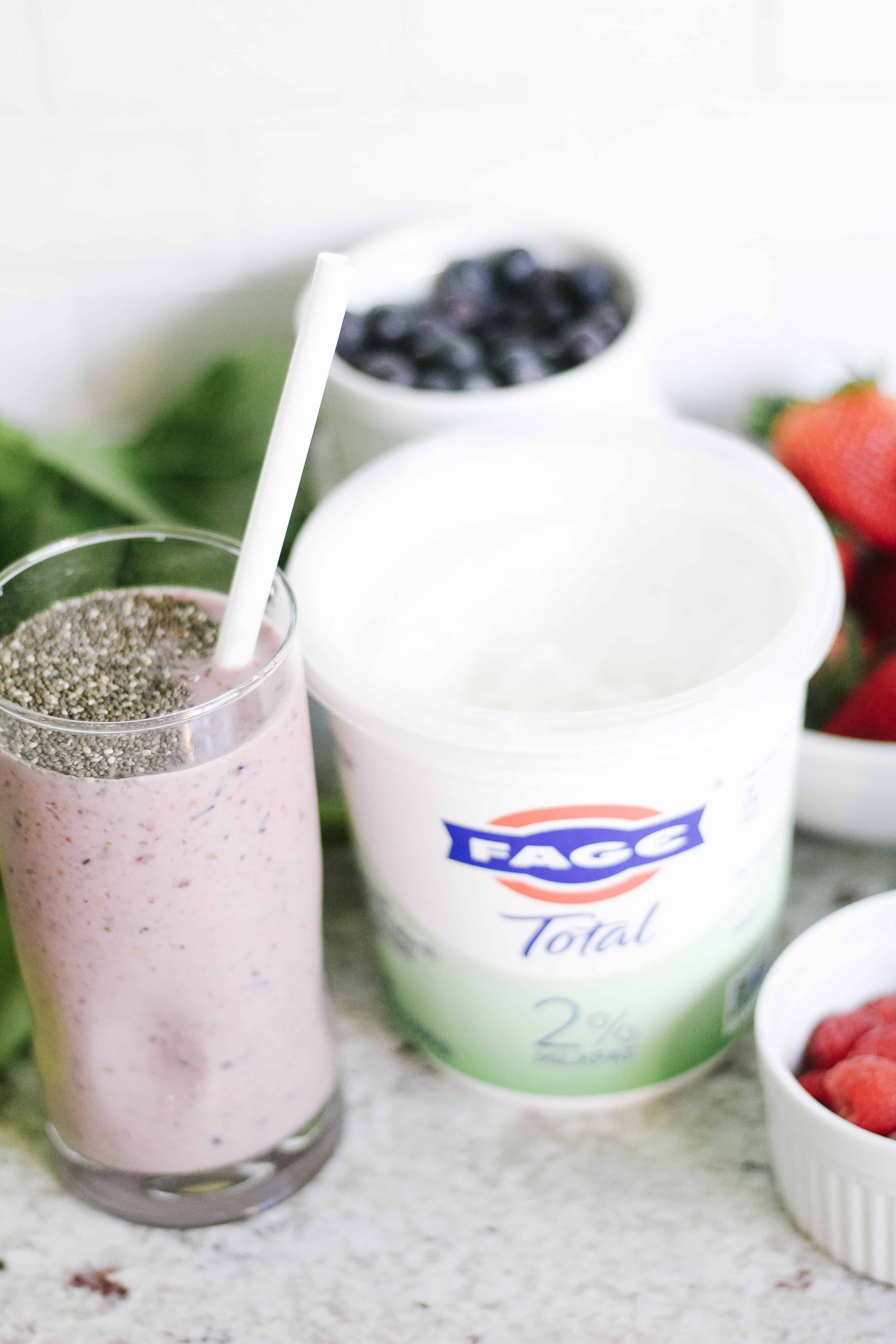 This is two sided…I think when you're pregnant you should enjoy all the foods you sometimes avoid.  You are physically growing a human and going to gain weight, so you can totally indulge, however I really learned with my second two pregnancies that I felt so much better if I found healthy ways to indulge my sweet tooth from time to time.  In the first trimester, especially I ate TONS of yogurt.  It was a great way to get protein and calcium, and there is no smell, which is obviously a pregnant ladies dream. The FAGE Total Split Cup yogurts were my favorite because I could add as little or as much fruit pending my picky taste buds at that moment.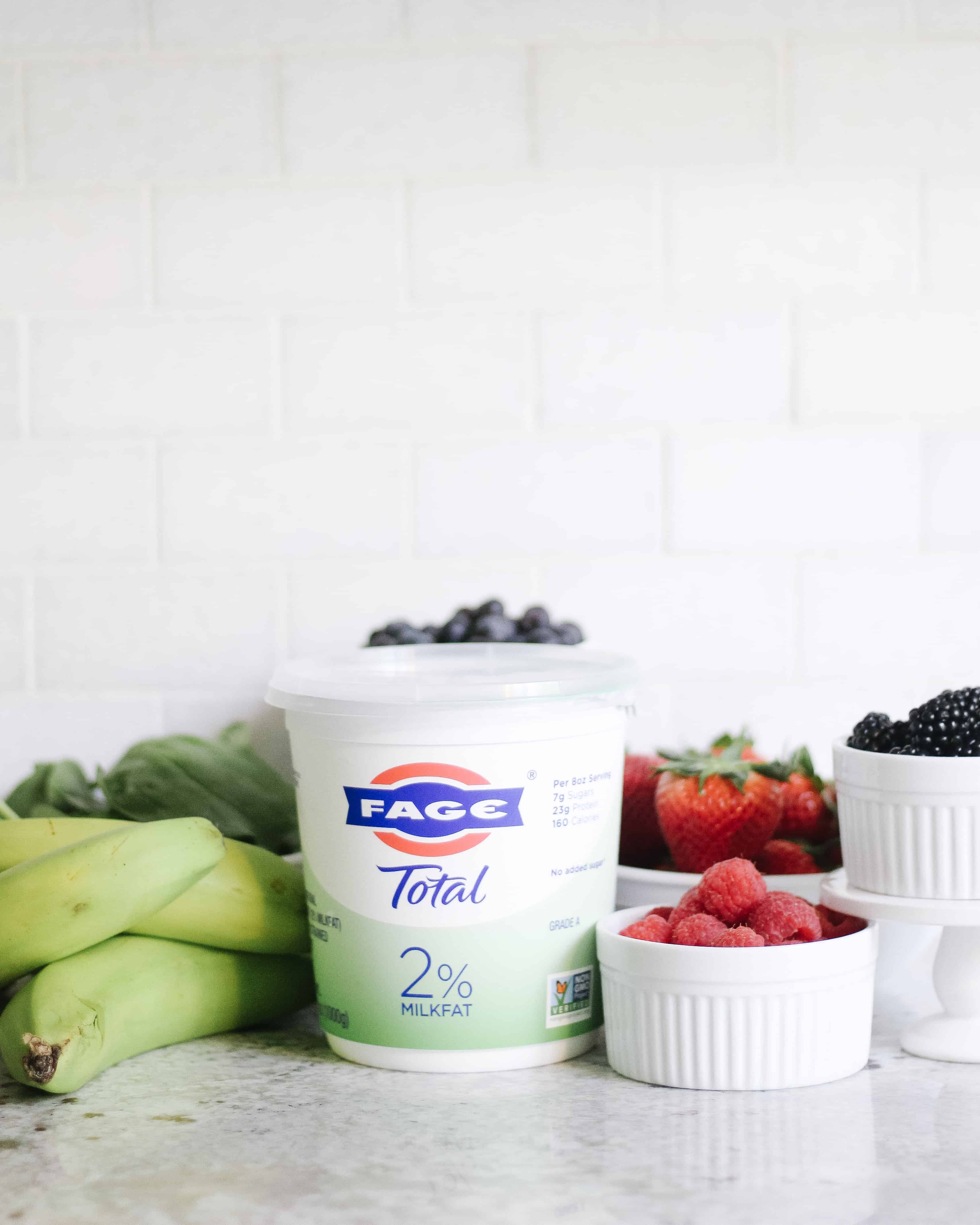 Now that I am feeling 1000 percent less picky I have been drinking lots of smoothies to get a healthy meal in and trick my body into thinking I am having a sweet treat. I never make smoothies without yogurt, and love getting the FAGE Total Plain Greek Yogurt for my basebccause of it's rich, creamy taste, and the added protein it gives.  I will post my favorite recipe below for you to follow, and as a little hack – sometimes I blend the yogurt and spinach and freeze it in muffin tins to pop into my smoothies pre-measured and save time.  This also really helps if the kids are watching me make them – they don't see the greens actually going in!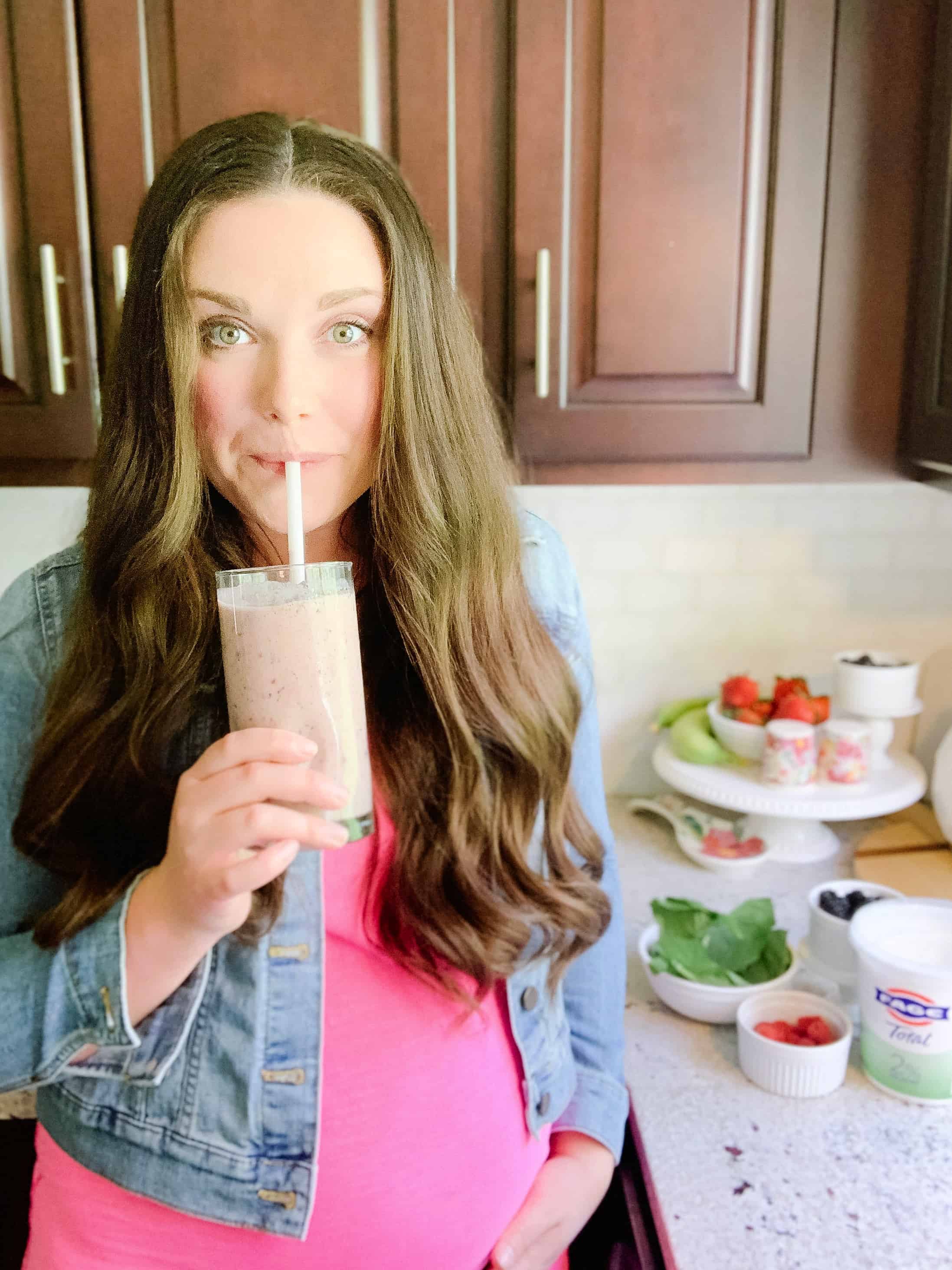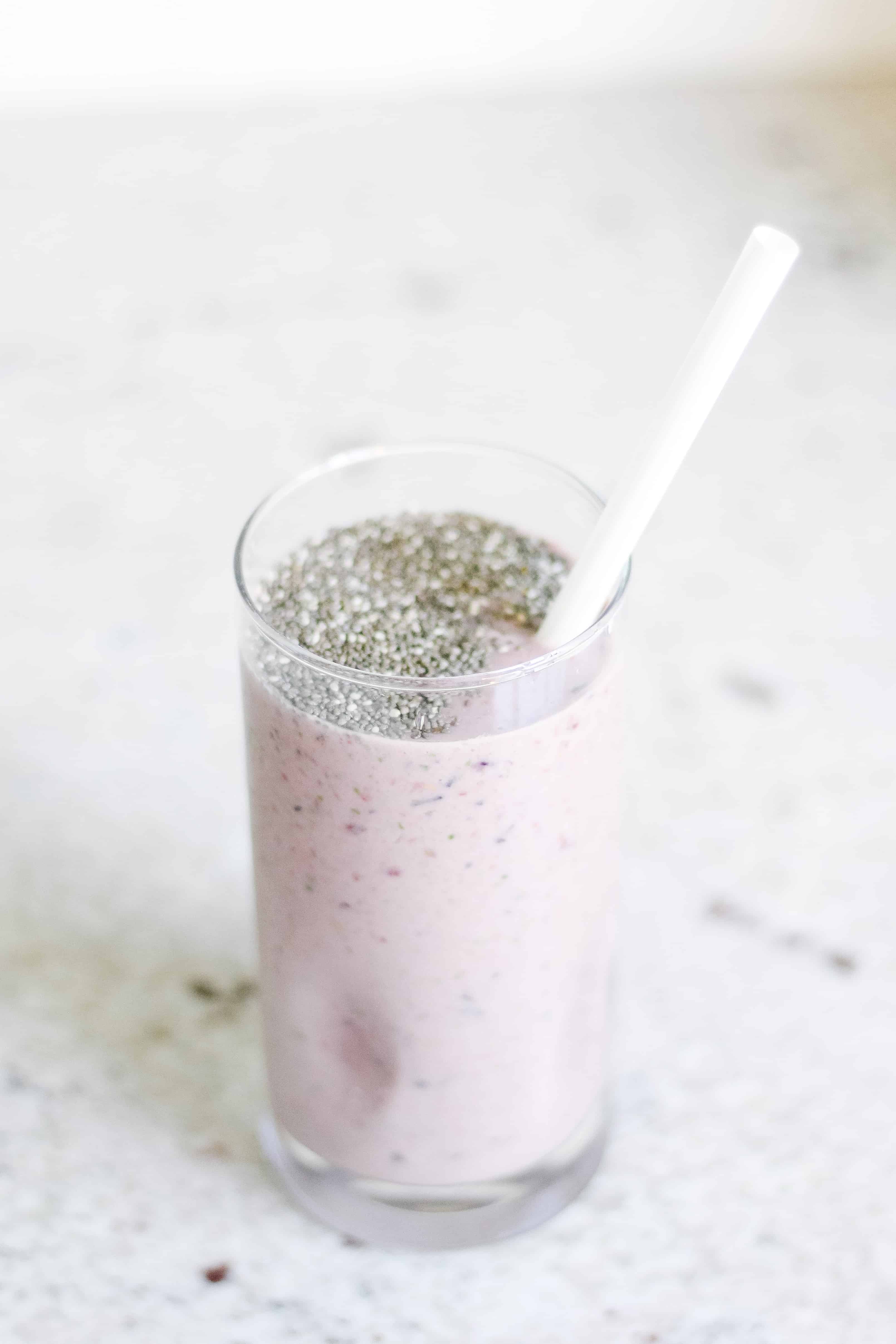 Smoothie Recipe
½ cup FAGE Total Greek Yogurt
Assorted Berries totaling around 1 cup
Ice to preference
¾ cup water
1 TBS honey
½ banana
chia seeds as garnish when finished
Move your body to love your body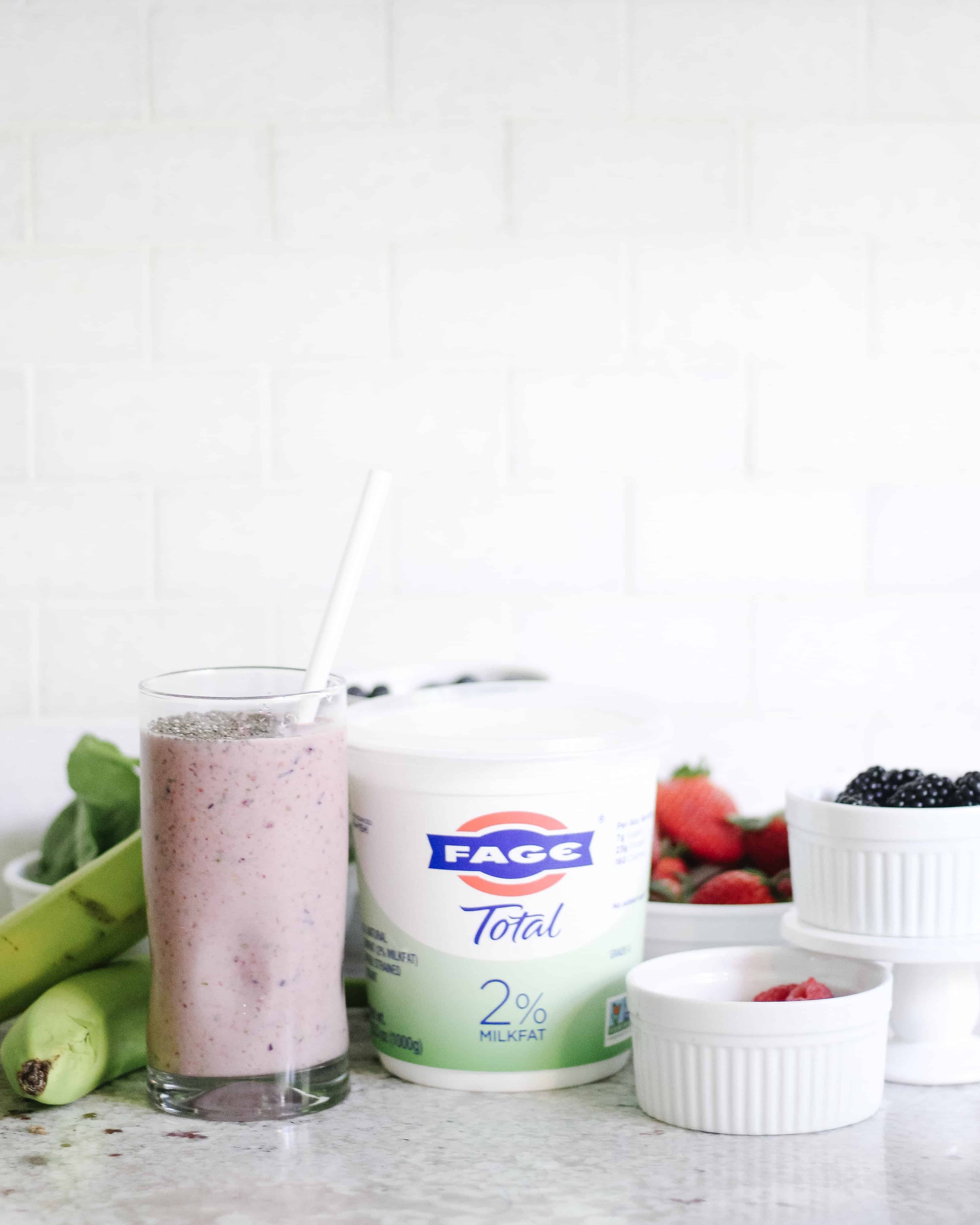 The last tip I have for loving your body through pregnancy is to keep moving.  Even if you think "this is pointless", you will feel better just knowing that you are staying healthy on the inside.  Moving your body, even just by taking walks will make you mentally feel so much better, and nothing is better than how proud you will be of being able to do a hard workout when you're growing a human!
Most importantly, just remember this is a phase!  As are all the phases that come after.  It is hard work growing a baby, and being a new mom. Give your body grace, and remember to love and appreciate your body both physically and mentally.  Making smoothies, and keeping healthy snacks on hand, like FAGE Total Split Cup yogurt will make eating during those newborn days much easier too.
If you have any questions leave them in the comments below, and be sure to pin the below image to find this post later!