I am SO excited today to be sharing with you one of my absolute favorite Instagram friends sweet girl's boho chic girl's nursery.  I have been following Ashley for a couple of years on Instagram, became SO obsessed with her girls gorgeous rooms when they moved into their new home.  Ashley is a mom of 2 sweet girls, Ever and Story, and their rooms are literal perfection (as is the rest of her home!).  I reached out to Ashley to see if she would be open to me sharing the girl's rooms here for you all to gain some serious inspiration from…and probably a whole lot of envy.
Feel free if you have any questions to drop them in the comments below and I will do my best to answer, or pass them along to Ashley, or you can always DM her via Instagram here!! And be sure to give her a follow to see more of her amazing taste.  My assumption is if you're reading this post you have a little girl, or are expecting one, and her style for her girls is just as good as this room, so you won't want to miss a thing.
All links are at the end of this post
This post contains affiliate links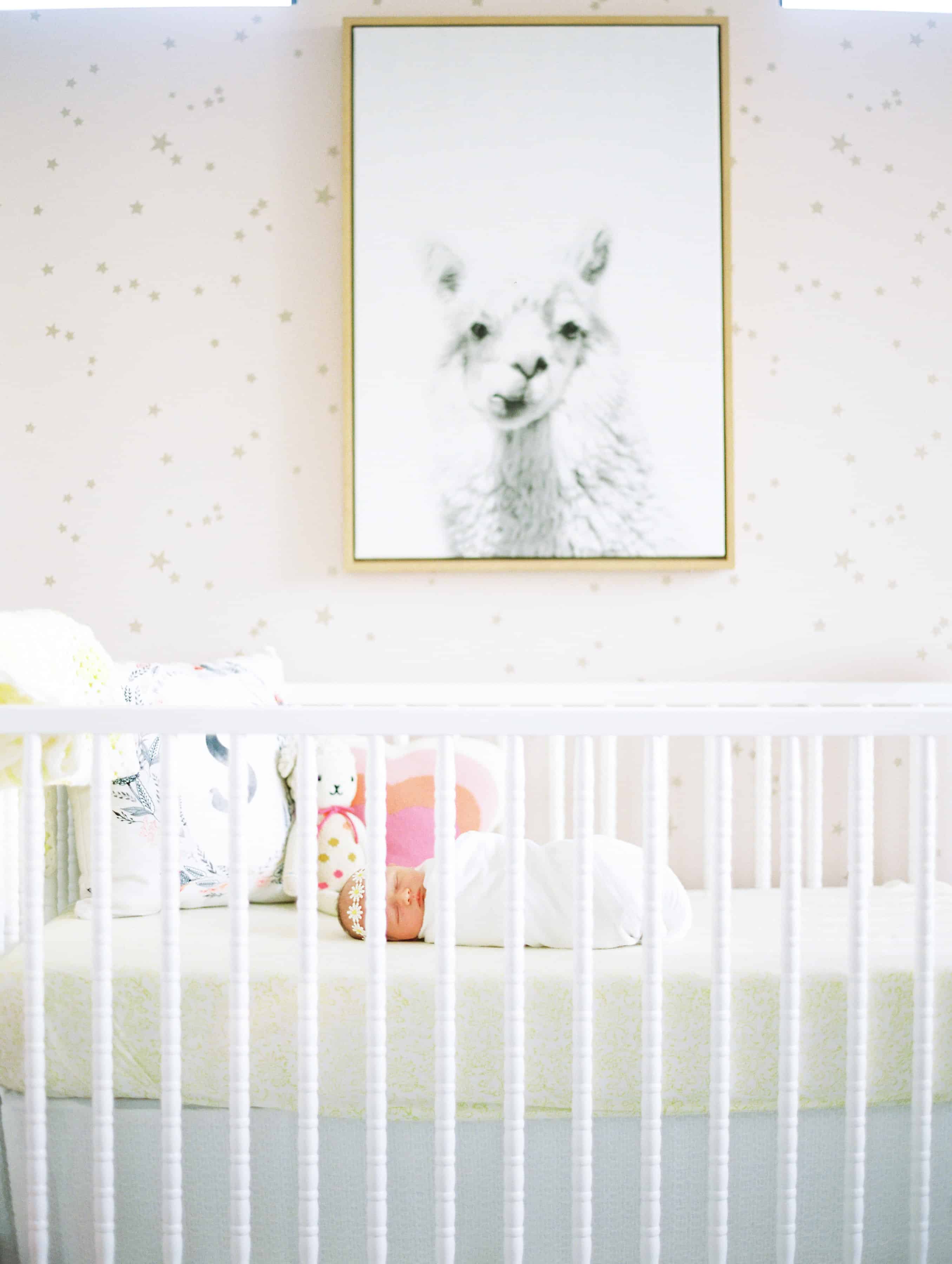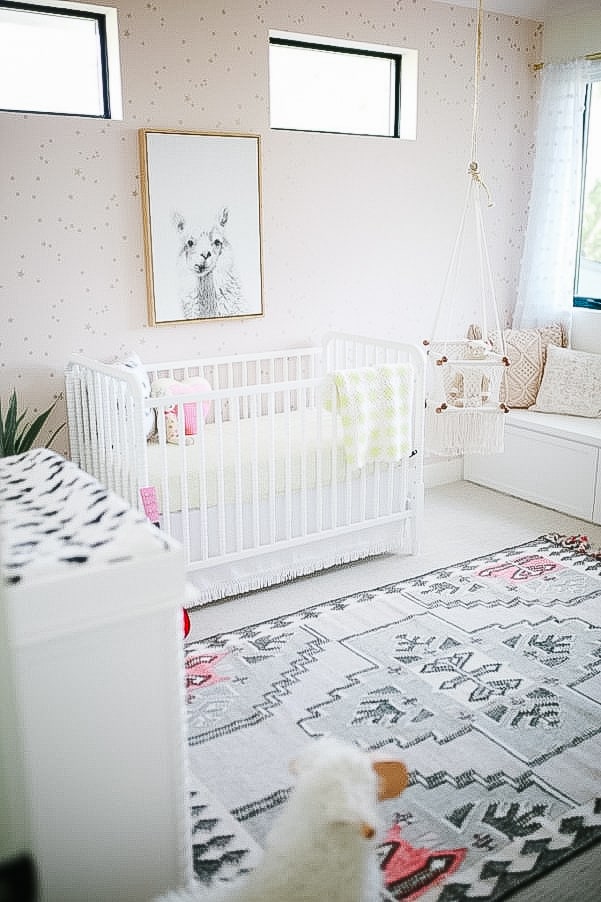 Story's Boho Chic Girl's Nursery
Story's rom is the perfect mix of modern, boho, and sweet nursery all mixed into one.  One of my favorite things about Ashley's decor is that she allows for things to be switched up a lot, in my opinion, which to me makes for a perfect child's room.  I think if you follow a theme too closely you box out any opportunity to change the room as their taste grows, and this room does not do that!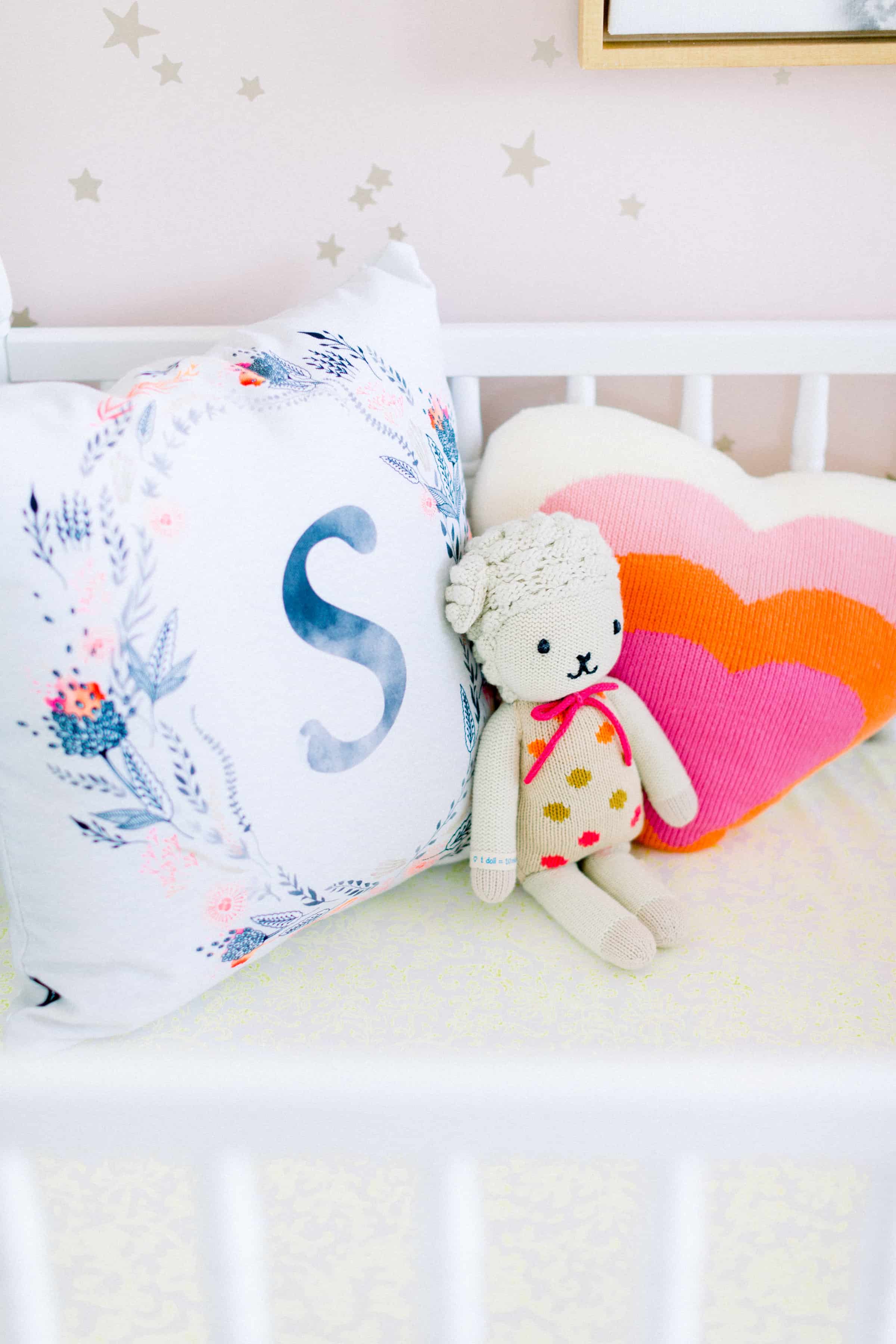 One thing I am BEYOND obsessed with is the wallpaper.  I actually had my eye on this wallpaper for our baby girls room, but think it works so well in Story's room thanks to gorgeous black windows, and built ins with sharper edges, to kind of balance out the overly feminine nature of the wallpaper.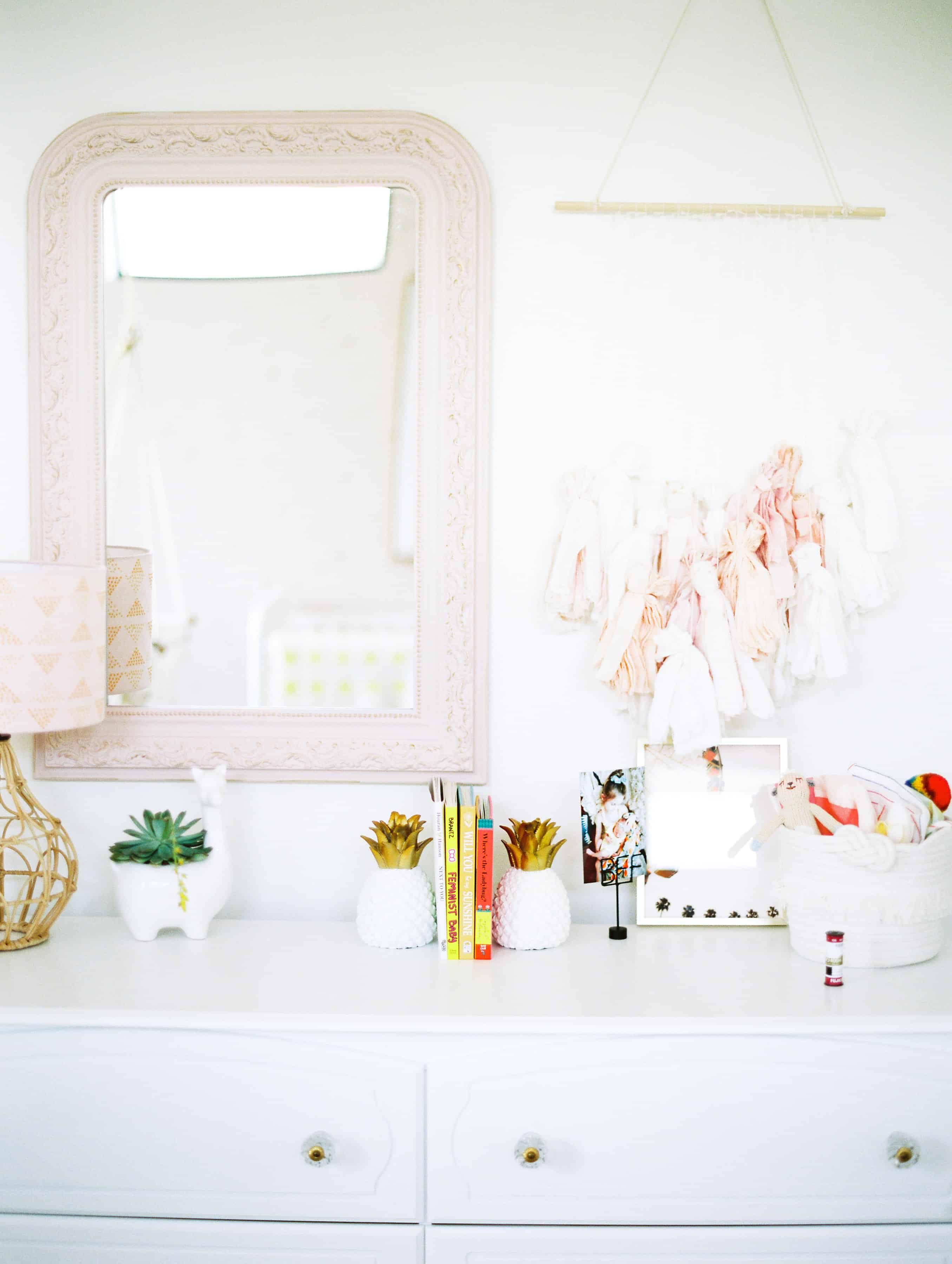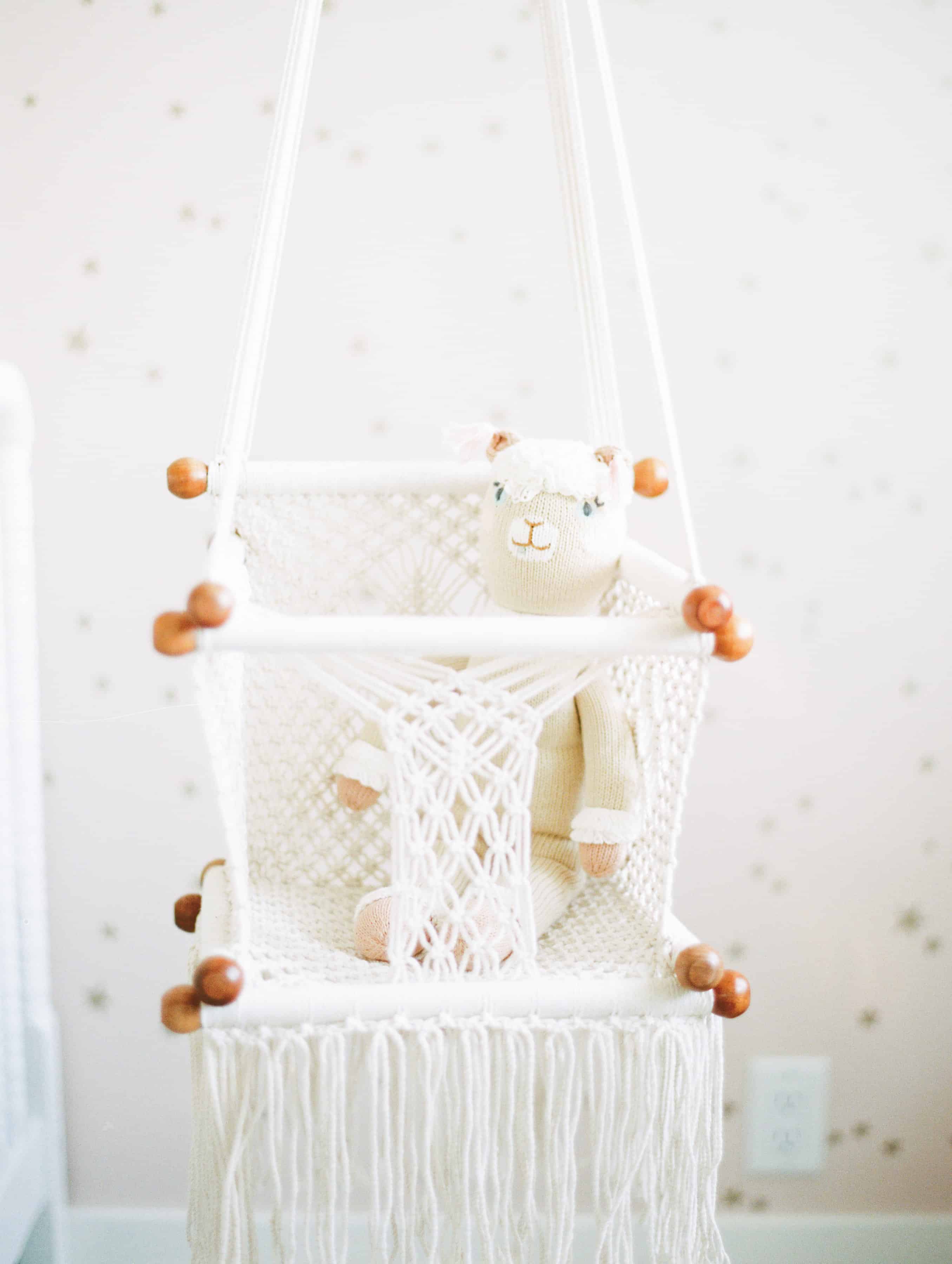 Mixed Textures and Colors
I personally think one of the number one ways to make a room really feel boho is to mix lots of textures.  Something about the mixing and matching in that department really brings a room together and makes it feel warm and inviting with that modern undertone.  Ashley does this perfectly throughout her home, but in this room in particular really nailed it from the rug, to the pillows, to the sweet hanging swing.  There is so much texture brought in, but in a MOSTLY narrow color wheel that it adds character but doesn't feel cluttered.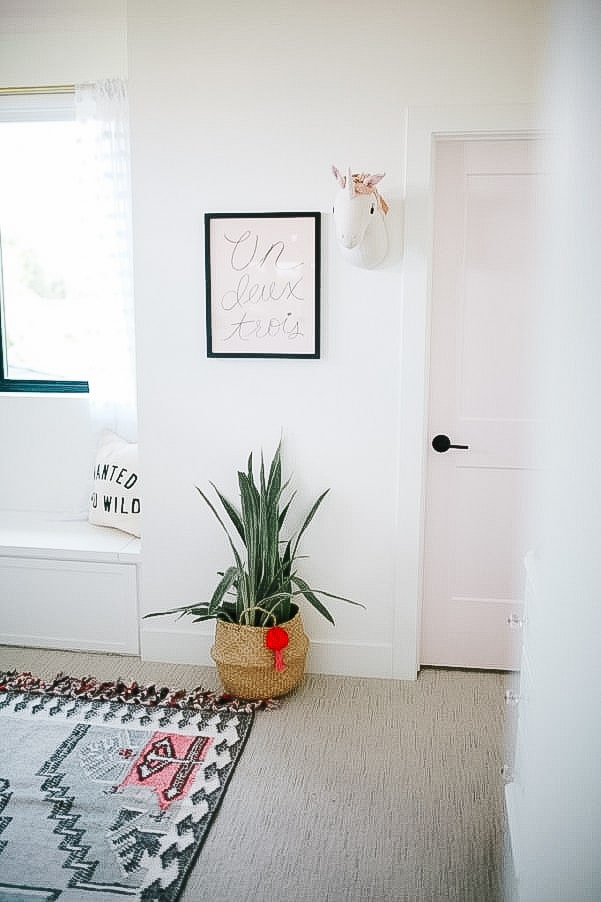 That being said, as I said above, I think that one of the key's to really successfully decorating a child's room is to allow for them to grow into it.  Take it from me when I say that means you want to allow for colors and items to be added without "ruining" the theme.  If you stick to a super narrow color pallet throughout the room with no room for growth, the first time they fall in love with a bright purple unicorn stuffed animal it will ruin the room.  I learned that the hard way, and really try to follow some of the same guidelines when I decorate my kids rooms ( see Avé's toddler room for an example).  The yellow blanket, sweet bright and fun books, and other small accents really allow Story to grow into this room and make it her own when she's ready!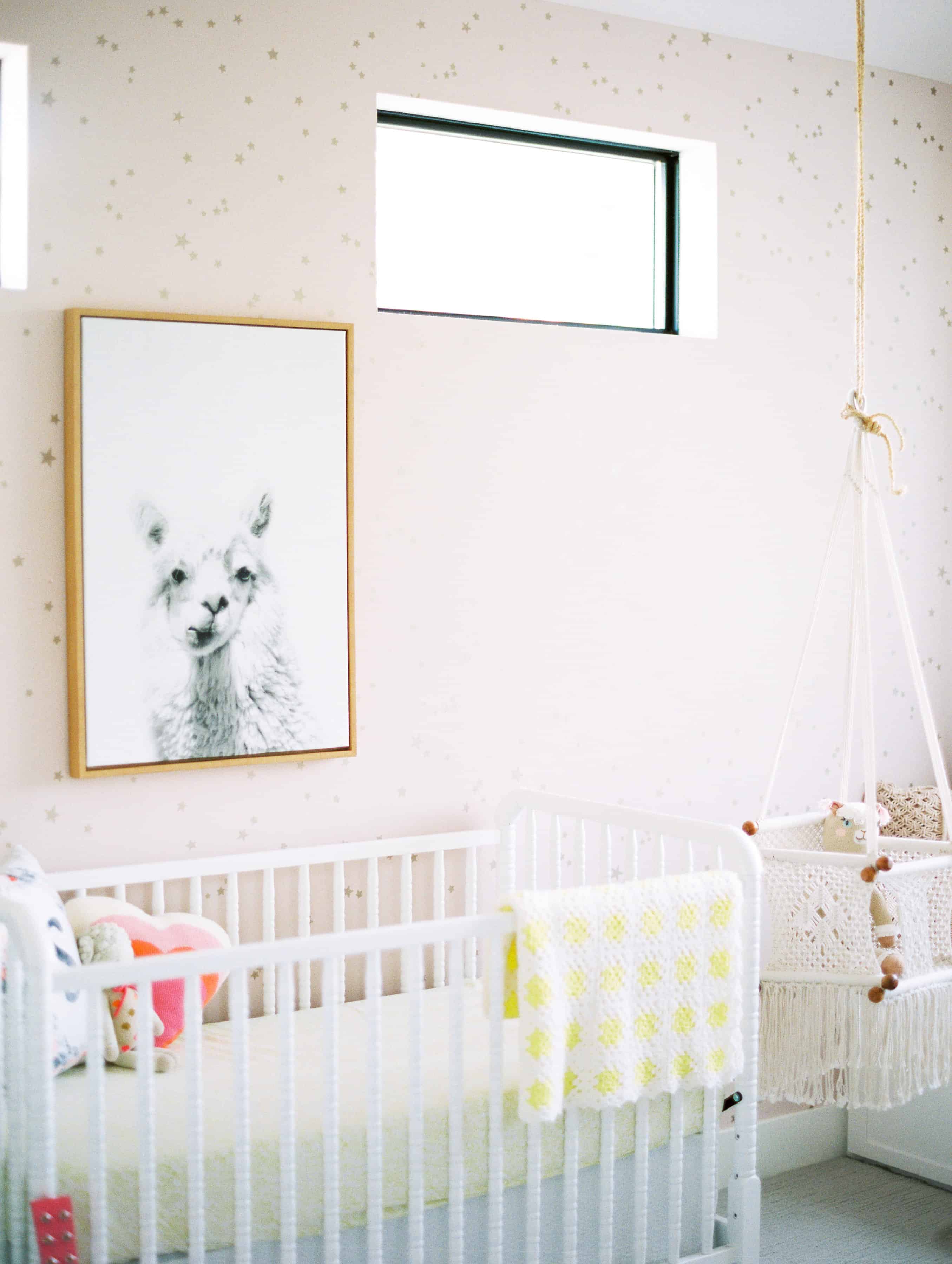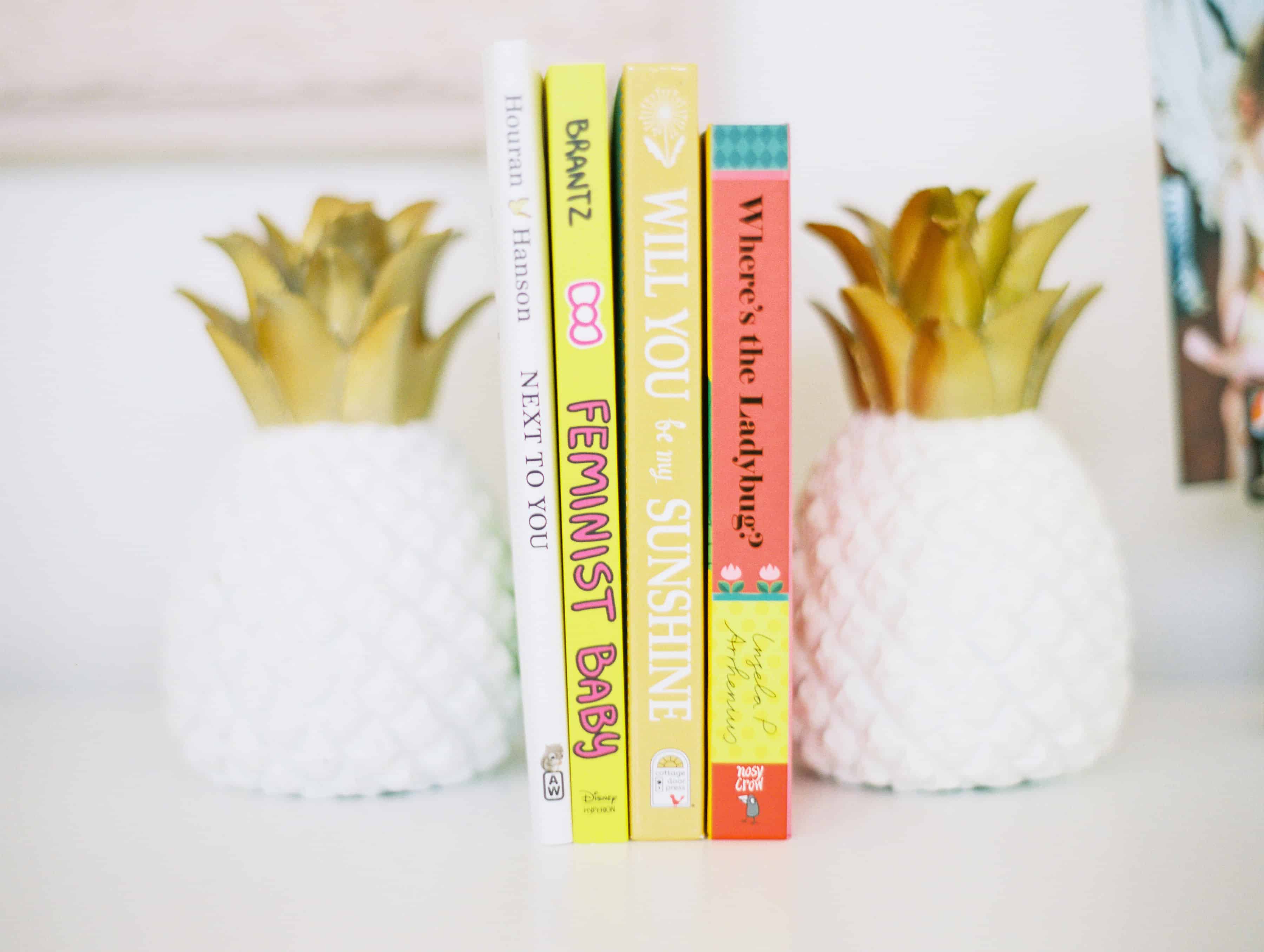 Overall I think when you truly follow your own style a room ends up coming together perfectly, just like baby Story's room did!  Again make sure to check out Ashley on Instagram and let her know how much you love this room, and stay tuned for both an amazing nursery round up this weekend and Story's big sisters room coming soon!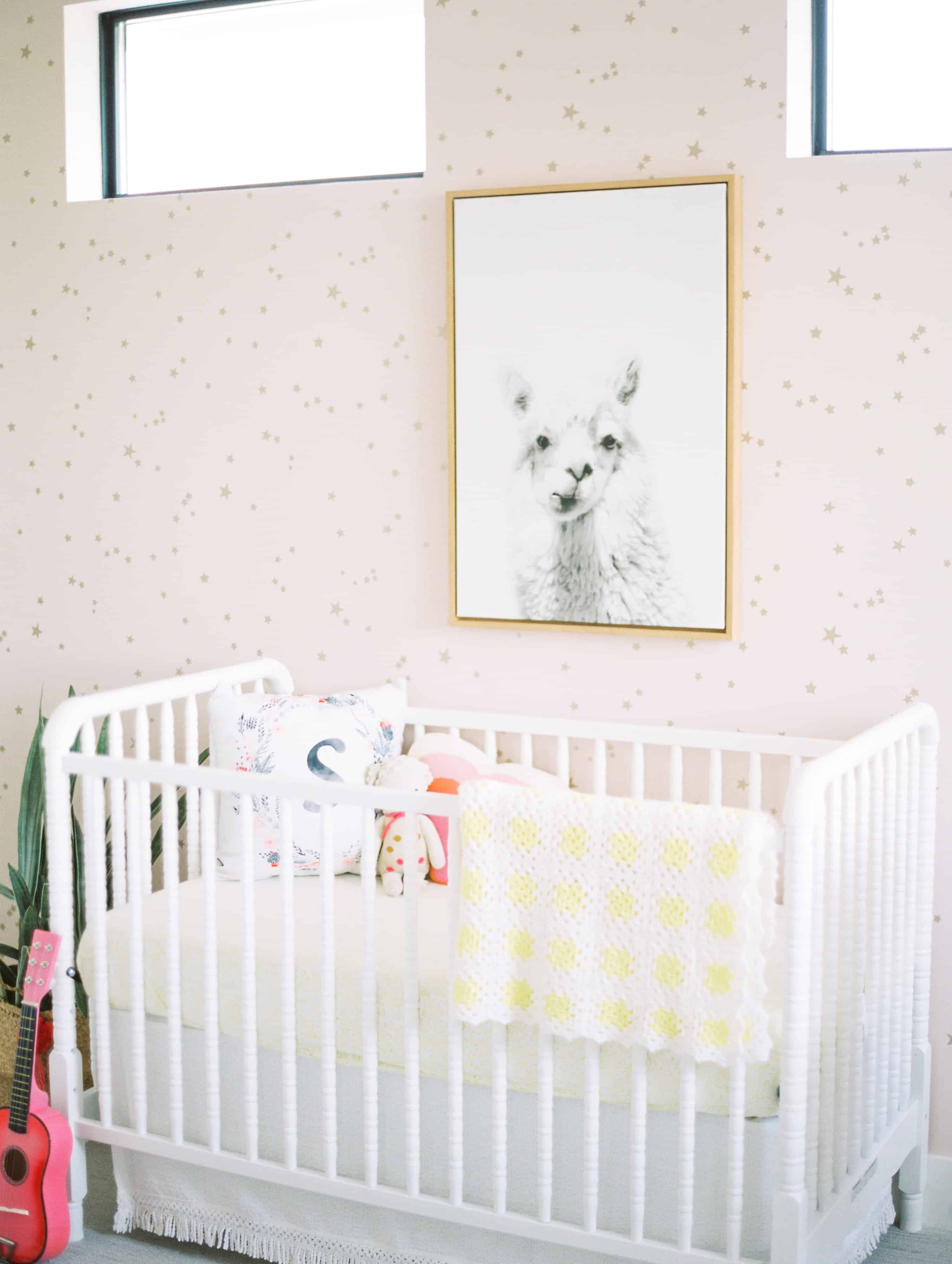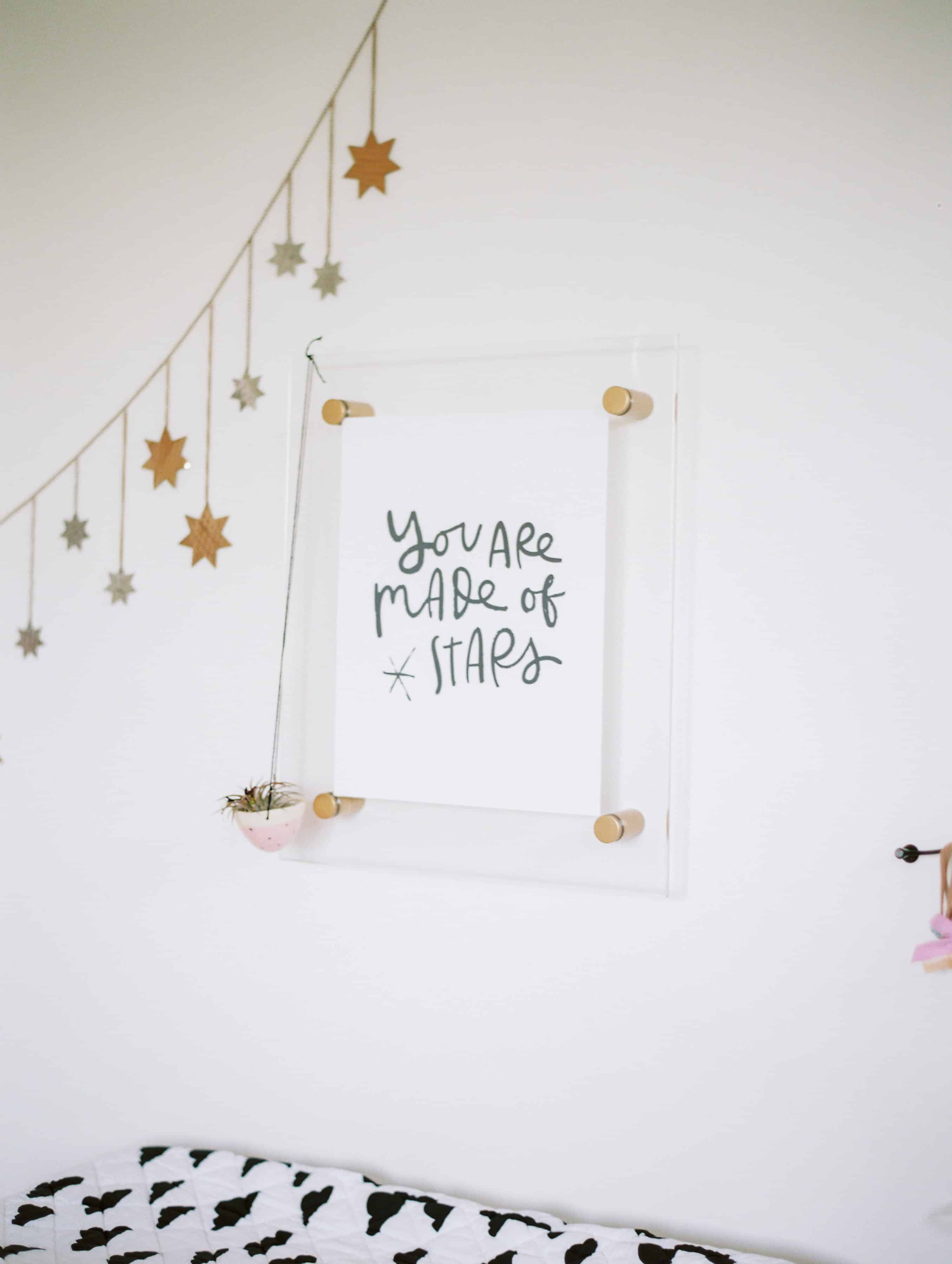 Room Details and Links
Rug  |  Changing Pad Cover  |  Crib Skirt  |  Crib Sheet  |  Wallpaper  |  Swing  |  Light Fixture  |  Unicorn Head  |  Heart Pillow  |  Crib  |  Changing Table Dresser  |  Dresser  |  Plant Basket (similar)  |  Mirror (similar)  |  Plant  |  Monogram Pillow  |  'You are Made of Stars' Print  |  Heart Cushion  |  Alpaca Stuffed Toy  |  Acrylic Frame  |  'Un Deux Trois' Print  |  Alpaca Art  |  Pineapple Bookends (similar)  |  Lamp  |  Guitar  |  Llama Basket  |  Curtains  |  Alpaca Vase  |  Photo Clip Frame (similar)  |  White decorative basket on dresser  |  Gold Frame  |  Ferris wheel Art Print  |  Headband Holder Hook (similar)  |  Wall Hook  |  Dresser Knobs (similar)  |  Hand Dyed Wall Tassel Hanging (same company but each one is custom) 
Paint colors:  White – Sherwin Williams Extra White |  Pink on closet door and ceiling – Benjamin Moore Gentle Butterfly