Who is ready for the best Linen Closet shelving ideas? I am on house number two of getting creative with linen closet shelves to make the minimal space we have more functional. Today I am sharing all the best linen closet ideas for making your own linen closet more functional and beautiful.
This post may contain affiliate links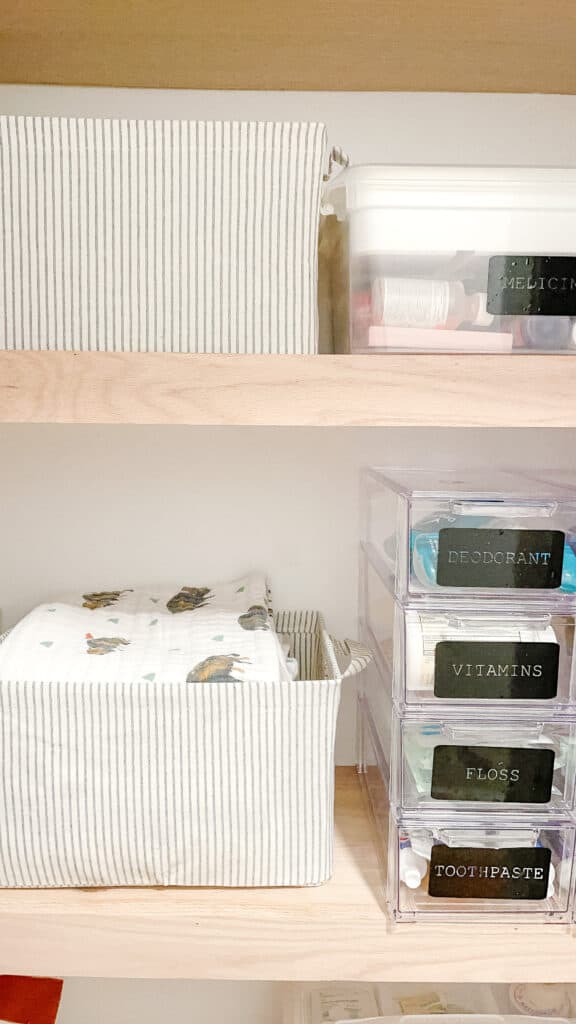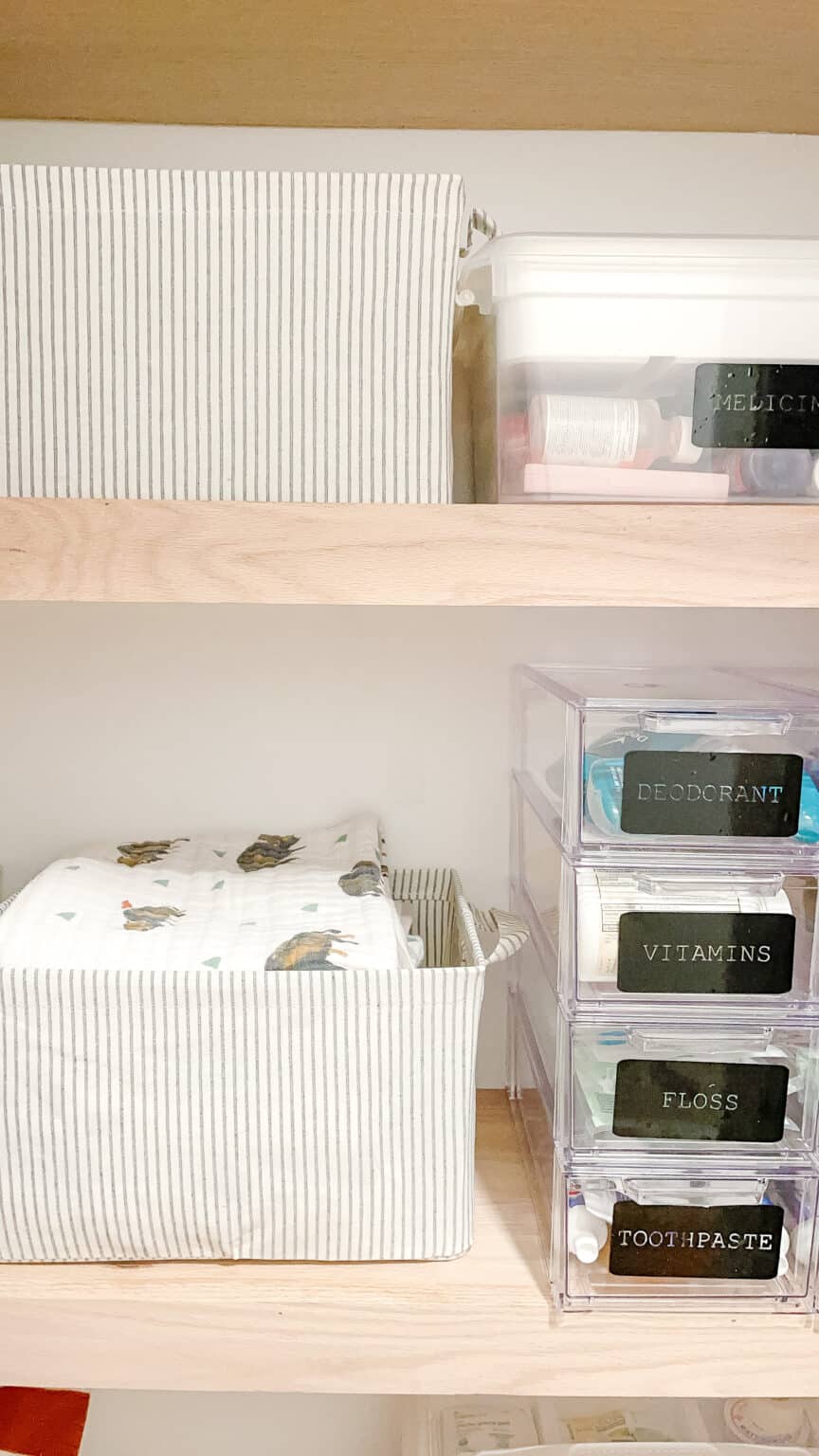 Linen Closet shelving Ideas
Owning a historic home comes with certain challenges. The floors and ceilings are never perfectly straight, layouts can be impractical, and well we won't even mention what happened last year to our pipes.
Closet space in an older home can be few and far between. We were lucky that most of our rooms had decent storage space. I have, however, neglected our hall linen closet since we've moved in.
I finally got around to a linen closet makeover and I could not be more excited about the results. I'll go over my top tips for an organized linen closet and how to make a linen closet of your dreams.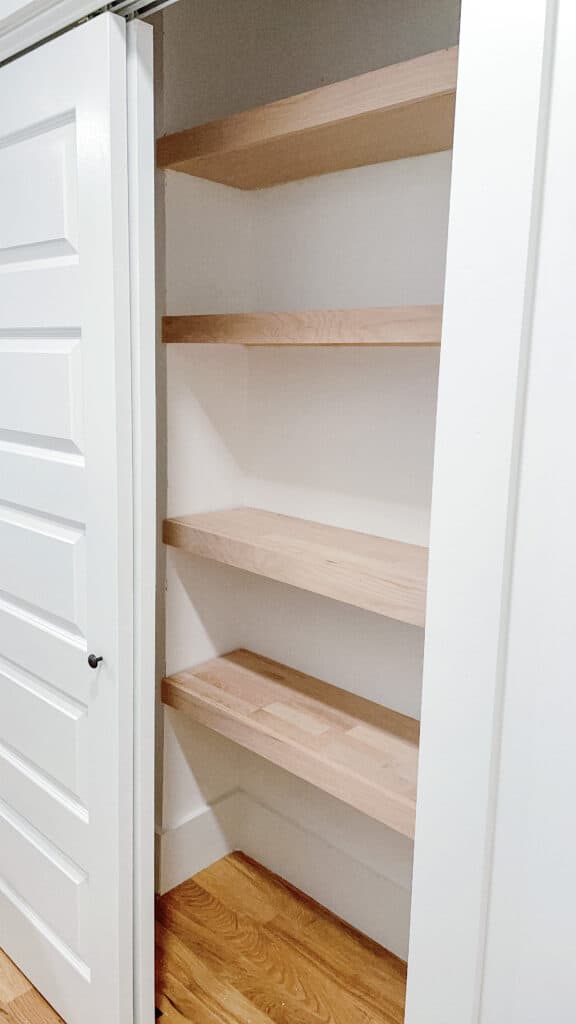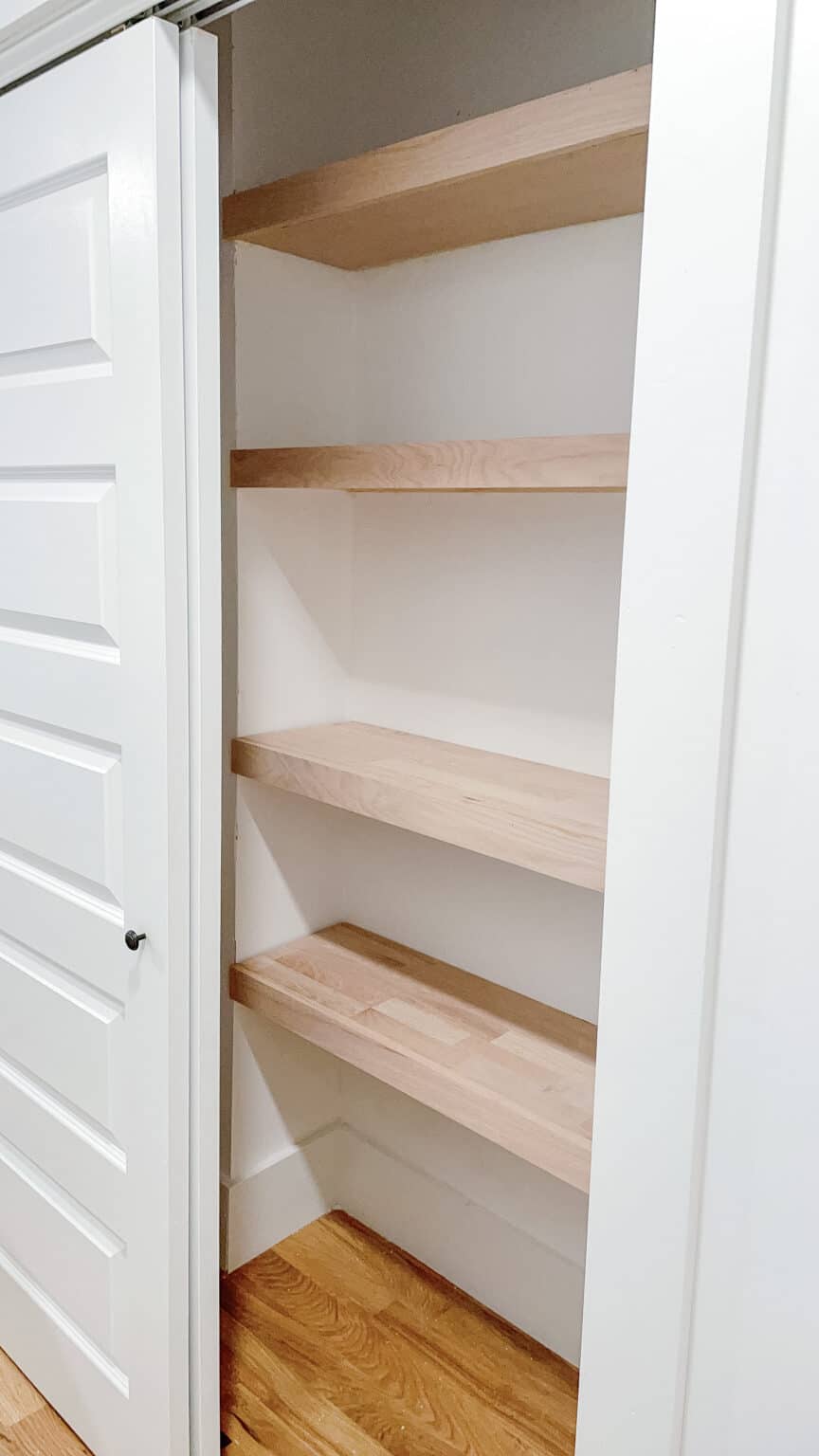 My easy DIY wooden shelves create a great neutral base.
Declutter Your Space
Before we talk organization and shelves in your linen closet – you first need to begin by decluttering your space. For those of my readers who have followed along with my nursery closet organization tips and bedroom organization tips, this first step may seem repetitive.
I can't stress it enough though. This is the best way to figure out where your needs are and where you need to trim down. If you are still saving sheets from your baby's crib and your baby is now a 10 year old, it is time to toss those sheets!
Check out these tips and tricks to start decluttering and a free free printable document that will help walk you through your whole house in 30 days.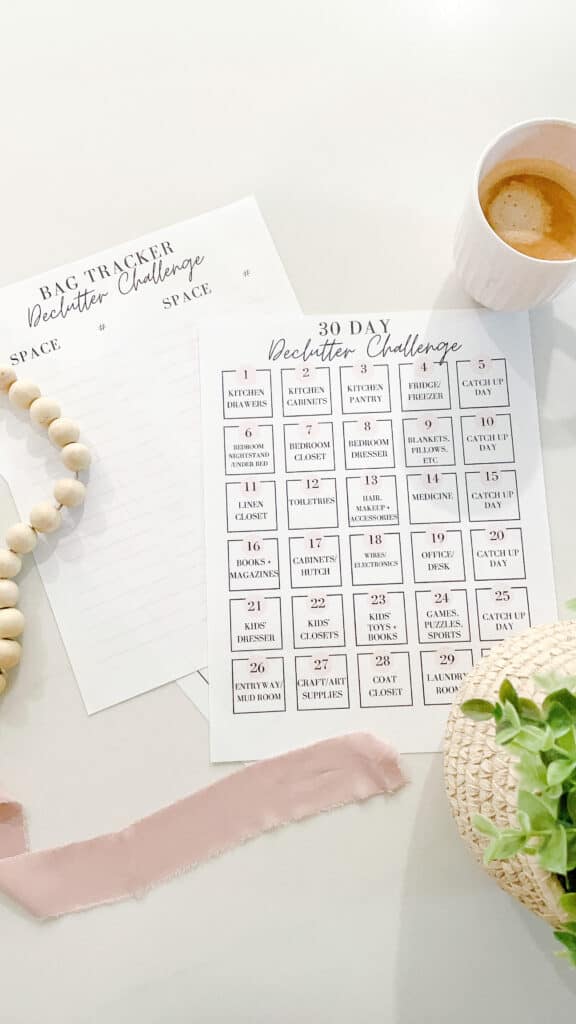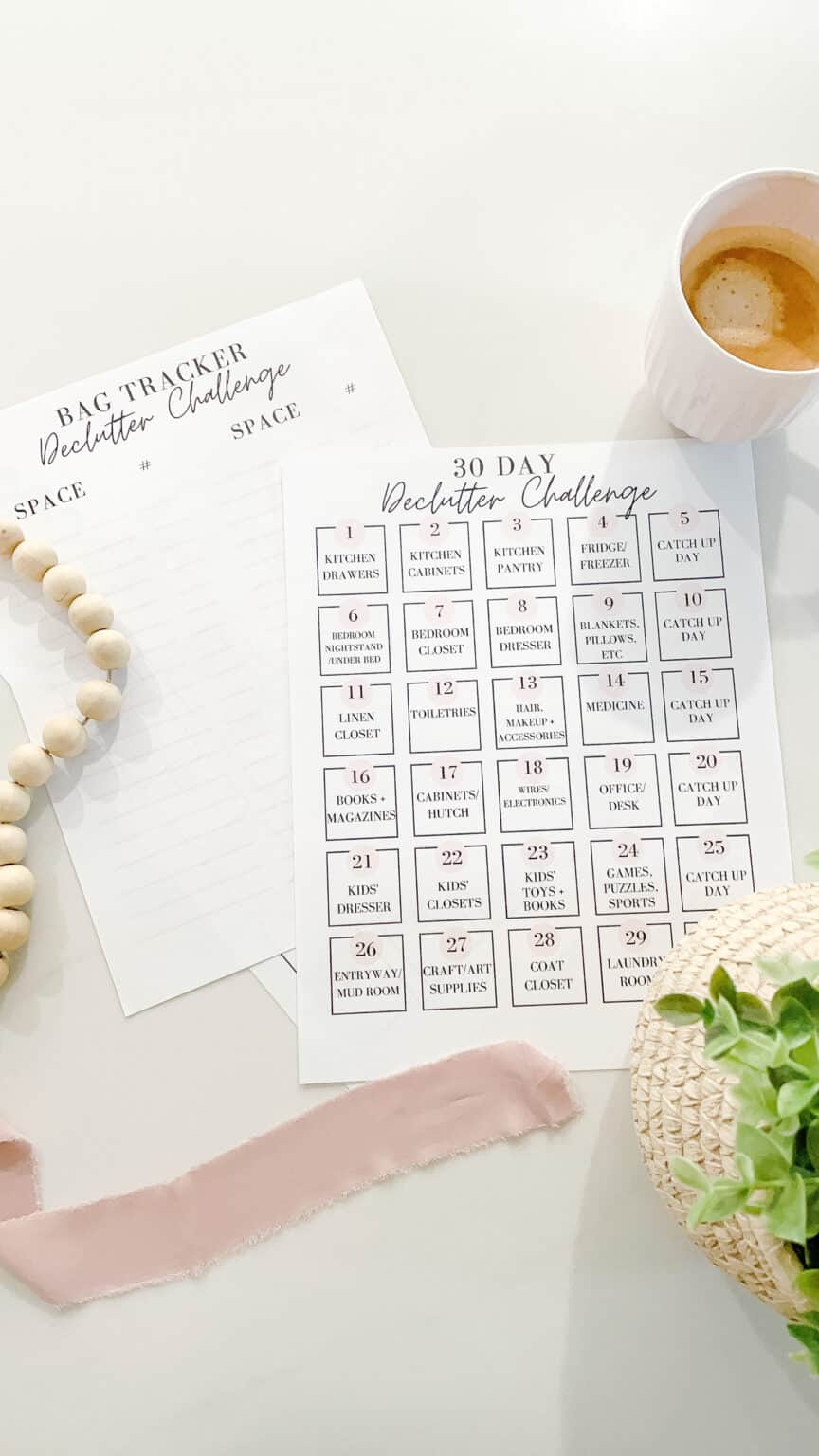 Learn more about how to declutter
Keep Everything In Its Place
Once you declutter those items, you can decide what makes sense for you and your family. Decide what needs to stay, what can go, and what can live elsewhere.
It may make sense to keep your sheet sets in your bedroom, or perhaps, you decide to move your beach towels to the laundry room.
Would it make more sense for extra blankets to be kept in wicker baskets in the bedroom? Determine what you'd like your linen closet's purpose to be, and everything can go in their proper places.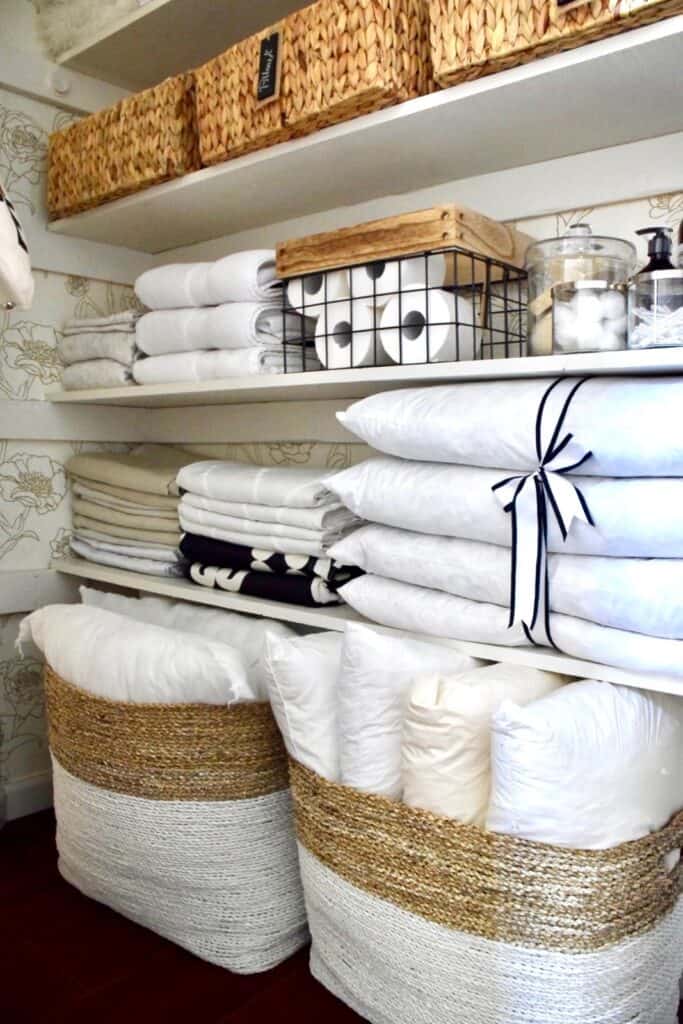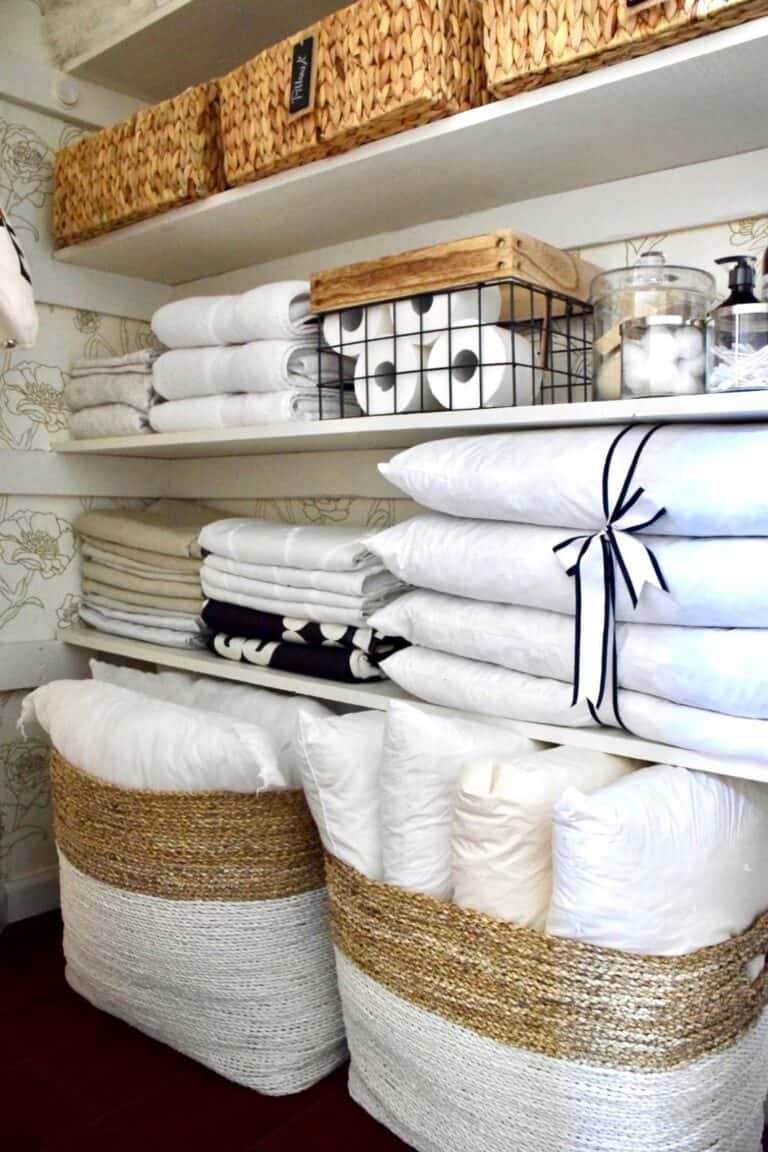 Great use of baskets to create defined space in this linen closet.
Place of Convenience
You'll also want to keep in mind that the items you do store in the linen closet should be safe and make sense for all household family members.
You want your items to be in a convenient place, but it may not be safe to keep the family's medicines in an area where little hands can access. Consider the perfect place for your items and your family's lifestyle.
Arranging Your Items
You'll want to arrange your linen closet for easy access and convenience. Keep in mind there are many different ways to do this. If you happen to have multiple closets, like a bathroom closet or other utility closets, you'll need to decide what makes sense to go in your linen closet.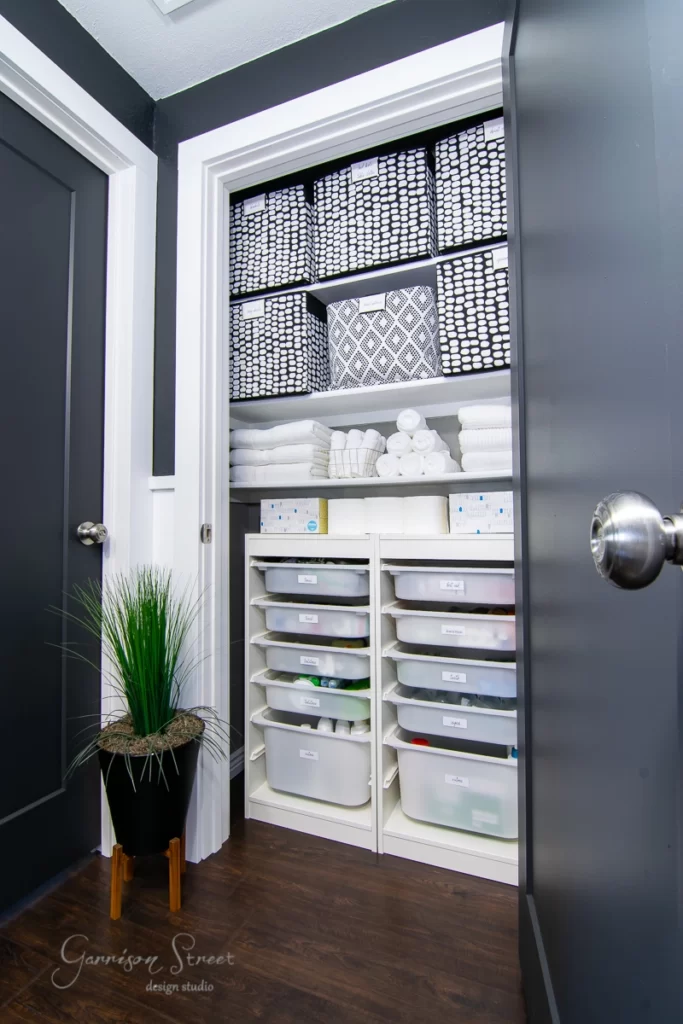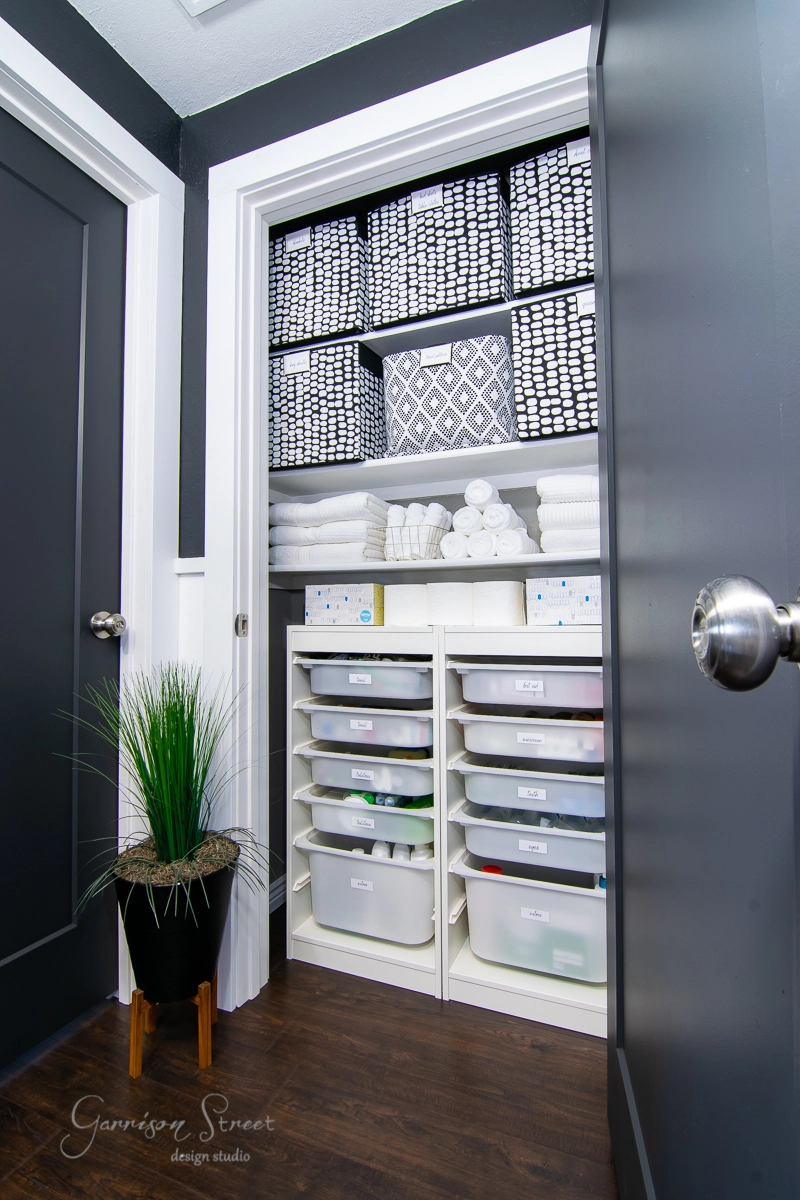 An IKEA hack linen closet for the win!
If your linen closet is strictly for linens, a great idea is to assign each shelf to a bedroom. Your children's shelves will be closer to the bottom of the closet, while the top shelves are reserved for the adults. Each shelf will contain bed linens, bath towels, etc.
If the linen closet contains a mixed bag of items like toilet paper, extra pillows, paper towels, and different sets of sheets, consider organizing by convenience.
Bulky items can be placed on the bottom of the closet, while items that are commonly used can be placed at eye level. The top shelf can house unused items and lighter items. This is a good method to use when you are limited to a small space. The end goal is for an orderly linen closet that is functional and convenient.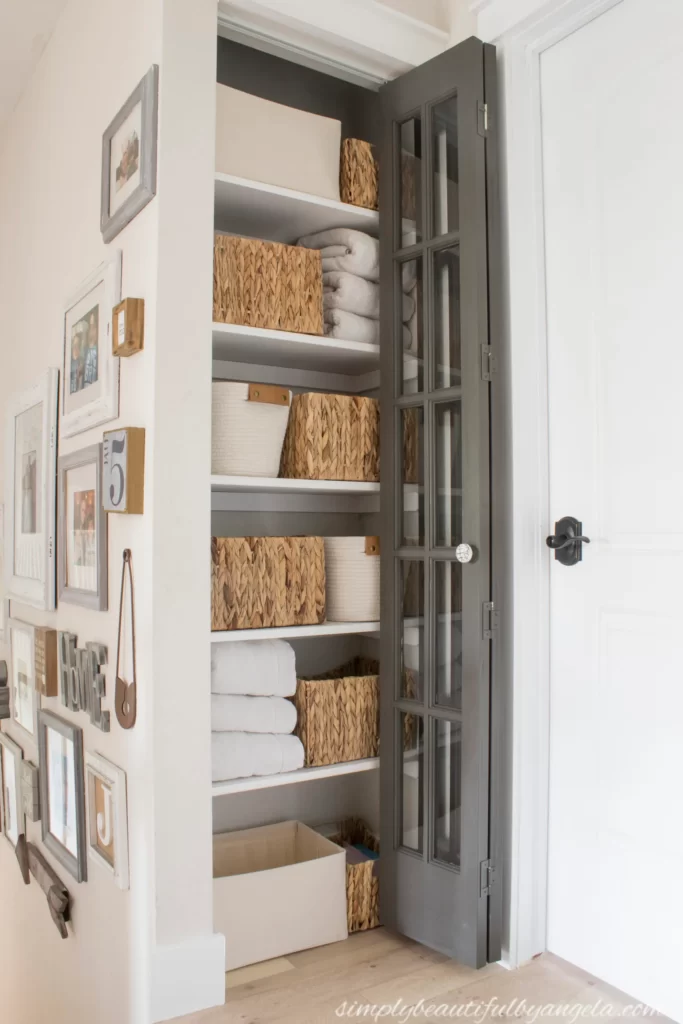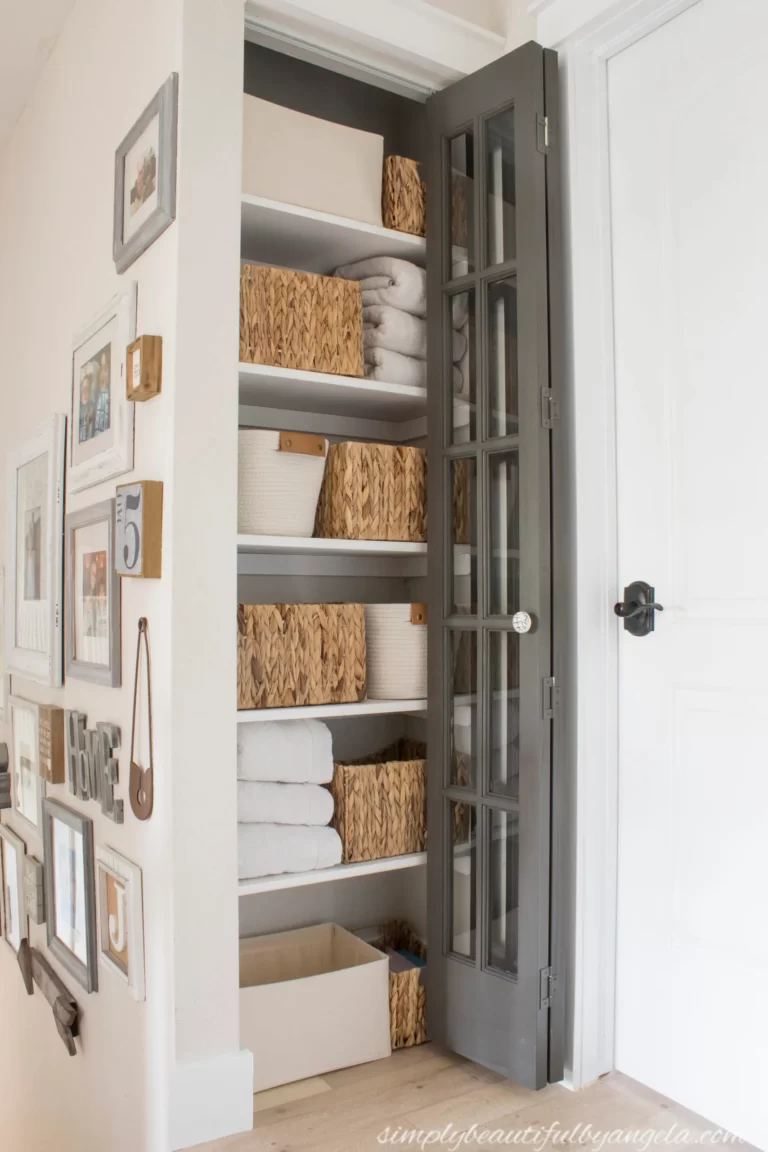 I'm swooning over these french doors in this linen closet.
Linen Closet Organization Is Key
I've said it before and I'll say it again, your closet is not your junk drawer. Don't just toss random cleaning supplies and spare towels on the open shelves and expect to find yourself fully maximizing the use of your closet.
Visual clutter can be easily tamed in an inexpensive way with a little bit of time.
Opt For A Shelving System
If you have a blank canvas to work with, you can always invest in a shelving system. This doesn't need to be overly expensive and can be as simple as installing a few wire shelves. If you want to get on the more fancier side, adjustable shelving is a great option as it allows you easier access.
Sam and I have created our own shelves in our last house and our current house. We love the outcome and look of our DIY wooden shelves. Linen closet shelves don't need to be some elaborate system. With some hard work and elbow grease, you can install your own.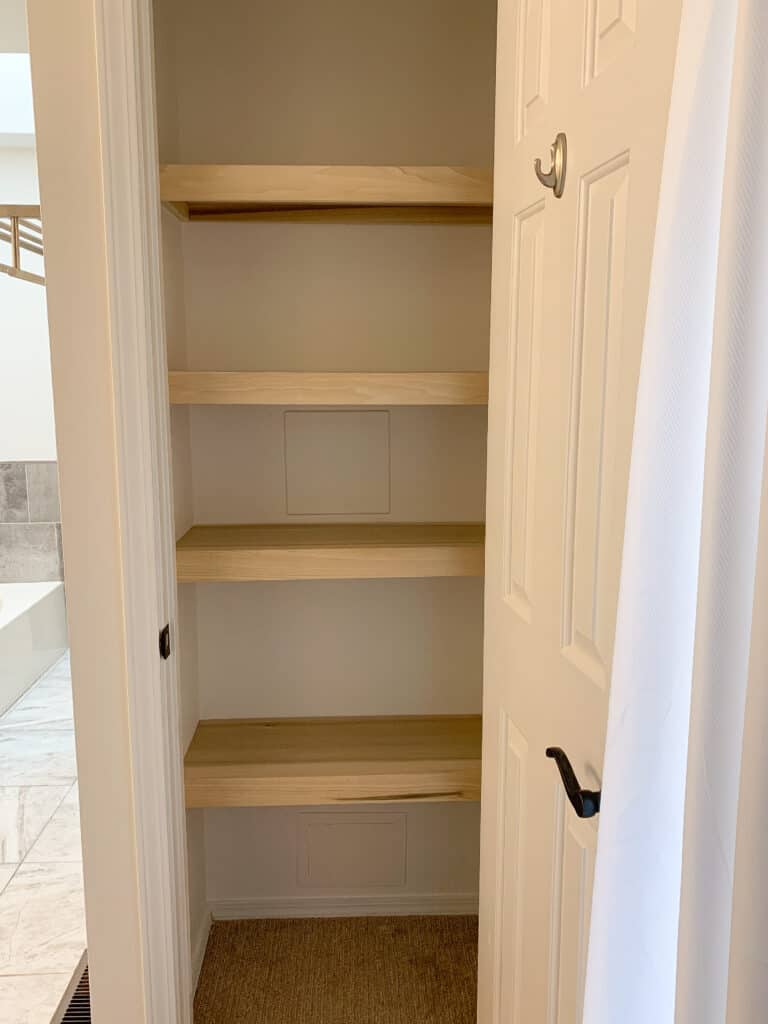 Check out my DIY linen closet shelves in our last house.
Buy Baskets In Bulk
The easiest way to create extra space and contain chaos is by investing in storage bins. The baskets can be anywhere from fancier wicker baskets to mount wire baskets. The baskets are key to containing small items that clutter your shelves.
Clear bins are my personal favorite because they allow you to see what is inside. I don't have to spend time searching for which basket I've placed the item in. Instead, I can just grab and go.
My Favorite Linen Closet Baskets
Label Your Items
If you don't go with clear storage bins, consider using a label maker to label the baskets you use with what is inside. This will allow you to find those smaller items more quickly.
You may also consider labeling other items, not just baskets. If you decide to organize your shelves by room, label the shelves so you know which shelf goes with which room.
If you organize your shelves by more commonly used items, then label the sheets so you can easily see which sheets go to the correct bedroom.
A few of my favorite Items for Labeling
Label Maker  |  Clip on Basket Labels  |  Hanging Acrylic Tags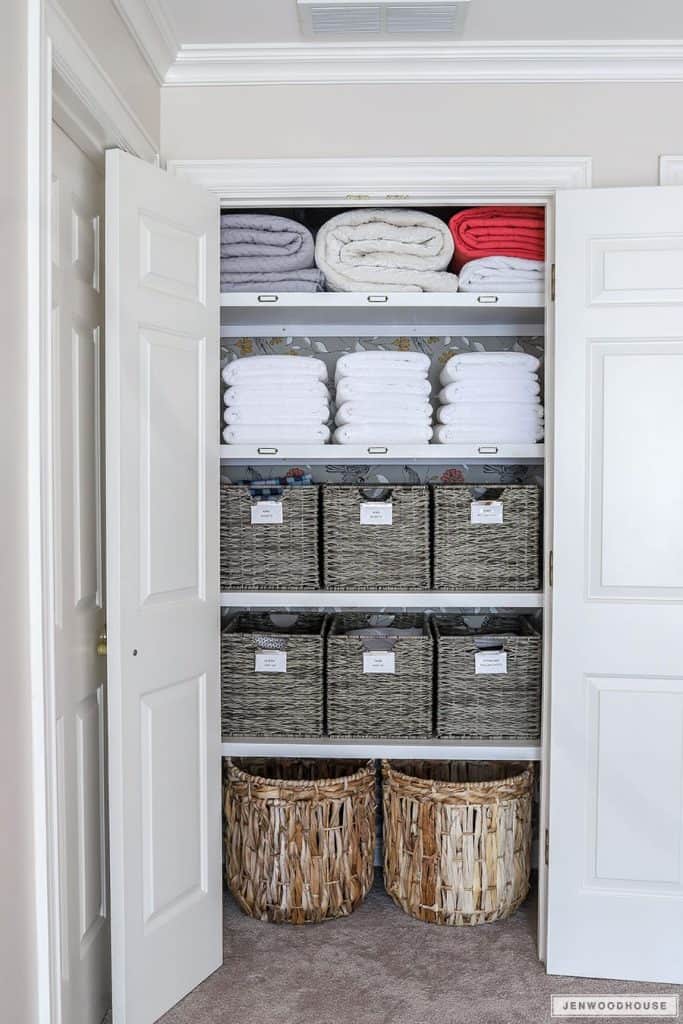 Talk about organized! This linen closet can be found here.
Linen Closet Shelving Ideas – Consider Dividers
Dividers are a good idea to help you organize your shelves. With open shelving, you may need a more defined space to help create that defined space for different items.
If you have deep shelves, you may not only need dividers, but shelf risers to create extra space. There is no such thing as too much space.
My Favorite Shelf Dividers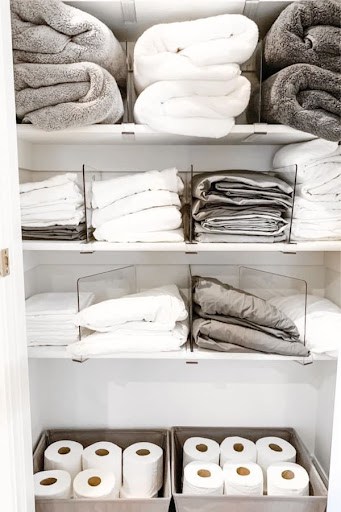 What a great use of shelf dividers found in this linen closet here.
Utilize Your Closet Door
Use all of the space in your linen closet by looking at the inside of the door. A closed door has plenty of linen closet storage space.
You can hang a door organizer to contain small items that may otherwise be lost, think batteries, buttons, sewing kits, etc.
If you have a small closet and need additional space for storing shoes, a shoe organizer is an easy way to accomplish that.
If you are struggling to find a place for your bulky ironing board, you can hang it up on the back of your linen closet door. You can use door racks or buy the ironing boards that are made for over the door storage. These are easy ways to contain the bulk and still have it be functional.
Hanging Pocket Organizer  |  Over the door Elfa Organizer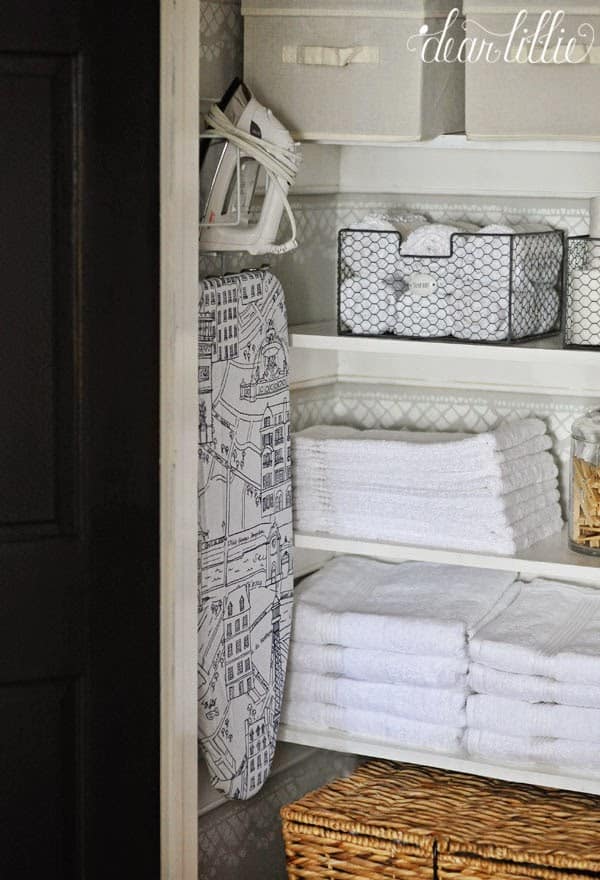 Not an inch of space is unused in this linen closet found here.
Learn How To Fold
Don't underestimate the art of the fold. You can free up a lot of space and create a seamless look with the right fold. I won't lie, I'm not the greatest at this, but it does make a world of difference.
Folding your sheets is another easy way to stay organized. I know some people swear by keeping their entire set of sheets inside their pillowcases .
That way, you have the correct pillowcase with the correct sheet set.
Other people prefer to keep all of their fitted sheets, pillow cases, and flat sheets separately. How you decide to organize it is totally your call. Just make sure you fold it orderly.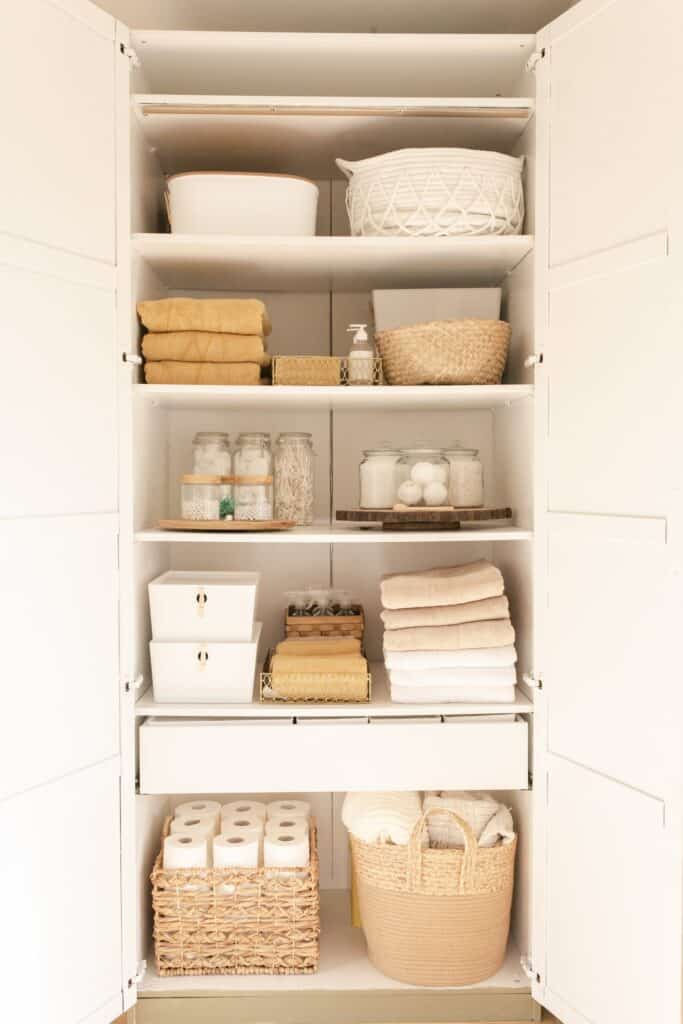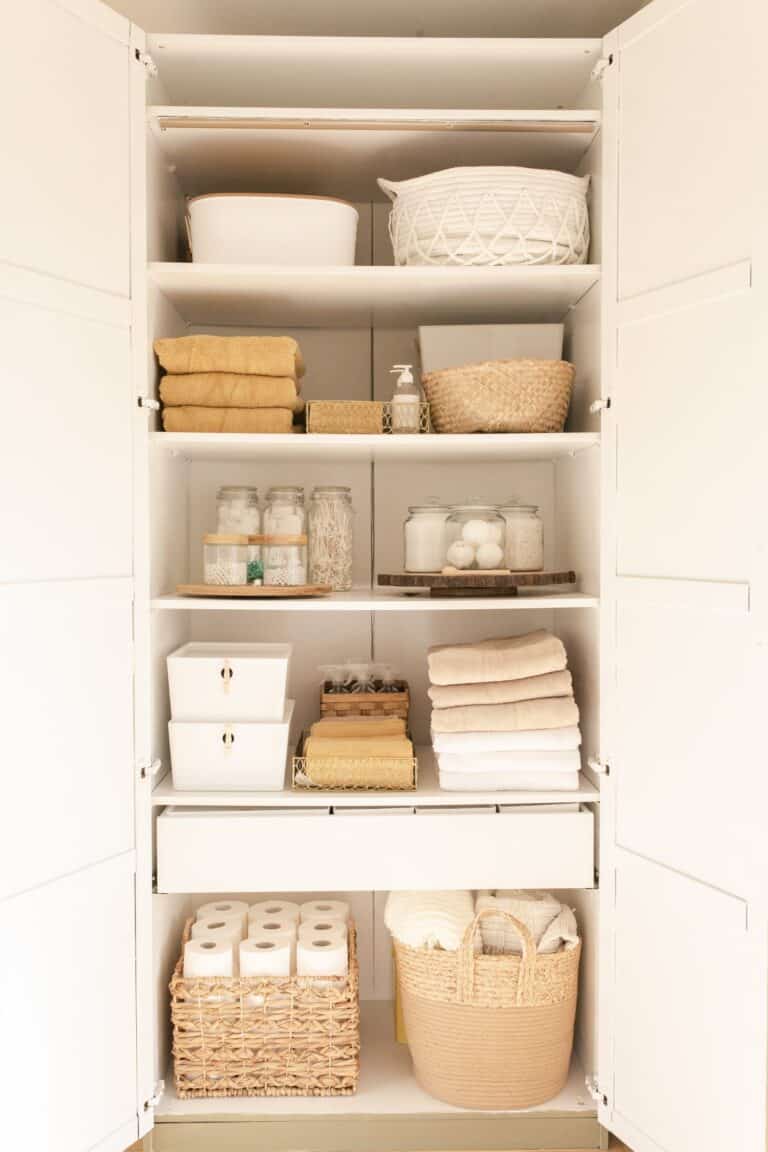 I love that this person created a linen closet out of an IKEA wardrobe. Great idea for small spaces.
Helpful products and More linen Closet Organization
Clearly I am passionate about linen closets – because I actually have another great post with all of my favorite Linen closet organization items.
I hope this post was full of some great linen closet ideas. You want to create a space that is convenient and functional. Grab some baskets, a label maker, and get yourself organized.
Other Posts You'll Love
Best Shower Wall Materials | Pedestal Sink Organization  |  DIY Linen Shelves  |  Outdoor Toy Storage 
Pin The Photo Below for Later
There are so many linen closet shelving ideas that can be easily incorporated today. Hopefully this post helped give you tips and inspiration to get yours functioning at its best for you. If you have any questions, feel free to leave them in the comments section, and follow me on Instagram @arinsolange for more home, decor, and DIY.