Okay since I can't keep sharing all things holiday decor forever, then I guess we should move on to my next favorite thing – organizing! I am SO excited to share with you guys a 6 week home declutter challenge that my friend Jen from Paisley + Sparrow and I have been brainstorming for weeks! This challenge is going to be the '6 Bags in 6 Weeks Challenge' and we can not wait to get you all involved!
Both Jen and myself are super passionate about organization and the impact it can have on your quality of life. I truly believe that living in a clutter free home and keeping things organized can help keep your sanity and make your life, especially with little ones, run so much smoother.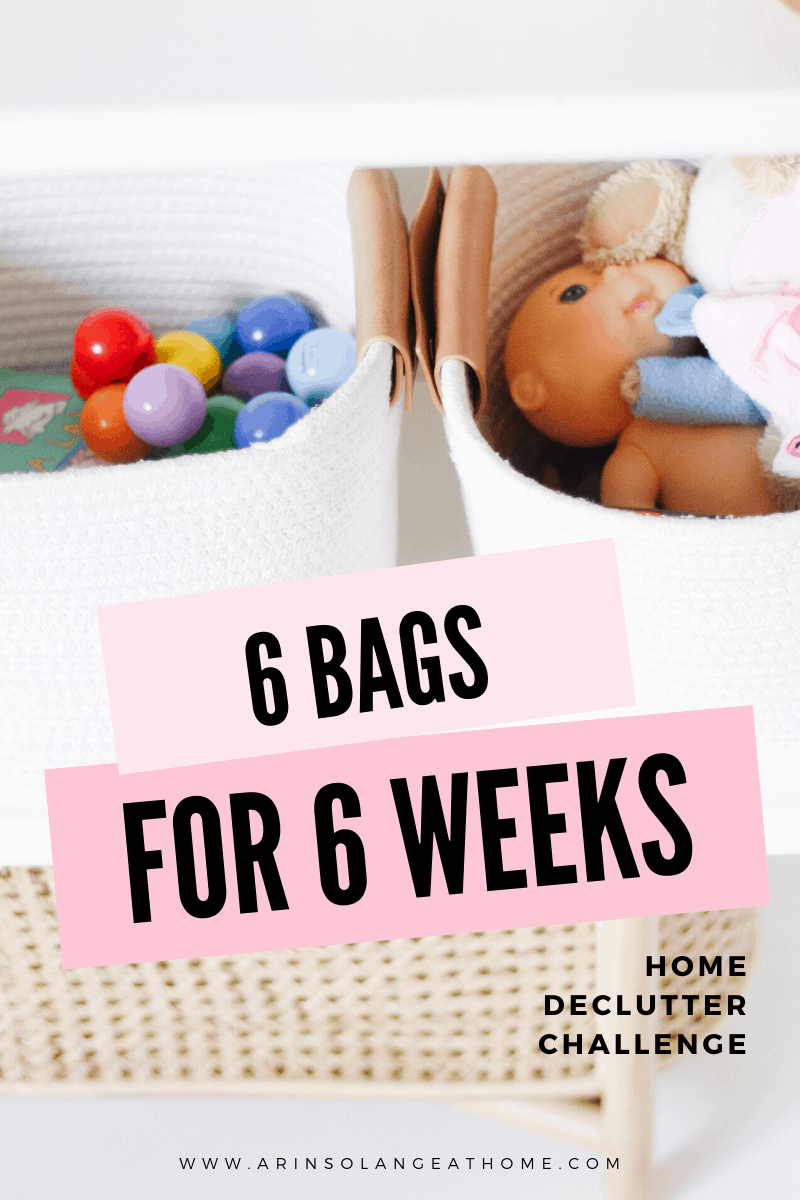 6 Week Home Declutter Challenge
Getting your house down to what you need, and ridding it of the clutter truly will make you feel so much better. I have worked with my followers on some ways I do this over the years, and am always so excited to hear how much they love joining in.
This past month I had started some weekly challenges, and a couple of my followers asked if we could sideline it until the first of the year, which I thought was a great idea.
When I was coming up with my idea, Jen was talking about something somewhat similar, and we thought it would be fun to join forces and offer you all double the resources by doing this together. Hopefully this means double the help, and DOUBLE THE PRIZES.
6 Bags for 6 Weeks Challenge
Here is how this is going to work. Essentially, Starting on Jan 6th we will kick off 6 weeks of working through our homes and decluttering and organizing. You will be setting a goal of getting rid of 6 bags of clutter from your home each week for 6 weeks!
We are inviting you all to join in and follow along. We will be offering giveaways and helpful resources all along the way and will be tracking everything with the hashtag #6bagsfor6weeks
Jen will be offering a calendar of sorts that will allow you to check off the areas you have done, and giving you in depth breakdowns of what areas to declutter and when.
I am also going to offer a document here in this post for you to print out and fill in. This document will allow you to track how many bags you have gotten rid of – for me I am a numbers girl, so I love being able to track just HOW MUCH junk I have gotten rid of. The goal will be to have a minimum of 36 bags sent to donate, sell, or trash by the end of the challenge.
Print your 6 bags for 6 Weeks form below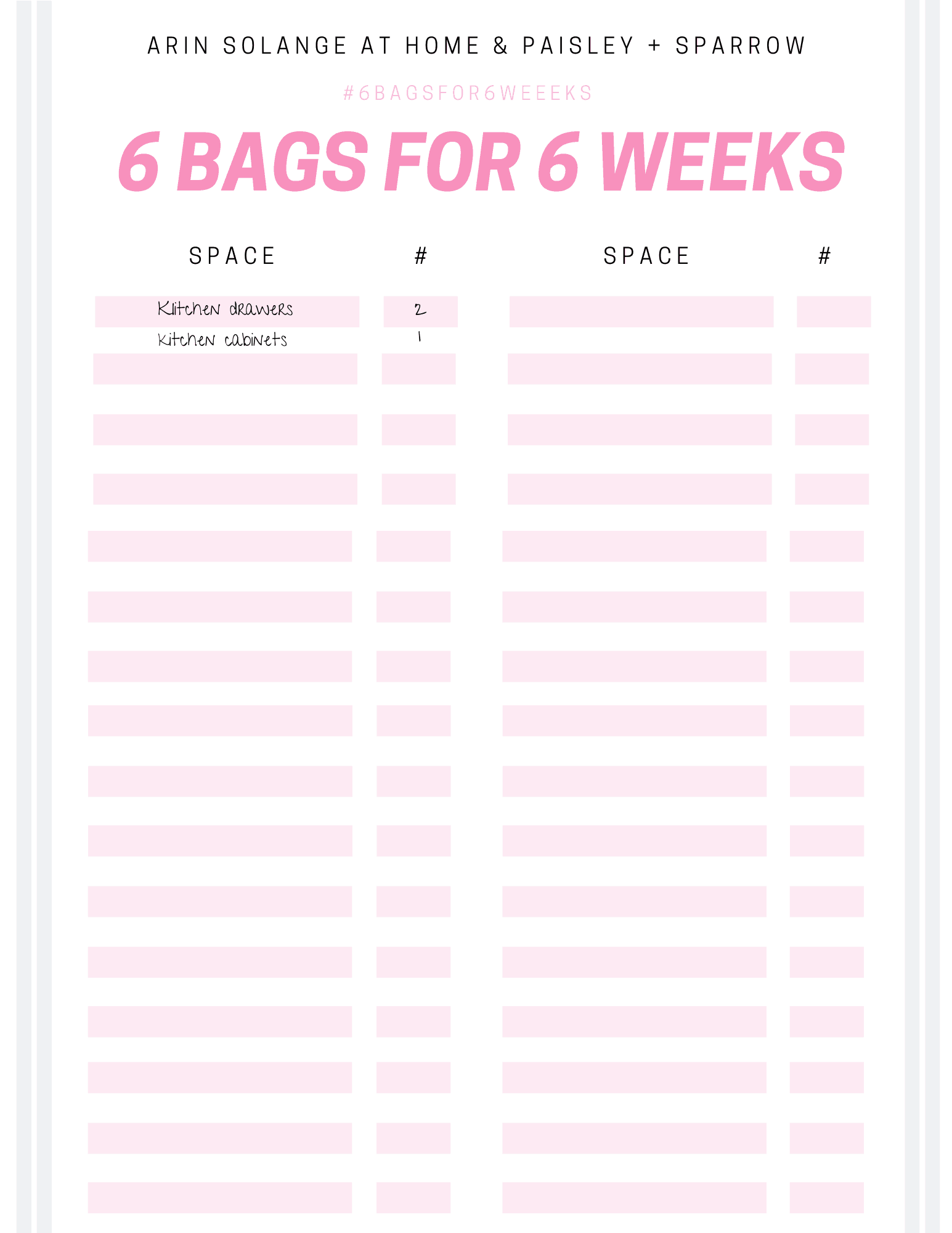 How do you really get rid of that much stuff?
Weekly we will walk you through tips for each area of your home, but essentially you will be doing a method where you:
keep
donate/sell
fix
throw away
With selling or fixing there needs to be a time line of sorts, so one week after this challenge ends you need to have committed to having everything dropped off at a donation site, or picked up. If you haven't fixed it or sold it at that time then it likely won't happen and it's probably time to part ways!
Where to donate or sell
This is a big one. For me I tend to be a bit more ruthless if I know I can sell some of the items I am getting rid of. There are lots of ways to do so, whether its postmark or Facebook marketplace.
When it comes to donating, you can find a local place, or go with smaller places. I personally donate most of my items to a local donation center that directly funnels money back into my kids school. But, as an alternative something we do a few times a year is schedule an at home pick up with the Salvation Army. You typically have to schedule this ahead of time, so you could get online and schedule a pickup for the week of Feb 17th!! This is always especially helpful to me if I know will have larger items, and because I have 1 million carseats in my car!
Where we come in on this home declutter challenge
We aren't going to leave this challenge on here, and leave you high and dry. Jen and I will be decluttering right along side of you, sharing in our stories how it is going. We will also be sharing helpful blog posts each week that will help you take care of the areas you are tackling!
We will also be doing weekly giveaways, as well as offering a grand prize for one person who completes the challenge completely. The prizes will be organization related to help you get those areas that you are ridding of clutter back in tip top shape, to keep them organized.
If you click on the photo below it will take you to Jen's blog where you can print this off to follow along and mark off each area you are organizing. ONE THING – don't get caught up on days. Maybe one area will take you 3 days, but other areas you might finish in 5 min and be able to move onto the next. The big thing is to make sure you mark off each area.
What to do NOW to get ready for this
You have nearly a month before this home declutter challenge starts, but we are purposefully sharing it NOW to give you time to get your bearings and do a few things to get ready. I also wanted to share a few tips of things I do automatically every December, challenge or not.
On top of the tips below, make sure you have your calendar from Jen and your Tracking sheet from me printed out and ready to go!!
To make things a bit easier, if you sign up for our Emails we will send everyone an email a few days before the challenge starts with both items to easily print, as well as a couple of added printable resources that will be helpful during the challenge!
If you have kids, do a toy sweep now. I know that you will be doing it again next month, but I like to get my kids involved I the December toy sweep. We talk about making room for new toys, and donating toys to those less fortunate. It's a great time to get toys to thrift stores for those that shop there for the holidays too. (a little idea – if your kids do the elf on the shelf, our elf brings bags to donate toys every year. He leaves a nice note and tells them it's their task, and that he will take them back to Santa's workshop to turn them into new toys.)
2. Ask for gift cards to organization related stores. Or if you know there are areas in dire need of some TLC, watch for sales this month and grab those great door busters. I shared about these bins I am using for my kids craft supplies, but because the deals are SO good this month, we grabbed several more to use for organization around the house next month.
3. If you asked for and know you are getting something new (like new slippers, or new blender) donate the old now so you have room. Don't try to shove double in your cupboards or closet.
Also, if you are looking for some inspiration on bins to stalk up on, or things you can do ahead of time/ helpful content – all of my Organization posts are linked here. I will reference many of them as we work through the challenge!
Weekly Posts:
Week 1 – Organizing your Kitchen with kids stuff (free pantry basket labels in this post!)
Week 2 – Best Items for Organizing a closet
Week 3 – DIY Wood Closet Shelves – Organize shelves that you love, and do it on a budget!
Week 4 – Living room toy storage
Week 5 – Toy Organizer Favorites and Playroom organization!
Week 6 – Maintaining your Organization and favorite overall Organization items!
Again, like I stated above, this home declutter challenge will start on Jan 6th, but both Jen and Myself will be sharing more and more to get things ready yet this month on Instagram Stories, so be following along with both of us ( @arinsolange and @paisleyandsparrow). We can't wait to have you all joining in with us, and are excited to start the new year off on a clutter free foot with you all!