The only thing better than decorating for Christmas is trying out fun new DIY Christmas decorations. The Christmas season is my absolute favorite time of year to DIY & it's a great way to get the whole family involved! The holidays can be expensive & this is a way to find budget-friendly DIYs. I've rounded up 10 Christmas DIYs you'll love this holiday season.
This post may contain affiliate links.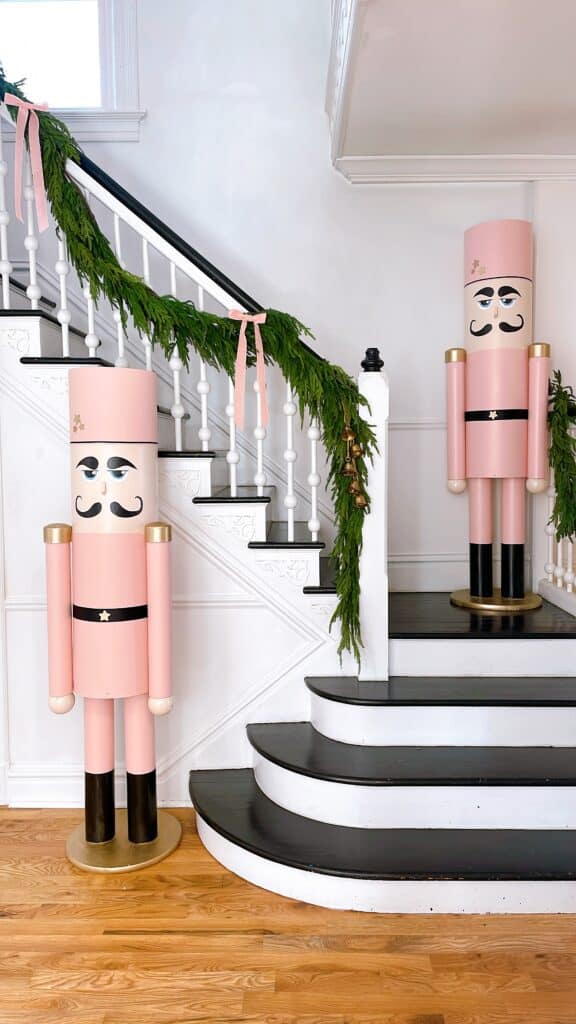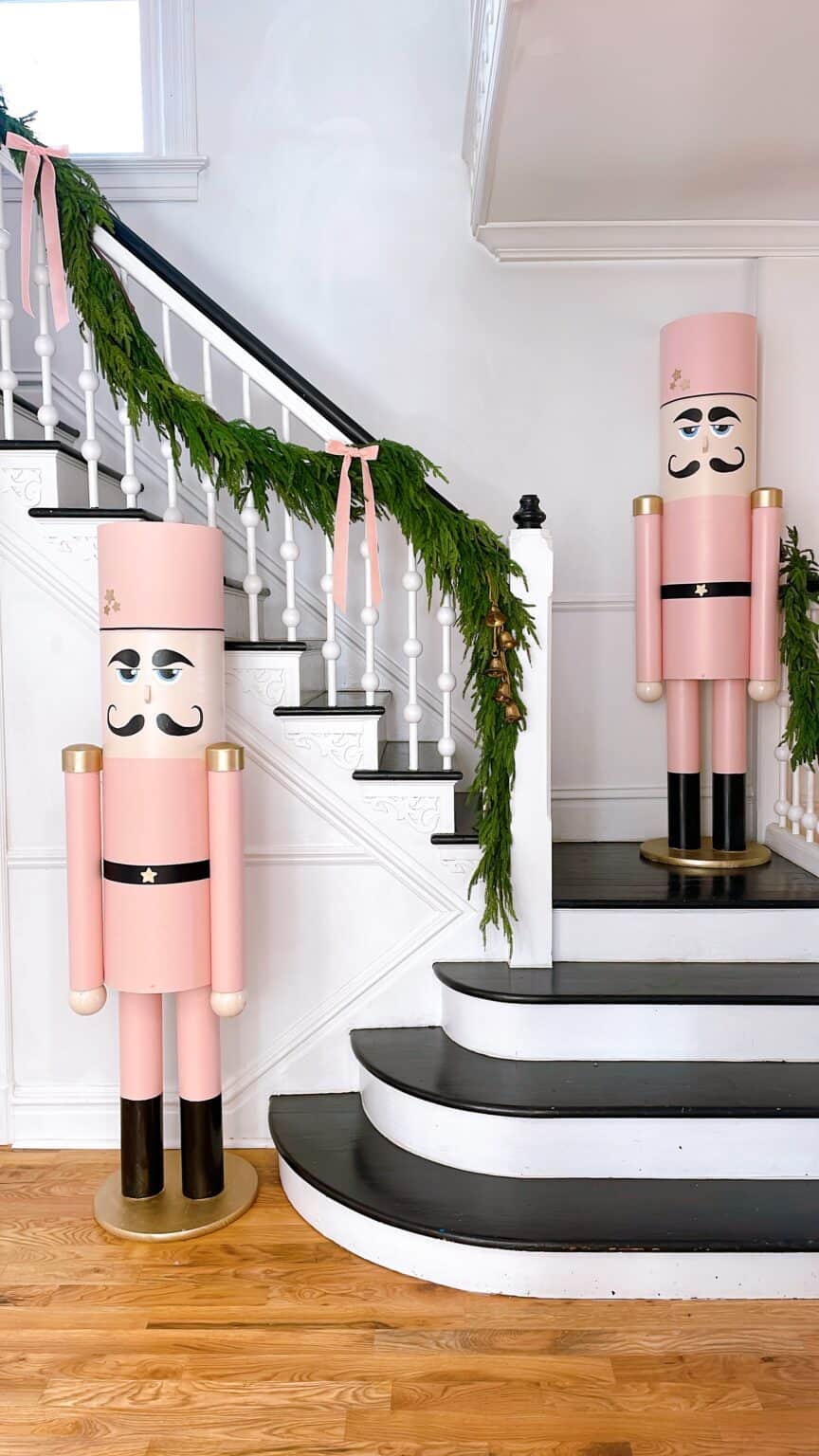 10 Christmas DIYs You'll Love
Nothing says Merry Christmas quite like candy canes, jingle bells, and a home smelling like orange slices and cinnamon sticks. With Christmas right around the corner I'm ready to deck the halls and I'm sure you are too!
These DIYs may not require googly eyes, pine cones or mason jars but save those for another day. Some may be a simple project while others may challenge you. I'm always up for a challenge when it comes to my own Christmas decorations. I think you'll love all 10 as much as I do. If any of these 10 DIYs aren't really your speed check at the bottom of this post for more DIYs I think you'd love.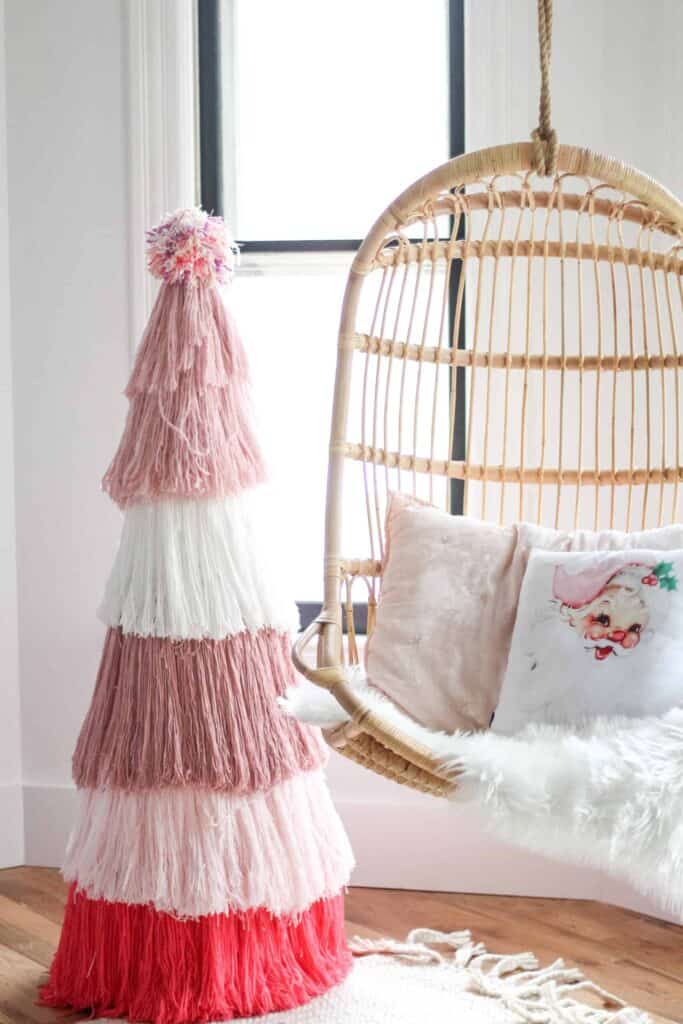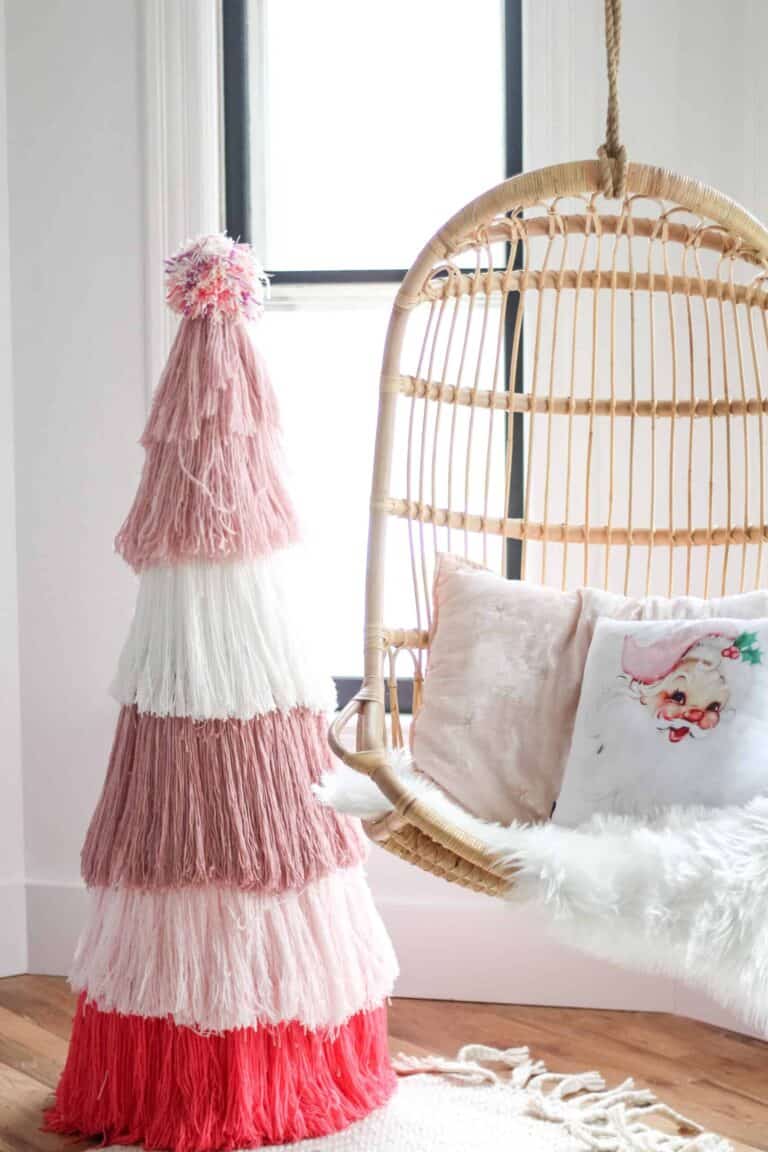 Let's start with one of my favorites that I made for my daughter's room! Of the 10 Christmas DIYs you'll love, this DIY Christmas tree is by far the most complicated. If you are looking for an intermediate level project this tree is such a fun way to add bright colors to any room. I have a video linked in my blog post that I suggest watching before you attempt this one. It's a short video where I share a lot of the process to hopefully make it a bit easier.
This is a great way to incorporate colors from your already existing color scheme in your christmas decor. I can envision one of these in each of your kids rooms with coordinating colors to their room. It may take a lot of patience but the outcome was well worth the work and Avé loved it so much!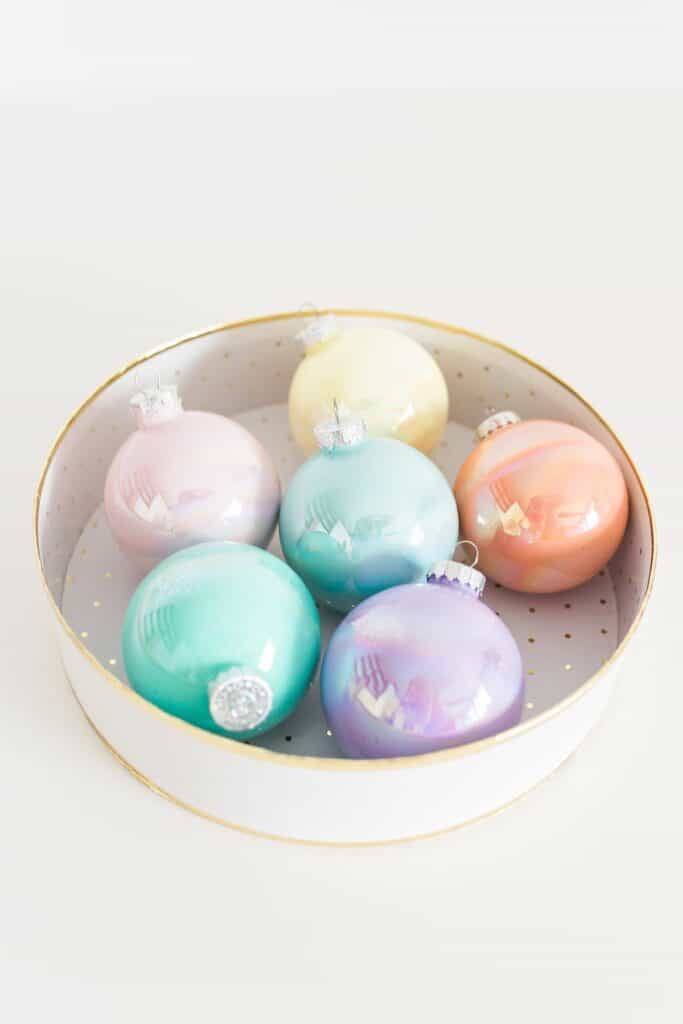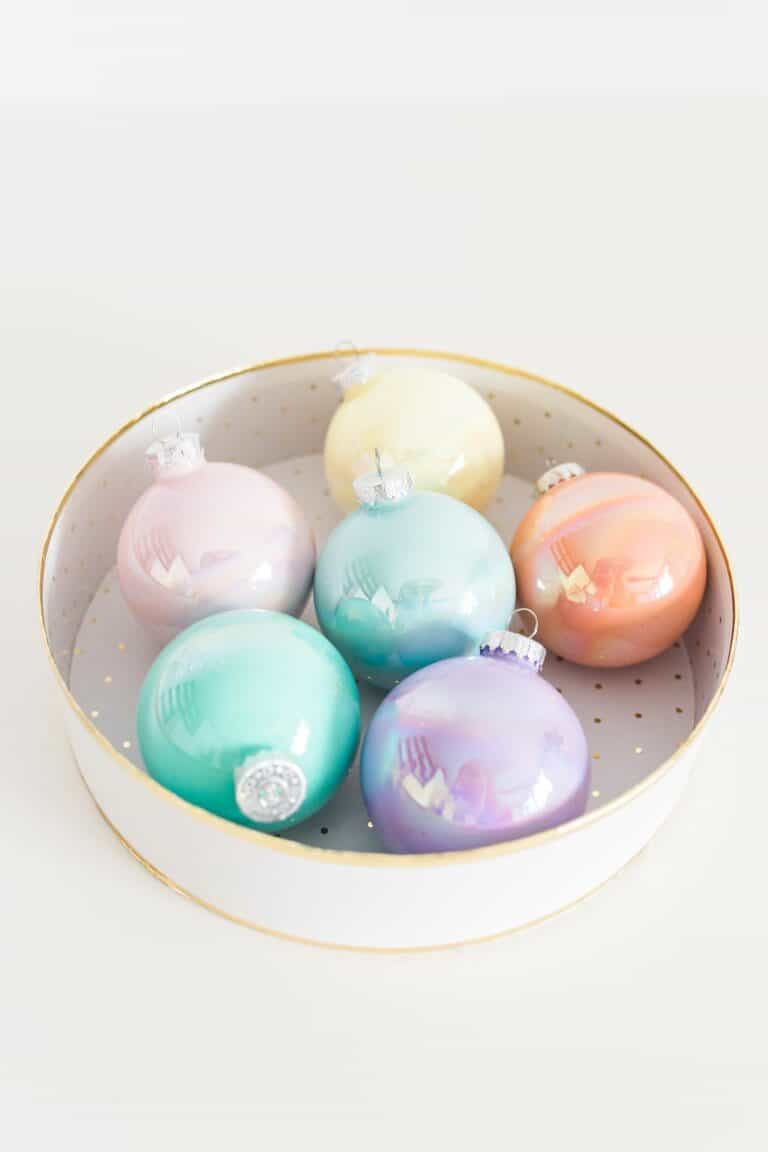 On the opposite end of the spectrum, this next project may be the easiest among our 10 Christmas DIYs you'll love. These easy DIY Christmas ornaments are a fun way to get the whole family involved! This is a budget-friendly DIY that allows you to match your tree decor to your home decor. It's just 4 easy steps- so grab your ornaments, acrylic paint and get shaking!
What I love about this project is you don't have to be crafty to do it. In fact, this is the perfect project for young kids. If you want to take it up another level try adding a little bit of glitter to the paint for some super cute glitter ornaments.
If you've checked out my easy DIY life size nutcracker tutorial, you'll notice that I used these for our Nutcracker's hands.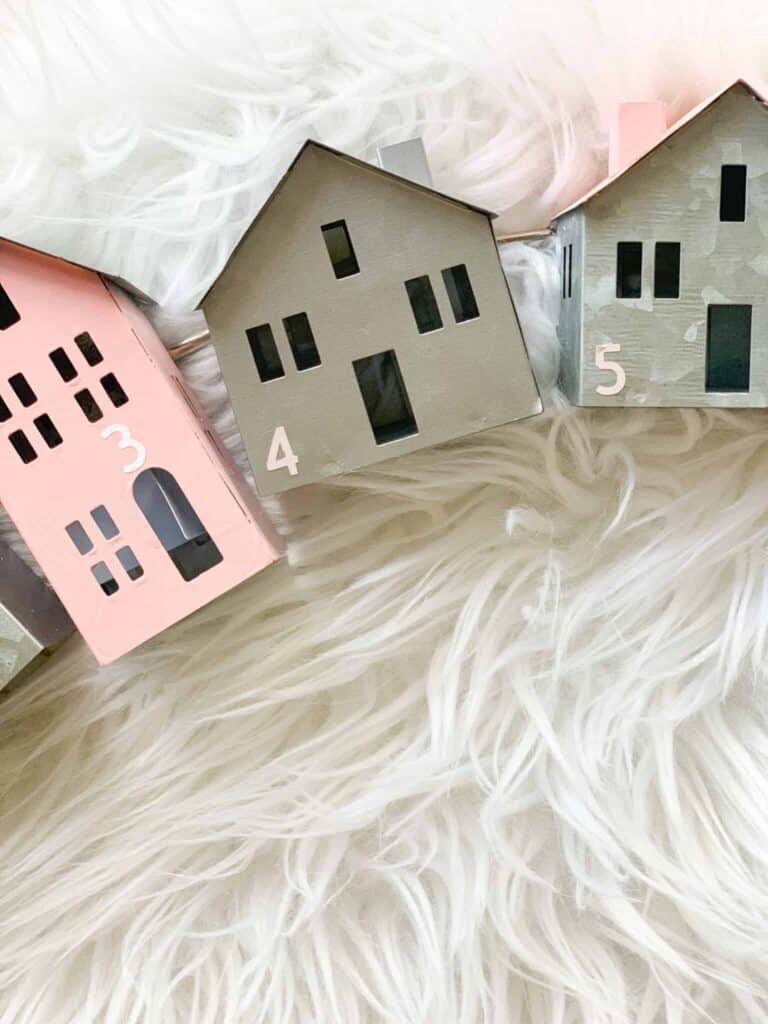 If you love your Cricut as much as I do, here's another excuse to pull it out and use it! Or, if you've been eyeing a Cricut here is another reason to get one. They make a great Christmas gift or gift to yourself. You can use them for a variety of projects like labeling for storage, crafting all the things, your kids' school supplies and much more. If you're new to the Cricut or want a refresh I have several blog posts on all things Cricut. If this is your first time using the Cricut, start with this post. 
Advent calendars are such a fun tradition to add to your home. If you're not familiar we use it to countdown the days until the 24th of December. Some people do a gift each day but we do a mixture of an activity or small knick knack each day instead. It helps to get our whole family involved during such a busy season.
This is not only an easy Christmas craft, but also a fun way to get my kids involved in the fun too. If you need some great ideas to put into your new advent calendar, here are a few examples of different things we've used in the past: driving through Christmas lights, tickets to a local holiday event, or a pizza & movie night as a family. We number each slip of paper and each day someone gets to read the activity of the day. You can make the advent calendar be as budget- friendly or spend as much money as you like. I love how personalized you can truly make this.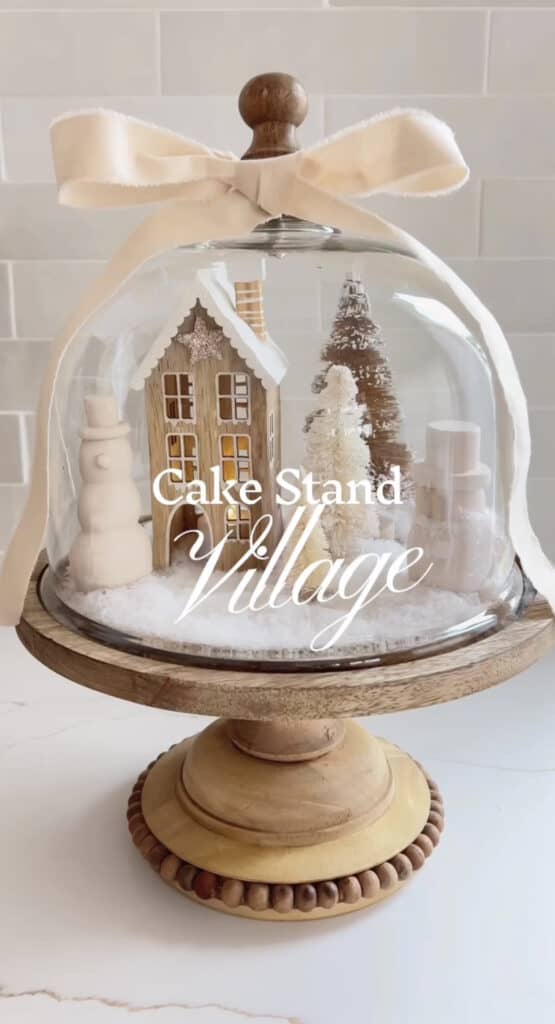 My girl Stephanie Hanna always has a great DIY for any holiday. This cake stand village with a ribbon bow and minimalist decor is a perfect way to use things you might already have at home. Check out her video where she shows you how you can make your very own.
This is another Christmas DIY that you can make budget friendly by heading to the dollar store for any supplies you might need. You can easily create scenes from a winter wonderland out of a snow globe or even Santa's workshop.
If a village sounds too daunting, you can always stick to various shades of colors of trees made from bottle brushes. Bottle brush trees are another great DIY that are versatile, inexpensive, and on trend! To see how you can make your own version, check out my post here.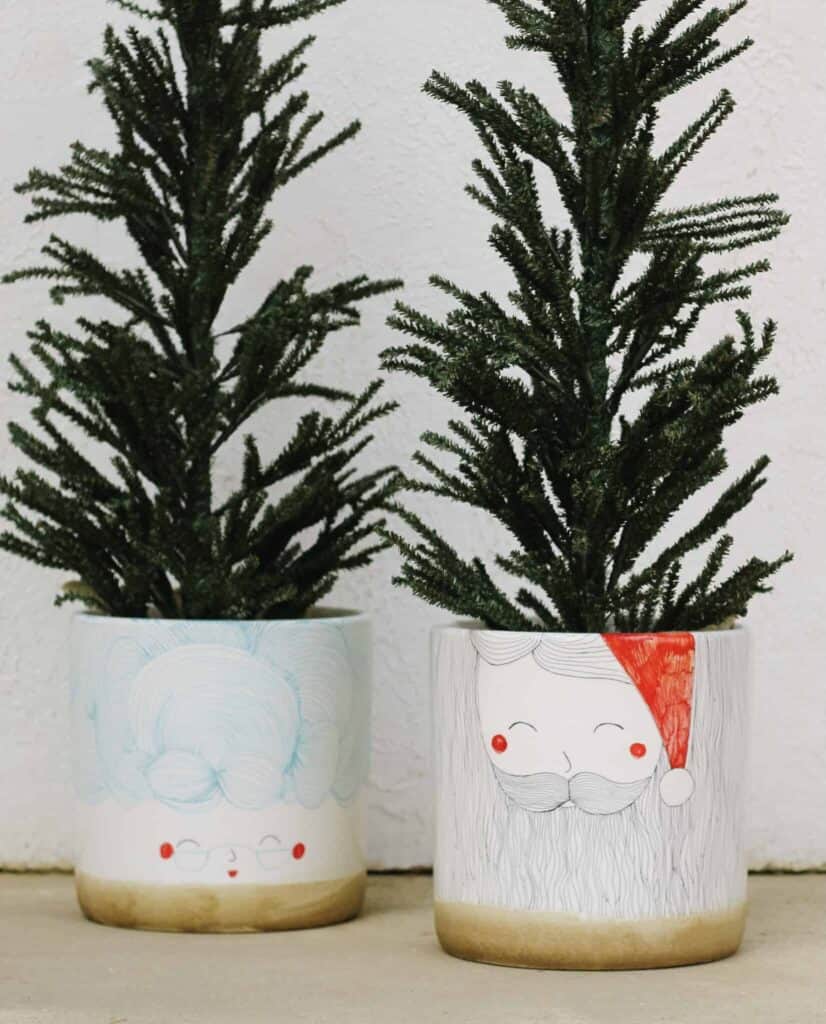 Who doesn't love a good Santa moment? I had no idea how challenging it would be to find a Santa planter at the store. Of course if you're a DIY dreamer like me, that gave me motivation to make my own.
I got my inspiration for the design from Anthropology plates that I love. I think making the outside of your home decorated is just as important as the inside. My kids love to see our home decorated for each holiday when we come home. These make the perfect front door christmas decor and were such a fun project. This DIY requires free hand drawing but I have a video for tips on how to get started. See my post here for all the details.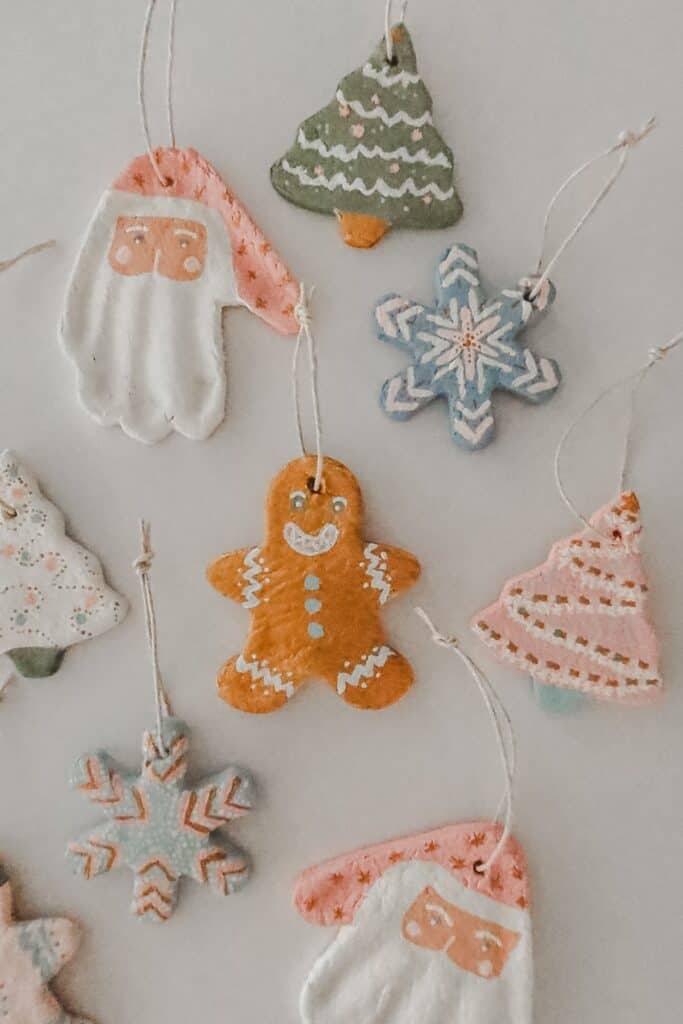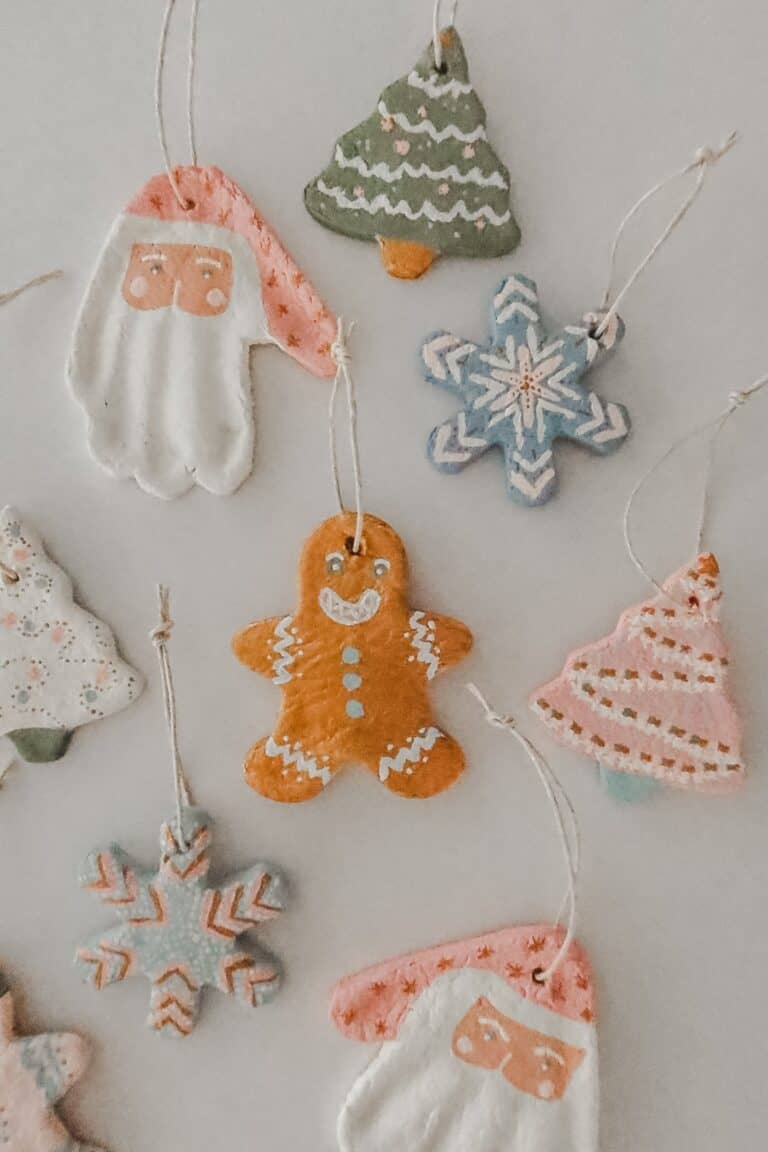 Did anyone make these salt dough ornaments as a kid? This is for the sentimental DIY mama out there that wants to make memories with your kids. Target has the cutest cookie cutters right now and these would be absolutely perfect. If you don't want to grab cookie cutters, using your child's hand print is another great way to remember their age during this season.
Nothing is cuter than a homemade Christmas decoration from the kids to their grandparents. Kelsey Bang gives you step by step on the 3 ingredients and all of the supplies needed to make them. You can make this custom to your color scheme and put personal touches on them as well. To go even another step above you could add gold spray paint too.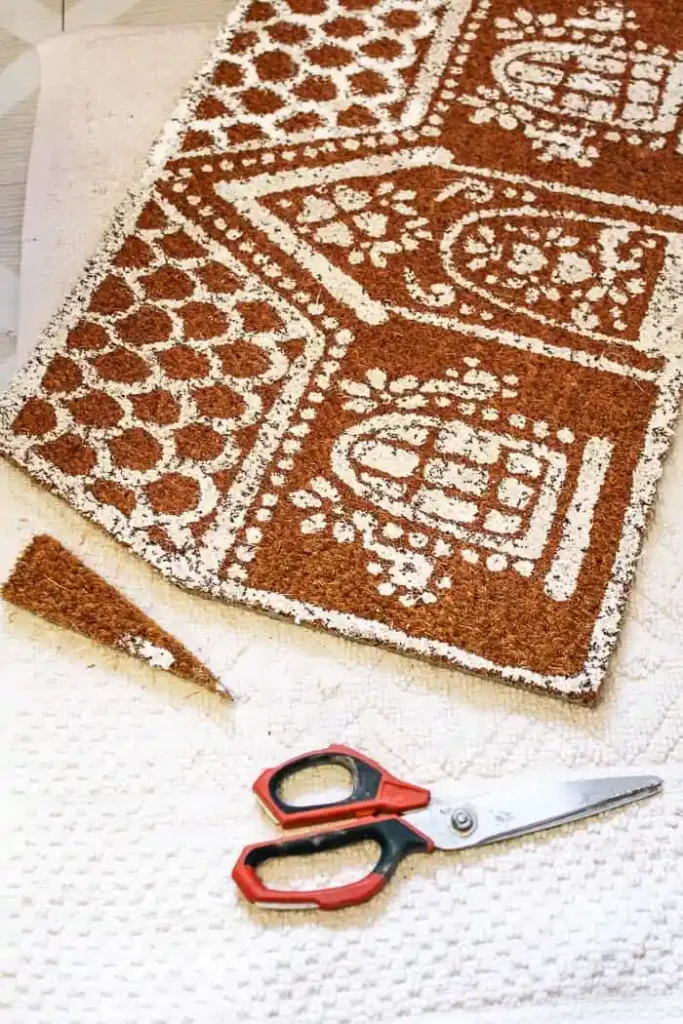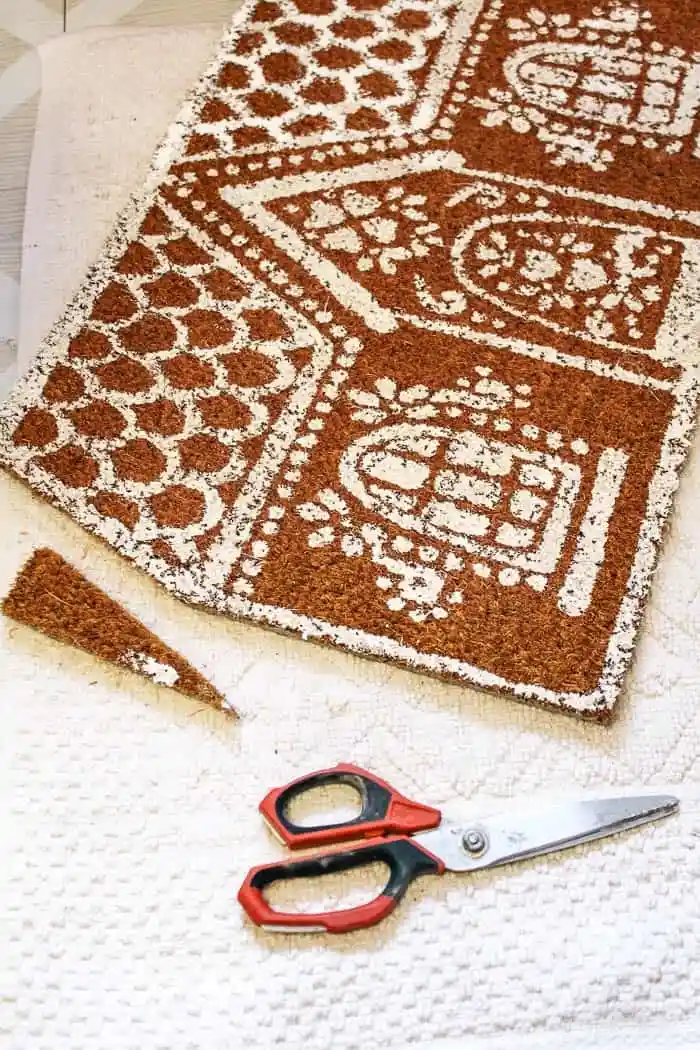 Another Cricut project? Count me in! I saw this Anthropologie inspired DIY Christmas doormat from At Home With Ashley and fell in love! This is a great time to play around with your Cricut and try new things. She notes that she is at beginner level, but this project is not so make sure to read carefully before starting.
With only 5 steps to make this great gingerbread doormat, it can't be beat. On the plus side, it is also budget friendly and the perfect addition to your front door. She has a video tutorial giving an overview on everything she did. Be sure to check out her video before getting started.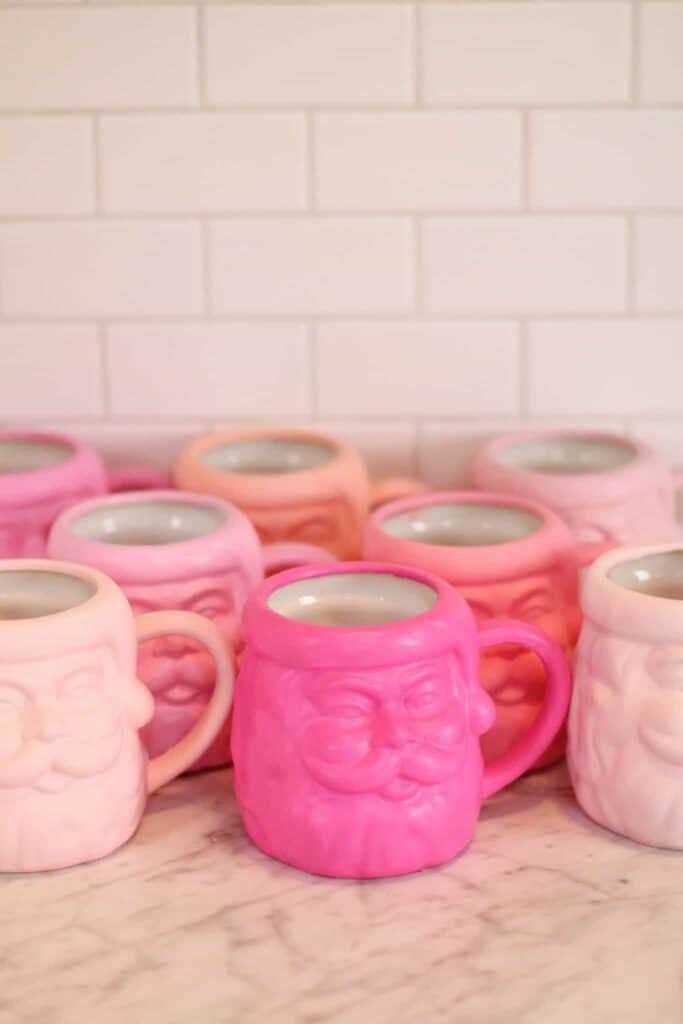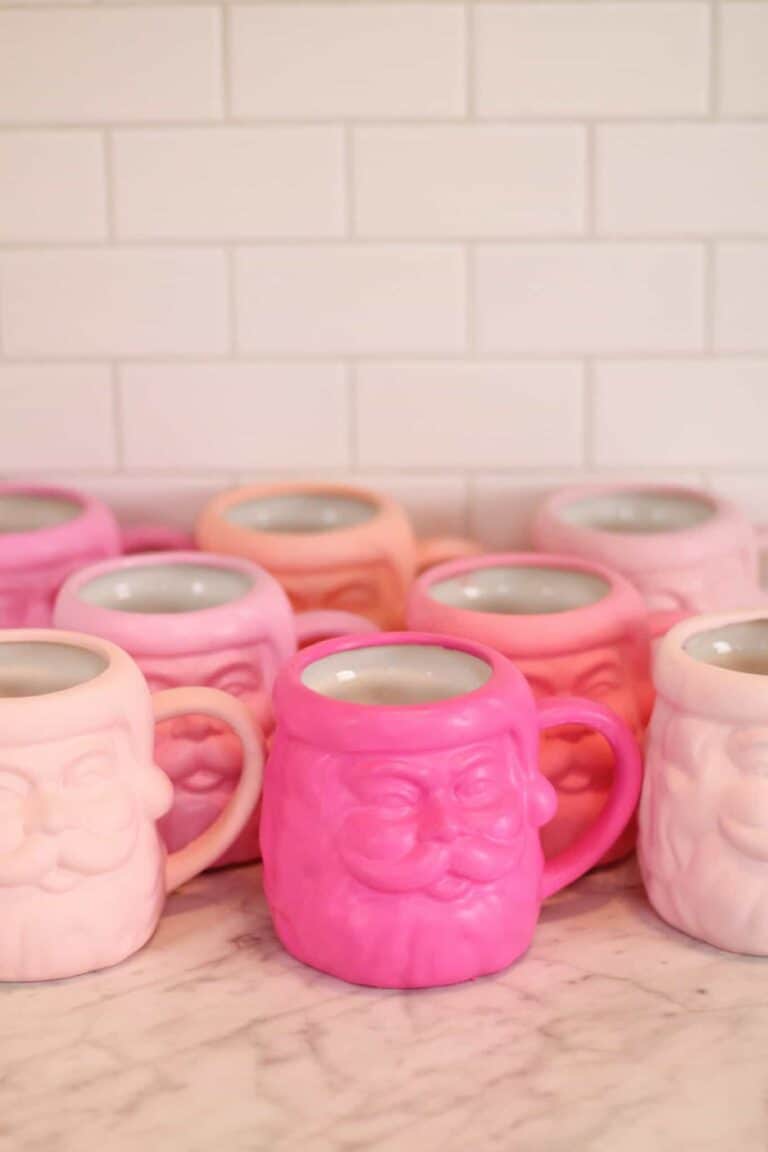 If you could describe a person in a color my color would be pink. I love the color pink THAT much! So what is better than a Santa mug? If you said a pink Santa mug then you are correct!
I've been seeing these Santa mugs all over the internet but of course pictured them in pink. Before getting started reading my entire post is a must because this was a trial and error DIY.
I tried several types of matte paints before finding one specific paint from Target that did the trick. This is another creative way you can use different designs and pick the color scheme that goes best with your favorite decor. These would be a great hit at a holiday party with friends or fun holiday crafts night with your girls. If you do that, please invite me!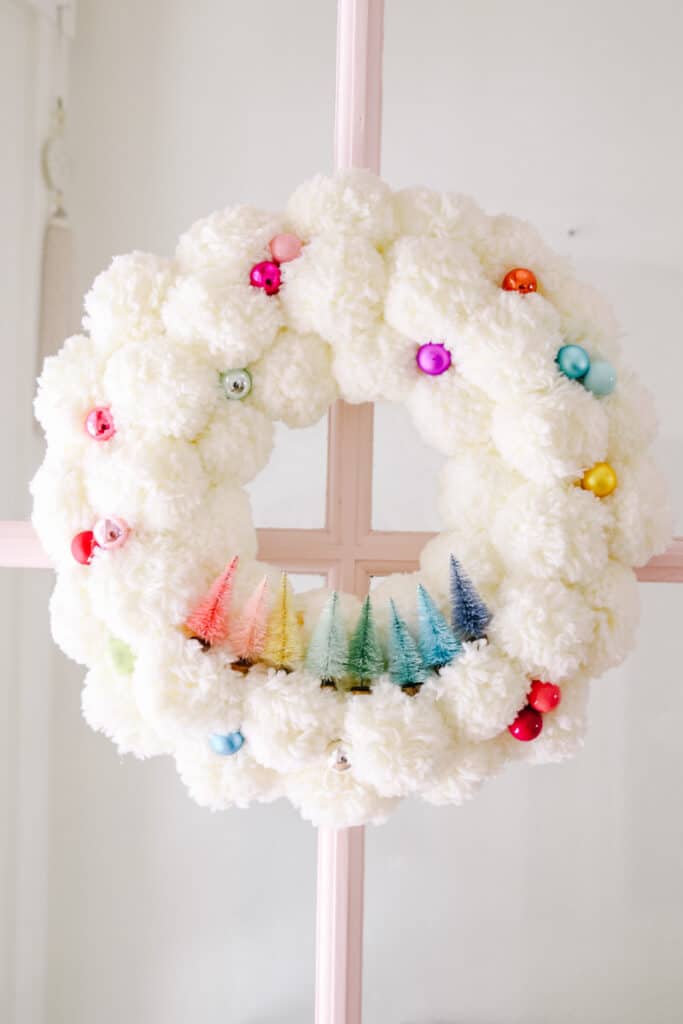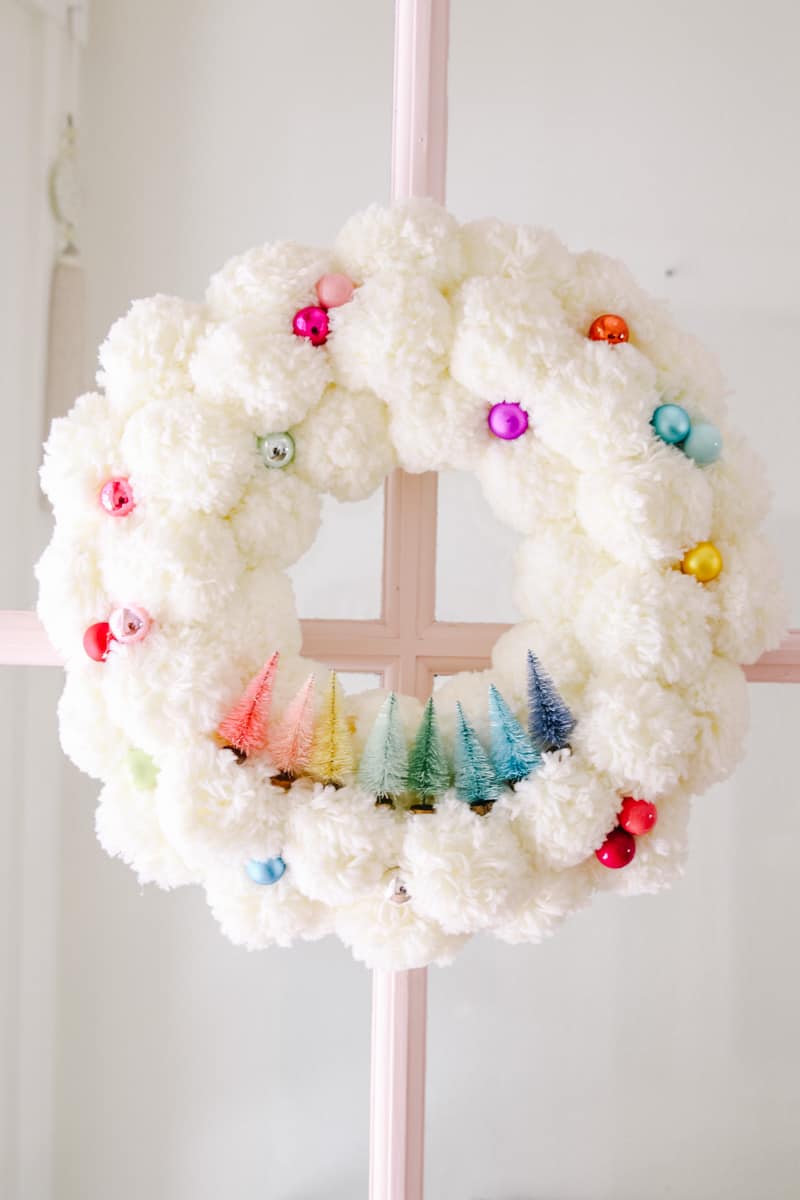 Here's another great DIY that could be created to match the decor in your home.
You'll need to have a hot glue gun handy along with some yarn, and any other fun embellishments you'll want to add.  With a dab of hot glue or a little more you'll be on your way to making the cutest pom pom Christmas wreath. 
Modern Glam gives a step by step tutorial on how she did it. She even mentions repurposing another wreath she already had at home. I personally love the look of all white poms but you can pick any color for your poms. What I love most about DIYs is that everything can be customized. This makes the perfect Christmas craft to have your littles join in on too.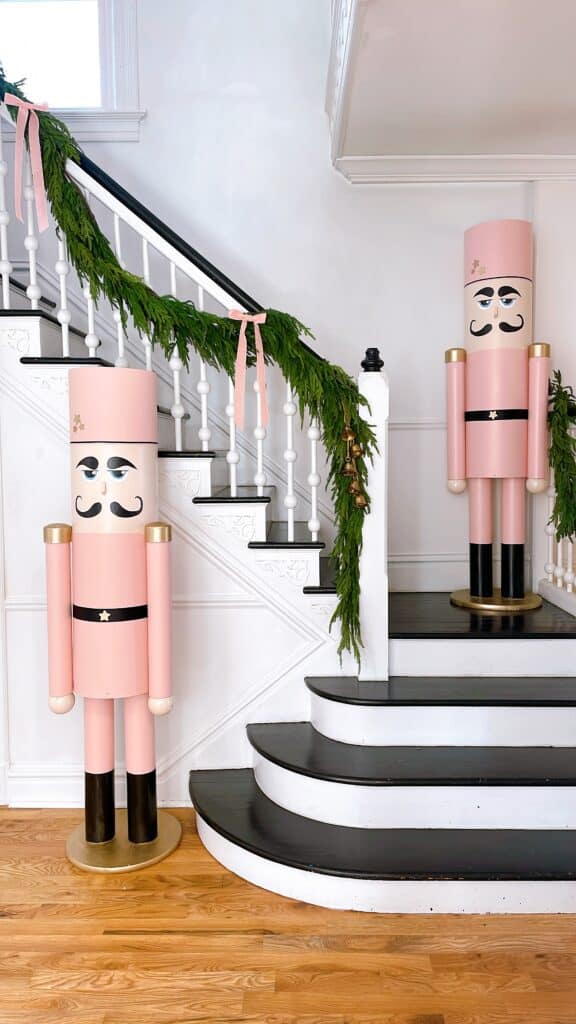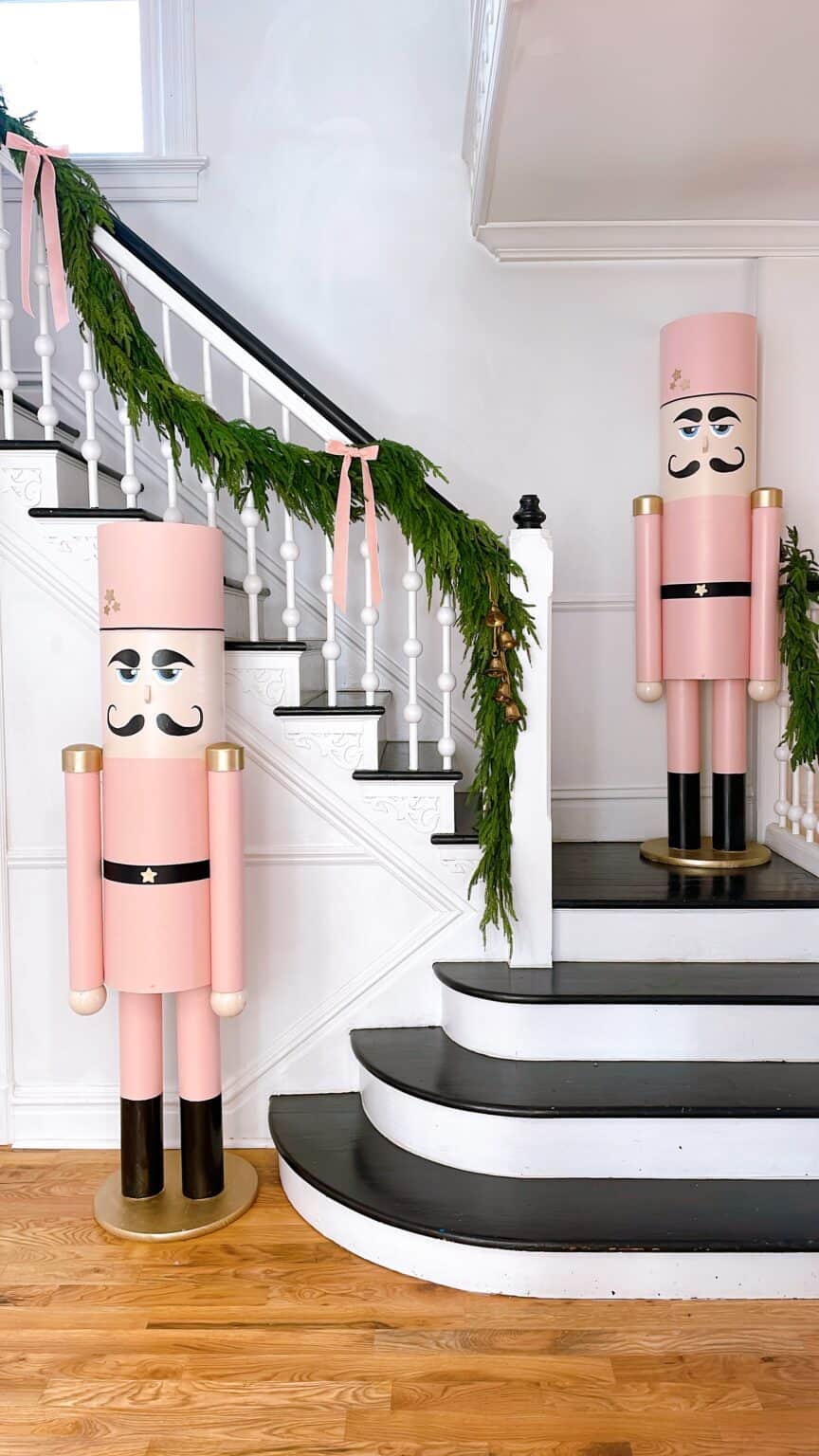 I'm pretty sure this is my all time favorite Christmas DIY that I've ever done. I've been seeing life size nutcrackers everywhere, but didn't want to pay the price tag for one. In true Arin fashion I also envisioned not one but two nutcrackers. My inspiration was a beautiful piece from Frontgate, but I could never justify the price. At first, I was extremely intimidated by this DIY, but this ended up turning out to be so easy. I'm only wishing I would have done it sooner.
I ran to our local store to get all the supplies needed and turned these into one of my favorite Christmas decor ideas of all time! I give step-by-step instructions on how to do this and it's super affordable. Again, we all know how much I absolutely love the color pink. Doing it myself gave me the ability to customize this to whatever color I wanted and it matches my current Christmas decor perfectly.
I spent under $100 per nutcracker and this only took Sam and I a weekend to get it done. These nutcrackers are the cutest greeters at your front door and are the perfect way to make any porch say, "Merry Christmas!" I also posted this to my Instagram with a video tutorial of how I did it!
Other Posts You'll Love
Neutral & Pink Christmas Decor | Bottle Brush Tree DIY | Merry & Bright Decor
Pin This Photo Below For Later
I hope these 10 Christmas DIYs you'll love and put you in the holiday spirit! My best advice if you're new to Christmas crafts is to pick one and just have fun! If any of the 10 I shared above aren't what you're looking for, check out my other posts on my blog. I have a lot of DIYs to get you in the mood for this time of year. The holidays are such a busy time. So, if you want to slow down and enjoy your family, but still have a fun holiday craft, then grab a gingerbread house kit at your local store instead. If you have any questions, feel free to leave them in the comments section or DM me on Instagram. I share many more projects and products on both Instagram and TikTok so be sure to follow me in both places!