Pedestal sinks can be SO pretty, but can we please talk about the fact that in the bathroom we basically always need storage solutions? I am rounding up all the best pedestal sink storage ideas in this blog post to help you stay organized with the functionality of a pedestal sink.
This post may contain affiliate links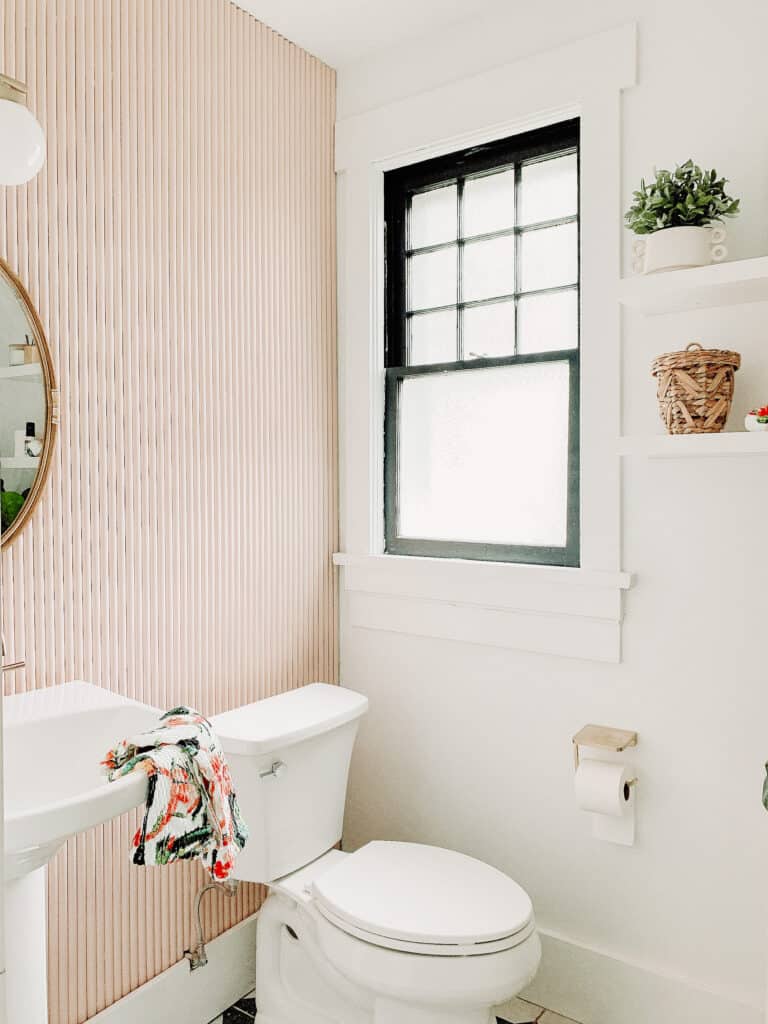 Storage 101: Pedestal Sink Storage Ideas For Stylish Homes
We recently moved into a new to us house, and after a good four years without a pedestal sink we are again the proud owners of one. My husband, Sam and I are currently renovating and updating an 1860's home in a quaint area of St. Louis, but that means some interesting sized rooms and spaces.
Our main floor powder room is one of those 'strange' spaces. When we purchased the home it was a full bath, but we renovated it to be smaller, which isn't the normal move by someone, but we needed the space for our kitchen. Due to reducing the space the logical answer was a pedestal sink.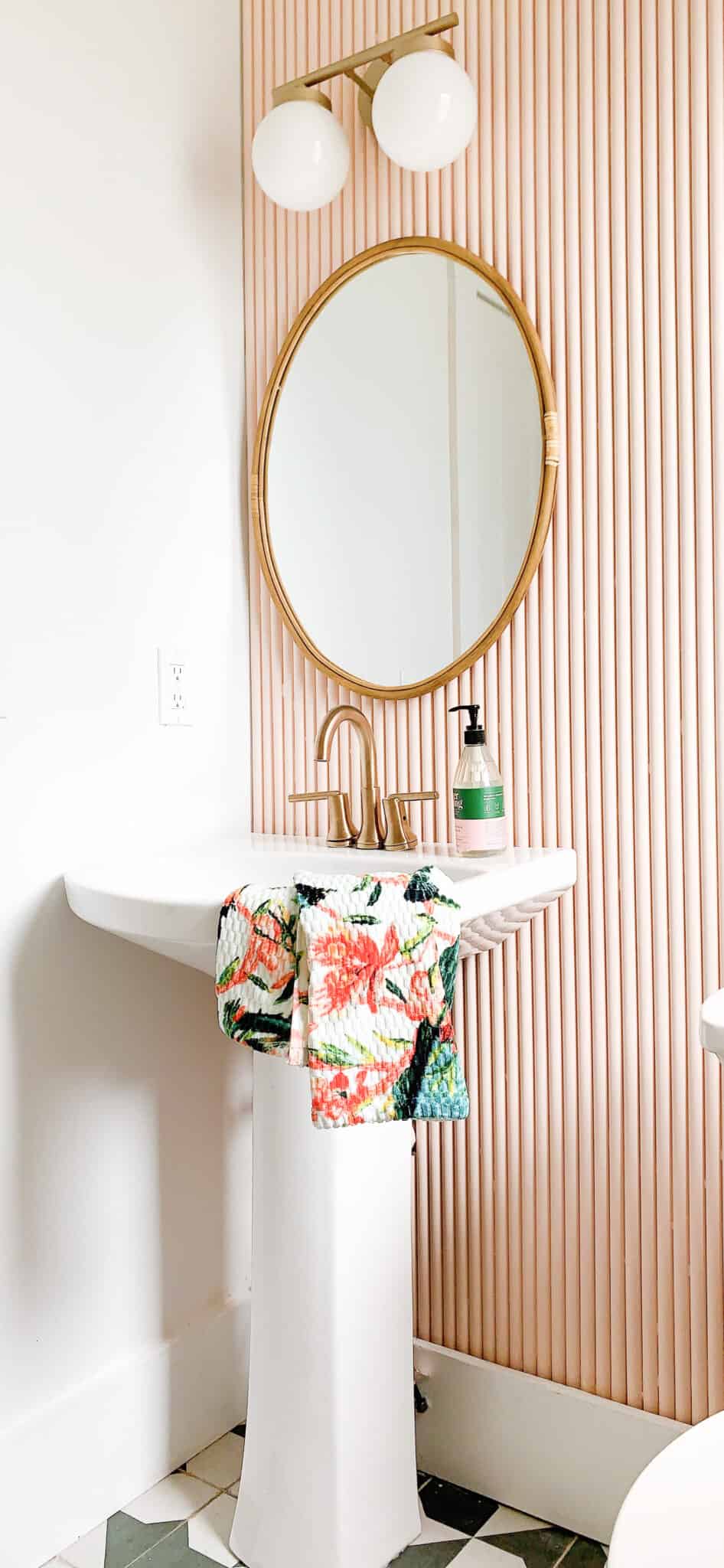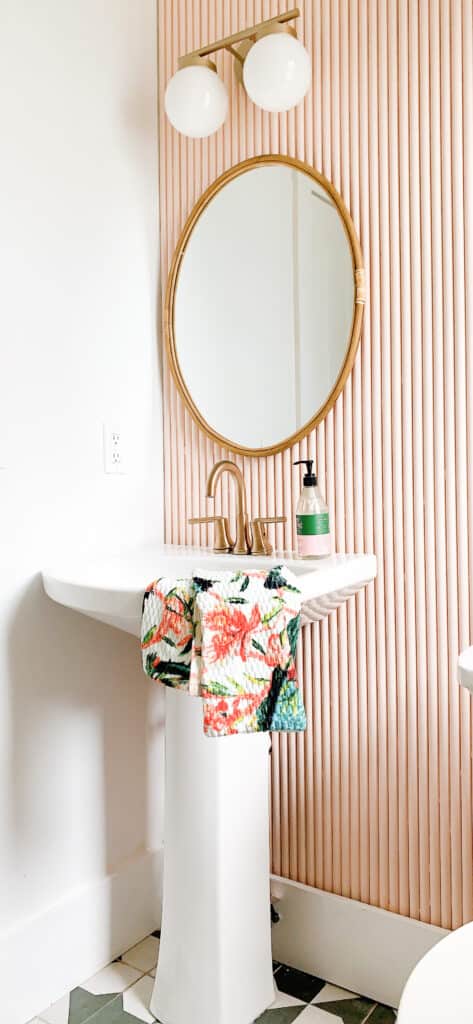 There are several different options for bathroom storage ideas for a pedestal sink. Still, sometimes have to get creative to have enough room for everything you should have for a functional room.
Those needs change based on what kind of bathroom you are stocking. If your pedestal sink is in a full bath that you use for daily getting ready you will need more storage than if it is a powder room for guest bathroom.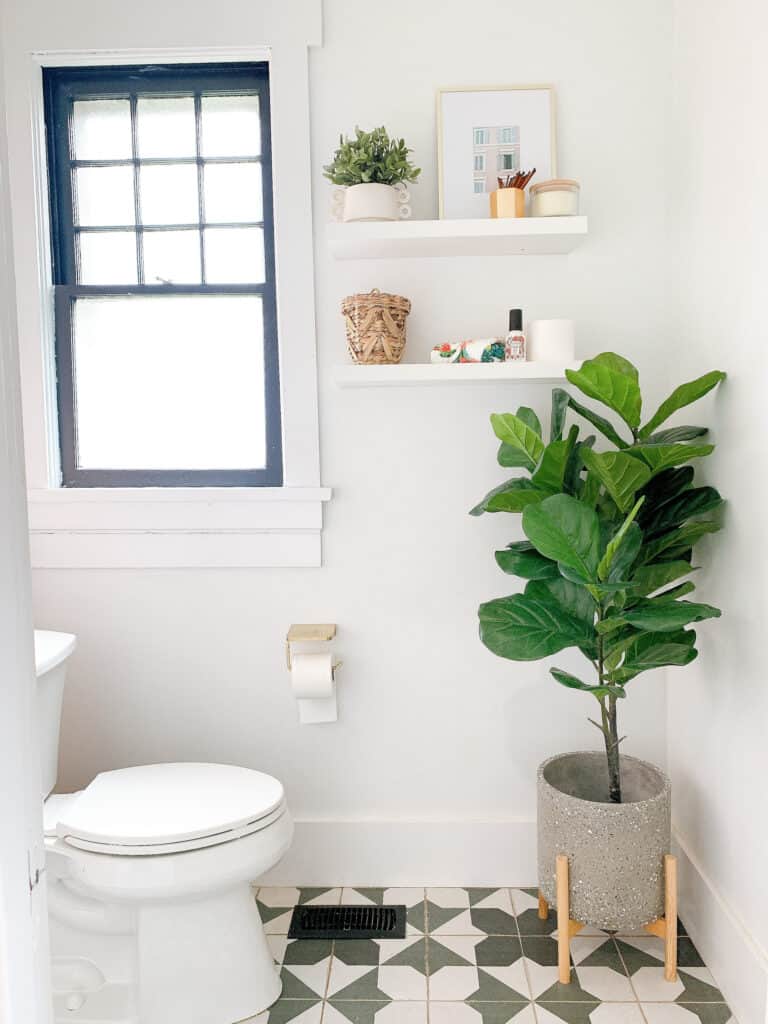 Pedestal Sink Storage Considerations & Ideas
Depending on where you sink is located, you'll have different needs to make your bathroom functional. The obvious call is a toilet paper, but there are other things that I think should be in a bathroom vanity cabinet, especially if anyone other than yourself is going to use the bathroom. Below is a good list of items to start your thinking on what you might want stored in a bathroom sink cabinet so you can gauge your storage needs.
Toilet Paper
Feminine hygiene products
extra soap
an extra hand towel
potpourri
air freshener
Again, these are [mostly] all optional things to have in a space guests would use, but might get you thinking.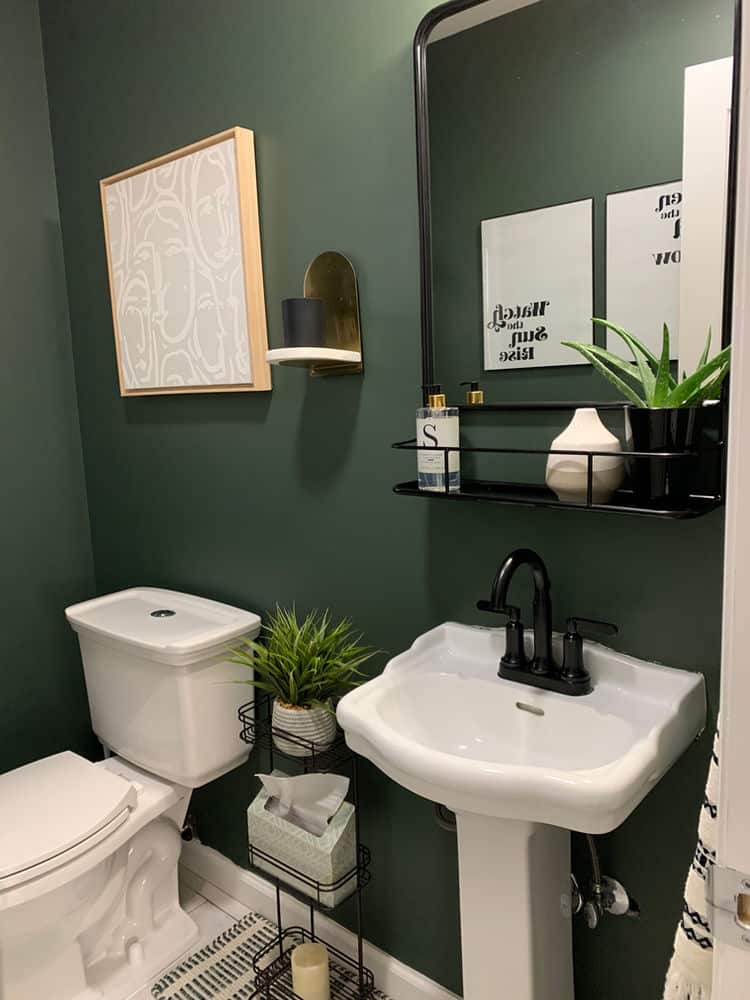 Open Shelves
One option for adding storage into many bathrooms is to incorporate some floating shelves. Luckily, right now that is a pretty on trend way to decorate, and it gives you the counter top space you are lacking due to the pedestal sink. You can easily include decor on your shelf that not only makes your space functional, but also stylish.
If you install floating shelves, naturally integrate decor with useful items onto shelves like I did below, For us we used a small basket to hold feminine hygiene products and a little jar with matches which is both useful and emphasizes the decorative aspect of your space.
Be sure to install the shelves in a place where you or your guests won't hit their head or shoulders.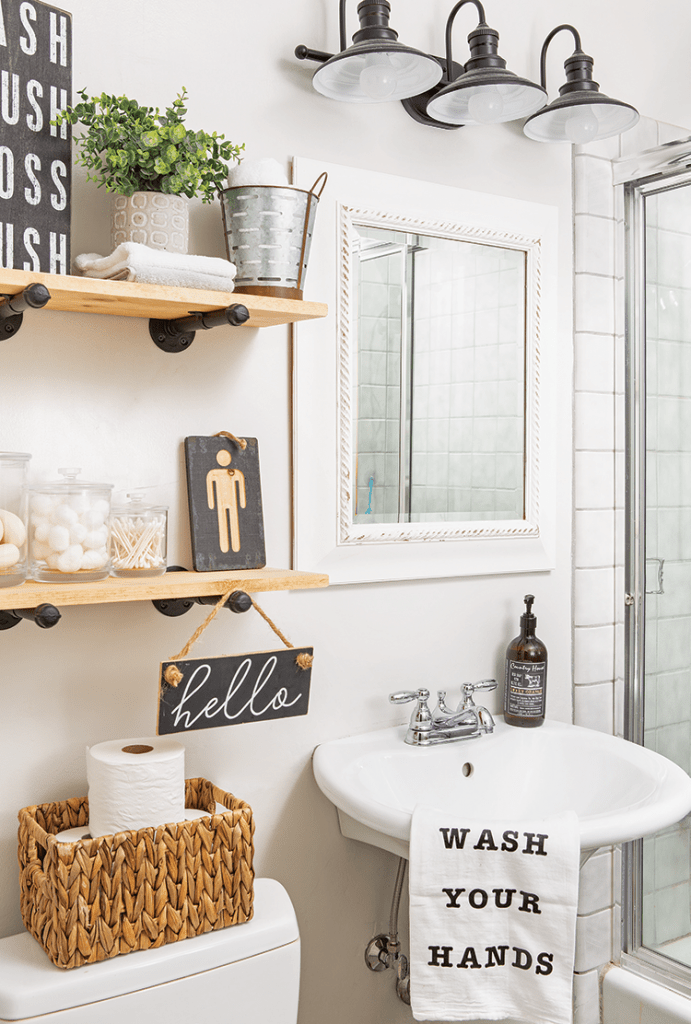 Hidden Shelf: Medicine Cabinet
Another great option that works well for anyone with a tiny space is to opt for a medicine cabinet. Our 150 year old house had medicine cabinets in all of our baths due to the small sizes. To help our space function well for a family of four, we are choosing some variation of the cabinets to remain.
When it comes to small spaces it is especially important to utilize unused space that would otherwise be completely wasted.
This is a helpful way to store beauty products, and small bathroom items while retaining a very clean look. I have rounded up several of my favorite more stylish medicine cabinets in this post because they have been on our list for a while.
In our guest bathroom we opted to do this mirror instead of the medicine cabinet, but have found that to be really helpful as well. It creates a level of storage without being so hard to install and find for the space.
Bathroom Wall Cabinets
Another option that I think can be tricky in execution (in terms of making it look great and be pretty) is a wall cabinet. The perk to something like this is it can create substantial storage space for things like cleaning supplies.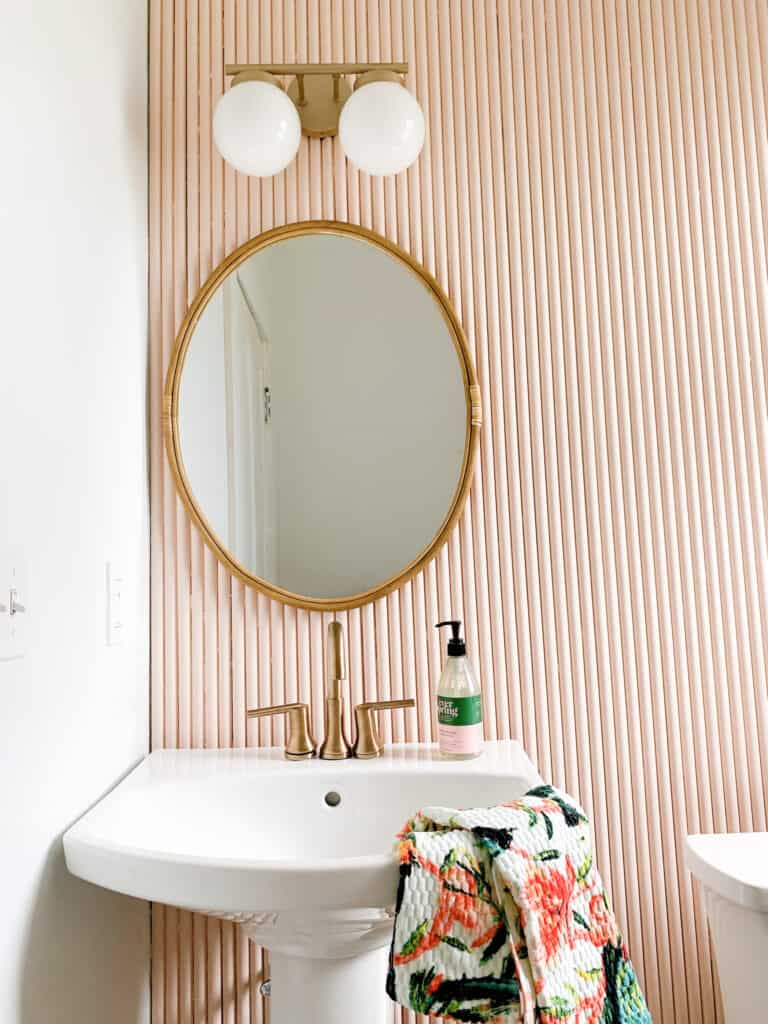 Overall Small Solutions
Another option for organizing your small bathroom is to add some smaller aspects that combined will give you most of the storage you might need.
1 – Toilet Paper Stacker: This can be a great solution for storing extra rolls of toilet paper. You can actually have one that both stores extra toilet paper and works as your normal toilet paper holder in one. Dual purpose is always helpful if the room is small.
2 – Wicker Basket – our guest bathroom has a TINY vanity and because of that there is no room for towels. We have tackled that issue with a lidded basket to hold all of our towels. It works great, and looks great at the same time.
3 – Door Hooks and Organizers – Bathroom door hooks are super great and important for storing towels and such when guests come if it is a full bathroom, but an extra option is to leave a hook and have something like this with hair brushes and hair tools that you can bring out if guests are coming.
If it is a bathroom you use daily, although it isn't always the perfect solution in terms of beauty, you can have something like this hanging organizer for bathroom storage too. This would take the place of everything that normally goes in drawers and gives you great vertical space with easy access.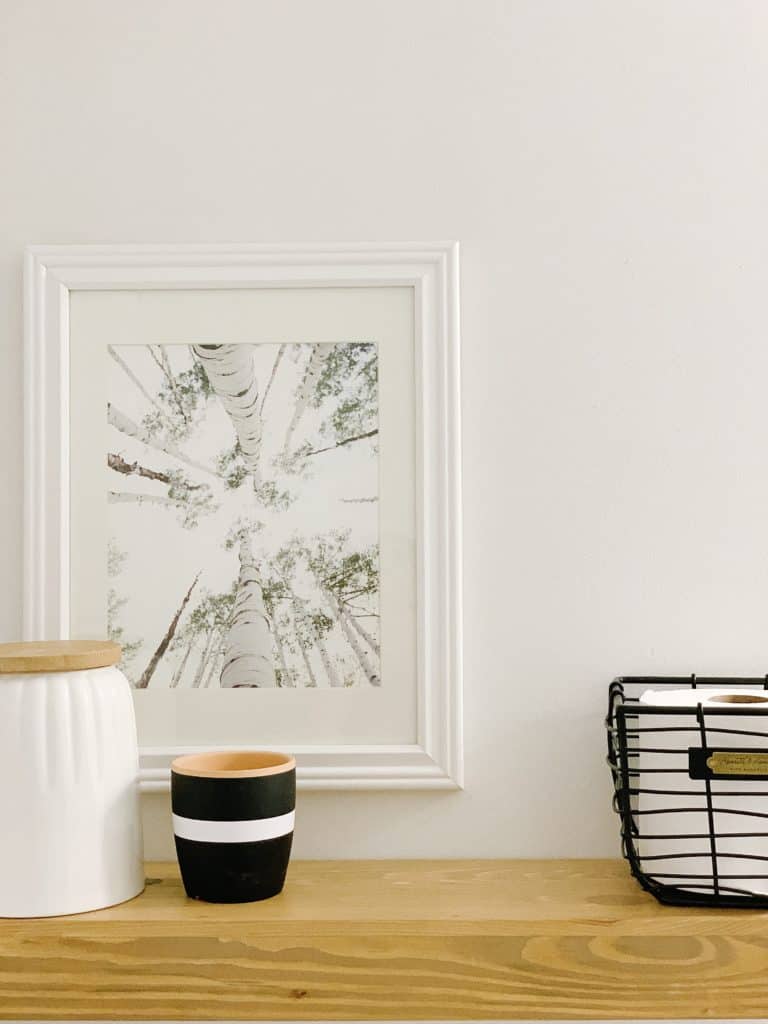 My Favorite Items for Pedestal Sink Storage Ideas
Below are my favorite pedestal sink organization items that you can find all on Amazon. Although organizing a room with work is important, it is impossible to keep a space looking and functioning well without the right items to help you.
The items below are wonderful and affordable but if you want to find other great Amazon items for your house you can check out these posts, or my Amazon store front!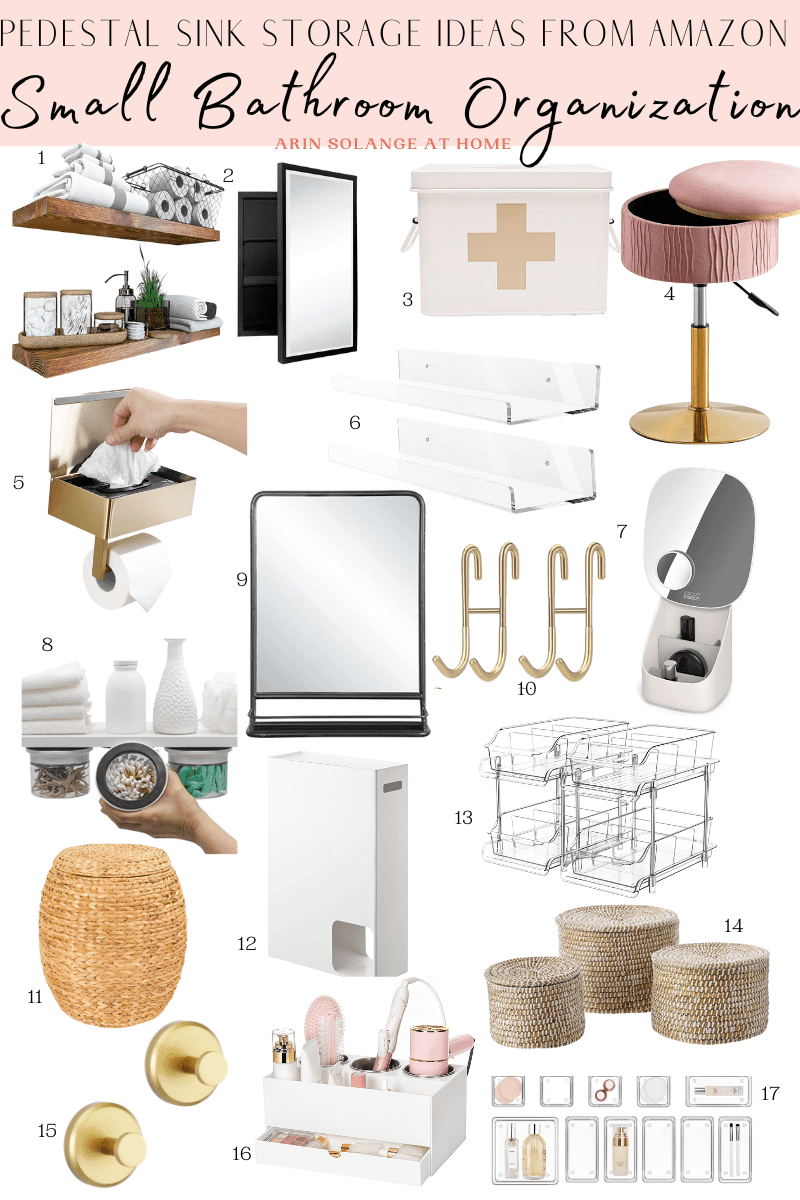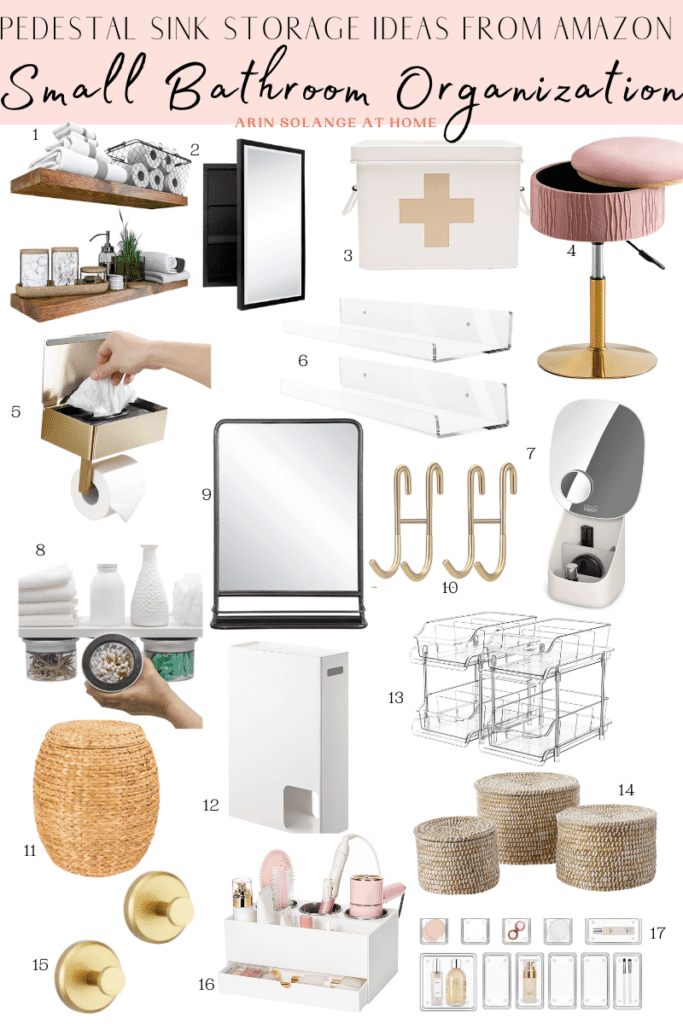 1 | 2 | 3 | 4 | 5 | 6 | 7 | 8 | 9 | 10 | 11 | 12 | 13 | 14 | 15 | 16 | 17
Shop my Favorites Below
Hopefully you found the perfect items for your bathroom! If you didn't find the exact right items, make sure to check out my entire Amazon Bathroom Organization Storefront.
Other Posts You'll Love
Best Bathroom Wall Materials | How to Clean a Hairbrush| Beddys Bedding | Floating Shelves I Love | Linen Closet Upgrade | Front Porch Railing Ideas
Pin the Photo Below for Later
Hopefully, you found some great pedestal sink organization ideas in this post and feel ready to tackle the bathroom and keep it clutter free and pretty! If you have any questions leave them in the comments below, and be sure to follow me on Instagram (@arinsolange) and Tik Tok for more fun and inspiration.