Okay, truth time… how often do you clean out your hairbrush? Do you even know how to clean a hairbrush, aside from ripping the hair out? I am here to teach you just how to keep those babies clean today!`
This post may contain affiliate links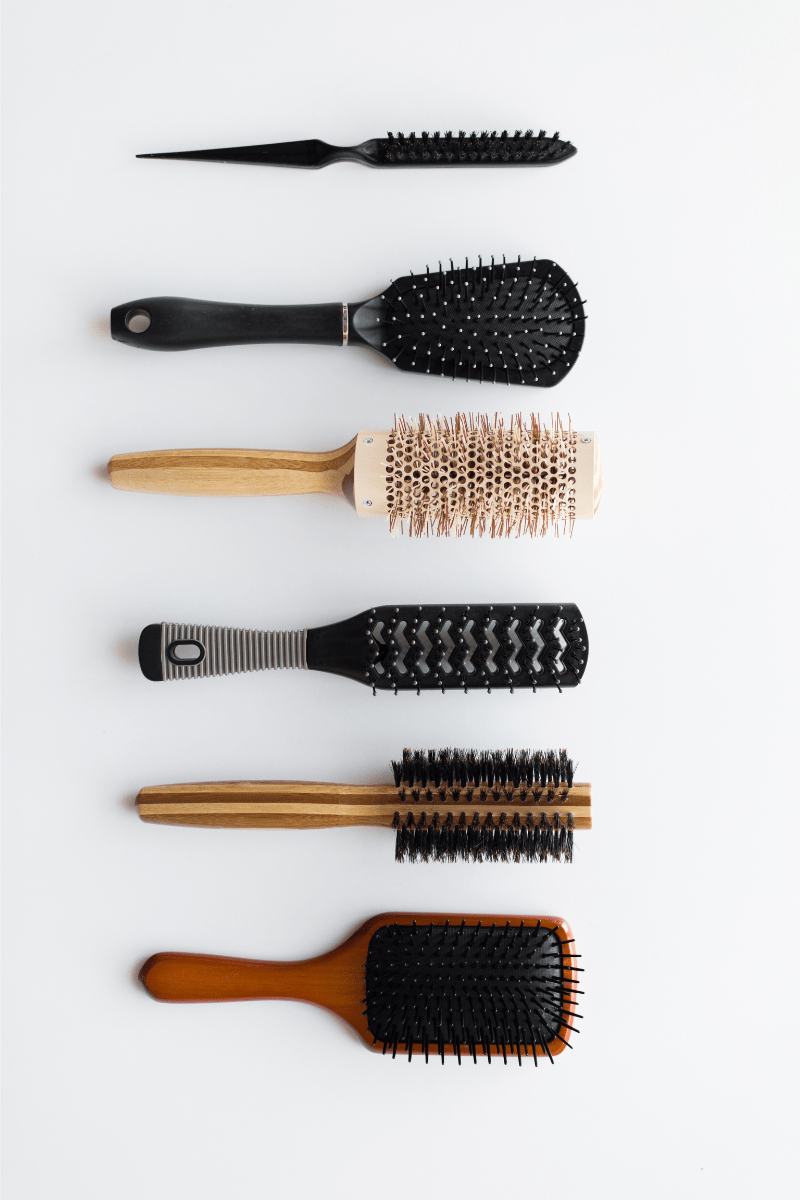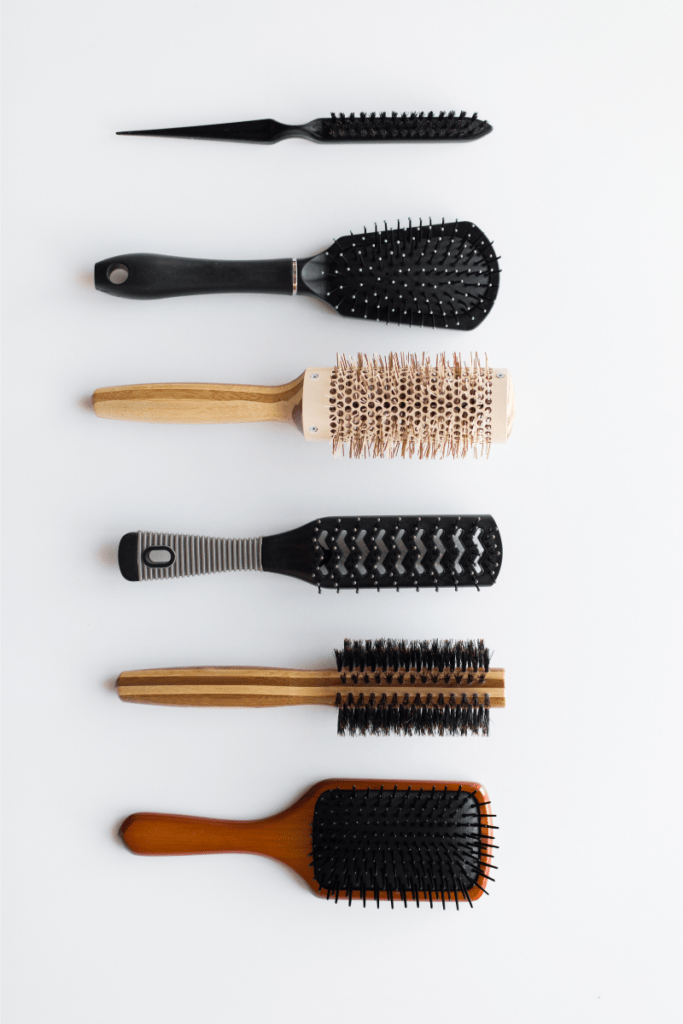 How to Clean a Hairbrush
I am ashamed to say this but I don't clean my hair brushes nearly as much as I should. Honestly, when it comes to keeping the house running, kids fed, blog written, and all of my DIY projects juggled, the last thing I have time for is remembering to clean out my hair brushes on a regular basis.
Not only is it a good habit to get into, but it is also just good basic hair care and hygiene. The good news is I have some easy tips to share with you to help you with a thorough cleaning for all your hair brushes and to take your hair care to the next level.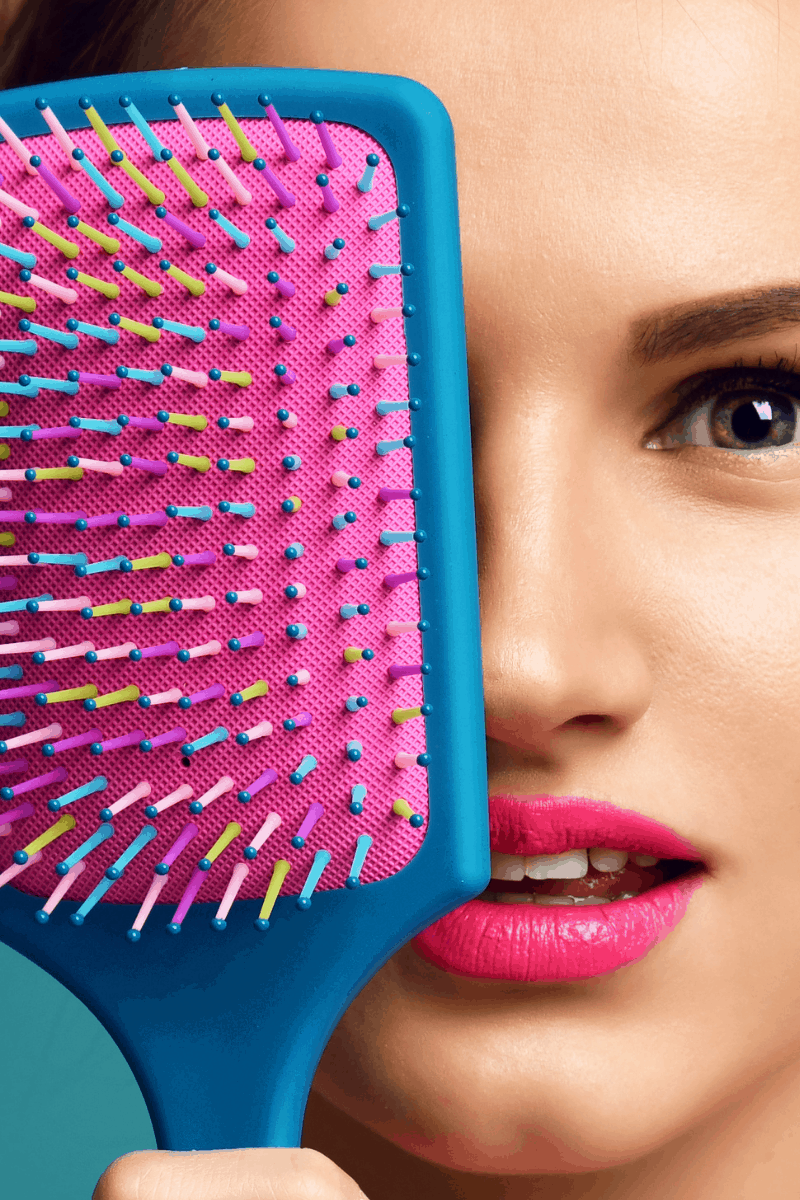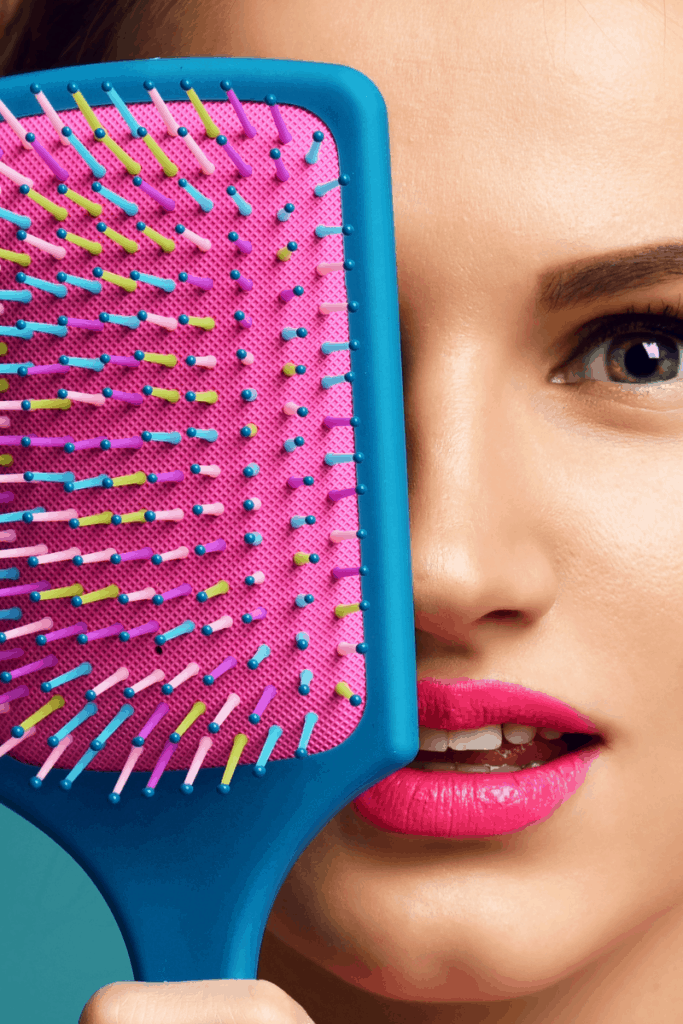 Raise your hand if you've seen that viral Tik Tok video that Jessica Haizman posted of cleaning out her hair brushes? If you have, you will certainly have the image of that dirty water burned into your memory. Haizman shows what steps she takes to clean her dirty hair brush.
While explaining, you see her take a fine tooth thin comb and remove the old dead hair and loose hair strands from the bristles of the brush. From there, she places the paddle brushes into some hot water with a mixture of baking soda and some drops of shampoo.
After a few minutes, you'll see the water turn a delightful brown color. What is that brown color you ask? If you thought the answer was hair dye, you would be wrong. That brown is merely product residue, stray hairs, natural oils, and dead skin cells. What a treat! This is why it is a good idea to have a cleaning method for your hair tools.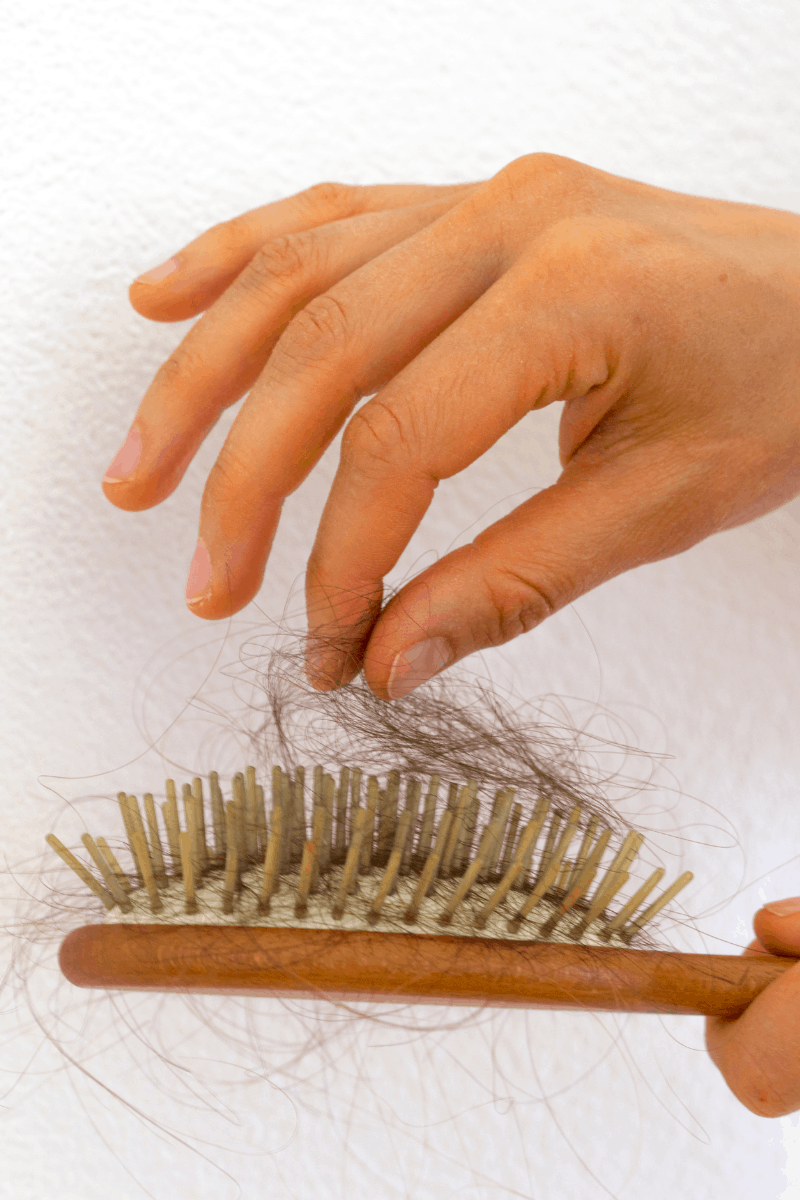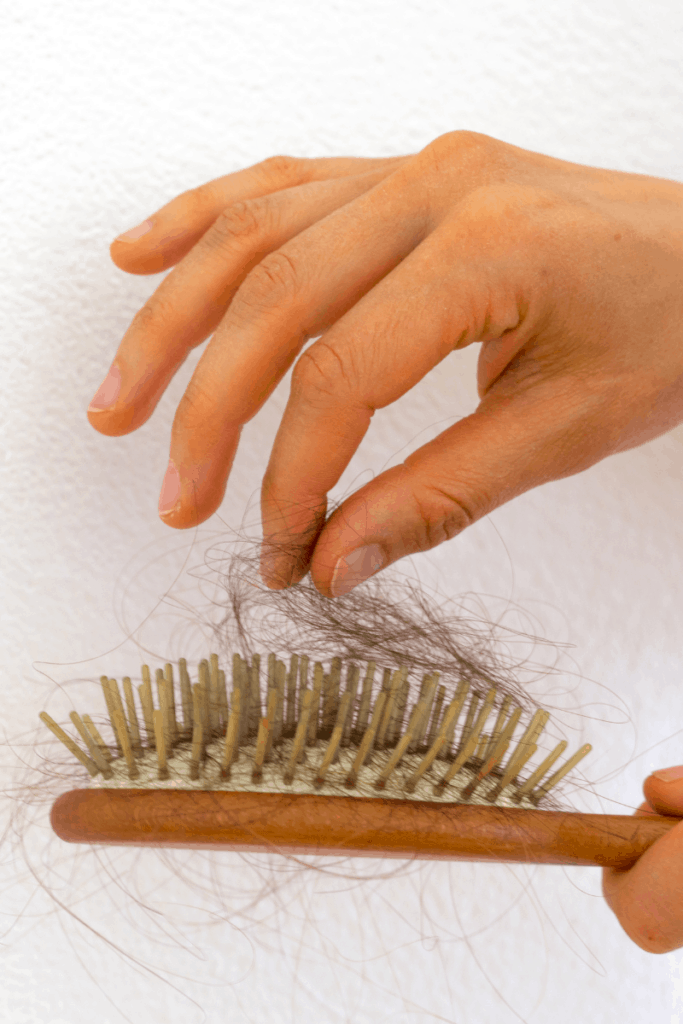 What Makes Brushes Dirty?
Fortunately, taking care of your brushes is fairly quick with some simple steps. The next time you feel like procrastinating and waiting to clean your dirty brushes, consider all of the excess hair, hair products, excess oil, and product buildup just waiting for your brush bristles to transfer to your scalp.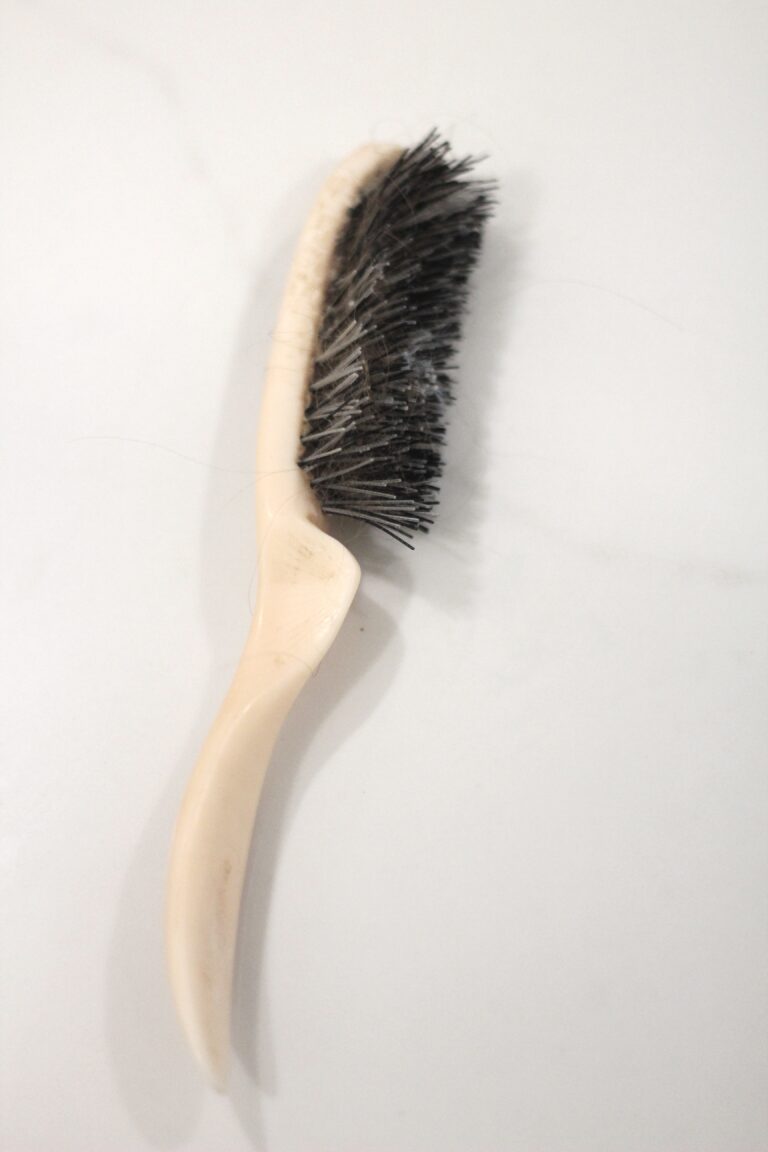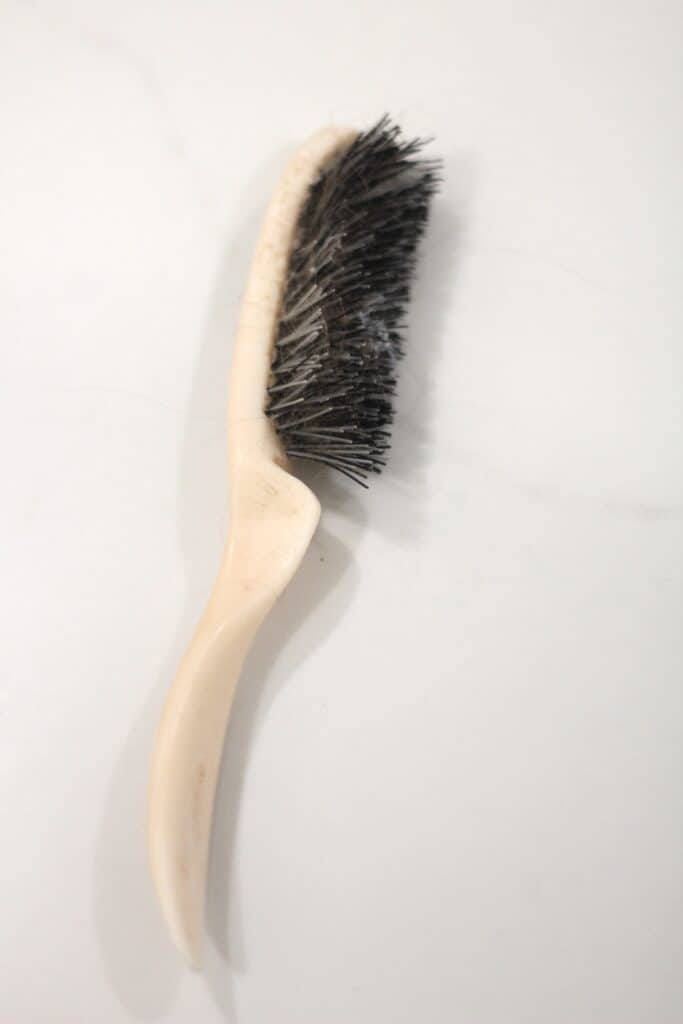 Your hairbrush contains dust mites, dead skin cells, and can be a breeding ground for bacteria leading to an itchy scalp or worse (head lice!).No matter your hair type, make sure you prioritize a good cleaning for your beauty tools (this includes makeup brushes friends!).
How to Clean a Hairbrush – Supplies:
The first step for your regular cleaning routine is to gather your supplies. Most, if not all items you need are items you already have around your house!
Scissors
Rat Tail Comb
Clean toothbrush or old toothbrush
Cleaning powder of your choice! – I opted for baking soda + vinegar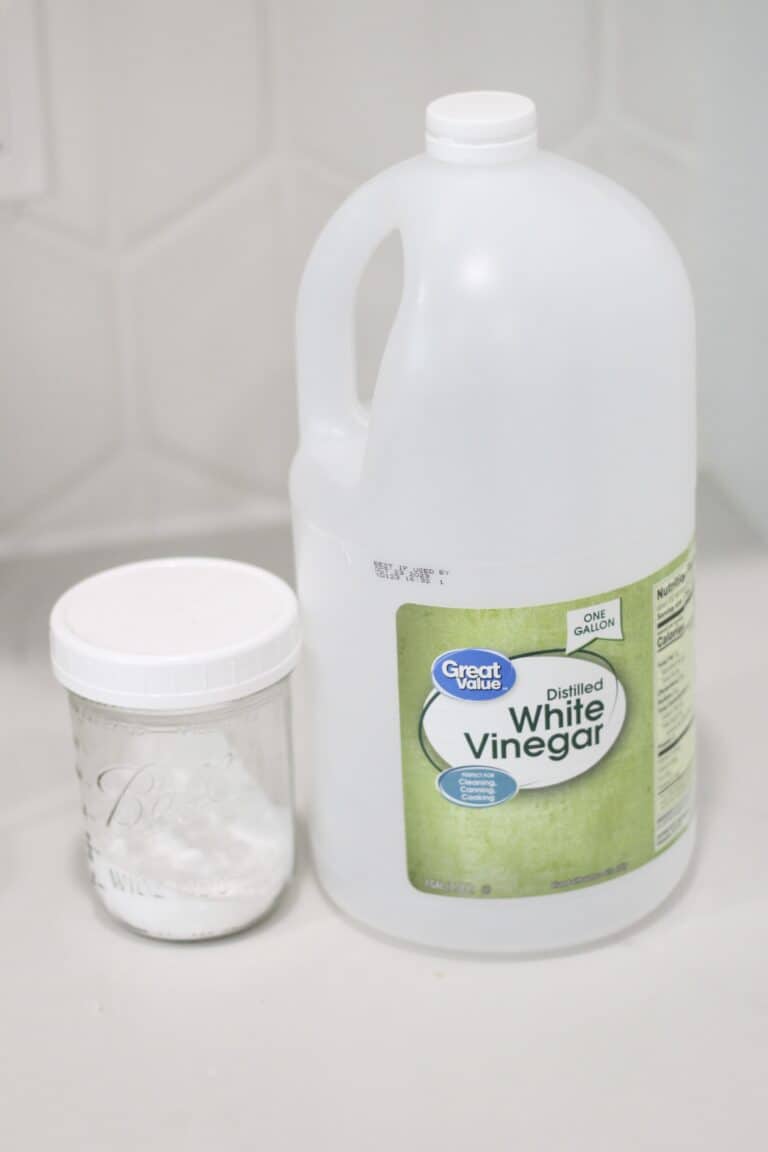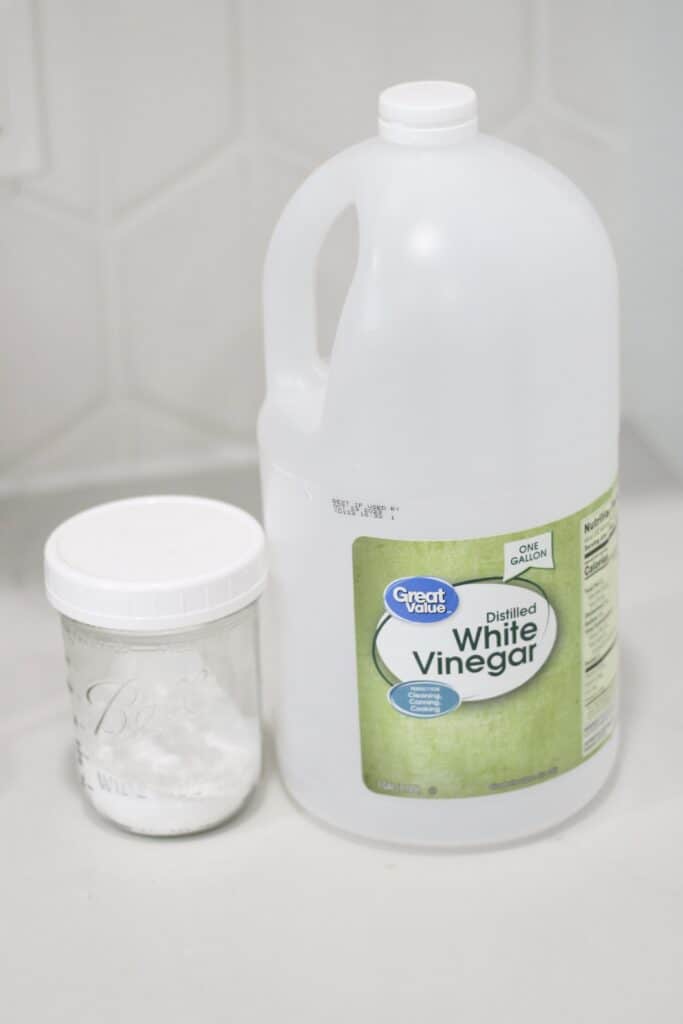 How to Clean a Hairbrush
Here is your simple step by step cleaning process!
Step 1: Clean Base of the Brush
You'll want to clean the strands of hair stuck in the base of your brush by taking your scissors or rat tail comb and clearing them out. This may take some time depending on how much you have accumulated.
Step 2: Clean Brushes
Once you have the brush bristles free from hair, it is time to get to work and clean those brushes to rid your hair from hair sprays, oils, and too much product. Even if you don't use a lot of products, the average time you should go between cleaning your hair brushes is about 2 weeks.
Everytime you brush your hair, you are bringing what is on the bristles of your brush back into your scalp all with the stroke of a dirty brush. YUCK!
Let's grab some cleaning power, shall we? You can use a combination of warm water and gentle shampoo. Some people prefer to add baking soda into the mixture. You can also try a mixture of baking soda and a cup of vinegar. The vinegar mixture will react with the baking soda and can help powerwash that unclean hairbrush.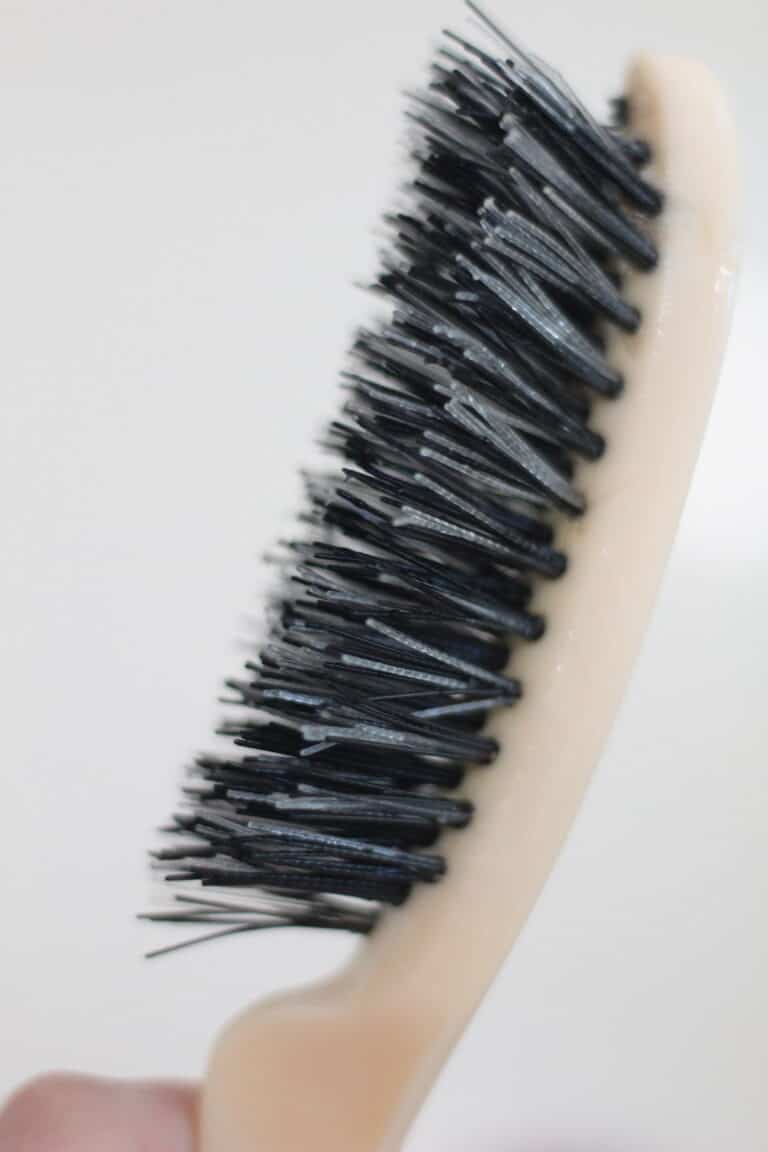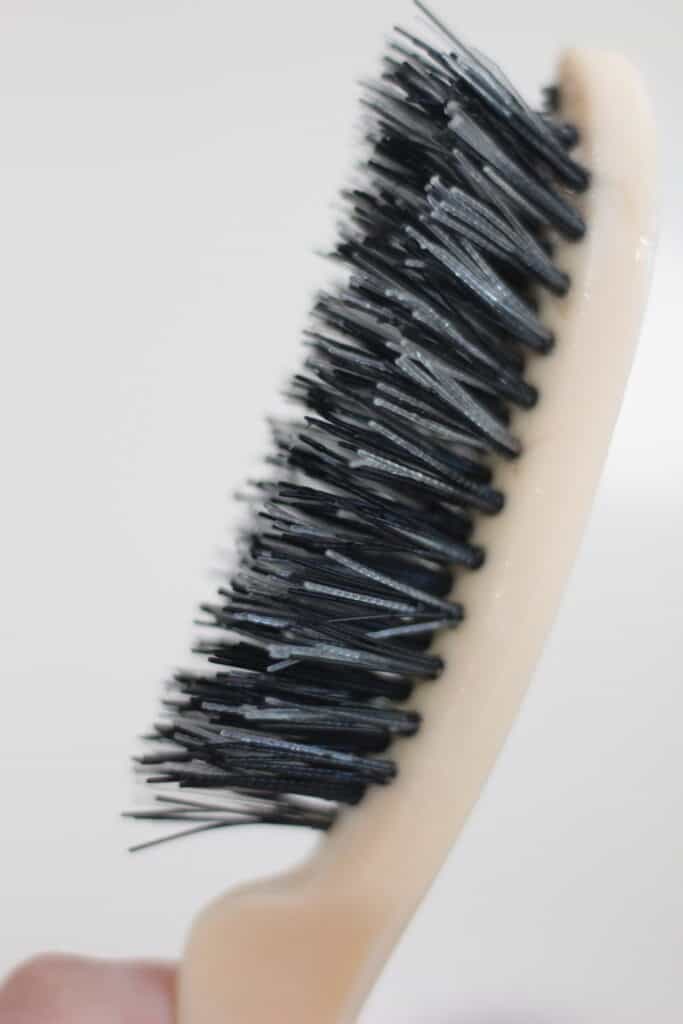 If you want to get real fancy, you can add a few drops of tea tree oil to your cleaning mixture. Tea tree oil has natural antibacterial and antifungal properties. Or, you could add a few drops of rubbing alcohol for sanitary purposes. The choice is yours. Once you have your cleaning power decided, fill up a sink with hot water and your soap of choice.
From there, let your plastic brushes soak in the soapy water mixture for 20-30 minutes. If you have a wooden brush, soaking will not be an option as it will ruin the wood. Instead, soak the bristles with the wooden handles or wooden part of the brush on the outside of the clean water. You may need to take a toothbrush to scrub off any excess scum.
Step 3: Rinse and Dry
Once you have power scrubbed or soaked your brushes, rinse them with clean water and lay them to dry on a clean towel. Voila! Done.
This simple method is done easily in just a few minutes to give you a squeaky clean hairbrush!
Alternatively, you could just take a match and some lighter fluid to your hair brushes and instead buy some brand new clean hair brushes. Either way, the choice is yours! Just don't wait a long time to clean it or you'll be in the same predicament again.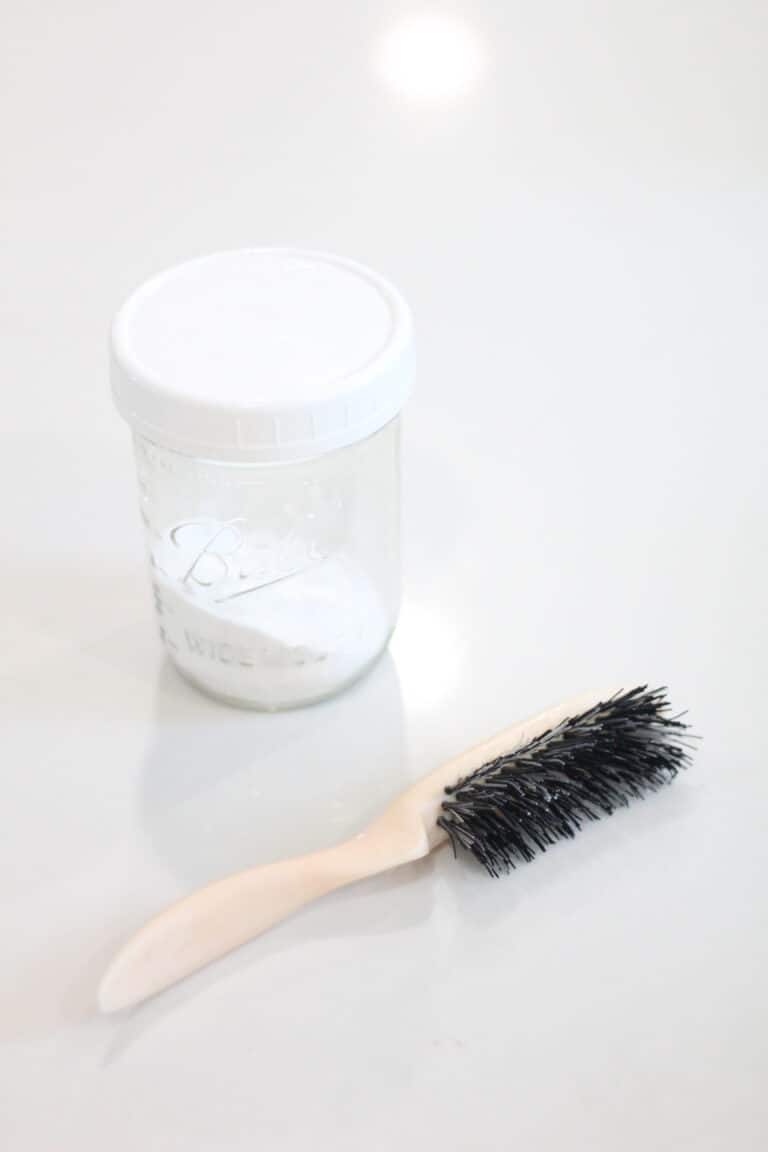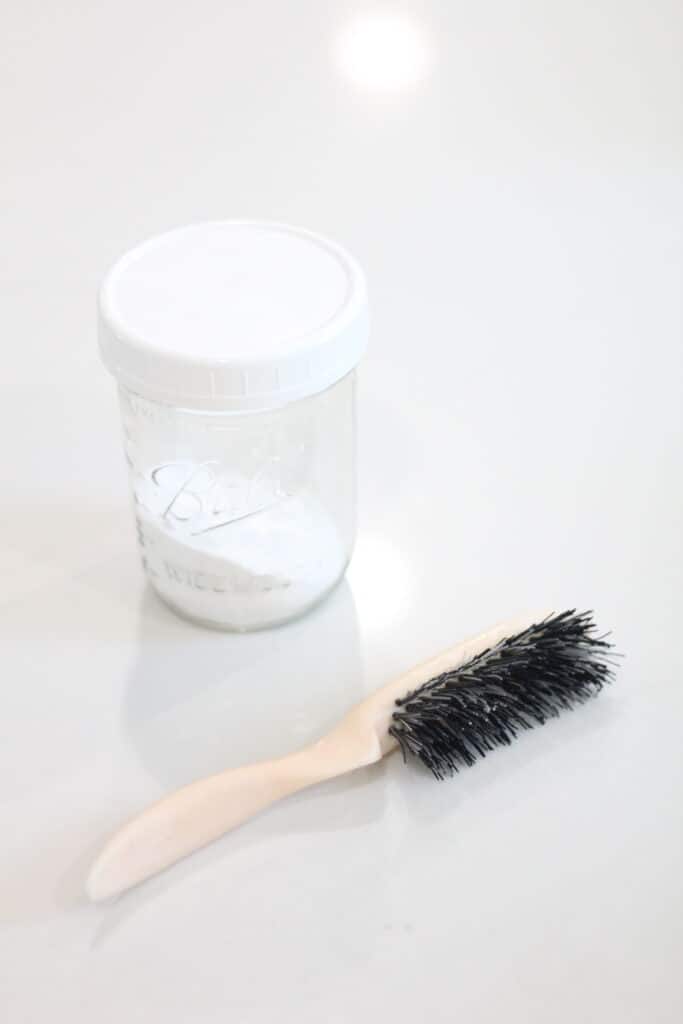 My Fav Brushes!
In case you are in need of buying some new hair brushes (hey no judgement), here is a round up of some of my favorite finds! I have 2 little girls – 1 with straight hair, and one with curly. And I myself have VERY long thick hair so I have tried them all!
Crave Brush – I LOVE this one on my girls, especially my curly haired daughter.
Wider Tooth Wet Brush – I prefer this one on me because my hair is so long and thick that the spread out Bristles help!
Also – not a hair brush but if you aren't using these spray bottles yet, you should grab them.
Other Post's You'll Love
Pedestal Sink Storage Ideas | How to Keep the Dog Smell out of House | How to do a Bubble Braid | Fav Cleaning Hacks
Pin the Photo Below for Later
Hopefully you feel confident in how to clean a hairbrush after todays post and you are ready to get all of yours looking sparkling clean! If you have any questions leave them in the comments below, and don't forget to follow me on Instagram (@arinsolange) for more fun! Happy Cleaning!