My sweet Goldie Mae went and broke my heart by turning two! Goldie is Care Bear obsessed so I wanted to throw her a small little Care Bear birthday party for just our family. It did not disappoint, and I can't wait to share the simple details with all of you.
This post my contain affiliate links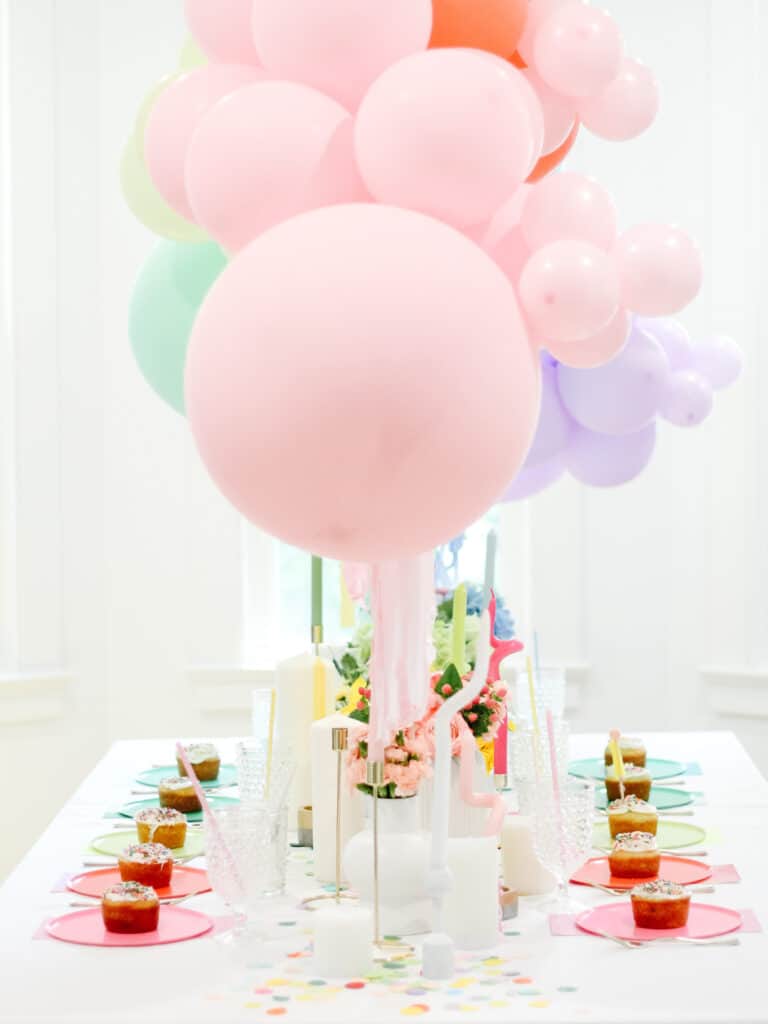 Care Bear Birthday Party
All the 80's and mamas are rejoicing in the comeback Care Bears, am I right? My 6 year old and 2 year old both love watching them, and have all the stuffed Care Bears to join them.
Goldie – the birthday girl, became SO attached to her bears that I really wanted to make her 2nd birthday Care Bears themed, but honestly…wasn't sure how to do it in a sort of small way and keeping it looking classy.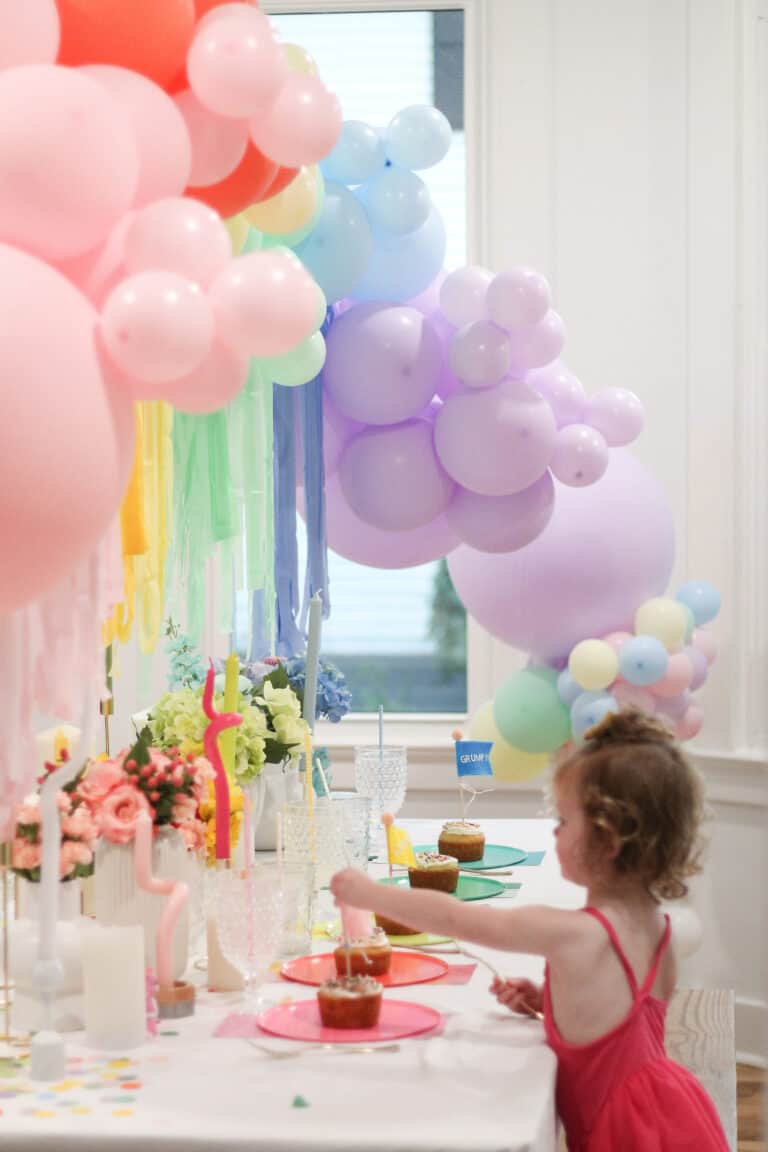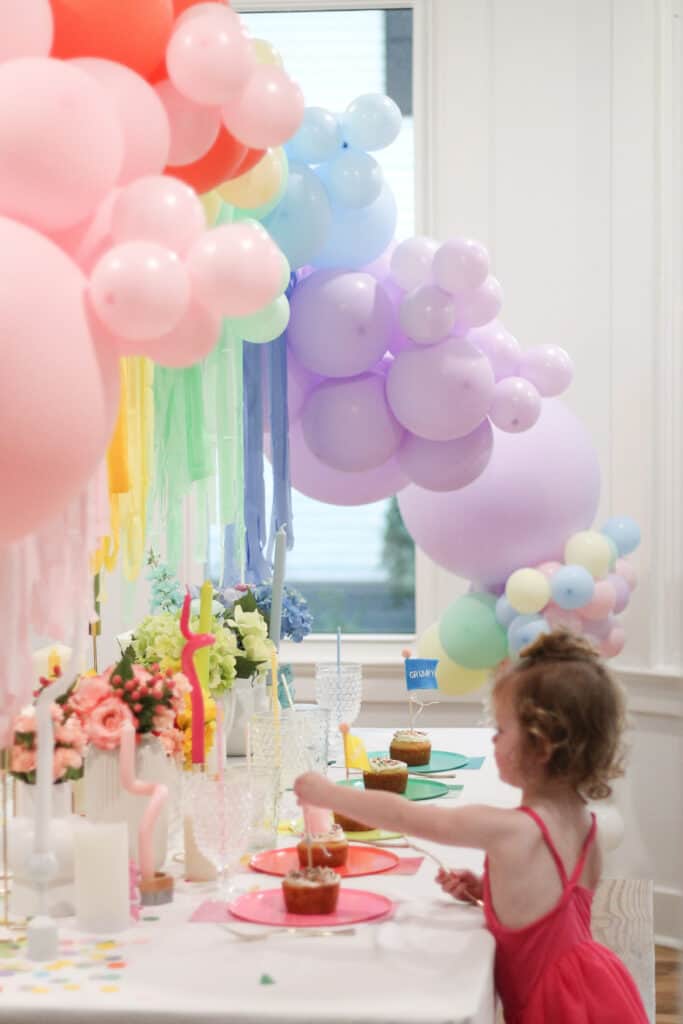 I know that some people can make character parties cute so easily, but I have found it difficult every single time we have done a character party so I was a bit nervous about how this was going to go down. I ended up loving the end results and can't wait to share all the details to the party in this post!
Other Party Ideas
I am assuming if you are here you might be already set on Care Bears for your party of choice but if you aren't I figured I would share a couple other great options for you!
2 Year old Girl Birthday Ideas | 2 Baller Party | Pink Puppy Party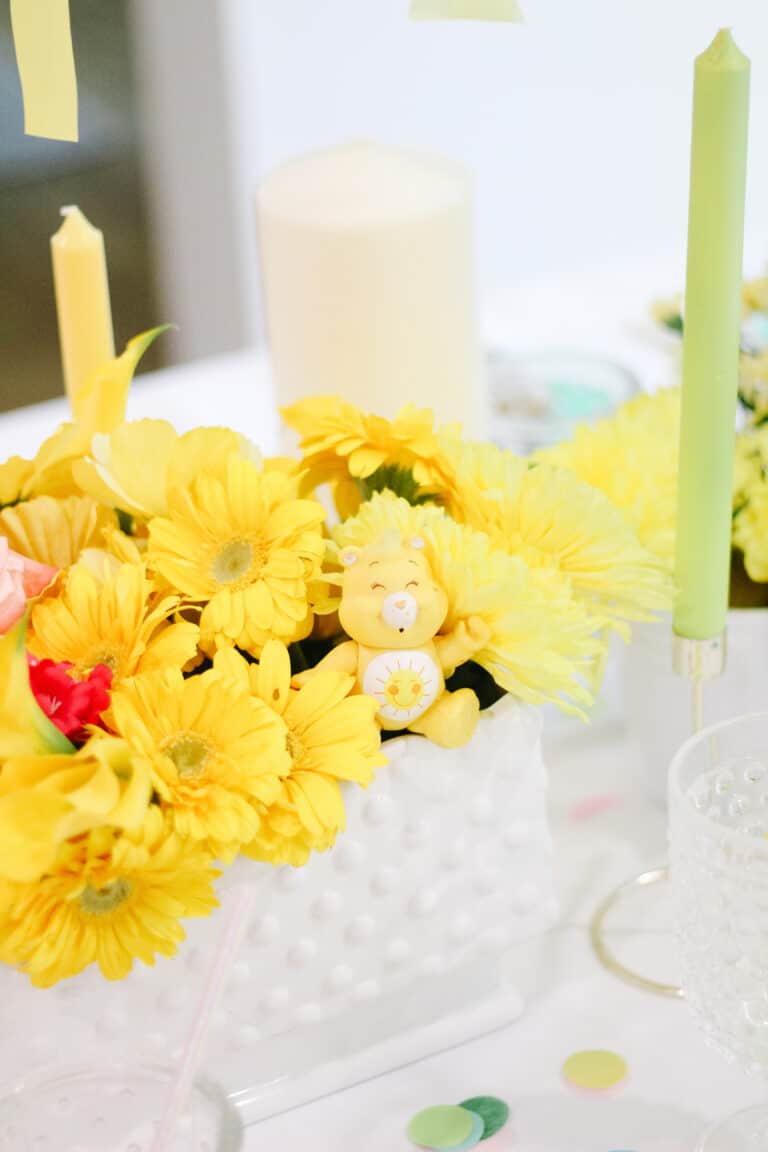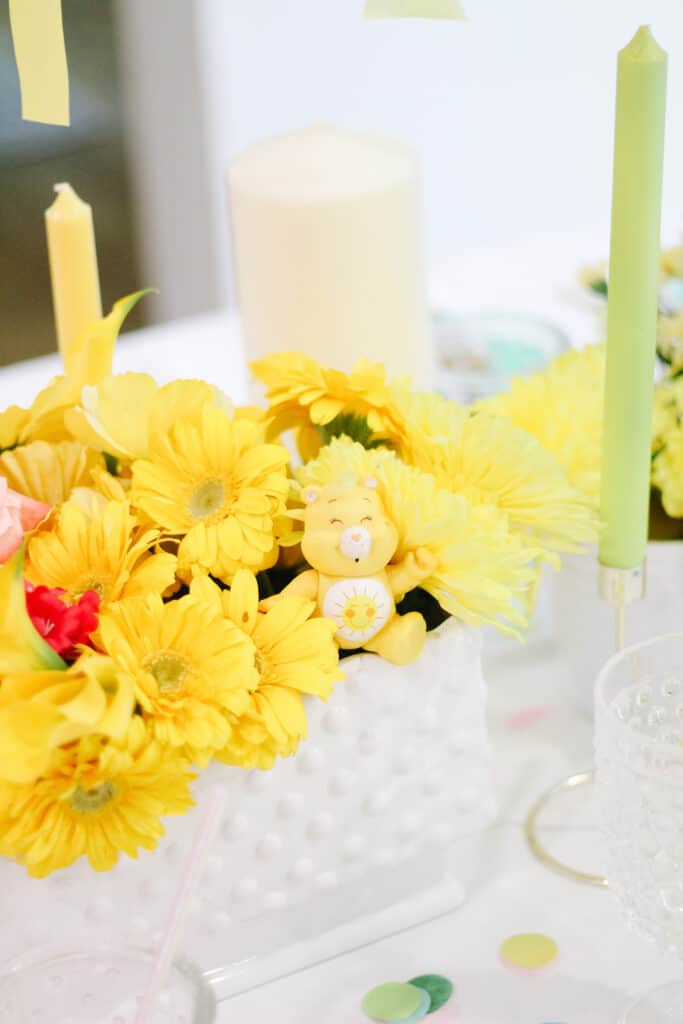 Goldie's Care Bear Birthday Party Details
For sweet Goldie's 2nd birthday we just did a big happy family party – but don't let it fool you – we still went with a magical set up for her. I love doing a big table set up for the kids because It is something we can enjoy for a few days, it is simple, and it is just plain fun!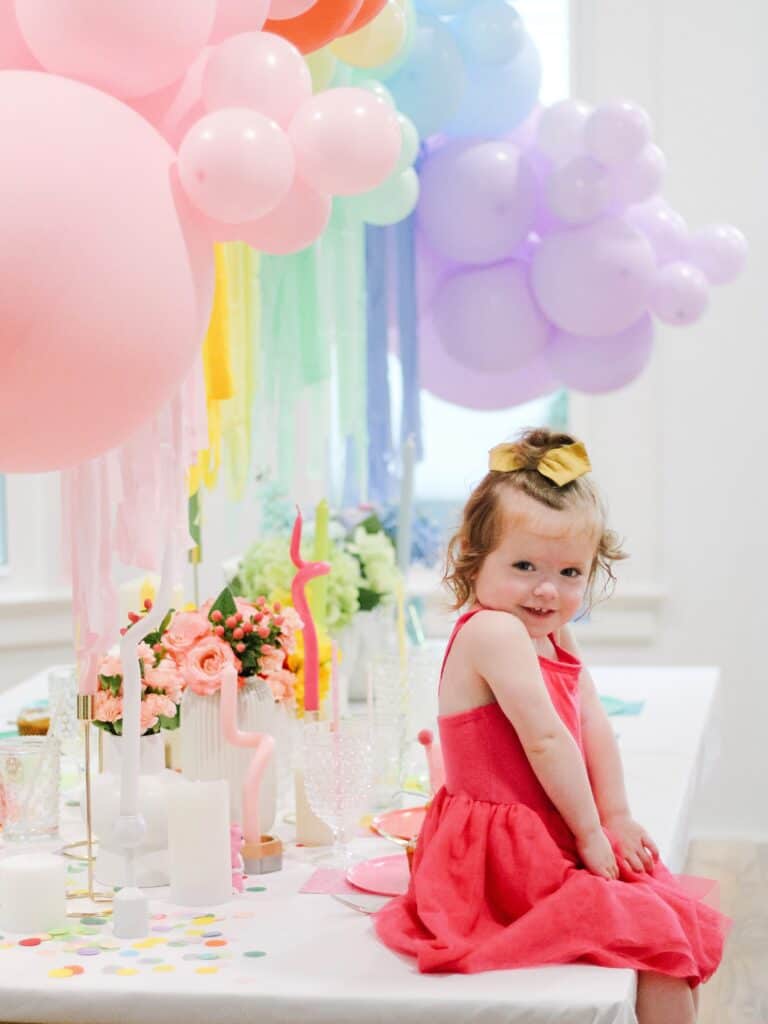 The Balloons
If you have been following me for very long then yo know that I do not do my own Balloons very often. I always let the ladies from the Party Hop Shop here in St. Louis create my Balloons because.…well I hate them haha!
That said – if you aren't in St. Louis, or if you want to save some money, my friend Jen has a great tutorial on creating a balloon garland on her blog.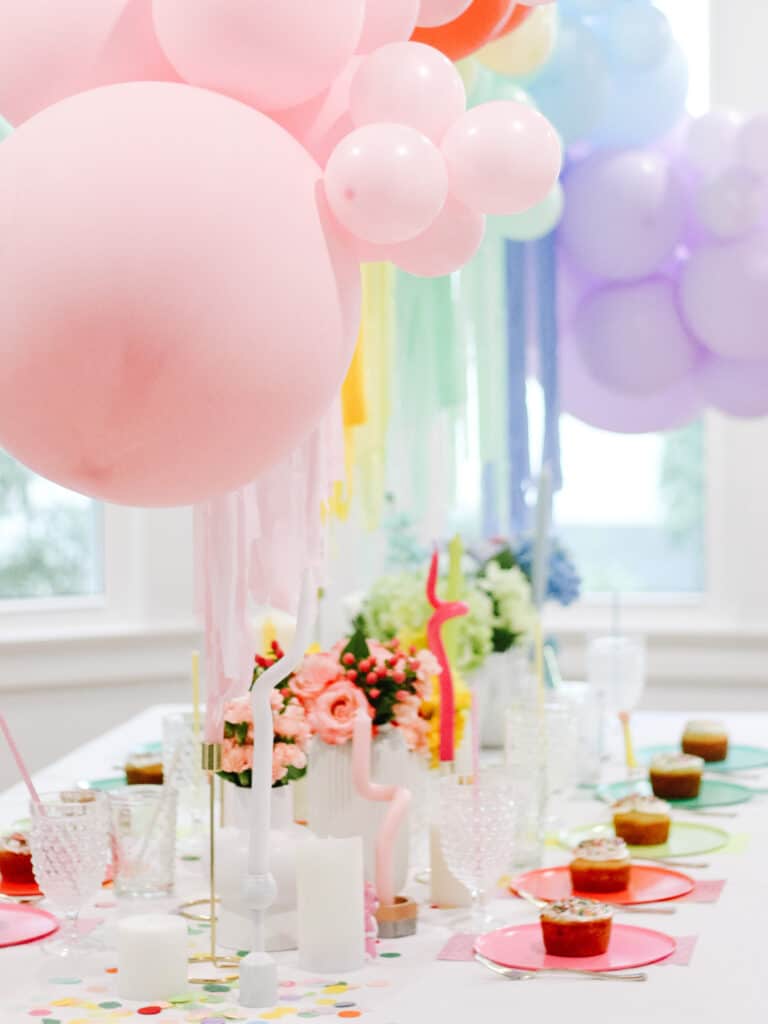 I went with a sort of rainbow pattern – so I wanted the colors to be color blocked together. Sometimes I like them more mixed up, but in this case I loved the color block look. Once we got it up we LOVED it, but agreed that something more would be….well more.
We added this set of streamers to the bottom of the balloons (I used these little sticky things and it worked great!) and it was such a fun pop. I will say that if you plan to sit all the way around the table for dinner this look will not allow for much dinnertime conversation.
Party Hop shop also made this fun little balloon thing with one of Goldie's stuffed Care Bears that was SO CUTE.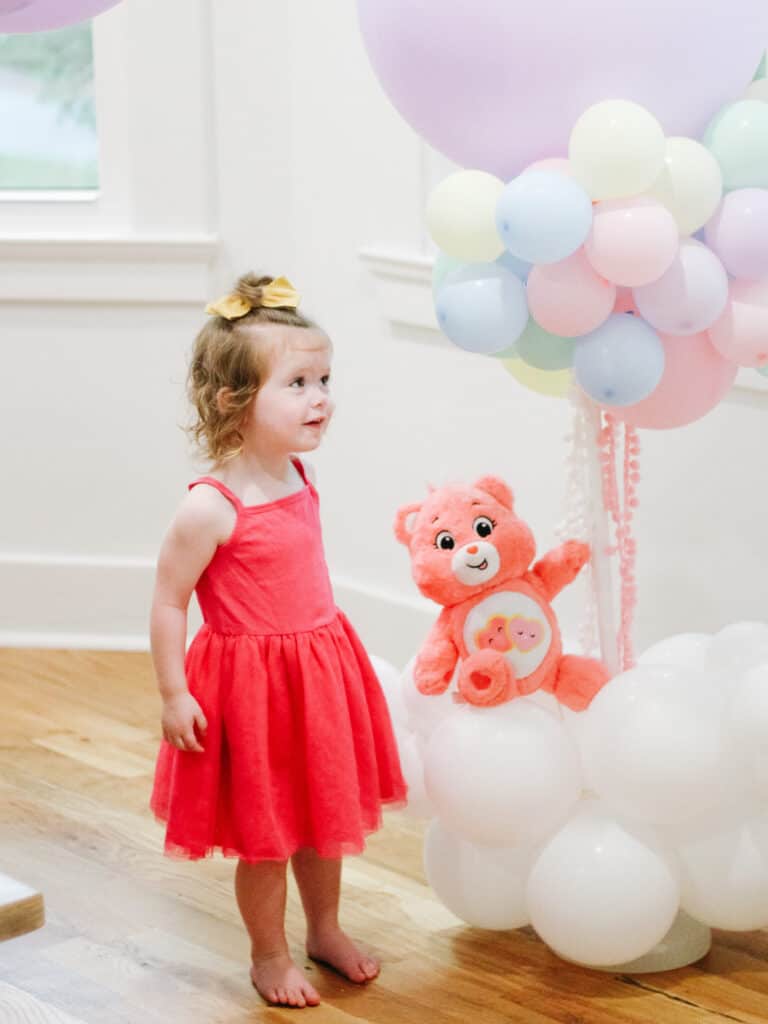 Care Bear Birthday Party Table Top Details
Like I said before – I was going for a bit of a rainbow theme with the Care Bears, and the table was no different. For the center of the table I used white vases and did sort of a rainbow effect with flowers.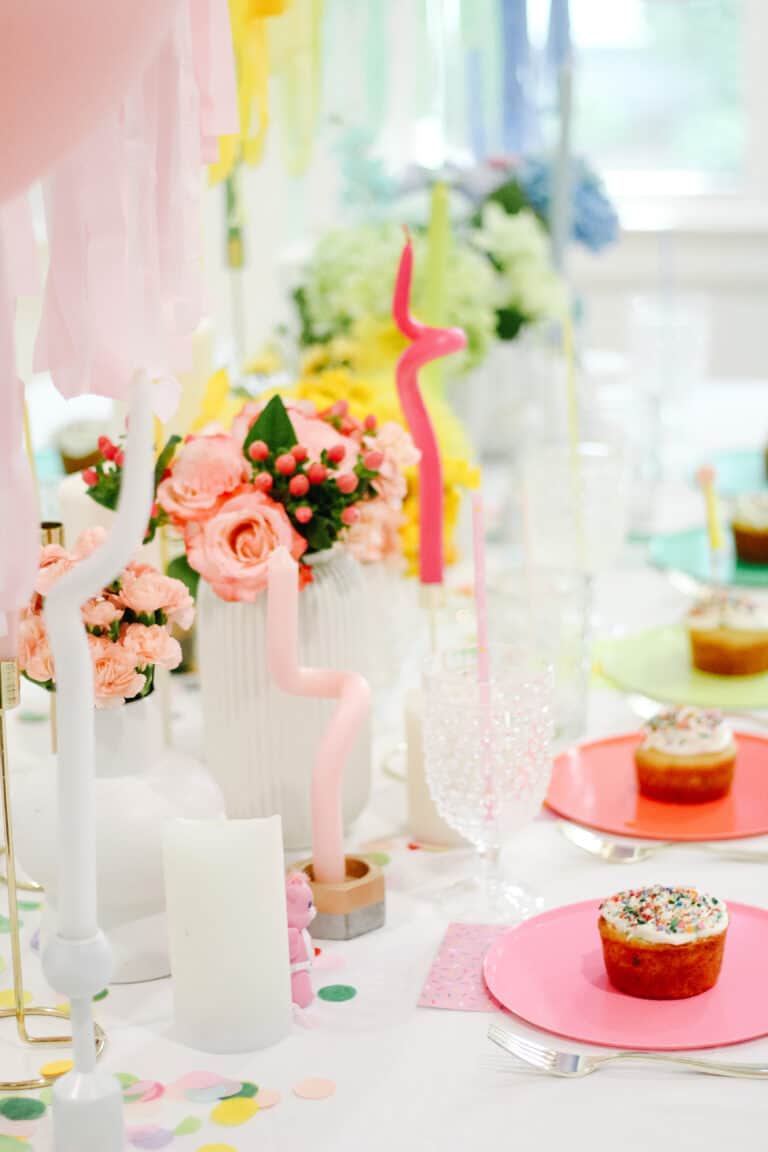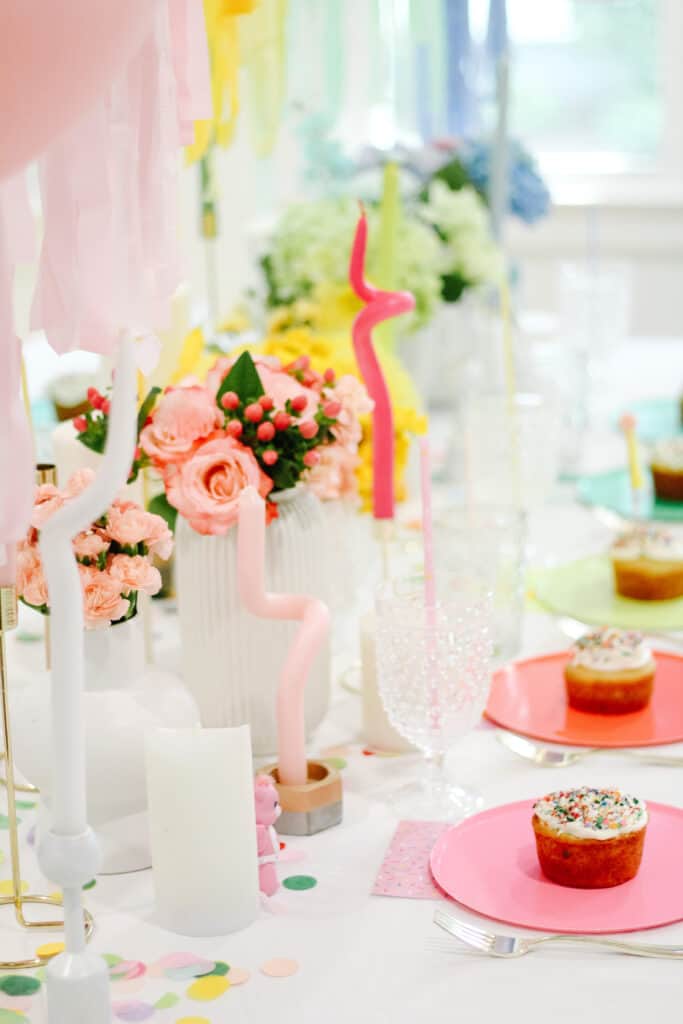 I always try to vary my heights and shapes when I do this, and it worked wonderfully in this case. In the flowers I propped up some little vintage Care Bear figurines that we had. They were so cute and added the little Care Bear aspect we needed!
For each place setting I kept things sort of color blocked. So basically, napkins, paper straws, and such. With either scrapbook paper or napkins add some pattern in some of the spots to add dimension.
DIY Flags
One thing I did was use my Cricut to make little flags for the cakes with the Care Bear names on them for the cakes. It was a subtle way to tie in the Care Bear theme.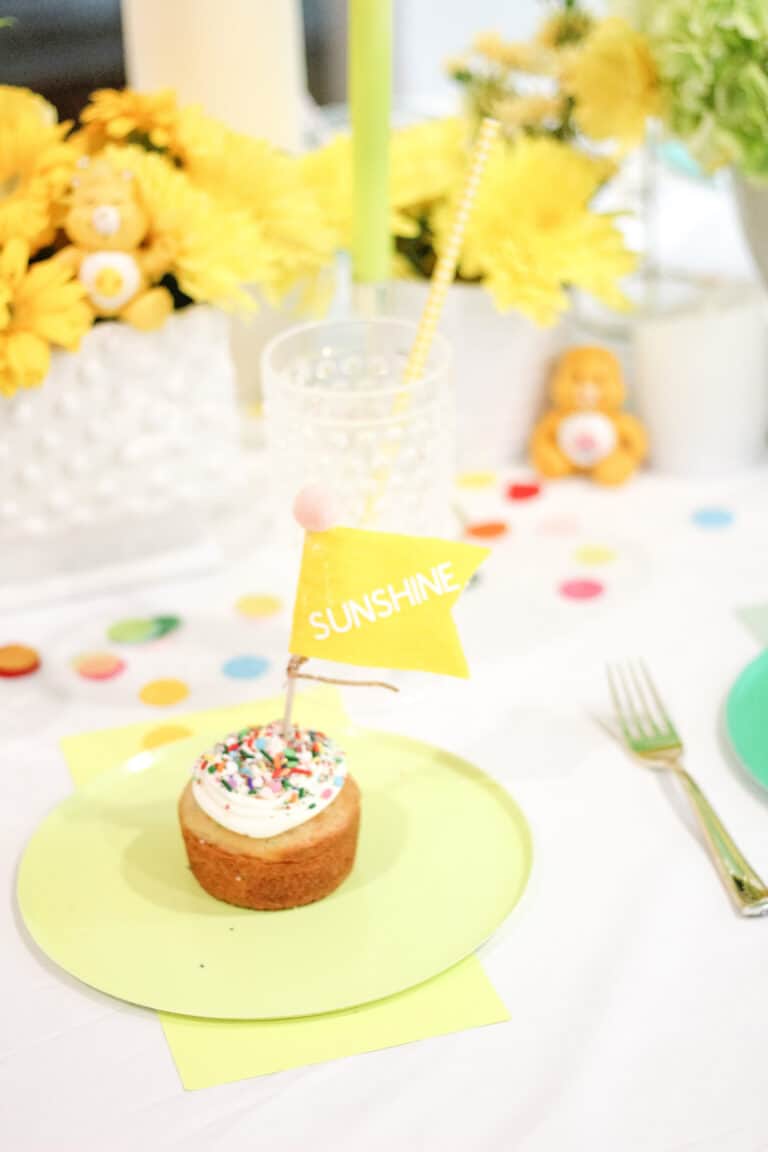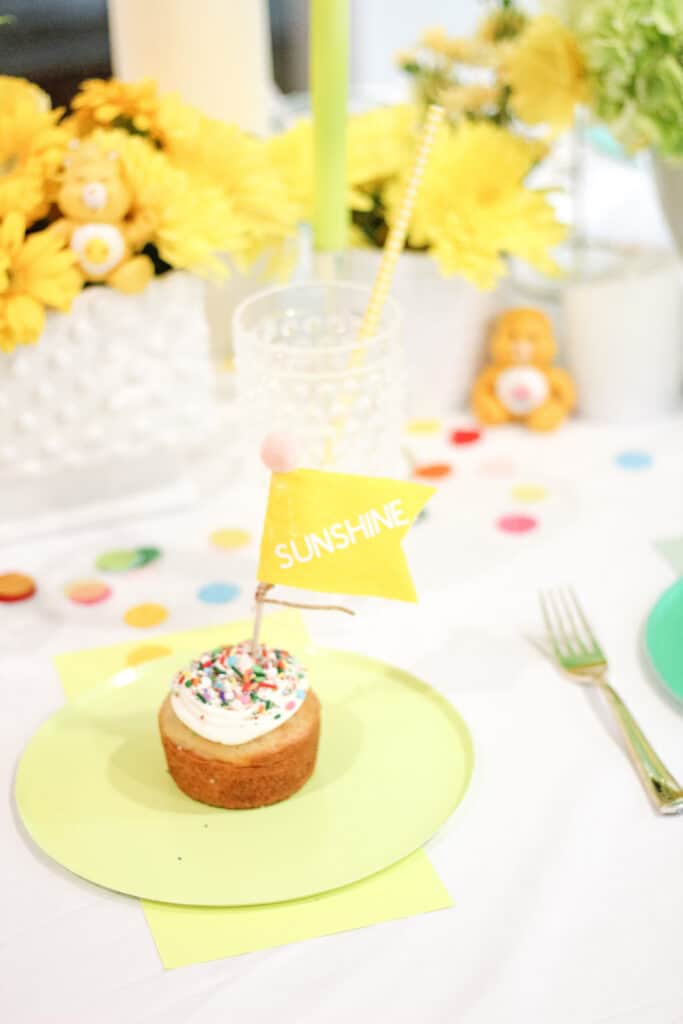 Links to Products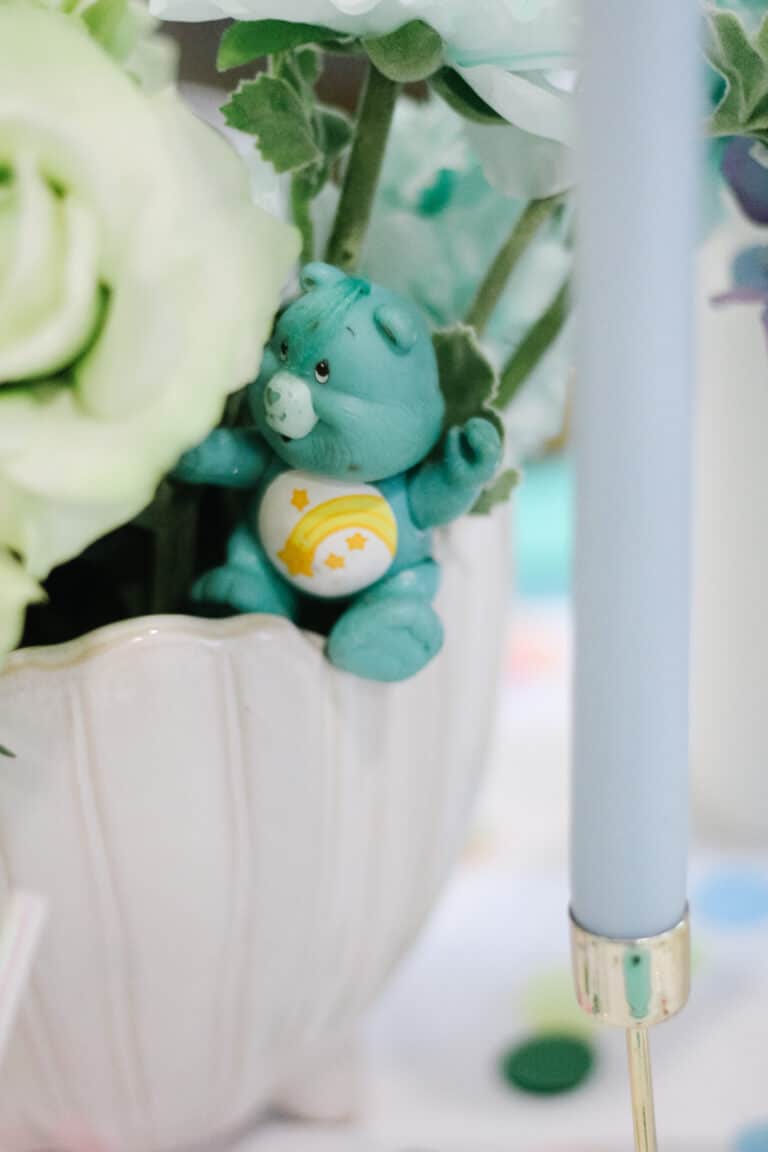 The Perfect Gifts to go With your Care Bear Birthday Party
If you are looking for the perfect gifts for you Care Bear loving child, I have gift guides by age below! Check them out for some unique and great finds.
Other Posts You'll Love
If you loved this post you may love these other posts as well! Check them out before you leave.
Boys Wallpaper Ideas | Unicorn Gifts | Ikea Play Kitchen | Beddys Bedding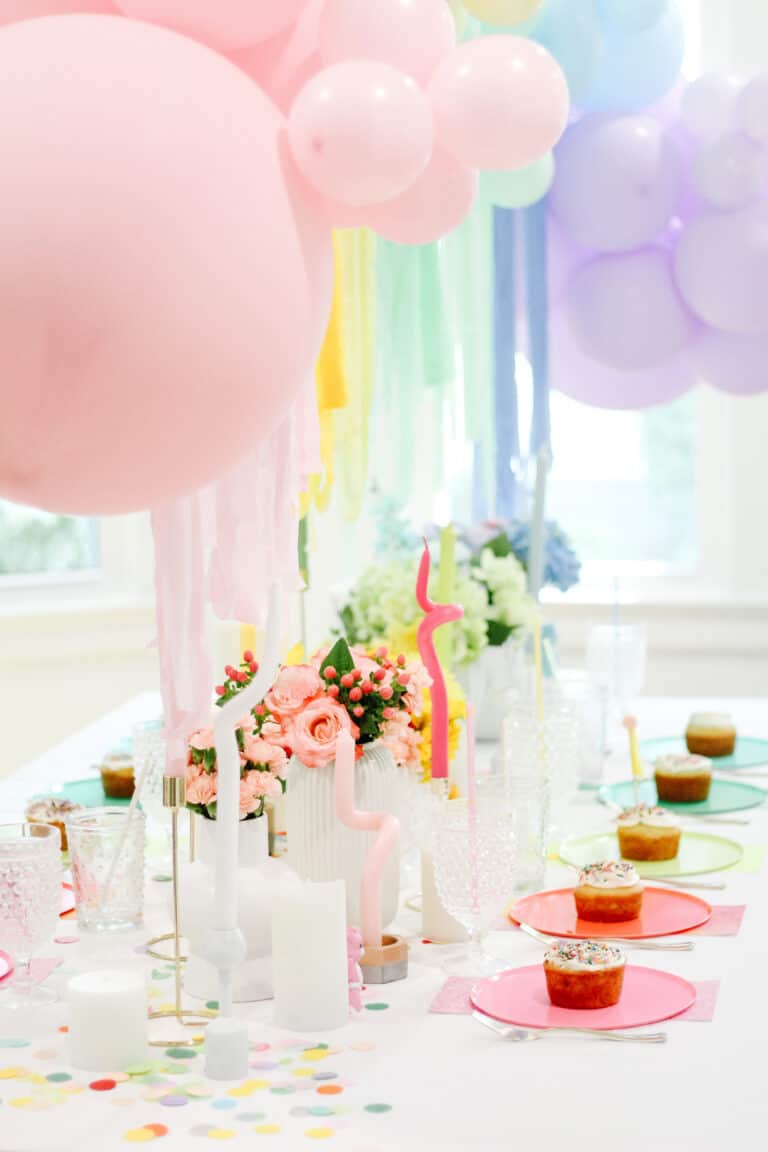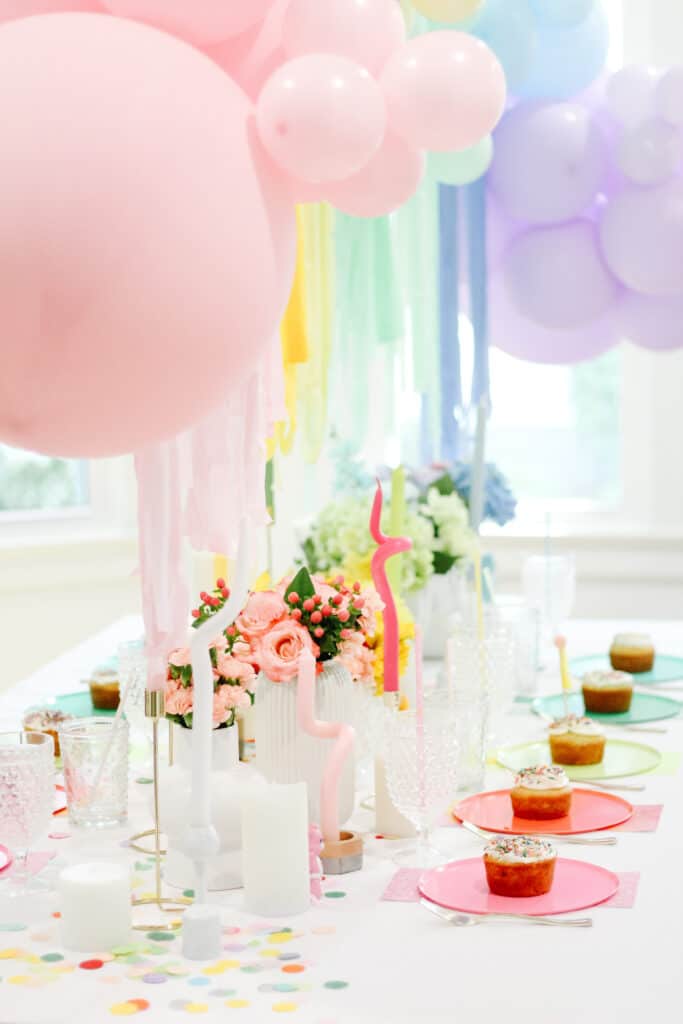 Pin the Photo Below for Later
Hopefully you feel inspired to make your own Care Bear Birthday Party with these simple details! If you have any questions on my party be sure to leave them in the comments below, and don't forget to follow me on Instagram (@arinsolange) for more inspiration and fun.