Halloween is just around the corner – which by the way – I CAN BARELY BELIEVE. But since we can't slow down time, we might as well get ourselves prepped and ready to fully enjoy all things fall. Over the past few years I have rounded up several easy Halloween Costumes that my family and I have done – some just one or two kids, and some all of us, so I wanted to share them all in one place today.
This post may contain affiliate links check out my privacy policy here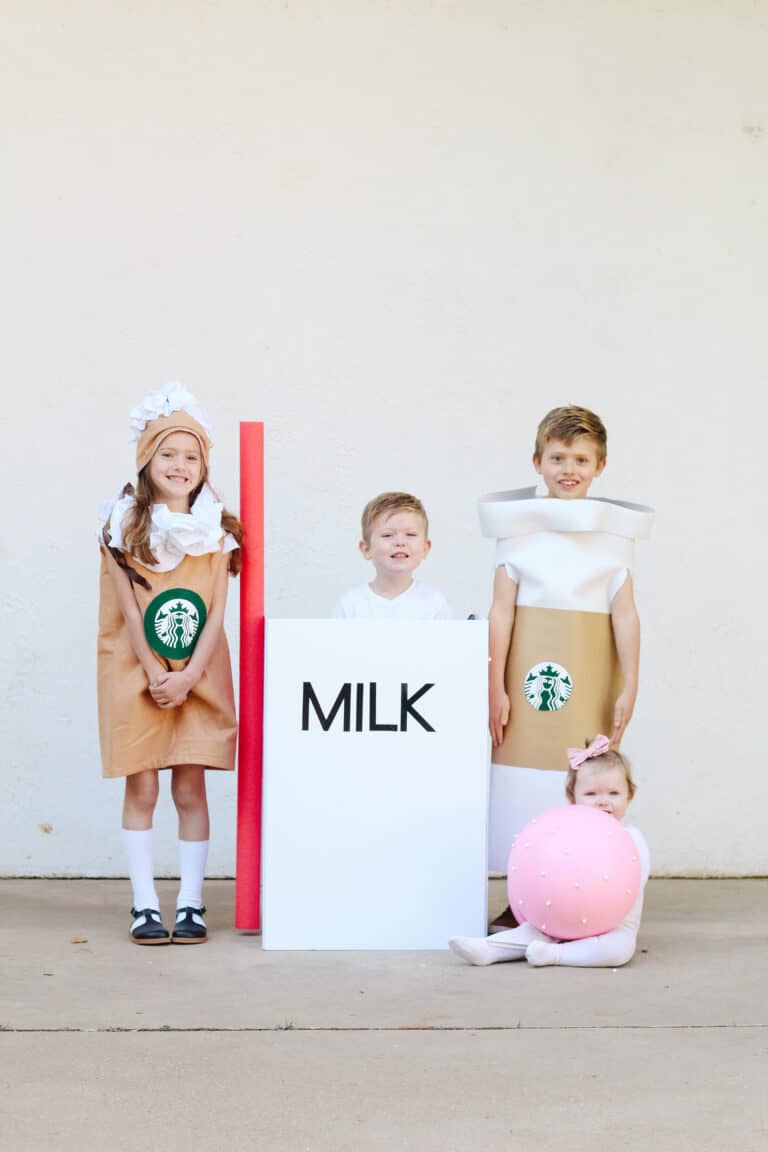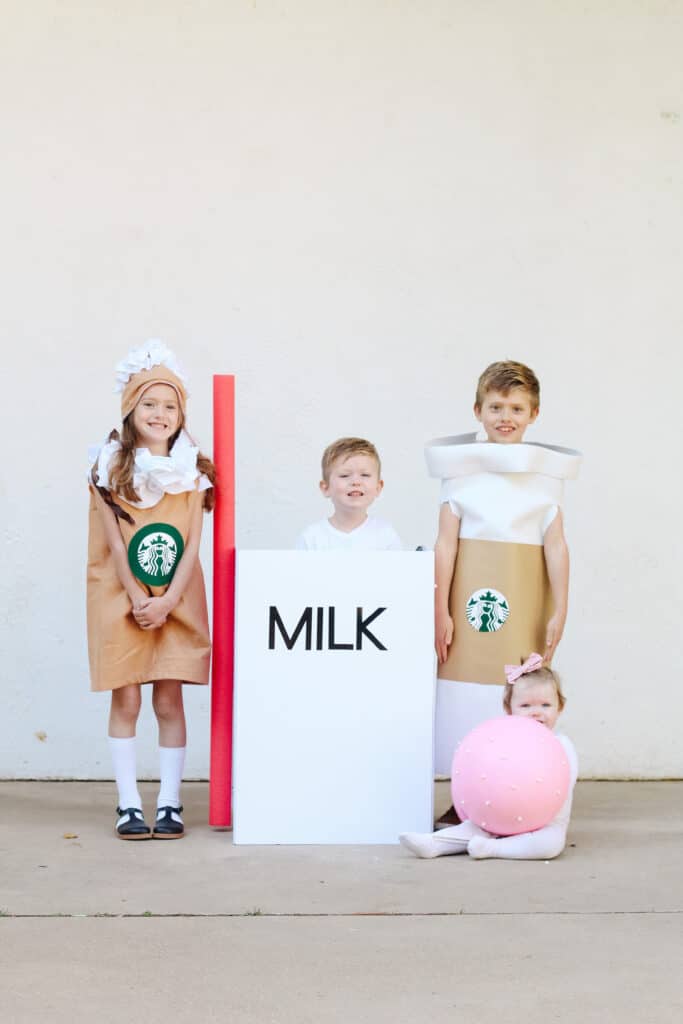 Easy Halloween Costumes
October is NUTS for our family. We have 3 birthdays leading up to the holiday, so I always feel a bit like I am hanging on by a thread trying to get everything done. I am a bit of an over achiever. I love my kids to have the 'DIY' ish Halloween costume, but I don't have it in me to go above and beyond, so easy costumes are my NEED!
I think that people think that going to the costume store is the only way to get easy Halloween costumes, and that is simply not the case. Sometimes DIY is just as easy in creating a fun costume – and I am going to show you how.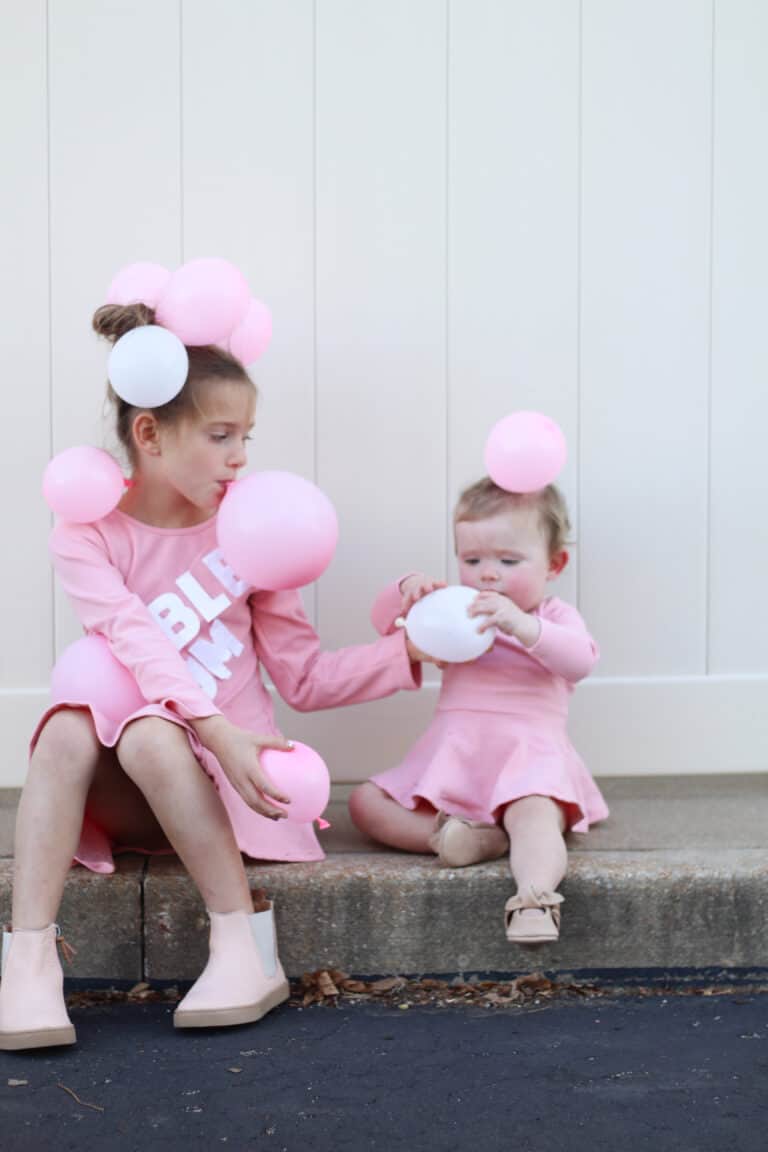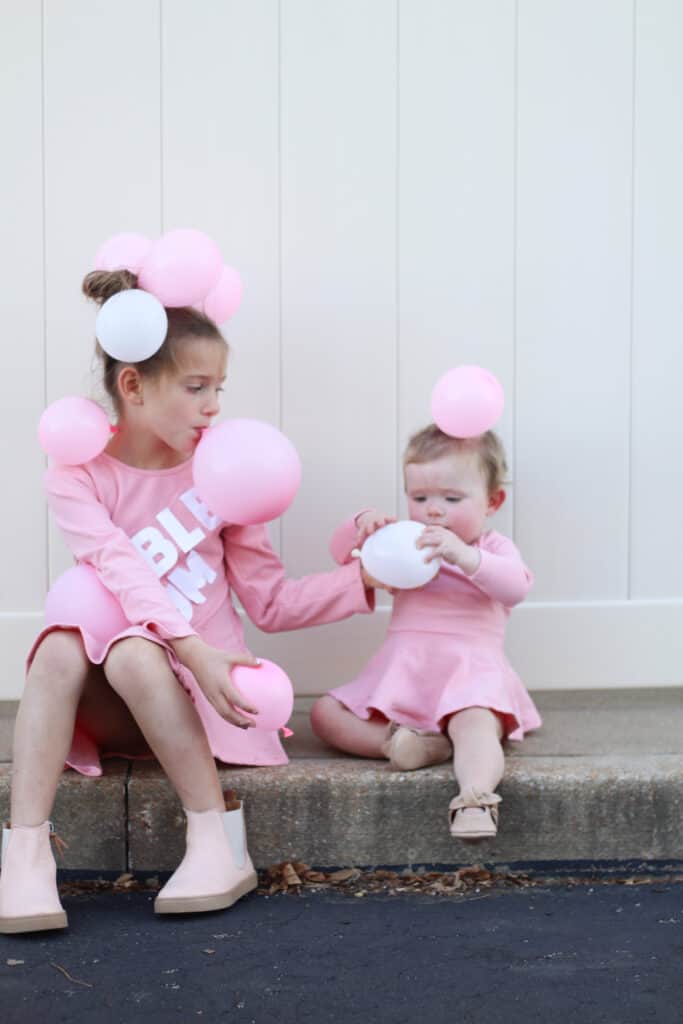 The makings of Easy Halloween Costumes
To me – easy Halloween costumes typically mean you are using mostly street clothes, and they don't require sewing and major amounts of work. That is not to say there isn't some creativity, but most of the costumes you will see in this post are going to be SO EASY and cost you nearly nothing.
I have some other posts with last-minute halloween costumes which is honestly where 99% of these were born (you get bonus points in any costume contest if you finished it that day…right?) so I will link to that post as well.
The best part of all of these diy Halloween costumes is that they all are VERY low cost, and can give some items in your closet a new life. I am never serious and for me the best Halloween costumes are normally the easiest halloween costumes and the funniest halloween costumes.
Easy Halloween Costumes for Groups/Families
I will be honest – we have only done a whole family halloween costume 2 times. They tend to be a lot to coordinate, HOWEVER, both times they were done last minute with minimal effort, and made me realize that family halloween costumes will be a thing for us.
Let it be known – we let the kids pick what they wear for trick or treating so these costumes are truly just for my work. – I don't need anyone reminding me that my kids don't want to wear this haha!
Family Costume Number 1 – Starbucks for All
Last year I had the idea to dress our family of 6 up as 'Starbucks' for Halloween. If you know me I am a Starbucks addict….and I figured after the amount of it I had been drinking during a move and renovation I would just FULLY embrace the coffee lifestyle. The Starbucks costume ended up being such an easy and fun costume that I knew I needed to share how we made it happen!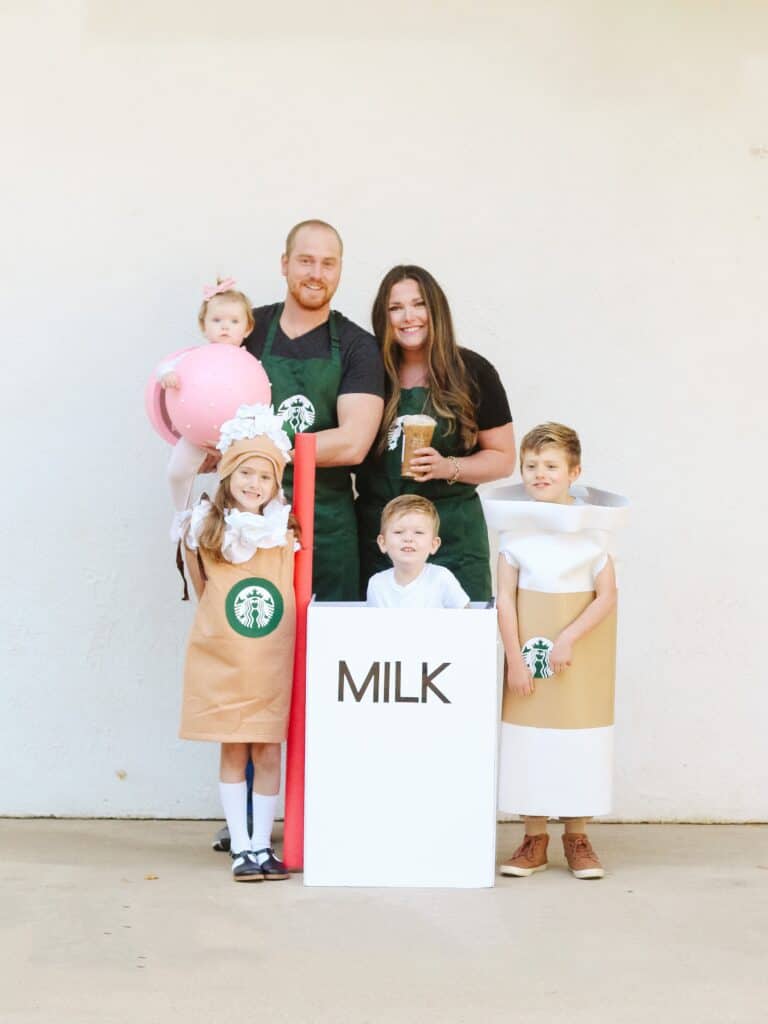 Cake Pop Costume
The baby was a cake pop, and let me tell you….I wanted to actually eat her with how cute she looked!
For her costume I took 2 of these foam half circles and painted them light pink. I then glued sprinkles like this on them (I opted for something actually edible incase she ate any!).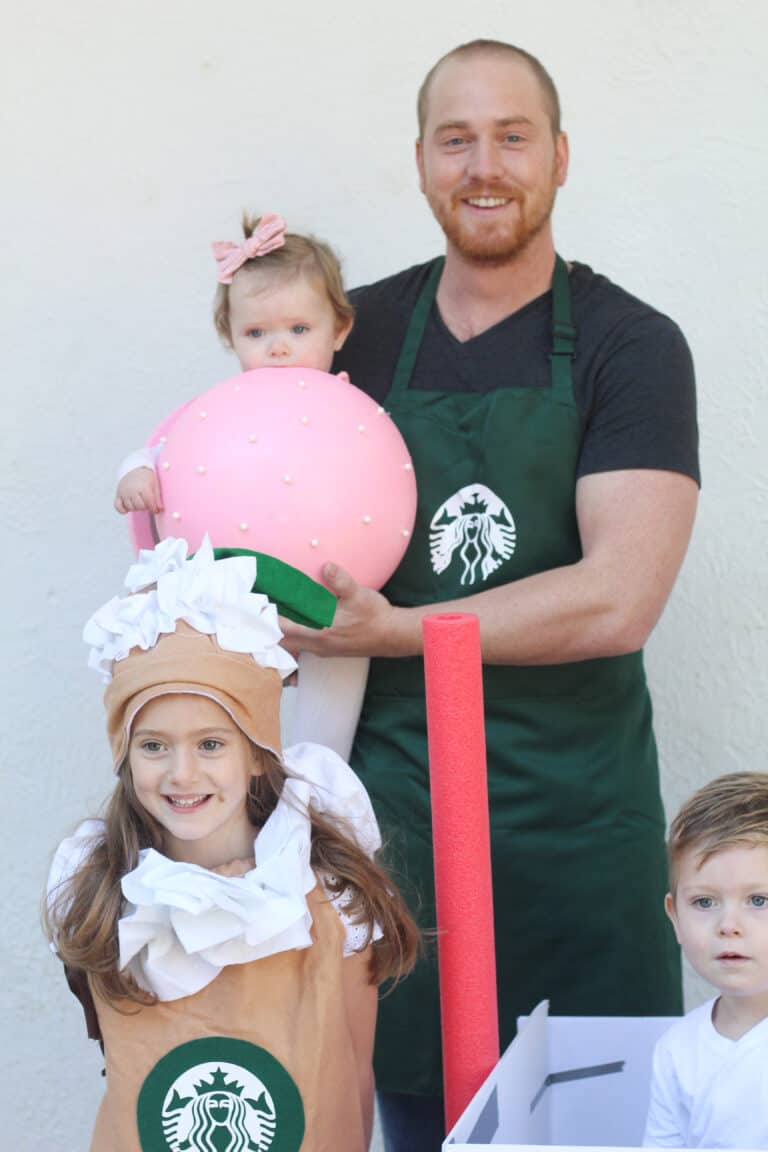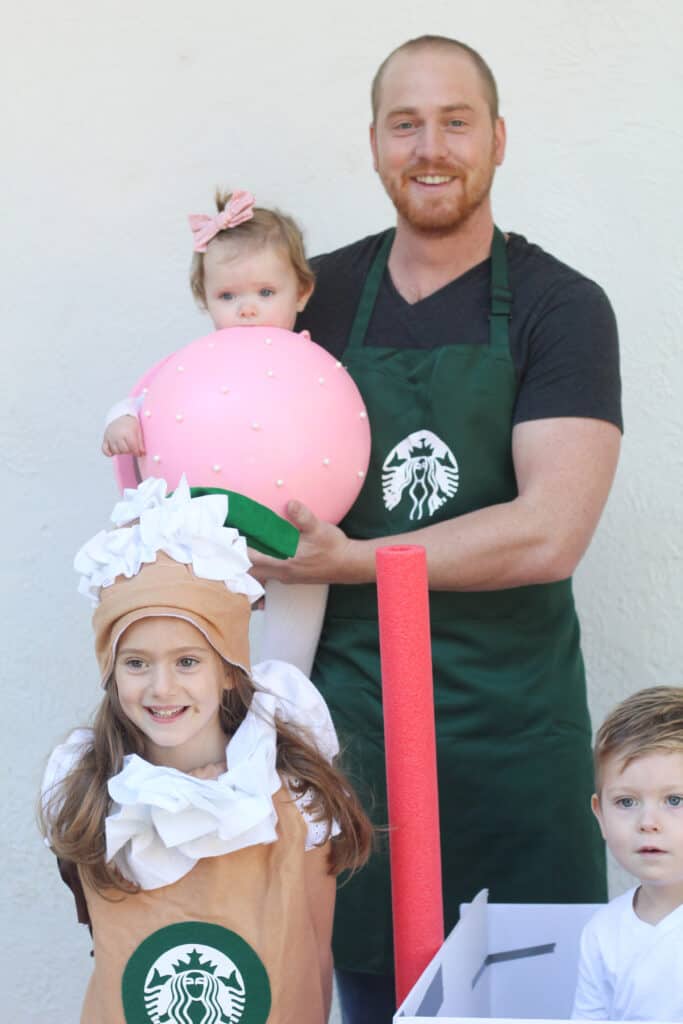 I used rope like this and connected the 2 half balls together in 3 spots. One short string in the middle of the bottom – this was to go between her legs (think a life jacket strap). Then two other strings (actually 4 were for the shoulder straps. For those I used hot glue and glued a piece on the top of each side on both sides to tie on her shoulders. (the Glueing was done inside the balls)
I paired with a white onesie and white tights and called it a day. It was soooo cute, and I think the pink cake pop is so iconic for Starbucks now that it definitely 'read' as right.
Cup of Coffee
The cup of coffee was non negotiable right? My oldest son was a latte or cup of coffee. For his costume I glued a big piece of this kind of super inexpensive foam into a tube.
I then took a second piece of the same material and made a strip about 5 inches tall. I hot glued that piece in spots along the top to make it sort of 'stick out' so it looked like the lid. Be sure to leave the sides open because that also works great for arm holes!
I used tan felt and wrapped it around the piece for a hot sleeve, and added a round green circle of felt. (all of this done with hot glue or sticky felt – you choose). I then used my Cricut to cut an SVG file for the Starbucks logo and stuck the vinyl to the green felt circle. I went with normal felt – not iron on, because I knew it didn't need to be long term.
Box of Milk
For my 3 year old son I made him Milk. – I originally wanted to make him chocolate milk, but easy won, and it was so with it. I literally just used 2 poster boards and duct taped them into a box on the inside. I then added the words 'MILK' to the outside and glued strings to hang over his shoulders when walking. It was honest to goodness a 10 minute costume.
This is also a great one you could do with a cardboard box – so if you have the perfect sized box laying around keep it for Halloween!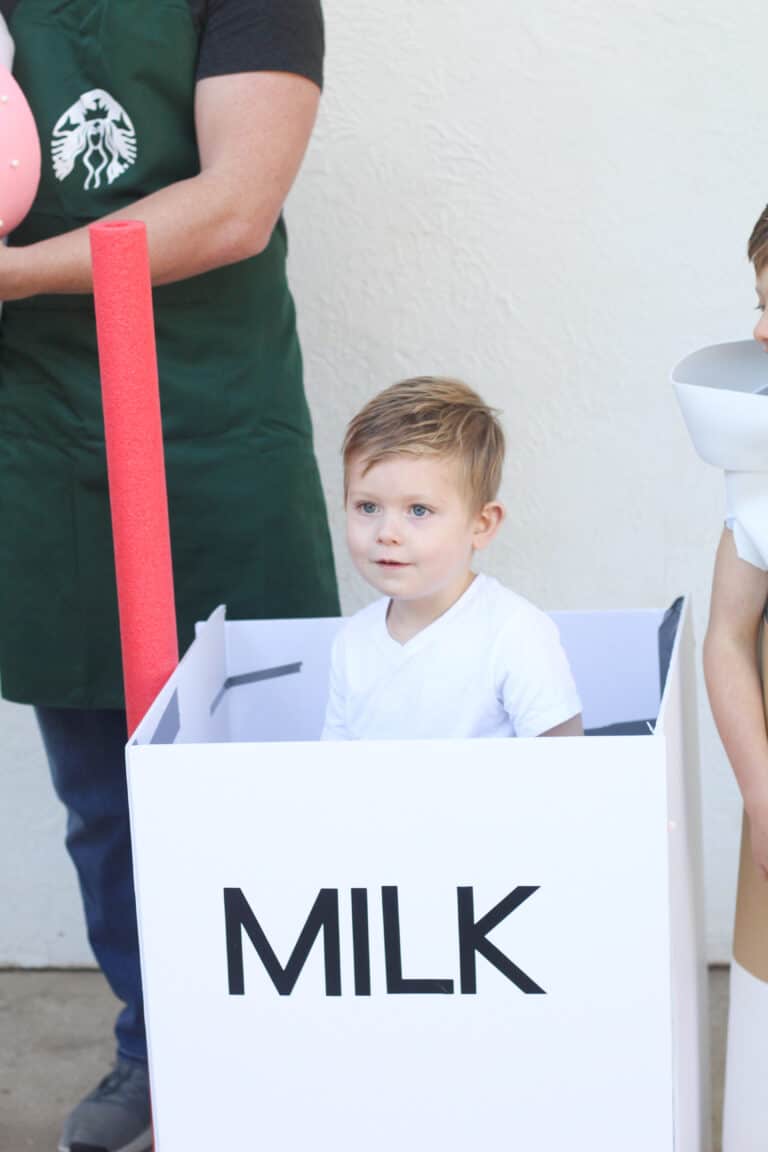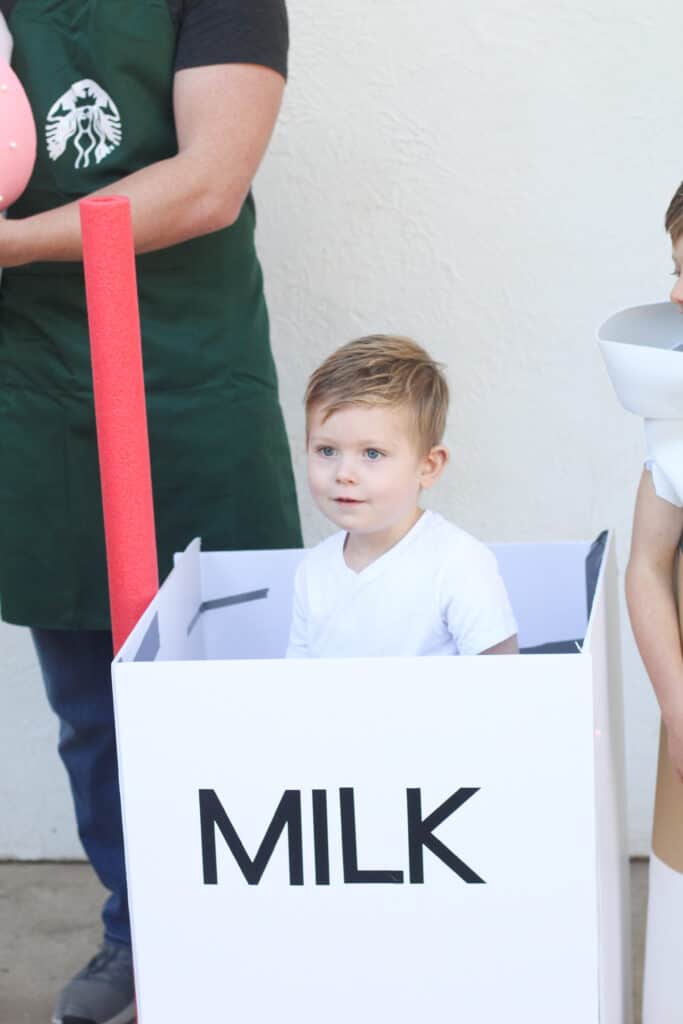 Frappucino
My 6 year old was as cute as can be…and was our only store bought addition to this group. Let me tell you – Amazon prime cut down on my work so much that it was SO worth it tying in the store bought.
I have seen some cute DIY Frappucino costumes, and they are some of the best costumes, but quite frankly…. I didn't have time and loved the ease.
I did use the same SVG of Vinyl from my Cricut on some green adhesive felt to cover the store bought emblem with the Starbucks Logo.
Well Caffeinated Baristas
Well now that we finished the 4 kids….we needed to tackle how to tie in Sam and I to make this a family Halloween costume. I went with Simple for us because – wellllll again I am so last minute. I had both sam and I wear black or white shirts because when I worked at Starbucks those were the rules. I then ordered these aprons, added the SVG files in white vinyl and DONE.
It was SO EASY to add us to the mix….we also went and grabbed some coffees on the way to shoot the photo but for a Halloween party I would fill those so fast with my favorite cocktail.
Easy Halloween Costume for the Family 2 – Jurassic Park
This was a fun one for our family because our last name is JURA, so we went as JURAssic park. At the time we were a family of 5, and my kids still talk about the costume. We used our Madsen cycle as the vehicle and it was such a fun touch, but you could do the same thing with a wagon as well.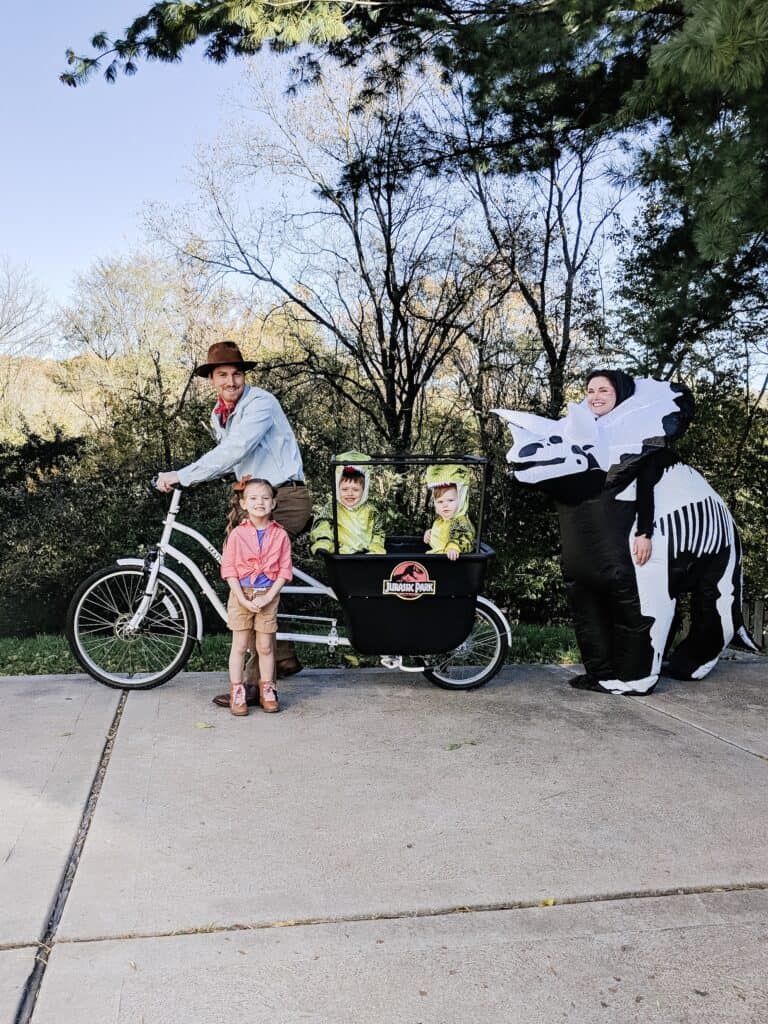 The Humans
This was super easy, and we literally used clothes we had – I bet you can do the same…you just might have to dig in the back of your closet. For my daughter we actually used shorts from her brother (because she didn't own khaki shorts) and a shirt from one of them to tie up. These would also both be REALLY easy thrift store finds if you don't have them.
My husband wore khaki pants, a blue snap button shirt and a bandana. He also had a hat on that I believe we did have to buy for the occasion.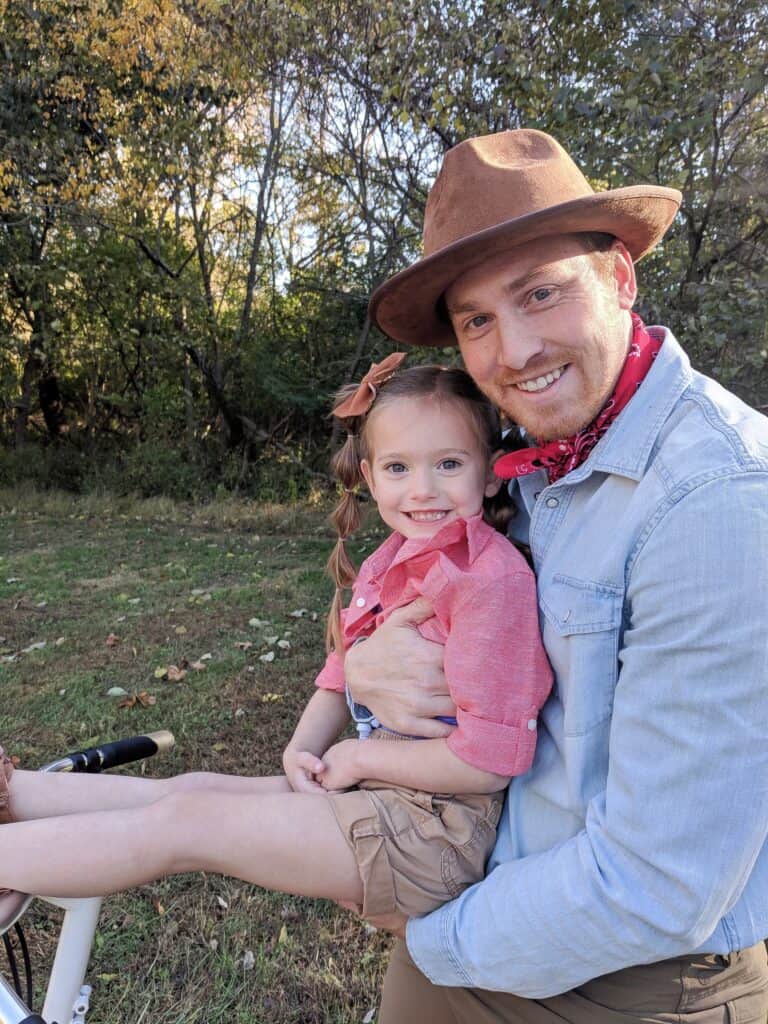 Dinosaurs
It isn't Jurassic park without dinosaurs roaming free right? We opted for more 'funny' with this costume than anything…as shown by what I wore. For the boys we bought them Dinosaur costumes.
This was a super easy store bought costume option that I don't think we could have made in a DIY fashion for less money. I also think sometimes think that when you are talking easy Halloween costumes and Family costumes that normally reads better with a 1 or more store bought option in the group.
I also went as a dinosaur which THRILLED MY KIDS. I actually went with a blow up dinosaur costume like this and it was equal parts hilarious and amazing.
Single Person Easy Halloween Costumes
Okay so that is all I have for family Halloween costumes…until this year, which I can't wait for. Be sure to follow me on Instagram so you don't miss that big reveal. But in the mean time let's talk about some easy Halloween costumes for one (because who wants to be tied to a group the whole time?)
I have lots more costumes linked in both this post and this post, but wanted to get all of my favorites and how to do them in one place for you, as well as how to execute them! The following costumes are great for you if you are looking for a simple costume that will use things you have in an easy way.
Arthur Costume
Who remembers Arthur? Please don't tell me if you don't because I need no reminders that I am getting old. But honestly this costume is DARLING for both kids and adults.
For this costume I put Ave in a yellow shirt layered over a white shirt with a collar. I paired it with a denim shirt and knee high socks, but the bottom is sort of up to you. Arthur wore denim, but to me sort of dressed 'nerdy' so I almost went school girl ish with my daughter as a play on that.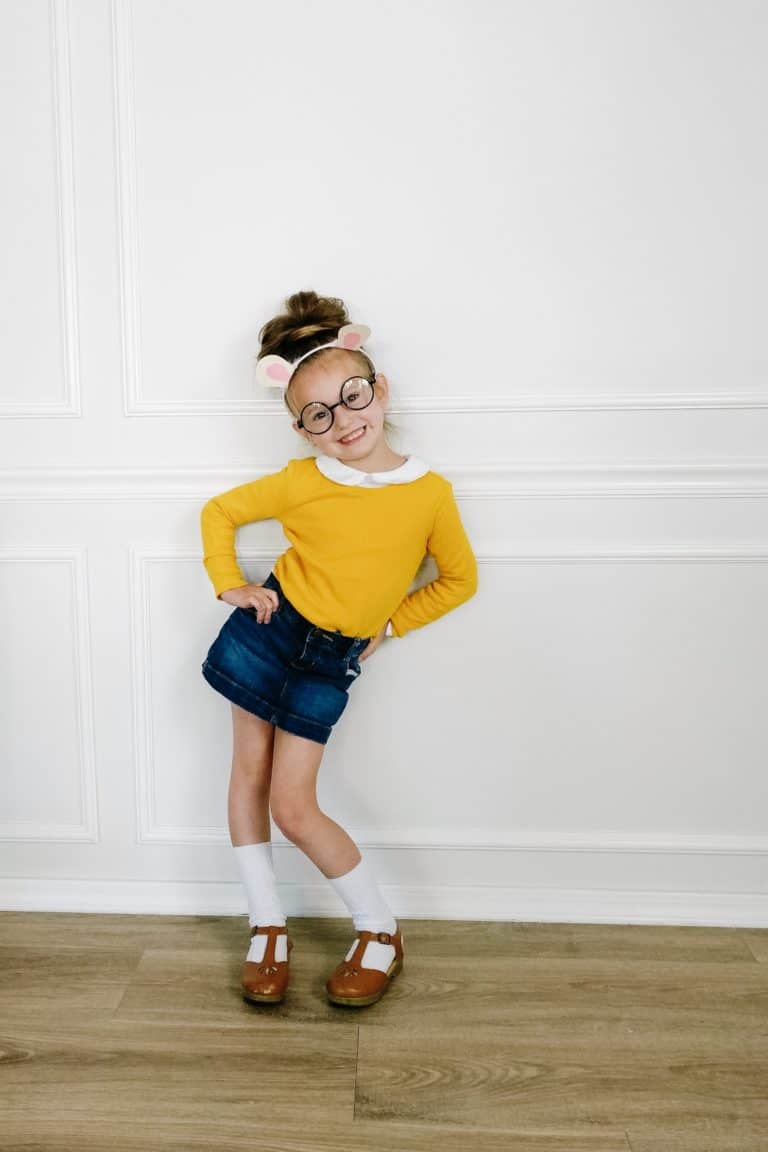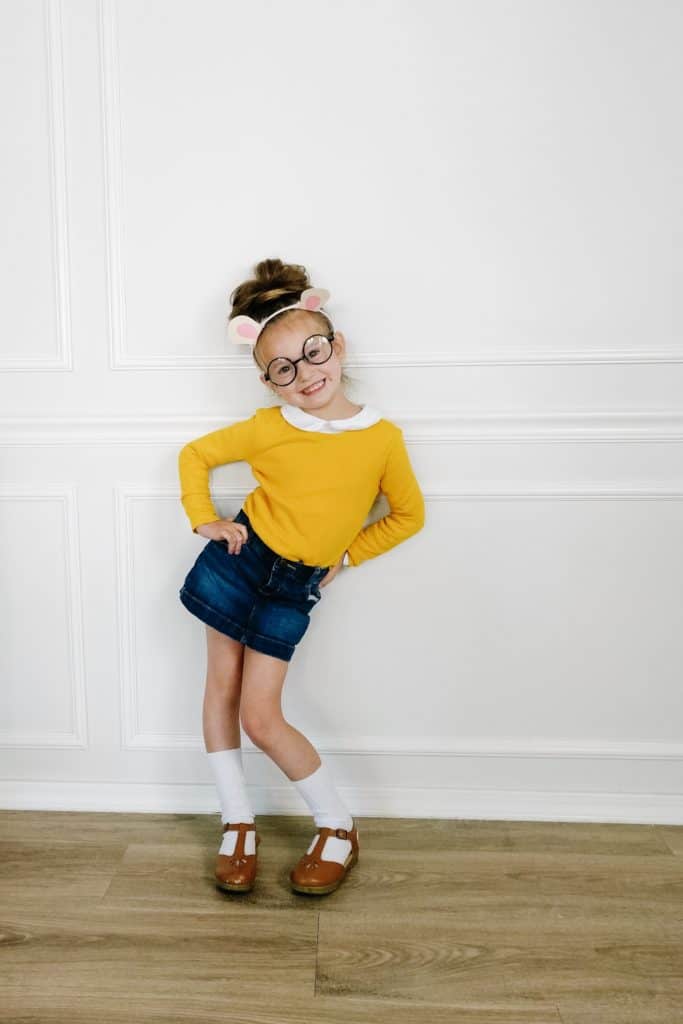 For the ears I just took some felt and glued it to a headband! – This is truly a costume I spent NO money on, because I already had the glasses from Where's Waldo….so maybe we should go to that next!
This is honestly one of the coolest costumes I have done and is a great option for you to throw together on Halloween night because it was easy!!!!
Easy Where's Waldo Costume
This one was SO CUTE. I have seen where's waldo done so many times for adults but not as much for kids…and boy did these kids look cute.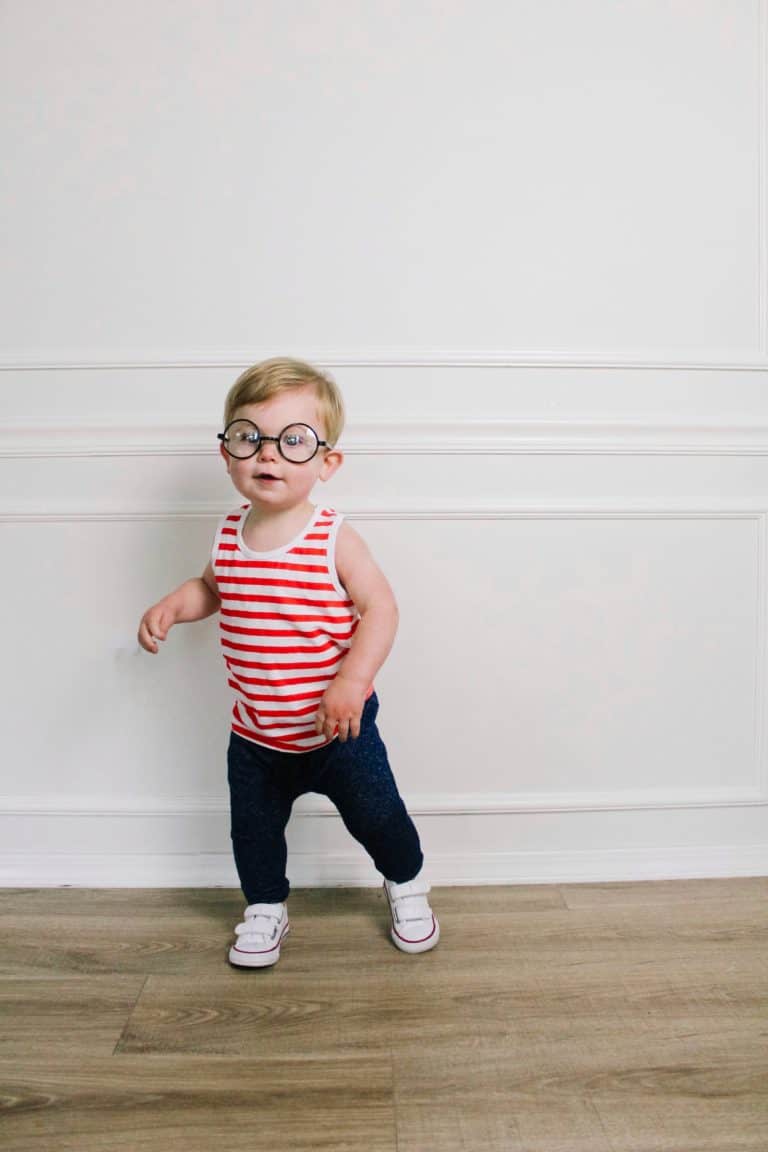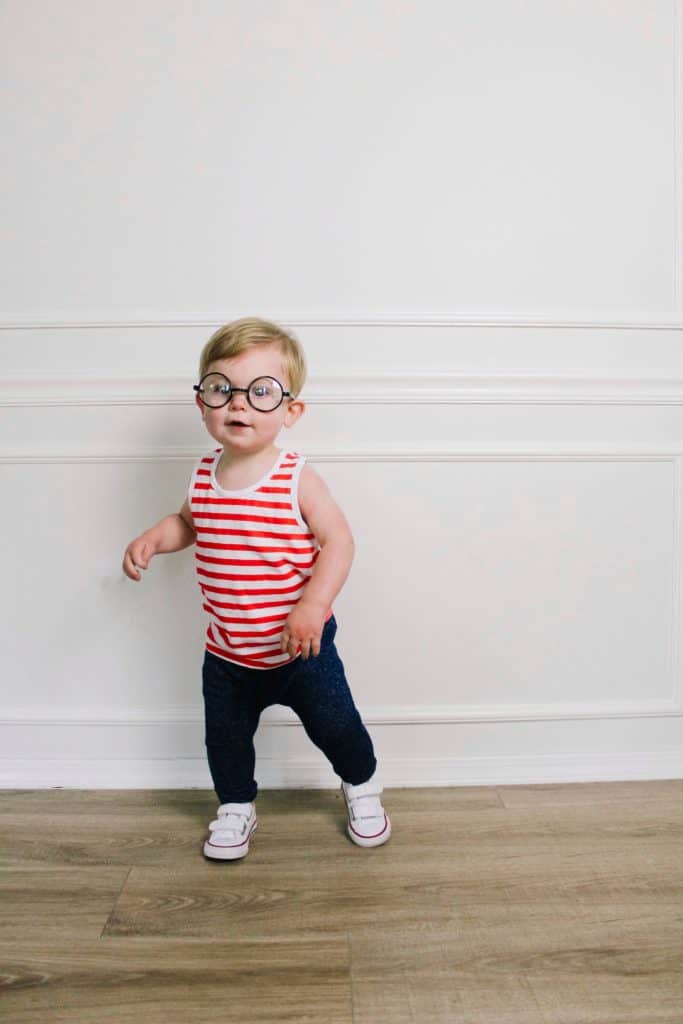 I actually had red stripes on hand from June and January (they normally do have some great stripes!) because of Disney world, so I paired those with some simple glasses and we had a costume. You could add a hat too, but it isn't fully necessary.
Frat Boys Costume
Alright this is a fun best friend Halloween costume for those college girls too….I mean might as well dress as those you're trying to impress right?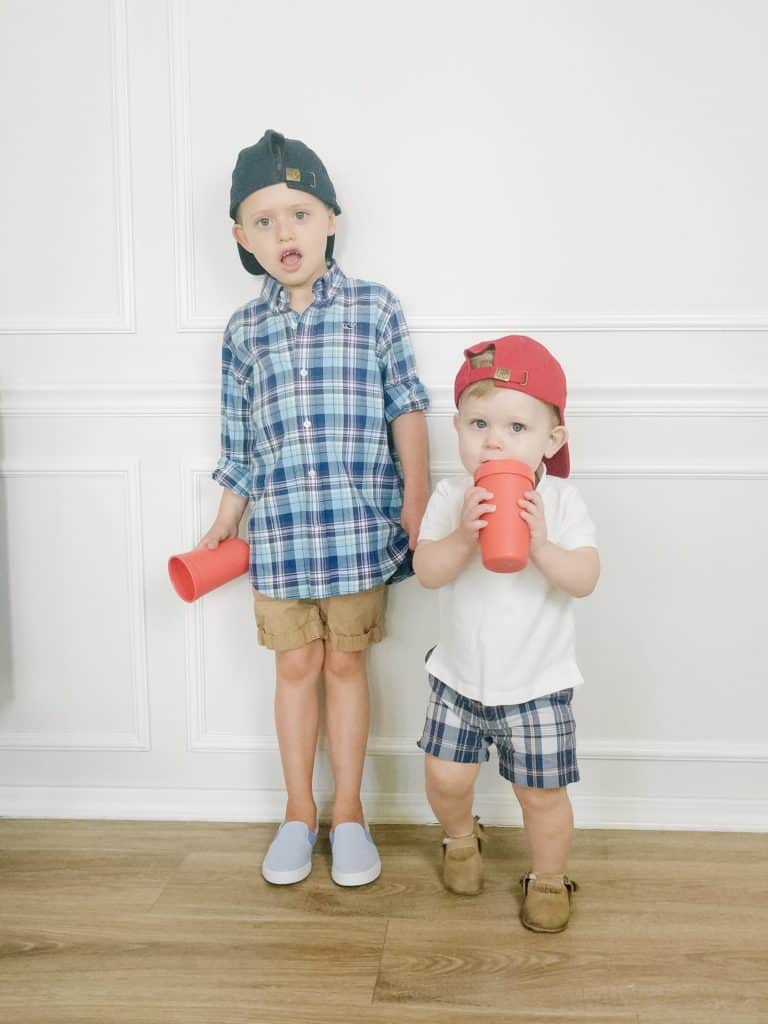 This was honest to goodness the most easy idea I have ever had. I bought NOTHING. I dressed both of my boys in polo shirts, preppy shorts, and backwards hats. I then gave each of them a red replay recycled cup that I already owned as their 'red solo cup' and we were done!
Pocahontas and Meeko Costume
I keep thinking the last one I posted was my favorite east Halloween costume until I get to a new one, but my daughter as Pocahontas was soooo cute. I LOVED Pocahontas growing up and it was so sweet seeing her dressed up and loving it too. As an added bonus we added Meeko (the raccoon) and she had a 2 year old brother who was the perfect choice for the role.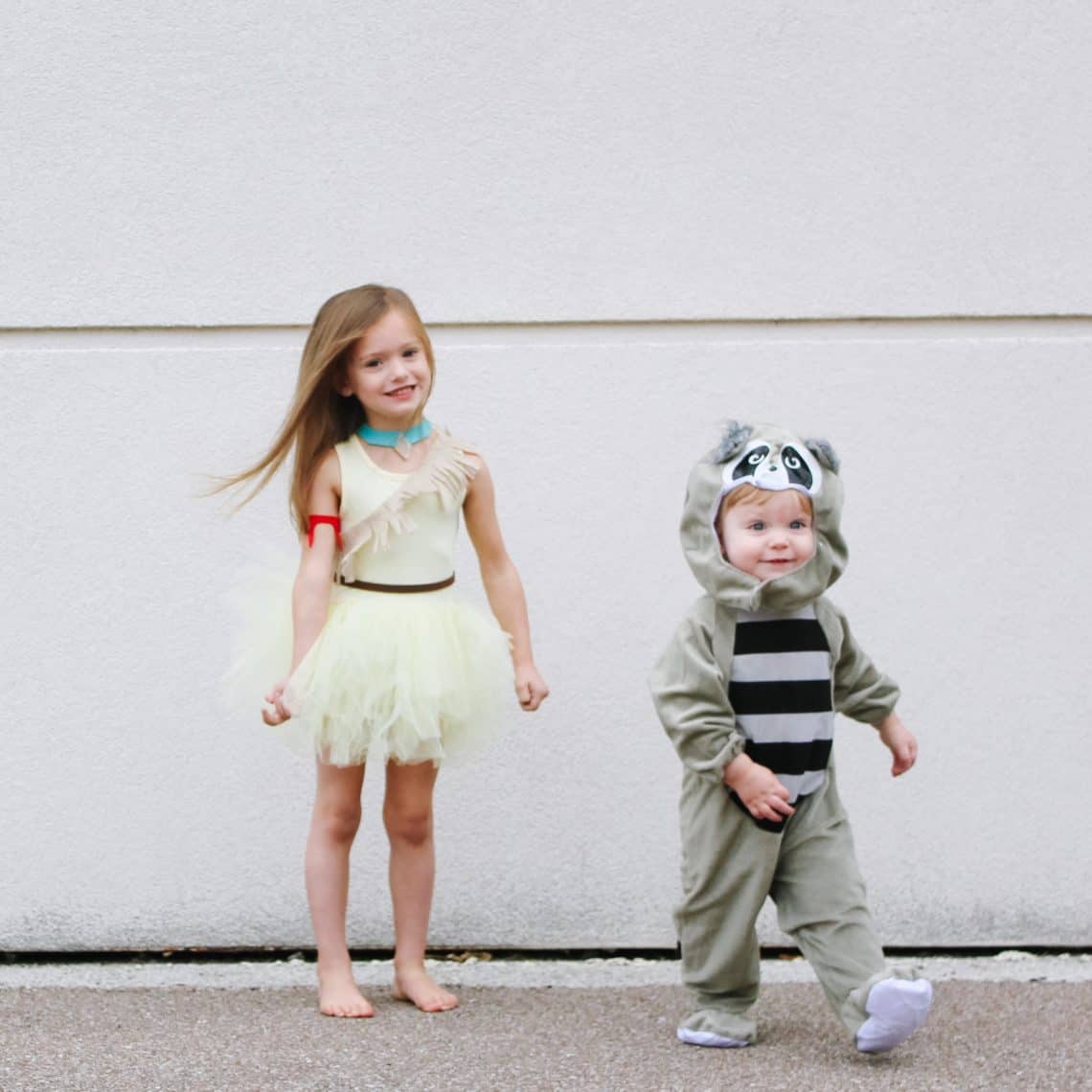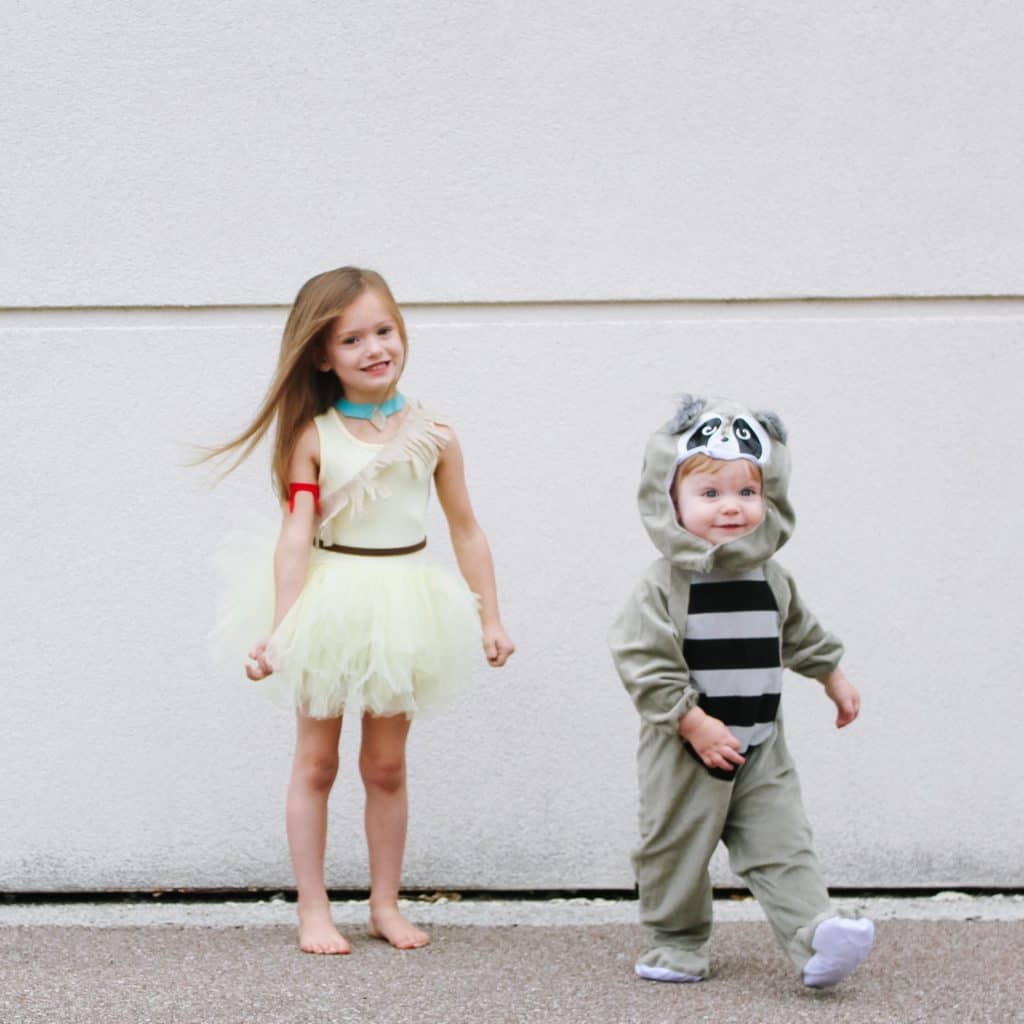 For my daughters costume I used a Plum Tutu which is my go to. I will say you could use a white dress or ivory dress and tie in the details. Always remember that a costume doesn't have to be perfect. Aside from the tutu or dress everything was felt. I bought felt sheets to make her arm band, necklace and a sash over her tutu.
And for Meeko – he was in this and was about as cute as they come!
Easy Bubblegum Costume
2 girls has called for even more pink in my life. So bubblegum was a great DIY costume to tie that in….right? For this costume I literally used these pink dresses for both girls, and added letters. You could do iron on, vinyl, or even these letters with double sided tape like me. I then used double sided tape and some balloons. Add some more balloons to hair clips using hot glue, and you are done!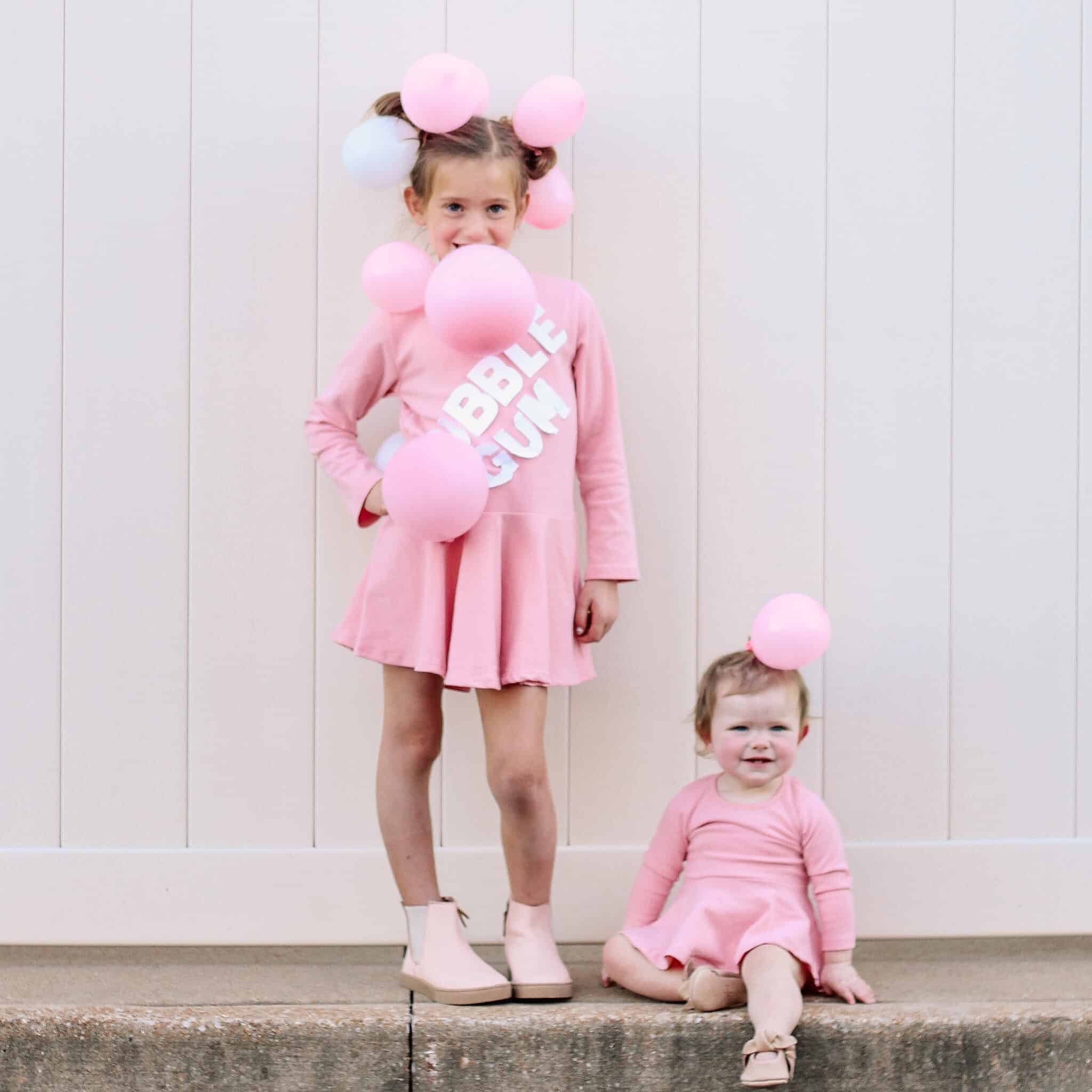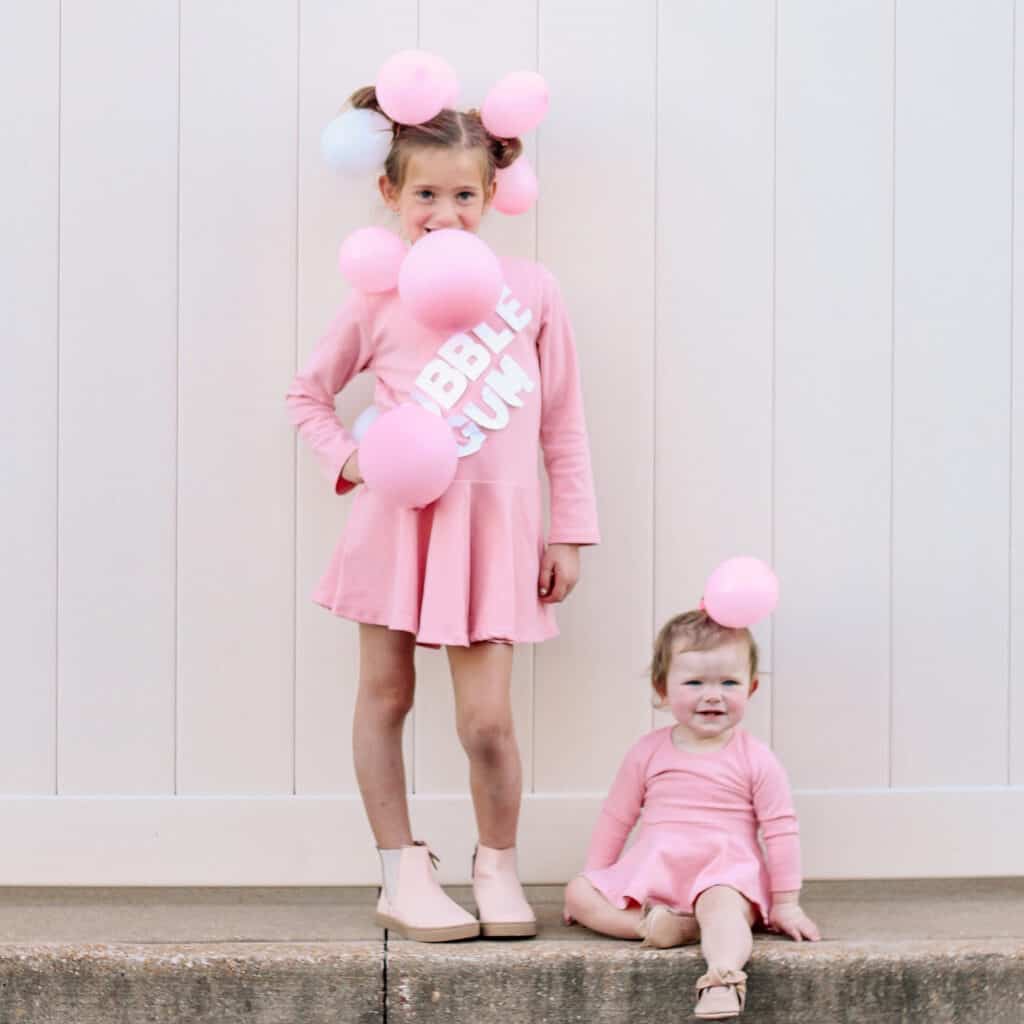 Base your method of adhering the letters and balloons on how long they will wear them, but honestly it was sooo easy and cute!
Goldielocks and the 3 Bears Costume
Cue the costume I will make my kids wear every year. It is not my fault that I had 3 kids then a baby 'Goldie'. Again we are talking about a super easy costume with a great excuse to buy more of my favorite pajamas. I put all three of my older kids in these (girls) and these (boys). I then made them all felt ears glued to a headband and clipped a bow on to my daughters. Now you have Daddy bear, Mommy bear, and Baby Bear!
Those pajamas come in various colors and are my favorite so be sure to get creative with them.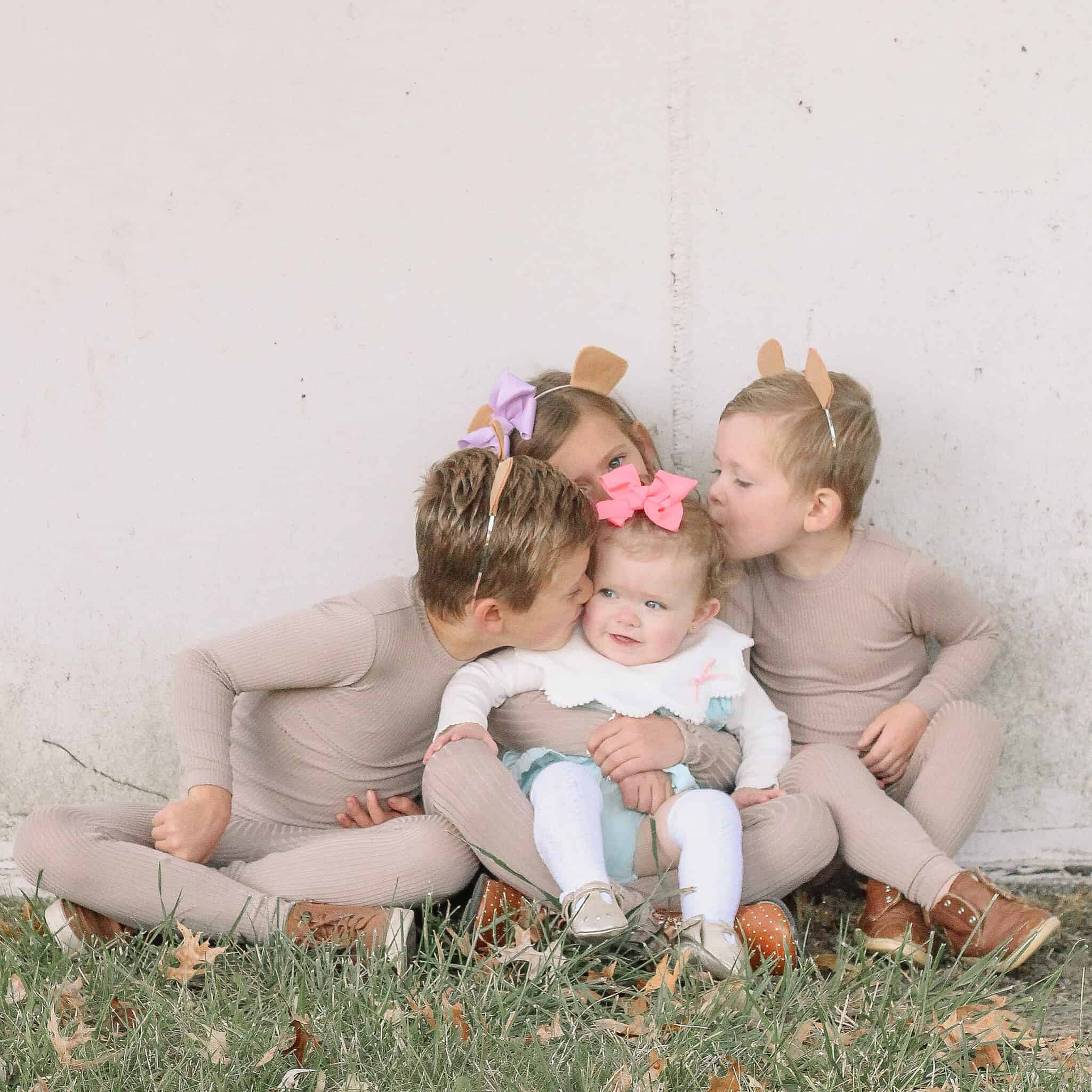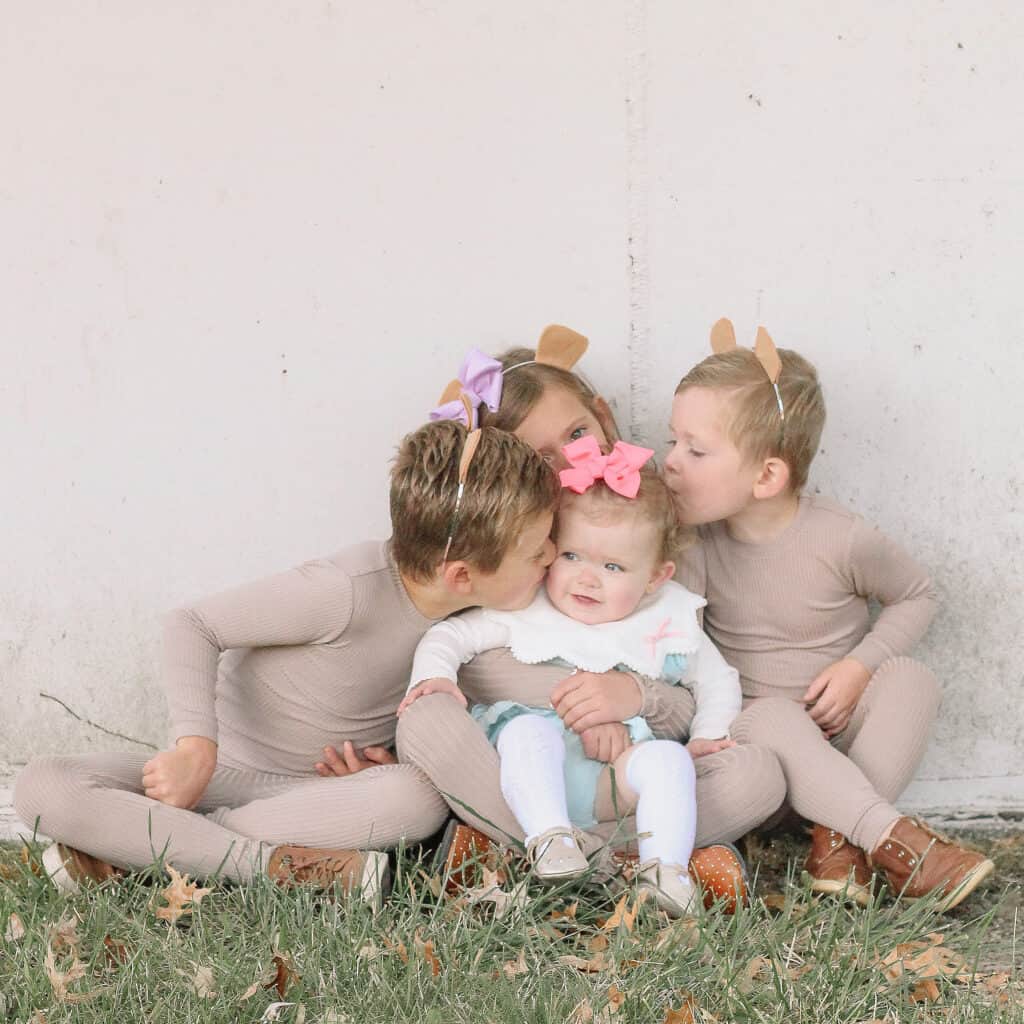 Now I needed Goldie Locks – for Goldie I got her this onsie from Amazon, added some knee high socks, and these Peter Pan collar bibs, which ended upping a favorite and she was read to go.
This is one of those last-minute costume ideas that you might need to buy more of from Amazon, but every single piece will be used often after, so it doesn't feel like such an investment.
Hippie Halloween Costume
Talk about another great last minute costume idea no matter your age. I pulled this whole costume together from stuff in my daughters closet. Bell bottom jeans, a fun eyelet shirt, a choker and some fun sunnies and Ave was ready to take on Halloween. I mean this my be your perfect excuse to buy the ever more trendy bell bottom jeans.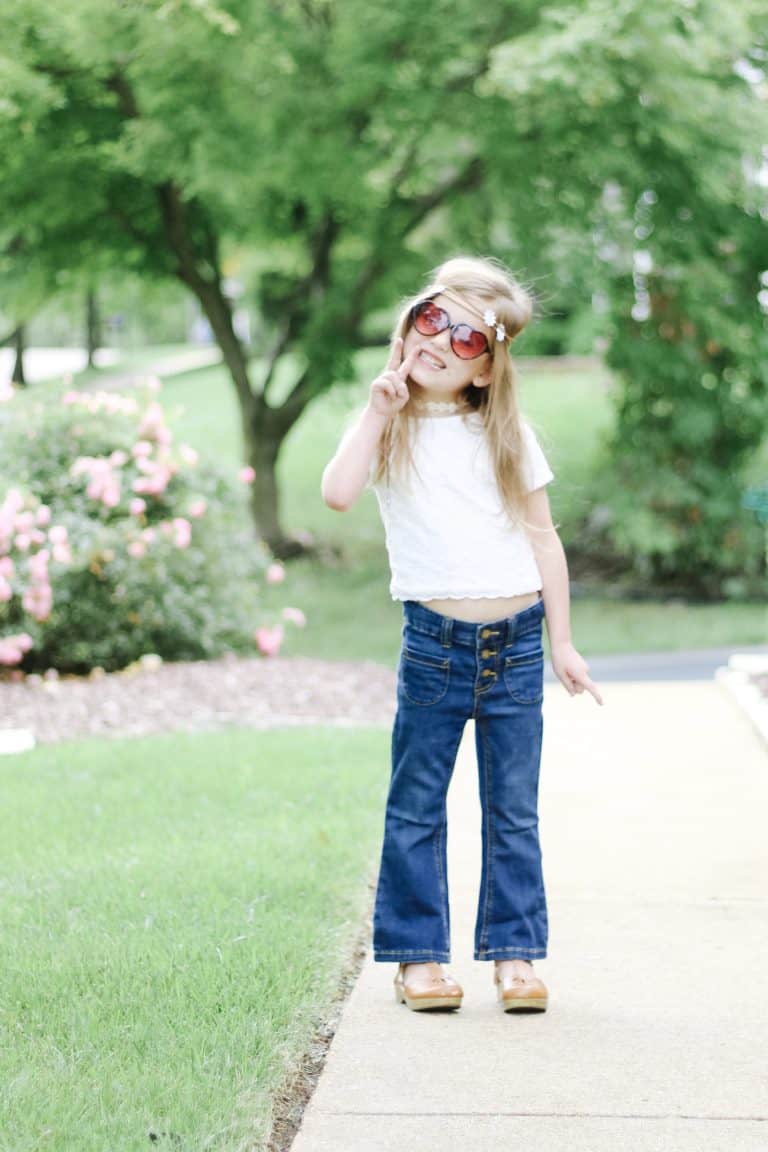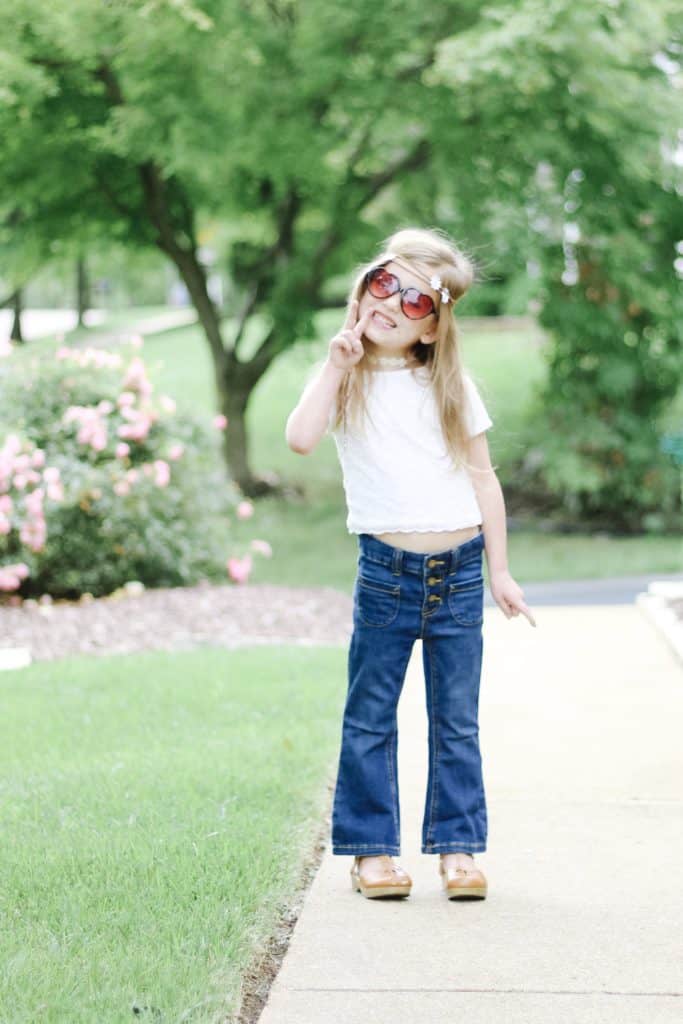 Other Great Easy Halloween Costume Ideas
Mary Poppins | High School Musical | Snow White | Miss Universe | Scooby DOO |
Other Posts You'll Love
If you're still looking for the perfect costume, or more halloween fun look at these posts below!
More Last-Minute Halloween Costume Ideas | Easy Halloween Costume Ideas | Halloween Pajamas | Pink Pumpkins | The Best Boo Basket Fillers
Pin the Photo Below for Later
For more Halloween fun be sure to be following me on Instagram (@arinsolange) – because I have plenty more easy Halloween Costumes to come this year! If you have any questions from this post be sure to comment below, and be sure to save the photo below to find these pictures every year!