Avé's room is finally done in our new house, and I am SO EXCITED. I not only love the end outcome, but honestly am really excited to have a finished room. We based her whole room off the paint color Valspar Desert Bone that she picked out, and the end results were perfectly sweet and whimsical, so hopefully you find some great inspiration for your home too.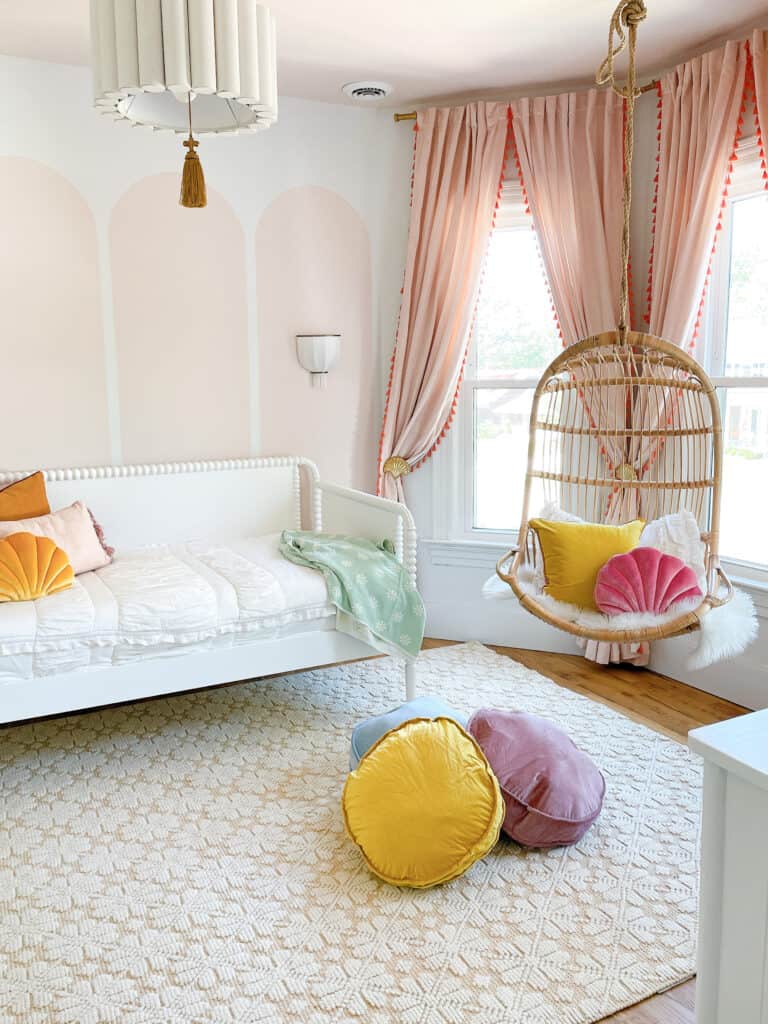 Valspar Desert Bone
When we were looking at doing Avé's room there were a couple of non negotiables:
1. It was going to be affordable ISH – I didn't want to splurge on Wallpaper because I knew that our long term plan was to move her to the attic space and we don't know if that is a 2022 plan or 5 years down the road plan. I didn't want to over invest in this room for her if she would move out in a year.
2. It was going to be pink. If you know Avé then you aren't shocked. And if you have followed me for long you know I was not disappointed either haha.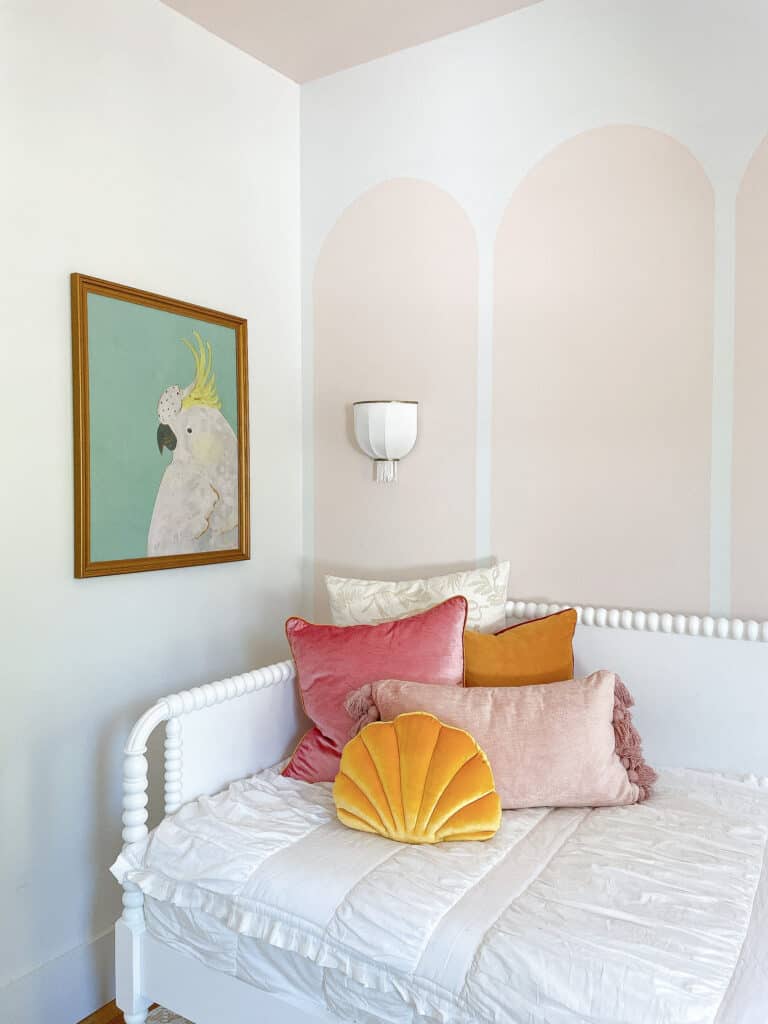 Avé is almost 7 and has some serious opinions when it comes to decor…thats what I get for having a daughter that is already in love with design shows ha. Because of that I wanted her to have some say in her room design, while still letting me do my thing.
I talked with her about paint colors and got some swatches – I opted to bring home 4 options that I liked and let her pick from those instead of letting her go crazy at the store. I talked to her about the perks and down sides to lighter and darker paint choices and ultimately she landed on Valspar Desert Bone.
It was still very 'pink' but light enough to keep the room feeling tall and open. We knew we were painting the ceiling fore sure initially and had originally talked about possibly doing all the walls the same color as well…so I explained that we didn't want to make the paint too dark and make her room feel like a cave.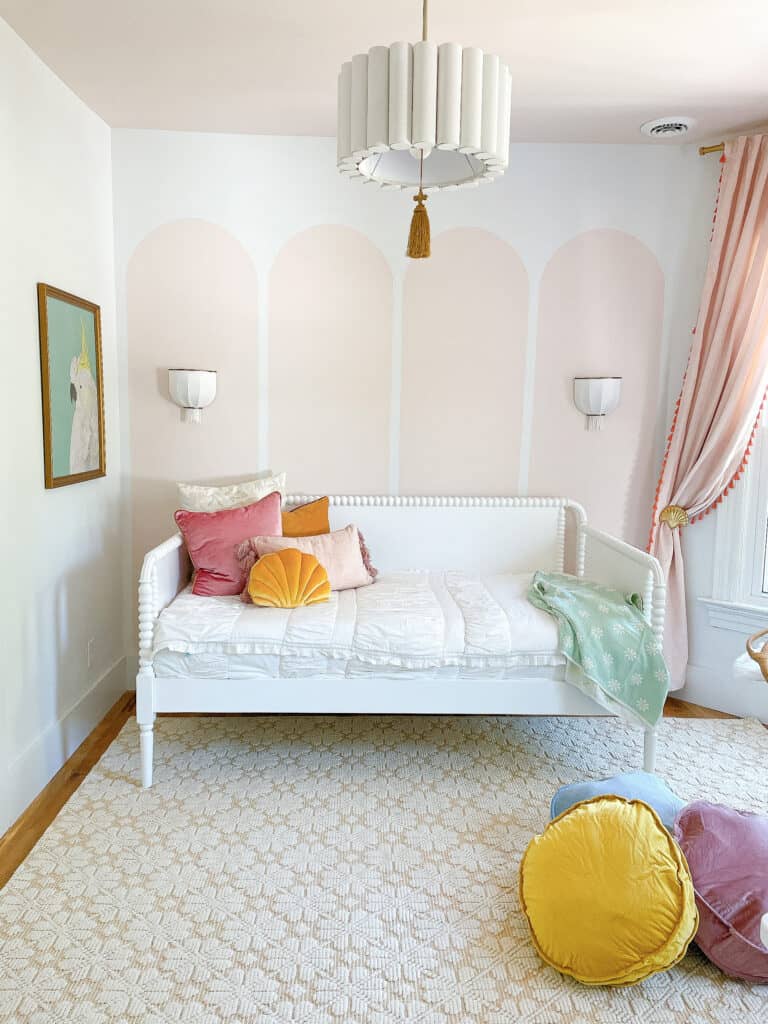 Creating the Arches with Valspar Desert Bone
For the back wall in Avé's room we added these fun painted arches for a super affordable way to update her back wall. I knew I wanted that wall to be bold with artwork or something, and this ended up being perfect.
To create the arches you can watch this Reels on my Instagram, but we measured things out and used painters tape to mark it off. I highly suggest using frog tape for a more crisp outcome. The arches are in the same Valspar Desert Bone as the ceiling.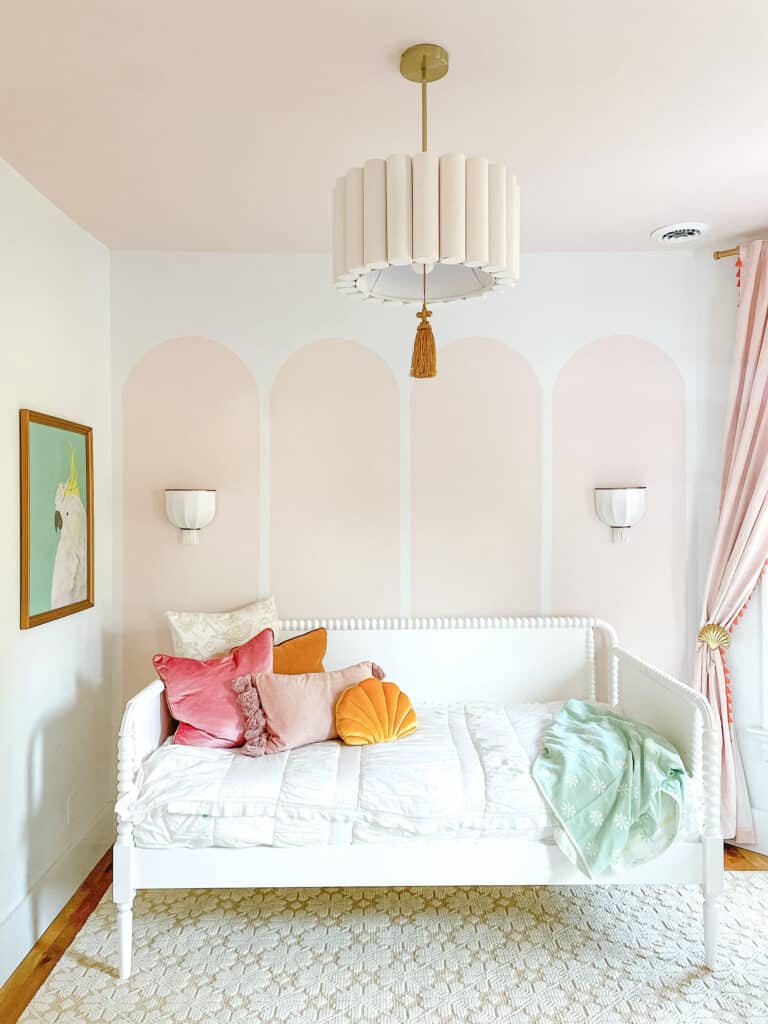 Valspar Desert Bone Room Details
Now that we talked paint colors – lets get to the fun stuff in her room. Our house is 150 years old…which means the rooms aren't all as 'normal' in shape as some. Avé actually has gorgeous bay windows in her room that I fell in love with, so although it is a room that has less room than some in terms of decor, it also is just so fun and dreamy.
I tend to decorate on the more minimal side – I don't love clutter, so a lot of my decor choices are clean and simple and this room is no exception. I kept things very simple and love how it turned out.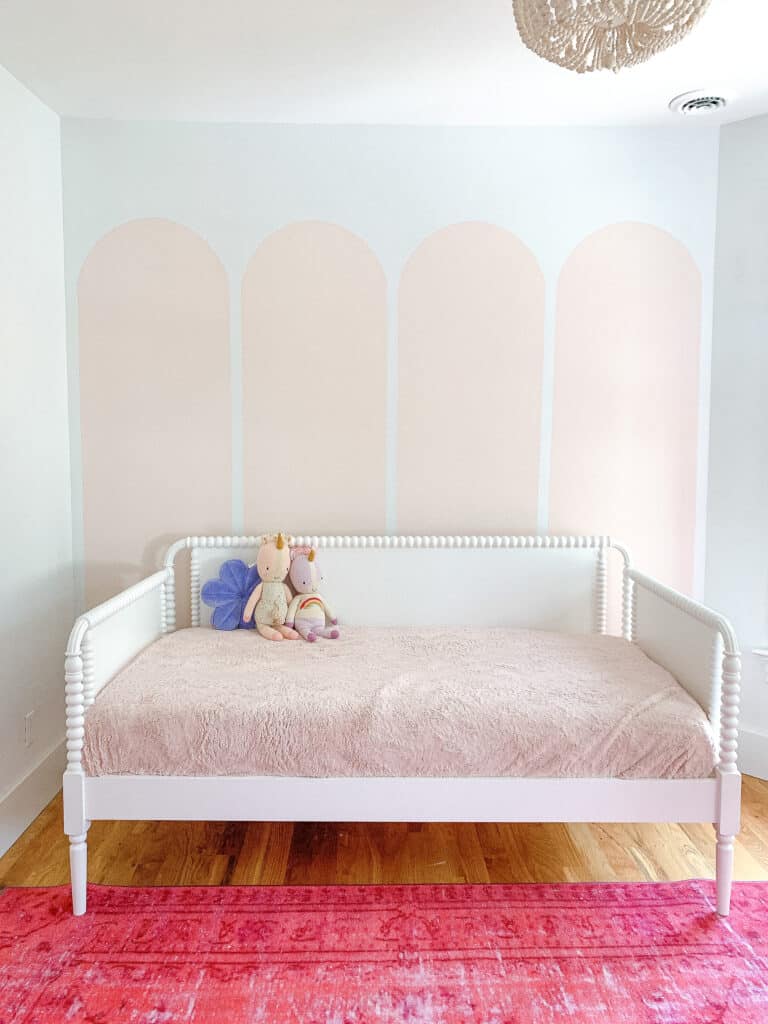 The Furniture
When we moved from our last house we decided to swap out Avé's gorgeous full sized bed for a day bed because of space. We knew that giving her more room to play in her room was more important, and we are so happy with the decision.
We went with this Jenny Lind style bed and I seriously don't think I could possibly love it more. My boys had Jenny Lind beds in their room at the last house too so I knew I loved the beds. (full review on Jenny Lind Beds here)
We also decided to keep a hanging chair in her room. In our last house Avé had the hanging white rattan chair and Goldie had the natural color. When we got Avé the white bed I decided to swap the chairs for the girls. If you have ever considered a hanging Rattan chair I have a whole review on them in this post that you might find helpful.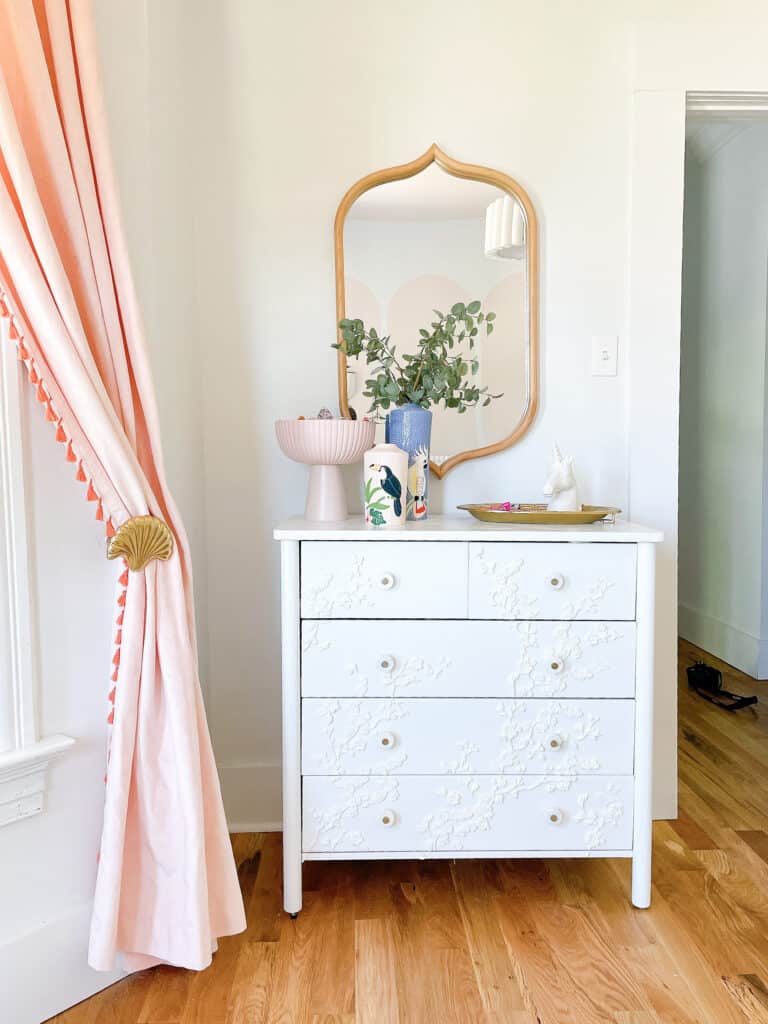 The last piece of furniture was her dresser. We actually originally did this for her dresser, but I ultimately decided to change it AGAIN and did this resin DIY on her IKEA dresser.
I ended up doing this IKEA hack with Resin and it turned out so pretty. It was VERY easy so I cant recommend the DIY enough.
We actually have that same dresser in Jack's room in its original state and I just love the size and storage it offers. Avé's room couldn't do anything much wider, but I wanted to keep her dresser low enough that she could use the top of it while she is so young.
Bedding
If you have followed me here on my blog that you already knew that Beddys bedding was going to come into play in this room. I LOVE Beddys in a big way. Like it is the bedding of my dreams.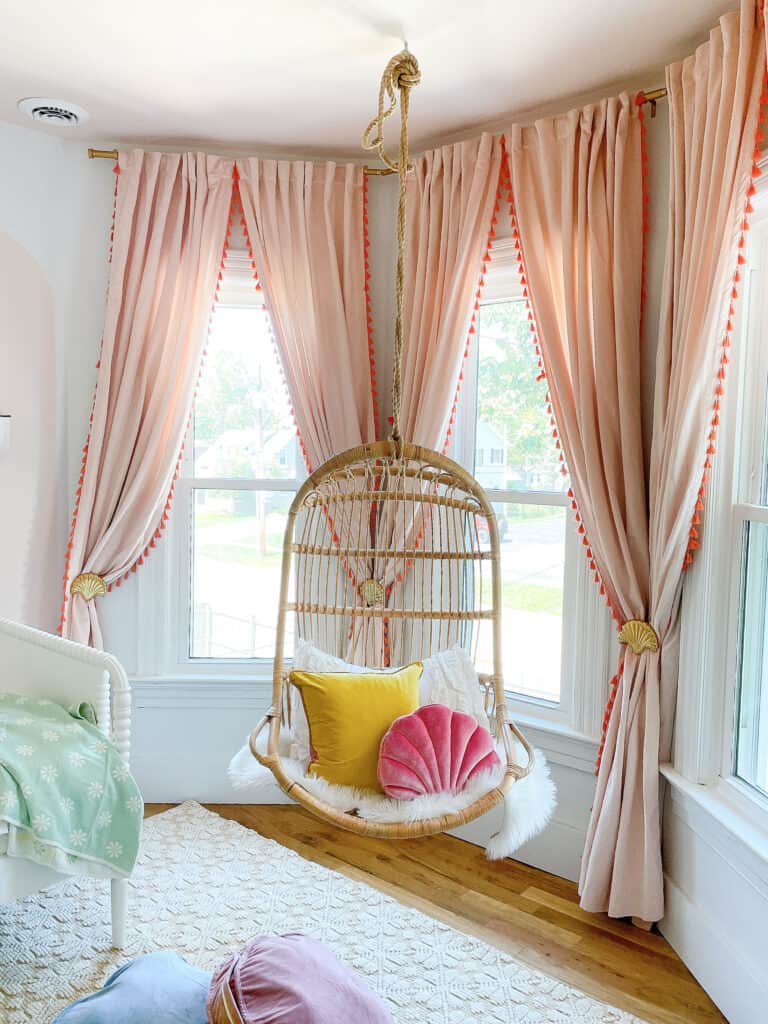 I knew for a fact it would be in this room, and I opted for simple white so I could add to the bedding with throw pillows. If you have ever wanted to hear more about Beddy's Bedding you can read my full review here, but I also have a discount code below you can use.
Beddys Bedding Discount Code: ARINSOLANGE
Decor and Details
As for the rest of the decor….I have had this room at about 75% for MONTHS. I mean months. I needed to find a rug and curtains, and honestly…I just wasn't in love with anything I was seeing.
I don't love to go too expensive with those items in kids rooms because I tend to change the spaces a lot…and with Avé's room I needed 6 curtains, so changing out really expensive ones in a year might have led to divorce. (we also have really tall ceiling so I end up having to get the highest priced options…of freaking course.)
I finally found a rug and curtains and the rest of the details fell into place!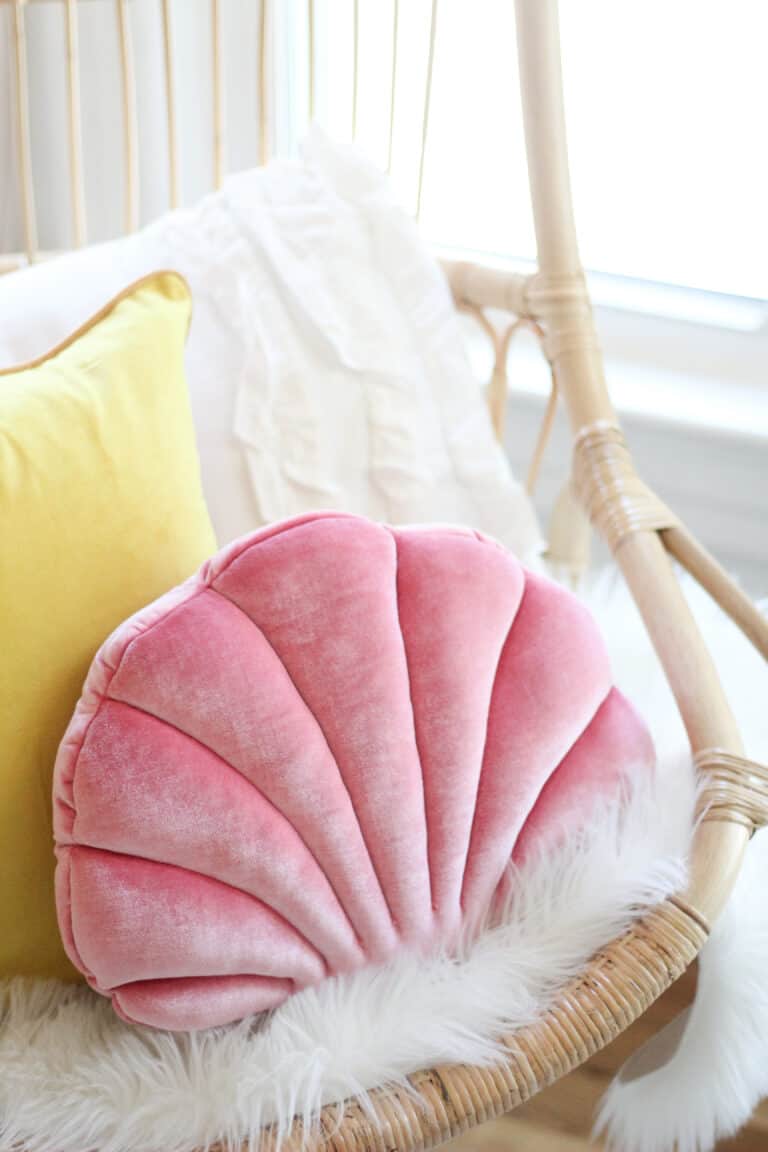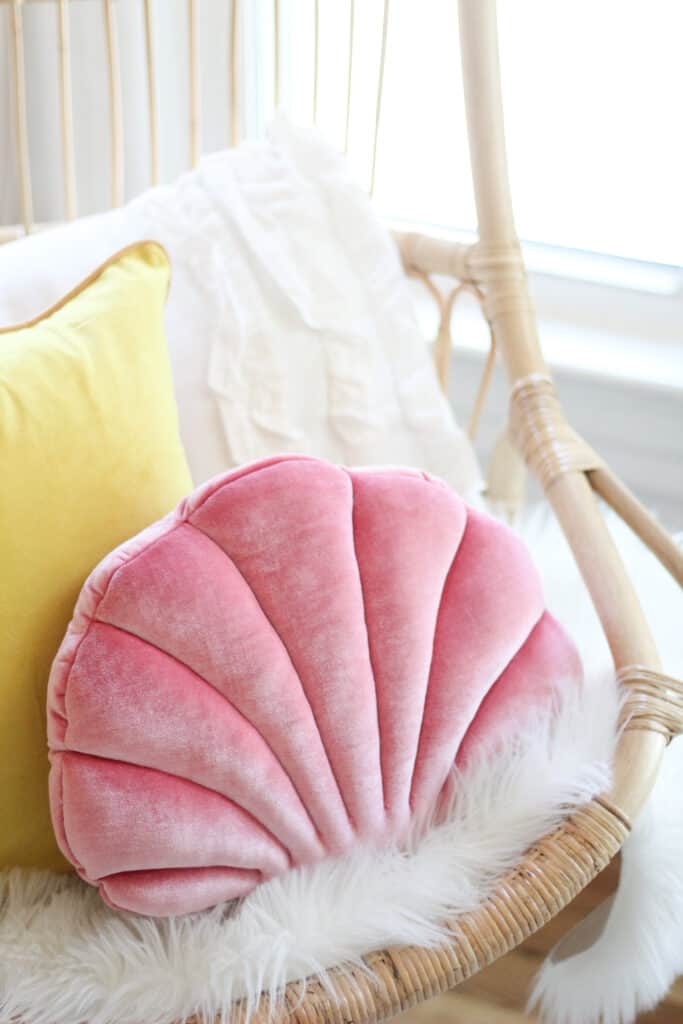 The Rug
I fell in love with this rug as soon as I saw it. I spent a few minutes with some consideration on the blue but opted for the natural/yellowish one and LOVE it. It is so soft and seriously so pretty and unique.
The Curtains
I finally ended up going with sort of simple curtains for the room. I loved that the pink in these mashed the Valspar Desert Bone really closely so they didn't clash, but the added tassel edge broke up the color a bit.
Once we added the curtains we decided to give her tie backs because they are so high that its hard for her to open and closet them on the rod. I found the tie backs at an antique store and fell in love!
Curtains (mine are the 105 inch length) | Curtain rods + these corner brackets for bay windows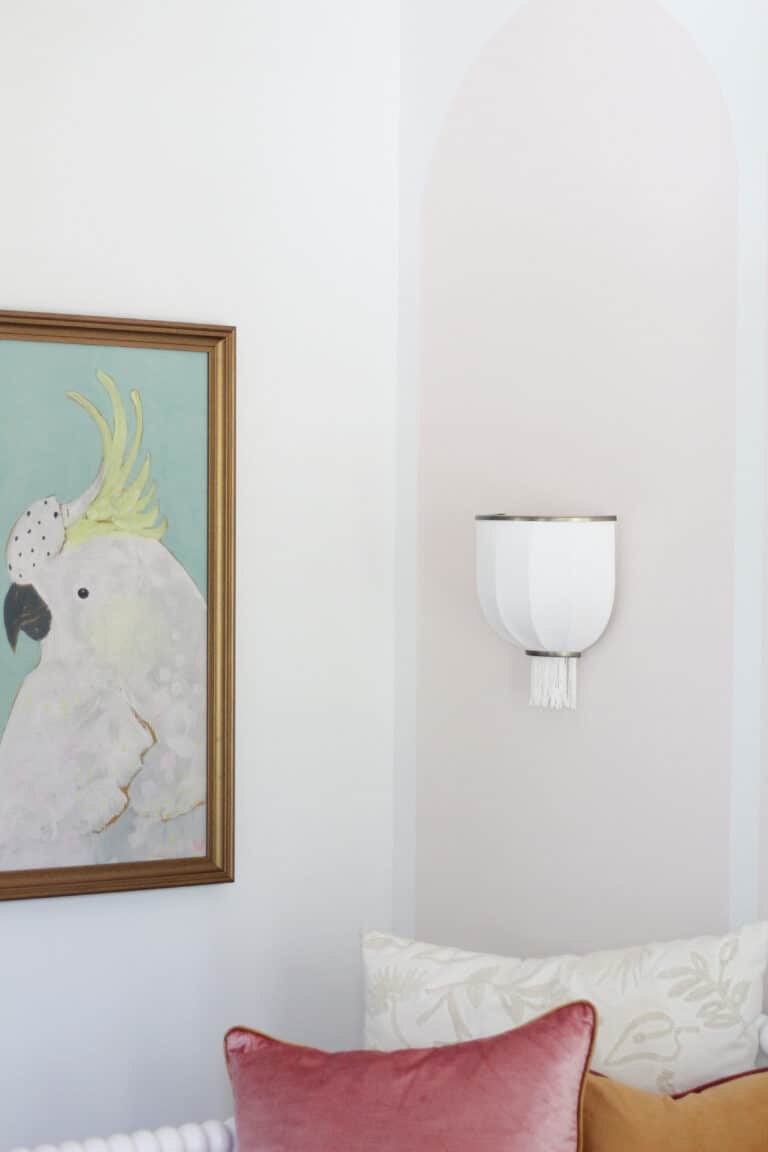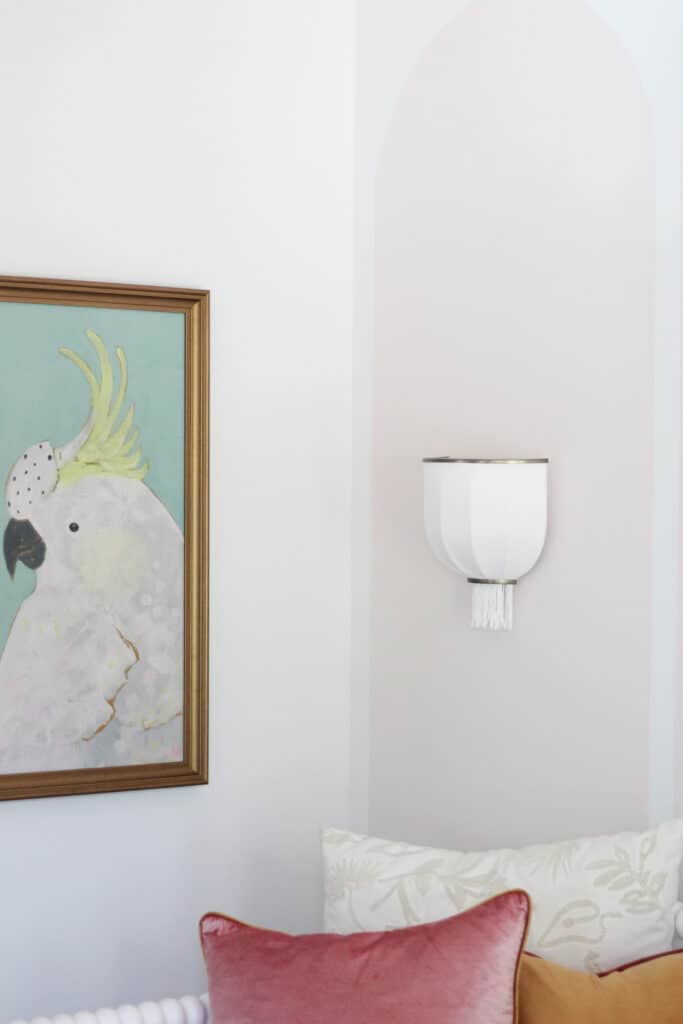 Smaller Decor
As far as the other decor – I kept things really simple. I had a lot of items already, and wanted to keep things affordable yet pretty. One thing that is worth noting is that the poufs on the floor double as stuffed animal storage.
When we did Jack's room I got him a storage pouf and it was one of the better choices I have made in kids room decor in so long. The pouf stored way more than a basket and keeps his room looking so clean and put together every day. I knew I wanted that in Avé's room too, but really struggled with what one to buy.
I ended up getting her these three – they came with the pillow inserts so I figured if she didn't need them all for her stuffed animals I would throw the pillows in them. It worked so well, and I am beyond impressed with how well it worked.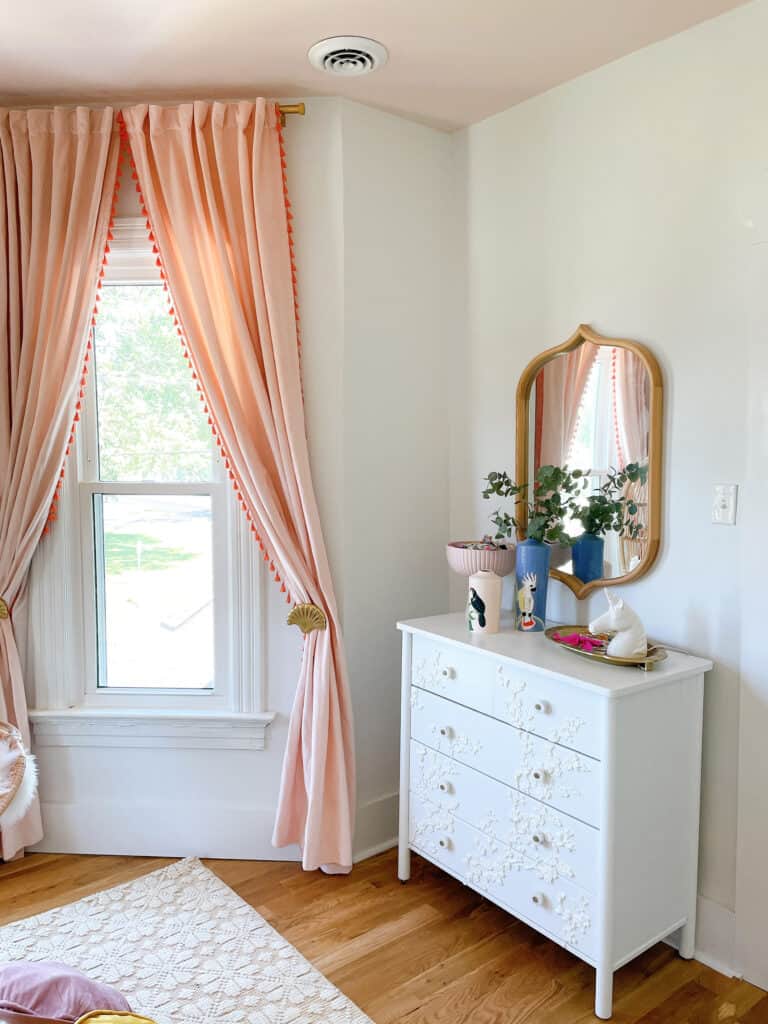 For the pillows I used some from Home goods as well as all the ones linked below.
As far as wall art and decor – the mirror and bird picture are new, and I LOVE THEM, and the other smaller decor items are all older items I have been holding onto.
Shell Pillows | Pink and Mustard Pillows | Mirror | Bird Picture | Acrylic Book Shelves | Daisy throw blanket | Large White pillow | Floor Pouf Blue | Yellow and Pink Pouf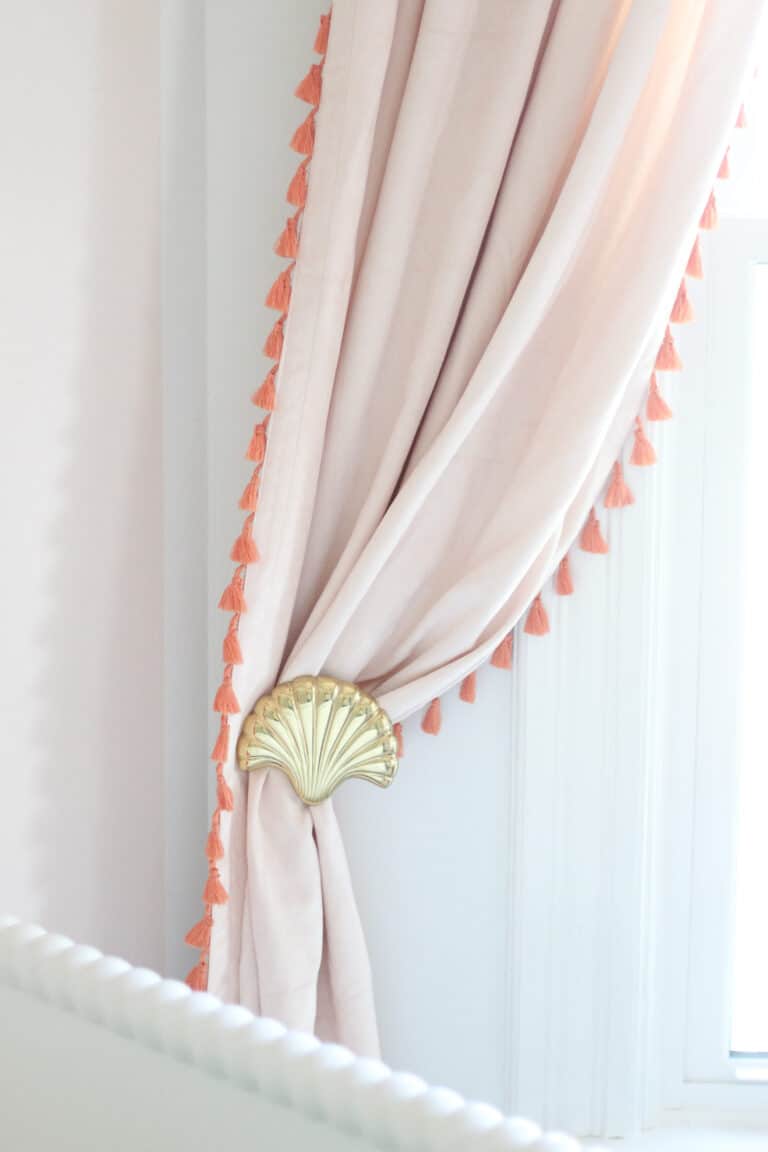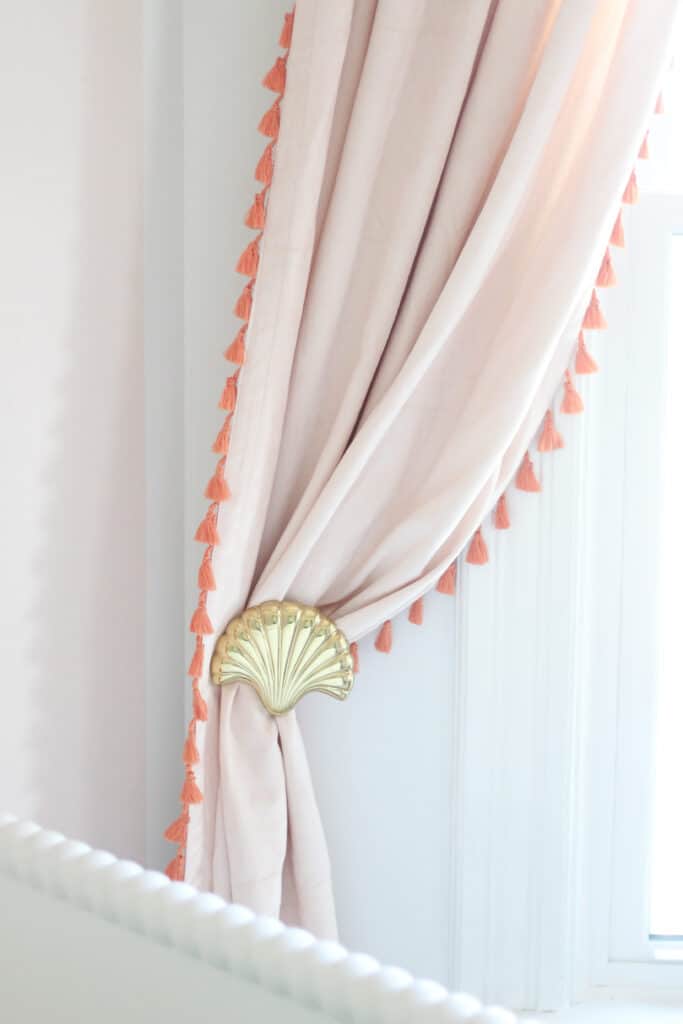 Lighting
The lighting in Avé's room is one of my favorite things. Both the wall sconces, and her ceiling light fixture. The ceiling fixture was actually a DIY done with PVC pipe – you can see more about that and how to create it in this blog post.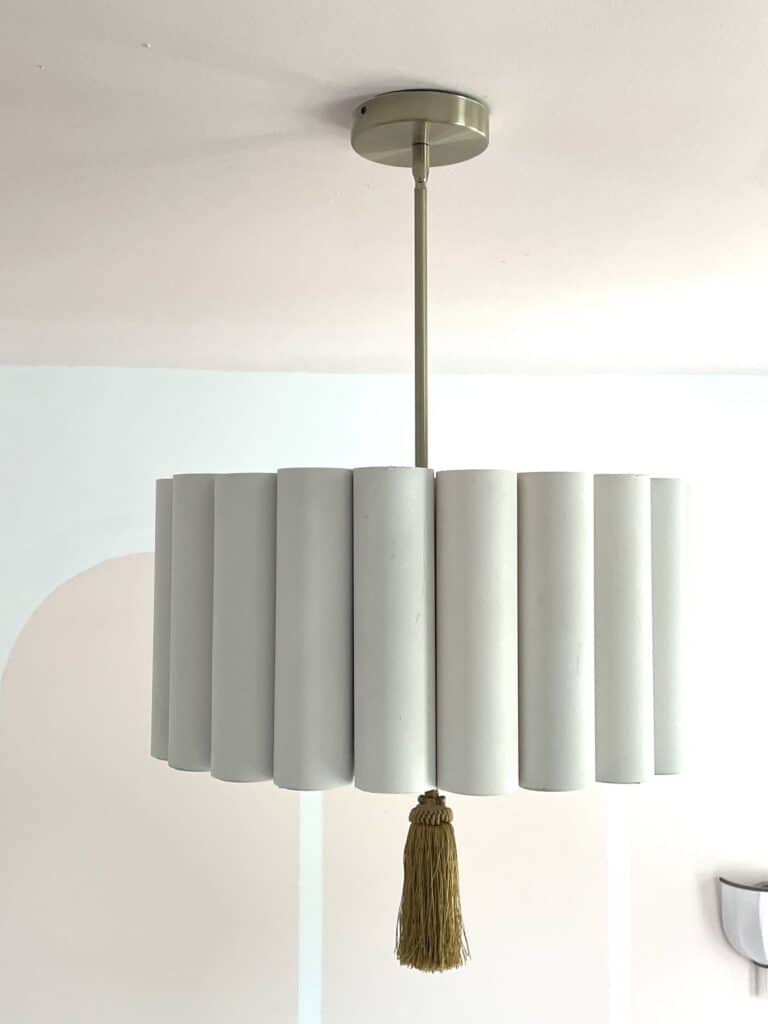 And for the wall sconces? We wanted to give Avé this very 'Beauty and The Beast' feel to her wall with sconces, but didn't have any desire to bring in an electrician. We cut the hardware cords for her sconces, and mounted them to the wall, then set a puck light in them instead.
It gives the same really awesome look and function with no electrician needed!
Wall Sconces + Puck lights | Ceiling Light Blog Post
And that is really it. Like I said – this was a simple room with simple pieces. It was not expensive and really did come together really easily.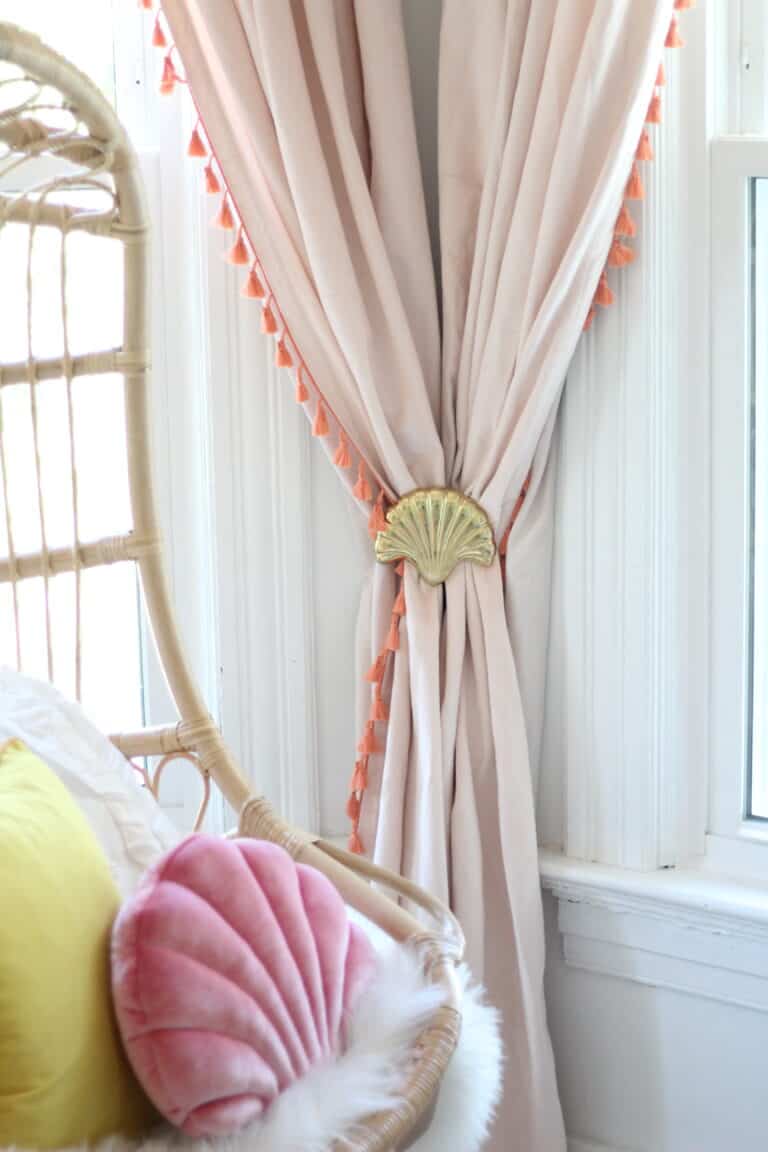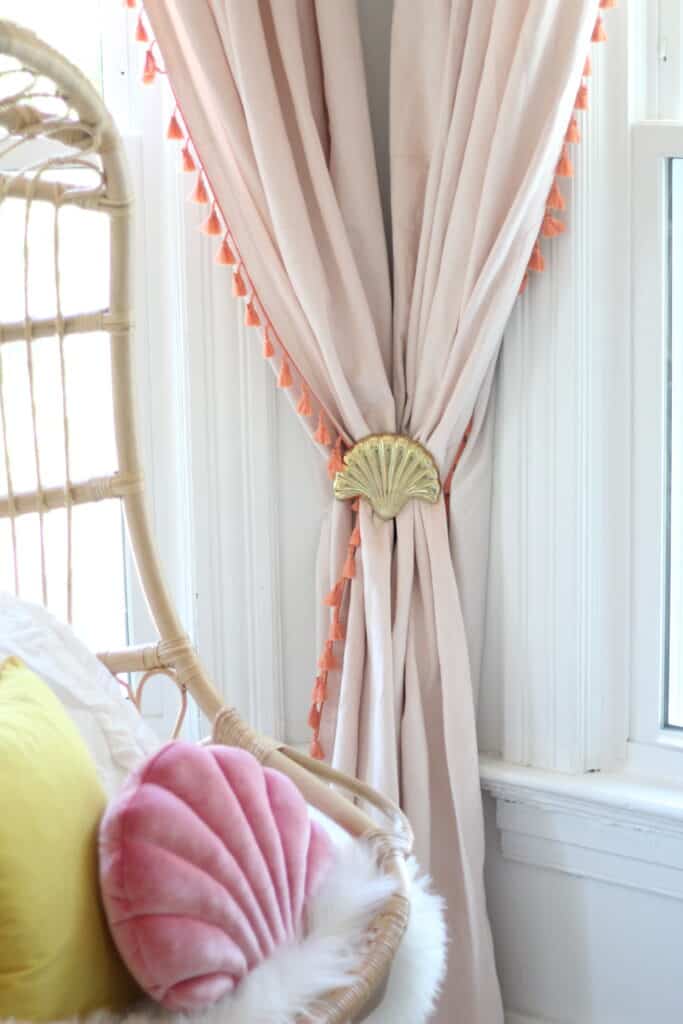 Other Posts You'll Love
If you loved this post – check out these other posts you might love!
12 Best Coastal Paint Colors | 6 Year Old Girl Gift Guide | Best Bedroom Ceiling Fans | Boys Wallpaper Inspo | Air Fort Review | Unicorn Gifts for Kids
Pin This Photo for Later
Hopefully you found this blog post helpful and have inspiration on how to use the paint color Valspar Desert Bone in your own space. I would love to see where you use it if you try! Be sure to leave comments below with any questions and follow me on Instagram (@arinsolange) for more fun and inspiration.