I am SO excited to announce that I have decided to participate in the Better Homes and Gardens One Room Challenge for Fall 2021…So that means for the next 8 weeks you guys are going to get to watch me transform my dining room into a space that is more finished and more loved by our family.
This post may contain affiliate links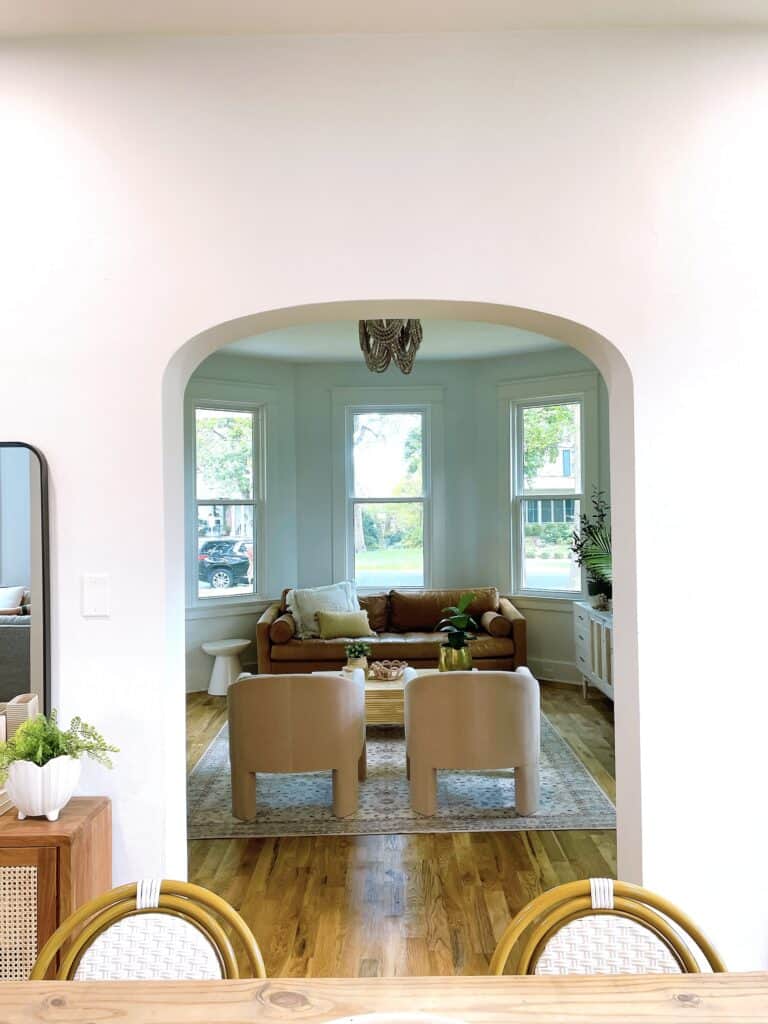 One Room Challenge
Before I get to the dining room and my plans for the space I want to talk a bit more about what this challenge is, as well as how you can keep up with the progress on both my room as well as others that are participating!
What's the One Room Challenge?
Twice a year Better Homes and Gardens puts on a Blog and Instagram challenge where bloggers and influencers take 8 weeks to makeover a space in their home. You will see big and small transformations, and it is a fun way for us to connect with others in the space, as well as push our creative limits.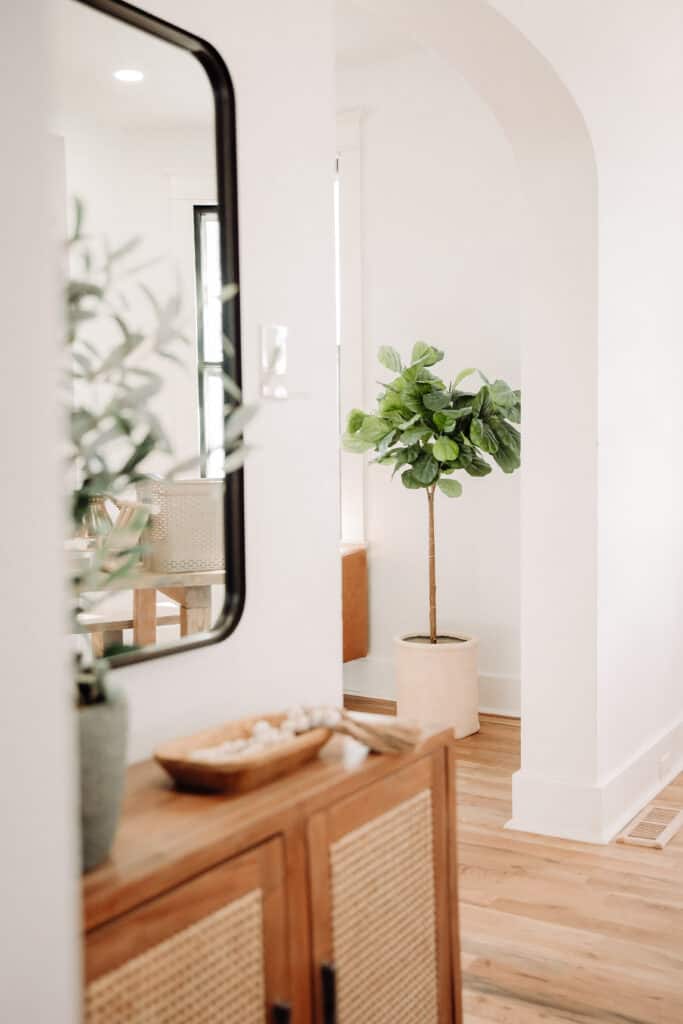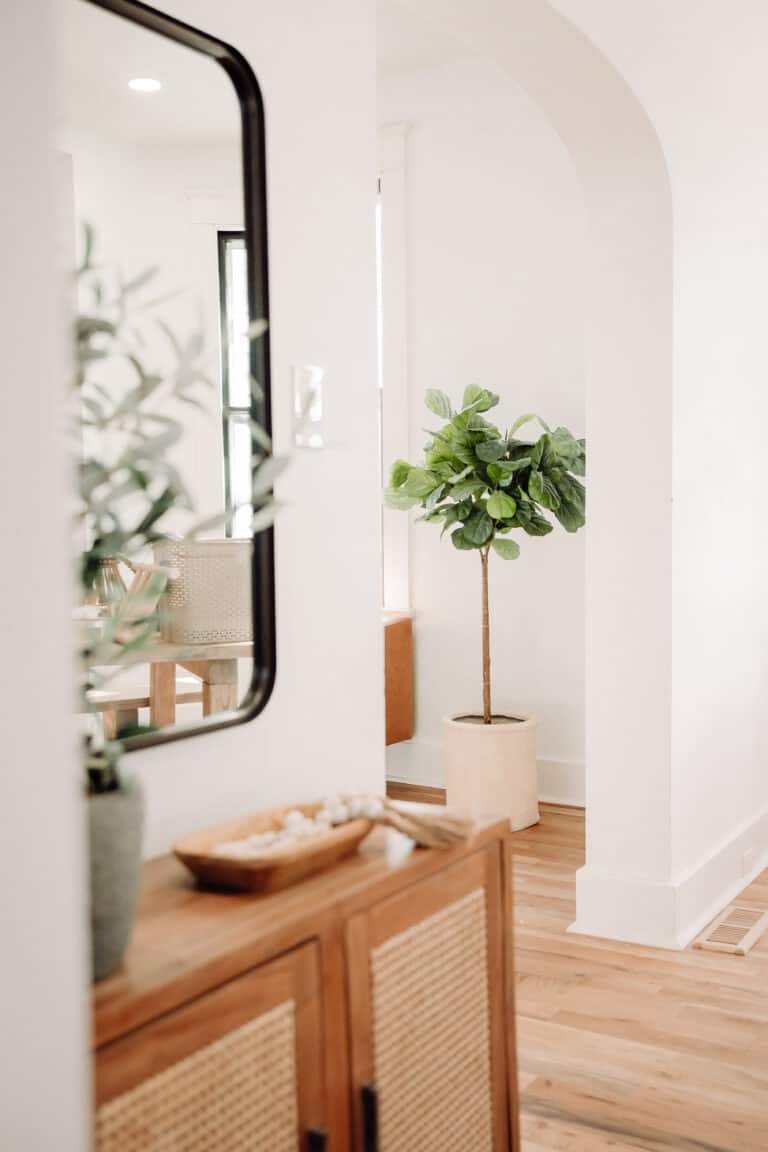 How to Track my One Room Challenge Progress:
Now how to track my progress. Hopefully you are here because you are excited to follow along on MY One Room Challenge journey – So I want to walk you through how to best track my progress.
Blog
Every Thursday I will be updating you here on my blog with progress for the dining room. I will link to past posts, but you will also see right above the title to this blog post where it says 'Fall 2021 ORC' – all posts will also be there.
I will also be tracking progress on Instagram both in feed and in stories. To keep better track of what I am doing and the behind the scenes I have a highlight on my page that says 'ORC'.
That highlight is going to give you lots of the dirty details, wins and fails and the general behind the scenes. I will also be sure to link items I find and am considering in that highlight.
Dining Room Makeover Plans
So like I said above – the dining room is going to be my room of choice for this challenge. Our dining room was fully renovated in stage one of our home renovation (for those of you new to my blog – we have been renovating an 1860's home from top to bottom).
What we were left with after stage one is a very VERY blank slate, but also a fairly open space.. so it has left me struggling with my overall plan.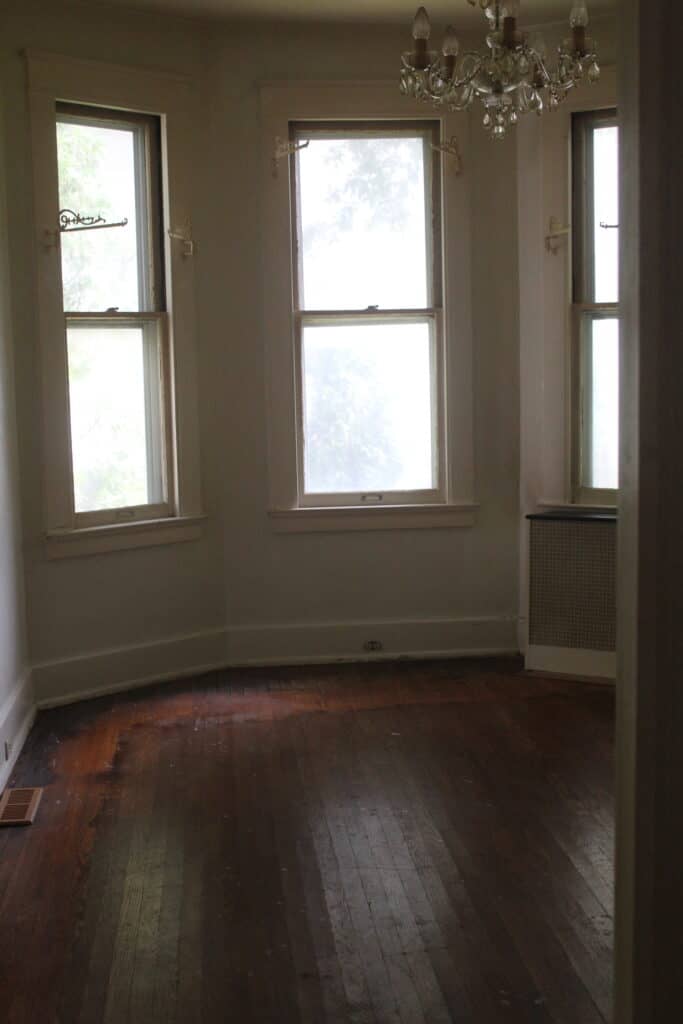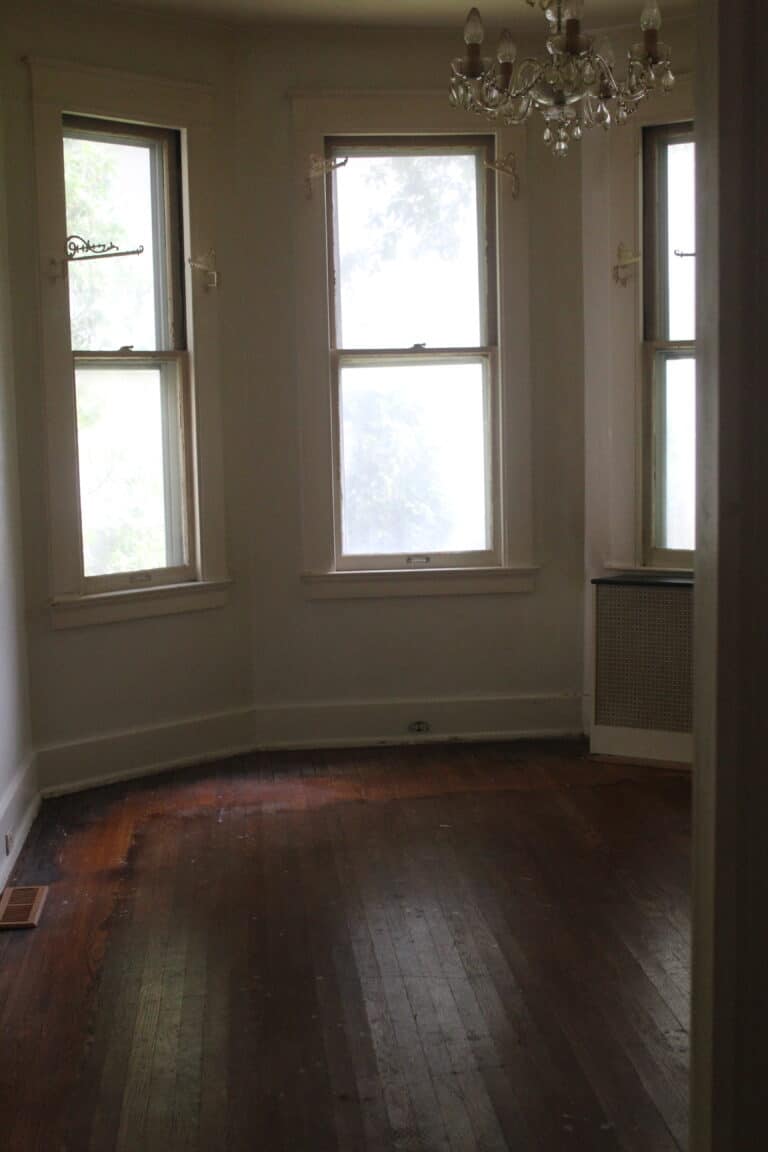 My Plans:
I have been considering a couple of different full on ideas…which I am actually going to let you all vote on in on Instagram. But because of that – I clearly have decisions to make.
What I do have is some pretty broad plans that I know need tackled!
Furniture:
Right now we have very little happening in the room but there are a couple of FOR SURE items that will happen. 1: a new custom table. I plan to build a new table and bench to fit our space. I want something that serves our family well, while also fitting the aesthetic I love.
We also need to do new chairs in that!
Storage:
Some sort of storage needs to come into the room. I am thinking that will likely be in the form of a DIY of storts!
Decor:
We know we will add a rug to the space, but we also need to tackle window treatments and the walls. I have a few rug options that I am loving so need to figure out which plan I will go with and then pull the trigger.
The other thing we need to do is add lighting to the space. We currently do not have a dining room light and I think that needs to change.
Construction Changes:
We also need to do some other minor changes. I am considering some bold moulding on the walls or by the windows, arching an opening to the room, and several other small changes. But the small changes add up.
Idea 1
The first look contains the same table as look 2. Both looks have a slight vintage modern look to them, but this particular one has more color, and is slightly more casual in my opinion.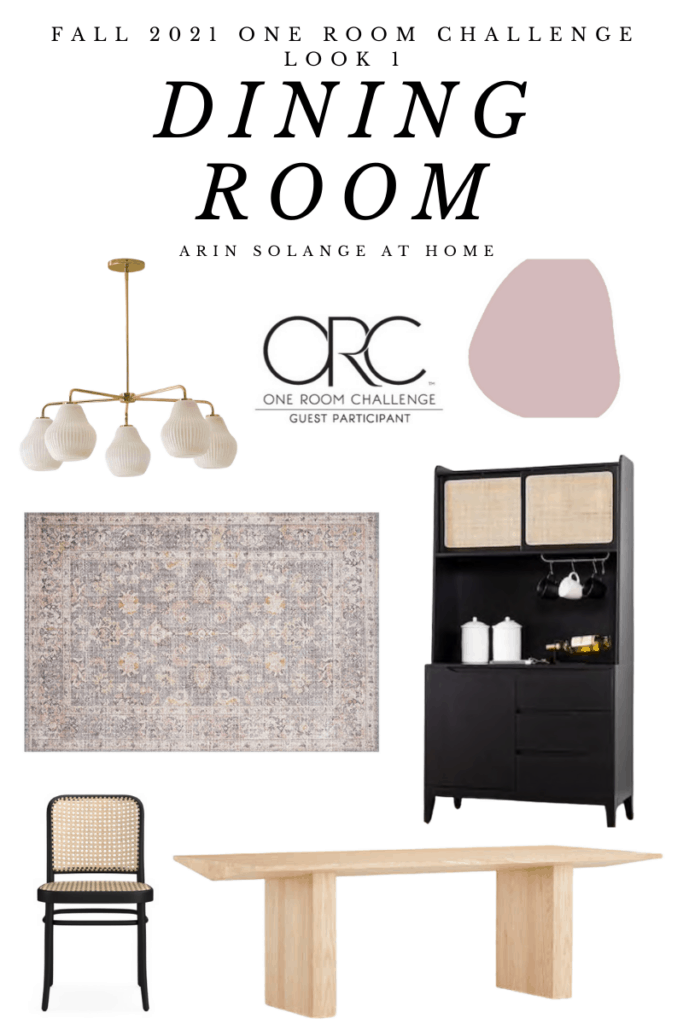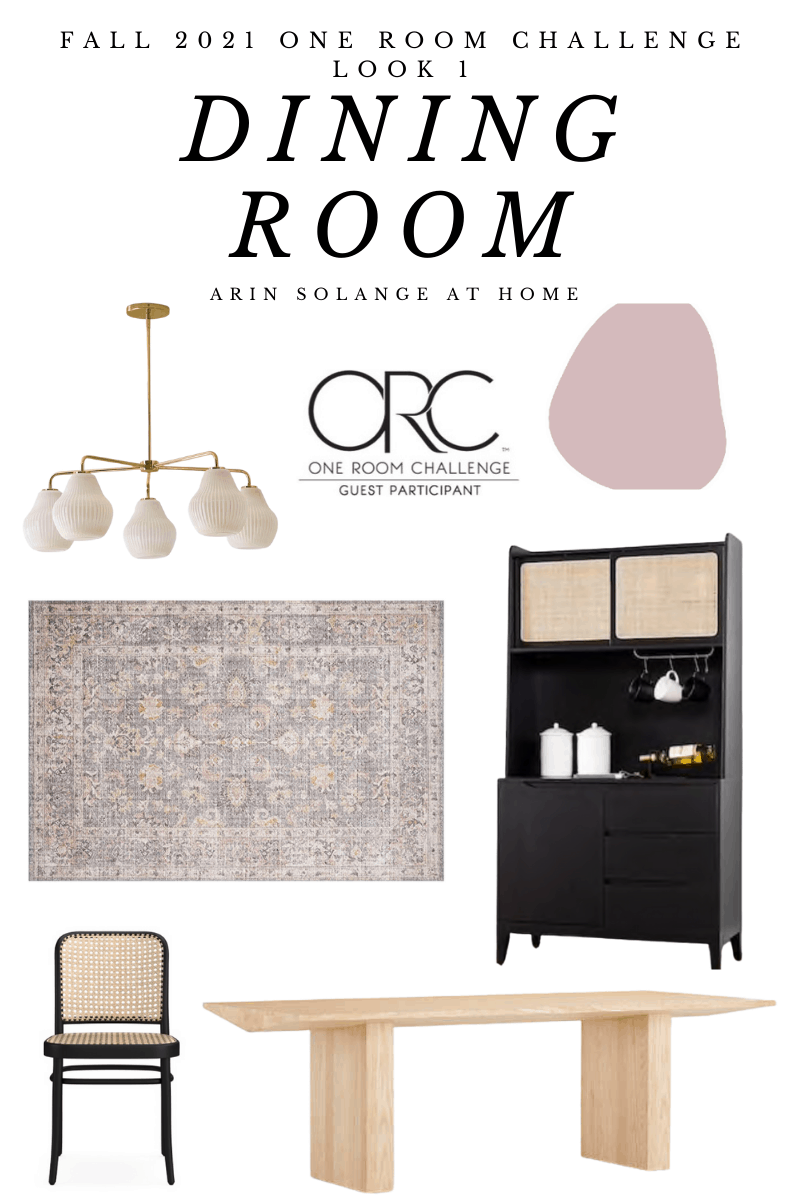 In this look I am going for a pink wall, and black furniture to tone down the girly-ness of the pink.
Idea 2
This look is more glam, and directly vintage modern. In this look I would tie in pink in the rug and some accents but in much more subtle ways than look 1.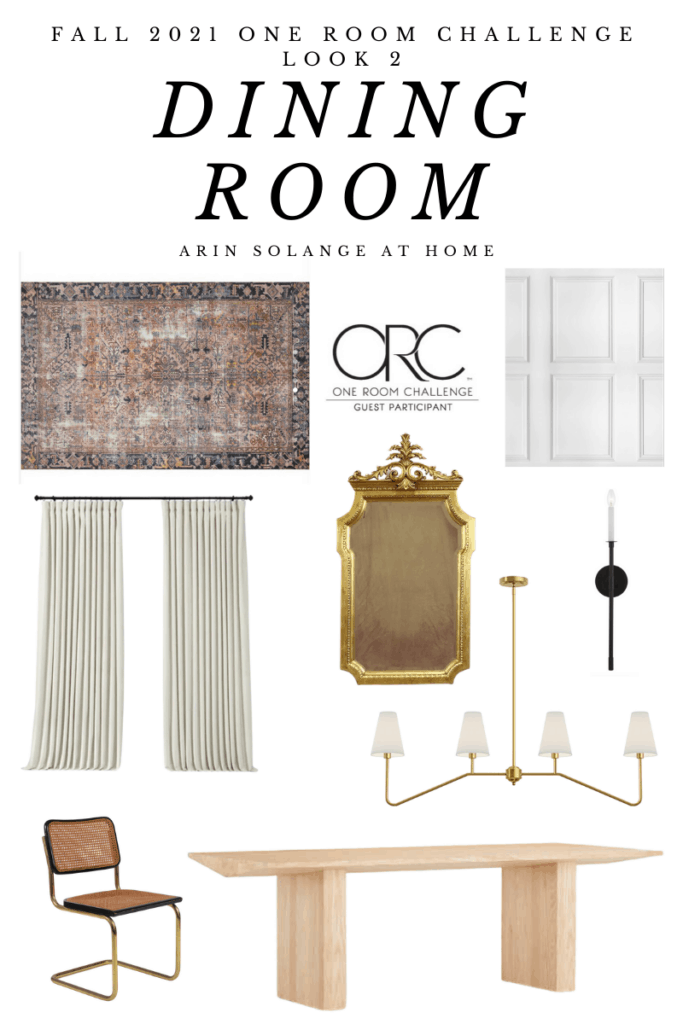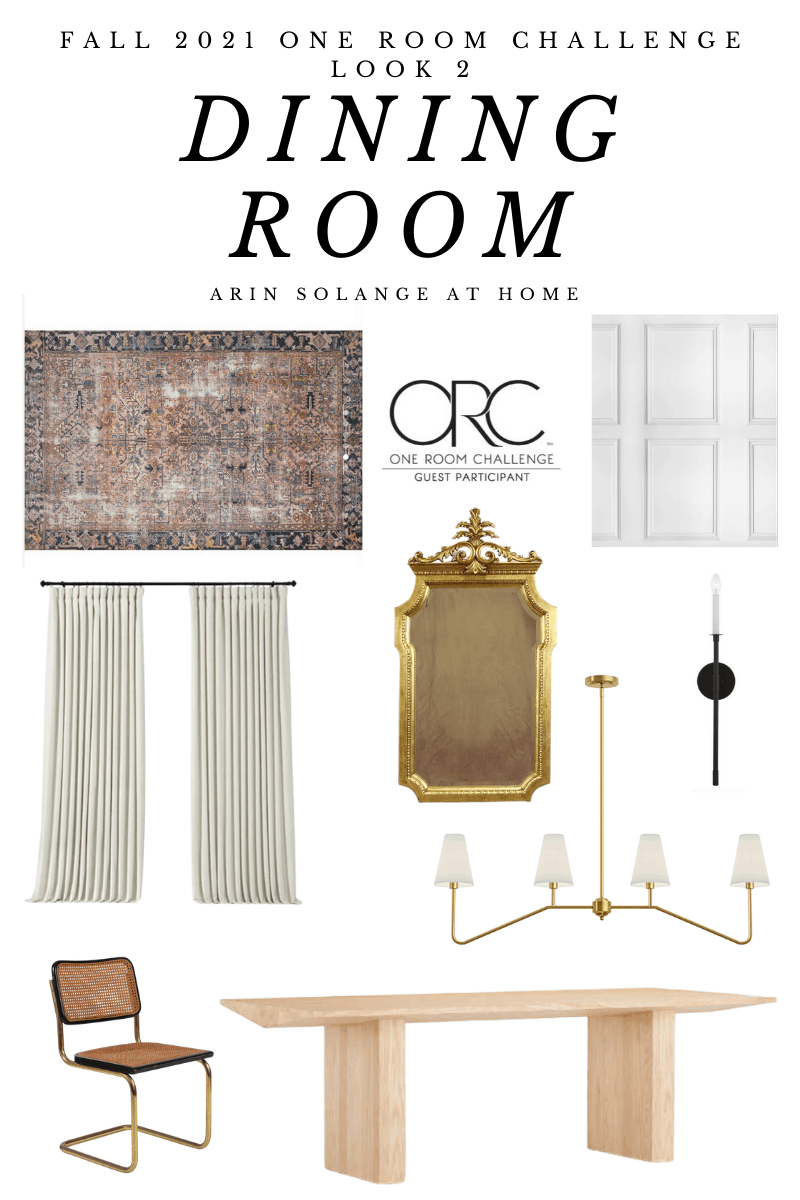 I equally love both looks, and love the idea of mixing and matching some of the items from each.
Both of these looks are NOT SET IN STONE. I tend to design as I move through the room. I need to see the table in the room to make a more final decision.
I know the general direction with the vintage modern, and want the room to feel bold and pretty but it is also open to the rest of the main house, so I want it to feel cohesive and like it makes sense.
I would love to hear which you would pick either in the comments below or on Instagram!
Check out the Other Participants
Be sure to check out the rest of the participants taking part in this years fall One room challenge HERE, and be following us on Instagram for lots of fun inspiration this fall.
Other Posts You'll Love
To see some of my past rooms – check out these posts below!
Rainbow Nursery | Black and White Boys Room | Pink Arches Girls Room
Pin the Photo Below for Later
Hopefully you are just as excited to follow along with me in the One Room Challenge as I am to be participating! I would love to hear your input on the room below, and be sure to watch for progress next week!