When it comes to decluttering and organizing the kitchen is a top priority. Today I am sharing fridge organization and pantry favorites to get areas of your home that are used daily in tip top shape!
This post contains affiliate links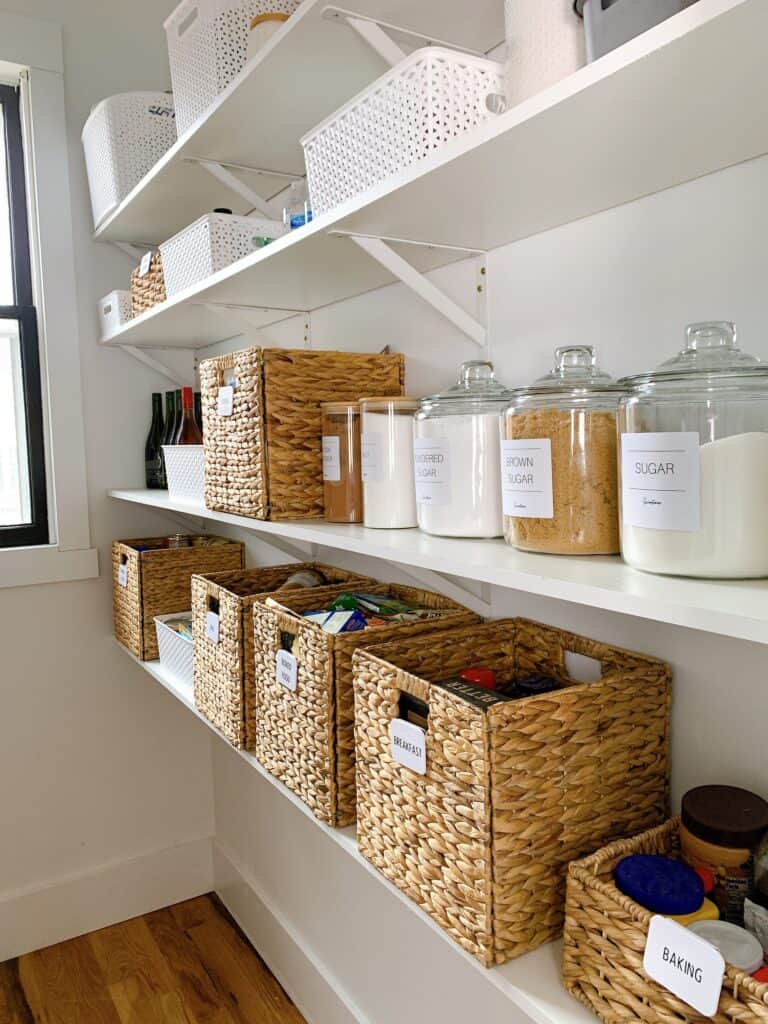 Fridge Organization and Pantry Favorites
Organizing your kitchen, pantry and fridge are of huge importance in your home. I can't think of many other areas that are more heavily used, and thus easily become cluttered, and help for a well functioning organization system.
In this post I will be sharing my favorite products for getting those spaces in order, as well as tips on decluttering the space to get it ready.
30 Day Declutter Challenge
Are you looking to get you whole home decluttered and ready for the year? This blog post is the first of a series of posts in a 30 day declutter challenge run by my friend Jen and myself.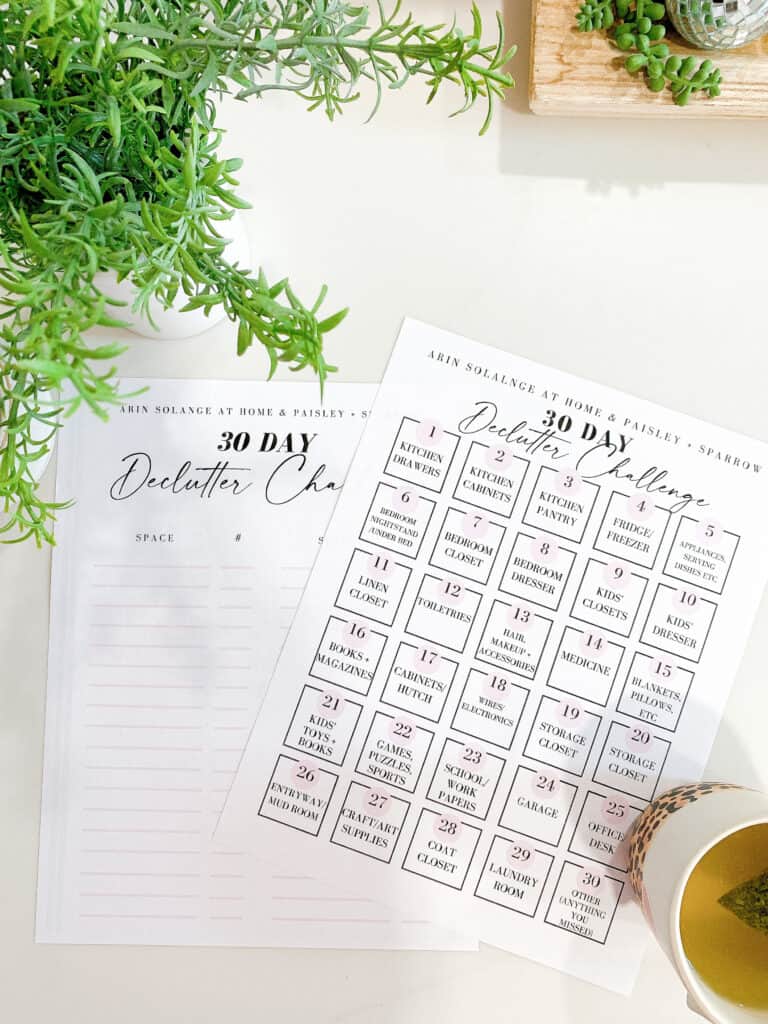 If you are interested in joining in – grab your free documents below!
FREE 30 DAY DECLUTTER DOCUMENTS
And to read more on the challenge in general – check out this blog post!
Decluttering Food in your Pantry and Fridge
Before you can start organizing it is important to clear out what you don't need, and clean the space. Below I will discuss what to declutter and what considerations to make. With food it is slightly easier than other spaces, but still important.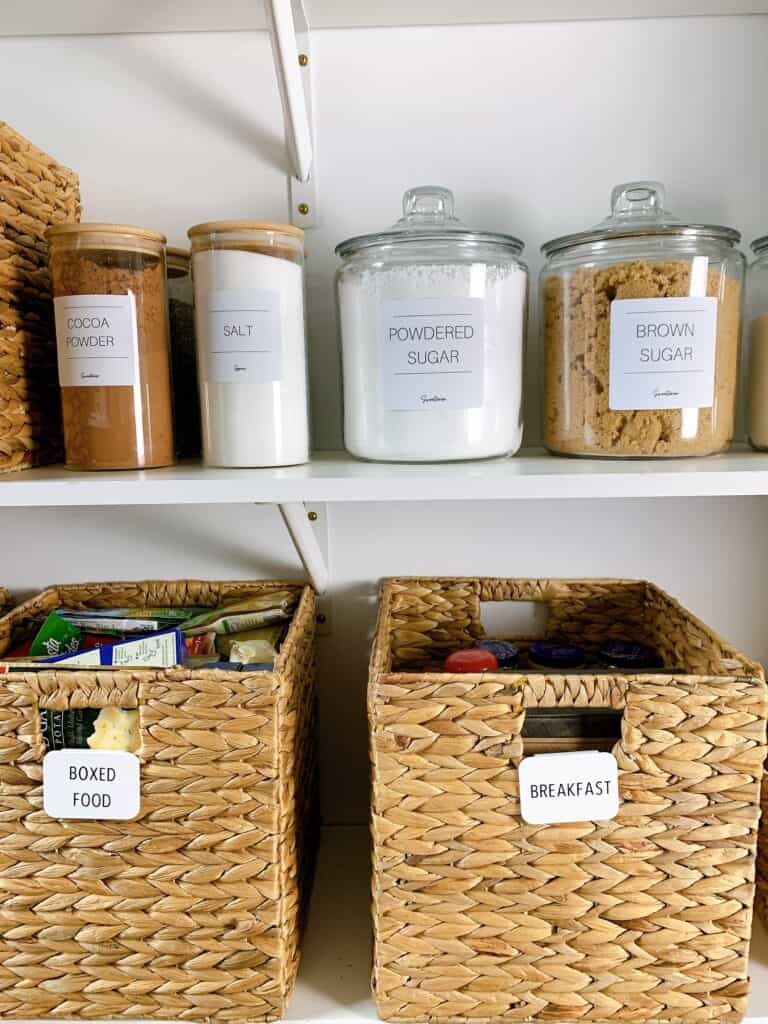 Where to Get Rid of the Food
When it comes to decluttering food it can feel very wasteful – Be sure to make two piles. 1 for expired goods that need to be thrown out, and another for food you simply know you won't eat. You can take that to local food pantries that are very much in need right now.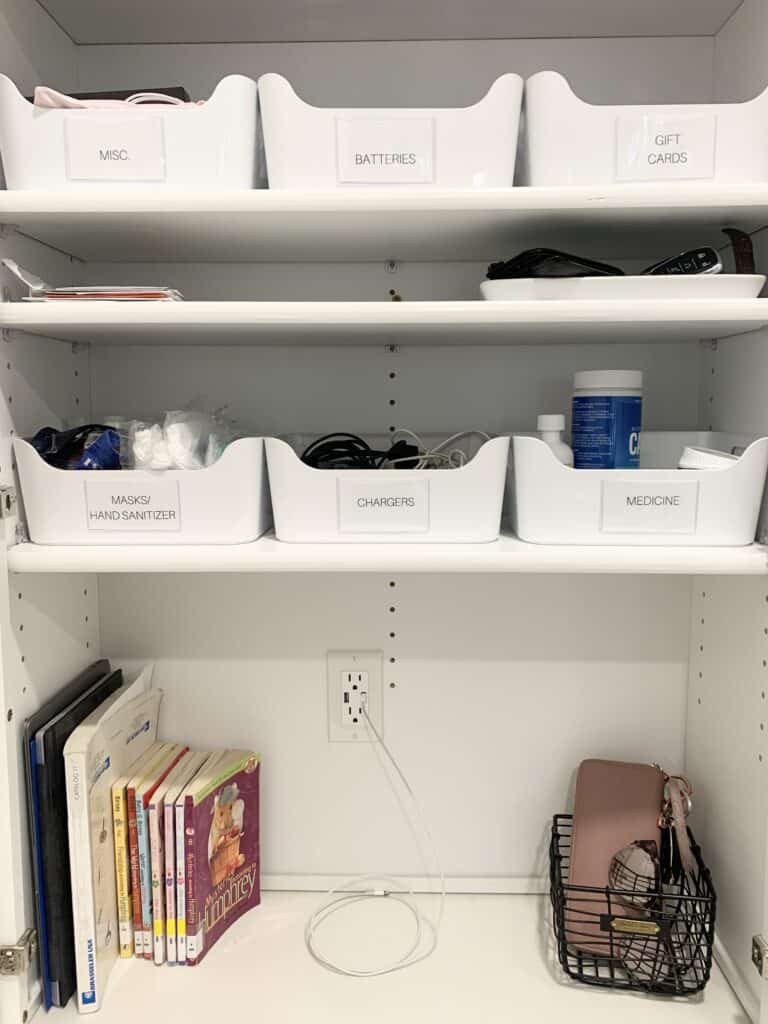 What to Purge
When it comes to food it is really important you take EVERYTHING out to do the decluttering. This makes a big mess before it gets better – but I swear it is worth it.
When the spaces are empty give them a good cleaning before you reload.
If there is food/spices that are expired throw them out.
Next – if there are foods you are not truly going to eat, donate them. They are taking up space to give you less space for things you truly will use.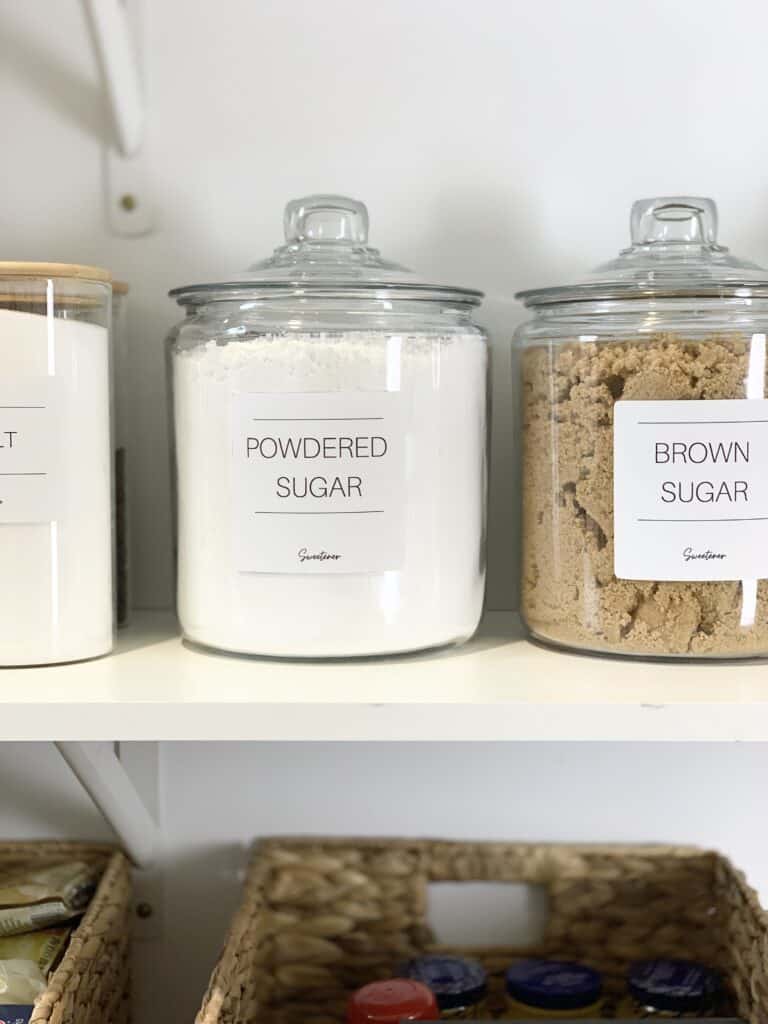 Organizing the Spaces
Now – when it comes to organizing your pantry specifically there are two ways to do things. I am a basket person. I like to combine like items in baskets and bins, where as some like to line things up well.
My friend Jen shows in her post how she does the clean line up – which can help to see what you have. It is a matter of preference on which method to go with.
Canisters for snacks and baking supplies keep things looking tidy and functioning well on shelves. I personally use the canisters below, but also have used these for years and they work very well if you need to stack.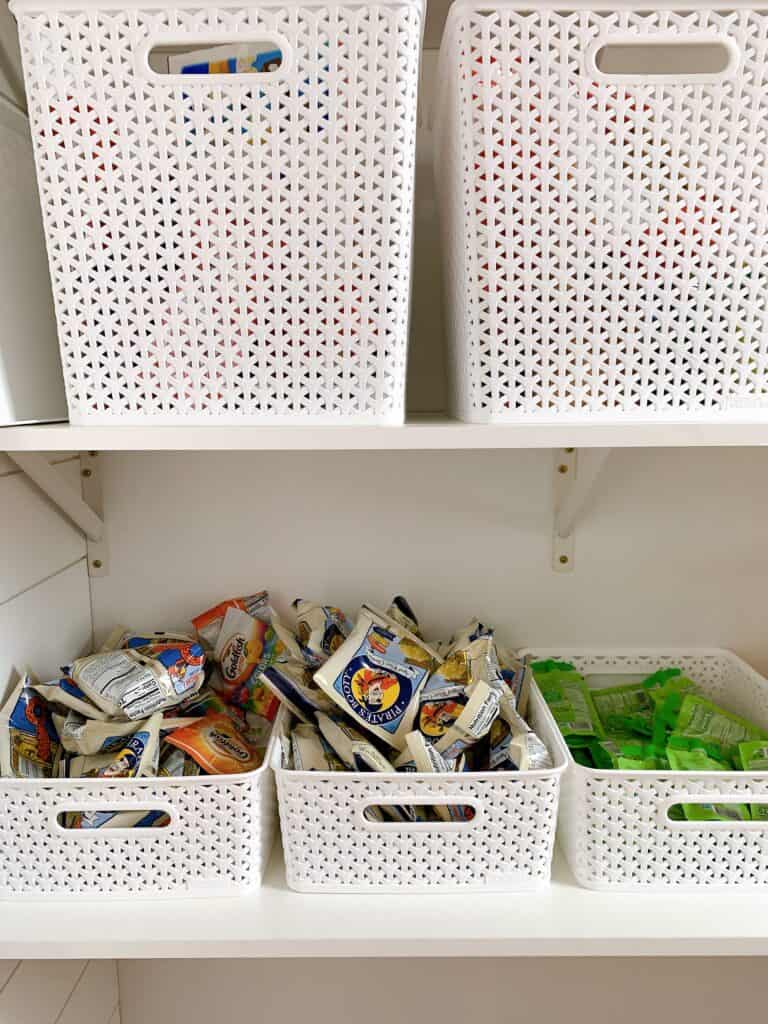 You can see in this post that my last pantry was much smaller and allowed for much less picture perfect storage, but I still worked hard at having a well functioning and pretty pantry.
Keeping Mason jars on hand make for keeping items in your pantry and fridge both organized and orderly. I personally put all fruit and veggies in mason jars for a clean and orderly fridge.
My favorite Supplies
When it comes to fridge organization and pantry organization favorites – I am linking to many of my favorites below. All of these are items I have owned and love, and hope you will find them helpful in organizing your own home.
Be sure to watch the video in this post to see these items up close as I show them in my own home.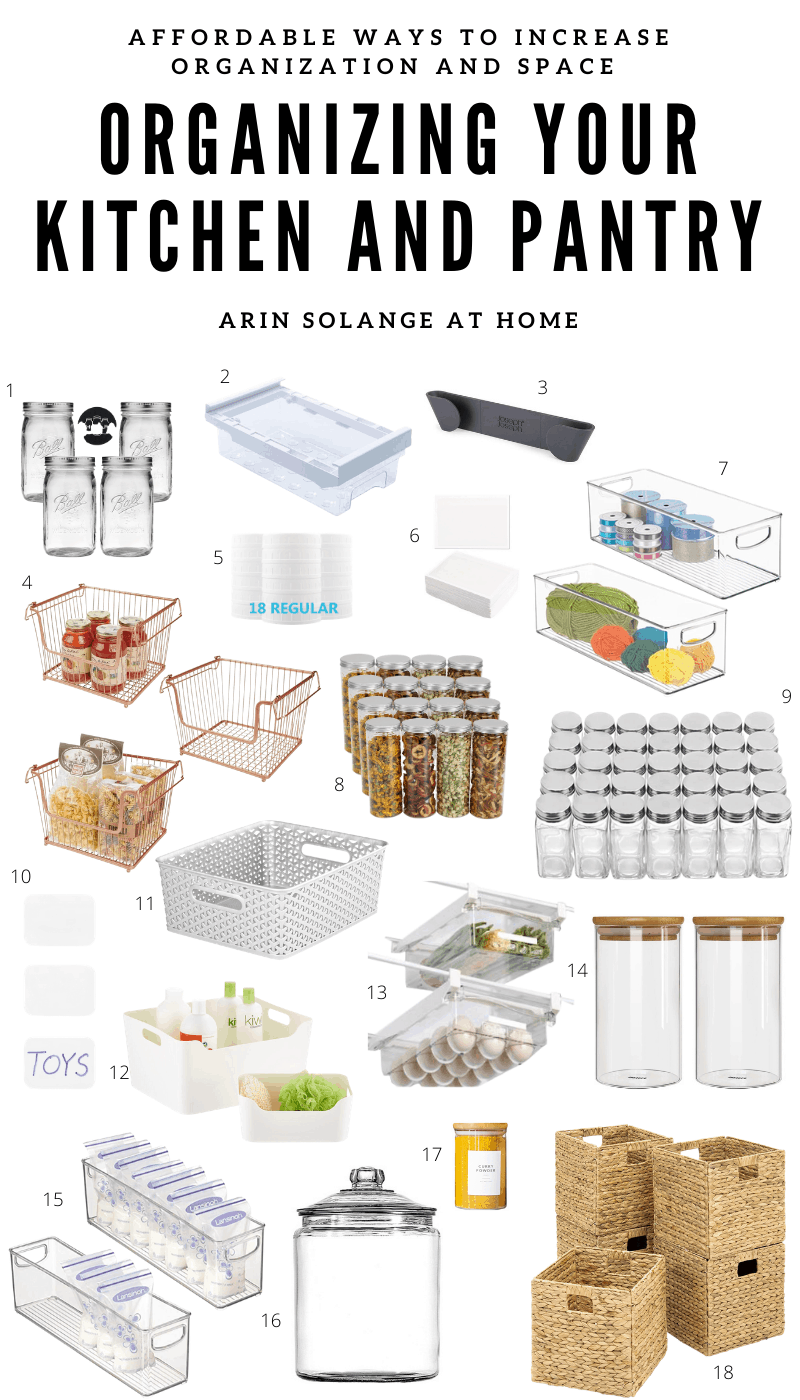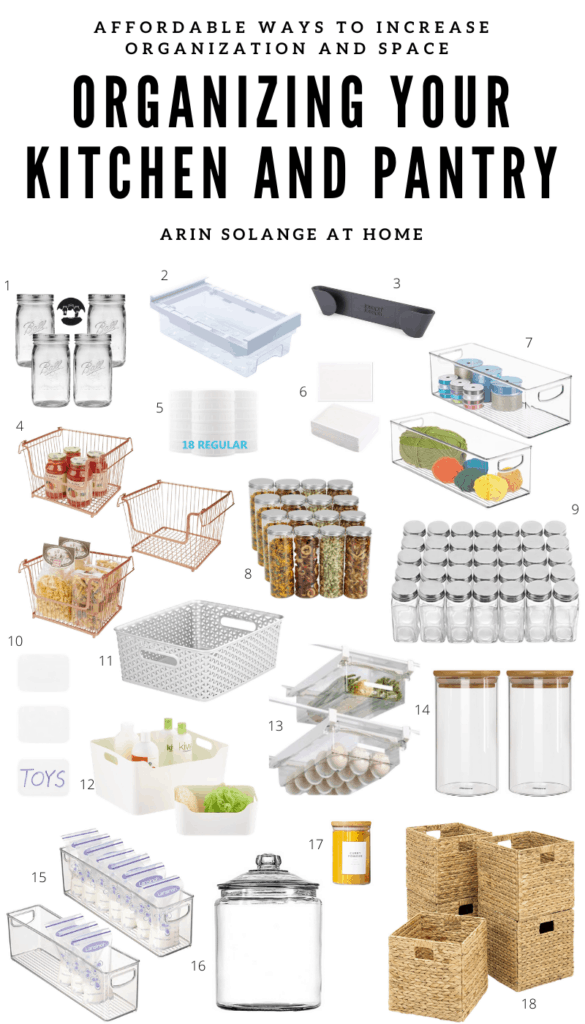 Shop Fridge Organization and Pantry Organization
1 | 2 | 3 | 4 | 5 | 6 | 7 | 8 | 9 | 10 | 11 | 12 | 13 | 14 | 15 | 16 | 17 | 18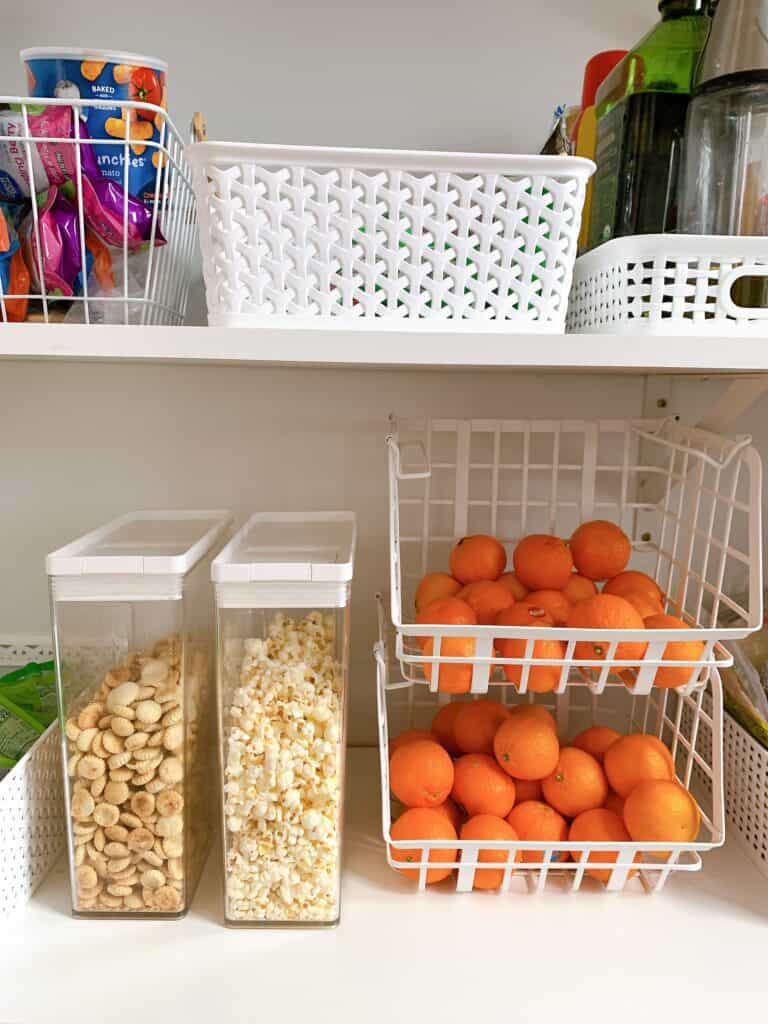 Other Posts You'll Love
If you loved this post, be sure to check out these other posts you will love.
Easy DIY Shelves – great for updating a pantry
Pictures of my pantry organized in my last house
Pin The Photo Below for Later
Hopefully you feel like you learned more about fridge organization and pantry organization and feel ready to tackle the first few days of our declutter challenge. Be sure to pin the photo below for later, and follow me on Instagram (@arinsolange) for more tips and tricks.