There is nothing I love more about winter than to cozy up in front of a fire. For those who have been around my blog long enough, you'll know that in our current historic home, our entire fireplace has undergone quite a transformation. If you need some inspiration to turn your ugly fireplace into the fireplace of your dreams, then you are in the right place. I'll share with you how to transform your outdated stone fireplace and go over painting stone fireplace ideas for an updated look.
This post may contain affiliate links.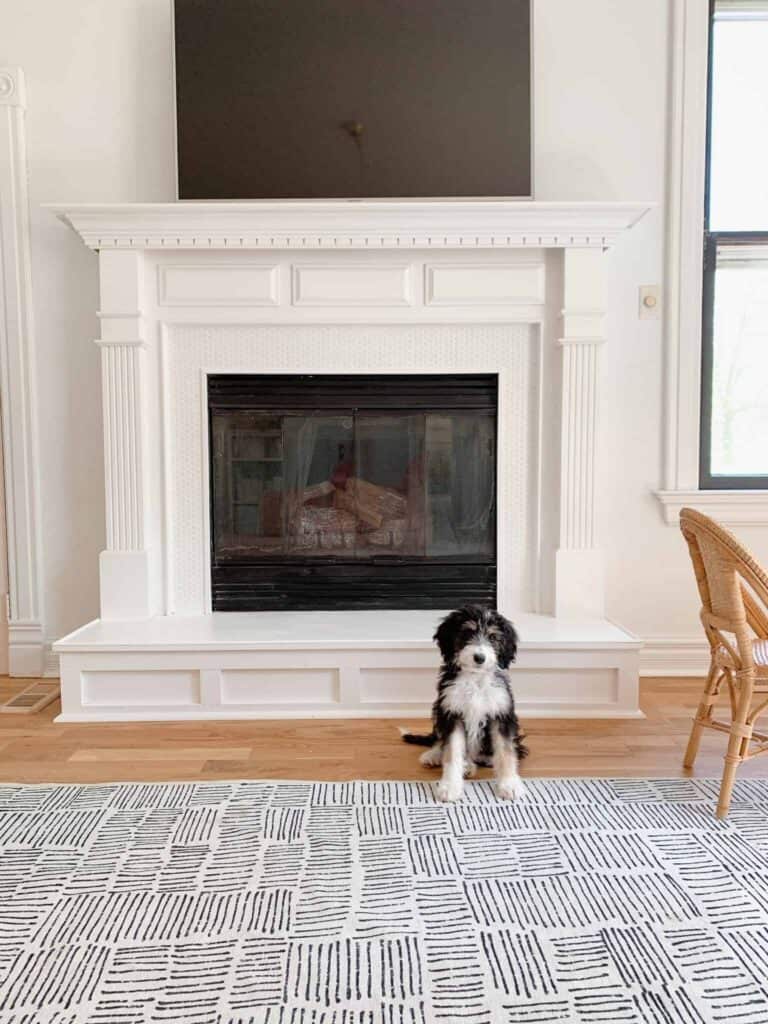 Painting Stone Fireplace Ideas: 8 Fireplaces Where Paint Created A Cozy Vibe
Over the course of our home journey, Sam and I have refinished several fireplaces. In our last house, we updated the brick fireplace by painting it a fresh bright white to match out white walls. We also ended up staining the wood mantle a lighter color to help brighten the room up.
In our current home, while we don't have a stone fireplace surround, we do have a gas fireplace that required a major facelift when we moved in. Last year, we took our old fireplace that had green cultured marble and a light wood fireplace mantel and transformed it with a fresh coat of paint and some penny tiles. The result ended up being exactly what I had envisioned for our playroom.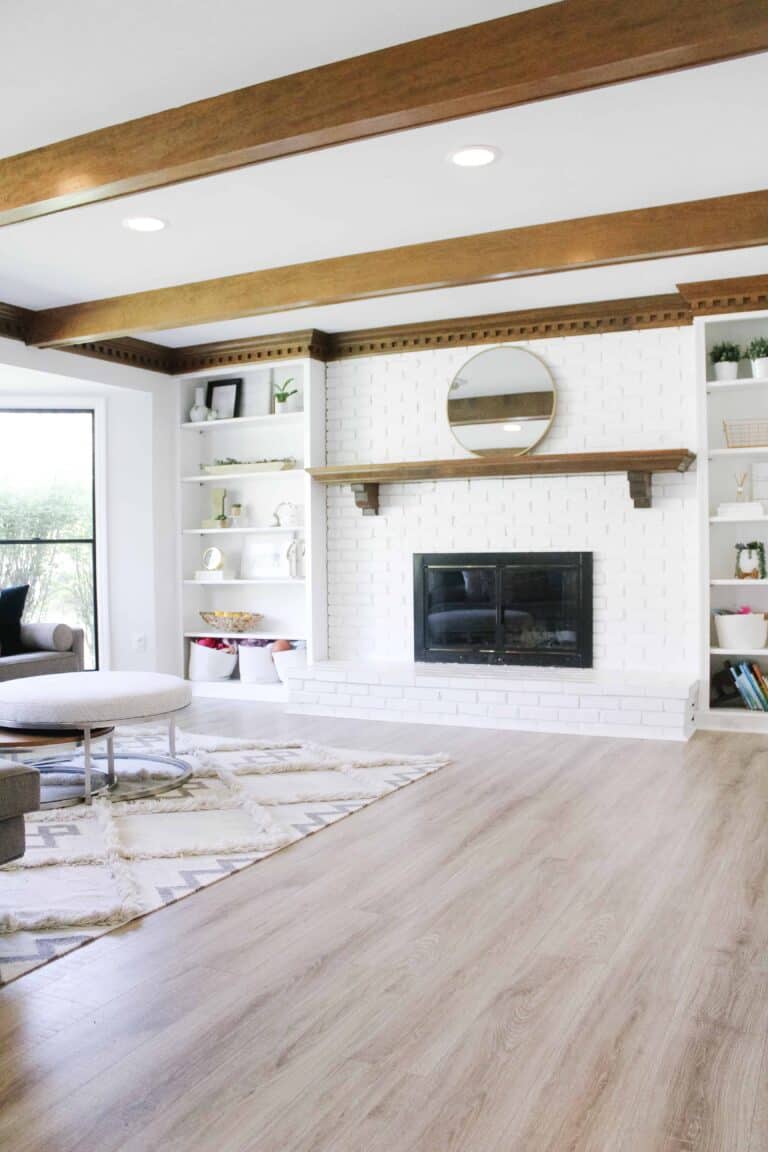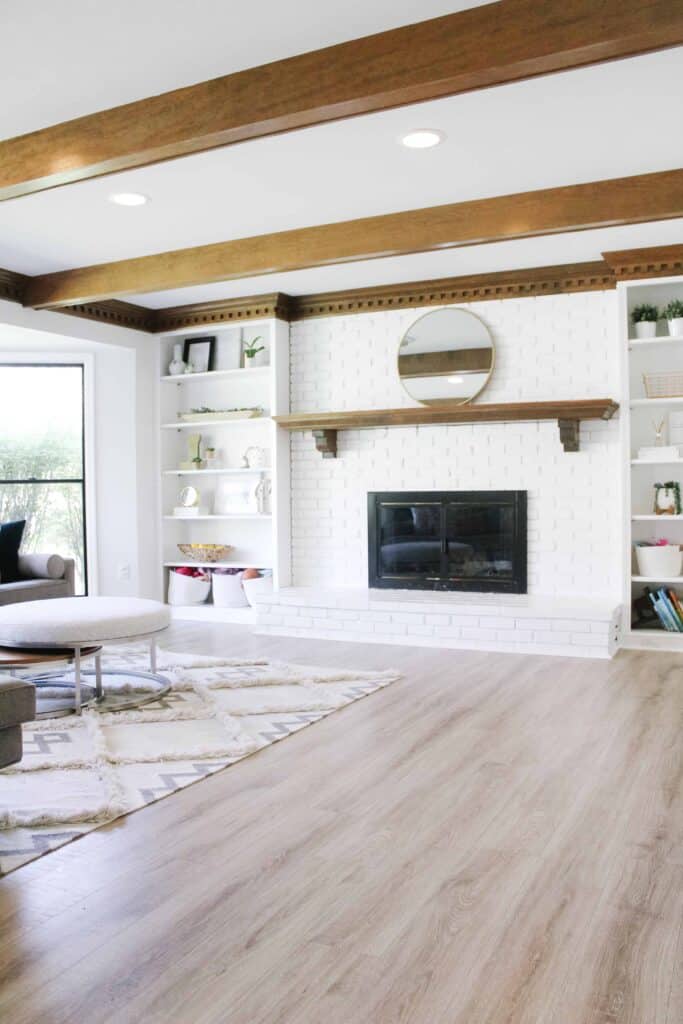 I'll share with you some tips on how to take your old fireplace to make it pop as a focal point for your room. There is nothing worse than having a giant eyesore in the middle of your living room. With the right paint you can take your outdated ugly stone fireplace and create a more modern look.
Getting Started To Paint Your Own Stone Fireplace
Painting stone fireplace ideas can be as simple as finding inspiration and using the right products to create something anew.  So what exactly do you need to know before you take on this DIY?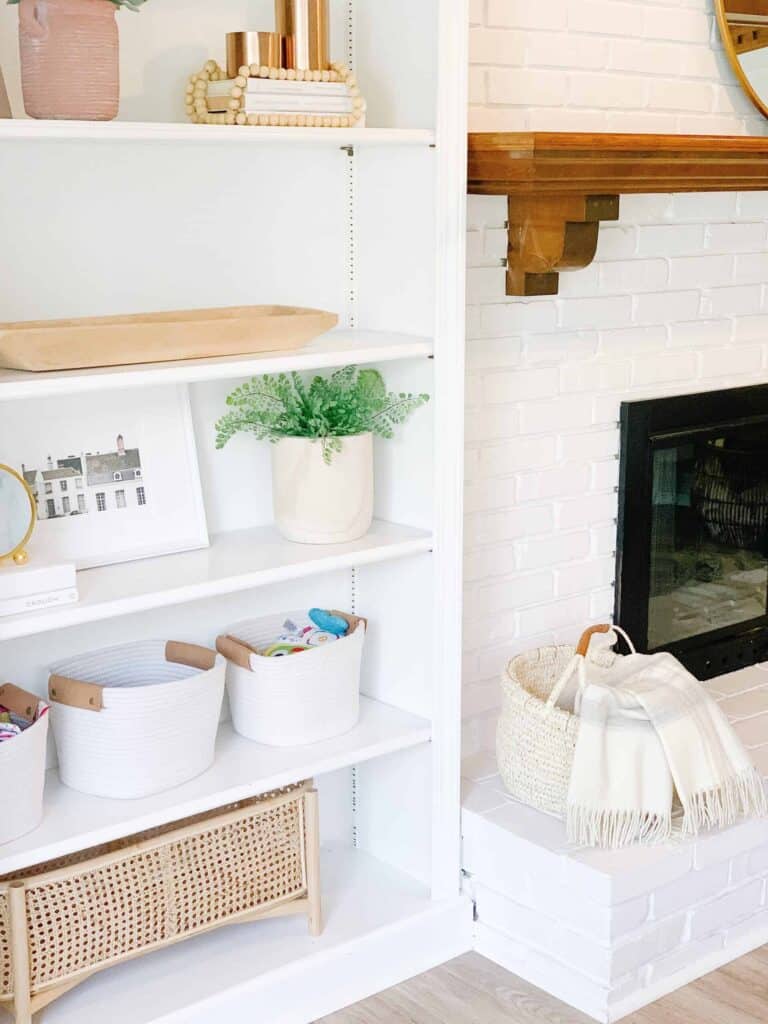 Step 1: Prepare The Original Stone
Before you head off to Sherwin Williams to pick out a paint color, the first thing you'll need to do is to prepare your stone surround for its transformation. Grab a scrub brush or wire brush, and give your stone wall a good scrub.  This will help prepare the stone for paint.
Whether you are painting a rock fireplace or a red brick fireplace, you can't skip this first step. Fireplace painting must have the proper prep work done before hand. It is important that you clean off any debris before you get started or your paint will stick and clump.
Be sure you wear protective equipment to protect your eyes and lungs from any flying debris. Make sure you sweep up your mess.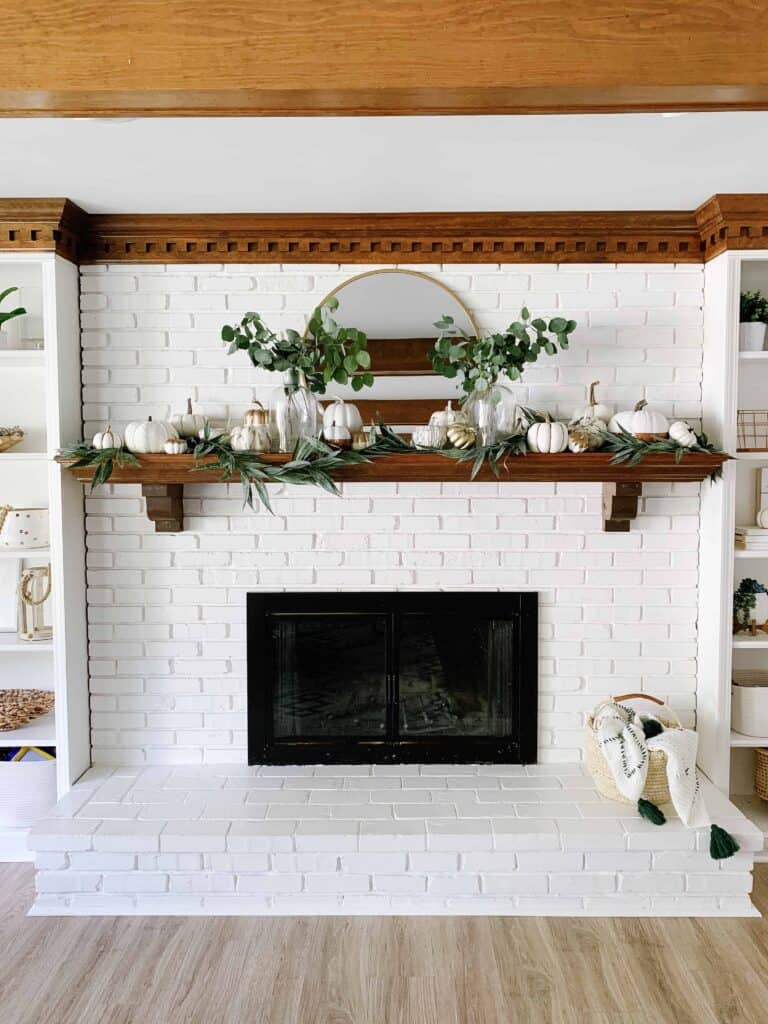 Step 2: Wash Your Stone With TSP
TSP is one of those supplies that you should have on hand if you end up being a big DIYer.  TSP is a cleaning product that you should always use to prep the surface you are painting beforehand. You can use it on cabinets, fireplace doors, walls, etc.
If you don't properly clean your surfaces, the paint won't stick and you won't end up with a professional finish.  This is the best way to clean off any sticky residue or grease that your kids leave behind.
Make sure you let this dry for a full day before heading on to step 3.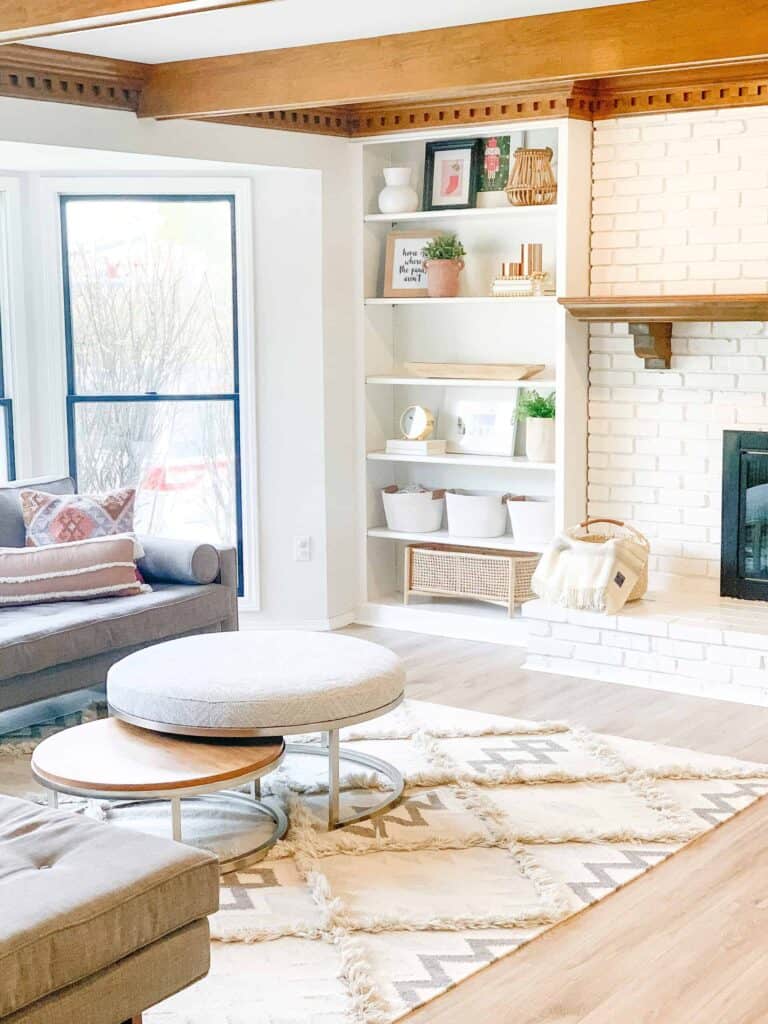 Step 3: Paint Your Stone Fireplace Base
If you have painted a dark color on your walls and decide to use a white paint, chances are you'll be encouraged to use a primer. Primers help your paint adhere better and act as a sealer.  The same logic is applied when it comes to painting a rough surface like a stacked stone fireplace.  
Make sure you grab a 3:1 primer at your local hardware store.  The 3:1 primer will not only help your paint adhere to the stone, but will also help prevent soot from staining your fresh coats of paint. Personally, I love using Kilz supplies for all my painting needs.
You may need to use a brush to get the primer into any cracks or spots that are difficult to reach within the stones.  At this point, you can also use caulk to repair any noticeable cracks surrounding the stones. 
Let your first coat dry completely on the stone and then continue painting the stones with your second coat of primer.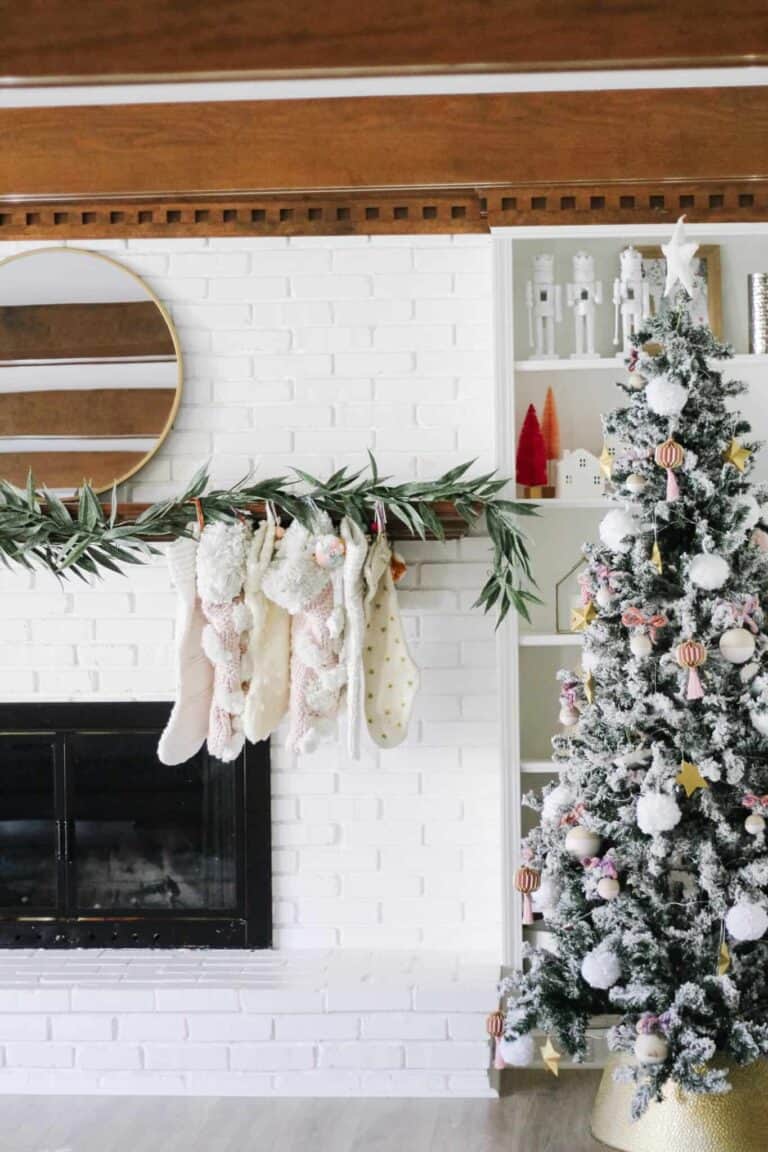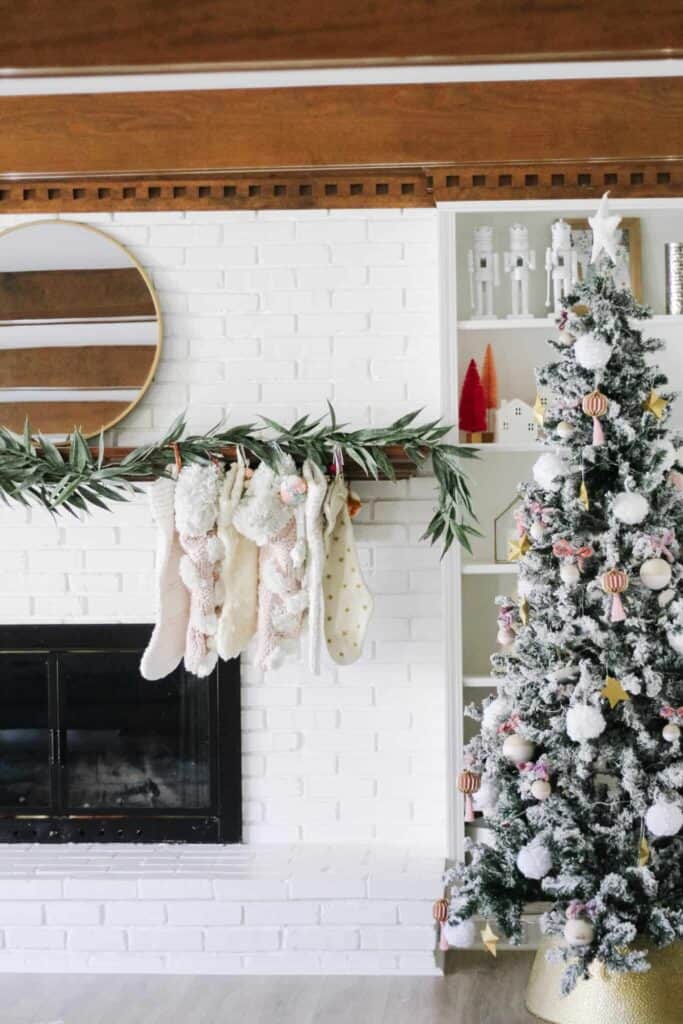 Step 4: Paint Your Stone Fireplace Surfaces
Before you start painting your stones, you'll want to ensure you pick out the correct type of paint. There isn't necessarily a special fireplace paint. However, if you have a fireplace that does not work and is simply a part of your home decor, then you won't need to use any special paint.  Instead, you can use regular latex paint or chalk paint on your stones. Both options adhere well and are easy to use since they are a water based paint.
However, if you plan on turning your fireplace on, you'll need to make sure you get heat-resistant paint. If you don't, your freshly painted fireplace will end up peeling and blistering all your hard work away.
I will say that some painting experts still maintain that an interior latex paint won't blister and peel as long as the exterior of your painted stone fireplace does not reach over 200 degrees Fahrenheit.
In my opinion, it really isn't too difficult to find heat-resistant paint, and I'd rather not take the risk of having all my hard work look less than stellar.  I'd say a good choice is to go with fireplace paint that can withstand high temperatures just to be safe.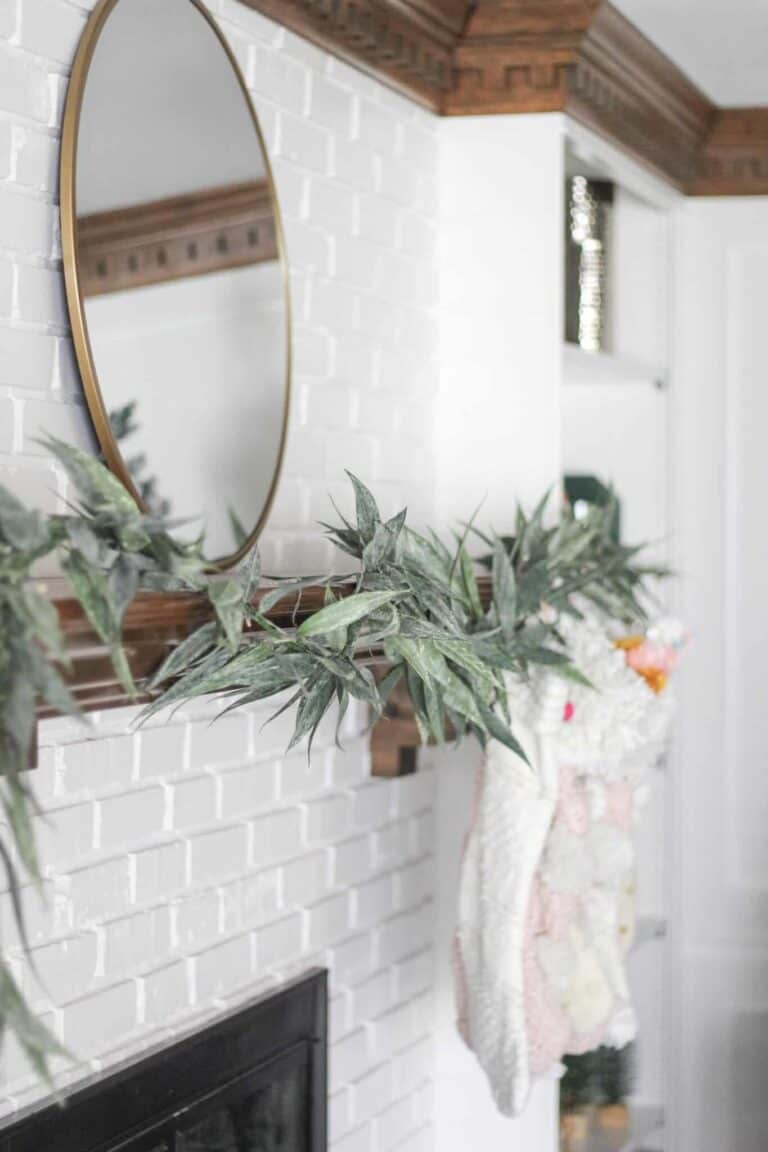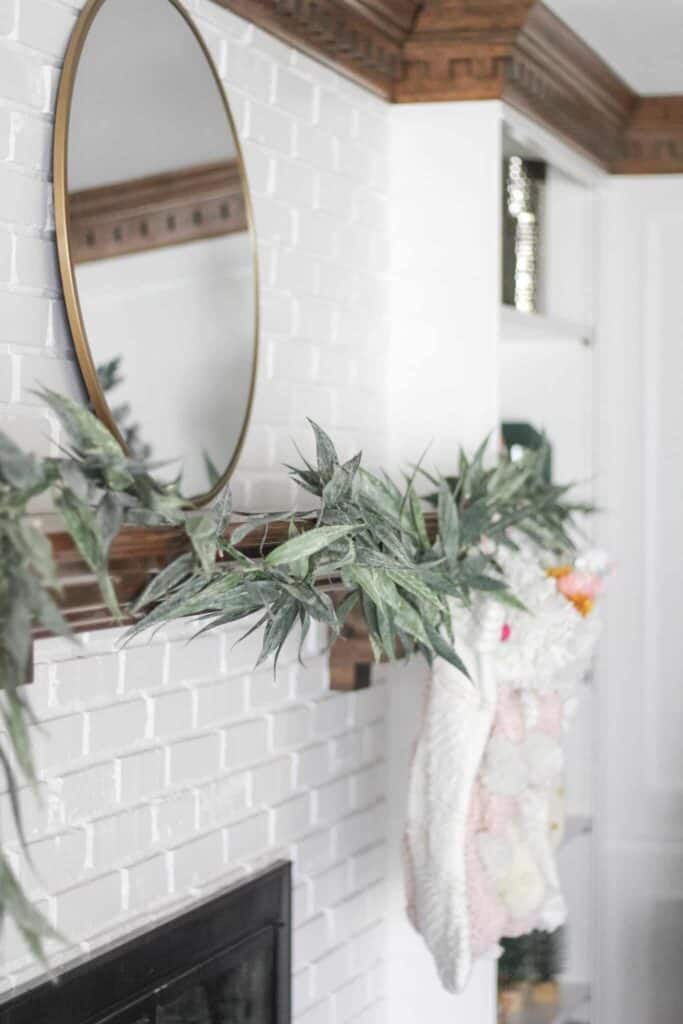 Painted Stone Fireplace Design Ideas
Now that you know a stone fireplace makeover is completely doable, let's take a look at some design inspiration.  Painting stone fireplace ideas don't need to be overly complicated.  A simple white fireplace is timeless and classic.  But, I also love seeing how others incorporate their personal style to achieve a whole new look with this DIY. Here are my top 8 painting stone fireplace ideas to give your entire room new life.
#1. Classic White Fireplace Painting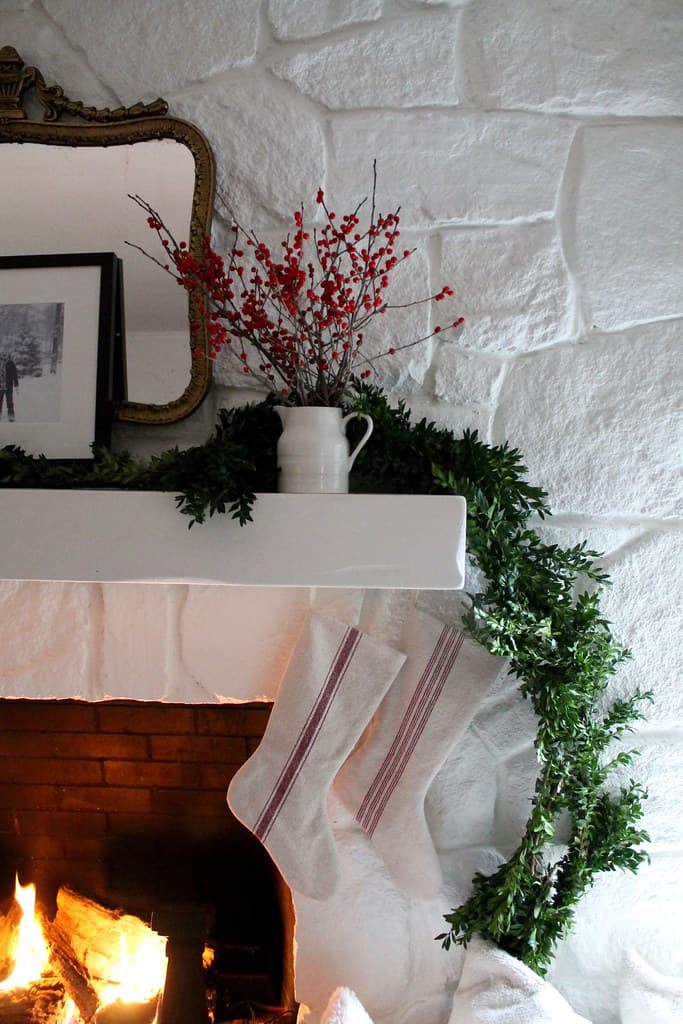 Benjamin Moore's Cloud White is a popular choice for a crisp and inviting white paint color. It creates an inviting fireplace that is complete with a matching mantel.  I love that the whole fireplace, including the mantel, is one singular white color of paint. It really adds a layer of continuity and draws your eyes upward to give the impression of a tall ceiling. The painted stones look completely modernized with this simple DIY.
#2. Classic Black Stone Fireplace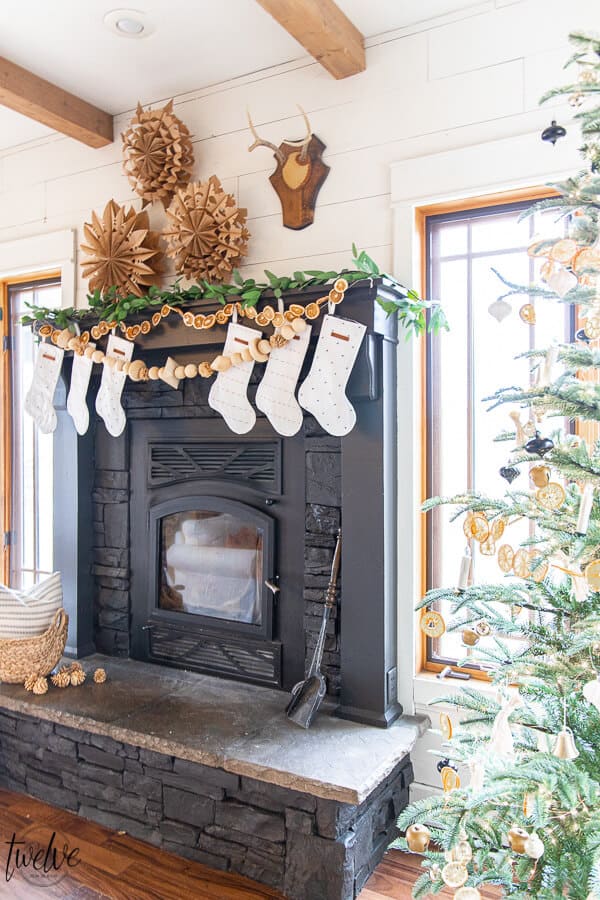 If you prefer to not have a single color of paint in your home, consider offsetting all those white walls with some black paint. This black fireplace stands out from the bright white wall color. I love how they took their natural stone fireplace and transformed it into a more modern focal point.
To offset the black paint, they kept their fireplace ledge a natural color, rather than paint all the stones in black. I love that the mantle that surround the fireplace has also been incorporated into the same sleek black painted look.
#3 Chalk Paint On Stones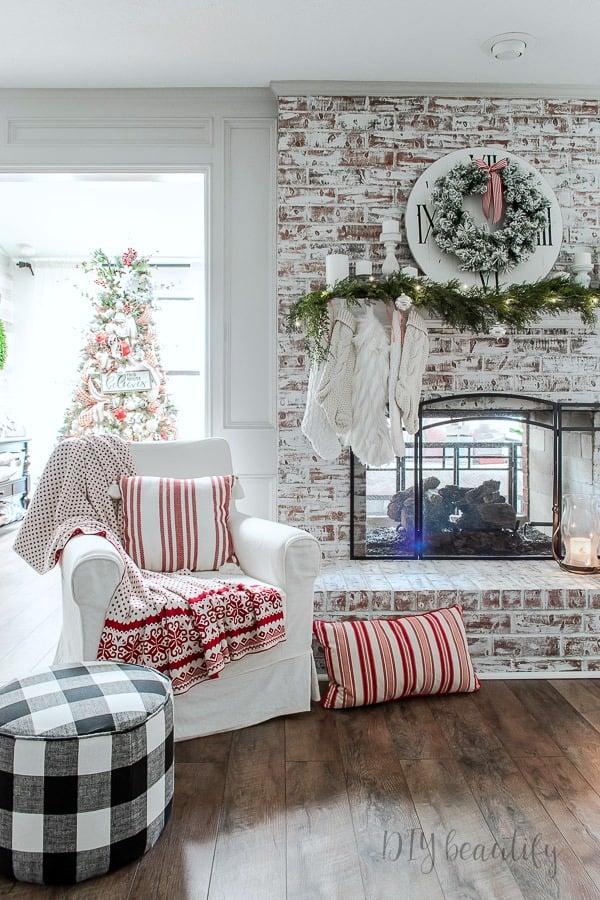 DIY Beautiful took her 80's red brick fireplace and used chalk paint to create this stunning feature.  If you are wanting to update your fireplace's appearance but not completely cover the charm of the bright color of the stone, this chalk paint technique is a great idea.  You have more neutral colors with the white wash but the character of the brick still can shine through. This is a DIY I love to see because it still allows for the natural beauty of the stones to shine through. This paint fits perfectly with the chic and shabby decor.
#4 Small Simple Changes To Your Stone Fireplace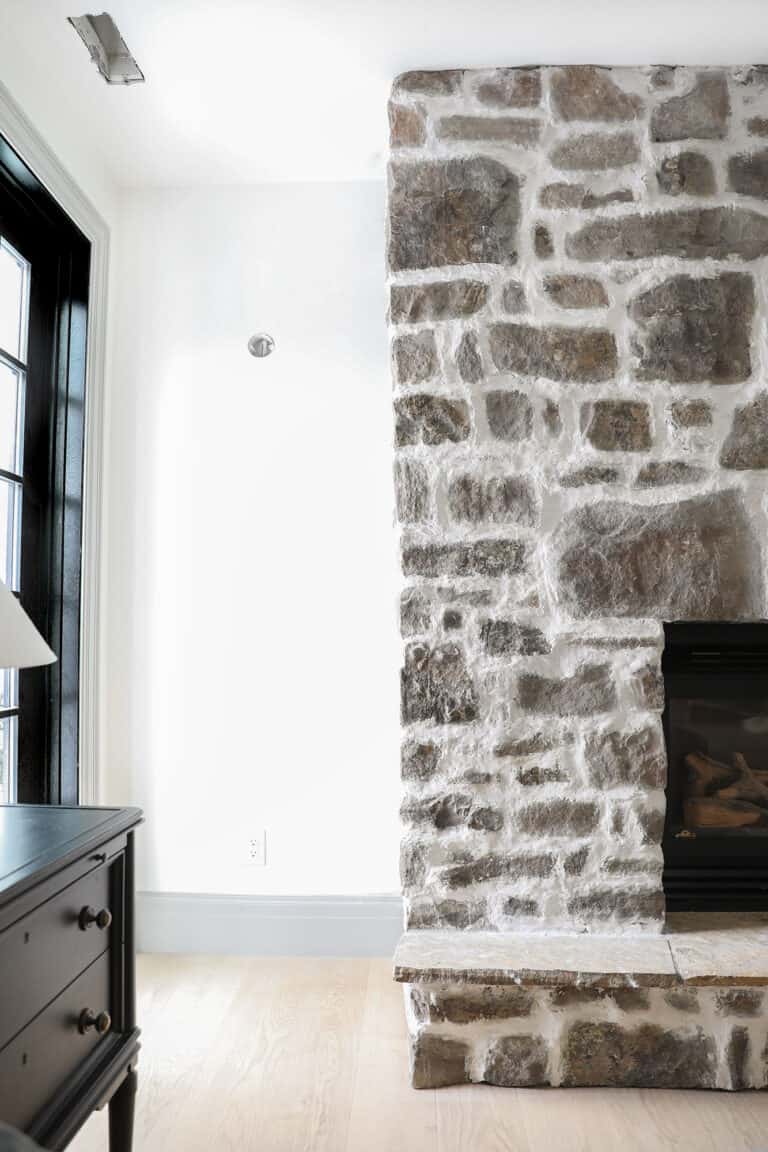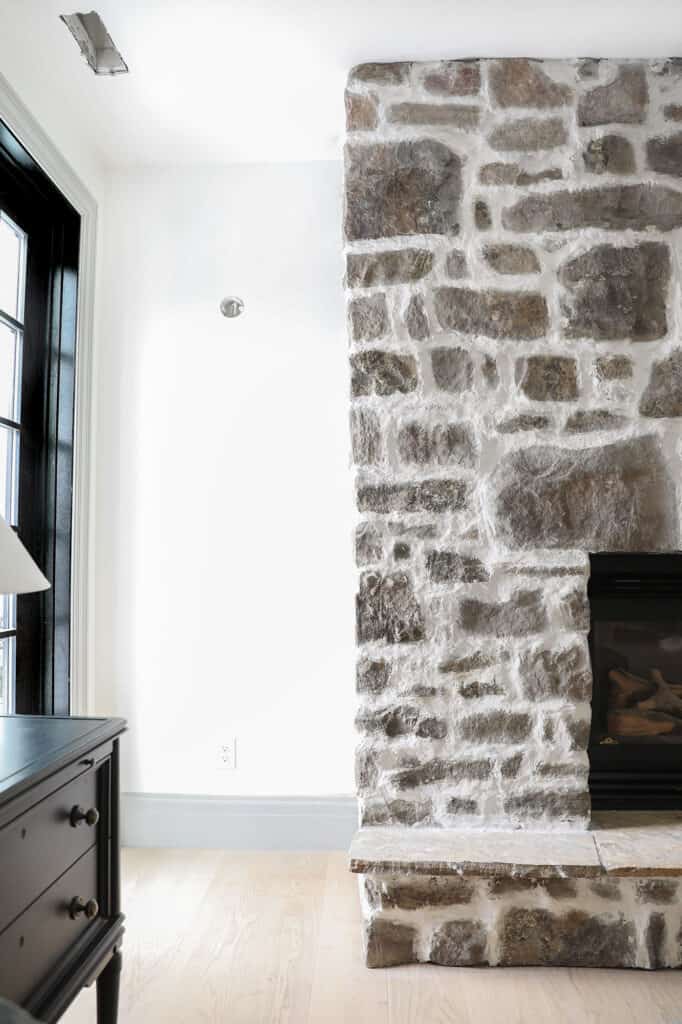 Chris Loves Julia wanted to update their stone fireplace but still wanted the natural beauty of the real stone to shine through.  Instead of painting stone, they opted to grout over their fireplace to lighten up the overall appearance.  
The neutral colors complement their bedroom and it is a great way to show off a fireplace with natural stone that is still in good condition, but may need a minor facelift.
#5 A Moody Modern Stone Fireplace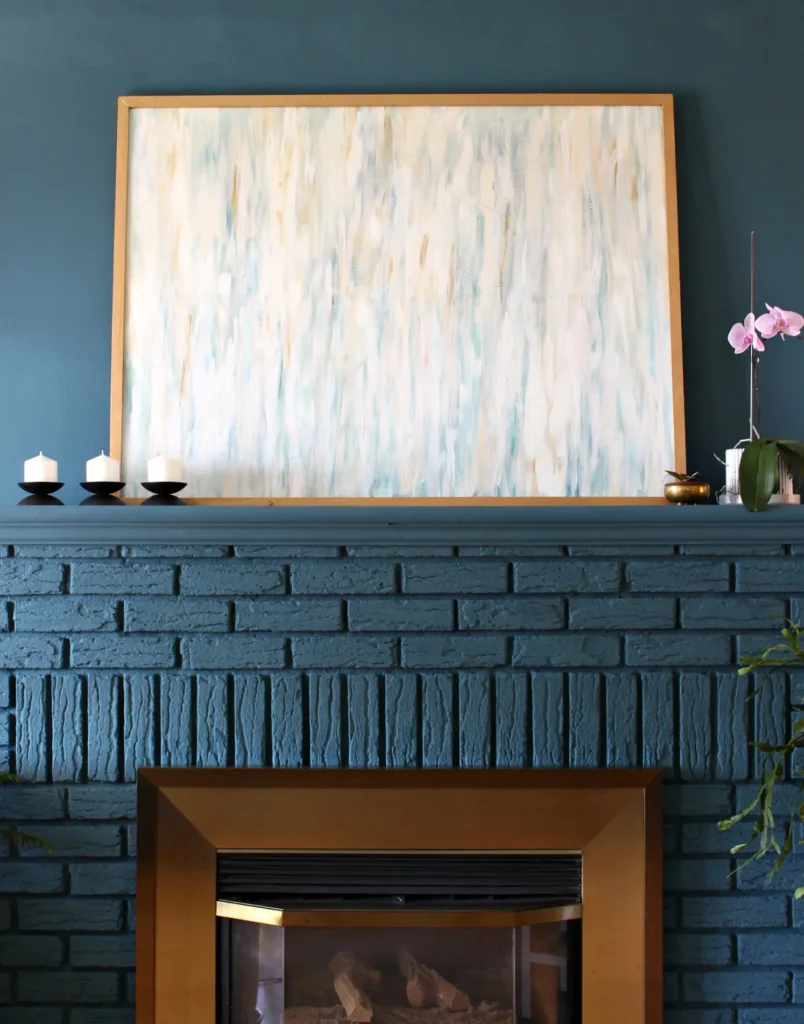 If you want to make a bold statement, paint your stone a dramatic color like this dark blue fireplace.  With the help from some chalk paint, this former all white brick fireplace turned dark and moody.  I love how there is a solid color that matches all from the fireplace to the mantel and to the walls.  This is one dramatic dining room.
#6 A Pink Dream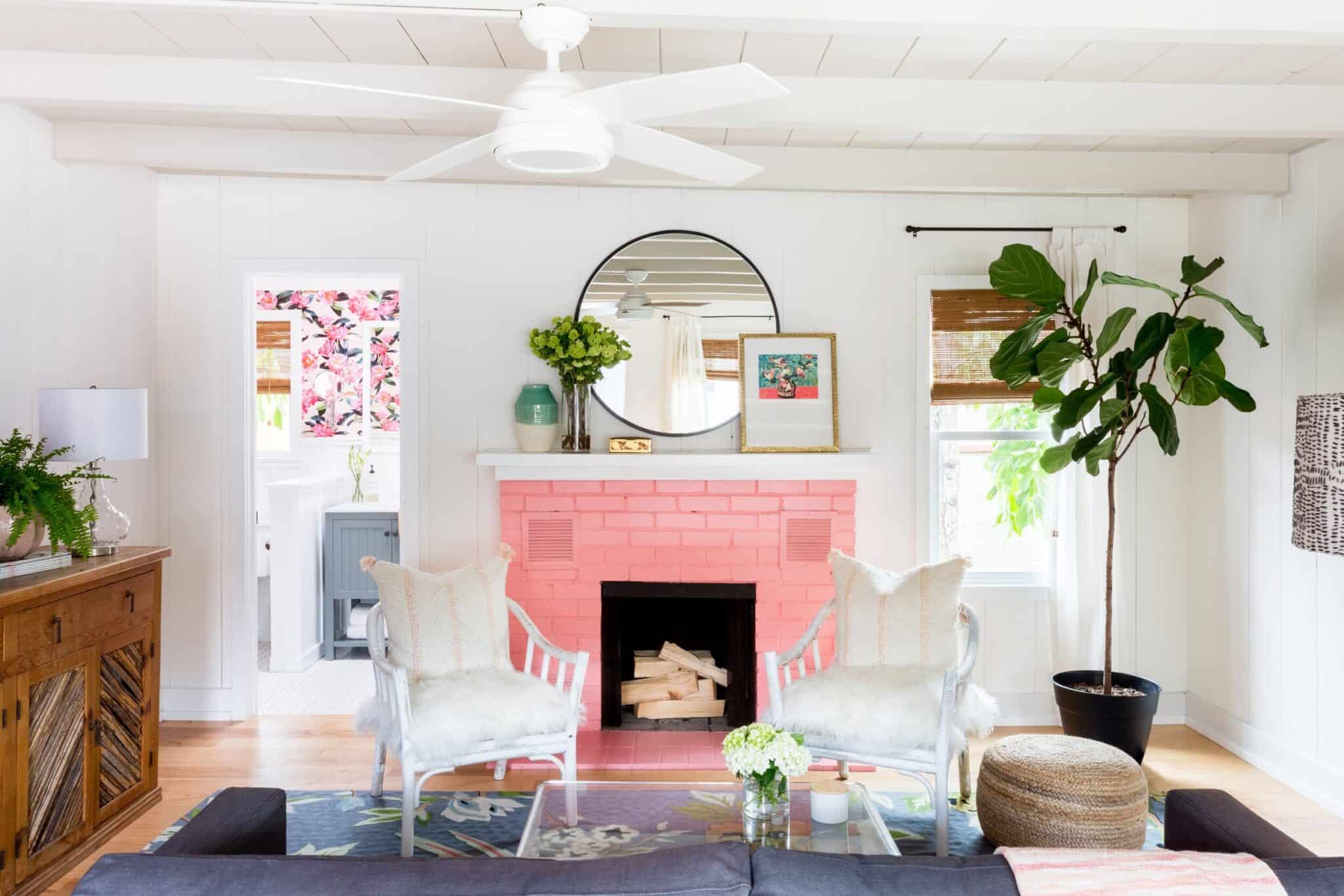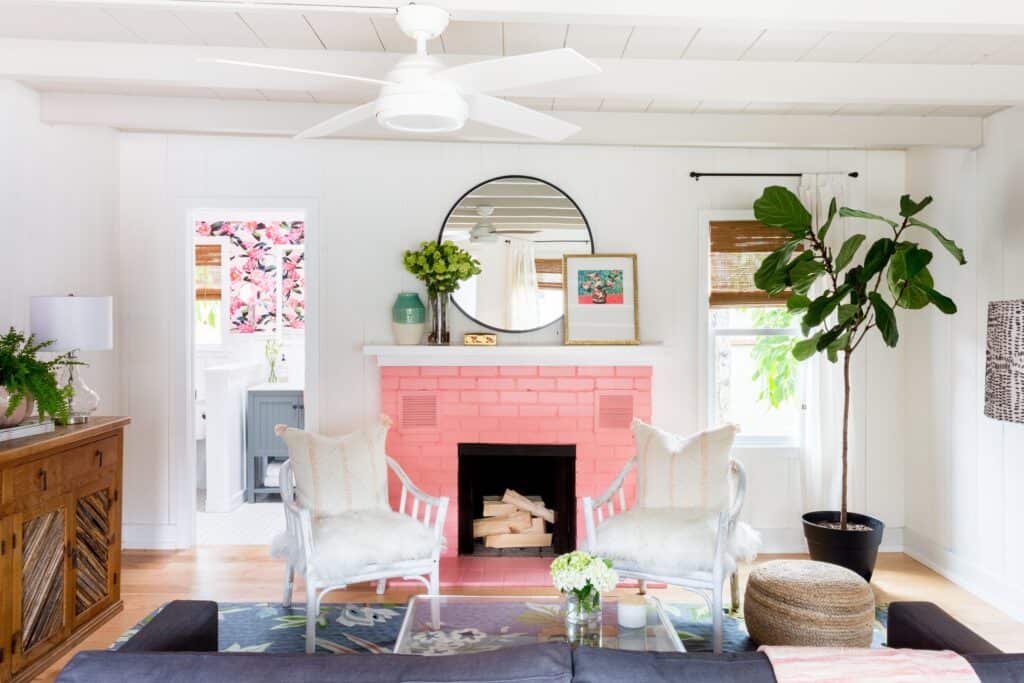 Can you hear my squeals through the internet? I absolutely love this freshly painted pink fireplace designed by J Kurtz Design. I'm surprised I didn't think of doing this in our last house. How fun is that pop of color in what otherwise appears to be a fairly traditional color scheme and design.
It takes this family room from stuffy to playful and fun. It was such a good idea to tie in the fireplace color with the wallpaper that is seen in the next room. A fresh coat of paint created such a whimsical atmosphere that otherwise would have been far less interesting had the stone been covered in white paint.
#7 Boho Green Paint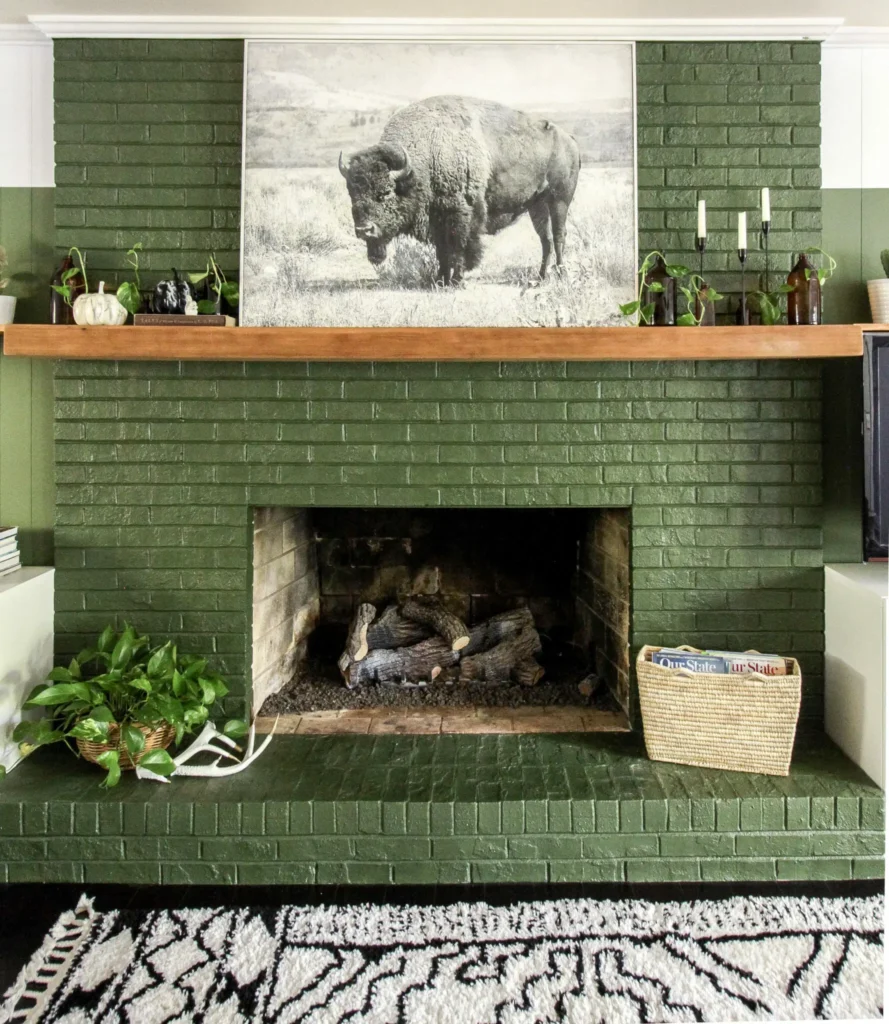 This is another bold fireplace that takes a little paint and goes a long way. The use of green paint is daring in a fireplace and yet, it ties in perfectly with this boho living room. Even though this dark paint color is used throughout the room, it still gives off plenty of natural light, which makes the space feel open and airy.
#8 A Soft Pink Paint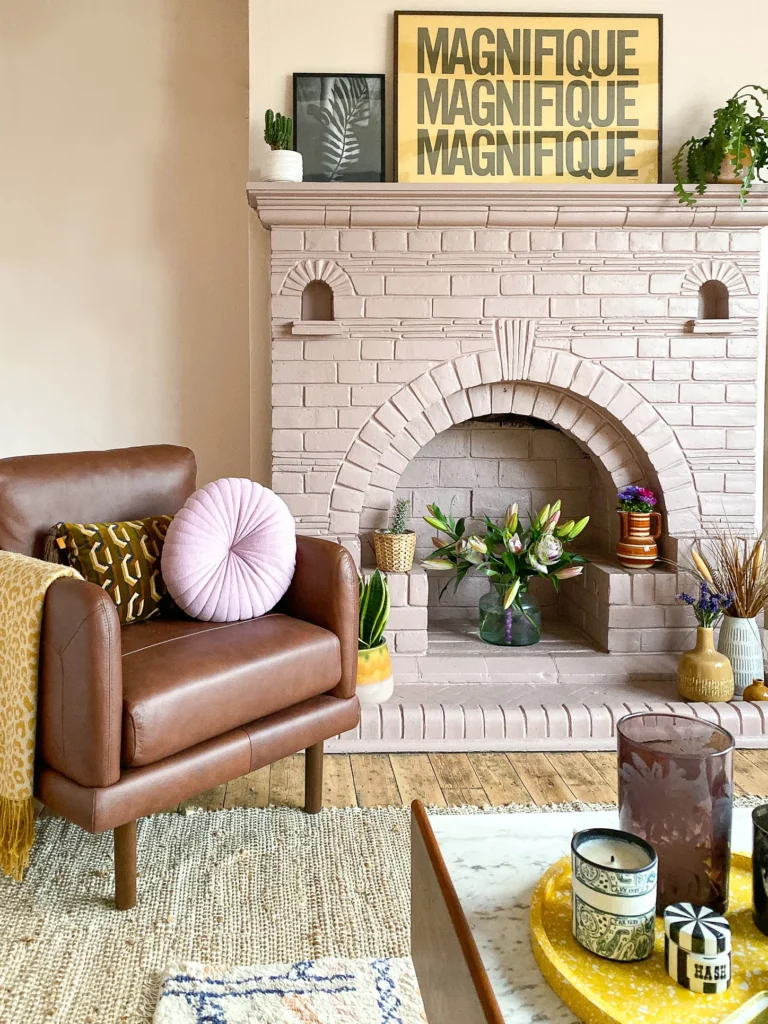 You know I had to input another pink fireplace. While a white or black fireplace is more commonly seen, I actually really enjoy the use of this more neutral paint color that is seen as a dusty pink.  It gives off just enough color to pop, but at the same time, isn't so overly pink that it doesn't feel natural.  The pops of yellow in the room really add a modern touch. 
Adding dimension, intrigue, and interest to your stone can be as simple as using paint in a bold color. The texture and dimension of the stone can really shine through the paint. Whereas, if you use white paint or black paint, there tends to be a bit less intrigue. When you use bold paint, you truly create a statement in your home.
Other Posts You'll Love
DIY Penny Tile Fireplace| Peel & Stick Backsplash Fireplace Update| Home Tour Before & After Renovation
Pin The Photo Below For Later
I hope this post gave you plenty of painting stone fireplace ideas. With a little effort, you can make the fireplace of your dreams and enjoy a cozy fire this winter. If you have any questions, feel free to leave them in the comments section or DM me on Instagram. I share many more projects and products on both Instagram and TikTok ( @arinsolange) so be sure to follow me in both places!