Are you on an organization quest this year that I am on? I am a very organized person, but truly need organization methods in place for it to work well for me. Today I am going to be sharing bedroom organization ideas that you will love. As a mom of 4 (and a wife…and we all know that means mom of 5 when it comes to organization) I am constantly working on ways to make sure all the people in my family have organized rooms to help them thrive, and this post will share all of that with you.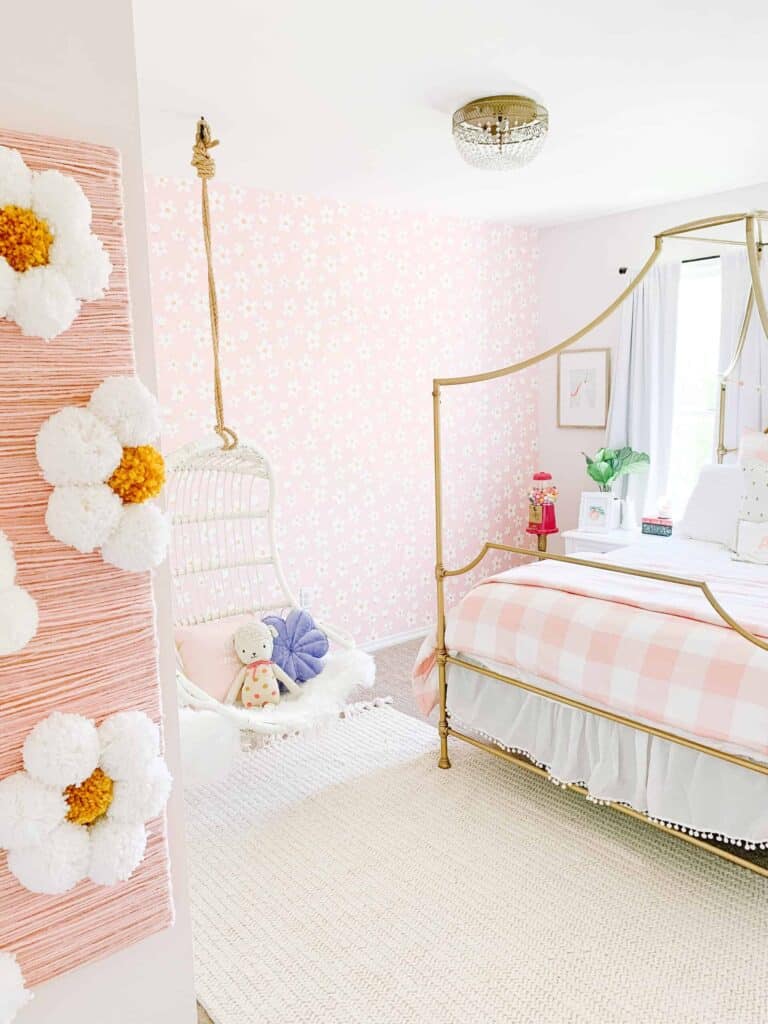 Who else remembers this sweet room in our old house?
This post may contain affiliate links.
Bedroom Organization Ideas
Your bedroom is your sanctuary. Or it is, until it isn't. I don't know about you, but visual clutter makes me anxious and as a mom of four, well, there is a lot of clutter.
At the end of a long day, I just want to escape to my bedroom, take a breath, and enjoy some solitude. That is pretty hard to do when your bedroom space looks like chaos. The good news is that there are lots of options to help calm the chaos.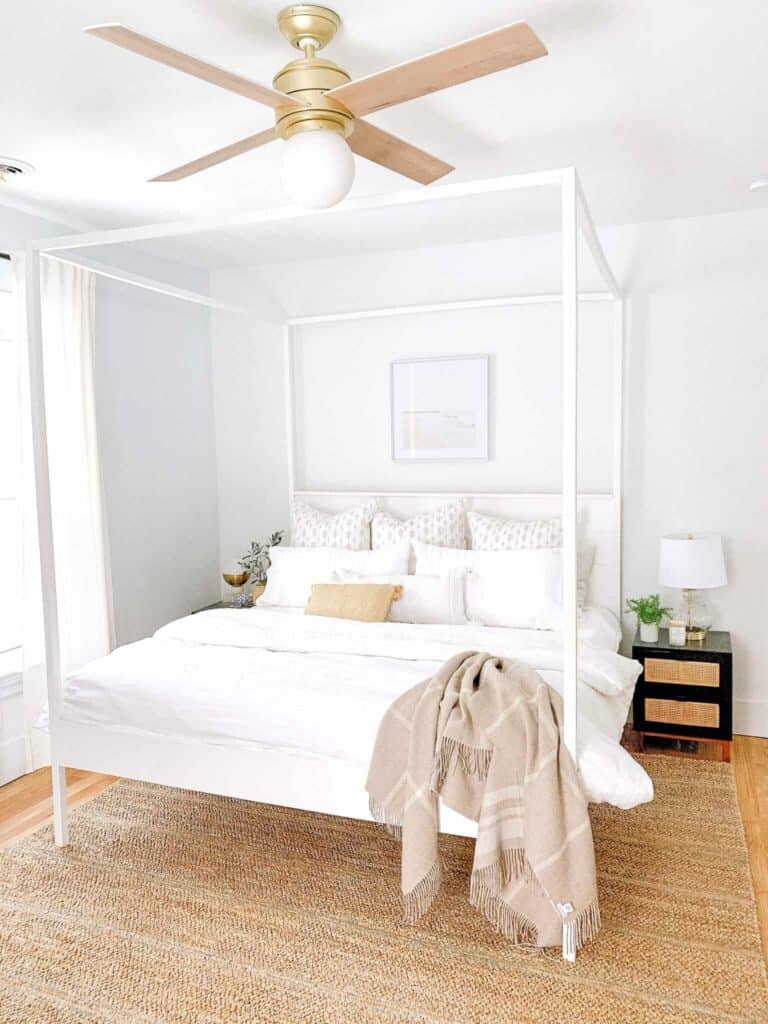 Our master bedroom is our sanctuary.
Declutter the Room First
Have you been following along with my 30 day declutter challenge? If so, you'll know that the bedroom is a spot that we definitely hit up! If you aren't familiar with the 30 day declutter challenge, check out my post here.
First things first, you need to take stock in what items you have in your bedroom and closet space. If you are working with a small space, this step may cause you to have a bit of a panic attack.
Whether you have a small room or a large space, you'll still need to declutter your belongings. That's right, if it doesn't spark joy and you haven't used it in the past 6 months, it's time to say "Goodbye!".
Of course, you can always repurpose it in a space that you would use it, but the key part of that phrase is "would use it." There is no sense in keeping something around that doesn't have a purpose and is taking up valuable storage space.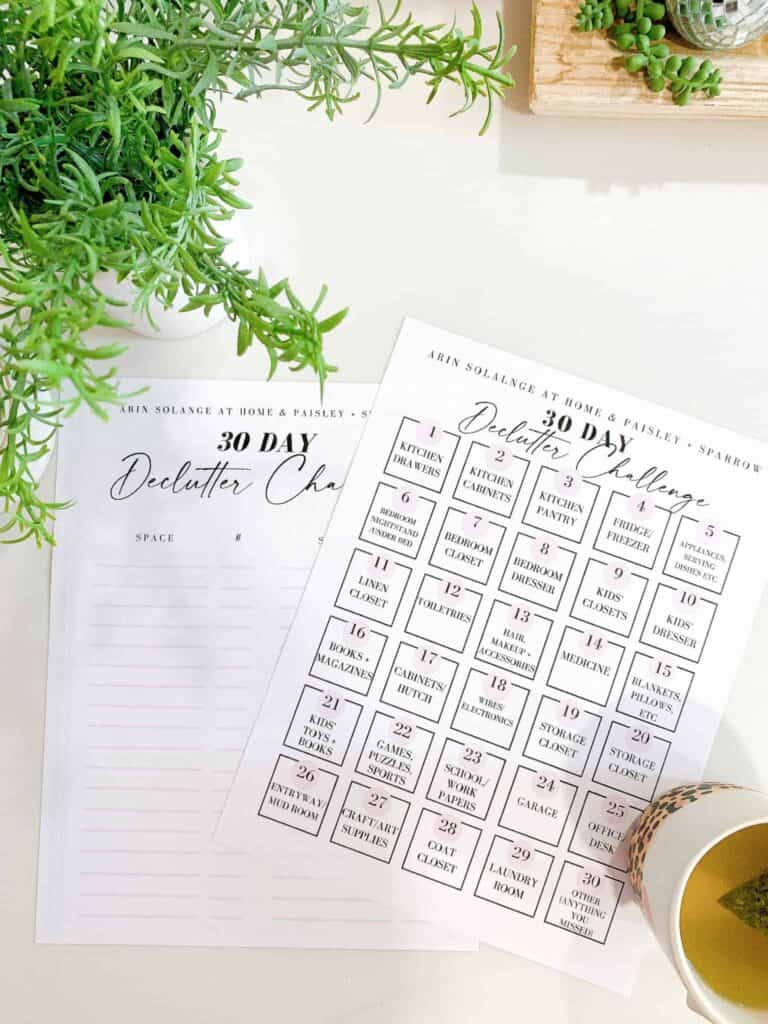 It is never too late to join our 30 Day Declutter Challenge.
Bedroom Organization First Rule: Everything Needs a Proper Place
Once you've decluttered, now is a good idea to take some time to decide what makes sense for you and your day to day in regards to where your items will "live." Every belonging needs to have a home. You know that junk drawer in your kitchen?
The one where you simply add miscellaneous items because you have no idea where else to put it? Well, your master bedroom is not your junk drawer.
Decide where you want your items to go. For example, does it make sense that your socks are in your dresser, or do you prefer to have them in a basket in your closet?
Do you keep your linens in your hallway linen closet, or do you want to keep them in a storage ottoman at the end of your bed? These are all questions you'll need to think through while keeping in mind what extra storage you have available within the space you live.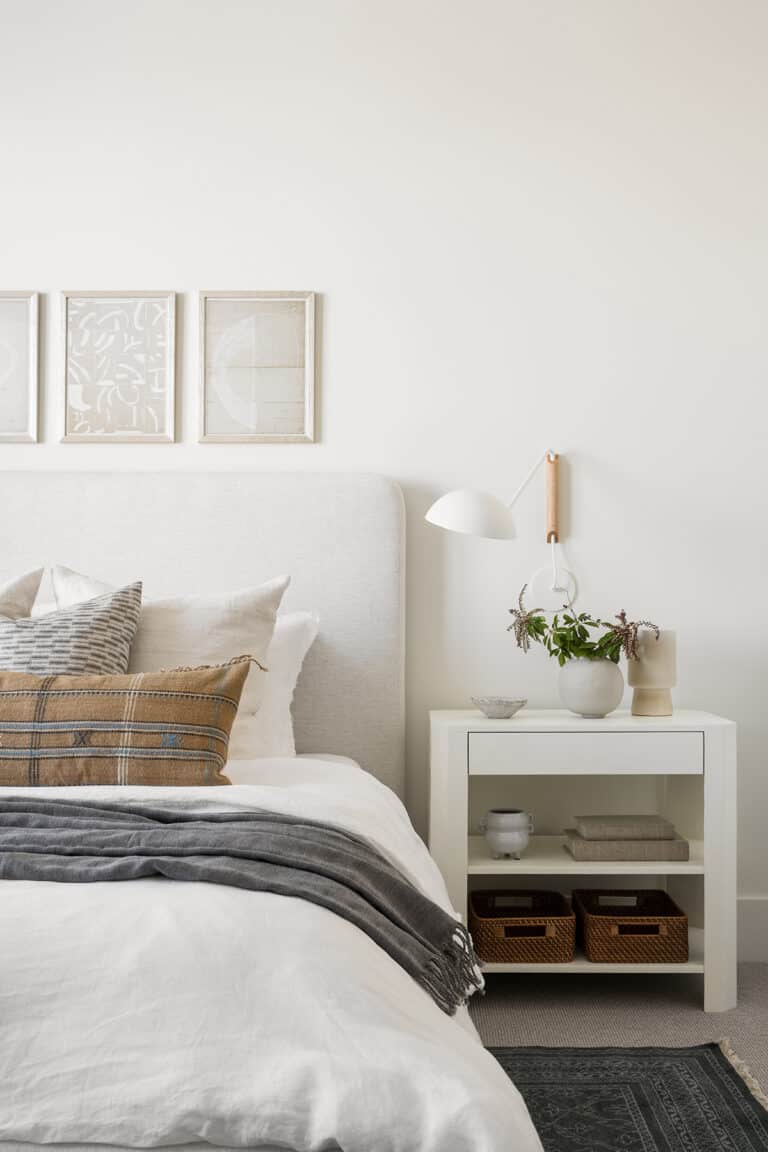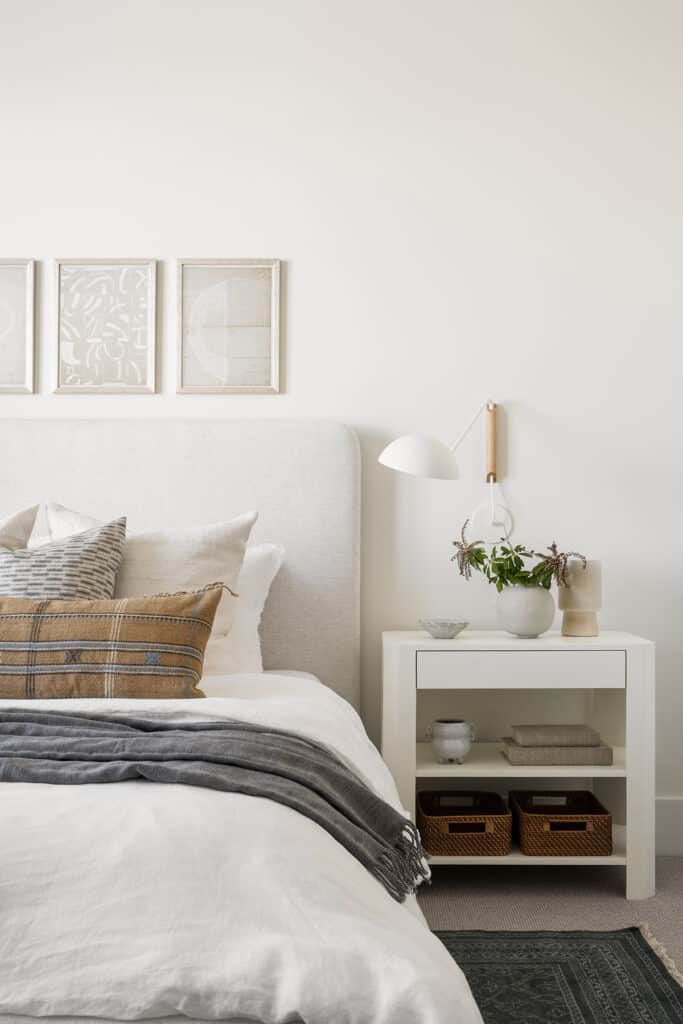 Beautiful bedroom by Studio McGee.
Use Space Wisely
I can't stress this one enough. No matter how small or large your bedroom is, there are always different ways and storage solutions to help you create enough space.
Storage Bins
Consider using wicker baskets throughout your bedroom and closet to create additional storage. You can store extra blankets, pillows, or even books for easy access.
If you have enough floor space, you could put a storage bench or storage ottoman at the end of your bed to hold items like linens and pillows. We have a great storage ottoman pouf in Jack's room that holds all of his stuffed animals. The best part is it not only is a great storage system, but it also adds extra seating to his room.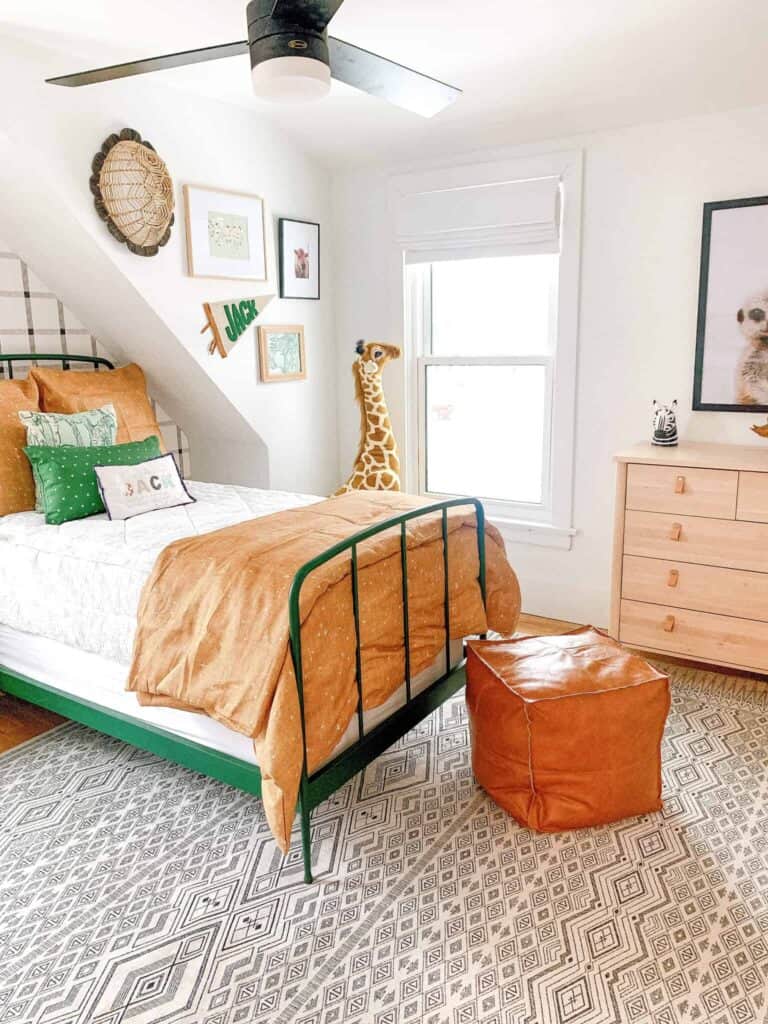 We love this clever storage pouf.
Utilize Under Bed Storage
The foot of the bed is a great place to add additional seating and storage, but don't overlook your under the bed storage space. This is the perfect place to store out of season clothing and items that you don't use often.
Perhaps you have a wedding dress taking up valuable closet space. Under the bed storage would be a great way to clear up extra space. If you have a smaller space and need to use that under the bed storage, you can always invest in rolling storage carts that are easily accessible. The rolling storage is a great idea to maximize space with easy access.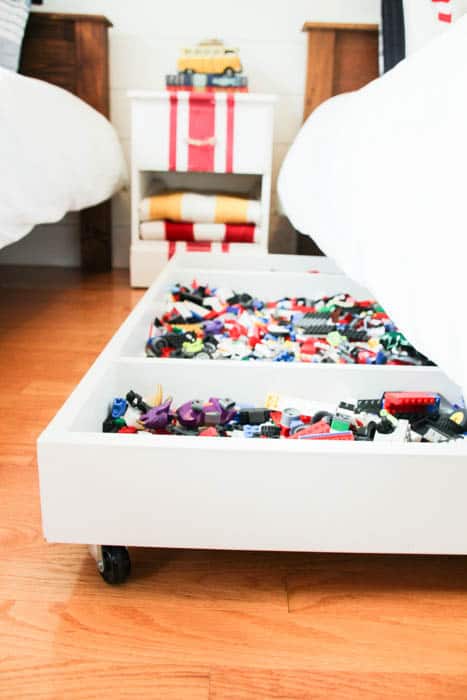 Check out this amazing DIY for under bed storage. This is a lego dream!
Bedroom Closet Organization Ideas
I could do an entire post on bedroom closet organization tips. In fact, I have done one on nursery closets! Whether you have a tiny closet, standard closet, or large closet, you can never have too much closet space. Utilize the vertical space in your closet by investing in a closet system. In our home, we recently installed the IKEA Boaxel System and love it. There are many options out there at different price points for an organized closet.
You can also use the inside space of your closet for jewelry storage, hats, scarves, and bags. Consider installing a kitchen rack and extra hooks on the inside wall of your closet to hold various small items.
I also love to use lazy susans to hold my perfumes and lotions and then I have it placed on the top shelf. This frees up so much space and holds smaller items nicely.
This DIY IKEA Pax System closet is impressive.
Another great idea for your closet is to make sure to include a basket that is easily accessible for donations. Any clothing that no longer fits or sparks joy can be placed in this basket. This way, you are decluttering on a proactive basis rather than having to do one major overhaul.
You'll also want to make sure you have a shoe organizer in place. Shoes take up a lot of space. Get them off the floor. Not only is it cluttered looking, but it takes up too much room in your closet. An easy way to store shoes is a shoe rack.
You can have a shoe organizer that hangs on the back of the door. Or, you could install tension rods in your closet to hold your shoes. Storage cubes and storage boxes are also great ideas to store shoes. An easy DIY is to create a ladder shoe shelf.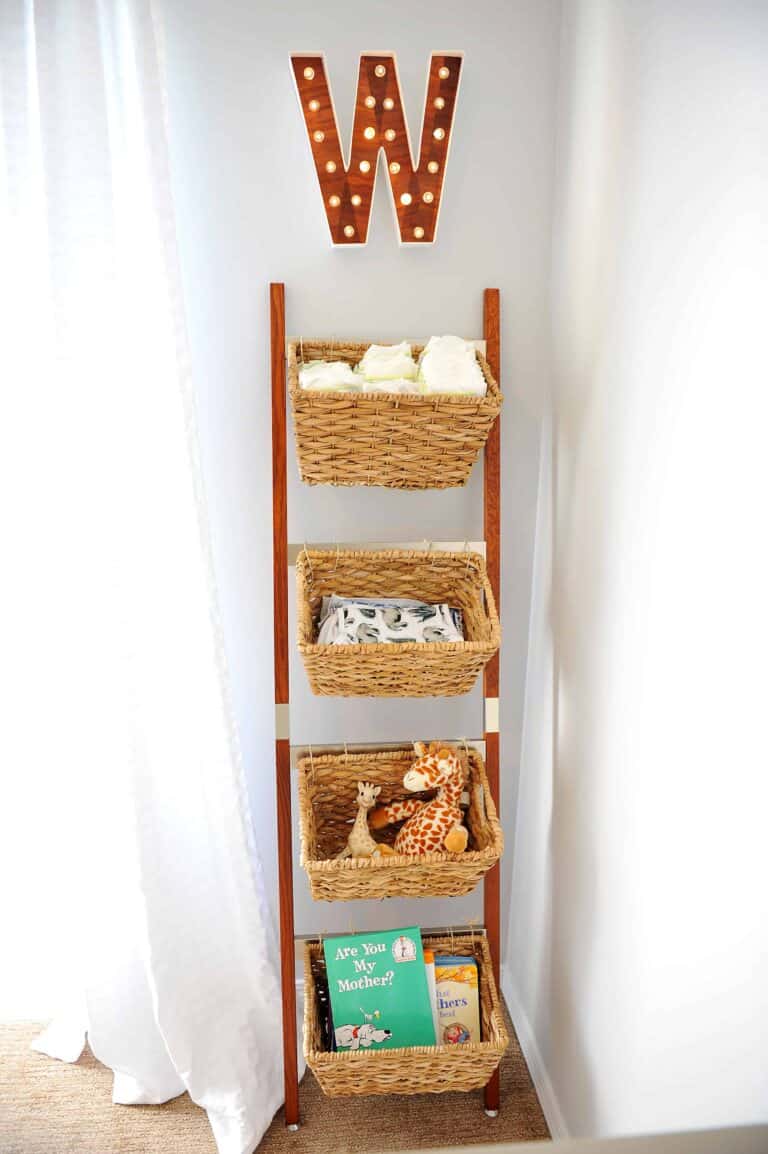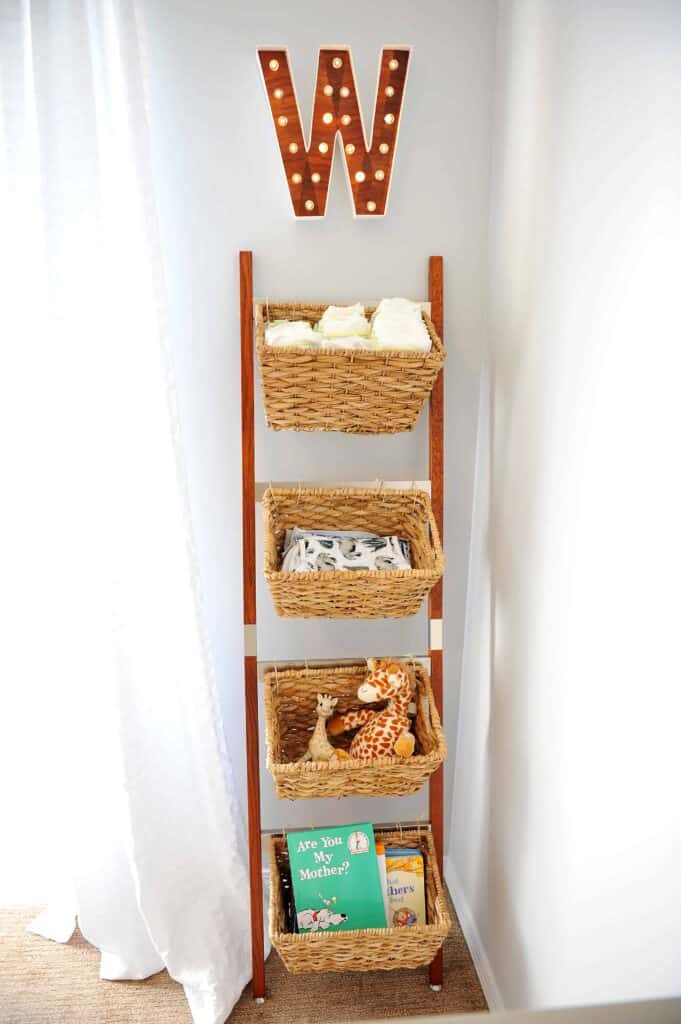 This DIY ladder is a great addition to your bedroom and would be valuable at holding other small items.
Keep in mind that your closet is a good place to house your laundry basket. This goes back to everything being in its proper place.
If you don't have enough room for a stand alone laundry hamper in your closet, a great option is to have a hanging laundry hamper in your closet. Keeping your laundry hamper in your closet keeps your bedroom tidy, but also gets your dirty laundry out of eyesight.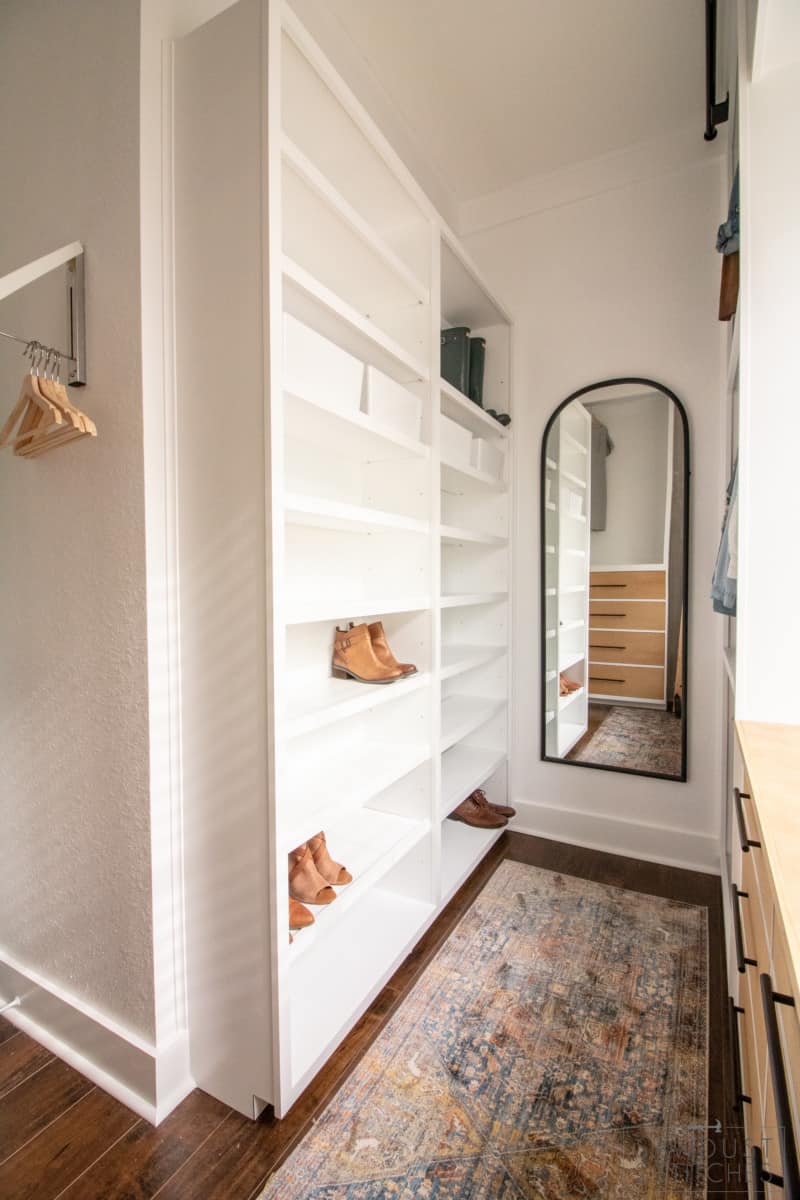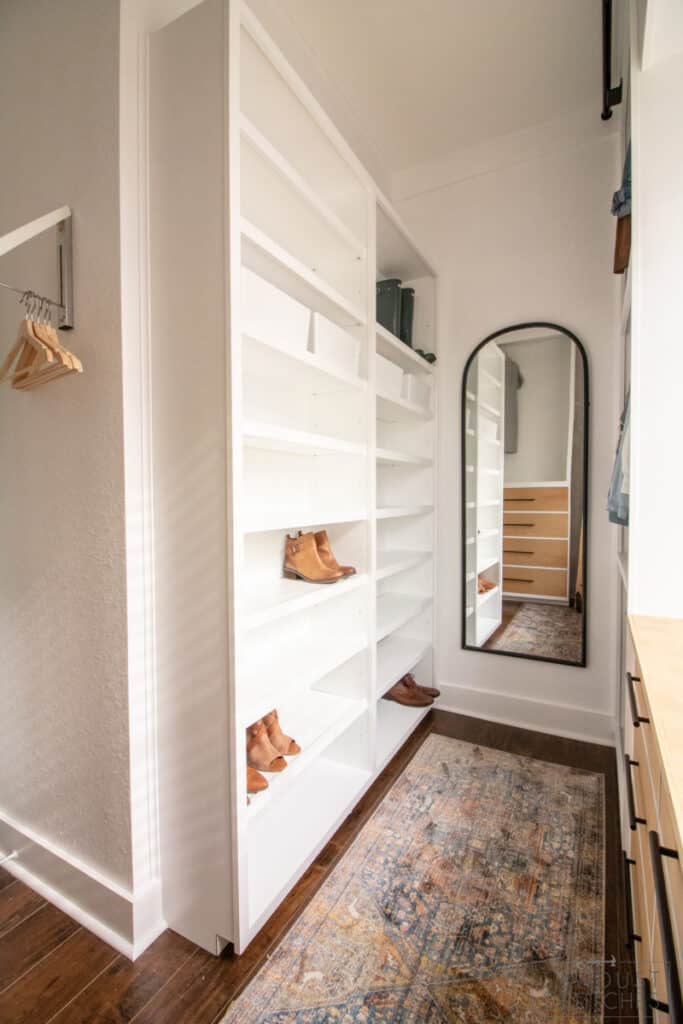 This is a beautiful master bedroom closet makeover.
Utilize Dressers Wisely
Dressers are a great storage solution to have but the drawers can be a total nightmare. Have you perfected the art of folding your clothes neatly? I'm not going to lie, when I'm putting my laundry away, it is a struggle.
I often leave most of my clean clothes in my laundry basket and then it is a vicious cycle of taking the clean clothes from one laundry basket and placing them in the hamper. Drawer organizers and drawer dividers are great to help separate all of those items in your dresser.
Once you learn how to fold neatly, you can fit a lot of clothes in dresser drawers with the rolling method.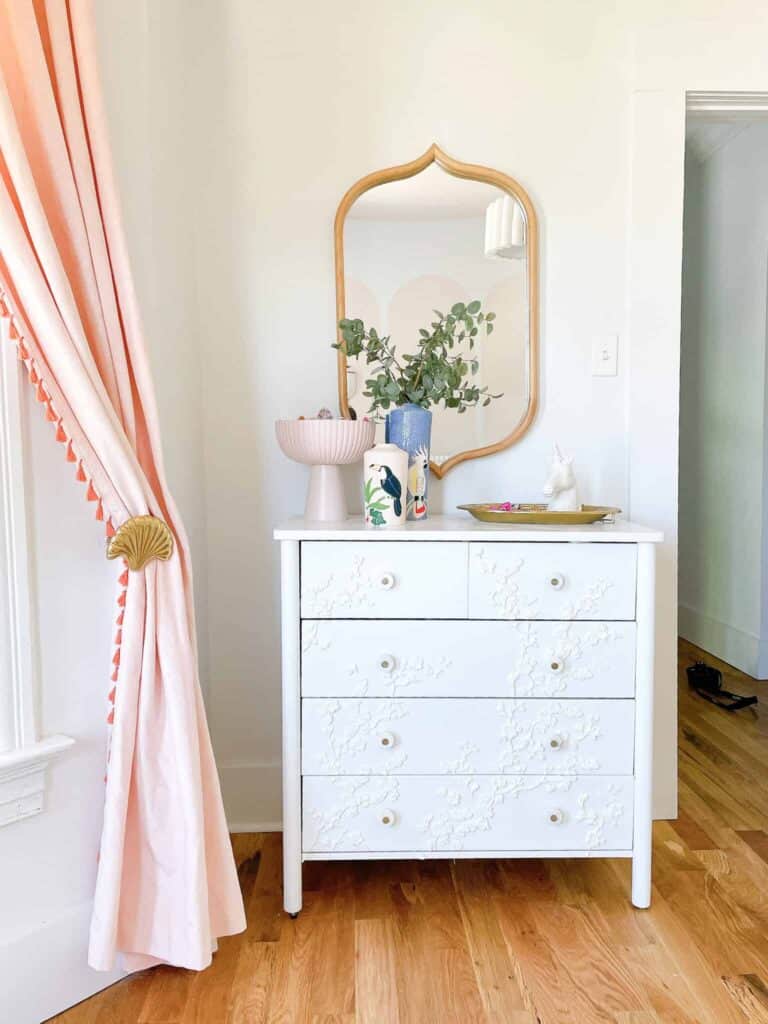 Avé's DIY IKEA dresser is by far still one of my favorite projects.
I love the idea of using dressers as a bedside table. If you have a large enough bedroom this would be a great idea to provide extra storage space. If you have a smaller bedroom, a great option is to use a rolling cart in place of a nightstand.
You can keep all of the items you need beside you at bed in a bedside caddy on one shelf. The other shelves on the rolling cart can be designated for storage. When you aren't in bed, you can roll the cart into your closet for an open room.
If you have room for nightstands, but not enough room for a dresser in your bedroom, consider moving the dresser into your closet. Placing a dresser in a small closet is another option for small bedroom organization ideas.
For smaller bedrooms, you can still have storage space with the use of a nightstand while keeping your dresser in the closet.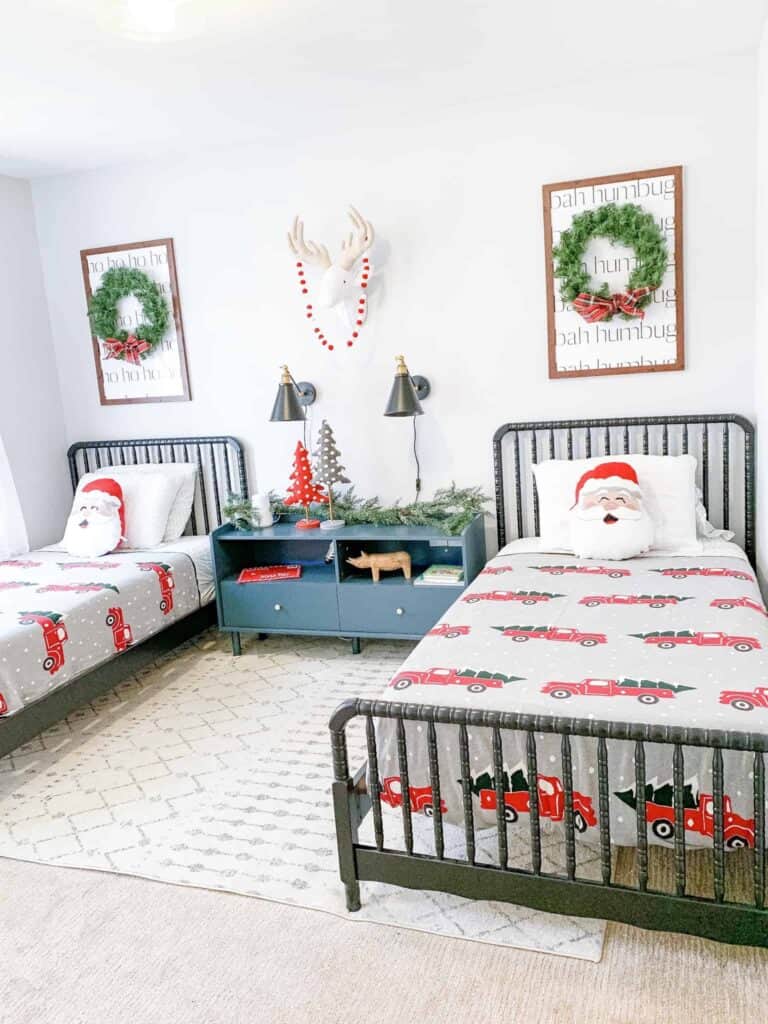 Back when Jack and Walker shared a room. We loved using this double nightstand. A dresser would also look great here too.
Keep Surfaces Clear
Keep your dressers, nightstands, and other surfaces in your bedroom totally clear. You don't want clutter piling up. Use baskets for miscellaneous items. Floating wall shelves and corner shelves are great options to store books and other small items.
Have a charging station inside your nightstand if possible. I'm guilty of my nightstand being bombarded with cords, chapstick, and glasses. Have drawer organizers in your nightstand to help catch all of those little items that pile up. Out of sight is best.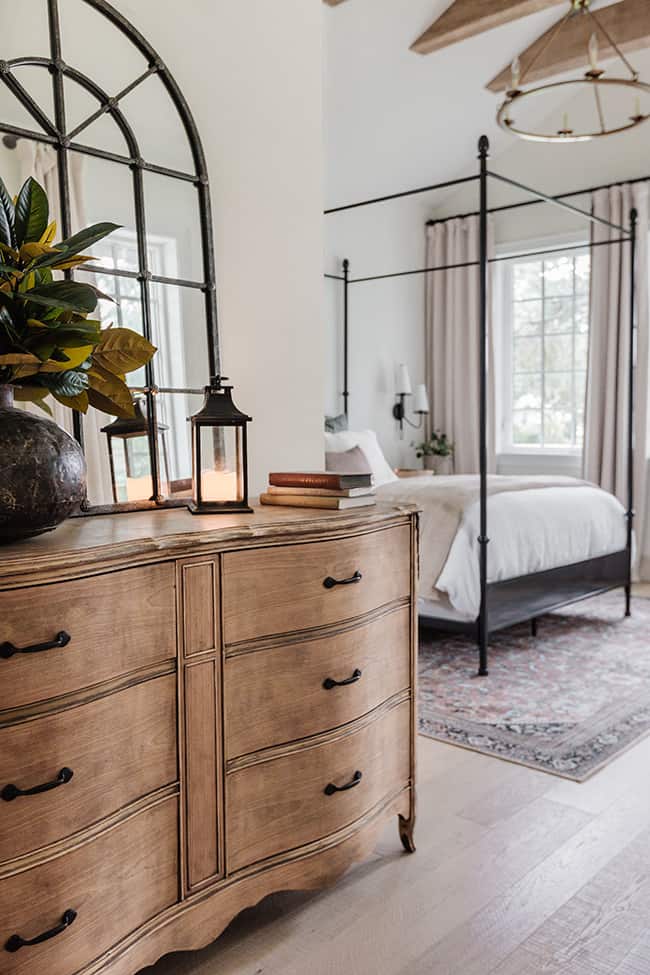 A simple and clutter free dresser in this incredible bedroom.
Keep Things Balanced
This may not necessarily be an organizational tip. Nonetheless, keep your room balanced. For example, if you have a master bedroom, have a nightstand on either side of the bed. Even if you don't have a partner, placing a pair of nightstands creates a balanced look, which gives off an organized appearance.
The same rule can be applied to the items you do place on your bedside tables and dressers. If you have a table lamp on one nightstand, place another table lamp on the opposite nightstand. This is all about a cohesive look.
In your closet, keep your clothing racks balanced by using the same colored hangers. Again, this will create a unified look which will help for an organized feel.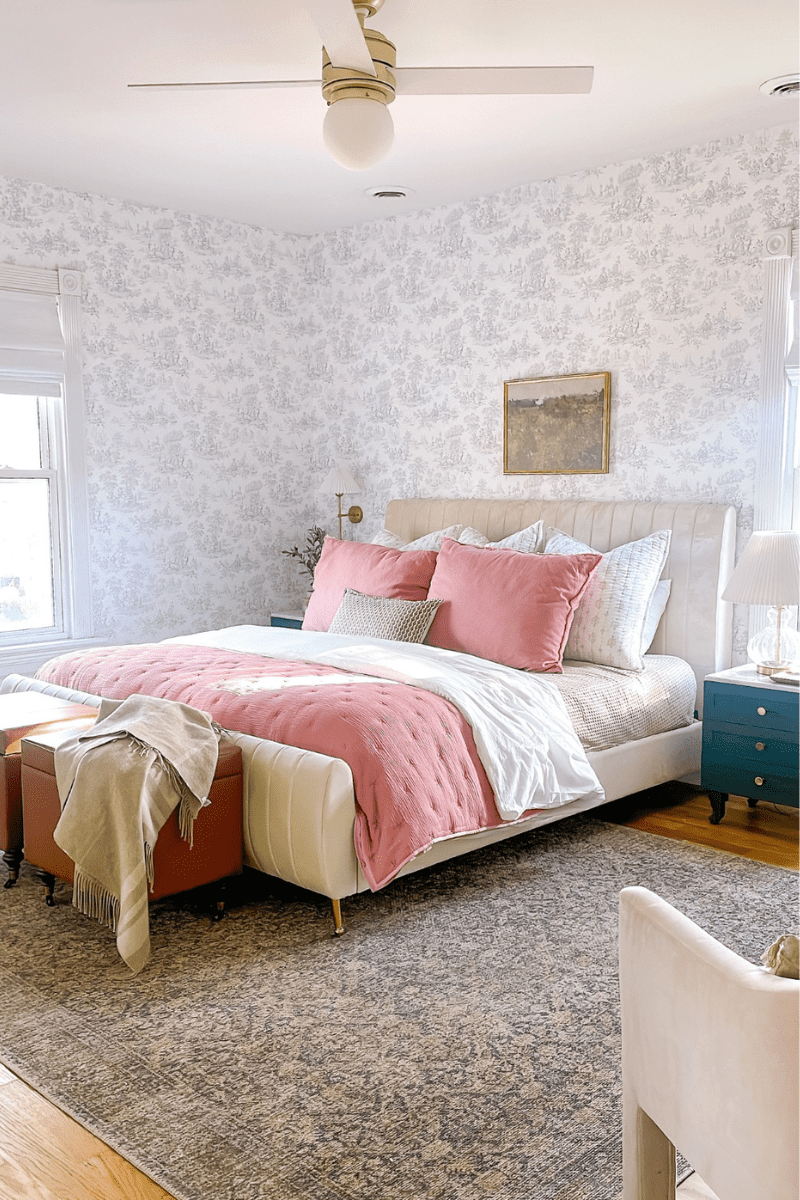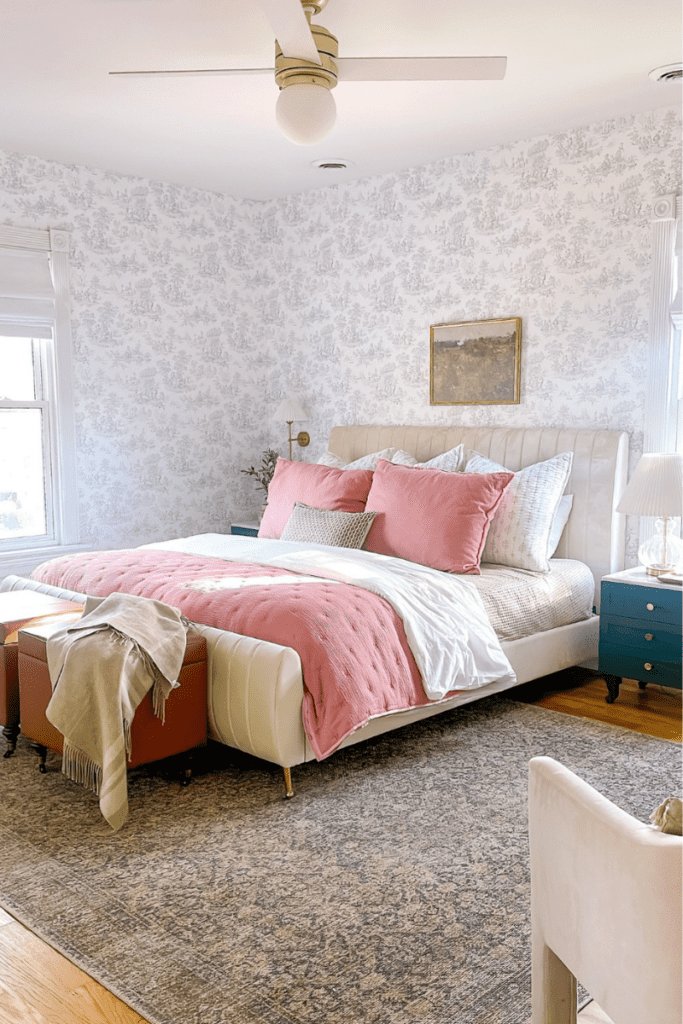 My Favorite Bedroom Organization Ideas and Products
To find lot's of my favorite bedroom organization ideas and products I did a roundup below that will help you find great items to keep your space organized and functioning well.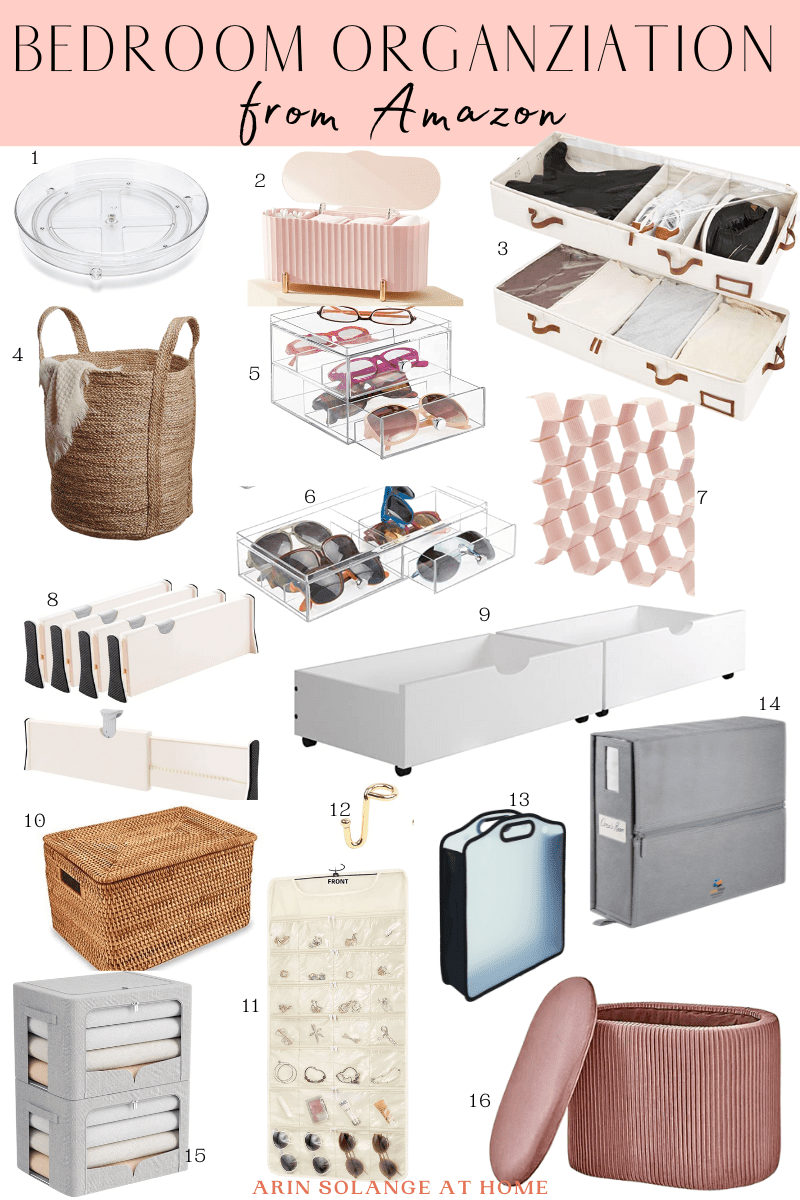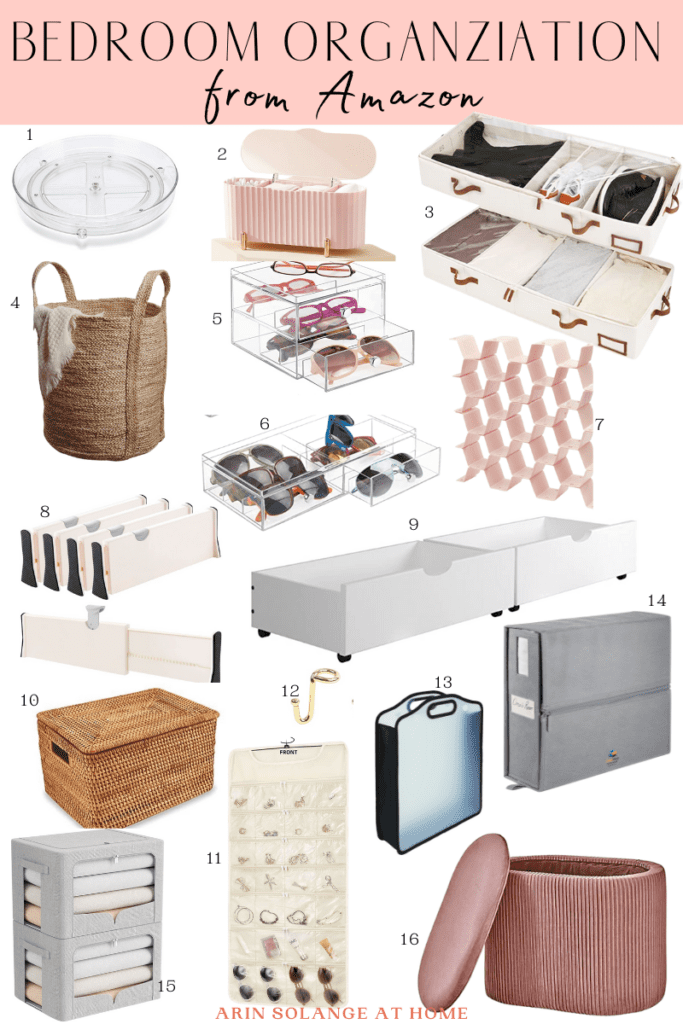 1 | 2 | 3 | 4 | 5 | 6 | 7 | 8 | 9 | 10 | 11 | 12 | 13 | 14 | 15 | 16
Shop Bedroom Organization Ideas and Items below
Other Posts You'll Love
15 Beautiful Gold Mirrors | Pedestal Sink Organization | DIY Linen Shelves | Outdoor Toy Storage
Pin The Photo Below for Later
I hope this post was full of smart bedroom organization ideas. You want to create a space that is restful and relaxing to recharge at the end of your day. Take the time now to declutter and organize your space so your bedroom is your favorite room of your home.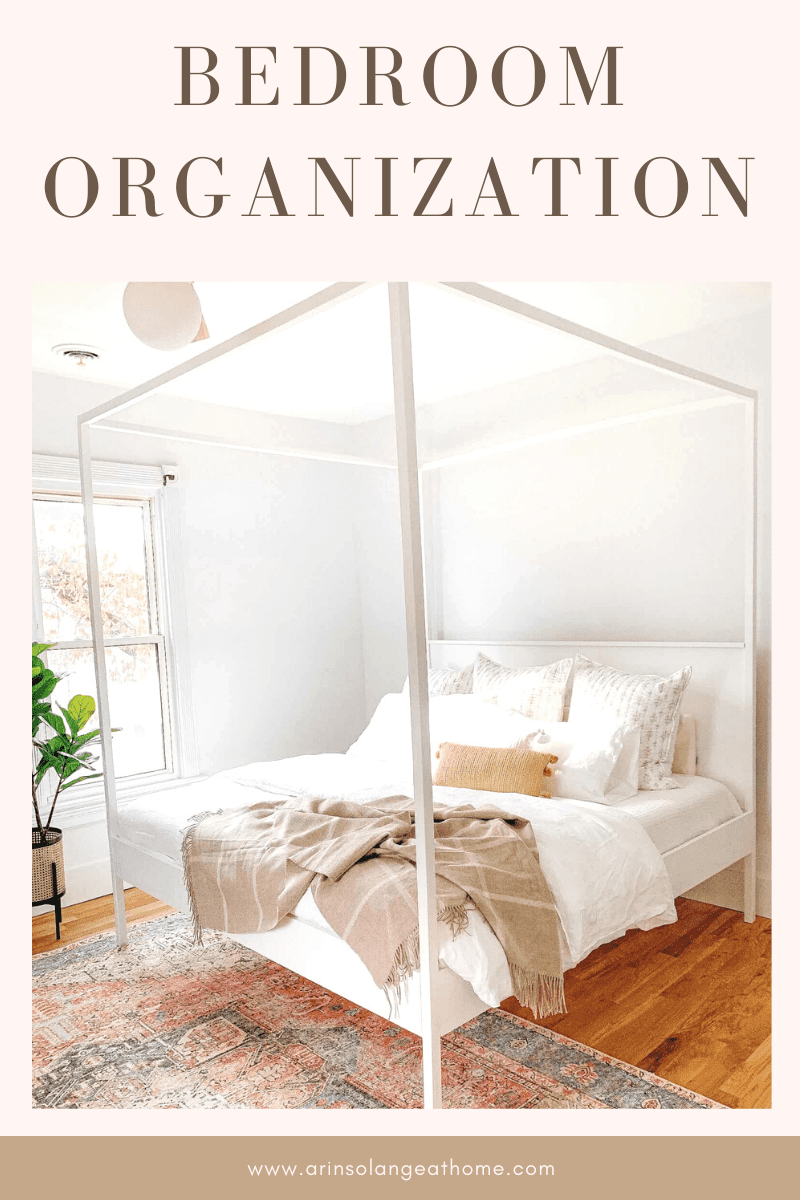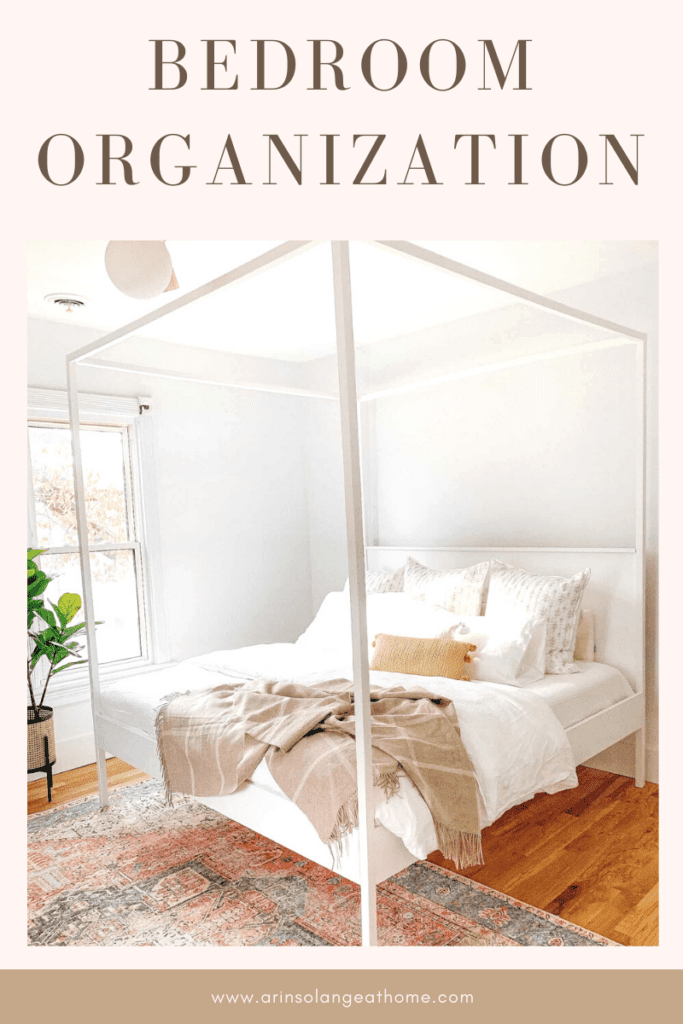 There are many bedroom storage ideas that can be easily incorporated today. You just have to take the leap. If you have any questions, feel free to leave them in the comments section, and follow me on Instagram @arinsolange for more home, decor, and DIY.