Can we all just agree that gold mirrors are having a moment? I absolutely love the look of ornate gold mirrors to add a big statement to any room in your home. This trend has been around for a few years now and I don't see it going away anytime soon. If you are looking to add a gold mirror to your home decor, I'll share with you my top 15 gold mirrors.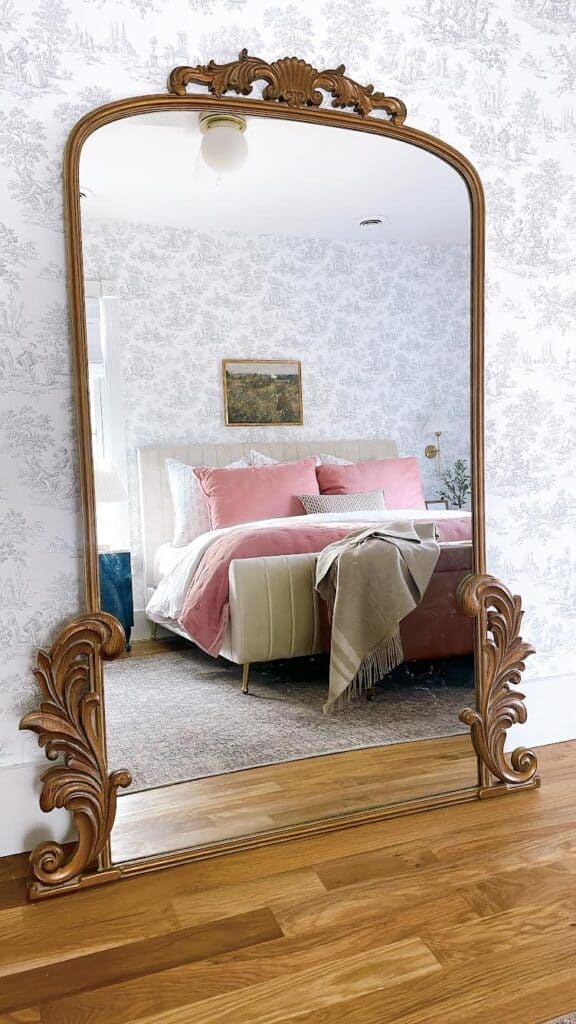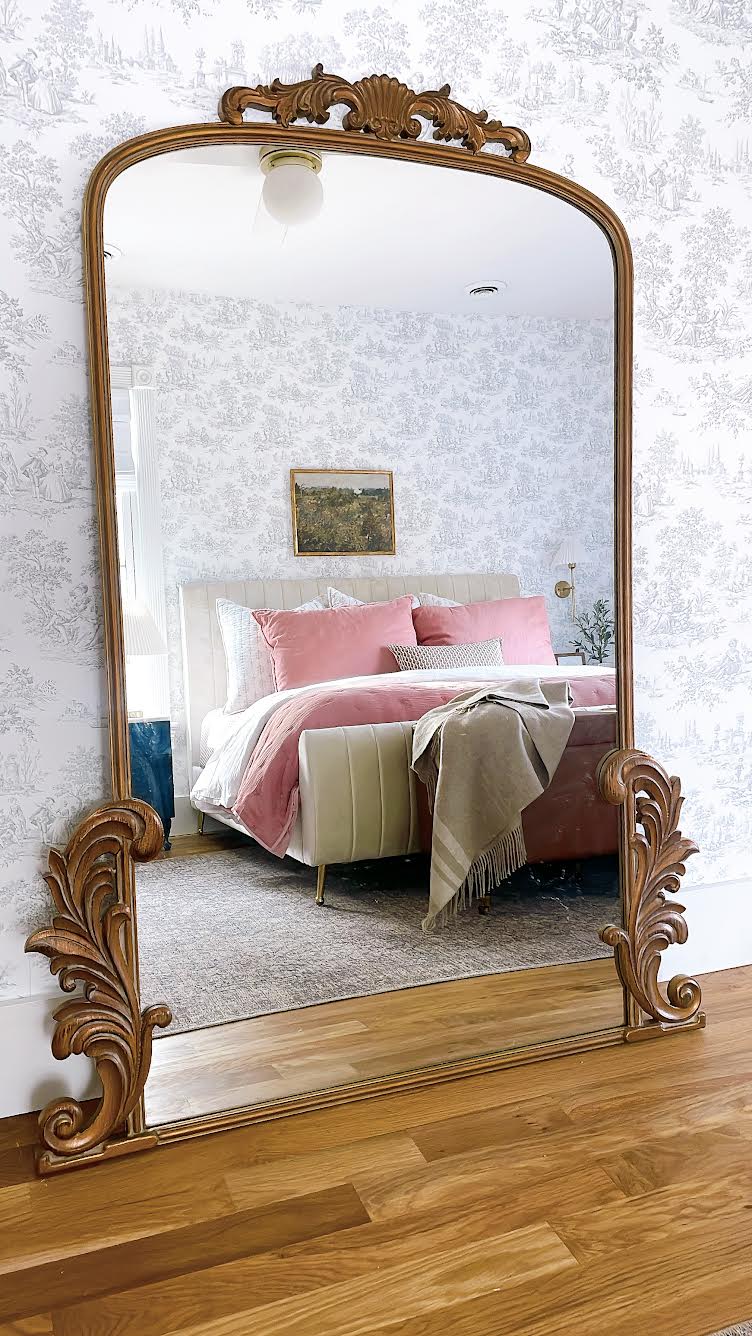 This post may contain affiliate links.
15 Gold Mirrors To Dazzle Your Home
I just completed an overhaul on our master bedroom using Amazon products. This was the first room in our house that I did just for ME. Normally, I'm focused on updating spaces that are shared or for my kids. In this case, it was time for me to take care of myself and create a sanctuary where I could truly unwind and relax.
If you are interested in checking out the full reveal of our master bedroom, check out my Instagram post here.
One of my favorite features is our floor height, antique gold mirror. It brings in so much extra light and makes our bedroom appear even larger. But what I really love about it is the overall look. The ornate features of the mirror with arches, gold leaf finish, and rounded edges fits perfectly with our vintage romantic style.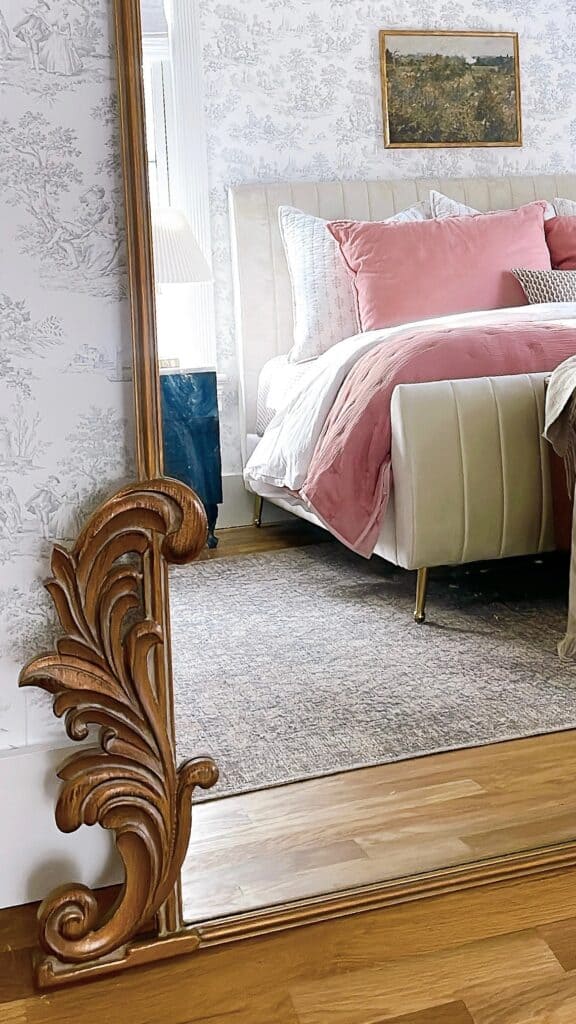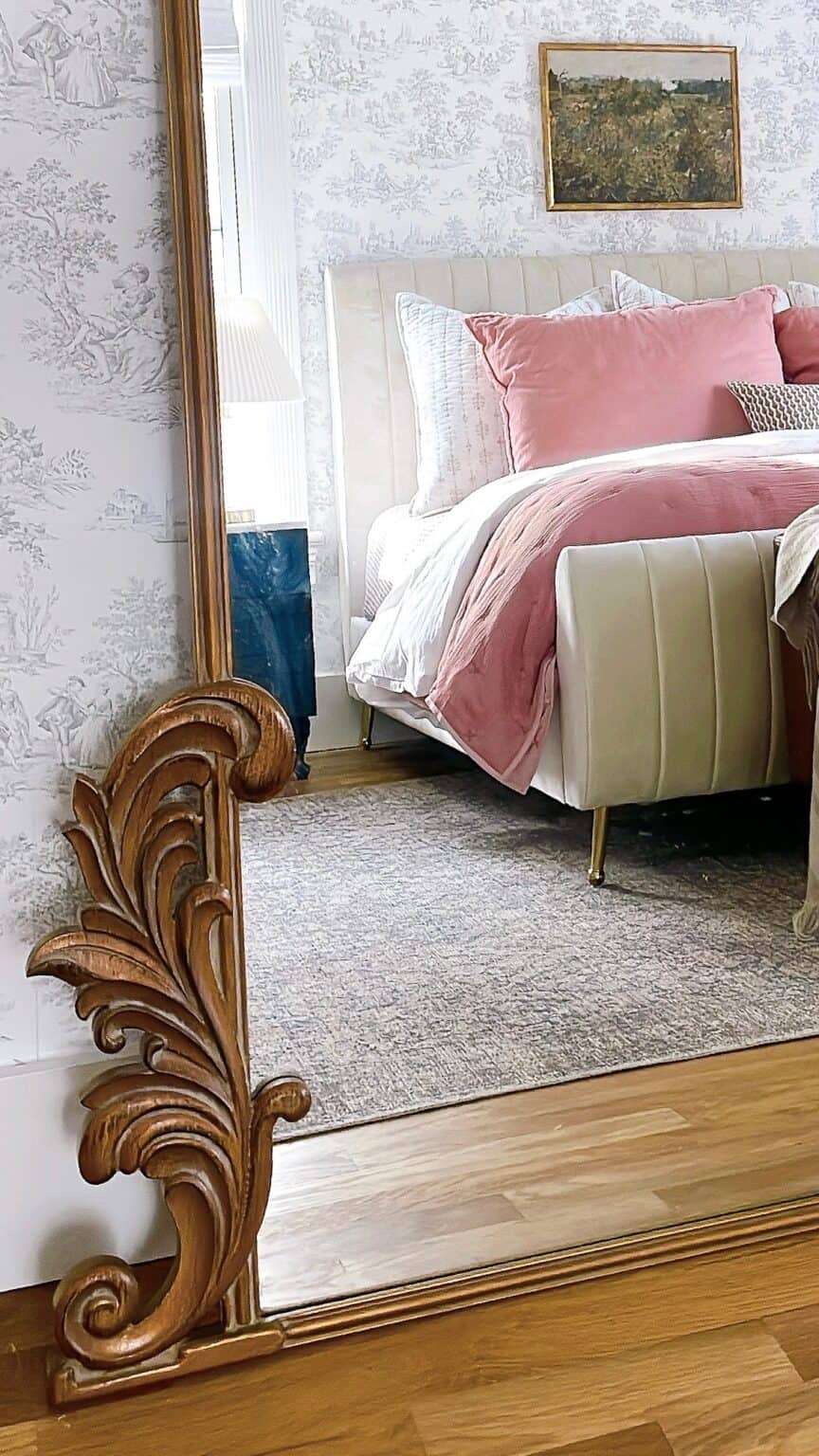 Benefits of Decorating With Mirrors
If you've been around my blog or Instagram long enough, you'll know that I love adding visual interest by using mirrors.
With a historic century home, I try to stay true to the overall age of the house by adding in vintage pieces mixed with modern elements. Throughout our house we have nods to our home's 1800s roots.
An antique mirror is the perfect addition to any room in our home. Finding an antique gold mirror is not as hard as it sounds. Fortunately, you can find a decorative mirror in many styles. Our master bedroom is not the only room in our house to benefit. Both our playroom and dining room have large mirrors as well.
So why do I use them in so many of our rooms? The answer is quite simple. It is such an easy way to effortlessly tie together your decor and add visual appeal. Not only that, but it makes the room feel brighter, larger, and just much more cohesive.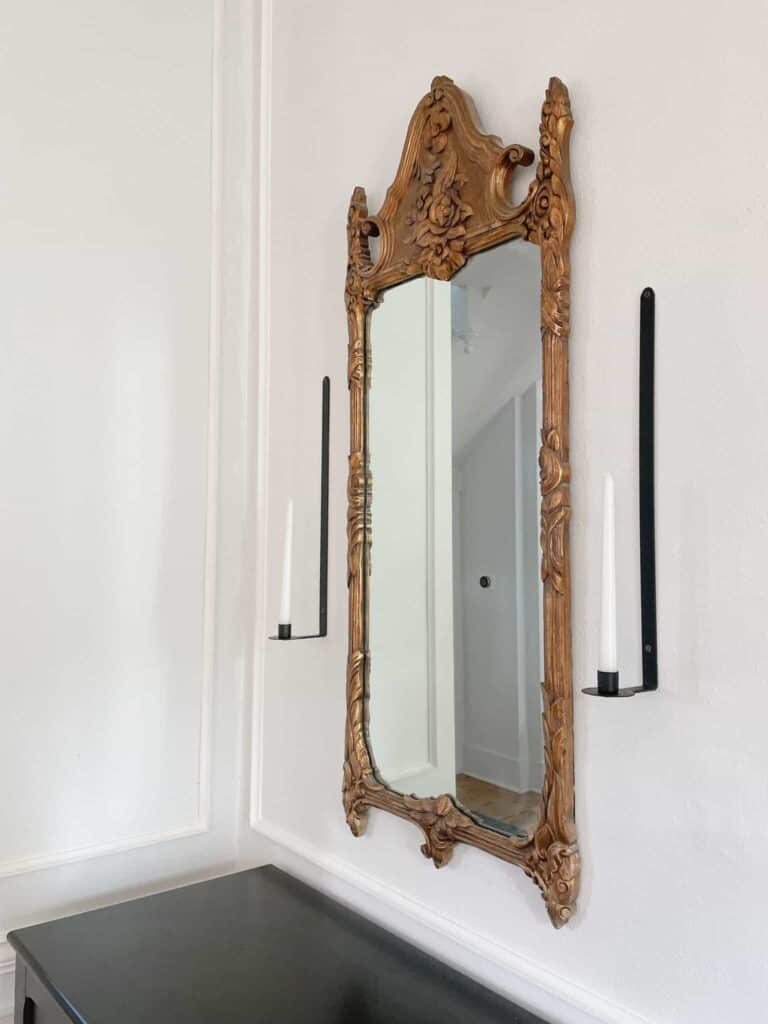 Placement of Gold Mirrors
You don't have to add mirrors only to your walls. While a decorative wall mirror is an easy way to take up wall space, you can always think outside the box. In our playroom and living room, our large mirrors actually sit on top of tables. In our master bedroom, the mirror is propped against the wall for a floor length mirror.
Have you ever been in a home where the mirror is so high you can't even use it? I love that by propping your mirrors at eye level you have a quick view for easy access.
Try playing around with your space. You can place your mirrors in corners, on shelves, tables, or propped against the wall. The placement is entirely up to you.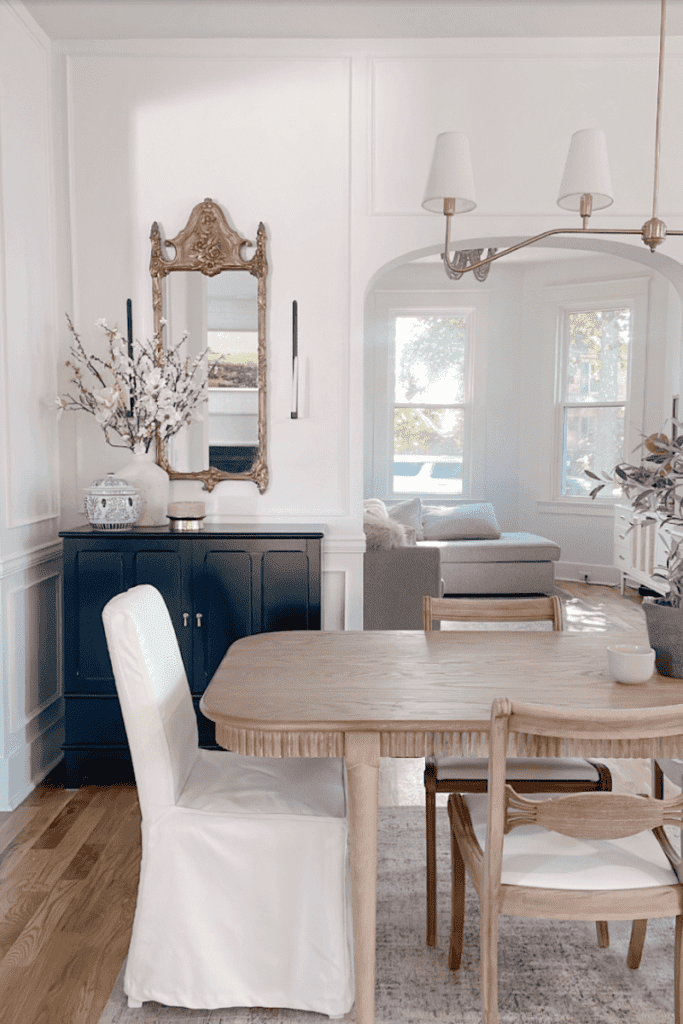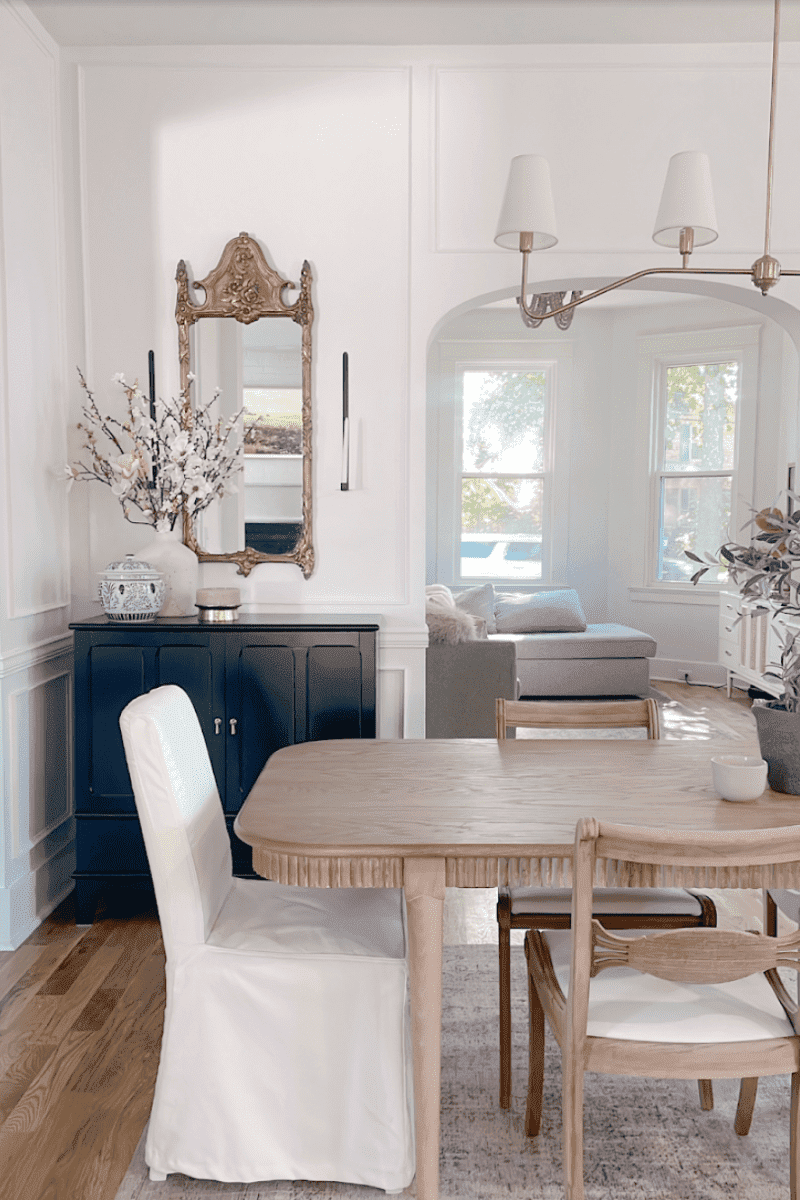 How to Choose Your Mirror's Shape & Size
Mirrors can come in all different shapes and sizes, so how do you choose? Again, this is personal preference and depends on the style of your room.
There are a few general rules I try to follow to help maximize the room's style and function.
Floor Length Mirrors
If you plan to have a large statement mirror, I would definitely recommend going with something that has a rectangular long shape. It can still have rounded edges or an arched top, but you'll want the length to maximize the mirror's square footage.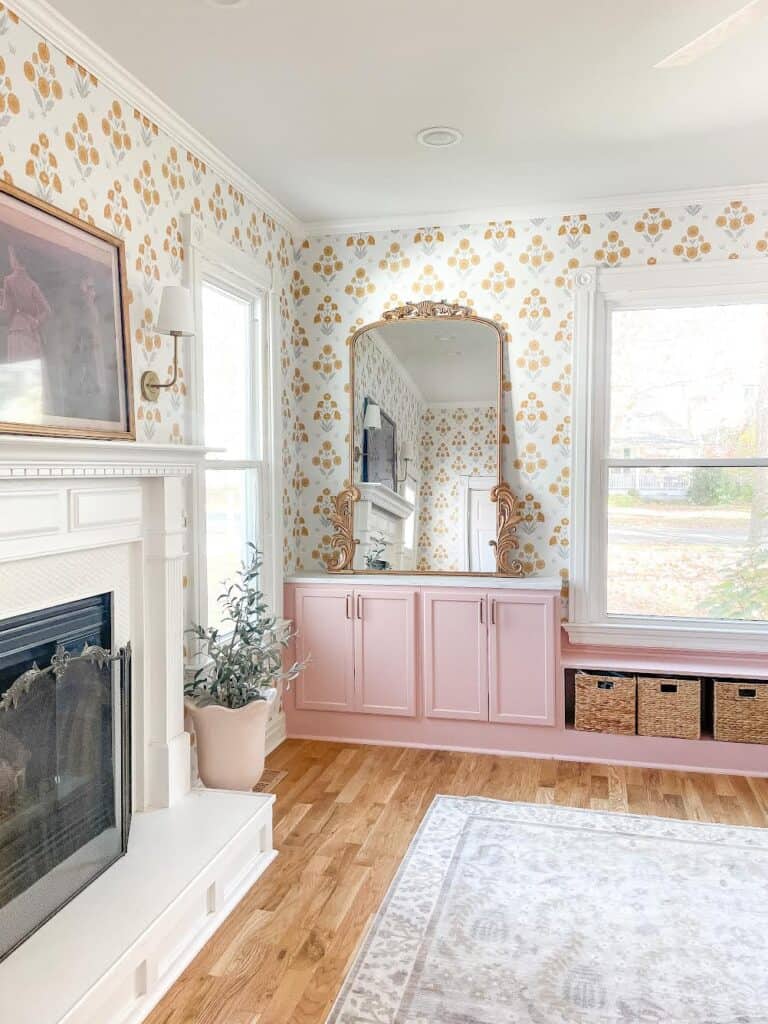 Mirrors Above Furniture
If you plan to hang your mirror above furniture, round mirrors are a great choice. You'll want the mirror to be a few inches smaller than the furniture piece so that it creates balance. Otherwise, the mirror will swallow the furniture up and it will be off balance.
The same rule can be applied when propping your mirror on a shelf or on top of a table. You'll need to have a few inches on either side to frame your piece of furniture. A rectangular mirror, round mirror, or arched shape are all great options.
If you are struggling on the shape of the mirror, a rule of thumb is to pick contrasting shapes. If you have furniture that has sharp edges, pick a mirror that is arched or rounded. Likewise, if you have more rounded lines, picking a mirror with sharp edges is a great way to create contrast.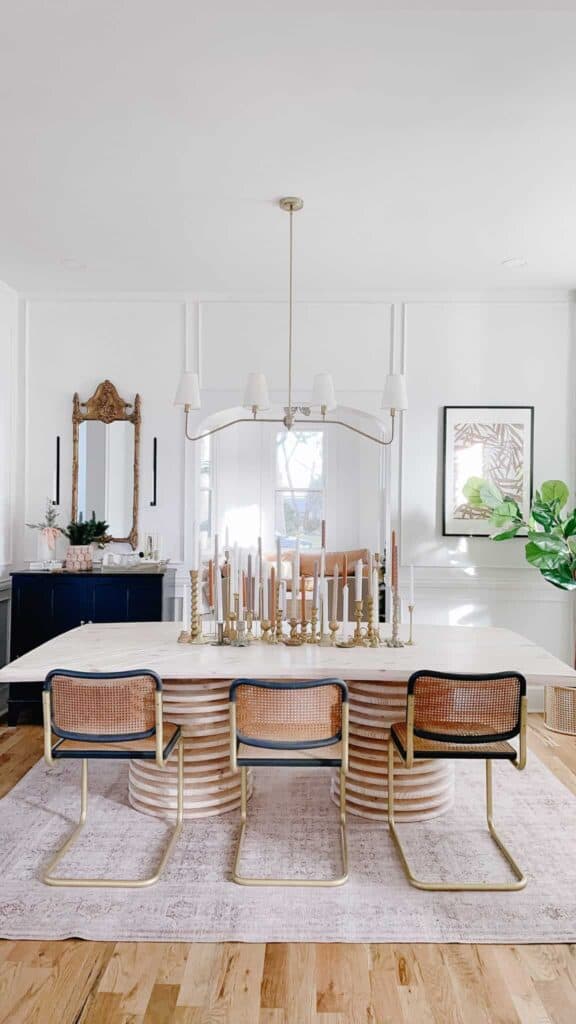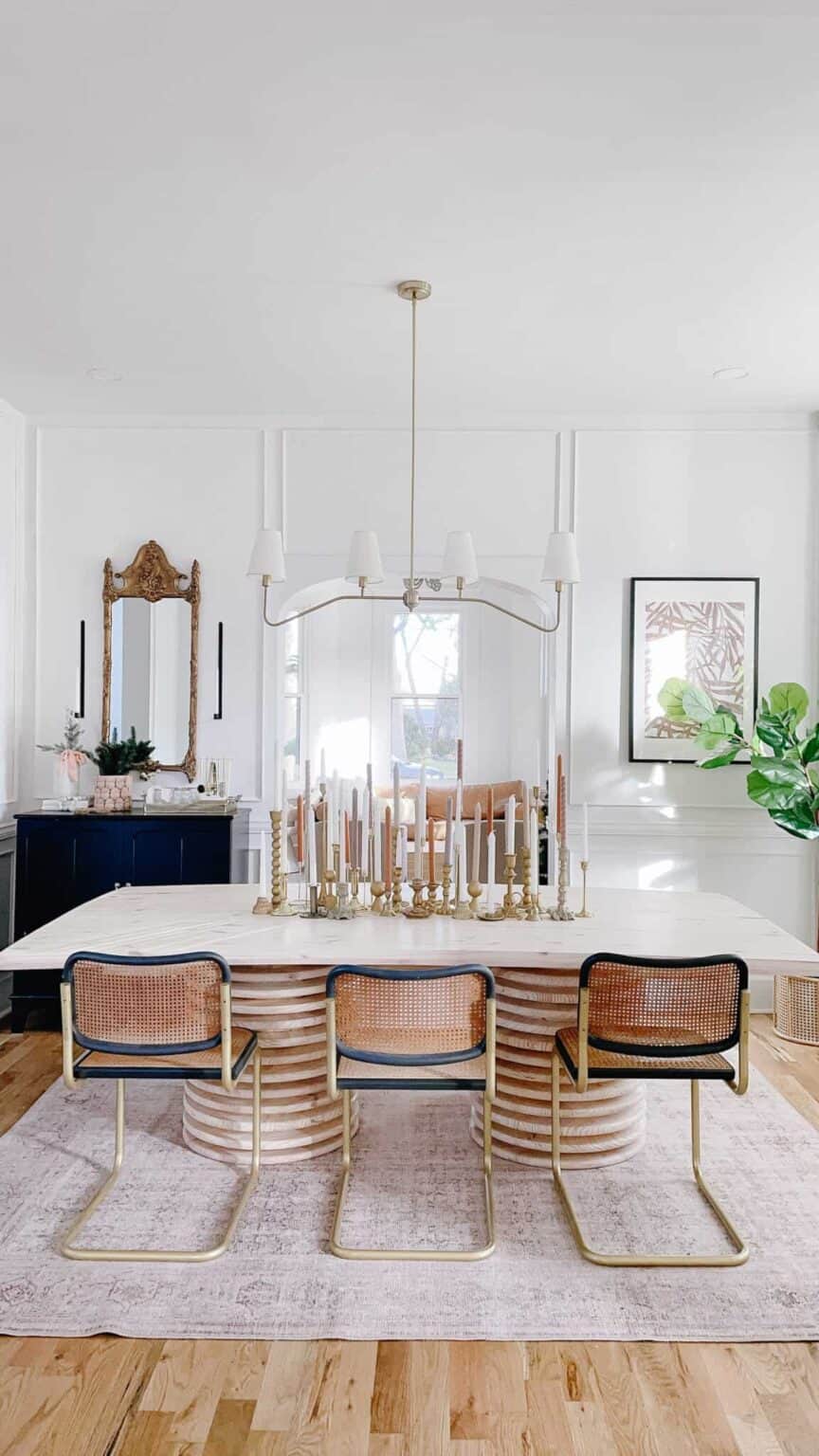 Wall Mirrors
Hanging mirrors on your wall can be tricky. You'll want to balance the mirror's size and shape with any other decorative wall objects and the size of the wall itself. Don't be scared to mix shapes. Square mirrors can look great with rounded wall decor. But, sizing needs to be appropriate and should complement the other wall decor.
I love the look of wall sconces on either side of a large mirror hanging on a wall. It complements the overall appearance of the mirror and balances out the wall space.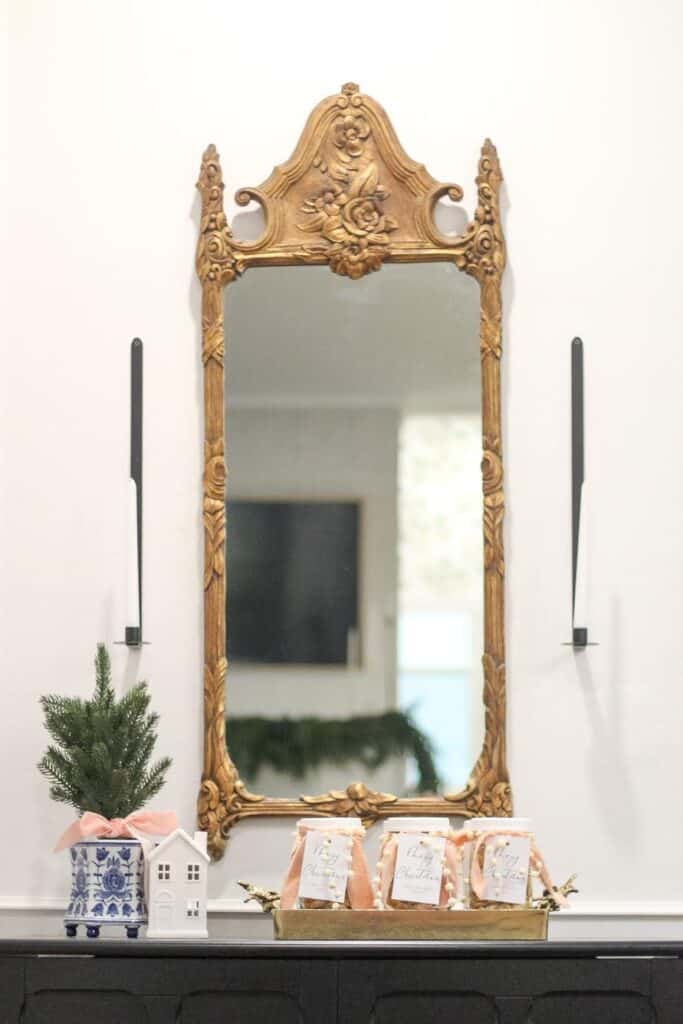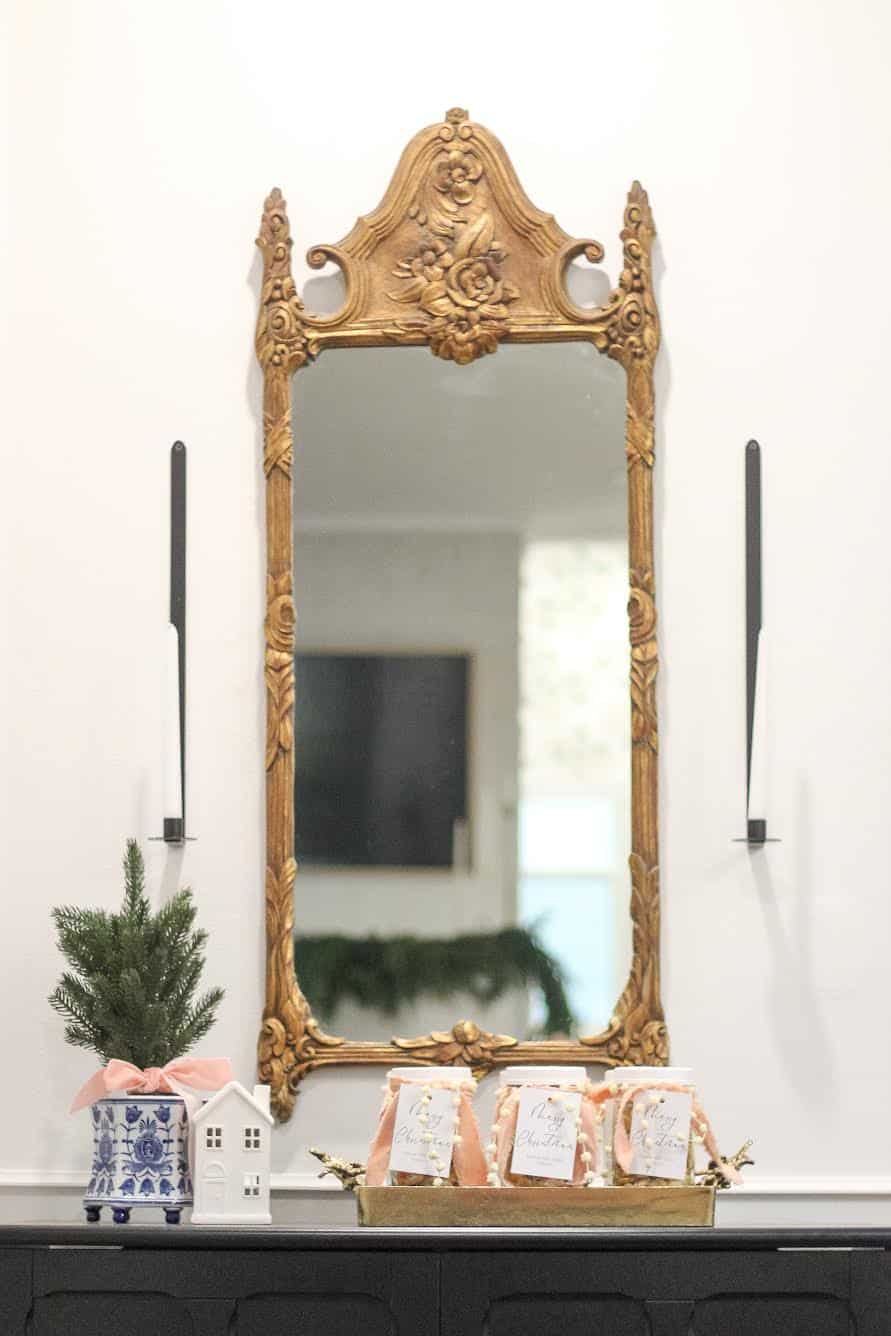 Favorite Gold Mirrors
I'm including a round up of my favorite gold mirrors. I hope these provide you some inspiration to add elegance and a statement to your own home.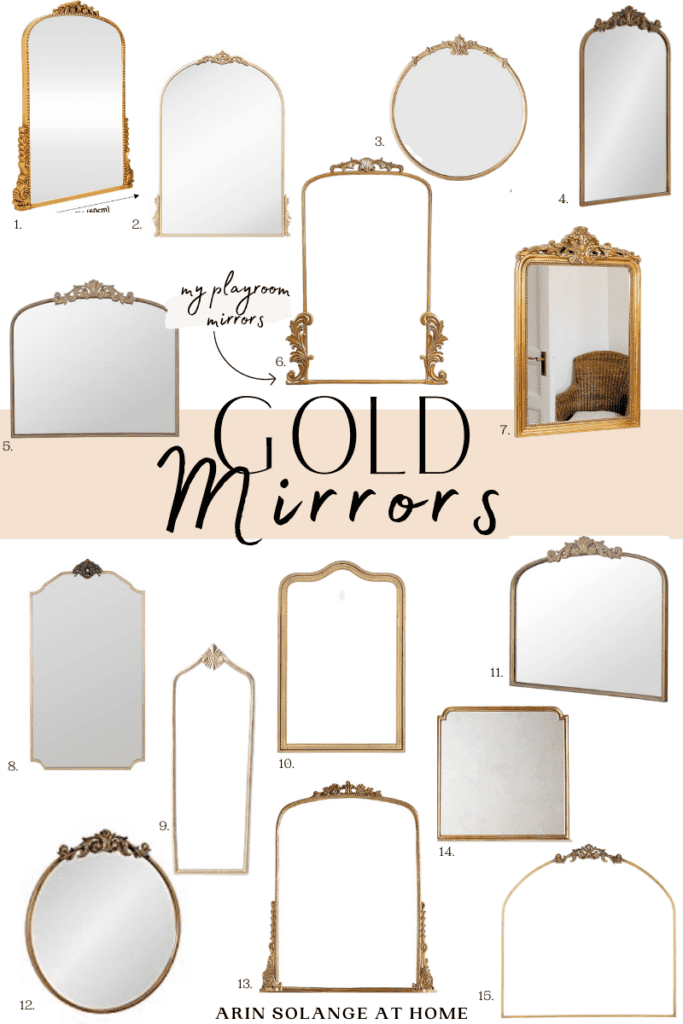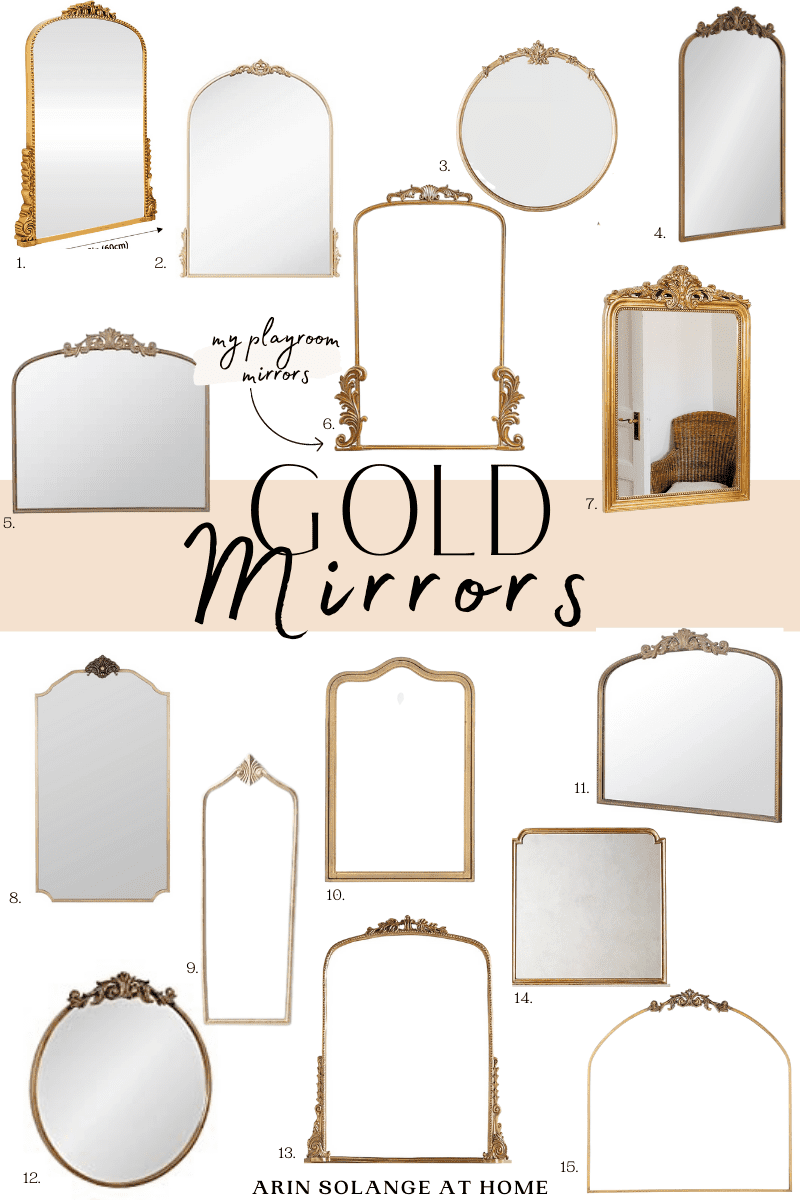 1 | 2 | 3 | 4 | 5 | 6 | 7 | 8 | 9 | 10 | 11 | 12 | 13 | 14 | 15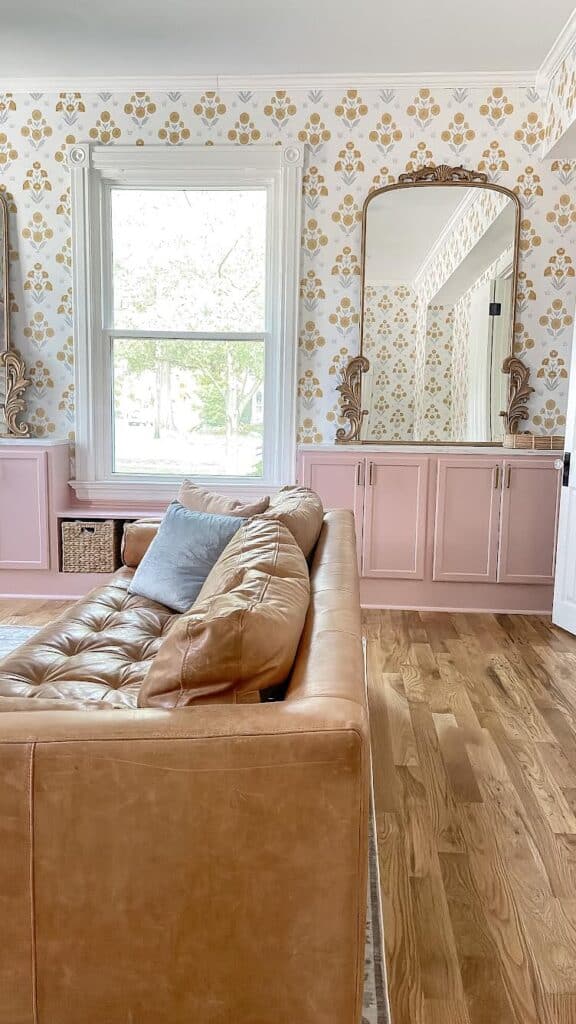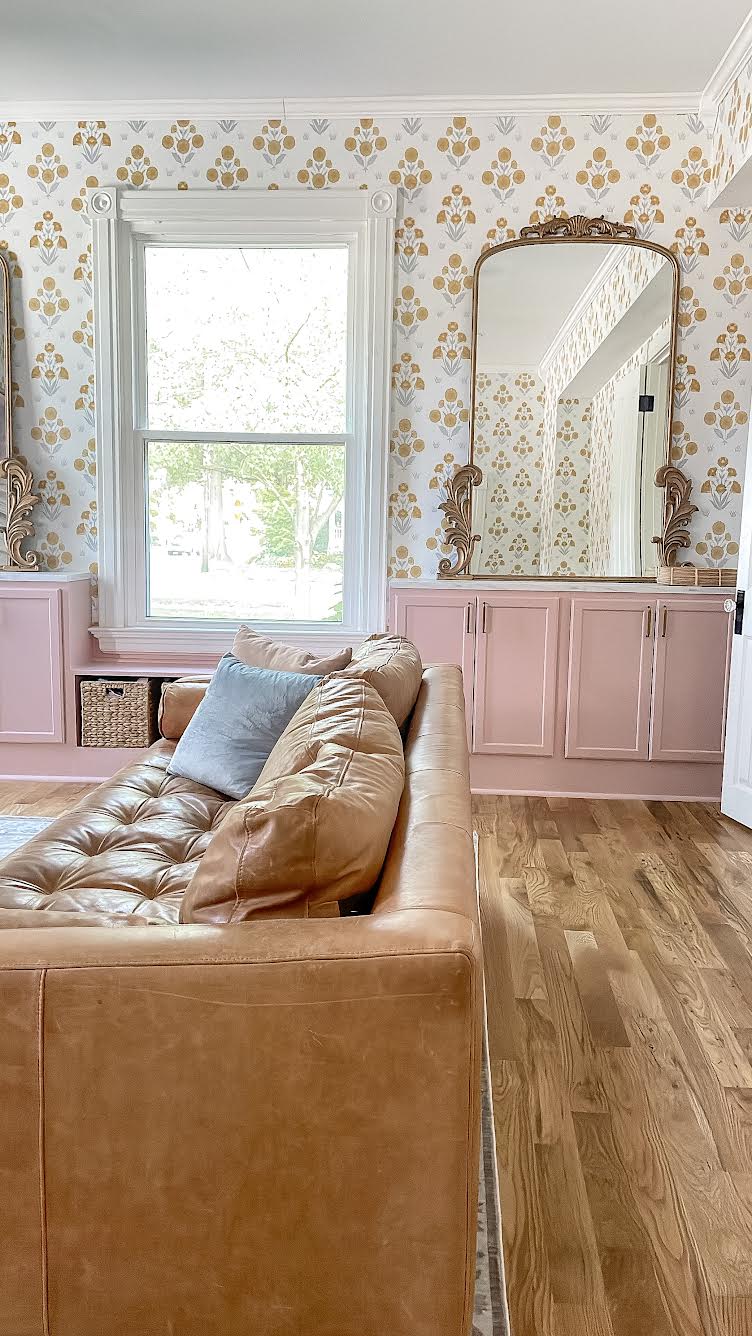 Other Posts You'll Love
Best Paint Finish For Dining Room | 6 Steps To Add Picture Frame Molding | 9 Area Rugs For Your Home
Pin This Photo Below For Later

I hope this post gave you some inspiration to buy your own mirror. Obviously, I love the gold mirrors we own and really think they make a huge impact on our rooms. If you have any questions, feel free to leave them in the comments section or DM me on Instagram. I share many more projects and products on both Instagram and TikTok ( @arinsolange) so be sure to follow me in both places!