It's January – so we are collectively organizing, right? I know I am organizing to get my house off to the right foot this year. Today I want to share a full overview of my kitchen organization items I love so that if you are trying to organize any area of your kitchen you can grab what you need too!
This post may contain affiliate links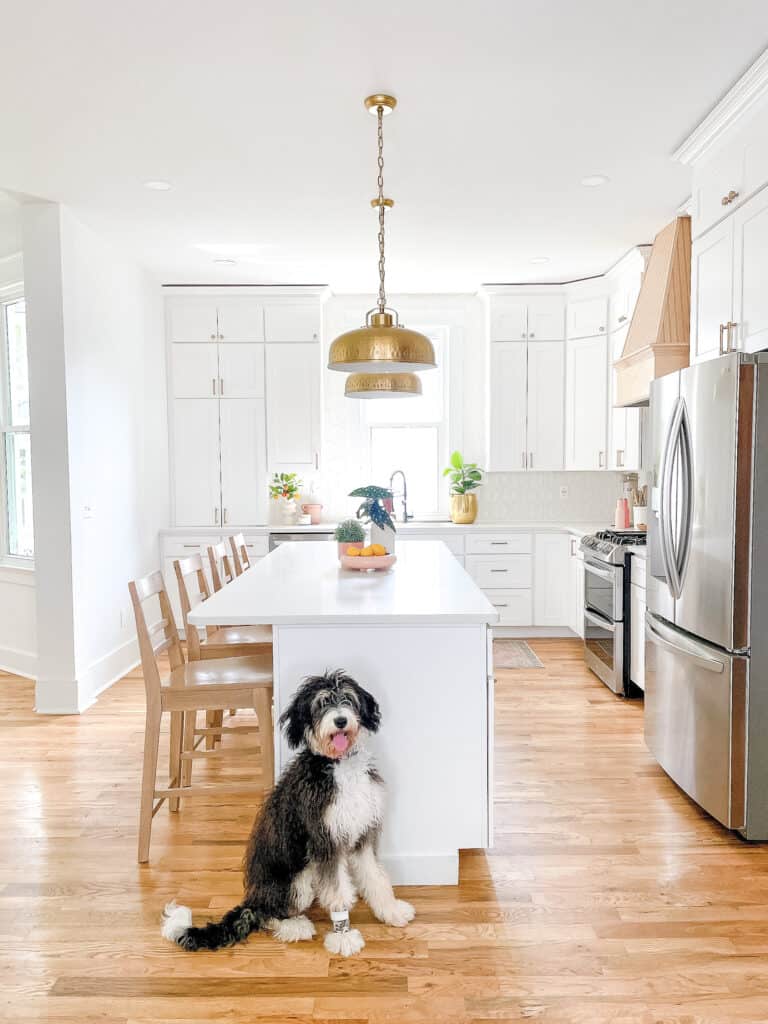 Kitchen Organization
The kitchen is the heart of the home. And whether you have 6 people in your home like I do or you live alone, your kitchen is a space that serves you daily, and thus needs organization methods in place.
I am a firm believer of a couple of things: 1 – you can not be organized with more than your space can hold. So if your kitchen is on teh smaller side, pick wise items so you are not overflowing.
2 – Although organization takes some work, if you have a place for everything you own it will be easier to keep it organized long term.
Declutter Before you Organize
Okay so before you organize your space – you probably have some donating to do! I have a 30 day declutter 'challenge' that you can get for free below. This is simply a document that will help you go through every area of your house in 30 days and help you get rid of 30 bags full of stuff!
Free 30 Day Declutter Documents Here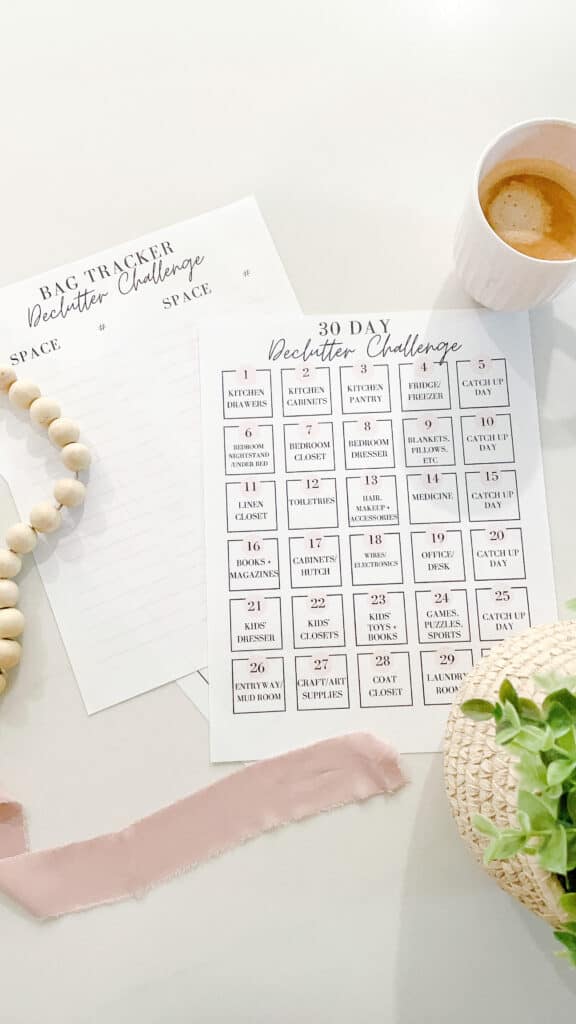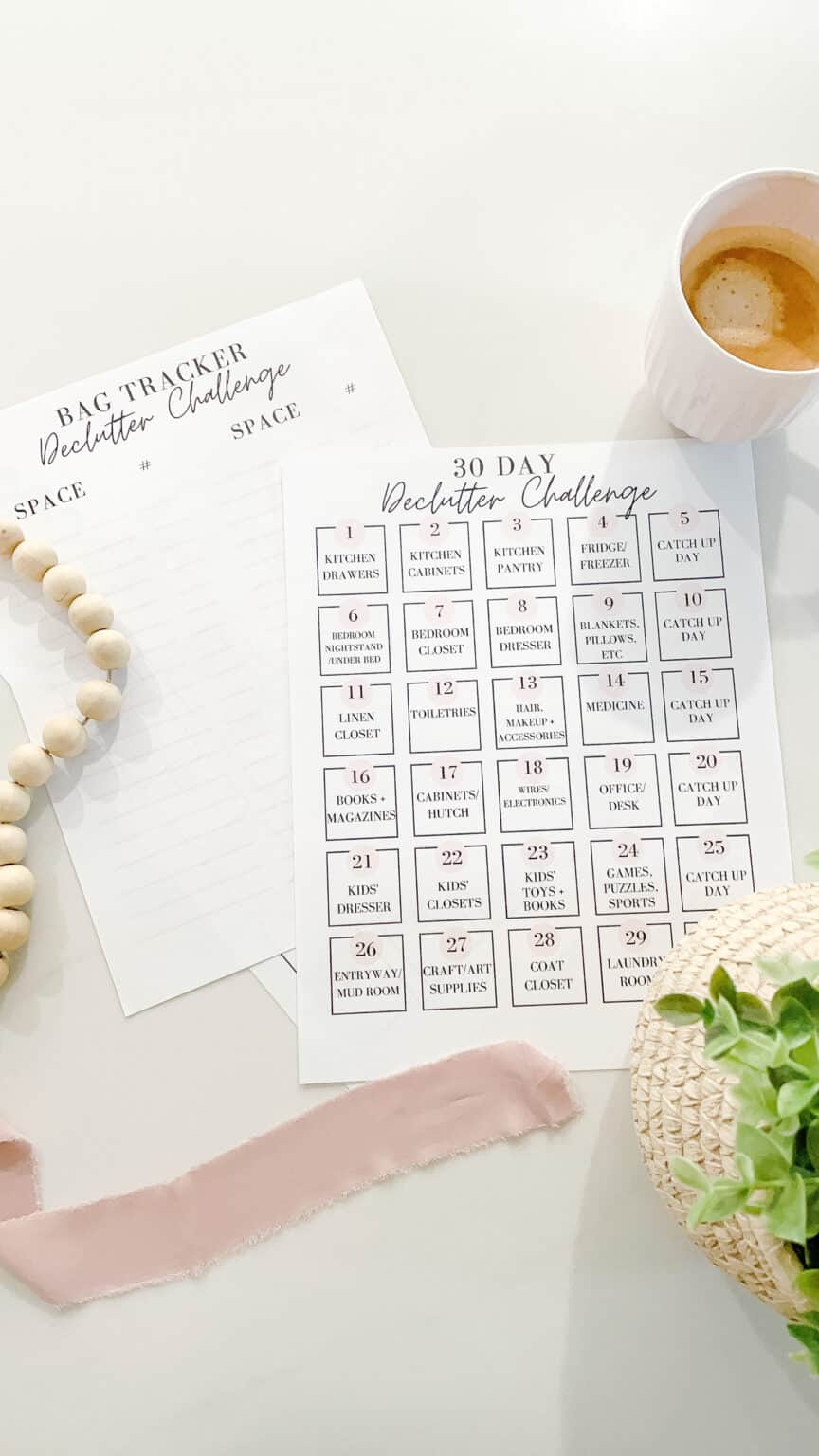 Kitchen Organization Items I love
So now that you know a few things going into organizing your kitchen – I am going to share my favorite items. This is a round up of items that will allow you to enjoy your kitchen daily and easily put things away where they belong.
When it comes to organization – find items that fit your space. Likely not everything I list will be great in your space, but hopefully a combination of them will allow for you to feel better in your kitchen this year.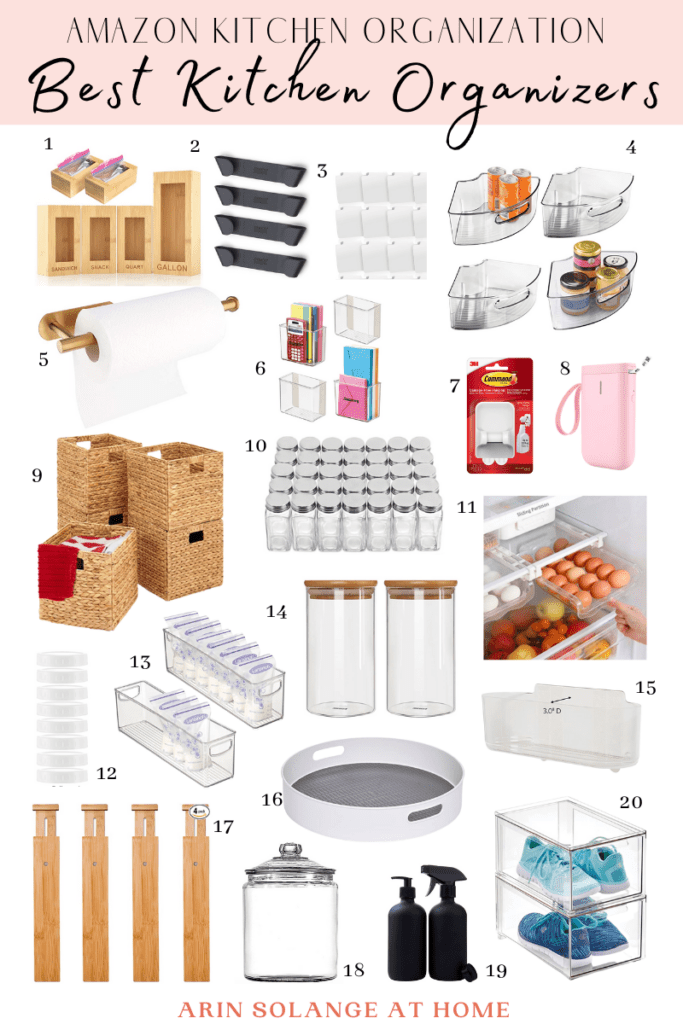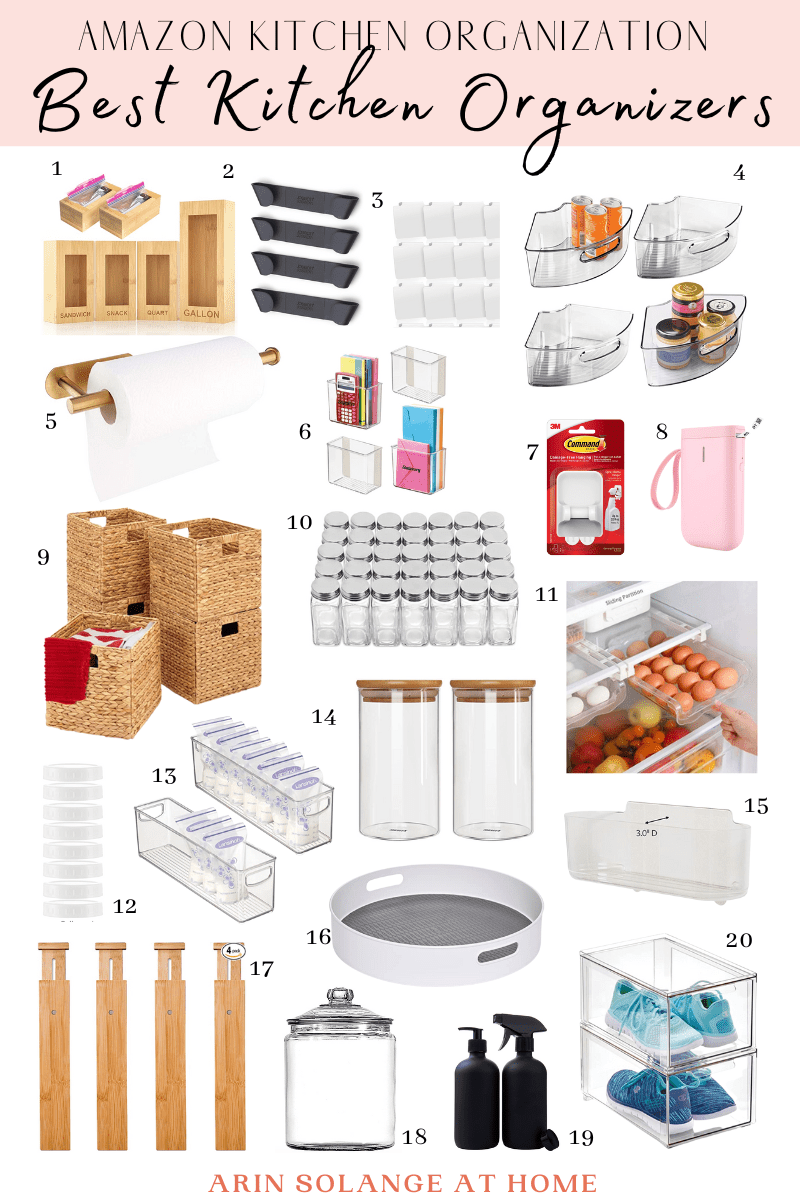 1 | 2 | 3 | 4 | 5 | 6 | 7 | 8 | 9 | 10 | 11 | 12 | 13 | 14 | 15 | 16 | 17 | 18 | 19 | 20
All of the items are linked above – but because I feel like some of them are much better explained below, scroll down to see how to use these items best in your home. And before you leave this post make sure you watch my Kitchen tour video for a closer look.
A Closer Look at the Kitchen Organization Items I love
1 – Plastic Bag storage – these are amazing for keeping your plastic bags organized – you can also grab this for your foil and plastic wrap.
2 – Pot Lid Holders – These are adhesive and your lids sit down in them. I have had these for about a year, and they work great for small and medium lids (but admittedly not for large!).
3 – Labels for baskets – these make it easier to know what goes where for anyone in your home. They are seen on my wicker baskets in this post.
4 – Lazy Susan Organization bins – these are awesome especially if you use your lazy susan for food! Having bins for the shape of the shelf will help keep you from lost space.
5 – Adhesive Paper Towel holder – we have this inside our under sink cabinet on the door. This is a great option for that or under your upper cabinets. A great way to keep them off your counter.
6 – Small adhesive cups – Seen in the photo below. These are great for small items in a cabinet. They would also work great in a cup cabinet for straws.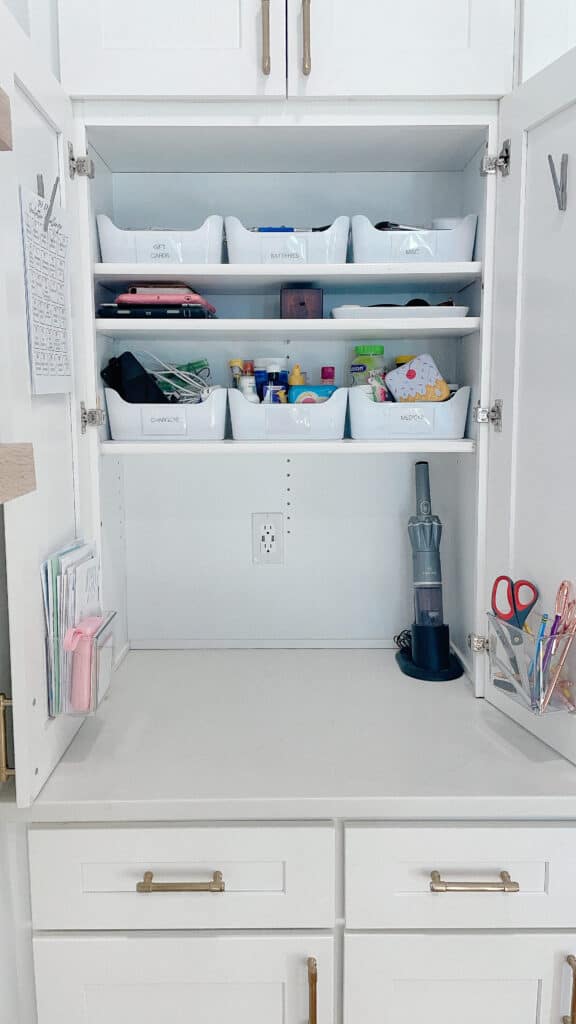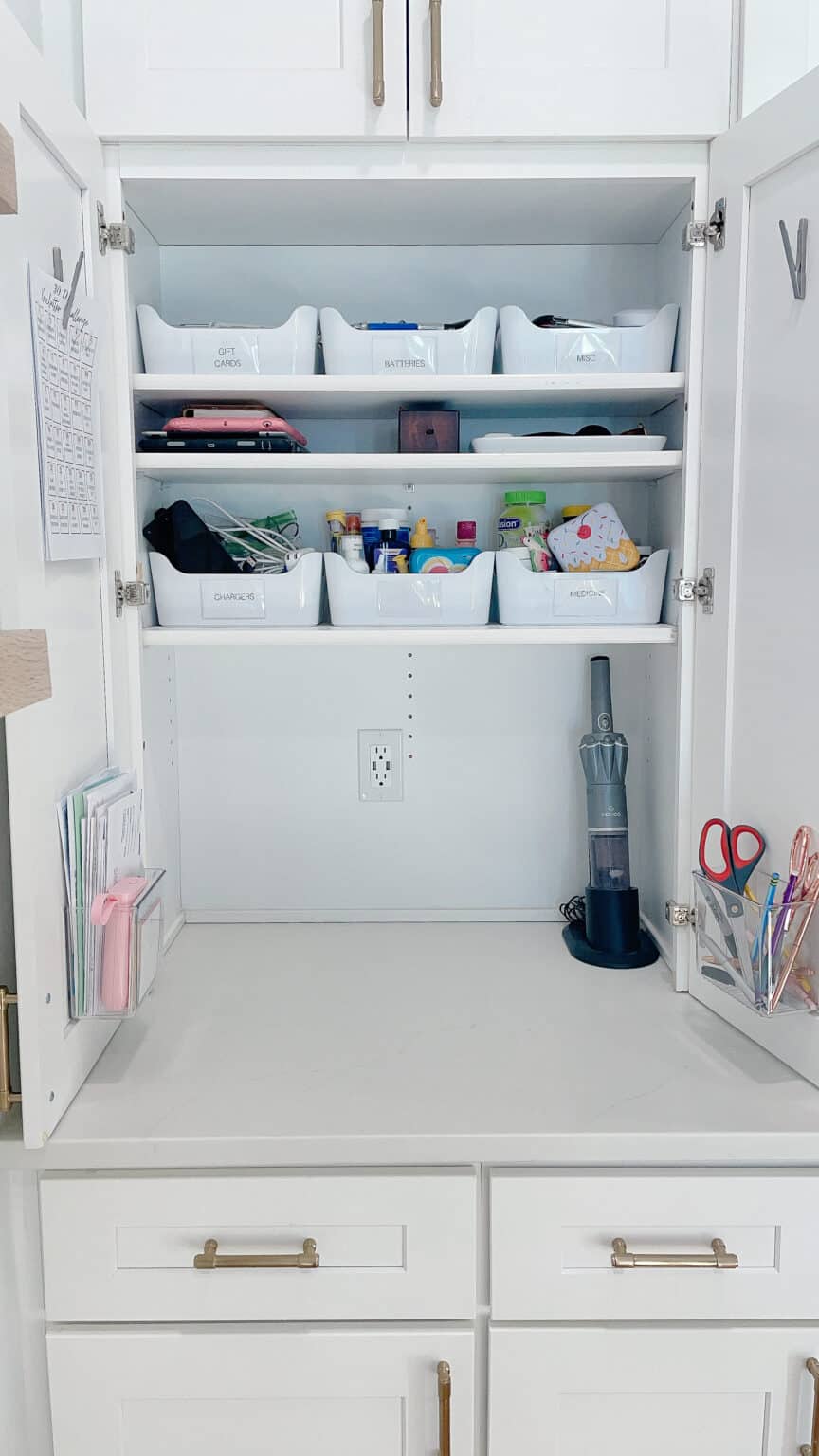 7 – Spray bottle hooks – seen in the photos in this post, these are a great option for inside your cabinet door. ( I have them – and shockingly everything stays in place!)
8 – Label Maker – this label maker comes in several colors and is easy to use.
9 – Baskets – perfect for food!
10 – Spice Jars – these small spice jars are inexpensive but make your spices organized and pretty. If you want super inexpensive labels to keep them uniform grab this set for $10.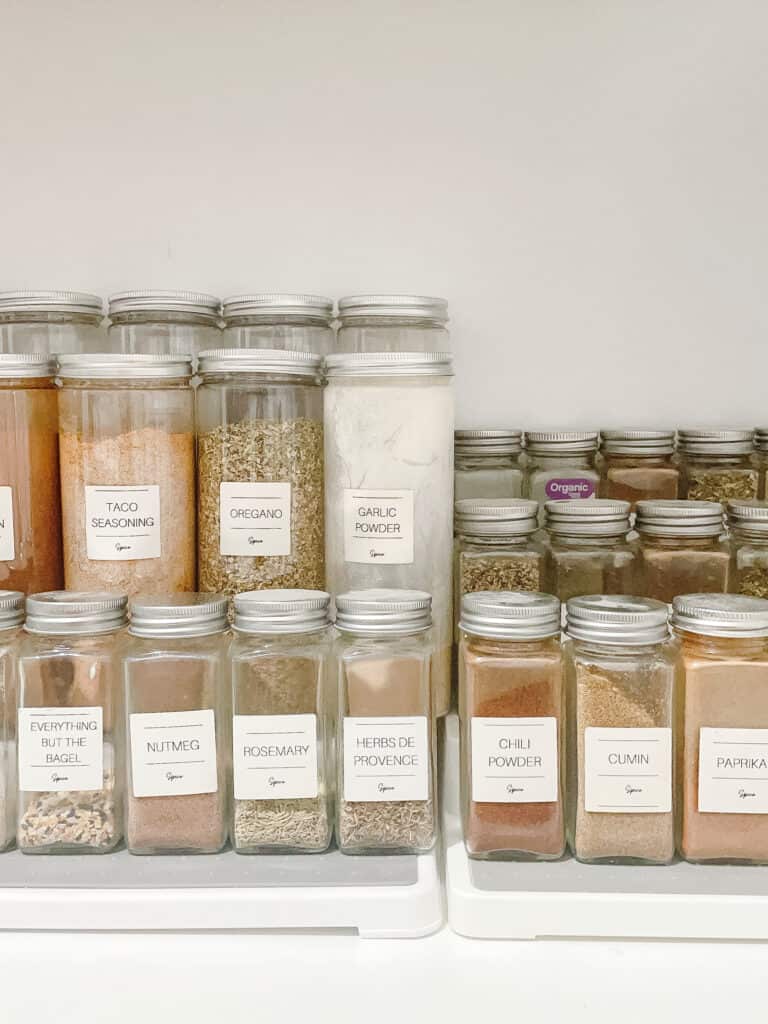 11 – Egg Drawer – This egg drawer is one of my favorite items I own. I got this about 18 months ago and have never looked back.
12 – Mason Jar Lids – I use mason jars to store all of our produce and a lot of my leftover storage (instead of tupperware) and love these mason jar lids.
13 – Clear storage bins – You can use as many or few of these as you want, but I love using them for things like kids juices and such to keep them all in one spot.
14 – Canisters – these are the smaller size in my photos. I use these for my baking essentials that aren't as bulk (cocoa powder, salt, etc.)
15 – Inside cabinet storage – I got this for inside my under sink cabinet for holding items I use daily. I have been trying to make that cabinet more useful for myself, and this was another item towards that happening.
16 – Lazy Susan – we have two lazy susans in our kitchen storage. 1 stores items in our upper corner cabinet. I find that otherwise things just get hidden in the back. I also use one under my sink for all our cleaning supplies!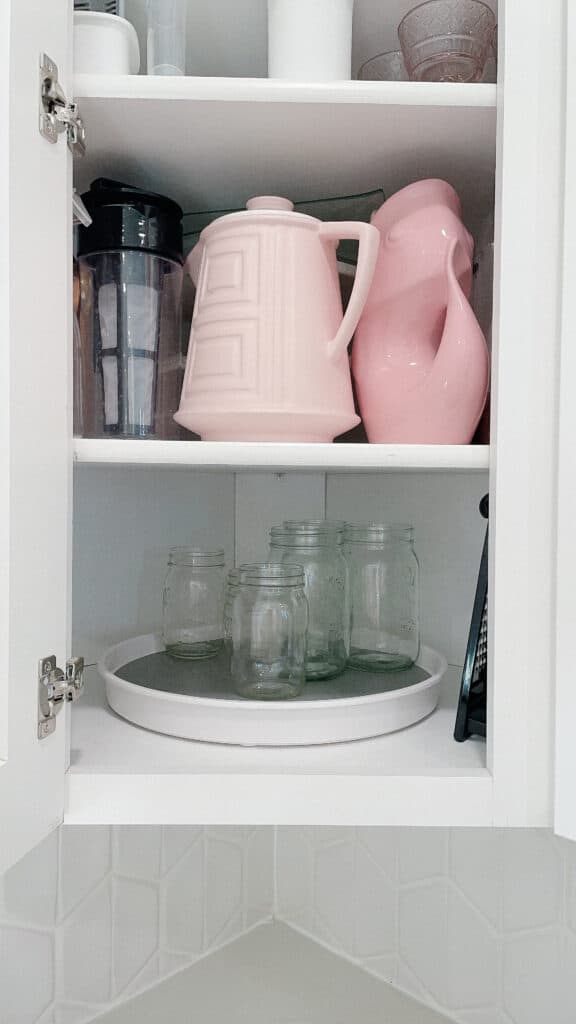 17 – Bamboo Drawer dividers – These drawer dividers are great because they fit most all drawers and allow you to use the whole space.
18 – Large Glass Canisters – These large canisters are amazing for storing baking essentials on your counter or in your pantry. They obviously take up more room than stackable ones, so you do have to weigh that.
19 – Powder Coated Glass Soap and Spray Bottles – I like keeping 1 spray, dish soap, and hand soap on my counter. I love these black powder coated bottles for that. They come with extra soap, flat, or spray lids so each bottle can be whatever style you prefer.
20 – Clear bins for under sink – these have been the biggest game changer for under my kitchen sink. If you are struggling with under sink storage I highly recommend these!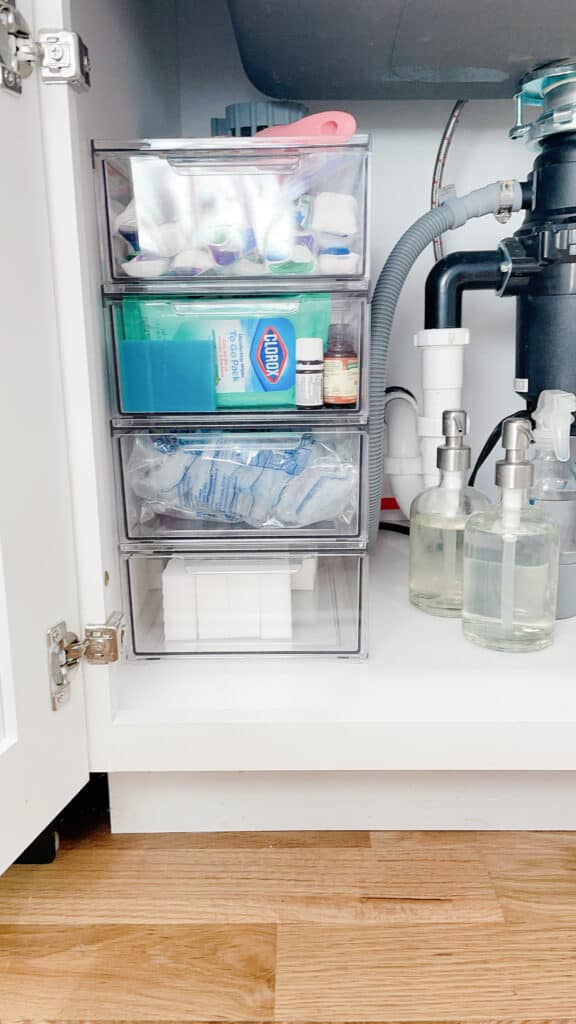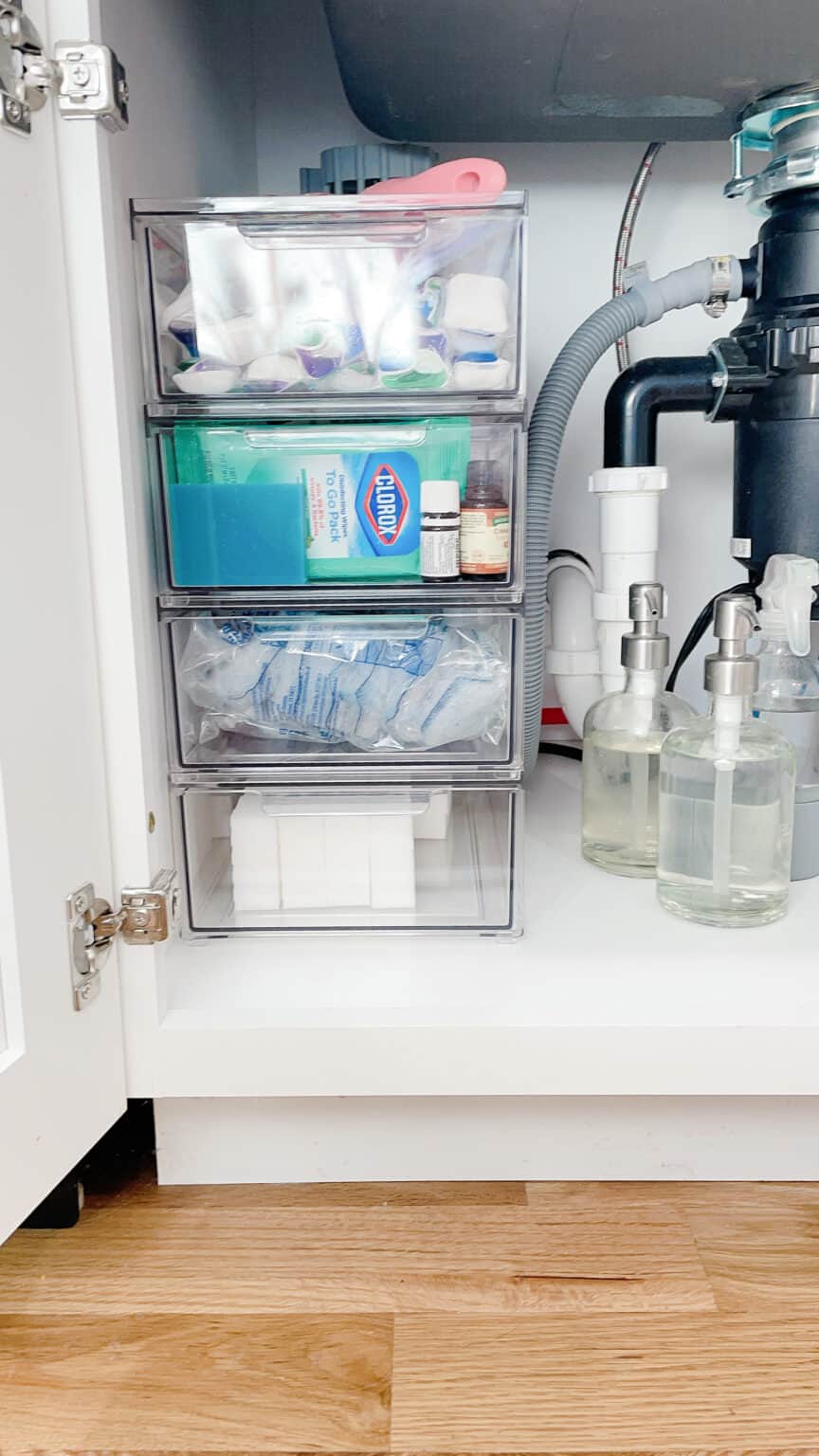 I truly believe if you grab even some of these great items you will end up with a cleaner, more organized kitchen this year. All of these kitchen organization items help to give everything in your kitchen a spot to go which will help you keep from cluttering the space, and will make keeping it easier for everyone.
Other Posts You'll Love
This is not the only blog post I have to help you organize your kitchen. I have several other great posts and resources listed below that will help you get organized and stay organized this year.
Butler's Pantry Reveal | How to Organize a Garage on a Budget | Fridge and Pantry Favorites (you will see some overlap here, and some additional great items for those spaces!) | Pedestal Sink Storage | Outdoor Toy Storage | DIY floating Shelves for storage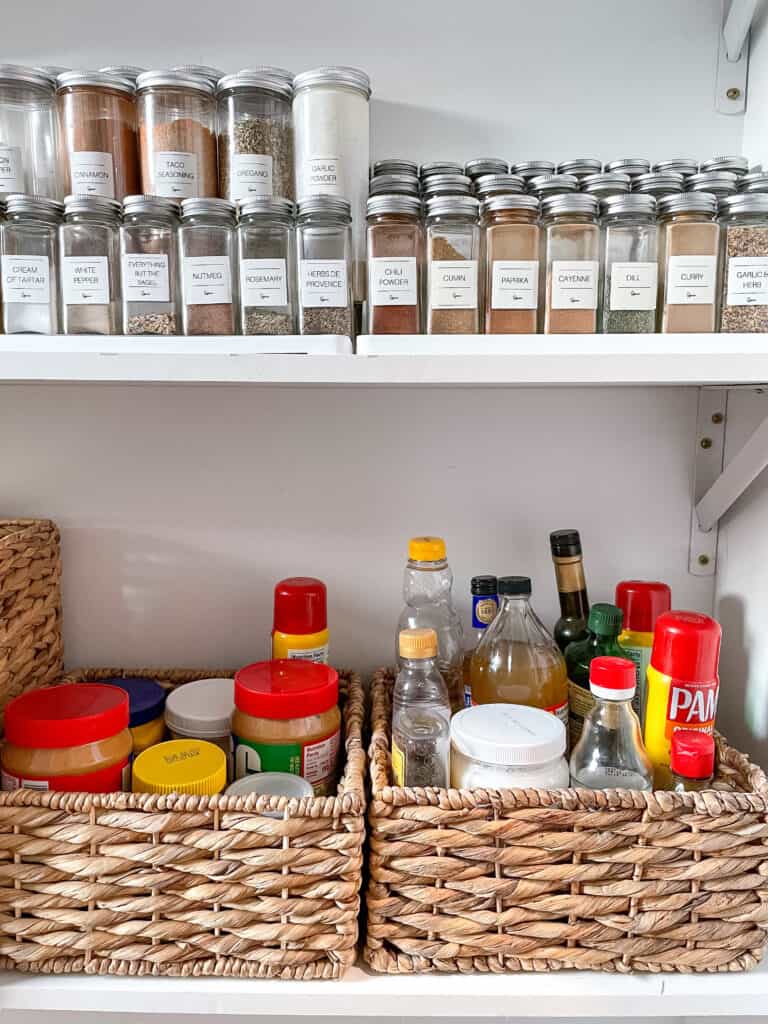 Pin the Photo Below for Later
Hopefully this post helped you find the best kitchen organization items and you feel confident in decluttering and organizing your kitchen and your life! Make sure you are following me on Instagram (@arinsolange) and Tik Tok for more organization and DIY fun, and leave any questions you have in the comments below.