Summer is around the corner, and with the weather warming up our kids toys are starting to take over the yard! As a mom of 4 I have used different outdoor toy storage ideas over the years. Certain methods have worked better in certain homes – because let's face it – organization is not ever a one size fits all situation. This blog post will walk you through some Outdoor toy storage ideas to store toys that all moms will thank me for this summer.
This post may contain affiliate links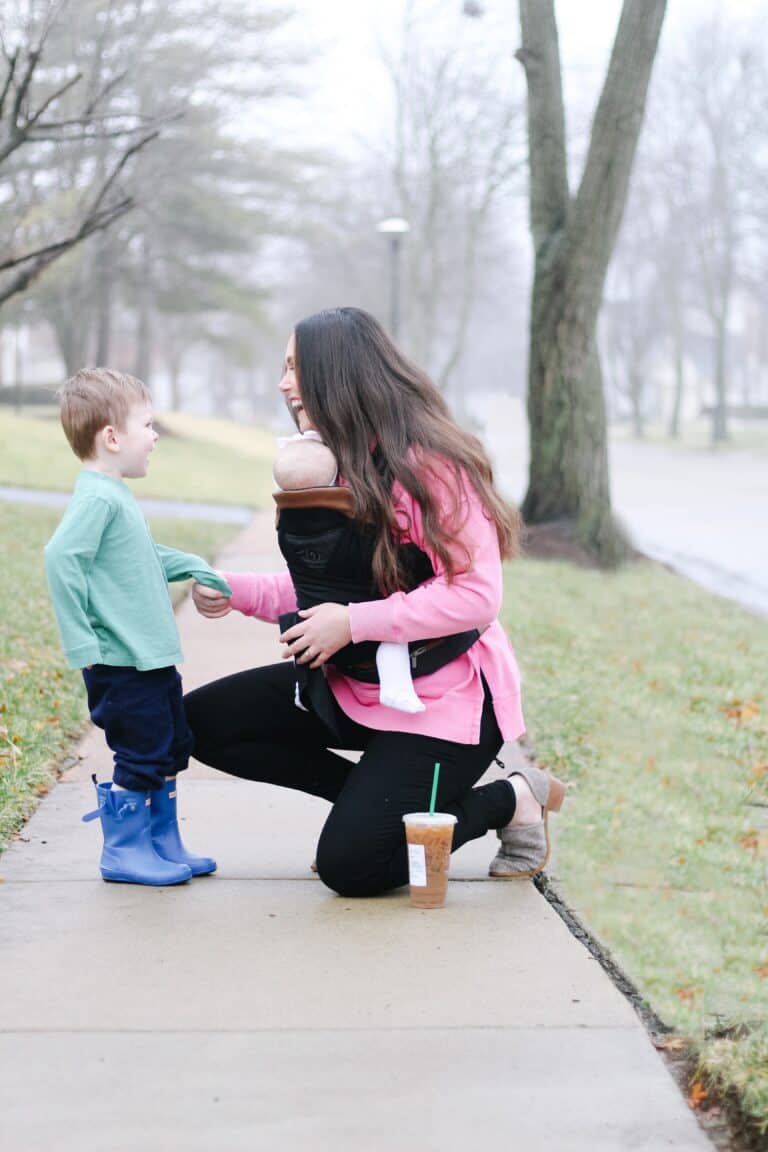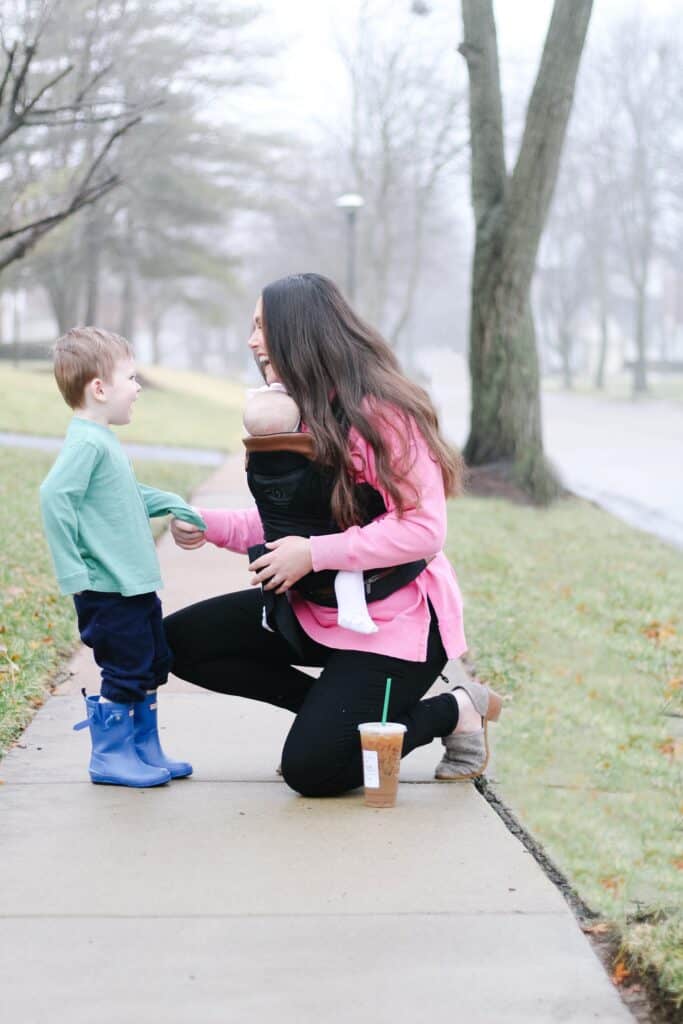 Outdoor Toy Storage
There is NOTHING better than the warm spring and summer days that come after a long winter in the midwest for us moms. The peace and quiet our house feels with kids running around outside, and the easy bedtime routines that the kids give us after – it is a win win!
I have 4 kids – ages 1 to 8. I have 2 boys and 2 girls – so that means we have a lot of outdoor toys. We also have 2 boys and 2 girls, and in our house that means that we somehow have to have every toy in both pink, and blue, and green. And Barbies, and action figures BOTH have to live outside. (you get the picture – SO MUCH JUNK). Why does it seem like kid's toys multiply?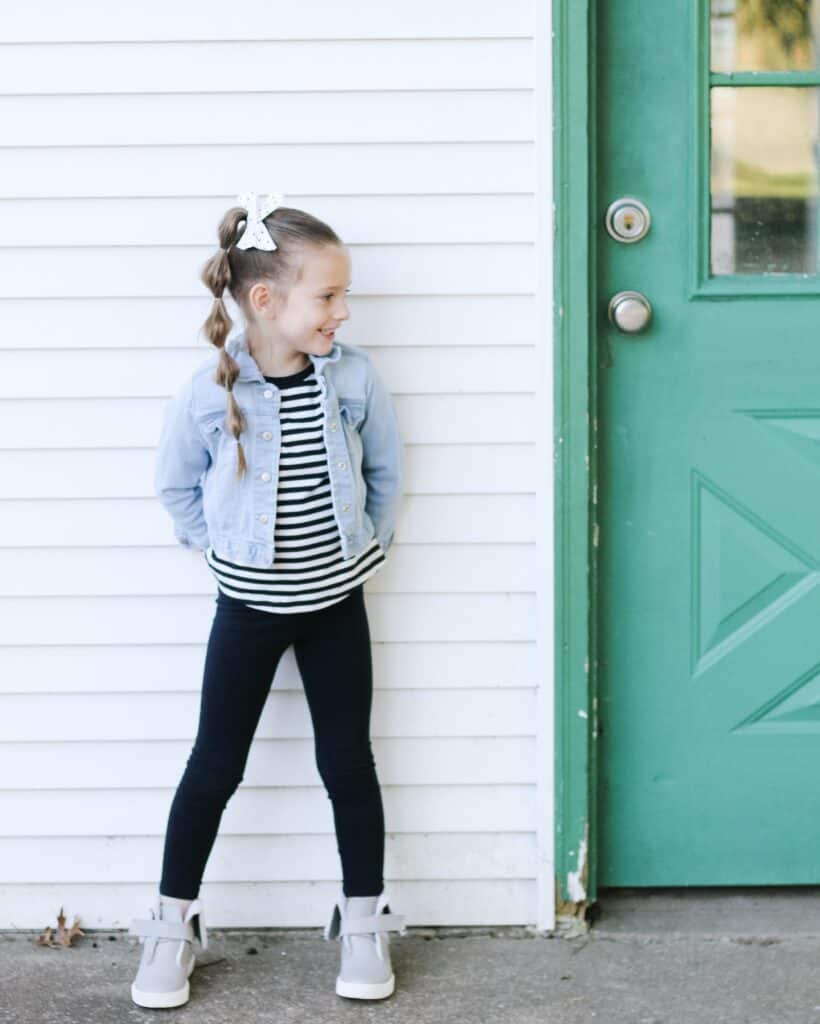 In the time we have had kids we have lived in 3 homes – all with very different needs in terms of outdoor toy storage. I have come up with ways to make storing and cleaning up outside easier at each house, so I am hoping by mixing some of the products I share, while mixing some tips I have you will have a summer that brings you a cleaner outdoor space.
Embracing Kids Items to Enjoy your home
One thing I talk about ALL THE TIME on my Instagram, as well as here on my blog is that as moms, if we learn to embrace the 'mess' that kids come with our lives get so much easier.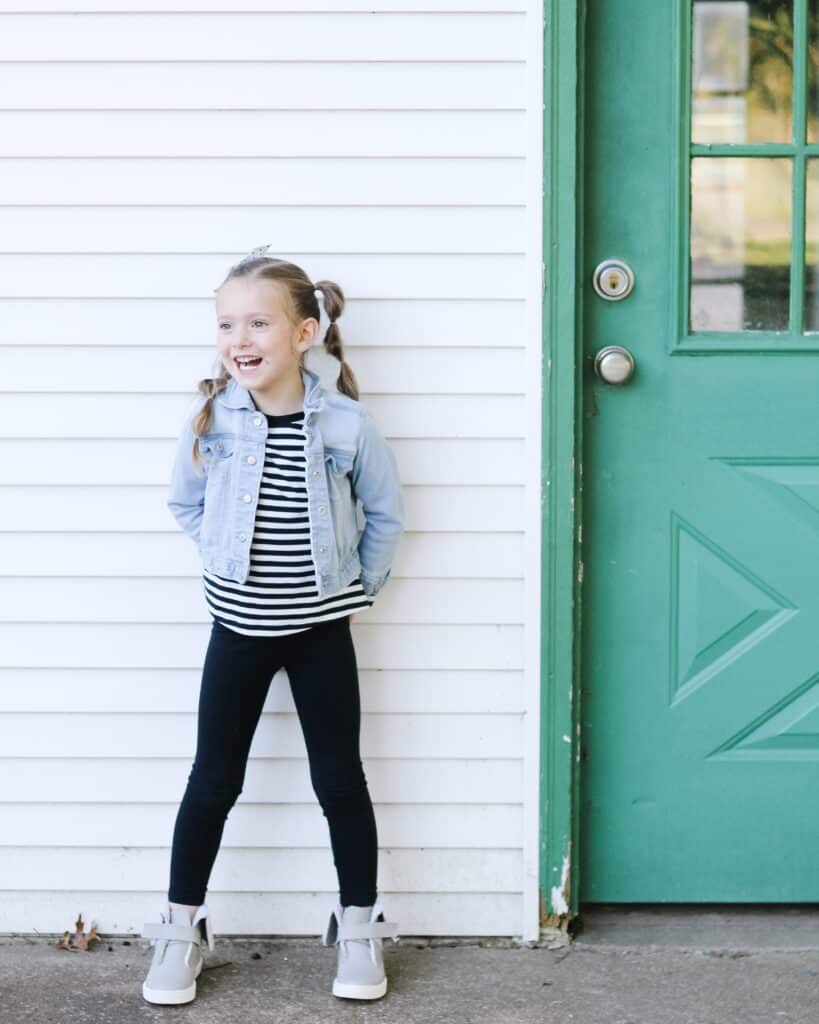 Now when you're reading that – if you are anything like me – you might be cringing. I am very type A and organized. I like things to have a place and be put away at all times. That isnt always 100 percent possible with kids – but by learning to embrace the chaos it is much more possible than fighting it.
You know while you have young kids at home you are going to have toys, and clutter right? Finding ways to incorporate their items and needs into your decor can make your home feel more seamless instead of stressful.
I have a whole blog post here on how I do that inside my home, but the same goes for outside. (Now personally I let me kids trash the outside a bit more because it saves inside, but you get the picture).
Find Methods that Work well for the Age of your Kids
Another way to save your sanity is to pick methods and storage items from this post that mesh well with your kids. For example – something NOT to do: When we moved into our last house we had a 3.5 and 1.5 year old. We had a rear entry garage so I wanted a way to store their toys in the garage and easily bring them out for them to play with.
My solution was this rolling cart. In theory it was great, but for ALL toys it was horrible. The kids weren't big enough to reach anything that didnt stick out the top, so I constantly got called to help – and that is not what I am about haha!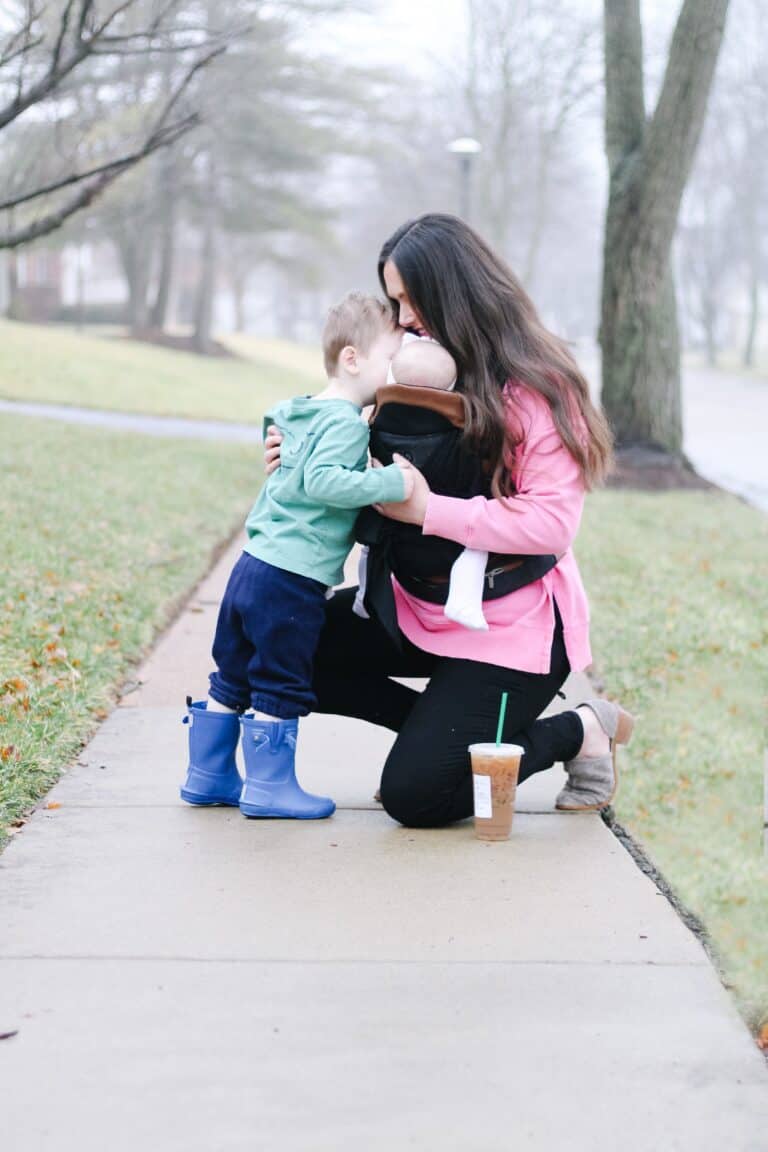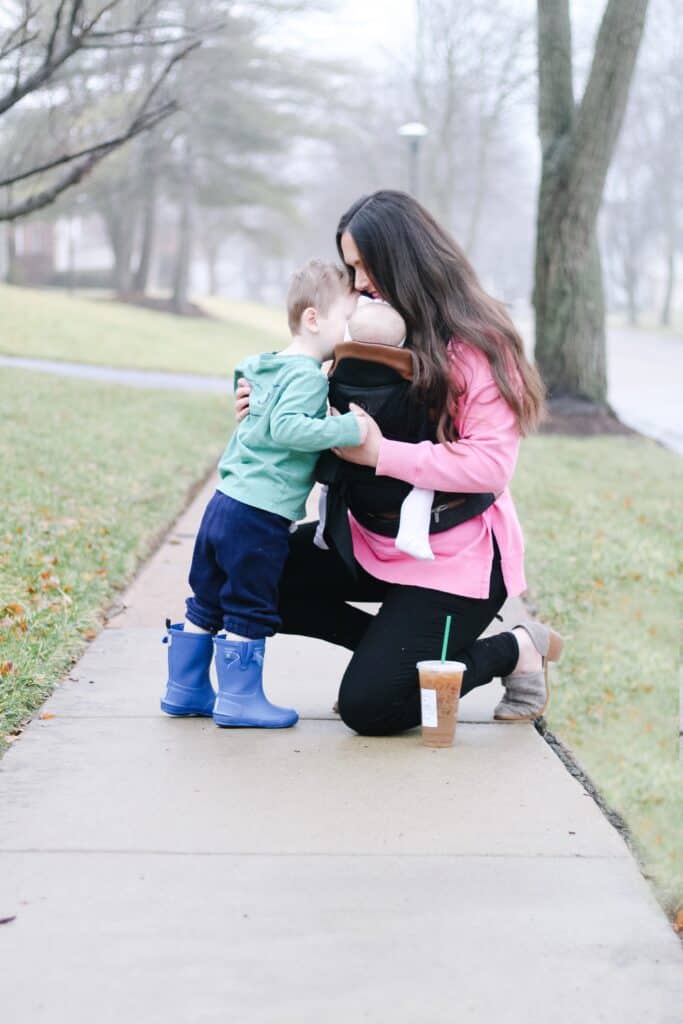 As the kids got older that same rolling cart was much more helpful for the gear they had because they were old enough to understand what went where, and reach in a bit to find what they were looking for. So think through how you will use something and if it will work for your current circumstances.
The Best Outdoor Toy Storage Ideas
Now that we have talked about keeping those spaces tidy and how to know if something is right for you, lets dive into some different storage options. I will talk about ways to store your toys both outside and in your garage in this post, so if you have a preference on one over the other feel free to skip to that section.
Outdoor Toy Storage ideas – Outside Options
In our current house we don't have a garage, but rather a barn that needs some serious love. We don't want the kids going in the barn constantly to find what they are looking for, so are coming up with ways to store outdoor toys outside.
There are several different Ideas I will talk about in this section, as well as linking to some great products that will help you get those toys organized.
Option 1 – Outdoor Storage Box or Storage Cabinet:
This is what we are doing in our backyard currently. We bought a large storage bin (think maybe what you would store cushions in) and have the kids put all their day to day toys in it. With 4 kids we are able to store everything aside from large ride ons in this bin. (even scooters).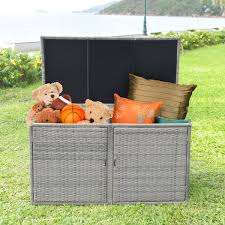 The Pros:
It is super easy clean up – the kids just walk around the yard and grab everything they need and throw them in.
It is one simple item that doesn't take up much space and isnt bad looking.
They are easy to find in store or online
The cons:
If the kids don't fully close it it does get water inside
It is a catch all so some toys go there to die in the bottom (we will need to clean it out 2 or 3 times a year).
The toys at the bottom are hard for my younger 2 kids to reach.
I have also seen recently bins like this that are a big more of a cabinet for outside. The exact one I linked is gorgeous and on the right patio would be gorgeous and would allow for smaller toys to be organised in a more reachable way using baskets like these.
I think for me I would prefer something along those lines so things like chalk and could stay more available to the kids, but I will also say that getting the kids to put things where they belong can be a big battle inside so outside might be even worse.
Check out the other options I linked below for some great similar ideas for your small toys outside.
Option 2 – Playhouse or Toy Storage Shed
Another great outdoor storage option is a shed or a playhouse. Depending on what you need to store you could definitely store smaller items in a playhouse without the expense of a shed, or you could do a small shed and have it be dual purpose.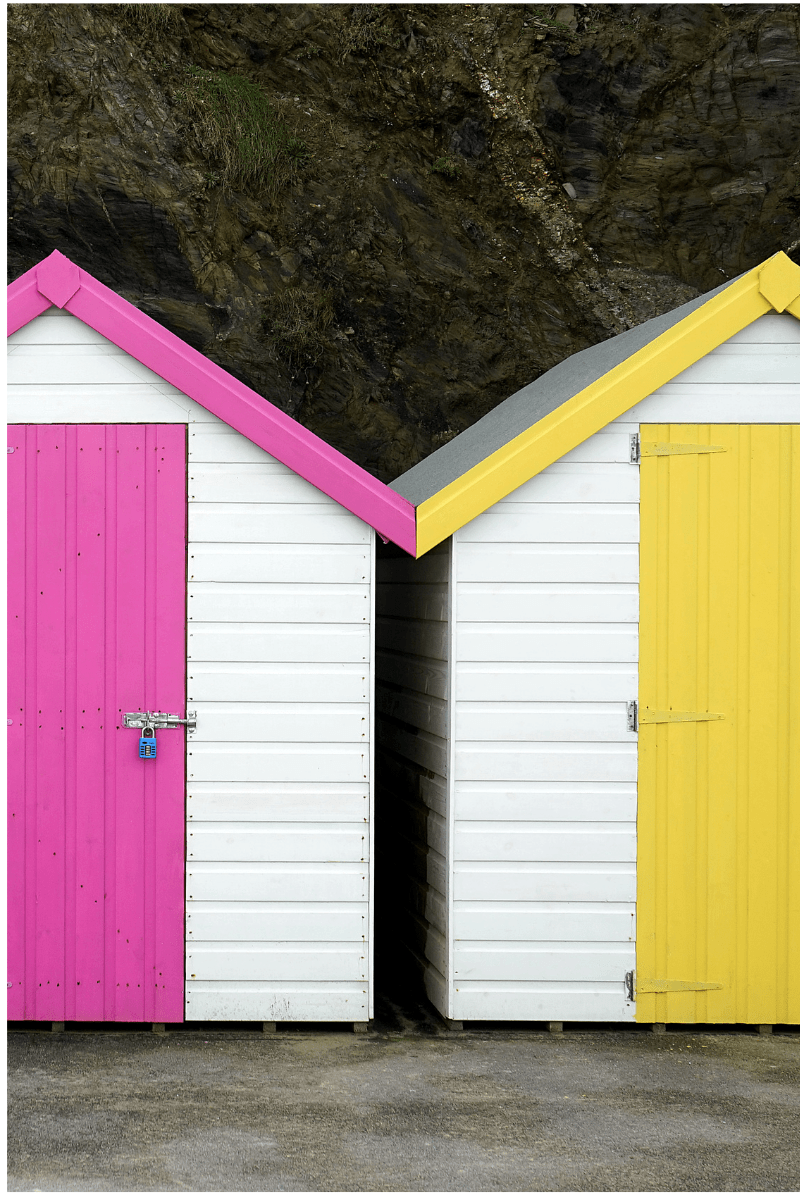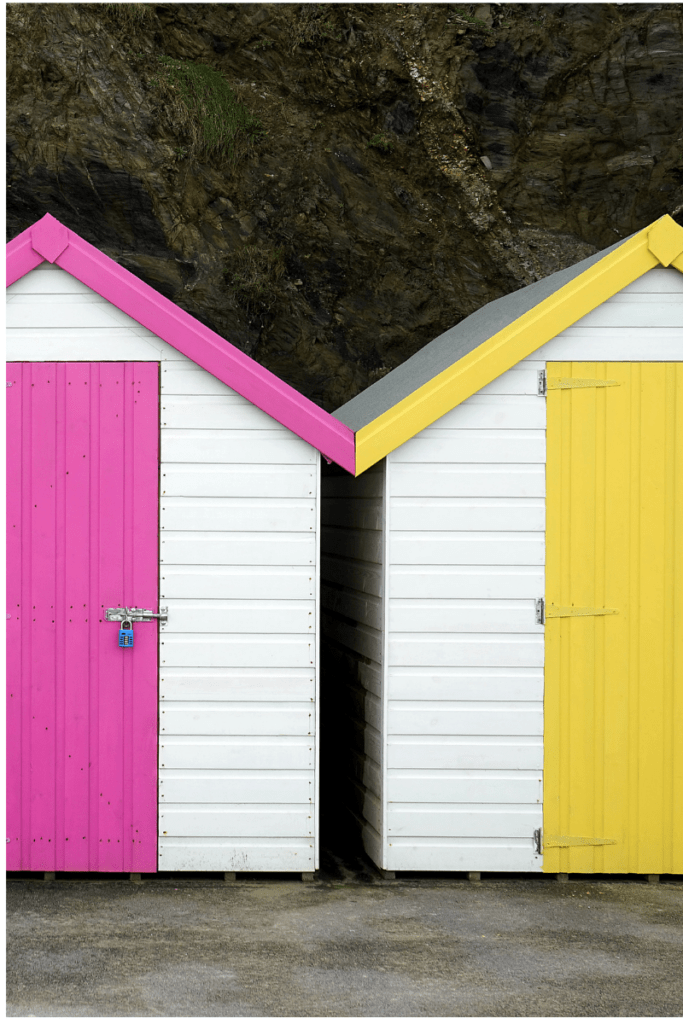 If you decide to go the method of using a shed be careful on what else you store in there if you will be allowing your kids to play in their on their own.
A big pro of this toy storage solution is its large capacity. That said – you need the yard space to make this happen.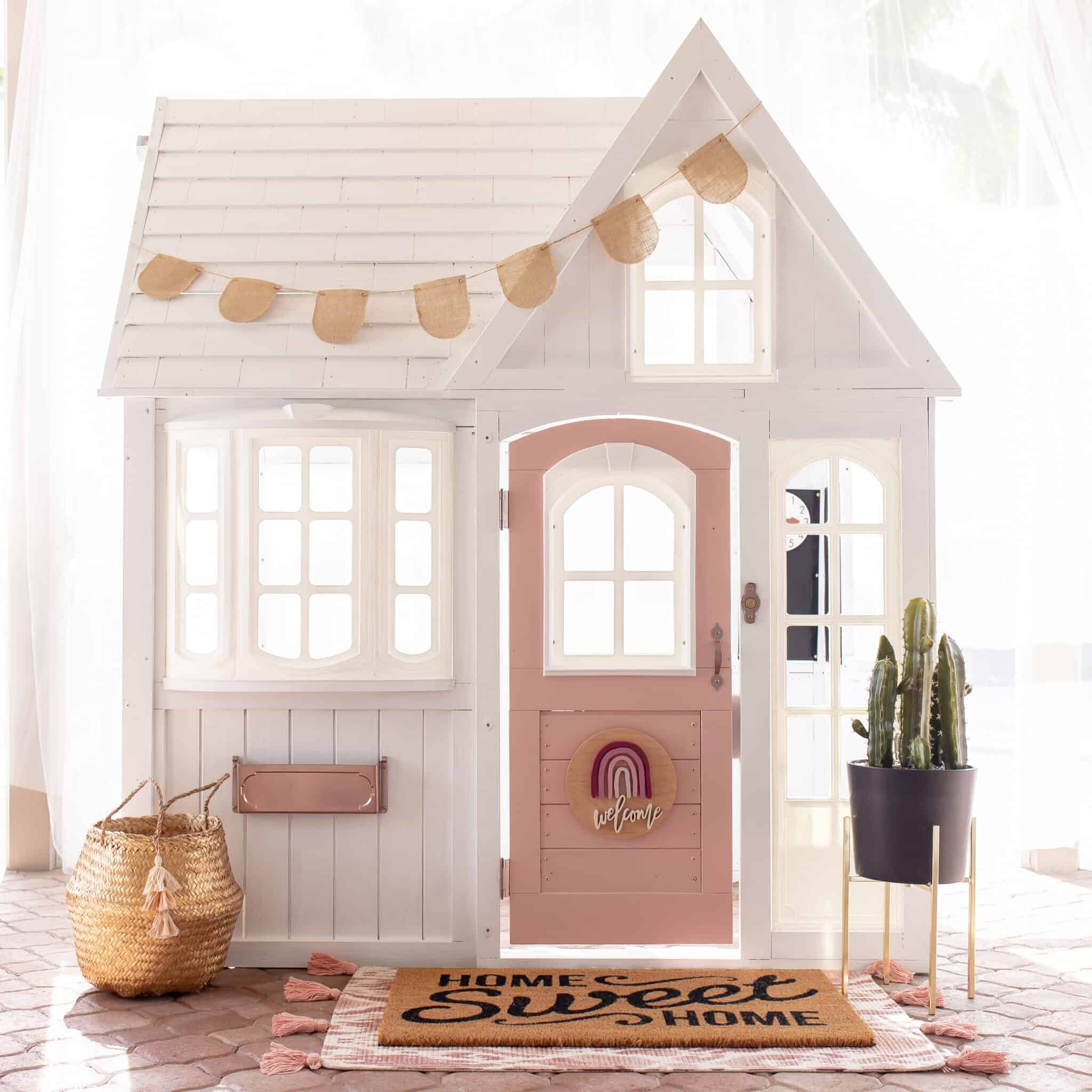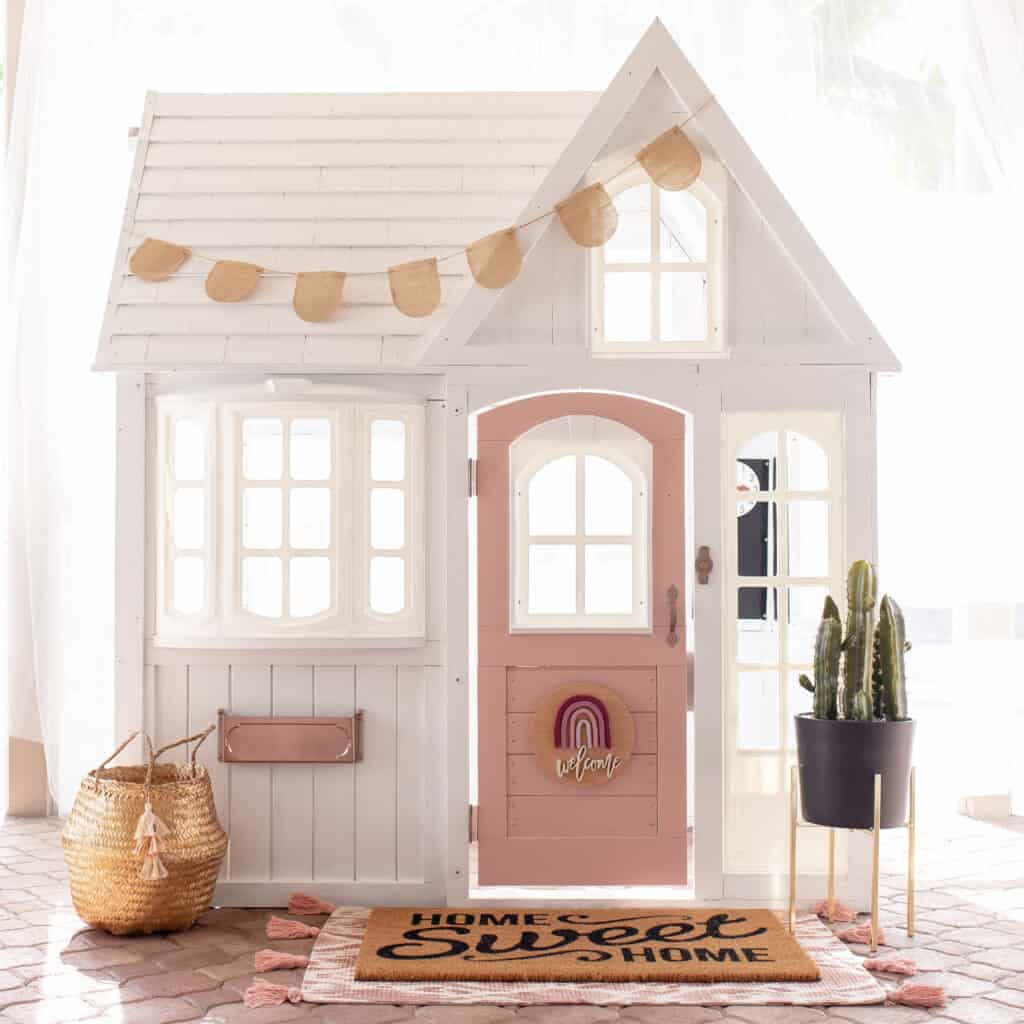 Option 3 – Trash Can Shed as Toy Parking Lot
Another great option is a 'trash can shed' – which is not really a shed, but more of a hidden parking spot for trash cans that would also work wonderfully for bikes toy cars, and other ride on toys, and will give them a covered area to stay.
If you want those stored outside without the expense of a shed that might be a great way for you to conceal them and keep them a bit more weatherproofed than being directly outside at all times.
One downside to these is that they don't seem to be fully weather resistant so you would want to take that into consideration.
Option 4 – Storage Coffee Table or Storage Ottoman
Just like inside your home, outside your home a storage ottman or table can be a great way to store outdoor toys. I showed a couple in the graphic below that you could tie into your patio seating while keeping your kids toys fully concealed.
The double duty this serves as patio furniture while also being the perfect place to store toys of your kids is a mom win if you ask me.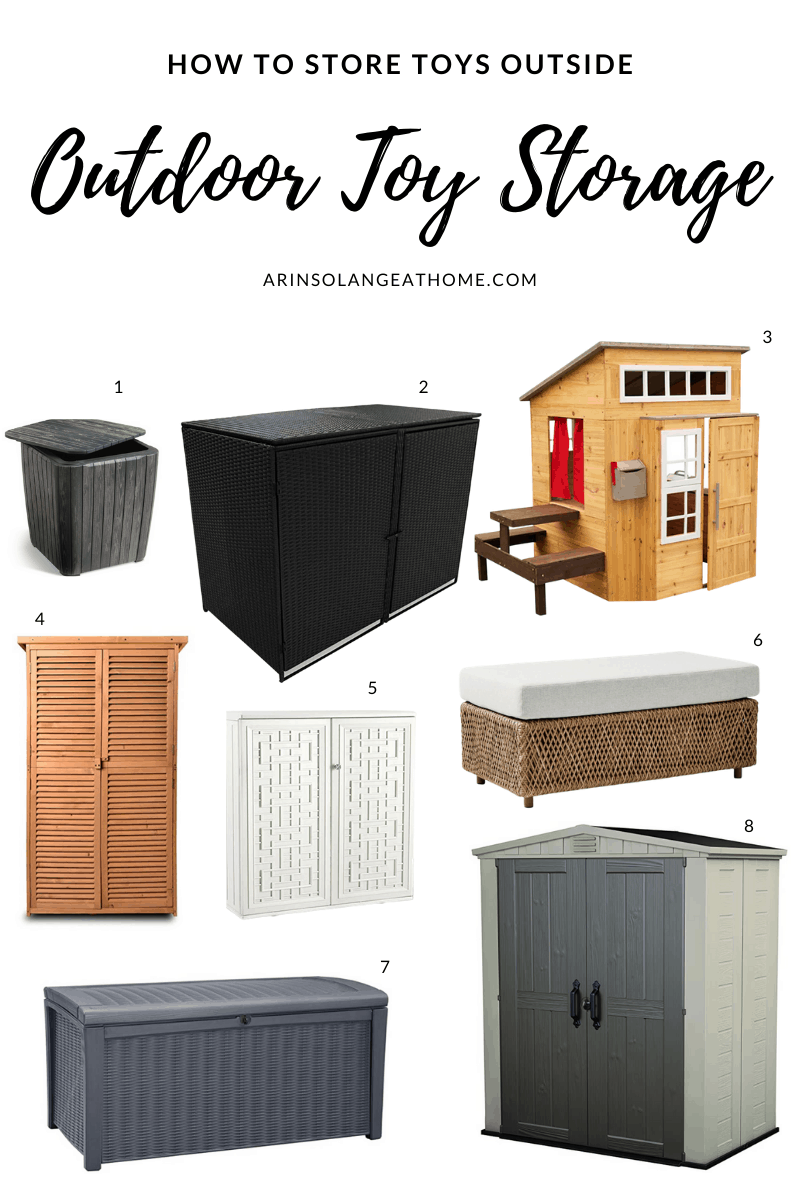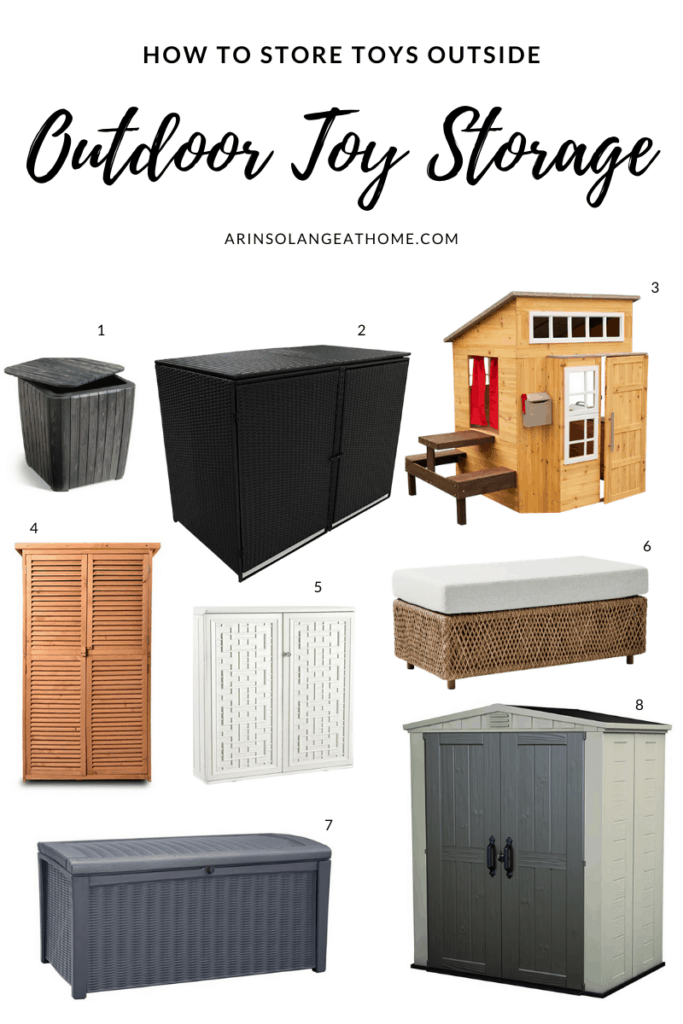 Shop Outside Kids Storage Ideas – Outdoor Edition Below
Outdoor Toy Storage Ideas – Indoors
Sounds like an oxymoron right? What I really mean by this is ways you can store your toys in your garage while they aren't in use!
There are several different things I will talk about on this from ways to store them during the warm months while they are in use, as well as ways to store them and get them out of the way during the winter.
Option one – Rolling Storage Cart
Like I mentioned above we did one of these at the last house and at different times I loved it more than others. We personally had a 3 bin version where we [at the time] stored all of our outdoor toys. In theory my idea was it was a single item to roll outside when the kids wanted to play.
The idea behind it was actually great. I loved having something to roll to the driveway with the kids toys, but as mentioned earlier in this post, my kids were too young to reach much in it.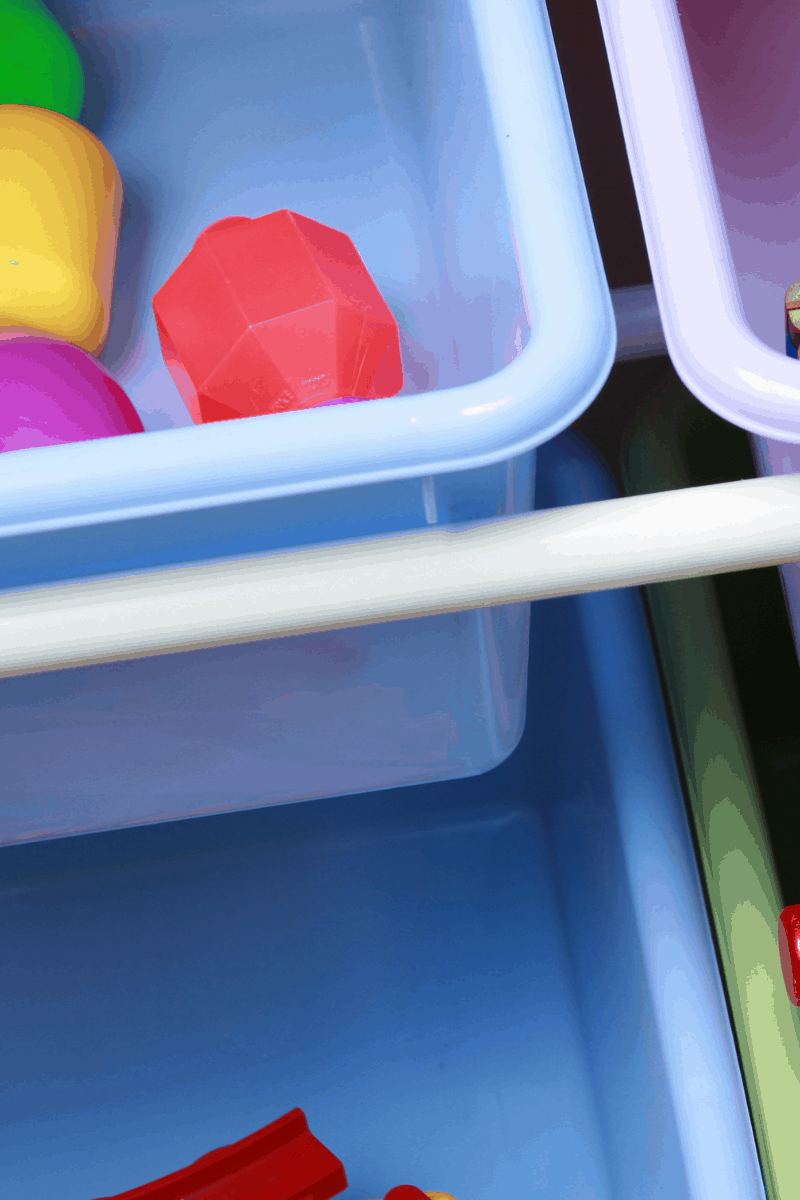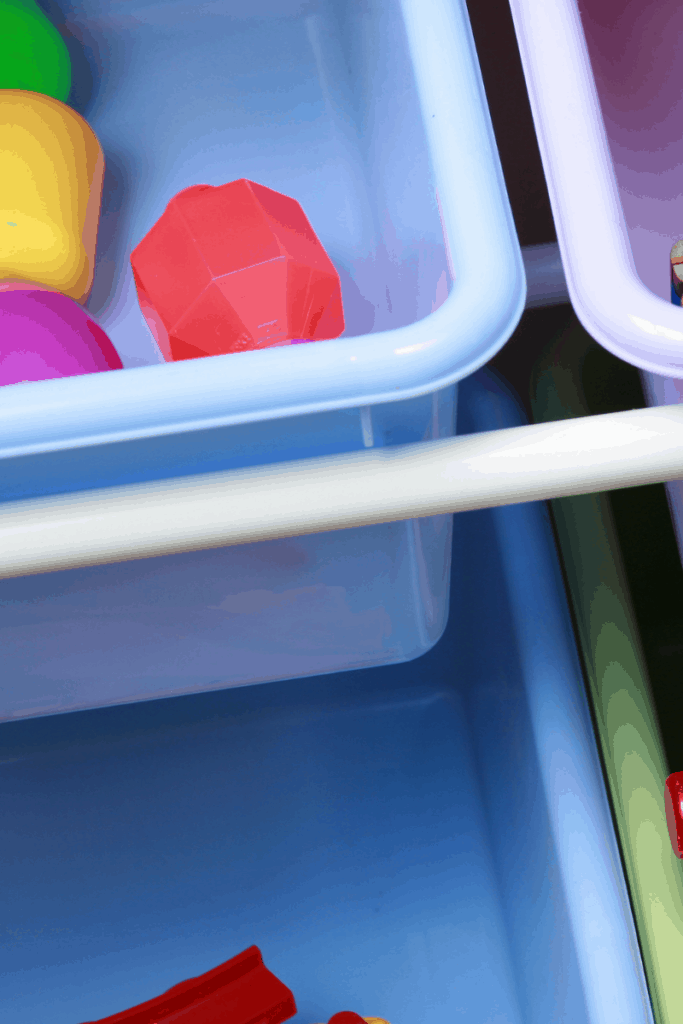 So my overall advice would be – this is still a GREAT storage option for your garage, but might be better for only taller things (bats, golf clubs, etc) or better if your kids are older and can reach inside. By the time we moved my older kids were 5 and 7 and able to handle it a bit better.
This is another version of the rolling cart that is just gorgeous. If you are looking for something you can roll out on your patio while keeping it looking gorgeous this would be a great splurge piece. The low profile means little hands could grab what they need.
Option 2 – Ordinary Baskets and Bins
If you can make a space for your kids toys on a shelving unit in your garage, these bins are perfect for storing toys. We use them all over the house and I love that they can just be sprayed out for easier cleaning.
We started storing many of the kids toys this way last year and it was such a good way for the kids to be able to get what they needed while cleaning up in little time.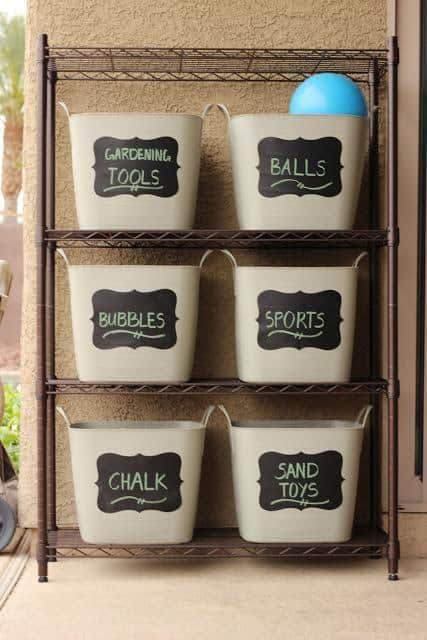 Add onto them these little basket labels, or chalkboard labels so they can put thing where they belong. (No kids won't be perfect at this, but it is helpful to set the expectation if that is something of importance to you as the parent. – if not skip that step, and let them be catch all baskets which is great too!).
Another thing you can utilize within those baskets and bins (or really any of these storage methods is mesh bags. These are traditionally used more for the beach or for laundry, but are a great way to keep smaller items together.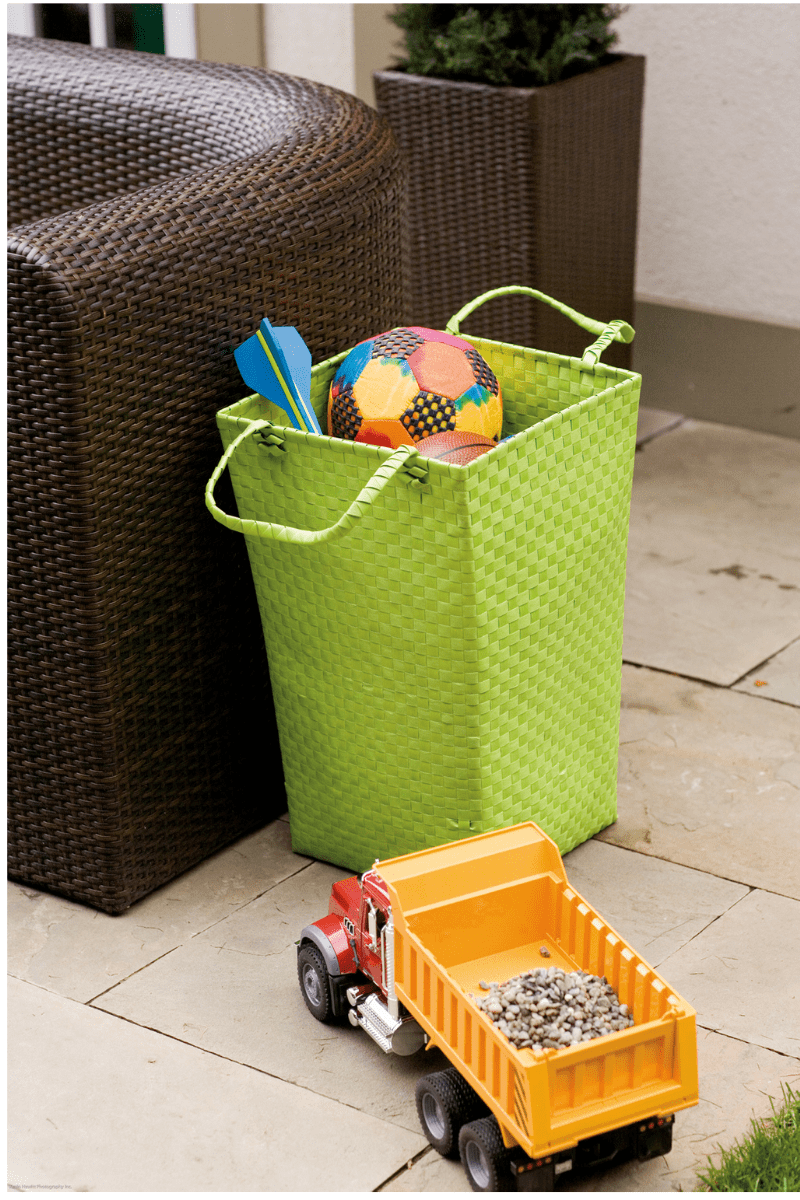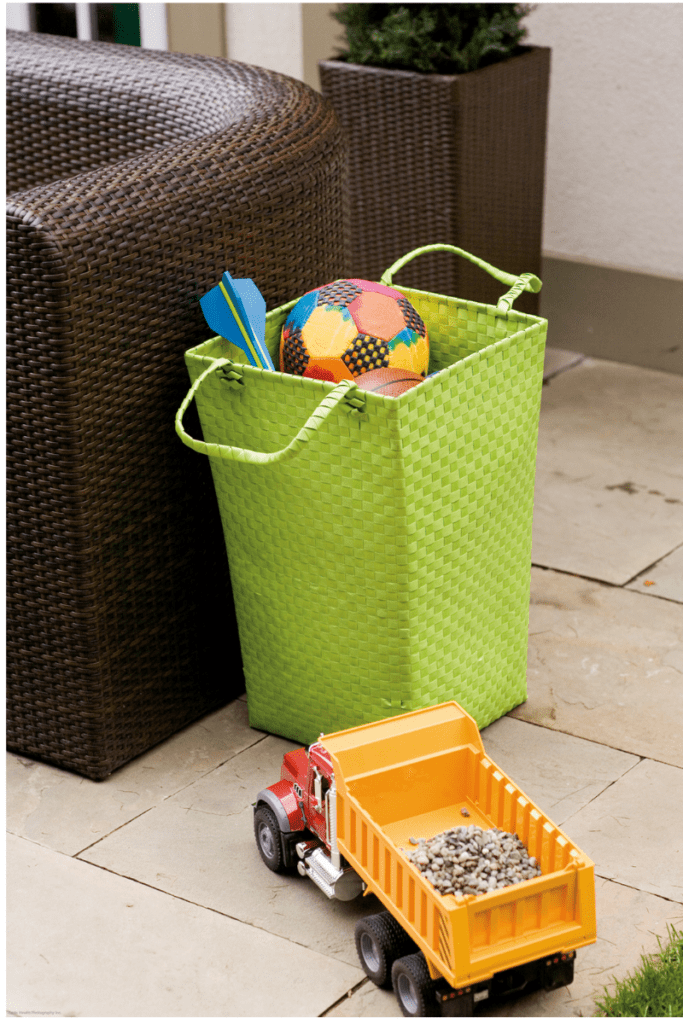 We use them to store balls, sand toys, and on so if my son wants to play baseball he isn't digging around trying to find all the balls. They would also be great for smaller trinket toys if you have younger kids. I know my kids love bringing inside toys outside and generally my rule is once they go out they stay out!
Option 3 – A Toy Box
This is pretty straight forward. A simple toy box in your garage can serve as a perfect way for your kids to store your toys. Growing up that's exactly what we had and it was wonderful!
Option 4 – Wall Hooks
In my opinion this is one of the best ideas on storing so many items to keep them in reach, while also freeing up garage space. They will give your garage an organized look while helping you stay sane.
We use ours for everything from strollers to sleds, to bags for sports gear and so on. It is also a great place to hang these bags for ball storage if you have kids that play sports.
This is a great method to use with some of the others in this post – nothing is one size fits all, and in my opinion mosts families will need to use a few of these methods together to find the best solution for them and their family.
Winter Storage:
Something that is also helpful is storing toys away when they won't be in use. The winter months are long and cold here in St. Louis, so adding something like a hanging garage shelf can allow you to put bikes, and scooters up in the winter, while bringing things like sleds down to be more accessible. Adding floor space is helpful for basically everyone in the family.
It is also a great place for extra storage for those less often used items like kids pools, pool noodles and floats, hula hoops and so on. Many times garages are simply limited on space, so finding a great way to utilize the space going UP can be a great way to add square footage.
If you add some hooks and utilize bungee cords you will more easily keep items in place going up and down, so take that into account if you are doing this DIY.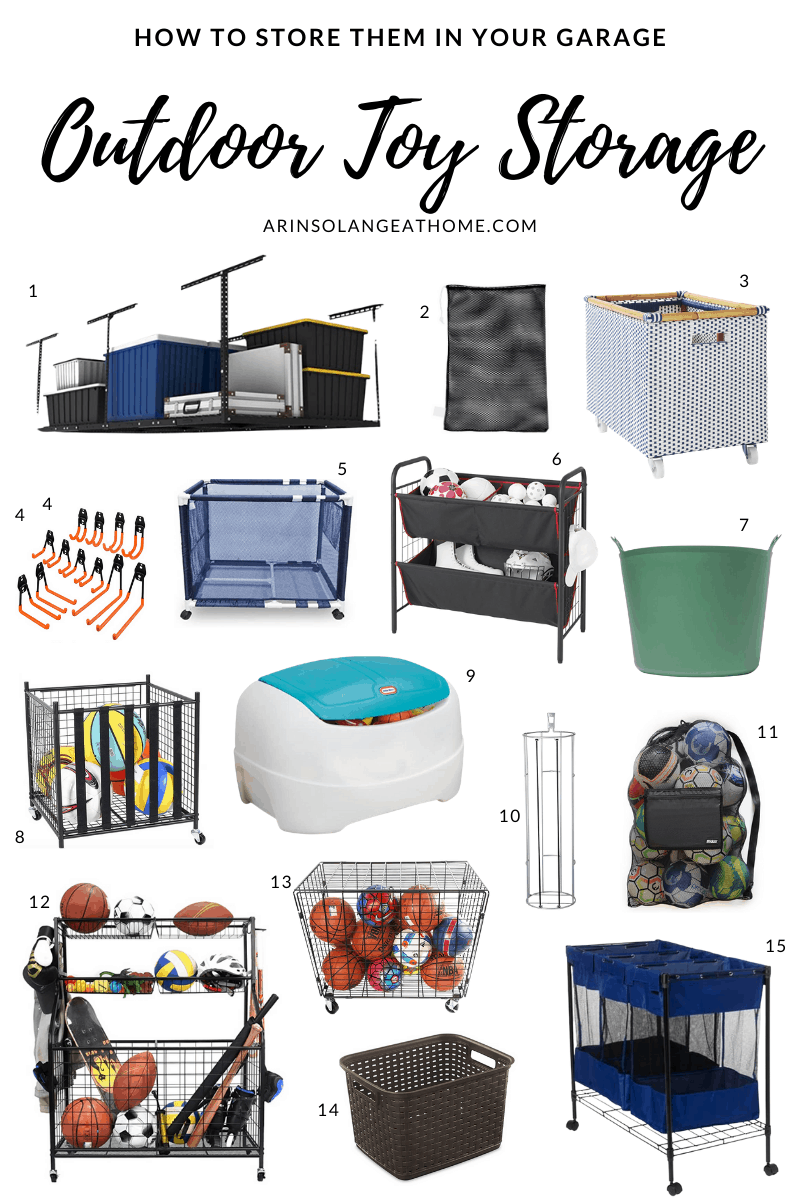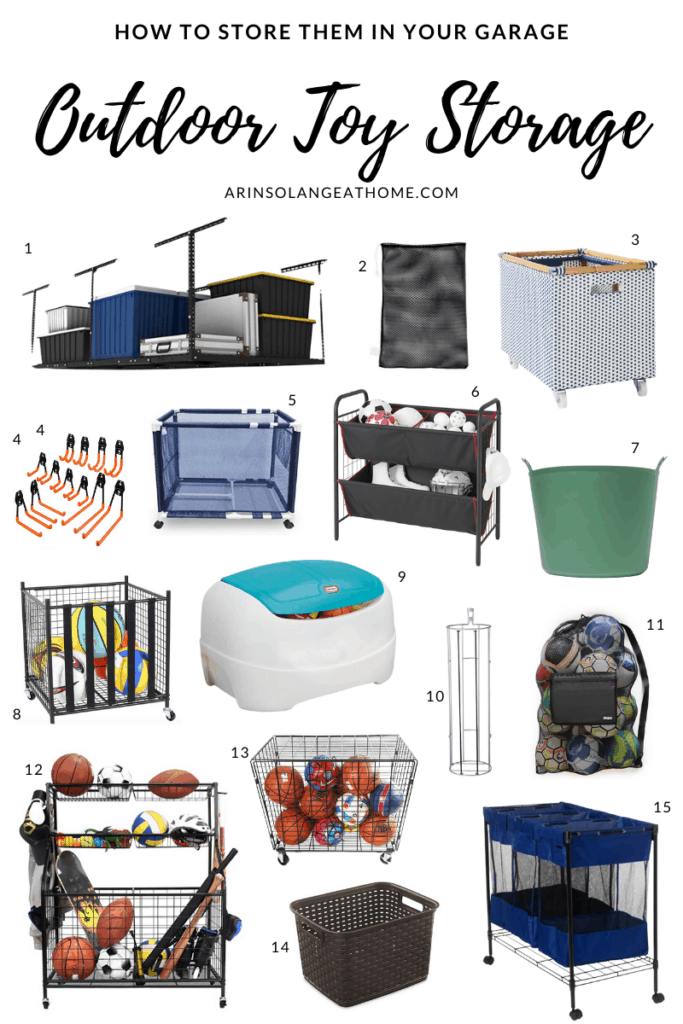 Shop Outside Kids Storage Ideas – Indoor Edition Below
1 | 2 | 3 | 4 | 5 | 6 | 7 | 8 | 9 | 10 | 11 | 12 | 13 | 14 | 15
Other Posts You will Love:
If you found this post to be helpful, then hopefully some of my other posts below will also help keep your home organized, and you sane.
How to Organize a Garage on a Budget | Living Room Toy Storage | Outdoor Decor and Furniture from Amazon | How to Build an Easy Outdoor Table | All Organization Posts 
Pin The Photo Below for Later
Hopefully you found this post to be helpful, and you can implement some of these outdoor toy storage ideas into your home and lives to make it less stressful. If you have other ideas be sure to leave them in the comments below to help another mom out. And if you aren't following me on Instagram yet (@arinsolange), be sure to follow to see what I do with our new outdoor space.