Easter is just around the corner, WHICH I CAN BARELY BELIEVE, but I finally rounded up my easy boys Easter Basket ideas for you to buy online and throw together a basket that any boy will love! Hopefully this post helps you find fun, unique finds for this years baskets.
This post contains affiliate links. – This post was originally from 2019 and 2023
Easy Boys Easter Basket Ideas
I am a mom to 4 – 2 boys and 2 girls. And if I am being honest – even though I think having boys is every bit as amazing as having girls, shopping for the 'small' stuff like stocking stuffers and Easter Baskets can be harder with boys.
For my girls I tend to add accessories and things like that, but with boys that is a bit harder, so I tried to round up ideas to be played with inside and outside both.
I also added in some useful items – think things they will need for the summer but can still be fun to get. Sandals (or for us Natives), headphones, shades, hats, and so on! Those are fun new items to get but are very useful!
What Baskets to Use
I have a full round up of baskets that are unique and will be useful past the holiday here in this post, but keep in mind an Easter basket doesn't have to be expensive or fancy.
If I don't go with something super unique like the post I linked above, I tend to go with a dollar store style basket, or a cheap sand bucket that can be used for a few then trashed when it is ruined.
I also always like to state that when it comes to Easter baskets – I link so many great items here, but they are simply inspiration. You can get it all or get one thing and your kids will be nothing but impressed and in love. Never feel pressured to get more than you are comfortable.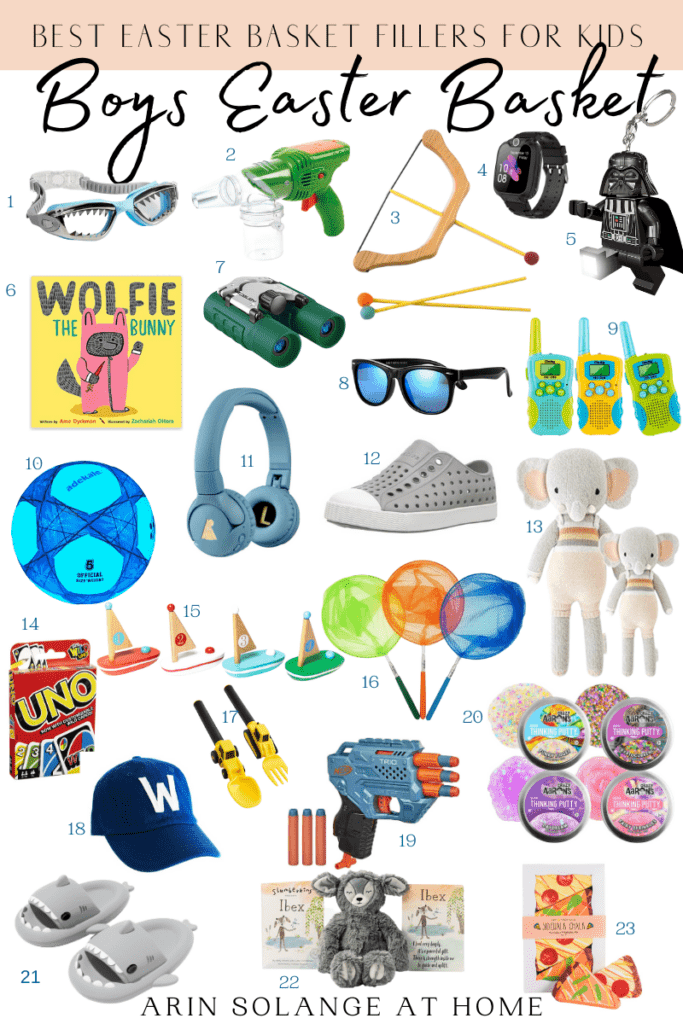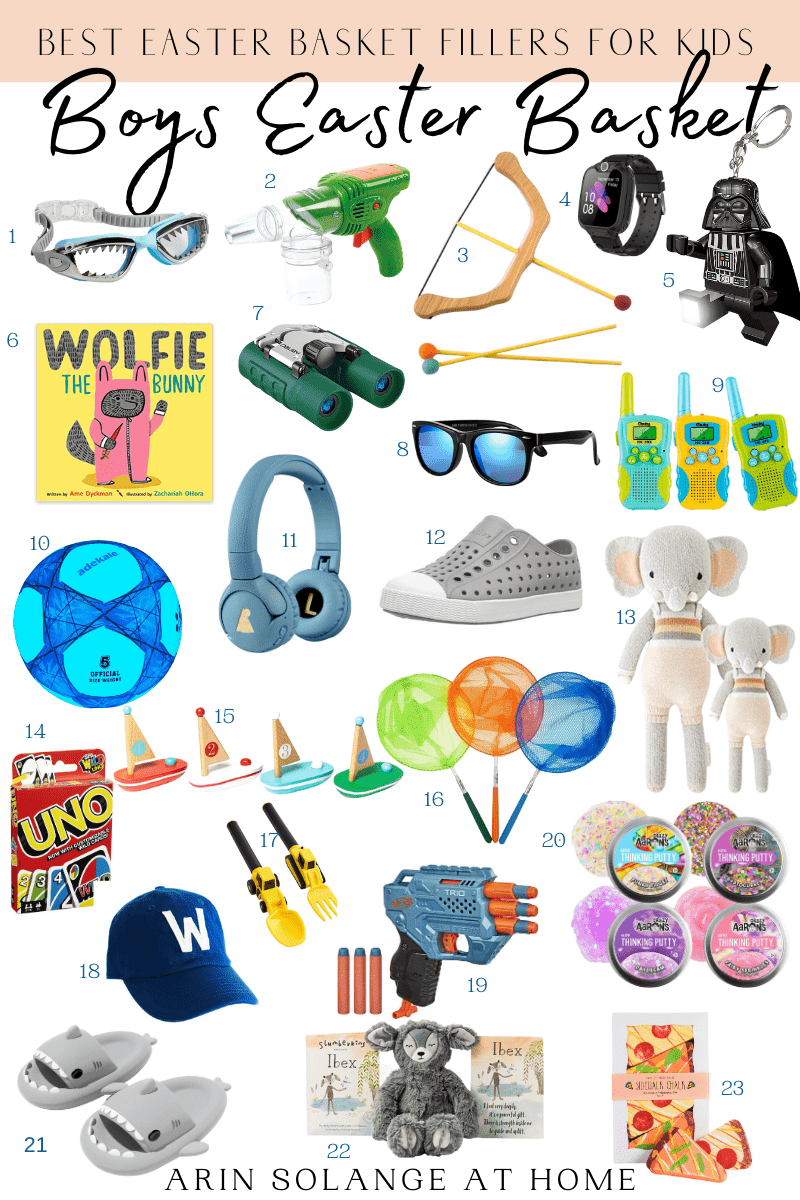 1  |  2  |  3  |  4  |  5  |  6  |  7  |  8  |  9  |  10  |  11  |  12  |  13  |  14  |  15  |  16  |  17  | 18  |  19 | 20 | 21 | 22 | 23
Shop Boys Easter Baskets Below
Other Posts You'll Love
Hopefully these other posts will be great for you as well!
Girls Easter Basket Fillers  |  Unique basket alternatives | All Gift Guides by Age | Boys Room with black and white wallpaper | Boys wallpaper ideas
Follow me on Social for the Latest
Pin The Photo Below for Later
Hopefully you found boys Easter Basket ideas you love. Pin the photo below to find this later, and be sure to follow me on Instagram (@arinsolange) and Tik Tok (@arinsolange) more inspiration and fun! And shop these and more items in my Amazon Storefront. If you have any questions be sure to leave them in the comments below.