I can tell from last years post that you guys love ideas for filling up your kids Easter baskets.  This week I will be putting up all my easter basket posts for the year, as well as linking back to last years that I still love.  Be sure to check out this post on unique baskets to fill up while you're here, and grab some of  these girls Easter basket fillers for your sweet girl!
This post contains affiliate links // #3 and #14 were received In exchange for post. All opinions are my own.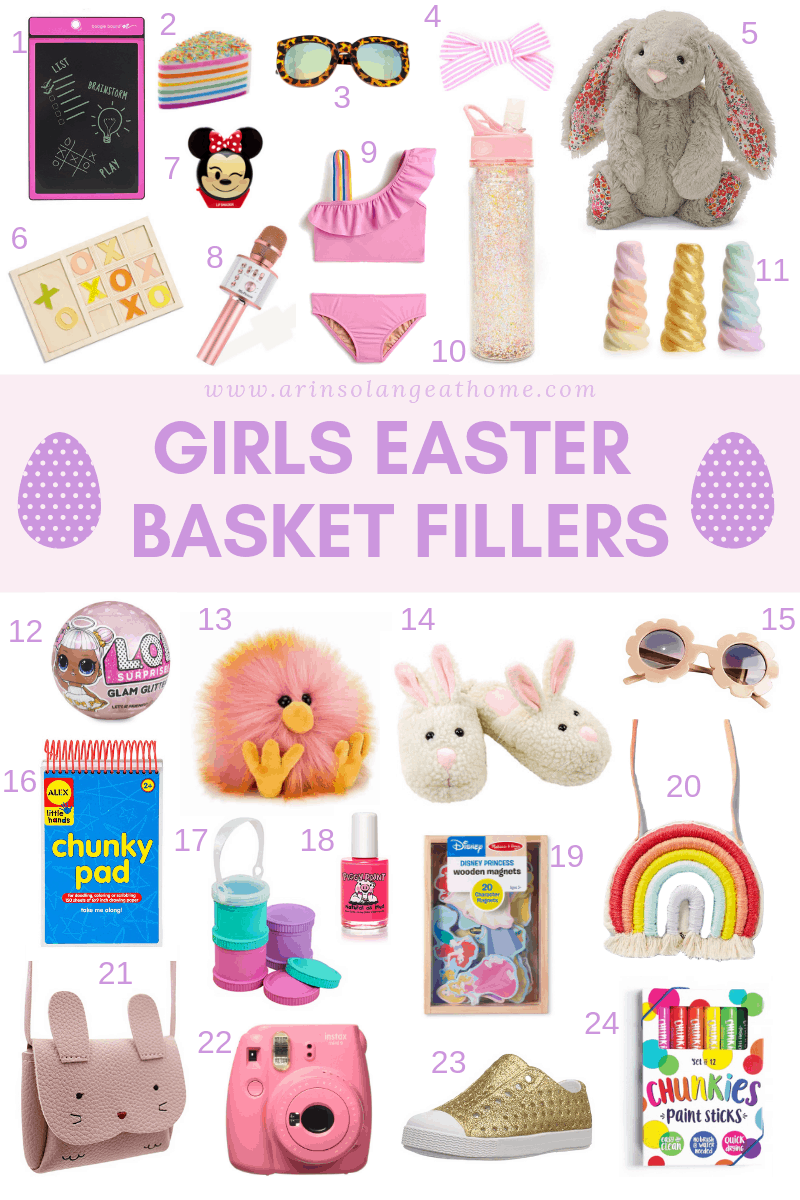 Girls Easter Basket Fillers
1 // 2 // 3 // 4 // 5 // 6 // 7 // 8 // 9 // 10 // 11 // 12 // 13 // 14 // 15 // 16 // 17 // 18 //
19 // 20 // 21 // 22 // 23 // 24
 1.  These Doodle pads are AMAZING.  My kids love them for travel.
2.  These squashy Toys are so fun for kids!
3. This company has so many fun sunnies for kids!
4. Fun Bows for Spring – this shop is my favorite
5. We are obsessed with these stuffed bunnies, and I love the floral ears and feet!
7. Minnie Mouse Chapstick – also comes in so many other characters!!
8. This karaoke microphone is the cutest thing and kids LOVE it.
9. A fun swimsuit – I lOVE this swimsuit, and have a roundup of fun other options HERE.
10. I just got this water bottle for myself and I LOVE it, and so does Avé.
11. Unicorn Chalk 
12. LOL Surprise dolls – lets face it, all little girls love them.
14. Slippers – we LOVE this pair, and there are so many other options on their site.
15. These are super inexpensive little sunnies and I love them.
16. These are by far my favorite little coloring books. * sometimes you can find them in the dollar spot at Target for $4 less!
17.  I link these snack stackers all the time.  I LOVE them for everything, including travel.
19. Wooden Magnets 
20. I am obsessed with this purse.  Avé has it and Its about as cute as it comes.
21. Bunny Purse 
22. Instant Film camera – my kids are OBSESSED WITH THIS
23. Native shoes – my kids live in these in the summer.
24. Paint Sticks – I got these for the kids for Christmas and my kids love them.
HAPPY SHOPPING
Be sure that you checked out this post from last year for more ideas you will love, and if you don't follow me on Instagram, give me a follow.  I will be showing you exactly what I put in my kids baskets as well as some super inexpensive in store finds here soon! If you're still stumped on girls Easter Basket fillers after this post be sure to leave a comment an I will try to brain storm more ideas for you.
CHECK OUT MY FRIEND NAVY'S GIRL'S EASTER BASKET PICKS – ALL POOL AND BEACH RELATED!!
Boy Easter Basket fillers //  Unique Easter Basket Ideas // Toddler Girl Easter Basket Ideas