Easter is coming, which means I am updating my Easter basket posts from last year. This post is all about Easter Baskets for Girls.
I can tell from last years post that you guys love ideas for filling up your kids Easter baskets. This week I will be putting up all my easter basket posts for the year, as well as linking back to last years that I still love. Be sure to check out this post on unique baskets to fill up while you're here, and grab some of these girls Easter basket fillers for your sweet girl!
This post may contain affiliate links.
This post was originally published on 4/5/19 and was updated on 4/15/20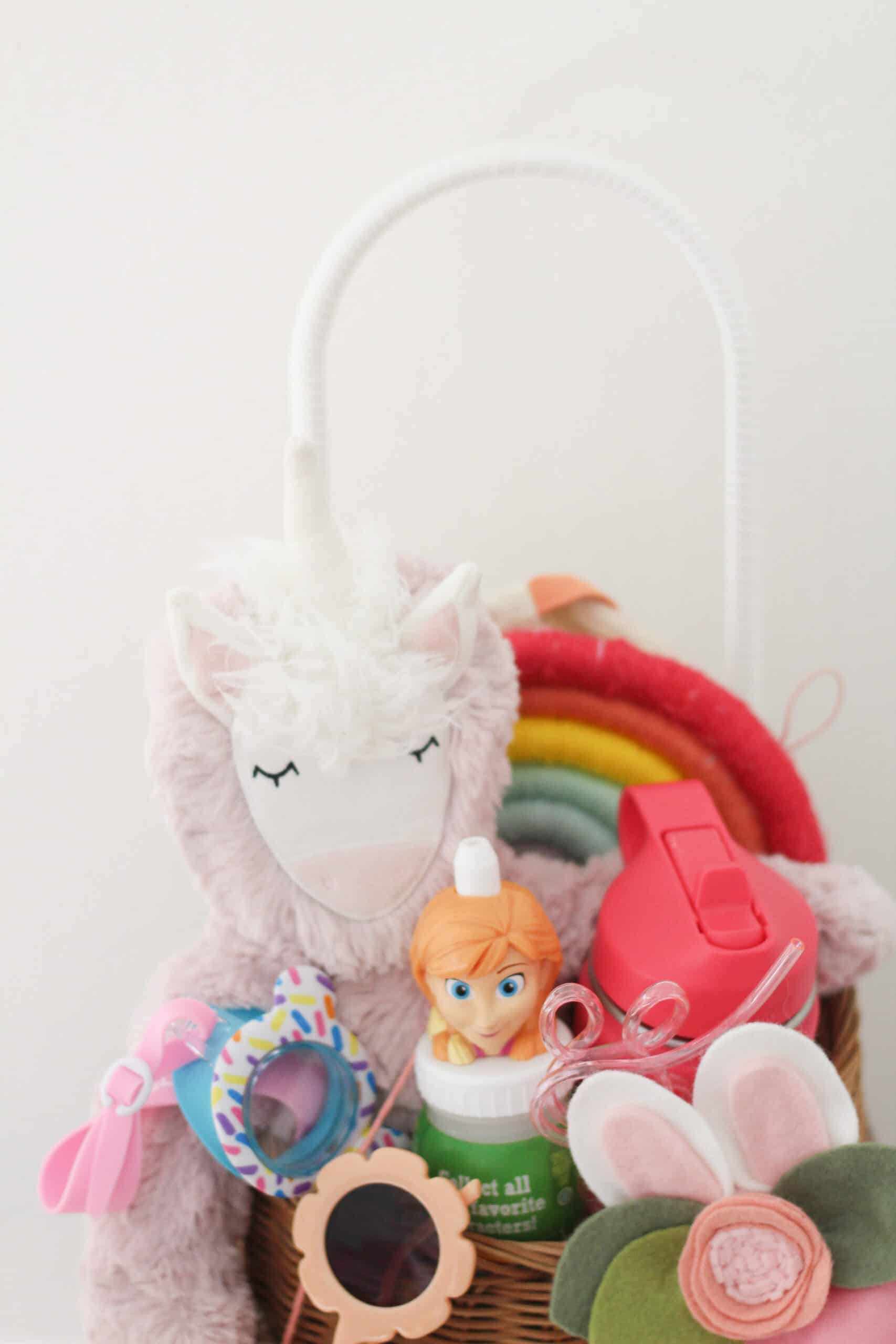 Easter Baskets for Girls
I have talked about how much I love doing a great mixture of useful and fun when it comes to gifts for my kids. I tend to try to get Avé items that she will be excited about, but yet also won't just get thrown to the playroom and never seen again.
I am leaving my round up from last year on this post, because I definitely think it stands the test of time, but I am going to also add some new ideas, because I am always coming up with new favorites!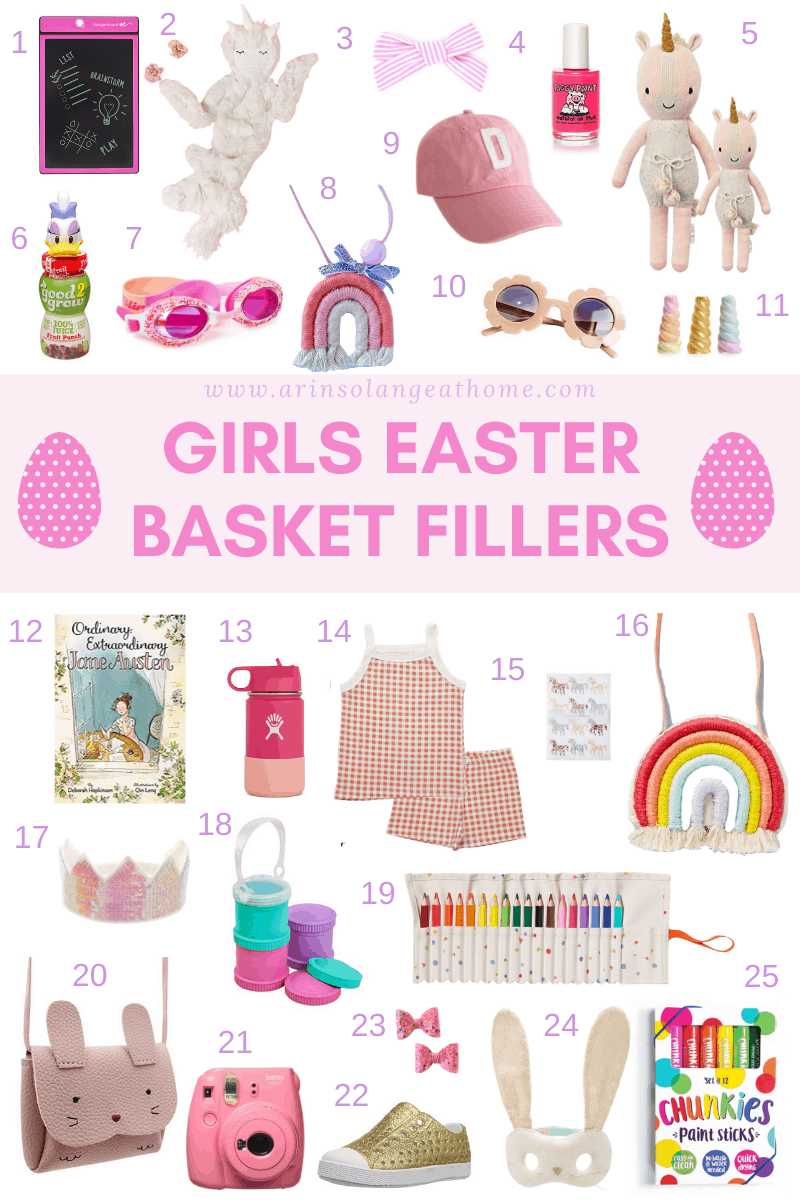 2020 Round-up
The Round up above was the one I updated for this year. Some items are the same, but I also updated it with lots of new, fun ideas. Check out both round-ups for some great ideas!
1 | 2 | 3 | 4 | 5 | 6 | 7 | 8 | 9 | 10 | 11 | 12 | 13 | 14 | 15 | 16 | 17 | 18 | 19 | 20 | 21 | 22 | 23 | 24 | 25
1. Doodle Board
2. Slumberkins – I share these all the time because my kids truly LOVE them! As an added bonus, they were so sweet and offered to give my followers and readers 10% off one order before 3/31 if you use the code ARIN10
3. Hair Bow
4. Piggy paint – my daughter loves this!
5. Cuddle and Kind – another brand I love. They are so beautiful and give back when you buy them, by giving meals to kids who need them.
6. Juice – these cute little apple juices are such a favorite for my kids
7. Goggles – with summer around the corner, it is a fun Easter basket filler, and this pair is so freaking cute
8. Necklace – I love this one for Avé
9. Hat – my kids all have these hats and I LOVE them
10. These sunglasses are by far my favorite pair Avé has and they are super cheep!
12. Book – I love including a good book in my kids baskets. This one is gorgeous to be displayed as well, which I love. If you want more ideas on books check out this post!
13. Hydroflask water bottle – my favorite water bottles for kids
14. Pajamas – another good idea in an Easter basket – Avé has this set from Amazon and I lOVE them on her.
15. Stickers – always a hit but I think glitter unicorns would be even better for most kids
16. This purse – we have owned this for a few years and it stands the test of time
18. Snack Stackers – we are obsessed with these and use them all the time. I love the idea of putting these in the Easter basket filled with their Easter candy.
19. Colored Pencils in this cute canvas holder
20. Bunny Purse – another great Amazon find
21. Poloroid Camera – my kids each have these and they are obsessed.
22. Natives – my favorite summer shoe by far
23. More Hair bows
24. Bunny Mask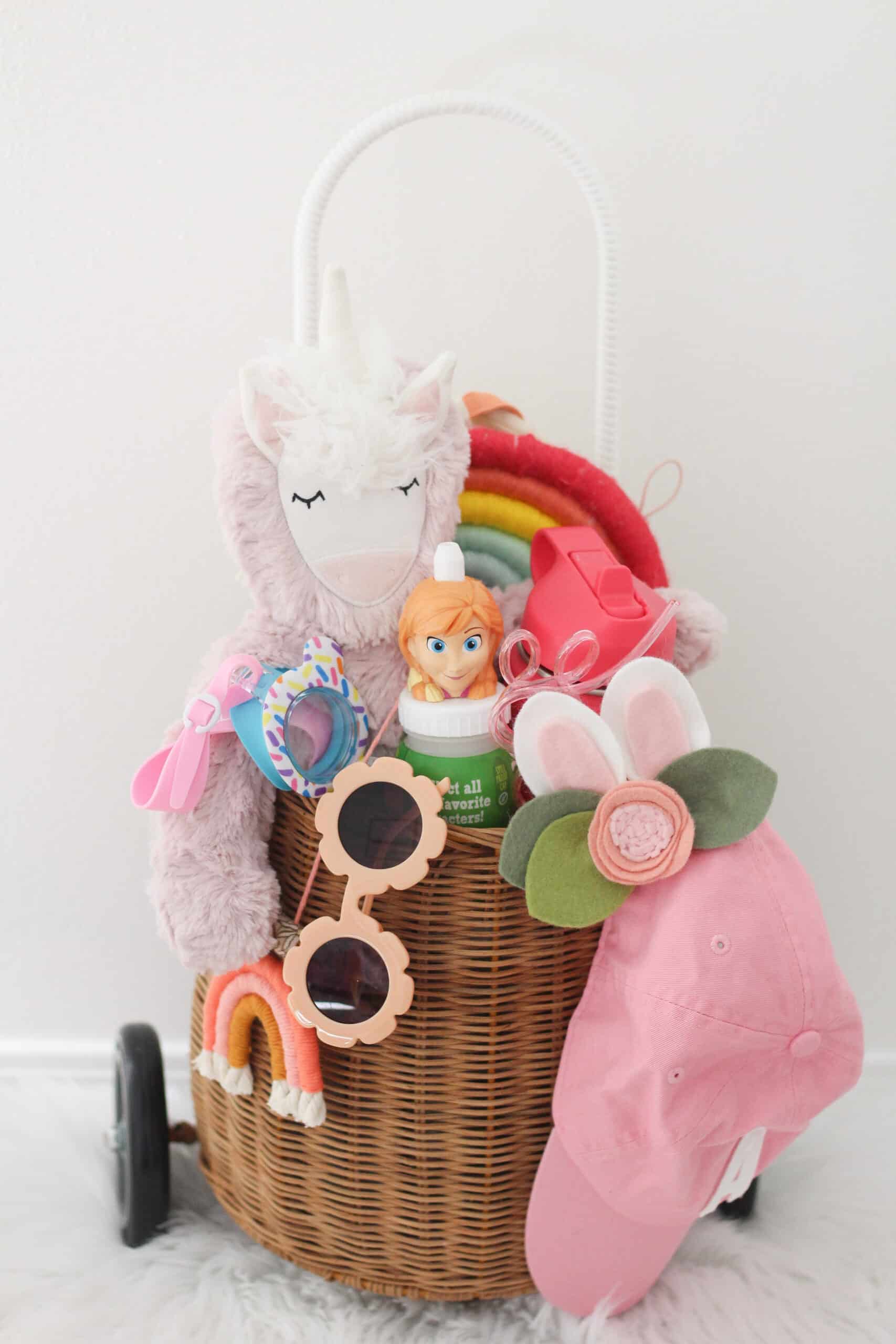 For the basket above I used this LUGGY for the basket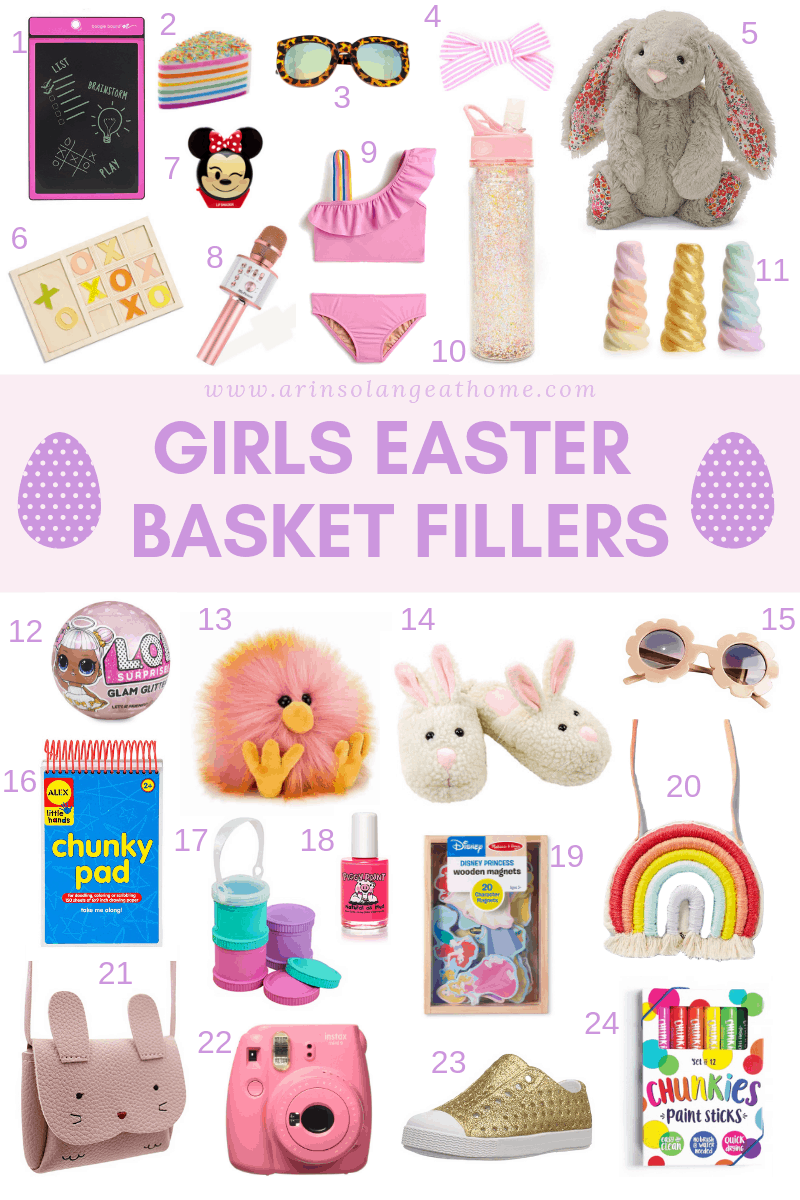 Girls Easter Basket Fillers
1 | 2 | 3 | 4 | 5 | 6 | 7 | 8 | 9 | 10 | 11 | 12 | 13 | 14 | 15 | 16 | 17 | 18 |
1. These Doodle pads are AMAZING. My kids love them for travel.
2. These squashy Toys are so fun for kids!
3. This company has so many fun sunnies for kids!
4. Fun Bows for Spring – this shop is my favorite
5. We are obsessed with these stuffed bunnies, and I love the floral ears and feet!
7. Minnie Mouse Chapstick – also comes in so many other characters!!
8. This karaoke microphone is the cutest thing and kids LOVE it.
9. A fun swimsuit – I lOVE this swimsuit, and have a roundup of fun other options HERE.
10. I just got this water bottle for myself and I LOVE it, and so does Avé.
11. Unicorn Chalk
12. LOL Surprise dolls – lets face it, all little girls love them.
14. Slippers – we LOVE this pair, and there are so many other options on their site.
15. These are super inexpensive little sunnies and I love them.
16. These are by far my favorite little coloring books. * sometimes you can find them in the dollar spot at Target for $4 less!
17. I link these snack stackers all the time. I LOVE them for everything, including travel.
19. Wooden Magnets
20. I am obsessed with this purse. Avé has it and Its about as cute as it comes.
21. Bunny Purse
22. Instant Film camera – my kids are OBSESSED WITH THIS
23. Native shoes – my kids live in these in the summer.
24. Paint Sticks – I got these for the kids for Christmas and my kids love them.
HAPPY SHOPPING
Be sure that you checked out this post from last year for more ideas you will love, and if you don't follow me on Instagram, give me a follow. I will be showing you exactly what I put in my kids baskets as well as some super inexpensive in store finds here soon! If you're still stumped on girls Easter Basket fillers after this post be sure to leave a comment an I will try to brain storm more ideas for you.
CHECK OUT MY FRIEND NAVY'S GIRL'S EASTER BASKET PICKS – ALL POOL AND BEACH RELATED!!
Boy Easter Basket fillers // Unique Easter Basket Ideas // Toddler Girl Easter Basket Ideas