One of the biggest reasons we moved into this new house was to get all the kids in their own rooms – so I am SO excited to finally have the first of those rooms finished and ready to share with you. I went with black and white wallpaper for Jack's room. I wanted a big boy look that could grow with him, and the end result was exactly what I pictured, so I hope you enjoy.
This post may contain affiliate links and was graciously sponsored by Spoonflower – all options are my own, and I greatly appreciate you supporting the brands that support me!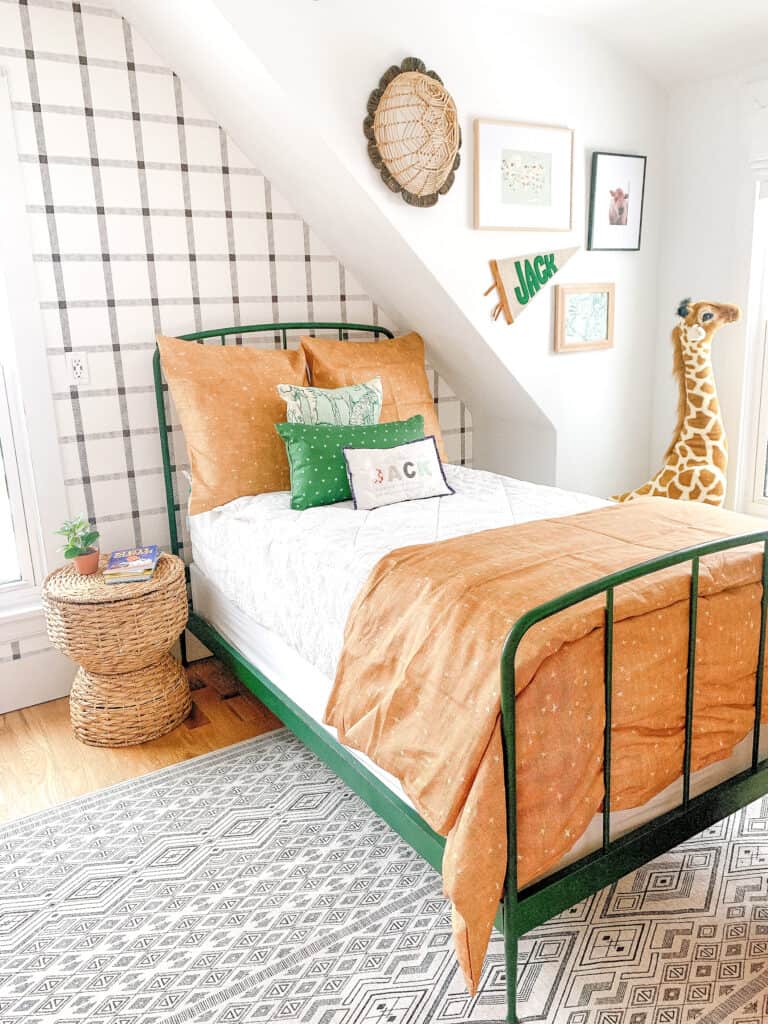 Black and White Wallpaper from Spoonflower
To me, hands down – the focal point of Jack's new room is the black and white plaid wallpaper. I honestly went back and forth on that choice because he is my animal lover and part of me wanted to do animals on the wall.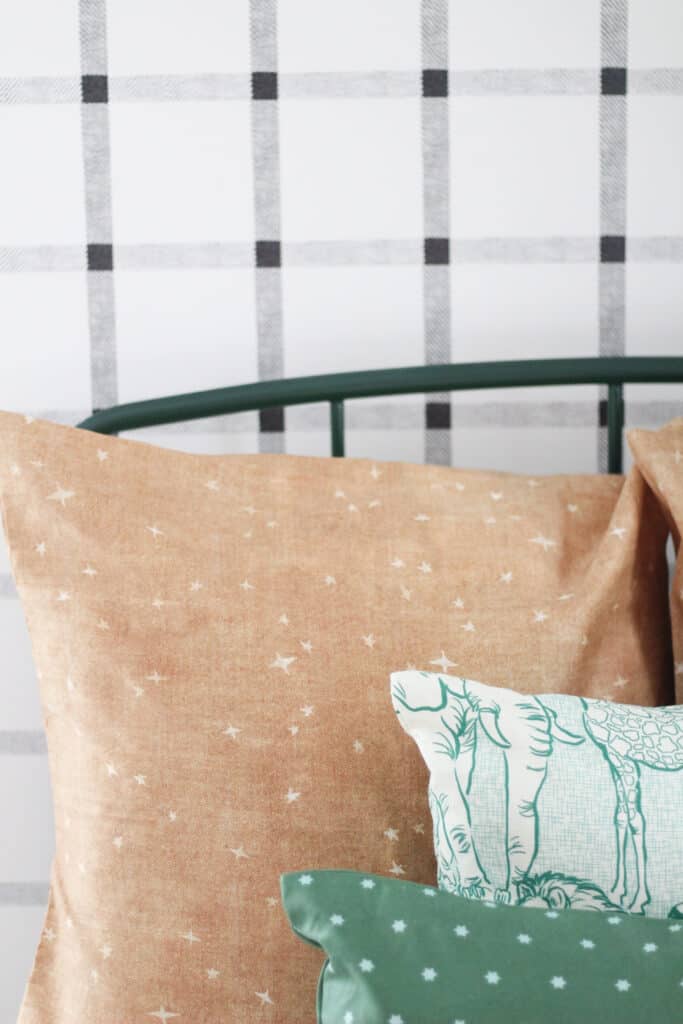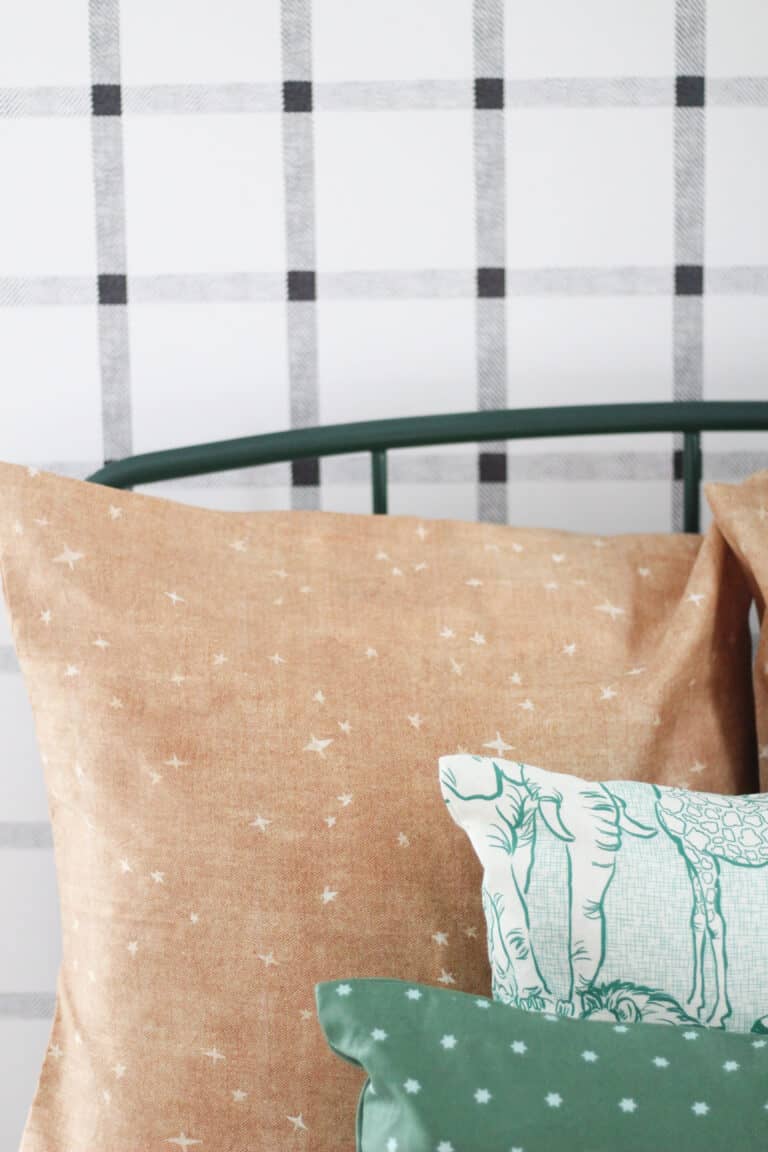 That said – Jack is now 8.5 years old and I wanted something that would grow with him well. I have seen how much he has grown and changed in the past year, and didn't want him to outgrow this room too fast.
I decided to go with a more subtle animal theme while doing the plaid wallpaper from spoonflower for a bold and strong choice. This is the exact choice I used in the Prepasted removable wallpaper.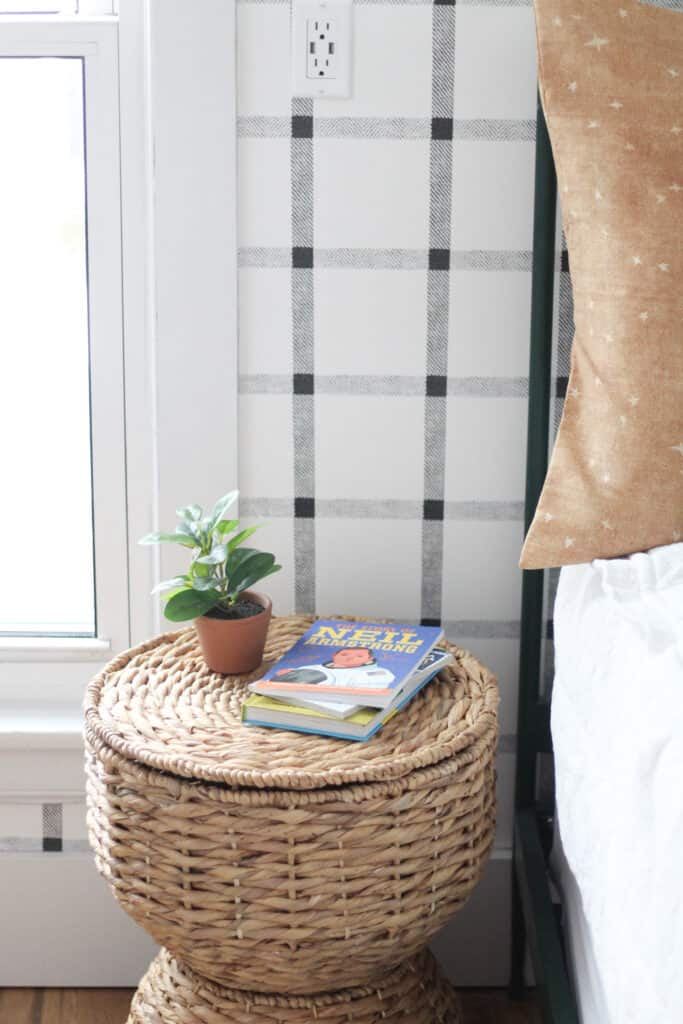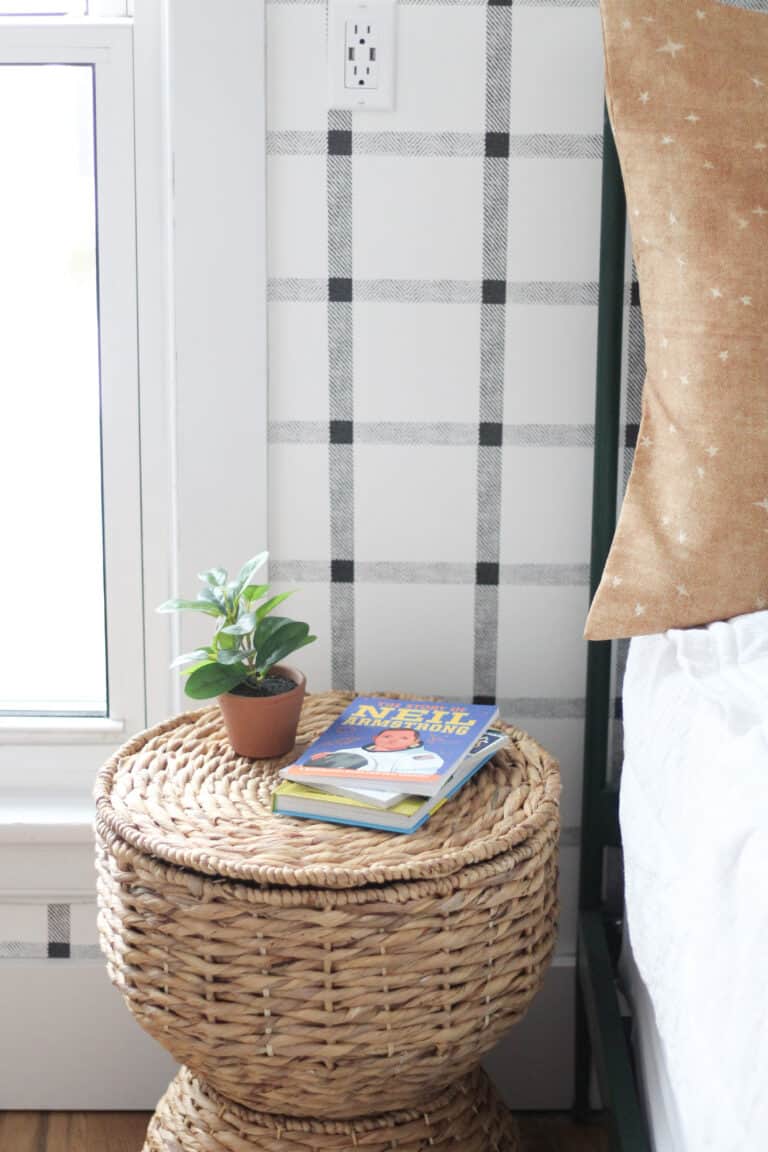 Hanging the Wallpaper
Like I said above – we went with pre-pasted removable wallpaper from Spoonflower. This was my 3rd time using that specific product, so we knew it was a great choice for us, but you can read more about hanging it in this blog post.
That said – here are some things I will highlight. For Jack's wall it took us 1 hour 10 min. BY FAR the hardest part was the window and unique window sills we had to work around.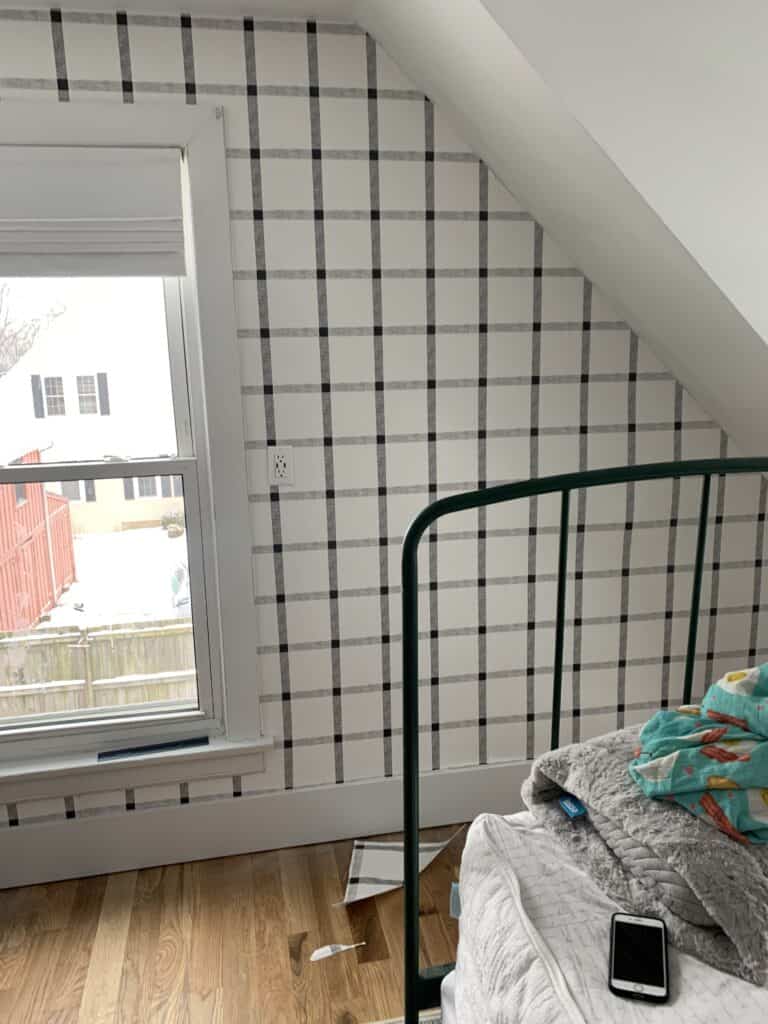 I thought maybe the slant to his wall would also be tricky, but it wasn't. If his wall didn't have a window it would have for sure been less than 1 hour to do this project, which is pretty great. (it is a 2 person job tho – so keep that in mind!)
Comparing Water Activated to Peel and Stick Wallpaper from Spoonflower
Spoonflower was kind enough to also send me a roll of their peel and stick wallpaper this time. It is a common question for me on which one is better, and why I pick the pre-pasted water activated version.
Honestly – my answer is normally because that is what Spoonflower recommended to me, so I wanted to be able to answer you all on the differences. I can't fully weigh in because I didn't do a full room, but will tell you what I noticed.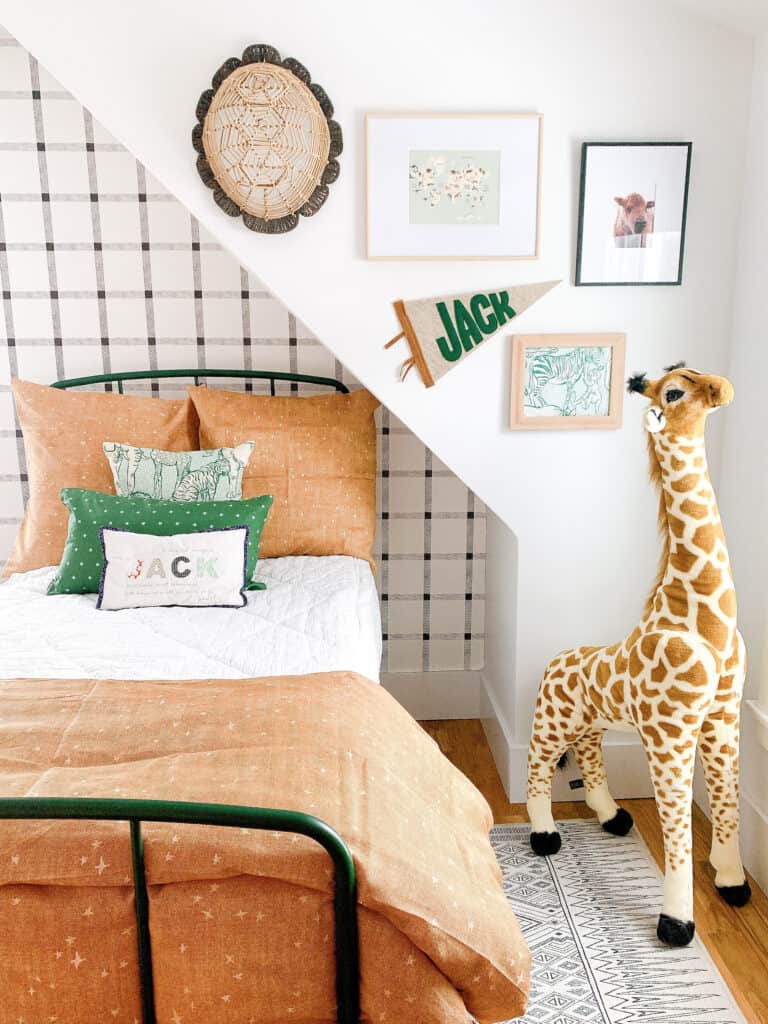 The peel and stick is more textured – the feel of it is honestly amazing and so high end. The pre-pasted wallpaper is also a gorgeous texture but more of a smooth/normal wallpaper feel.
What I decided to do was apply the peel and stick wallpaper to a portion of Jack's closet door (not my original plan, but we are in the middle of blizzard so I didn't have much time). I did notice you can still reposition a bit which was my big worry with peel and stick.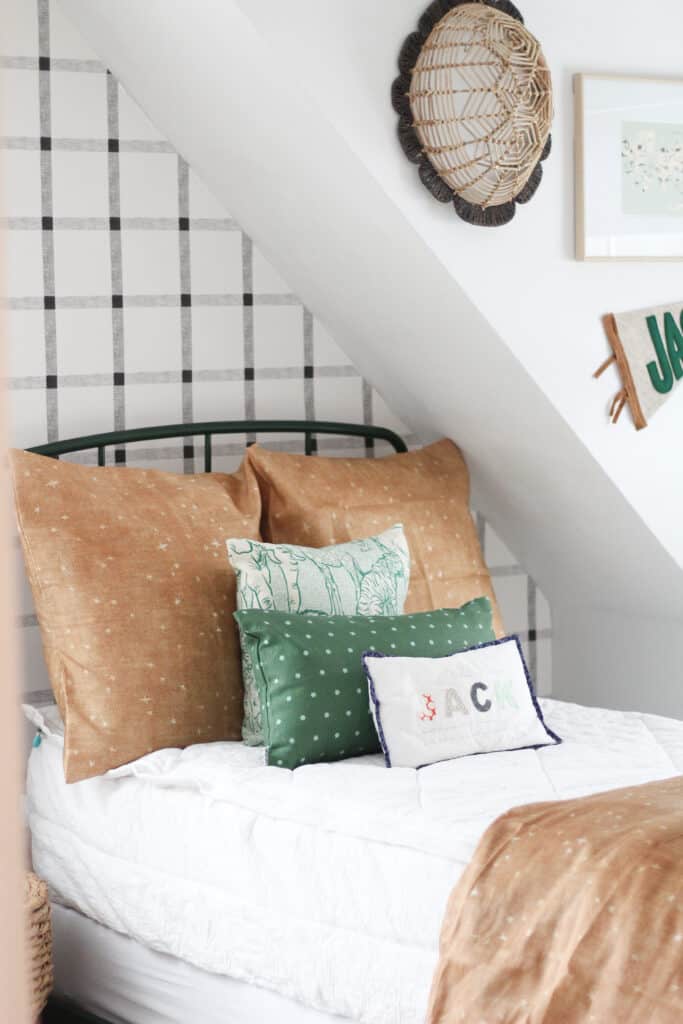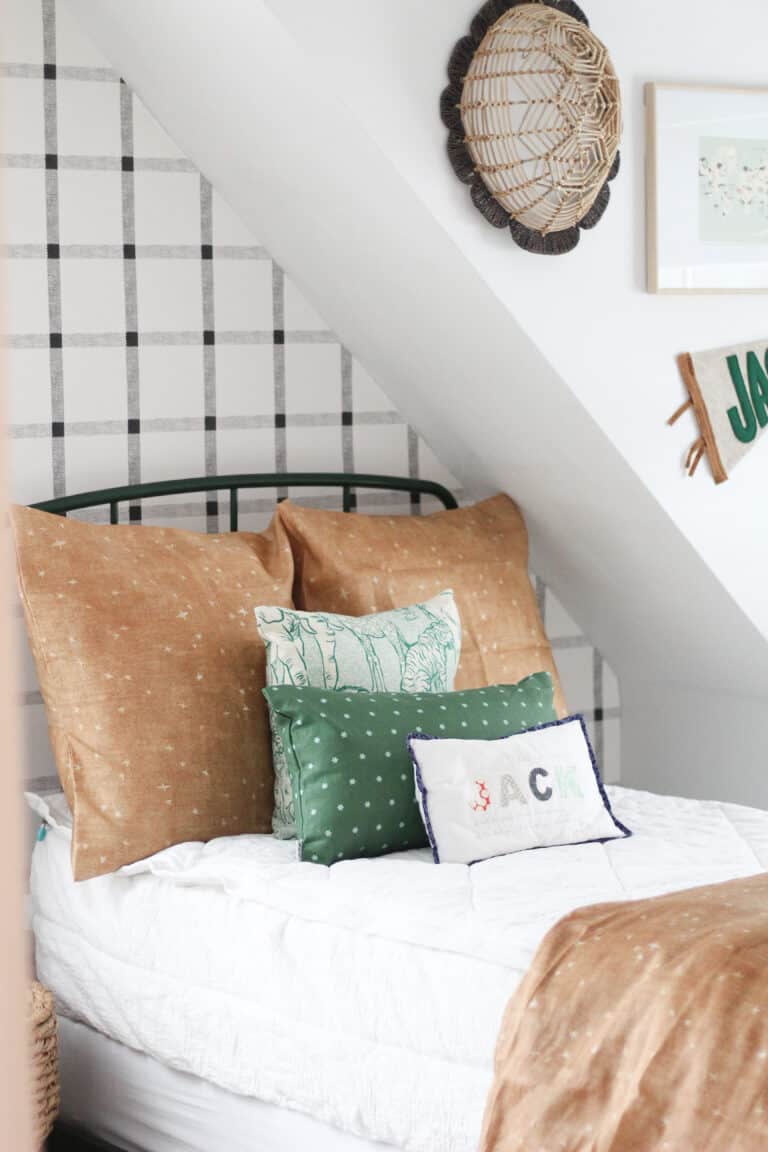 That said – one thing I noticed when pulling it down was that a tiny fleck of paint came with it, just in that short time. Nothing major at all, and it didn't seem like it would damage the walls at all, but might not be as damage free as the water activated.
I have shared this before, but with water activated you can take down a full wall with no damage in less than 5 minutes.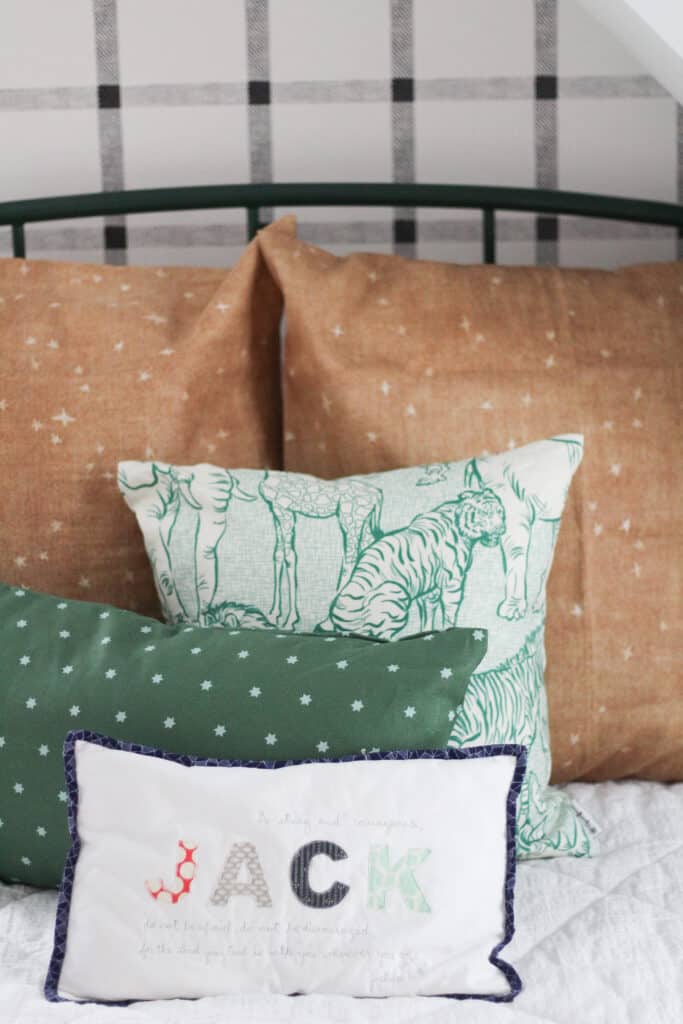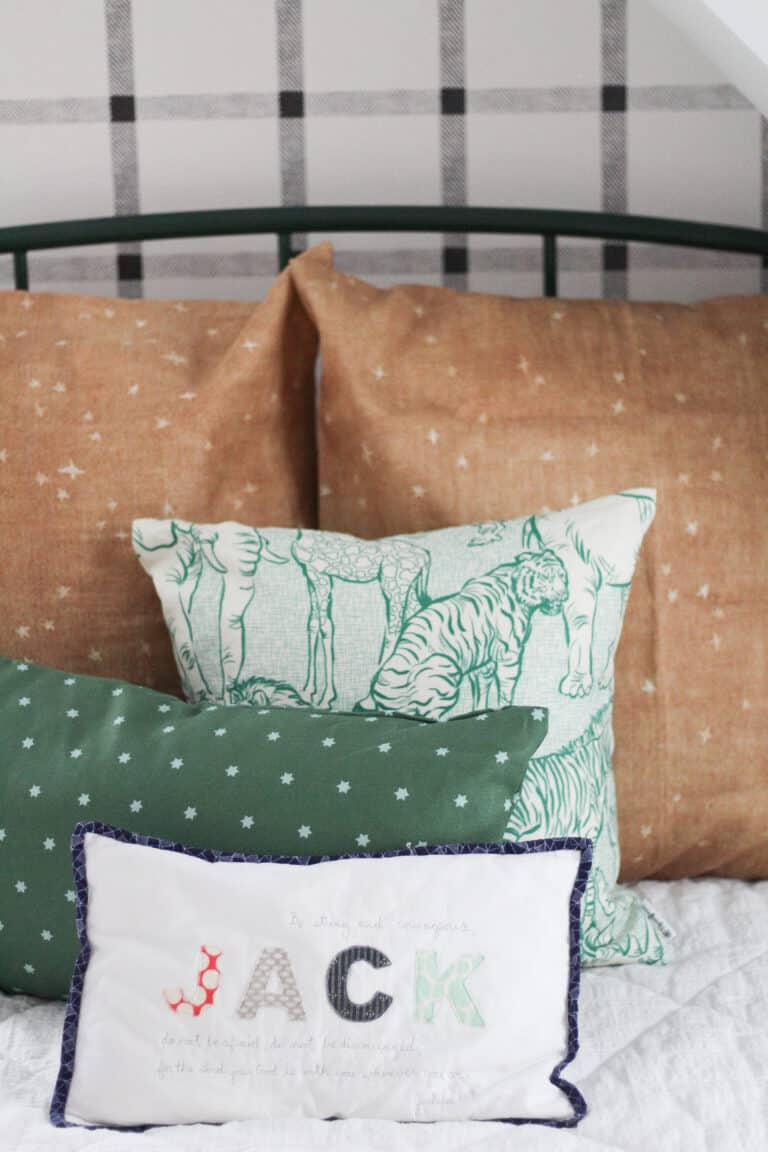 Decorating Jack's Room with Black and White Wallpaper
Okay so the wallpaper may steal the show, but there are so many other gorgeous aspects to Jack's room that I can't wait to share. Like I said I was going for a subtle animal theme, but also had goals for keeping it clean and organized.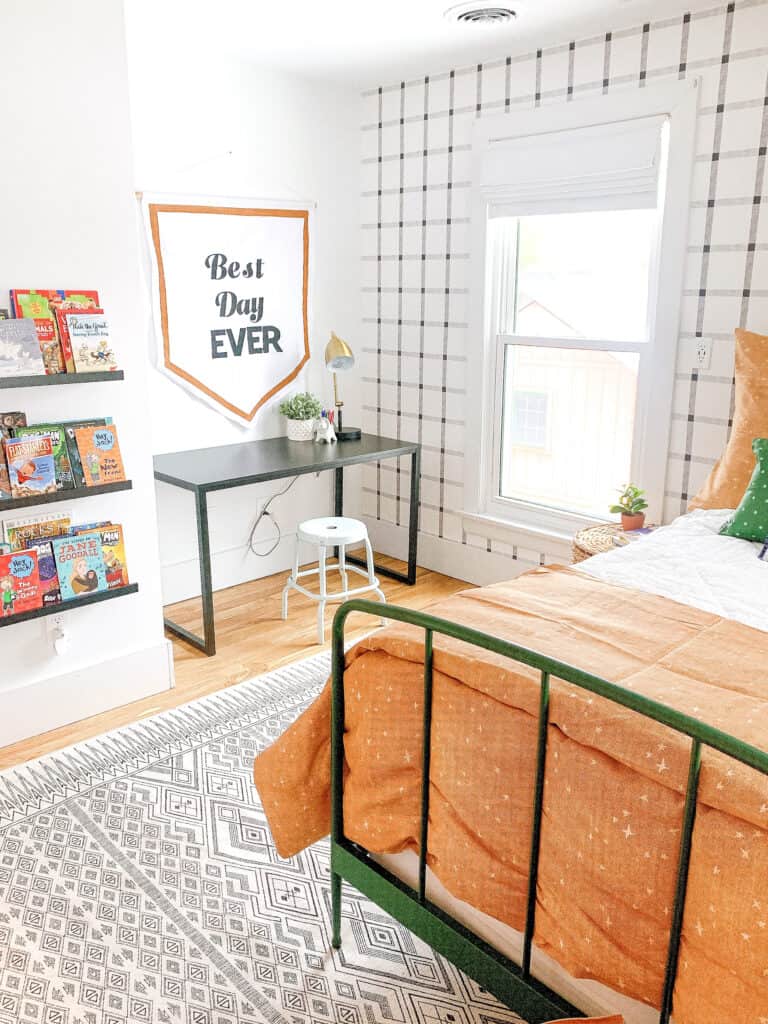 Furniture
Jack's bed is actually super old (see it here) and was red, but his favorite color is green so we decided to paint it green. His dresser is from IKEA and for once I left it alone. I loved the color with the leather pulls.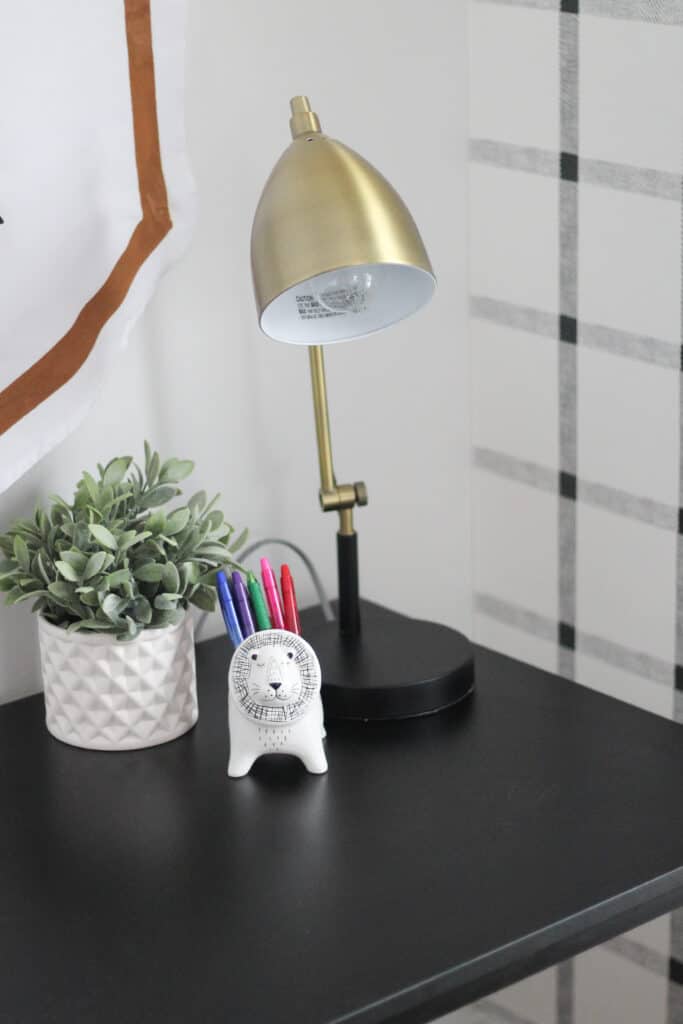 I also added a desk to Jack's room. He loves to draw and play legos so this has been such a big hit for him. We had a stool that was in his room here and we painted that this gorgeous light blue. It added a fun pop of color to that portion of the room.
Dresser | Desk | Stool | Bed (similar)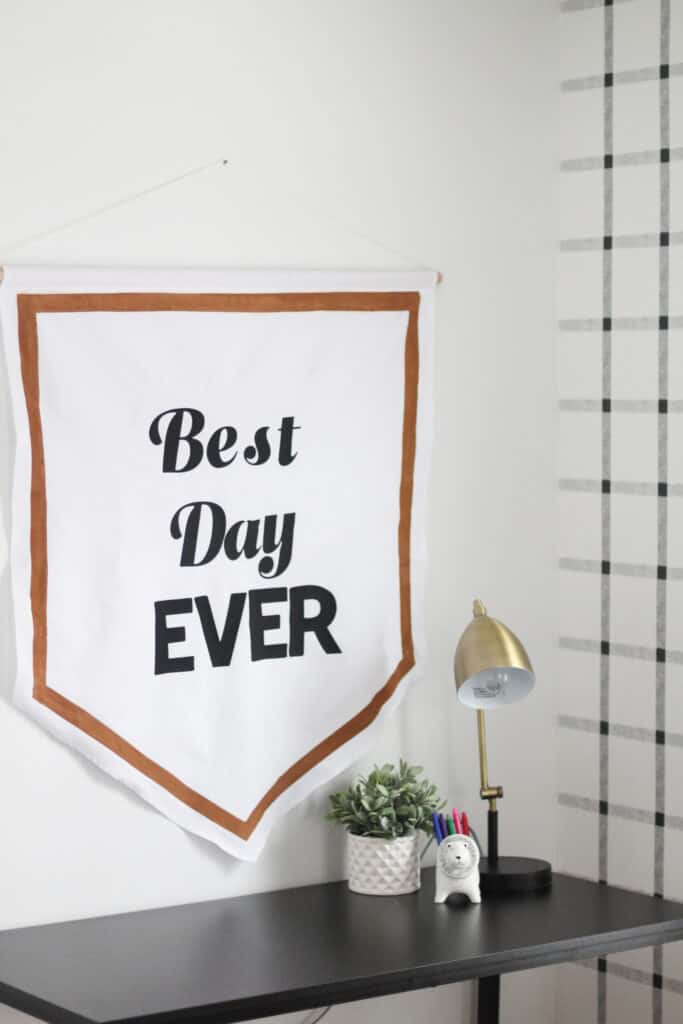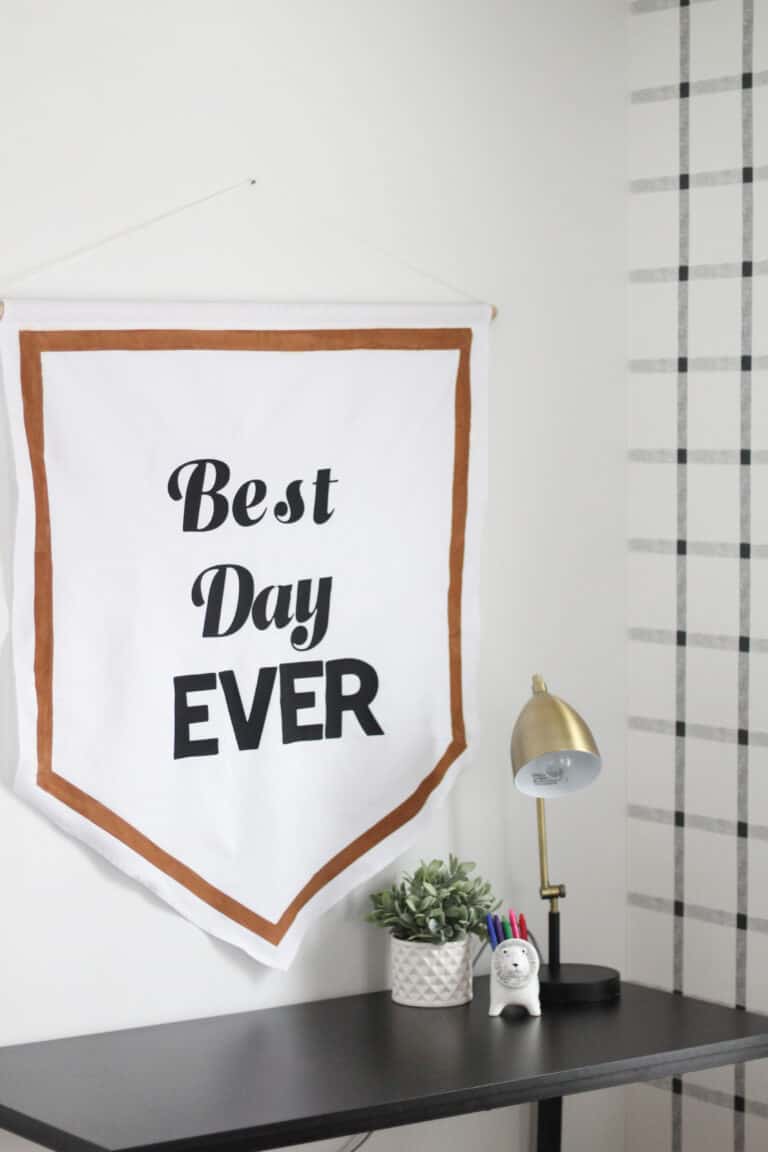 Bedding
Did you know that Spoonflower also does bedding? This is the second time I have incorporated their gorgeous fabrics into perfectly coordinating bedding to match the wallpaper.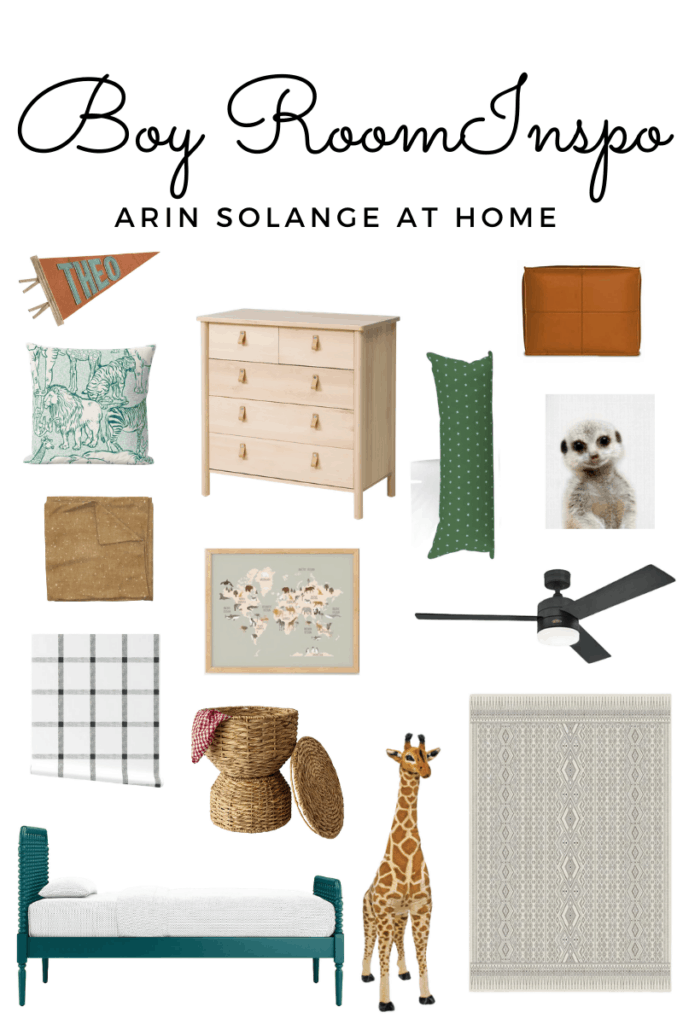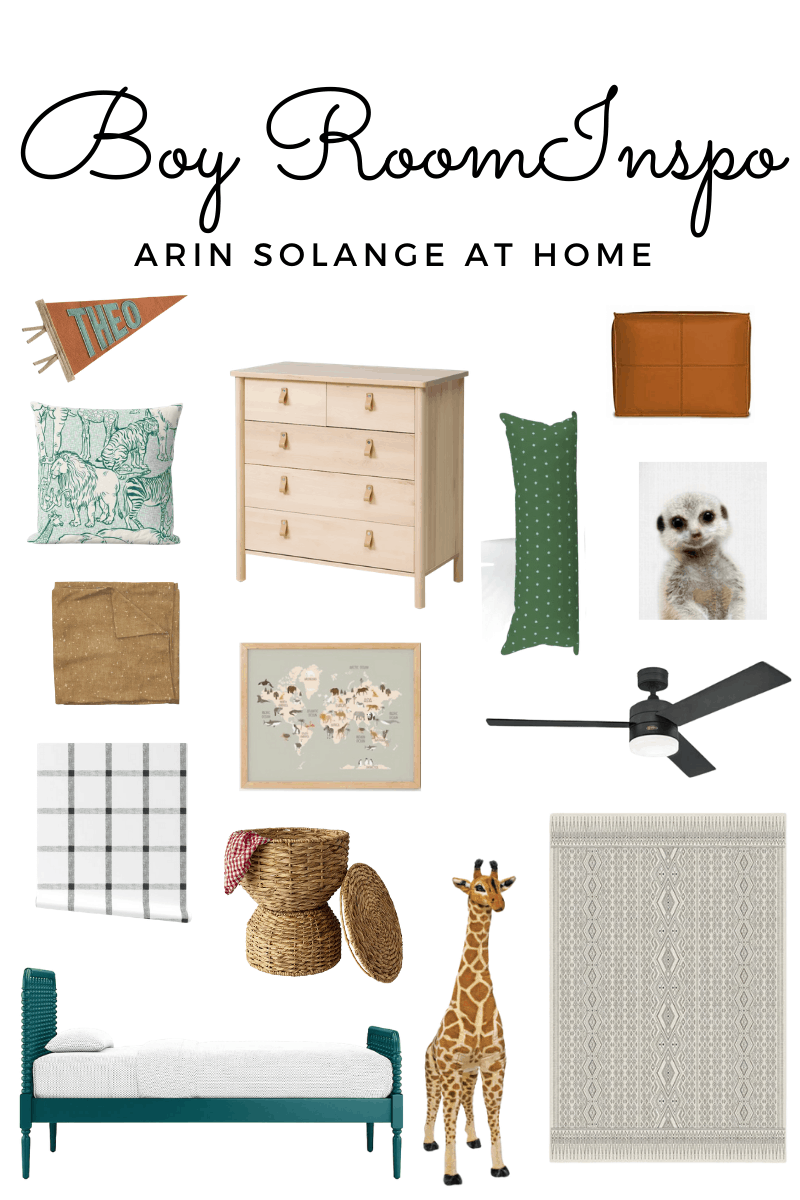 Since I went with the black and white wallpaper I knew I wanted to add color and pattern with the bedding. The choices ended up being perfect for his space. The duvet cover and all pillows are from Spoonflower and linked below. I went with Beligan Linen fabric for the throw pillows.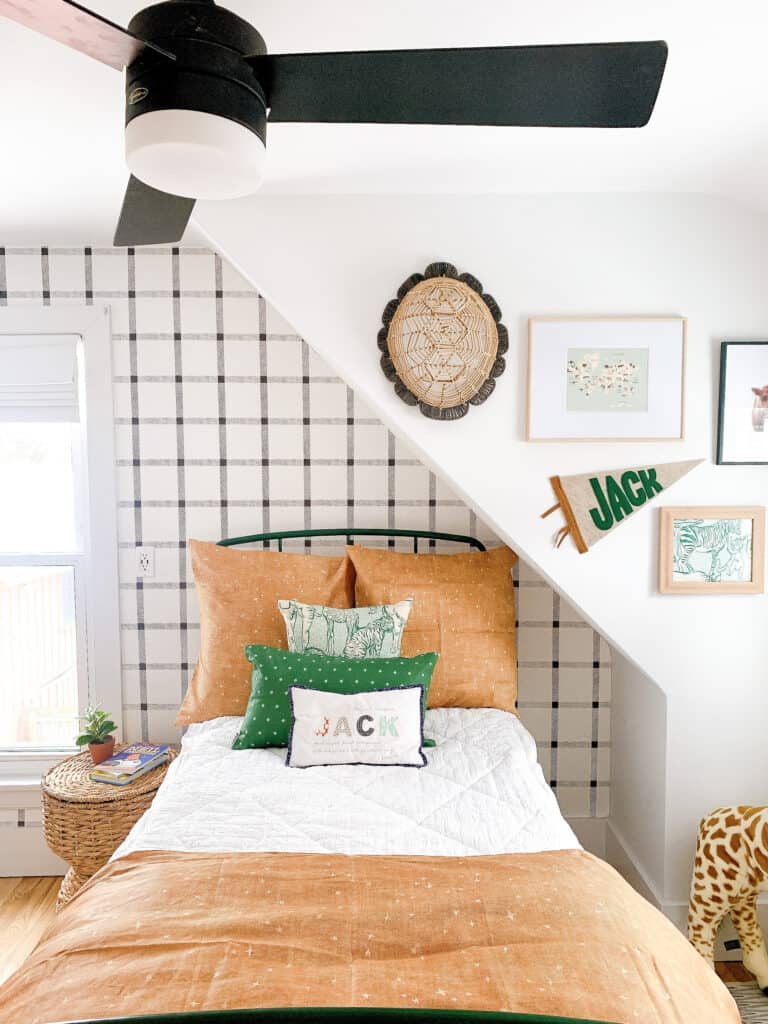 I also used Beddys Bedding in his room as well. I started using their bedding a few years ago and have never gone back because of how clean it keep the room looking. If you are interested in learning more about Beddys and deciding if that is a good choice for your room check out this blog post.
I prefer to add the layered look of a duvet with the Beddys bedding so the folded Duvet at the foot of Jack's bed is perfect. You can see how I did the same thing here with a white quilt, and a Spoonflower Duvet.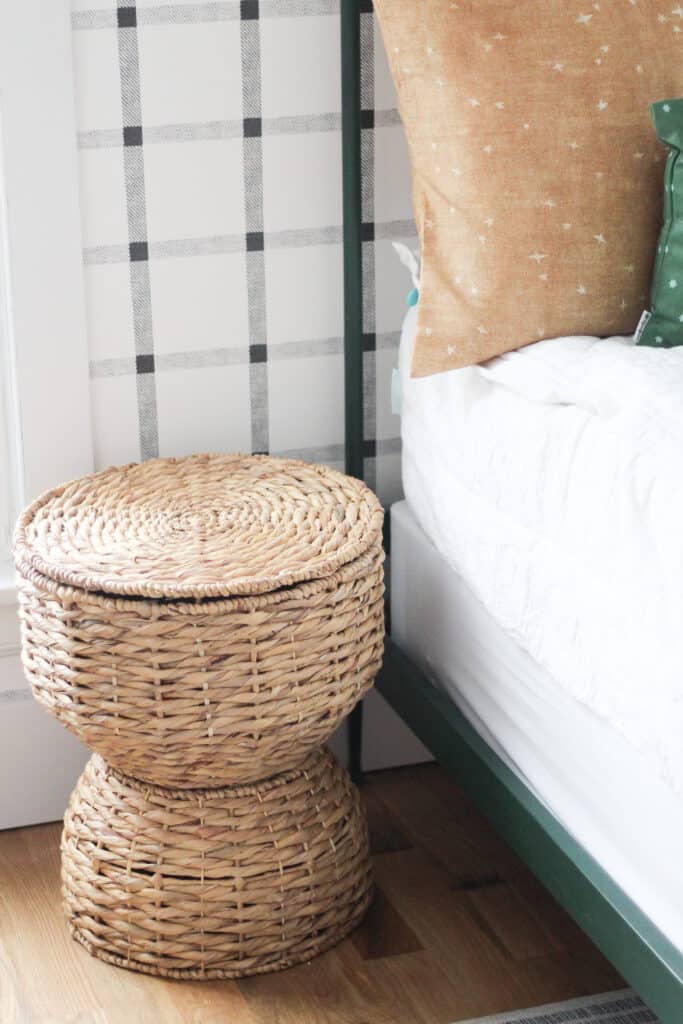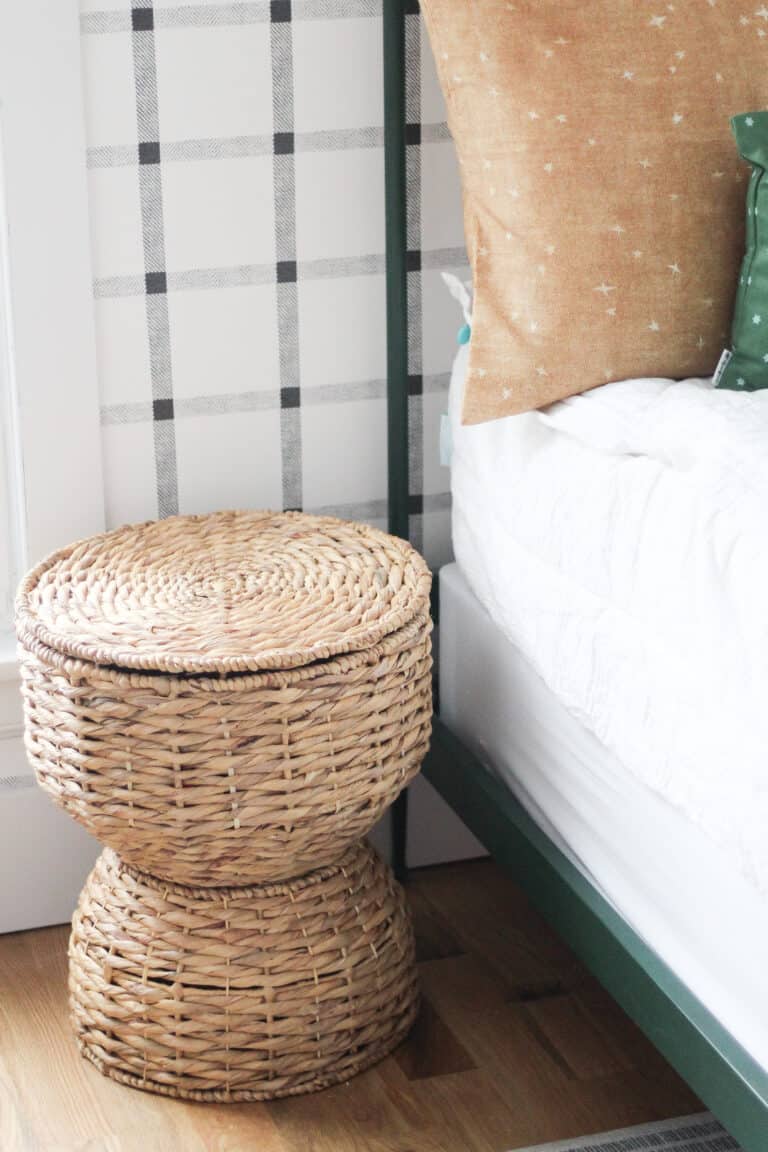 White Bedding | Tight bed skirt option | Duvet Cover | Duvet Insert | Euro Shams | Star Pillow | Animal Pillow | (I am almost always asked about the name pillows in their rooms too and they are unfortunately no longer sold)
Room Decor Details to Match Black and White Wallpaper
The rest of the details in Jack's room were subtle and simple. Like I said before – being a little boy he always has a mess so I tried to make his room as clean and simple as I could.
For the prints I grabbed a few off Etsy, as well as using some older prints and even framed a piece of the peel and stick animal wallpaper.
The large sign over his desk was a simple DIY using paint and a large canvas. The pennant added a bit of classic old school style which I LOVE.
His rug was also a very thought out choice. We went with a ruggable for something we could clean.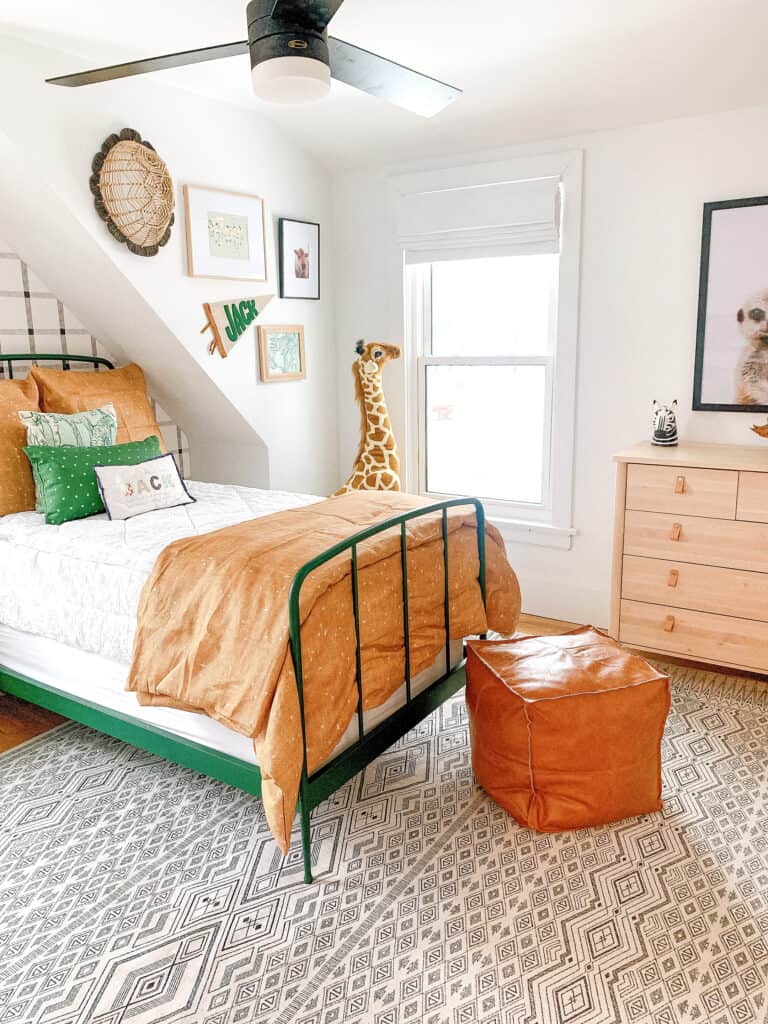 Creative Storage
I also used some creative ways to add storage with the details in his room. His little end table opens up so he can keep chargers and things he wants close to his bed.
The pouf also serves as some pretty substantial storage. The storage pouf unzips to store stuffed animals and blankets!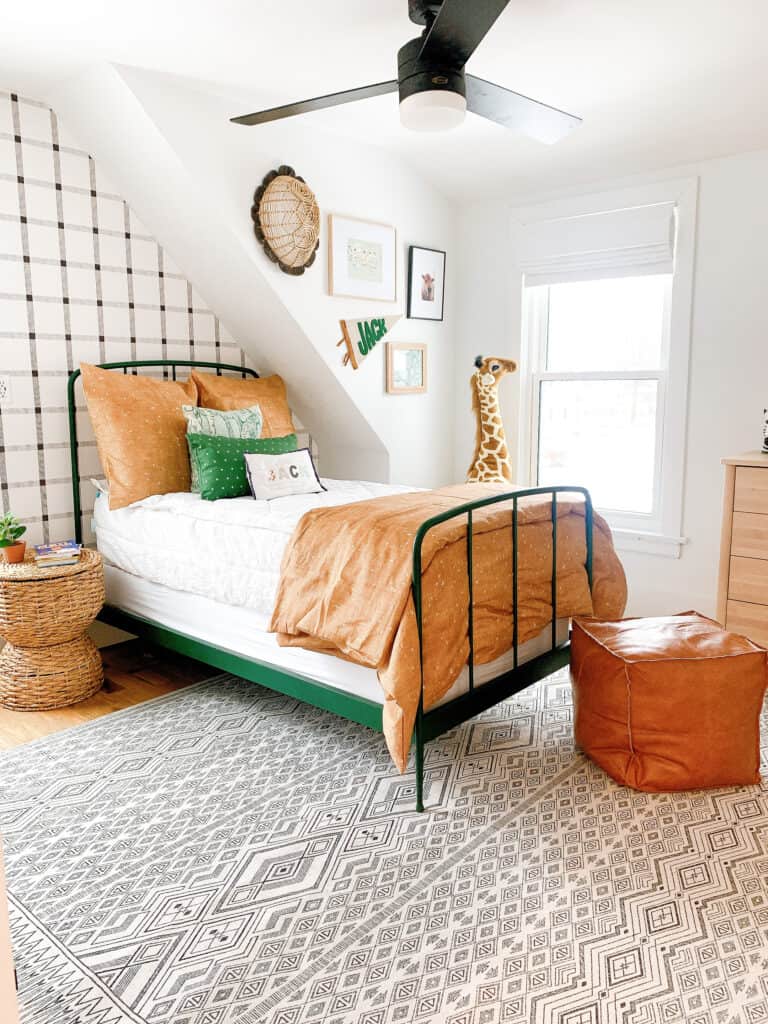 Pouf | Night stand | Window Treatments | Washable Rug | Pennant | Large natural frame | small black frame | Large Frame | Meercat print | Large banner | Map print | Book Ledges | Gold lamp | Giraffe | Fan
Together all the details in this room really pulled together to make a gorgeous, simple, clean, and organized room that I know Jack will love for years to come.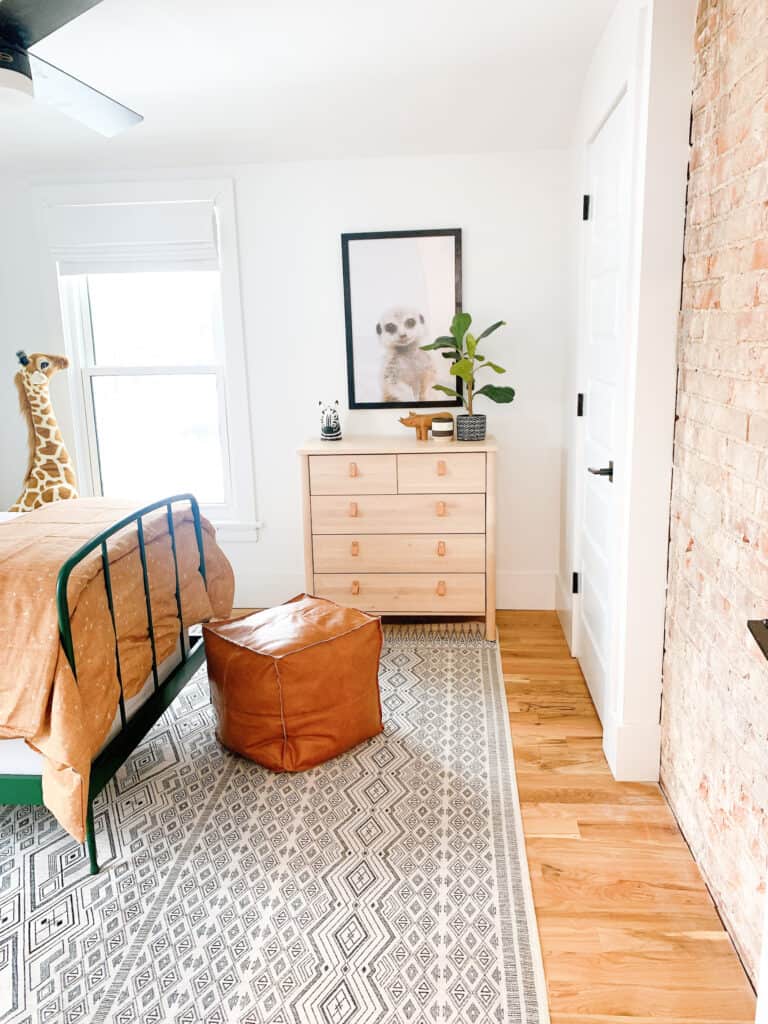 Other Posts You'll Love
If this room was inspiring to you, be sure to check out these other great posts below!
Light Blue Bedroom | Ceiling Fans for Bedrooms | How to Hang Spoonflower Wallpaper | Boys Wallpaper Inspiration | Shared Boys Room | Boys Room Amazon Finds | Jenny Lind Bed Review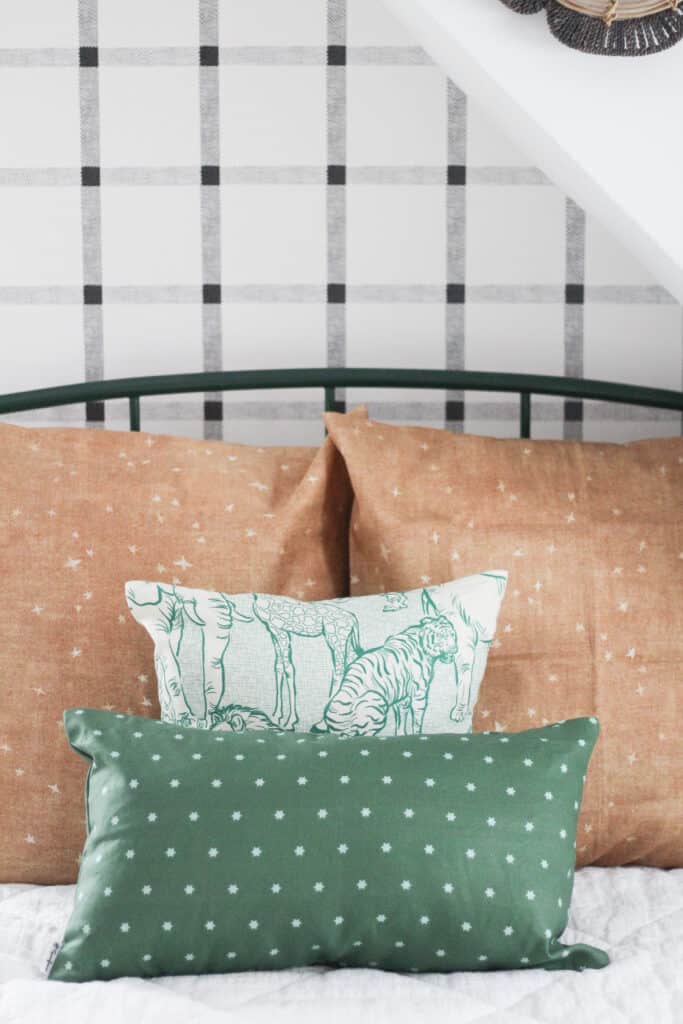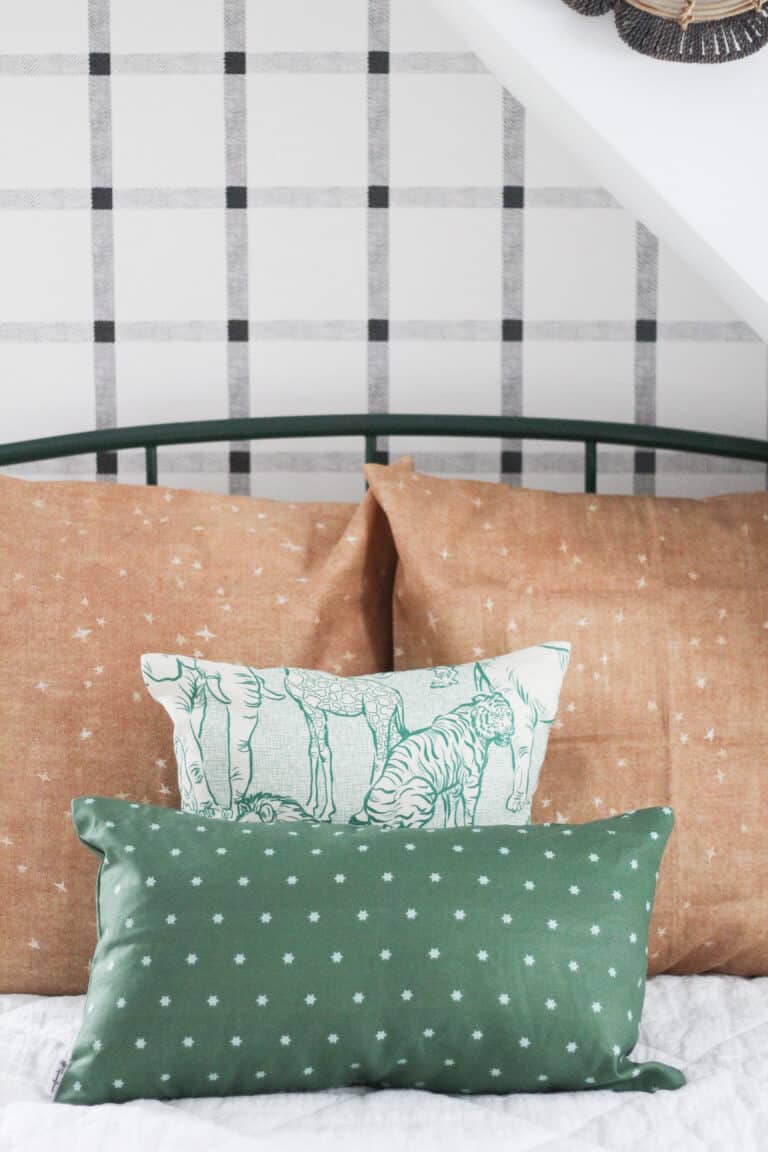 Pin the Photo Below for Later
Hopefully this helped inspire you to see how versatile black and white wallpaper is and you feel ready to head to Spoonflower and get your own gorgeous option. Be sure to pin the photo below for later, and leave any questions you have in the comments. If you don't already follow me on Instagram (@arinsolange) be sure to give me a follow to see more fun and inspiration.