This past weekend I had my girlfriends over for a Valentine's Day Party, or rather a Galentine's Day Party. It was so much fun to celebrate our friendship and spend a morning together. I wanted to share with you guys the little details to the party and decor in this post.
This post may contains affiliate links – original post/party done in Feb 2018 – updated in Feb 2021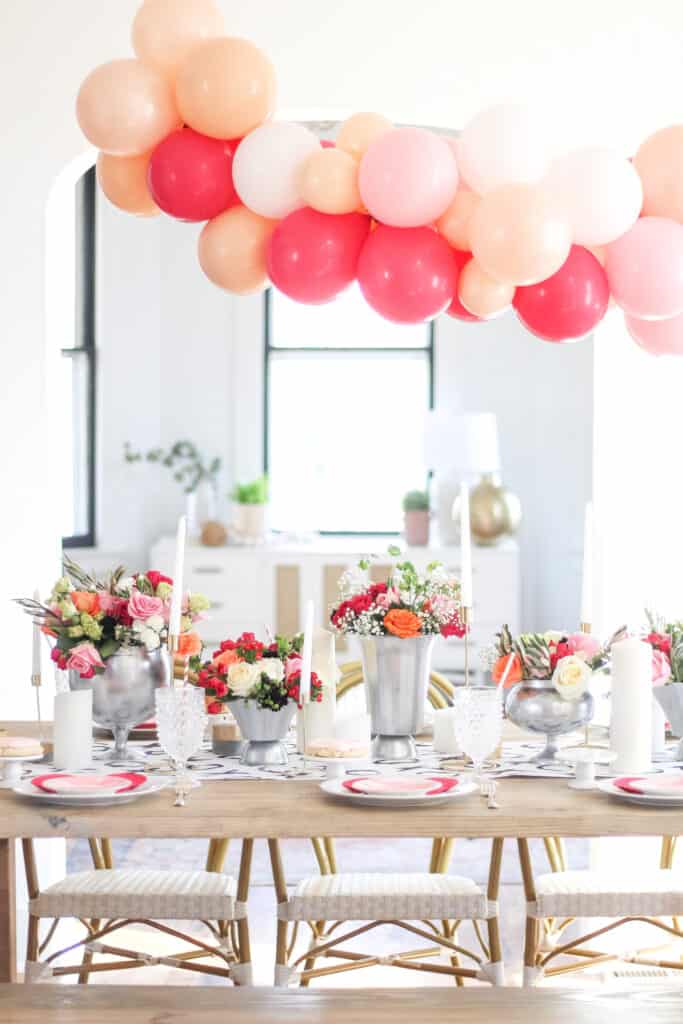 Valentine's Day Party
This Valentine's Day decor and table runner has now served as the perfect tablescape for both a Galentine day party and a family Valentines day table decor to enjoy with my husband and kids.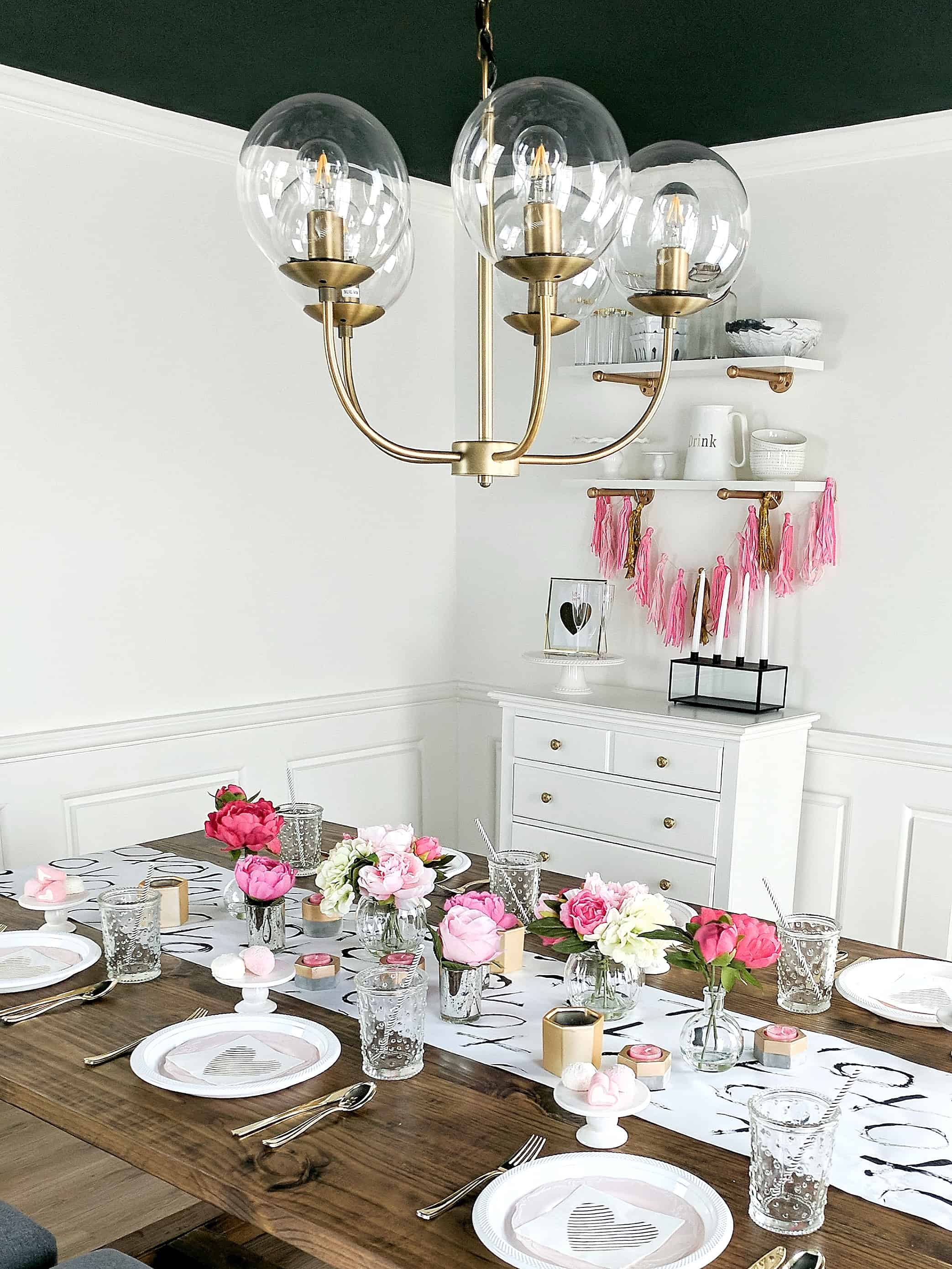 I tacked affordable ways to create a space I loved both times, but I will both walk you though those things in this post, as well as in the video in this post.
The decor was simple, but I will link what I can below, and please feel free to comment or email me with questions regarding what isn't linked (likely due to it being a home goods or Dollar Section find!).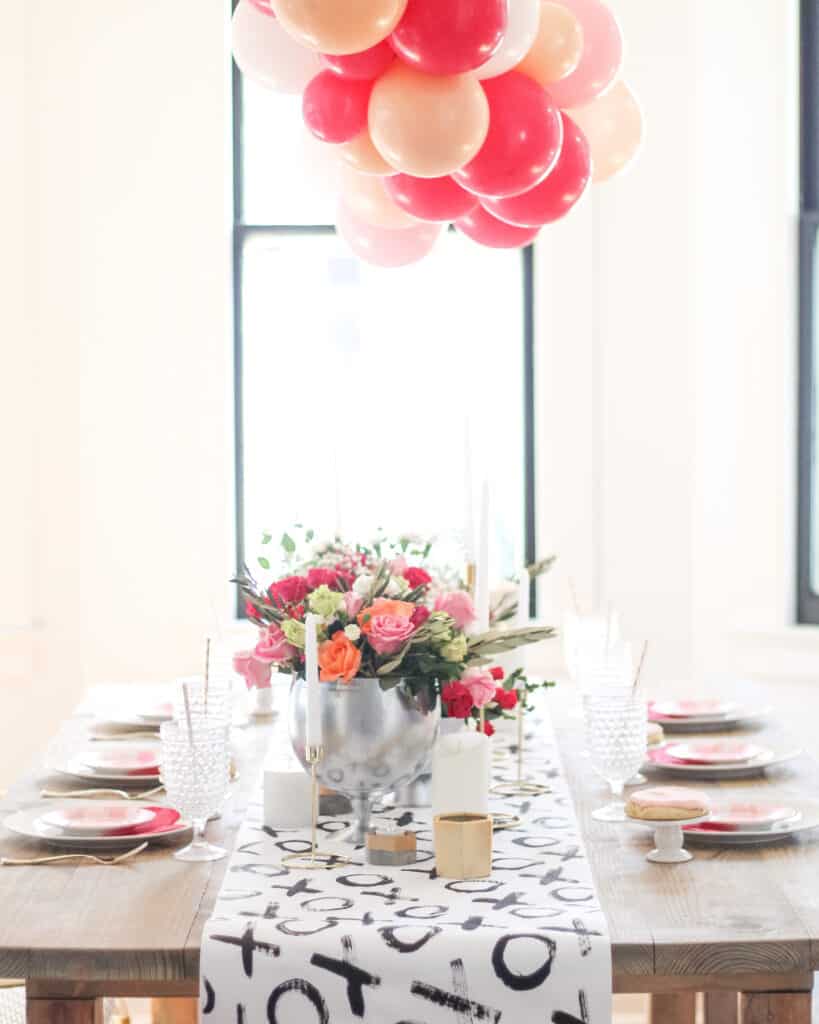 Valentines Day Table Runner
The table runner was a quick easy DIY – I used a roll of white paper we had on hand and simply painted on an XO design. It was my favorite aspect of the party!!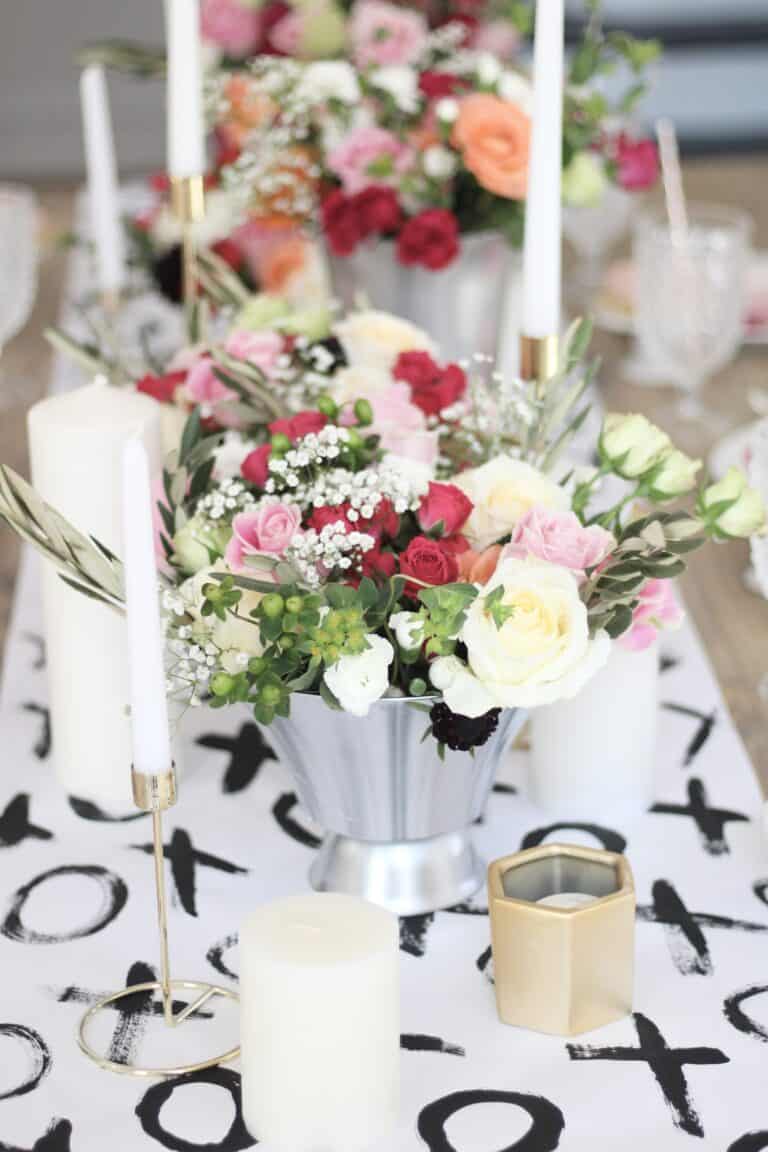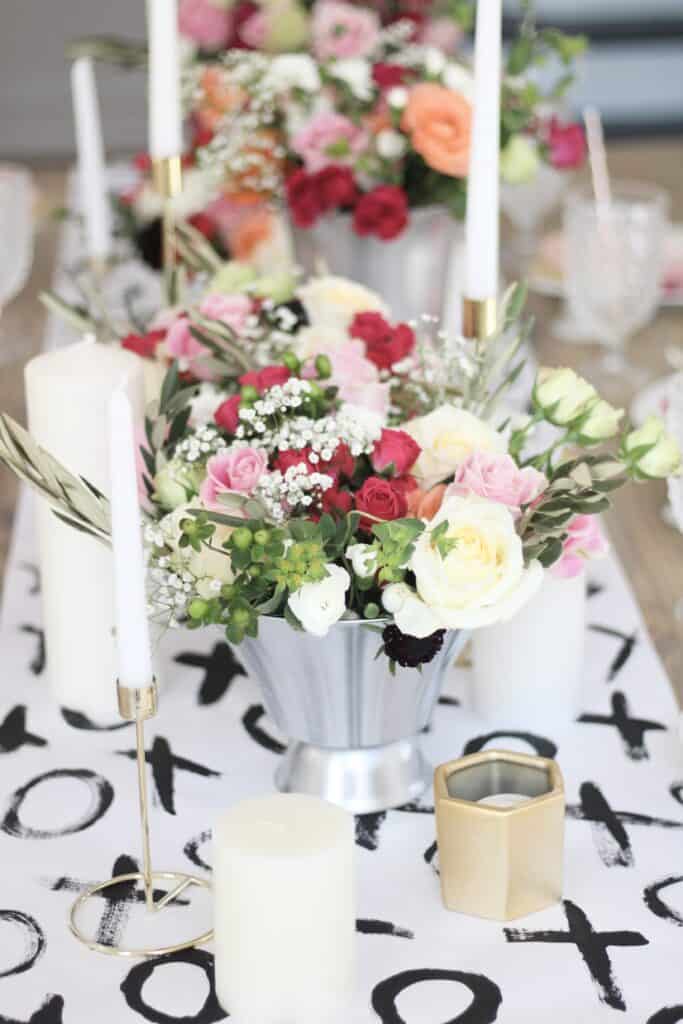 I moved at a diagonal and purposefully let the brush get on the drier side for some of this. Don't worry if you mess up – it is messy and won't be seen!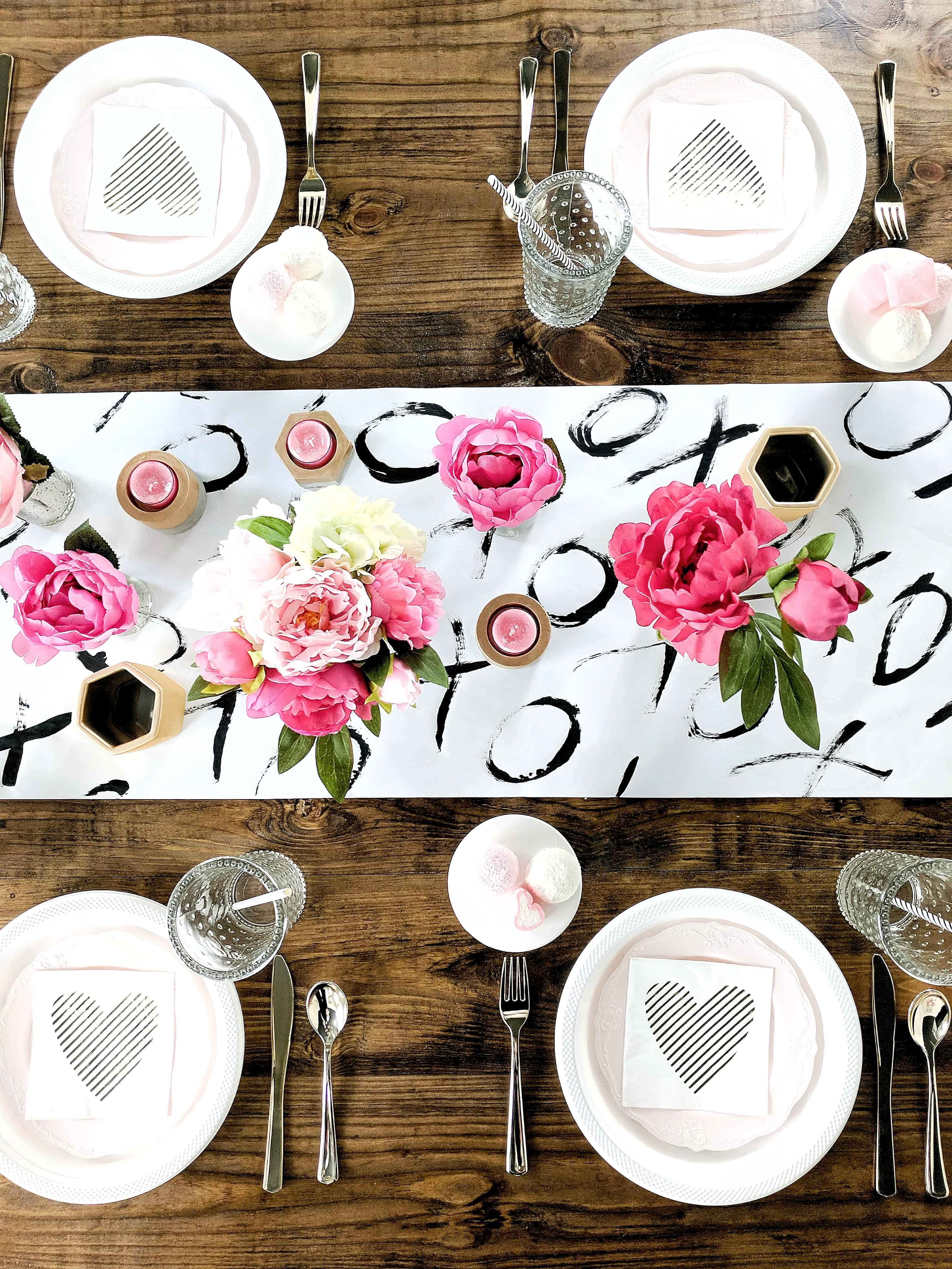 Vases – Cheap Hack
For the second phase of this cute set up – I had a vision for vintage antique silver vases filled with flowers. That was not in the budget, so I got to thinking.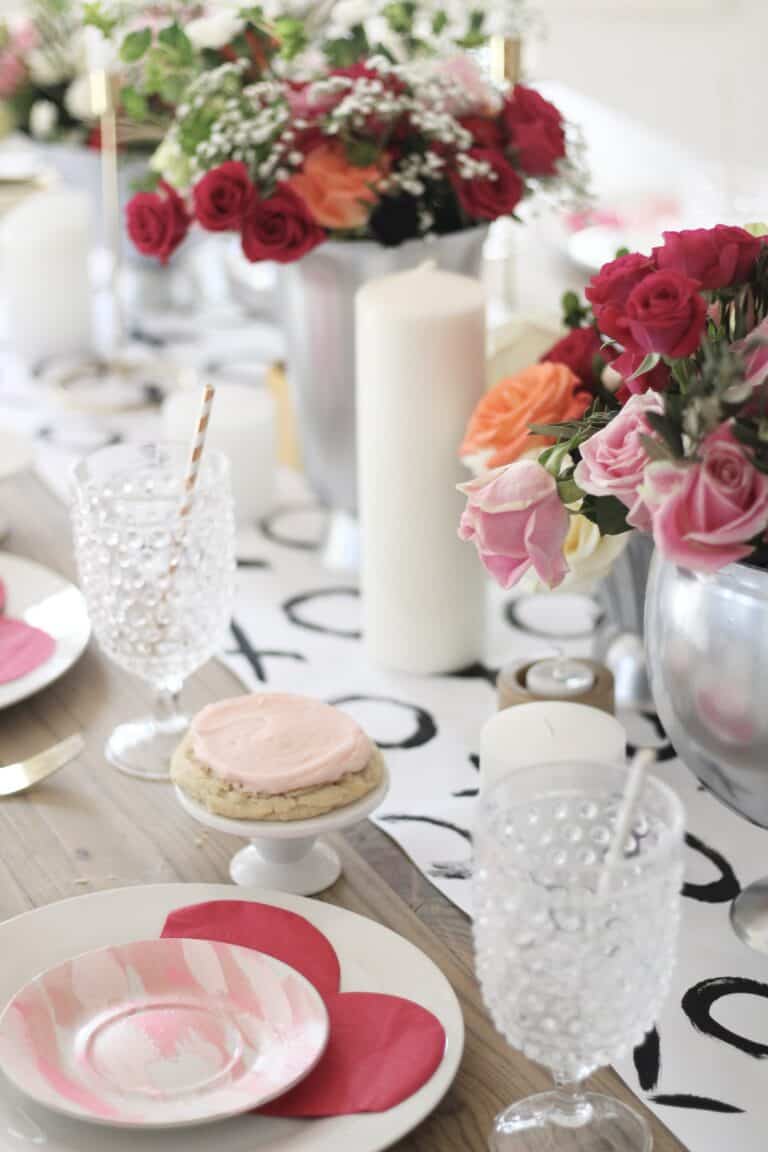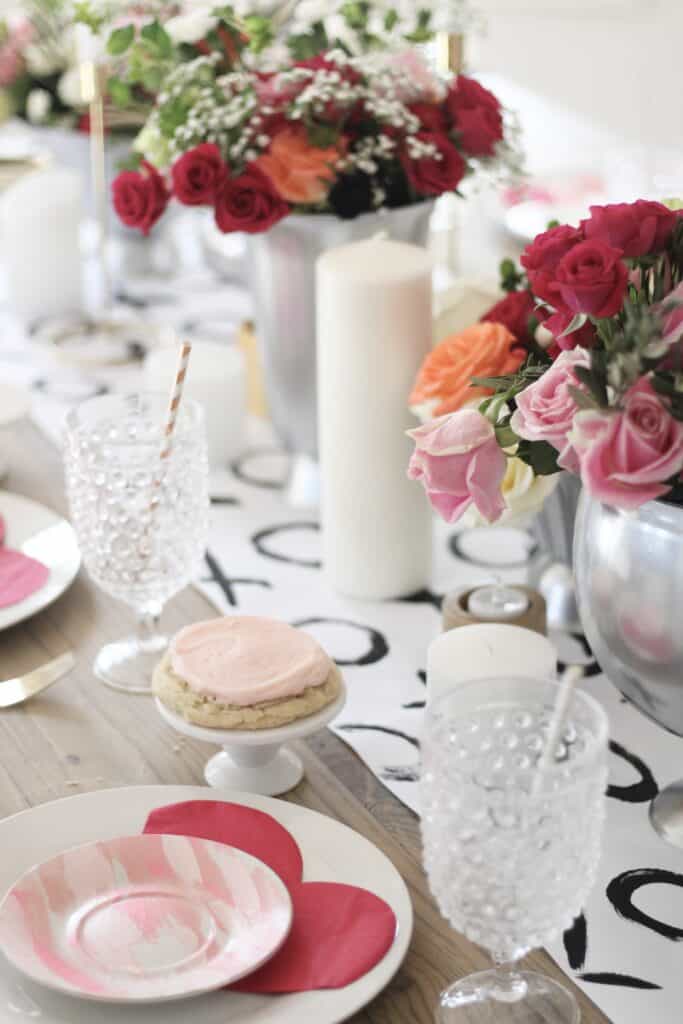 I grabbed some plastic vases/bowls/candy dishes from party city and the dollar store, as well as some small plastic bowls. I used hot glue to add a base to the dishes that didn't have them, then used metallic silver spray paint to paint them silver.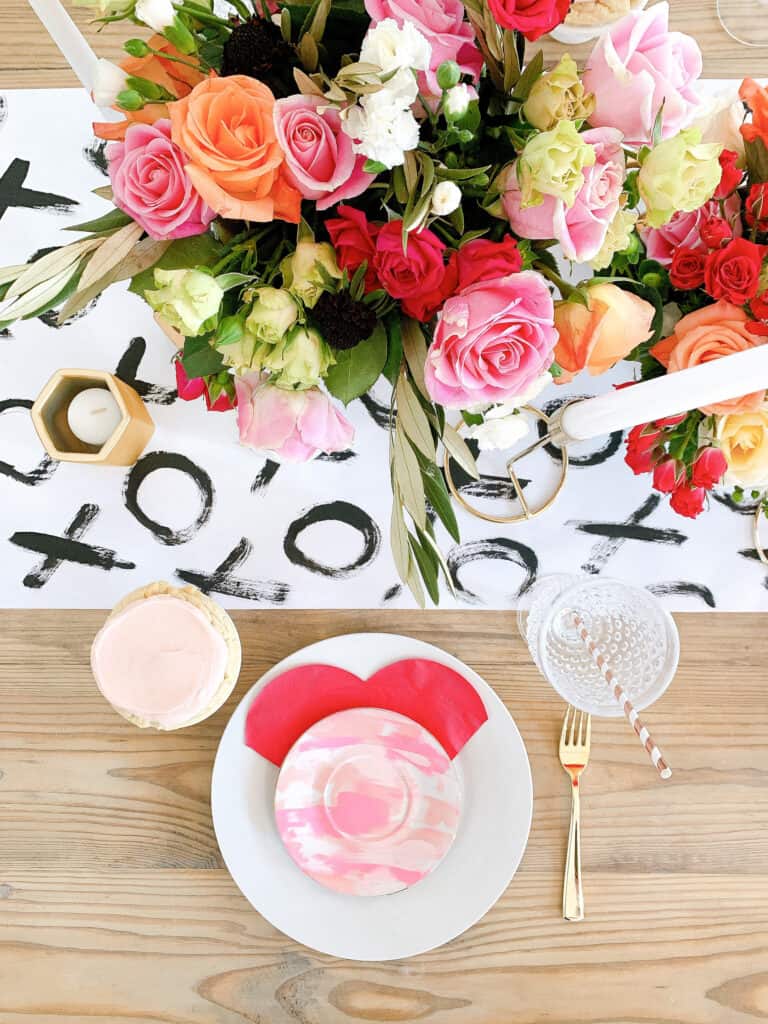 They honestly turned out PERFECT, and would be a great addition to any party or table scape and no one would know the difference.
Plates and Glasses for you Valentines Day Party
I used different plates both times I did this table scape because I was hosting in a different way. The first year I used disposable plates for the party, where the second year it was a table setting I wanted our family to enjoy for a while.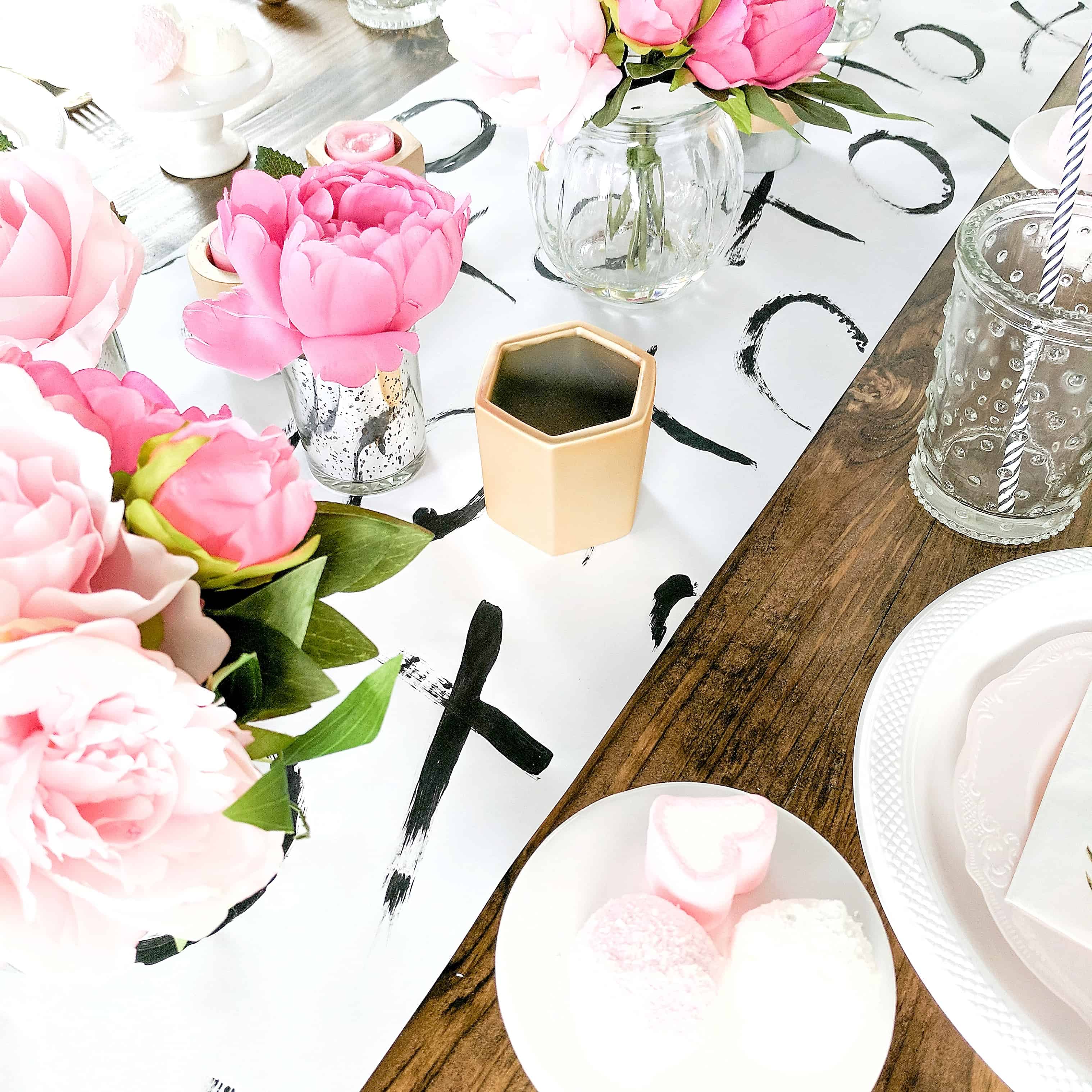 Both times everything involved was VERY inexpensive. I did use craft paint and sealer on the salad plates for the newer table setting which was a fun little change.
Silverware  |  Paper Straws  |  Champagne Glasses – no longer available but these are fun and similar  |  Carafes  | Stemmed Glasses | Bubble glasses (similar)
Decor and Details
For the details to the party each time they differed slightly, however my goal was lots of flowers. The First year I found all of my flowers at At Home, and the second time I opted for real and went with Trader Joes flowers.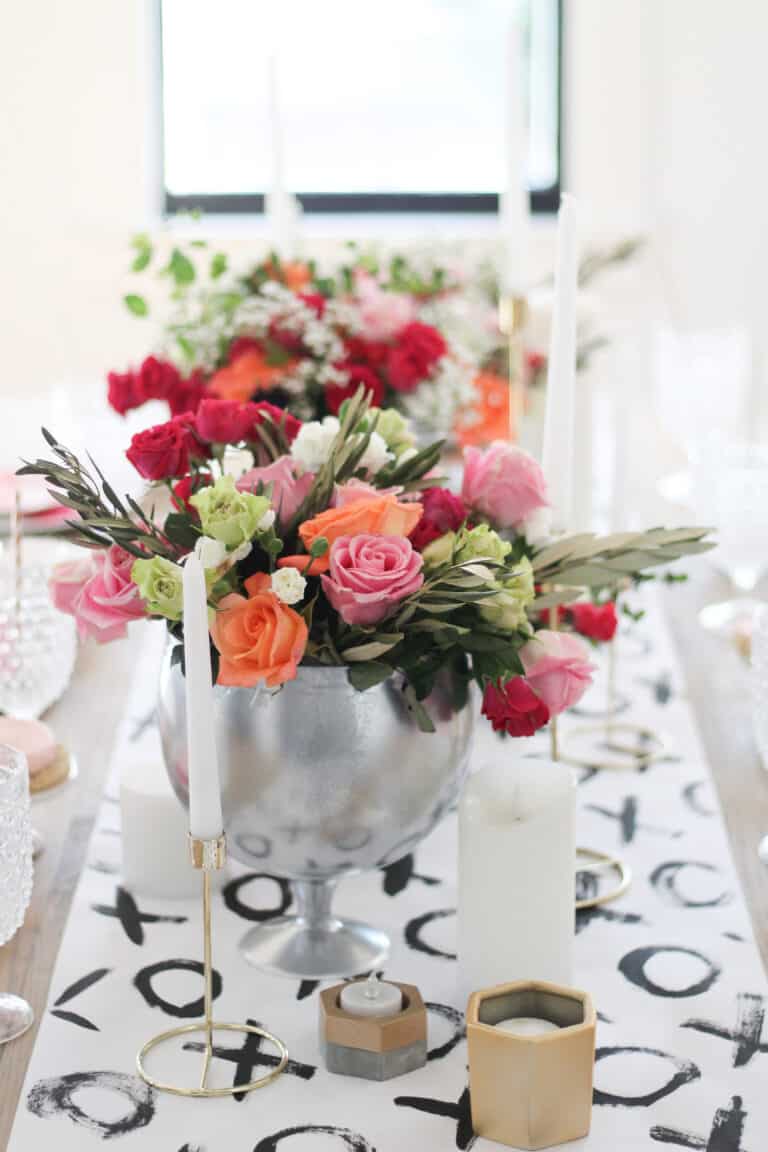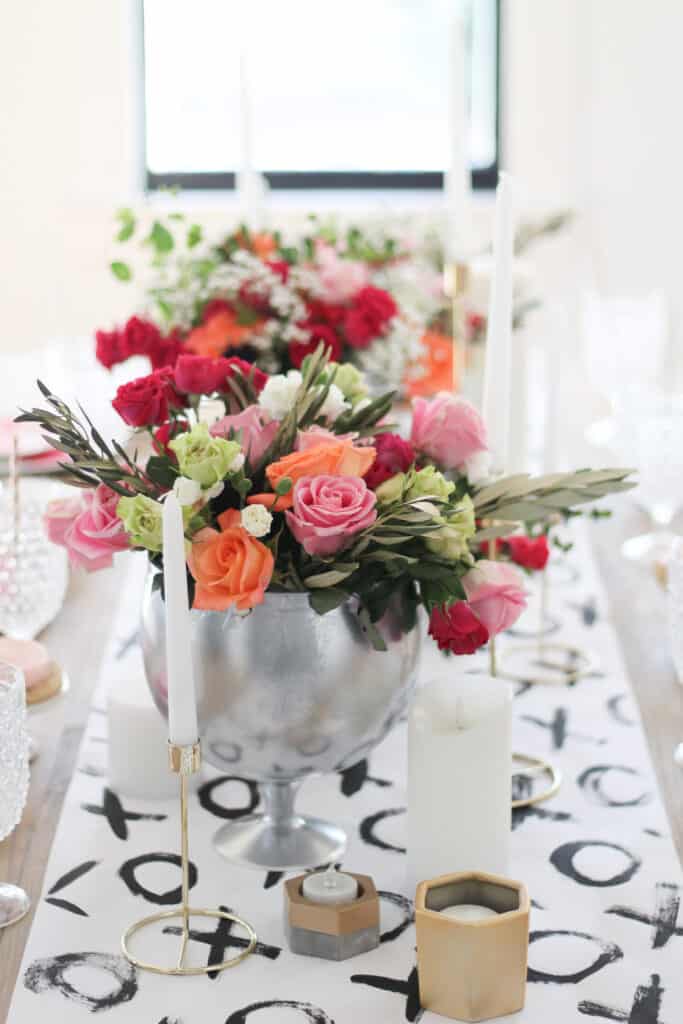 I had a vision of a ceiling full of balloons at first then decided maybe hanging a ballon garland over my table would work. I decided to hang one from Party Hop Shop length wise with the table and it was GORGEOUS.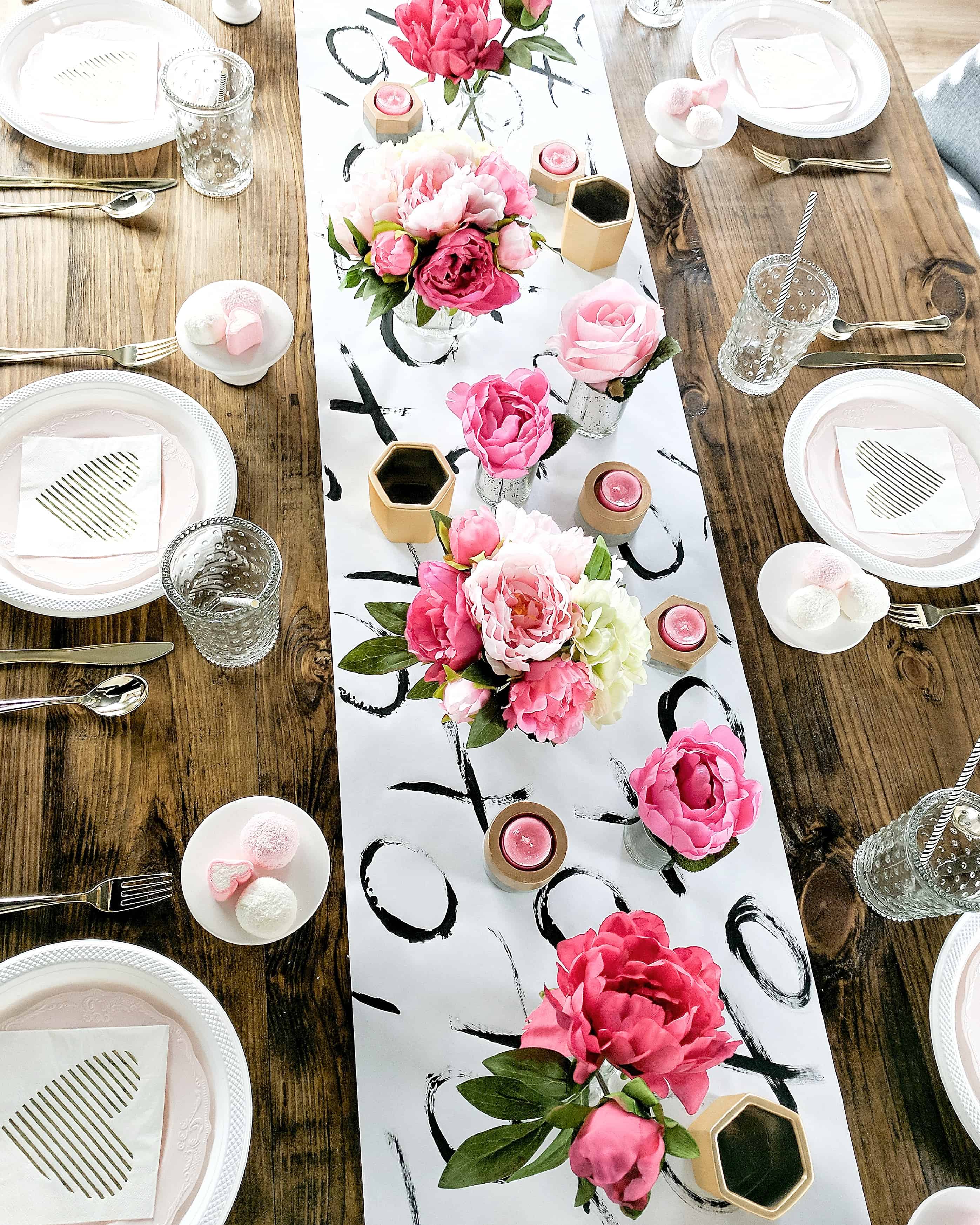 Valentines Day Party Menu
Instead of going all out, I went simple on the menu. I went with donuts, Quiche from Whole Foods, Mini parfait's using this homemade granola recipe that I had already made, and chocolate covered Strawberries. It was the perfect little meal to suit everyone, and took me no time to get together.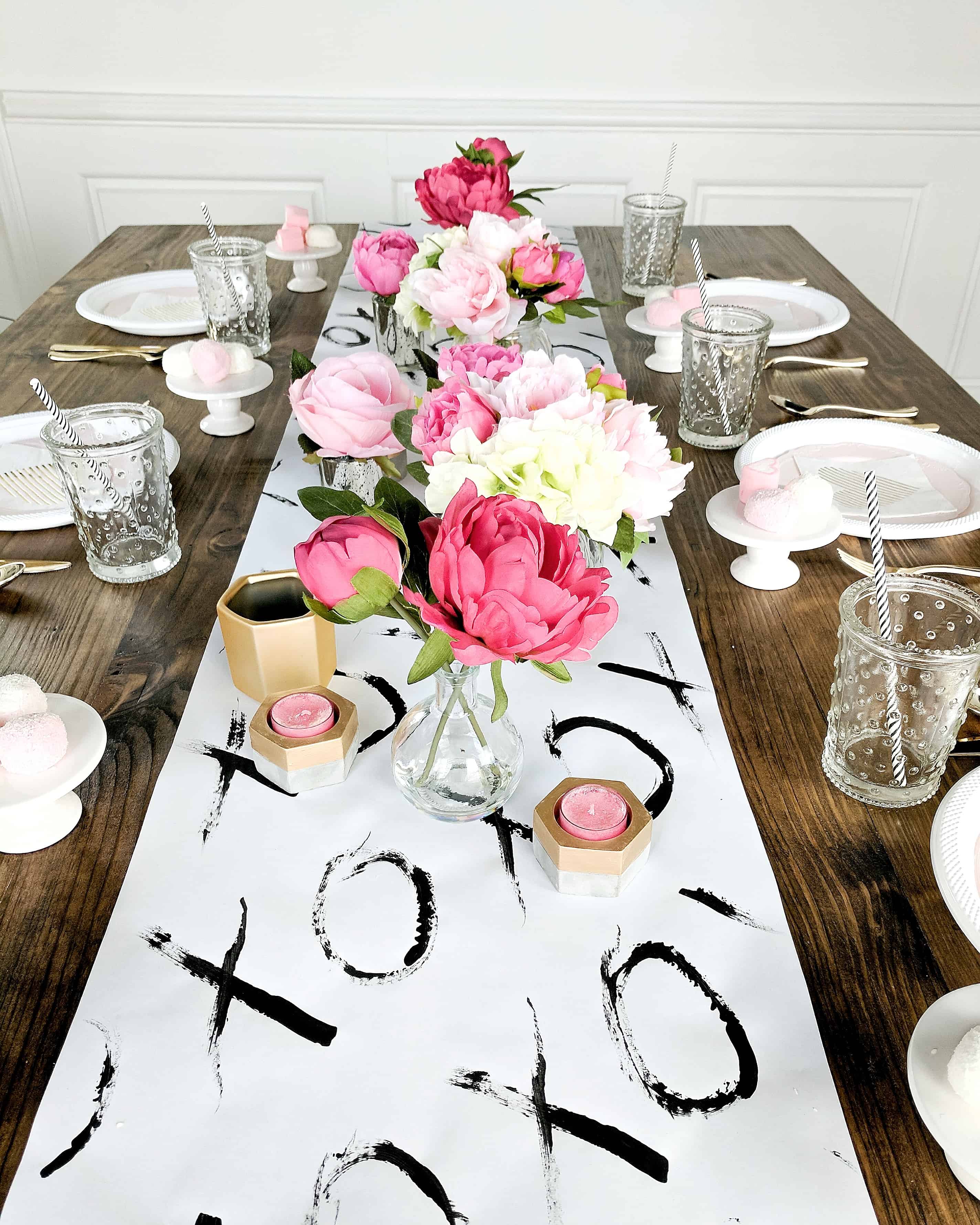 I also served sparkling water an a mimosa bar, because what kind of brunch would it be without that?? – for the mimosa bar there was orange, grapefruit, or cranberry juice, so we all switched it up!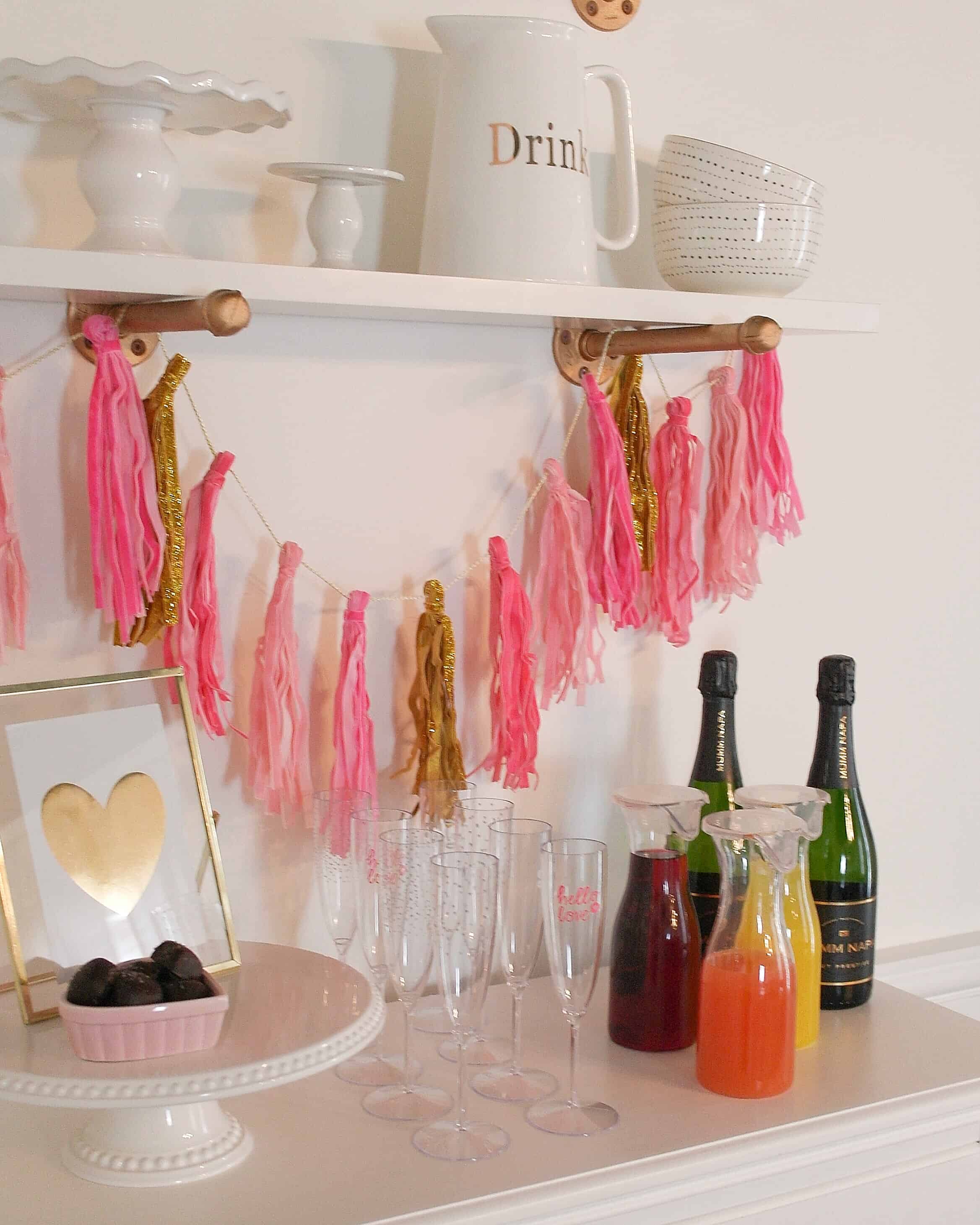 Valentines Day Party Decor
I kept things simple and mostly confined to the dining room, however I did use this tutorial and make a balloon strand to put up on the mantle. I switched out a few of the prints in my frames using these prints, and I called it a day. Sometimes I think simple is better!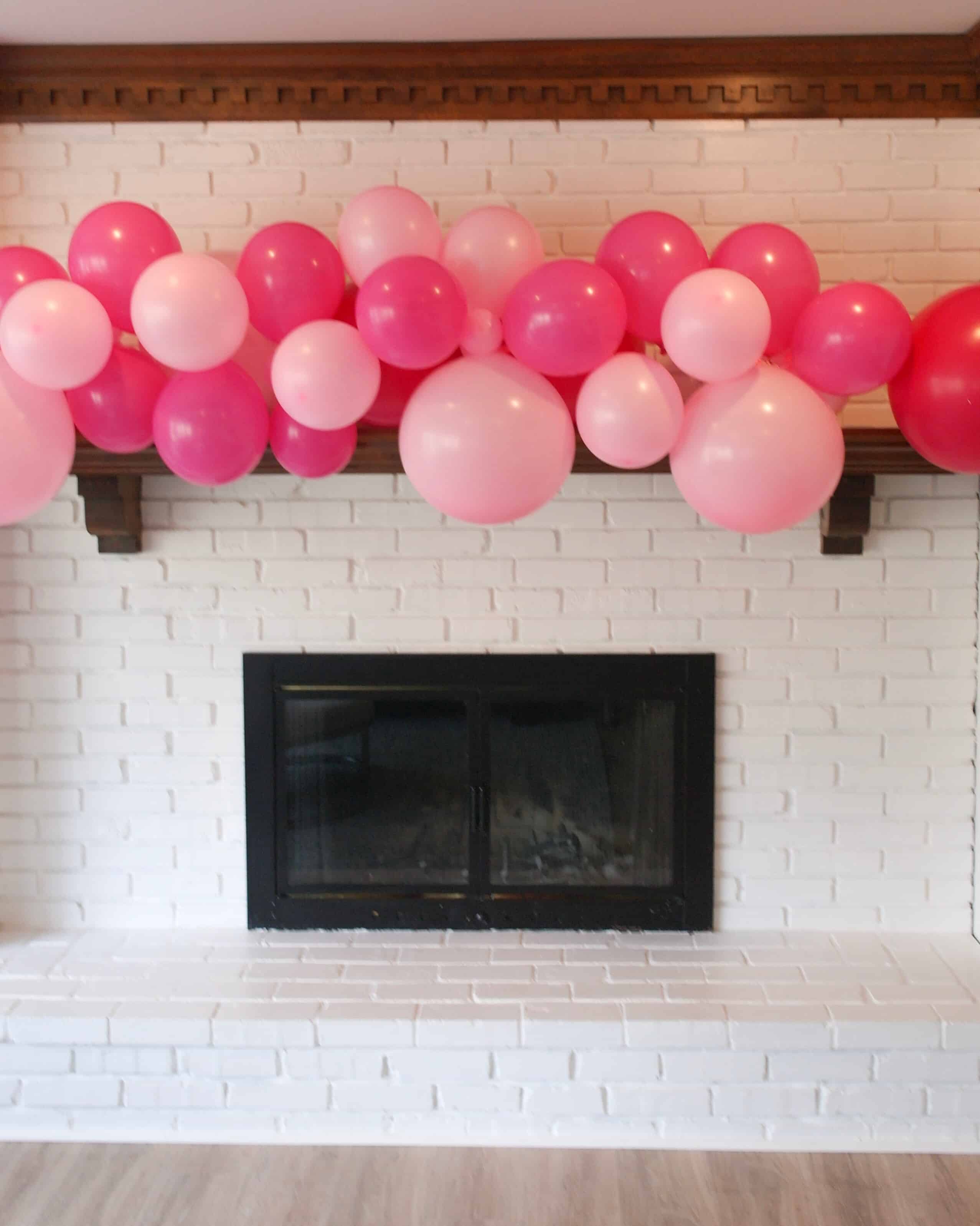 Other Posts You'll Love
DIY Outdoor Table | Free Printable Valentines | Puppy Party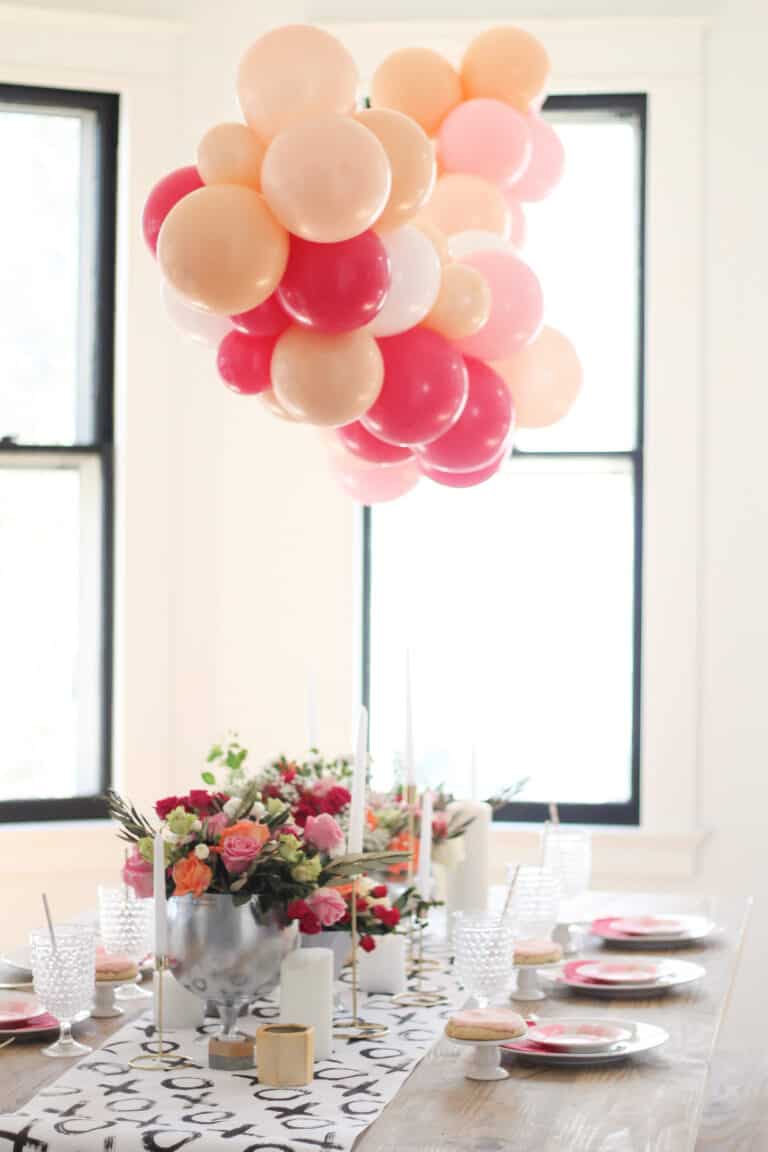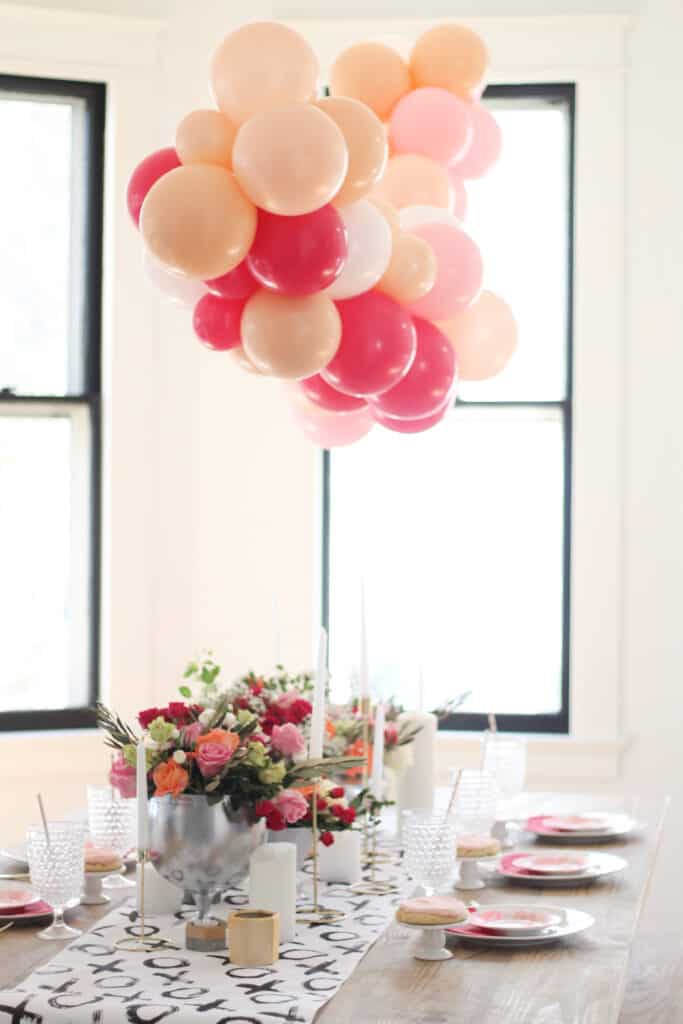 Pin The Photo Below for Later
Hopefully this photo helped you figure out just what you want to do for your Valentines Day party, and you feel inspired to get decorating. Pin the photo below to find this post later, and be sure to leave a comment with any questions, and follow me on Instagram (@arinsolange) for more fun!

SaveSaveSaveSave
SaveSave
SaveSave