Things are heating up in St. Louis and being our first summer in our historic home we are in a mad dash to add ceiling fans to the last of the bedrooms that don't have them. When I am doing these kinds of updates I always assume I am not alone in my looking so I thought I would share the best ceiling fans for bedroom options and what to look for in a fan.
This post may contain affiliate links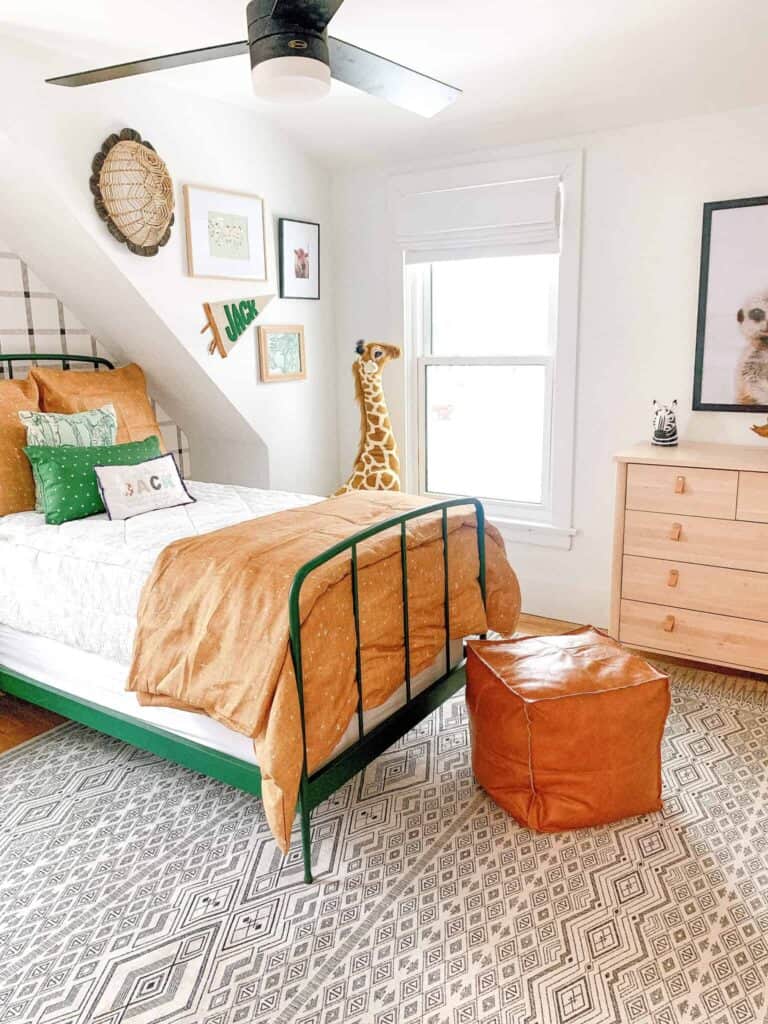 The Best Ceiling Fans For Bedroom Comfort: A Fan For Every Climate
As you know, we are currently renovating a home in St. Louis, MO. Our home is 150 years old and that means that no matter how you cut the cookie it is hard to keep it cool in the hot summer heat. There is nothing worse than trying to fall asleep in what feels like a sauna.
We are hitting 100 degree days already and it has me looking at what I like and don't like about the fans in my own home and adding some to the bedrooms that don't currently have them.
I figured if I am doing the leg work and research I would share them with you all so you can find the best ceiling fans for bedrooms in your home too!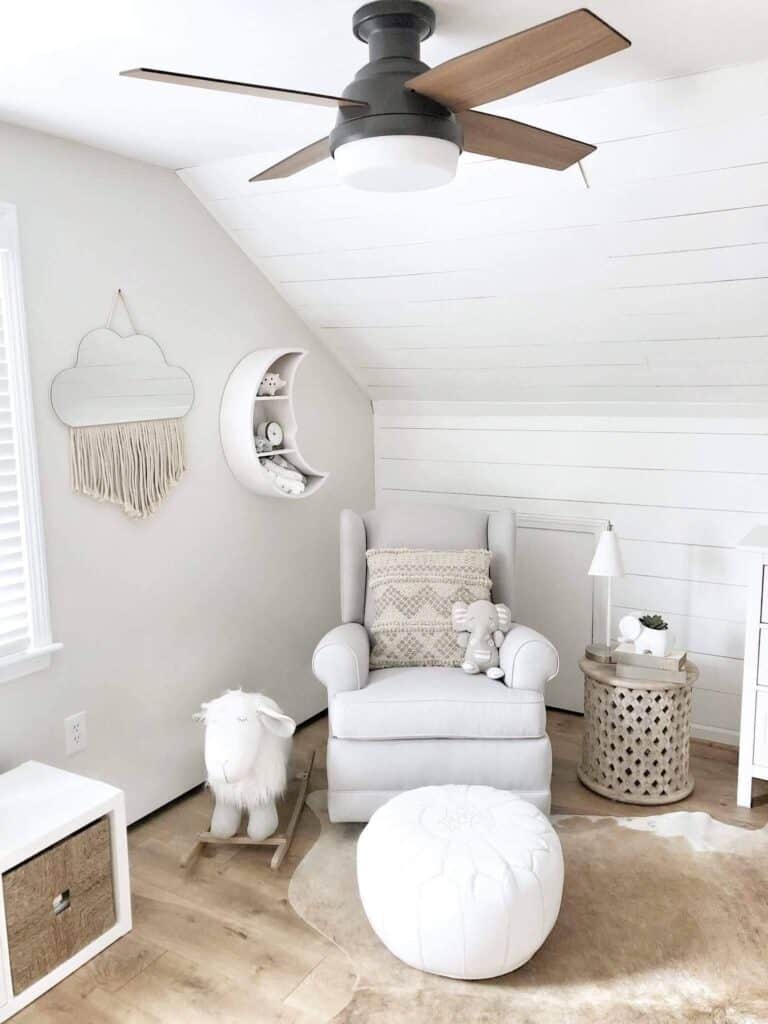 Fashion and Function For Your Bedrooms
If you follow me here on my blog or on Instagram you probably know that fashion and function both have to exist when it comes to all the decisions I make in my home.
I have 4 kids and want life to be fun and easy, but I also LOVE decor and a pretty home, so I work hard to marry those two things. I am a FIRM believer that you don't have to sacrifice a beautiful home as a mom – but you do have to look harder sometimes. And that is where I come in on this post.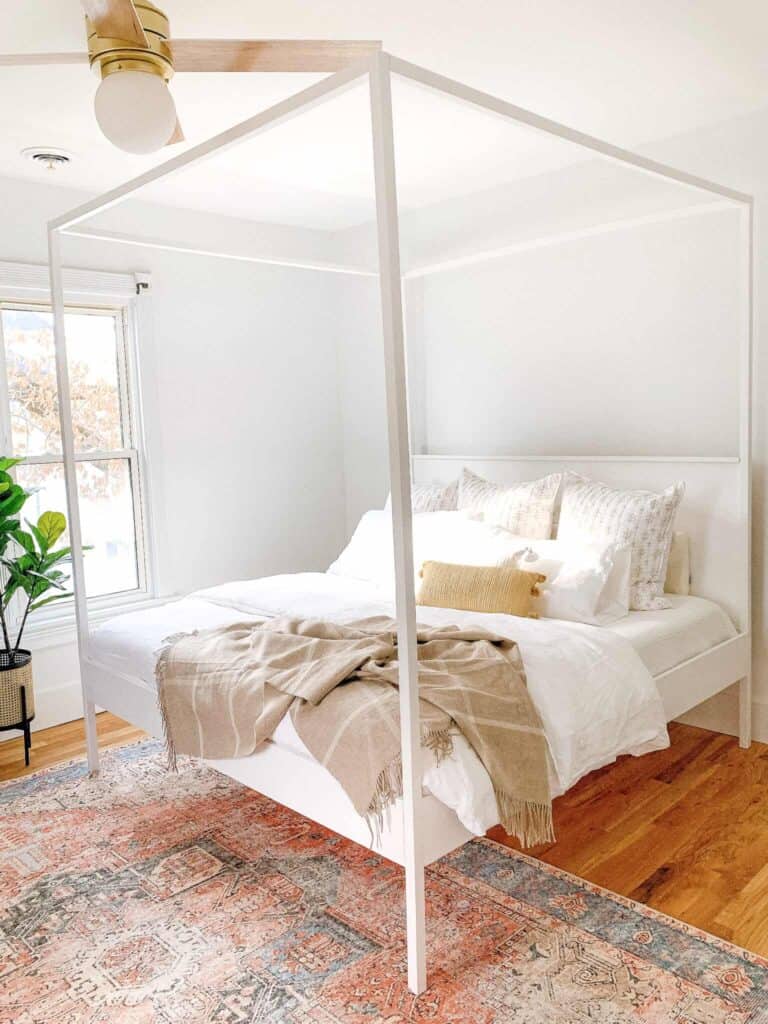 Fans are getting easier to make stylish while still functioning well to keep you cool. This post will walk you through all the considerations for a functional fan, unique features, and a variety of styles and designs. I hope that I am able to help you look at your home, and your rooms so you can find exactly what you need.
Bedroom Ceiling Fan: With or Without a Light?
It is easy to get overwhelmed by choices when looking at ceiling fans. Gone are the days of your white plastic bedroom fan from the 1980s. Now, you have the luxury of not having to choose between style, function, and efficiency.
One decision making factor you will have to make is whether or not you need a ceiling fan with a light in the room. You may have a room with little to no lighting and installing a fan with a light is a no-brainer for you. I mean if that is your only light fixture in the room then it is the clear winner.
Pro Light
Ceiling fans with lights can make a dramatic impact in the room enhancing the room's features. It can also add a unique effect to the fan itself with metallic accents, farmhouse beading, or hurricane glass. The choice is yours when it comes to styling.
If you fall in love with a fan without a light, but prefer to have lighting included, there are several light kits that you can purchase separately. Just ensure the fan and light kit are compatible. If this is the route you decide to go, I'd recommend sticking to the same brand for both the fan and light to ensure a universal fit.
If you opt for a lighted fan, its a good idea to install LED light bulbs which are not only more energy efficient (who doesn't want help on that dreaded energy bill), but LED lights also don't need to be changed as frequently.
Let's face it, who really wants to take the time or energy to grab a ladder to change a lightbulb? (although maybe we should so we can dust those blades haha! A clear downside to fans that is worth it haha).
Leave The Light
With all the benefits of a fan with lighting, there are several reasons why you may want or perhaps need a fan without any lighting. For many of us, we may not have the option to install a ceiling fan with a light without an electricity project. Getting your room rewired for a ceiling fan with a light may involve hiring an electrician and can add an additional cost.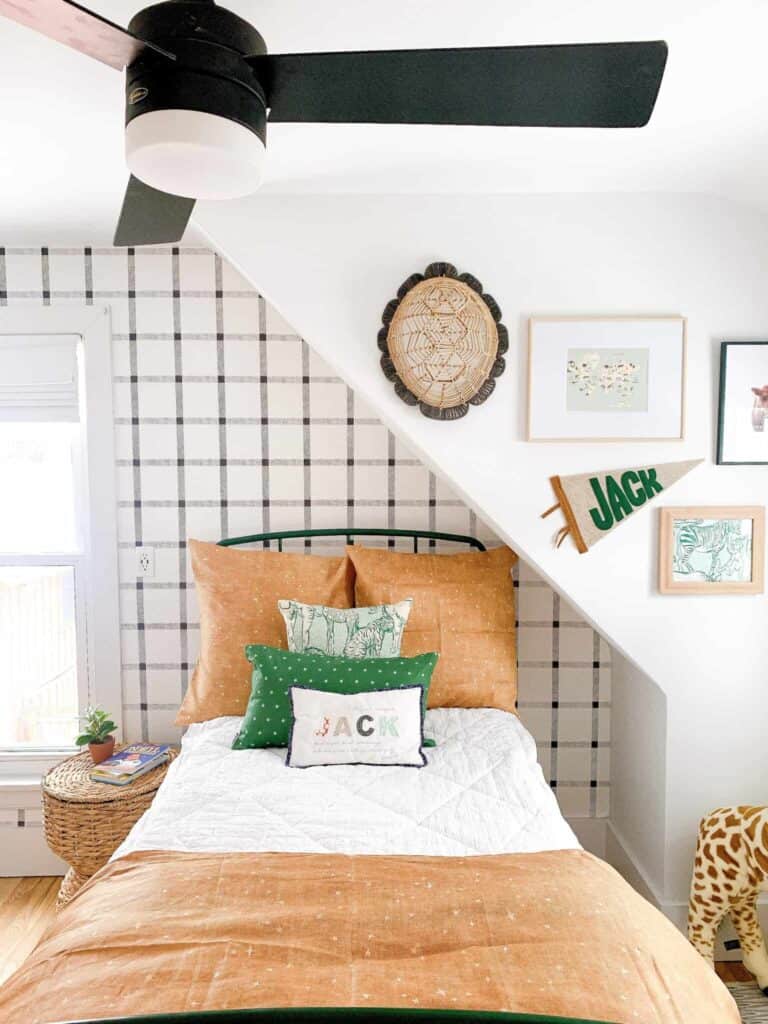 Ceiling fans without lights can also look aesthetically cleaner, and many times have a more modern look. They also provide you the option to add lighting in other manners (think sconces, table lamps, etc.).
The fan's light may also diminish the height of the ceiling which is why fans without lighting can enhance the height of the room. For rooms with lower ceilings (think 8 ft), adding a ceiling fan with a light will dramatically decrease the ceiling height and in turn make the room look smaller.
Taking into Account Ceiling Height & Size Of Your Rooms
Knowing the size of your space and height of your ceilings is key in picking the best ceiling fans for bedroom. An oversized fan in small bedrooms can make the room feel cramped and will blow you away, while a small ceiling fan in an oversized room will look way out of place and won't do its job properly.
As a general rule of thumb, smaller rooms do best with smaller fans and larger rooms do best with large fans. Ultimately, you need to pick the correct size for your space to reap the energy efficiency benefits.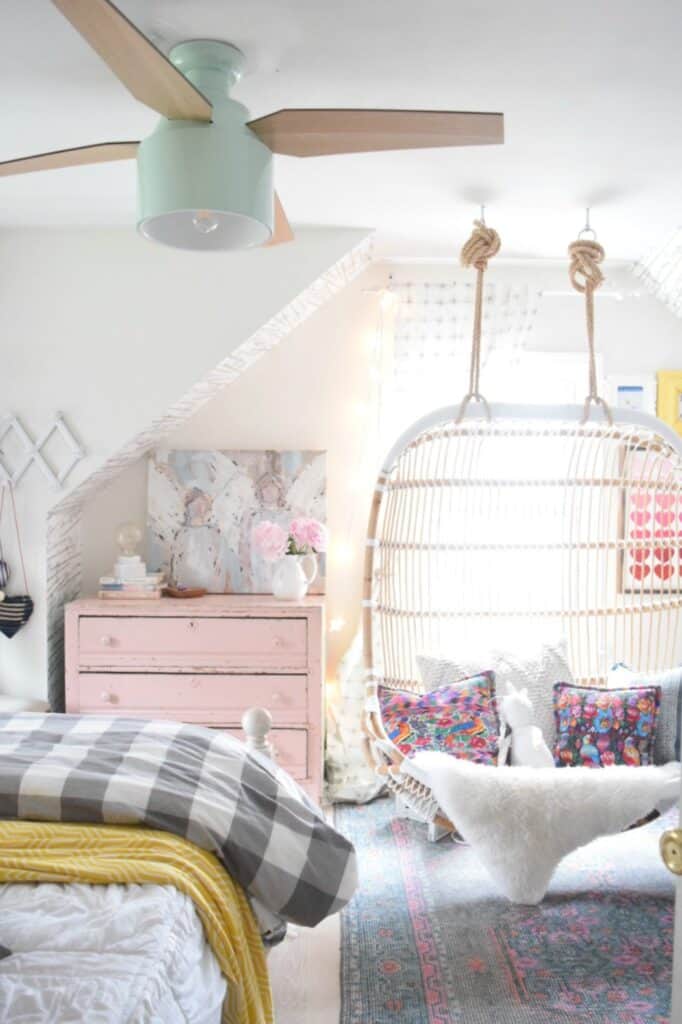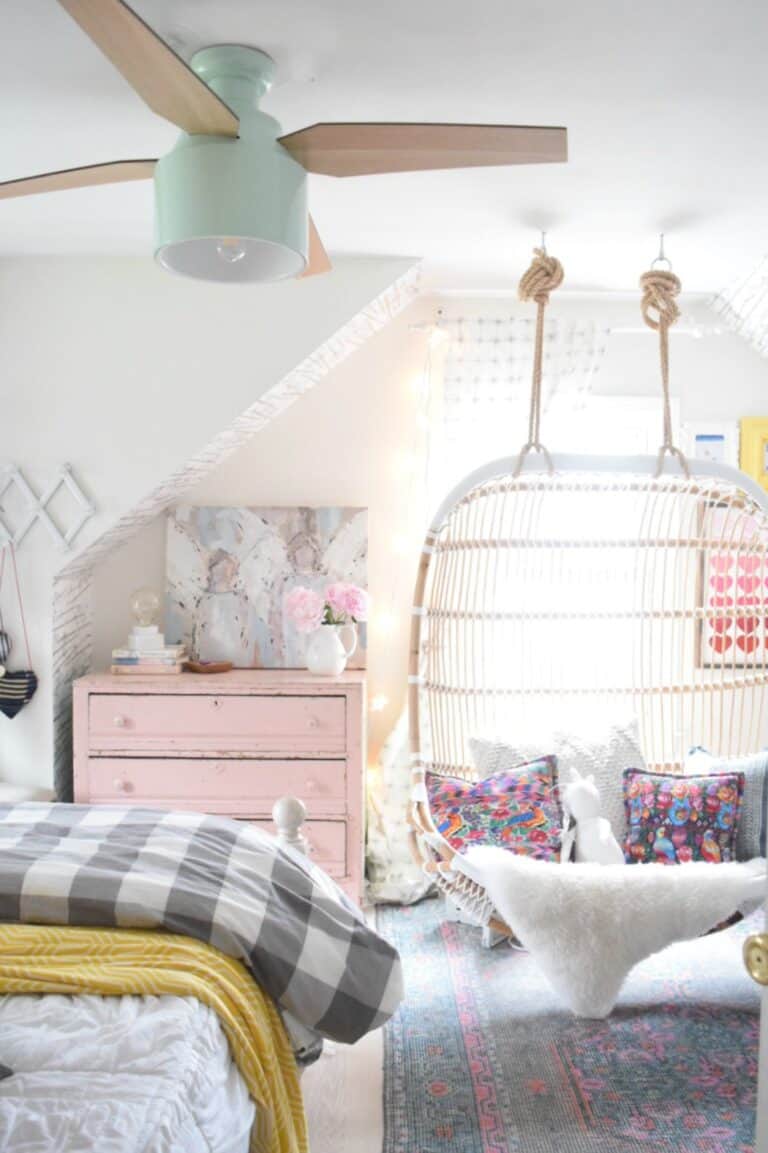 Blade Sizing & Fan Sizes
Ceiling fan size is based on blade span/ blade size because the rotating blades cause the air flow and circulation within the room. Blade span is measured from the tip of one blade to the tip of the blade directly across from it. It is important that you know the square footage of your room to choose the appropriate blade span. 
Here is a quick breakdown of suggested ceiling fan sizes based on square footage of your room. Now, I know, you didn't think you'd ever need math, but, here we are! Take the length and width of your room and multiply it to give you your square footage of your room.
Up to 75 sq. ft. = 36 in. or smaller
76-145 sq. ft. = 36-42 in.
146-225 sq. ft. = 44 in.
226-400 sq. ft. = 50-54 in.
Over 400 sq. ft. = 60 in. and over
Ceiling Height
Ceiling height is also key. Knowing your ceiling height will help you determine how to mount your ceiling fan (we'll get into that in a minute!). As a general rule of thumb, your ceiling fan height (which is the height from floor to ceiling blade) should be 8 feet or more. 
This is not only for safety reasons but also allows enough air flow to properly circulate around the room. For those with low ceilings, flush mount ceiling fans are the best option as it is mounted straight to the ceiling.
Those with high ceilings can use a downrod mount. This is generally used when you have a ceiling height over 8 feet (which most rooms have). The higher the ceiling, the longer the downrod you may need to hang at the optimal 8 feet. This is also helpful when it comes to cleaning, bulb changing, and general maintenance.
Here is a breakdown of downrod length based on ceiling height:
10 ft. ceiling height = 12 in. downrod
11 ft. ceiling height = 18 in. downrod
12 ft. ceiling height = 24 in. downrod
13 ft. ceiling height = 36 in. downrod
14 ft. ceiling height = 48 in. downrod
15 ft. ceiling height = 60 in. downrod
16 ft. ceiling height = 72 in. downrod
A quick note on downrods and special circumstances. Fans with lighting kits require 12 inches be subtracted from the downrod length for proper fit. For those with sloped ceilings, make sure the fan that you buy can accommodate an install at an angle! There are sloped-ceiling mounted kits available as an option if your fan needs one.
Make sure you pay attention and select the correct mounting type based on your ceiling height before you purchase your fan. Nobody likes returns!
Lastly, make sure your room is wide enough to accommodate the rotating blades. Blades should have at least an 18 inch clearance from walls. Hanging your fan in the center of the room will help ensure that clearance. Otherwise, you may have another home improvement project on your hands.
Fan Blades 101
Now that we've talked ceiling fan size and mounting types, let's talk ceiling fan blades. Growing up, I always saw the typical ceiling fans with 4 or 5 blades. Now, there are so many different options and styles. Traditional styles tend to have 4 to 5 blades with a very balanced look. It used to be that ceiling fans with 4 and 5 blades were less noisy due to the balanced blades. 
Blade Numbers
However, fans with 2-3 blades are more modern and sleek and are just as silent as those with 4+ blades (thank you technology!). Sometimes a. simple design can be a great choice and still keep your room just as cool. To find a quiet fan you are no longer looking at blade numbers – instead that is based on a quiet motor.
The number of blades a ceiling fan has does not determine how efficient the fan cools the air. Rather, the motor and blade pitch of the ceiling fan determine the fan's efficiency.
The ceiling fan's blade pitch is the angle of the fan's blade that determines how much air can be moved around the room. Ideally, you want a blade pitch between 12-15 degrees. While this sounds rather technical, most fans are sold with the ideal blade pitch so you don't need to worry.
Honestly – in the market today fan's are generally created to be a great addition to your room. But when in fail read reviews. When we were looking at ceiling fans for our home I read the reviews on the fans before purchasing. I knew we needed them to work well, so I spent the time making sure people found them cooling spaces.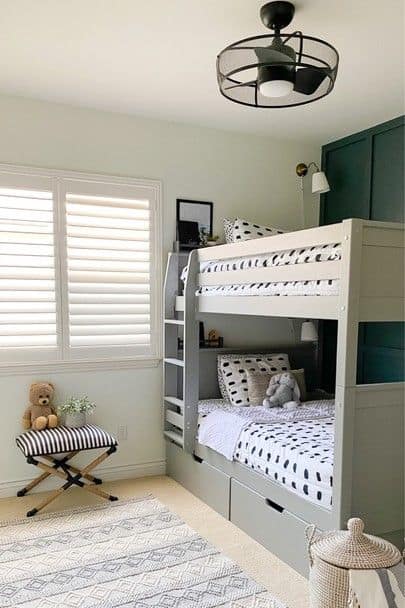 Blade Materials
Now, let's talk ceiling fan blade materials. Blade materials range from metals, woods, MDF, and plastic/acrylic. Each material has pros and cons. Metals are best used in outdoor spaces but can give a great industrial feel to an indoor space.
Premium wood blades are more expensive and can create a luxurious atmosphere. For a more budget friendly option, MDF and plastic are often used as they are inexpensive to produce and easily manufactured.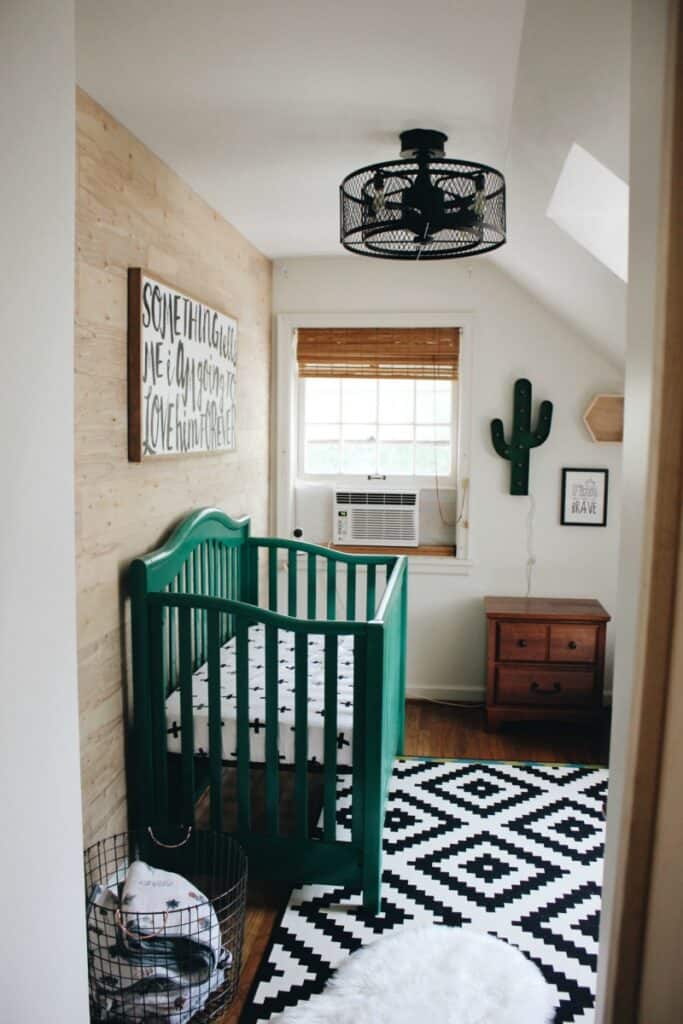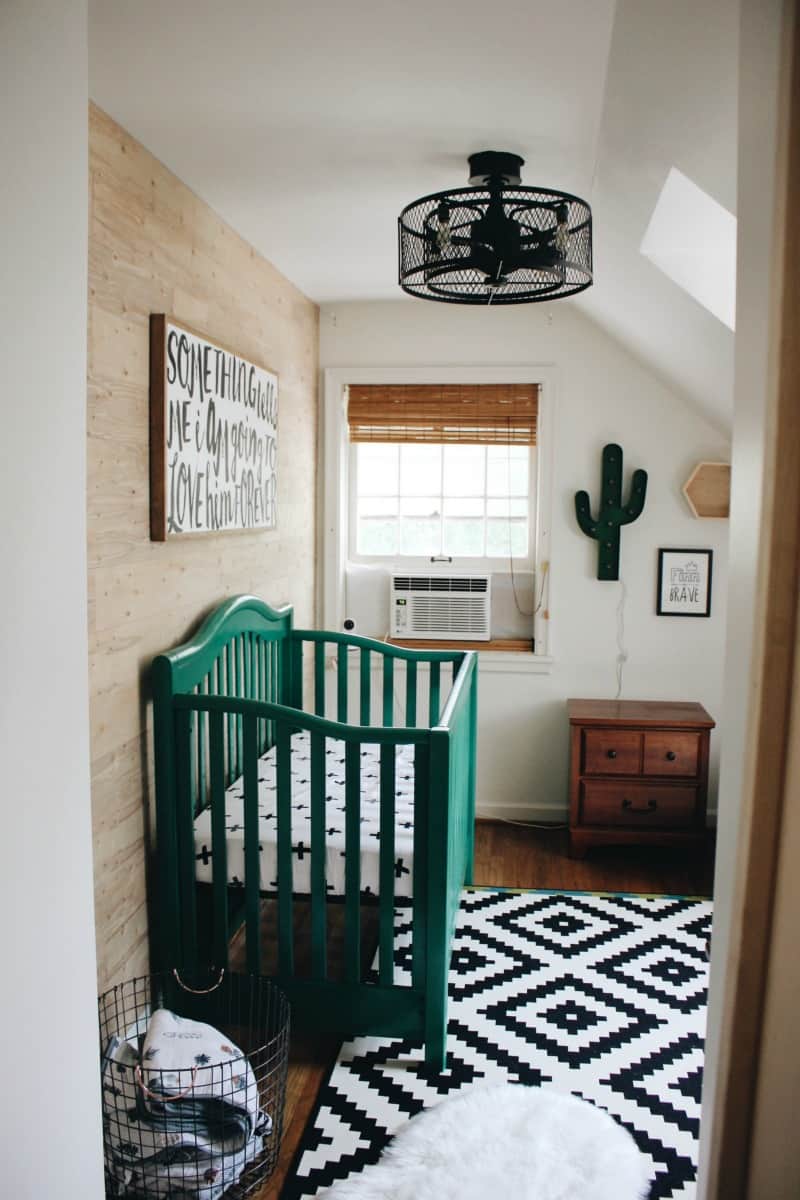 Clear acrylic blades can be such a fun statement to a room. Generally the material isn't going to effect the overall usefulness of a fan. They are pretty much all a great option.
When it comes to the color of the blades as well as any hardware there are a million great choices to go with any decor style. Don't be afraid to mix metals between hardware of the fan and hardware in the decor space. You can create a personalized and unique look this way!
A Ceiling Fan With Reversible Motor Option
Choosing a fan with a quality motor is important as it helps determine the fan's efficiency. Considering that you may have your fan on at all times of the day and night for airflow, it is essential to ensure you are using high performing materials. Motors are available as AC motor or DC motor (insert band joke here). 
Breaking Down ACDC
Now I could get very technical and describe what each of these means, but let's jump ahead to what you really need to know. AC motors are less expensive and have 4 speed options, while DC motors are more expensive, more energy efficient, tend to be quieter, and have more speed options. How fancy you want to go is up to you, just make sure it is a quality and trusted brand.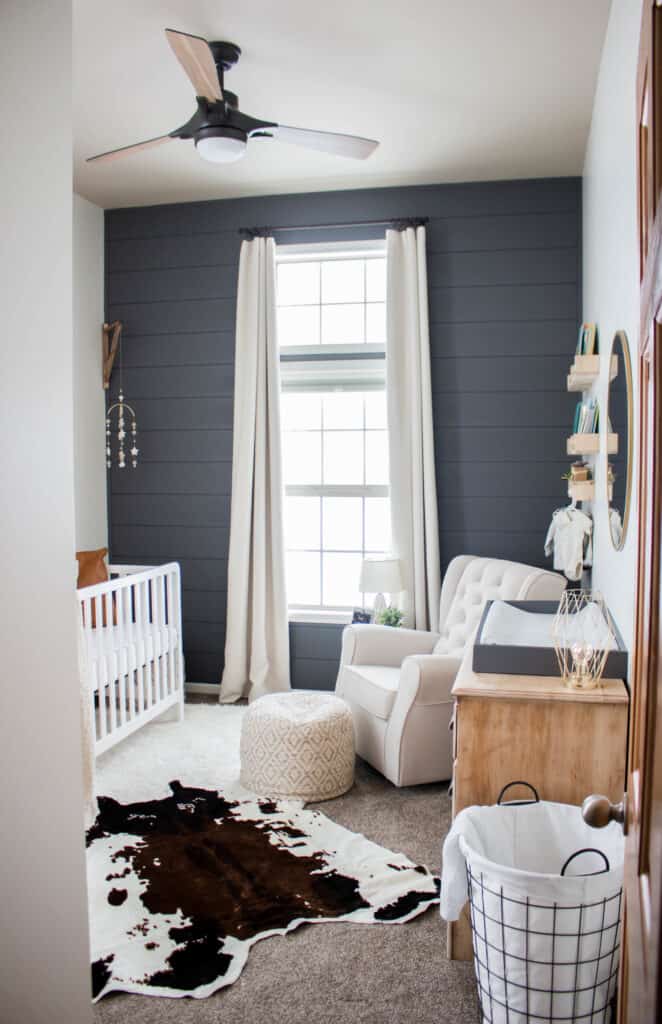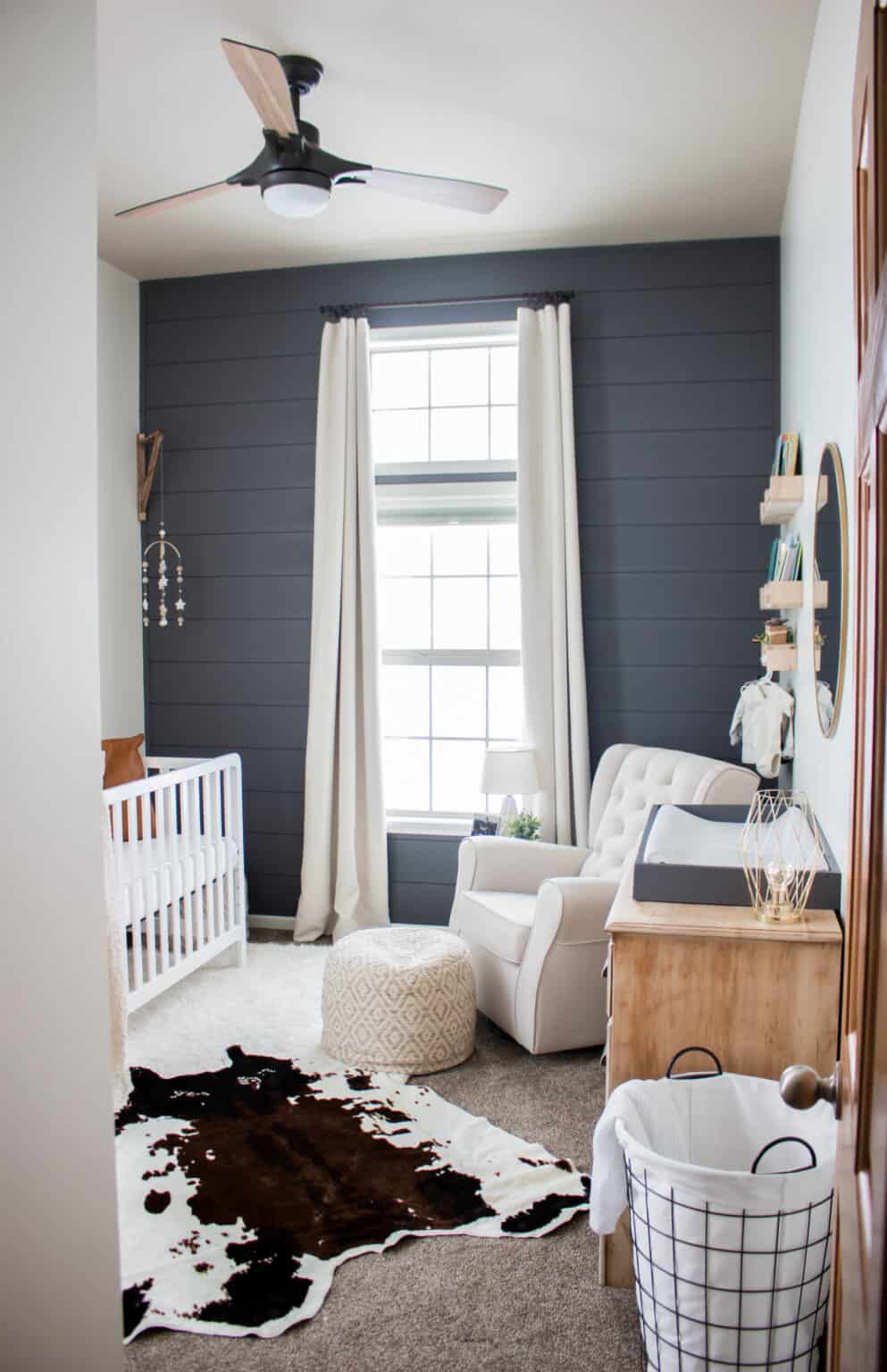 Reverse AirFlow
By far, a great feature of a motor is one that allows reverse airflow, which in turn allows you to use your fan year round. Now, raise your hand if you were this many years old before you realized that fans can have reverse airflow! – I know for a fact that my husband didn't know until about 2 weeks ago when I asked him to reverse our fan blades, and he tried to pull them out for the reverse color haha.
Blades should spin at a high speed counterclockwise in summer to create cooling air that blows down at you. In the winter months, you can reverse the fan to spin clockwise, which will circulate warm air that rises to the ceiling back down to you. Is your mind officially blown?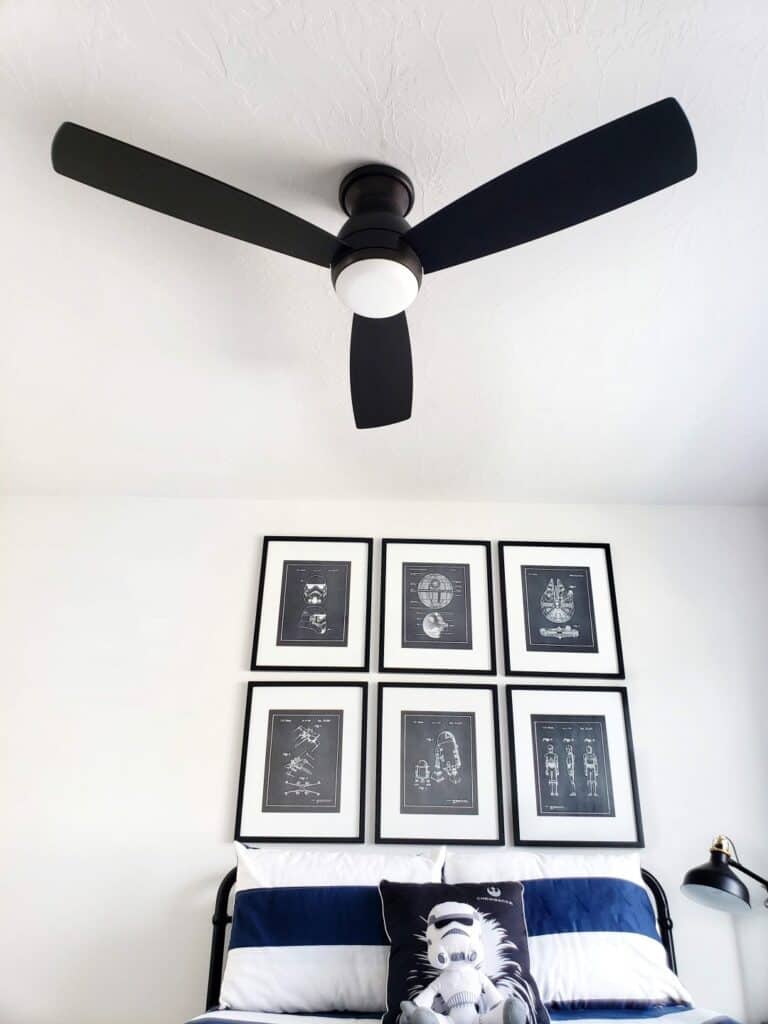 I can tell you that if you haven't used this feature on your fans – we have the same Hunter Ceiling fan in our master bedroom as the one just installed in our playroom. My husband was commenting on how much cooler he felt under the one in our playroom.
We reversed the motor direction and instantly felt so much better under our main bedroom fan! So Make sure you are taking advantage of that for the right air movement in your space. (as a side note – CLEAN your fan blades before you do this. If you don't all the sitting dust will fall like snow on your room.
Ceiling Fan On/Off Functions
How many times have you pulled your fan's pull chains only to discover that you turned the light feature on rather than the fan feature (or vice versa)? Imagine laying in bed and using a remote control to turn off the fan, rather than getting out of bed, walking over to the fan, pulling the cord, walking back to bed, and then going back to sleep.
No more wrestling cords! Nowadays wall mounted controls and remote controls are standard with all fans. There are also smart ceiling fan options, as well as fans with fancy wall switches that can be a good choice if you think keeping track of remote controls won't be best in your house.
We personally opted for a couple fans with awesome wall mounted controls as well as some with remotes and I can see the bonus sides to both. (but the remotes can make me nervous with kids misplacing things!)
Below I am sharing several round ups of several best ceiling fans for bedroom that I personally love no matter your style. I shared in the comments which fans we own personally as well. Keep in mind that although changing our lighting and fans is something many of us can do 'DIY' – if you choose to do so make sure you have turned off the power to that room before doing any electrical work. Safety first over here!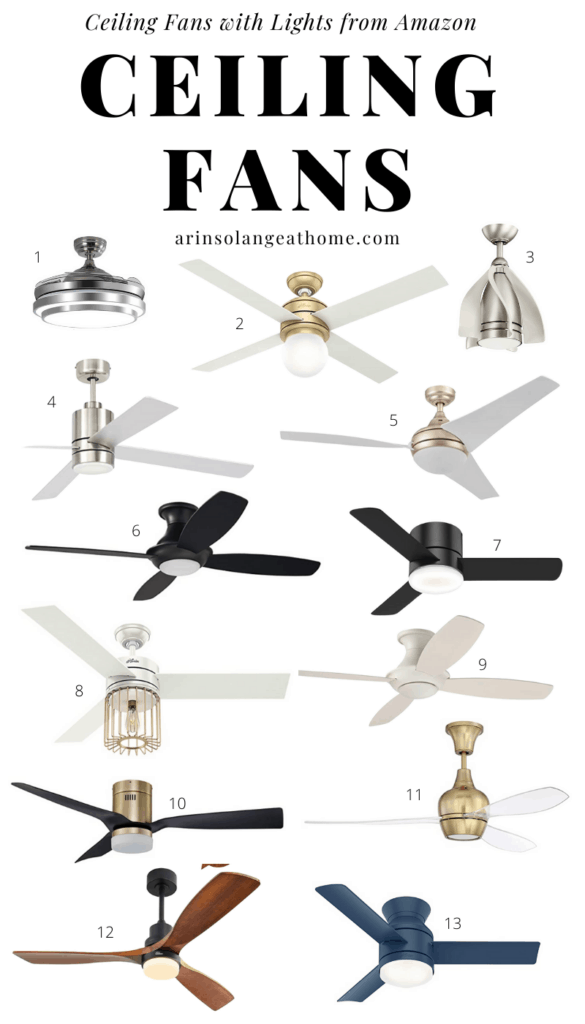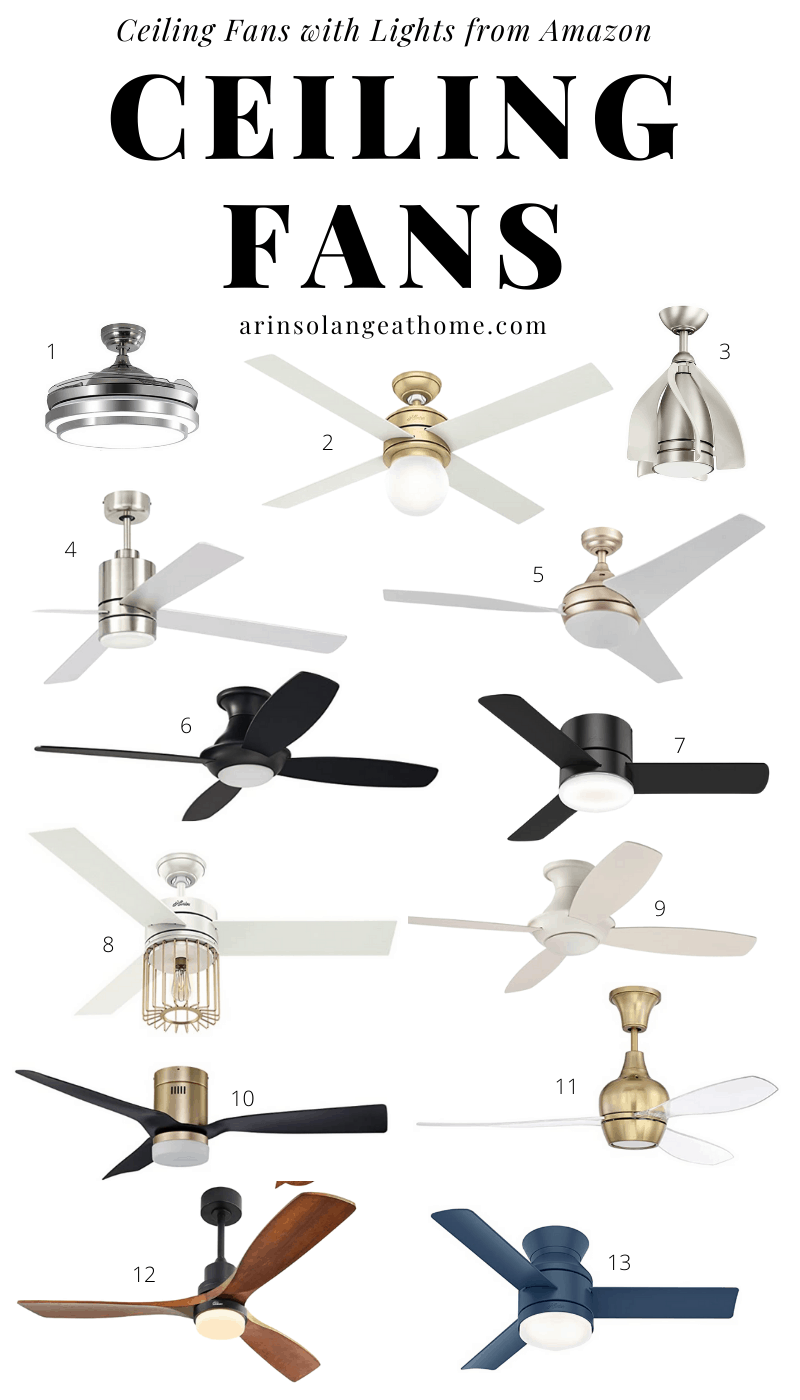 1 | 2 | 3 | 4 | 5 | 6 | 7 | 8 | 9 | 10 | 11 | 12 | 13
Shop Best Ceiling Fans for Bedroom with Lights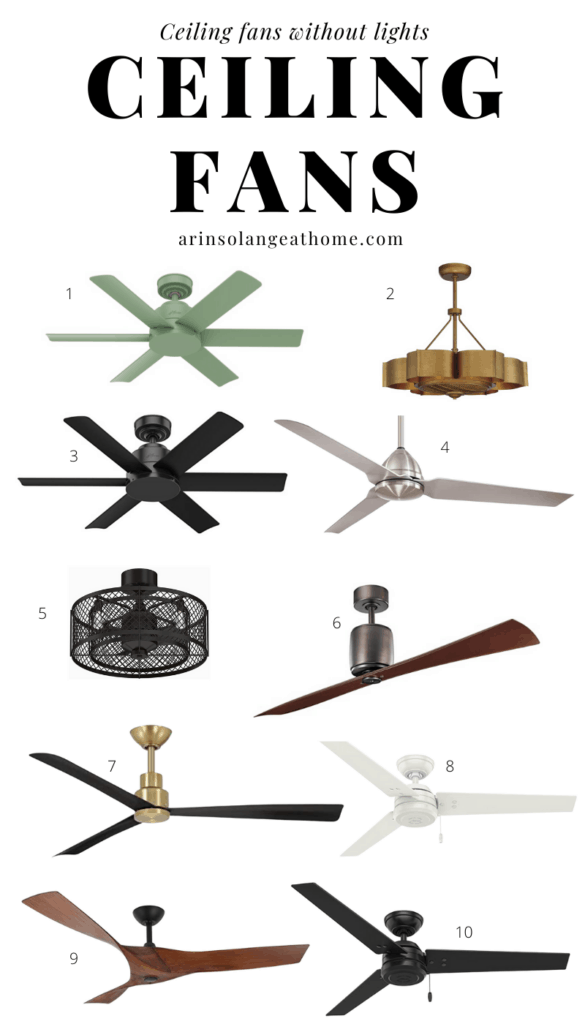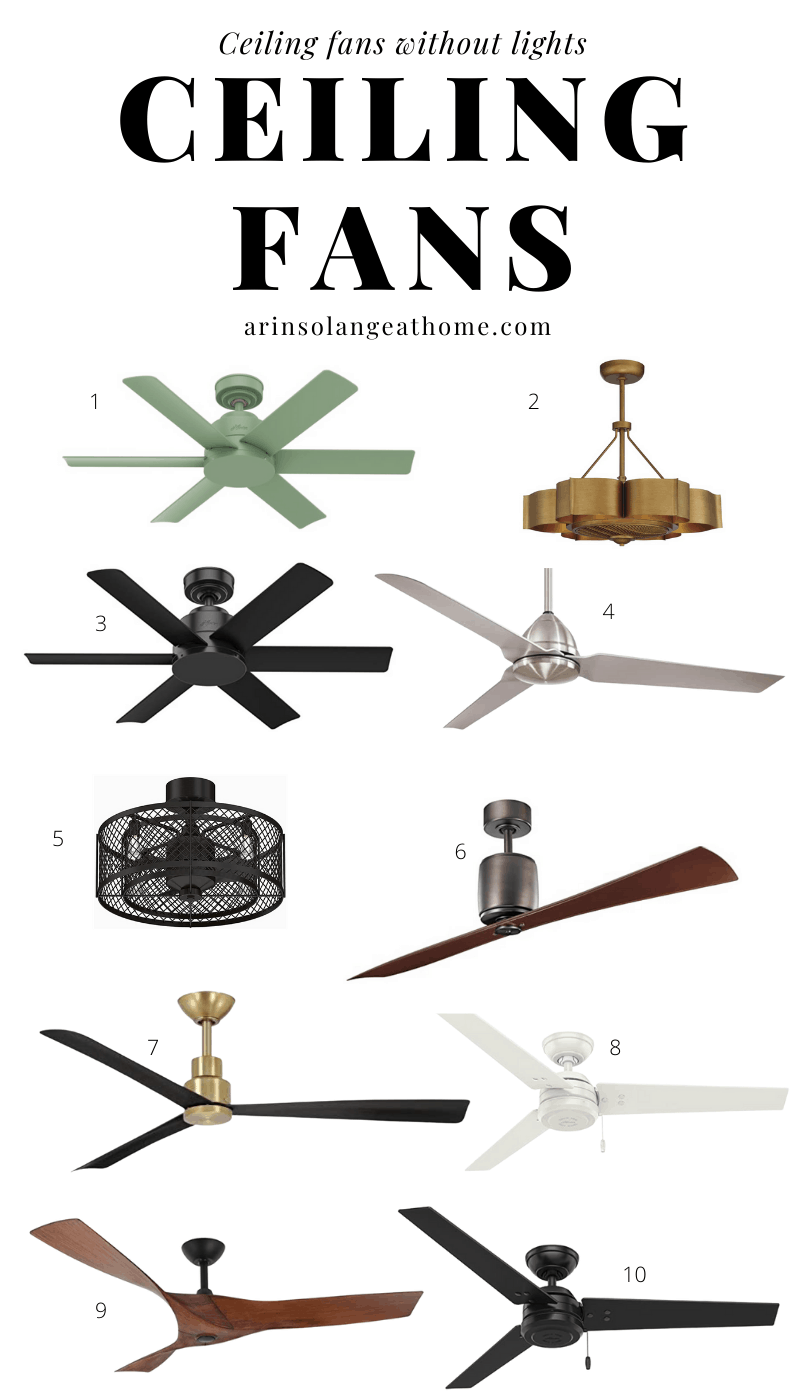 1 | 2 | 3 | 4 | 5 | 6 | 7 | 8 | 9 | 10
Shop Best Ceiling Fans for Bedroom with no Light
Other Posts You Will Love
Beddys Bedding Review | Black and White wallpaper | Boys Wallpaper | DIY Canopy Bed | Front Porch Railings
Pin the Photo Below for Later
I hope this post helped you find the best ceiling fans for bedroom and you feel confident in some choices for your home. If you have any questions – as always leave them in the comments below. You can also pin the photo below to find this post later and help others find the perfect fans for their home. For more home decor inspiration be sure to follow me on Instagram (@arinsolange) and shoot me a DM to tell me hi!