We are finally getting more settled in our newly renovated home – and that means getting all the decor and finishing touches. We have a gorgeous white kitchen, and new hardwood floor so I wanted to find a kitchen rug. After 6 months here I have wavered on my choice so wanted to share the best kitchen rug ideas for your home in one post so you can decide what is right for you!
This post may contain affiliate links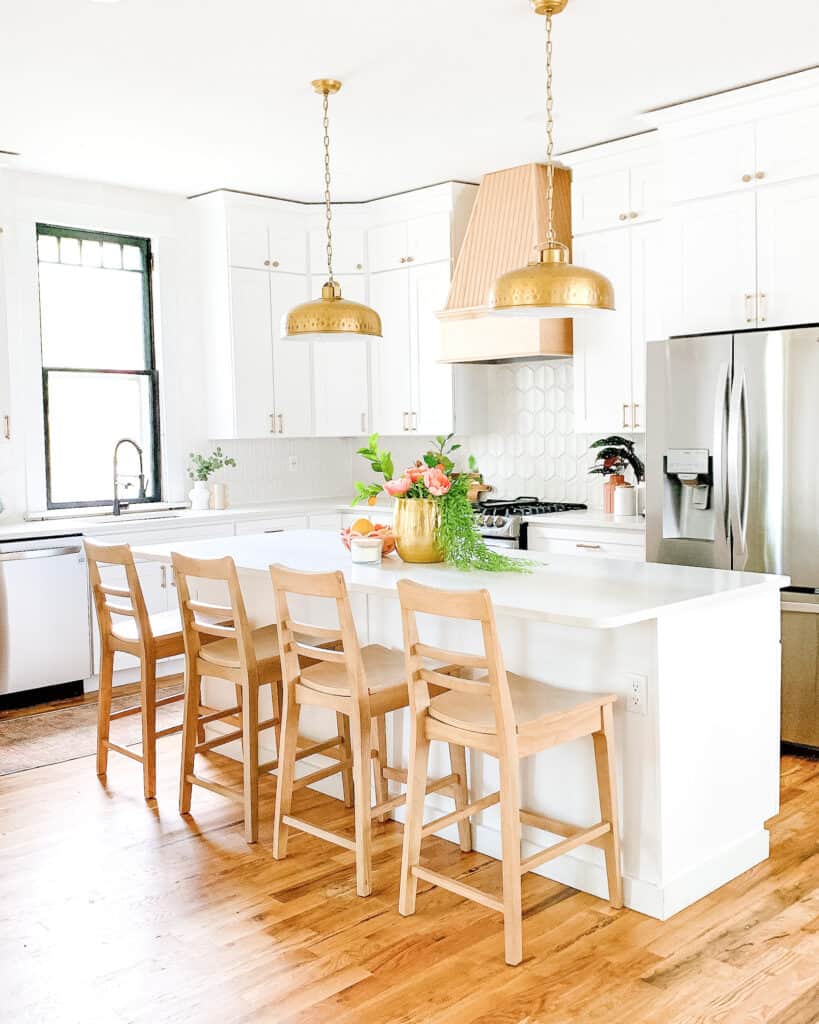 Favorite Kitchen Rug Ideas for your Home
Nothing says a hard choice quite like picking something to put on the floor in one of the most high traffic and highly used spaces in your home. The kitchen is the heart of the home and is an area that will be seen by you and guests any time you're in your house, but it is also a space that is hard to keep clean.
Gone are the days of the small rug in front of your sink, so now it's figuring out a stylish option that will fit your home and your life. Large rugs and kitchen runner rugs are now the go to way to add a rug into your kitchen space so that is what we are going to focus on in this post.
As a reminder – my philosophy is always marrying both beauty and function. I don't think you should have to live in constant worry that your home or items in it will get destroyed, but you also can enjoy it looking beautiful if that is important to you (like it is me).
Below are some great round-ups of the best rugs for your space. I walk you through what to consider to make sure you get the right rug and start loving your kitchen even more than before!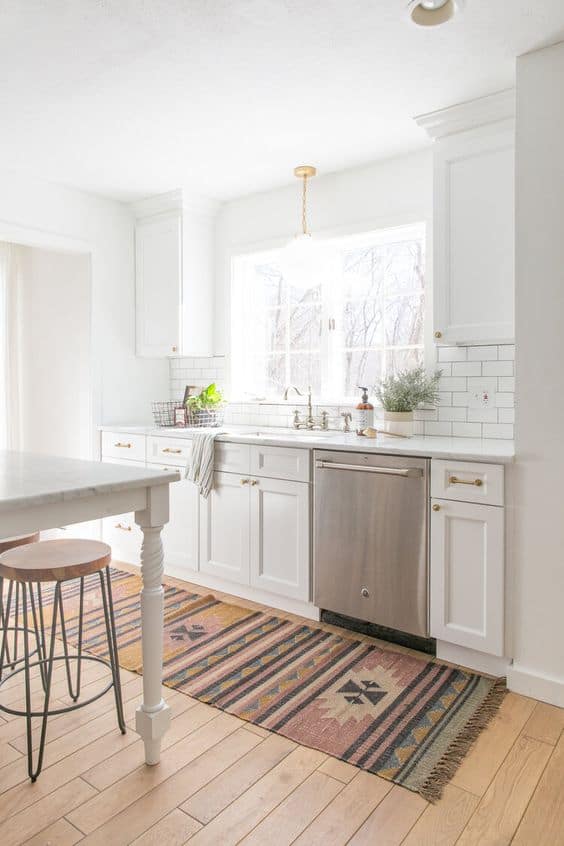 Some perks to adding a rug to your kitchen
Whether you have a big kitchen or small kitchen – adding a rug to your kitchen floor is a great way to add decor and color that fits your home aesthetic without cluttering your counters.
Rugs can be the perfect accessory and with the vibrant colors, various materials, and multitude of choices you can completely change a room with just the change of a rug.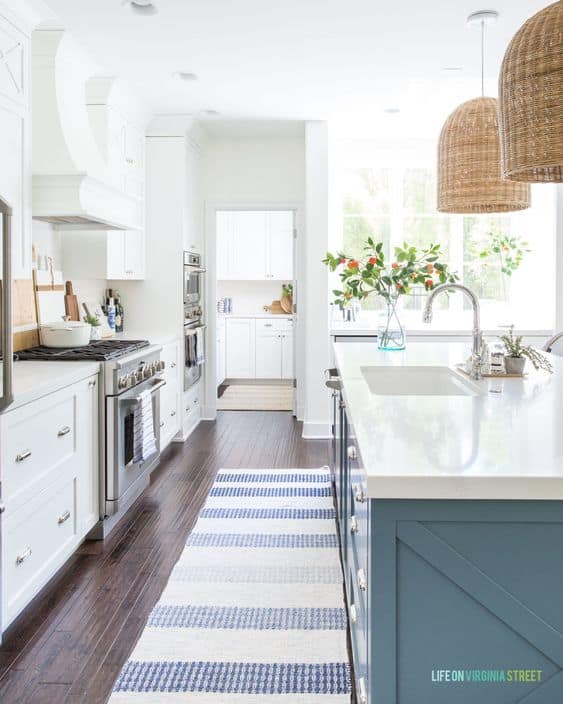 If you have a white kitchen you may want to add warm colors or bright colors to add depth and dimension to your space, where if you have dark cabinets, it is a great way to lighten the space with a lighter rug.
There are also great new rugs that offer comfort for those of you that stand cooking or washing dishes for long periods of time ( my husband would like you to teach me your ways haha).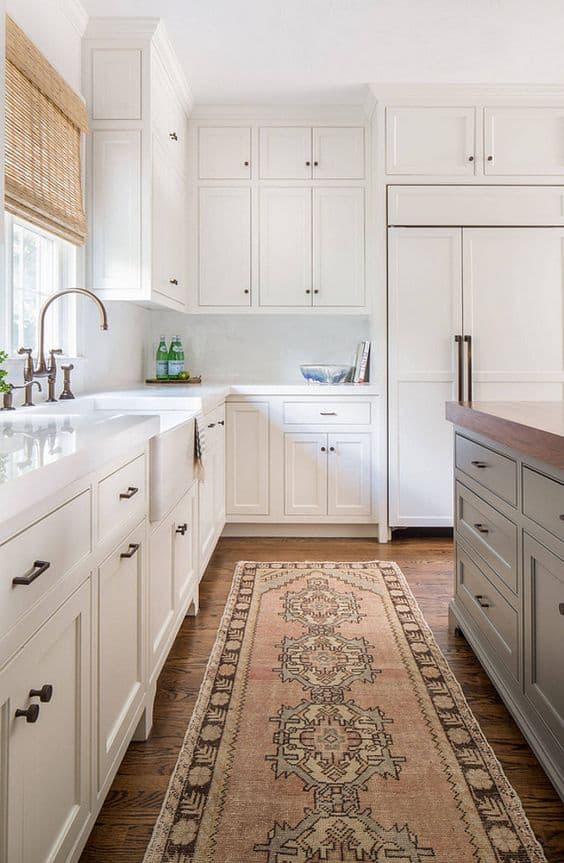 Rules of Thumb to Follow
There are so many kitchen rug ideas to pick from but that doesn't mean you can just go willy nilly – okay you CAN but maybe SHOULDN'T. When it comes to your kitchen rug – pending the size of your kitchen you can have 1 or 2.
If you have only one rug, like in my kitchen, make sure it is a large enough size that it fills one space well. Because of the length of my rug it made perfect sense not to have 2 rugs (and would have made 2 look off) which was my plan. I tend to think if you are running your rug perpendicular to your kitchen island you want to make sure it extends past the island on both sides.
If you are using two rugs, match them. I do think that rugs are a great place in your home to add variety, but in the case of kitchen rugs they need to be twins in terms of pattern. In this post you will see how you can use both 1 or 2 rugs. Some people used one rectangular rug – either a runner or small area rug, while you will even see the perfect use of a round rug.
If you have a rug with your kitchen table that is close by, think of them as sisters. They don't need to be the exact same (and honestly I prefer that they aren't – but that is preference), but they do need to have some overlapping qualities to keep the space feeling cohesive.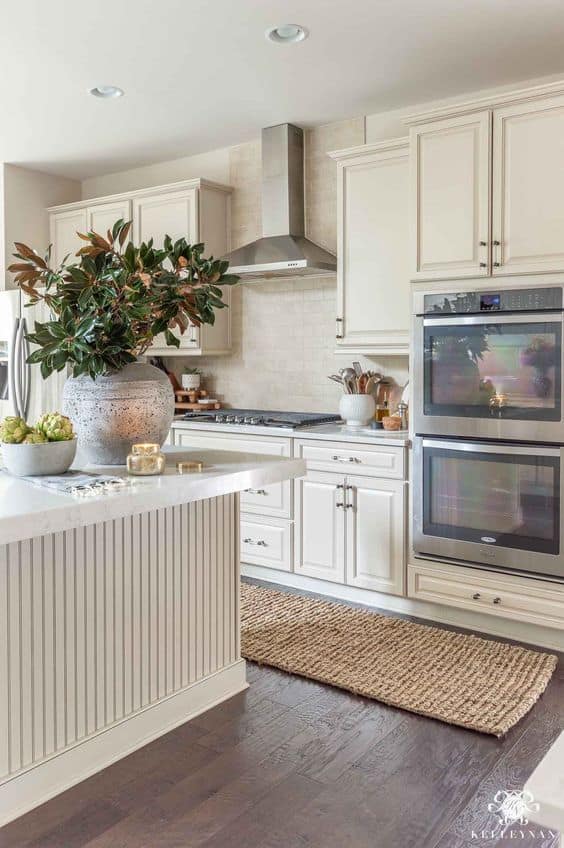 Last – consider your family, traffic, and so on when it comes to the style of rug you do. I have 4 little kids and in hindsight I should have gotten a washable rug for our kitchen. It is so highly trafficked and we are messy.
That said – the pattern that I chose was amazing and worked great for the space. It hides stains and wear and tear well – so even if you pick something washable consider the fact that you likely don't want to have to wash it ALL the time.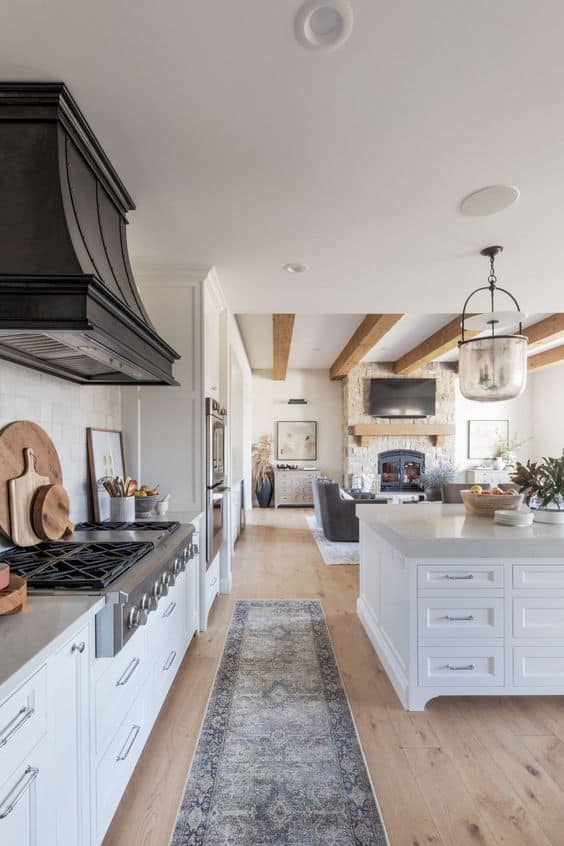 The perfect addition to all rug orders
These two items below are MUST HAVE items on hand with any kitchen rug. I promise you will thank me for both – and neither are expensive at all.
Folex – this cleaner seriously takes anything out of anything haha. I didn't believe it until I owned it and it is a miracle worker. 10/10 rec it!
Rug Tape – I tried so many brands before getting this one from Amazon. It is inexpensive and amazing. I have converted so many of my Instagram followers.
Kitchen Rug Ideas – Washable Rugs
Alright so let's get to the actual rugs shall we? I am rounding up my favorite washable rugs in this post. For most kitchens you will want either a 3×5 rug (perfect for maybe a wider galley kitchen) or a runner.
Washable rugs are exactly what the name says – a rug that you can throw into your washing machine at home to clean. They are amazing for a high-traffic area a family that knows keeping rugs clean is not in their vocabulary. One thing that I CAN NOT HANDLE is when a rug shows where there has been heavy foot traffic ,so washable rugs have been the best thing or me.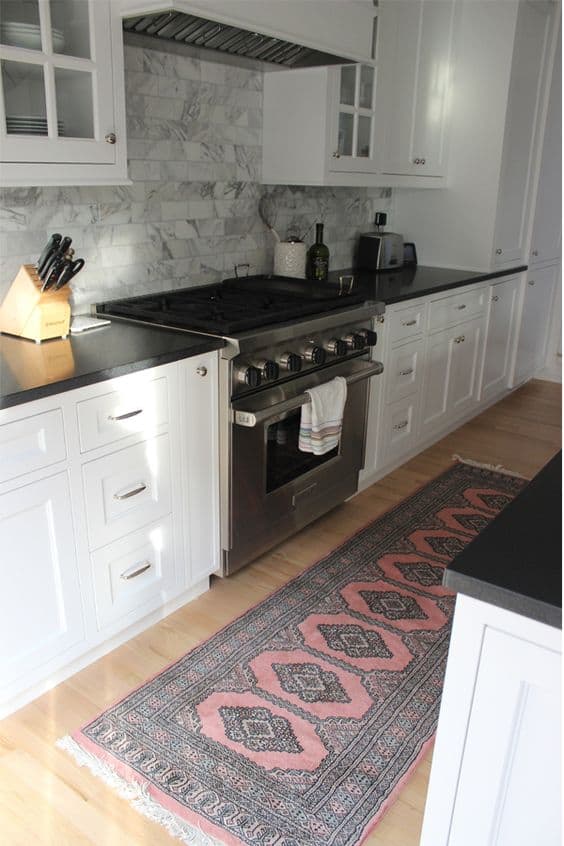 Washable rugs are AWESOME. I have 4 in my house from 2 different brands and love both. THAT SAID – they aren't perfect. One thing I have learned is that if you are going to get a washable rug, grab some of the Folex cleaner from Amazon and before you wash it, spray and scrub the high traffic and really dirty spots. Then once you wash it they will look great.
You also need to remember that just like clothing, the more you wash something the more it will get worn down, so I wouldn't go into a washable rug with the idea that it will go in the wash every Sunday like your sheets. It is a backup plan and a spring cleaning to do, but not a weekly chore.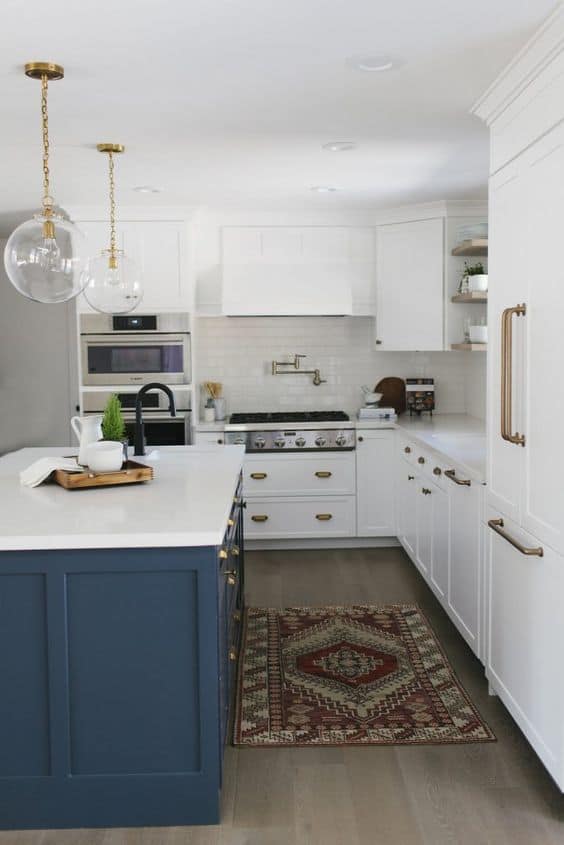 I have both Ruggable and Rugs USA washable rugs – both options are in the round up below, and I love both. The perk to the Rugs USA is that it doesn't need the pad below, but mine are newer so I can't fully attest to how they hold up.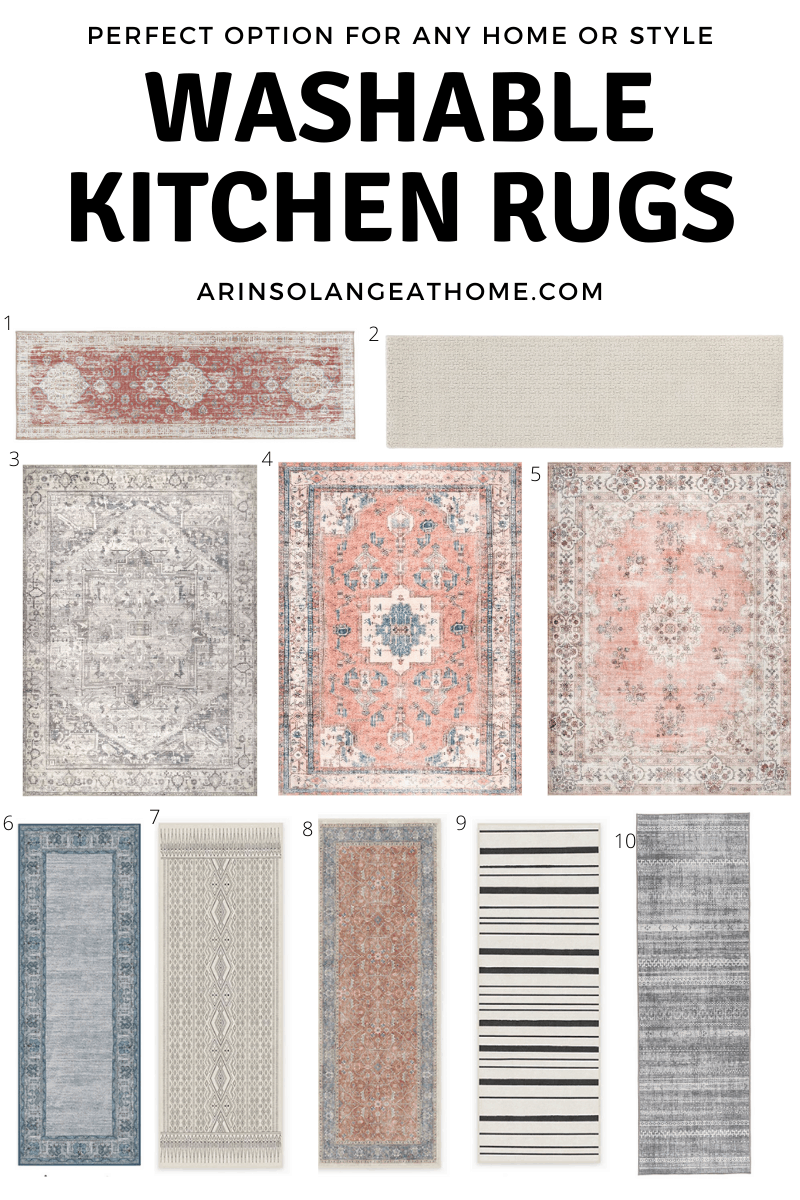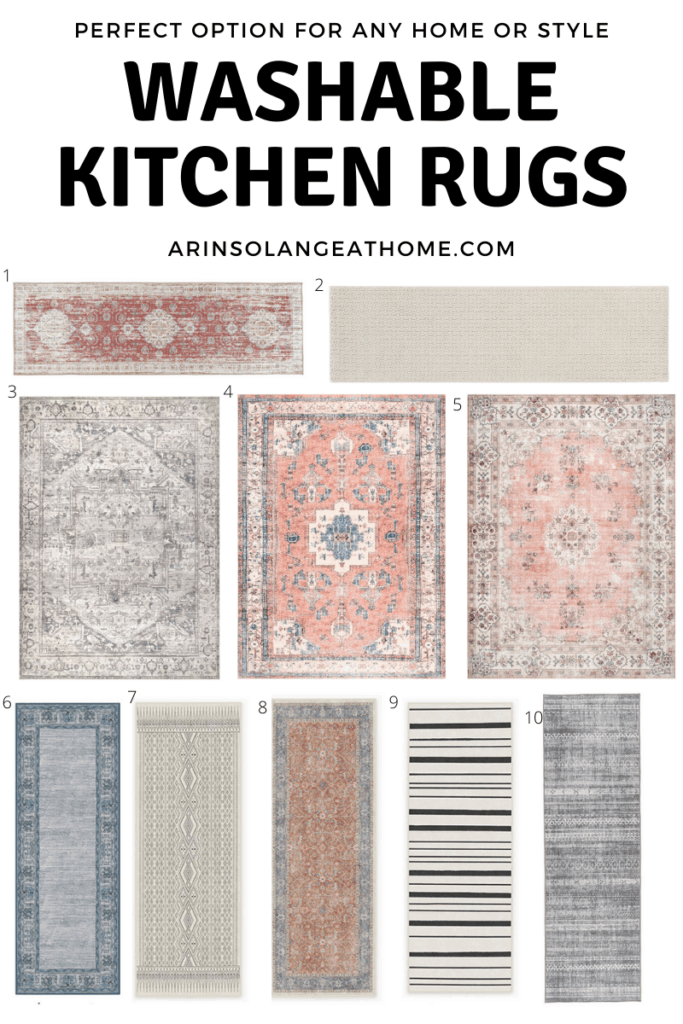 Shop Washable Kitchen Rugs
1 | 2 | 3 | 4 | 5 | 6 | 7 | 8 | 9 | 10
All of these are available as a runner – all are machine washable!
Kitchen Rug Ideas – Padded/ Anti-Fatigue
Again like I said above there are new padded Kitchen rugs that have been hitting the market and they are gorgeous. These are actually called anti-fatigue rugs. These are great for so many reasons – one being your feet and back if you stand for a long period of time.
If you have ever stood on the foam kitchen mats you know they are so comfortable! They are also in most cases something you can wipe down with a paper towel and cleaning spray so the clean up is really easy.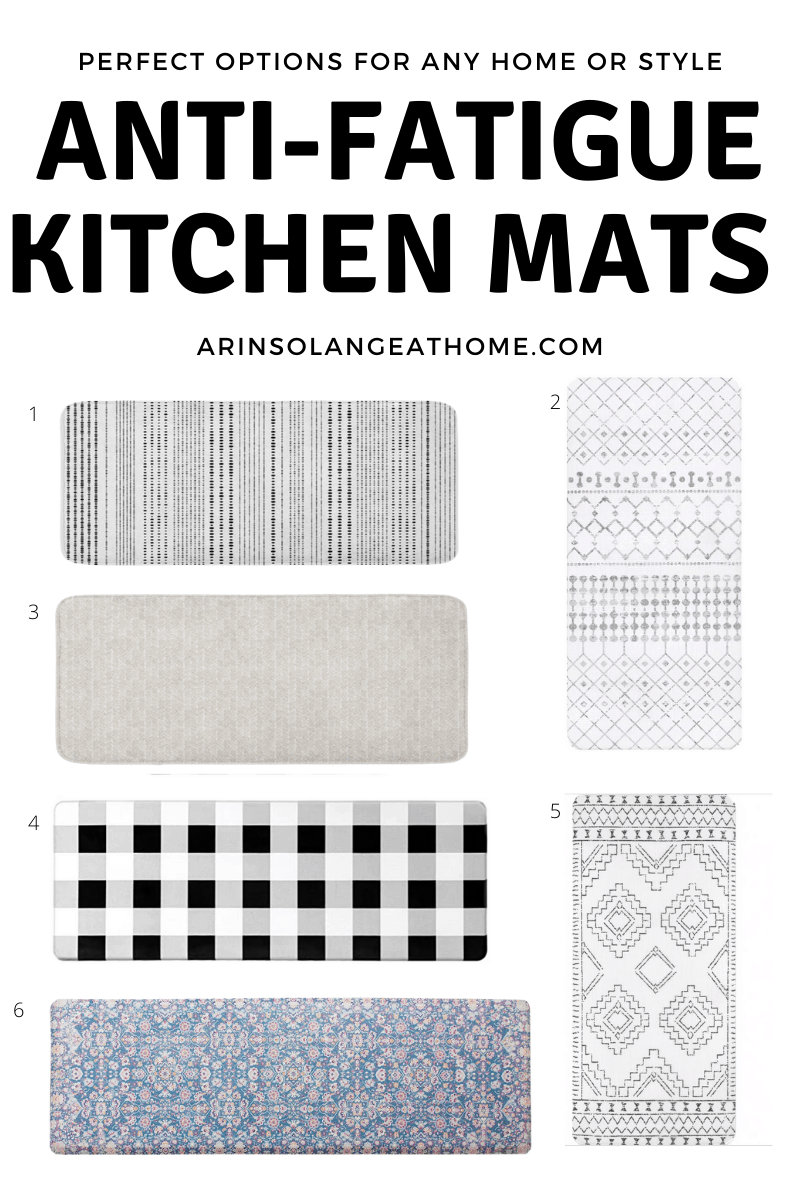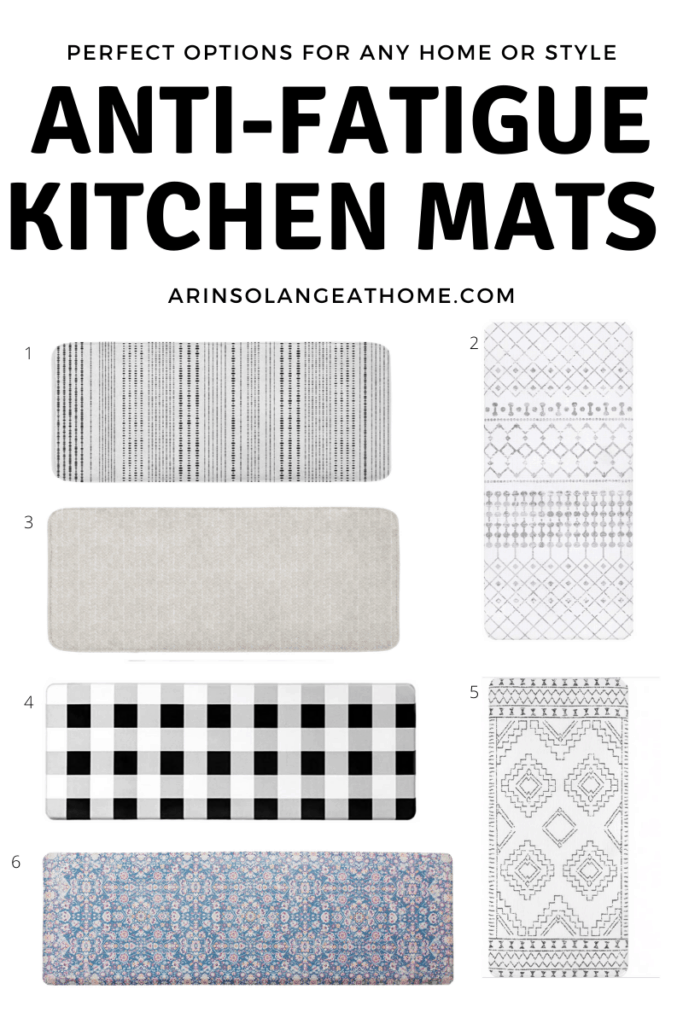 Shop Anti-Fatigue Kitchen Rugs
Kitchen Rug Ideas – Traditional Rugs
Last is traditional rugs – which are last but not least. They are still a great option for your kitchen, and what I have in my own kitchen.
These are more affordable and easy to find – so in some cases you can justify buying a new kitchen rug every couple of years compared to the price of some of the washable or padded options. This is a good choice if you like to change your decor often!
You can also keep in mind that you can take your traditional rug outside and power wash it to clean it once or twice a year, so they don't have to be trashed when they get a little messy. I would stick to a flatweave rug when you are looking at traditional rugs because of the ease of vacuuming and the fact that you won't have to pluck cookie crumbs out of it.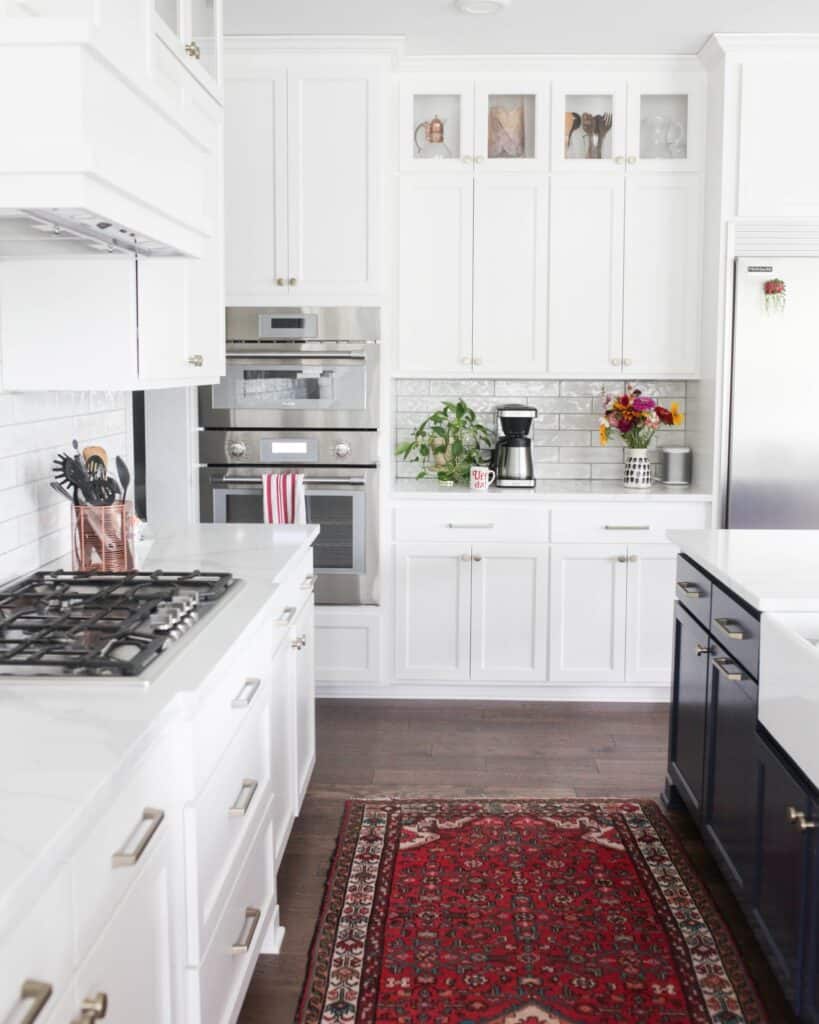 Another option when it comes to a more traditional rug is to use a jute rug. Jute rugs are GORGEOUS and can be an ideal choice for a kitchen with their natural fibers and neutral tones.
They tend to be pretty easy to blot off and don't show much ware and tear the way other rugs sometimes do. They also add warmth in an area where you aren't looking for a warm cuddly rug.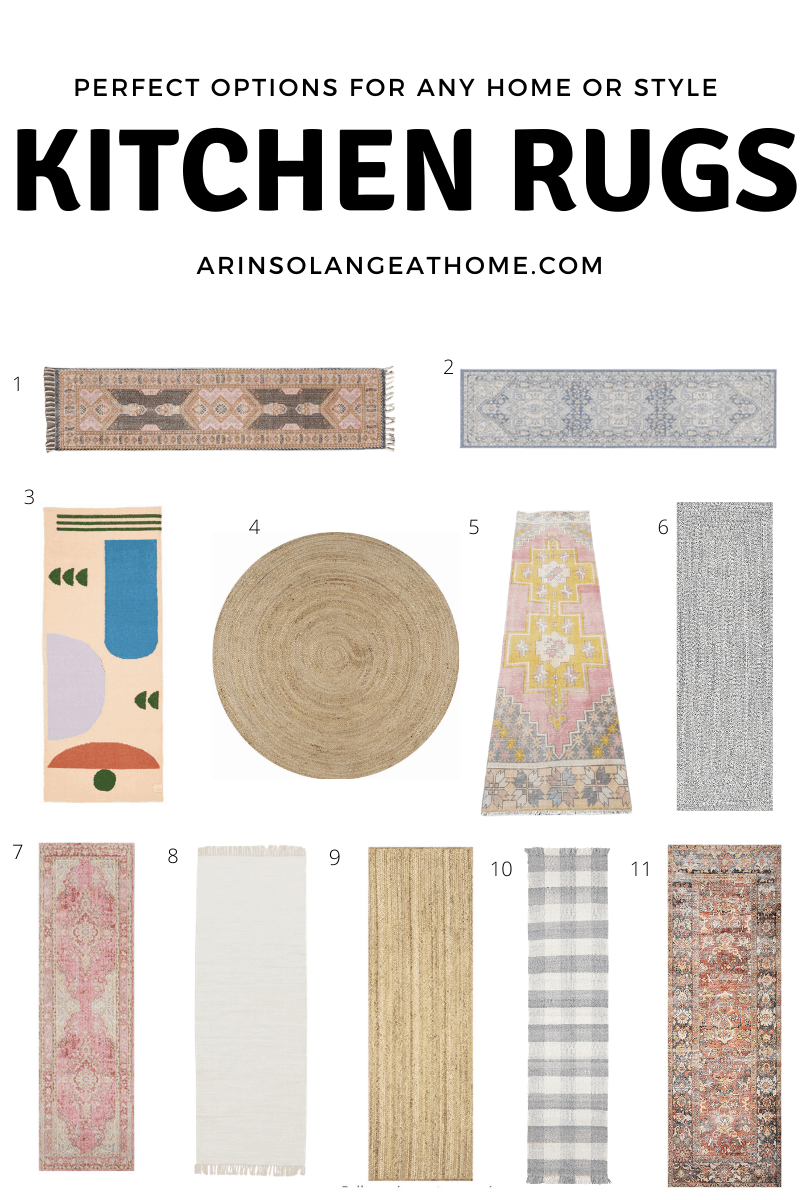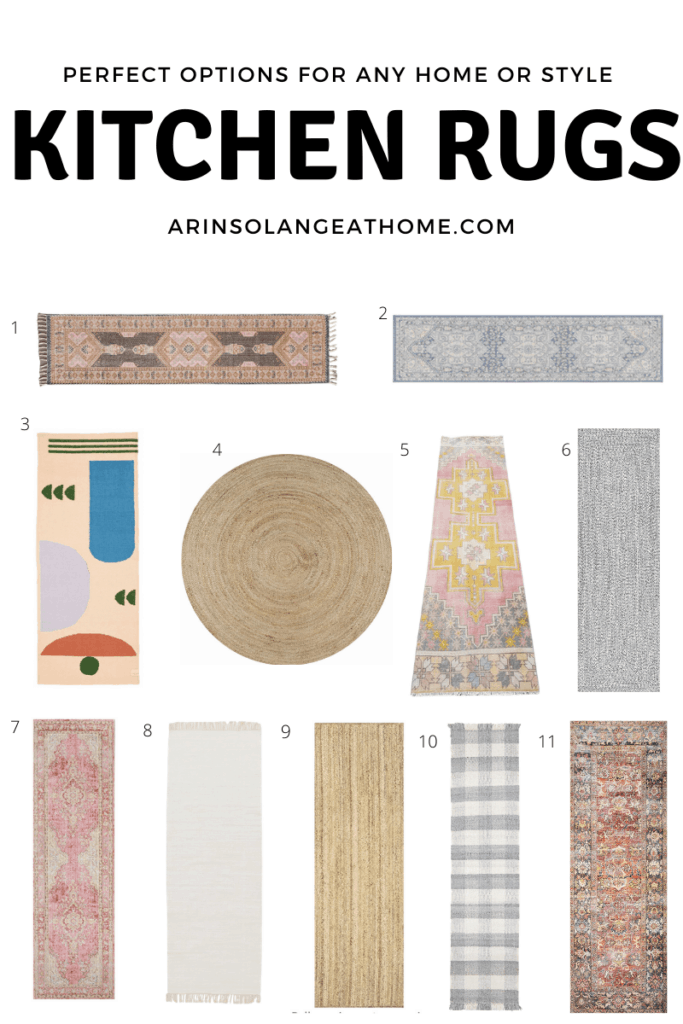 Shop Kitchen Rug Ideas Below
1 | 2 | 3 | 4 | 5 | 6 | 7 | 8 | 9 | 10 | 11
Kitchen Rug Ideas – Outdoor Rugs
The last kitchen rug idea is to do an outdoor rug – outdoor rugs are a great option especially if you are putting a rug in front of the sink. Rugs can get wet and obviously get dirty in your food prep area and this is the perfect way to add in a rug that can easily be hosed off and stands up to water for an affordable price.
Outdoor rugs tend to come in bold colors and various sizes, so you should be able to find a stylish rug for your kitchen no matter what your style is.
That is the last of my round ups and hopefully in all of those options your found the perfect kitchen rug or your space.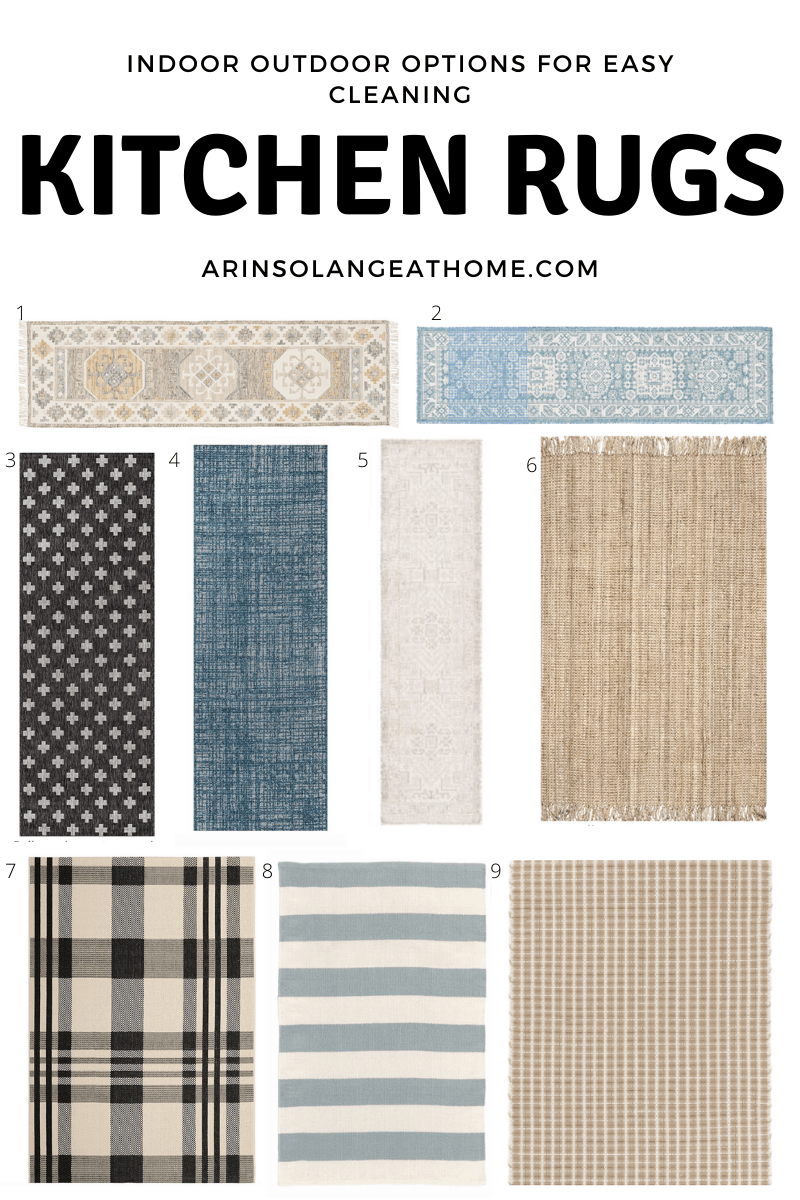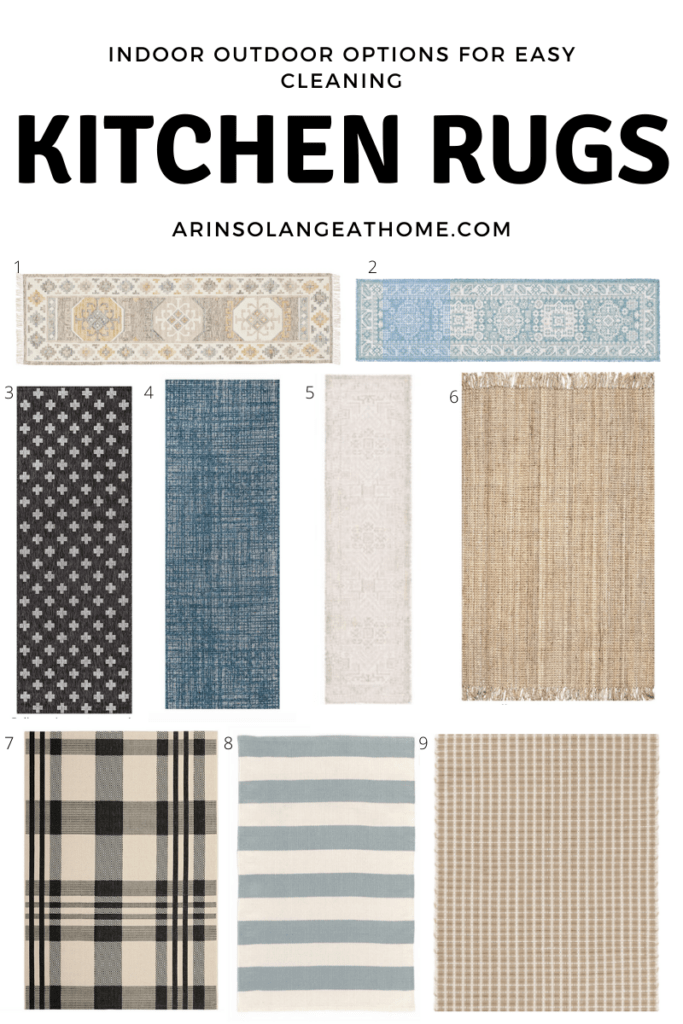 Shop Indoor Outdoor Kitchen Rugs Below
All the rugs below are available in runner size as well
1 | 2 | 3 | 4 | 5 | 6 | 7 | 8 | 9
Other Posts You May Love:
Brass Pendant Lights | Jenny Lind Bed | Brass kitchen Lights | Boys Wallpaper
Pin the Photos Below for Later
Hopefully this round up of the best kitchen rugs helped you find the best choice for your house and you are excited about a new rug for your kitchen. Be sure to follow me on Instagram (@arinsolange) for more home decor and diy inspiration, and pin the photos below to find this post later!