I have been DYING to do a DIY fluted wall and finally found the perfect place to do it! Today I am sharing a DIY fluted wall tutorial using PVC pipe. This is truly a DIY that anyone can do and it will majorly update a space on a great budget!
This post may contain affiliate links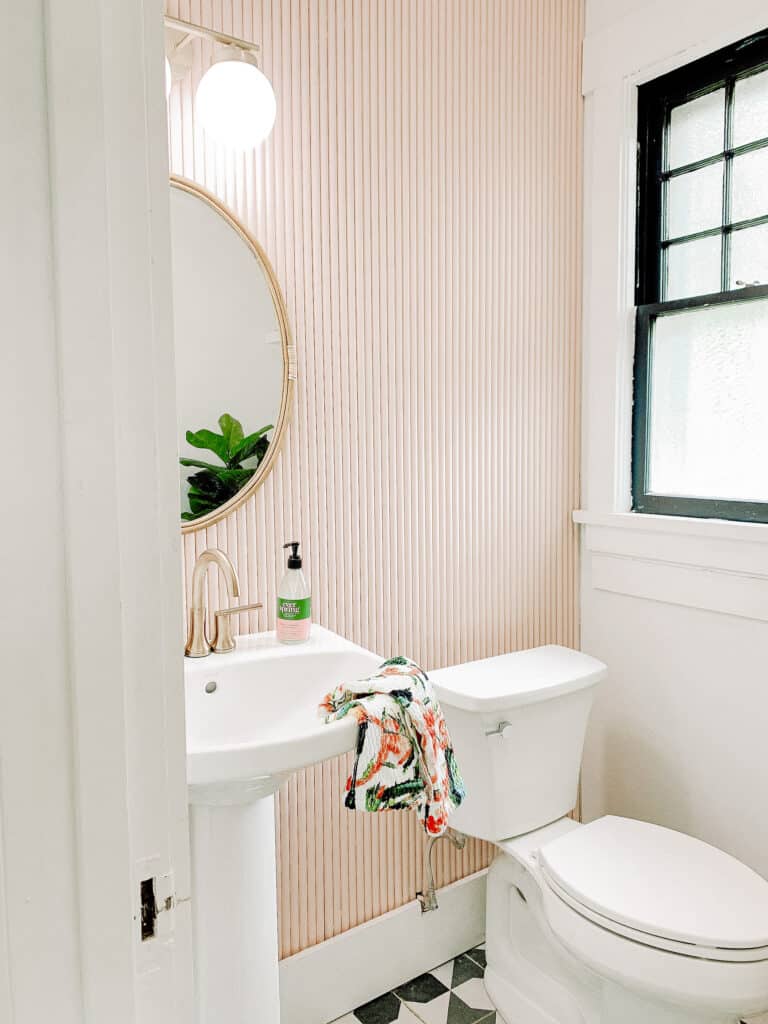 DIY Fluted Wall
Like I said – this has been on my 'want' list for so long. The fluted look is really in right now and let me tell you – it lives up to the hype. THAT SAID – it is so in right now that finding lumber is hard. On top of that – lumber is so expensive right now that it makes it hard to justify a modern DIY like this.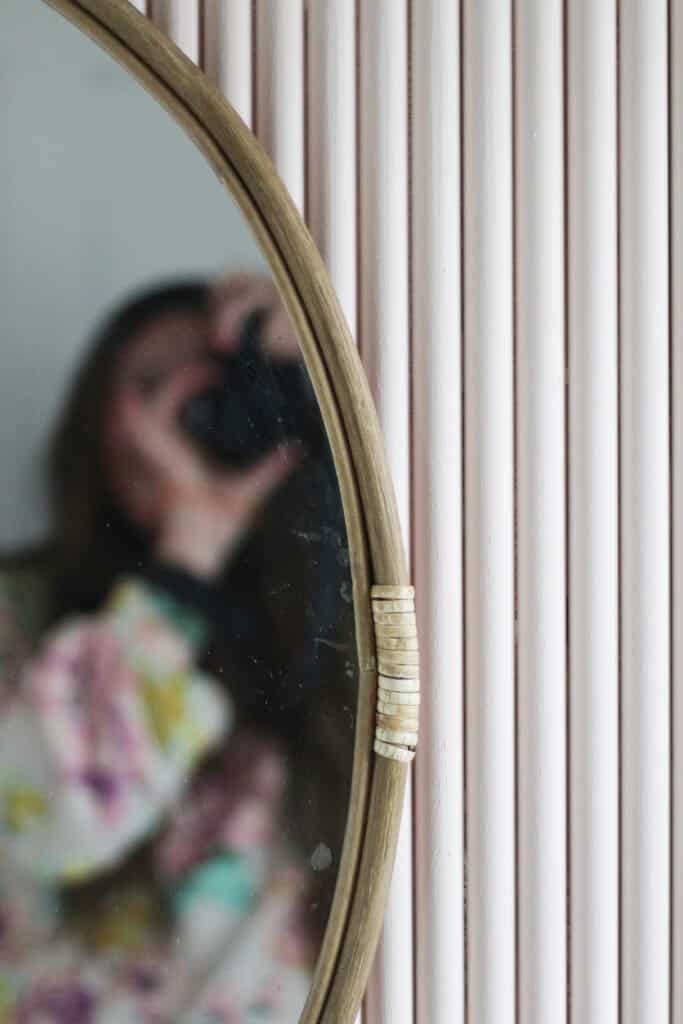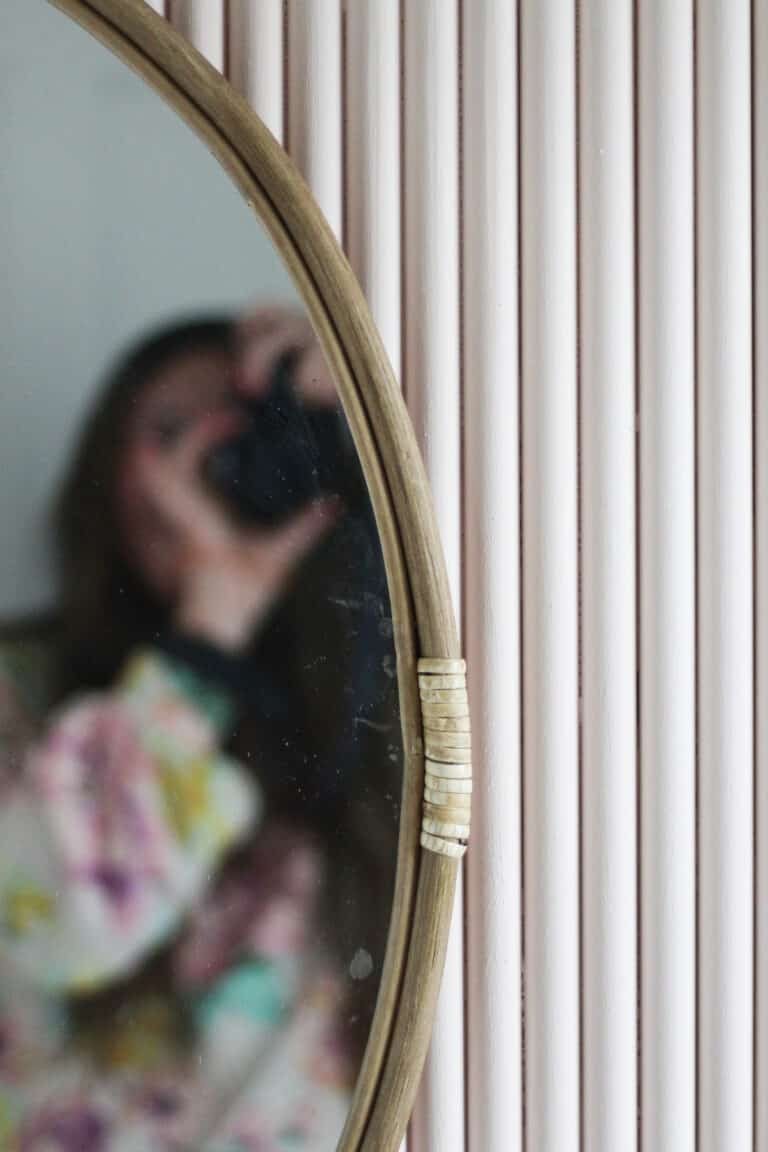 As I was walking around the hardware store looking for ideas on what to use for my feature wall I got the idea to use PVC pipe. I won't lie to you – my husband instantly told me this was a bad idea….but that didn't stop me from loading 80 PVC pipes up in my SUV to surprise him at home.
All in all this was a fairly easy project that is great for beginners – so I can't wait to share how it is done!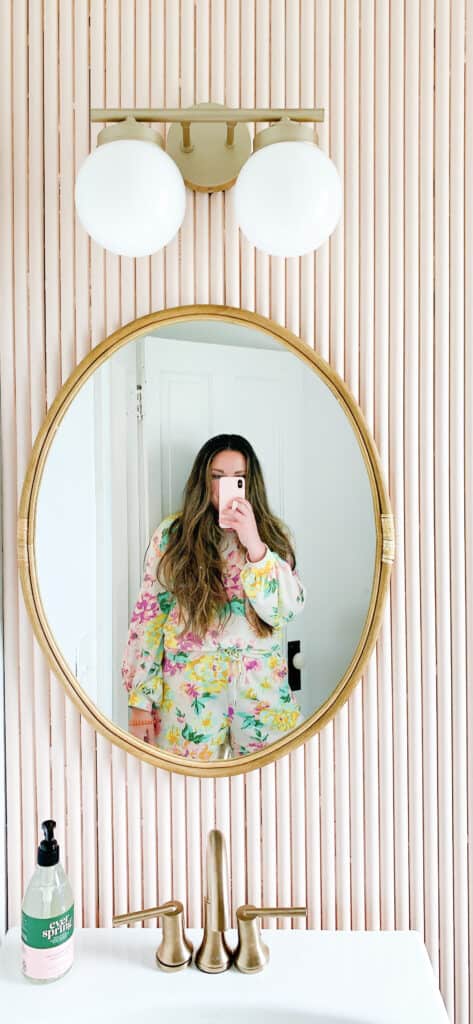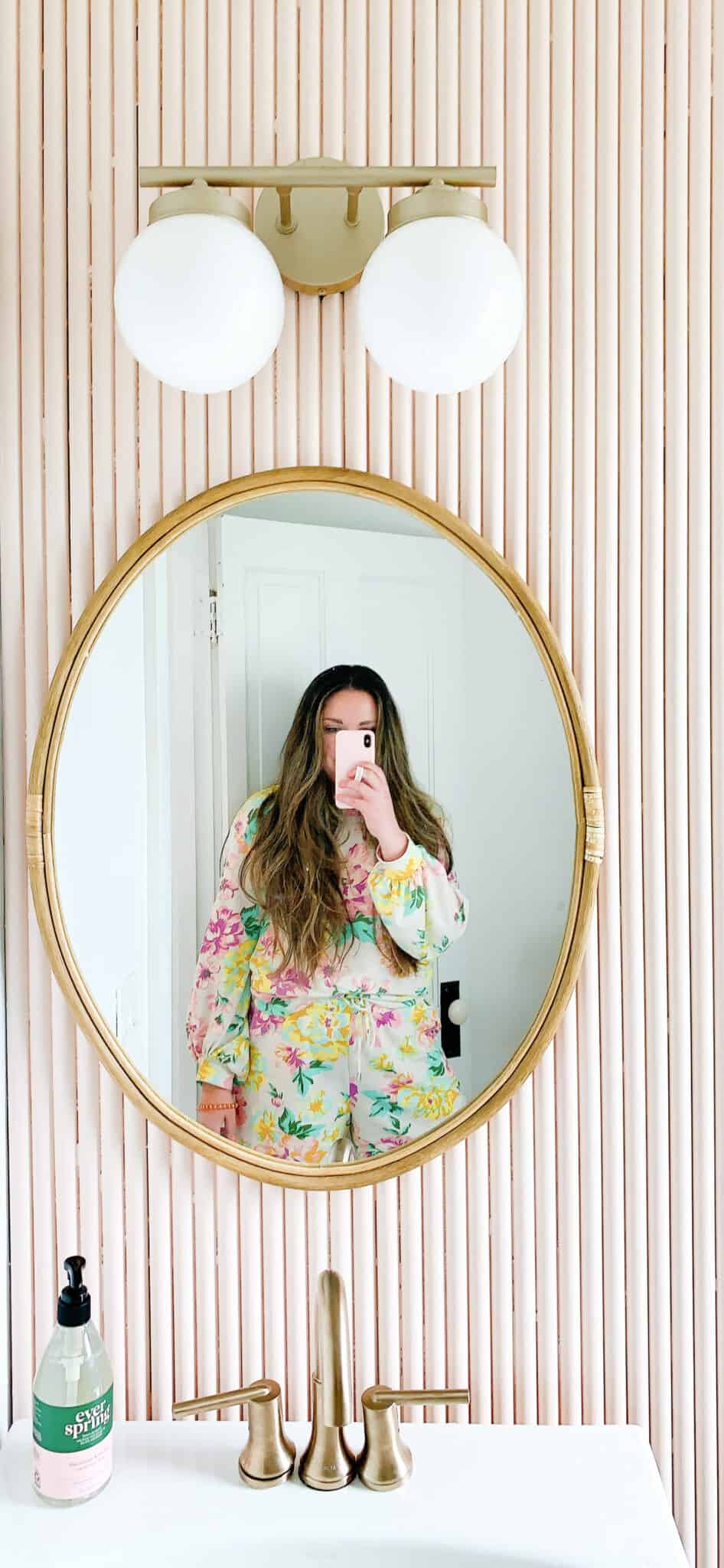 Powder Room Updates
I am making a trend of updating my powder rooms to be bold, pink and unique in their back wall. In our last house I did a feature wall in our powder room with sticky tiles that I LOVED, so I knew I wanted things to be bold.
Incase you aren't a frequent reader or follower of my space – we are renovating an 1860's home and that means some spaces are just sort of 'awkward'.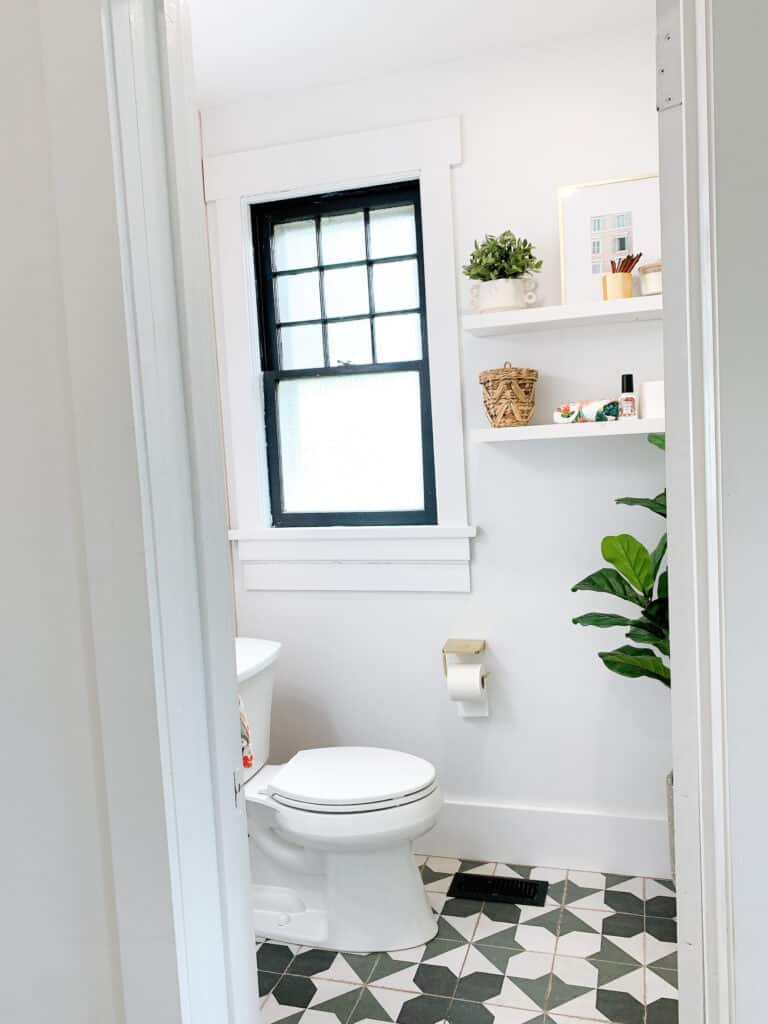 This powder room is good in size but the lay out is funky – so a pedestal sink worked best, and that leaves for no storage and organization. I knew that on top of making the space pretty and fun, I needed to add some function to the space.
Floating Shelves can be a great way to add to a bathroom and utilize items you need as decor. In this case – we have no fan in the bathroom so out of kindness for others I added Pooperie and matches. I also added an extra roll of TP on the shelf, and a small container for feminine hygiene products.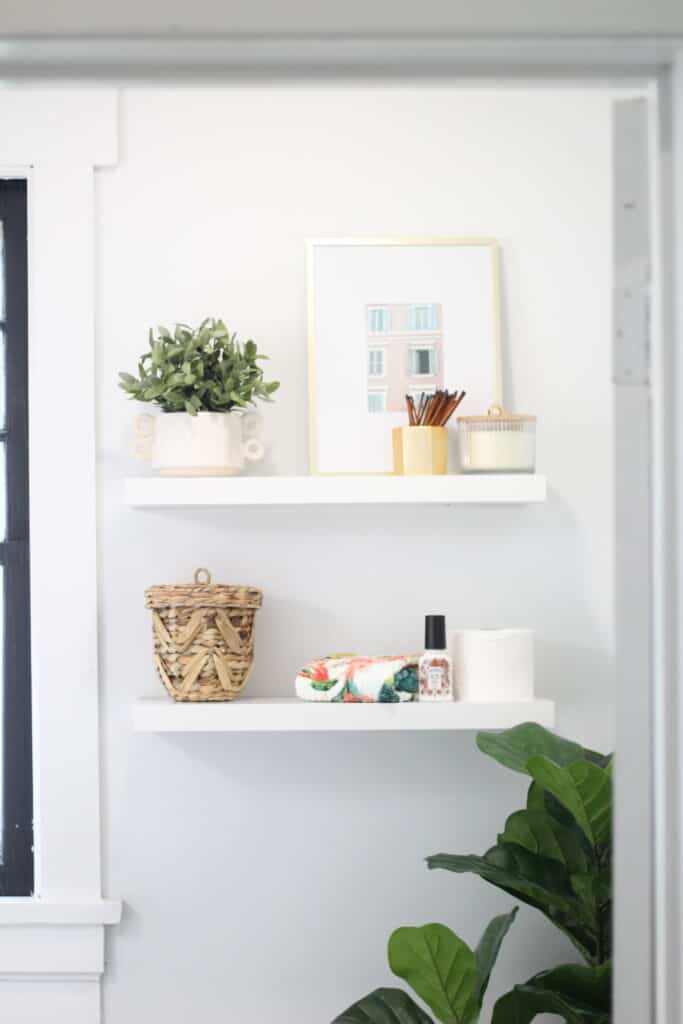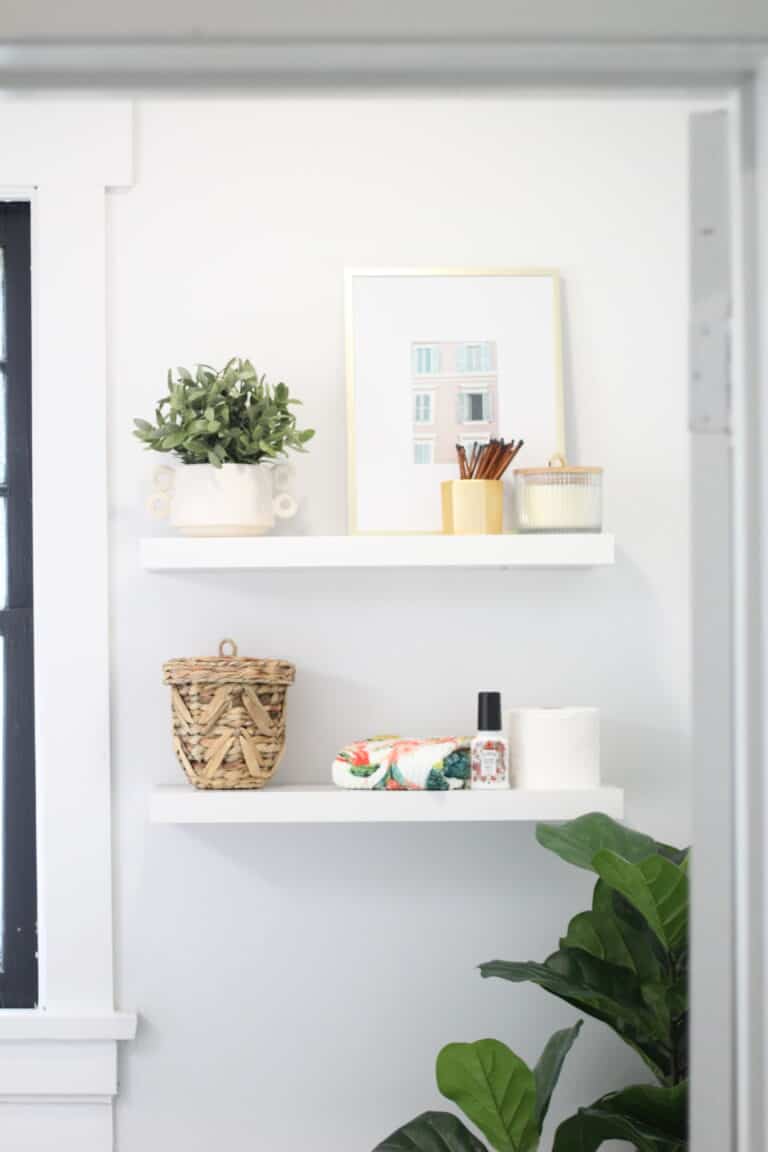 Those little additions are both pretty and functional. To shop the items they are all linked below!
Shop Shelving Decor
Small wicker container | Towels | Candle | Matches container (not pictured – mine didn't come in time for photos | Pooperie | Shelves | Frame | Print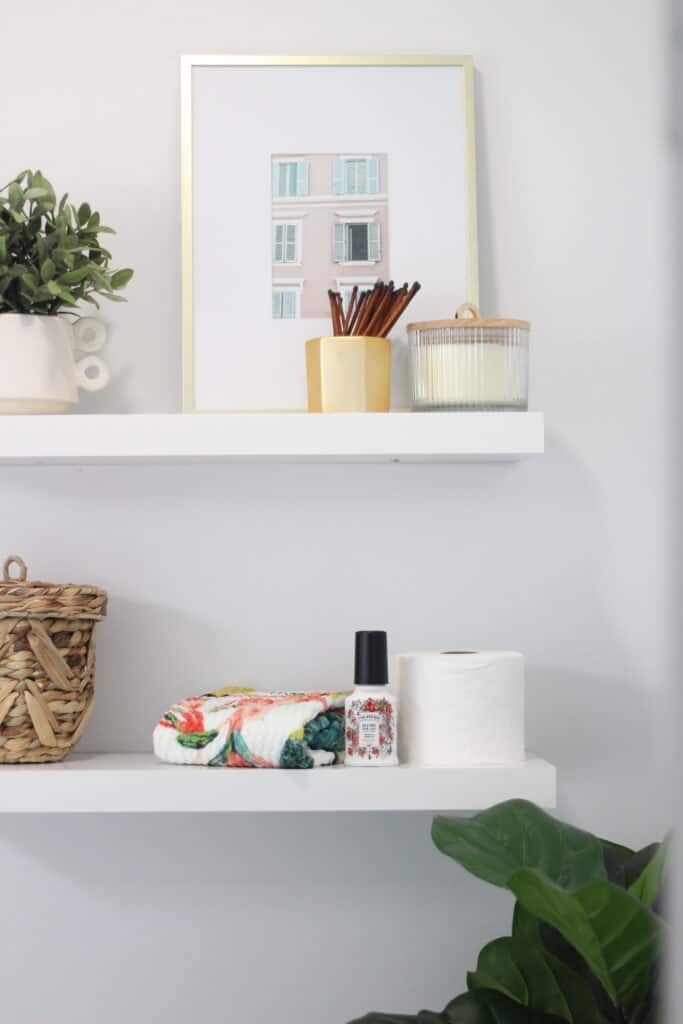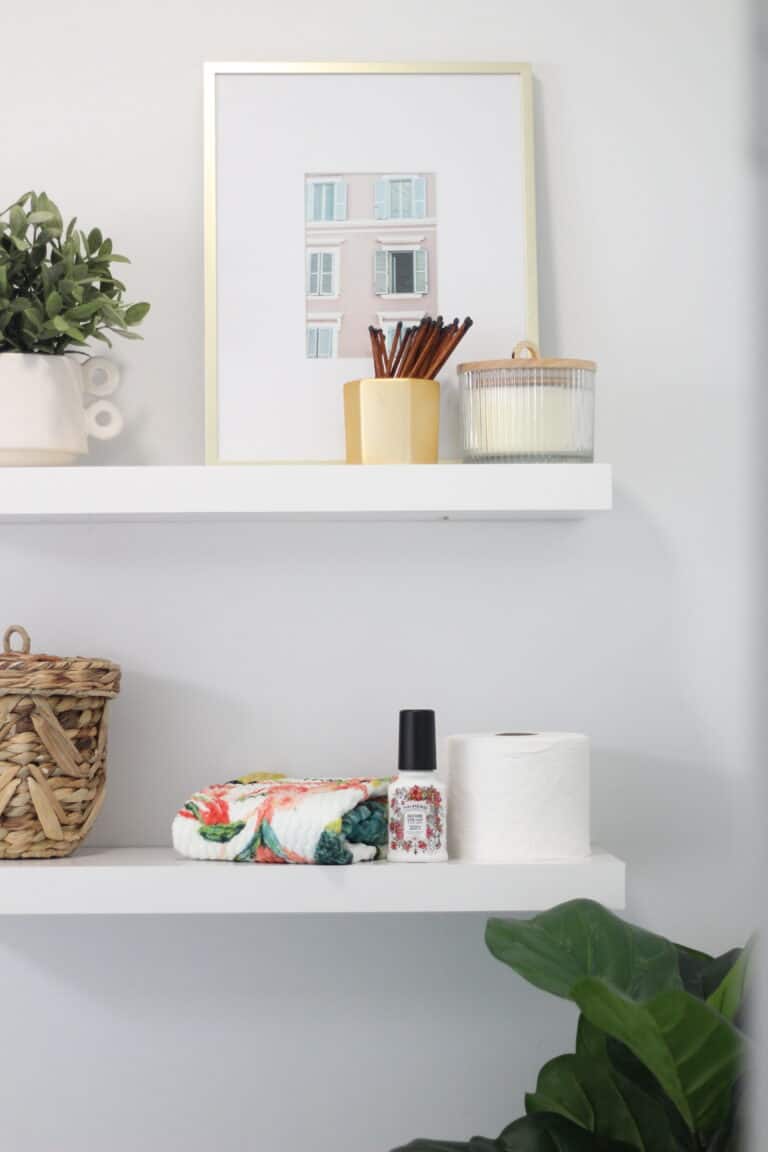 DIY Fluted Wall Tutorial
Now for why you're here! The DIY fluted wall tutorial! This is a fairly beginner DIY and takes minimal tools to complete.
You can do this many ways, and with any size PVC you want – but keep in mind for a space like a bathroom not to go too big because of the toilet and such.
You can also save money on supplies by personally cutting the pipes in half or finding someone to do that for you!
Supplies for DIY Fluted Wall:
PVC Pipe – I used 1/2 inch PVC – which actually made it a bit wider than that because the size is based on the internal opening width.
Liquid nails ( and gun) – we preferred this one of the 3 we used
Screws and Drill IF you can hide some behind trim.
Sandpaper
Paint – we used Sherwin Williams Romance in a flat finish
Painters Tape
Tools for DIY Fluted Wall:
You could technically do all of this with a hand saw – it would not be quick but you COULD!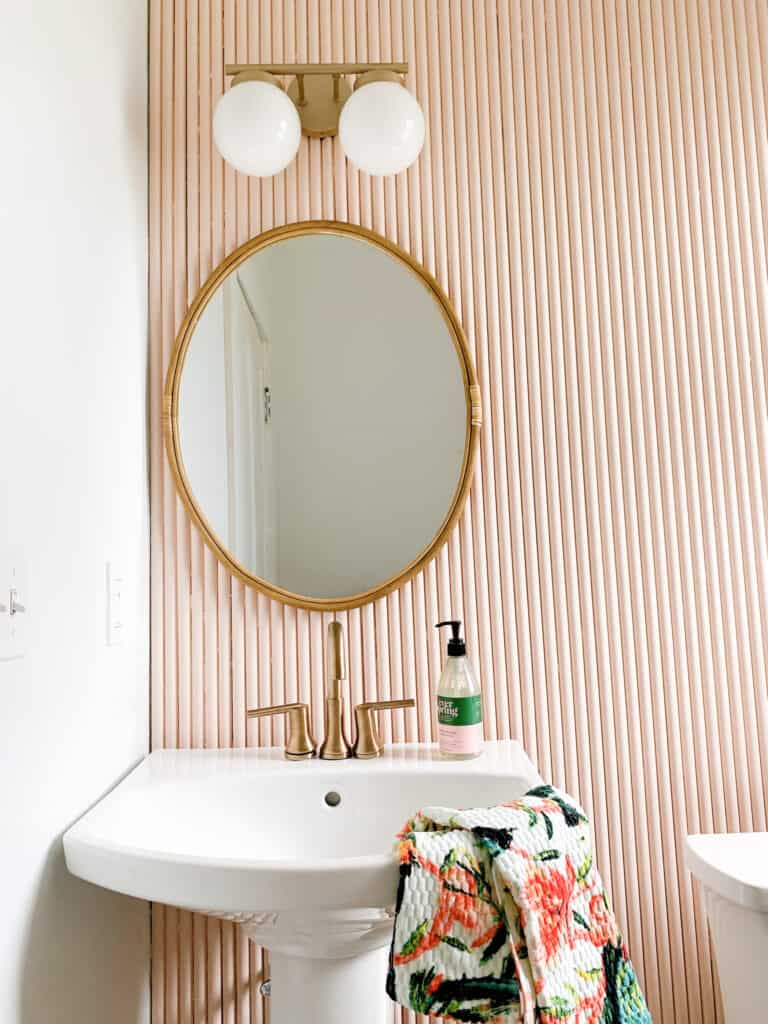 Steps for DIY Fluted Wall :
Cut your PVC Pipe – if you are finding the bottom behind baseboard it doesn't have to be exact but does need to be long enough to go behind the baseboards.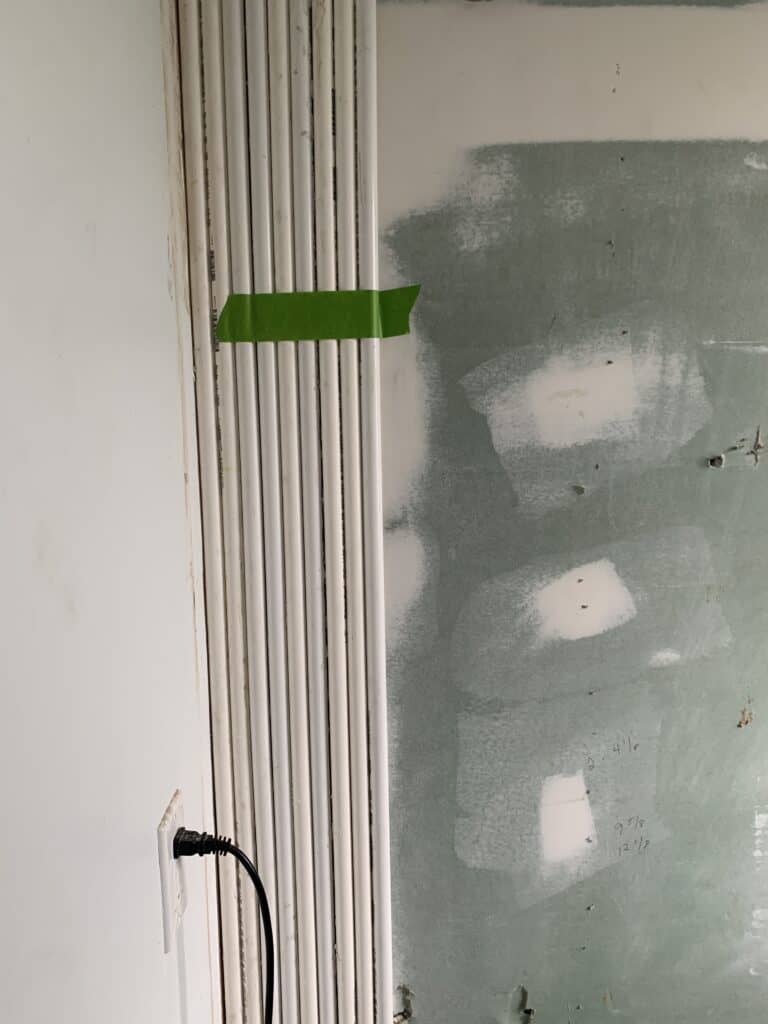 2. Grab your first few and add some liquid nails to the walls in a back and forth method on the wall. You are going to one at a time starting in one corner slide your first pipe tight to the ceiling then add ONE screw at the very bottom where it will be hidden behind the baseboards. ( if you aren't hiding them behind baseboard you will need to go much slower and utilize painters tape more.)
When you get to lights, outlets, plumbing – anything that breaks up the wall, you can use the multi-cutter to make cuts in the PVC pipe. I personally drew with a sharpie so I could do it at angles where needed as well. Multi tools are inexpensive and super helpful to have – so if you don't known one you won't regret it.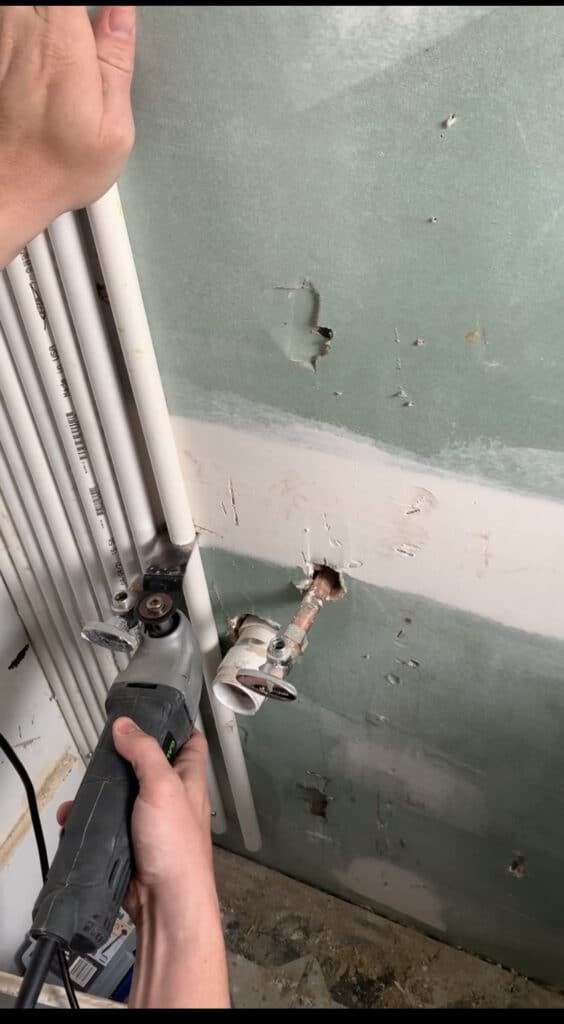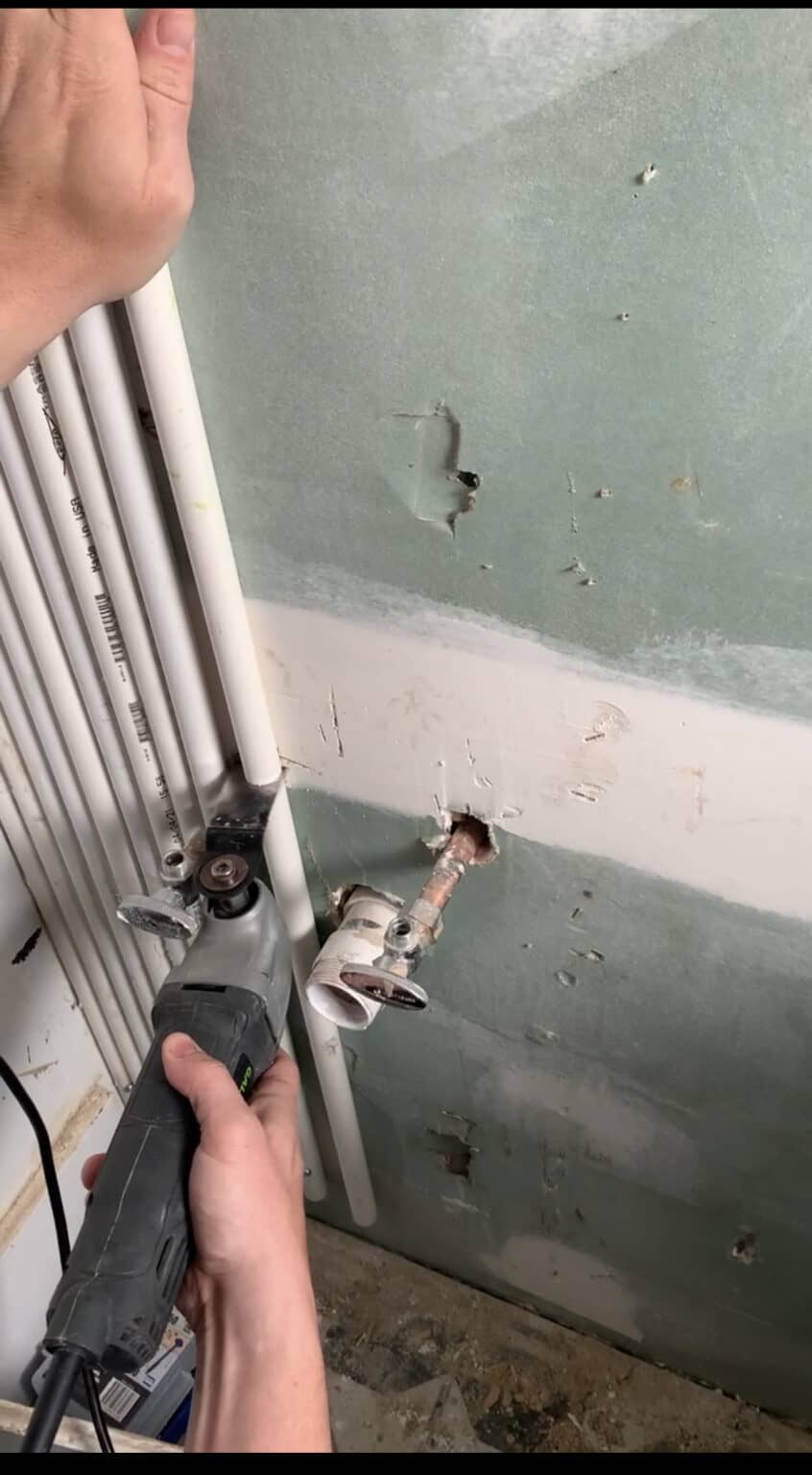 3. Once you have 2- 5 up take several strips of painters tape and let those dry!
4. You will continue doing this in "batches" to finish the full wall. When you get to outlets/light openings and so on you will have to cut your piece – I personally did so with our multitool!
5. Once your full wall is up and dry you need to sand the wall well – really scuff the wall up.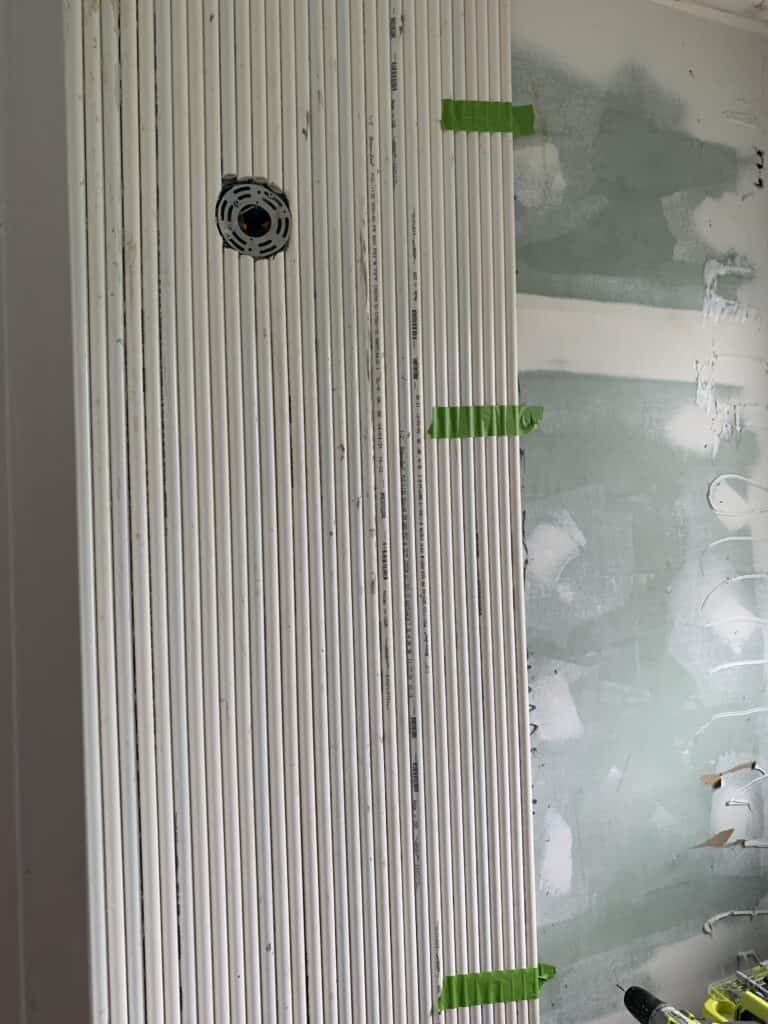 6. Give the wall 2 coats of your bonding primer and let those dry fully
7. Now it is time to paint your wall. We did two coats of paint as well.
8. Replace your baseboard
That is IT! It honestly was really simple!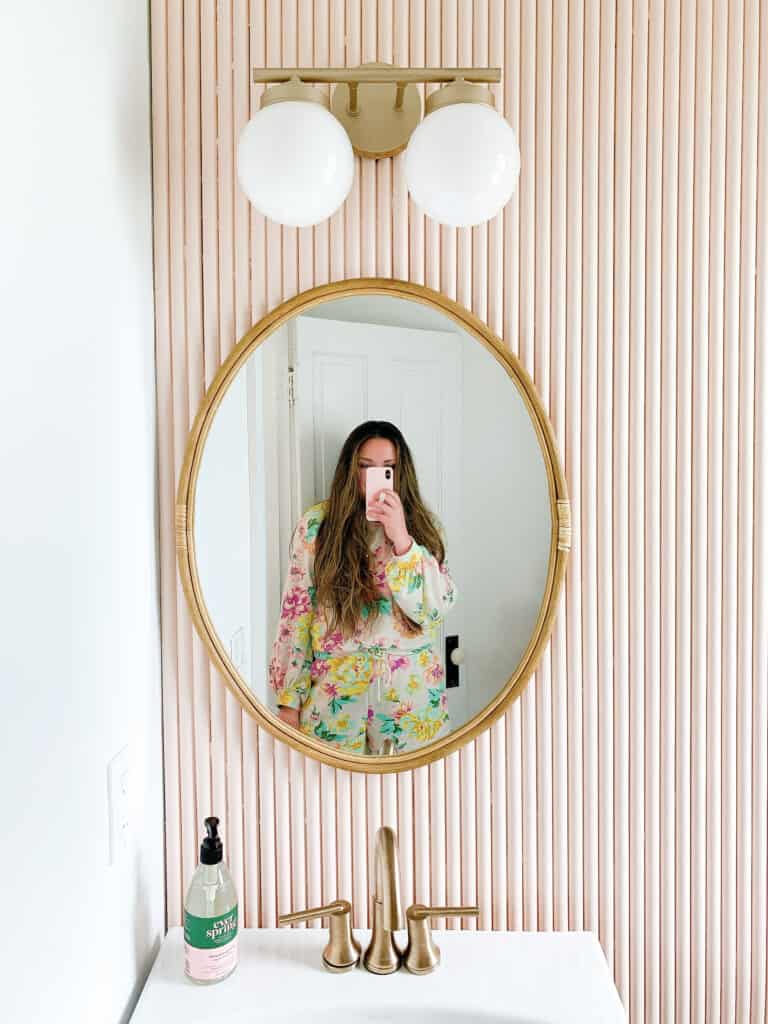 Room Details:
Mirror | Light ( I did spray paint it to match the faucet) | Faucet
Other Posts You May Love
If you loved this post then check out these other great posts you will love!
Pedestal Sink Storage Ideas |IKEA Dresser Hack | DIY Canopy Bed | Boys Room with Black and White Wallpaper | Beddys Bedding Review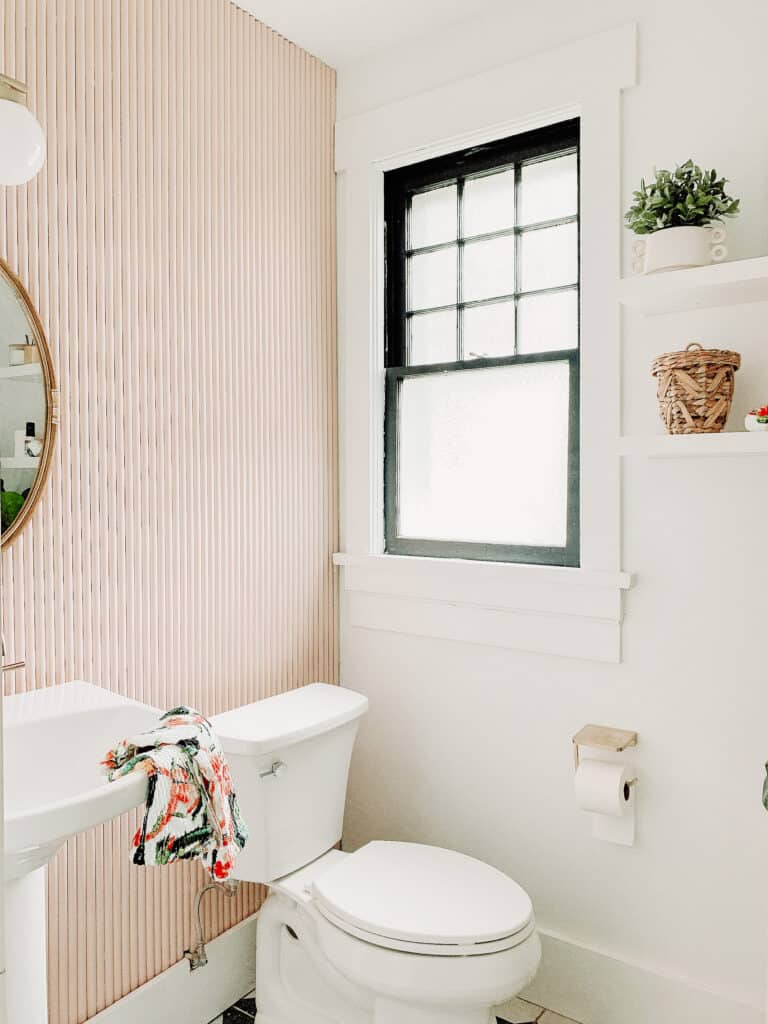 Pin the Photo Below for Later
Hopefully this inspired you to create your own DIY fluted wall with PVC pipe. Pin the photo below for later, and be sure to follow me on Instagram (@arinsolange) for more inspiration!