Another quick weekend warrior DIY for this easy DIY side table. You know I am all about making something your own if you can – and this little side table was a SUPER EASY way to make something your own. Sharing the DIY post below as well as some great other options.
This post may contain affiliate links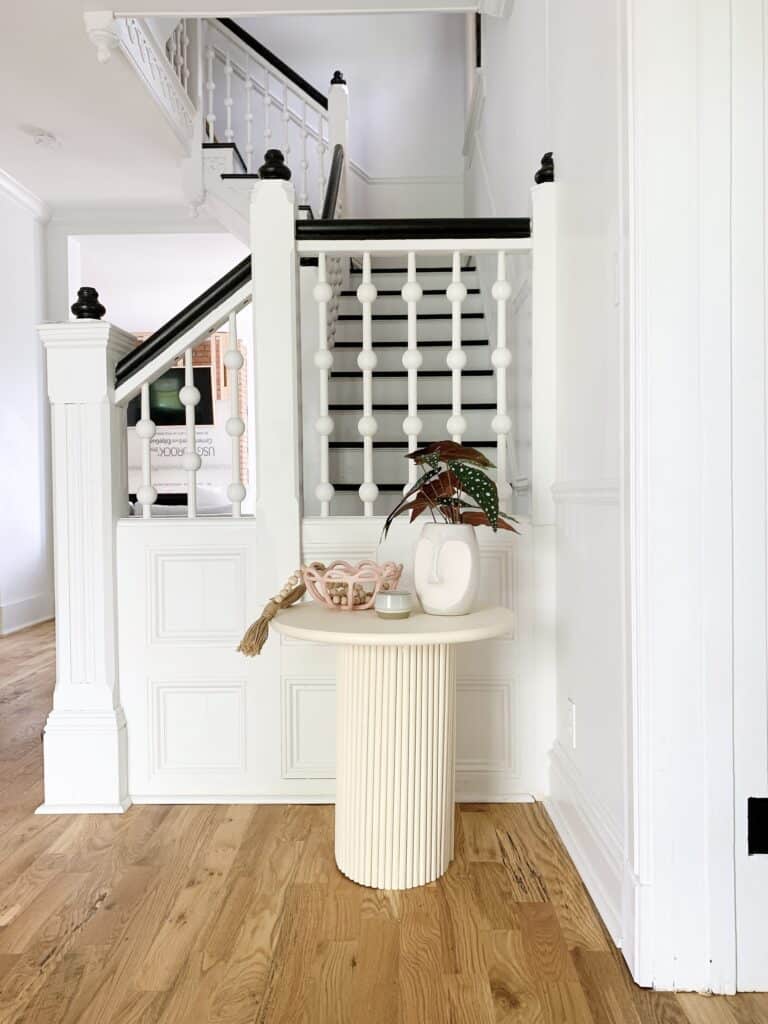 DIY Side Table
When we were creating our new family room space one thing that I knew I wanted was a round side table – but I wanted it to be of substantial enough size and height with our couches.
Clearly I could have just bought a side table but – A: what fun is that, and B: Finding something semi affordable for my exact needs was proving to be pretty difficult.
I have been leaning a bit more modern and Art Deco in some of my decor choices and this table was a clear easy choice (to go with a very last minute room).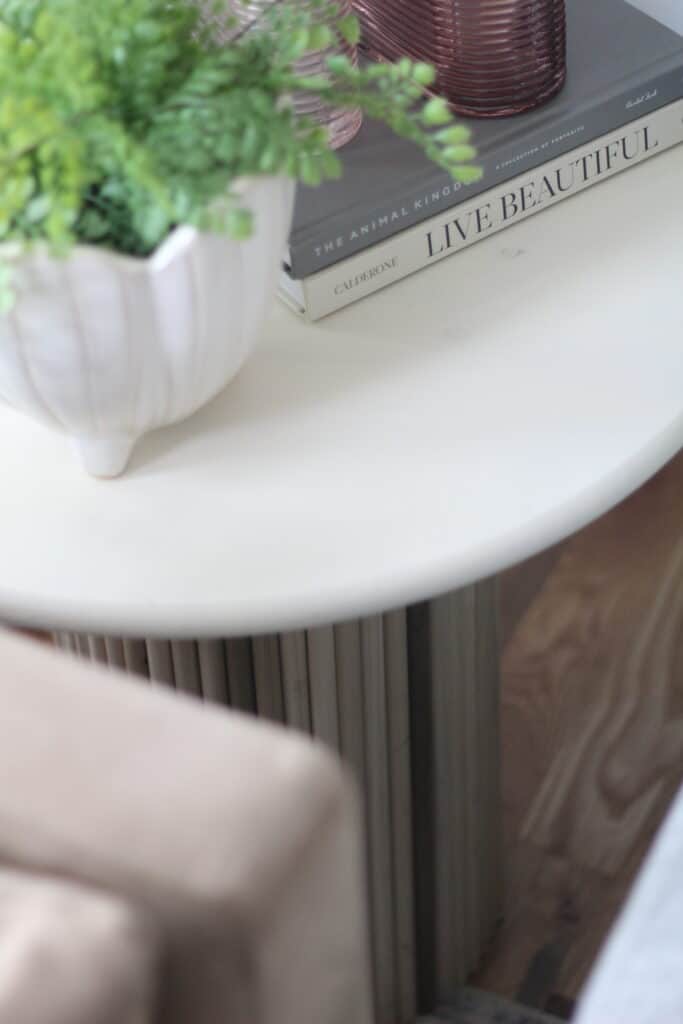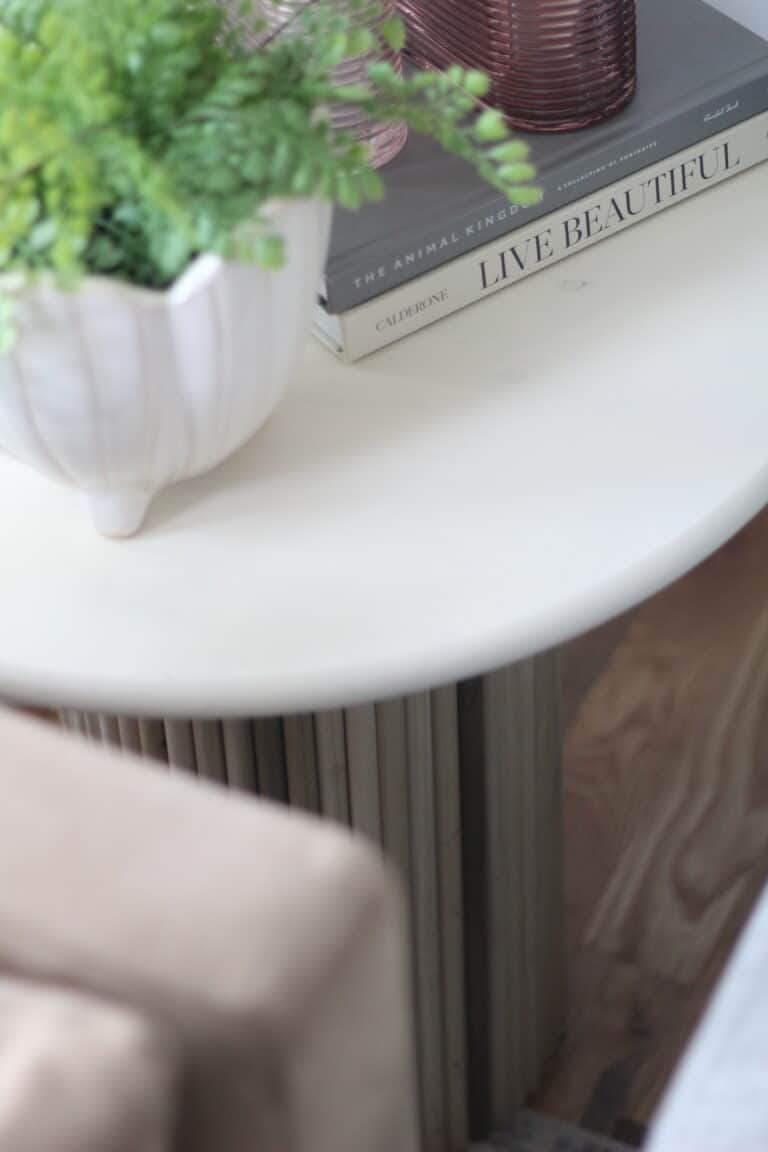 Fluted Furniture
If you are on Instagram then you have been seeing fluted furniture. It is everywhere – and so much so that finding the supplies for it is getting tricky.
It is a fun style that works really well whether you're modern, traditional or anything in between. I have seen it done on coffee tables, end tables, cabinet fronts – you name it.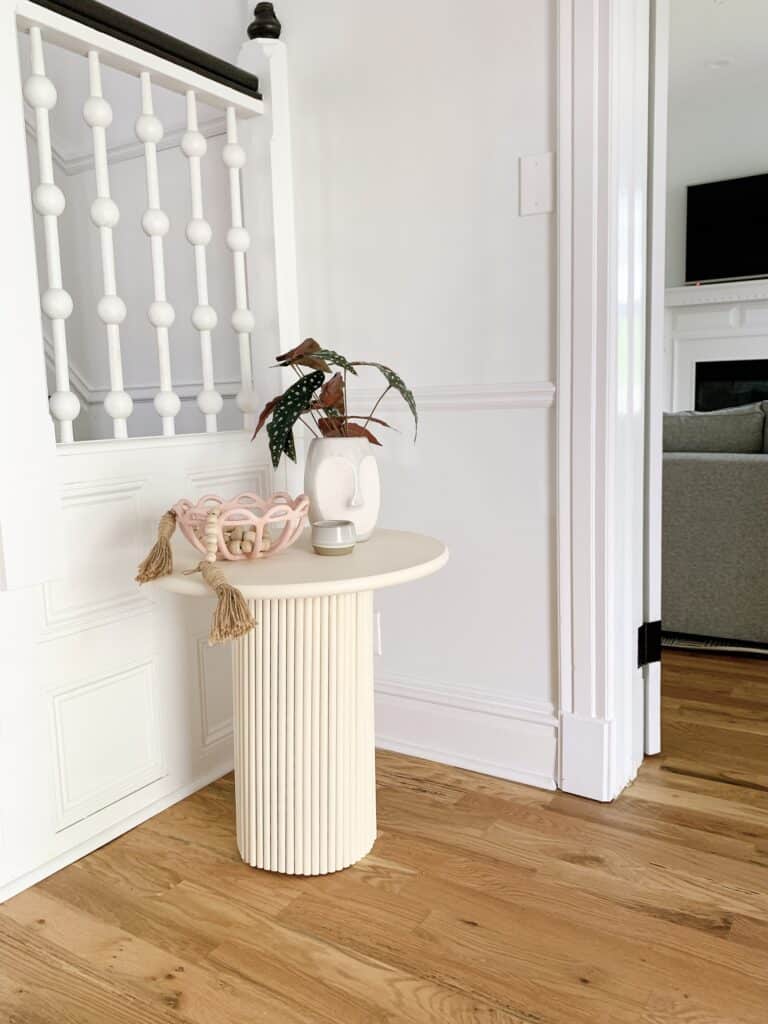 I actually first started doing a DIY with fluted furniture when I was working on Ave's dresser this past fall – I utilized dowels to create a sunburst look and it turned out so cute – and clearly didn't scare me away too much.
Tips on Supplies for your DIY Side Table
One thing that I STRIVE to do when I am sharing DIY's is to make them as affordable as I can. Sometimes that means the method I personally used isn't 'the best'. IE – in the learning process of it I learn that you can stick with my plan or go with something different.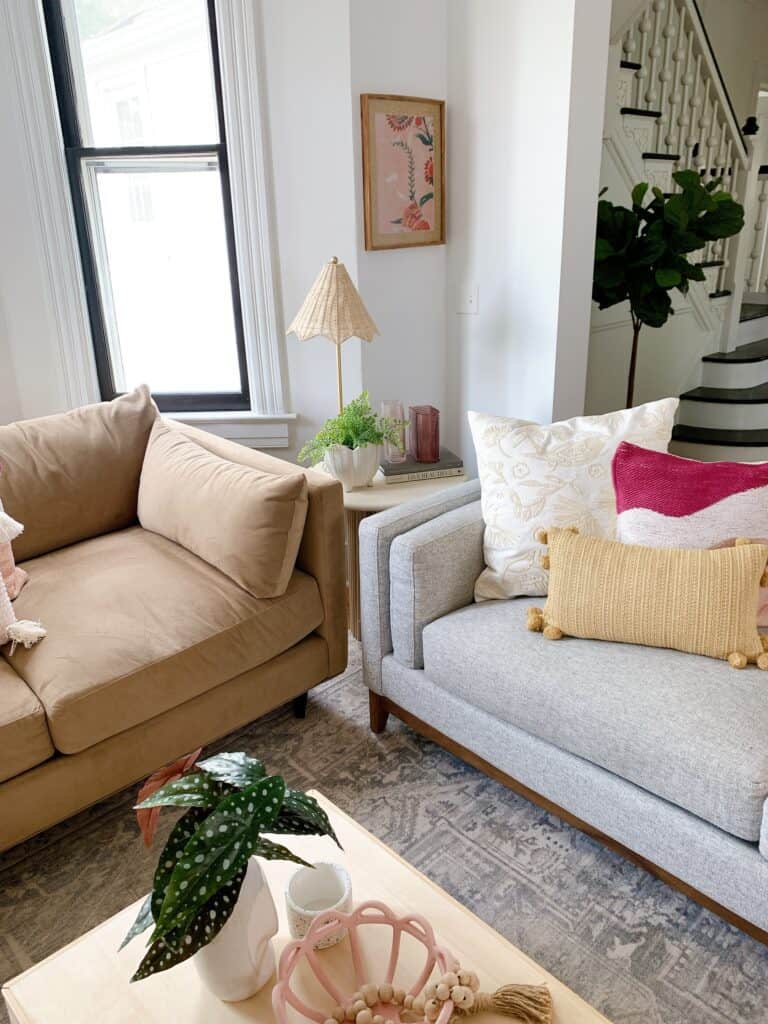 If you are planning to Paint
The dowels can be basically anything – similar to mine they didn't mach in terms of color. BUT I am currently working on a wall in our powder room and realized that you could most definitely also use PVC pipe to make this so much more affordable.
This will clearly only work if you are going for a painted finish but will save you a ton of money – especially in this high cost of lumber world we are in.
If you are Planning to Stain
Clearly if planning to stain there is a bit more thought that needs to go into your supplies. You need to make sure that your dowels are in a similar color – you can see that some of mine were a bit green and I wouldn't have picked those.
This method also clearly leaves off the option of PVC pipe. However you could do a stained top and painted base if you wanted!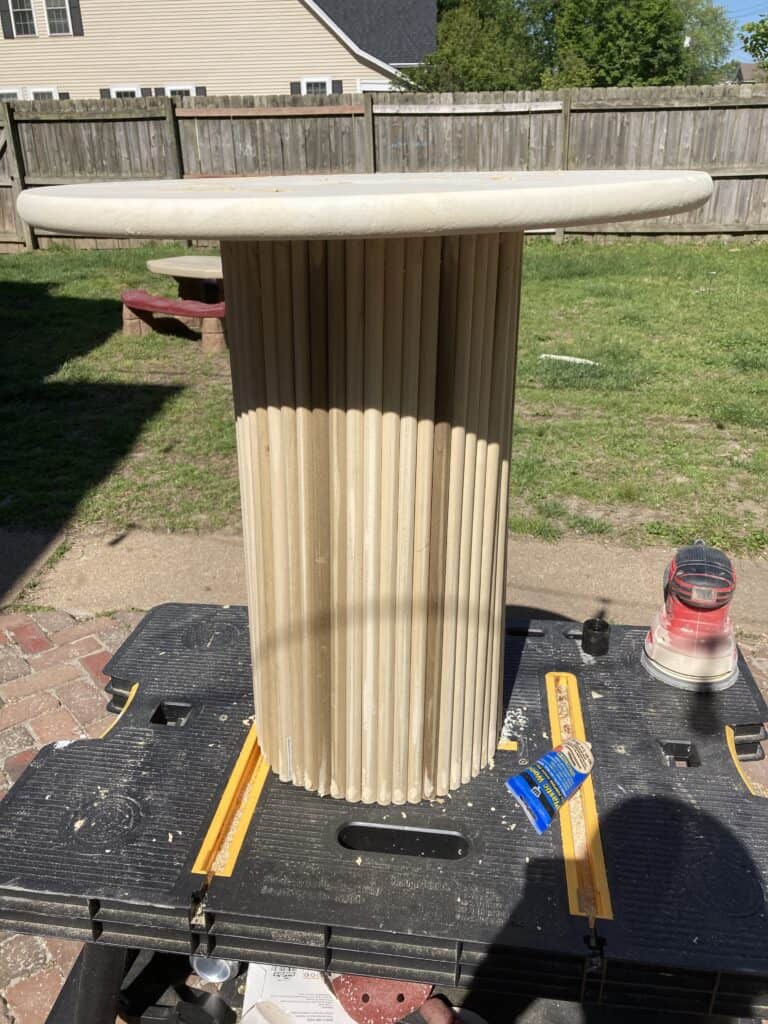 Supplies for DIY Side Table
So this is one of those DIY Posts that can be tweaked and changed based on what you can find and what you want exactly. I will share options along the way in the supplies and directions to make this your own!
Materials
Table Top – I went with a 24 inch wood round
Stability/ forms for the base – You have some options here. We personally used scrap lunar and my husband cut me two rounds with his jigsaw. This saved money but that was because we had that ability. The more easy option is to buy 2 round wood pieces like these. anything from 9 inches – 12 inches would work great but I can't seem to find them smaller than 12 inches.
Dowels – I just linked to the ones I used (however I found them for $2 ish a piece at Menards! For the 12 inch round at the height of my table you would likely need about 22 of them!
Liquid Nails
Stainable/ Paintable Wood Filler
Tools
Yield: 1 end table
Easy DIY Side Table with Modern Flair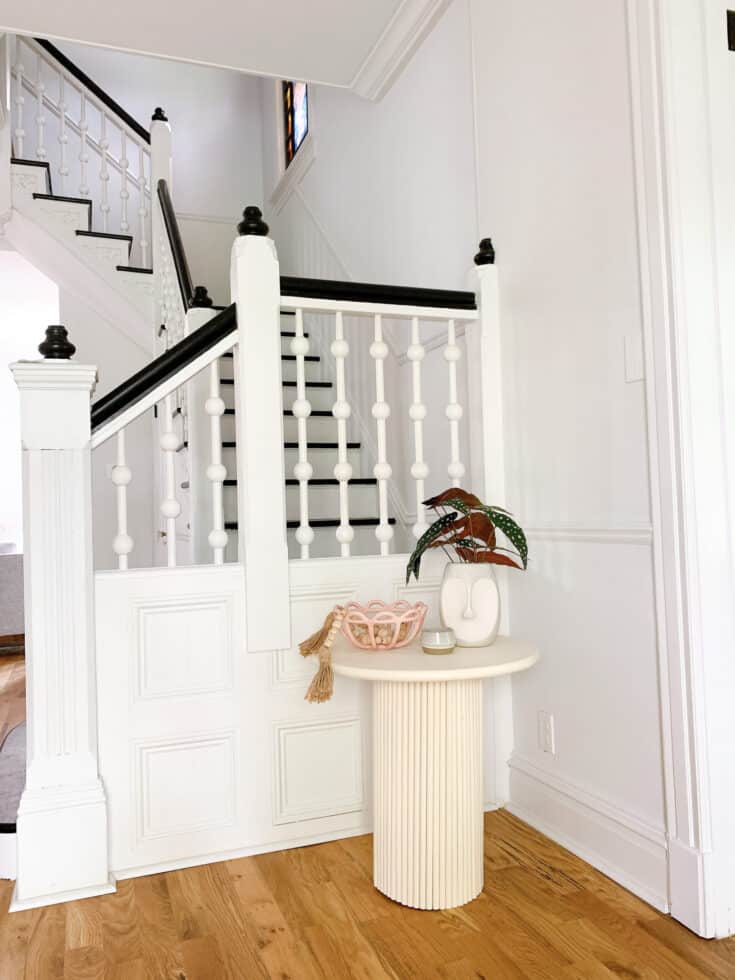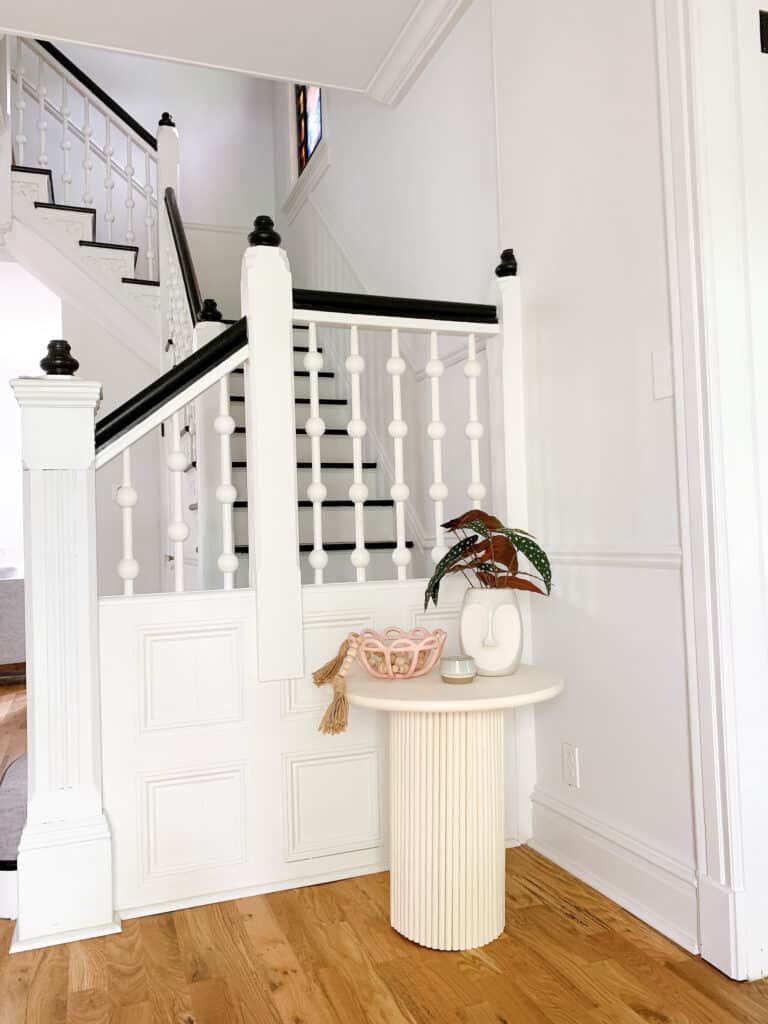 Create a modern, fluted side table
Materials
Scrap wood OR  2 12 inch wood rounds 
Liquid Nails
Paint or Stain 
Stainable and Paintable Wood Filler 
Tools
Instructions
Cut all of your dowels or PVC Pipe to 23 inches tall (or your preffered height). For the exact dowels we used 22 dowels will be enough, however if you change the size of dowel at all you may need more or less.
Attach your 12 inch wood round to the bottom of the 24 inch wood round in the middle using screws.
Add wood glue around the edge of the 12 inch round and grab your dowels.
Now you will nail each dowel into the wood round. The wood glue in conjunction with the nails will keep it in place.
Once they are all in place set your second 12 inch wood round on the ground and nail into the bottom wood round. Once it is attached in a few spots you can flip it so you can work more easily.
Add Wood filler to all nail holes and any blemishes on the top of your table.
Sand the wood filler and make sure your base is even by sanding.
Paint or stain (notes in the blog post if you are using PVC)
How to Make your DIY Side Table
Their is a printable version of the supplies and such above if you find that to be more helpful!
Alright now all your supplies are gathered and it is time to create your DIY side table!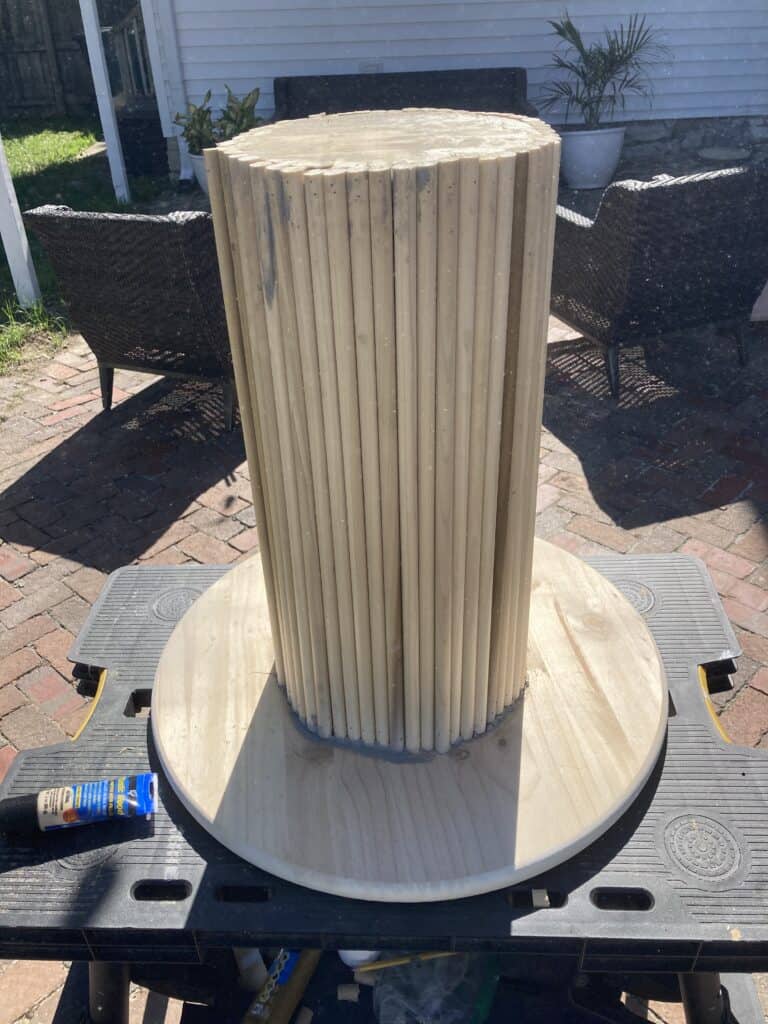 Step by Step How To:
Cut your dowels or pieces of PVC Pipe. I cut mine to 23 inches long.
Once your dowels are cut it is time to work on the base. As stated with the initial list of supplies – you will either have 2 small pre cut wood rounds or you need to cut them yourself. If you need to cut them this is the time.
Now take your 24 inch wood round and place a smaller round in the middle. Place in the center and attach with screws.
Now add a layer of liquid nails all the way around that smaller round IF YOU USED WOOD. If you used PVC you will want to work slower.
For wood rounds you will add them one by one nailing them into the wood round. For PVC I would add a few and hold them there with painters tape. Let those few dry and then slowly add more on in batches of 3 ish.
Once all your dowels are in place, take your second small wood round and set it on the floor. Place your table standing upright around the wood round and either nail into the base or add glue and glue onto the base if you are using PVC. (With the wood rounds you can flip it upside down after the first few nails to make it easier. And for the PVC wrap it tightly with painters tape while the glue dries.)
Add wood filler to any nail holes and crevices on the table top.
Sand – if you are using PVC legs you also need to sand all of the legs well.
Now if you are using PVC – wipe down your legs with acetone if you have it and prime with something like this.
Paint or stain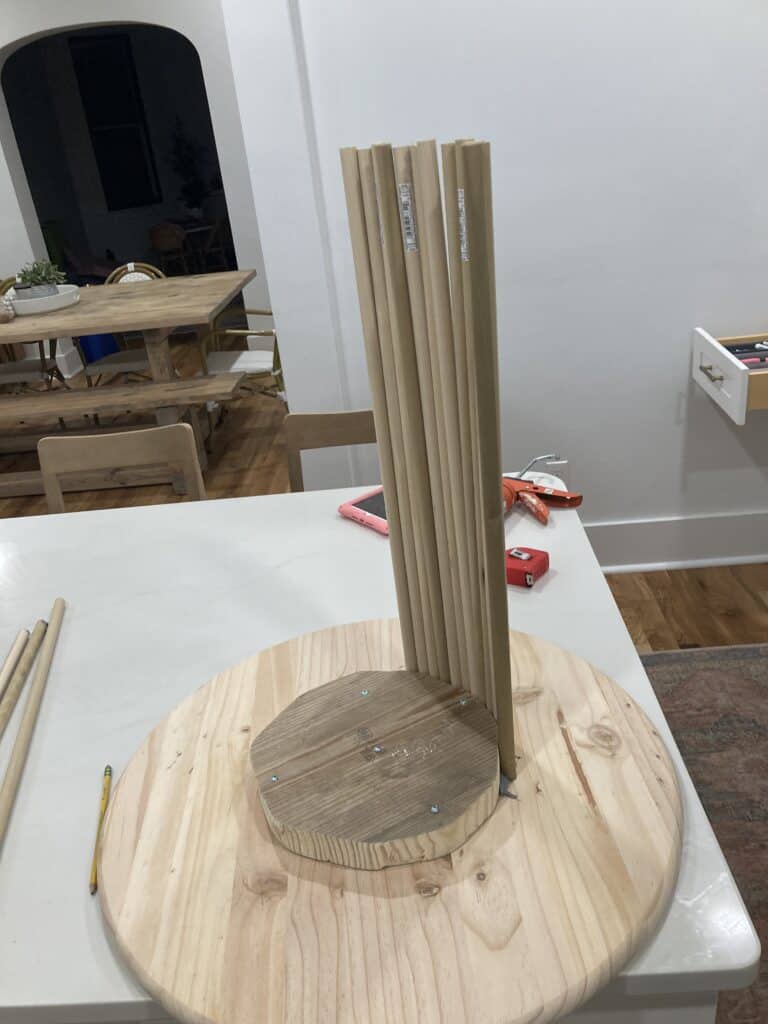 And that is it. This sounds like a more complicated project than it is. It can definitely be done in a couple hours over 2 days (especially with wood). Shop around for your dowels and find them on sale if you can.
The table is short enough that craft store dowels will work as well, so you have a lot of options!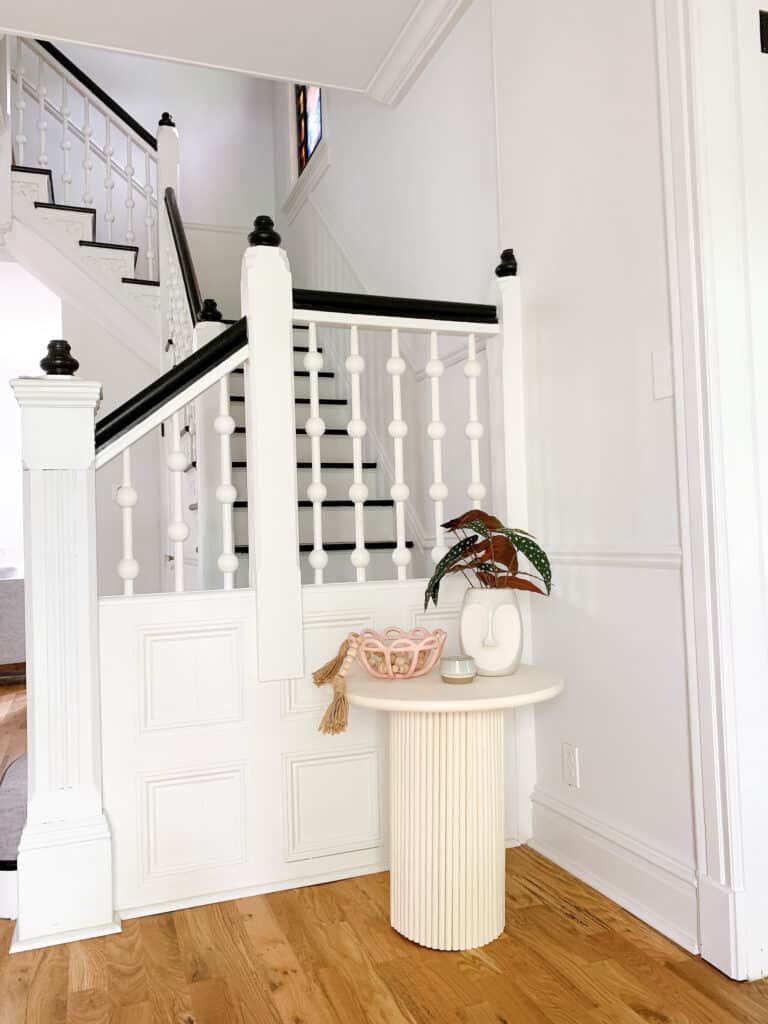 Other Posts You'll Love
If you loved this DIY then check out these other posts for great posts you'll love!
DIY Stools (if you love this you will LOVE these) | Boy's Room with Black and White Wallpaper | DIY Canopy Bed
Pin the Photo Below for Later
Hopefully you feel inspired to create your own DIY side table and this tutorial is helpful for you. Be sure to pin the photo below to find the tutorial later and Tag me in your posts on Instagram (@arinsolange) if you decide to make one.