This week is about to be a week of all the furniture DIY's! I have been going a mile a minute completing projects in our new house, and somehow that ended up looking like several furniture DIYs at the same time. To get started on the this week I am going to share some DIY stools that require NO TOOLS.
this post may contain affiliate links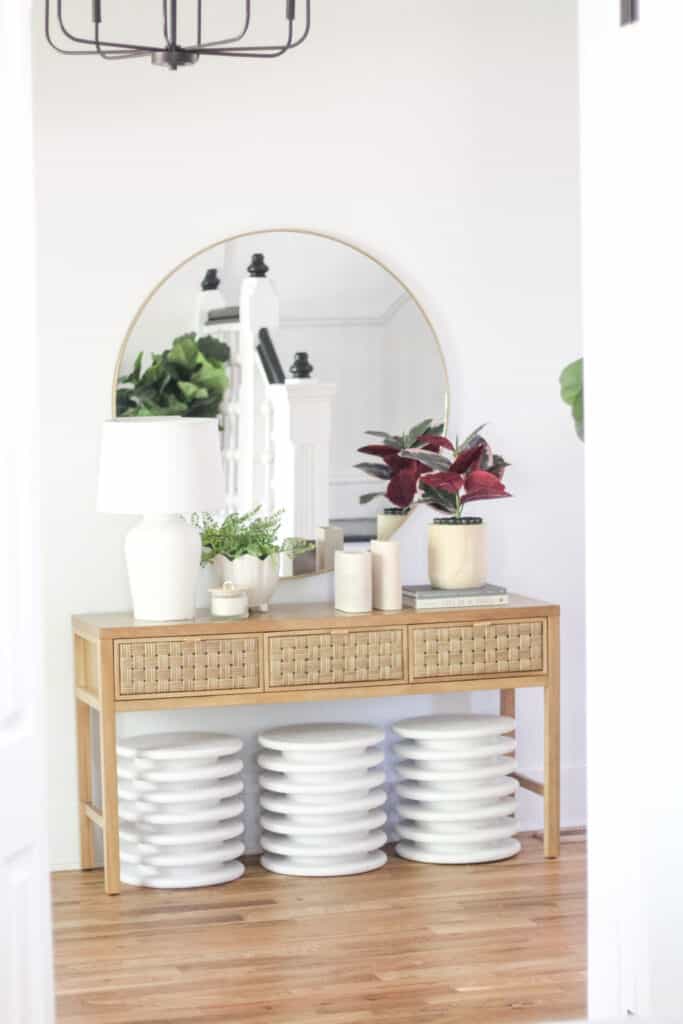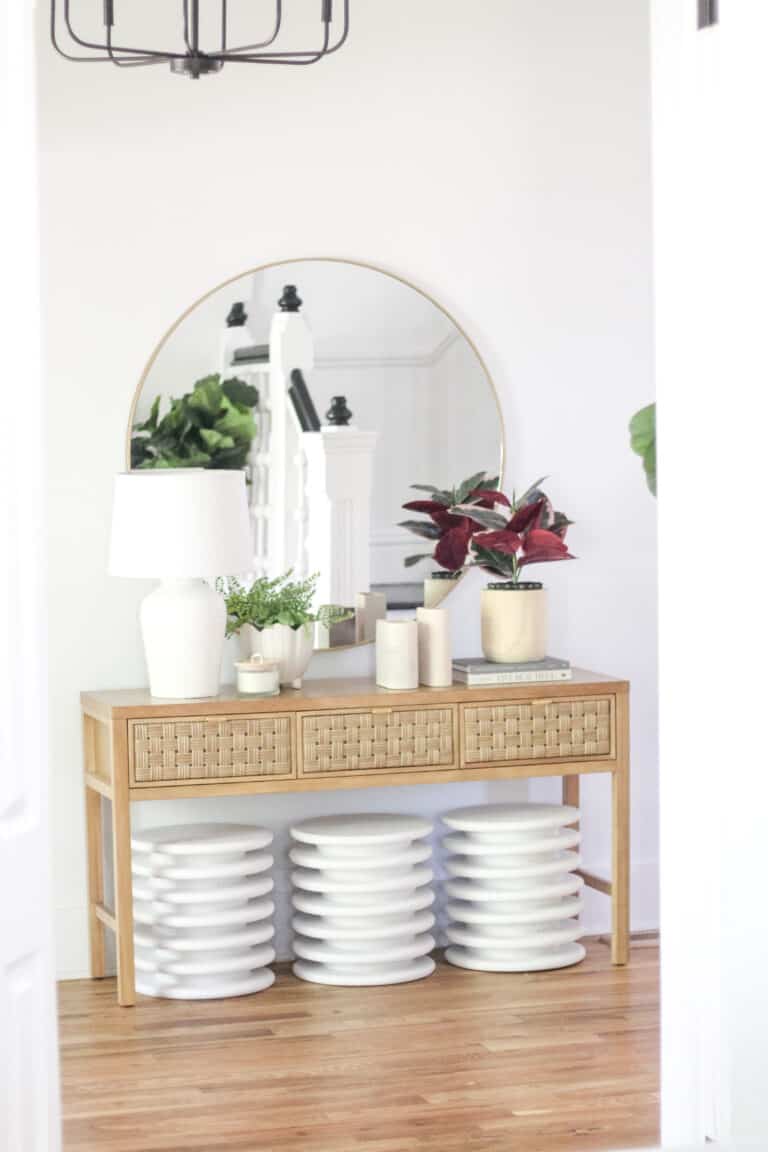 Stools For an Entryway
As always – I tend to be a DIYer that likes to solve a problem and make something useful with my projects – and this DIY did just that. I was eyeing several stools that I loved for under our entryway table but really needed 3 and didn't want to spend $300 on something so small.
I also tend to have a picture in my head of what I want and sometimes DIY is the exact way to make that happen.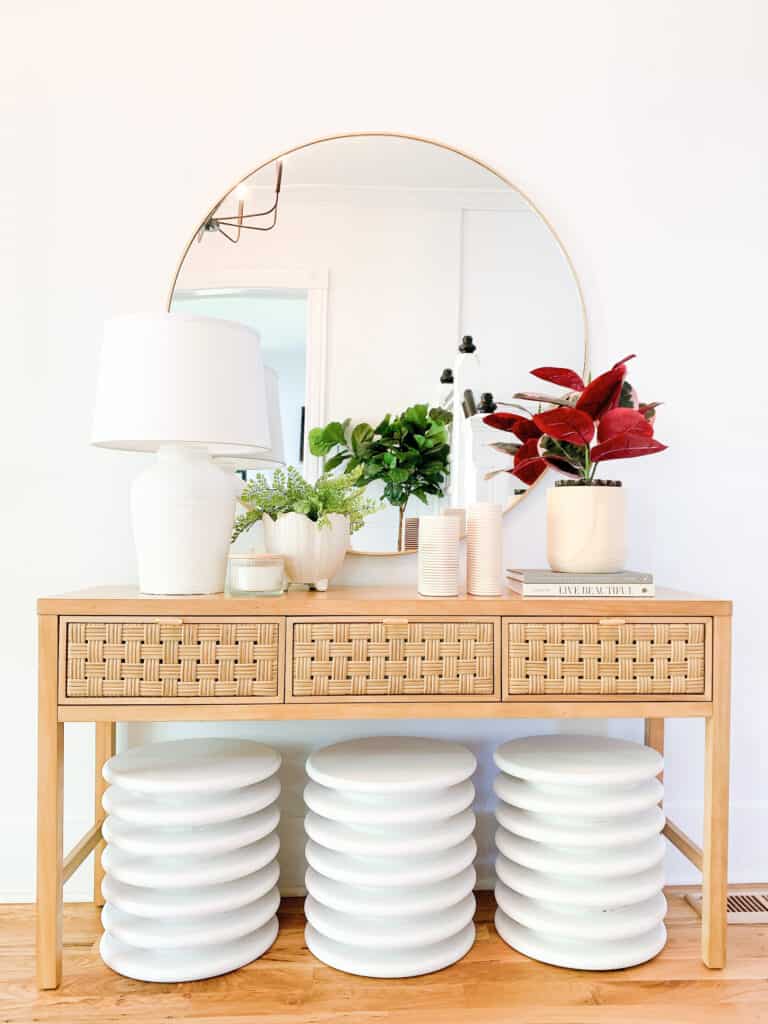 I have been loving the Anthropologie look for our house recently and felt these were a perfect somewhat modern yet simple DIY that I could see on that site.
Creating DIY Stools
When I set out to make thees stools I obviously was looking to make them on the smallest budget possible while still obtaining the look I was going for. I saw this DIY table on Instagram that is GORGEOUS and was so inspired to do something similar in a stool form.
As always there is trial and error on something like this. When you're working with materials that aren't just wood you sometimes have to get creative and try different adhesives to make things work well.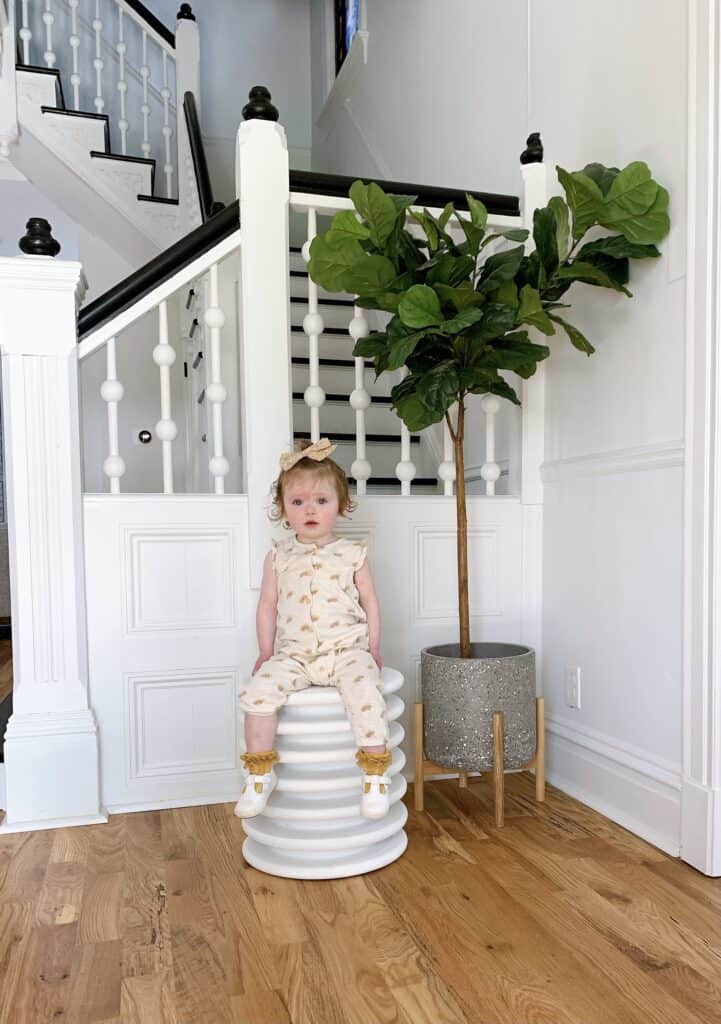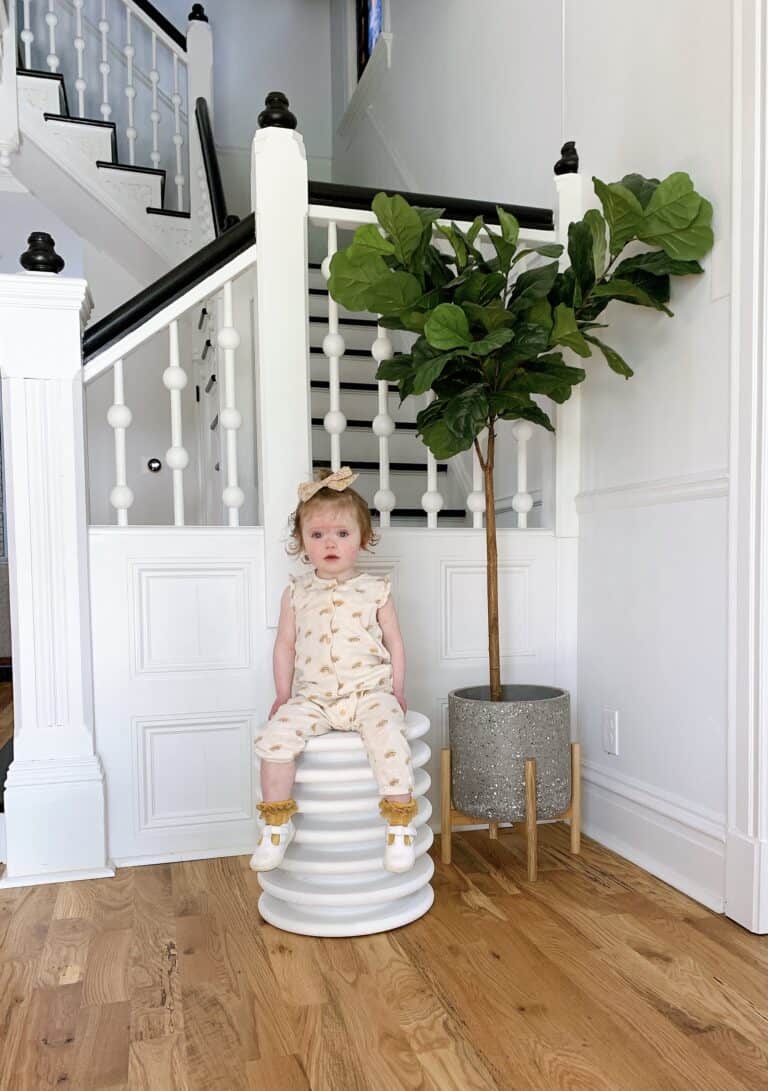 I ended up going with the second adhesive I tried. I knew I could end up with E6000 but that is pricey and not a quick use – but I will list it as a very great option in the tutorial – because you can definitely choose to use that as well.
I also wanted to go as inexpensive as I could so that meant using the least expensive spacers to create the fluted look. Again you can always choose to make them slightly taller and use different spacers for more money.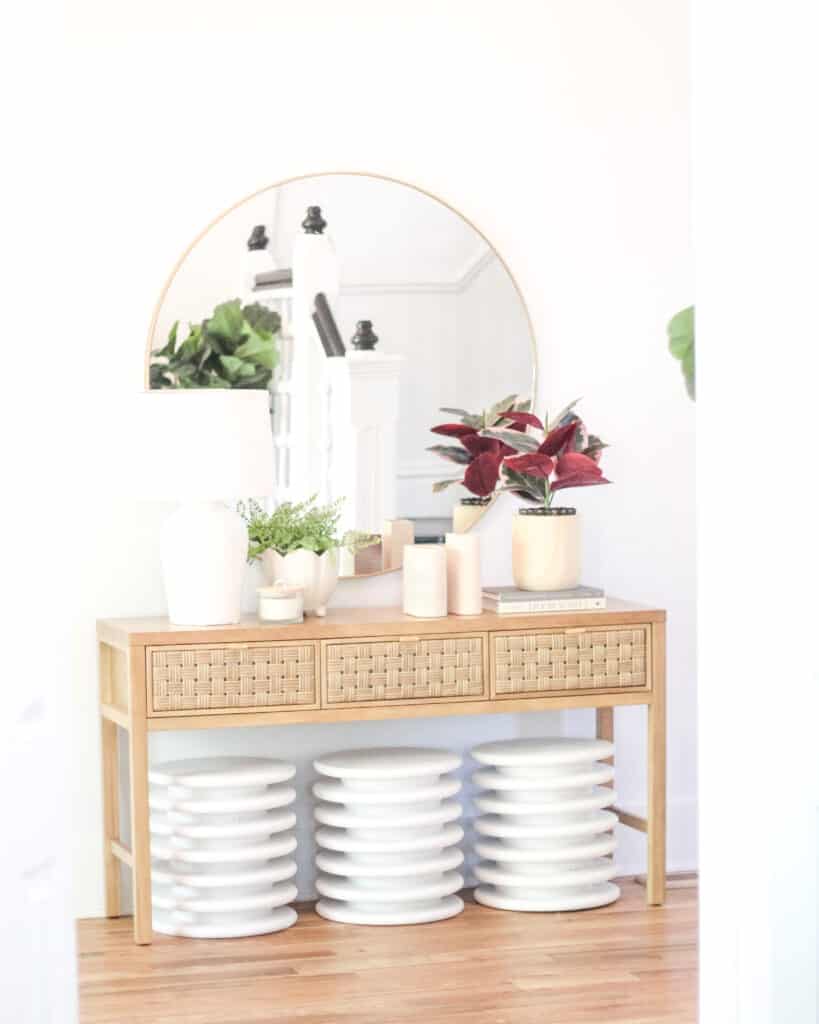 Supplies for DIY Stools
Supplies listed are for ONE stool
7 – 15 inch wood rounds – I personally got mine at Menards for $6 each. If you don't have a Menards most craft stores or hardware stores have them – I would just look for a sale!
6 – Dollar Tree wreath forms. This will save you SO MUCH MONEY. I got all of the wreath forms for $18 for all of the stools.
Adhesive + the Gun
Caulk + the same gun
Faux stone spray paint – 1 can is more than enough for 3-4 of the stools
Spray paint in the color of your choice ( I went with this Behr spray paint and it was honestly the best spray paint I have ever used!)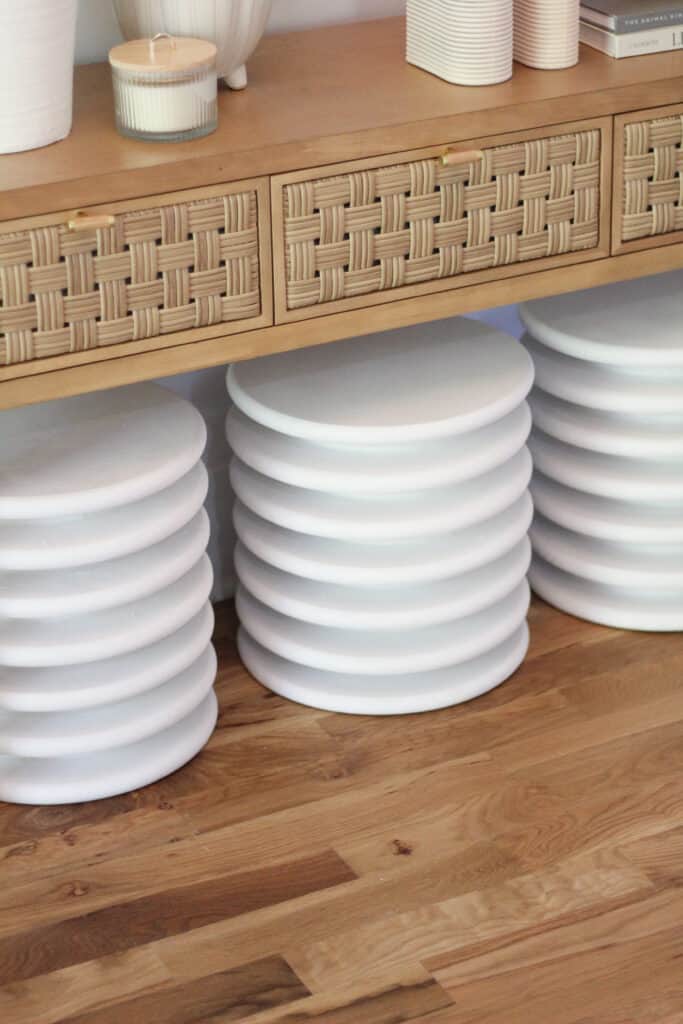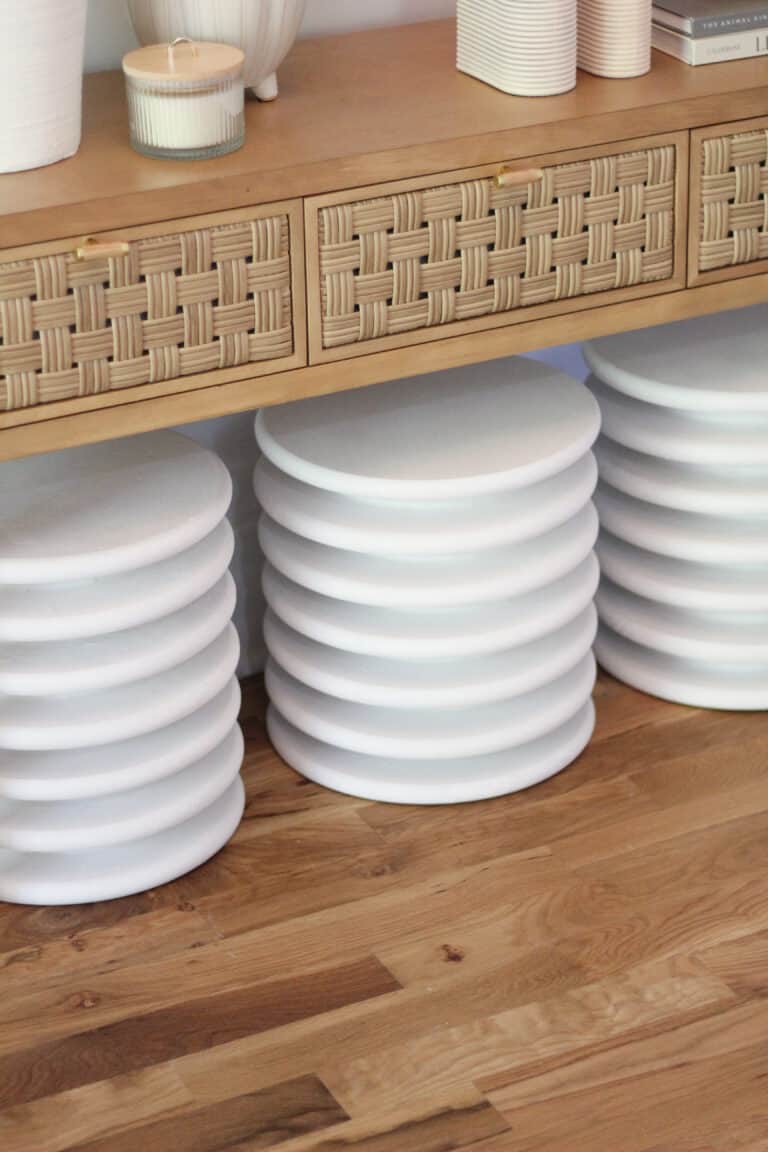 How to Create The DIY Stools
Now that you have all the supplies – it is time to make the stools. This process is super easy I swear.
Take one of your wood rounds and find the center.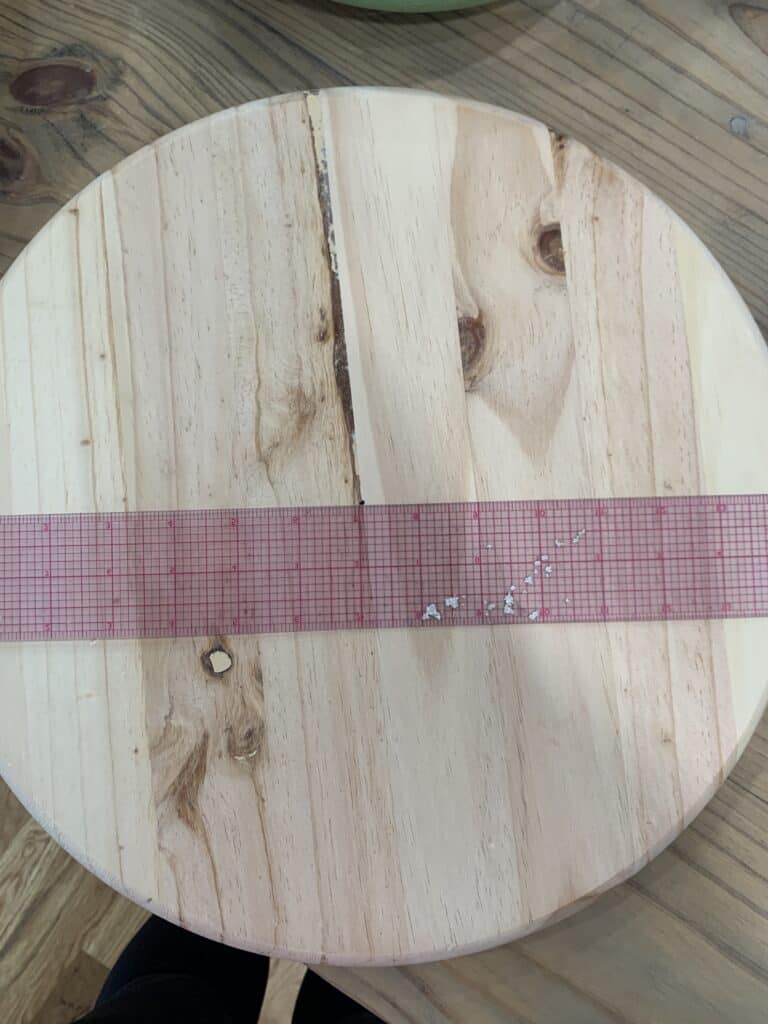 Now add adhesive to one side of one of the wreath forms
Lay the wreath form on the wood round so that it is centered with the adhesive side down.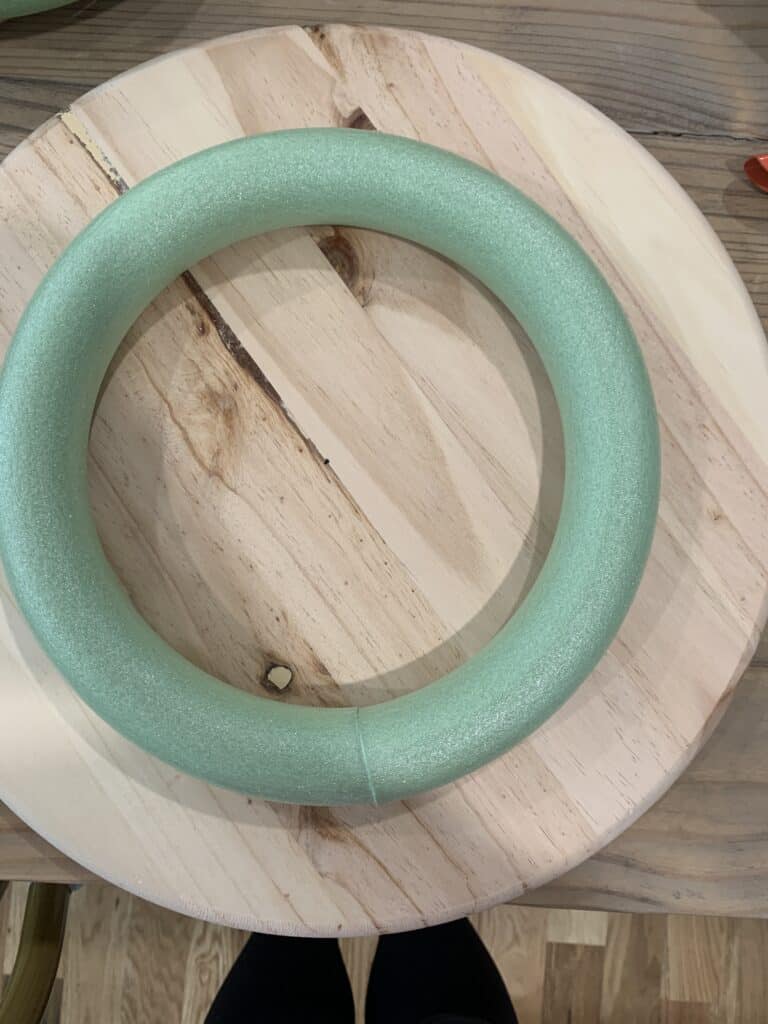 Add adhesive to the top of that wreath form and lay another wood round down.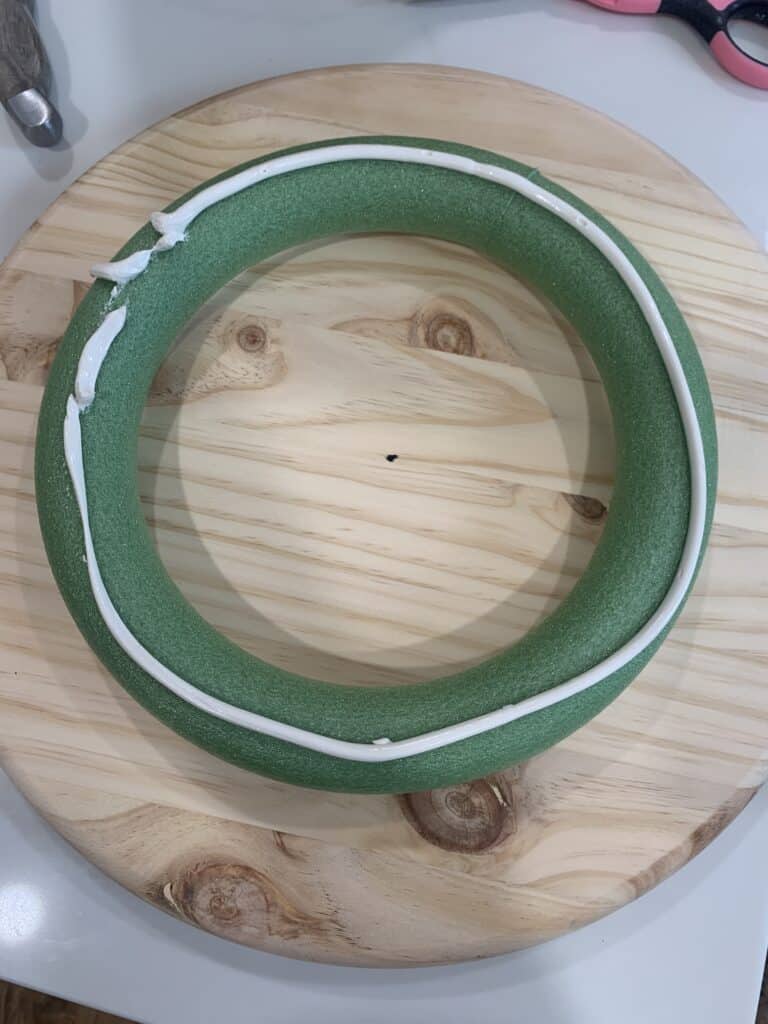 As you move up use a level on all sides to make sure you're going straight up and down.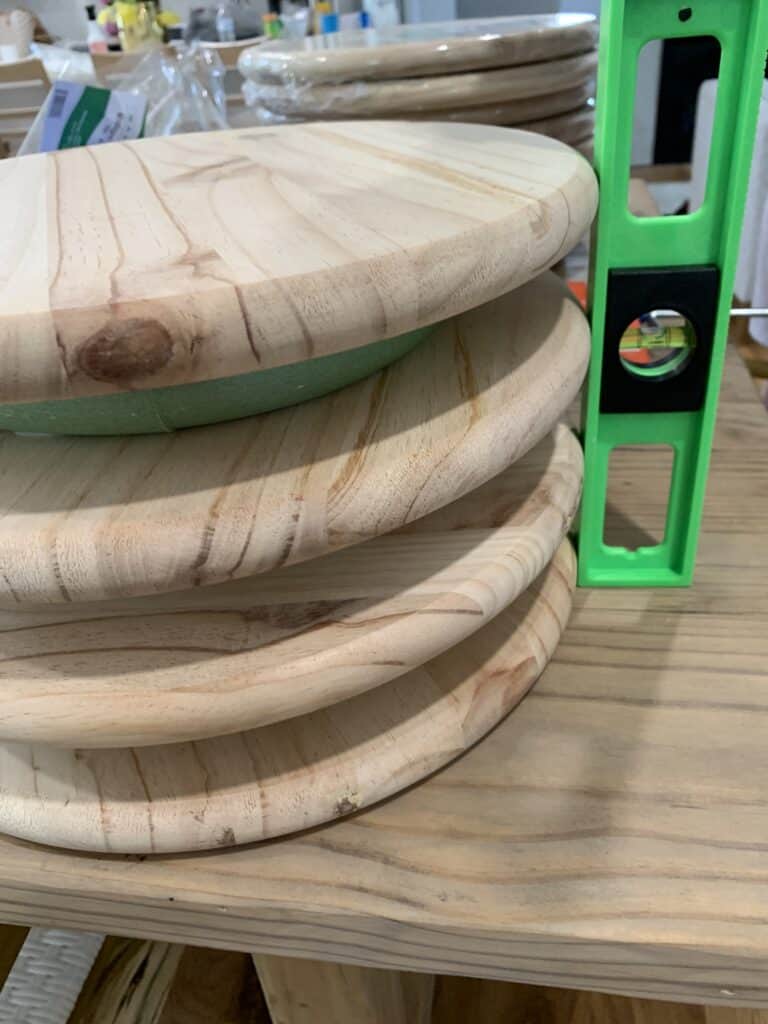 Once you have reached your desired height (for me that was with 7 wood rounds) let them sit and dry for 24 HOURS!!!!
Once dry you need to caulk all the seams between the wreath forms and the wood rounds.
Let that dry before painting.
First add the faux stone texture paint – a little goes a long way. Let that dry.
Now spray paint. You will want to let them fully dry then flip them to get the under-sides well.
And TADA – you have gorgeous stools to use anywhere in your house. I personally have mine in my front entryway, but they would also be gorgeous as a side table.
Remember – you can customize these as much as you want. Choose different sizes or colors to make them fit your home and needs!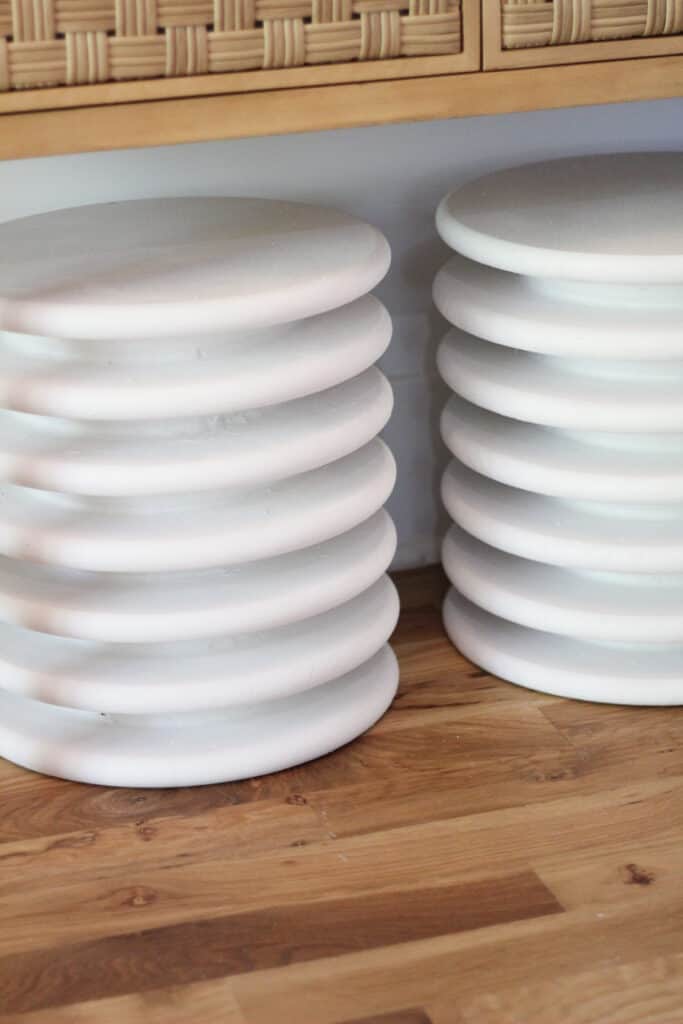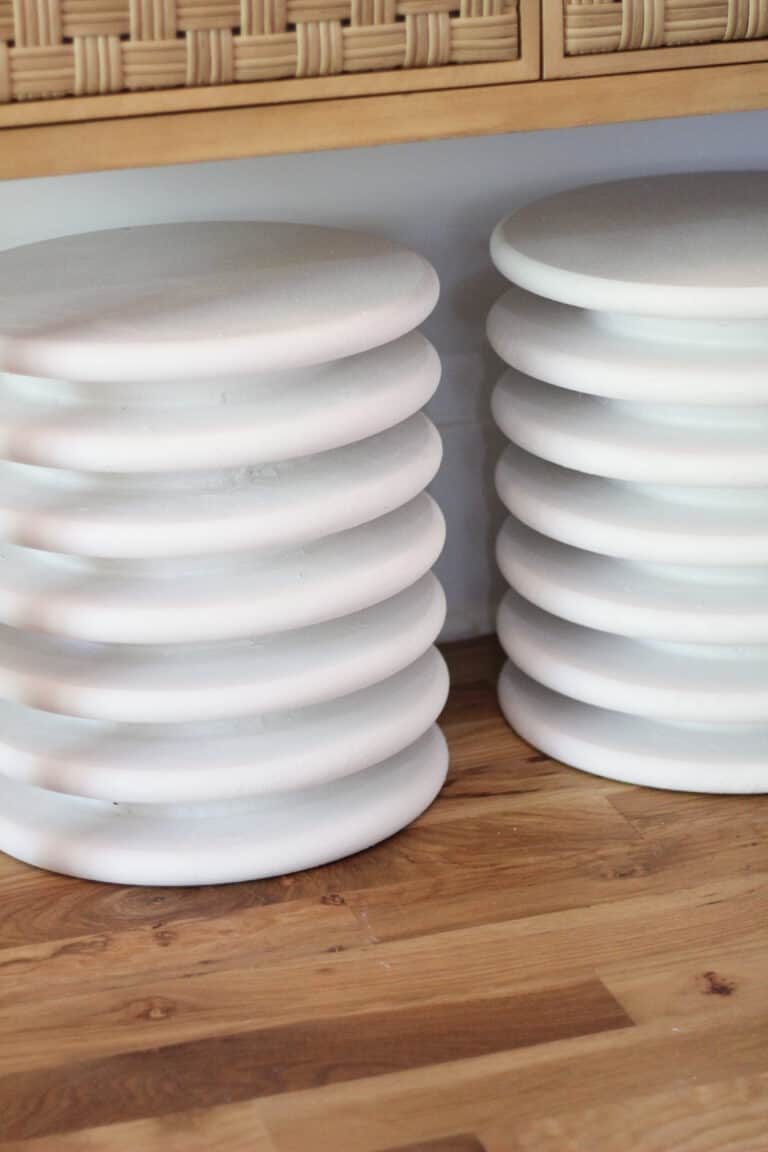 Not looking to DIY? Here are a Few other Stools I Love!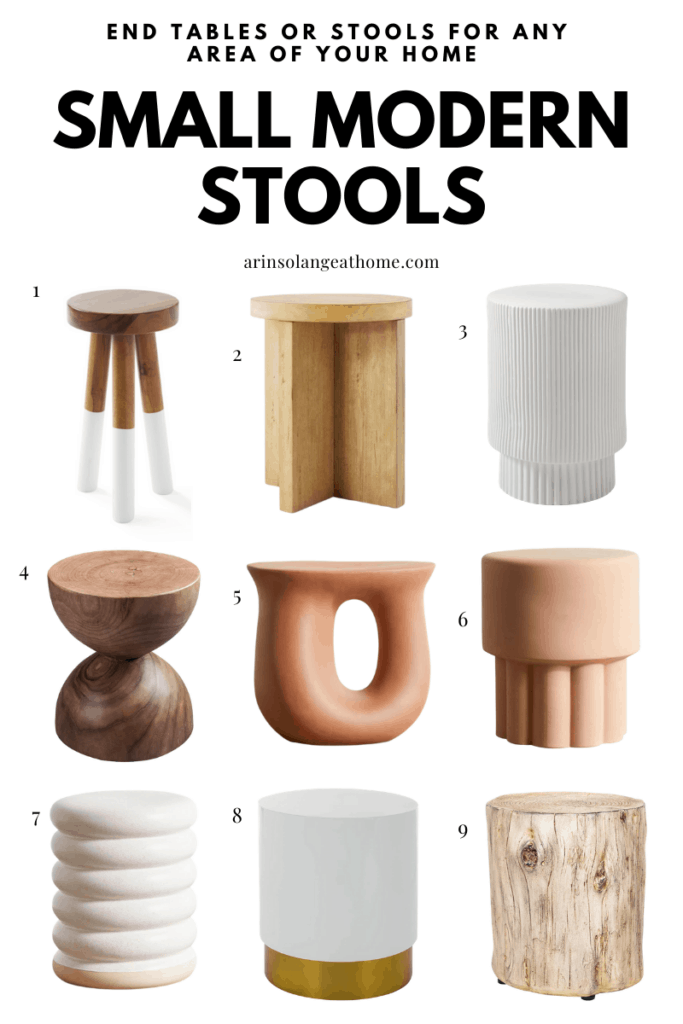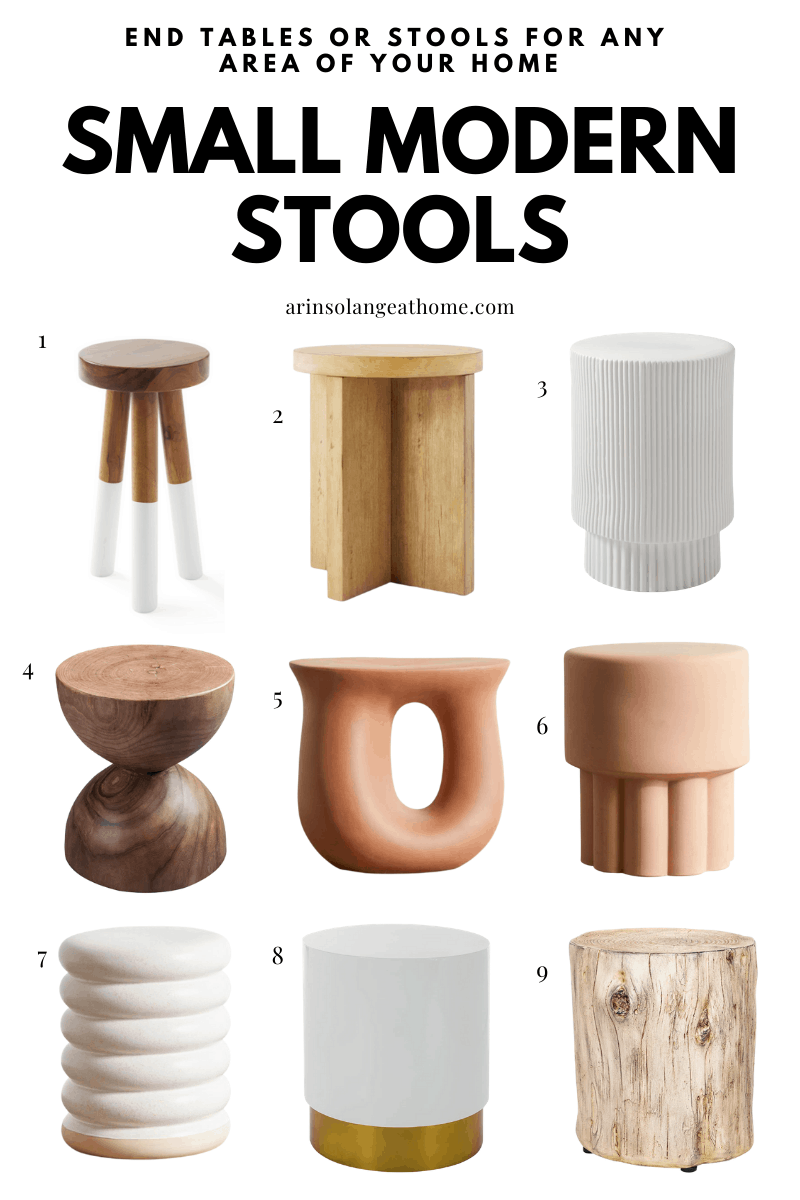 Shop Stools Below
1 | 2 | 3 | 4 | 5 | 6 | 7 | 8 | 9
Shop The Rest of the Entryway:
The rest of our entryway was styled with a combination of new and old. I am linking to all the items that can still be found below!
Table | Vase | Lamp is DIY but similar linked | Mirror | Coffee Table Book | Coffee table book | Plant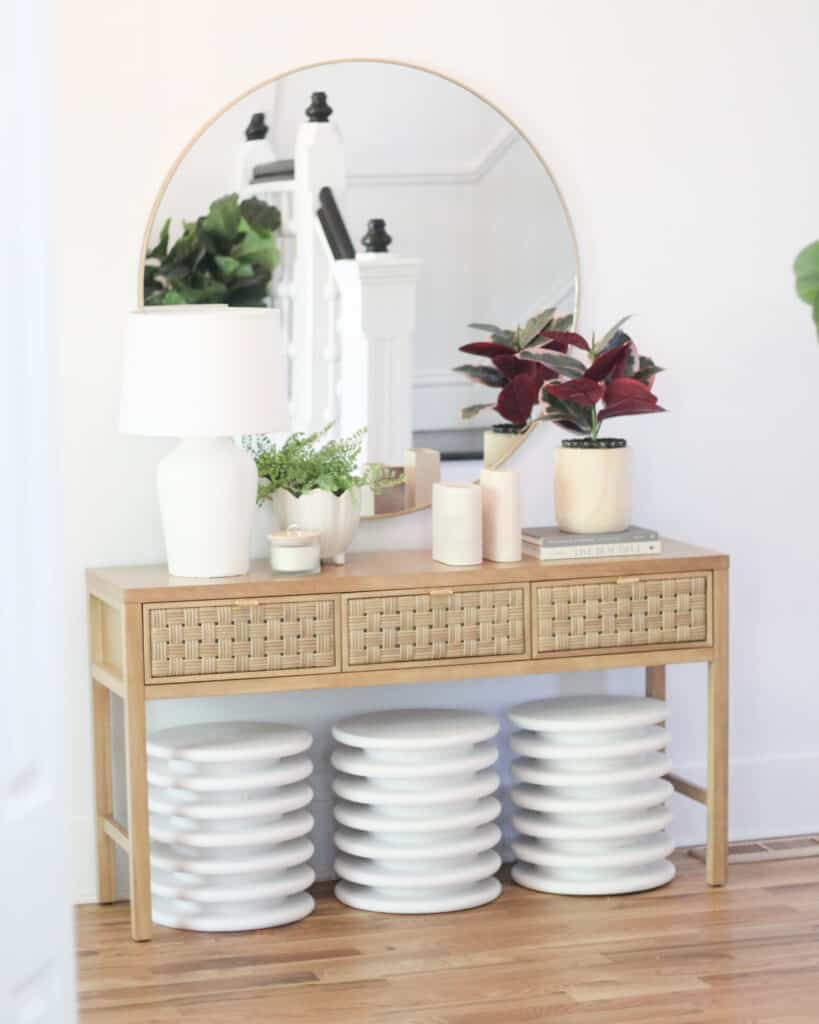 Other Posts I Love
DIY Outdoor Table | How to Paint Tile Floors | DIY Porch Swing
Pin the Photo Below for Later
Hopefully you feel confident in making the perfect DIY stools for your house, and I can't wait to see them in your home! Tag me in your finished creations on Instagram (@arinsolange) and be sure to pin the photo below for later.