Decorating your table whether for a dinner, day to day use, or for an event or party can make a huge impact. Round table runner ideas however can be a little trickier. I think many times we think of a table runner for just a rectangular table, so I wanted to share some great round table runner ideas in this blog post that will help you create the perfect table and ambiance for your next event.
This post may contain affiliate links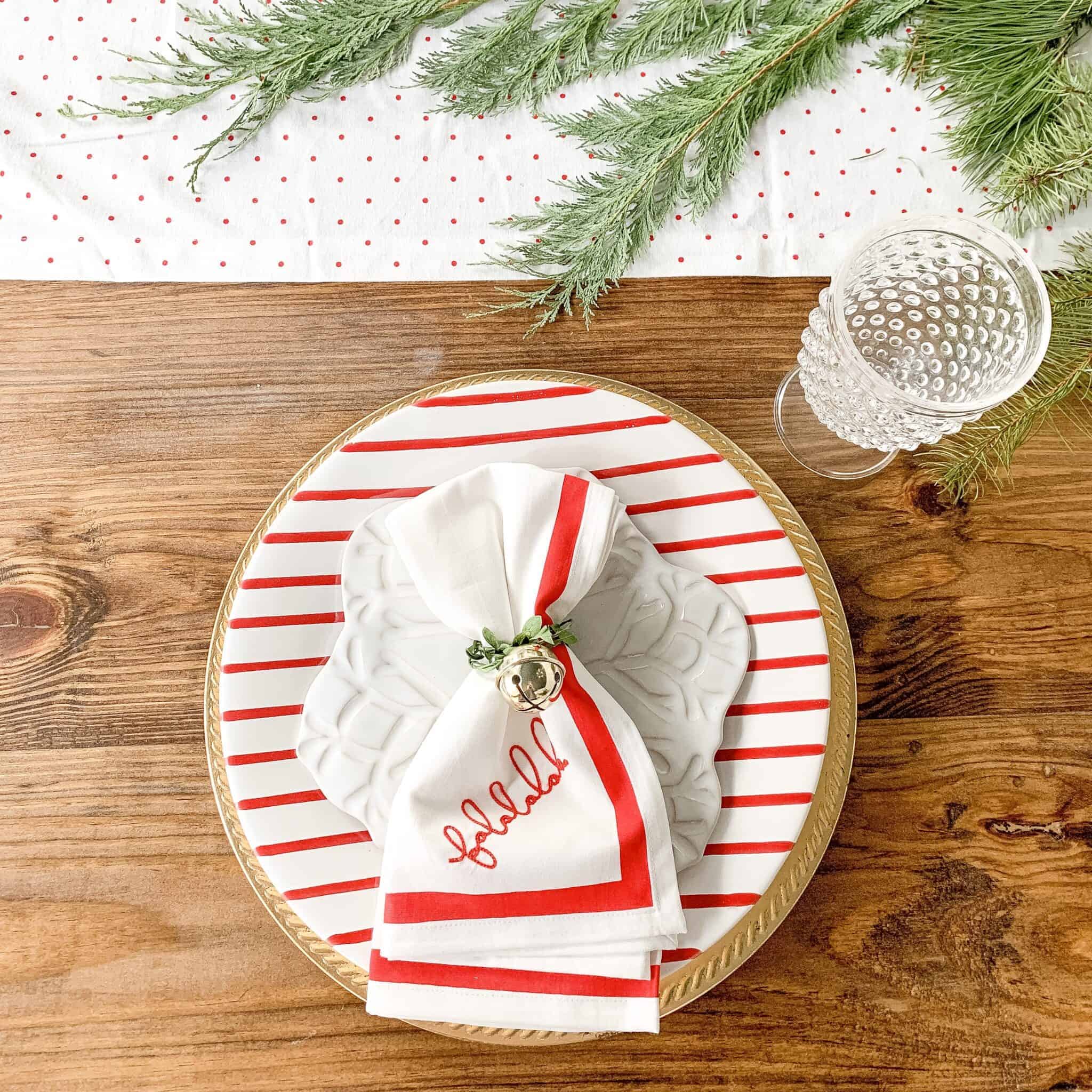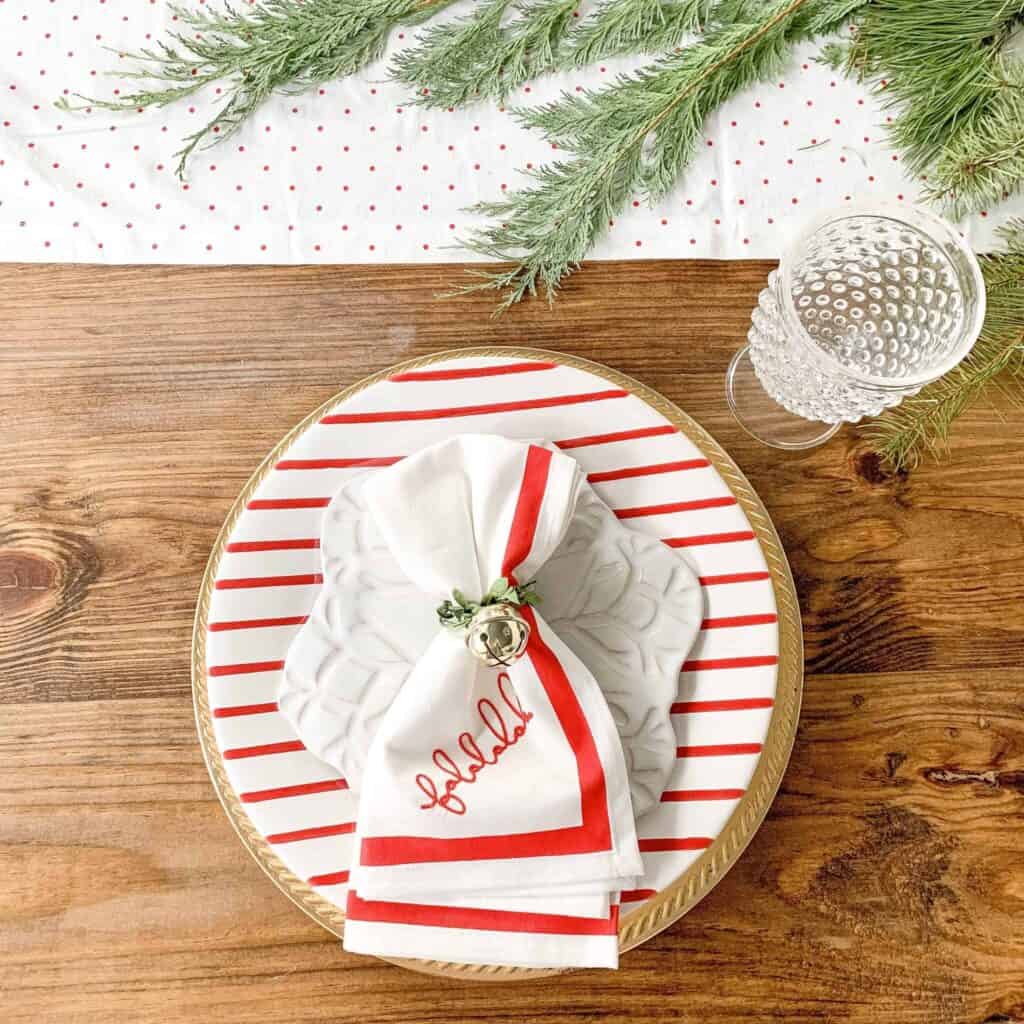 What is a Table runner?
First off, you might be wondering what a table runner actually is. A table runner is a piece of fabric that runs the length of the table down the center section of the table only, unlike a table cloth that covers the table in its entirety.
A table runner "runs" the length or width of the table and can be used on it's own or layered on top of a tablecloth.
Table Runner General Rules and Info
Before we get started – let's talk some table runner general rules and info. I will say – take all of this with a grain of salt because I do think that decor is all about what makes you happy, but none the less there are some technical 'rules' and specifications that can be helpful to know when you are shopping or putting a table together.
General Size Specifications
The number one thing people wonder when it comes to table runners is the 'rules' and specifications on size. When you are getting ready to decide which table runner is right for you, the first thing you need to do is get out your handy dandy tape measure and make sure you know the size of your table.
Once you know your table size, you can choose the correct length for your table runner. I have added two charts here, one that has standard tablecloth sizing and one that shows you how to measure for your table runner. On these charts you will see the term "drop" which is referring to how far the fabric will hang over the side of the table.
There are not fast rules for how far a table runner should hang over – this is purely up to personal preference, but as a general rule of thumb it should have some drop.
The Best Round Table Runner Ideas
Now that you know all the rules and background info lets get into some great ideas for table runners on your round table. I will also round up several of my favorite table runners in this post, so be sure to check those out before you go.
This post will walk through different ways to include table runners into your tablescape, whether you are working on wedding tables, holiday tablescapes at home, or anything in between. I will also be sharing my favorite table runners for round tables, so make sure you scroll to the bottom of that.
RoundTable Runner Ideas with No Table Cloth
When it comes to a table runner you can go two ways – table runner over a table cloth, or a table runner where the sides of the table is left exposed.
In my opinion this is a more casual feel to the table, and can be better for less formal occasions. I personally don't have a round dinner table, but typically when I use a table runner I do it in this manner.
The table runner is a great addition to the center of the table, and allows me to add lots of decor, but the table being left exposed keeps things more casual.
I almost always use only a table runner with no table cloth in order for the table to be more easily cleaned with day to day use. For Valentines Day I have done a DIY paper table runner two times – shown below. It was a super casual way to spruce up the table!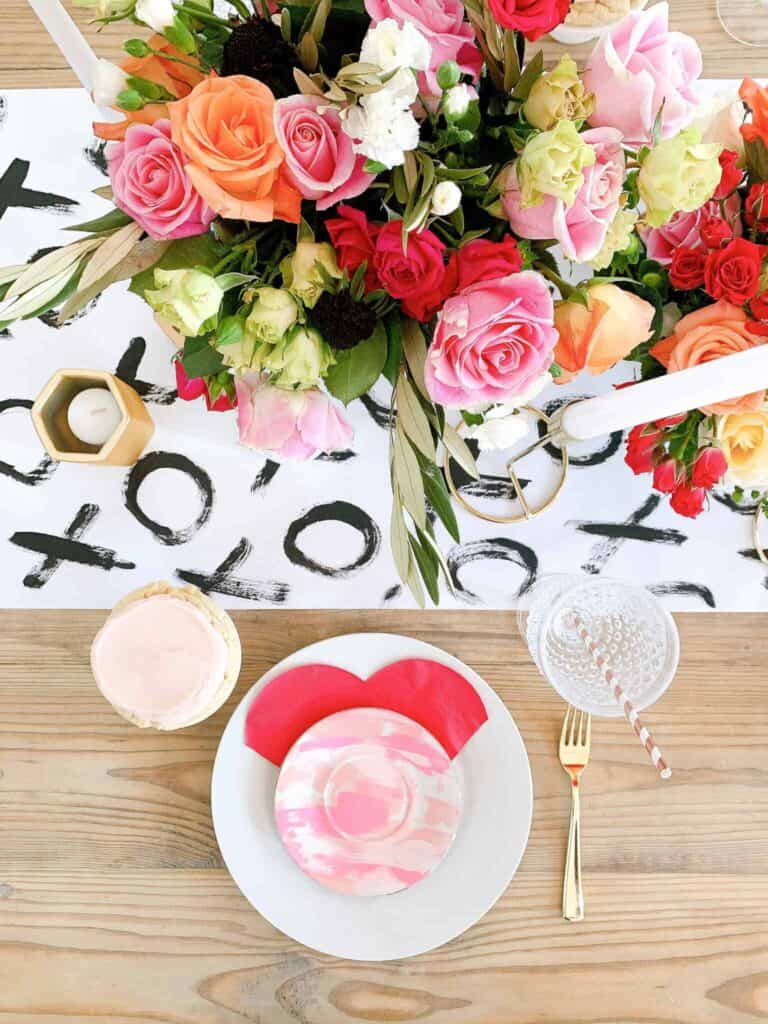 A great example of this being done is the table shown below. This is a very casual use of a table runner on a round table. The use of the round placemats added texture and more true table setting places for each person, while not feeling formal at all.
Using a table funner with no table cloth is also a great way to decorate your table for day to day use where you can still eat at and enjoy your table. If you have a large enough family where you are sitting all the way around the table for obvious reasons, someone will be sitting at the table runner on each end, so do keep that in mind.
My friend Julie has an oval table that she also uses a table runner with the rest of the table exposed, and it creates a gorgeous space to decorate the middle of the table while giving them enough space on the sides to eat and live life.
Round Table Runner Ideas
Over Tablecloth
If you are going more formal with your table try layering your table runner over a table cloth. As oposed to the bare table, this gives a more formal finished look sure what size tablecloth you need, be sure to refer back to the chart above!
I love a fun table runner over a white or neutral tablecloth. Plus it is super cost effective to only have one or two tablecloths and then you can just change out the table runner as needed! This is a perfect example, I love the floral and the contrasting candles.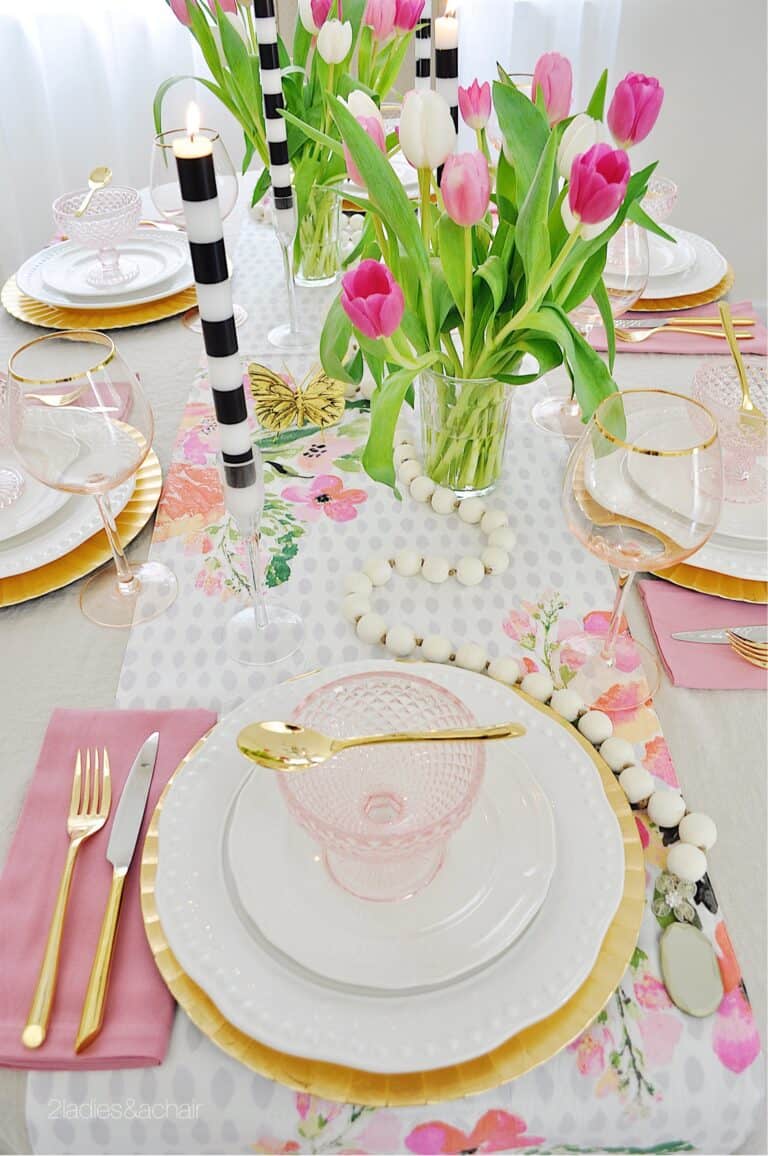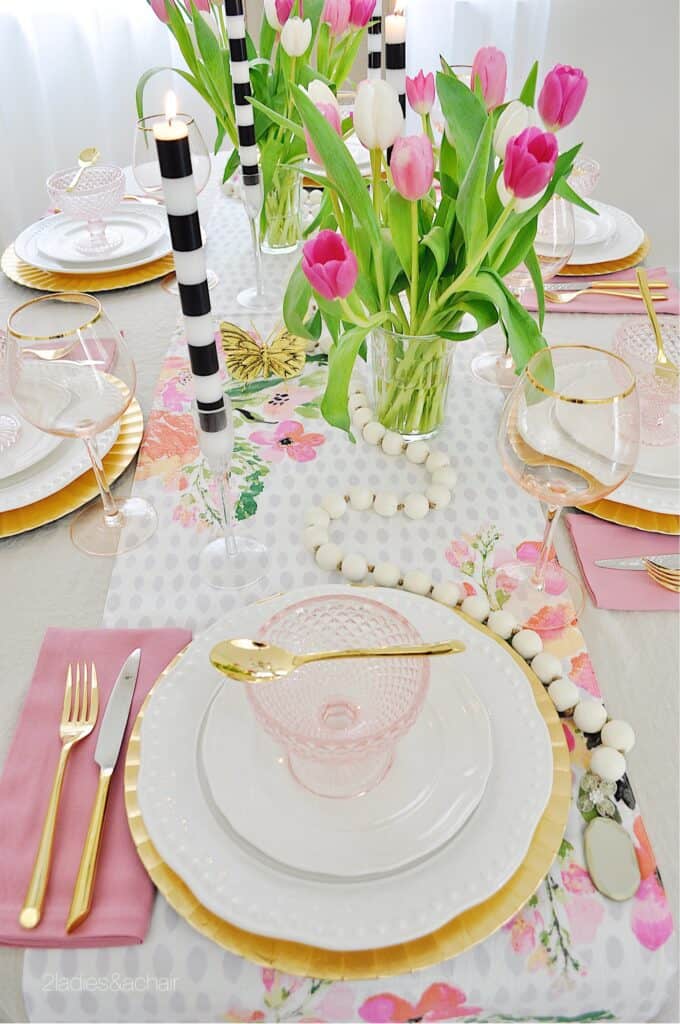 You can see in the photo below that even tho they used a burlap table runner, the white tablecloth below created a more formal look to the table. This is great for special events, and is. great way to dress up any overall look you're going for.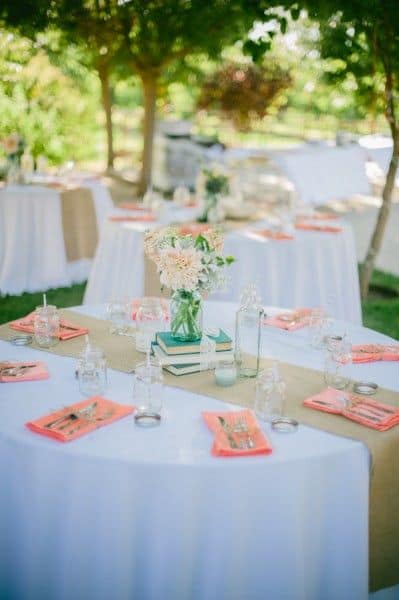 Unique Ways to use Table Runners on Round Tables
My round up towards the bottom will include some fun options for more day to day, as well as special occasions, but I wanted to share some great inspiration on unique ways to use table runners on round tables so you can use them as inspiration!
Sequin Table runners
Sequin table runners are a GORGEOUS WAY to add a lot of dimension to a table while also keeping things in a pretty neutral color palette.
I have seen them done both flat like a traditional table runner, as well as somewhat 'messy' and both are just stunning in a big way. Sequin table runners are a great example of DIY table runners – many times when you see the more 'messy' look it is simply sequin fabric that has been used on the table instead of what would technically be a table runner.
Lace table Runners
Lace is another great way to add texture to your table. Lace can be dressed up or down pending the table cloth or lack there of. In my opinion – a lace table cloth on a beautiful wooden table can have the perfect amount of farmhouse, and would be gorgeous for a wedding or bridal shower if that is your overall style.
You can also add a lace table runner layered over a white table cloth for a beautiful soft and vintage look.
Working with Texture
As opposed to lace – macrame is a similar feel that will give a totally different look when it comes to table runners. It is a wonderful way to add texture in a natural way.
I also included several jute options at the end of this post that I LOVE – these will also add texture in a beautifully casual way.
Layered Table Runners
Another way to use your table runners is to layer them. You can easily mix and match your table runners to create the exact style you are going for. You will just need table runners in a variety of widths so create the look, and can easily create the overall look you were going for.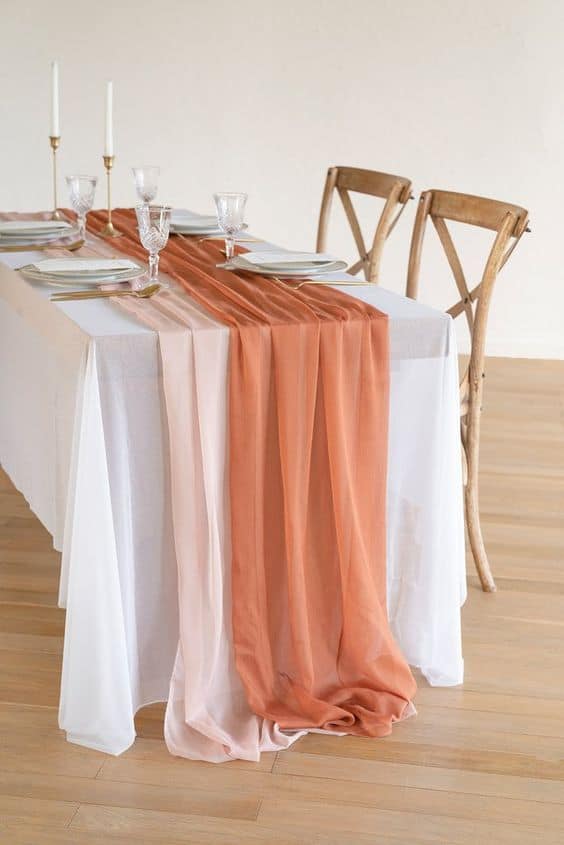 Best Round Table Runner ideas – Tips and Tricks
I know that if you are looking at this post you may also be wondering how to incorporate the table runner into your decor, which is somewhat up to your own discretion, but below are a few little tips and tricks I have found along the way:
Layer heat proof fabric under the table runner if you want to be able to add hot dishes without using hot pads or trivets. It will protect your table, but you will never know the layer of protection is there.
If you don't want the extra leftover fabric to hang down (say this will be a daily use table) You can use painters tape to tape up the runner.
Use the table runner as a general area to place your decorative elements – don't be hard and fast with this – I think allowing some of the decor to spill over the edges is beautiful, but using it as your general guide is really helpful, and will leave space for eating.
Take into account how you will be using the table to decide how much decor you add to the table runner, as well as how wide the table runner is. If you are going to be serving a family style meal a great run of thumb is to lay washcloths or trivets in the spots where you plan to add food so you know you will have room to use the table!
Using Placemats in a more casual situation will help create clear table settings at a round table.
Invest in neutral colors for table runners and add your color with decor.
Use extra table runners on coffee tables or dressers to add texture and dimension and change things up.
Roll your table runners for storage for optimal space.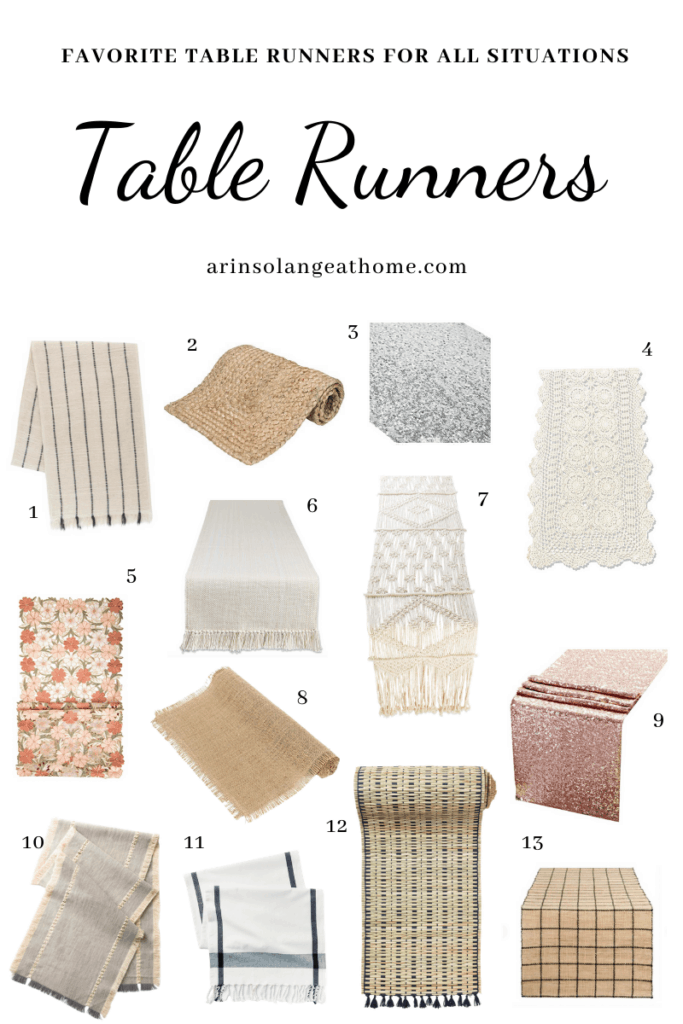 Shop my Favorite Table Runners for Round Tables Below
1 | 2 | 3 | 4 | 5 | 6 | 7 | 8 | 9 | 10 | 11 | 12 | 13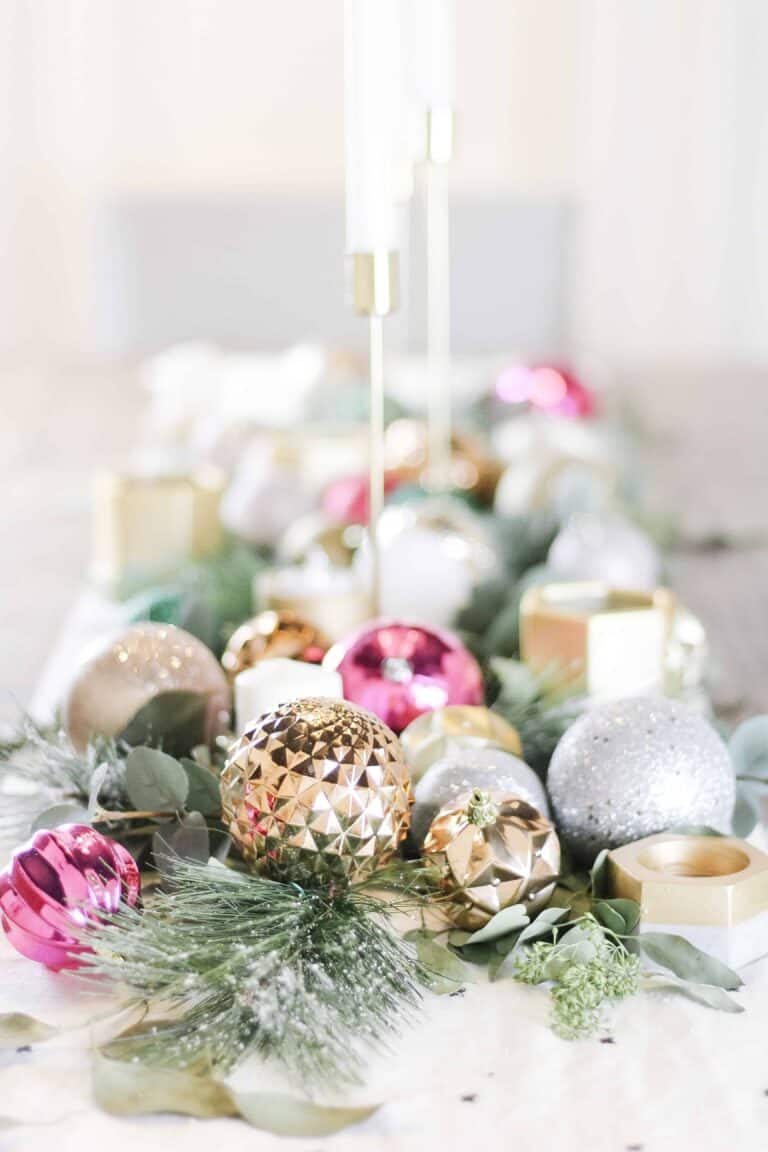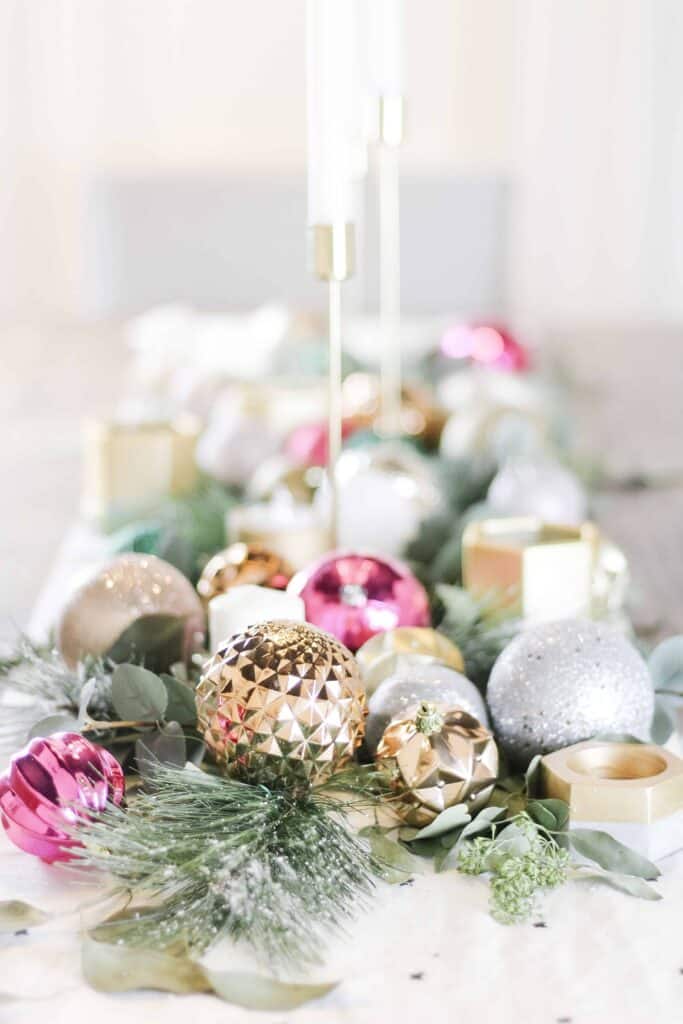 Other Posts You'll Love
If tablescapes are your thing be sure to check out these other posts below that you will love. I am also working on a blog post for later this week that will walk you through some great items to keep on hand to help you create quick, inexpensive tablescapes in your home year round, so if you aren't following me on Instagram, be sure to follow me there so you don't miss that post!
Christmas Tablescape – this one is great because you can add a splash of color no matter your style
Candy Cane Inspired Tablescape
Easter Tablescape – I created this in about an hour using only things we had at home!
9 Modern Living Room Area Rugs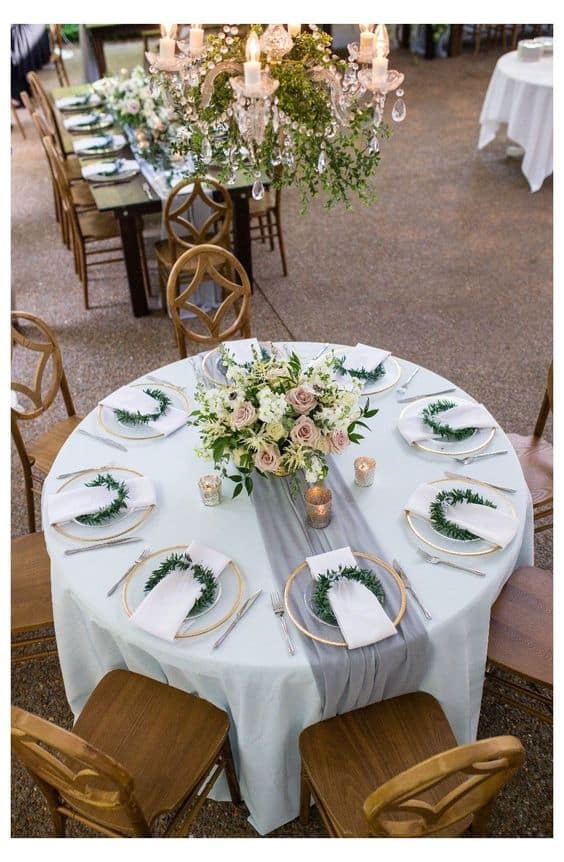 Pin the Photo Below for Later
Hopefully this post helped you if you were trying to find the best round table runner ideas, and you feel ready to decorate your table for home or an event. Be sure to be following me on Instagram (@arinsolange) for more great ideas and content, and pin the photo below before you leave to find these great tips and table runners later.